We all want to look our best, and what we wear can have a huge impact on our overall appearance. February is typically a time when many of us are carrying a few extra pounds from the holidays, so the last thing we need is for our clothing choices to make us look bigger than we actually are. Today I'm going to point out 7 style mistakes that make you look bigger and how to fix them.
1. Wearing The Wrong Size
Obviously squeezing into something that is too small is only going to accentuate extra pounds, and most of us know that. What you might not realize is that wearing your clothing too big can also make you look larger than you really are…I call this adding visual weight.
Many times in an attempt to hide some extra weight, women wear clothing that is too big or baggy and it doesn't do us any favors. Wearing a tent that completely hides our shape actually adds pounds that aren't even there.
Instead, opt for clothing that skims the body and shows your shape. If you need to size up one pants size, don't let the number bother you. It's better to look nice in your clothes than to just fit into a certain size.
Example: This dress from Target is cozy and comfortable, but as far as looks it does me no favors. My shape is completely lost, and I look bigger than I am.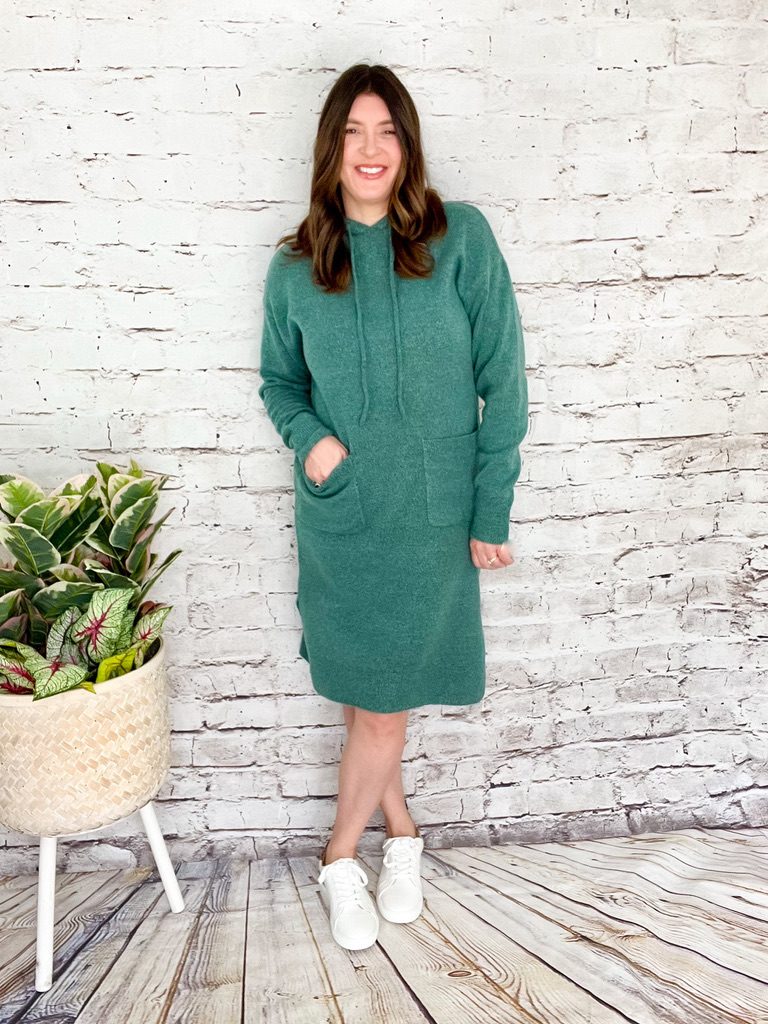 Solution: These are all options that are much more flattering. Casual dresses worn with sneakers in varying lengths. What do they all have in common? A waistline! Everyone of these alternative styles defines my waist and makes me look smaller than the green dress that fits like a sack.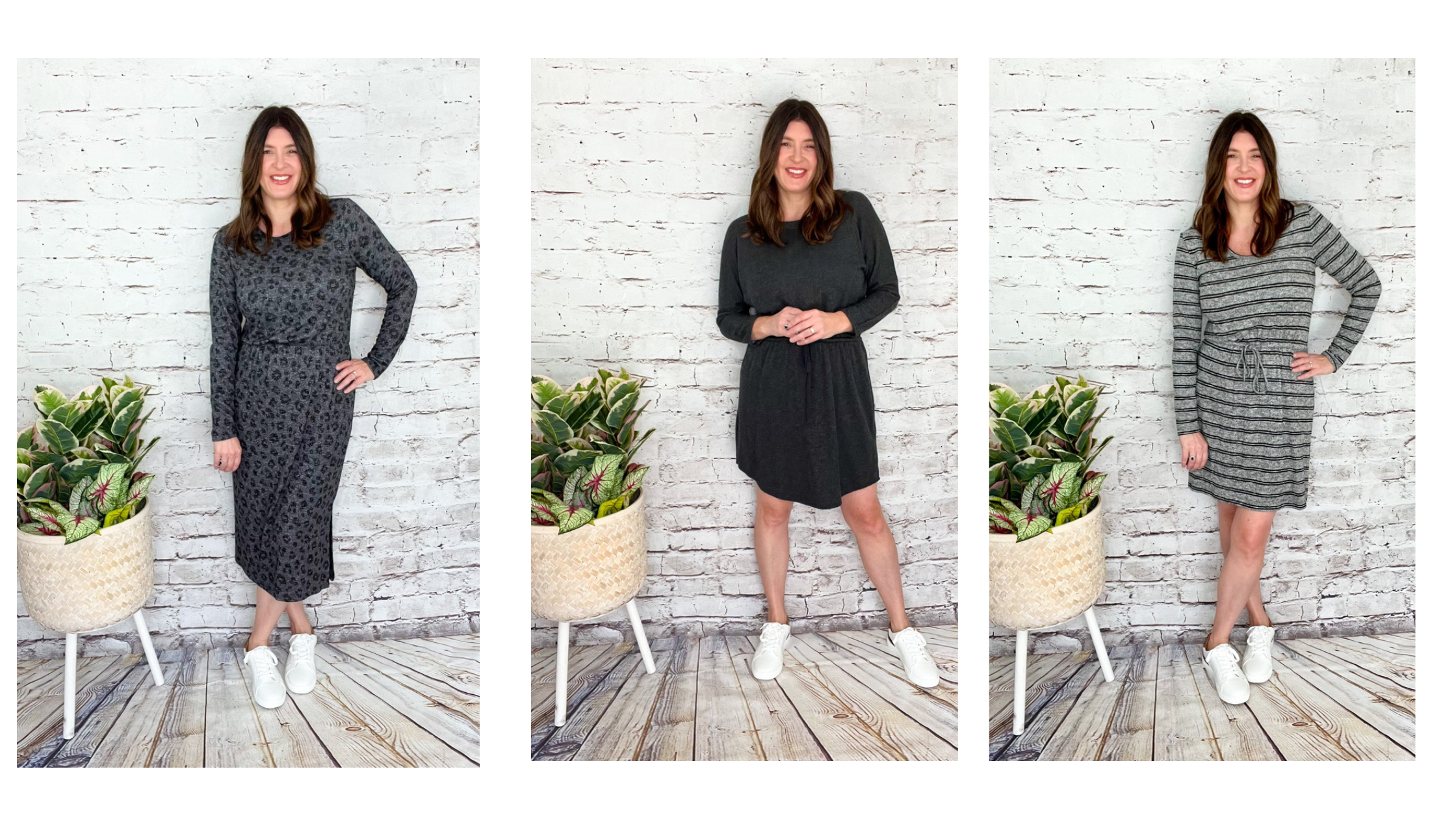 2. Mixing The Wrong Proportions
Mixing the wrong proportions is another common style mistake that can make you look bigger. What do I mean by this? For example, if you are wearing an oversized top or sweater (which are very on trend right now) make sure you balance that out with a more fitted bottom, such as leggings or skinnies.
Vice versa, if you are wearing a more fitted top, then this is a good time to wear a more voluminous silhouette on the bottom such as wide leg pants or jeans.
Examples: Here I'm wearing a pair of straight leg/relaxed fit jeans with an oversized top. This is just okay, but again not doing me any favors.
Solution: Here I switched out the oversized top for a more fitted style. This is actually a bodysuit, but any fitted top would work.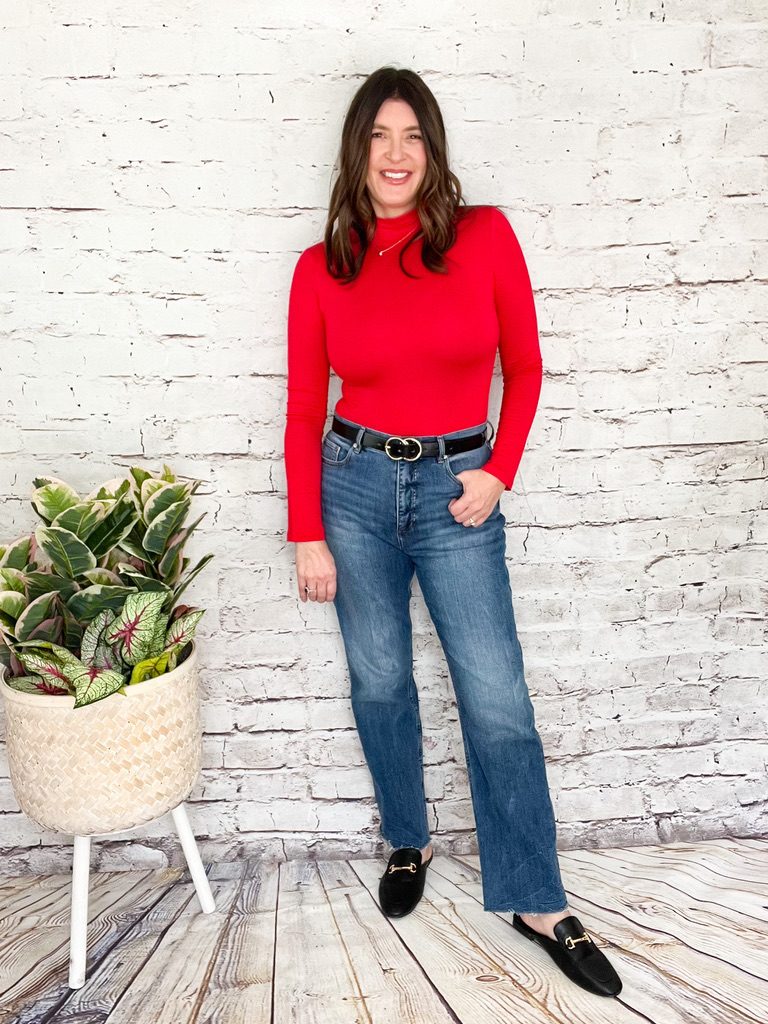 Example #2: Voluminous top with wide leg pants. I love both of these pieces…just not together. The oversized top and the wide leg pants together make me look shapeless and frumpy. Another mistake with this outfit are the rounded toe shoes.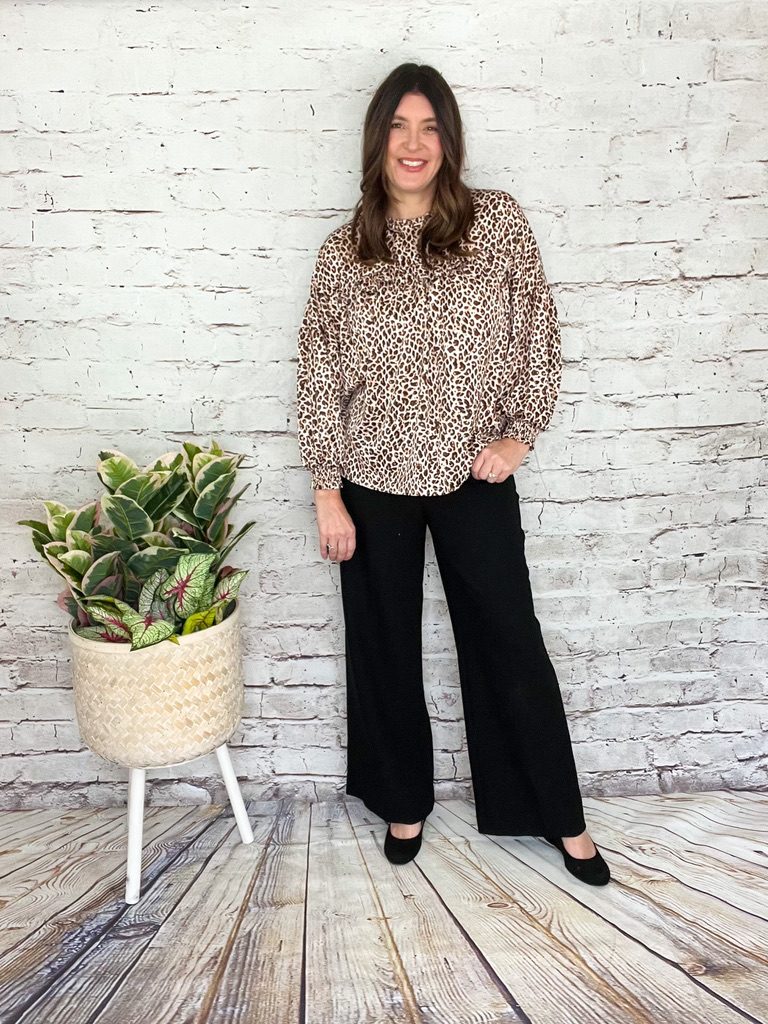 Solution: Switch out the wide leg pants for some skinny pants and tuck in the shirt. Just like that…I look 10 pounds lighter! I also switched out the shoes for a pointed toe style which helps elongate the body.
My skinny pants are the wildly popular Grace Karin Paper Bag Waist Pants from Amazon. They are still available, and I get compliments almost every time I wear them. I also have them in red! I also linked some more traditional skinny black pants if you don't like the paper bag style waist.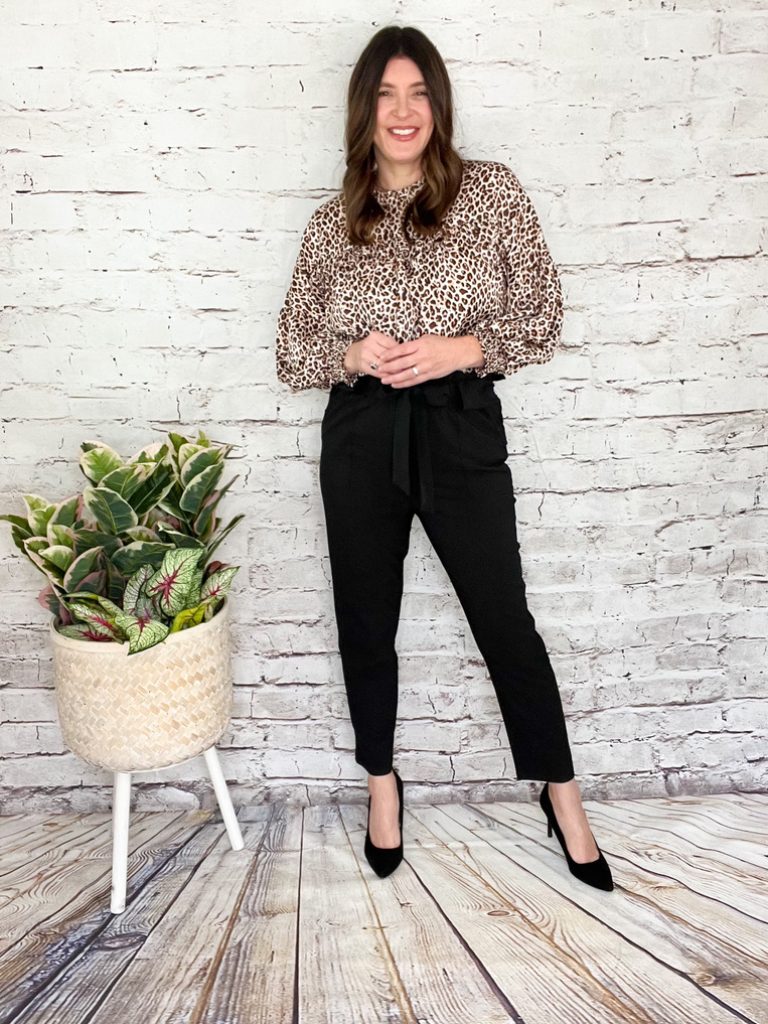 If you prefer the wide leg pants, then choose a more tailored style like this button down top from Amazon.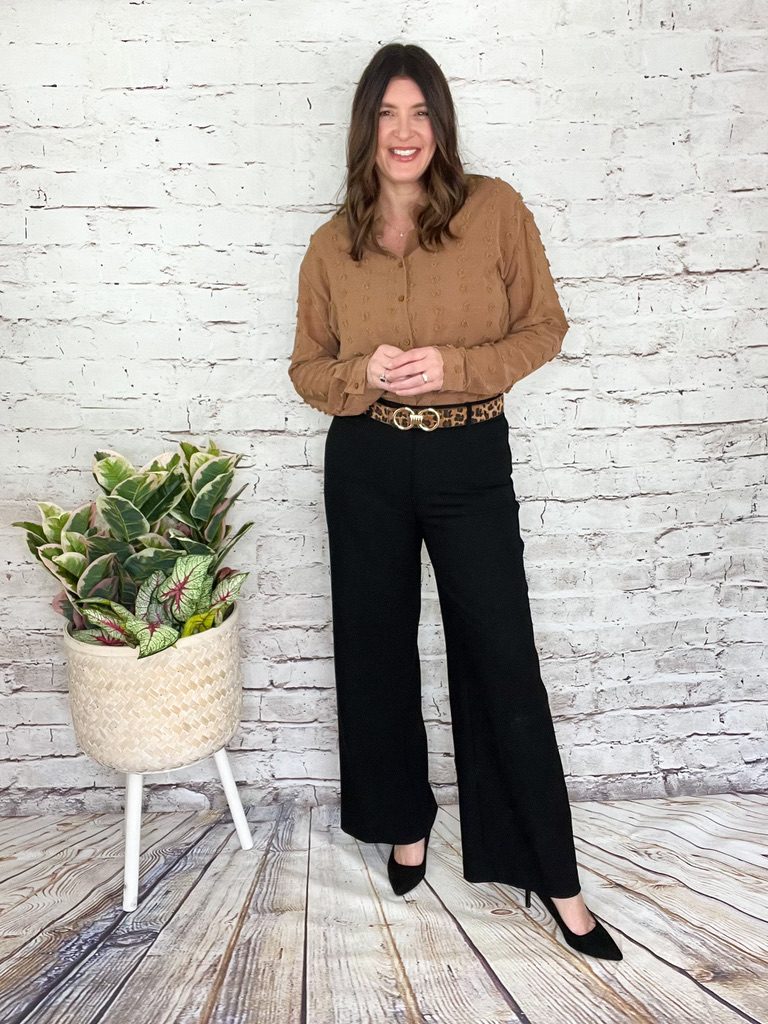 3. Not Tucking In Your Shirt
This may seem counterintuitive, but tucking in your shirt can actually make you look smaller. Even if your tummy is a problem area, a slight front tuck will be more flattering in most cases. Resist the urge to hide behind a shapeless garment. Tucking in your shirt is also great for women with short torsos, and it will give the illusion of a longer torso and longer legs.
Still skeptical? Go on Pinterest and do a search for curvy fashion or plus size fashion and you will see that no matter what size the women are, they usually define their waist.
My plaid shirt is from Loft and is currently an extra 60% off the markdown price making it a steal! It's also still available in all sizes (I'm wearing a medium).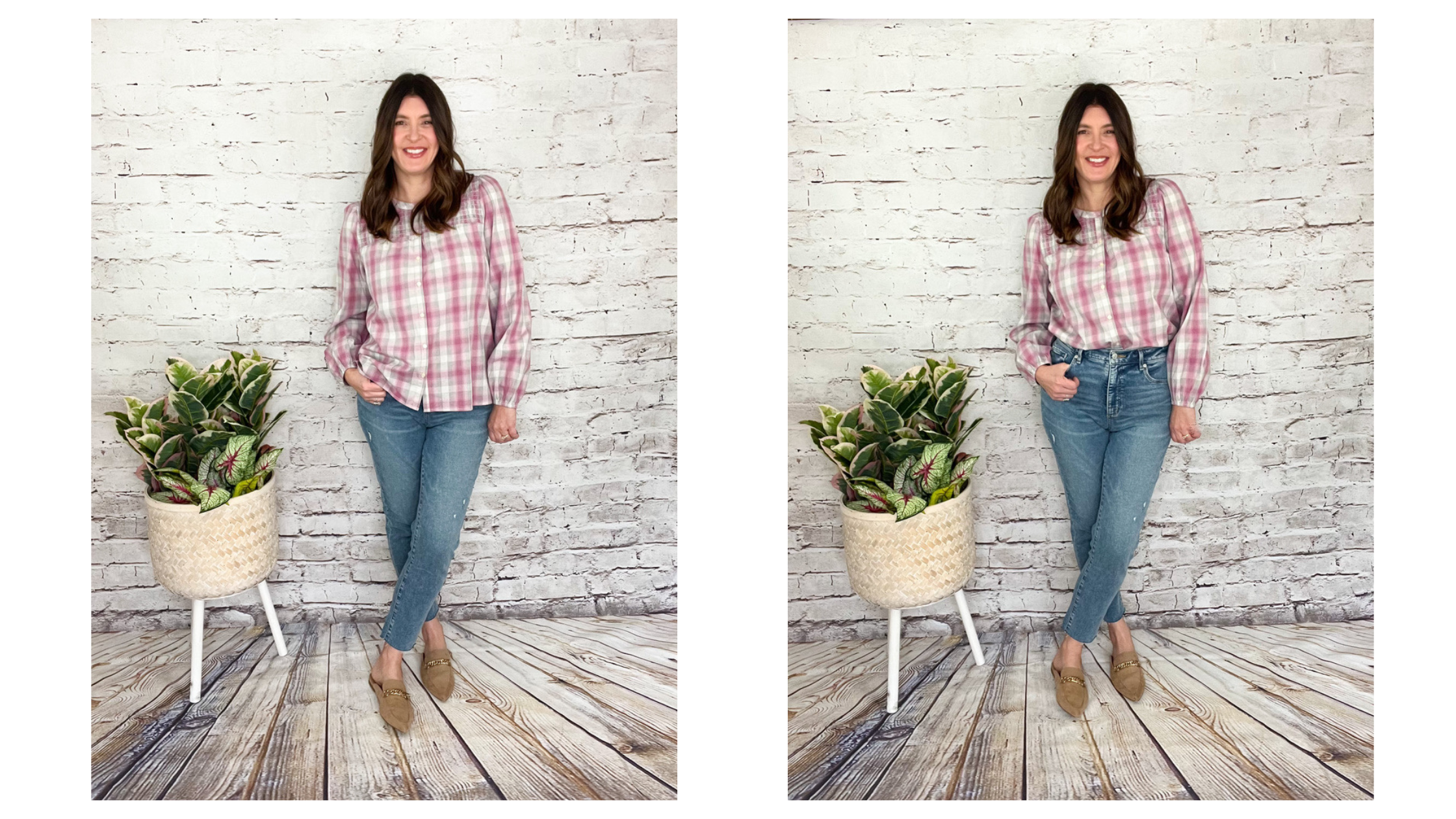 If you don't like to tuck your shirt, another tip to look slimmer is to belt your top or dress. Here are a couple of examples: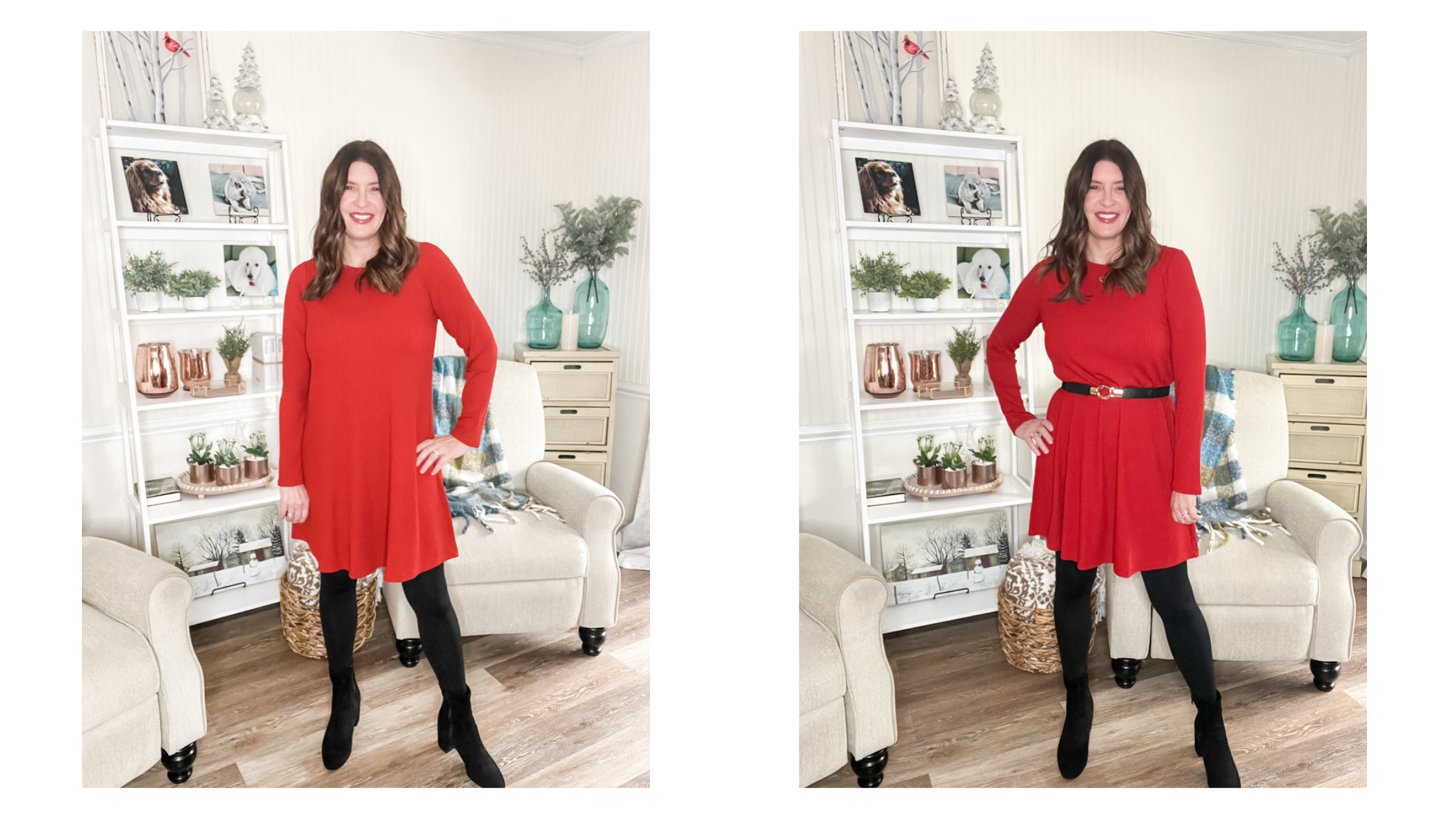 4. Not Wearing The Right Undergarments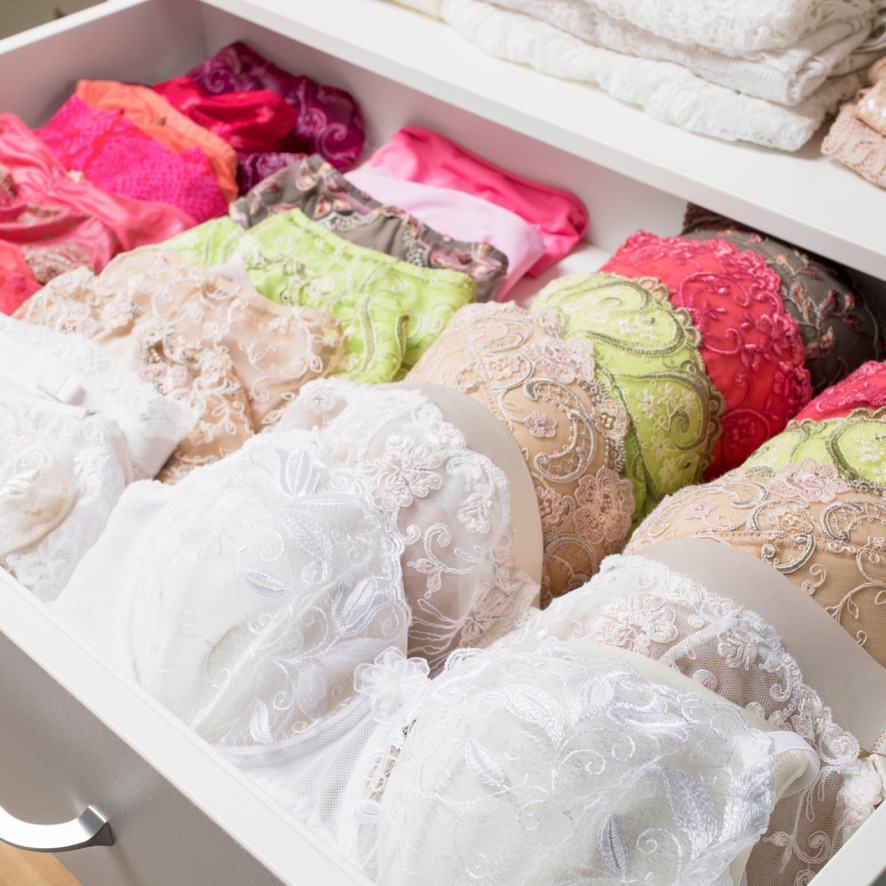 Not wearing the right undergarments can also add visual weight. A common mistake many women make is not wearing the right size bra. If you have never been properly fitted for a bra, then I urge you to do so. Most women are wearing the wrong size and have no idea.
My favorite place to shop for bras is Soma. The ladies there are very helpful and they will measure you for the best fit. Let me speak just a moment to the large busted ladies like myself. Keeping the girls lifted and in place can be a challenge, but it will make such a difference in how your clothes fit and how you look in them. You don't have to wear underwire to achieve a lifted look. I hate underwire, and I refuse to wear any bra with wire.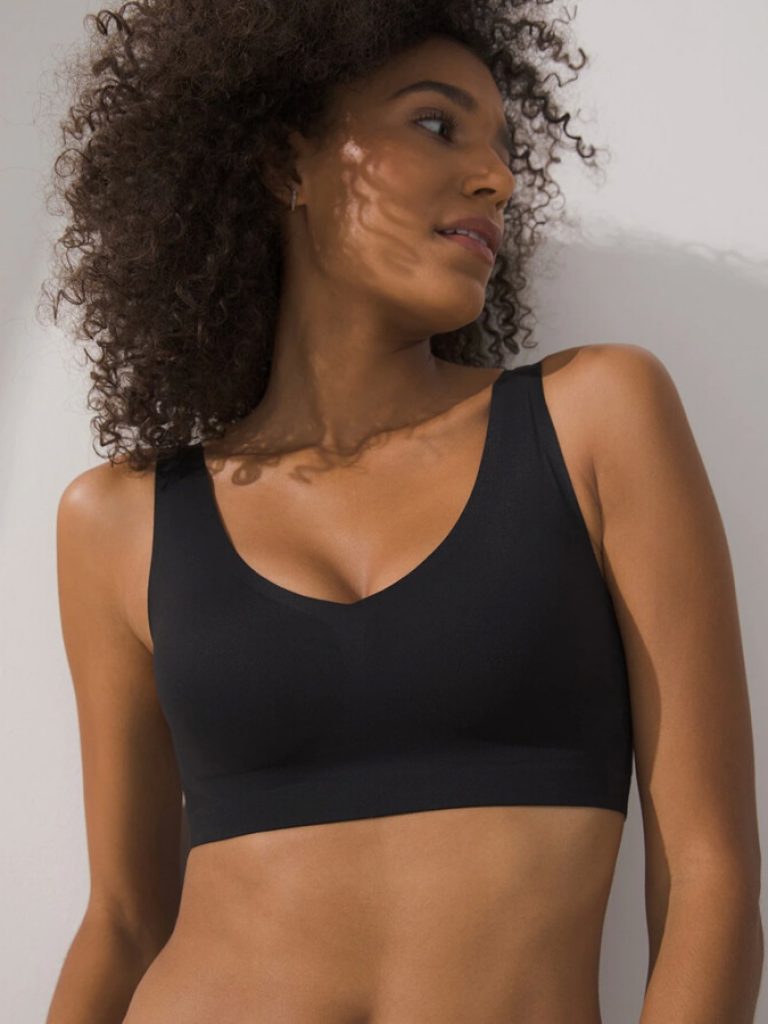 The Soma Enbliss Bralette is what I wear every day, and it gives me plenty of support. It also has a nice back smoothing quality that I appreciate. This bra is so comfortable that I could sleep in it, yet it gives me lift and support. Of course, I think any woman would enjoy this bra whatever size you might be.
Also, don't forget about shapewear. There is an option for any problem area you want to target, so find what makes you feel the most confident.
5. Wearing Puffy Jackets
Puffer jackets and sherpa jackets/pullovers are two things that can also make you look bigger than you are. They look cute on stick skinny models, but most women have trouble pulling off this look.
This is especially true if you are built like me and have broad shoulders and a large chest. Sherpa pullovers are another popular trend that can really make you look bulky. I have even shared a few styles in previous blog posts, but just choose them carefully if you are already bigger up top.
Example: This sherpa pullover was featured in one of my Walmart posts. I love the coziness of this piece, but it does add bulk to my frame…especially with the kangaroo pocket in front.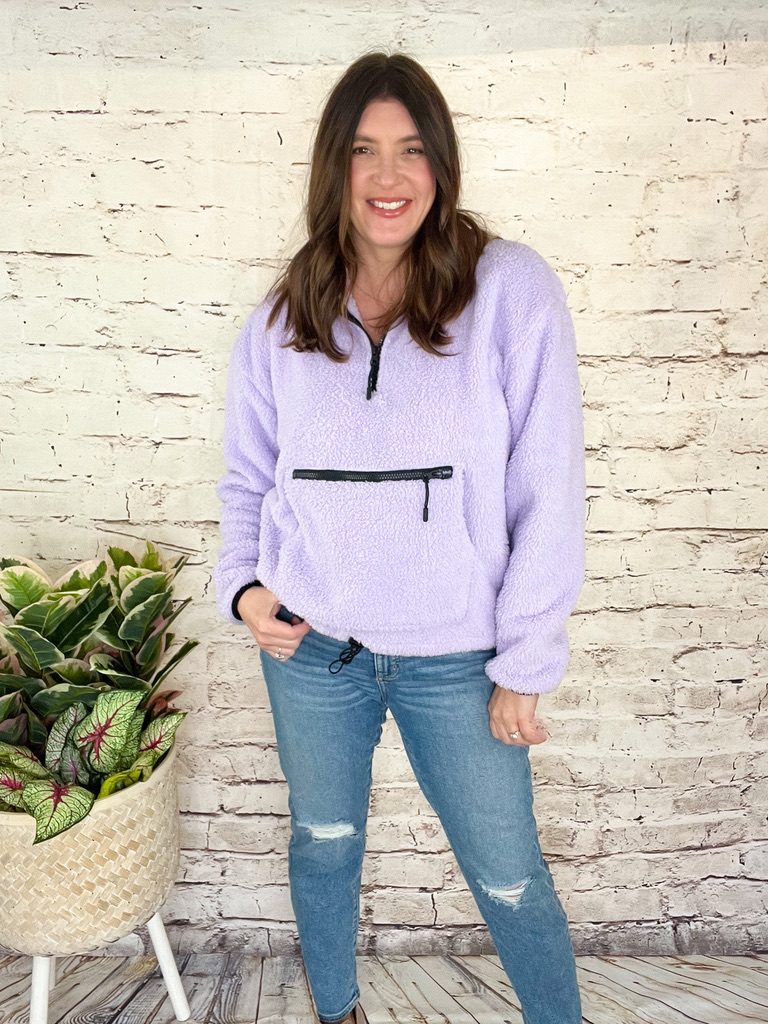 Solution: If you don't want to give up your sherpa, then opt for a style like this one that does not have the pocket in the front and isn't quite so bulky.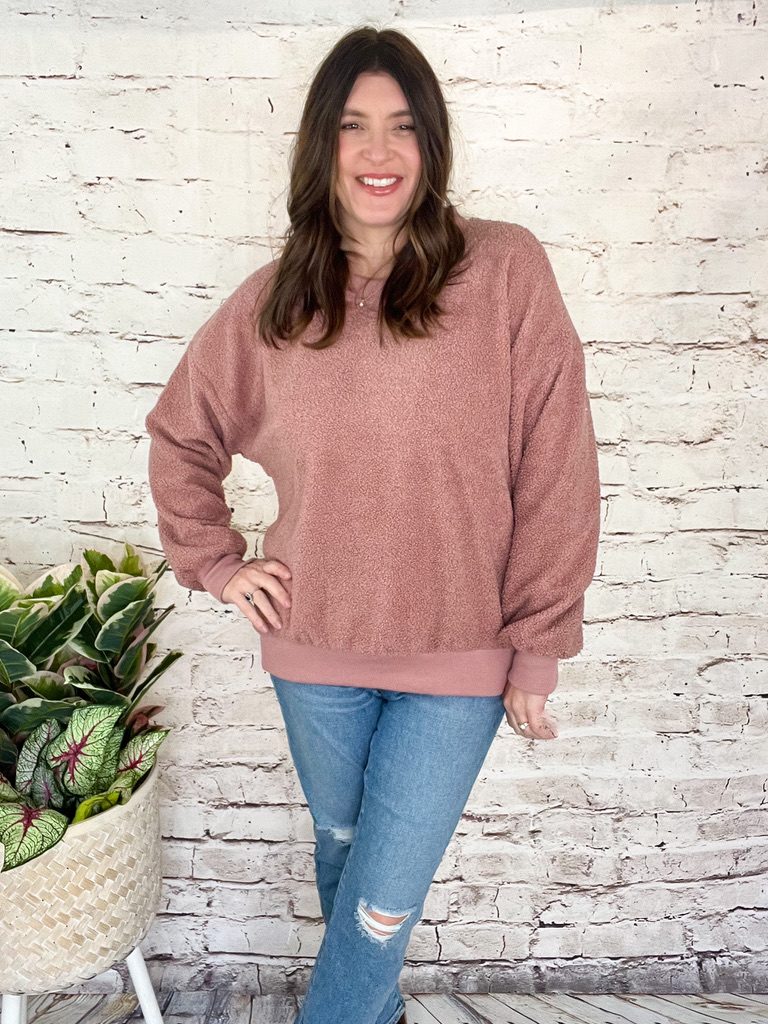 Example #2: This sherpa coat is a favorite of mine, but there is no doubt that it adds quite a bit of bulk to my figure.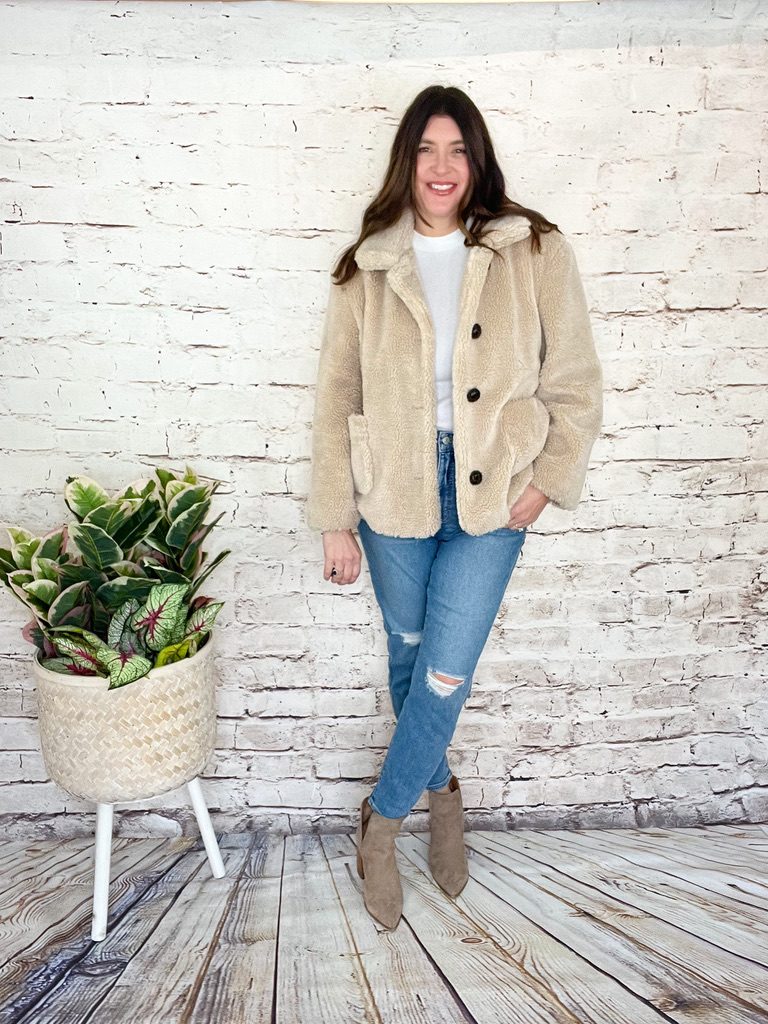 Solution: Avoid a sherpa coat, and go for a wool or wool blend coat that has more structure.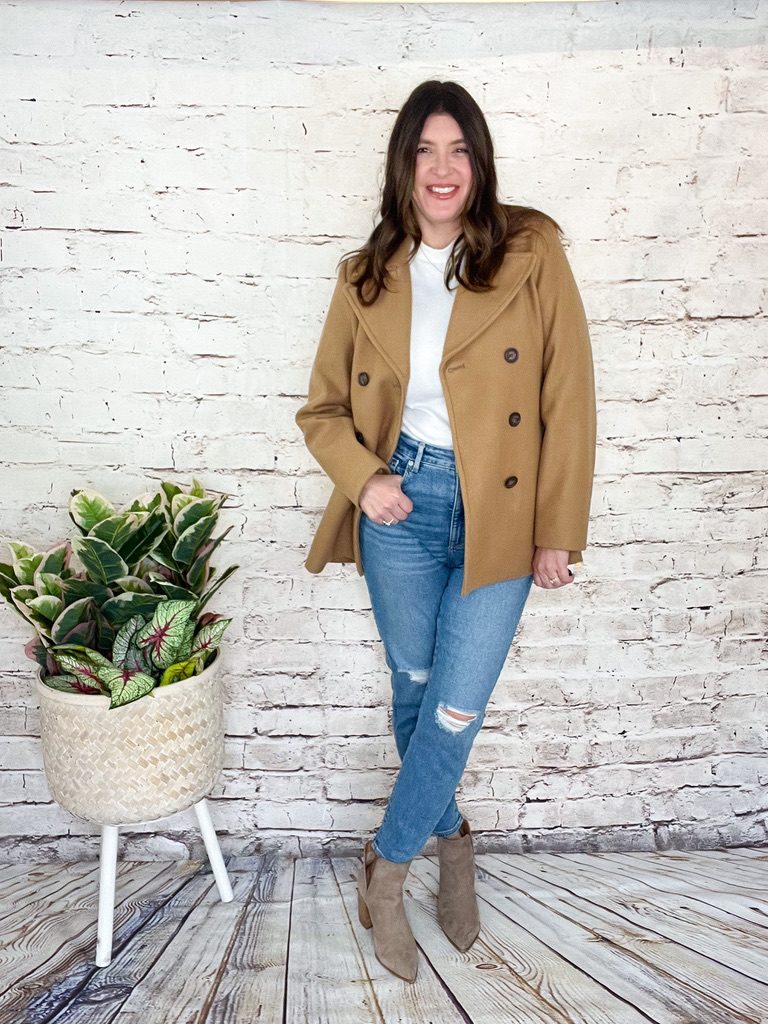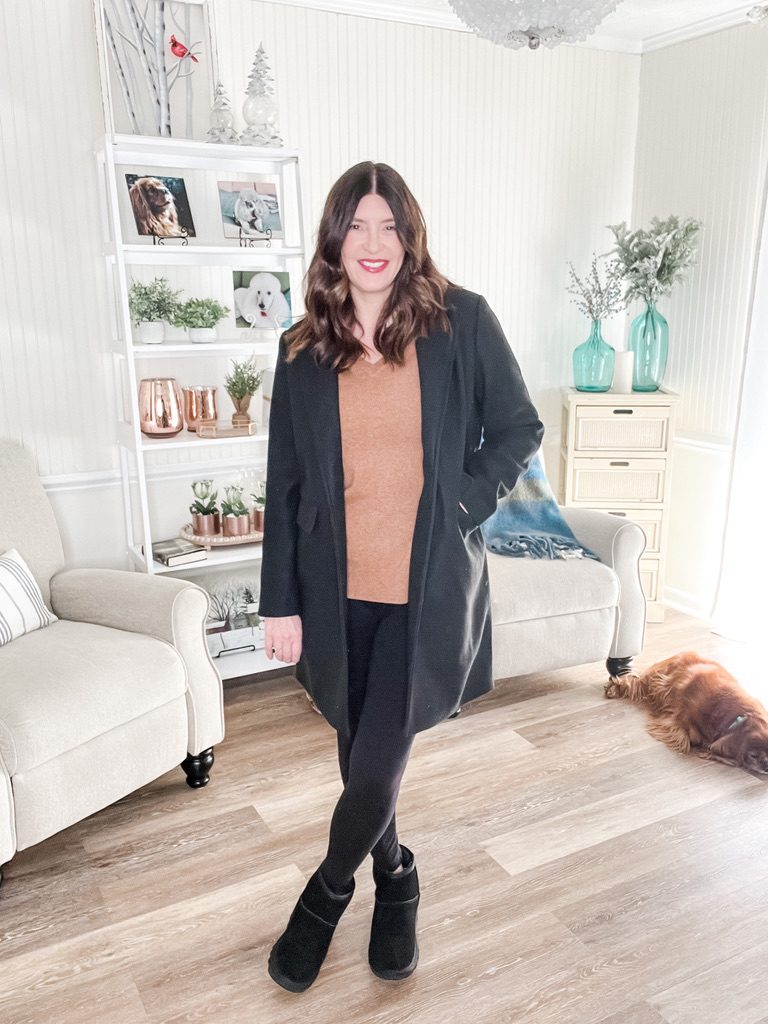 Instead, opt for a coat or jacket that is more tailored, like this one from Walmart. It is by Time and Tru and comes in several colors. If you need a coat for extreme cold weather, then try to find one that is as least puffy as possible. In the end, warmth is more important.
6. Skirts or Dresses That Are Too Long
Midi length dresses and skirts are very popular, but they can add visual weight if the length is not in proportion to your body type. A hemline that hits at the ankle can make a woman look wider, especially if you are petite.
Example: This long sweater dress from Target is very unflattering. It shows every lump and bump I have. I'm not wearing any shapewear here, which would help, but I still don't think it's the best look.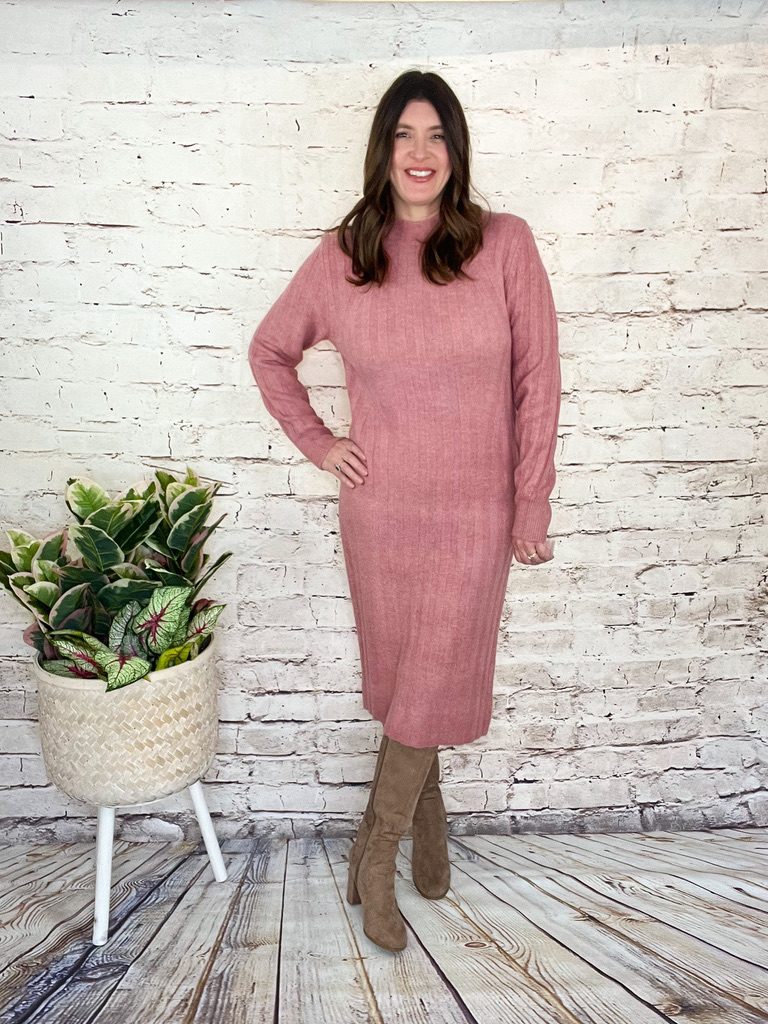 Solution: Instead try a skirt or dress that hits right above or right below the knee. These are generally more flattering and will make your legs look longer.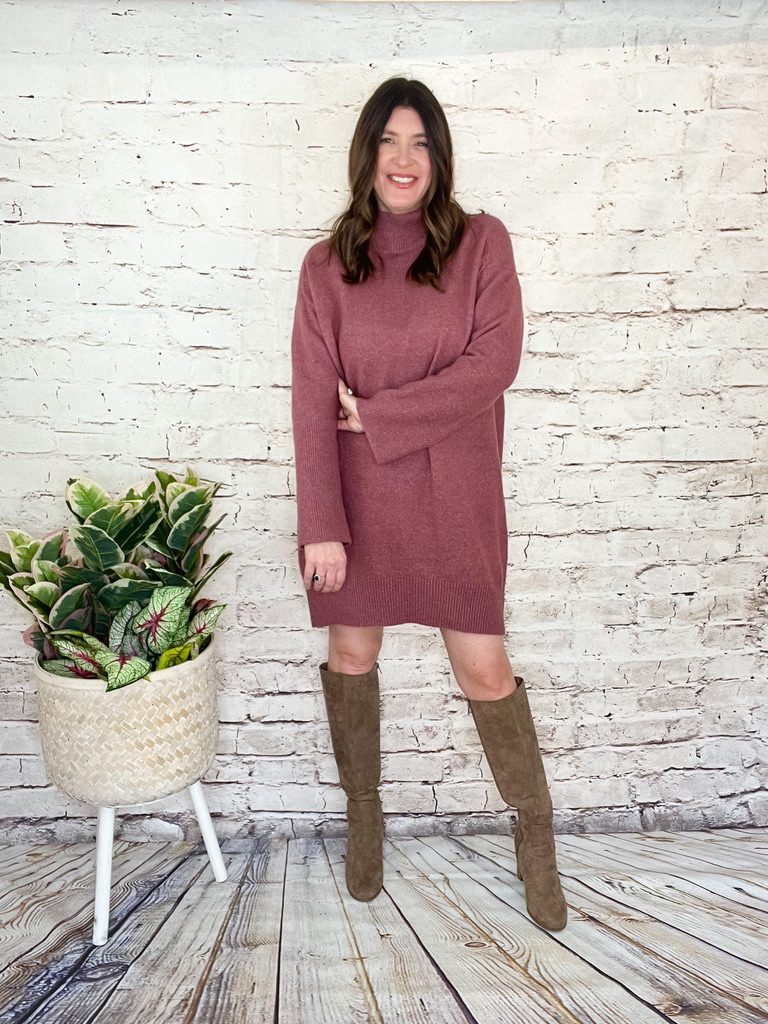 If you do wear a midi length, opt for heels instead of flats. Here are some looks with midi dresses: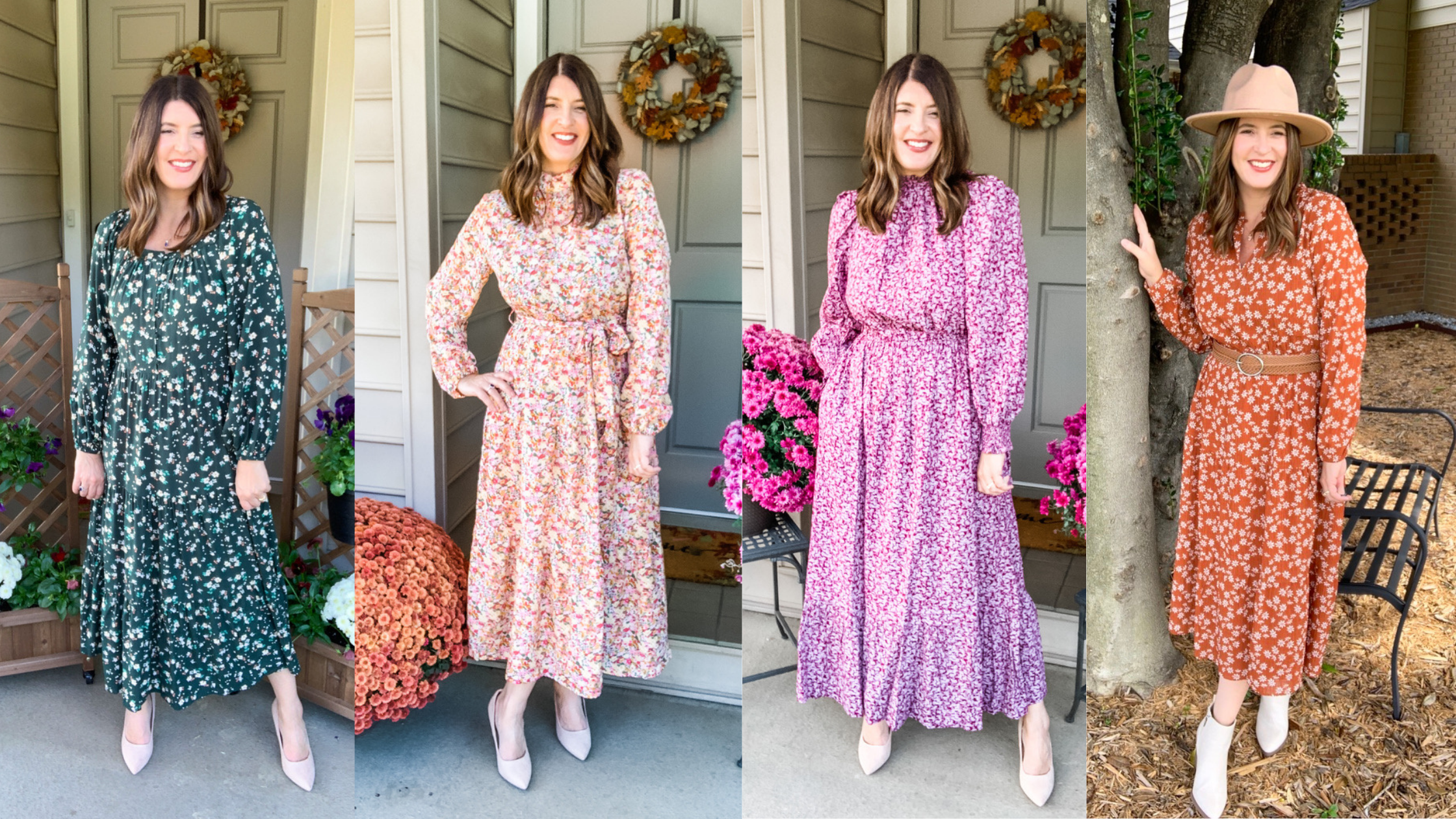 7. Layering Incorrectly
Another common mistake that can make you look bigger is layering incorrectly. Just like we need to balance baggy clothes with fitted ones, we need to balance fitted layers with loose layers.
Example: This shirt jacket is a bit oversized, so it will look best with a fitted layer underneath.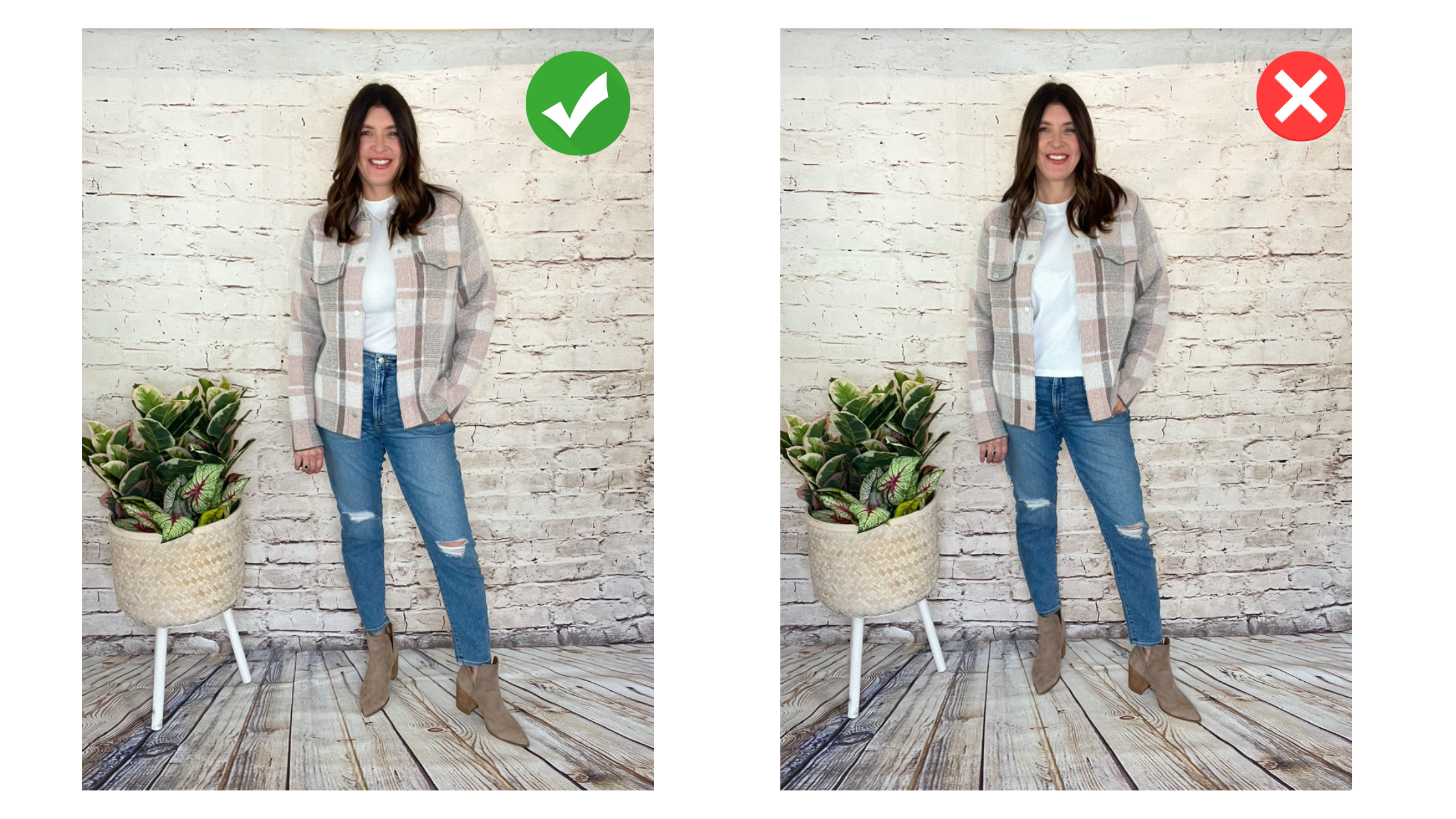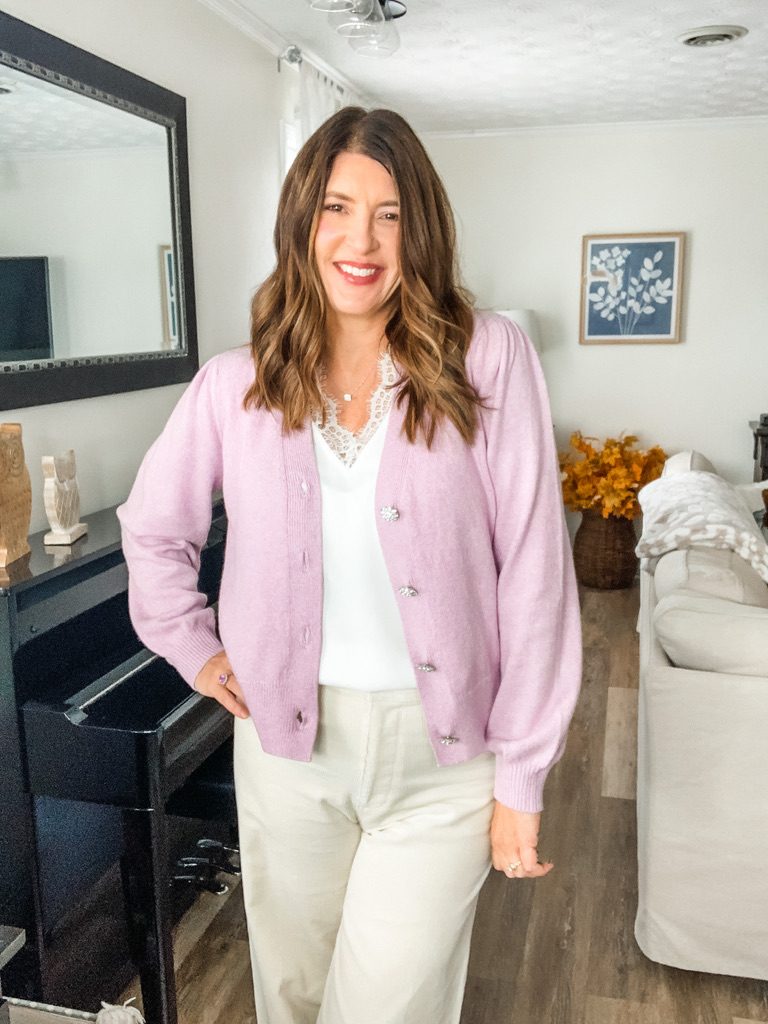 A loose kimono or cardigan will look best layered with a fitted top or tank underneath. In contrast, a loose tee or blouse looks best with a fitted or more tailored blazer.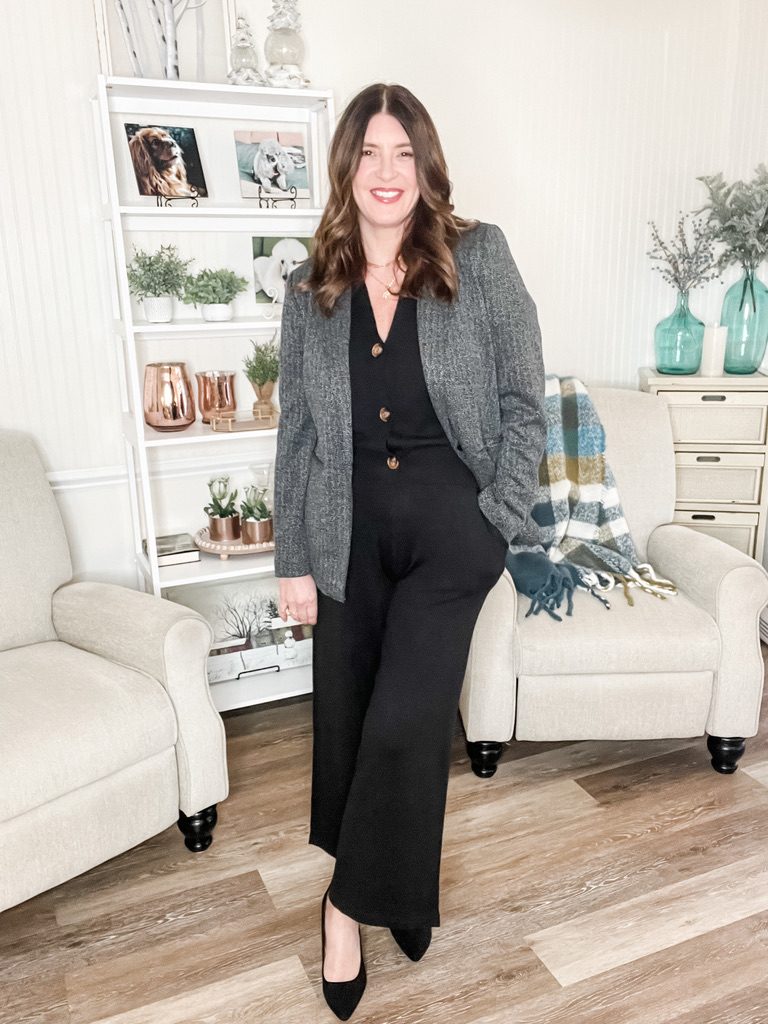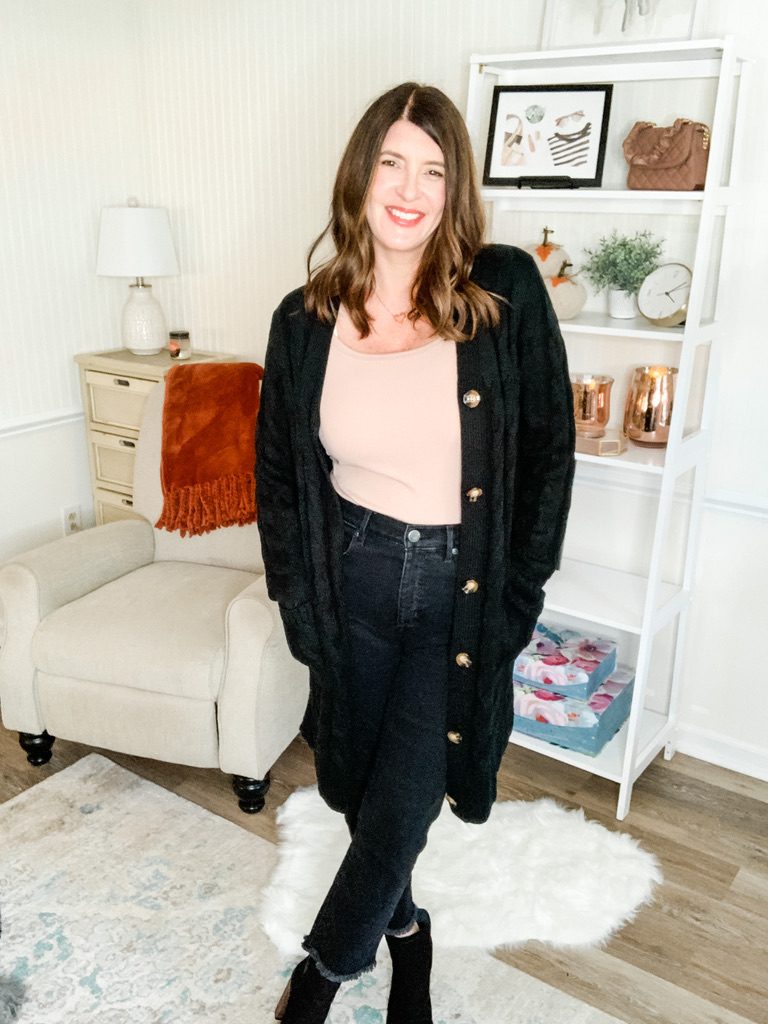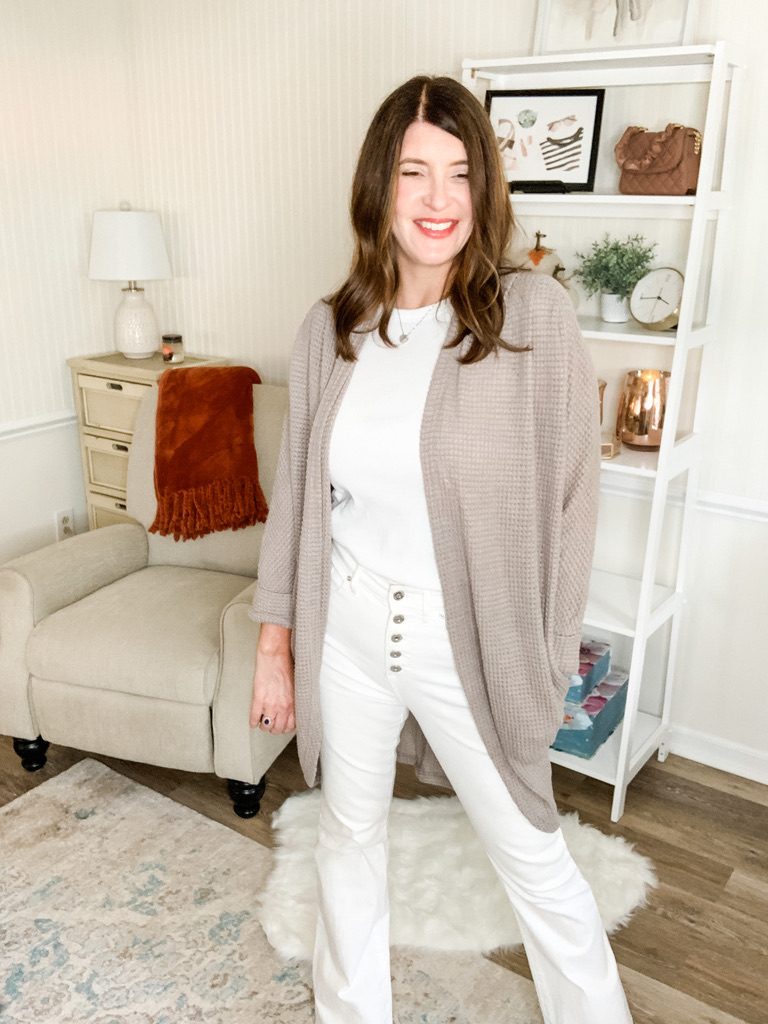 I hope you found this post helpful! If you enjoyed today's post, I think you will like this one too. Don't forget to subscribe to receive my emails…you will get subscriber only content and all new blog posts will be delivered to your inbox. Until next time…
Kristin