Well, it's been a while since I did a Kohl's try on so I went to my local store to see what I could find for early fall. To be honest, the past few times I have been in Kohl's, I was very disappointed in the selection. The store seemed so bare during the summer months, and I didn't see anything that I was very excited about. Today I have a good old fashion try on haul with some early fall looks from Kohl's that I hope you will enjoy, and the dogs are making another appearance! I found several pieces that I liked and some are probably going to find a home in my closet.
Chambray Denim Shirt Dress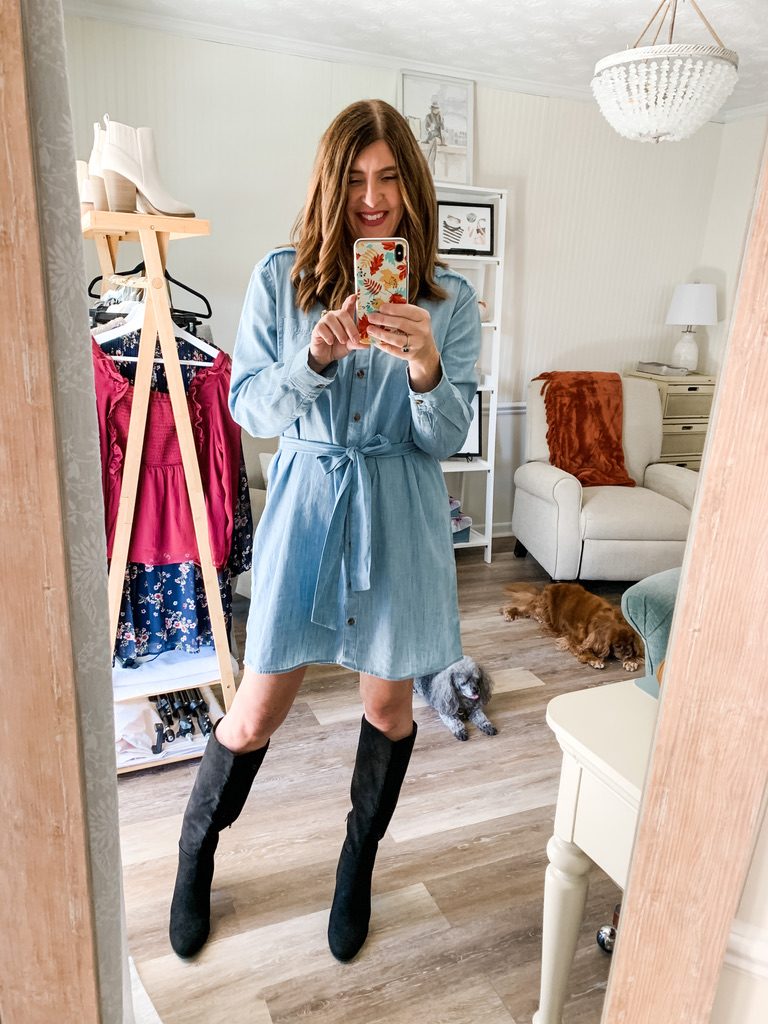 I've always been a fan of a good shirt dress. They are a good option for when you want to wear a dress, but still look casual. This dress is a junior brand called SO, but don't let than scare you off. It has a very generous cut and it fit my 50 year old frame pretty well.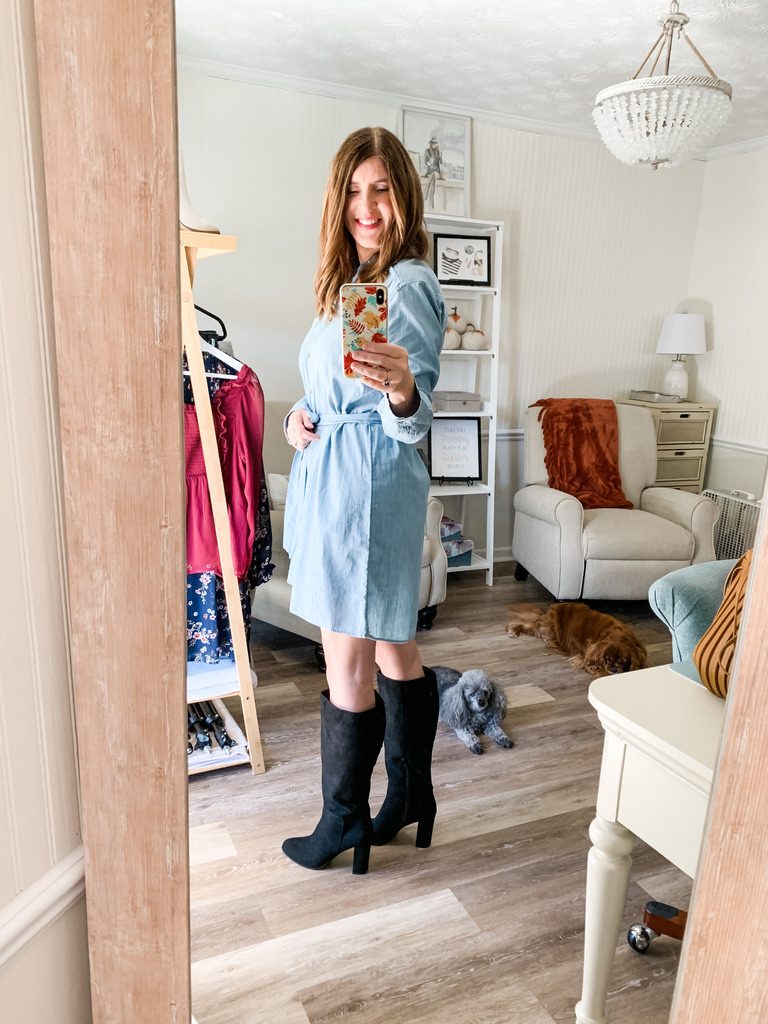 The only negative is that the length is a little short for me. I would wear this…but I wish it was just a tiny bit longer. I'm 5'7″ for reference, so if you are not as tall as me I don't think the length will be an issue. It is slightly longer in the back, which helps.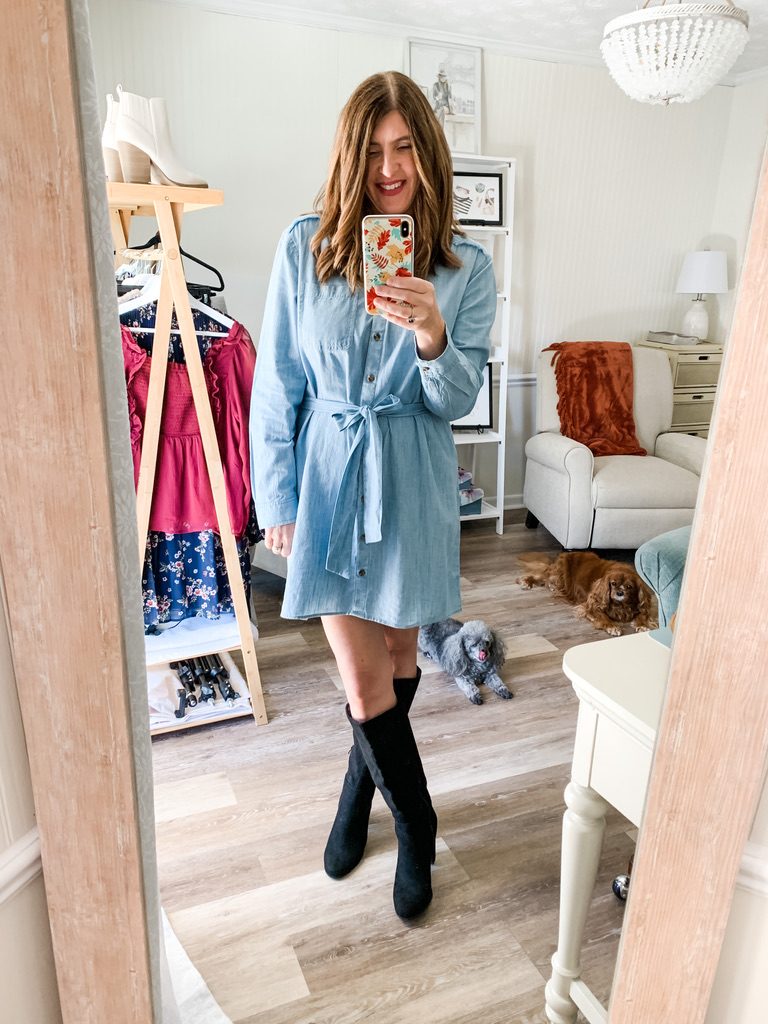 I am wearing a large and the buttons did not gap open around my chest. This also comes in a couple of cute plaid prints and some other solid colors.
Sweatshirt Dress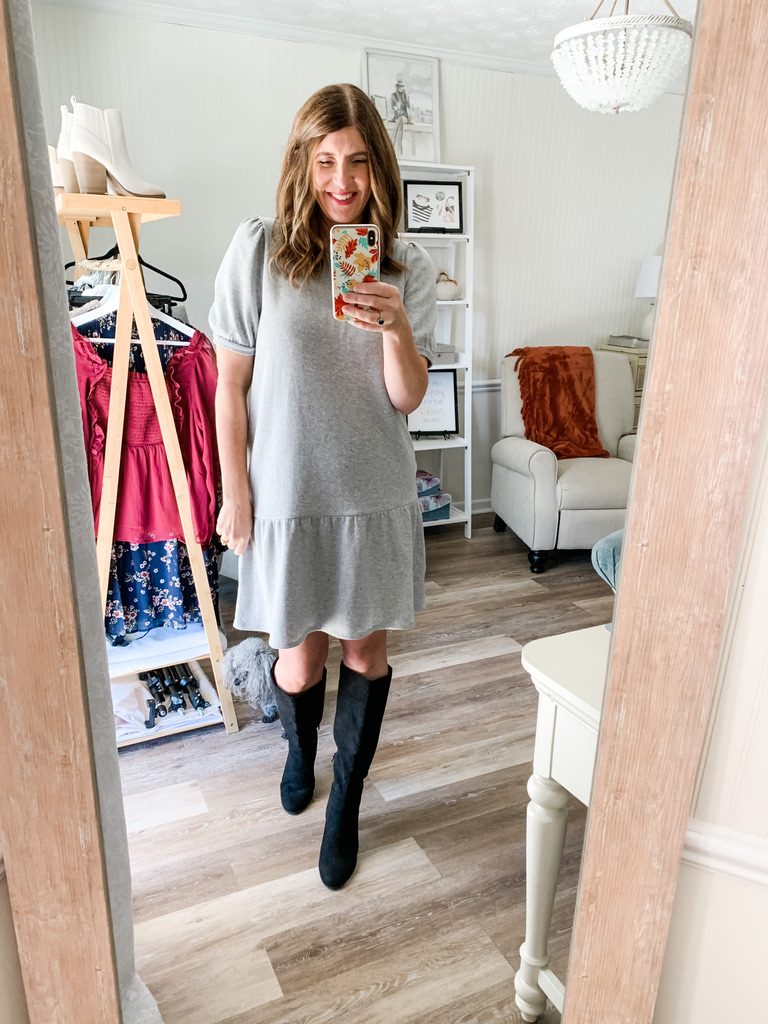 Next is another casual dress from Nine West. I just can't pass up a good sweatshirt dress! This is a flattering drop waist with slightly puffed sleeves. I'm wearing a medium. I like the classic grey, but it also comes in three other colors!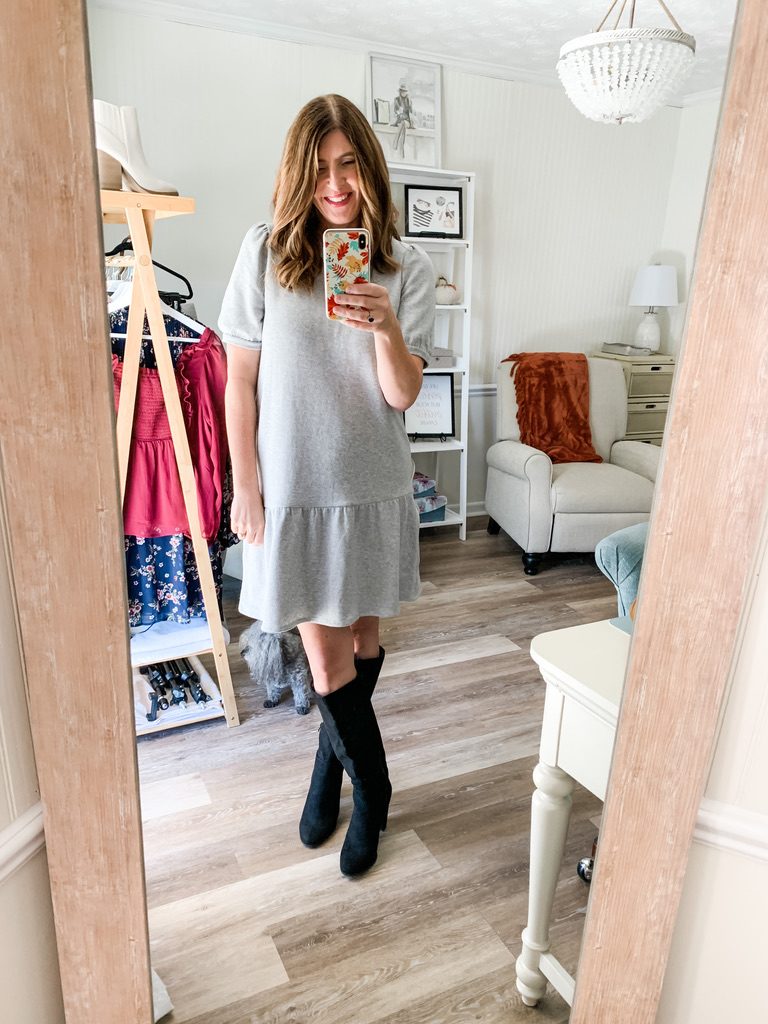 Plaid Flannel Shirt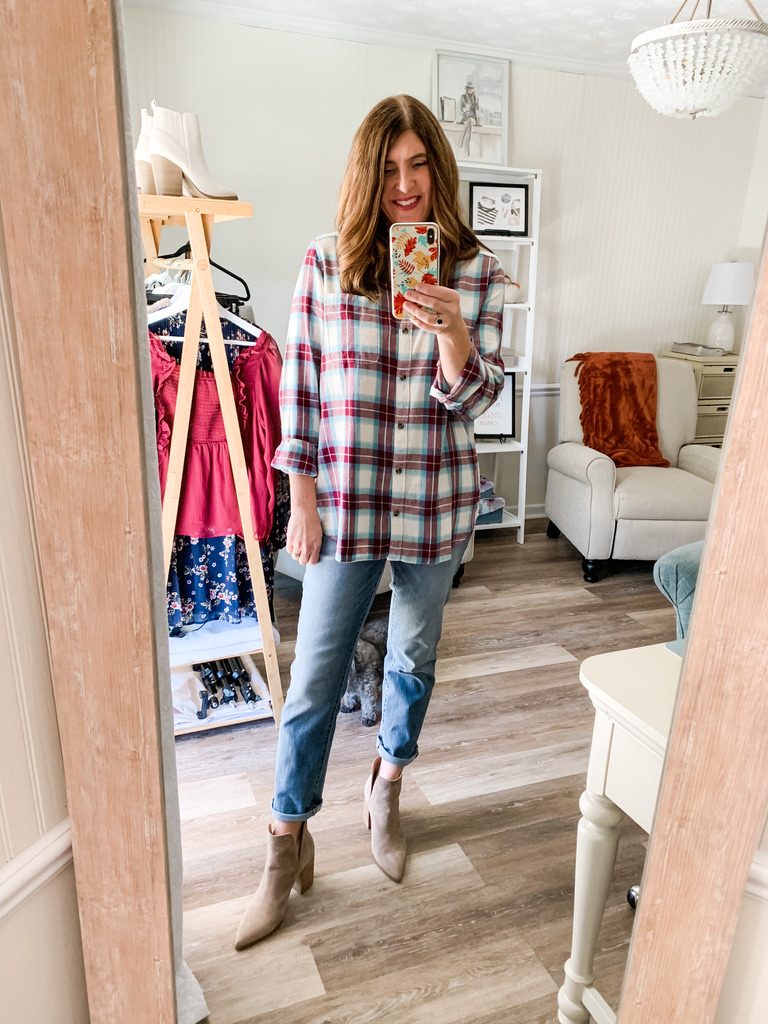 You can't have fall without a new plaid shirt! This one caught my eye because of the unique color combination. I'm wearing a large, and it is oversized. This is also a junior size top by SO. I could not find this exact color online, but check your local Kohl's for more color options.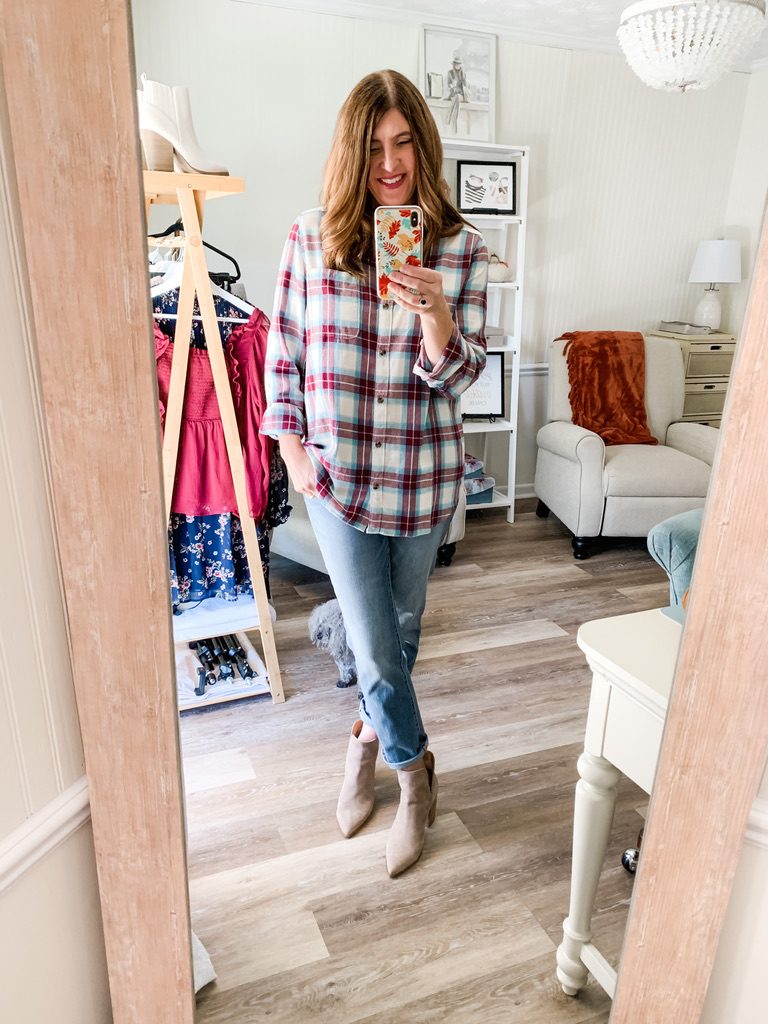 Corduroy Tote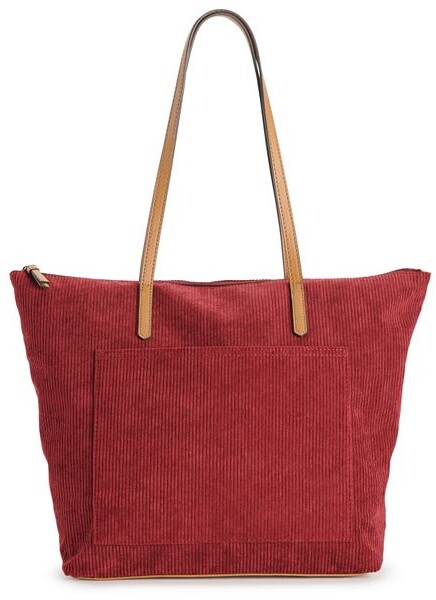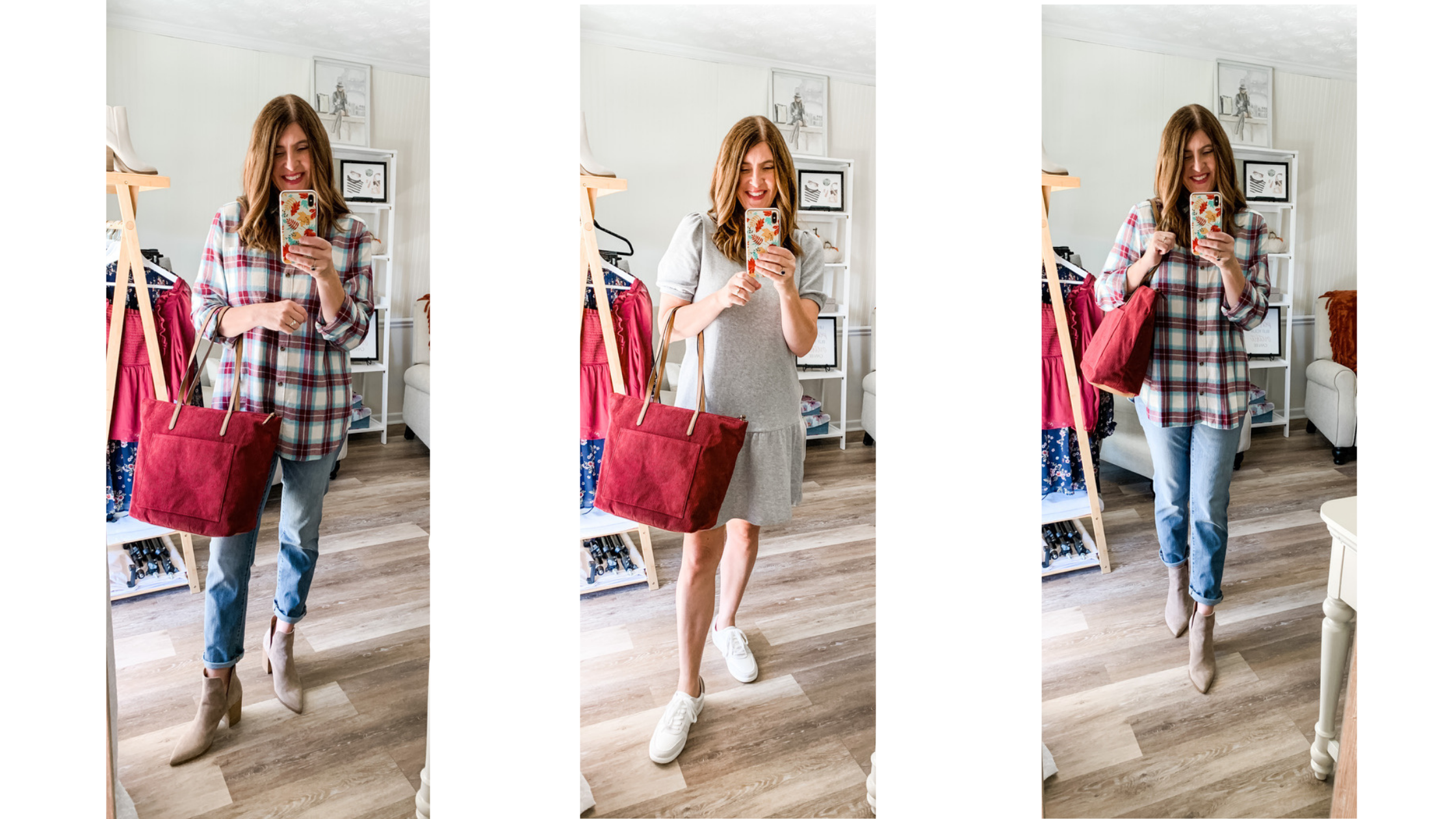 This corduroy tote from Sonoma Goods For Life is the perfect accessory for these outfits or for fall in general! It's very reasonably priced, and comes in four colors. I chose the Rumba Red.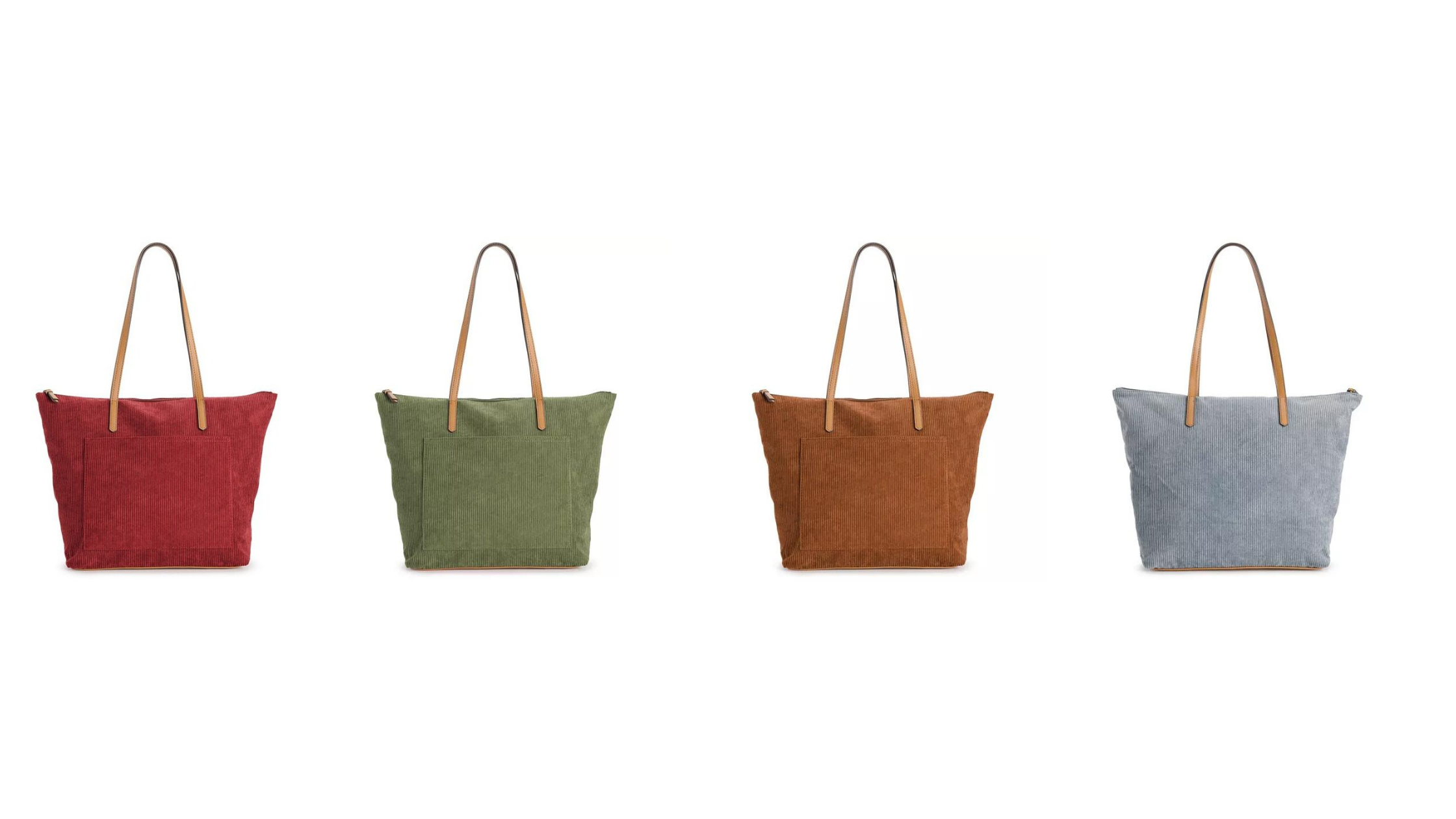 Ponte Legging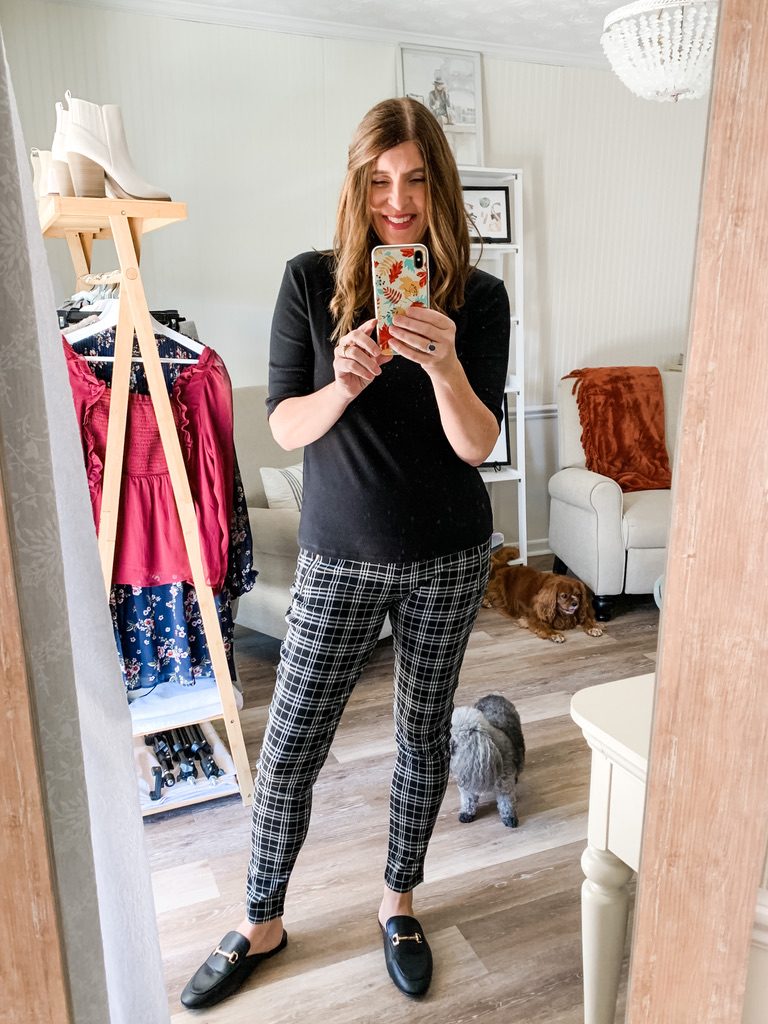 My favorite piece from this haul are these High Rise Ponte Leggings. They fit like a dream and are so comfortable and classy. They could be styled so many ways. Here, I paired them with a simple black mock neck tee from Target.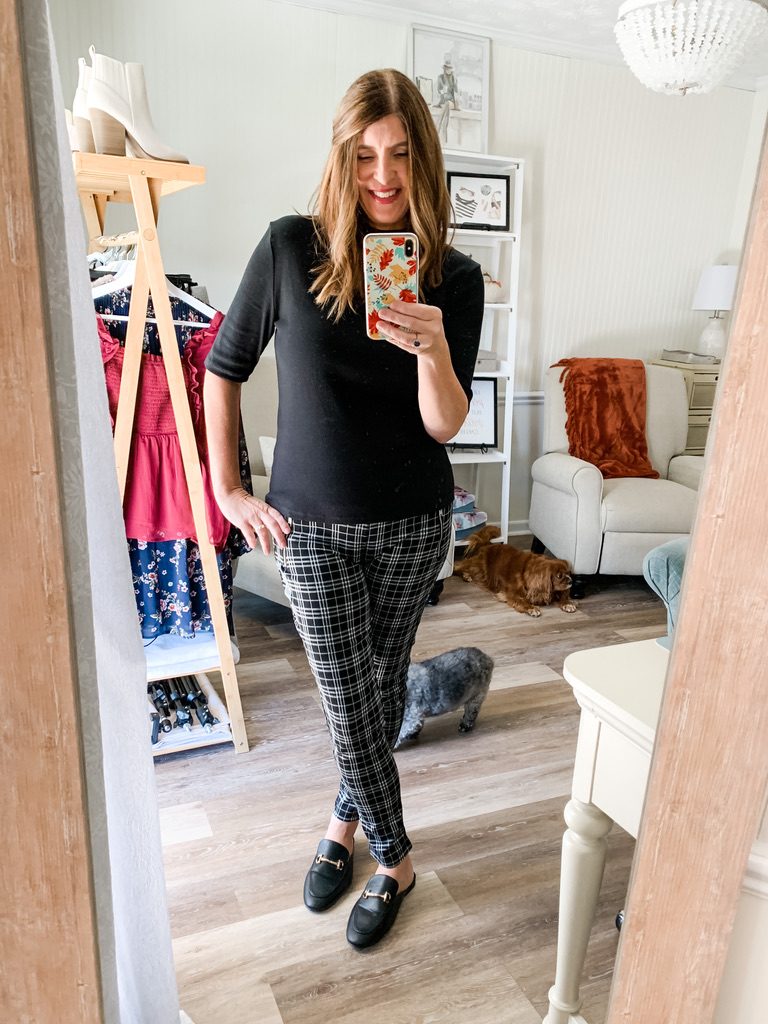 These are also a junior size, so I went up to a large. I will be adding a couple more pairs of these to my wardrobe as they come in other prints/colors. My shoes are a couple of years old, but I linked a similar style.
Lauren Conrad Moto Jacket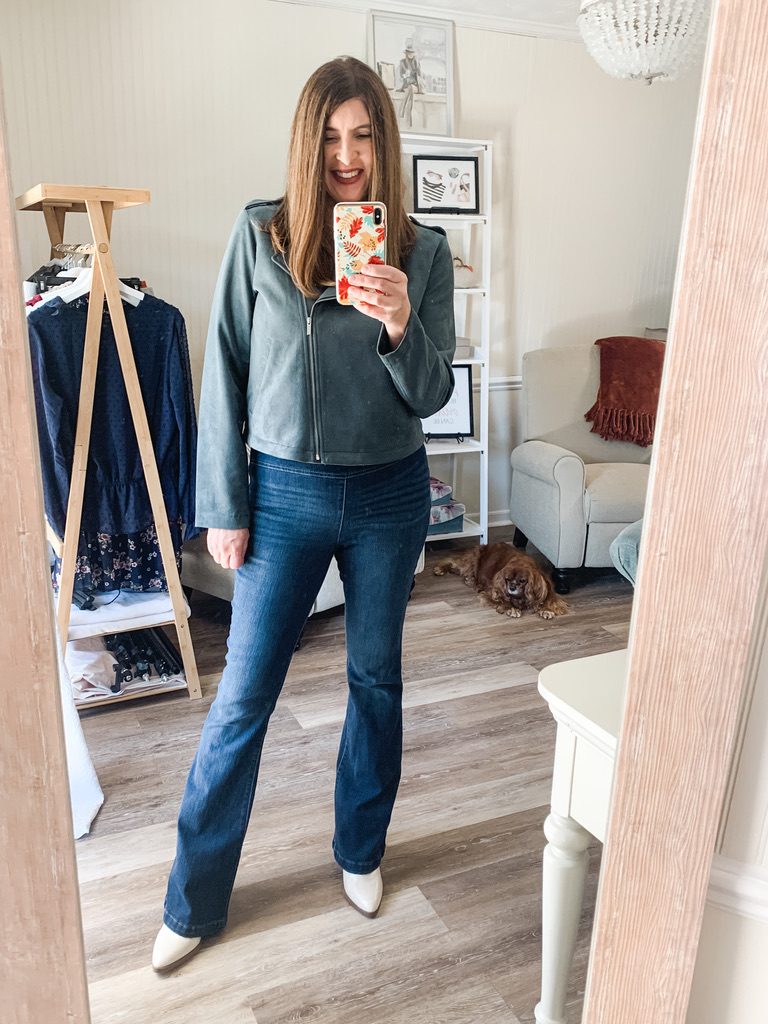 If you are looking for a new jacket this fall, this buttery soft suede moto jacket is a great option. It comes in four colors, but I fell in love with this muted forest green. It runs true to size, and I'm wearing a large.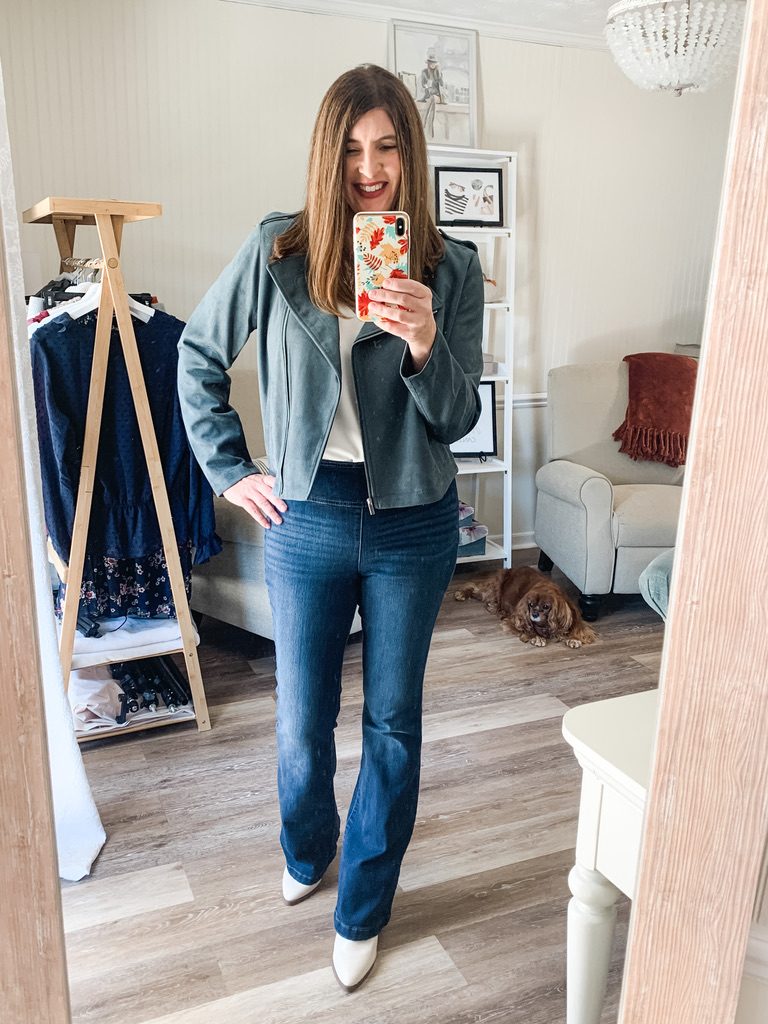 For this outfit, I 'm wearing my favorite lace tank and some pull on flare style jeans. My boots are a new purchase from Walmart. To see these styled some other ways, check out this post.
Balloon Sleeve Top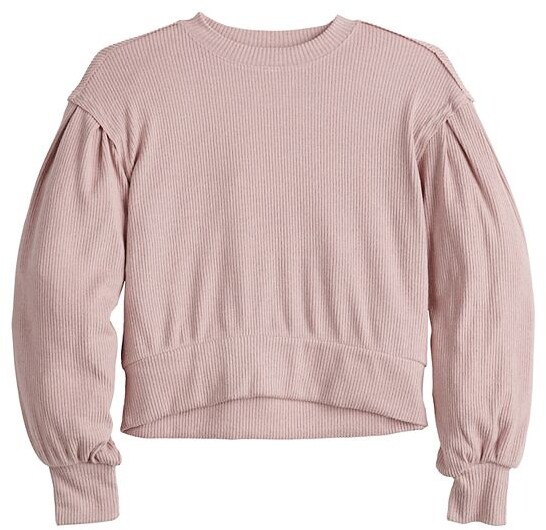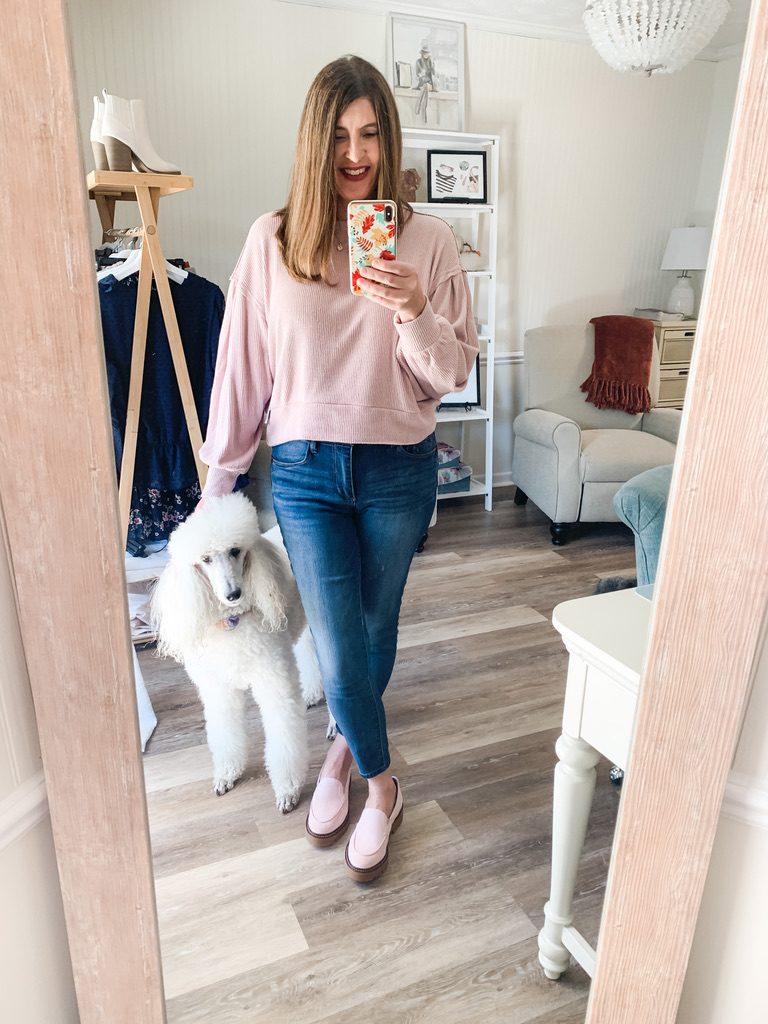 For a casual and comfortable fall top, I think you will enjoy this balloon sleeve top. The fabric is soft and it has a cropped style. I sized up to an XL to make sure that it fit oversized and was long enough. Paired with some high waisted jeans, there is no skin showing.
I chose my Democracy Ab Solution skinny jeans for this outfit to show that yes, you can still wear skinny jeans!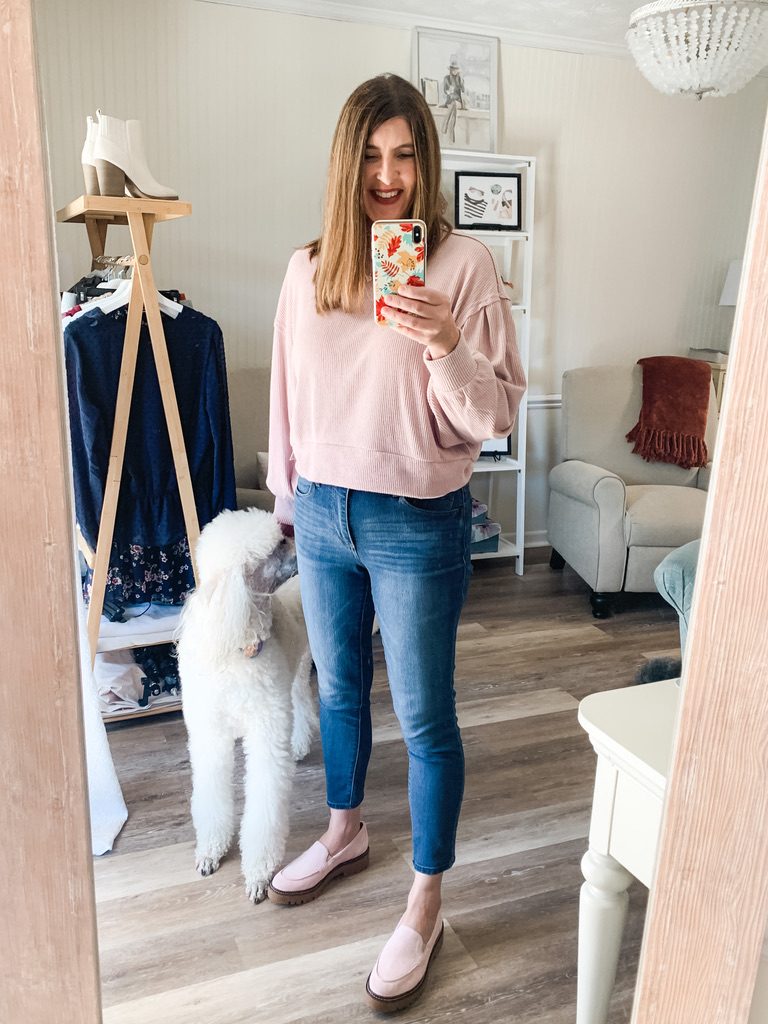 I don't wear a lot of dusty pinks because they generally don't flatter me, but this one had a slightly cooler undertone that seemed to work better with my skin tone. It comes in a total of nine colors and is under $20! Here is the color in outdoor natural light.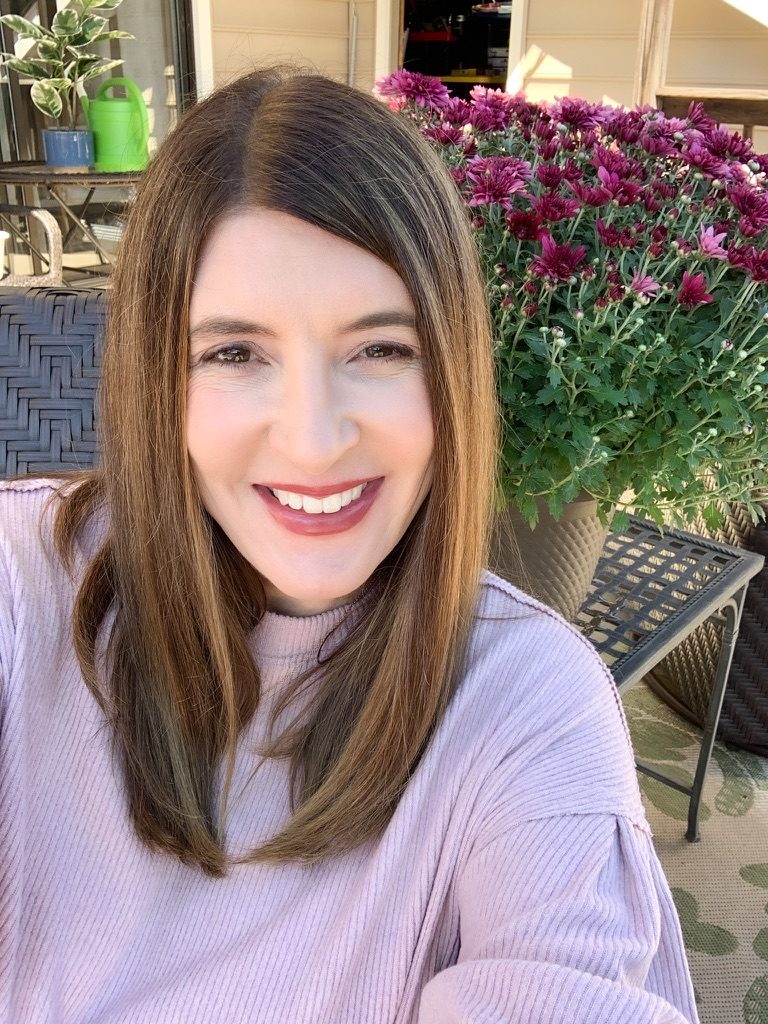 My loafers are a new purchase from Nordstrom, and you can see more ways to wear them in this post.
Elbow Puff Sleeve Sweatshirt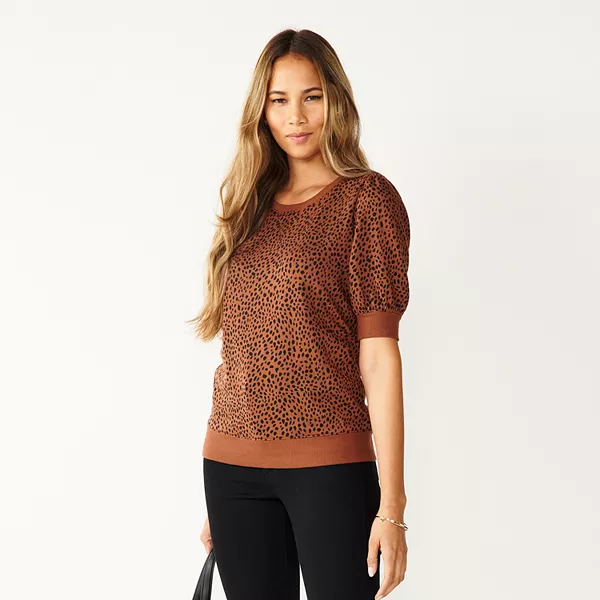 The last piece of my early fall looks from Kohl's was a fail for me. It's this elbow puff sleeve sweatshirt in the brown cheetah print. They did not have my size, so I picked up a small to try and I could barely get it on! I'm going to order it in the correct size, but I wanted you so see it anyway. It's also available in several other colors/prints.
Other Good Finds From Kohl's
There are few other pieces that caught my eye while shopping online. Kohl's is now carrying some new brands that may or may not be available at your local store.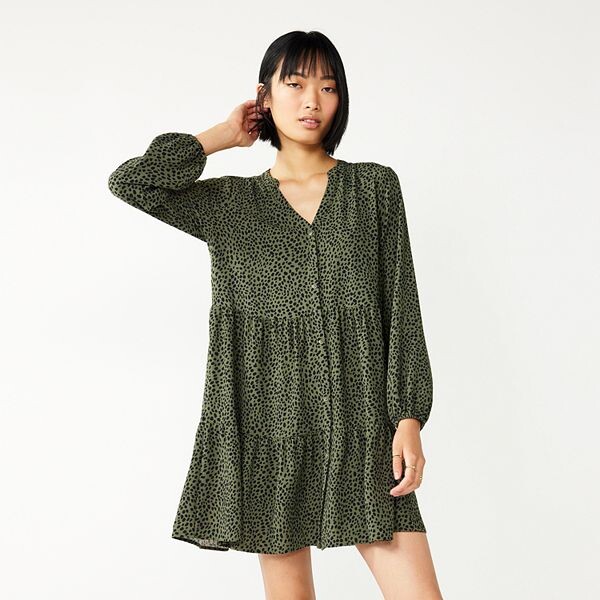 I love this tiered shirt dress by Nine West. They did not have my size in store, but I ordered this online!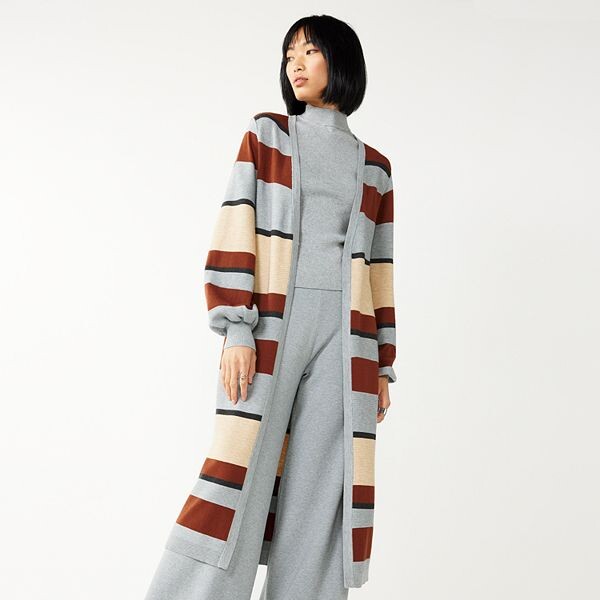 How pretty is this duster cardigan for fall? This piece is also by Nine West, and I ordered it online as well.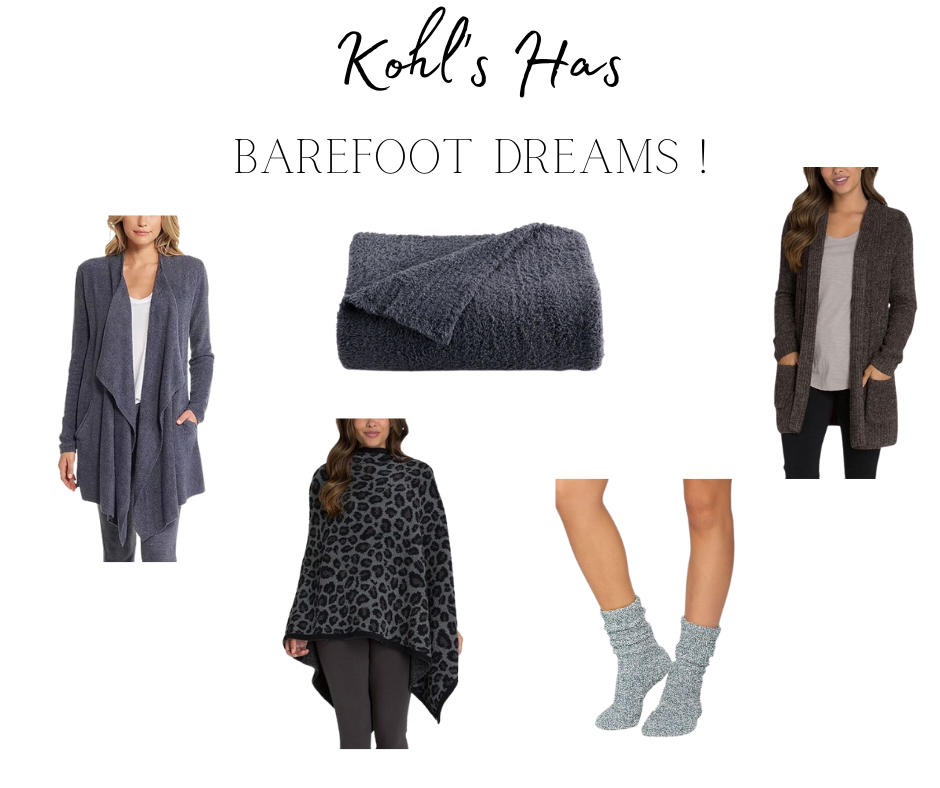 Kohl's is now carrying the Barefoot Dreams line. If you are a fan of this luxurious brand, I linked some of the more popular items. They are pricey for sure, but everyone raves about them being worth the price. I have never owned any barefoot dreams items myself. Unfortunately, Kohl's does not accept coupons on Barefoot Dreams, but they do allow you to use your Kohl's cash toward these!
The Yummy Sweater Co. is another new line at Kohl's and if you like oversized lounge clothes that still look chic, this might be for you. I'm looking forward to trying some of these pieces for myself!
Also, Sephora has partnered with Kohl's, and they have retail space in some Kohl's stores. This is very convenient and can save you a trip to the mall. Here are some of my favorites.
I hope you enjoyed these early fall looks from Kohl's! Let me know your thought in the comments below, and thanks for stopping by today.