Skinny jeans have taken a back seat to the straight leg jean. Many women struggle with this newer cut and find it difficult to adjust to the silhouette. Today I'm sharing some fall styling tips for straight leg jeans that will make wearing this current trend easier. This is actually an updated version of a post that I published last year. It has been one of the most viewed posts here on the blog as well as on Pinterest.
Styling straight leg jeans for colder weather is a little more tricky in my opinion. In particular, they can be hard to style with ankle boots which are a wardrobe staple in fall and winter. With than in mind, here are some styling tips when wearing straight leg jeans with ankle boots.
What Are Straight Leg Jeans?
Let's start by pointing out the characteristics of this style. Straight leg jeans come in a variety of styles, but they all have one thing in common…the cut and leg opening. The width of the hem is straight from the hip to the ankle. They do not fit as snug in the leg as a skinny jean and have a more relaxed fit.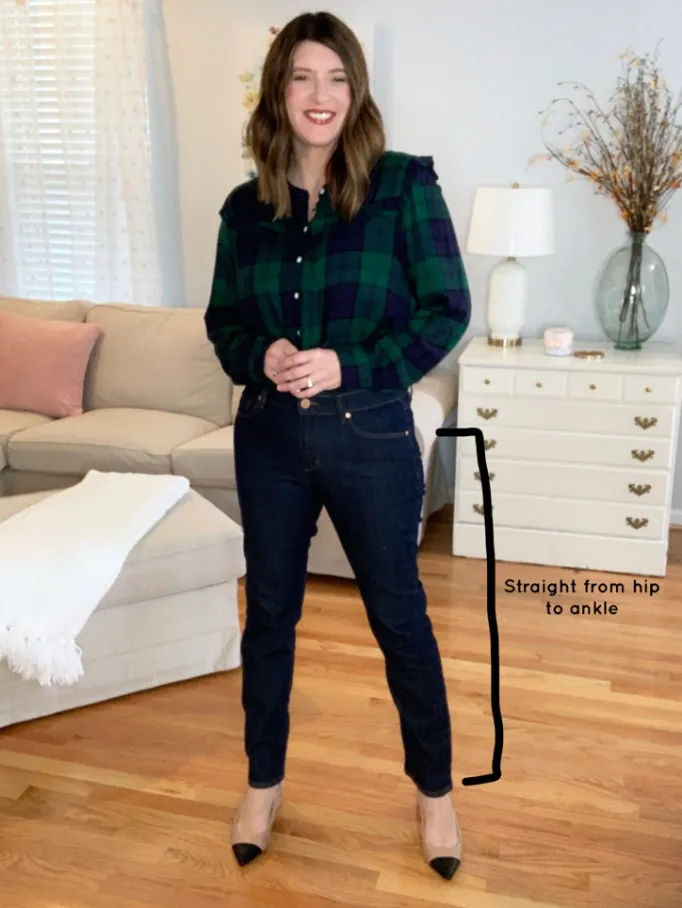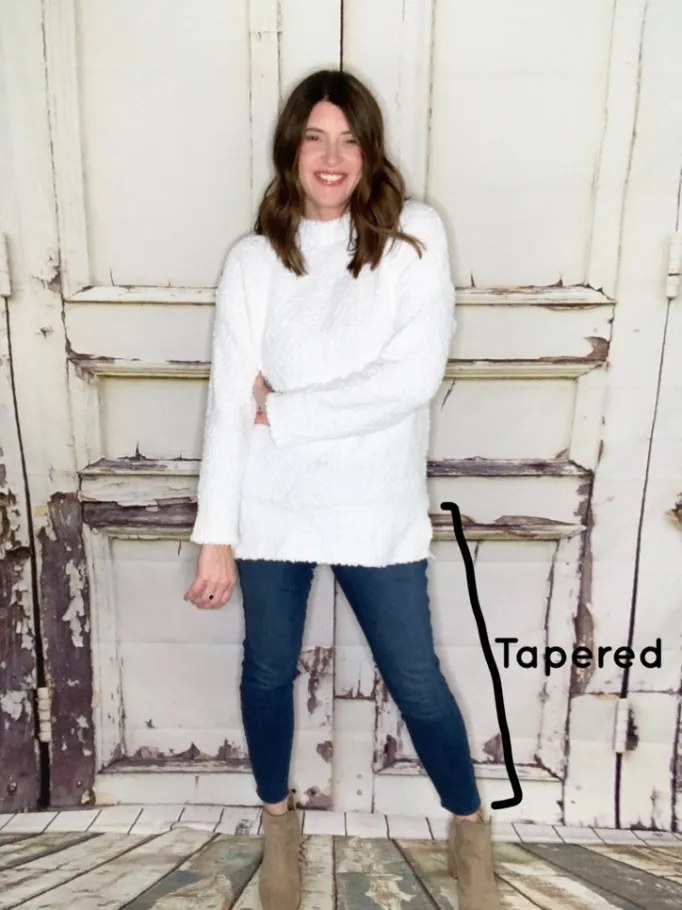 As far as length, straight leg jeans come in cropped or full length. This is where your shoe choice becomes important.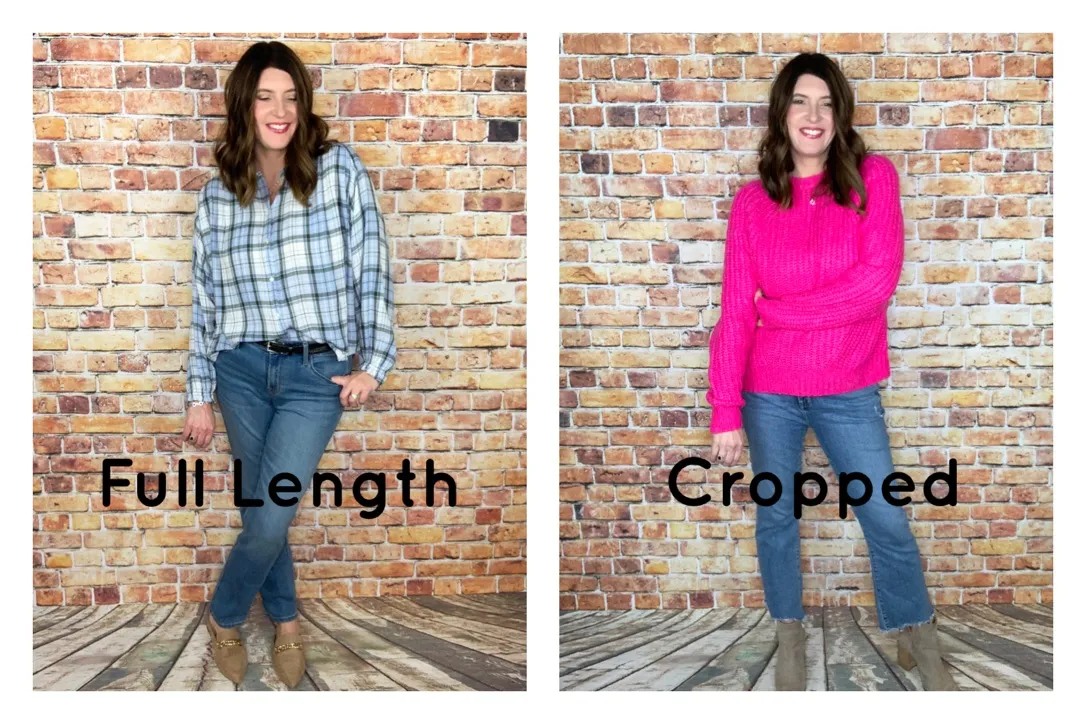 Full length jeans look better with flats, heels, or sneakers. Cropped straight leg jeans are your best option for boots.
Here is an example of straight leg jeans with flats (mules).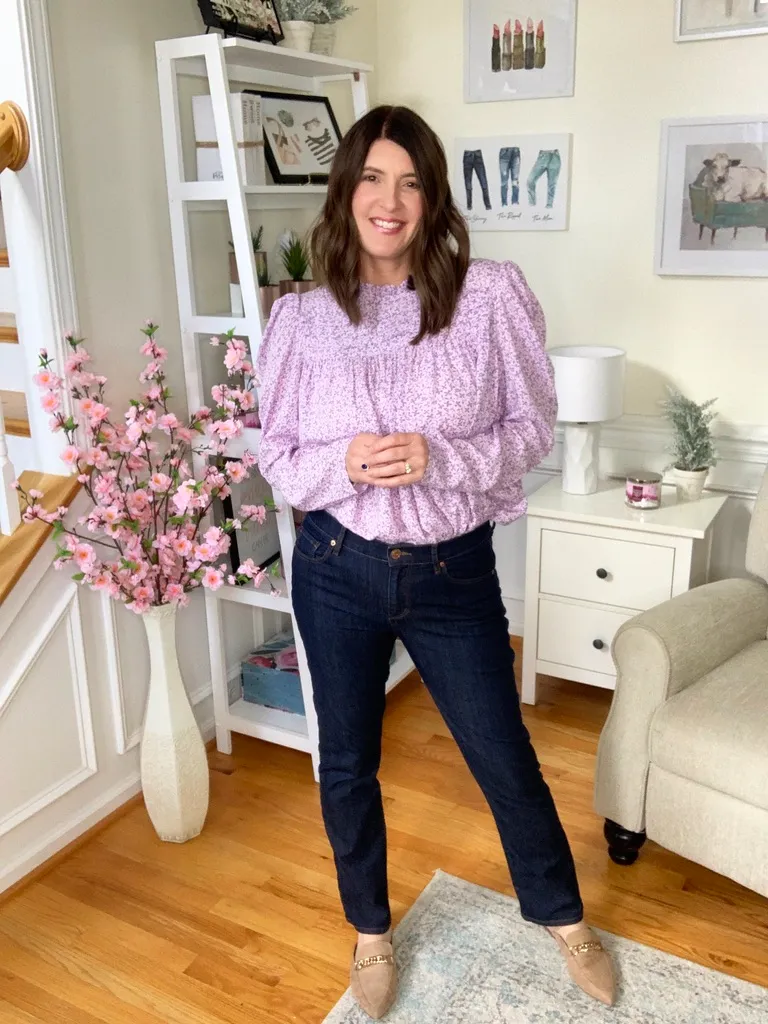 Four Ways To Style Straight Leg Jeans
1. Cropped Jeans + Ankle Boots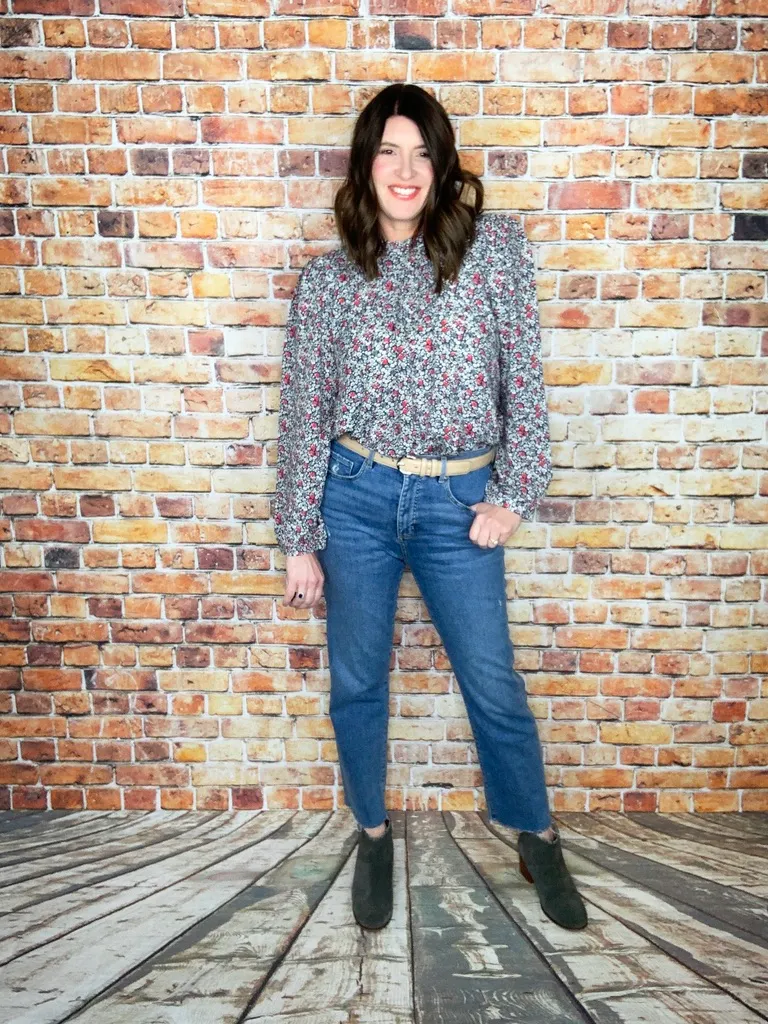 The first option is to wear a cropped style jean. In this example, I am wearing a raw hem style. The important thing to keep in mind is that you want the top of your jean to just barely touch the top of your boot.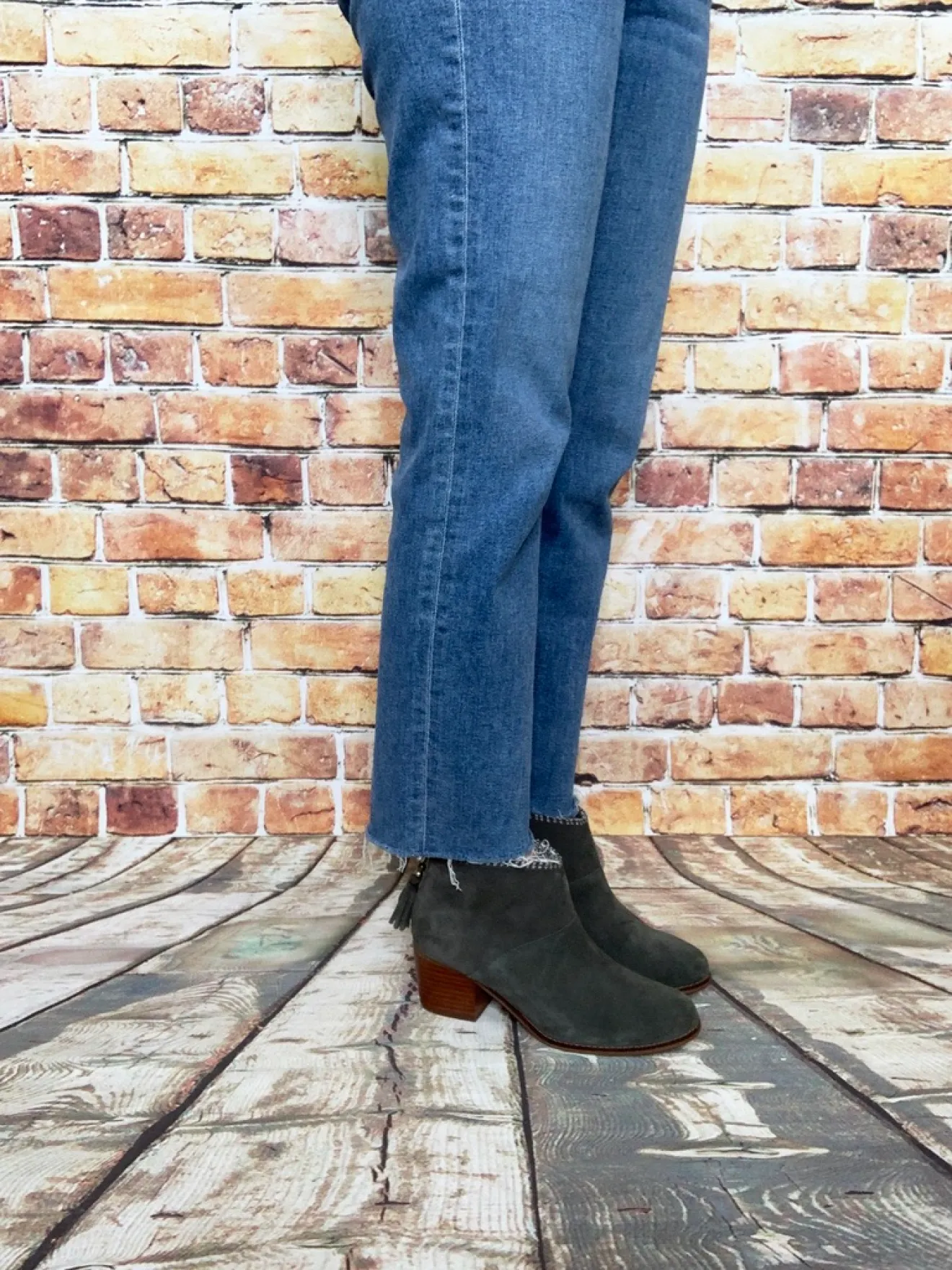 Your jeans should not cover the top of the boot or scrunch down around the boot.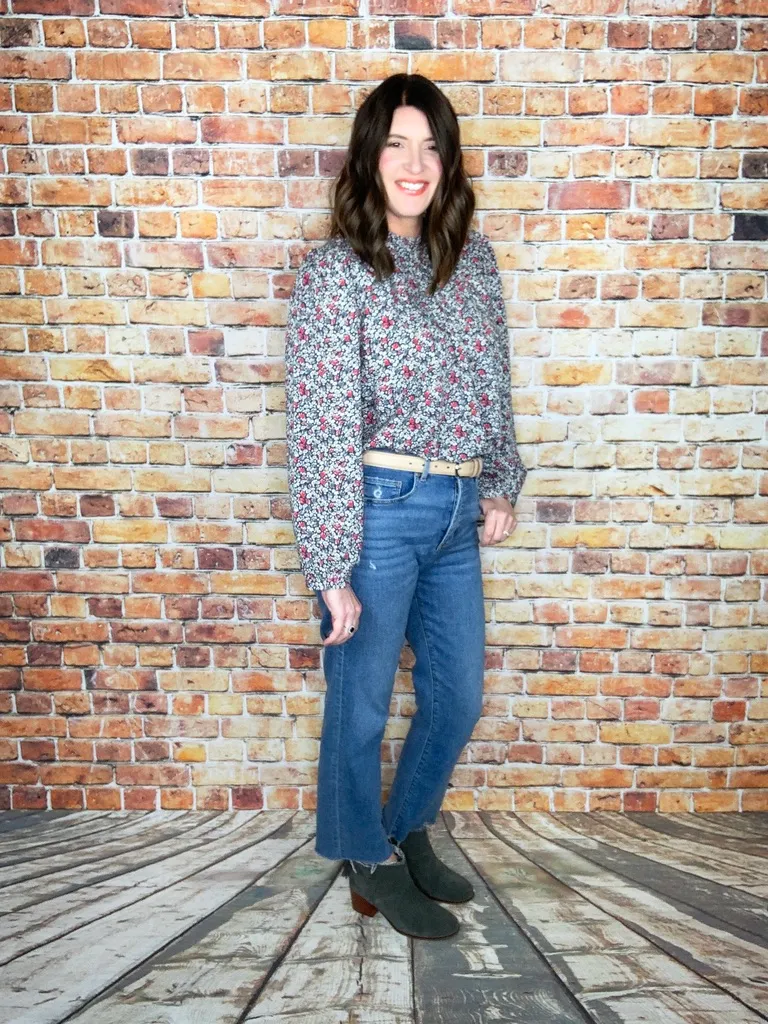 2. Black Jeans + Ankle Boots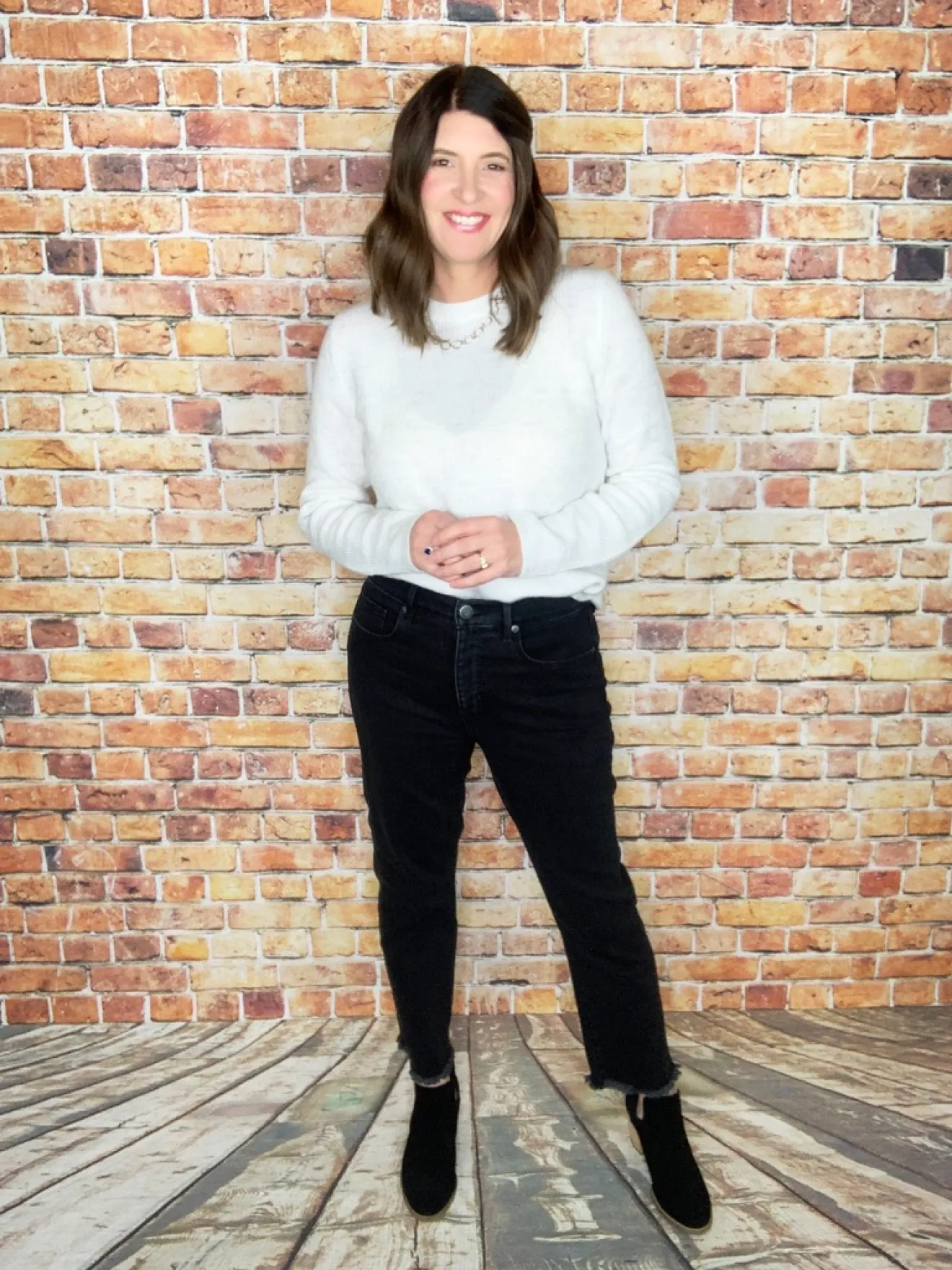 Black jeans are also a nice way to style the straight leg jeans trend. Here I paired some cropped black jeans with a simple white sweater and black ankle boots. Again, notice the way the hem of the jeans just barely skims the top of the boots.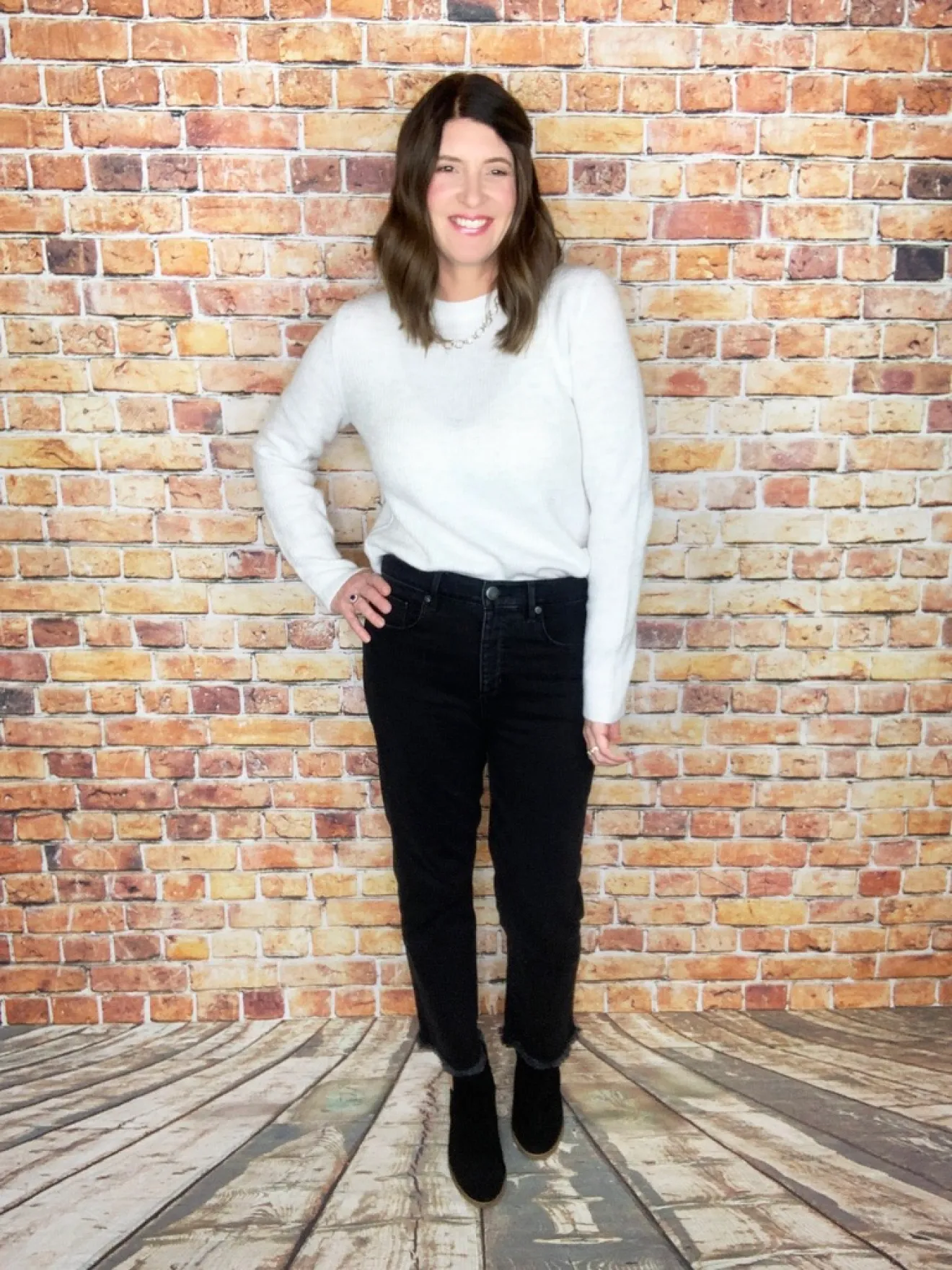 3. Full Length Jeans + Sock Booties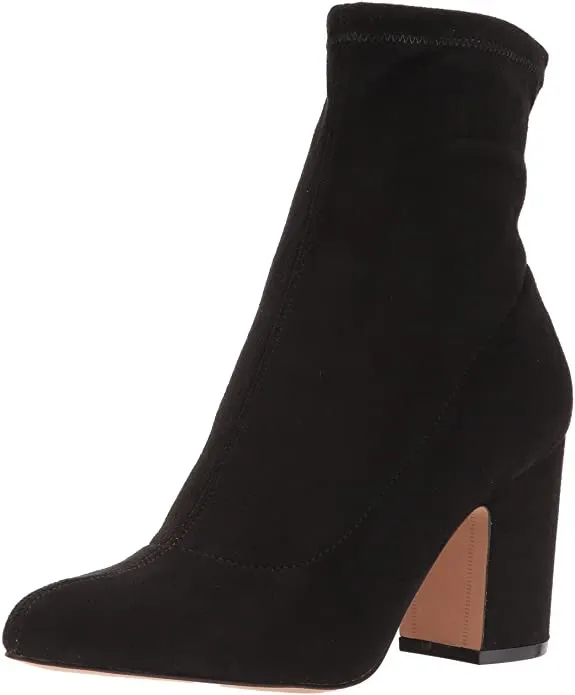 If you want to wear ankle boots with full length straight leg jeans, a sock bootie or an ankle boot with a high shaft will look best. This way the jean flows seamlessly over the boot, and you don't need to cuff your jeans.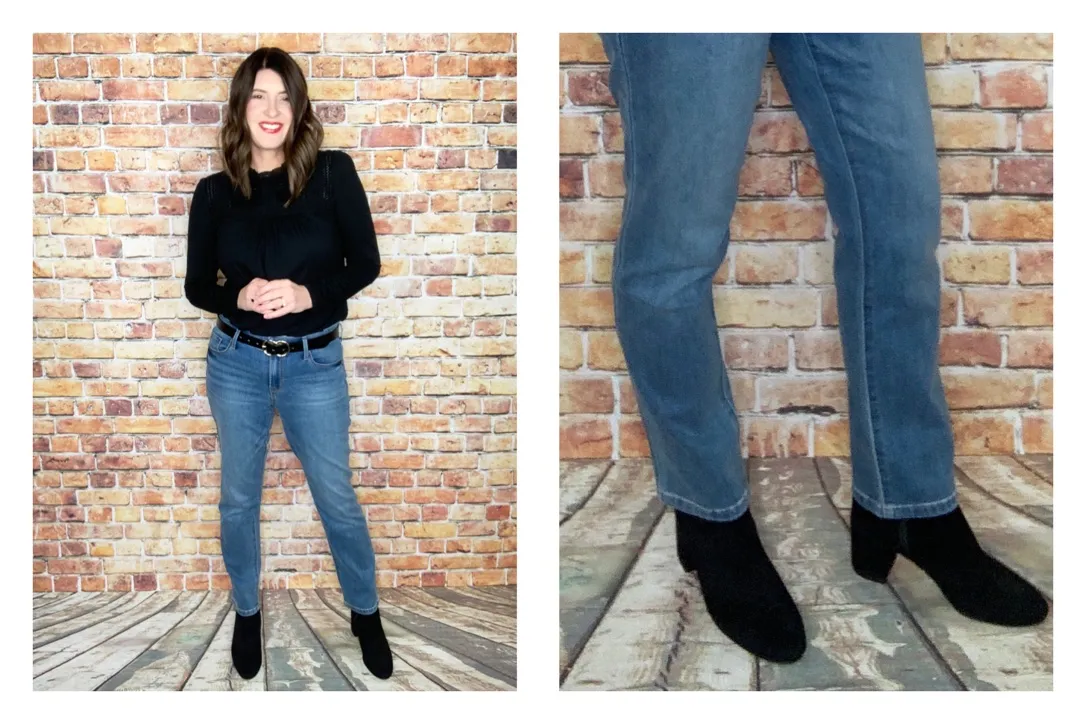 In contrast, the photo below is the wrong way to wear straight leg jeans with ankle boots.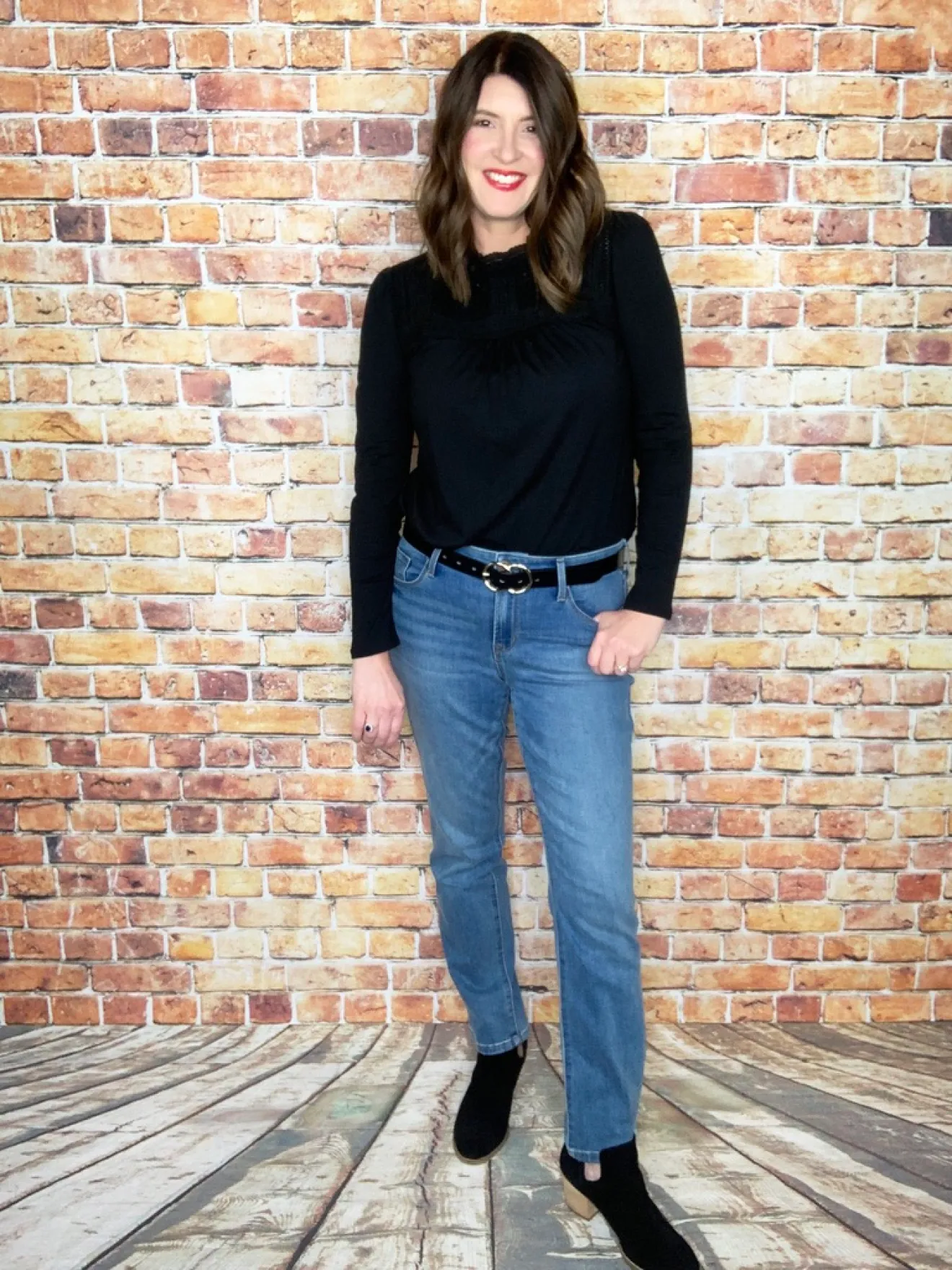 Notice that the jeans are too long for the boot. They tuck awkwardly into the top of the boot and they don't flow over the boot like the first example with the taller shaft boot.
4. Cuffed Jeans + Ankle Boots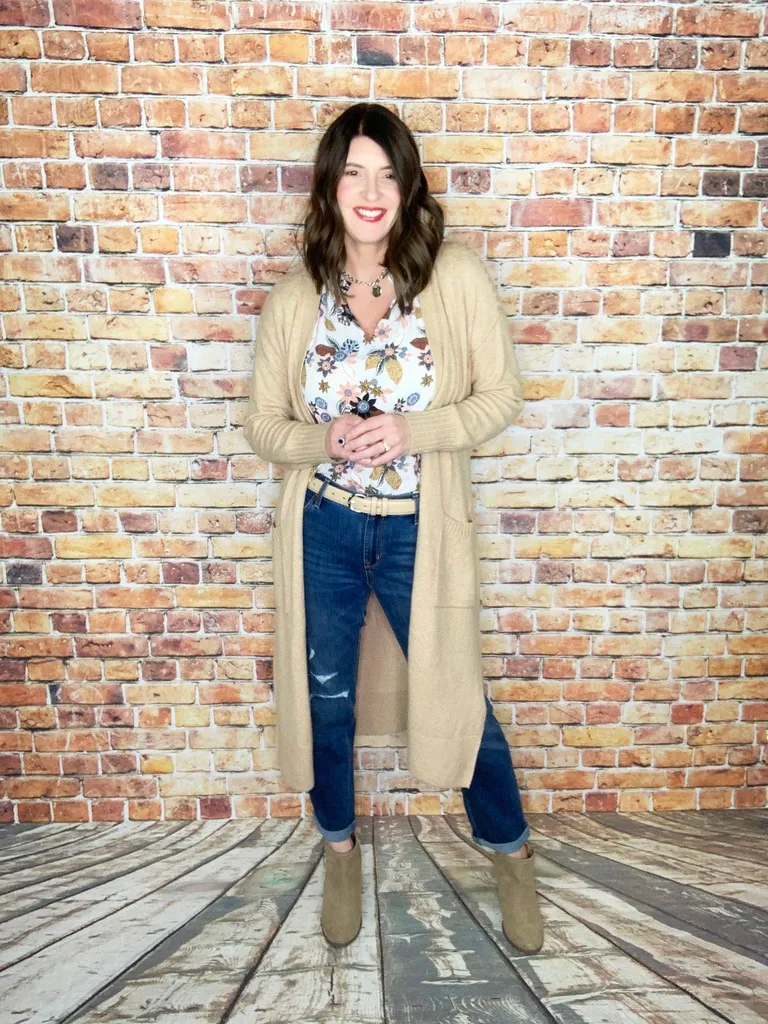 If finding the perfect length jeans is too difficult, just cuff your jeans! This is an especially useful tip for petite women. Sometimes finding denim in a short length is hard…I know because my daughter is only 5'2″ and she struggles with this all the time.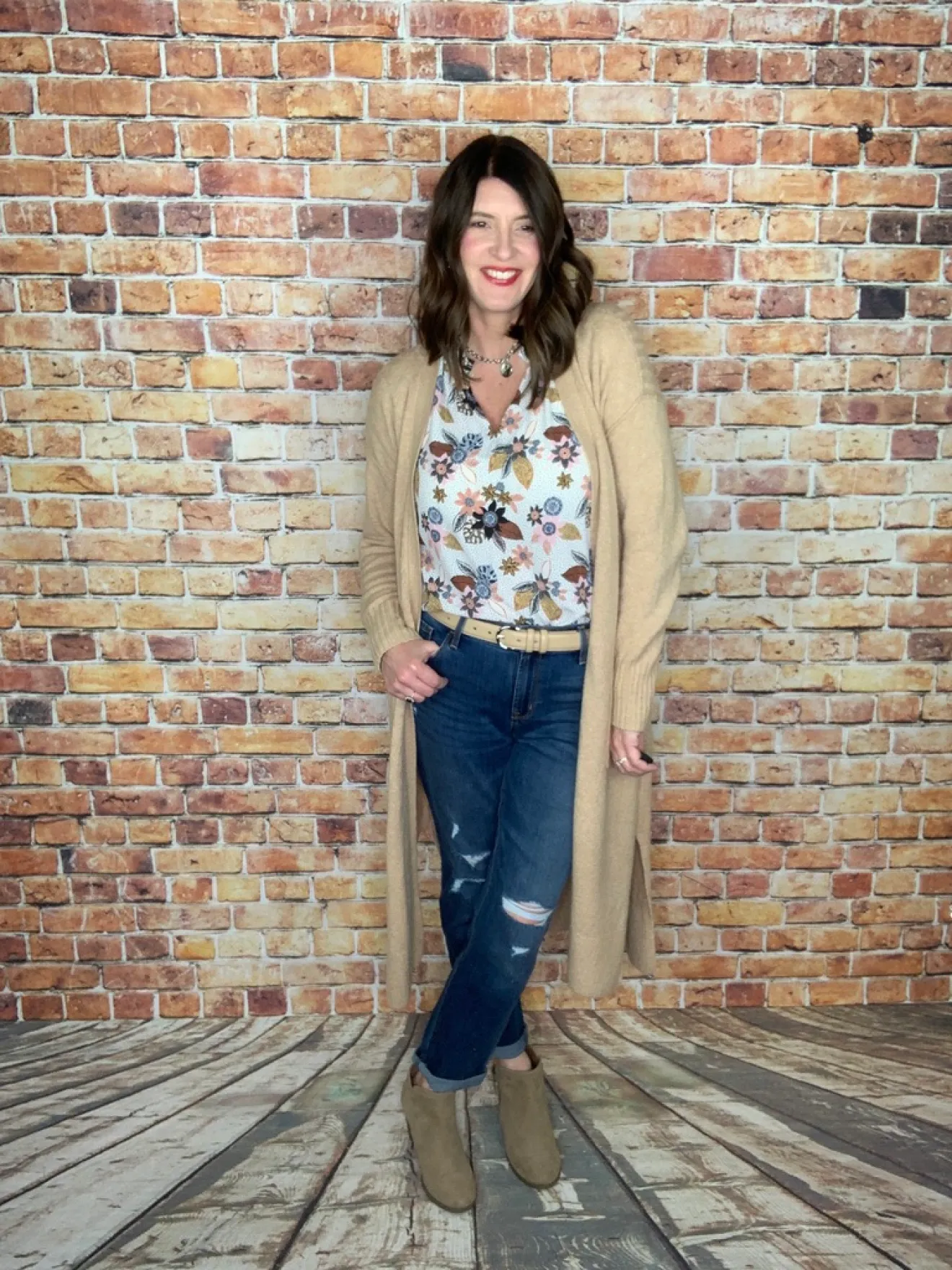 Using the same rule of thumb, cuff your jeans until they barely skim the top of your boots. They should not crease over the boot or show too much of your ankle/leg.
I think it's safe to say that the straight leg jean trend is here to stay for a while. As I always advise, never feel pressured to wear a trend that you don't like or that does not flatter your figure. I have learned, however, that sometimes it takes a while to adjust to the way a newer trend looks. Give yourself some time and experiment with how you can wear a trend to make the style your own. You may end up enjoying a style that at first you said no to!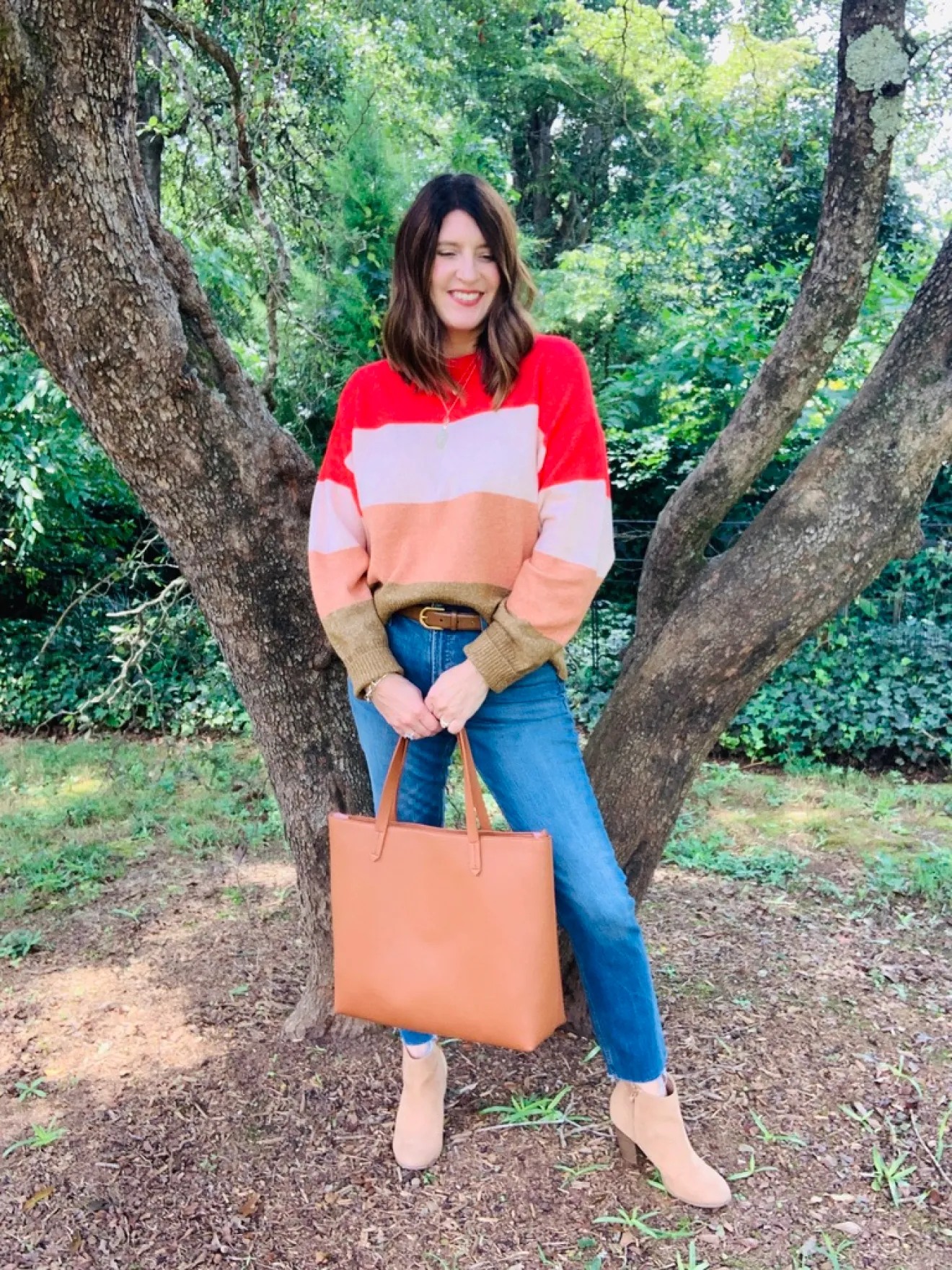 I've also updated the shopping widget with current styles of straight leg jeans. All of these styles are from Loft. I like to buy my jeans at Loft because they fit my body type so well, and I can recommend them to you with confidence. They offer regular, curvy, and petite in most all styles!
Loft is having a 50% off sale today PLUS FREE SHIPPING with code CYBER. If you need some straight leg jeans, or anything else for that matter today is a good day to shop! Here are my favorite straight leg jeans picks from Loft:
Favorite Ankle Boots
I'm including some current 2022 ankle boot styles that are currently available. You can find ankle boots in all kinds of price ranges, but I like to keep it in the affordable range. Amazon is the best resource, but I also like to shop at Target and Walmart. Nordstrom has beautiful styles, so I will shop there for sales.
Another 2022 update that I would add is the Chelsea style boot with a lug sole. These are very on trend and can be worn with the straight leg jean using the tips I mentioned. This style and this one are good options.