We've all heard the expression "A closet full of clothes and nothing to wear". It's safe to say that most of us have all experienced this frustration as we have tried to get dressed for the day. It wasn't until a few years ago that I really began to understand how to build a wardrobe that worked for me. Now, don't get me wrong…I'm still a lover of fashion, and I love to shop but I am more intentional now than I used to be. I look for pieces that fit and flatter my body type. I've also learned how to build on neutrals and basics that I can count on every time. Trends are fun to experiment with, and I embrace many of them but only if I like them and they work for me. Today I would like to suggest 3 ways to avoid having nothing to wear.
1. Shop With Purpose & Intention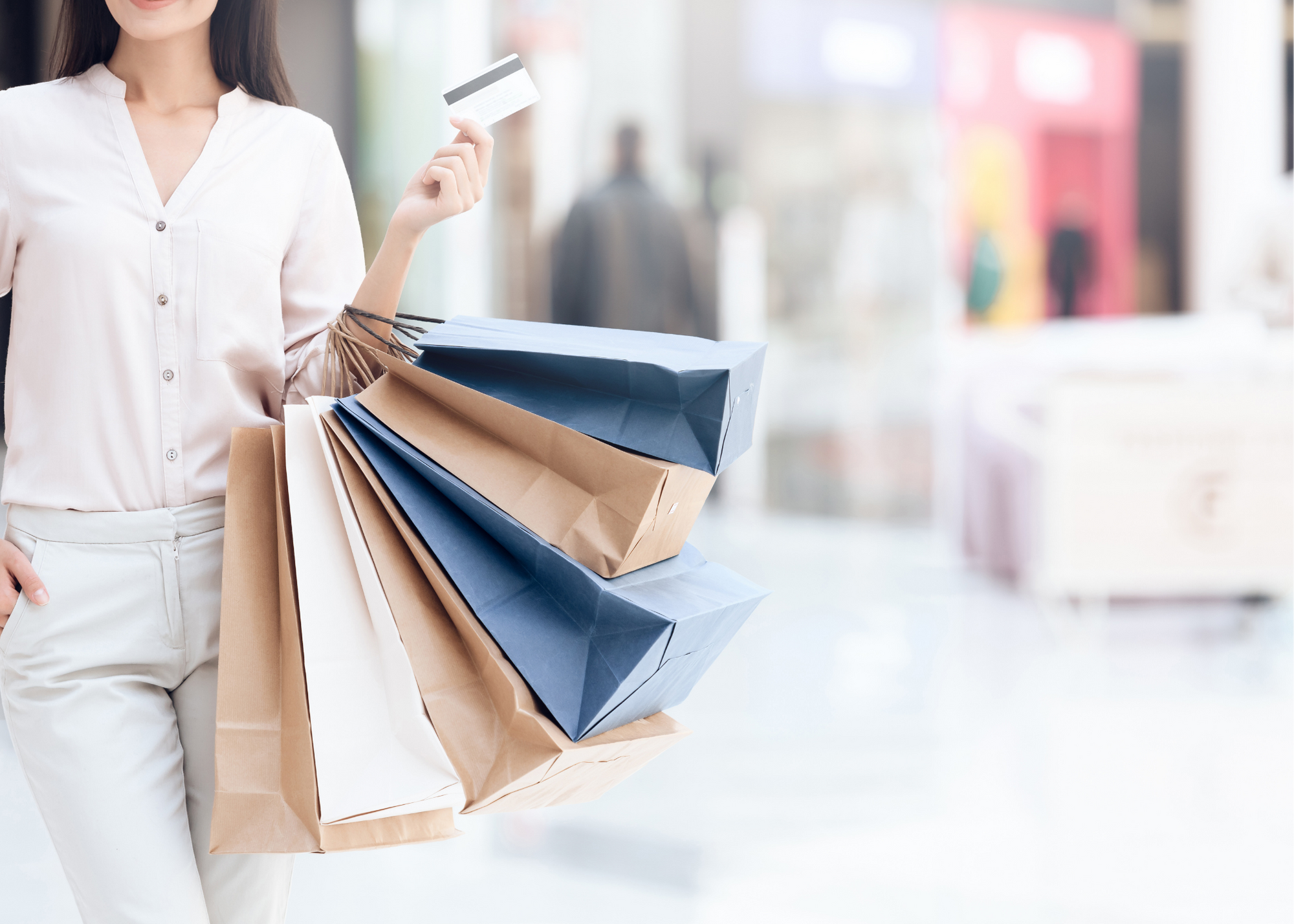 One reason we find ourselves with nothing to wear is that we don't shop with purpose and intention. These days I shop based on what pieces work together with what I already have. I make a note if something is lacking…like a good white blouse or a pair of jeans, for example. Then I look for those specific pieces at my favorite retailers. They key is having good basics and then buying pieces that compliment those basics. Your wardrobe should be cohesive, meaning that everything blends and most pieces can be worn with more than one thing. Don't buy outfits…buy individual items that fit your current wardrobe.
2. Choose Styles That Compliment Your Body Type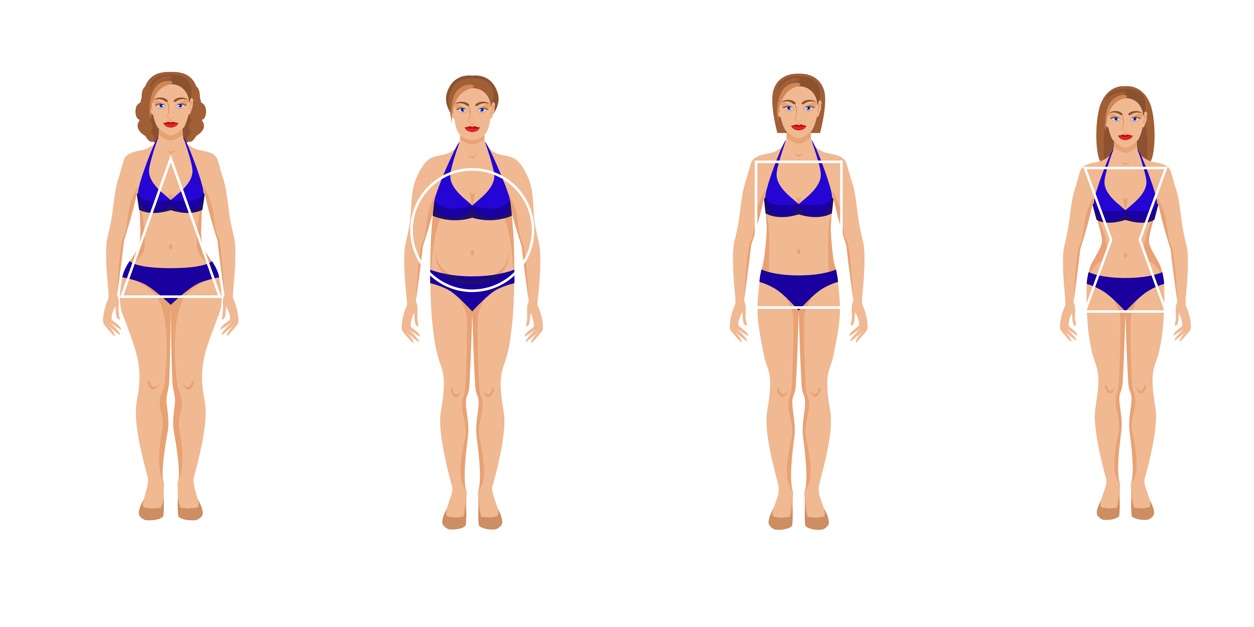 The first step to choosing a style that compliments your body type is to know your body type! What is your overall shape? What are your proportions? What are your assets and problem areas? Trial and error is all part of the process, but you will start to learn what styles work for you and which ones don't. Pinterest is a great resource for this type of thing.
Choosing styles that compliment your body type will save you from having a closet full of clothes and nothing to wear. Sometimes we buy things because we like them, or we see the style on someone else and we like the look. It is so hard to resist the temptation to buy things that we like…yet we know that it doesn't flatter our shape or build.
3. Consider Your Lifestyle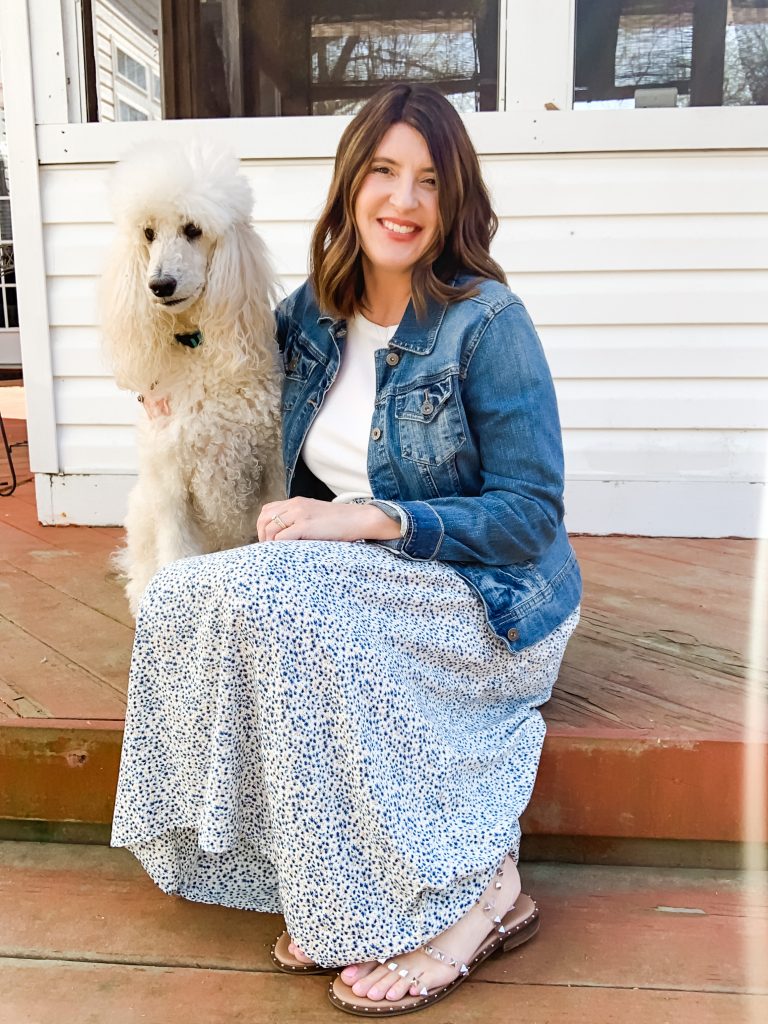 In case you don't know this, I buy all the clothes you see here on the blog myself. Hopefully, someday brands will send me things to sample but for now it's all me, so I have to be disciplined enough to return almost everything that is blog related. Notice I said ALMOST everything! When I do keep a piece, I have to think will I really wear it, and does it work with the rest of my personal wardrobe?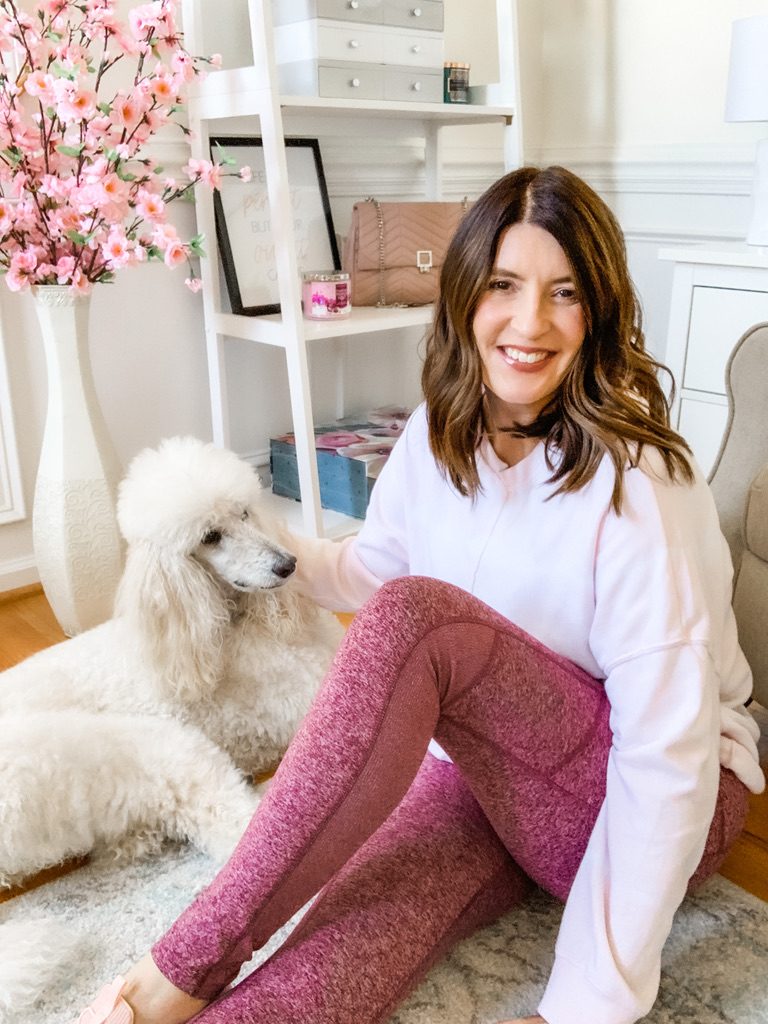 If you have a casual lifestyle, then you should focus most of your wardrobe on casual styles. This is hard for me because I like to dress up, but I have to be realistic about what kinds of clothes I will actually need and wear.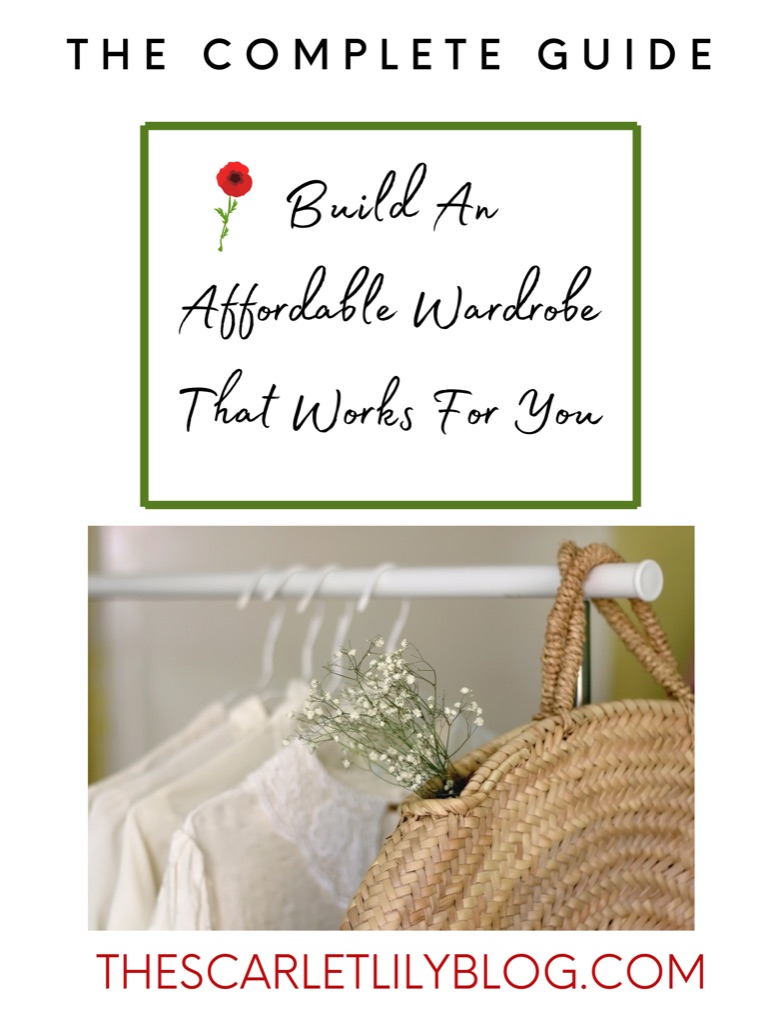 If you are an email subscriber, you have access to my printable e-book "Build An Affordable Wardrobe That Works For You". You received the password in your welcome email. Take advantage of this free resource to help you get started building your wardrobe. If you are not an email subscriber, then I would love for you to sign up and be part of this group of women!
I recently placed an order from Loft specifically to share several of their new arrivals for spring and summer. I made a special effort not to just randomly pick things, but to assemble a sort of mini capsule wardrobe. Pieces that could be worn different ways and that all worked together. So today's post is a bit of an experiment to show these pieces from Loft and how they can really be part of a functional wardrobe. Let's see how I did.
The 7 Pieces For This Collection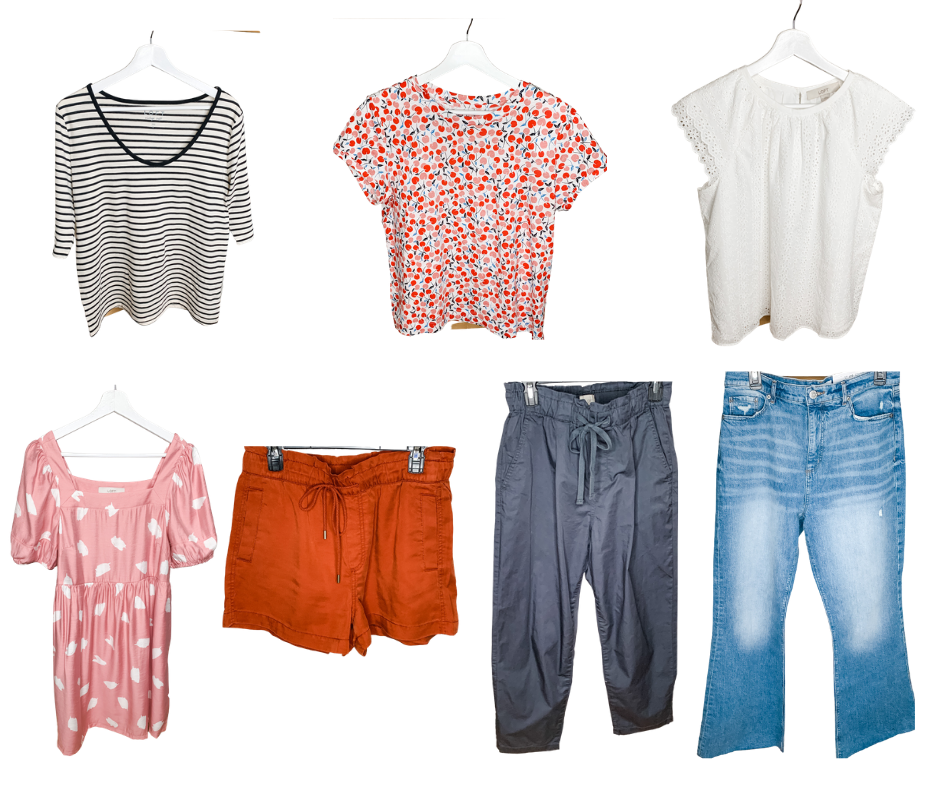 Now that we know the 3 ways to avoid having nothing to wear, let's look at the 7 pieces in this collection. Each piece that I chose can me interchanged with the others. The dress can be dressed up or down, depending on the accessories. It could be worn to church or to a special occasion just as easily as it could be worn for running errands or having lunch with a friend.
**Many of these pieces are "online only", so you probably won't see these in the actual Loft stores. I apologize that I can't include them in the shopping widget at the end of the post. The Loft website for some reason won't let me include them with the linking tool that I use. You can, however, shop all of the items by clicking on the highlighted text. Sorry for the inconvenience!
Possible Combinations
Top #1 Elbow Length Striped Tee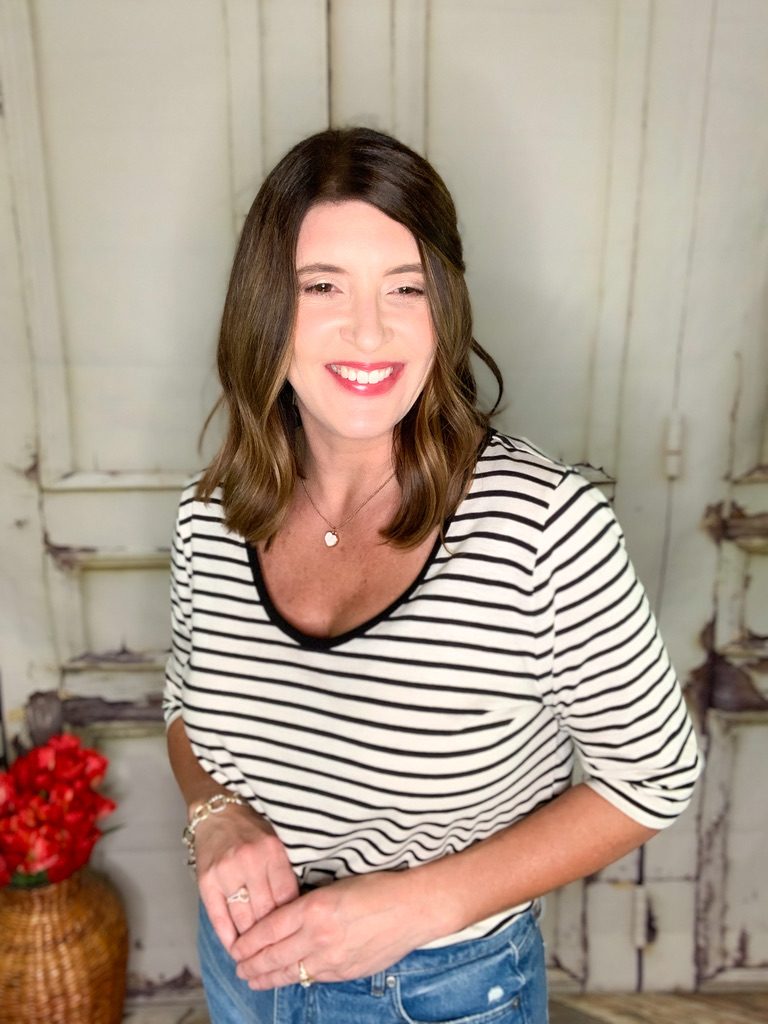 A striped tee is always a good wardrobe basic. This elbow length tee with a scoop neck is very flattering, especially if you aren't particularly fond of showing your upper arms. The only regret I have with this top is that I chose the wrong size. I sized up to a large since it was a t-shirt and I should have stayed with the medium. I think you can still get a good idea of how to style it, but it would look better if it was not quite so big.
Pull On Shorts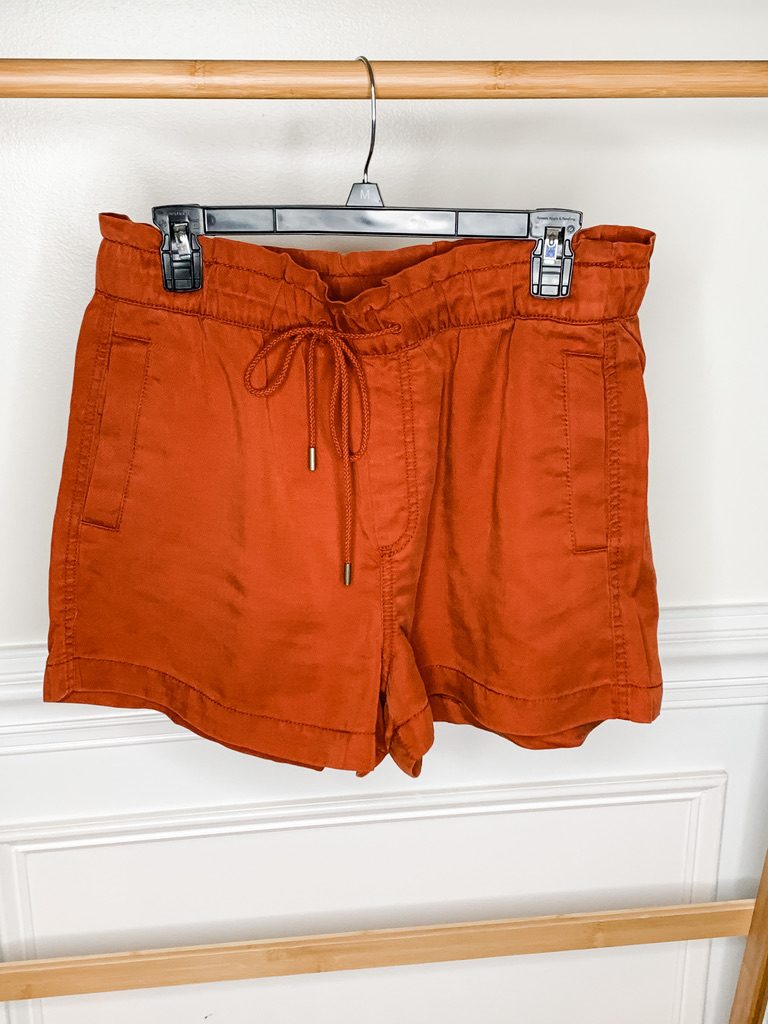 I chose these twill pull on shorts in the shade warm rust. They come in other colors as well. These run true to size and are a nice comfortable option for summer.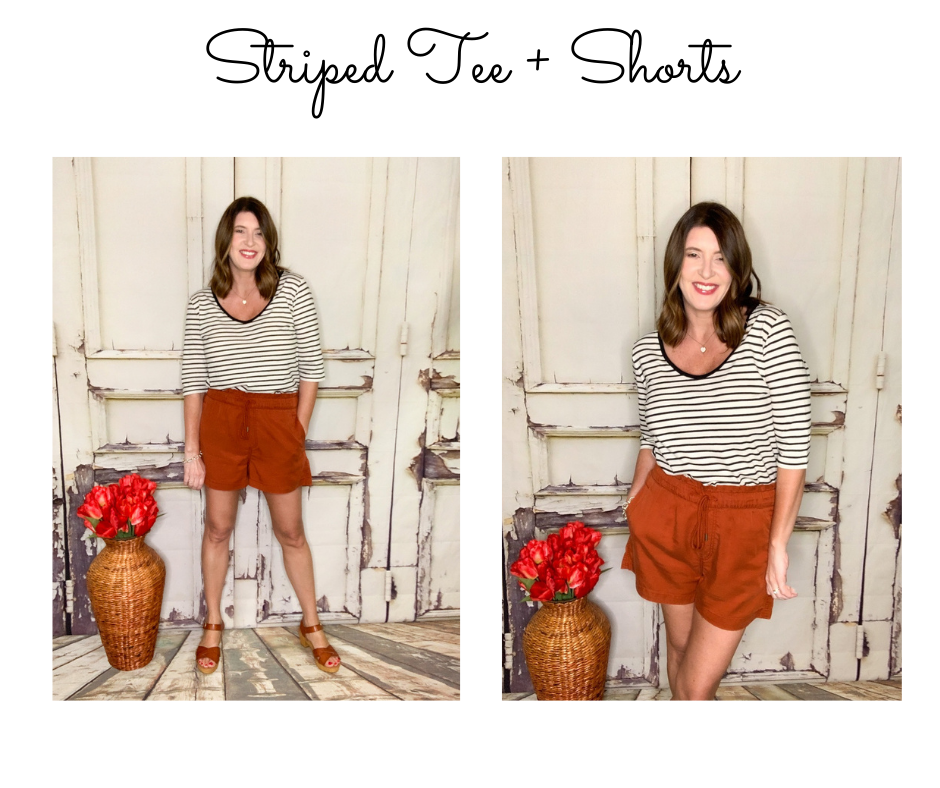 Poplin Jogger Pants
The Poplin Jogger Pants in coastal grey are a nice and casual piece that also mix well with this collection. These would be a good option if you don't enjoy wearing shorts. I am wearing a size medium.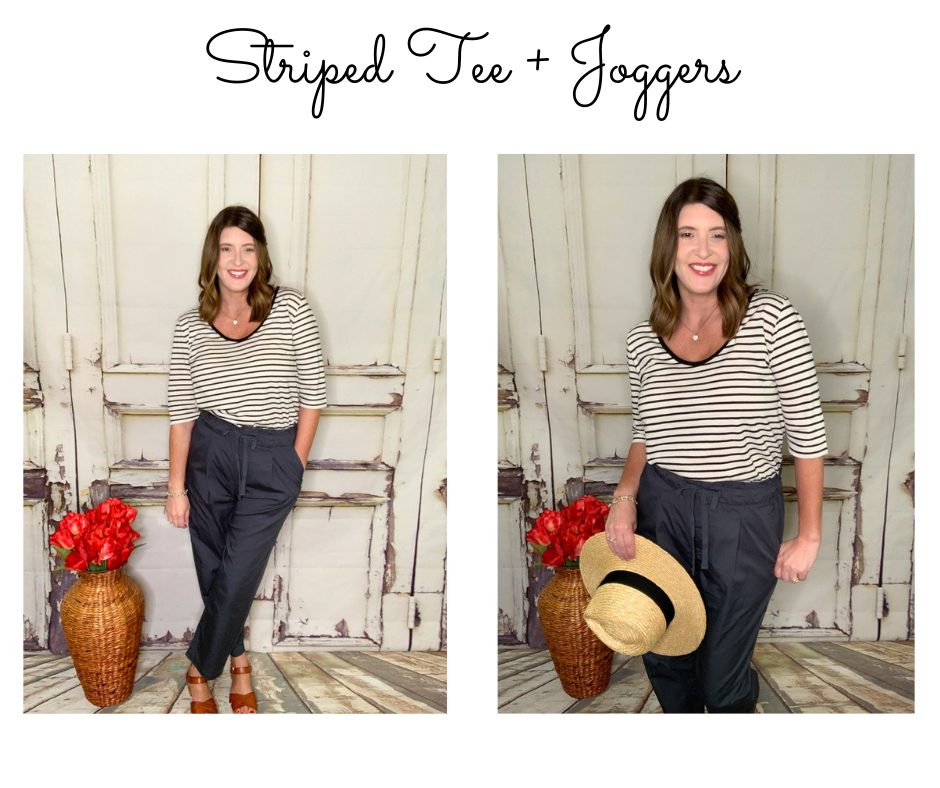 High Rise Flare Jeans – Mid Indigo Wash
I decided to go with a high rise flare style jean for this collection. Flare jeans are a good style for those of us that are top heavy because they balance out the proportions.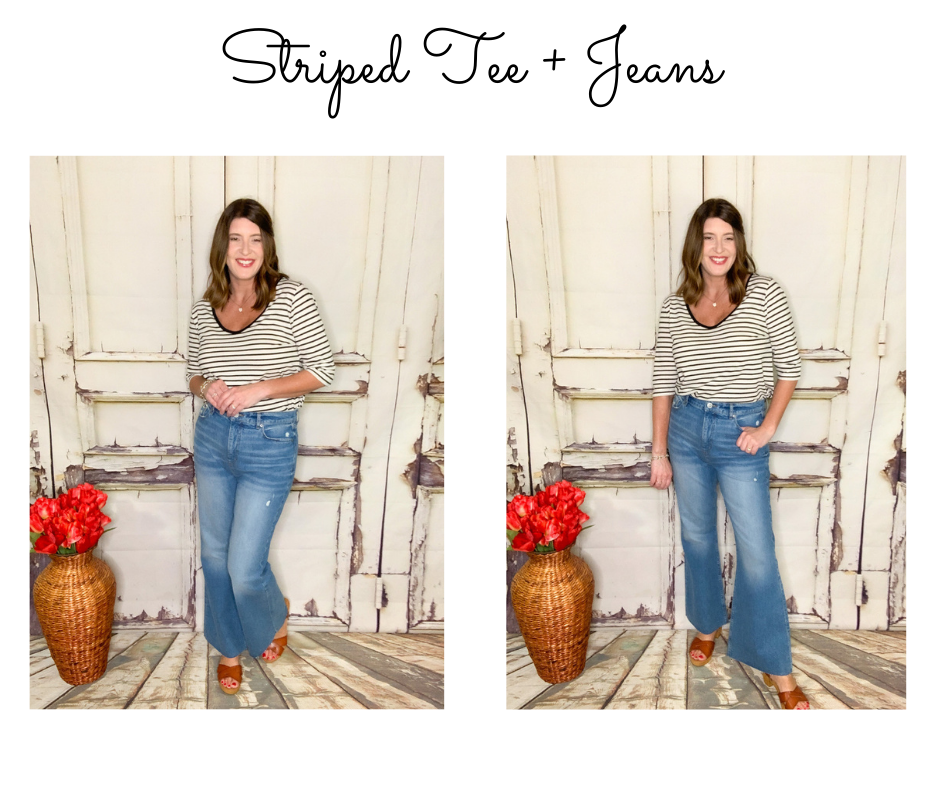 Top #2 Eyelet Ruffle Sleeve Shell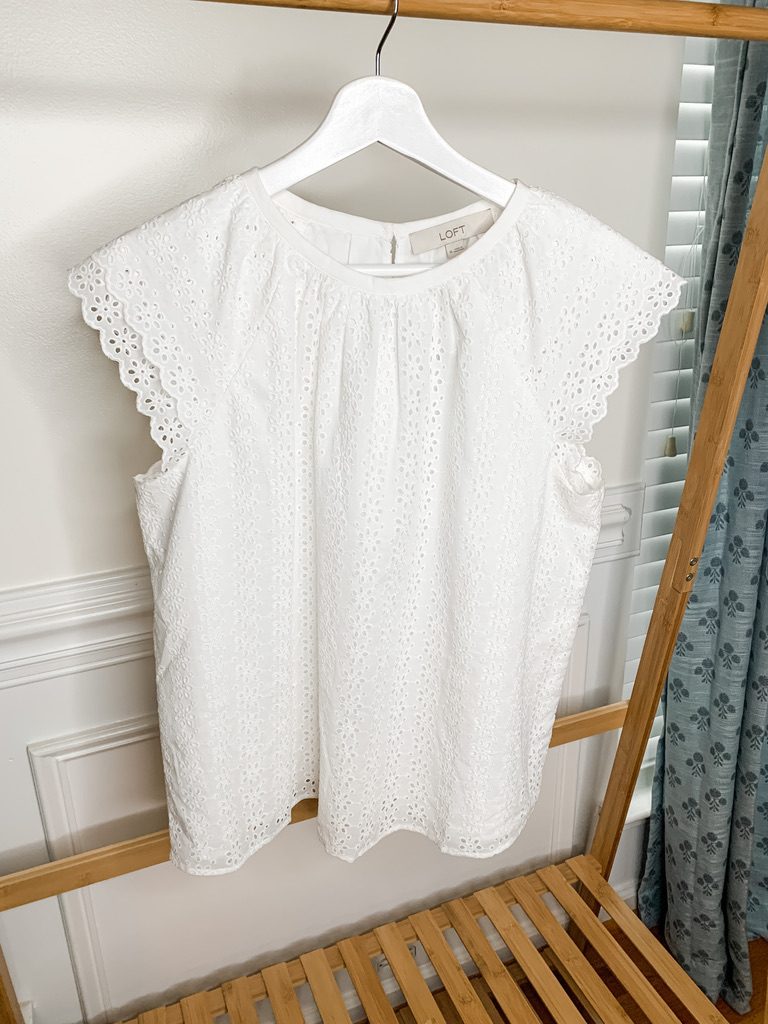 The second top in my collection is this eyelet ruffle sleeve shell in white. Having a crisp white top will give you so many options, and they are so pretty for summer. Here is how top #2 looks with each different bottom piece.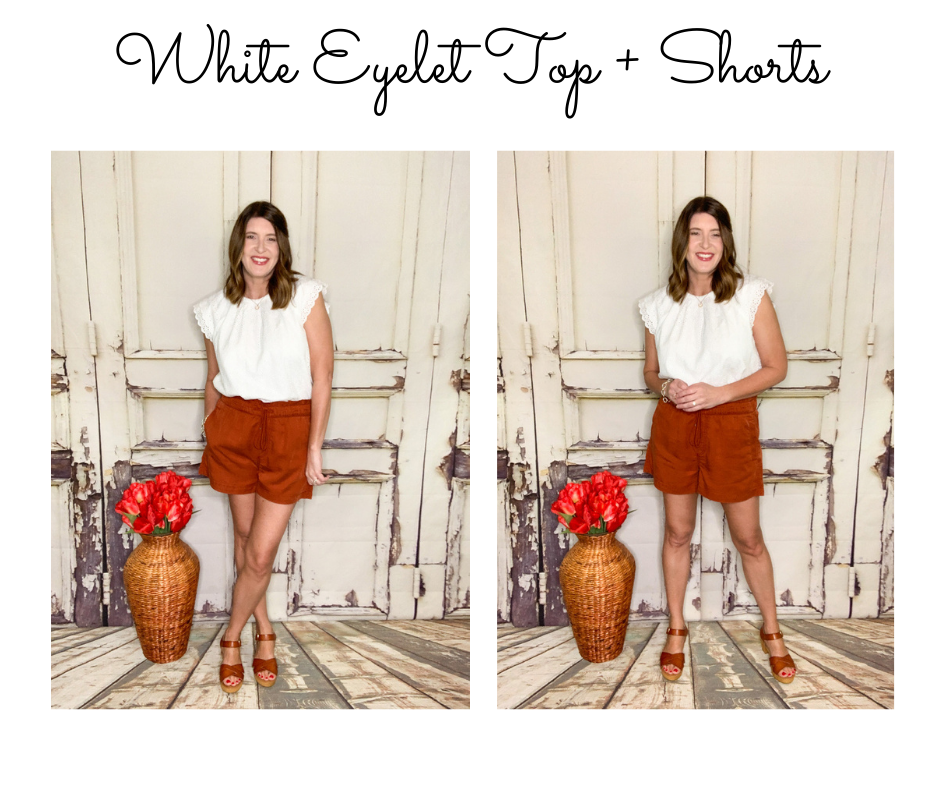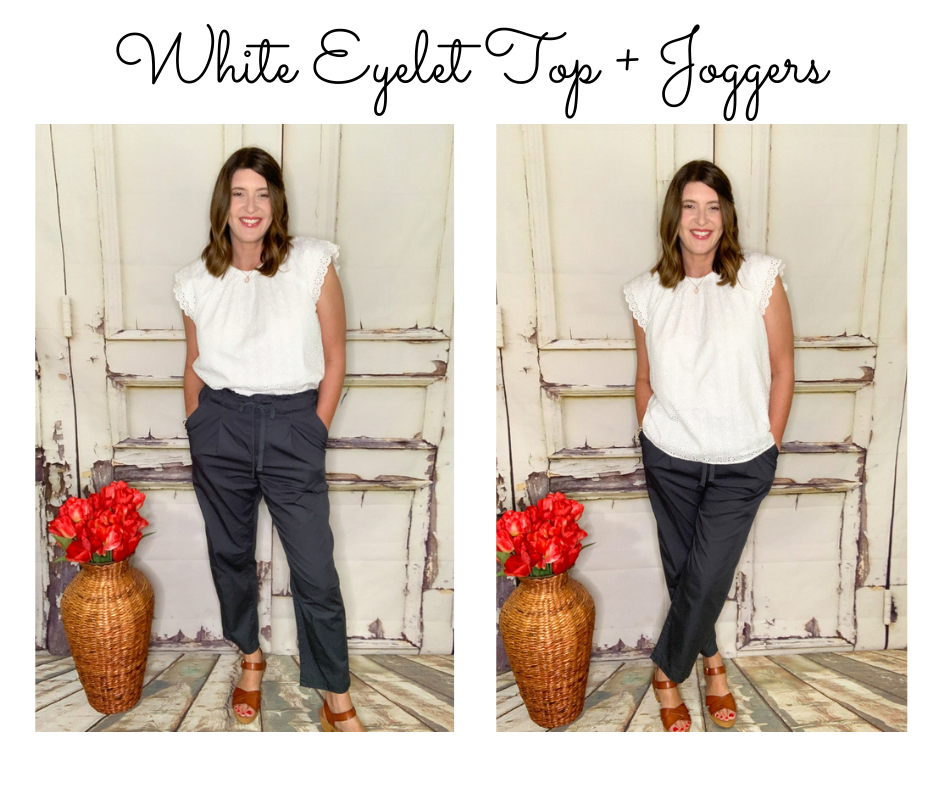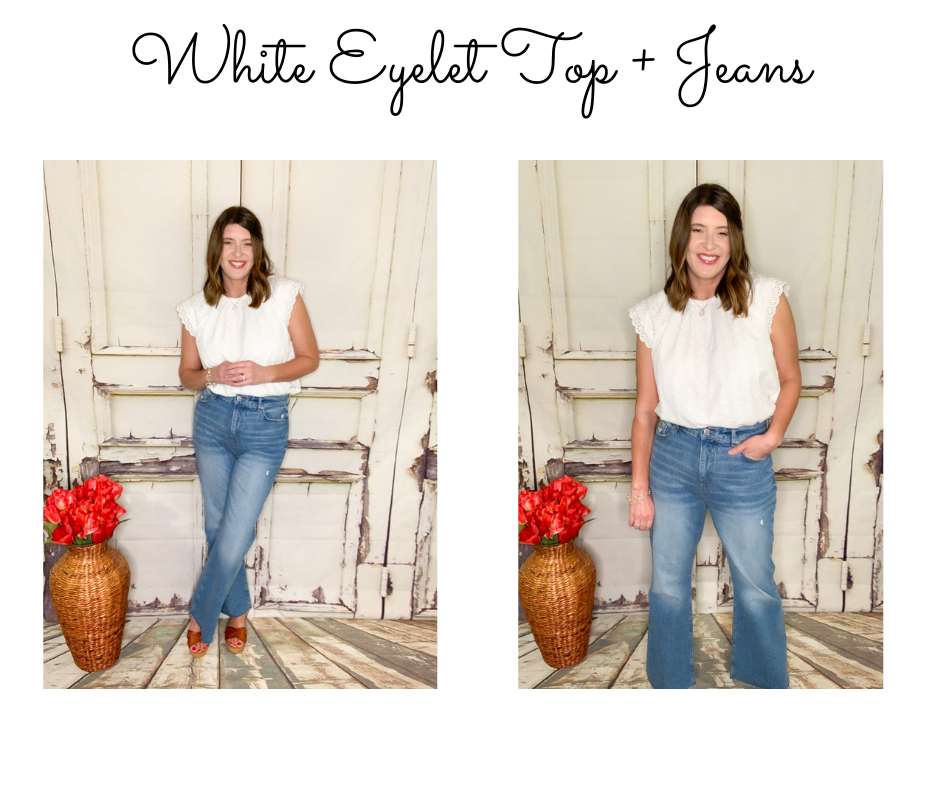 Top #3 Cherry Tee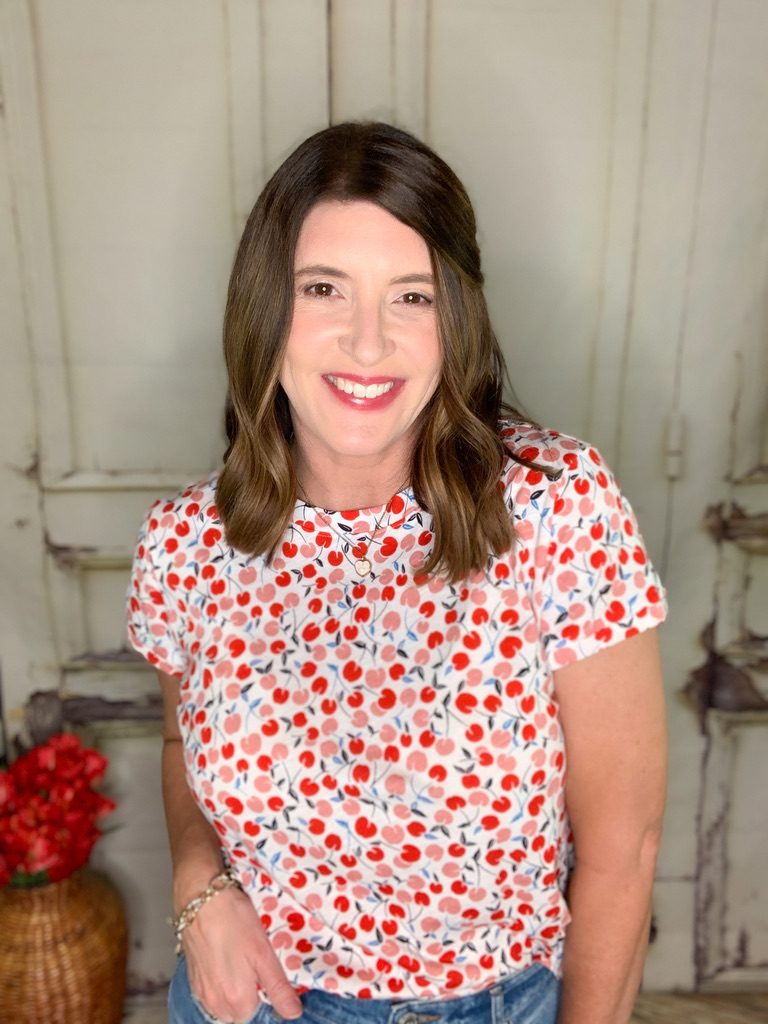 Adding in a fun print is a good way to add some color into your wardrobe. This cherry print tee is primarily red, but it also has several other colors in the print which make it more versatile than you might think. I went with my usual size medium in this top and it fit well.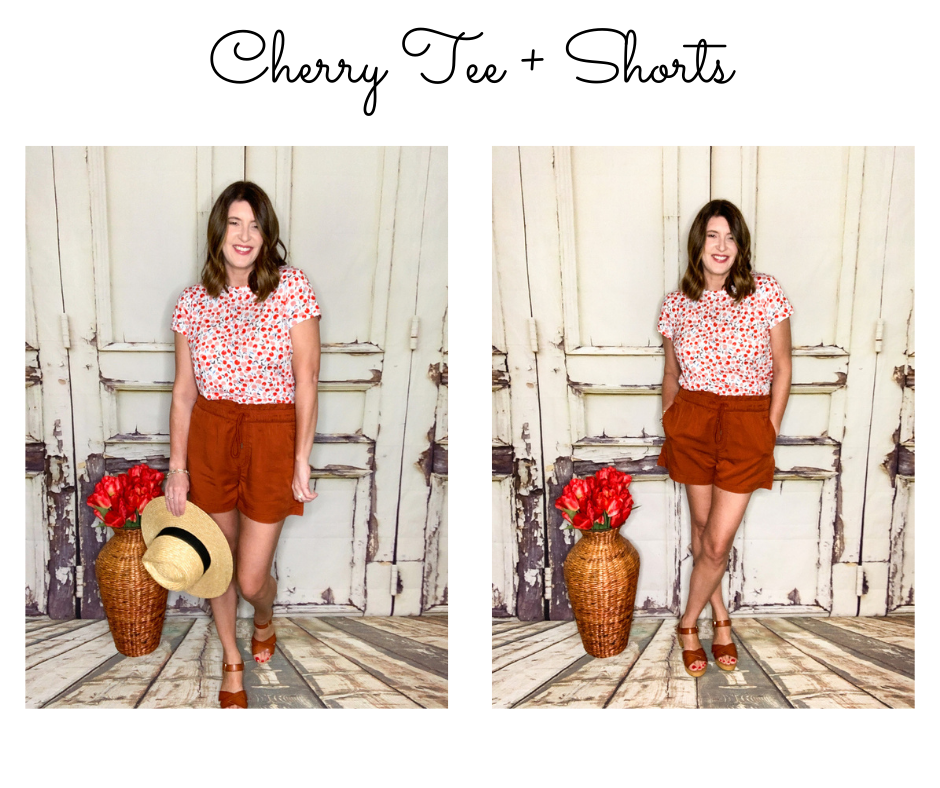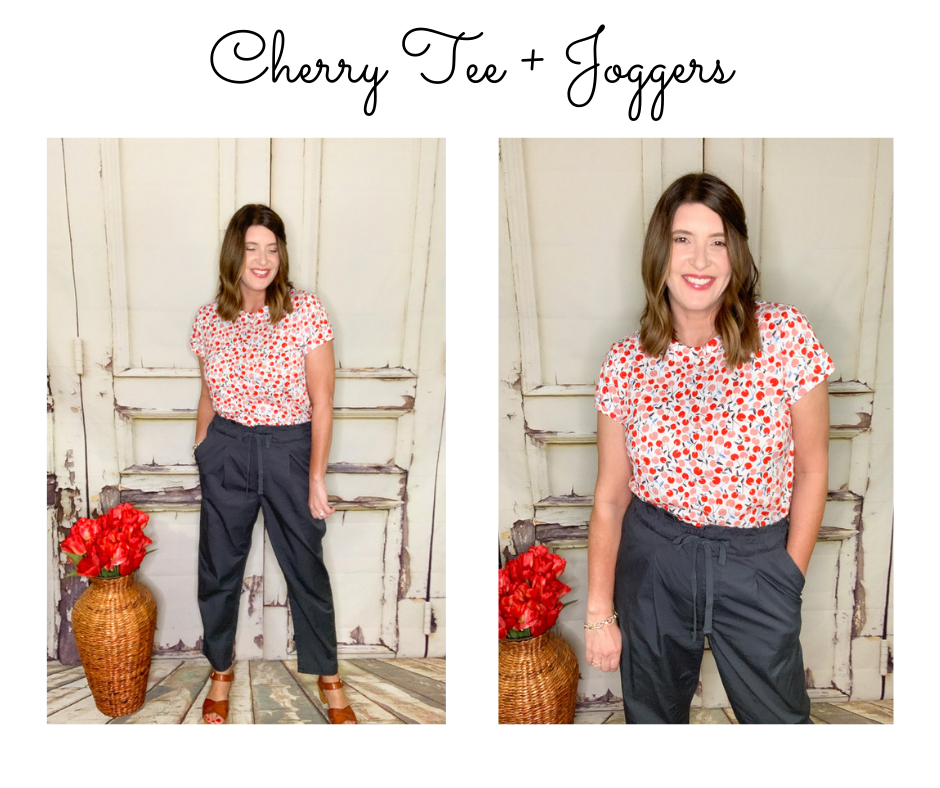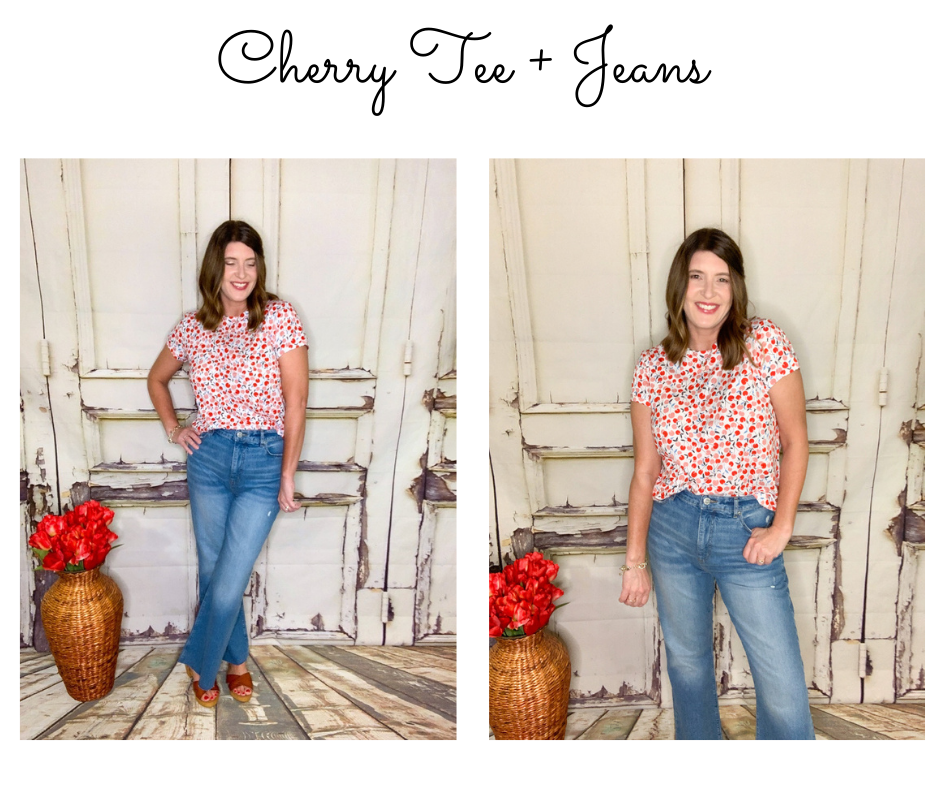 Swing Dress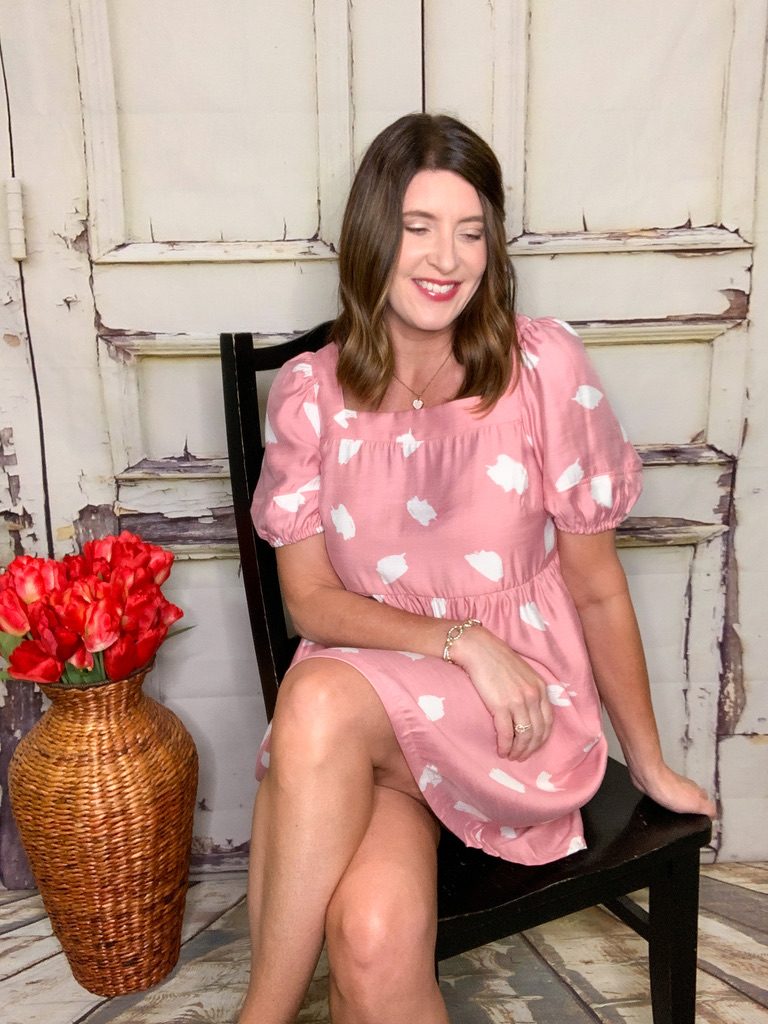 As I mentioned in the 3 ways to avoid having nothing to wear, every piece needs to be versatile. The final piece of my capsule wardrobe is a square neck swing dress. As I already mentioned, this is a style that can serve many different purposes depending on how you wear it. Here are a few ways to style this piece. It runs true to size and I am wearing a medium.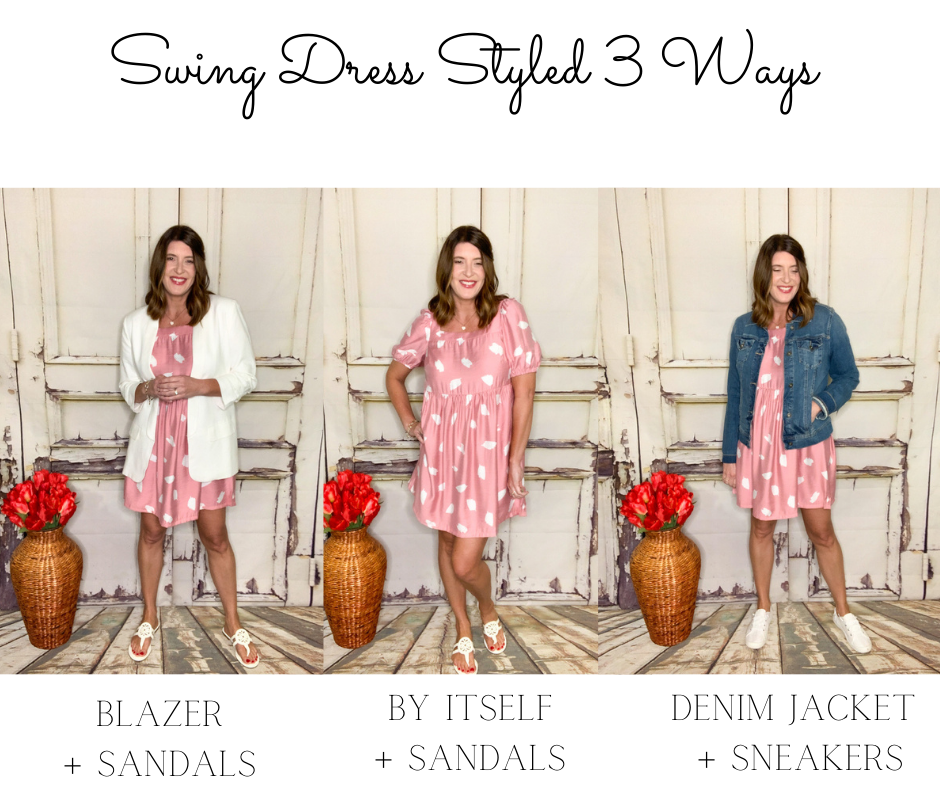 Shoes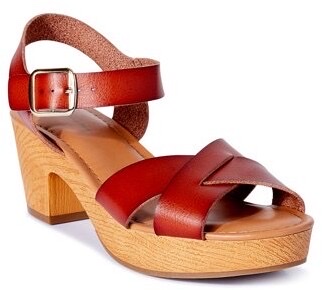 The wooden heel sandals that I'm wearing in most of the photos are from Walmart (Time and Tru). They are almost an exact dupe for the sandals from Loft. The Walmart version is $19.98 and the Loft version is $98. The white sandals and the white sneakers will be linked in the shopping widget below.
I hope these 3 ways to avoid having nothing to wear will help you. It's certainly frustrating when this happens, but if you follow these tips you will be on your way to a wardrobe that you love.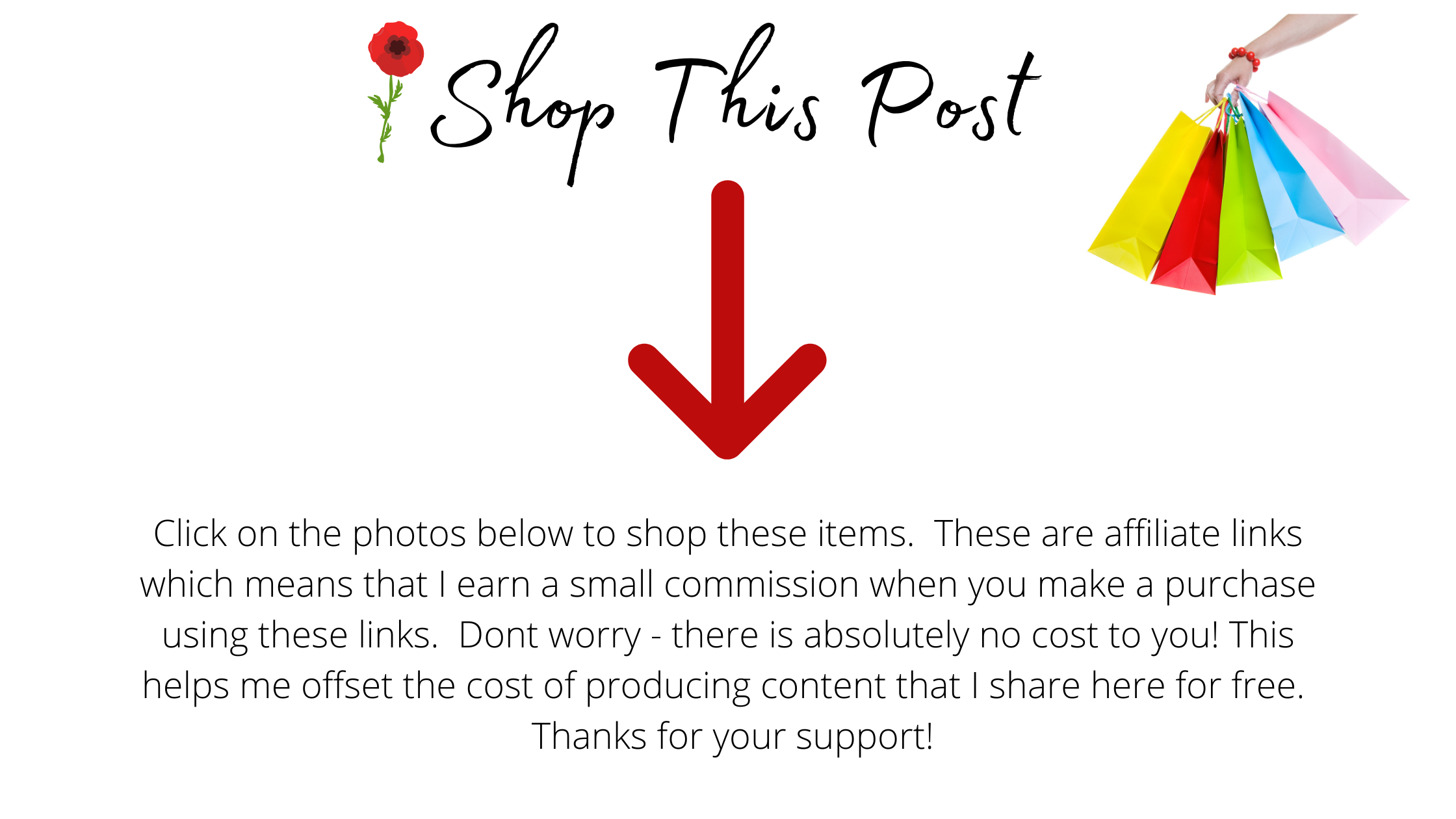 You can click on these highlighted text links for easy shopping.
You might also enjoy this post.