I enjoy try on posts, but my favorite posts are ones that not only show you pretty clothes but how to wear them different ways. Recently I teamed up with Upstyle Daily to create 5 ways to style a maxi skirt. If you are not familiar with Upstyle Daily, it's the place to find ideas, tutorials, and tips to create all the looks you love to wear. They discovered my Instagram account a year or so ago, and asked me to be a monthly contributor to their site. You can visit UpstyleDaily.com to check it out for yourself, and be sure to follow me over there @The Scarlet Lily!
Maxi skirts come in all different colors, prints, and styles. Since I wanted this to be a very basic and versatile piece, I chose a simple black tiered maxi skirt. Plus, many of you probably already have a black maxi skirt in your closet! If you don't, this one from Amazon was very affordable.
Vacation Look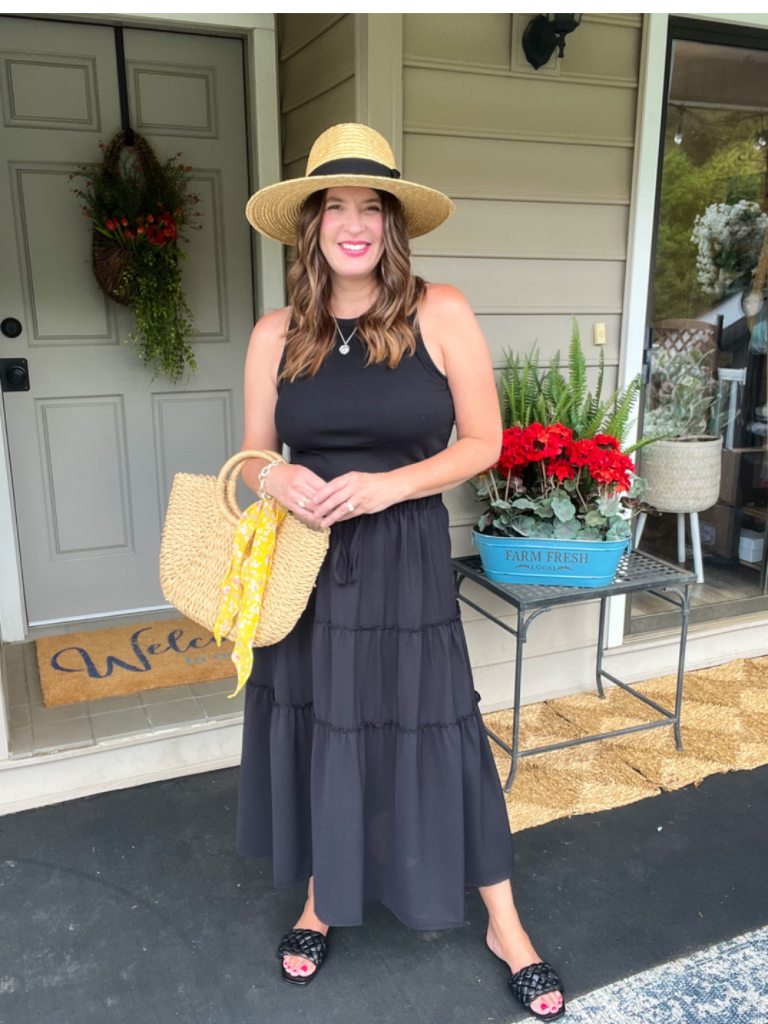 Many of us will be traveling somewhere this summer, so I wanted to start off with an easy way to style a black maxi skirt for a vacation look. This is a monochromatic look that is really elevated by the straw hat and straw bag. You can also add an interesting touch to a straw bag by tying a pretty scarf like this one around the handle.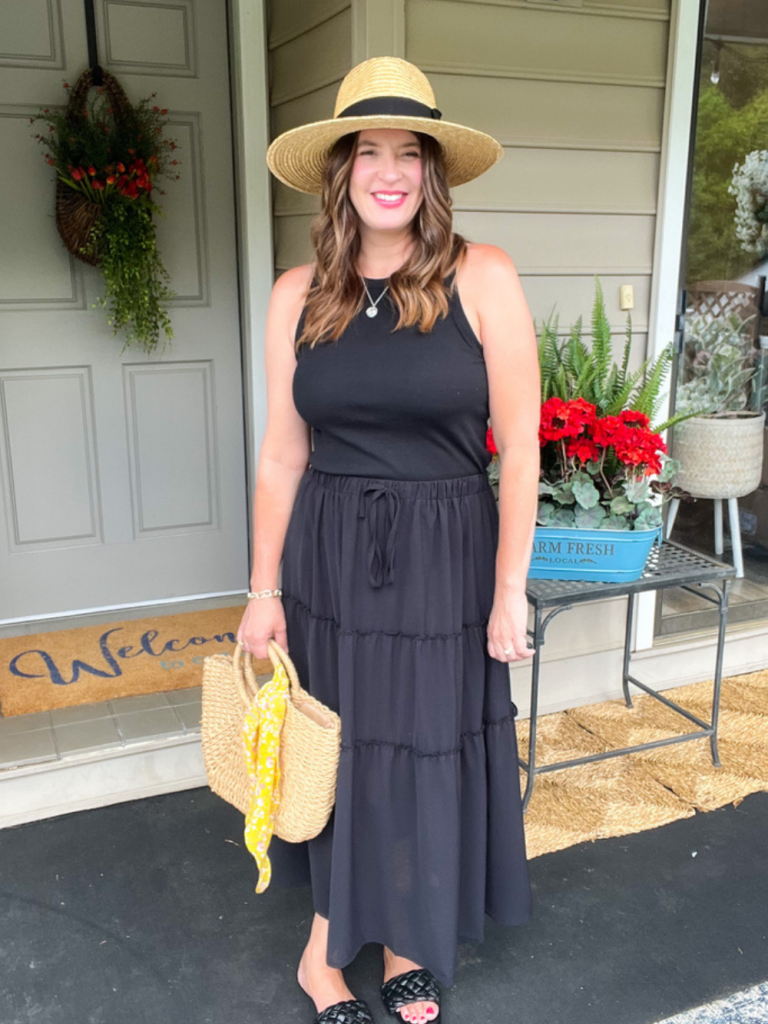 I've been loving the high neck ribbed tanks from Target. I bought one in nearly every color! For this outfit a simple black tank tucked into the skirt and a pair of braided black flats is all you need.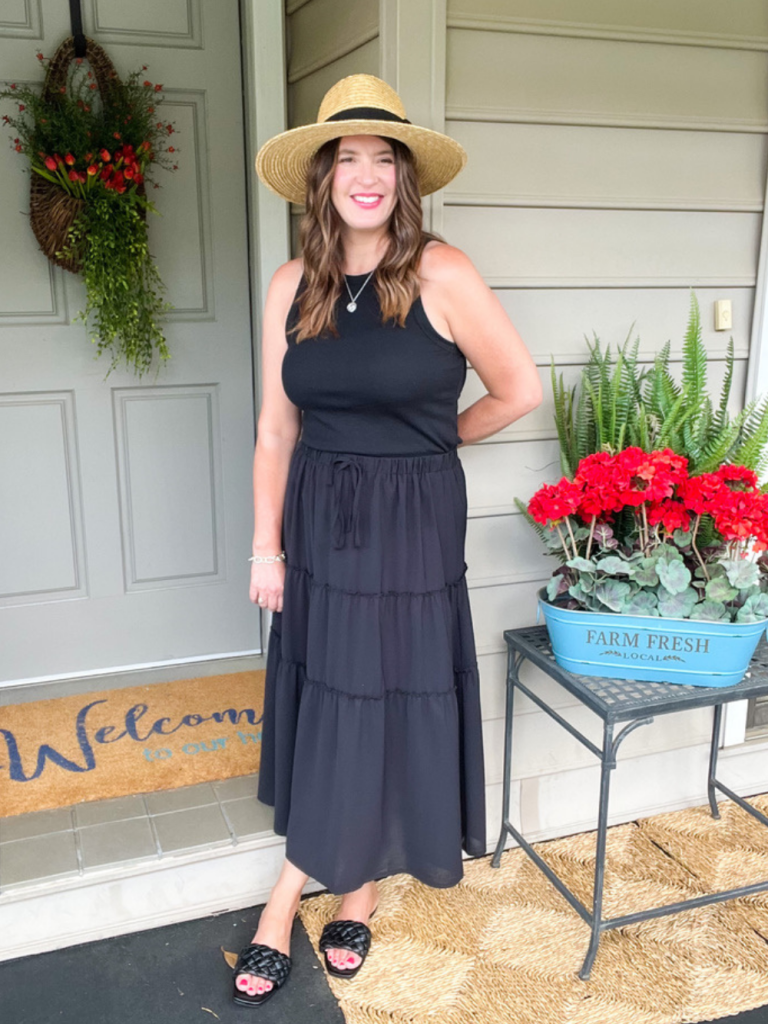 Casual / Running Errands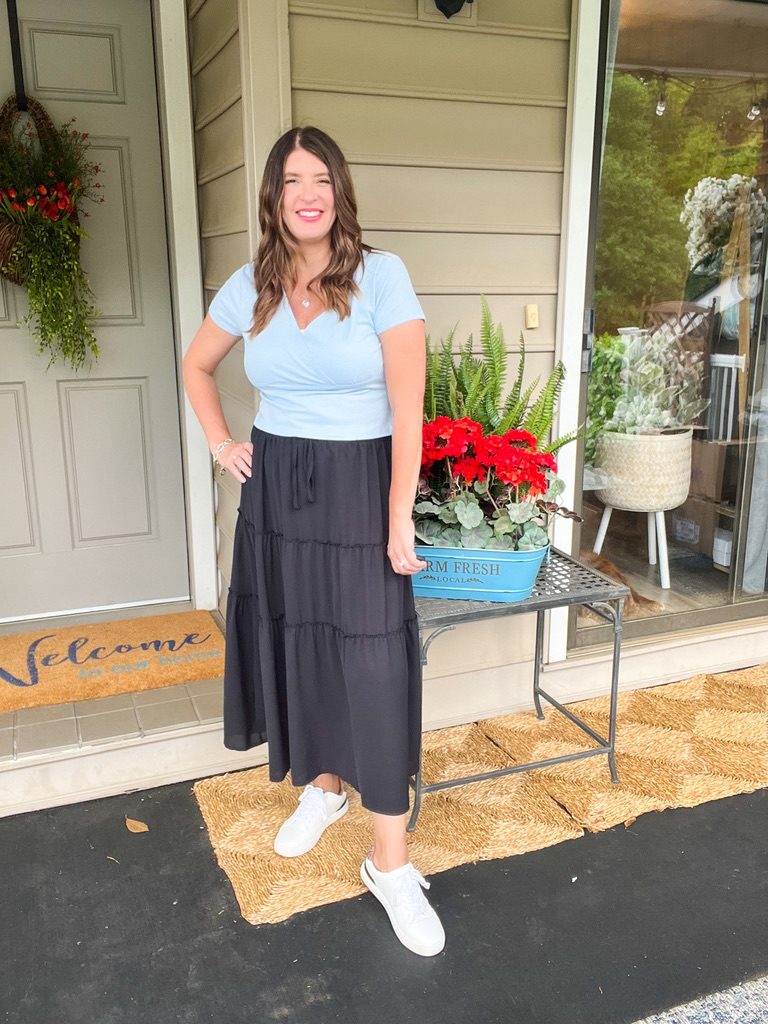 Maxi skirts are also great for casual days or running errands. They are also cooler that pants for the spring and summer months and are a good alternative if you don't like to wear shorts.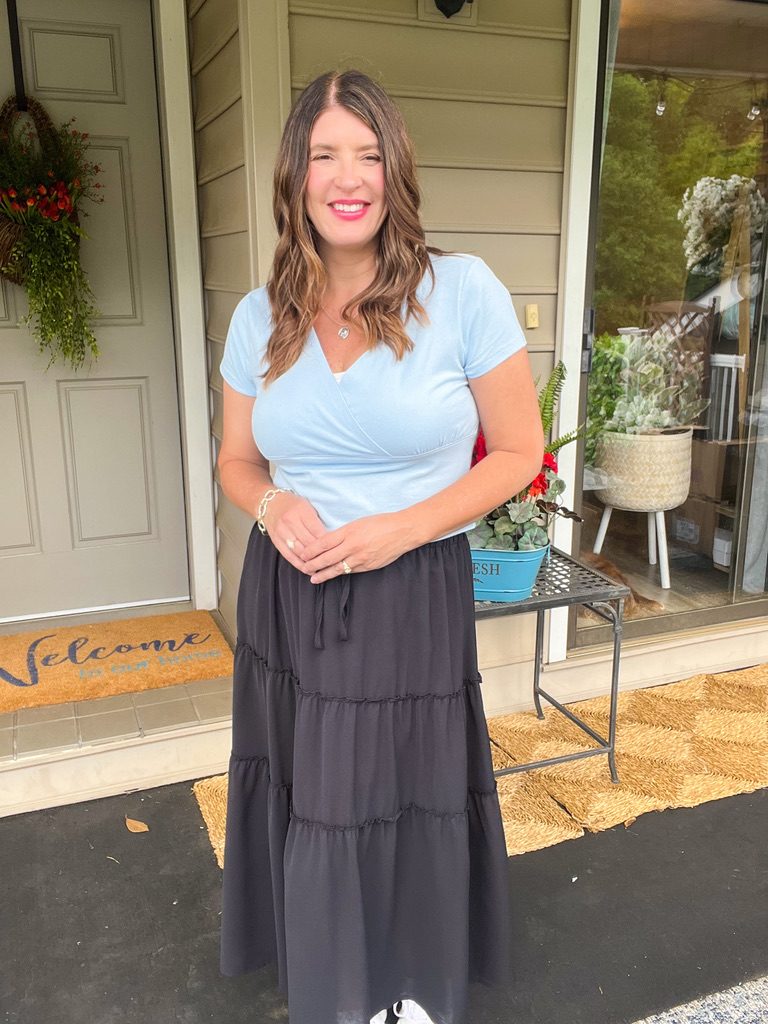 Here I am wearing the same black maxi skirt with a wrap top and sneakers. This is so easy to recreate with any type of t-shirt, but I really have enjoyed these wrap tops from Kohl's. They are cropped, but don't show skin with a high waisted bottom, and that means you don't have to bother with tucking it in.
Date Night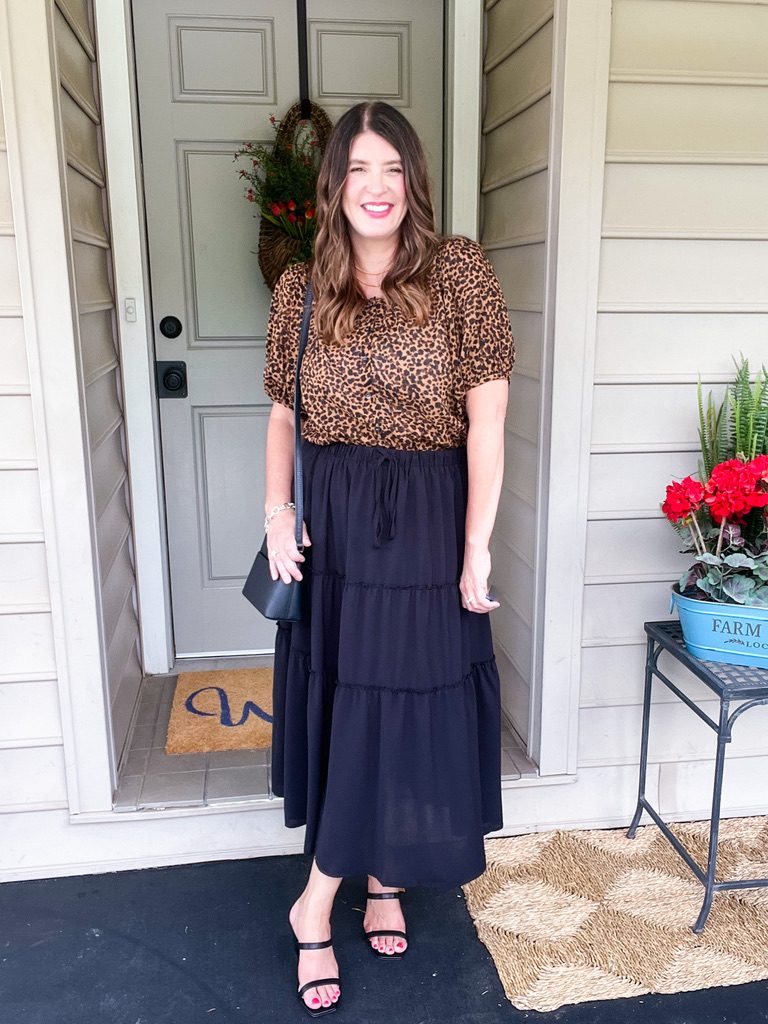 Next, I have a date night look. The black maxi skirt is paired with a leopard print blouse and some black heeled sandals. My top by Madewell is no longer available. This top or this one would be a good substitute. Of course you could substitute the animal print for any type of blouse you have. The key to this look is just an elevated style blouse.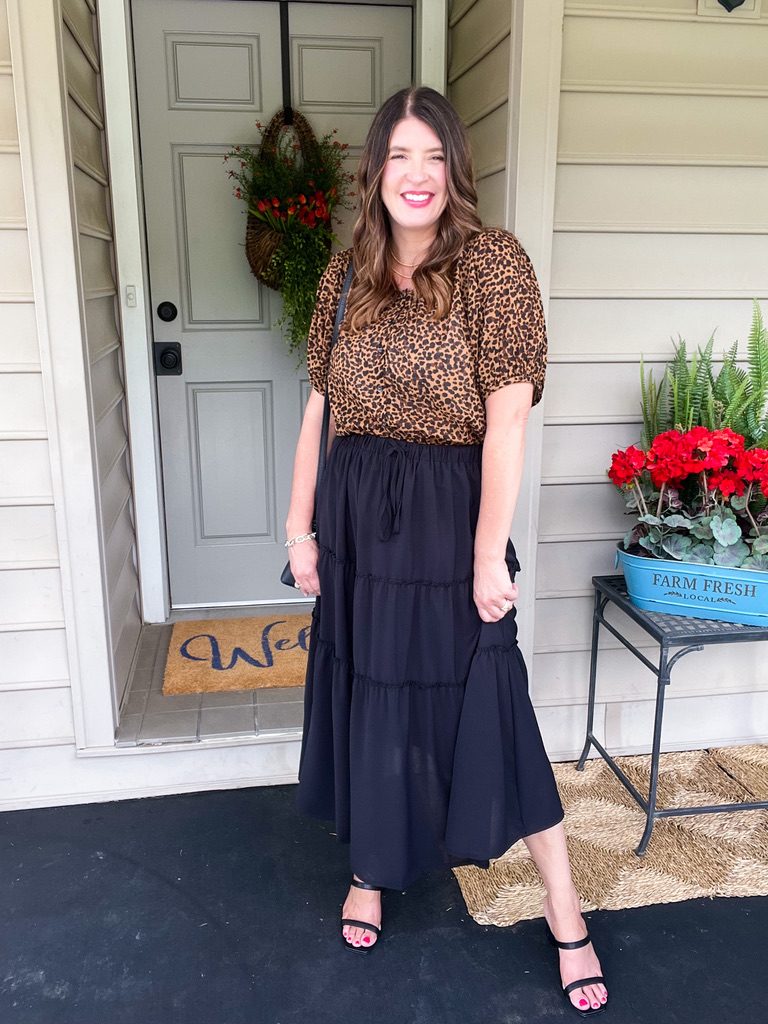 Lunch With Friends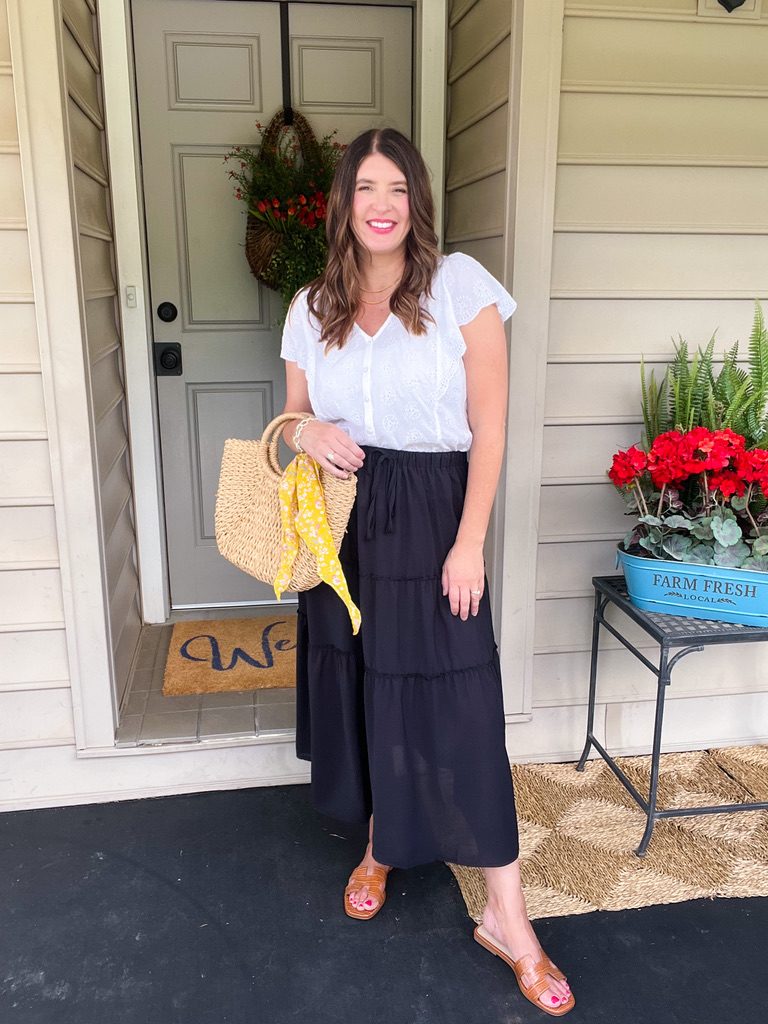 Here is another way to style a black maxi skirt when you still want to be casual and look nice. Having lunch with some friends? This would be a good outfit combination. For this look, I paired the maxi skirt with a white eyelet blouse. If you don't have a white eyelet blouse, consider adding one this season because they are very on trend! Mine is a couple years old from Loft, so I will link some similar options.
Otherwise, you could substitute any feminine style white blouse that you already have in your closet. The camel colored embossed slides from Nordstrom Rack are a nice way to finish off the look instead of the typical black or white sandals that you might expect.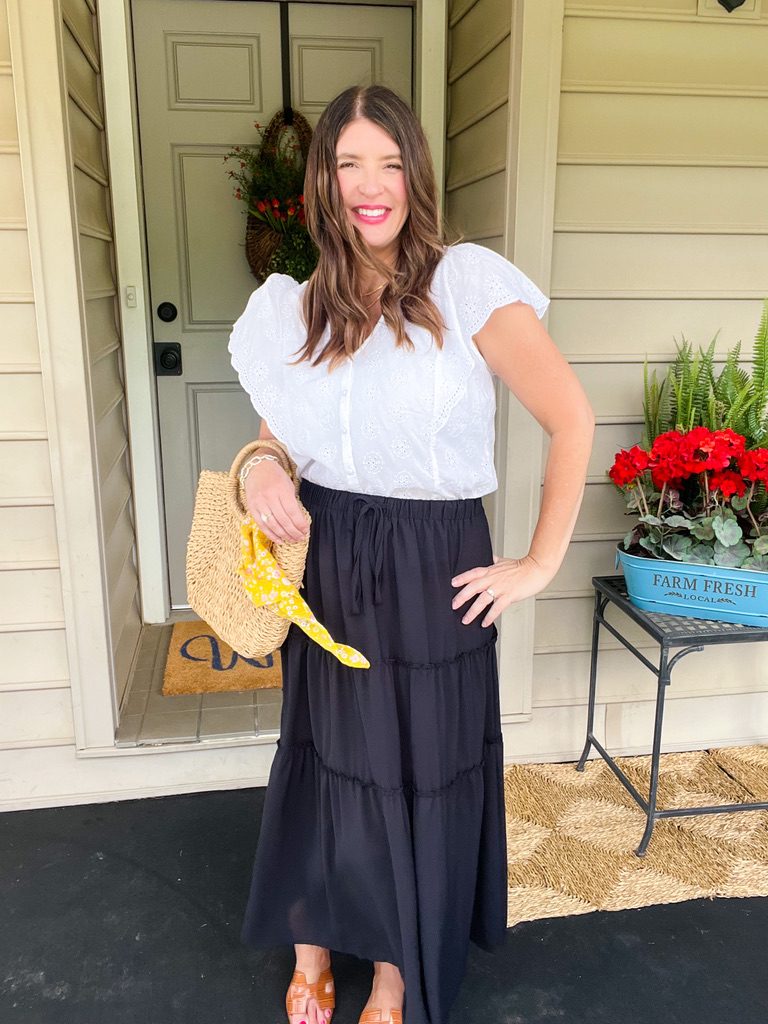 Swim Coverup
Here is the last of the 5 ways to style a maxi skirt, and it's one you might not have thought of. Try wearing a maxi skirt as a swim coverup. This is a great way to minimize the number of items you pack for a trip and get maximum use of your maxi skirt (see what I did there)?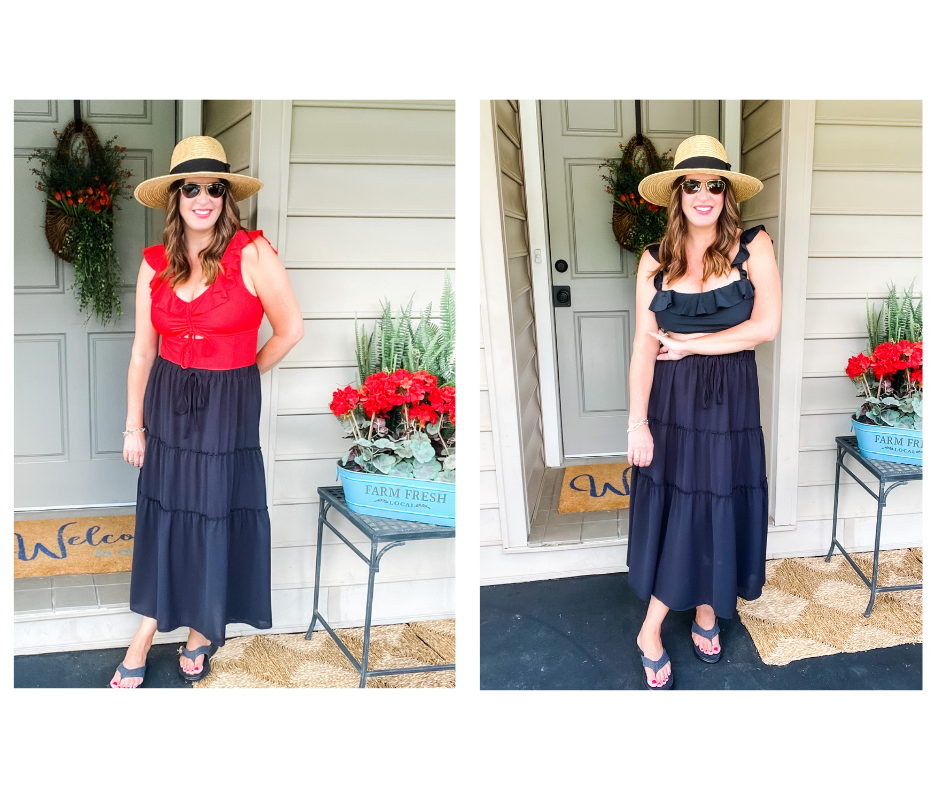 If you missed my recent best swimsuit roundup for 2022, you can see it here. These are two swimsuits that I'm loving, and I styled both of them with the maxi skirt. This would be a good combo if you are on the beach and just want to walk up to an outdoor restaurant to grab a bite.
What If You Don't Have A Maxi Skirt?
Here is a little bonus tip if you don't have a maxi skirt. You can layer a lightweight sweater or button down top over a maxi dress to create the look of a skirt.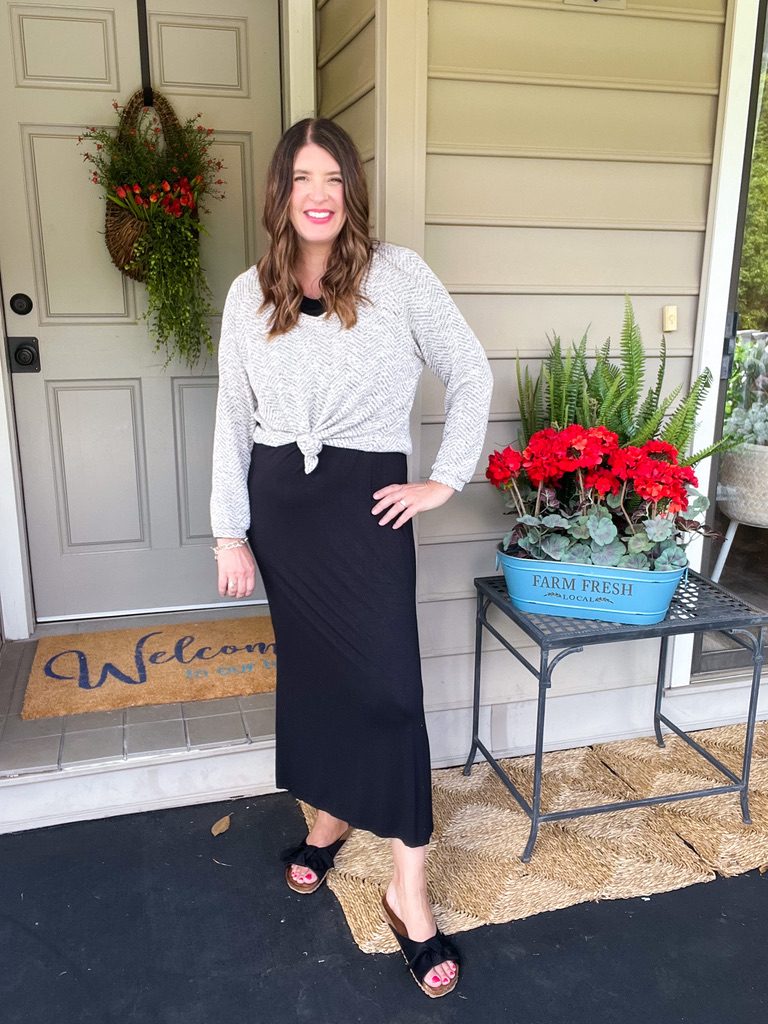 This would be ideal if you live in a cooler climate, or you plan to be indoors where the air conditioning might be a little too chilly for you. It also works with a fuller style dress and looks best when the waist is cinched. Here, I gathered the sweater in a knot and secured it with a clear hair tie.
I hope you enjoyed today's post. What are some ways you like to style a maxi skirt? Let me know in the comments below. I love hearing from you and other readers can benefit from your ideas too!