I've got another Weekly Walmarts Finds post for you today, and it's packed with some spring and summer dresses and one workwear outfit for you ladies that need some office outfit inspiration. I don't do a lot of workwear inspired looks, but if you would like to see more of them let me know in the comments below. If there is enough interest, I would be happy to do more.
We have already experienced a full week of 90+ degree temps here in the south. Summer is not my favorite season because it gets so hot here and stays that way until at least October. My fellow southerners can surely relate. Now some of you may love the heat, but as for me I prefer more moderate temperatures.
Dresses are my saving grace during the hottest months of the year. They are the coolest and most comfortable thing to wear when the heat is at it's peak. I guess that's why I feature so many of them here at The Scarlet Lily! Plus…I'm just a dress girl plain and simple.
One Shoulder Midi Dress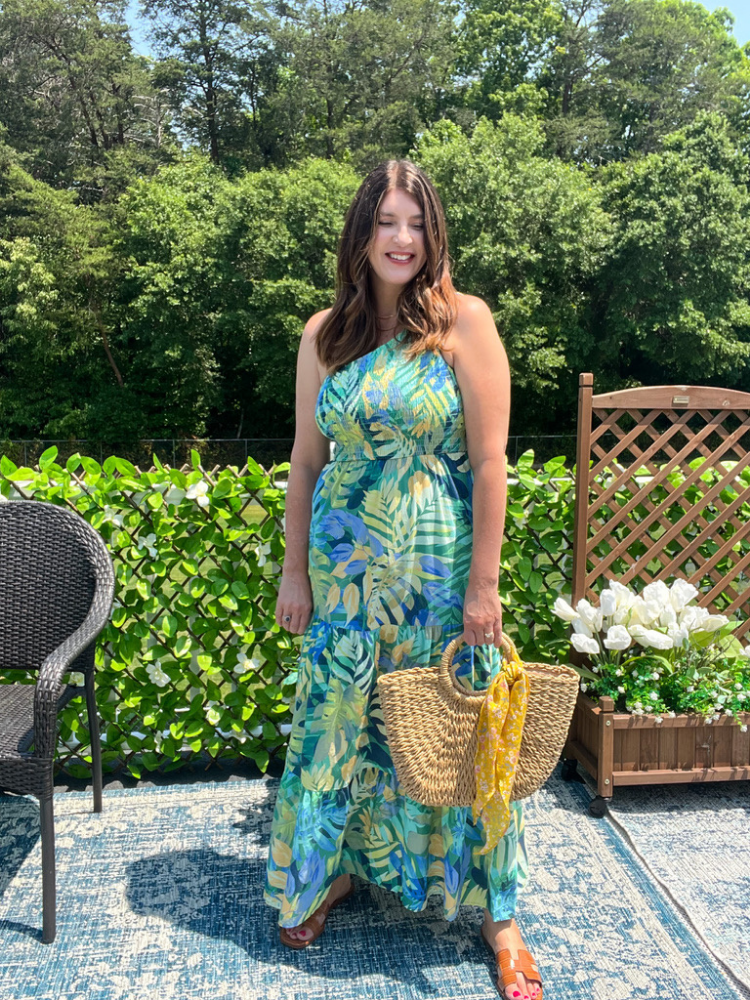 Say hello to the perfect summer vacation dress! I've been seeing several dresses with this similar style and I love the look. The smocking detail up top and the fun tropical print make this a must have for your next destination.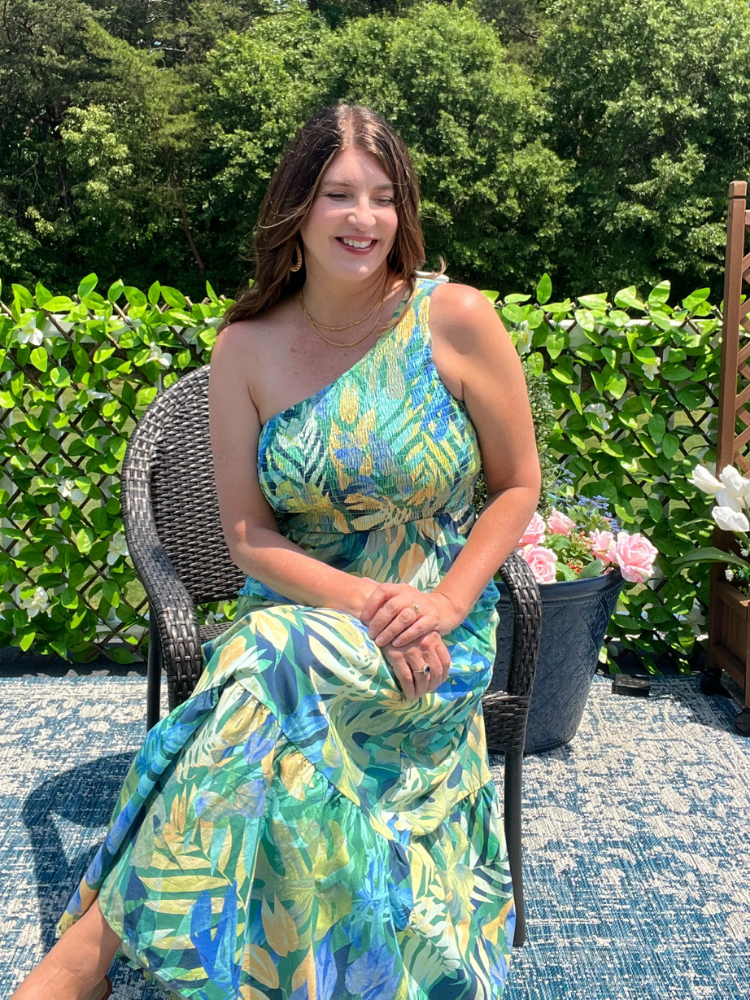 This one shoulder style midi dress is by Time and Tru and the fit is TTS. I'm wearing a medium. It comes in two color combinations, so be sure to click the link to see both options. I'm partial to blues and greens, so I chose this print.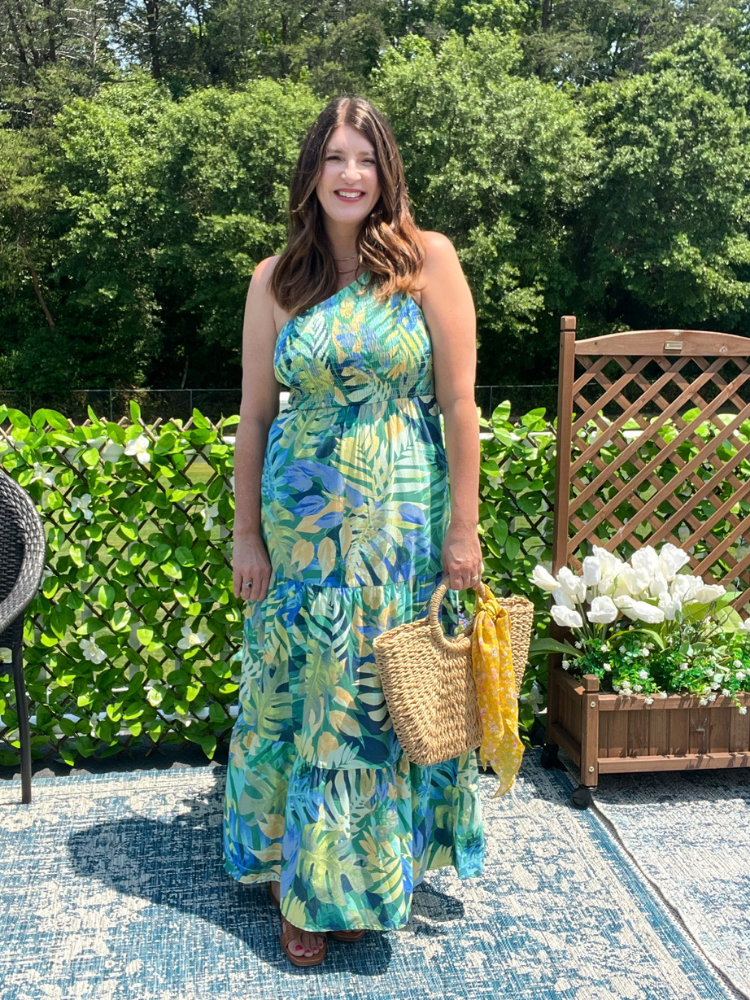 I paired it with my favorite straw bag from Amazon and my new embossed slides from Nordstrom Rack. I've had my straw bag for at least two years, and I show it all the time because it goes with everything.
Here are two straw bags that are currently available at Walmart.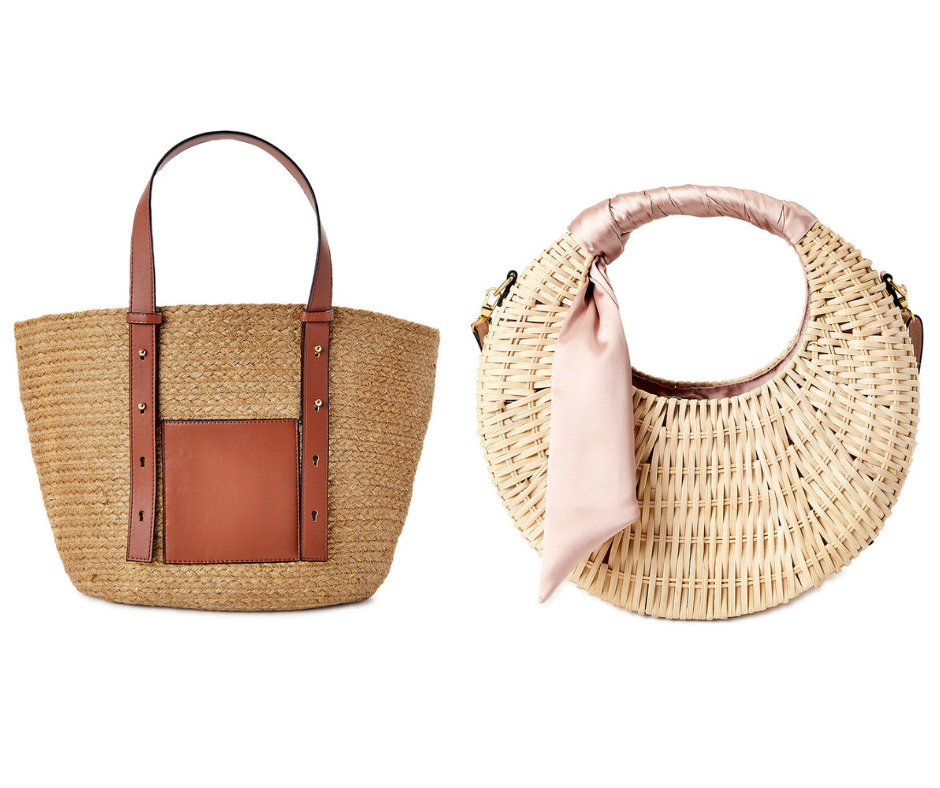 Pink V-Neck Dress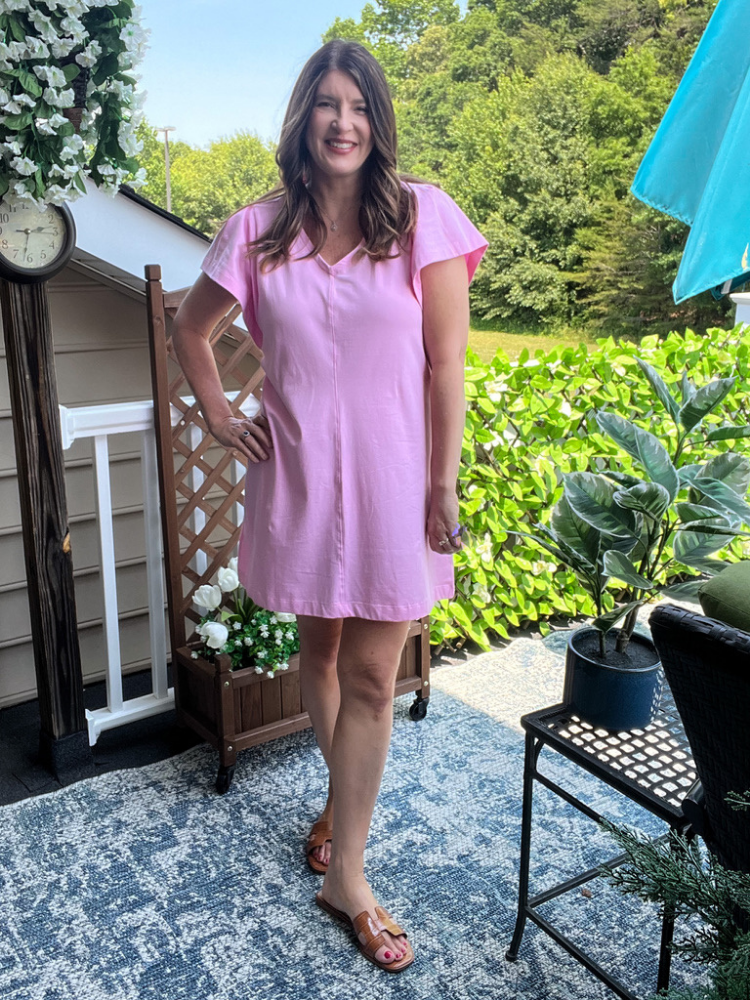 This pink v-neck by Free Assembly is another easy piece to wear on a hot day. The fit is easy and flattering, but it does have some interesting details as well.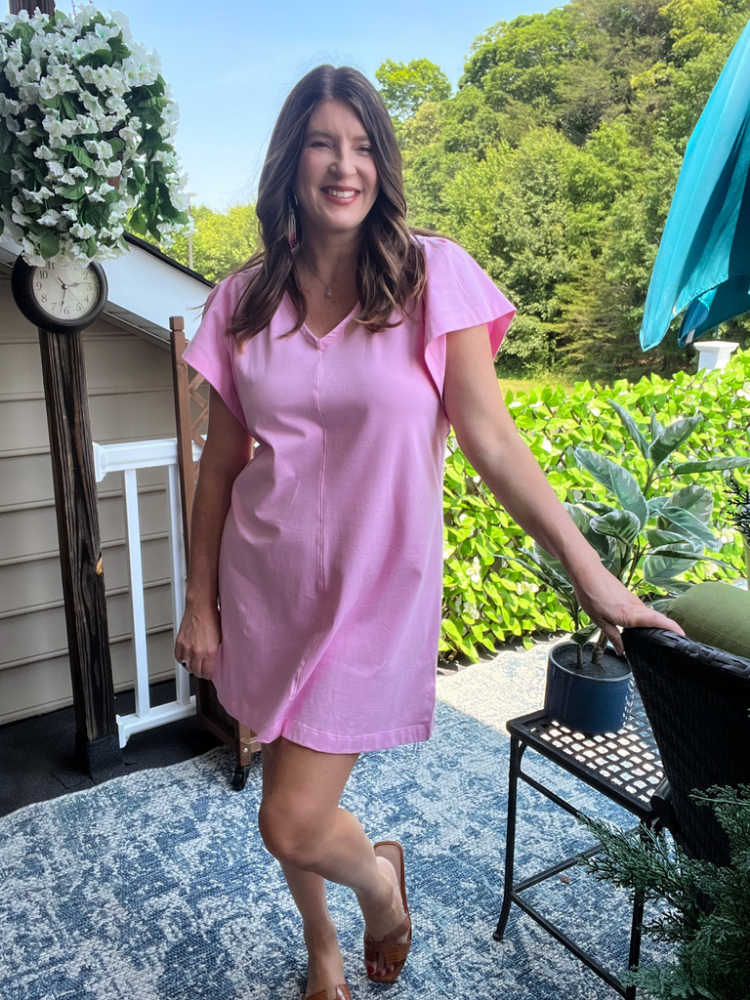 First, it has flounce sleeves that gives a feminine vibe without being an over the top ruffle. They lay down rather flat so it does not make my shoulders look huge.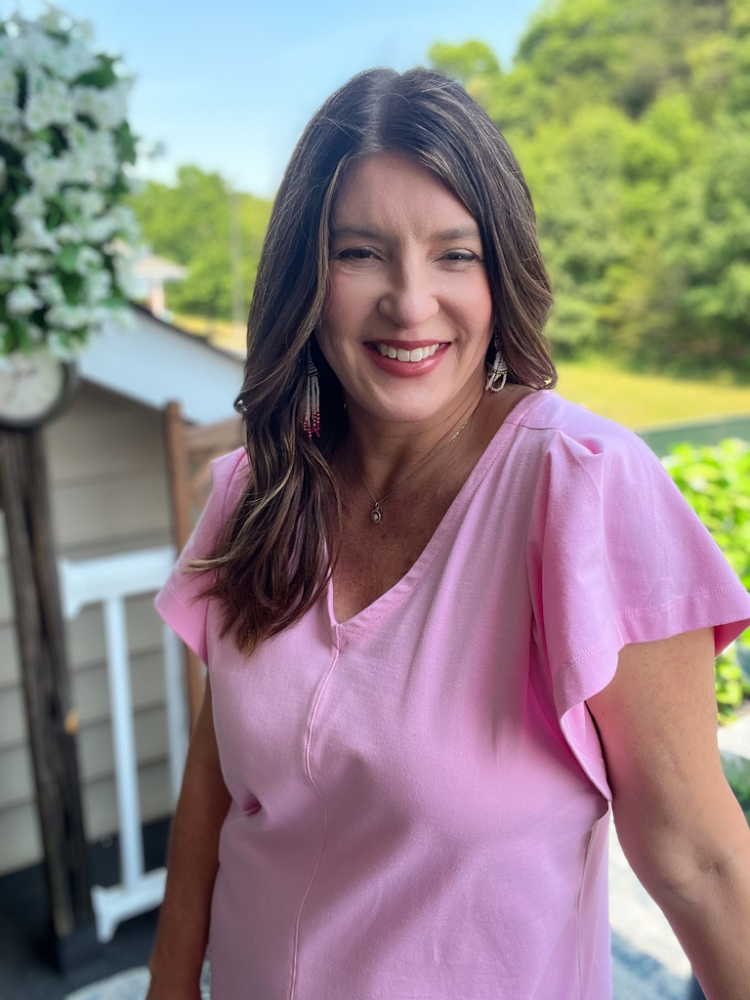 Second, there is a tie back detail and a v-shape in the back that is so pretty. The tie also gives some stability so the shoulders cannot slide off.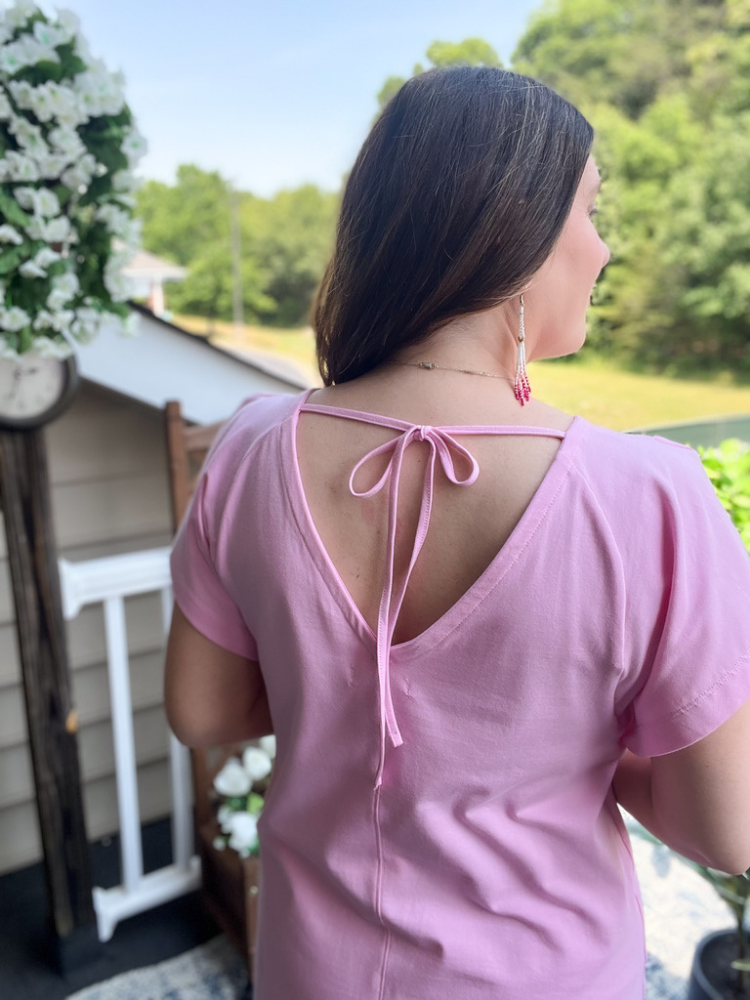 Finally, the color is just a beautiful shade of bright pink. I wore my pink ombre beaded earrings by Time and Tru to bring out the pink.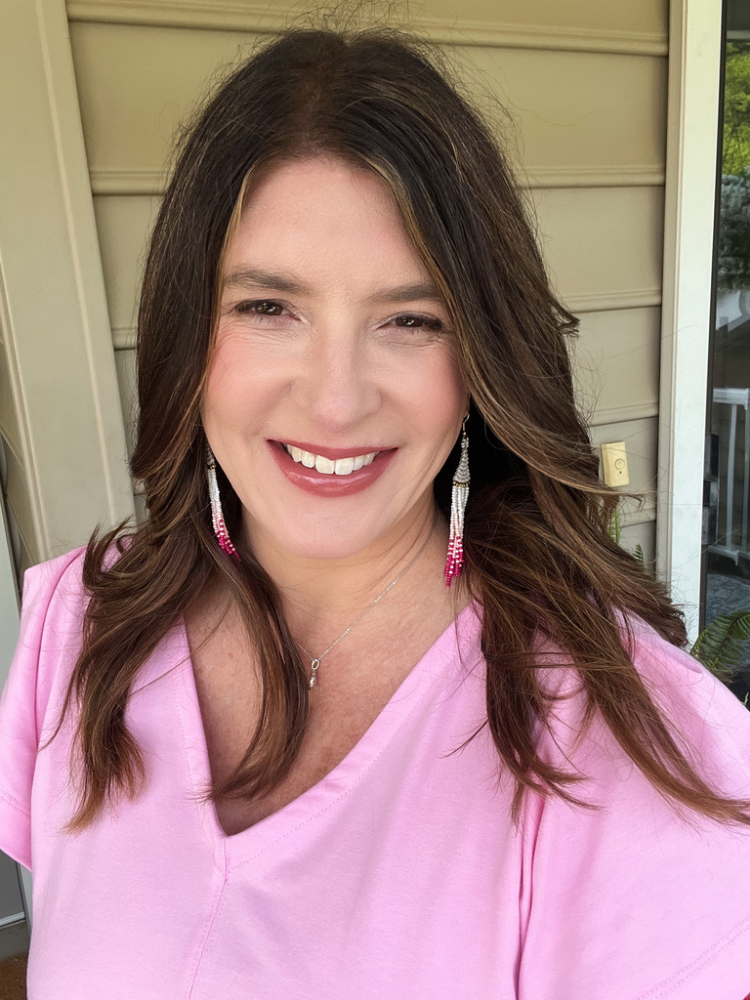 Boatneck Mini Dress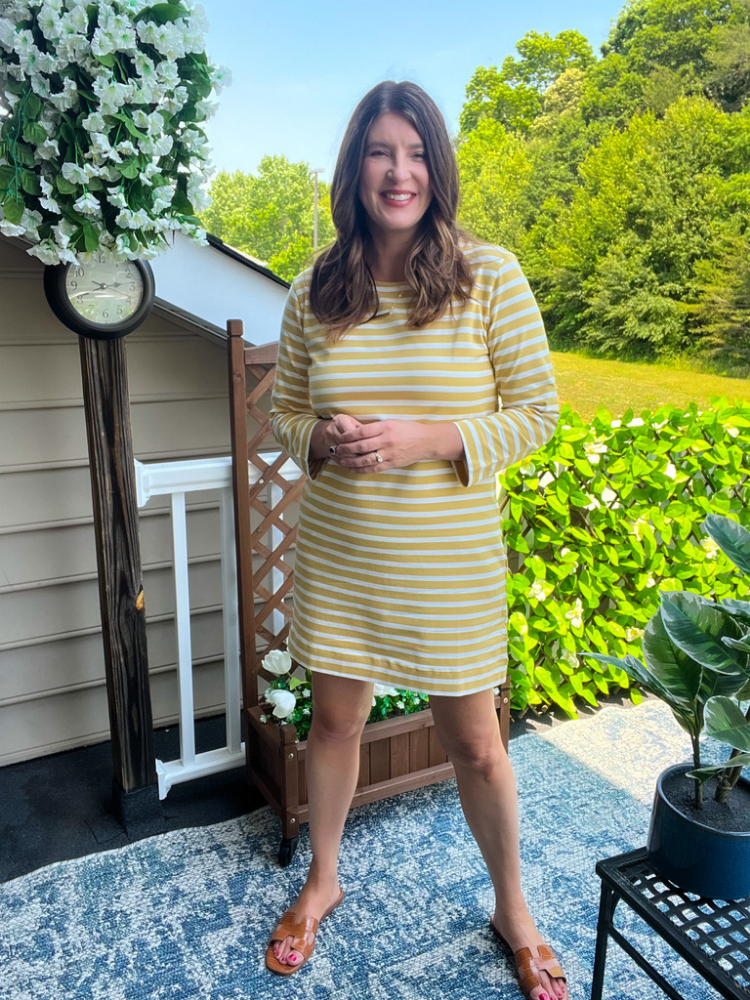 This Boatneck Mini Dress by Free Assembly is a great summer dress for those of you who may not like to expose your arms. This dress is a sturdy knit and is currently on sale, so sizes and colors are limited.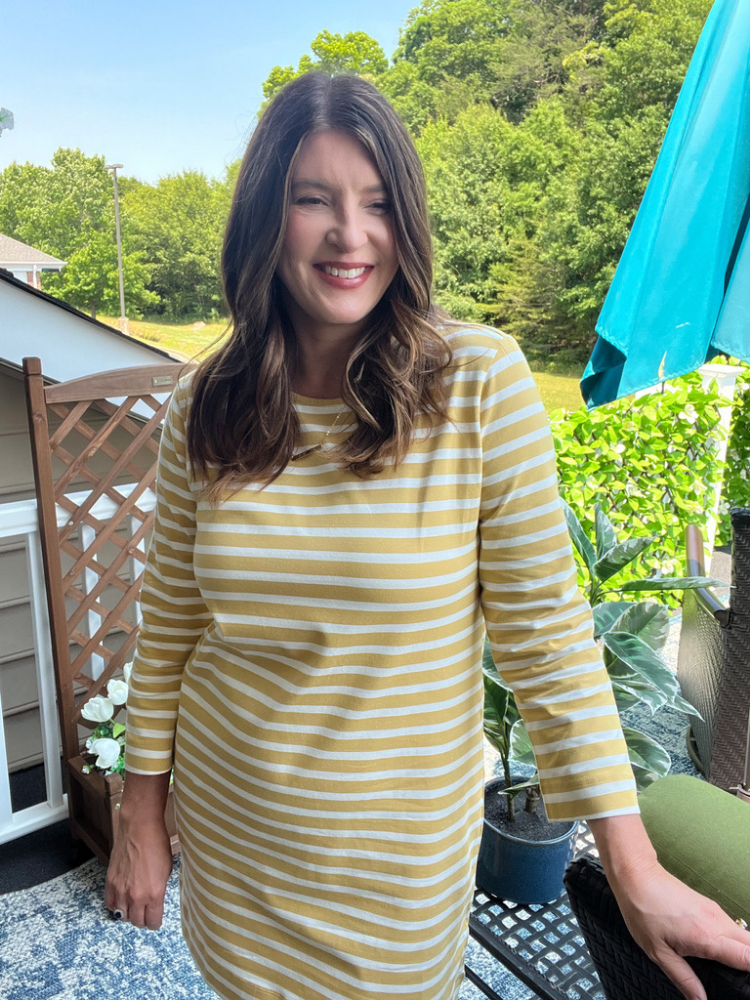 I'm wearing a medium, which is my normal size in Free Assembly. I think the length on this would be better suited for someone a little shorter than me (I'm 5'7″), and I would have liked it better if it was just a little bit longer.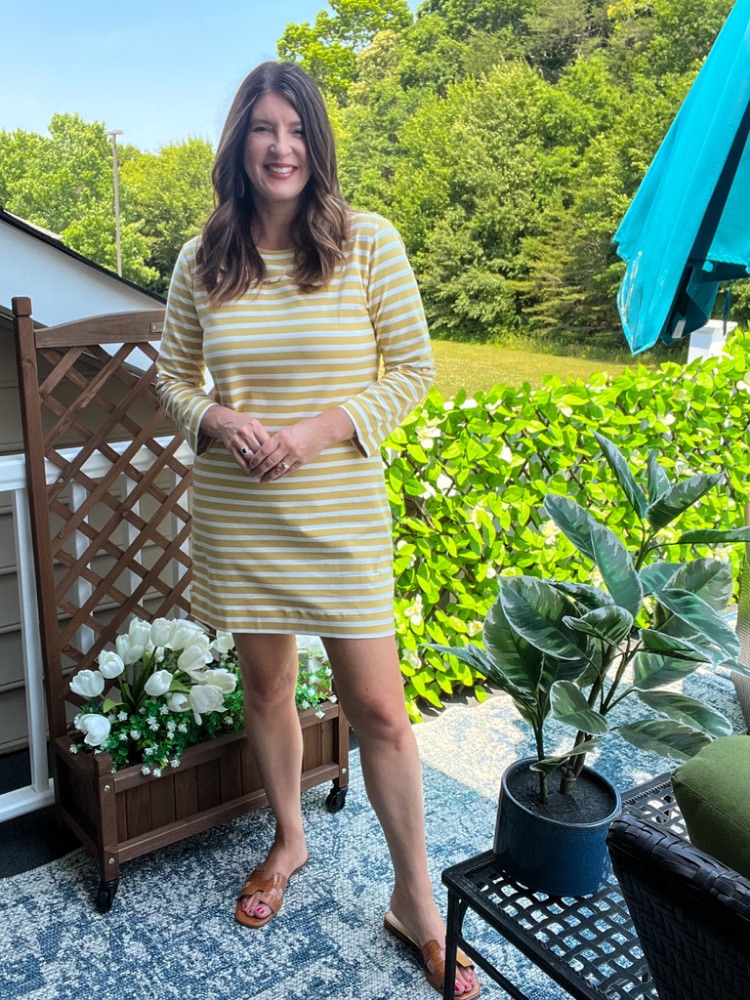 Boatneck Mini Dress // Sandals
Mock Neck Swing Dress
Here is another Free Assembly dress that I am in love with. I already own this same dress in black and I wear it all the time! I wanted to pick up another one in a different color, and I really like this periwinkle/lavender color they call "Eventide".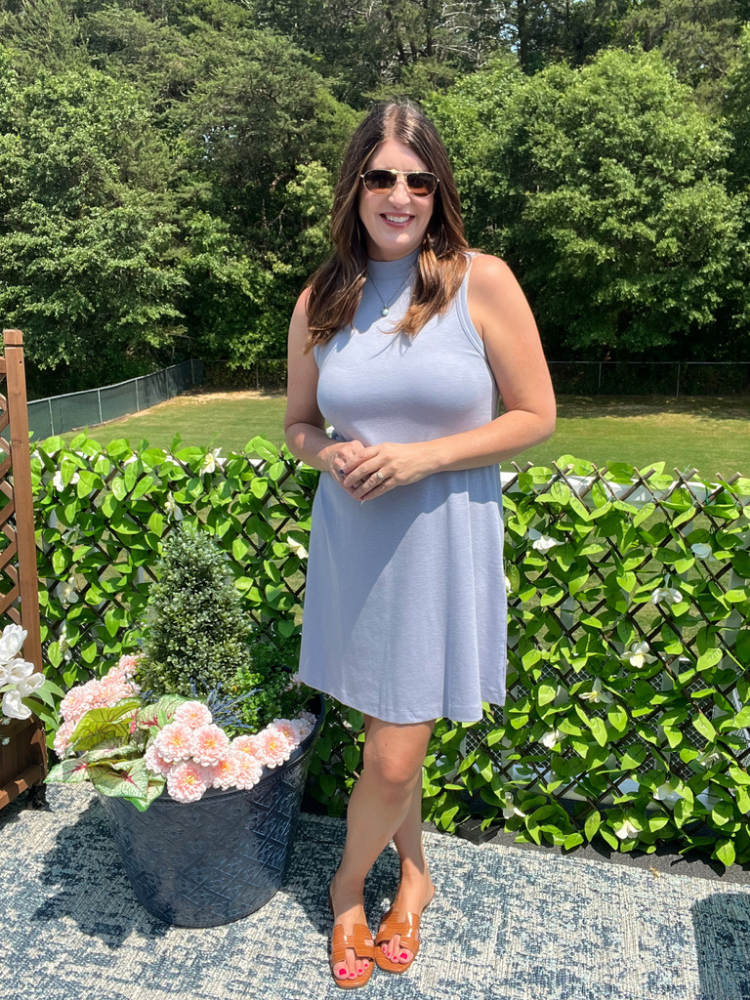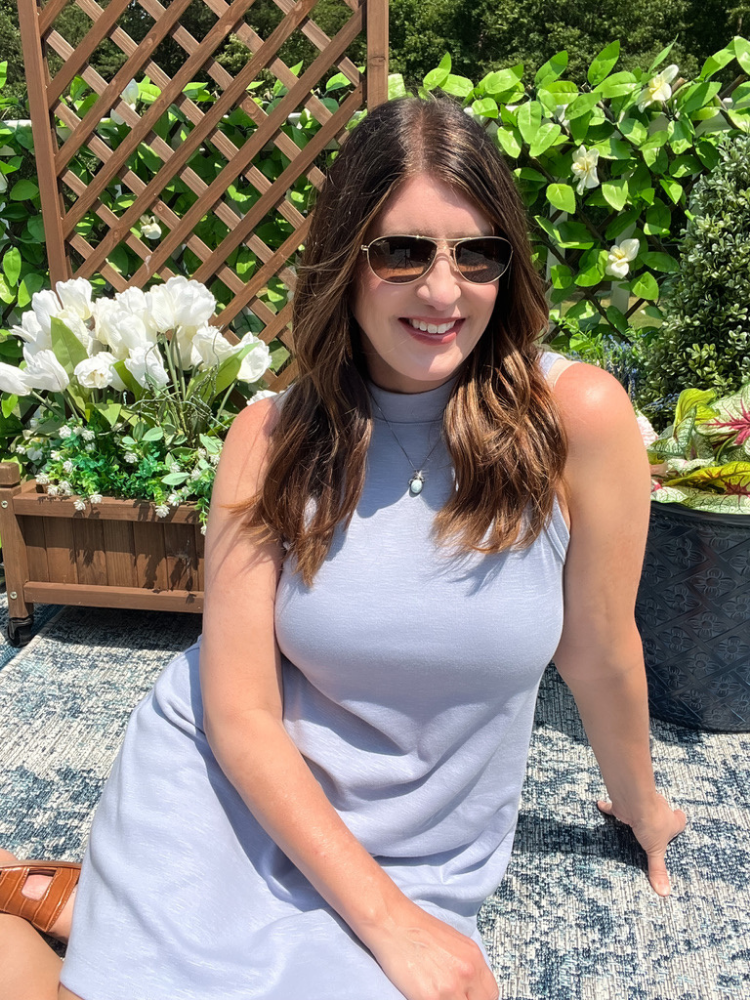 I'm wearing my usual size medium and I think this is a great dress to wear by itself as I have done here, or it can be layered easily with a jacket or cardigan. I have even worn it with a pullover sweater or sweatshirt on cooler days.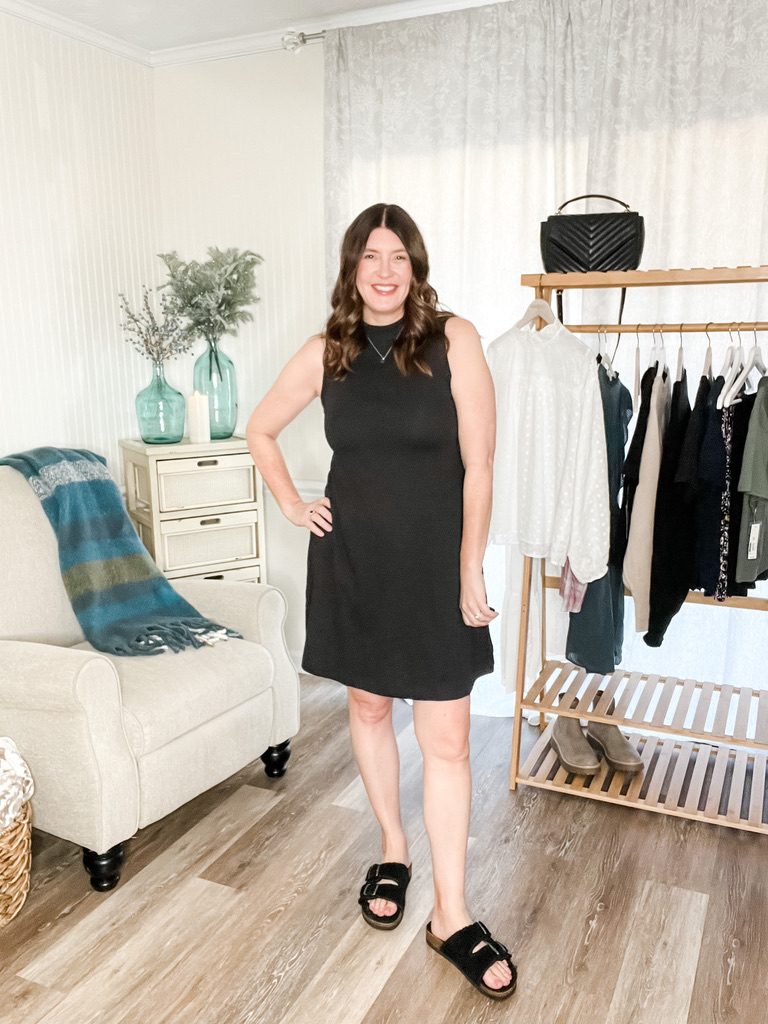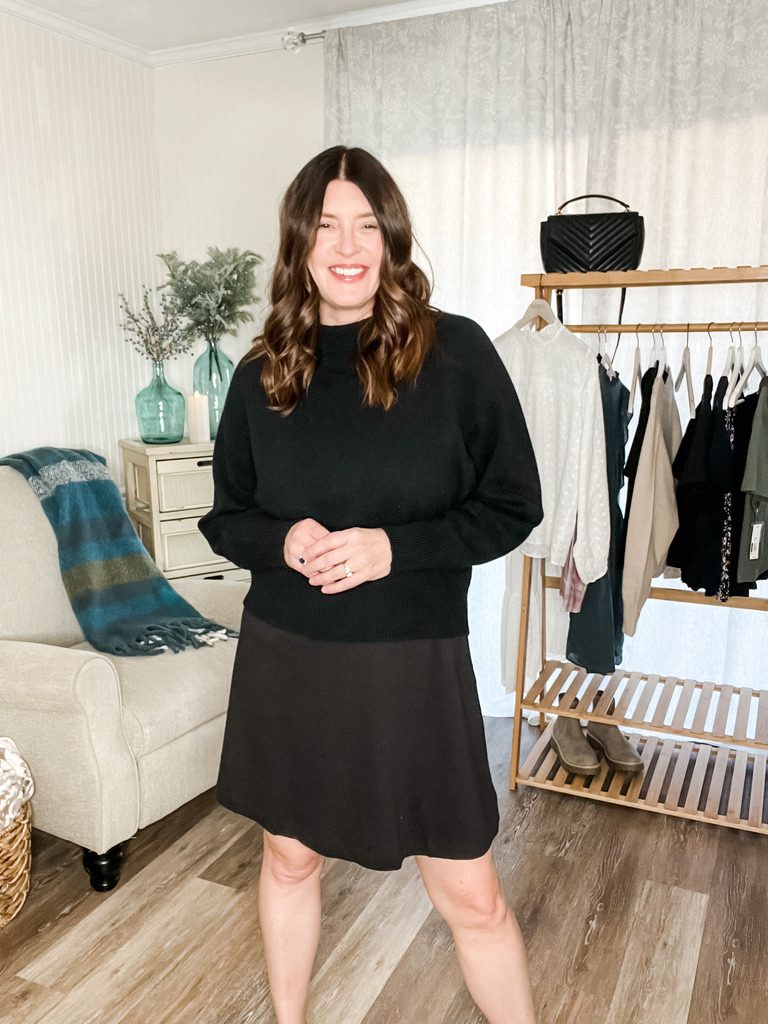 Mockneck Swing Dress // Sandals
Workwear Outfit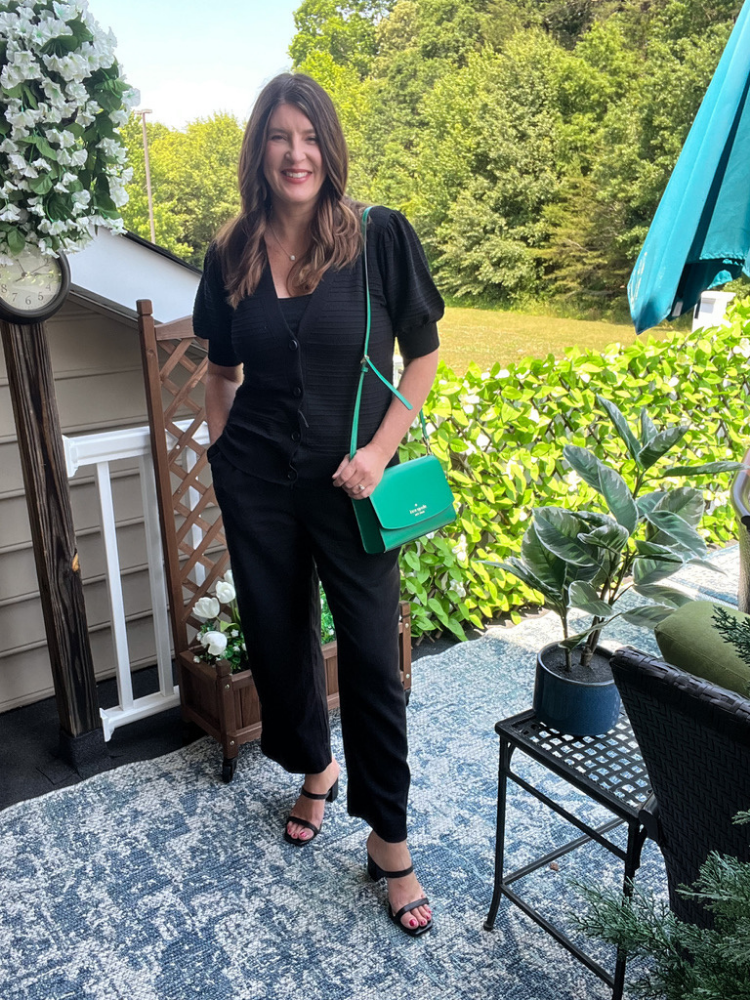 Whether you need workwear ideas, or just need something for a special occasion, this last outfit can serve many purposes.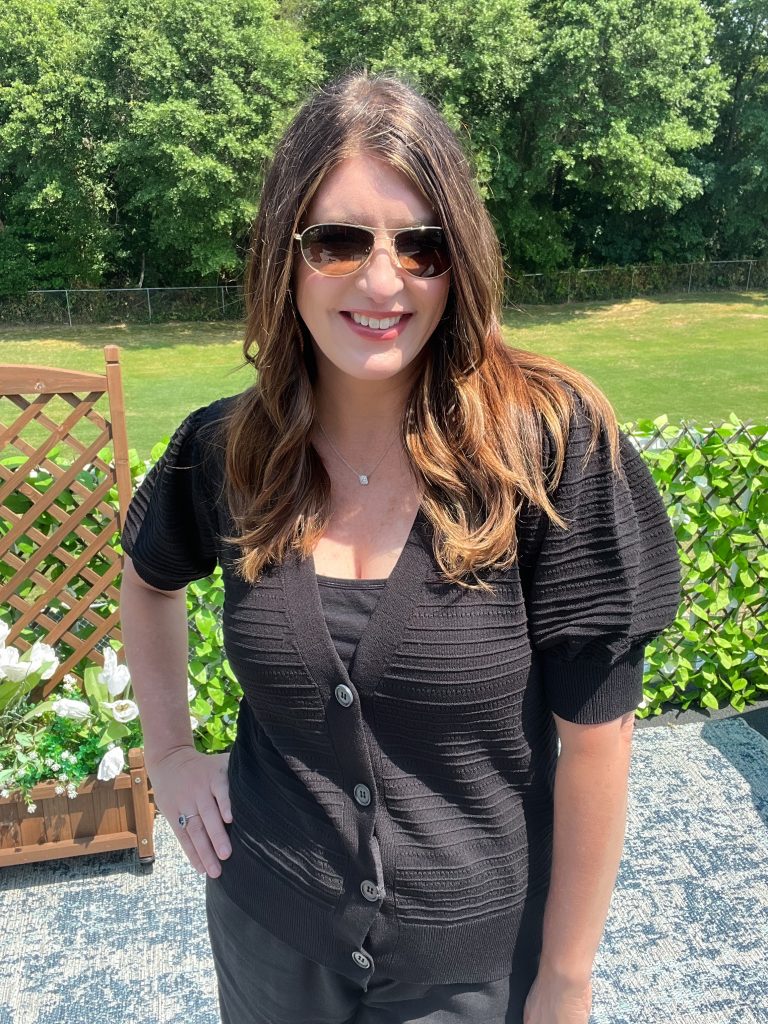 Let's start with the Puff Sleeve Cardigan by Time and Tru. This piece is currently on sale for only $10! I chose the black in a medium, but it also comes in bright pink, camel, and white. It does have a low cut so I wore a cami style bra underneath.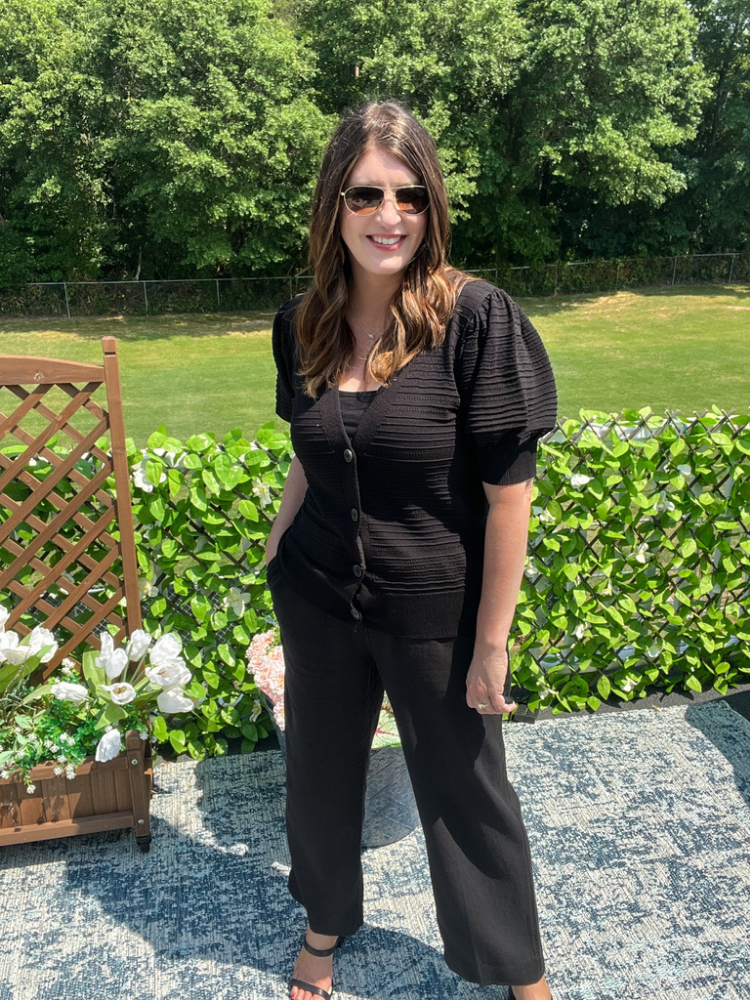 The pants are the straight leg drawstring pants by Free Assembly. I did not love the fit on these, and the medium seemed to run really big. I would recommend sizing down at least one size. They are a linen blend pull on style, and are very comfortable. These would be a good summer pant option if you get the right size, and they come in several other colors as well.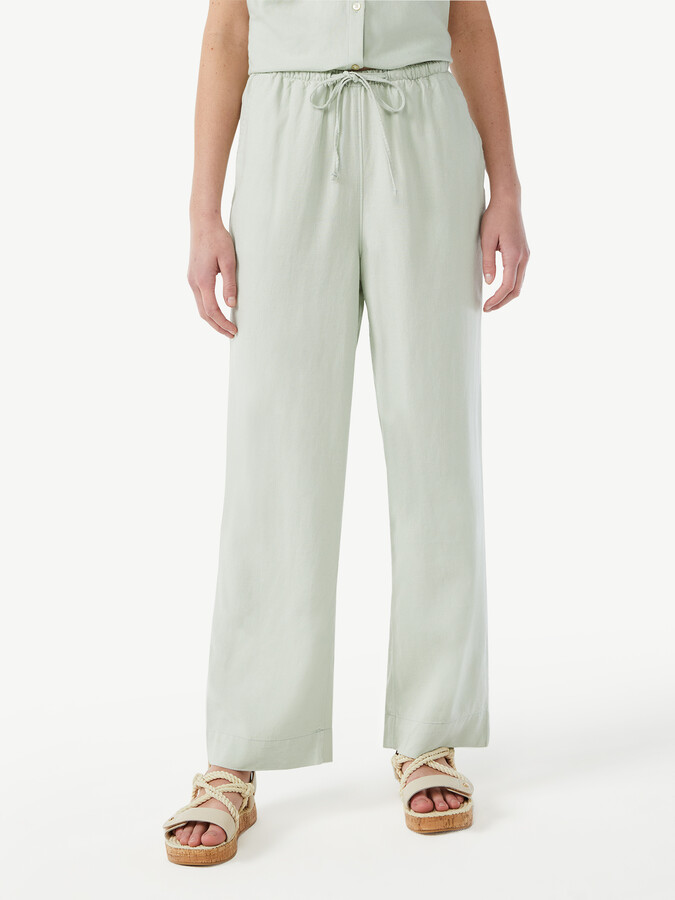 Here is the same pant in the seafoam color… I ordered these in a size small to see if I like the fit better.
That's it for this edition of Weekly Walmart Finds. For more Walmart posts, you may enjoy this one!