It's a safe assumption that every woman has at one time or another stood in front of her closet staring at her wardrobe and wondering what on earth to wear. More often than not, the reason is not because we don't have options but instead we just have trouble putting outfits together. Maybe you're in a style rut, or you just wear the same few pieces over and over again. Whatever the reason, today I'm going to offer 5 fabulous spring outfit formulas to help you when you are standing there gazing at your closet with no clue what to put on.
I love outfit formulas because it allows you to shop your closet to achieve a look instead of having to buy something new. To prove my point, I did not purchase anything new for this post as I normally would for a new blog post. I'm shopping my closet and my photography archives to show you how this works. So let's get started!
T-Shirt + Athletic Skort
I'm loving the athletic skort trend. It combines the best of both worlds for a dress lover like me. The look of a skirt with the shorts underneath for modesty. These outfit combinations can suit your needs whether you are exercising or just want to be comfortable.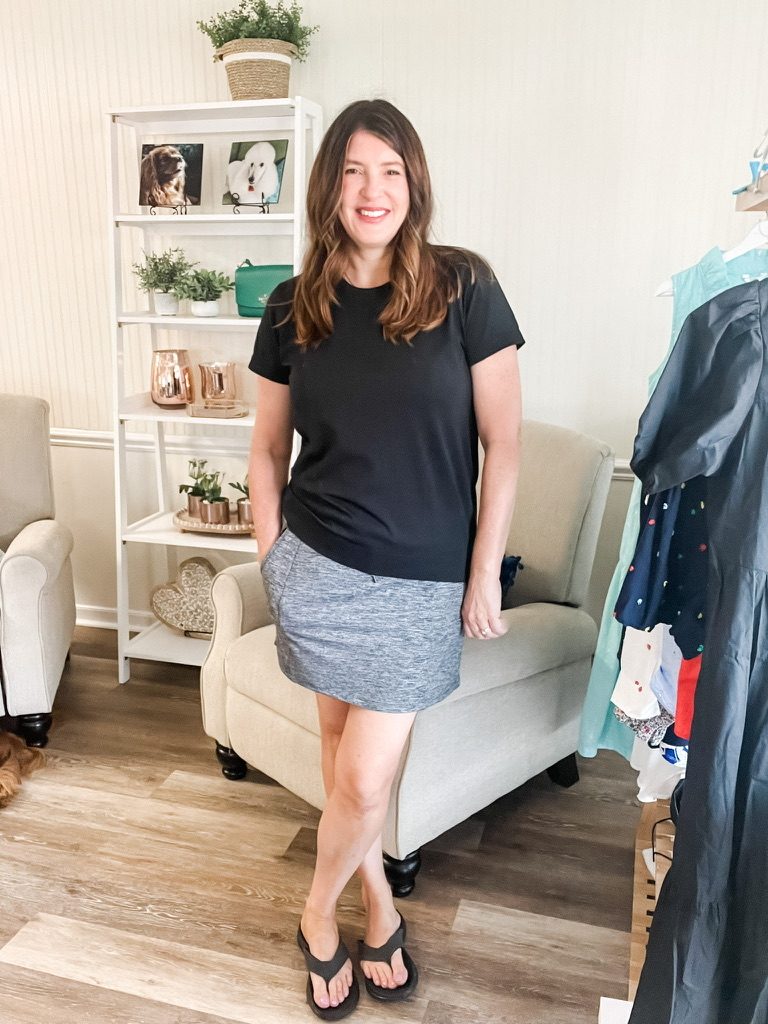 The outfit above is from Sam's club. The skort is more fitted and buttery soft. I also have had good success with skorts from Amazon, and I will link some options for you.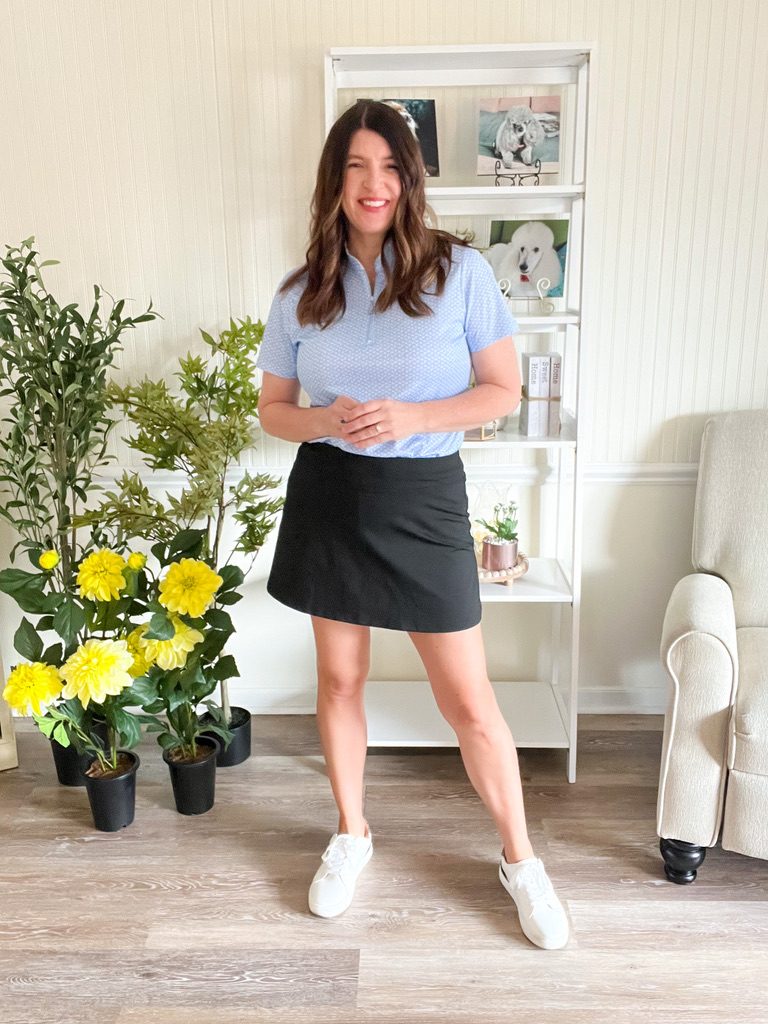 My top is a golf top by Greg Norman. I purchased it in this blue and in lavender in a size large. Currently it is sold out, but I will link something similar.
Feminine Top + Wide Leg Pants
If you have a build similar to mine (wide shoulders, larger chest) then pay attention to this outfit formula because it is one of the most flattering silhouettes for this shape. Wide leg pants will help to balance out your proportions. Paired with a feminine top, the combinations are endless!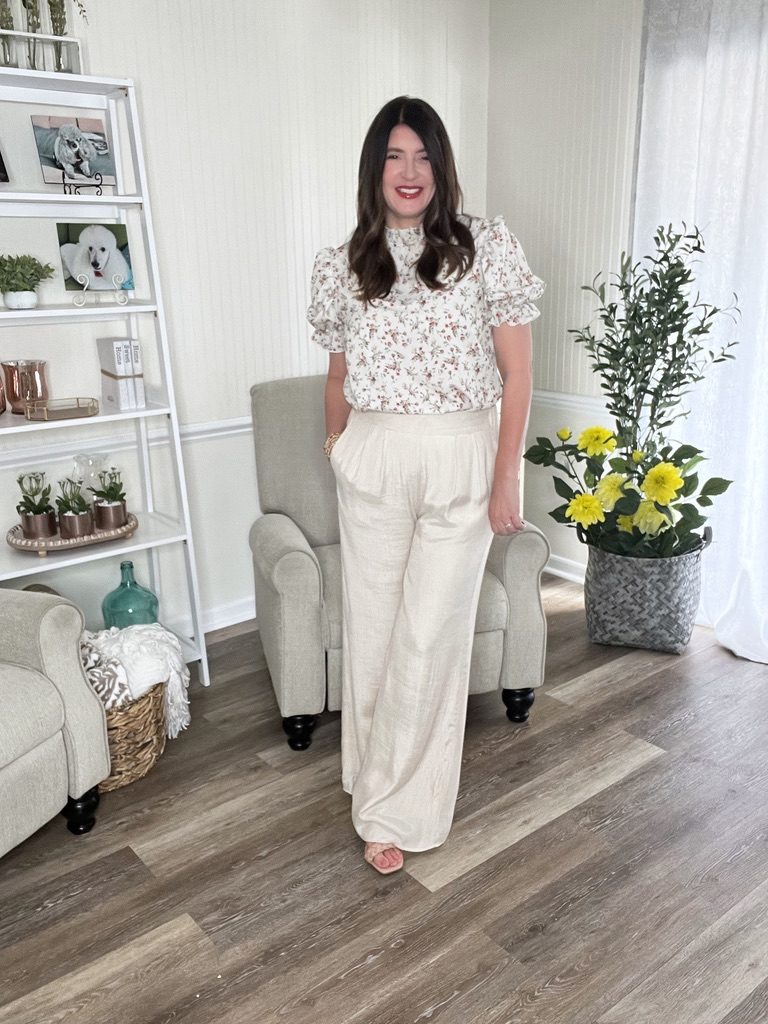 These wide leg linen pants are by Wonderly from Belk. I'm wearing a medium. The floral tops are from Amazon, and they are the same tops in two different colors. I bought them last year, and I have worn them many times. I'm so glad they are still available, and I'm wearing a large in the tops.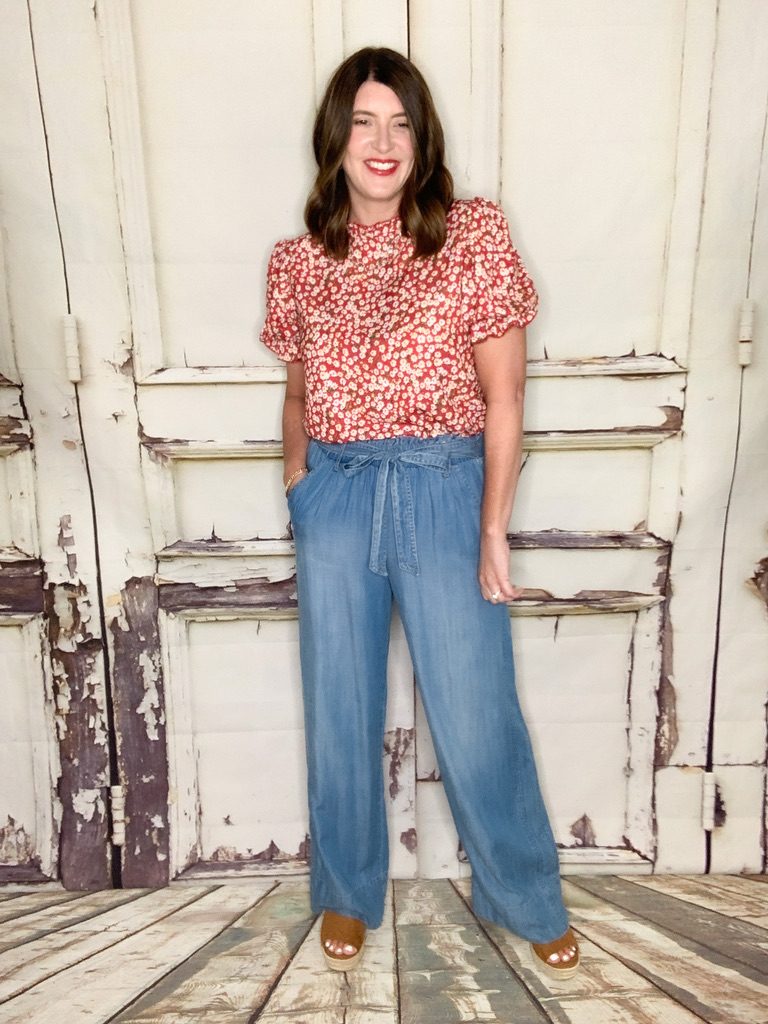 The chambray wide leg pants are from Target (last year). I've linked this year's version.
Casual Dress + Denim Jacket
A casual dress paired with a denim jacket is one of the easiest outfits to put together. Your dress can be any length you prefer…short, midi, or maxi. Here are examples of each length dress.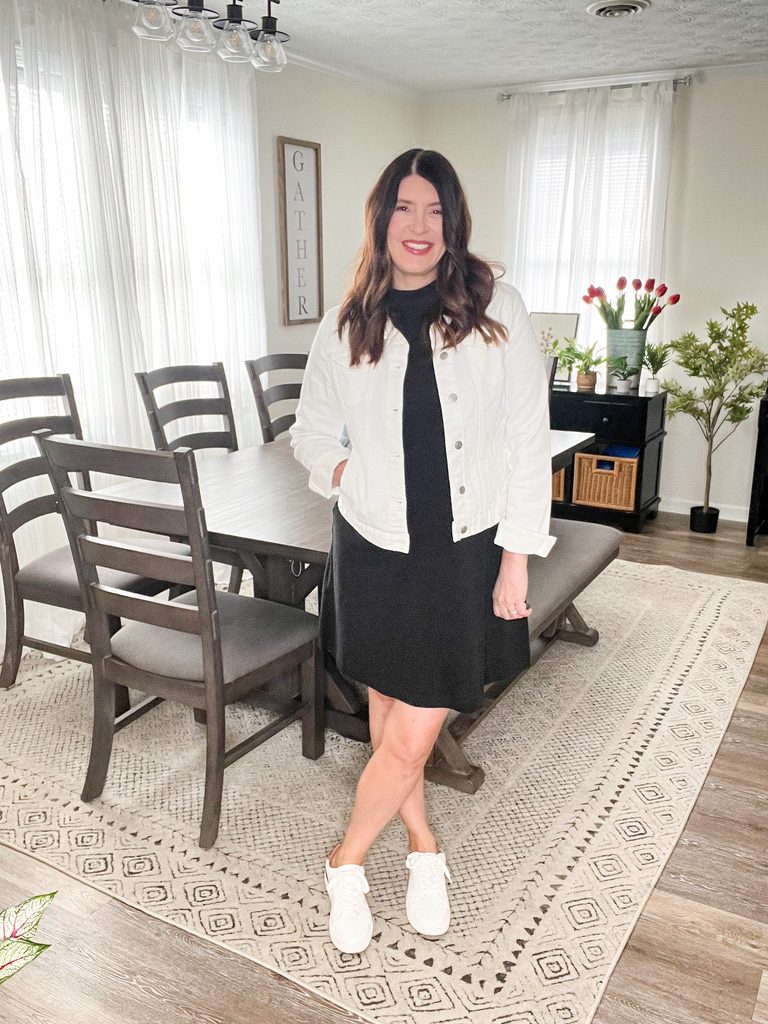 This is a current favorite dress of mine from Walmart. It is a mock neck knit dress that is so simple, casual, and flattering. It is by Free Assembly and I'm wearing a medium. My white denim jacket by Time and Tru is sold out, but this one from Old Navy is similar.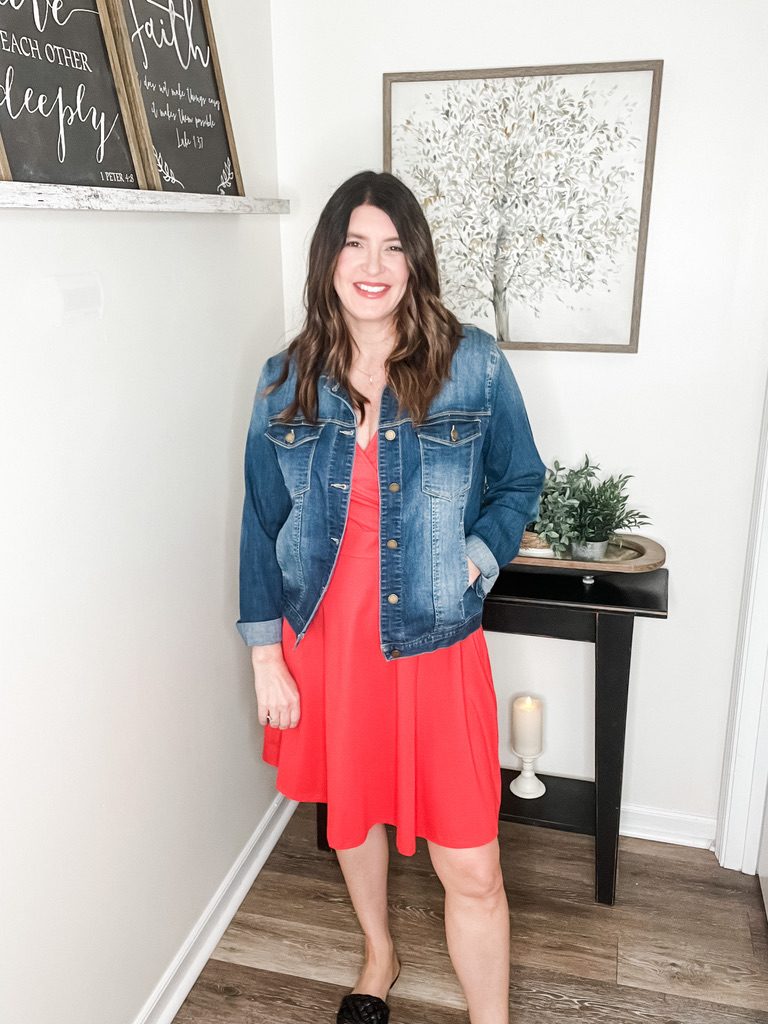 For a midi style, this red V-neck dress from Amazon is another casual and comfortable style. This has been a popular top seller since I featured it back in this post.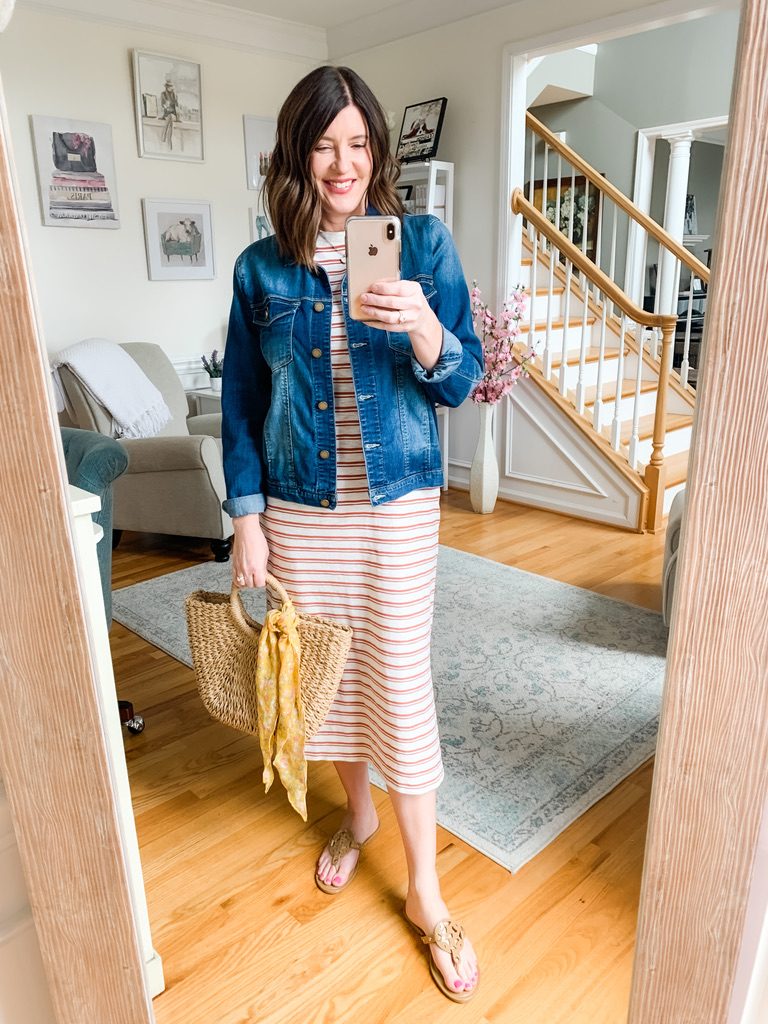 Here is an example of a maxi dress with a denim jacket. This is another Target dress from last year. This dress is very similar.
Tunic Length Top + Leggings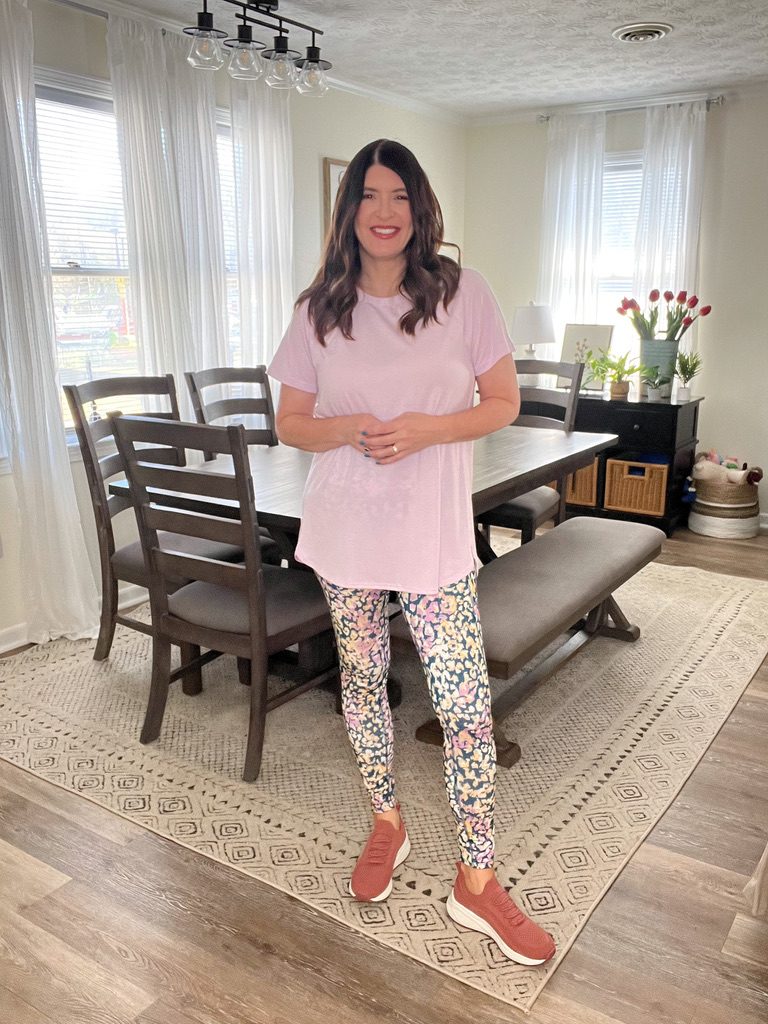 The most obvious way to style leggings is to wear an oversized tee with athletic leggings. Consider breaking away from the traditional black leggings to a brighter print, such as these high waisted pocket leggings from Kohl's.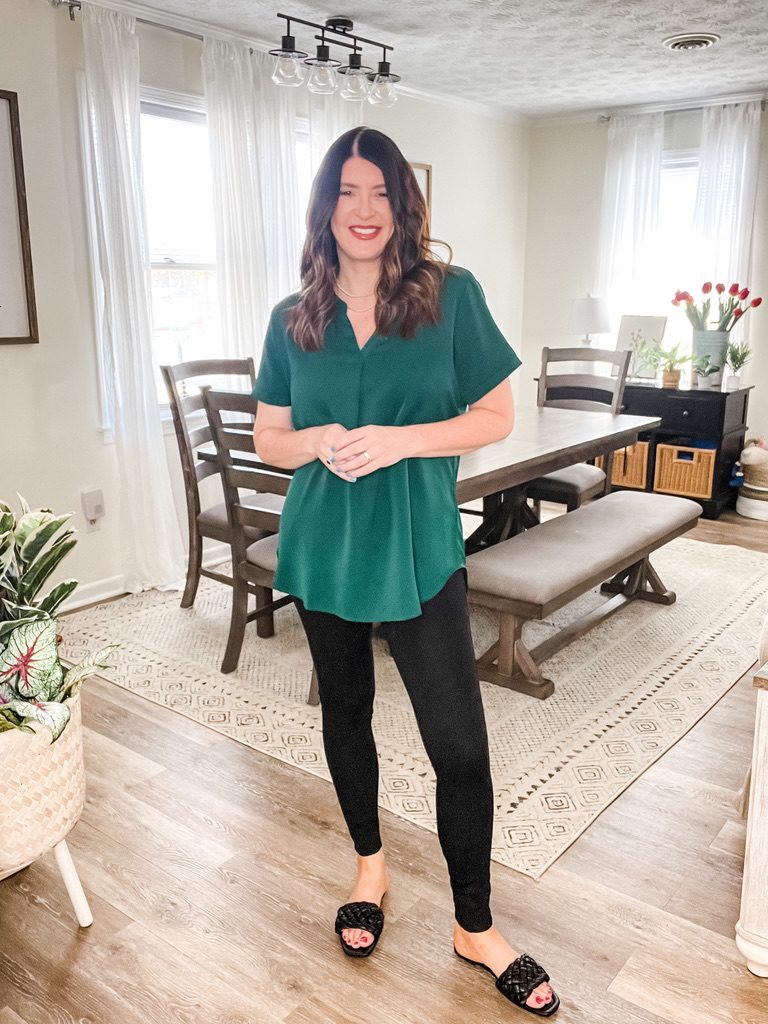 The next two outfit you might remember from my "best tops to wear with leggings" post. These are both examples of how to wear leggings in a more elevated way. The leggings are my favorite Red Hot by Spanx ponte leggings and both tops are from Amazon.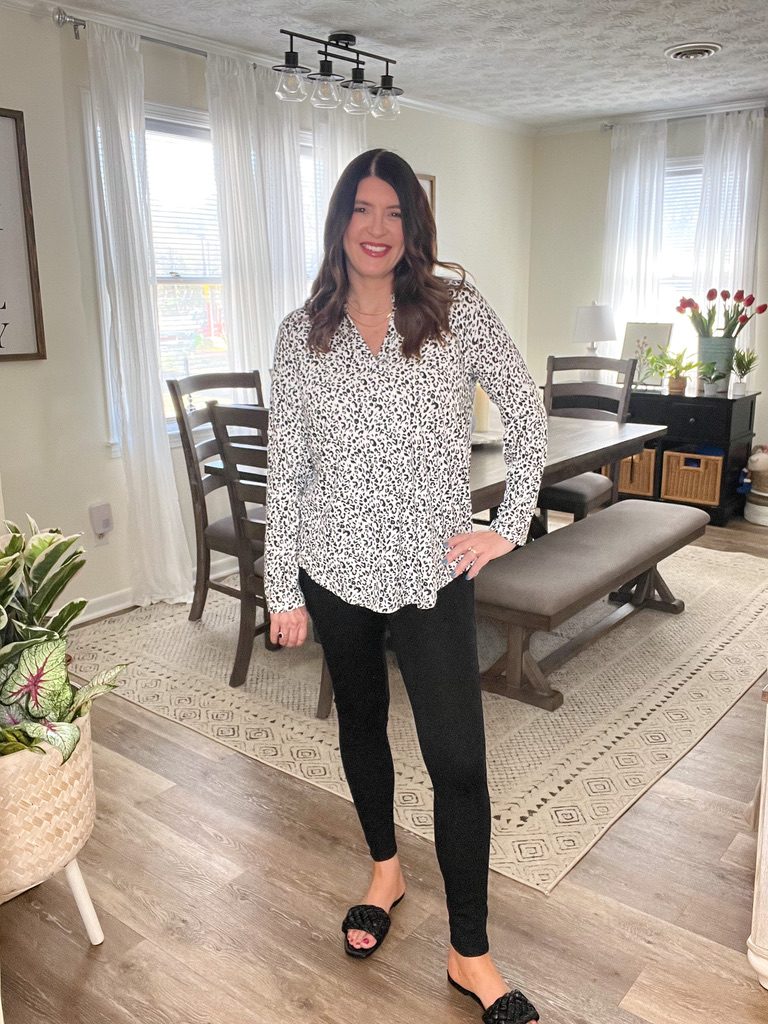 Top + Elevated Joggers
I think most women don't use joggers to their full potential. They are most often thought of as loungewear, but you can dress them up or down to suit almost any occasion. Here are several examples of outfits that are built around joggers.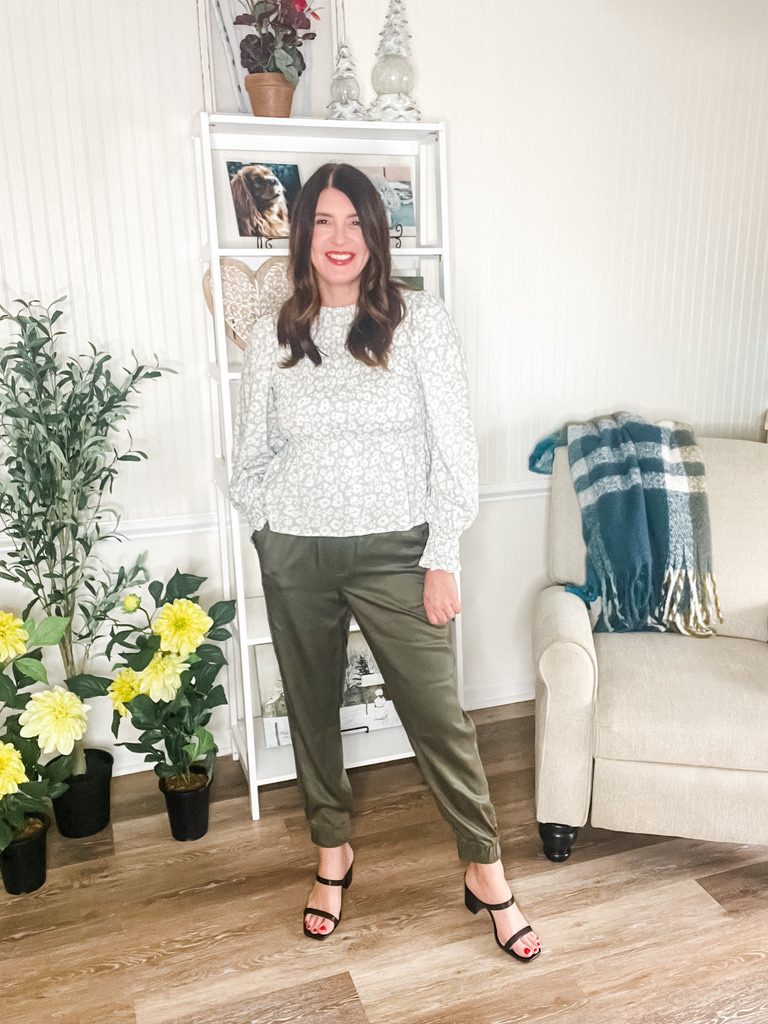 The above top is a top seller from Target. I love the feminine style of this top paired with the joggers. Below, I styled the same joggers with a traditional button down style and I like both looks. One is more trendy, the other more classic style.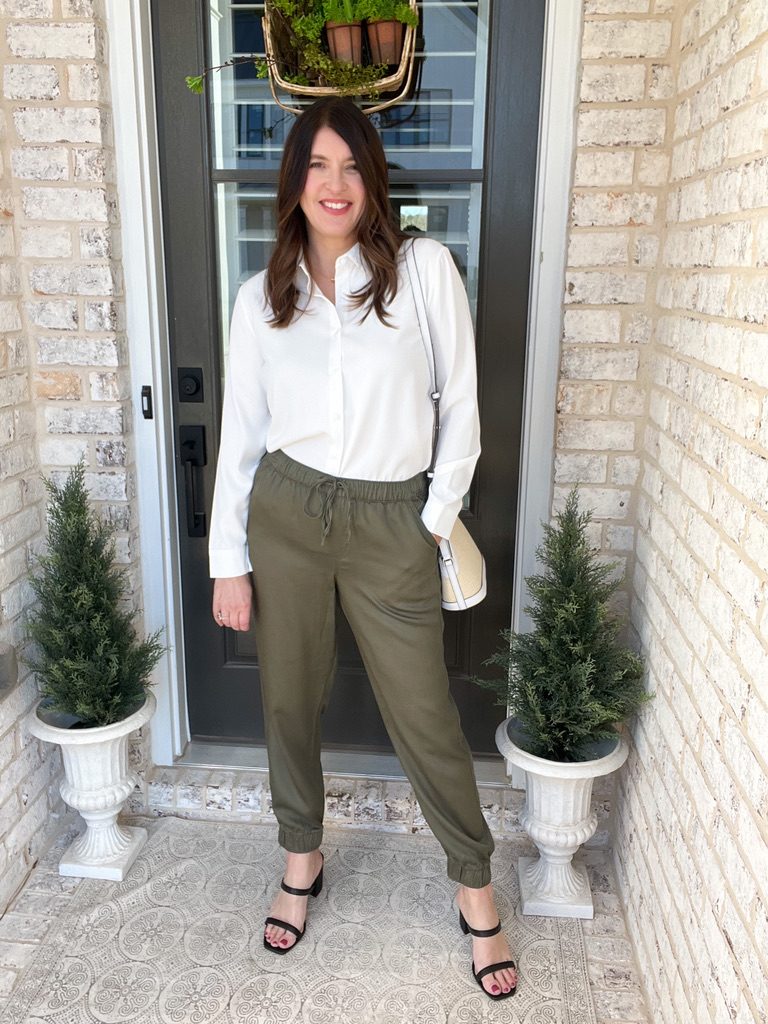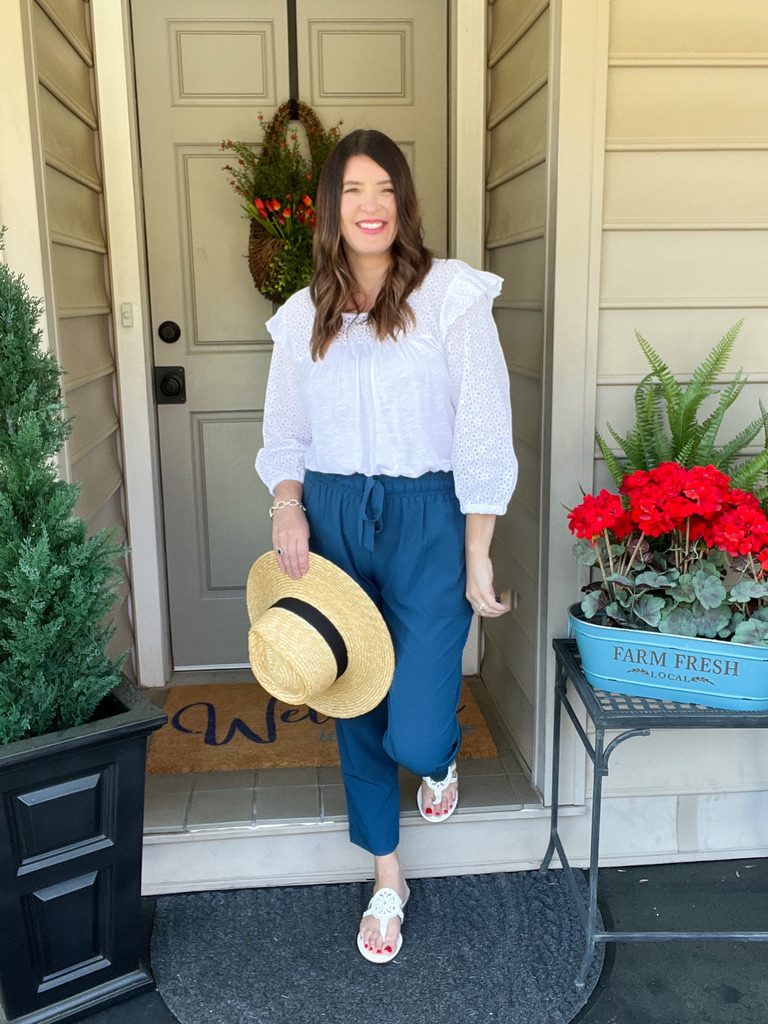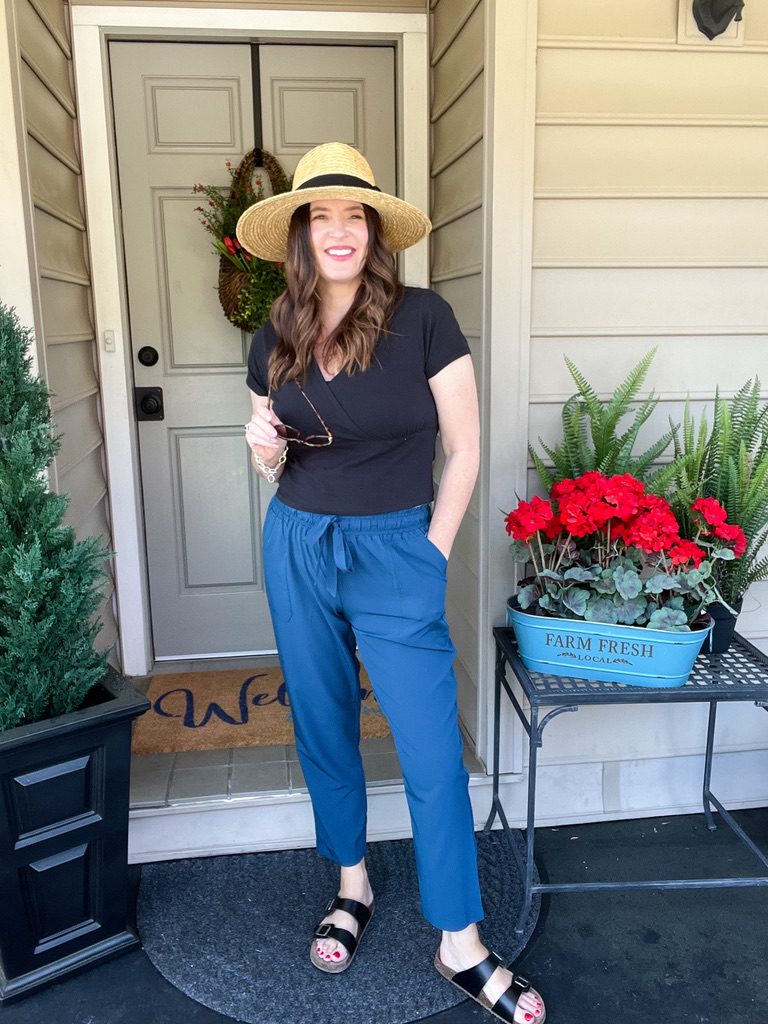 I suppose these indigo pants are technically not joggers since they are not cuffed at the bottom, but the overall look is same. I love these by SOHO Apparel, available at Belk.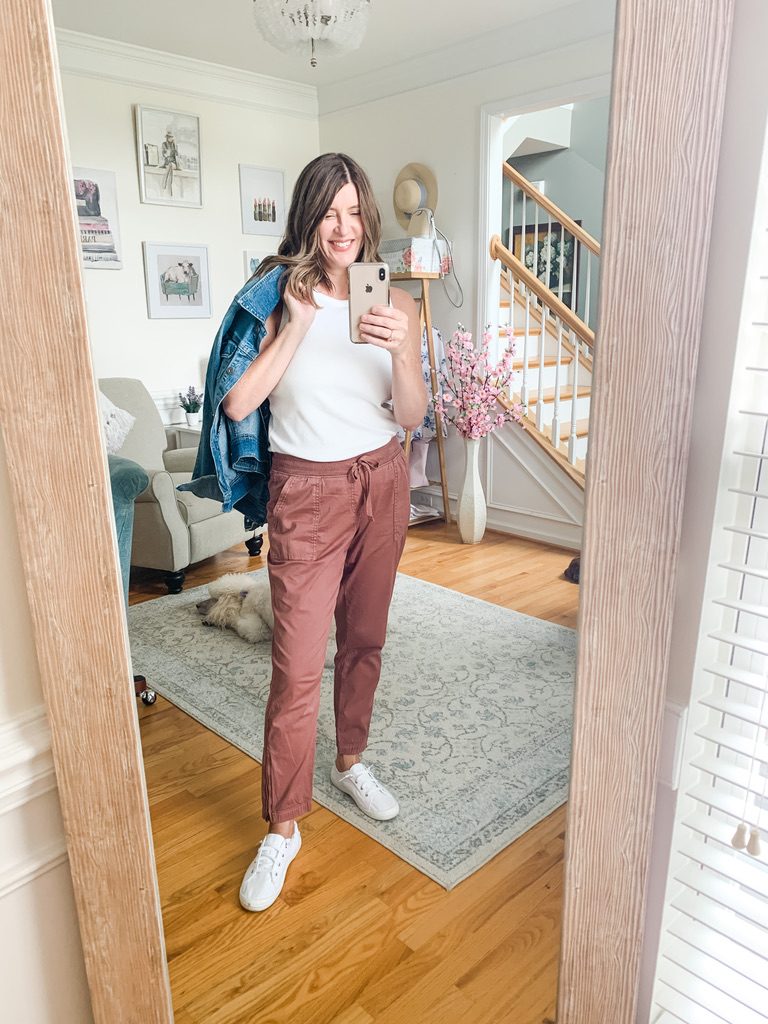 These chestnut colored joggers from Kohl's are from last year, but they have a very similar style this year that I linked in the shopping widget below.
Let me know in the comments if you like these 5 fabulous spring outfit formulas. It was hard to narrow it down to just 5 and I have many more I can put together for you in future posts!