I think we all love going on vacation, but do you dread the packing process? I know I do. Over the years, I have become more efficient at packing but I still tend to overpack. We have a beach vacation coming up, so I thought this was the perfect time to put together the ultimate beach trip packing guide. My goal is to provide you with a functional yet minimal wardrobe for your trip similar to the capsule wardrobe concept. I hope this will help you as much as it helps me!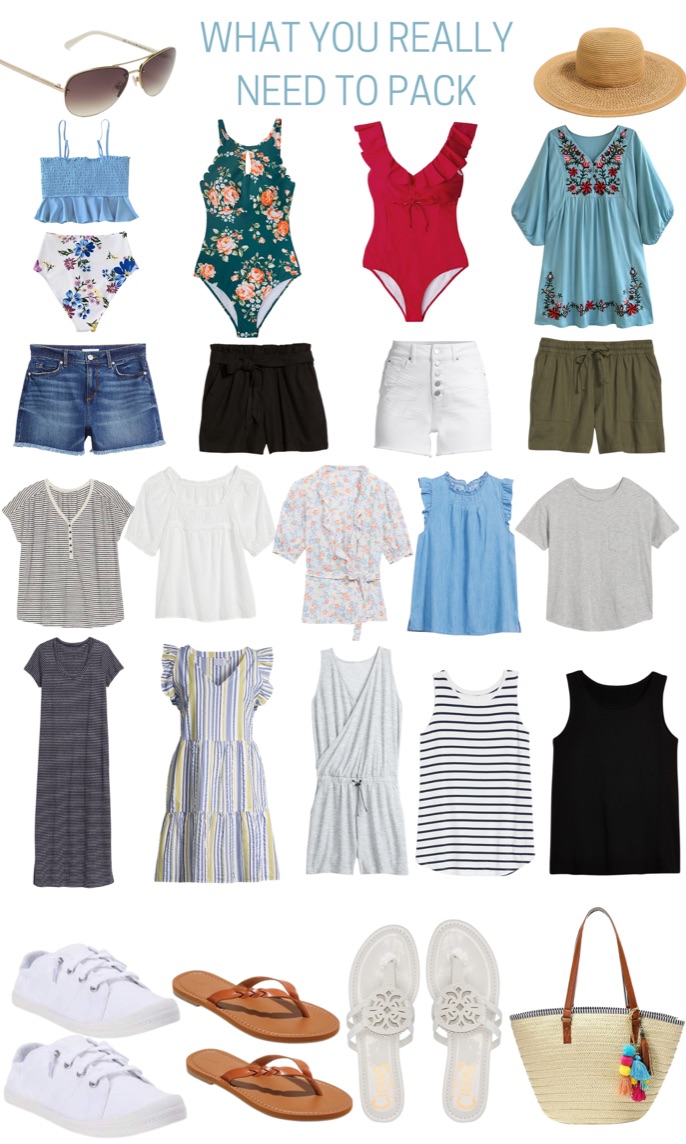 Let's start this beach trip packing guide with the most important category…swimwear and beach accessories.
Swimwear/Beach Accessories
This is the one category where you don't want to under pack. After all, you will most likely be spending most of your time in beach attire. The nice thing about swimwear is that it doesn't take up much room in your suitcase. If you are flying to your destination, space is a major consideration as well as the weight of your luggage.
Tops
For tops, stick with basic neutrals and possibly one or two stripe or floral patterns. I included two tank tops and one dressier floral blouse.
Bottoms
Shorts are a priority for this type of trip. If you don't like to wear shorts, you could substitute cropped pants or extra dresses instead.
Dresses
This is where I usually get into trouble! I love my dresses and I usually pack way too many. Consider the type of activities you will be doing. Will you be going out to dinner? Shopping? Site seeing? If so, you might need to adjust for that. However, if your family likes to lounge on the beach all day and keep it super casual, you can probably get by with one or two dresses. Here are a few of my favorites.
Pajamas/Loungewear
Keep in mind that you don't need a separate set of P.J.'s for every night that you will be on vacation. This is especially true if you are staying somewhere that has laundry facilities. Beach trips typically result in a schedule where you are outside all day, and then you shower in the evening. If you shower at night, then you can certainly wear the same pajamas more than once.
Loungewear is another category that I have trouble with. I love my lounge clothes and I usually pack more than I actually need. Focus on basic pieces that can be worn with other things. I like to always throw in a sweatshirt or cardigan sweater because it's easy to get a chill in the air conditioning.
Shoes
Beach destinations are casual by nature. We have been to Hawaii several times, and the first time I went I took wedge sandals and dressier shoes for going out. It was not necessary. Restaurants have a casual dress code, so unless you just really want to wear heels, I wouldn't bother packing them. They will just take up valuable space in your suitcase.
Instead focus on neutral sandals that will go with everything. Sneakers are good if you like to exercise or go walking.
Handbag & Accessories
Your beach tote can also function as a handbag if you prefer a larger bag. Otherwise, a neutral crossbody bag will be most practical. Straw bags can double as a beach tote or a handbag.
The most important accessory for a beach trip is a hat. You will need at least one hat to protect your skin from the sun. As far as jewelry, I would leave your nice pieces at home. One or two pair of earrings and a simple necklace is all you will need. Sometimes I don't wear my wedding ring to the beach. I have a fake diamond ring that I wear instead, so if it gets lost there is no harm done.
Miscellaneous
Consider any electronic devices you will need, such as a laptop, tablet, etc. and charging cords. A waterproof pouch for your phone is a great idea. If you like to read, I highly recommend the Kendall Paperwhite. It has a glare proof screen so you can read in the bright sun. A personal fan might come in handy and this one from Amazon is nice and compact. Here are a few recommendations.
Makeup & Skincare
Everyone is different about their makeup and skincare. Some women don't wear makeup at all when at the beach, and others want to take their entire collection. I have a skincare routine that I follow at home. You can read all about it here. When I travel, I don't take all my serums and special products. I recommend the essentials, which for me is a moisturizer and sunscreen.
I recommend not baking in the sun. Use an umbrella for shade and rely on self tanner for that summer glow. My favorite is the Minetan Self Tanner.
For makeup, I recommend having basic products that can multitask. Think smaller containers that are easy to pack. Pick one eyeshadow palette with basic neutrals. Here are some good travel options.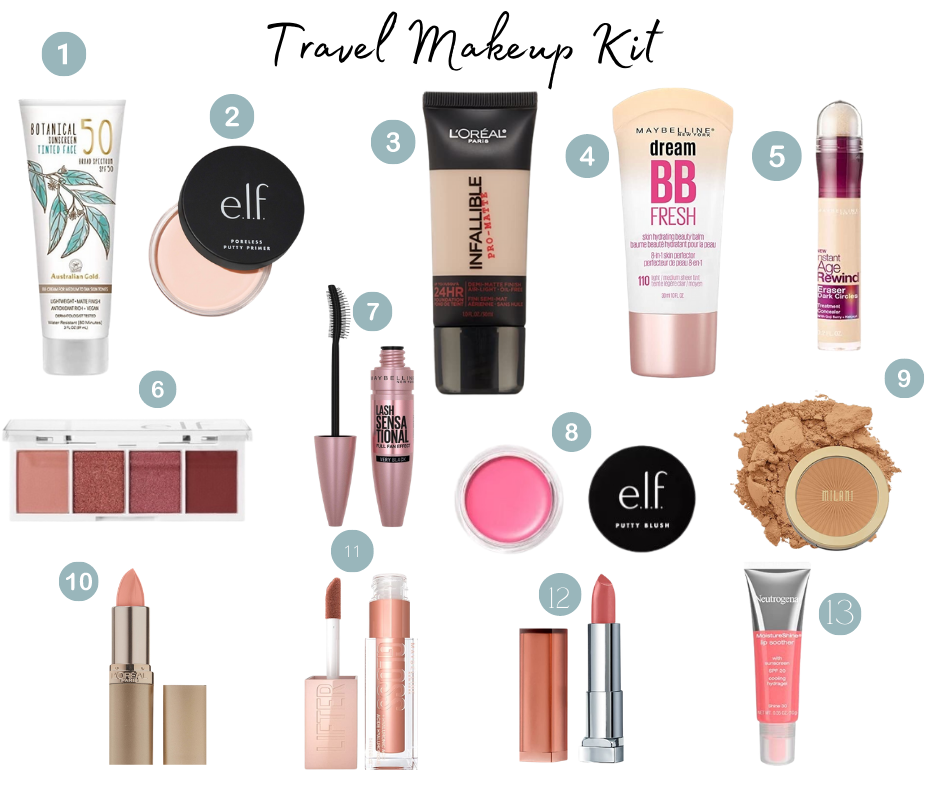 Australian Gold Botanical Sunscreen Tinted Face BB Cream SPF 50//2. e.l.f. Poreless Putty Primer Hydrating Formula//3. L'Oréal Paris Infallible Pro-Matte Foundation//4. Maybelline Makeup Dream Fresh BB Cream//5. Maybelline Instant Age Rewind Eraser Dark Circles Treatment Concealer//6. e.l.f. Bite Size Eyeshadow Palette//7. Maybelline New York Maybelline Lash Sensational Washable Mascara//8. e.l.f. Putty Blush//9. Milani Silky Matte Bronzing Powder//10. L'Oreal Paris Makeup Colour Riche Original Creamy Hydrating Satin Lipstick//11. Maybelline Lifter Gloss Lip Gloss //12. Maybelline New York Maybelline Color Sensational Inti-Matte Nudes Lipstick//13. Neutrogena Moistureshine Lip Soother Gloss
Printable Packing Checklist
Here is a printable packing checklist which is a summary of the clothing and accessories that I have listed here. Hope this is helpful!
Travel Planning
My ultimate beach trip packing guide would not be complete without mentioning how to plan your upcoming vacation. As life is slowly getting back to normal after the pandemic, planning a vacation of any kind can be very difficult and confusing. I would recommend using a professional travel expert, especially during this time. They will be able to help you navigate all of the potential restrictions as well as planning the details of your travel experience. Now more than ever, planning well in advance is recommended since many destinations are still not operating at full capacity.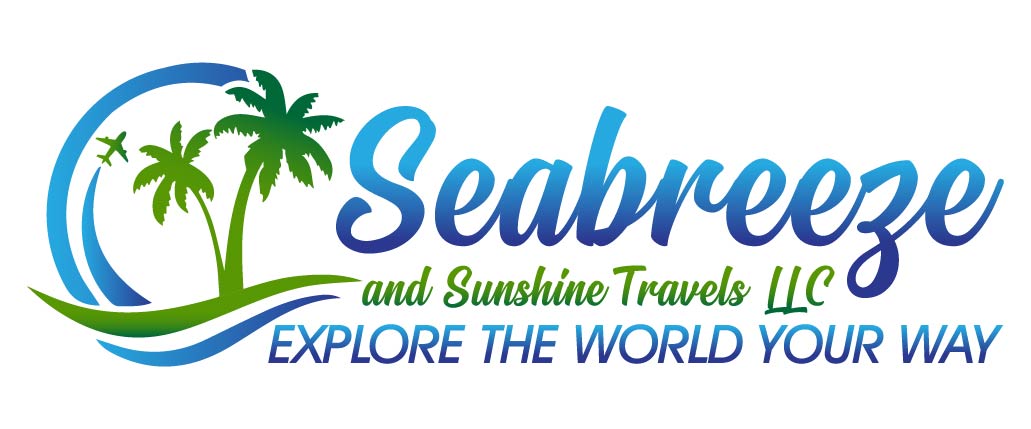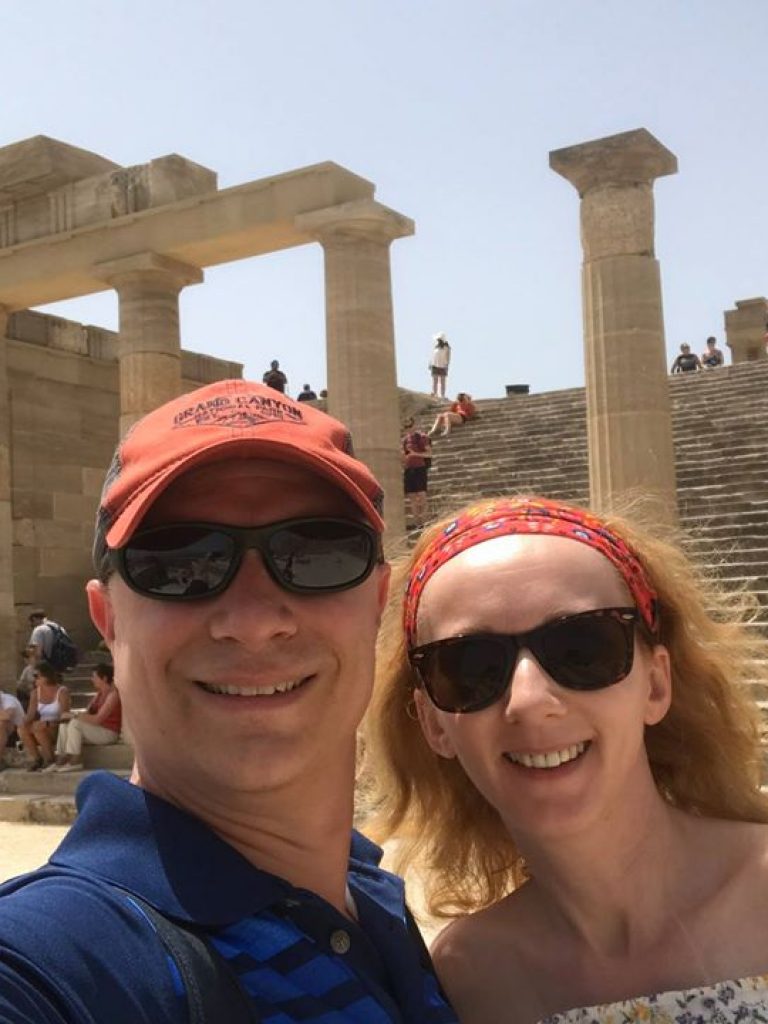 I would like to introduce you to my friend Daniela. I have known her for years, and she is passionate about traveling. In fact, I can't think of anyone I would rather have plan any kind of vacation for me. She is a world traveler herself and is originally from Germany. The photo above is her and her husband on one of their many adventures. Daniela is a travel advisor and the owner of Seabreeze and Sunshine Travels, a full service travel agency specializing in Ocean & River Cruises, Disney Destinations, European Vacations, and the Hawaiian Islands. She's located in South Carolina but assists clients all over the country.
If you need help planning your next vacation, I would highly recommend her! Below is all her contact information and social media accounts.