As a Gen Xer, I remember when two piece matching sets were very popular. Back in the 80's and early 90's they were usually embellished, but now the trend is back in a more subdued version. I for one am here for it, and today I want to share some two piece sets for spring & summer!
Two piece sets take all the work out of putting an outfit together, plus they give you the flexibility to split up the set and wear it different ways. I really enjoyed my cozy two piece sets from fall and winter, so I decided to add some pieces for spring and summer.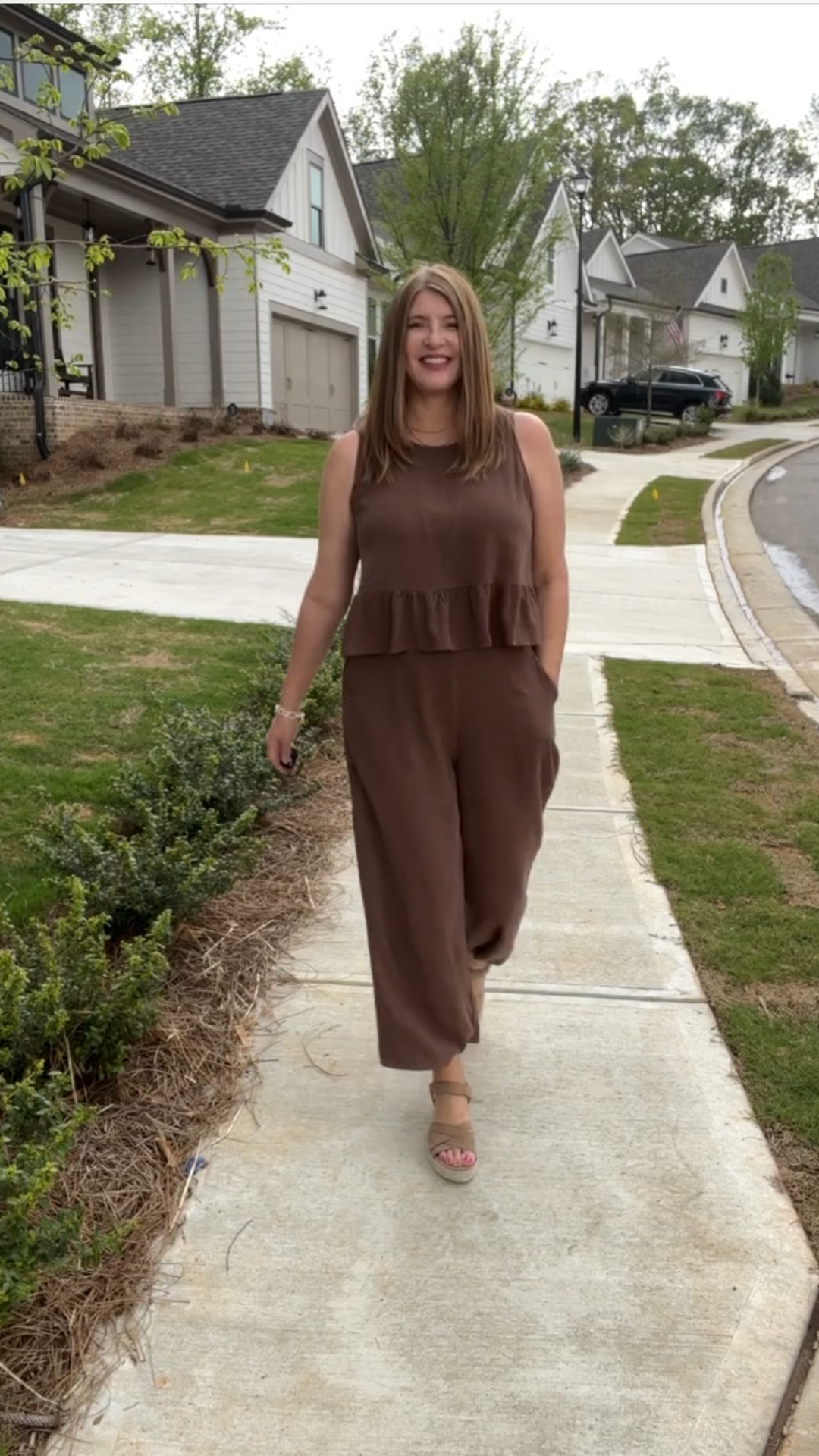 The first two piece set is this Ruffle Tank With Wide Leg Pants by Anrabess. This is one of my favorite Amazon brands. I had a hard time choosing a color from the wide range of options, but I finally decided on this dark brown.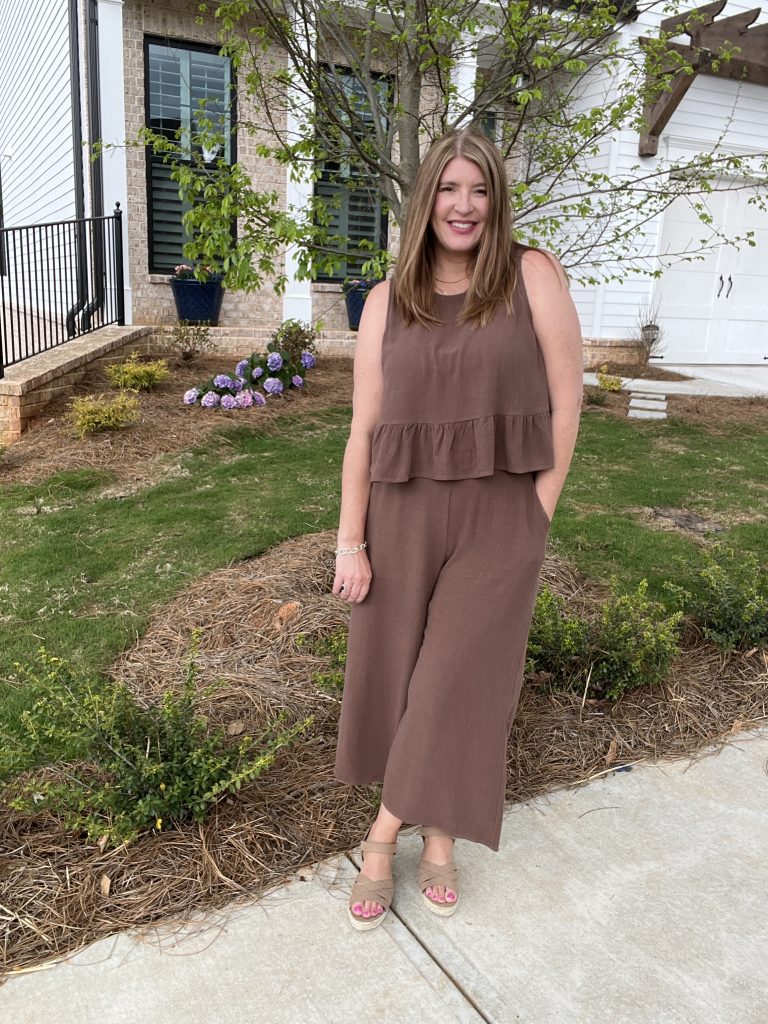 I chose this color for two reasons. First, because as summer progresses I get tired of spring pastels and this color looks nice when you have a (self) tan. Second, because we have a very long summer here in Georgia, so I wanted something that I could wear into the fall months that would still keep me cool.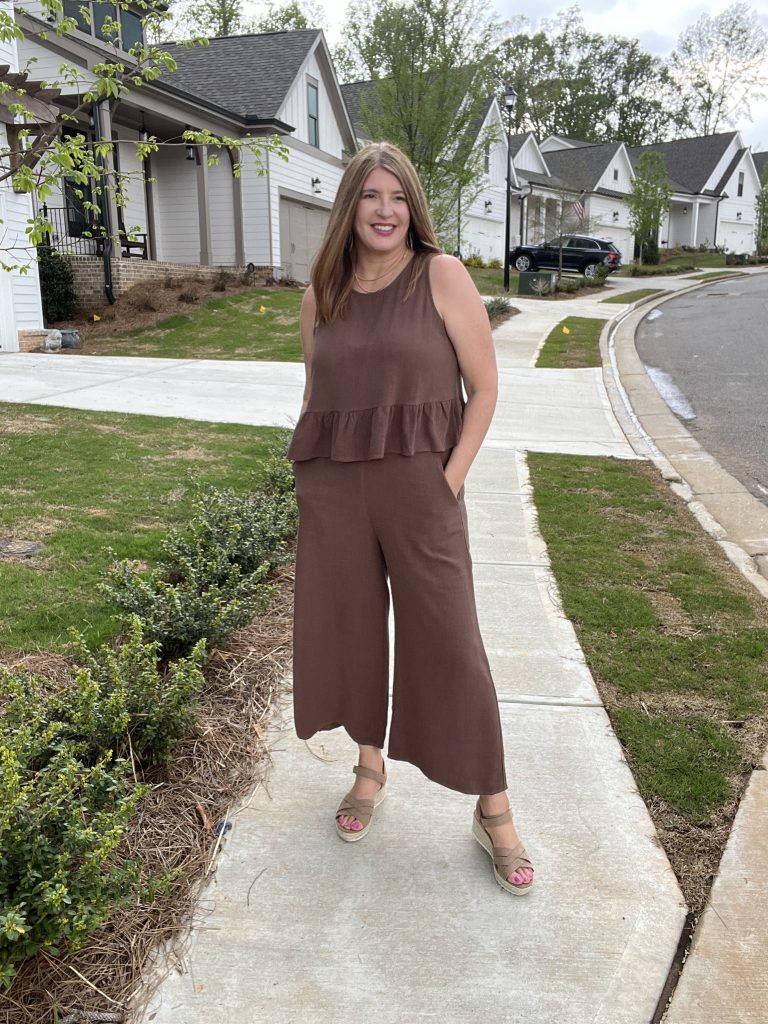 I'm wearing a size large, and it fits true to size. Wide leg pants are so flattering and comfortable, and this breezy top is effortless.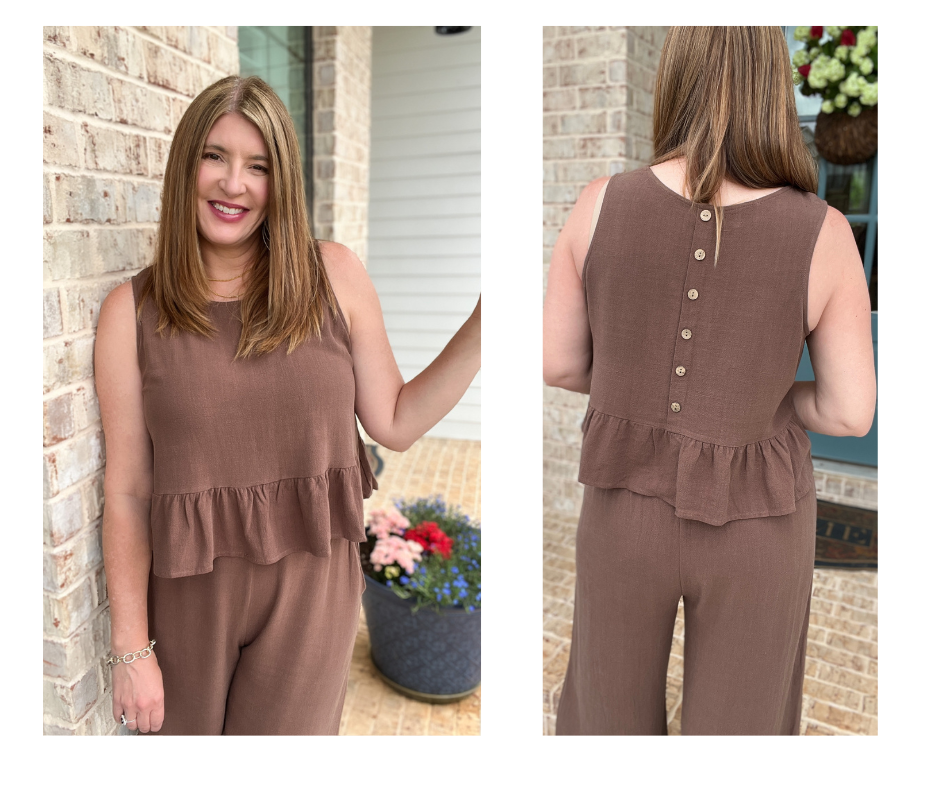 You can style this type of outfit up or down. Here I wore some wedge sandals and simple gold jewelry.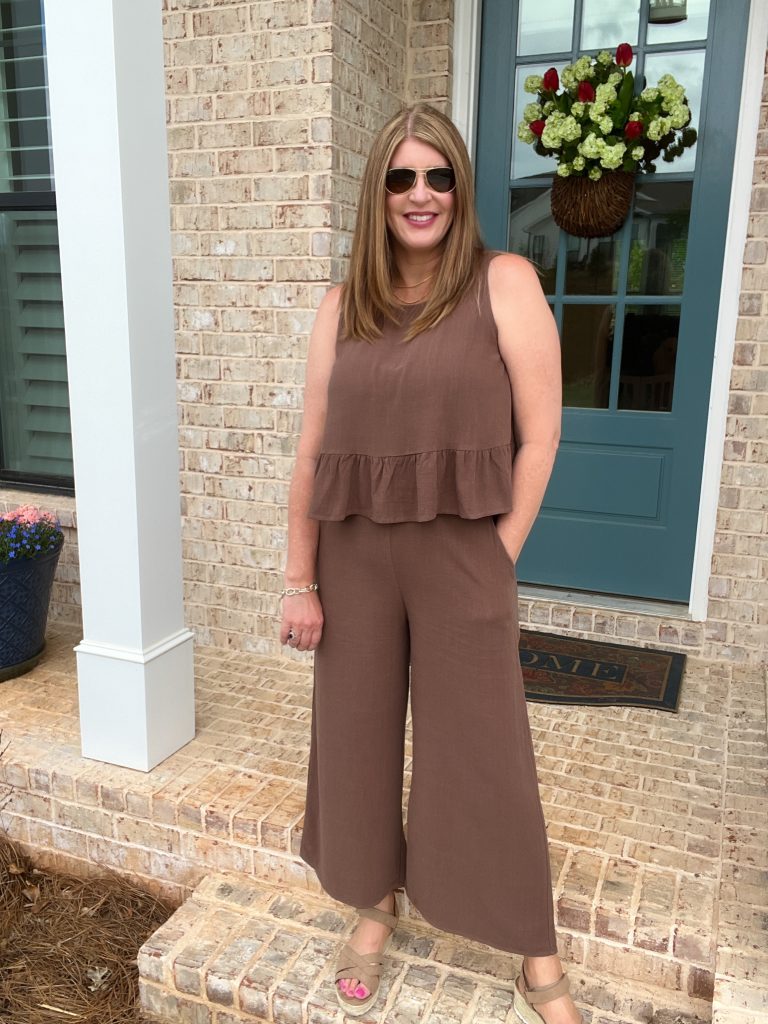 Sleeveless Tank With High Waisted Shorts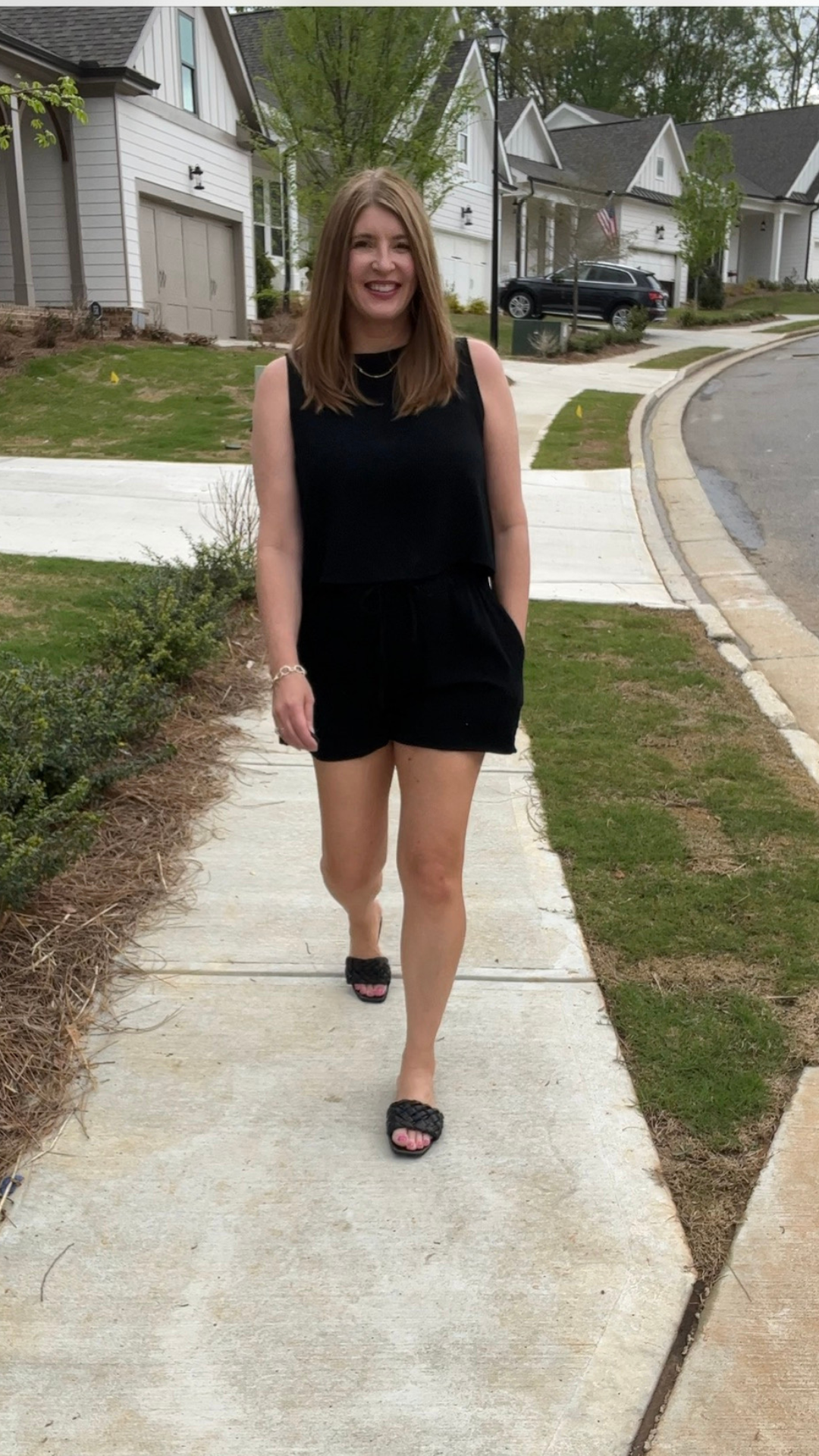 Here is a similar two piece set with shorts. I will warn you ahead of time that this top is cropped. I have a very long torso, and it just barely covers my skin. If you are shorter waisted, I don't think it would be as revealing, but I wanted to mention this because I know many women are not comfortable showing any skin.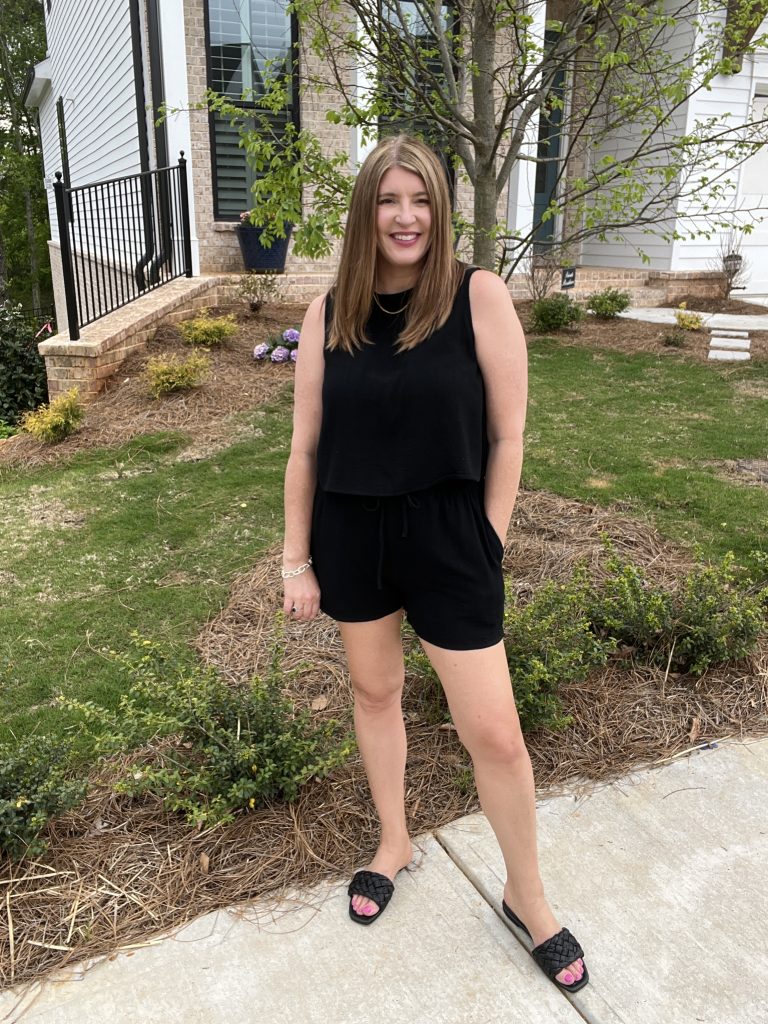 This is a linen/rayon blend fabric and I think it runs on the smaller side. I'm wearing a large and if you are in between sizes I would size up.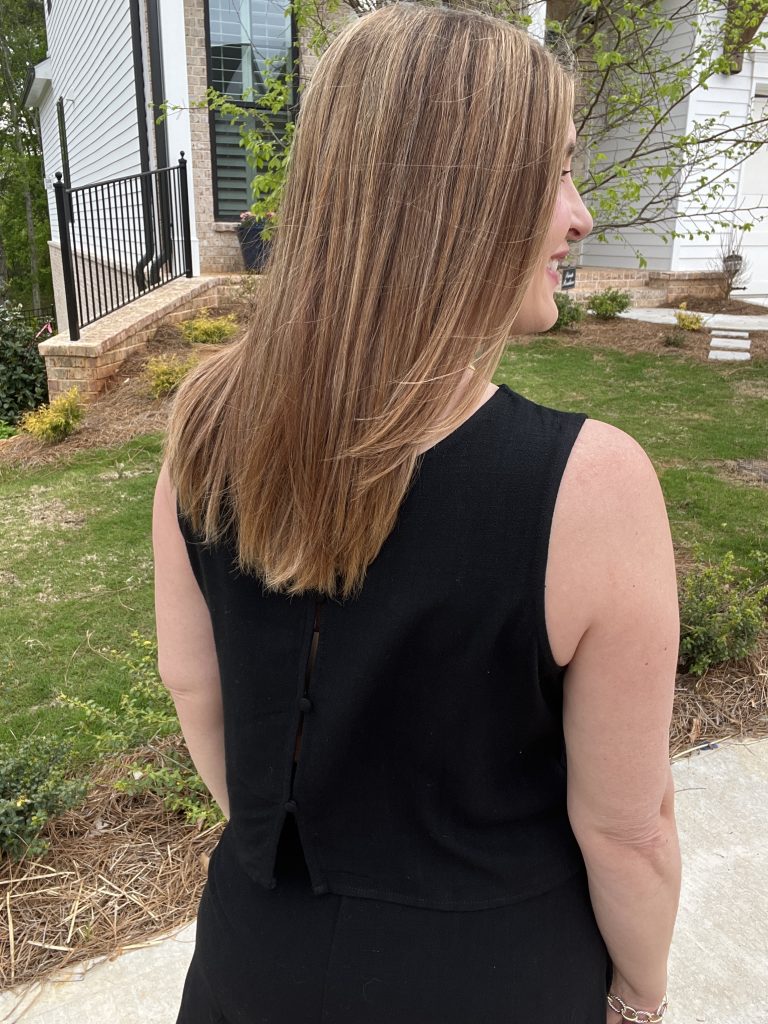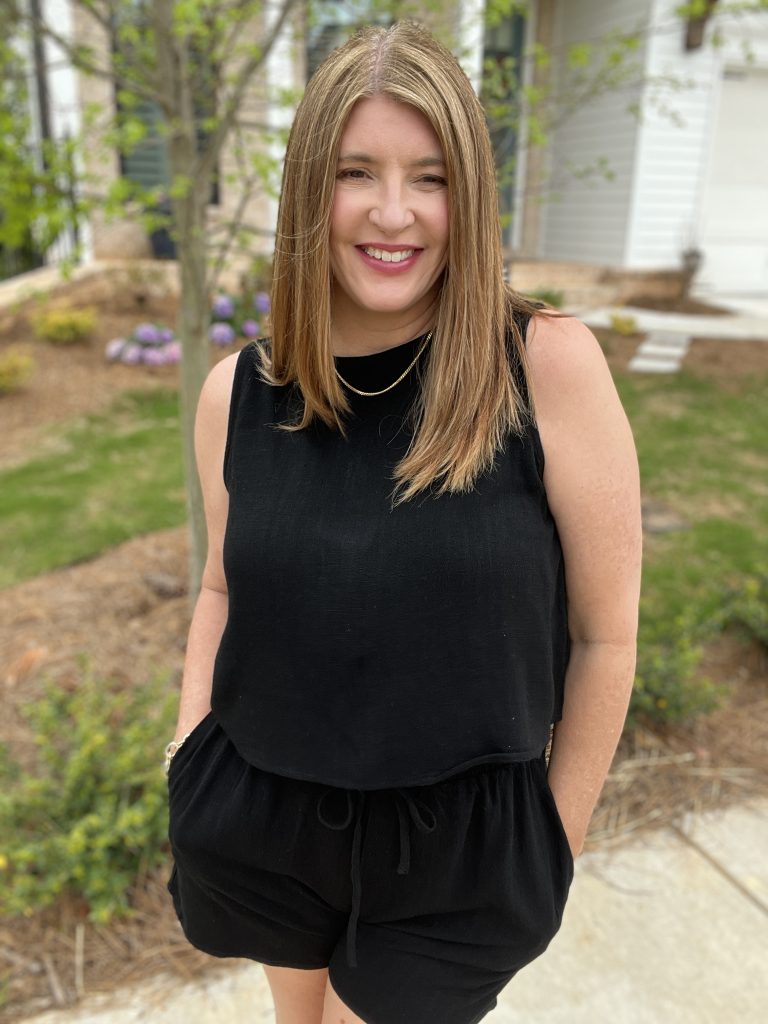 I love this monochromatic black look, and this set comes in other colors as well. The back of the top has nice button details. I do think the shorts are proportioned nicely with a high comfortable elastic waist.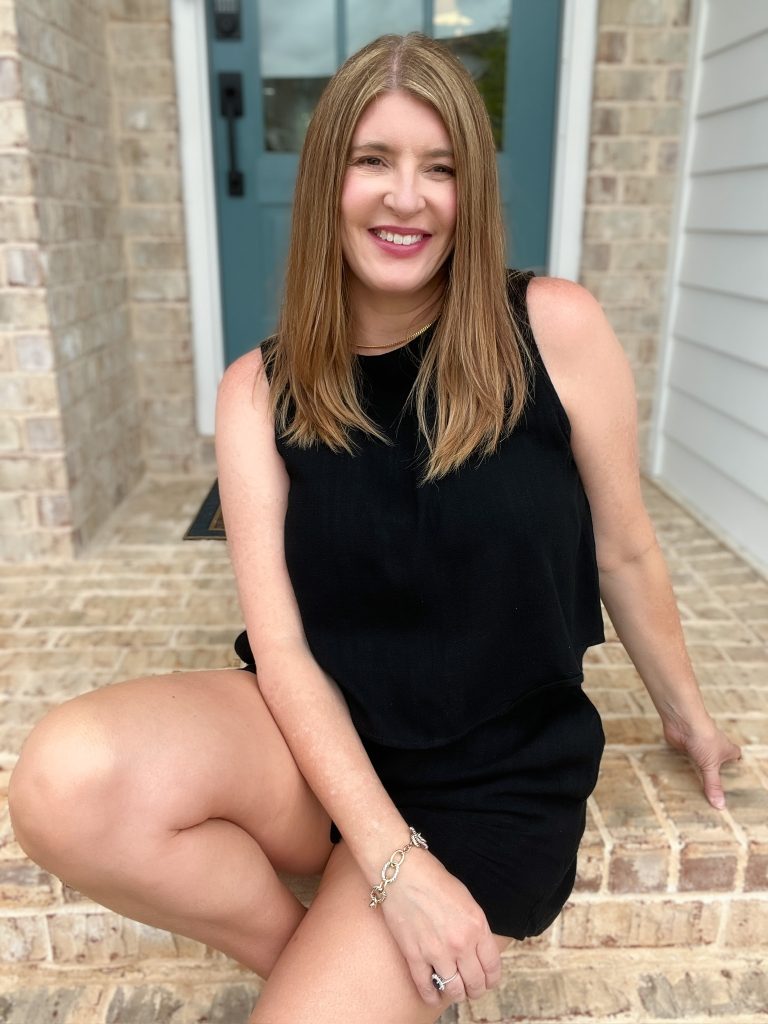 Casual Outfit From Kohl's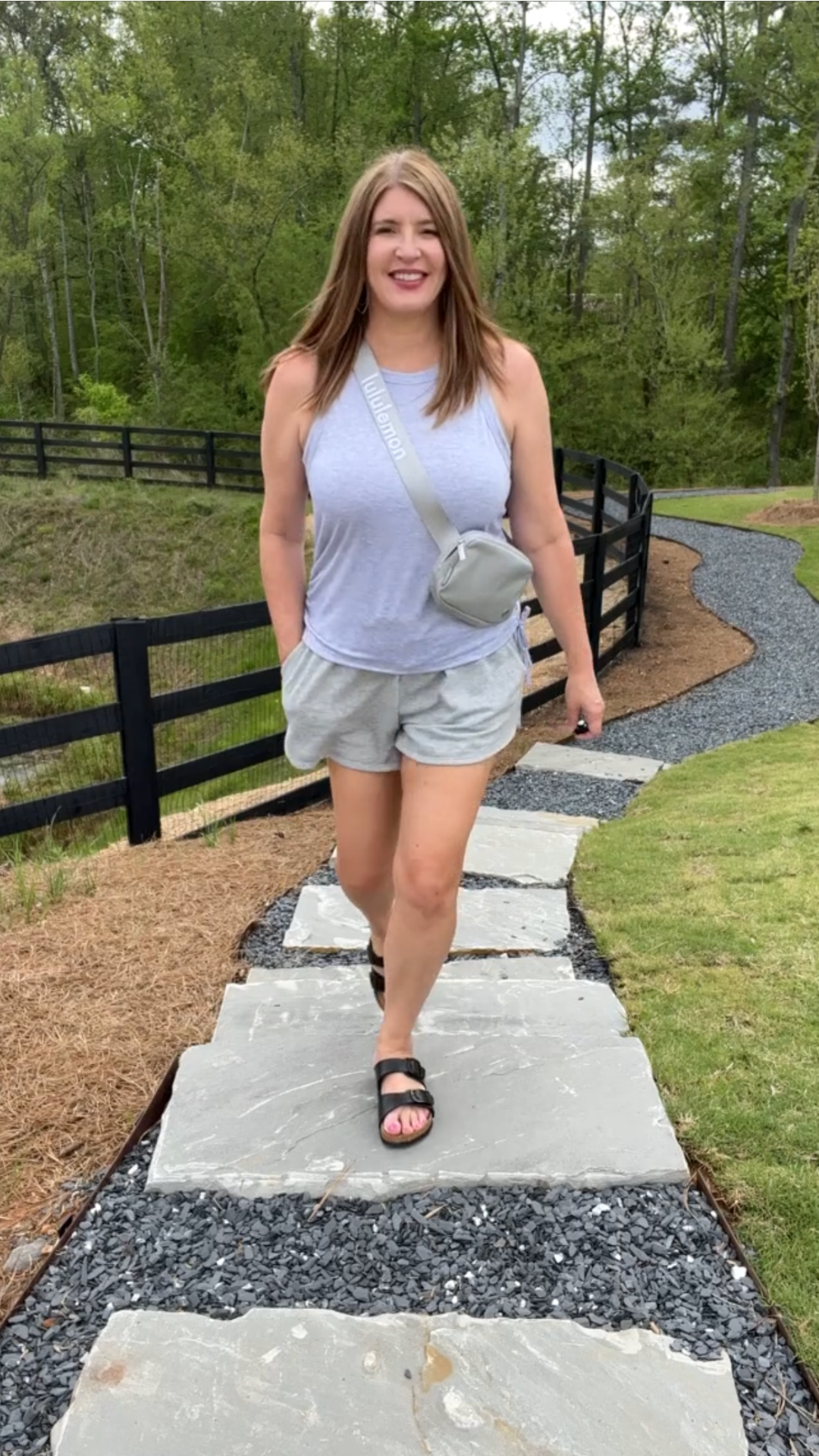 This outfit is not sold as a set, but I wanted to share an easy casual summer outfit. This cinched tank and dolphin hem shorts are essentials for spring and summer. Perfect for taking a nice walk or just lounging, these are the pieces I live in during the hotter months.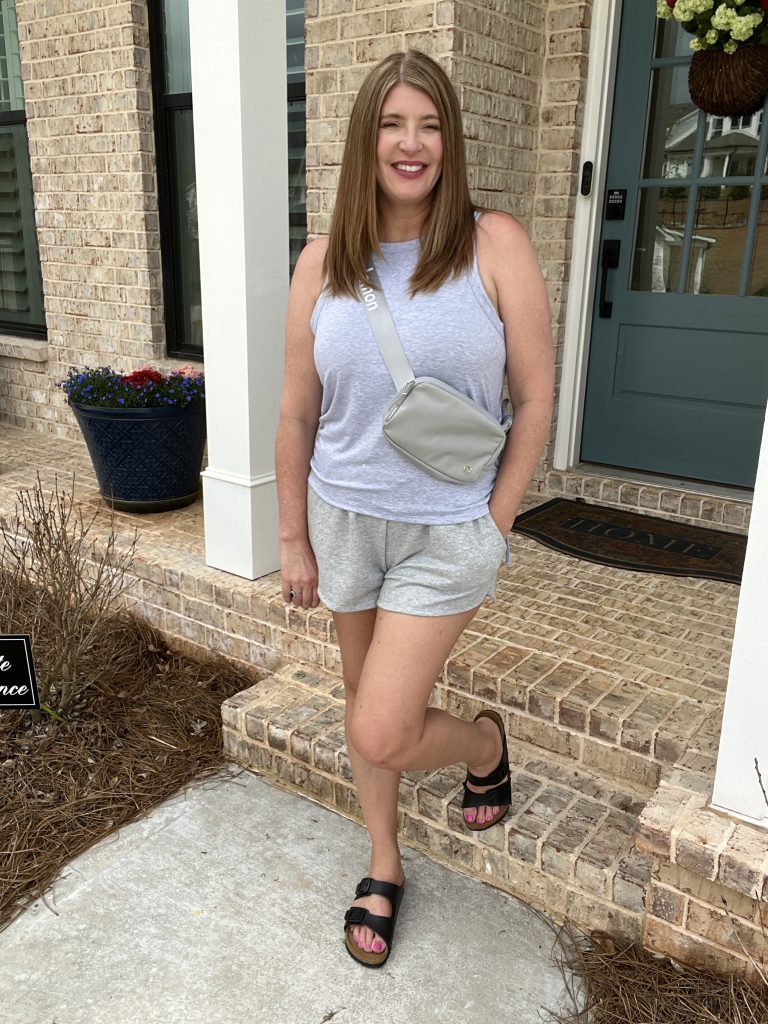 Go with a monochromatic color palette to get the two piece set look. I was surprised that the tank is coming across blue on camera, but it really is grey. These are the SO brand from the junior department so I sized up to an XL in both.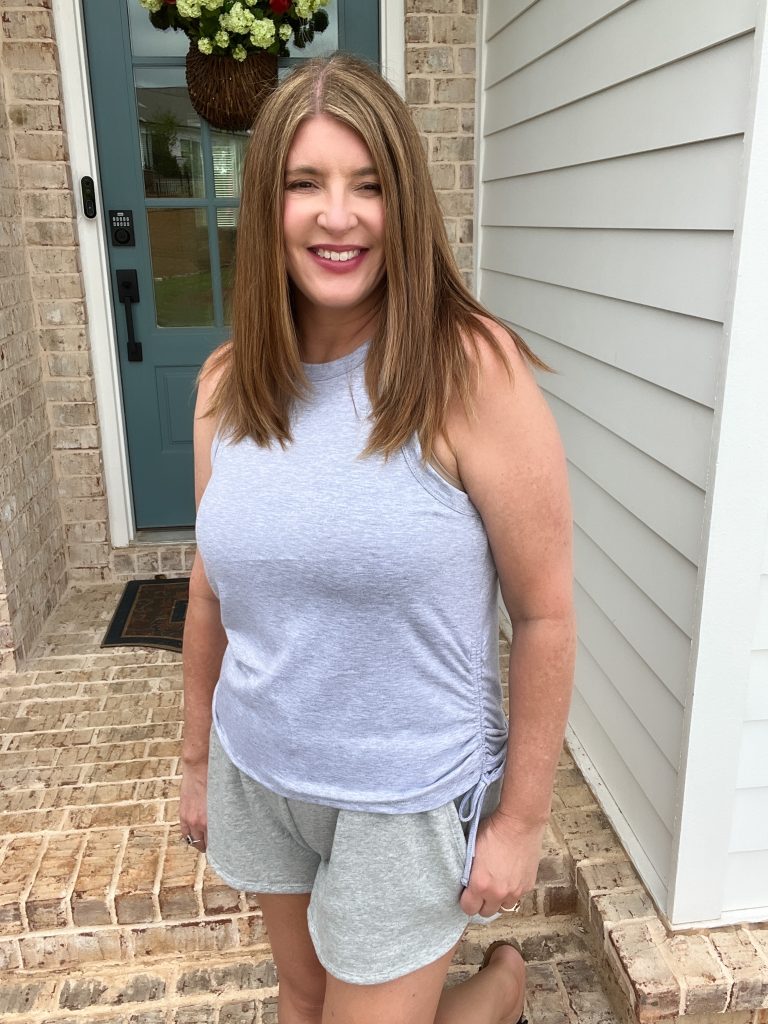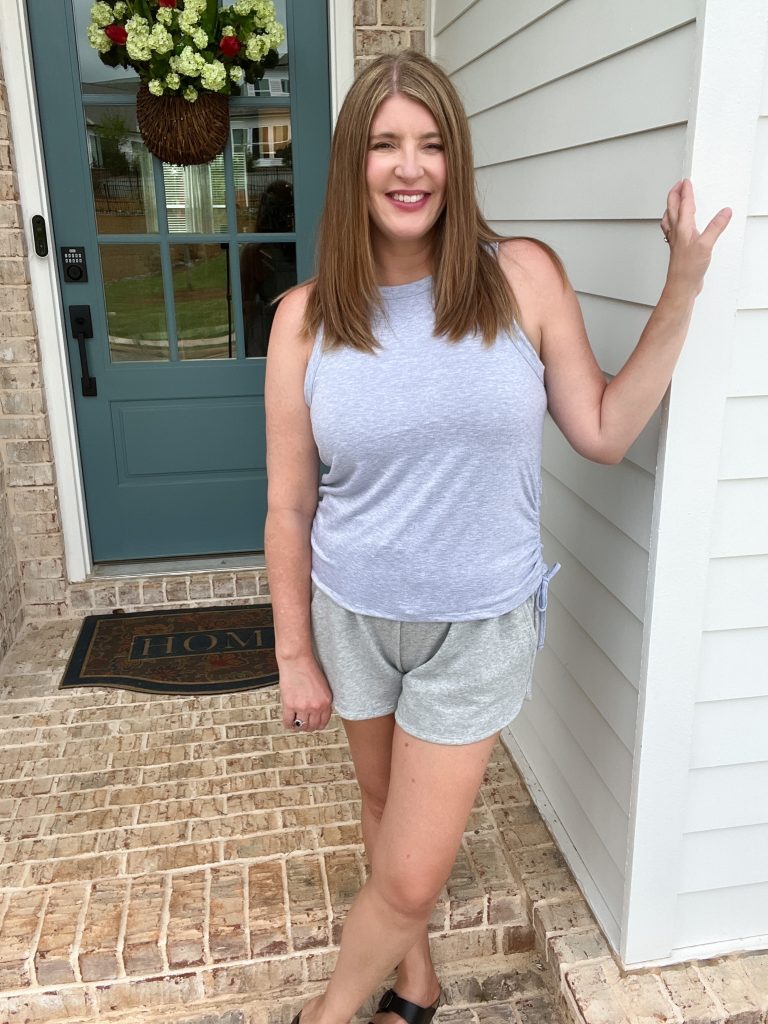 Both the tank and the shorts come in several colors, so click the link to see all the options.
I have to mention my Lululemon Everywhere Belt Bag. I use this nearly every day. At $38 it is well worth it and I also have one in navy.
I'm also loving my Birkenstock dupes from Amazon in black. These are another spring and summer essential that I wear several times a week.
Oversized Button Down & Shorts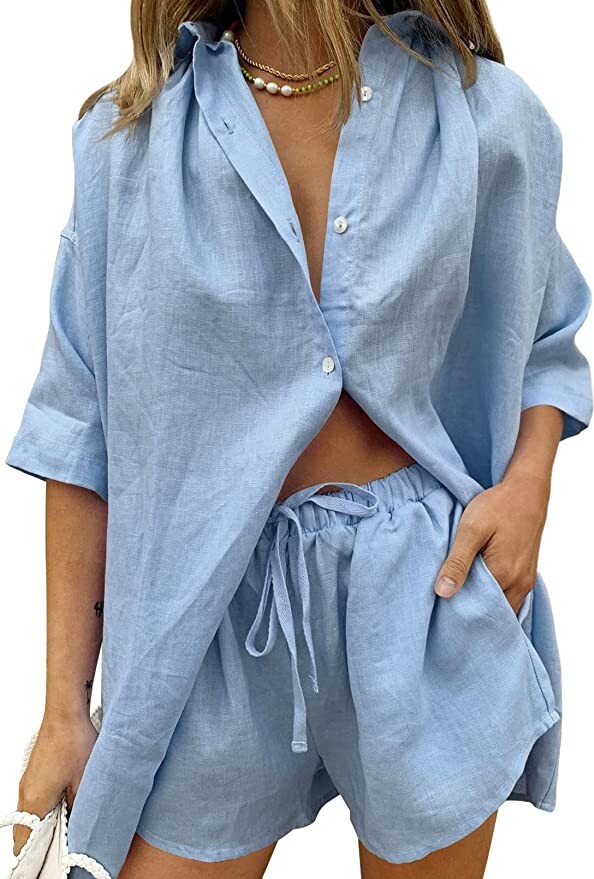 This set found it's way into my cart as I was prepping this post! I'm loving oversized button down shirts this season for their classic and casual vibe. It didn't come in soon enough for me to get photos.
Other Two Piece Sets For Spring & Summer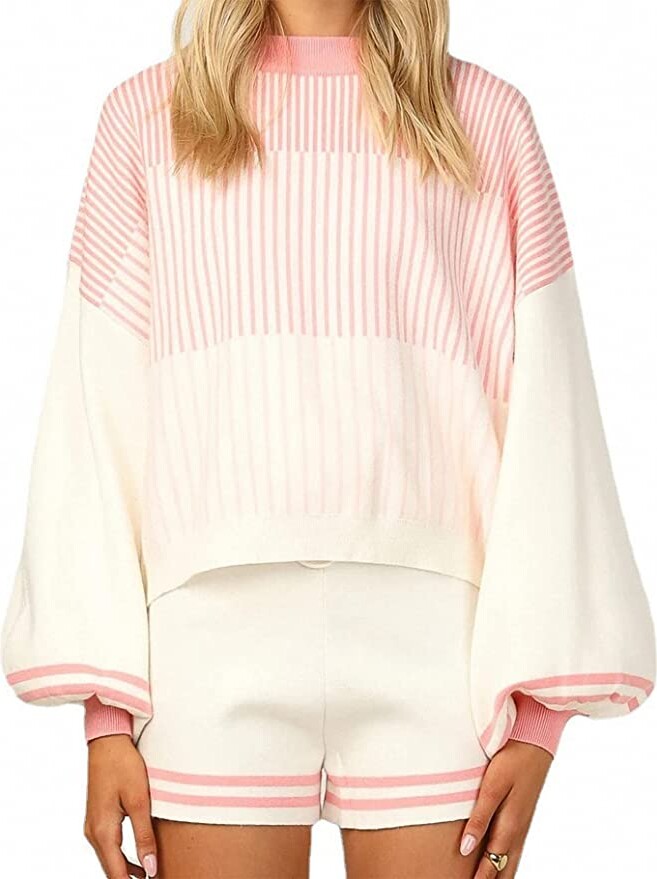 This two piece knit sweater and shorts set is on my wish list. It looks so cozy and perfect for when the air conditioning gives you a chill or you have a cooler day.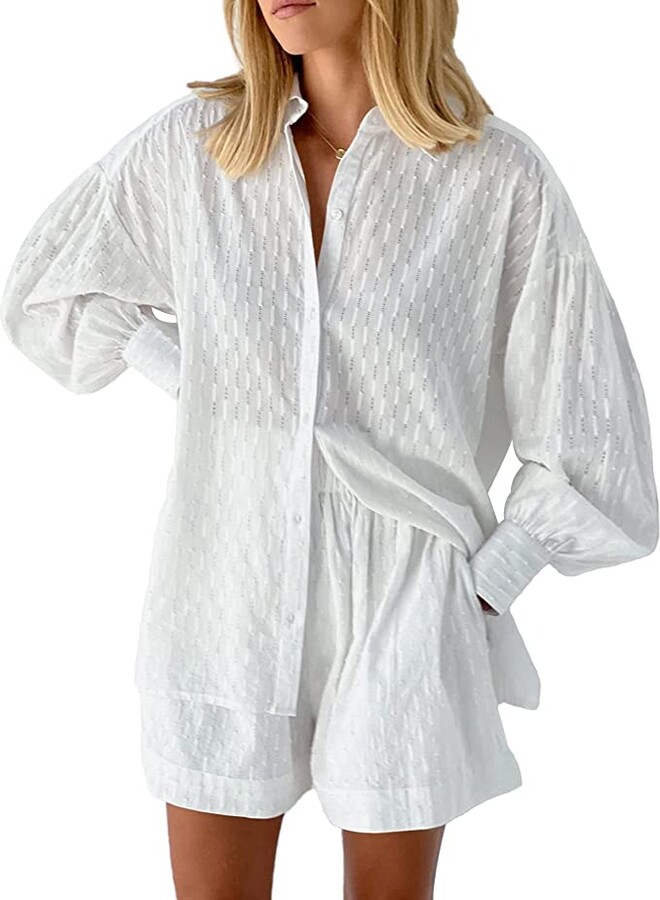 Another set that caught my eye was this one in white. This would be great for a vacation to use as a swim cover up. You could also layer a tank under the button down and wear it open. Other colors are available.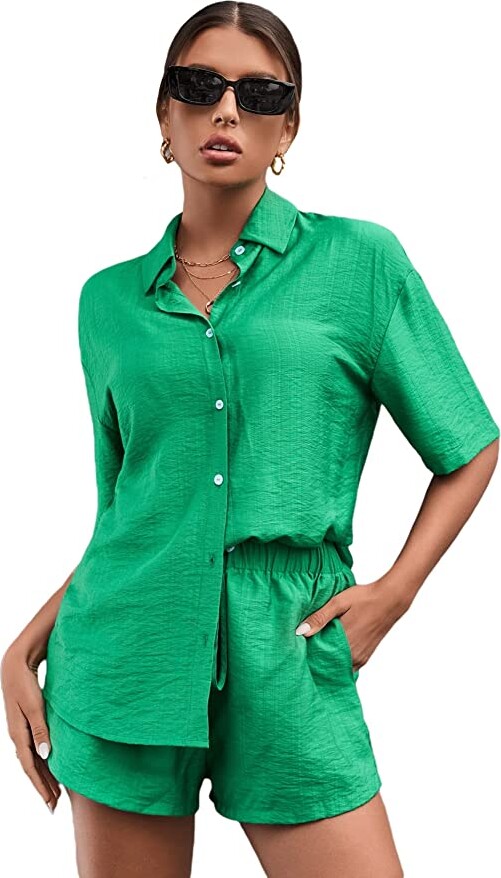 Bright green is THE color this spring and summer! This set is guaranteed to have people asking you where you got your outfit!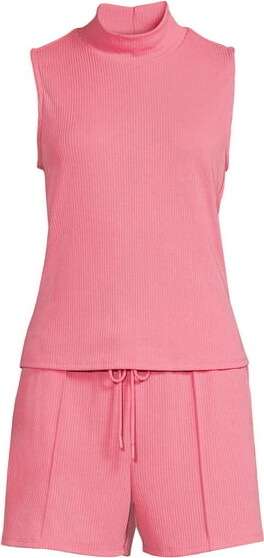 The last matching set is this one by Time and Tru. Walmart is keeping up with the trends with this cute mock neck tank and pull on shorts set. It comes in pink and black.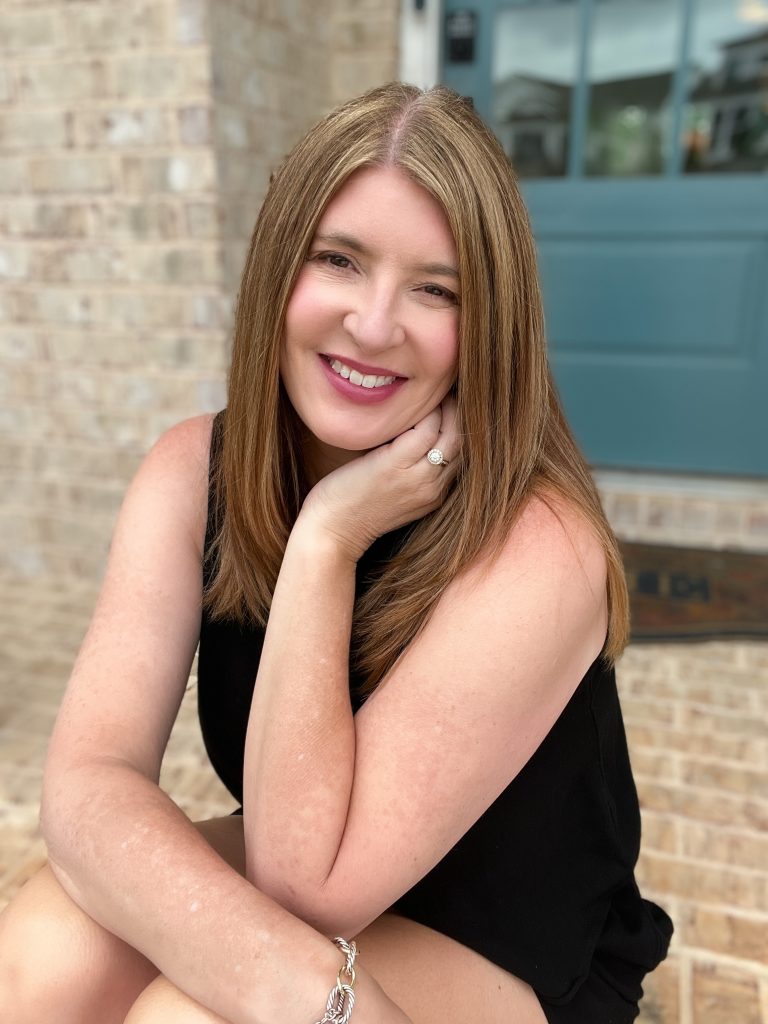 If you enjoyed today's post, don't forget to subscribe to the email list! You will get all new content delivered to your email and exclusive content just for email subscribers.