Recently I shared how I plan to stay active in my 50's. (See the post here.) I've taken up Pickleball and I often get asked where I find my outfits. Today I want to share 15 chic athletic outfits that you can wear for any sport you enjoy or just for walking or running errands.
Where I Shop For Athletic Outfits
There are so many options for chic athletic outfits, but my favorite place to find them is T.J. Maxx! They sell good quality pieces at affordable prices and you never know what you will find. My other favorite places to shop are:
Amazon
J.Crew Factory
Belk
Old Navy
Target
Lululemon
Aerie
Costco
Sam's Club
Columbia
The Outfits
Some of these are new this year, and some are from last year. I will provide links to exact items when possible.
Outfit #1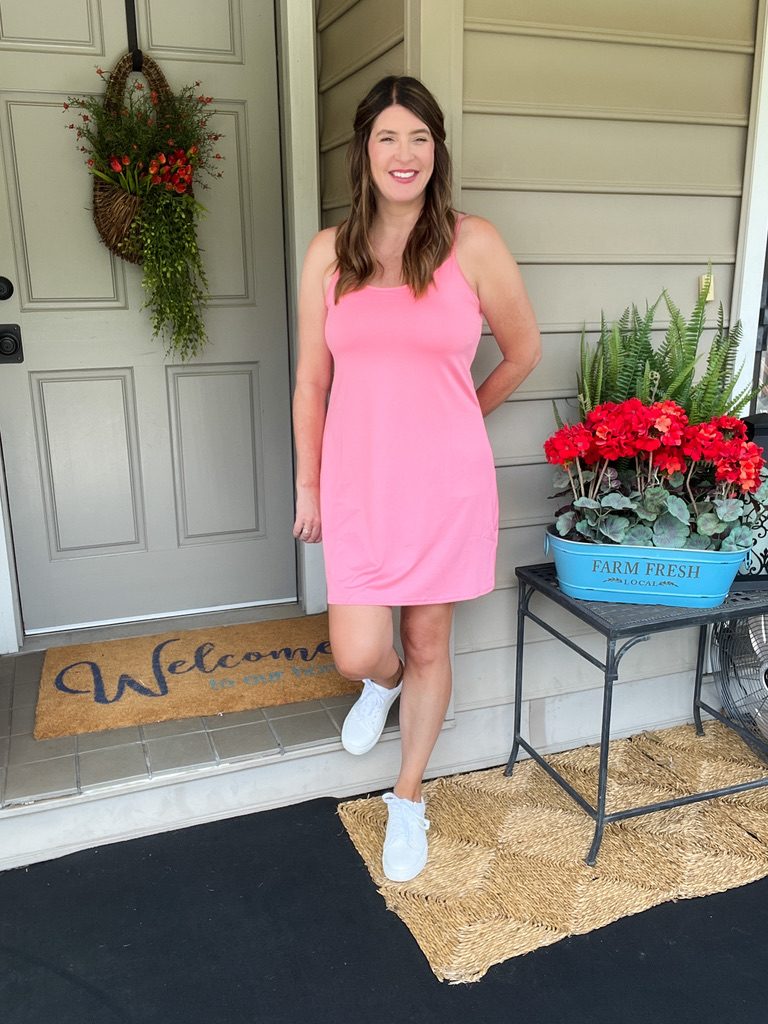 This tennis dress is from J. Crew Factory – last year. I love that it has built in shorts. I found these on sale last year and picked up this pink, a blue, and a white one! Here is a similar style at T.J. Maxx.
Here are the current active styles available at J. Crew Factory. I have already ordered this adorable green gingham dress!
Outfit #2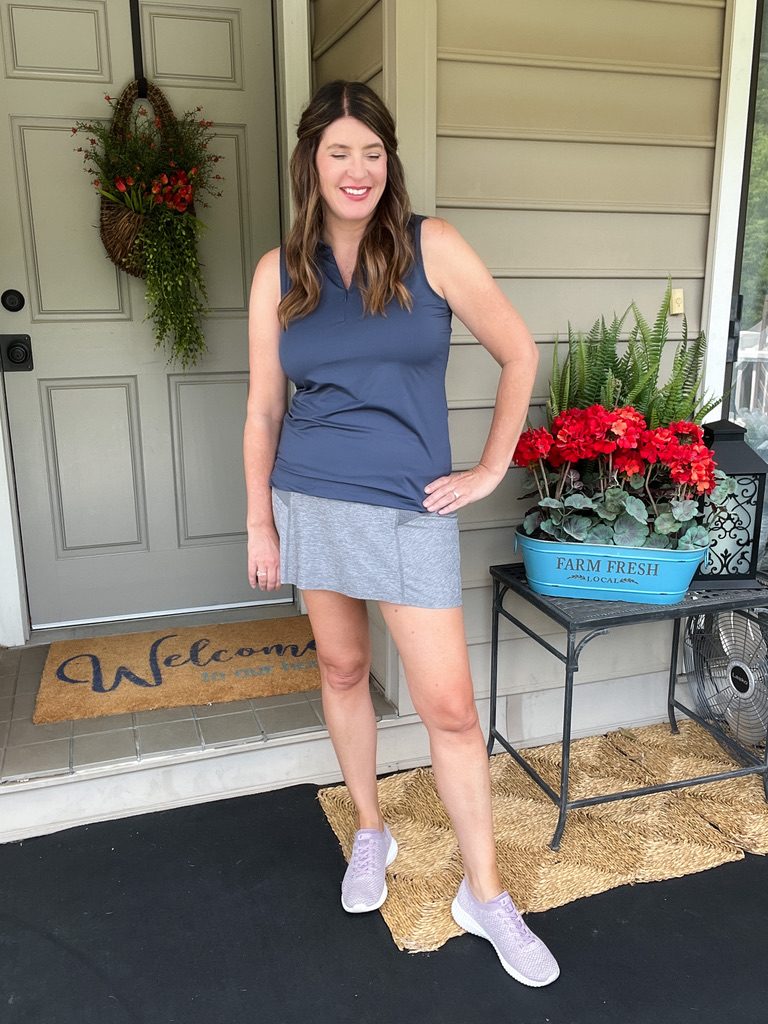 This is an easy look to duplicate with shades of neutral grey.
Outfit #3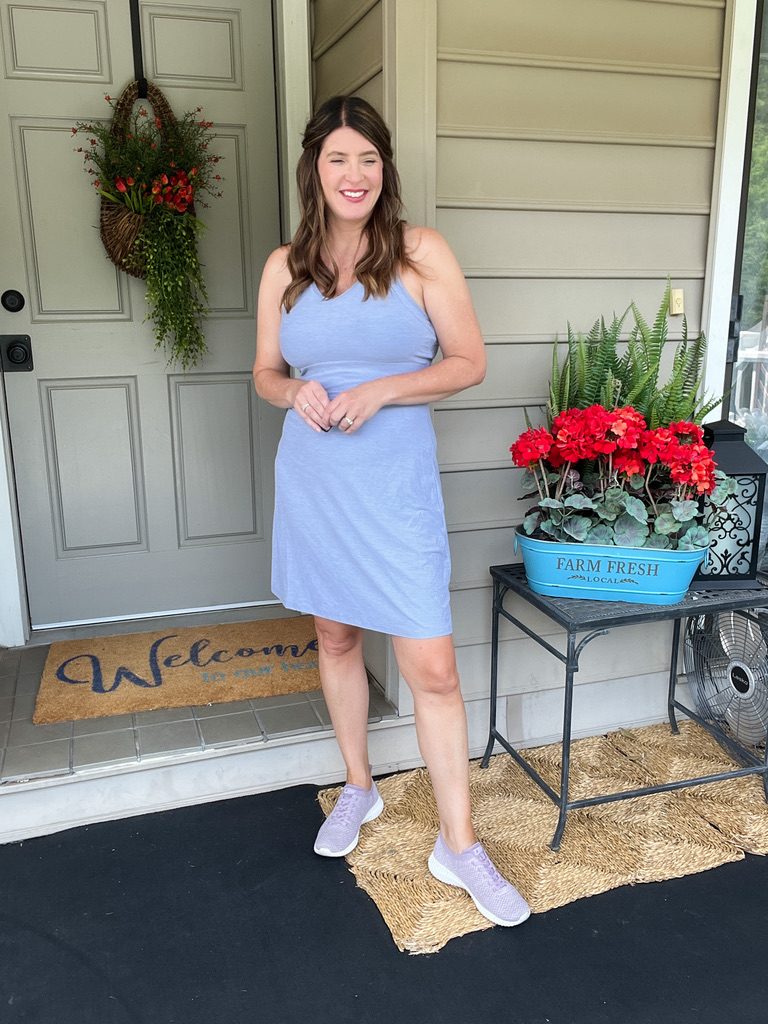 This is a great style dress for sports, travel, or running errands. It has a built in bra and is a little longer. I found this dress at a store called Sierra. It was in Colorado and is a sister company to T.J. Maxx. You can shop their styles online! This style is similar.
Outfit #4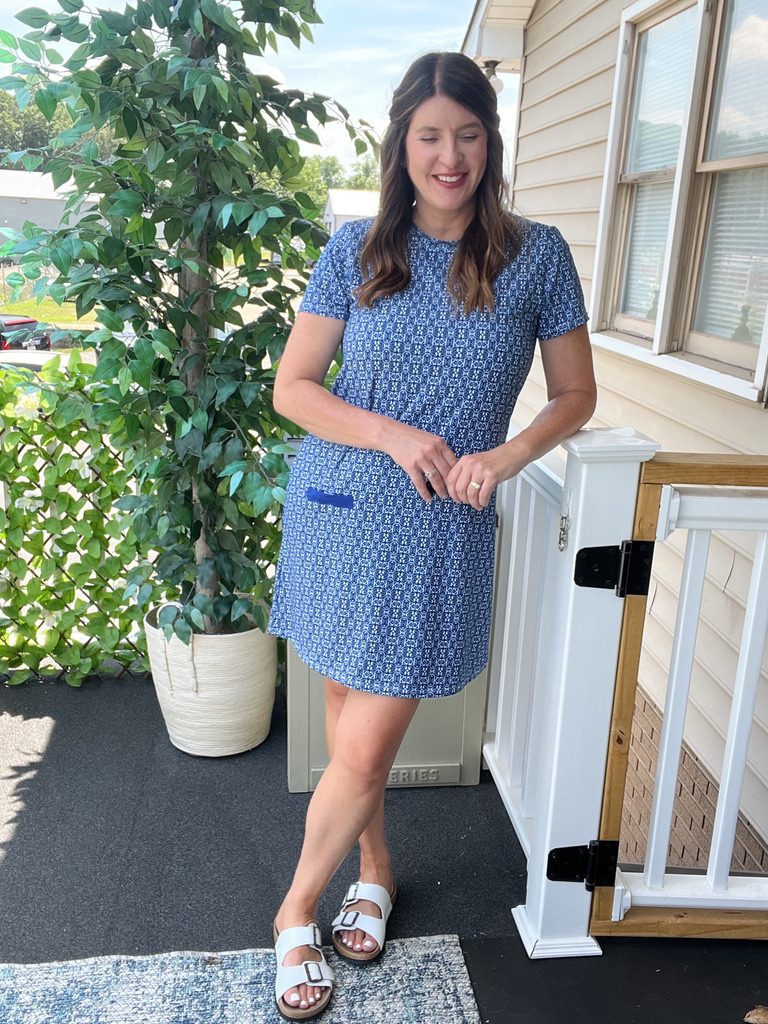 Another find from Sierra. I wore this a lot last summer and plan to wear it again this year!
Outfit #5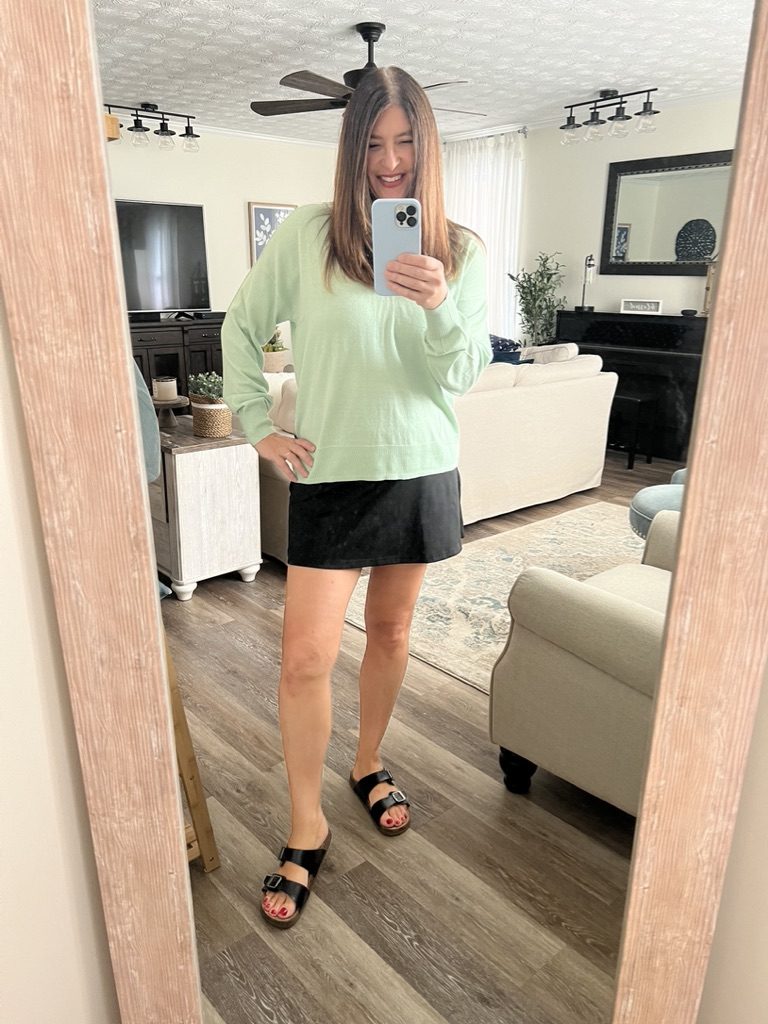 For a cooler day, mix a light weight sweater or sweatshirt with a skort. This sweater is from Sam's Club but it is a Gap sweater. This black skort has been on regular rotation for over a year now, and it's from Amazon. Here is this year's version. This sweater from Amazon is similar and comes in several colors.
Outfit #6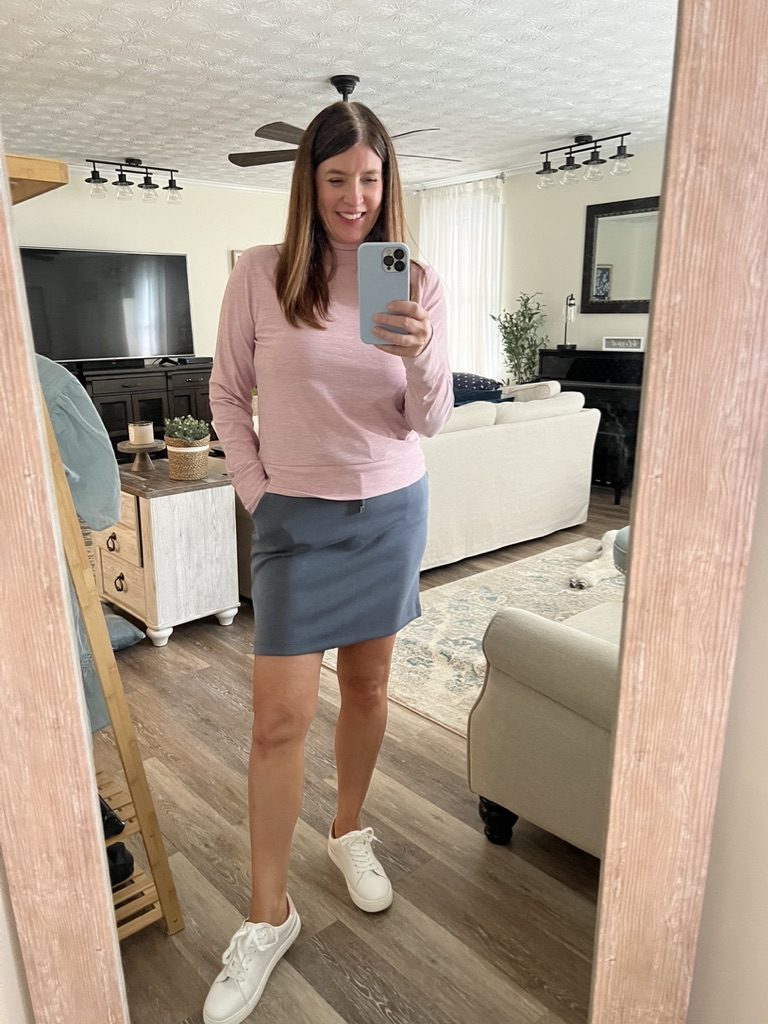 Here is another casual athletic style for a cooler day. This skirt came from Sam's Club last year. They are easy to find just about anywhere. Pair it with a long sleeve top and your favorite white sneakers.
Similar Top //Similar Skirt // Similar White Sneakers
Outfit #7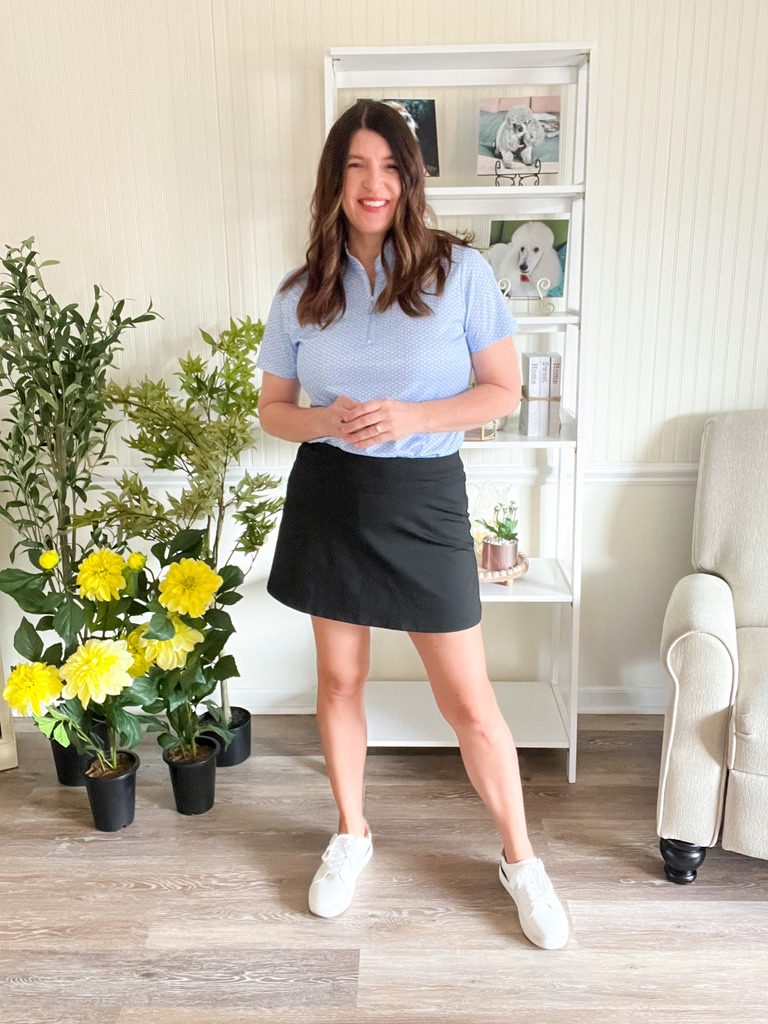 If you like a preppy look, then try a golf shirt with a skort. This is a Greg Norman ladies golf shirt that I found at an outlet last year. You can often find these on Amazon or at Marshall's and T.J. Maxx.
Outfit #8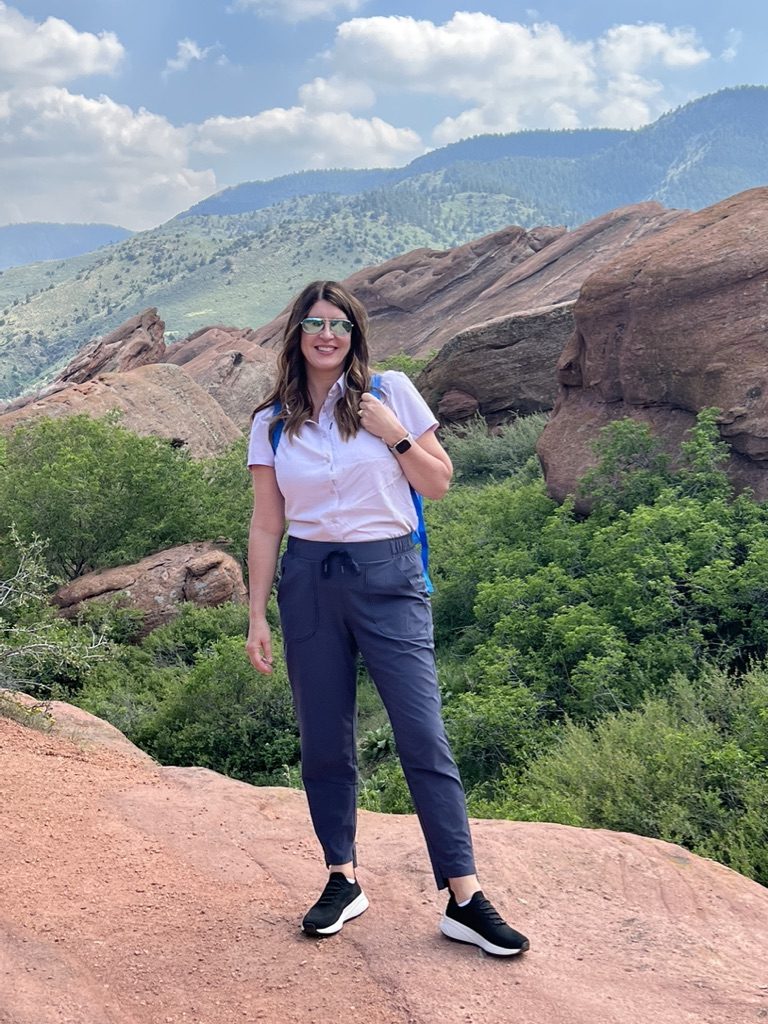 This photo is from our trip to Colorado last summer. I love Columbia shirts paired with athletic pants. You could also substitute a jogger style pant.
Outfit #9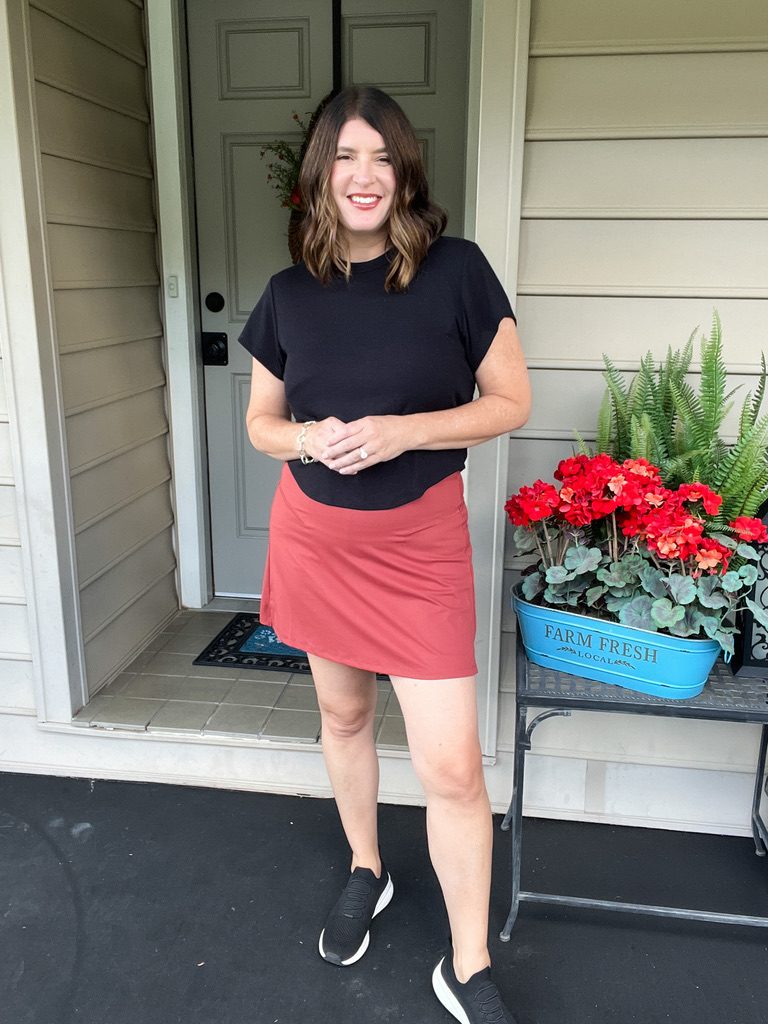 This photo was taken last fall when the weather was still quite hot. I like to wear fall colors like this skort from Old Navy.
Outfit #10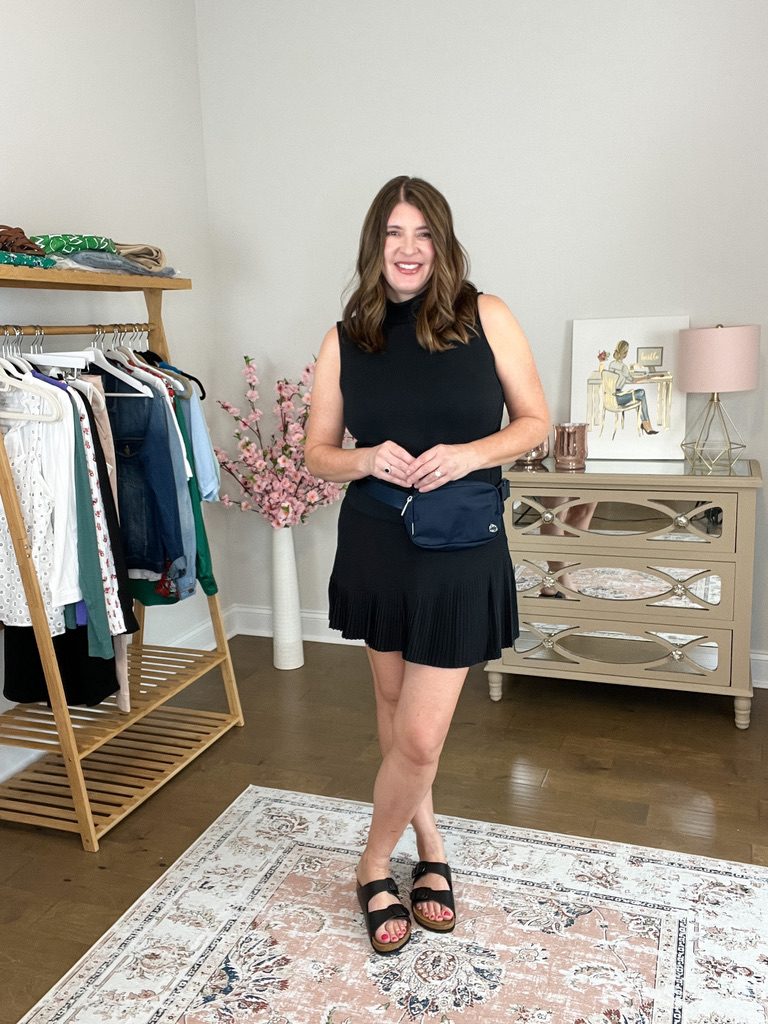 You may remember this outfit from my recent Spanx try on. If you missed it, you can see it here.
Outfit #11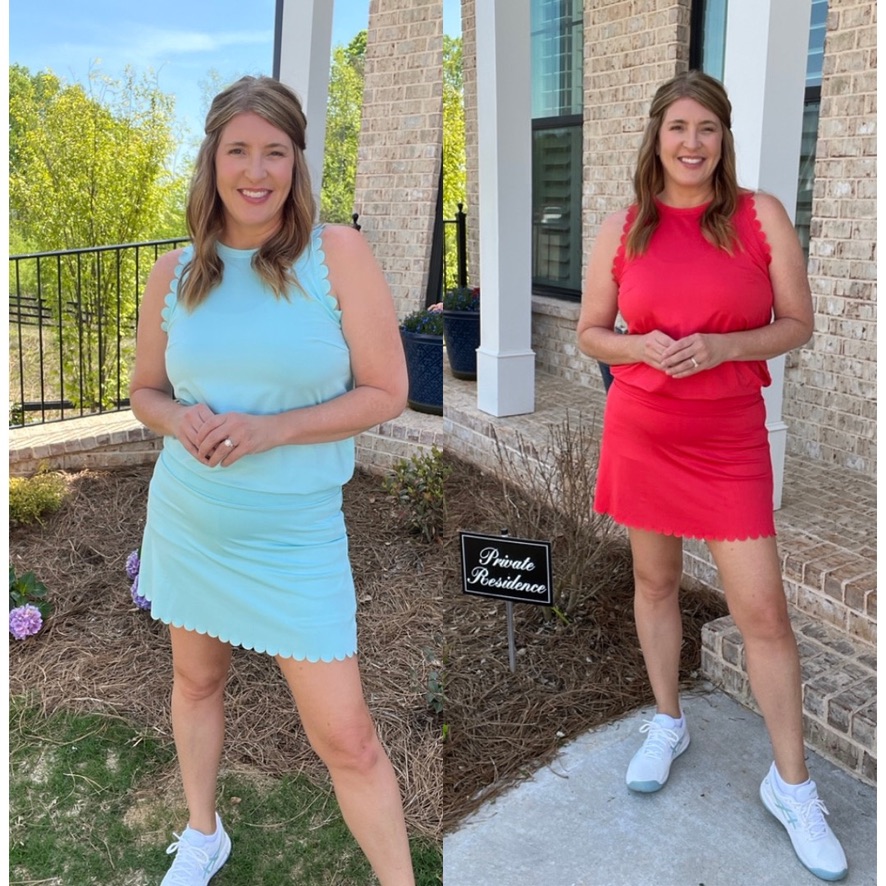 Crown & Ivy (available at Belk) has an impressive athletic line. I loved these scalloped edge tanks and skirts so much that I purchased two colors!
Outfit #12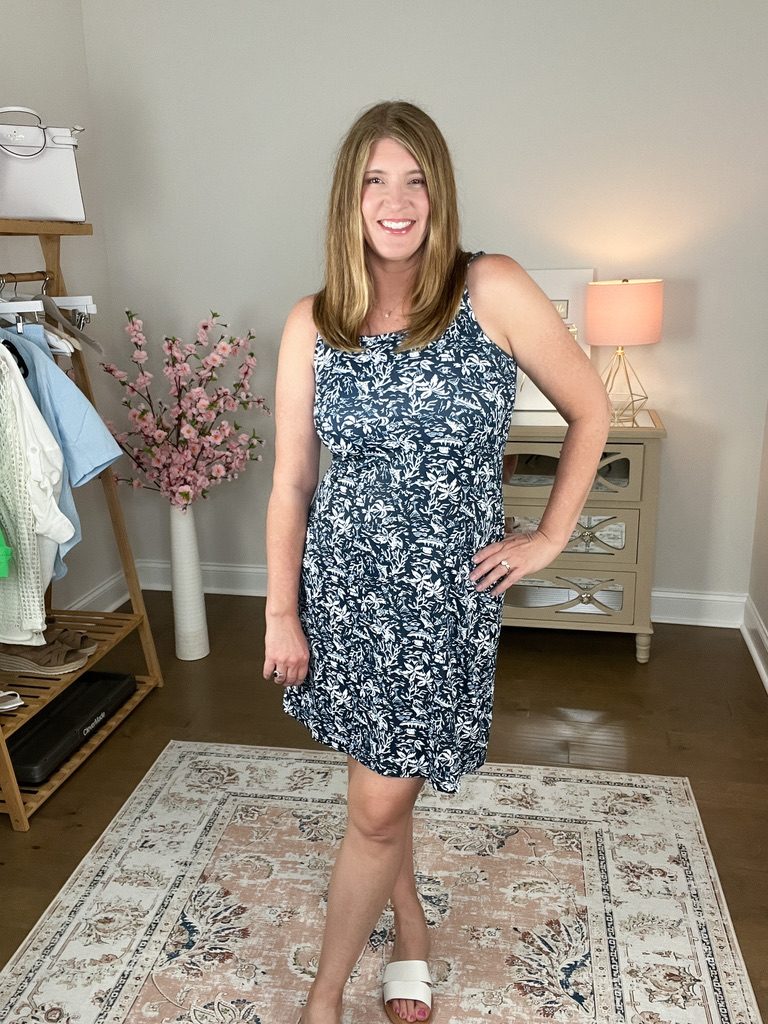 I'm embarrassed to admit how many of these Columbia tank style athletic dresses that I have! Let's just say that I have "a few". They are so nice for the hot summer weather we have here in the south, and I wear them for all sorts of occasions. They come in many solid colors and prints.
Outfit #13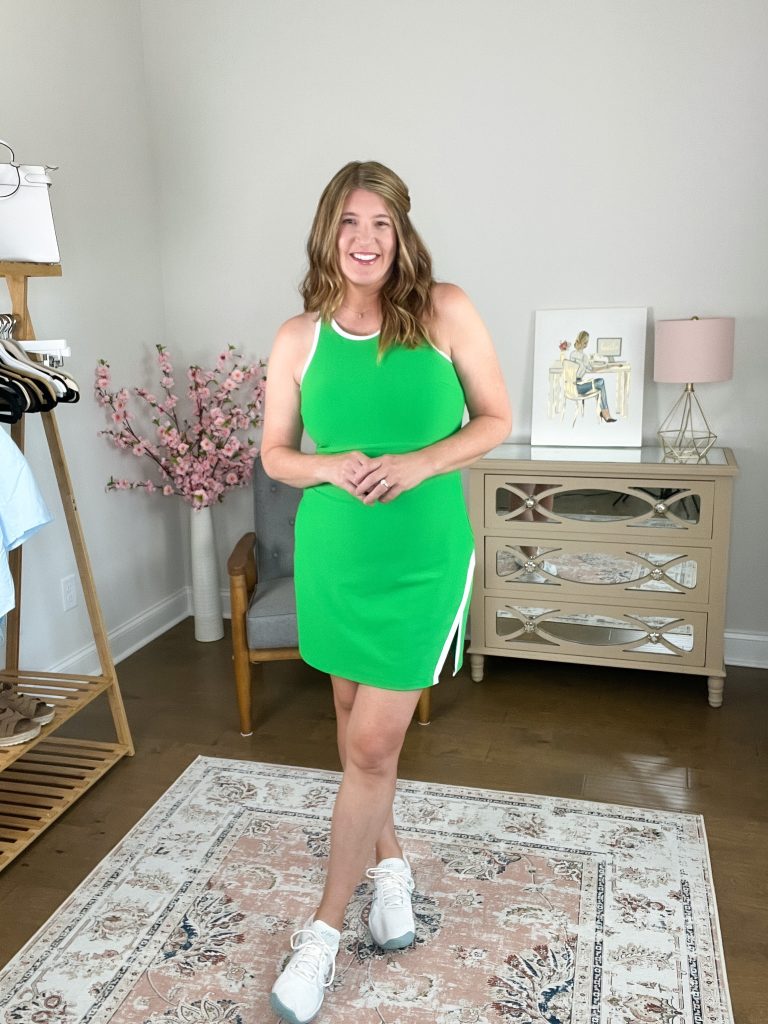 Another chic athletic outfit is this recent T.J. Maxx find. How fun is this bright green color?
Outfit #14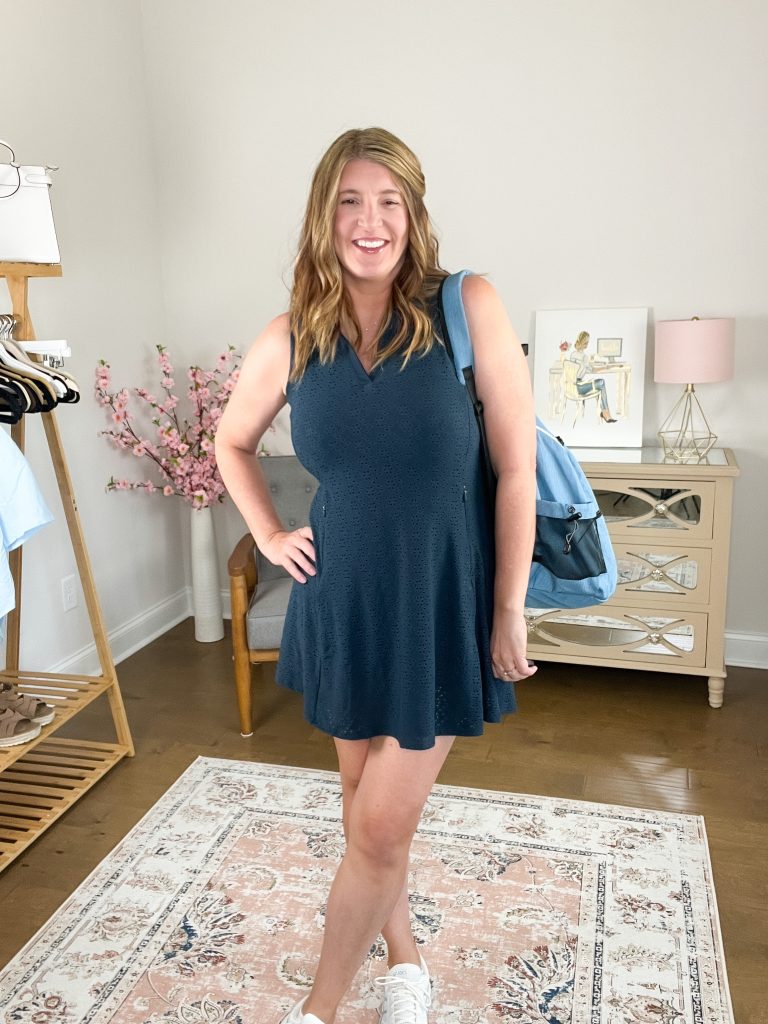 This eyelet tennis dress is very unique. It is also from T.J.Maxx. I could not find it on their website, but try your local store. They also had other colors in a tank and skirt combination with the same eyelet fabric.
This navy tennis dress from Amazon has a similar look.
Outfit #15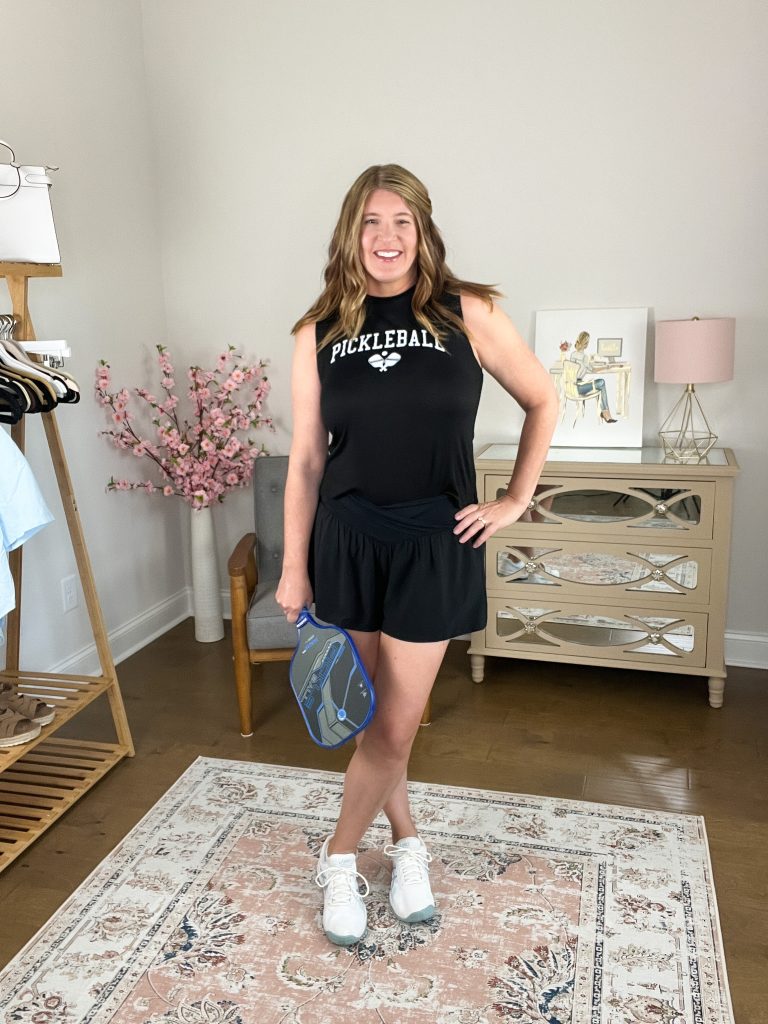 This last outfit is a look with the Aerie Crossover Flowy Shorts that I have mentioned several times. I paired them with this cute Pickleball tee from T.J. Maxx that is not on the website. This one from Amazon is similar.
Athletic Accessories
In addition to these outfits, there are a few essential athletic accessories that I am enjoying.
Belt Bags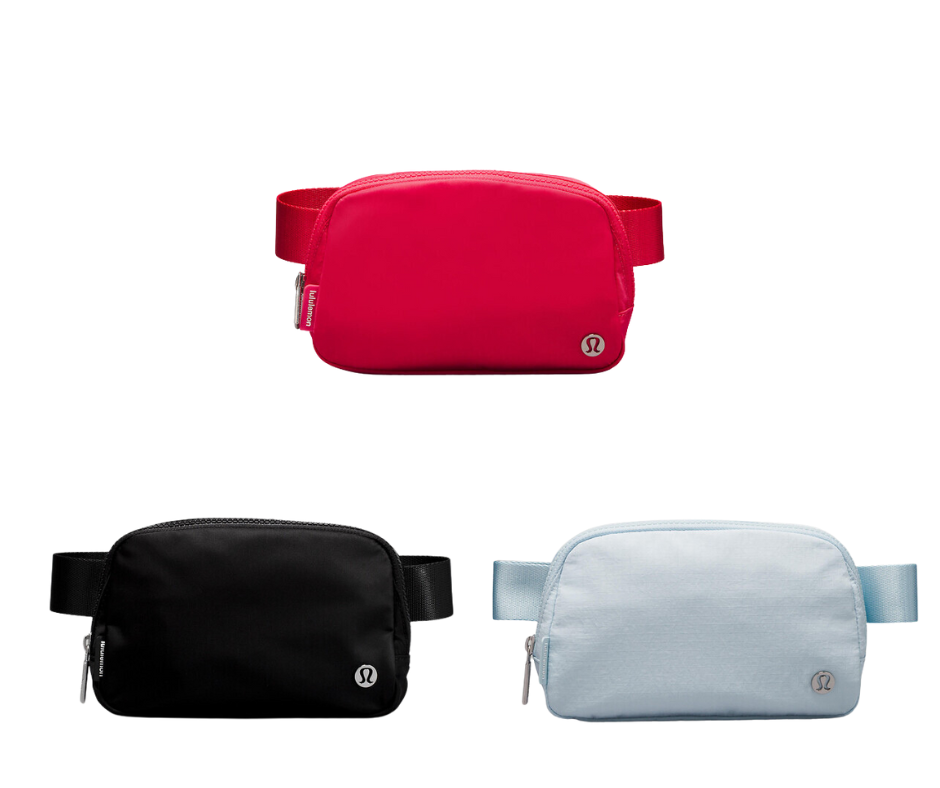 My belt bags are essential for sports, walking, or running errands. My favorite is the Lululemon Everywhere Belt Bag. I have 3 of them…black, navy, and grey.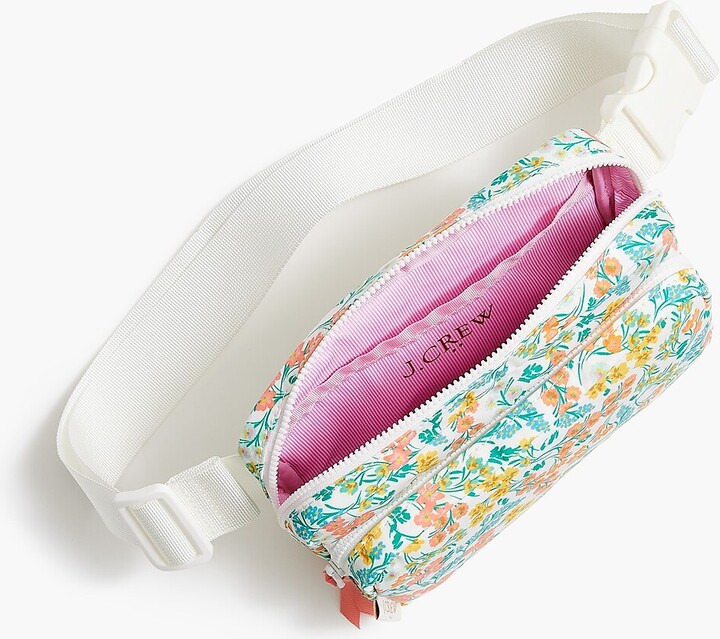 This belt bag from J.Crew Factory is adorable!
Hats
Keeping my hair back and more importantly the sun off my face is a high priority. I recently purchased this Lululemon hat.
I also purchased a few visors to try. These came in a pack of 5 from Amazon.
Others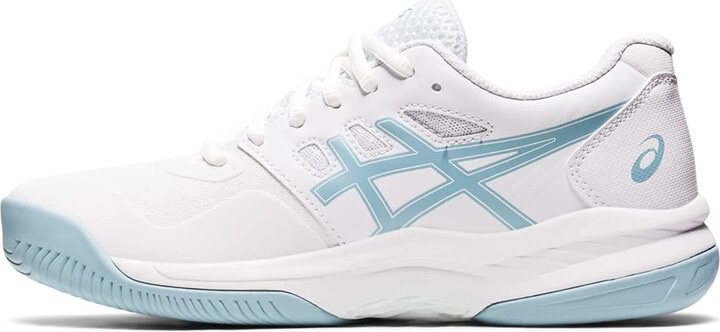 My Pickleball shoes are Asics and you can find them here.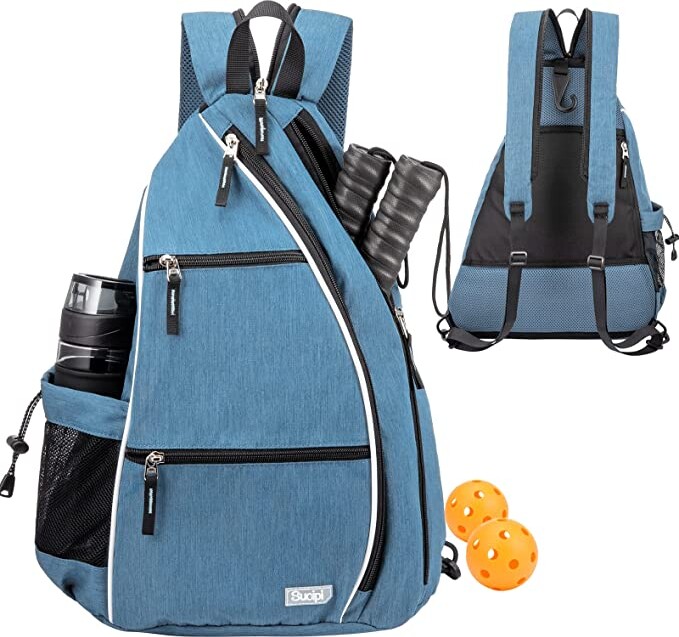 My Pickleball backpack is also from Amazon.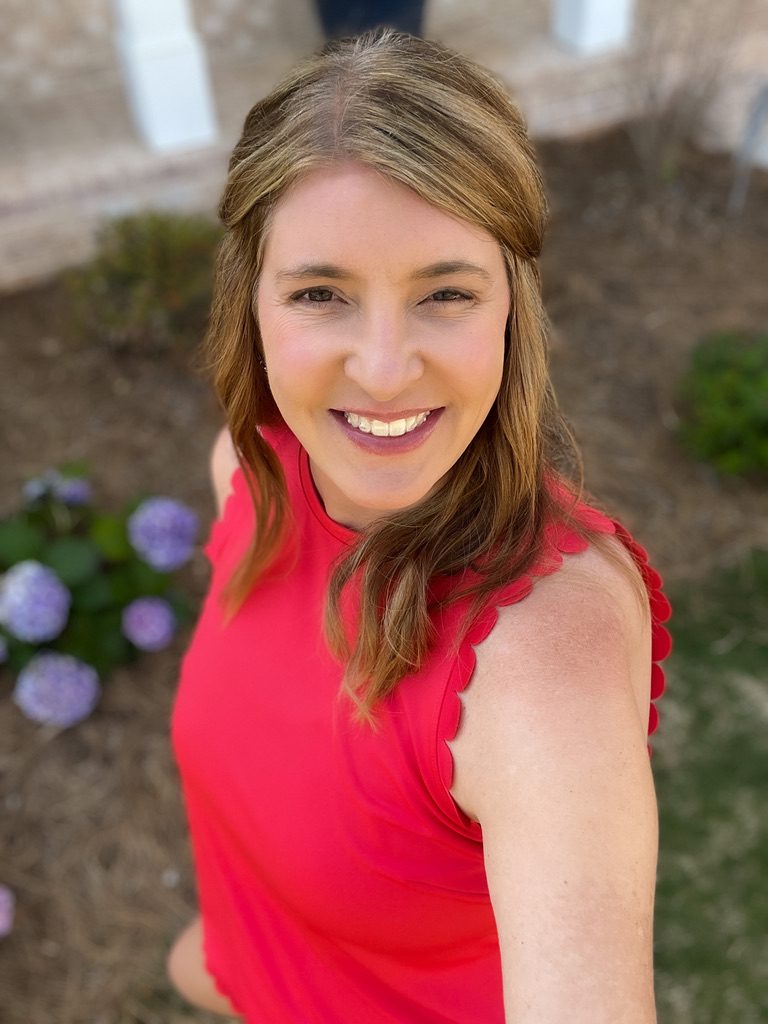 If you enjoyed today's post, then make sure to subscribe to my email list! Where do you like to shop for athletic clothes?