Hello, and happy Friday! Thanksgiving and Christmas are just around the corner and with online shopping being more popular than ever, it's a good idea to start a little earlier this year. Things are still not back to normal as I'm sure we had all hoped. COVID it still forcing us to do pretty much everything differently, and that will affect how we celebrate Thanksgiving and Christmas. Your holiday schedule may look different this year, and your gatherings of family and friends might be smaller. It only makes sense that many people do not want to spend a lot of money on holiday outfits this year. Well, I'm here to help! Today I'm going to show you how to shop your closet for holiday outfits.
This is a very informal post. There are no scenic backgrounds…it's just you and me trying on clothes like girlfriends do! Although some of the pieces I'm showing today are recent purchases, nothing was purchased specifically for this post. I literally went into my closet and started putting outfits together with pieces that you might already have in your closet too. I will link to pieces that are still available or similar in case you do want to purchase something new this year, but the main focus today is just to give you some outfit ideas that you can put together without having a buy a single thing!
There are a lot of outfits here! I have tried to group them into categories to make it less overwhelming. As you can imagine, after making this many outfit changes, my hair started to look a bit sad so just overlook that. Also I did not make a lot of accessory changes, except for shoes. Changing jewelry with each outfit would have taken me an eternity! So let's get started on how to shop your closet for holiday outfits!
Wear Plaid
Plaid is certainly a traditional holiday print, and it is timeless. Red plaid is the most common Christmas look, so I want to encourage you to consider non-traditional colors that might be in your closet. This navy and green plaid shirt from Old Navy is a good example.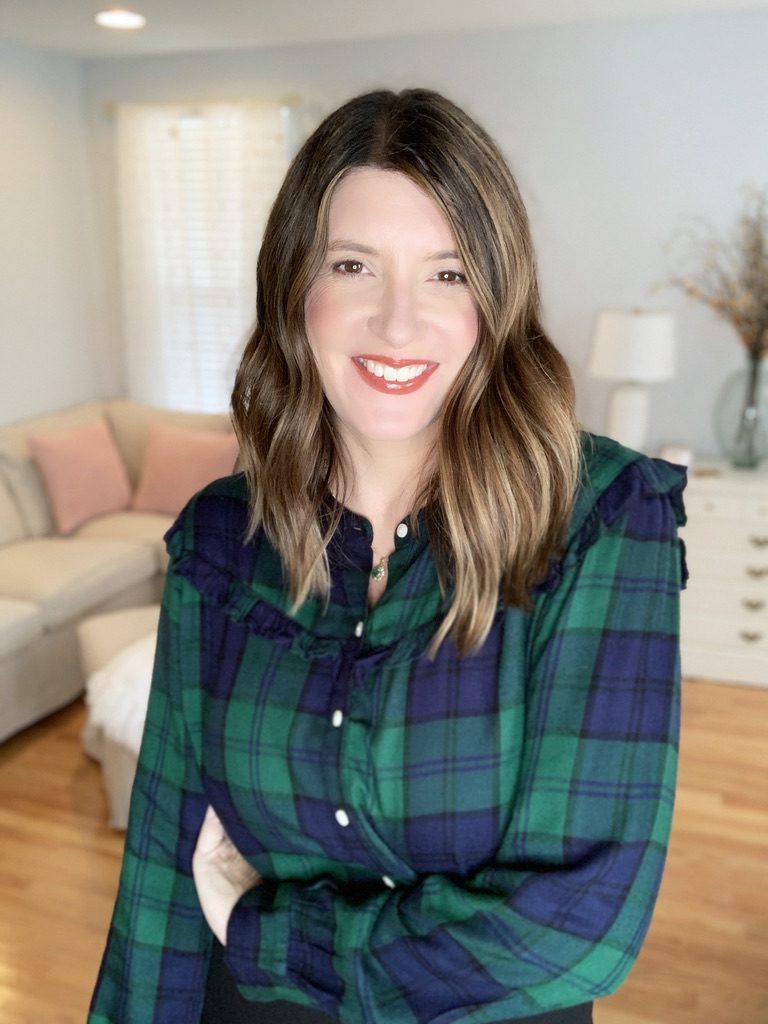 This shirt looks nice paired with a black skirt and boots as seen in the photos to the far left. In the middle photo, I switched to some dark wash straight leg jeans and flats. Then the last look on the far right is a pair of high waisted black pants with black heels. One top with several different looks!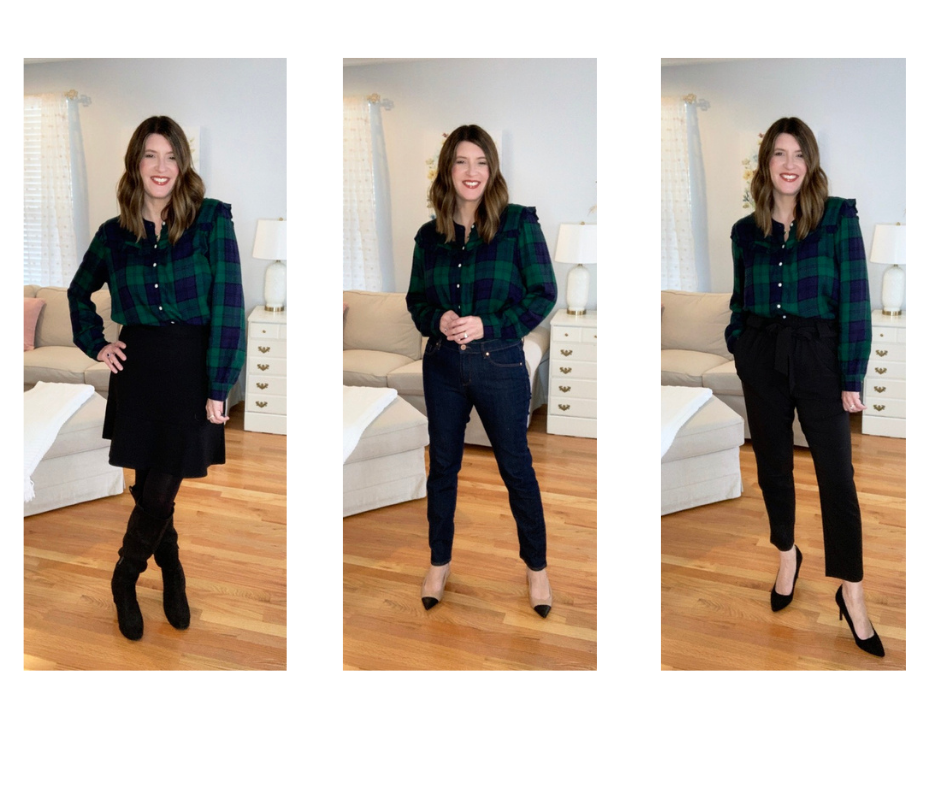 Red Sweater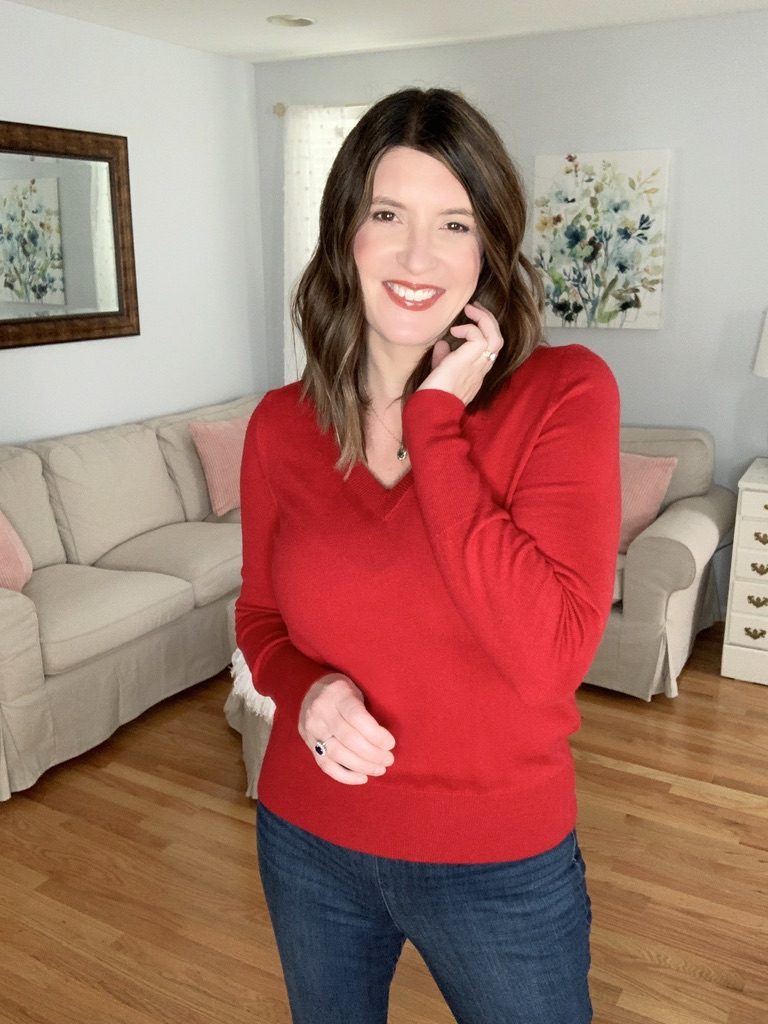 Another way to shop your closet for holiday outfits is to look for a red sweater. Again, this is a very traditional Christmas piece that most people have in their wardrobe already.
Here I have paired a red sweater with off white ankle pants. Try to think outside the box of the typical black pants with red sweater. Black pants would be perfectly fine here, but if you have a pair of white or off white pants it will look a little more unique.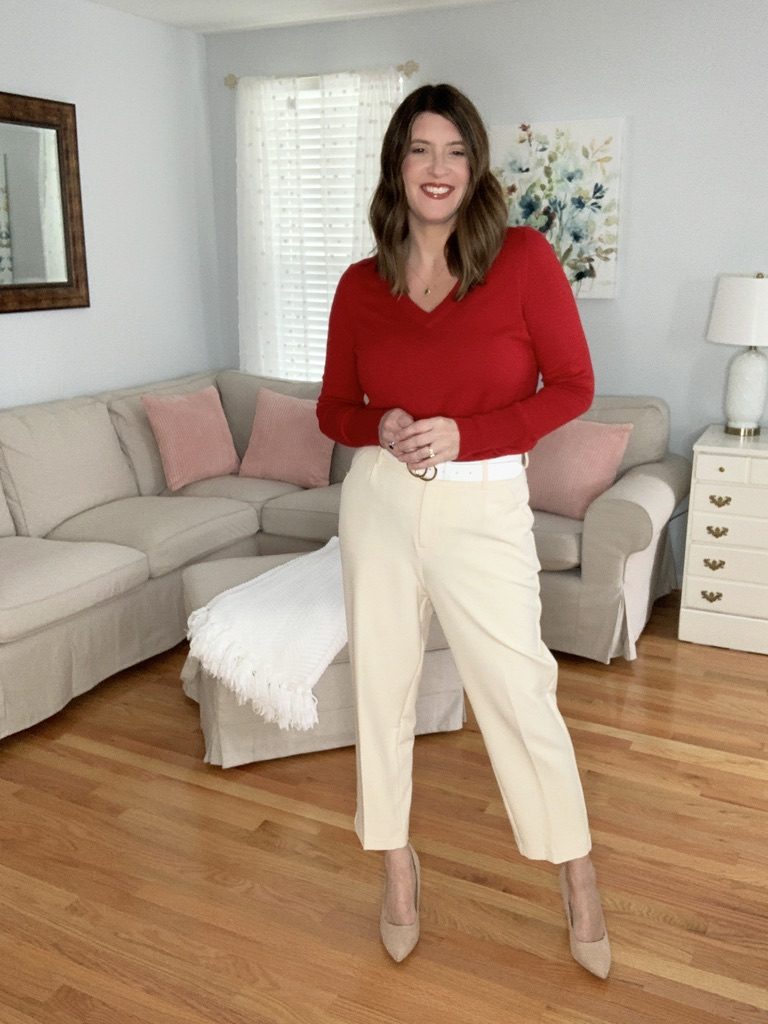 I didn't have an off white belt, so I improvised with a white one. It doesn't look the best, but you can still get the idea. I made a mental note to purchased a creamy white belt!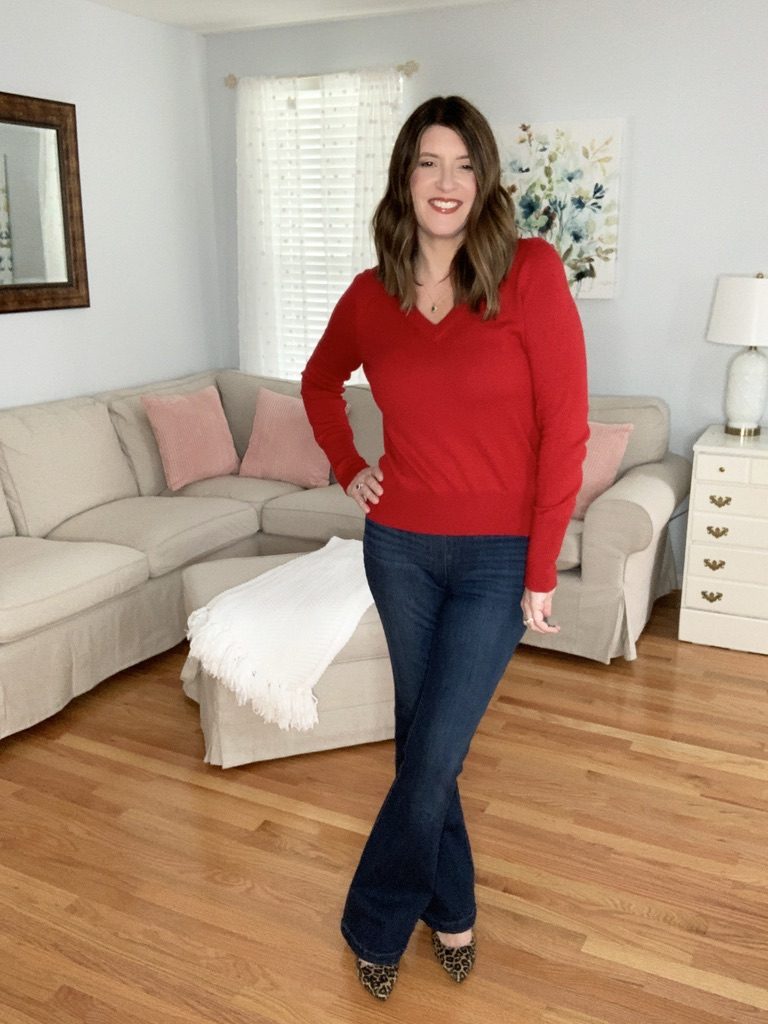 The red sweater could also be paired with denim. Here I chose my flared style jeans with leopard print heels. These are my favorite Sophia Vergara flare jeans from Walmart.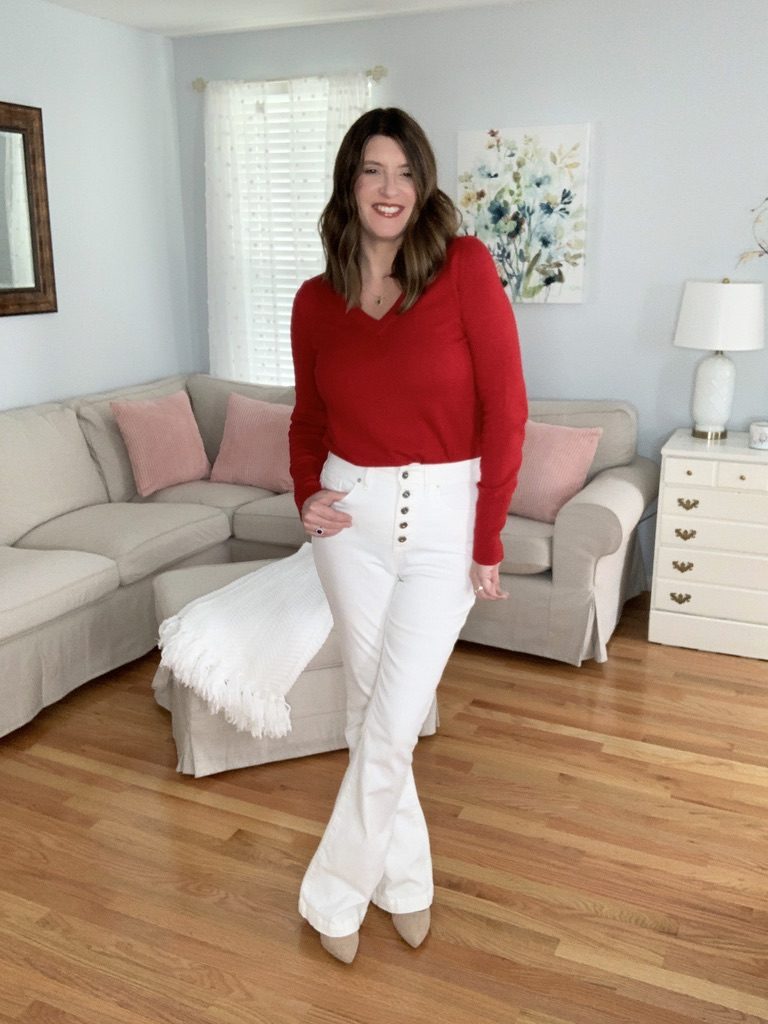 Red and white are also a nice holiday color combination. Here are some flared white jeans with neutral heels. You could also layer on a camel colored cardigan to make the outfit more interesting.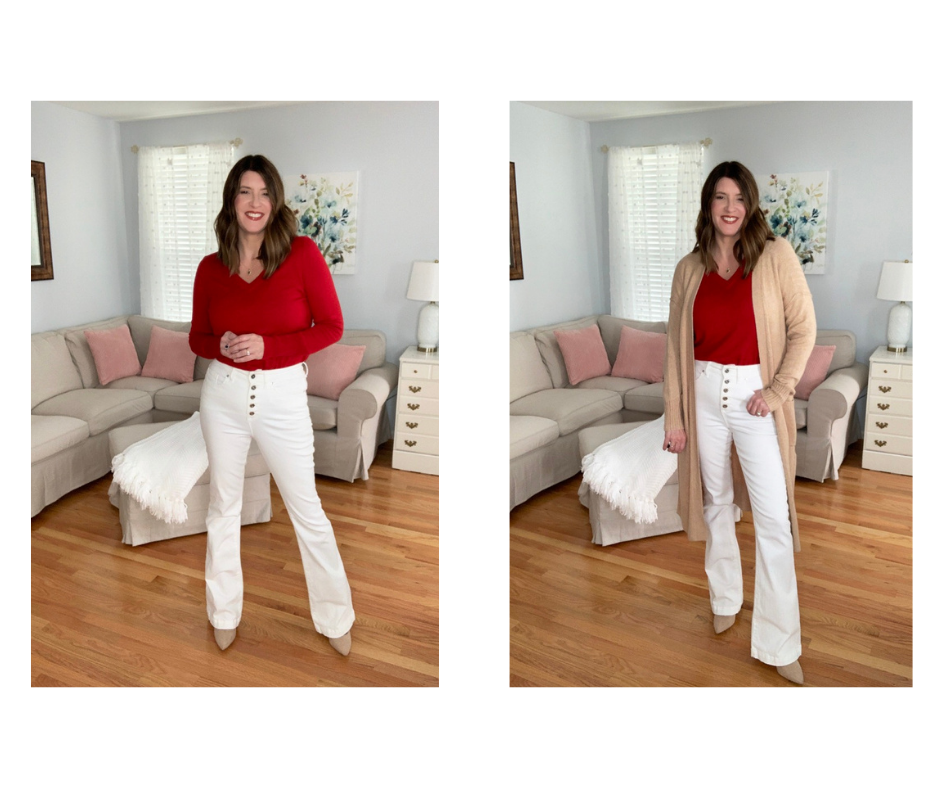 Sweater Dress
I am willing to bet that most of you have a sweater dress in your closet! They are a great choice for a holiday gathering because they are warm, stylish, and comfortable. They look quite chic with a pair of tall boots.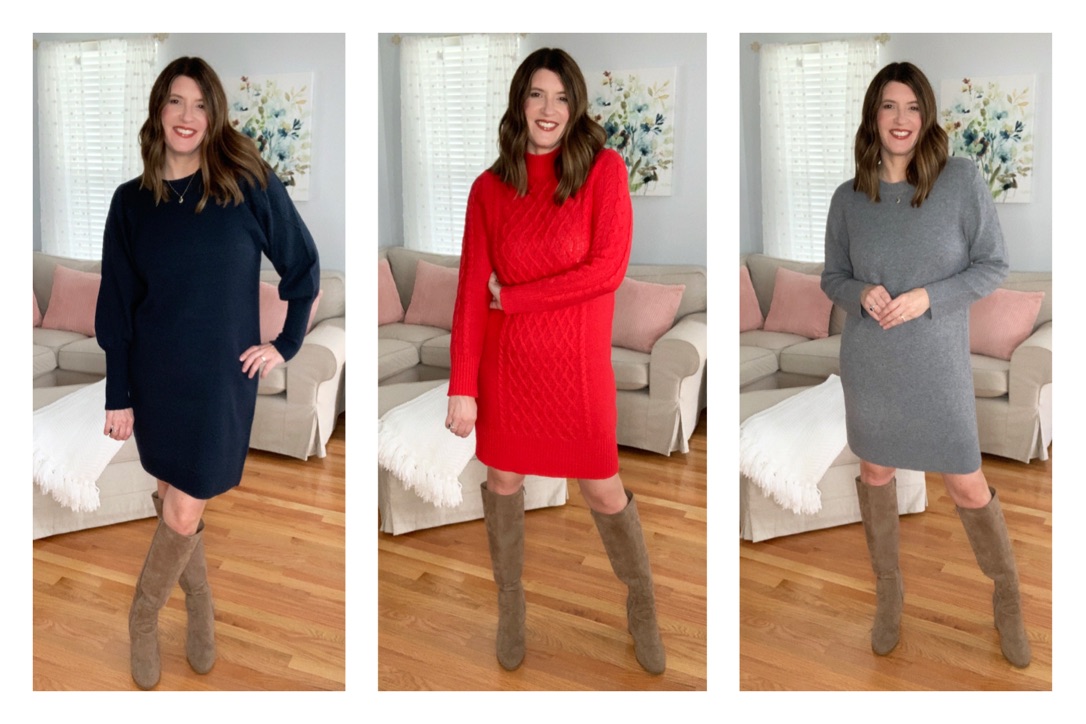 Here I am wearing three different colors. Notice that it does not have to be red or green to look festive, although I will admit I love a red sweater dress!
Animal Print
Another common piece that you probably have in your closet is some kind of animal print. It could be a dress, top, sweater, shoes….really anything.
Here are some ideas that I came up with from items in my closet.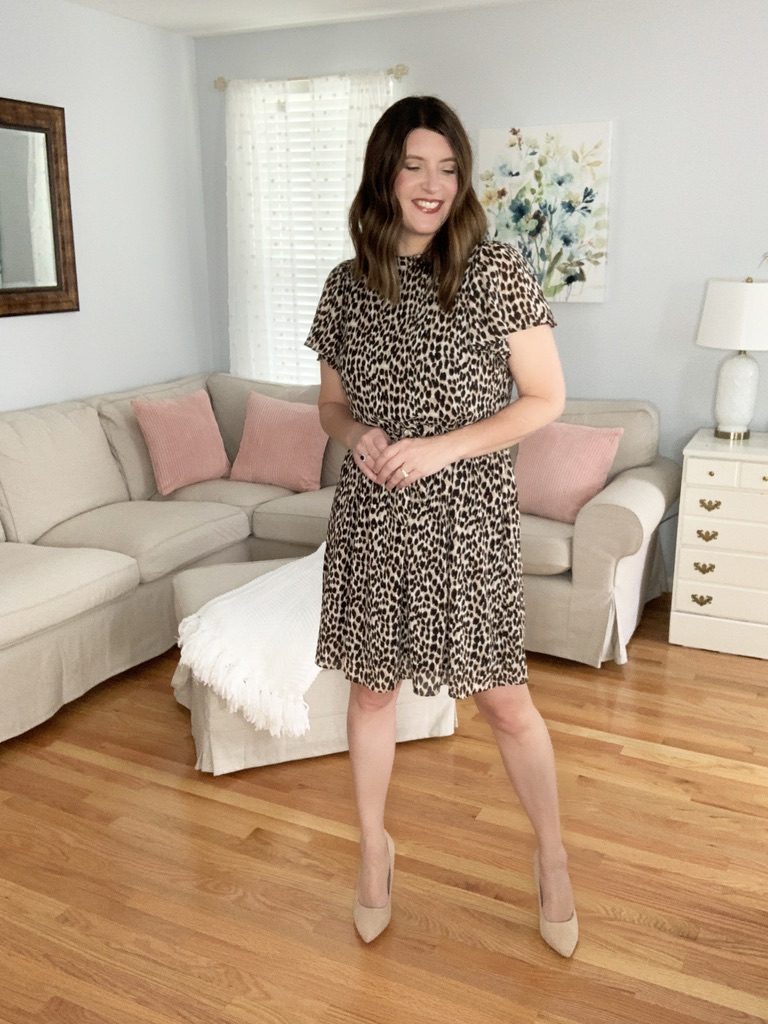 I could not find a dress like this one. It came from Loft last year. I did link a nice wrap style leopard print dress in the shopping widget if you are looking for one.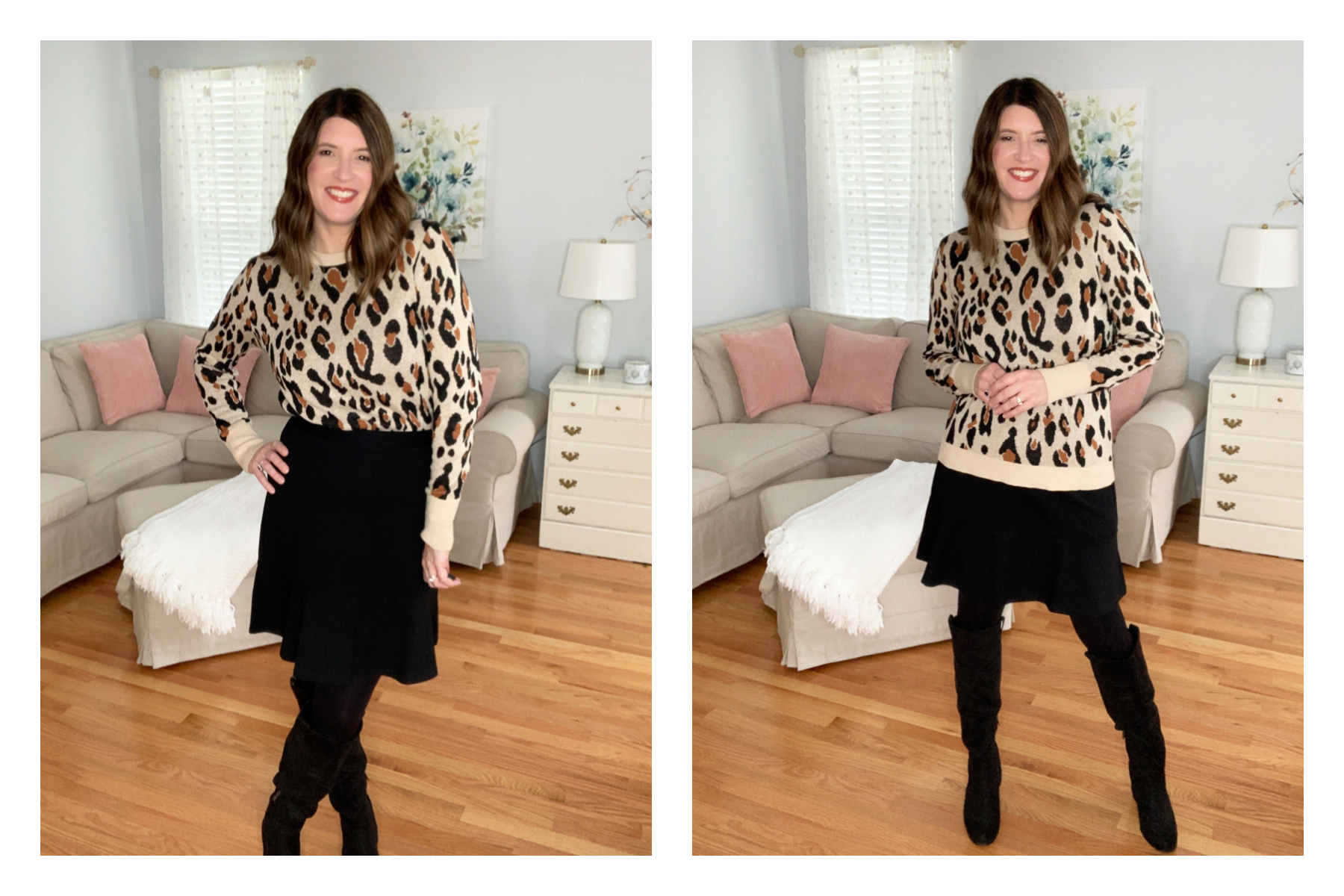 An animal print sweater with a short black skirt is a fun combination. Here I am showing the sweater tucked and untucked. My sweater is from Target (last year) and my skirt is from Loft.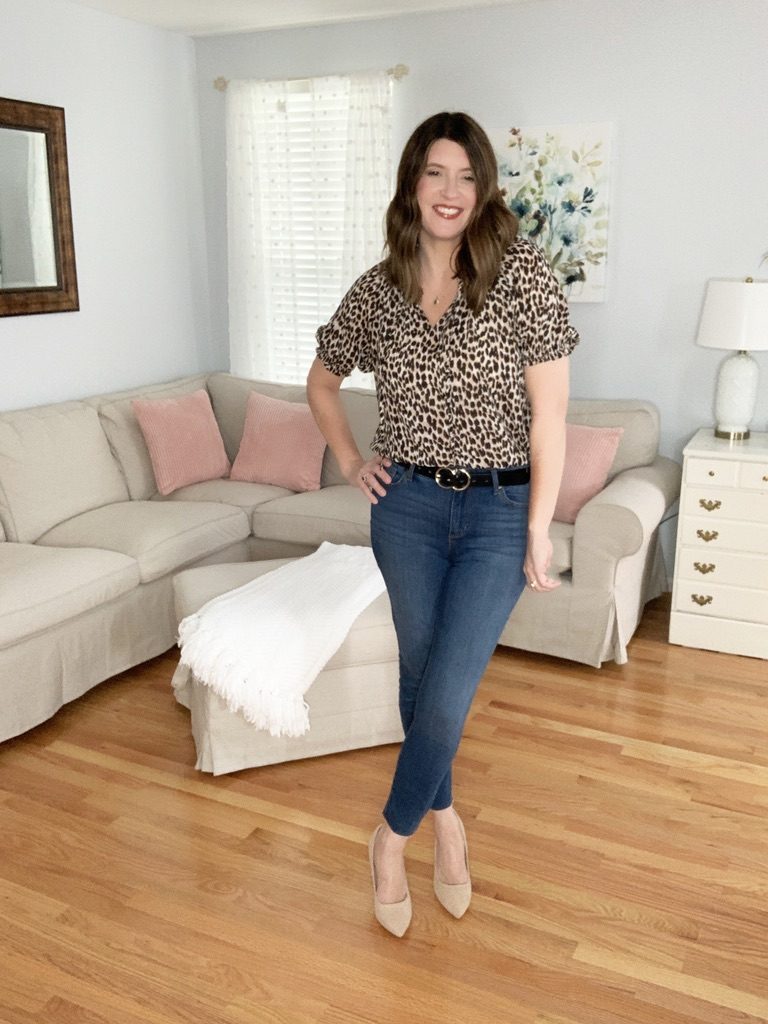 A leopard print top and skinnies looks nice with neutral colored heels. You could also add a cardigan or blazer to complete this look.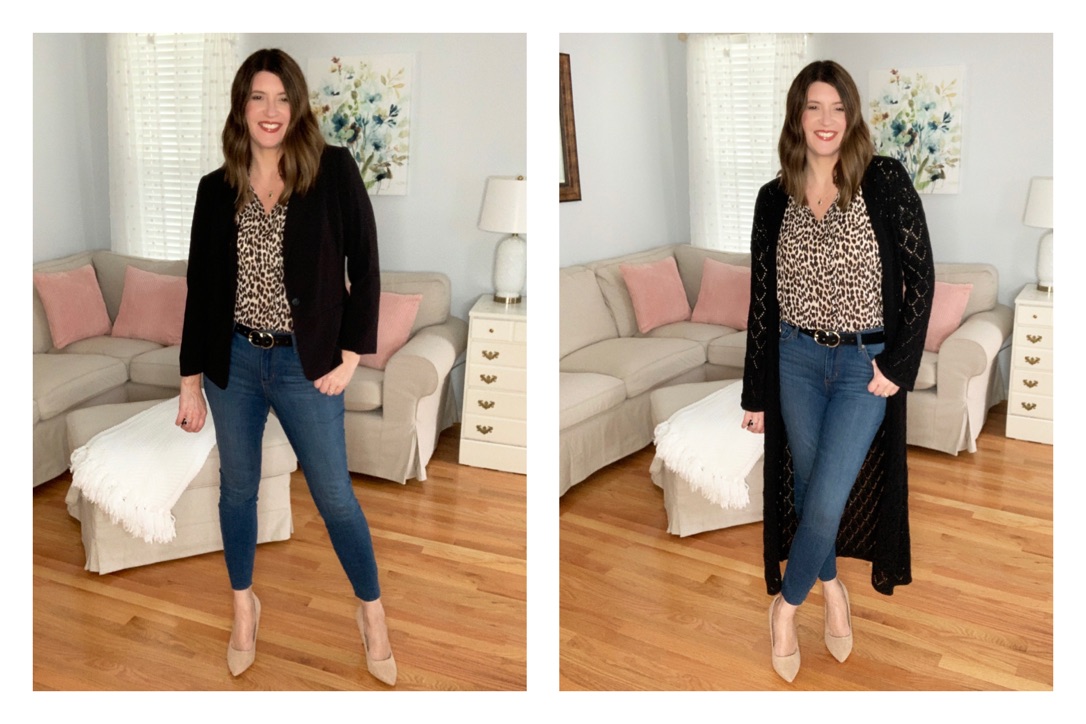 Green Sweater
Green is another traditional Christmas color. Consider what shade of green is the most flattering on you. Not sure? Check out my post on how to choose you best colors.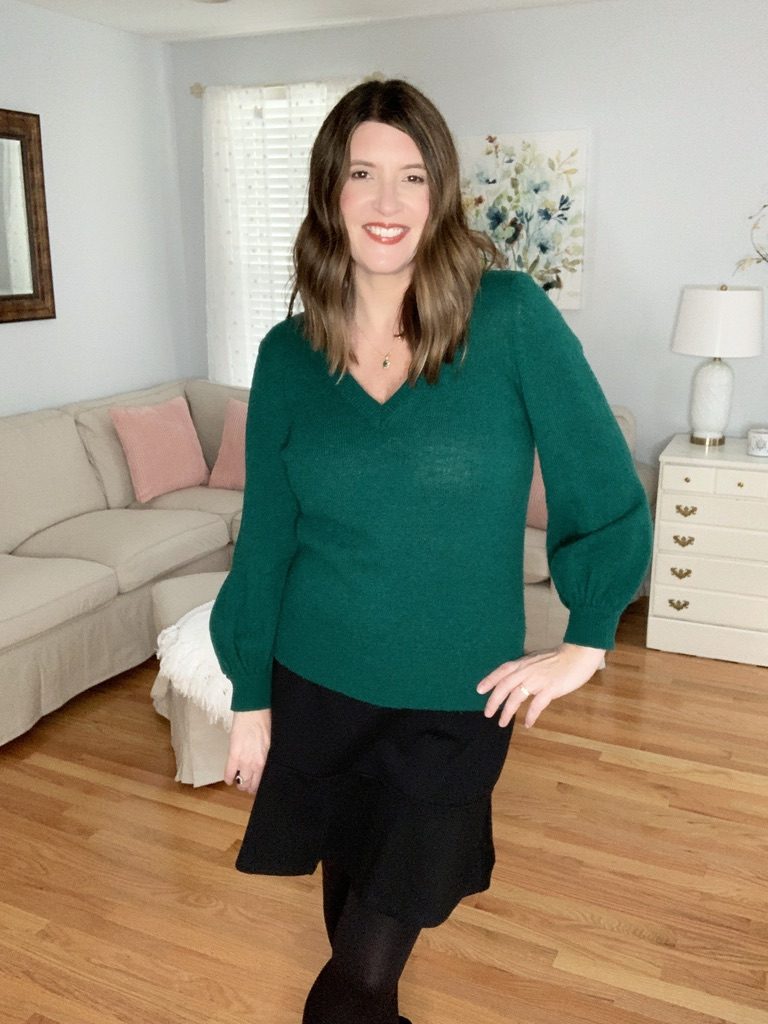 This green V-neck sweater has been in my wardrobe for three years. The shade of green and the neckline are both flattering for my body type and skin tone.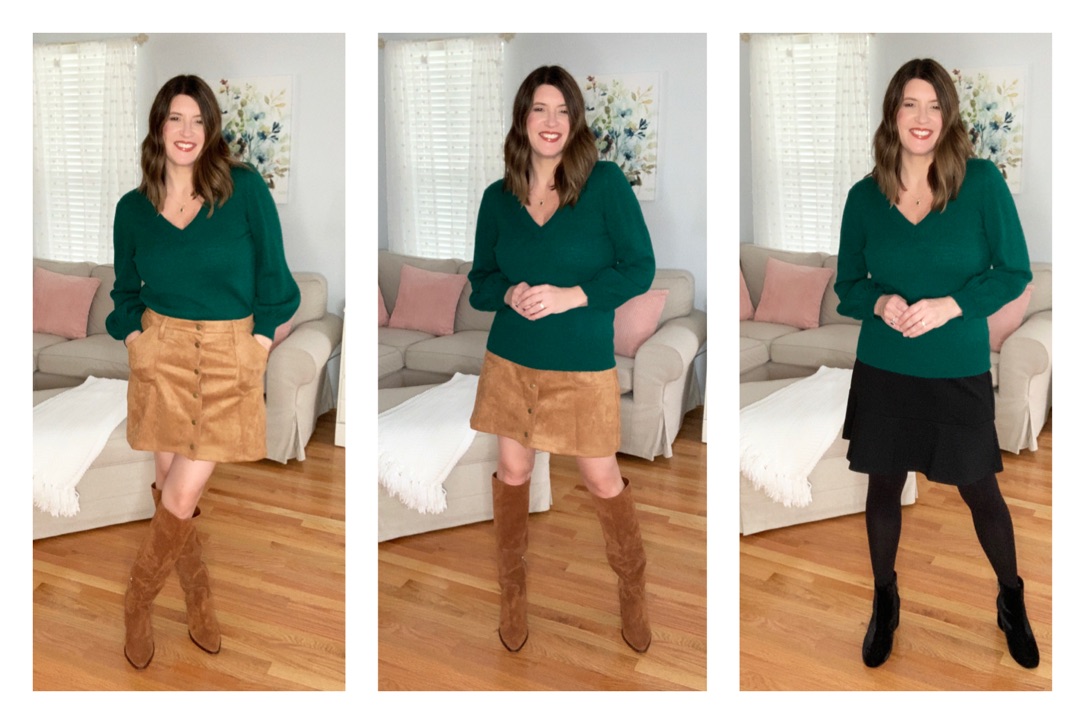 If you have a green sweater, see how many ways you can style it based on what you have. Here I chose a faux suede skirt, and a black skirt. The faux suede skirt may look familiar from an earlier post. You can see other ways to style it here.
Fair Isle Sweater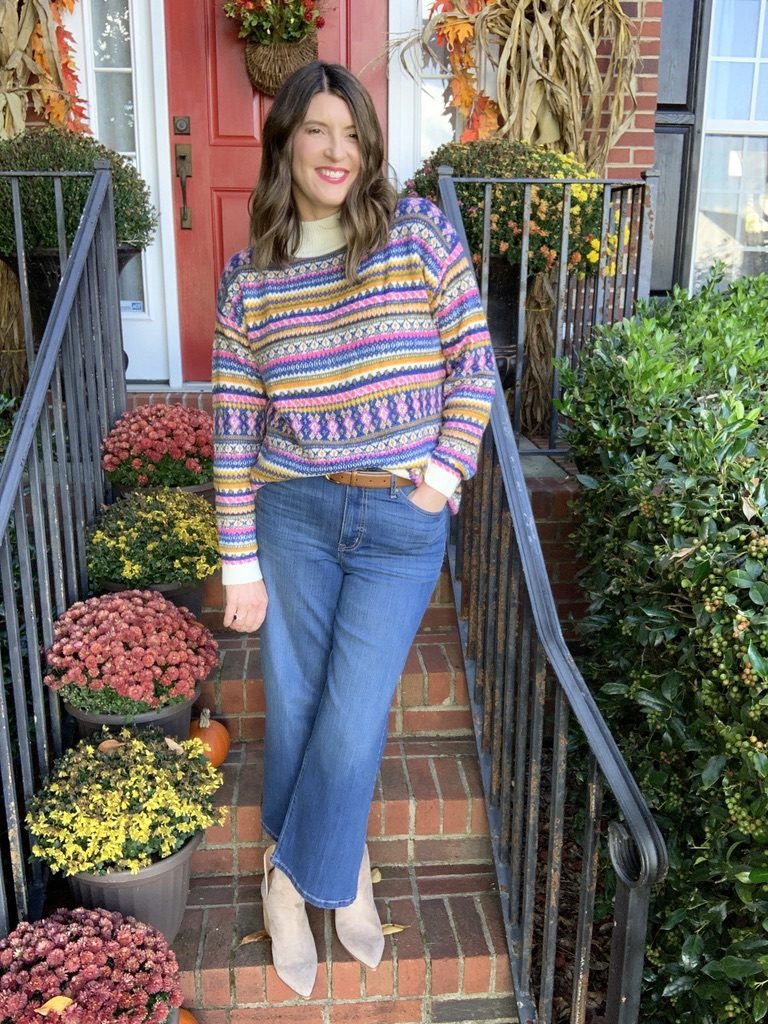 Fair Isle sweaters are timeless. They come in so many different color combinations. I have shared a few already in previous posts. You can see those here and here.
This black and white fair isle sweater is a couple of years old and was originally purchased at Old Navy. I love the way they look with a skirt, tights, and boots.
Swing Dress
Swing Dresses are a very popular style. If you have one, I encourage you to play around with it. There are so many ways to style these. I always belt swing dresses because of my shape. If you are curvy like me, this style can be very unflattering without defining your waist.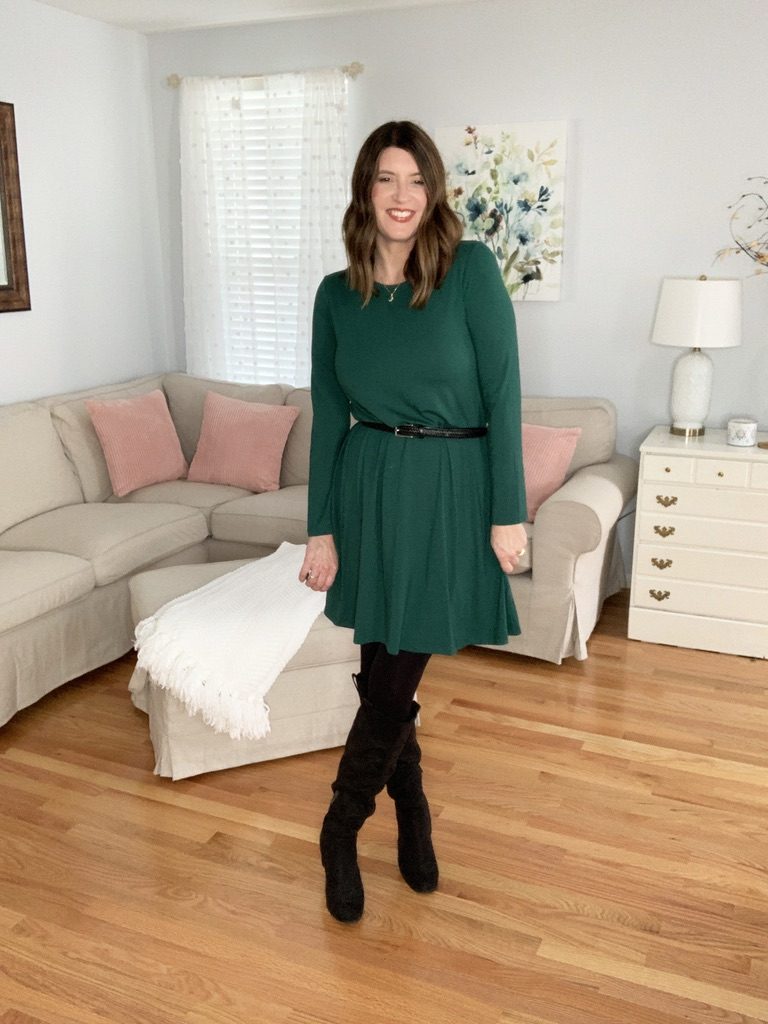 This green swing dress is from last year (Old Navy). They have them every year in several colors and they are very inexpensive. This one is long sleeved, but if you have a sleeveless or short sleeve version they can work too. Just layer it with a cardigan, jacket, or pullover sweater.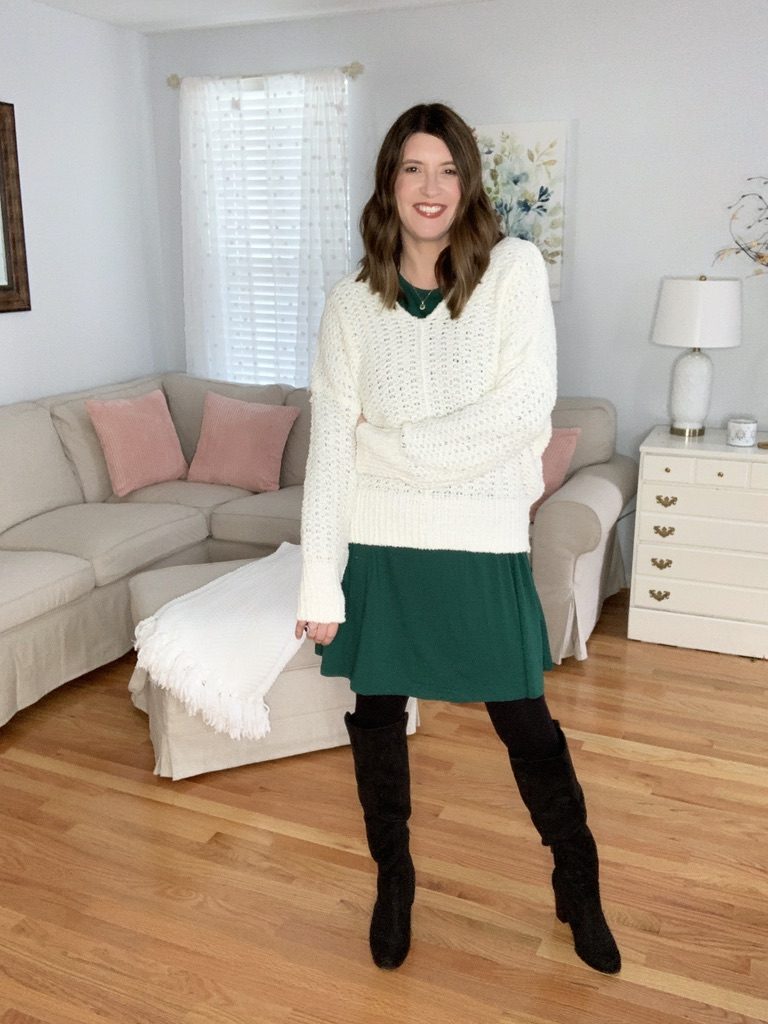 I like to wear a pull over sweater with a swing dress to totally transform the look. Now it looks more like a skirt. This can be a little tricky because you have to pick just the right sweater that is not too oversized or bulky.
Go Non-traditional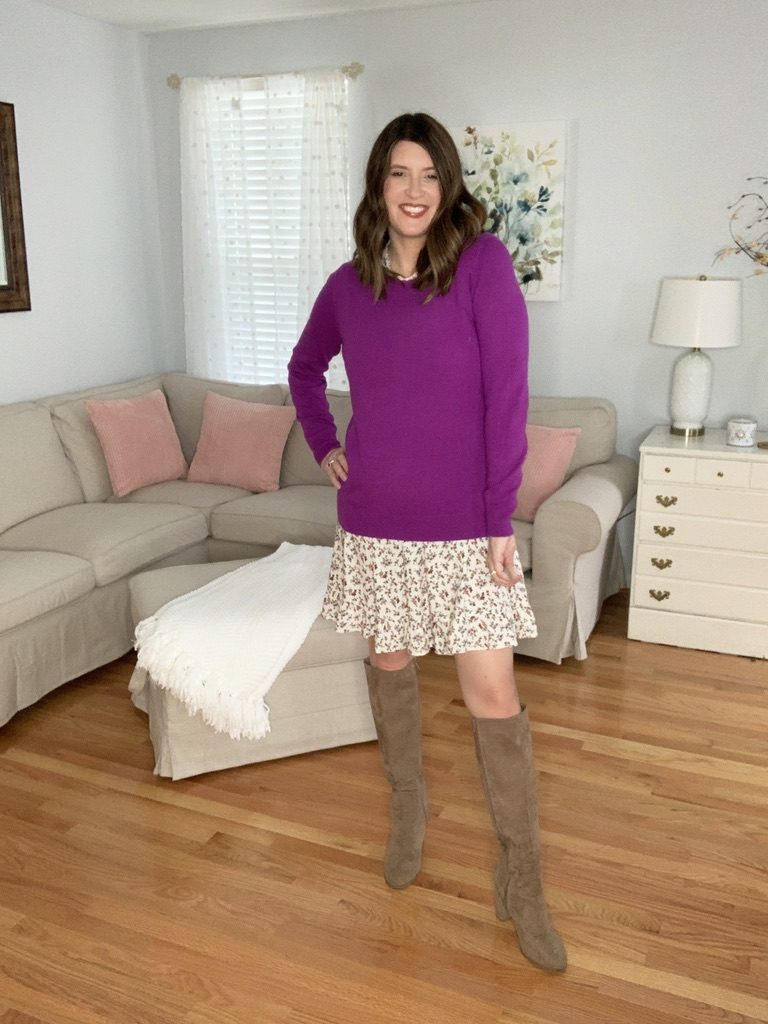 Want to stand out and be a little more non-traditional? Consider a color combination that is not red, green, white, or black. You will still look put together, but you will not look like everyone else!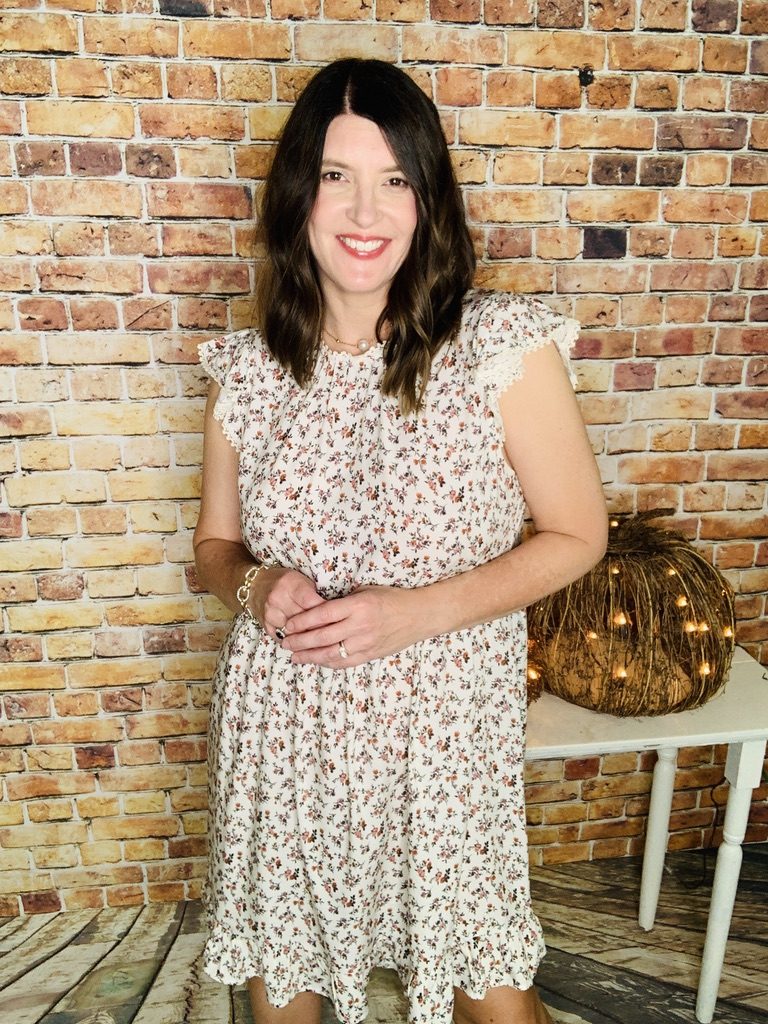 You may remember this floral dress from a post back in the early fall. If you missed it, you can see it here. I love to make pieces work for multiple seasons, and layering is the key! Here I wore a deep purple sweater over the floral dress. I love this combination and the boots and sweater keep it seasonally appropriate.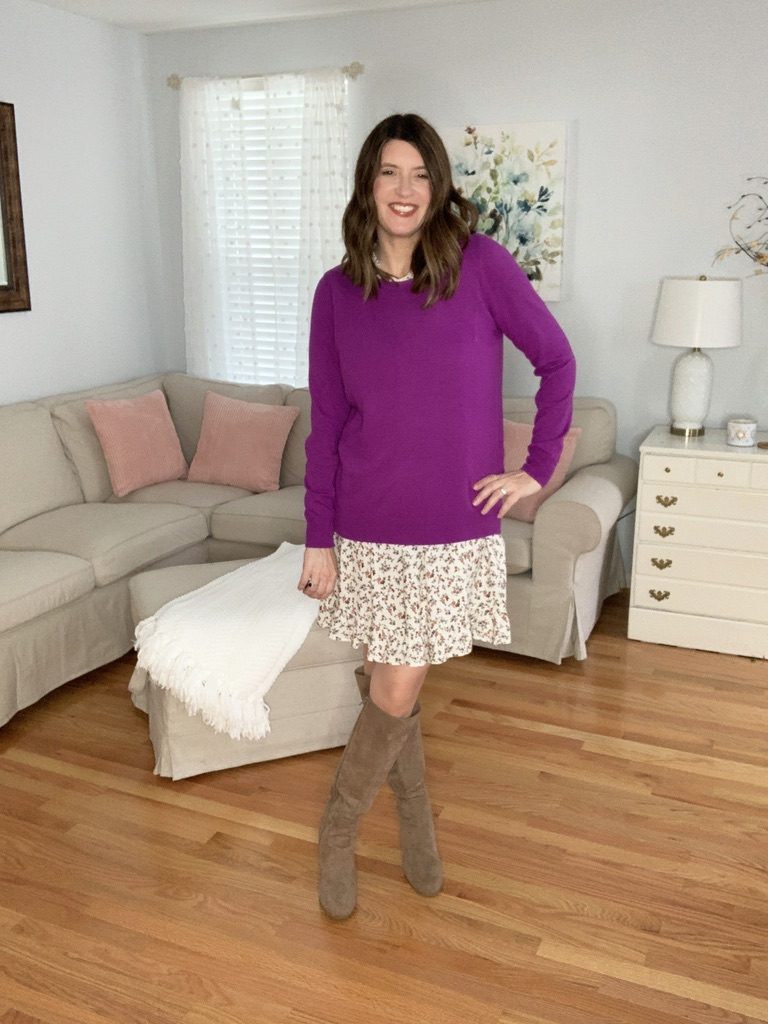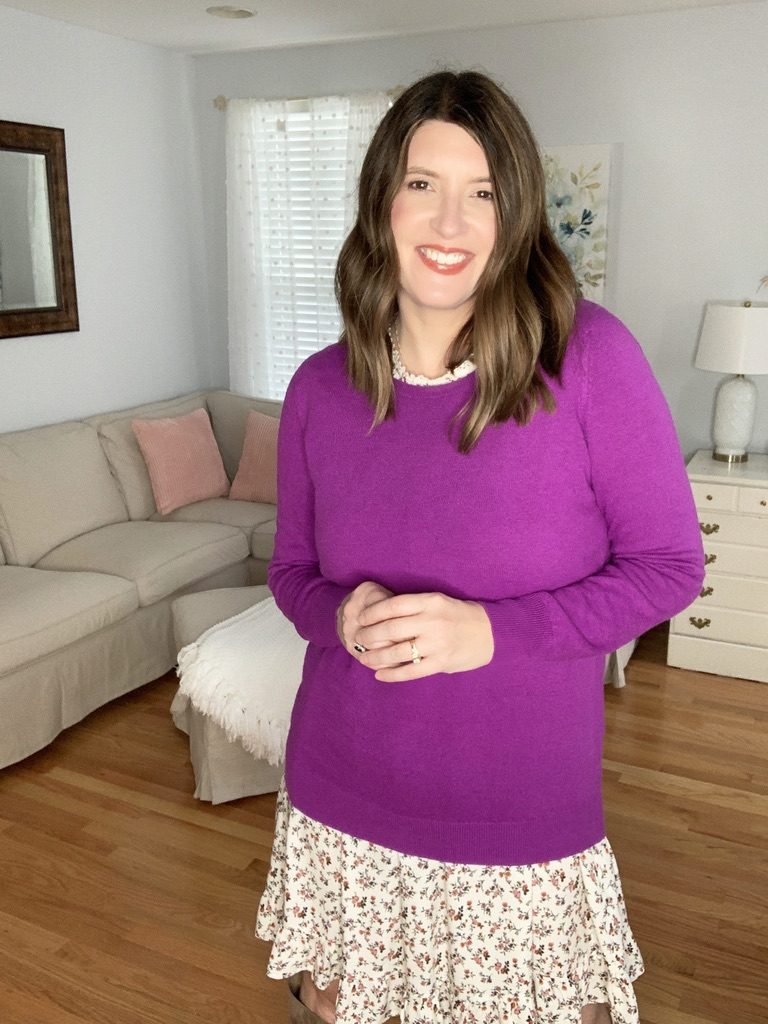 White Top
I think every woman has a white tank or white blouse in her wardrobe. In the first outfit, I paired my favorite white lace tank from Amazon with a dark green cardigan. Any color cardigan would work here, but I thought the green looked more festive.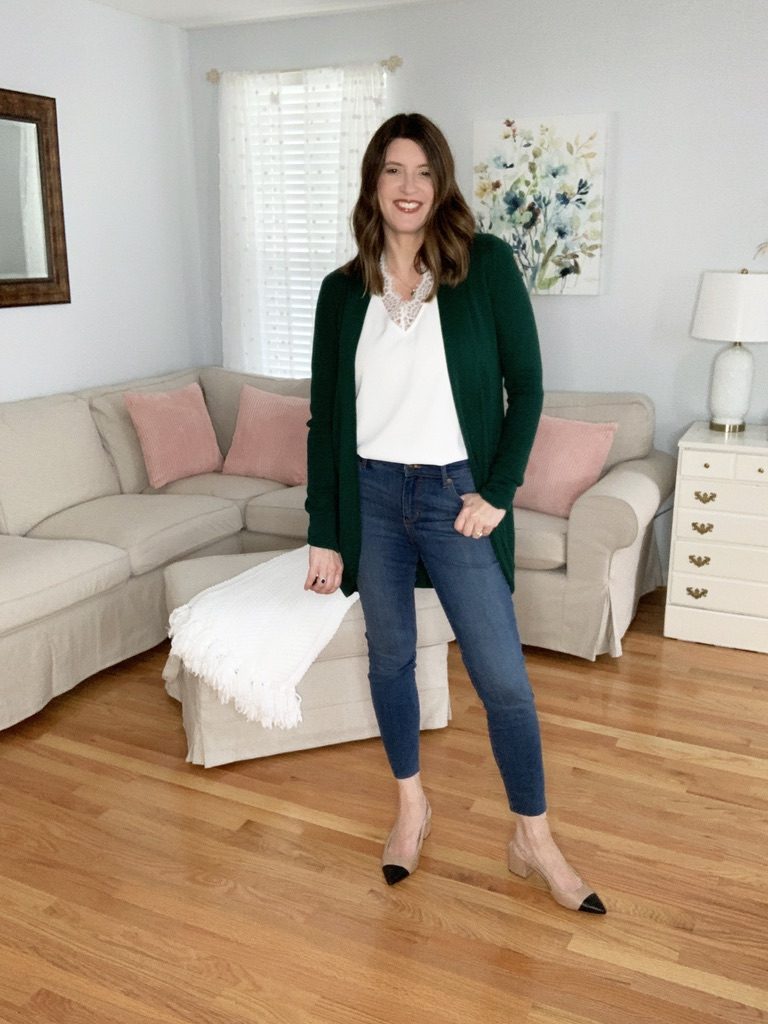 In the second look, I paired a swiss dot blouse with skinny jeans and some dressy flats. I just love these shoes! I found them at Express and they are very similar to a designer style that I have seen, but cost a lot less.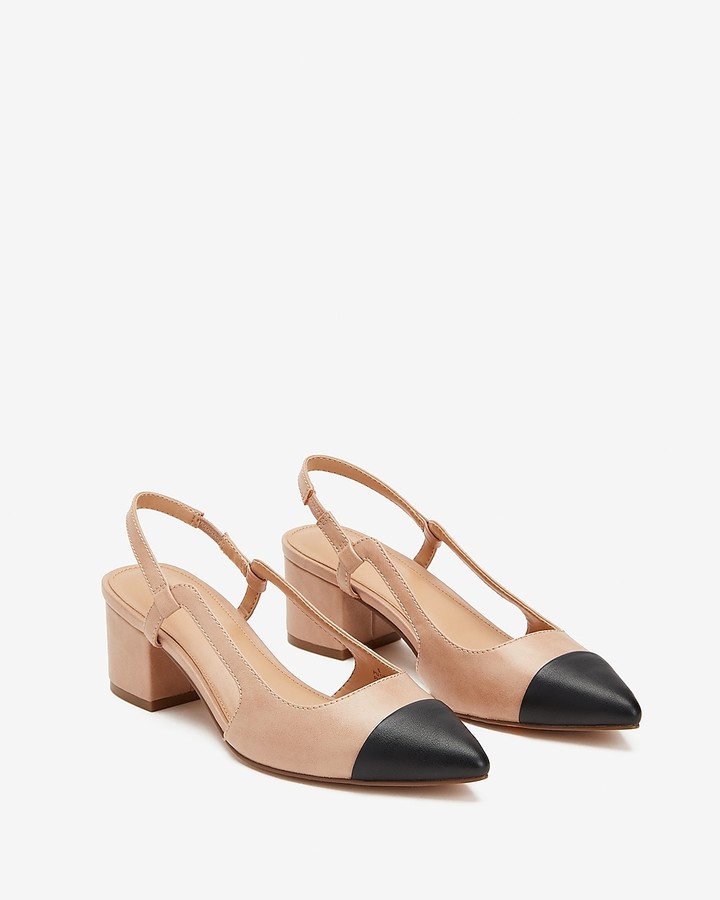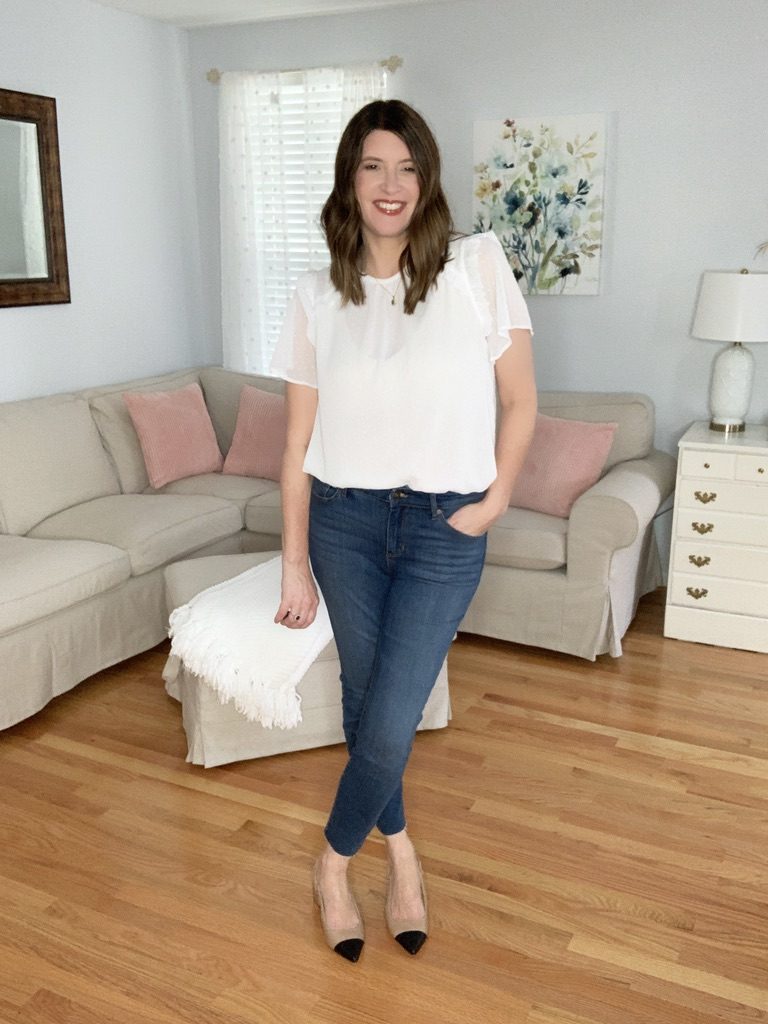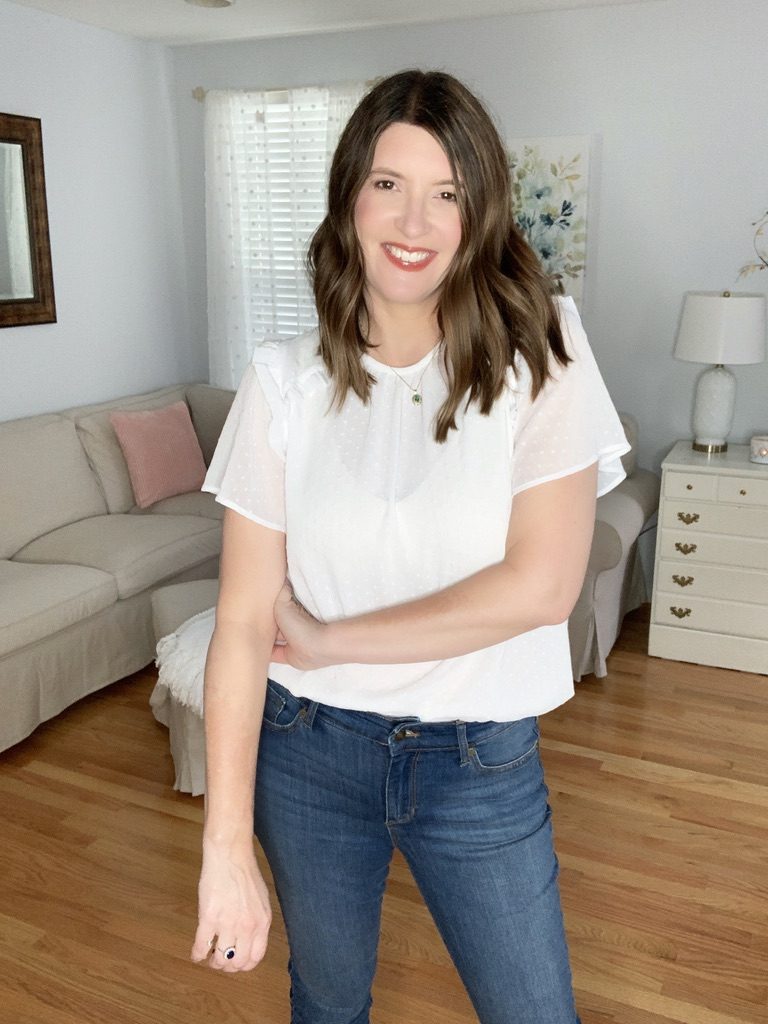 Leggings or Jeggings
When thinking about how to shop your closet for holiday outfits, don't forget about leggings or jeggings!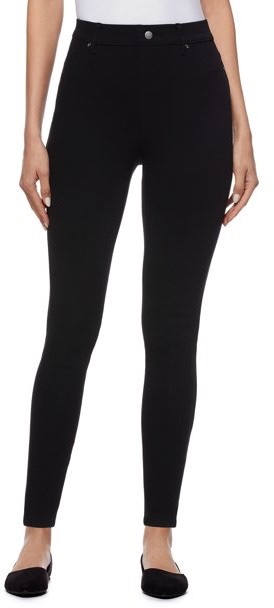 Remember the Time and Tru jeggings that I featured a while back? Well, these pair perfectly with a long tunic length sweater! Regular black leggings would also work here. I chose a bright teal green sweater from Amazon that I purchased last year.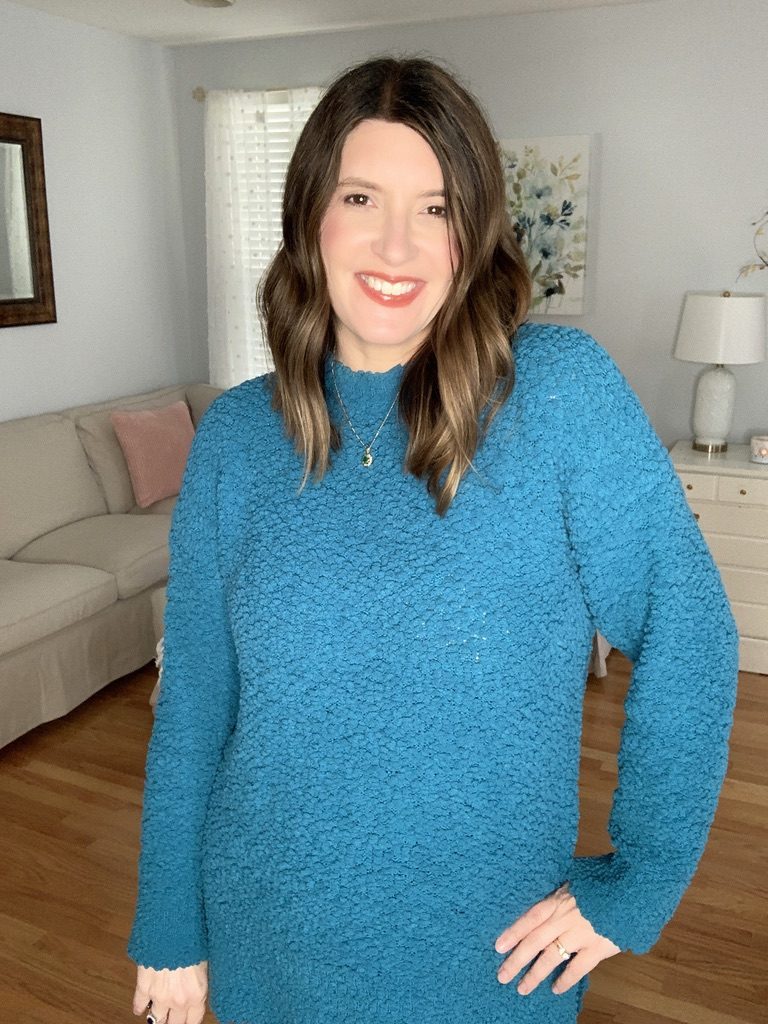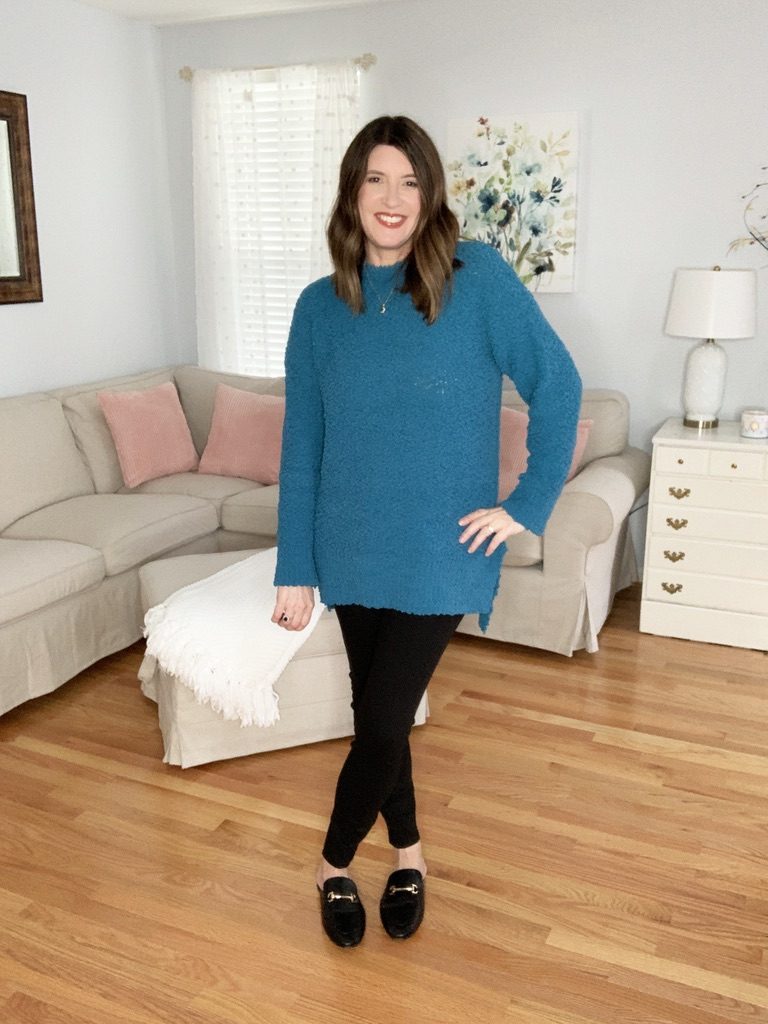 The beauty of these jeggings is that they can be worn like pants as well. Here I went with the traditional red plaid shirt (which I love) and tucked it in to the black jeggings. Black mules take the place of boots, but ankle or knee high boots would also look nice.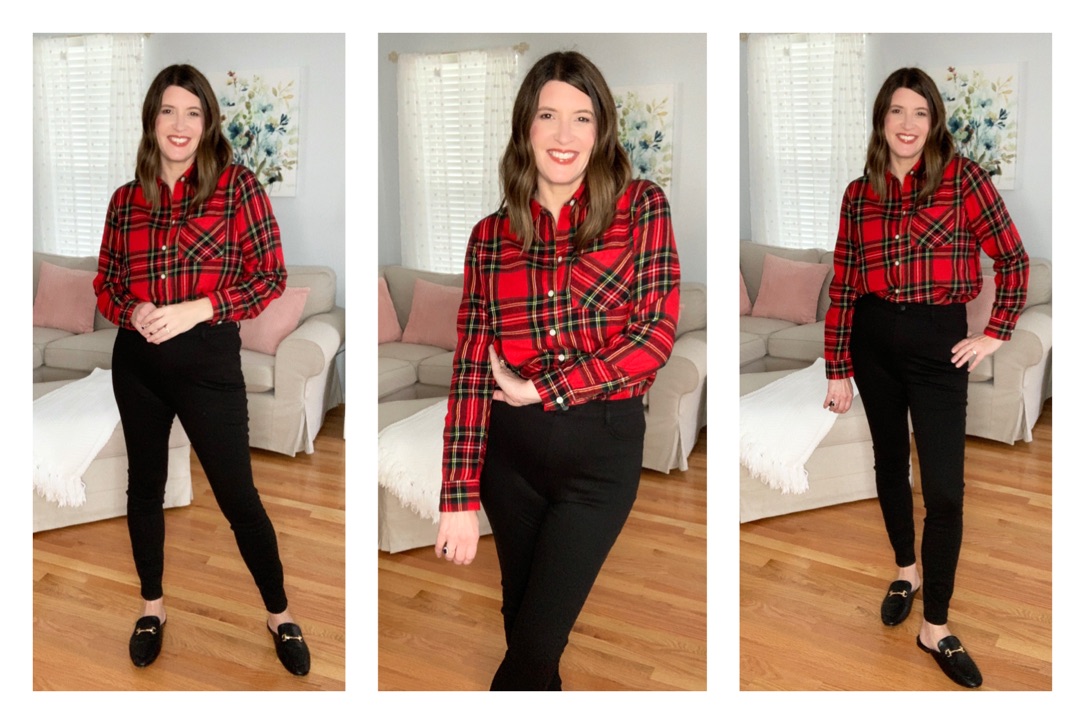 Icy/Cool Tones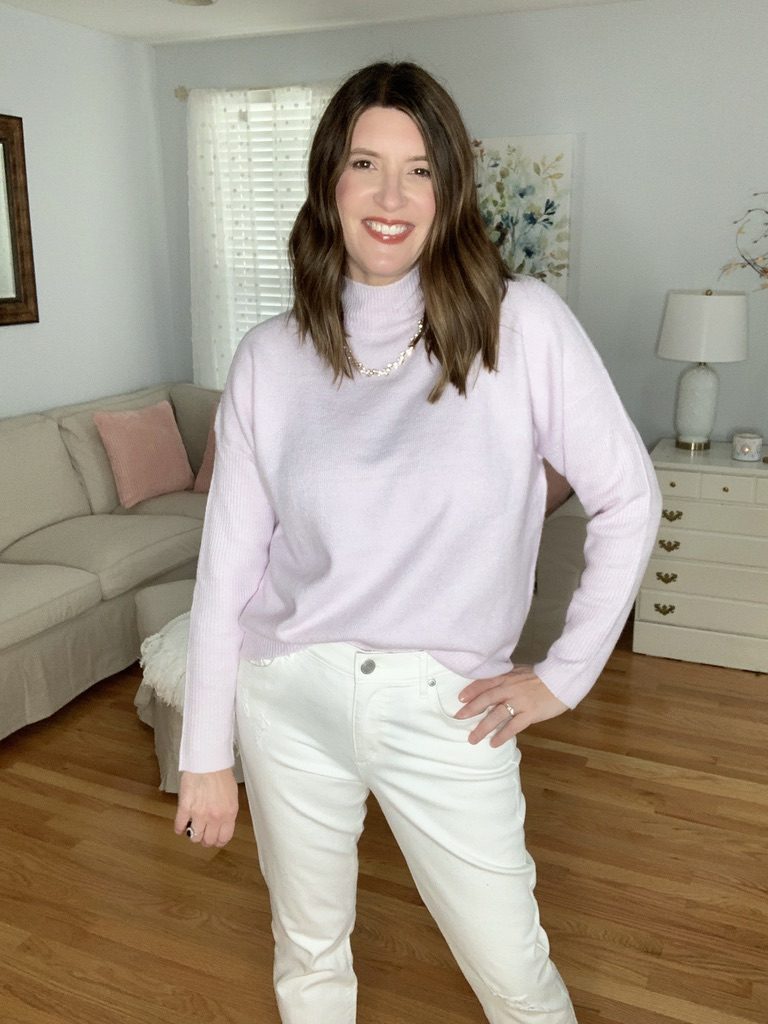 The last tip on how to shop your closet for holiday outfits is to think icy cool tones. Pastels like lavender, pink, and blue are good examples. You will look like you are ready to go out in the snow in these icy colors!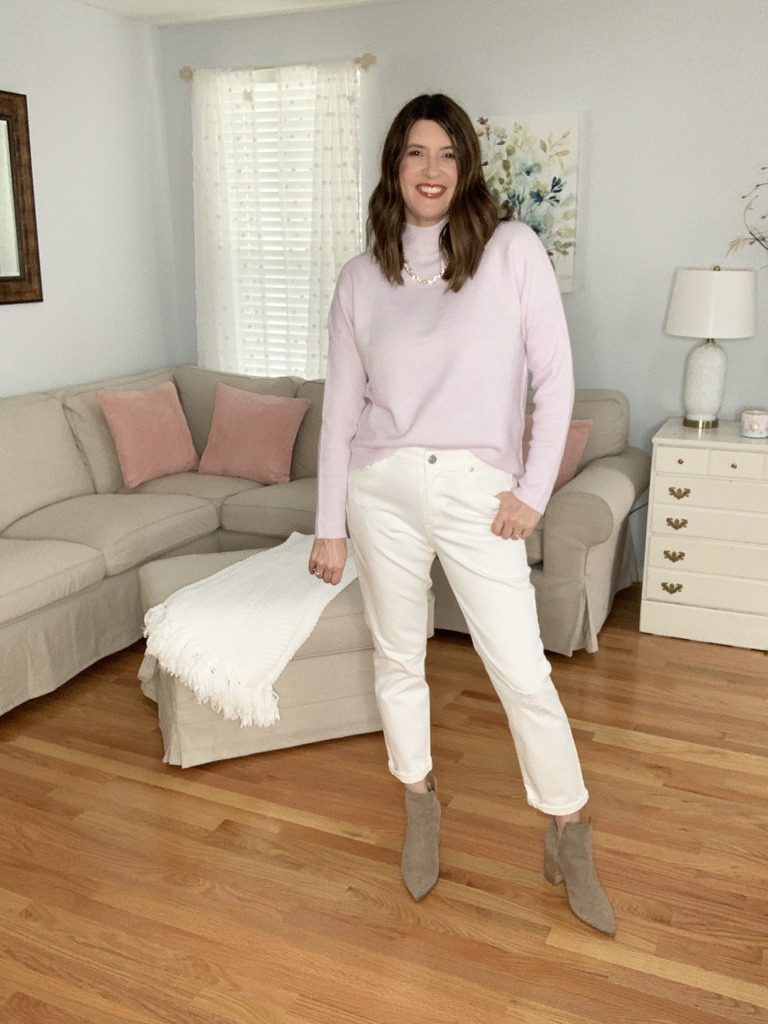 Here is a great way to wear your white jeans for the holidays. Pair them with a pastel sweater. This sweater is from Walmart and it is a pale lavender that almost looks pink. It is no longer available, but the pale blue version is. A little front tuck helps to define your shape, and the ankle boots with a heel elongate your legs.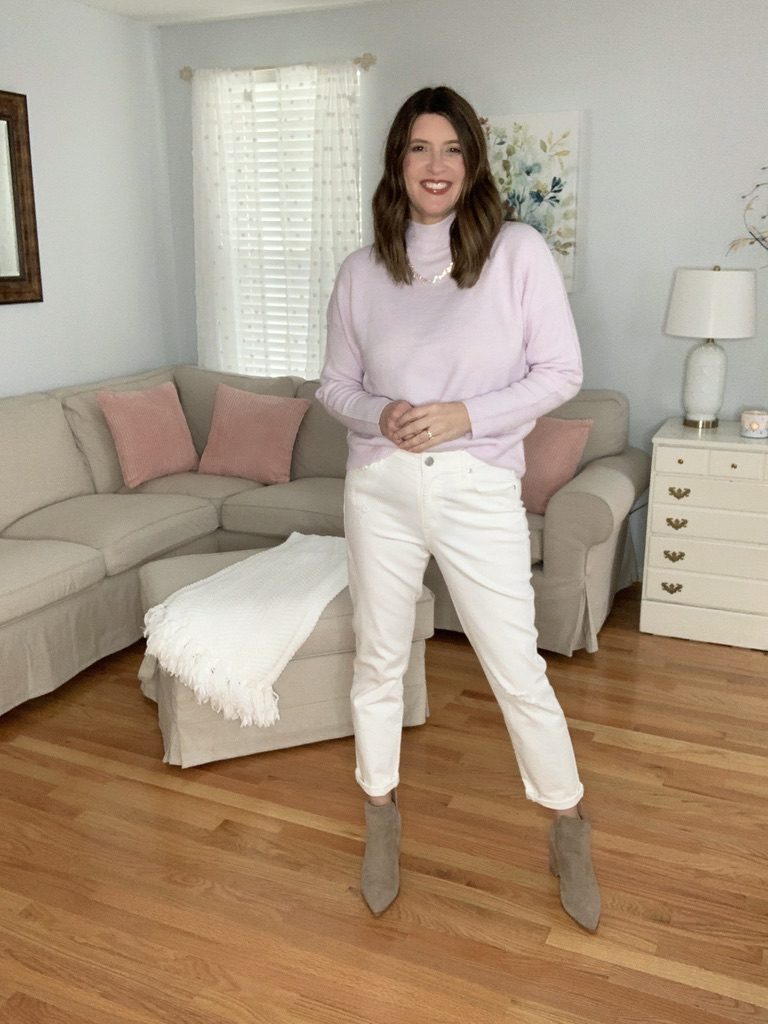 Another example is this pale pink tunic sweater from Old Navy. This is a recent purchase and I also have it in a beautiful dark green color. Skinny jeans and tall boots complete this festive holiday look.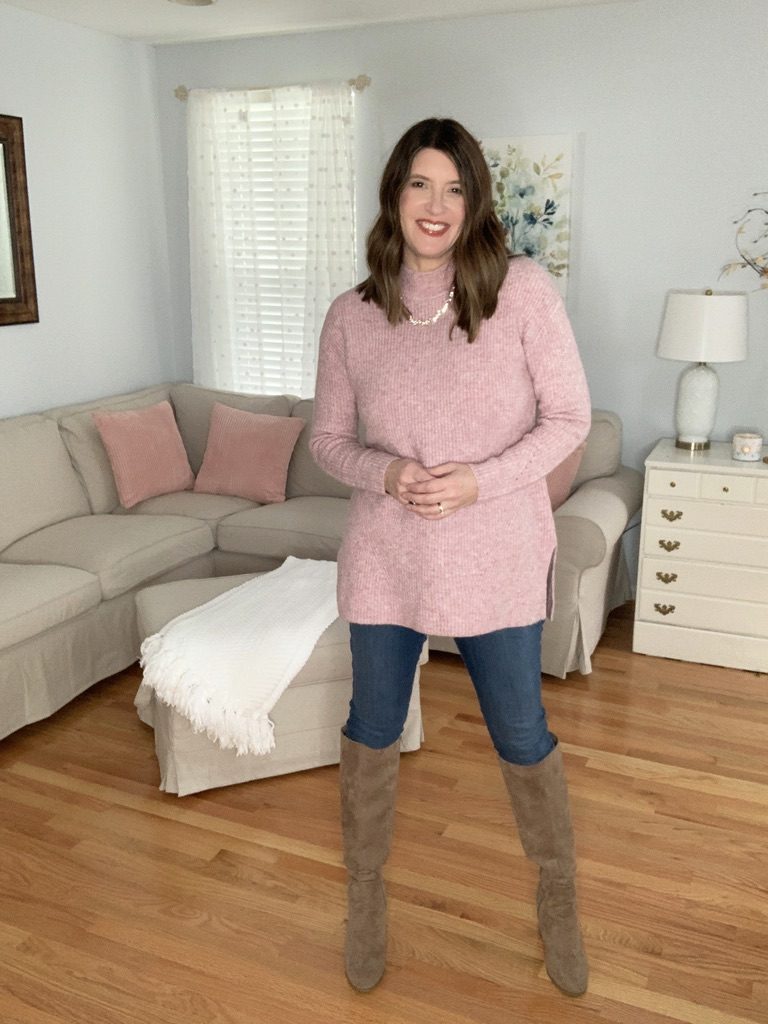 Well, I hoped you enjoyed these examples of how to shop your closet for the holidays. Did you see anything that you could replicate? I had such a good time putting these outfits together. It was almost as fun as going shopping for new clothes! You might want to pin some of these images to your Pinterest board to refer back to later. These are not only holiday outfits, but pieces that you can wear all winter long.