Soma is by far my favorite retailer for pajamas and undies. The quality is top notch and they make their pieces to fit real women. I give my husband a Soma wish list every year, and I have already highlighted my favorites in a recent mailer that somehow found it's way to his desk. Hmm, I wonder how it got there? Today I want to share several cozy gifts for her from Soma. I think any woman would enjoy getting some of these!
Soma Cool Nights Collection
My cozy gifts for her from Soma collection would not be complete without my favorite Cool Nights Pajamas.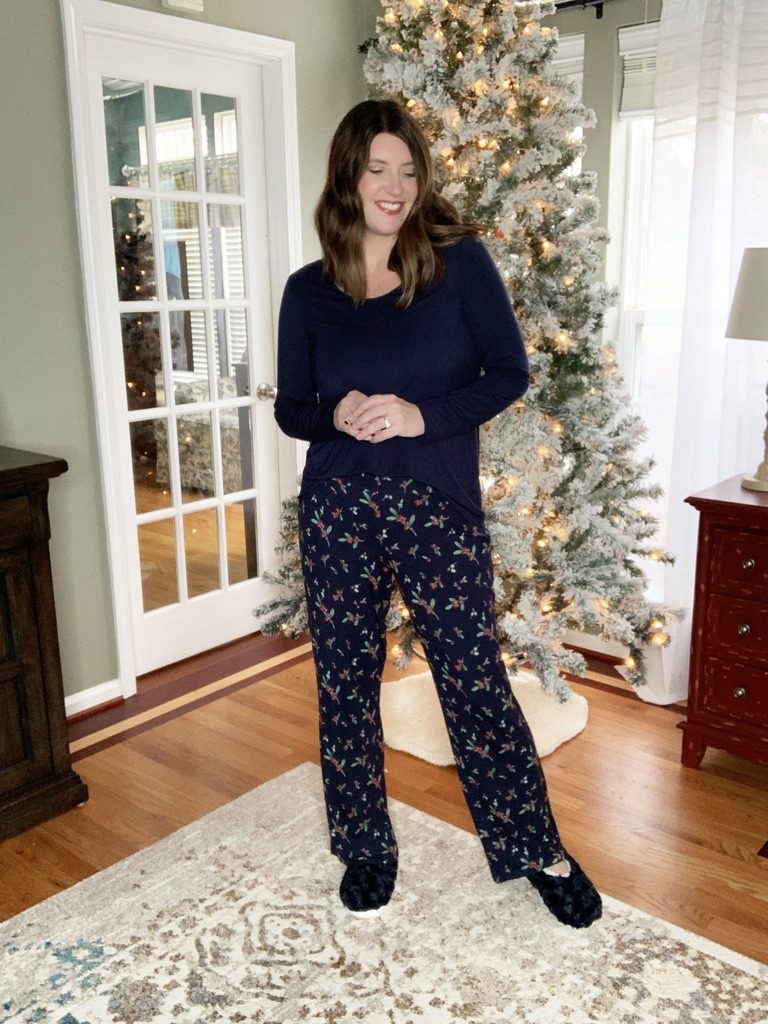 If you struggle with getting hot at night or waking up drenched in sweat (the joys of hormones), then you will definitely want to try the Cool Nights Collection! It's amazing how they really do feel cool to the touch, but they don't make you cold either. Will these Pj's eliminate night sweats? No, but they sure make it easier to deal with.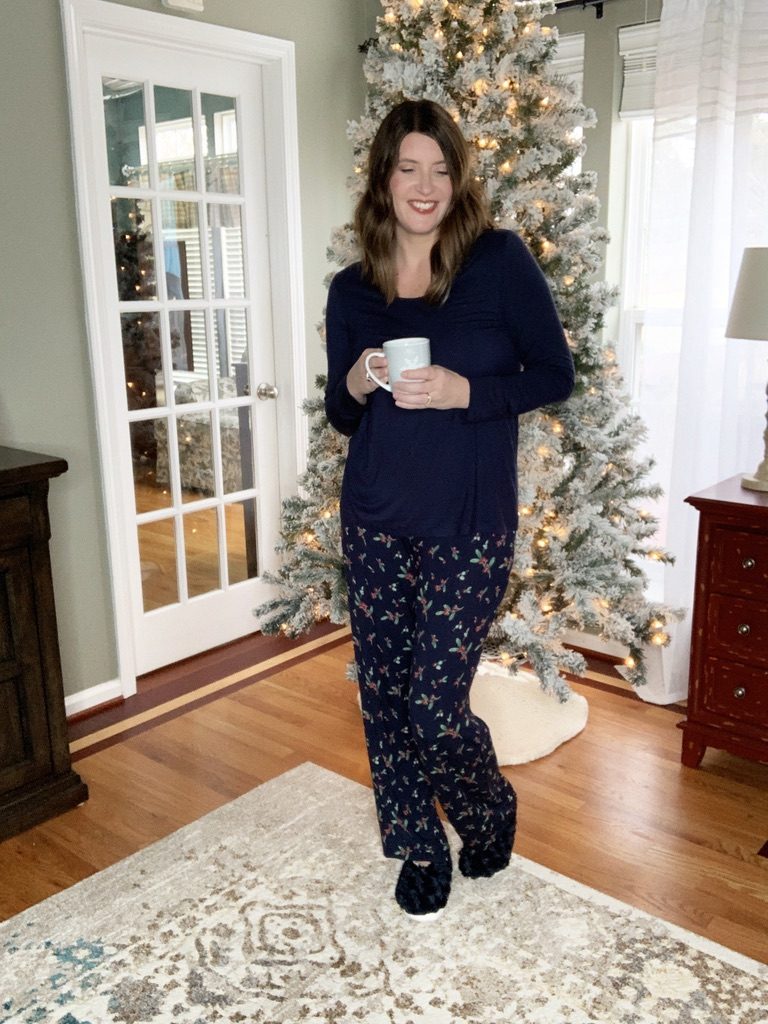 I own several styles. Night shirts, pants sets, shorts sets…I love them all! Their holiday collection is beautiful this year. I chose these Merry Mistletoe pajamas in navy. There sizing seems to run just a little big to me, so size down if you are in between. I am wearing a medium, which fits me nice and loose. No one wants pajamas that are too tight! These make great lounge clothes .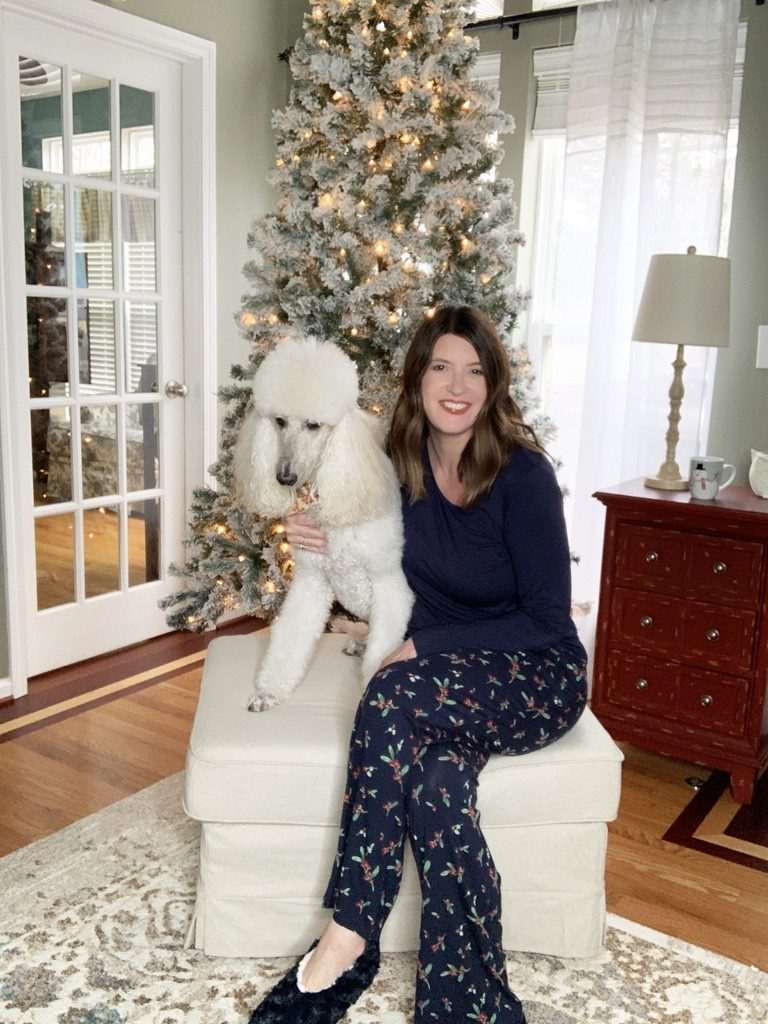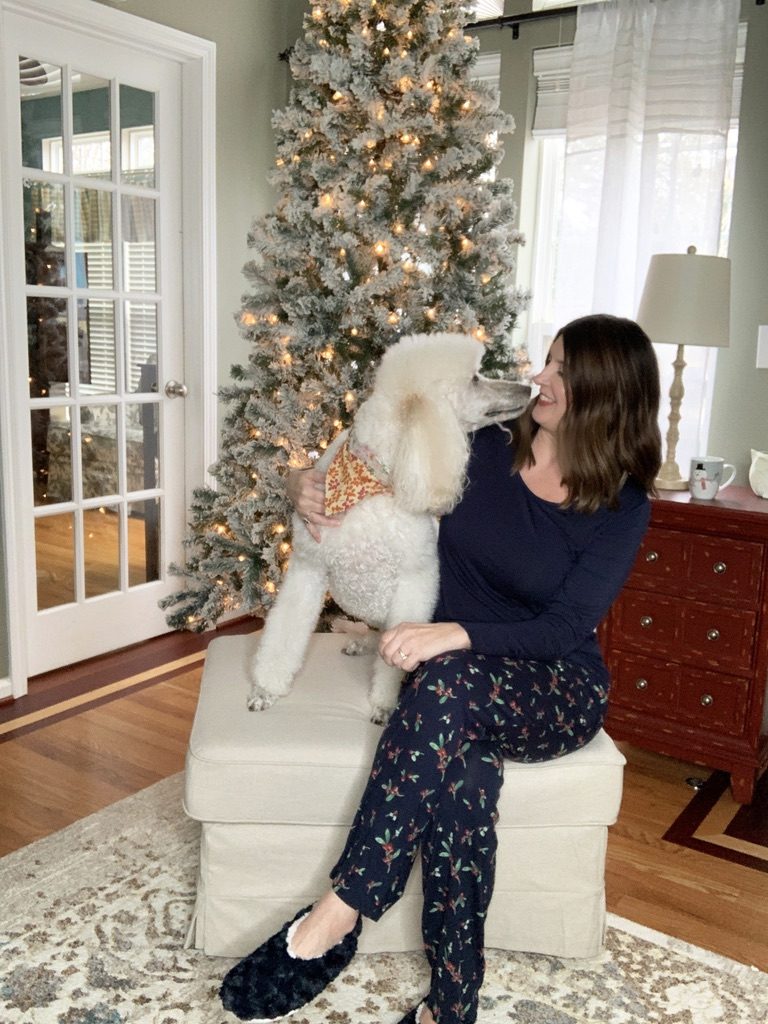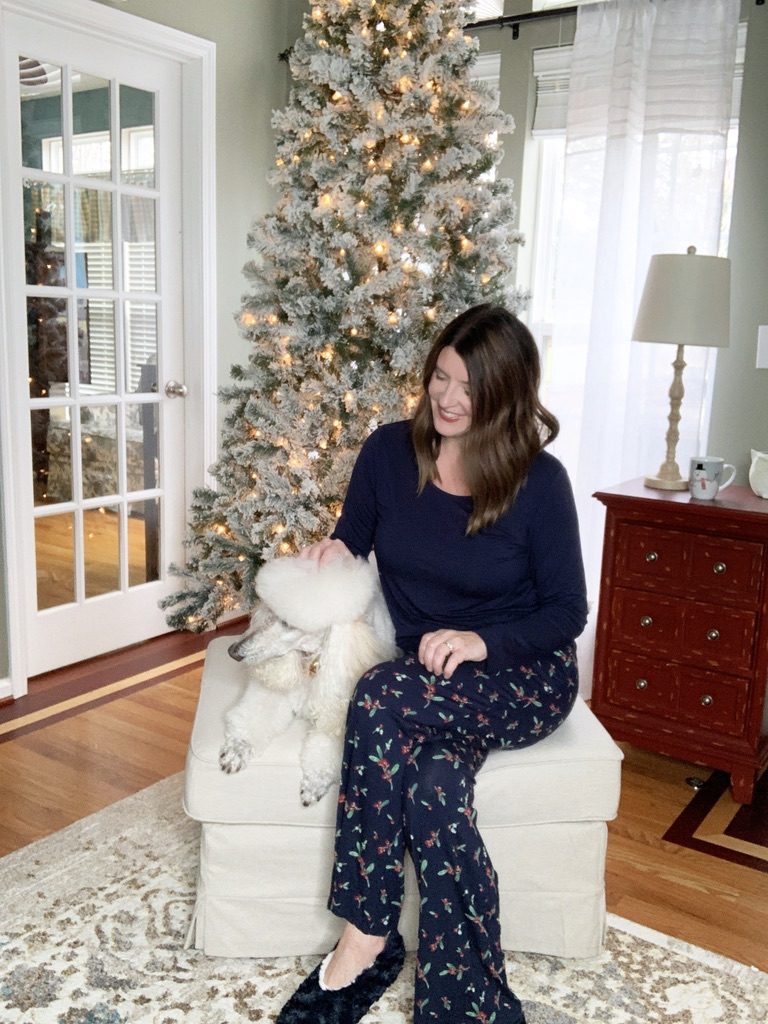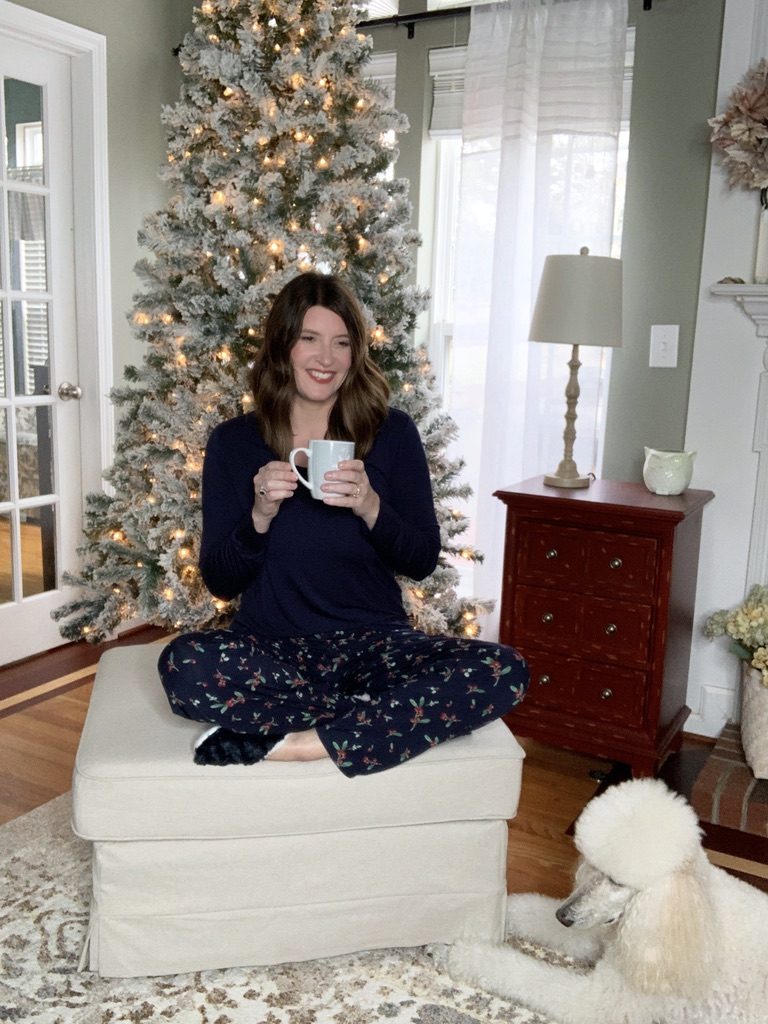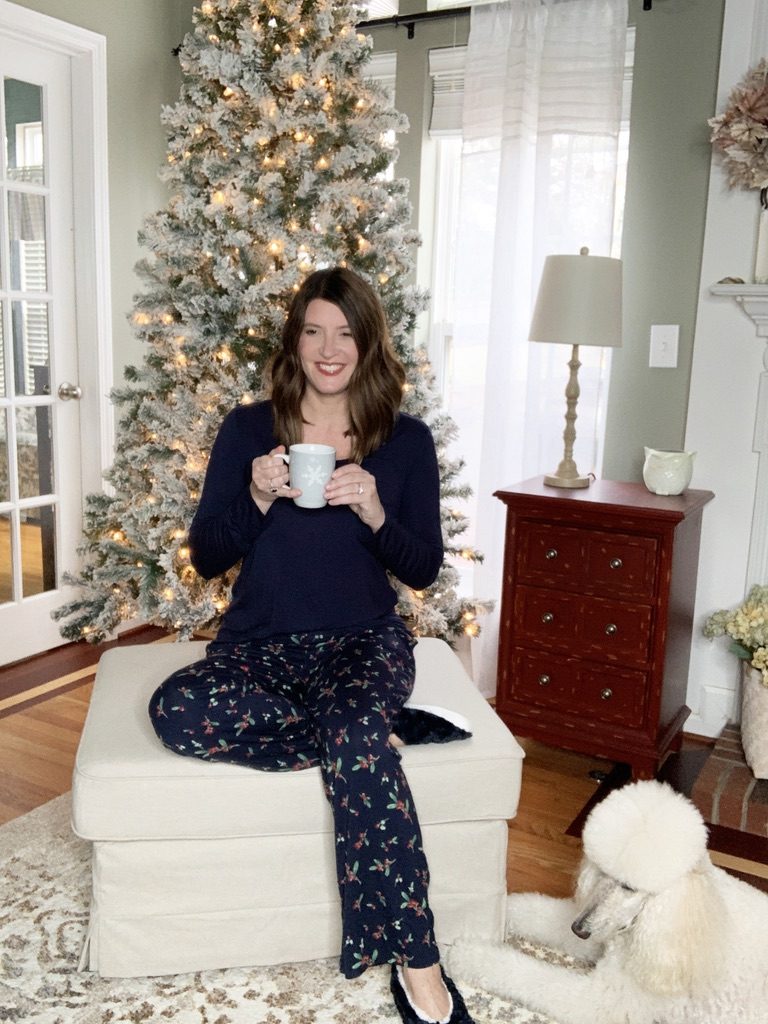 The slipper socks in nightfall navy complete this set. They are so soft and comfortable!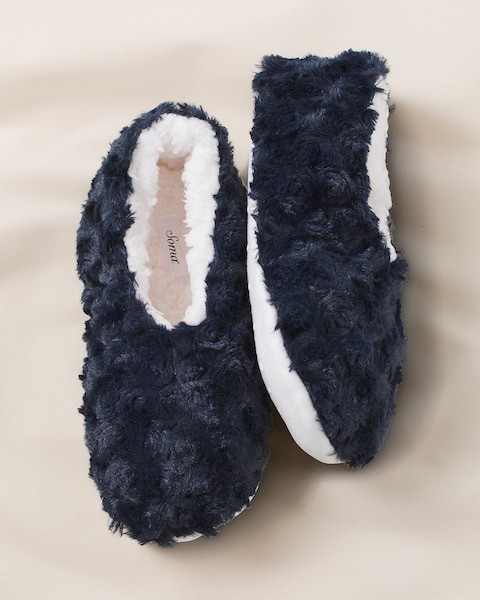 Enbliss Wireless Bralette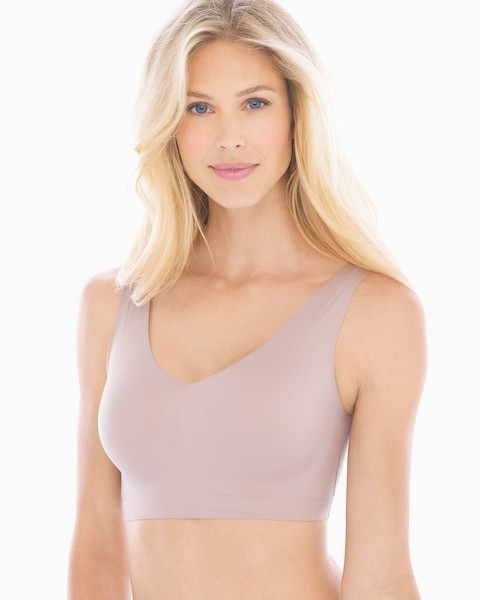 If you are looking for a comfortable and functional bralette, this is THE ONE! Don't let the term bralette fool you. This bralette has plenty of support and is so flattering under any kind of top. I wear mine for almost all my blog photos. For size reference, I am normally a 38D in most bras, and I wear an XL in the Enbliss Bralette. It is comfortable enough to sleep in if you choose, or to lounge around the house in.
Gift Guides
I have rounded up some of my favorite cozy gifts for her from Soma. These products are all linked for your shopping convenience! I'm sure any woman on your shopping list would appreciate one of these gifts.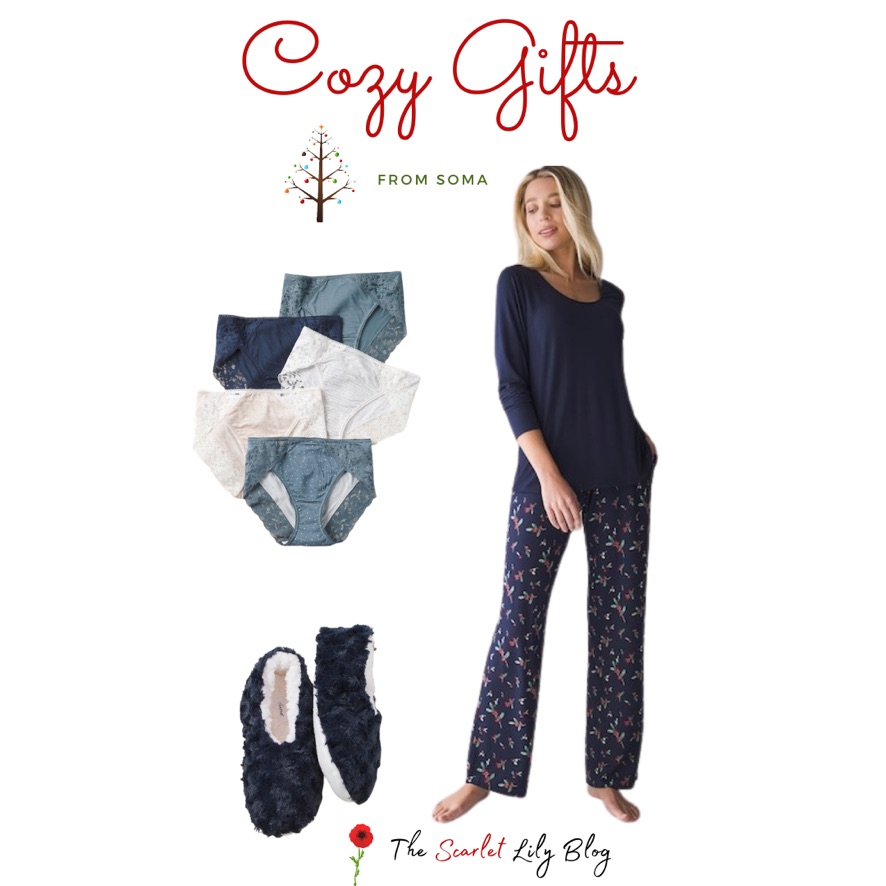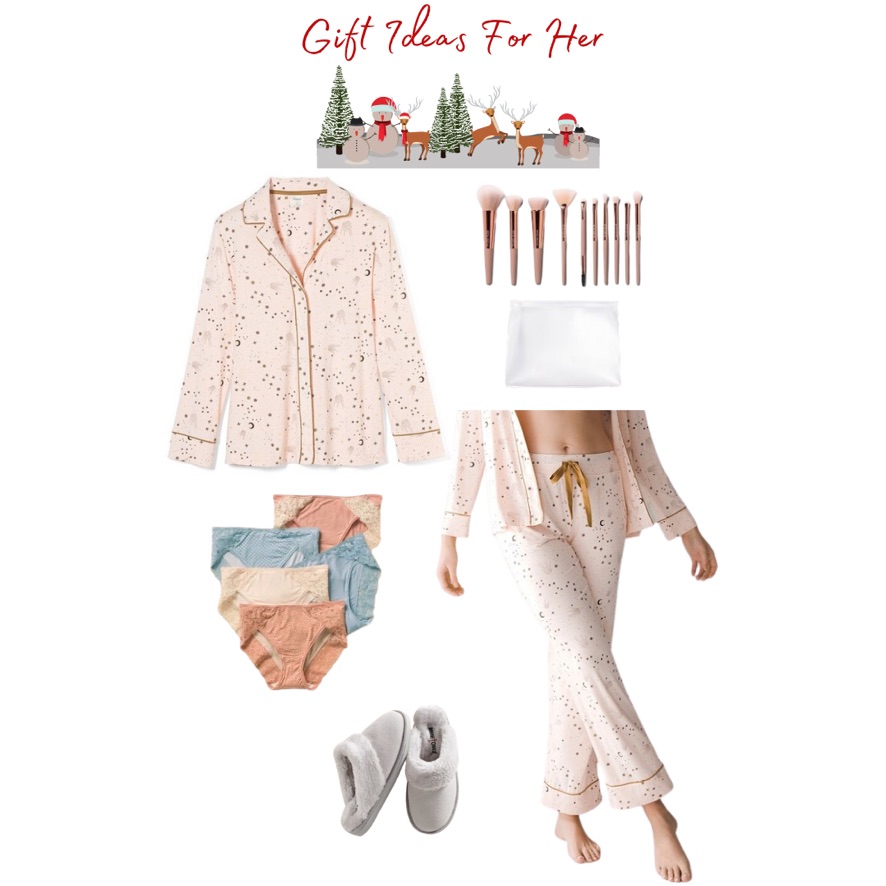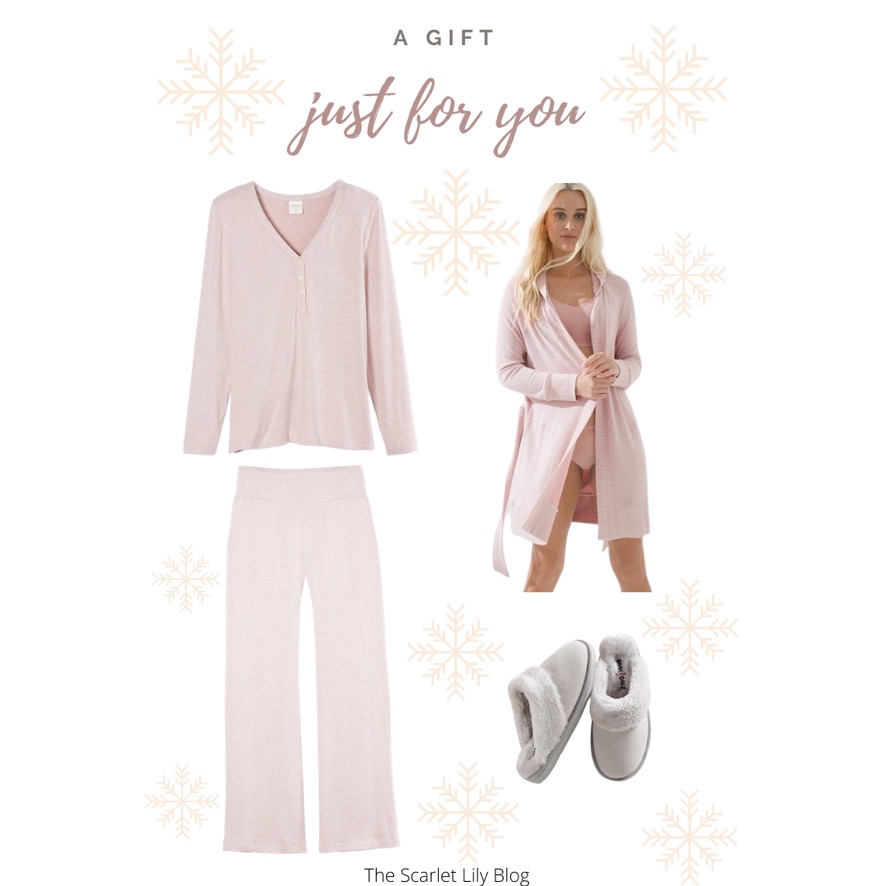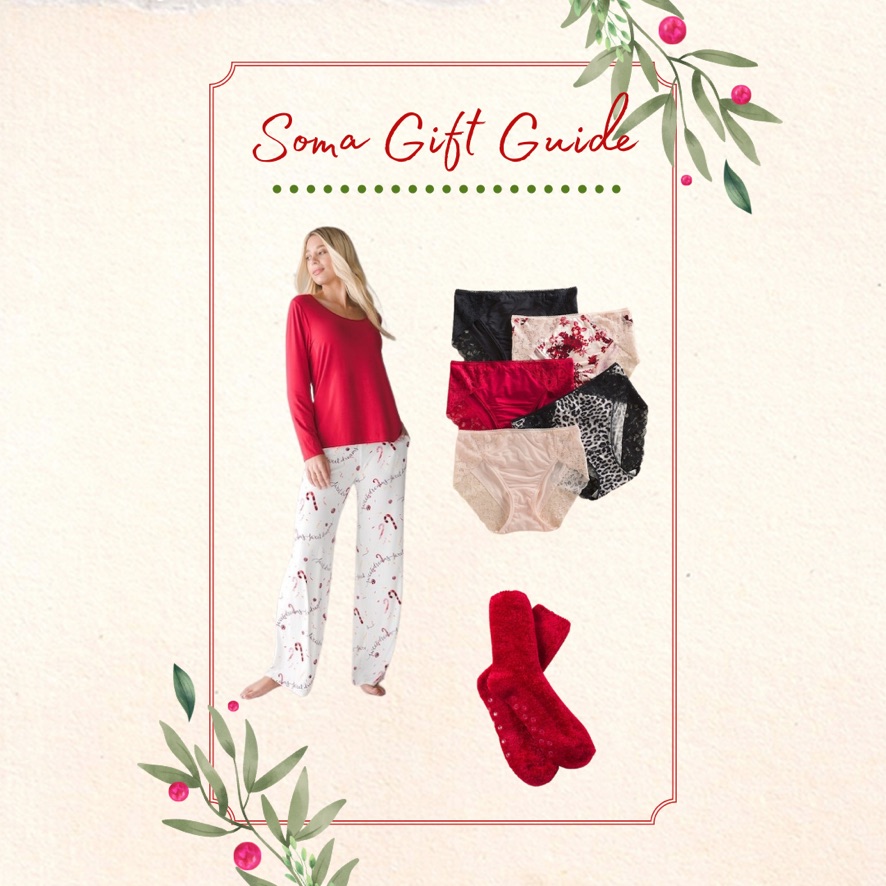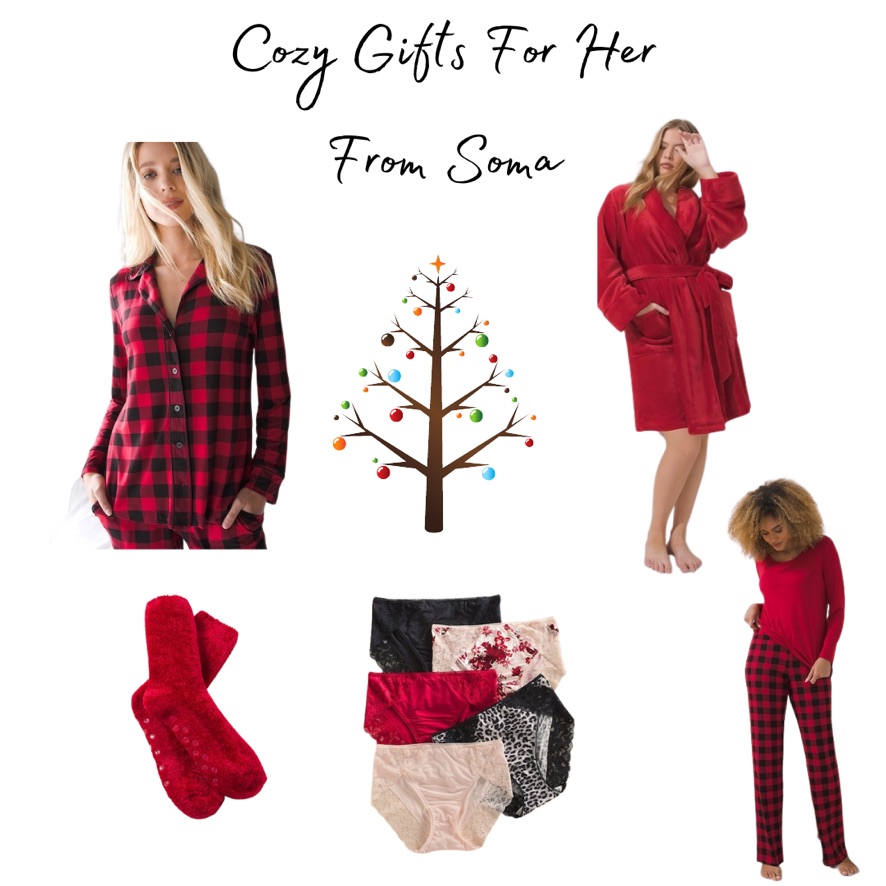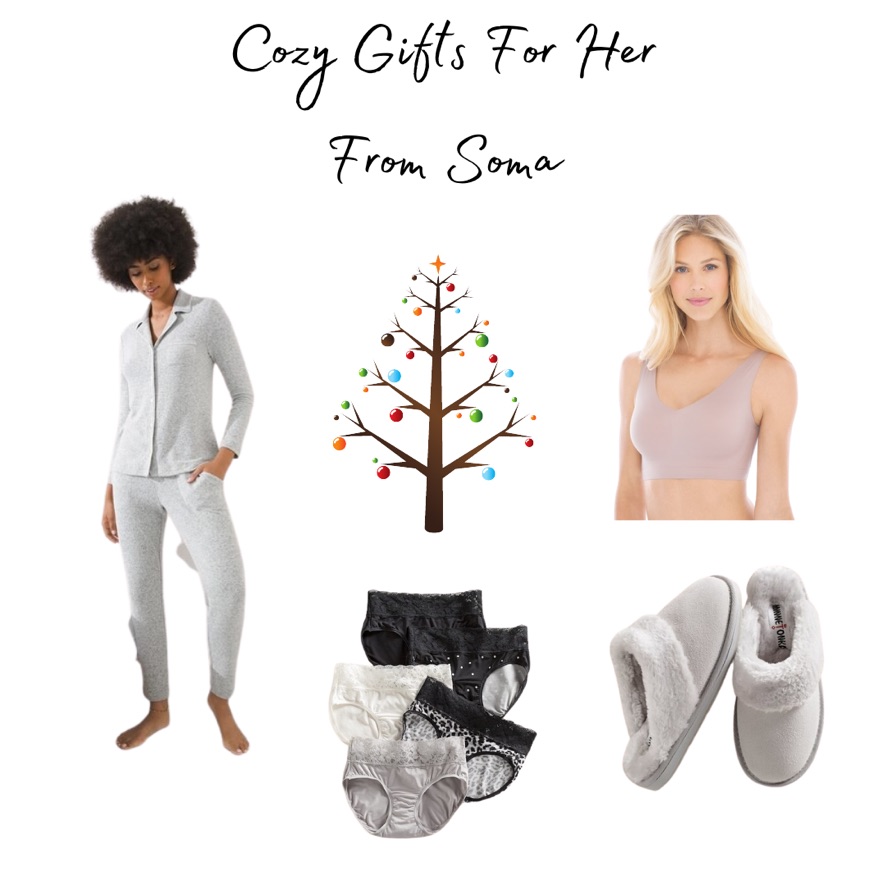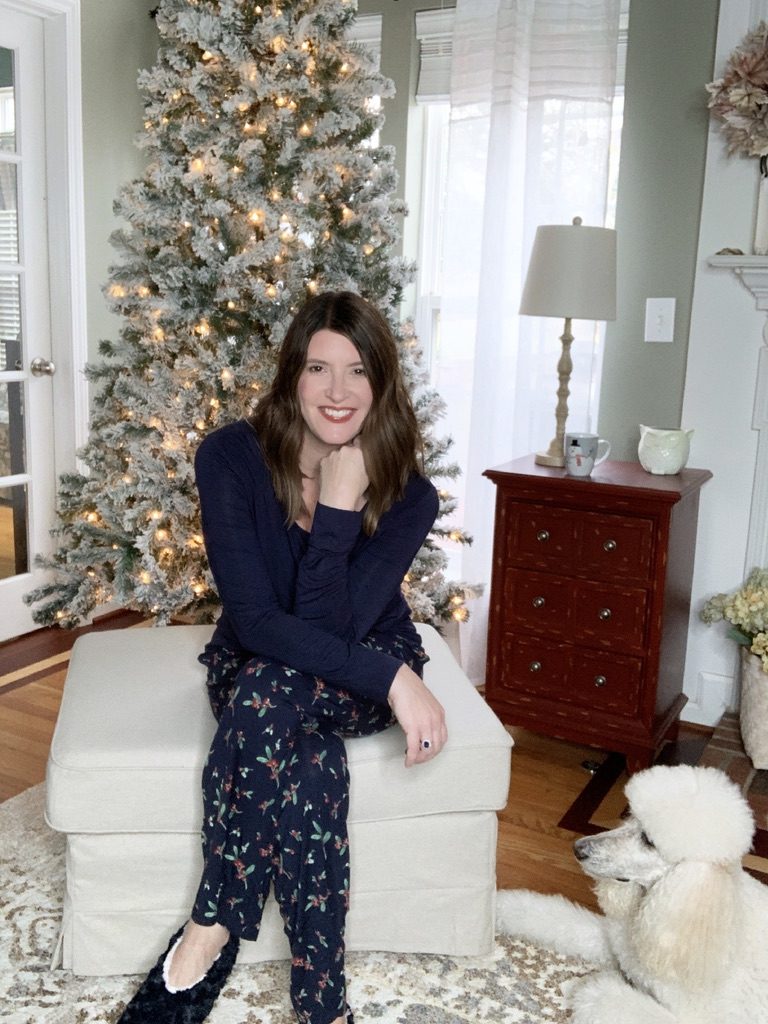 I hope you enjoyed these cozy gifts for her from Soma. I think any woman on your Christmas list would enjoy some of these items this year! You might also enjoy this post that features Soma products.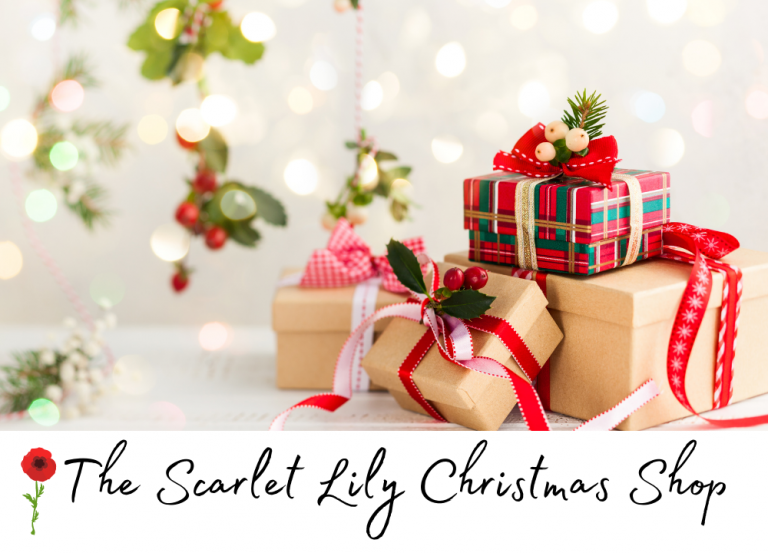 Don't forget to check out all of my gift guides for Christmas 2020 in my Scarlet Lily Christmas Shop! There is a tab in the menu that will take you there. There are several items that do not appear in any blog posts that you don't want to miss.