April is zooming right on by, and I always keep a running list of random things that I'm really enjoying. That way when I get ready to share all the new things I've tried, I don't forget anything. This months' list has already gotten quite long, so I want to go ahead a pass them along to you! These are April favorites worth considering and they are things that I haven't shared (except for one) before here on the blog.
Last month I did L'oreal favorites, so if you missed that one you can see it here.
Beauty
Most of the favorites for today's post are in the beauty category so I'll start with those.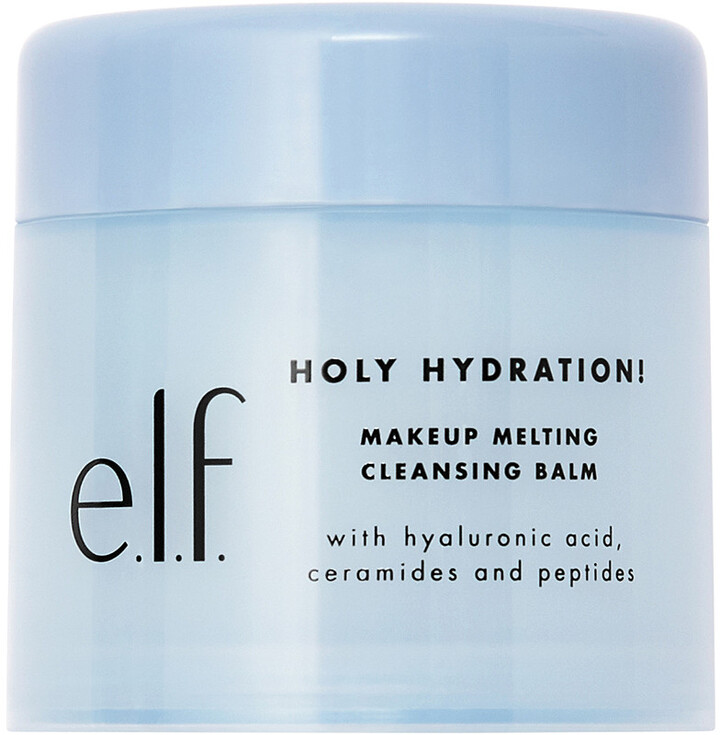 This is a makeup melting cleansing balm that melts into an oil that removes makeup. It also contains hyaluronic acid to help hydrate and plump the skin, ceramides to build up the skin's moisture barrier, and peptides to reveal a more refreshed complexion.
My favorite cleansing balm is the Clinique Take The Day Off, but at $30 and up depending on where you purchase it, I'm always looking for a more affordable option.
I have enjoyed using this product and it does a good job at removing my makeup. It doesn't do quite as good a job at stubborn waterproof mascara as the Clinique, but it's definitely worth a try and it's only $10. Currently it's on sale at Ulta for $7.70.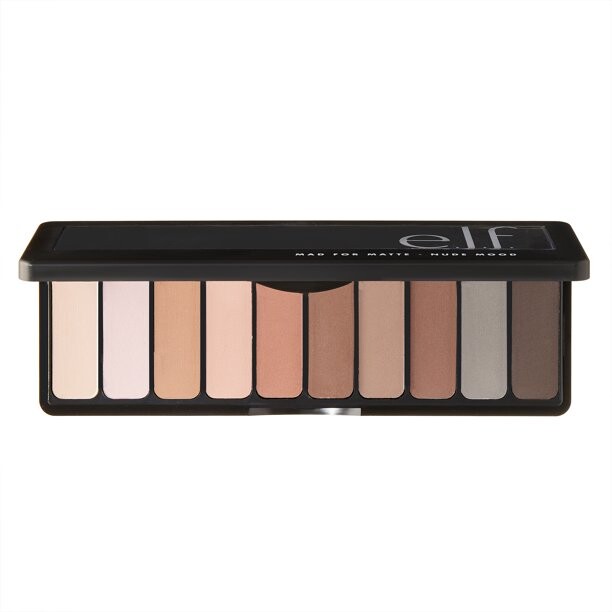 Another April favorite worth considering is this e.l.f. Mad For Matte Eyeshadow Palette in the shade Nude Mood. This is another e.l.f. product that exceeded my expectations! The shades are well pigmented and easy to work with. Mattes are great for mature skin, and this is a great neutral palette. You get 10 pans of color for only $10!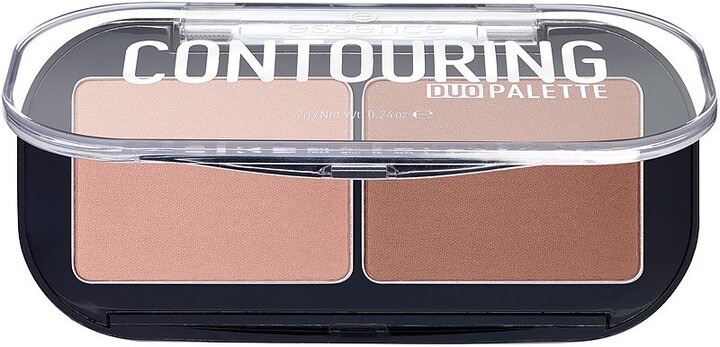 Finding a contour color that does not appear orange or warm on the skin can be difficult. I found this one, and I've been using it for a couple of weeks. I'm not heavy into bronzing and contouring, but I do like to contour my cheekbones just a little bit.

This is a water based sunless tanning mousse that is free of dyes that dispenses as an airy foam that is easy to spread. There is no self tanner smell, and I have not had any problems with it transferring onto clothes. I use the medium shade.
For more on my favorite self tanners and how to apply them, you may enjoy this post.

Aquaphor has long been known for it's ultra hydrating products. This is a unique product that I just had to try. I'm always battling dry skin, and now that warmer weather is here we all want our skin to look nice and hydrated.
This is a moisturizing spray that you mist onto your body and then just gently rub it in. I like to use it right when I get out of the shower. I can really tell a difference when I use it, and if you struggle with dry and itchy skin this is definitely worth a try.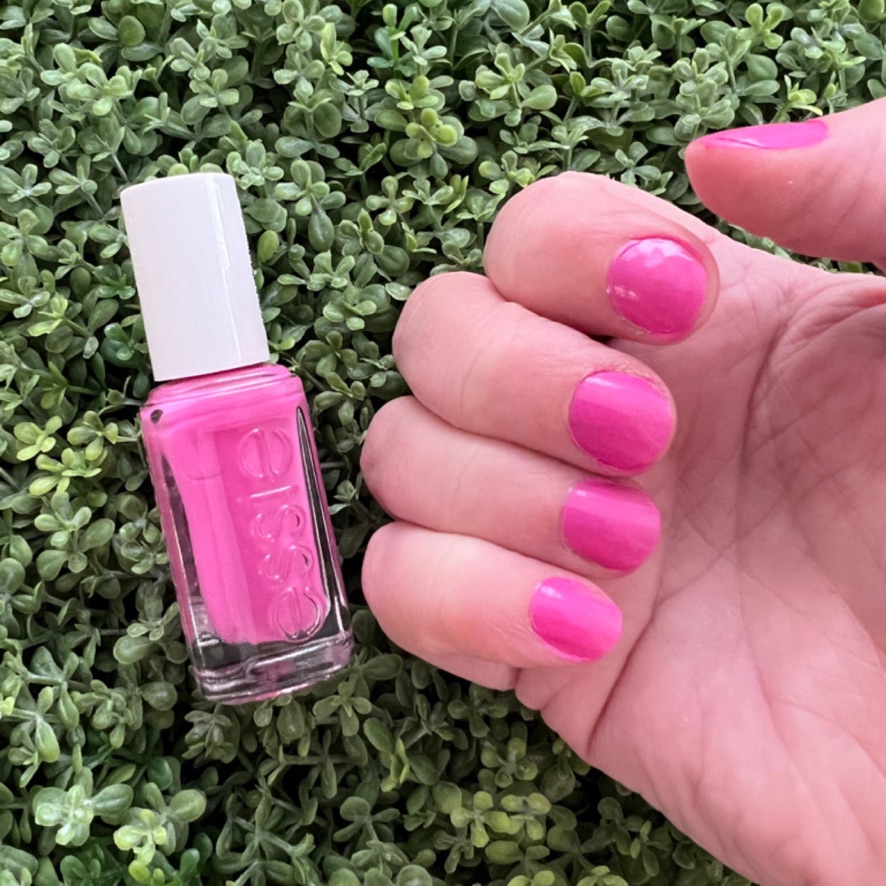 If you follow me over on Instagram, you have already seen this product. Essie's Expressie Quick Dry Nail Polish is perfect for a quick manicure when you don't have time to wait around for your nail polish to dry! I purchased the shade Trick Clique and it's the prettiest pink for spring and summer.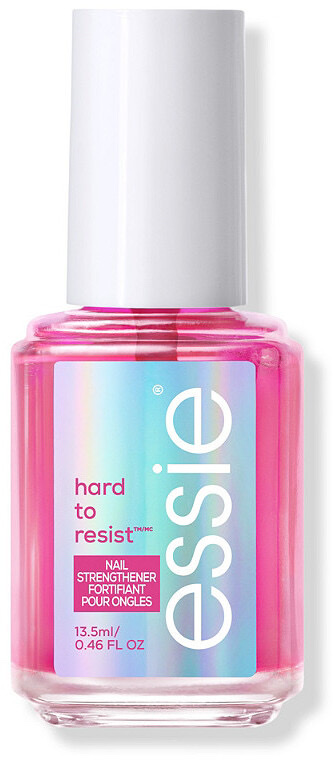 If you just like a hint of color and shine to your nails, then you might like this Essie Hard To Resist Nail Strengthener in the shade glow and shine. It's almost clear, but has just a hint of pink to it that makes your nails have a healthy glow.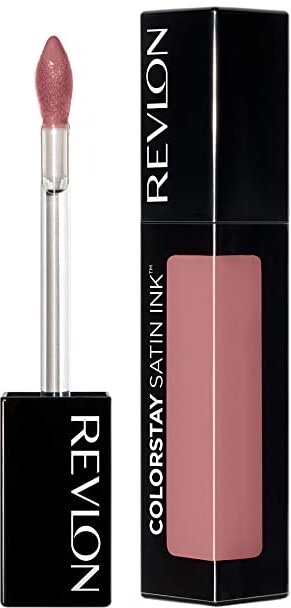 I've never been a fan of ultra long wearing lip products because they are uncomfortable on the lips and the matte finish is unflattering on older women. Revlon has a color stay lipstick that has a satin finish. This gives it a more moisturizing feel and a more flattering look.
I tried the shade 007 Partner In Crime. It is a very neutral color and I would recommend it if you are looking for a longer wearing lipstick that doesn't dry out your lips.

Described as "one of a kind non-greasy body lotion glides on comfortably to soothe skin without stickiness" I would recommend this as a good option for a daily body moisturizer. It is oil free and absorbs quickly into the skin.
Accessories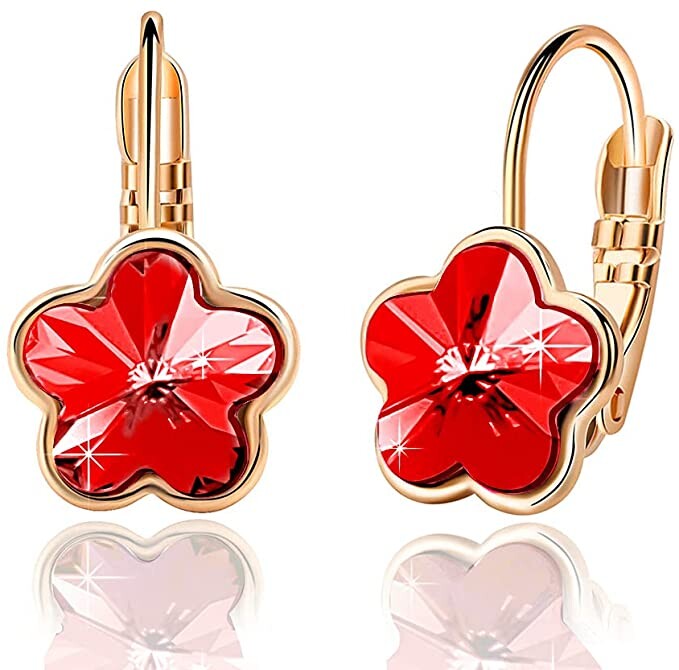 I saw a YouTuber show these recently, and I ordered them immediately! Amazon has some really affordable fashion jewelry and these crystal drop earrings are so cute for spring and summer. I chose the red, but they also come in several other colors.
Apple Watch Bands
My apple watch had just been sitting in a drawer for months. For some reason, I just don't use it very much. I decided to charge it up and start wearing it again, and I ordered a couple different styles of apple watch bands to change up the look.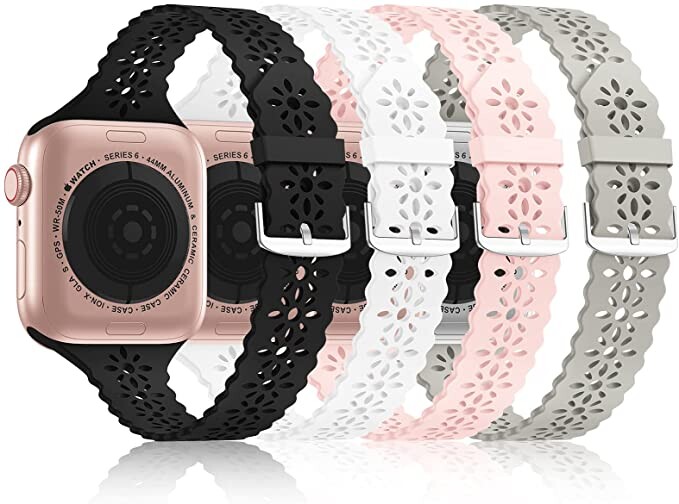 The first style is this silicone band with a flower lace pattern woven into it. You get the whole set of 4 different colors for $16.99.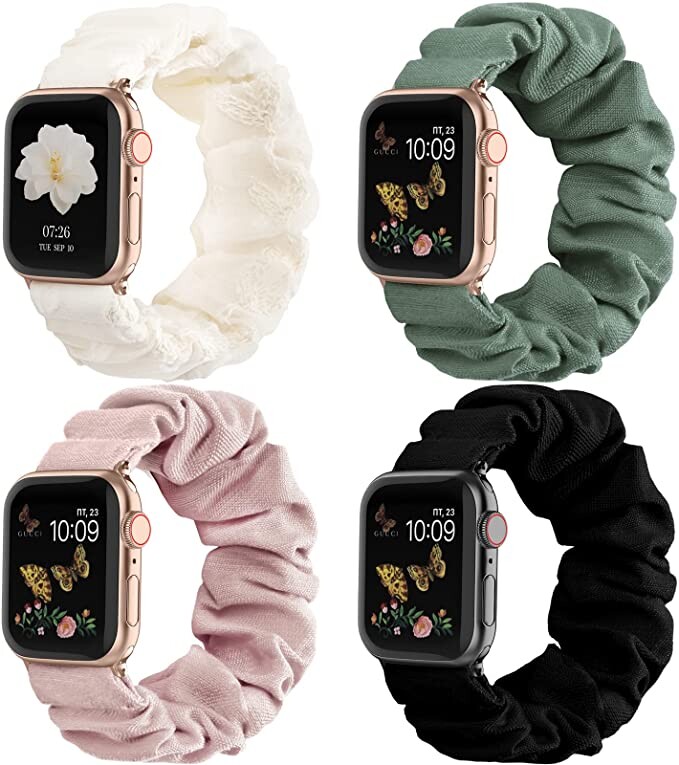 The second style is just as cute and they look like scrunchies for your hair! This pack of 4 is only $12.99.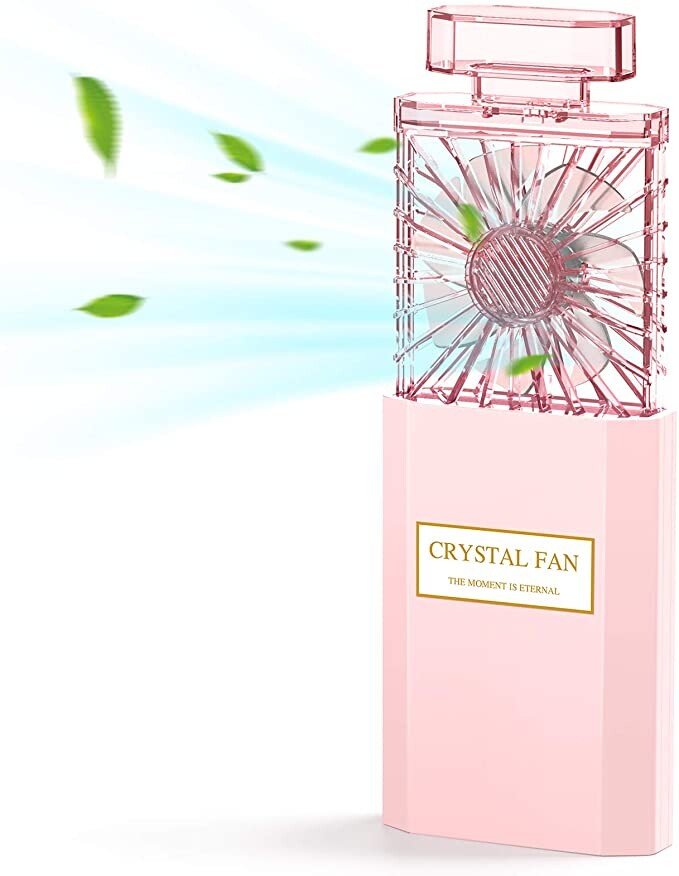 How cute is this handheld fan? It looks like a perfume bottle, but when you open it you can give yourself a little cool breeze. I like to use it to help my skincare products dry on my face after I apply them. You can also carry it around in your purse in case you have a sudden hot flash. It is rechargeable, so no need for batteries.
Fashion
Loungewear From Kohl's
I shared this outfit on Instagram recently. This is a typical work at home outfit for me on a warm day. I need comfort for computer work, but I also like to feel put together.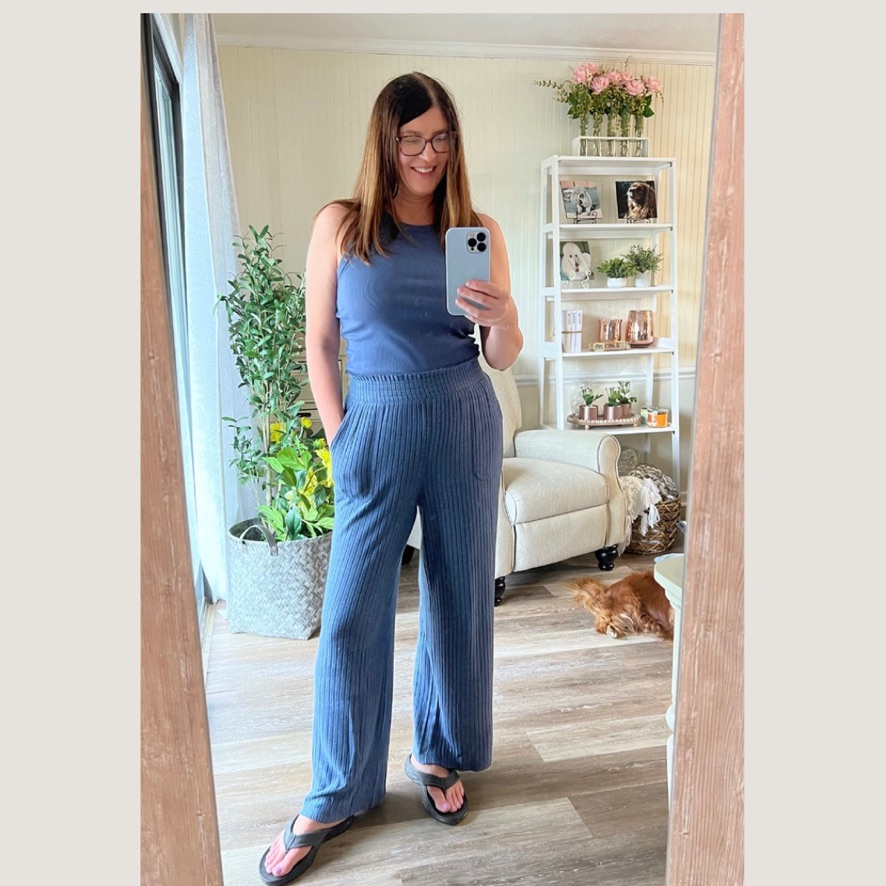 I love these high neck tank tops to wear alone or as a layering piece. I'm wearing an XL because this is a junior brand. The pants are also from the junior department, and I'm wearing a size large. I purchased these pieces in multiple colors, and if you enjoy loungewear like I do, then you will want to check these out! Last time I checked, the pants were marked way down to $7.56.
Crown & Ivy Dress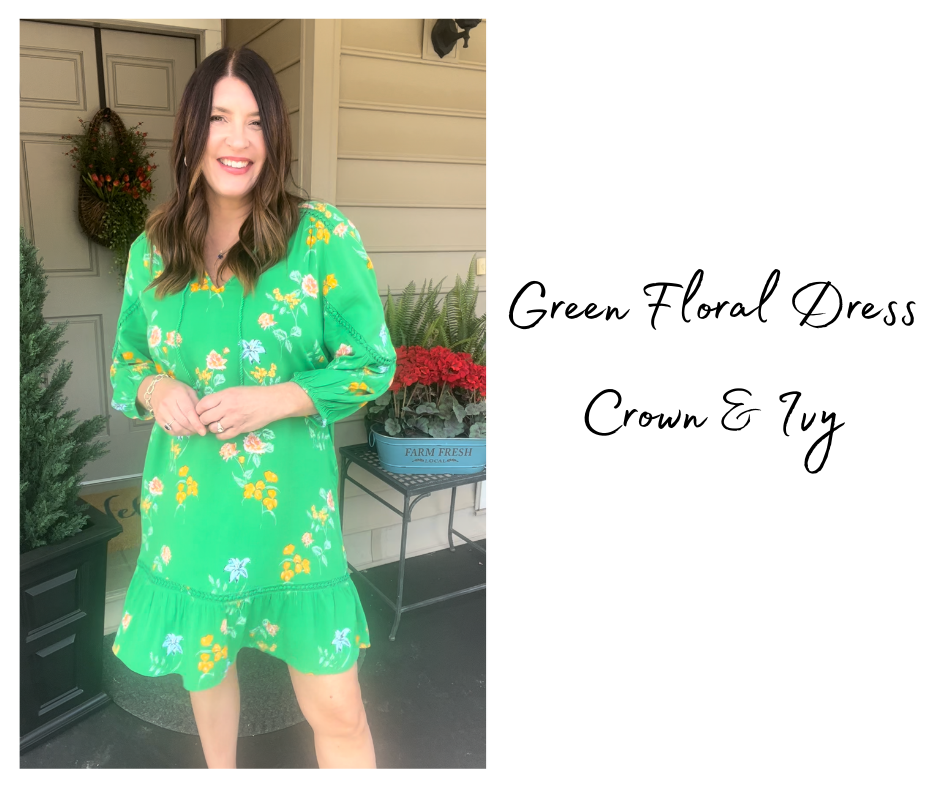 I've been sharing several pieces from this spring's Crown & Ivy Collection. This dress was another Instagram piece that I shared and would make a great summer dress. I'm wearing a medium for size reference.

I have a similar pair of black footbed slides by Time and Tru from last year, and I'm still wearing those. I couldn't find the Time and Tru version in white, so I ordered these from Amazon instead. I've worn them a couple time, and I find them just as comfortable.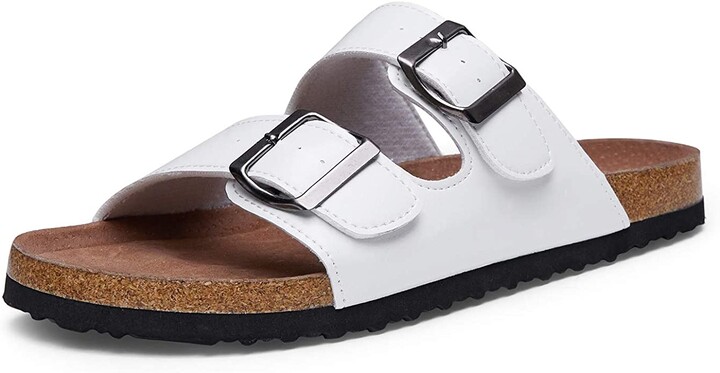 I like to wear this style shoe with just about anything. Dresses to loungewear and everything in between. They are just easy to style and super comfortable.
I'm happy to recommend these April favorites worth considering. I've personally tried each of them and I think you will enjoy them.