One of my main goals here is to provide women with affordable fashion that does not sacrifice quality. We all want to look our best without spending a fortune, so today I am pleased to offer you some bargain dresses that look expensive.
I have been so impressed with Walmart the past year or so. They have really stepped it up with their women's clothing options, and if you have not checked out some of the online only brands available at Walmart you are missing out! While I have to admit that I still do not enjoy the shopping experience at Walmart stores, I love shopping at Walmart.com. You will find things that are not available in stores, and the probability of finding your size is much greater. Their shipping is fast and free in many instances. Returns are also free and easy.
Time and Tru is one of my favorite Walmart brands. Although it is available in stores, I still find the online selection to be much better. Today I have a dress by Time and Tru in two different colors. As I mention frequently, I am a dress girl…especially in the spring and summer! Dresses require little to no thought into putting an outfit together, and in my opinion they are more comfortable than jeans or shorts.
Blue & Yellow Stripe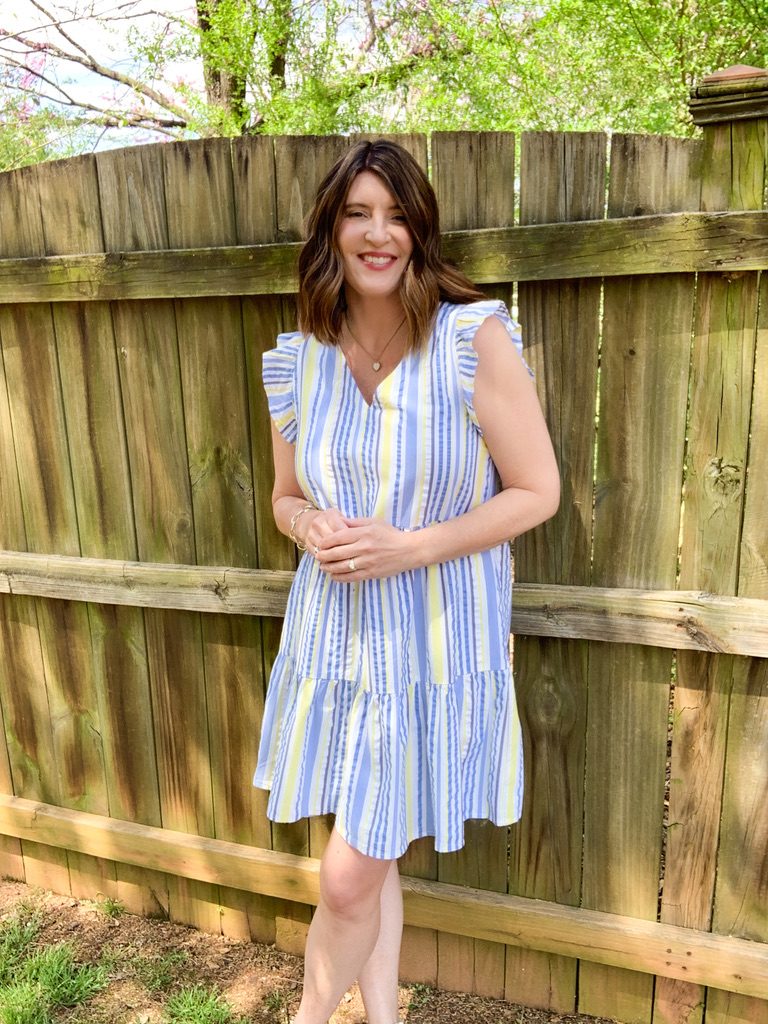 First is the stripe version with bright blue, yellow, and white stripes. It looks perfectly summer. I remember last summer, I had a dress from Loft that looked nearly identical to this one. I can't remember the exact price, but I'm guessing it was around the $60 price range. This bargain dress looks expensive, but is only $15.88!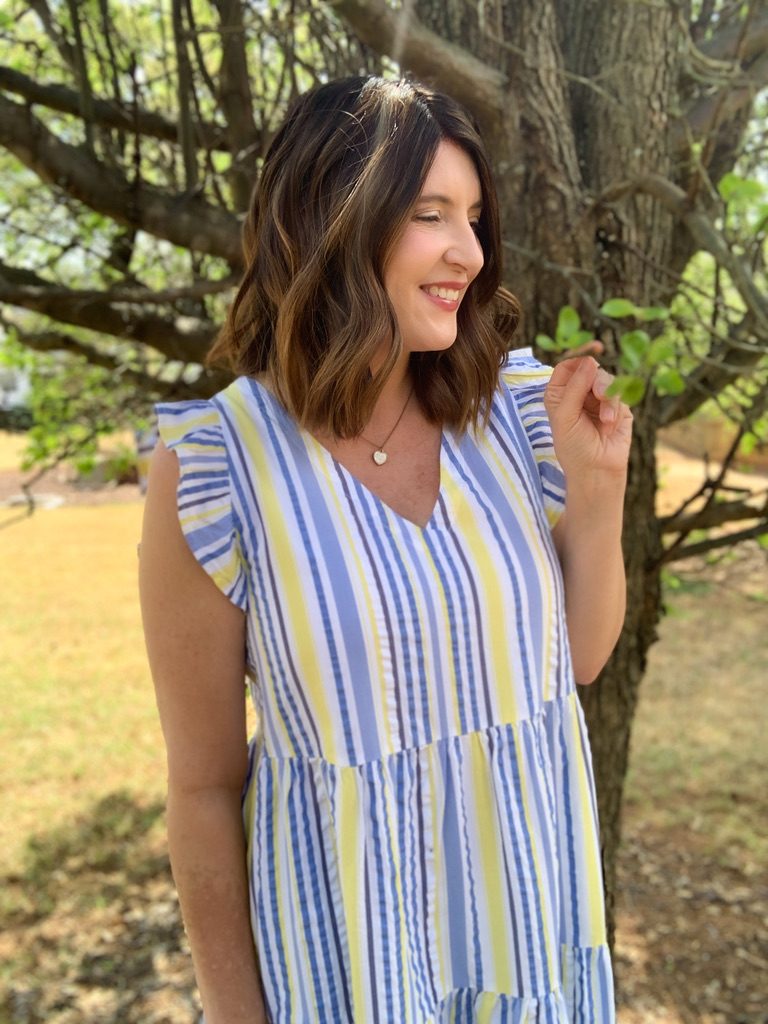 The fit of this dress is loose and flowy. It has flutter sleeves which sometimes are too much for my broad shoulders, but these aren't too oversized. I am wearing a medium, and if it were not for the chest area, I probably could have sized down to a small so keep that in mind if you do order it. I also like the V-neckline.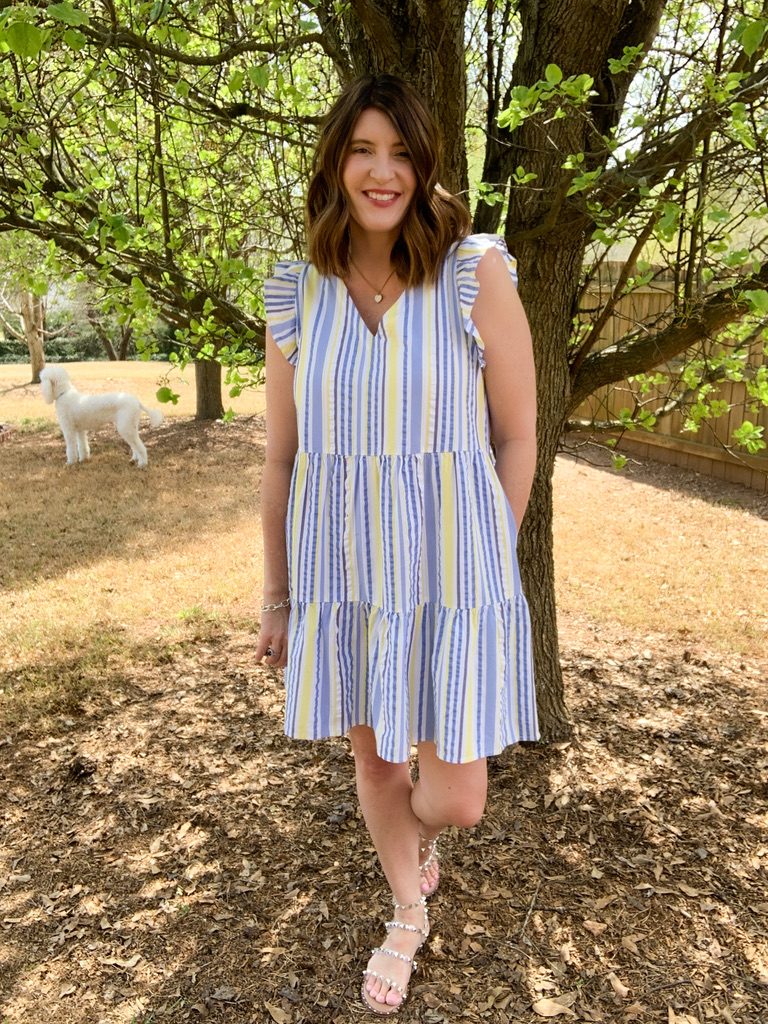 The length is above the knee, but very appropriate. I am 5'7″ for reference. I paired this tiered dress with my Steve Madden studded sandals. Time and Tru also has a very similar style sandal for a budget friendly option.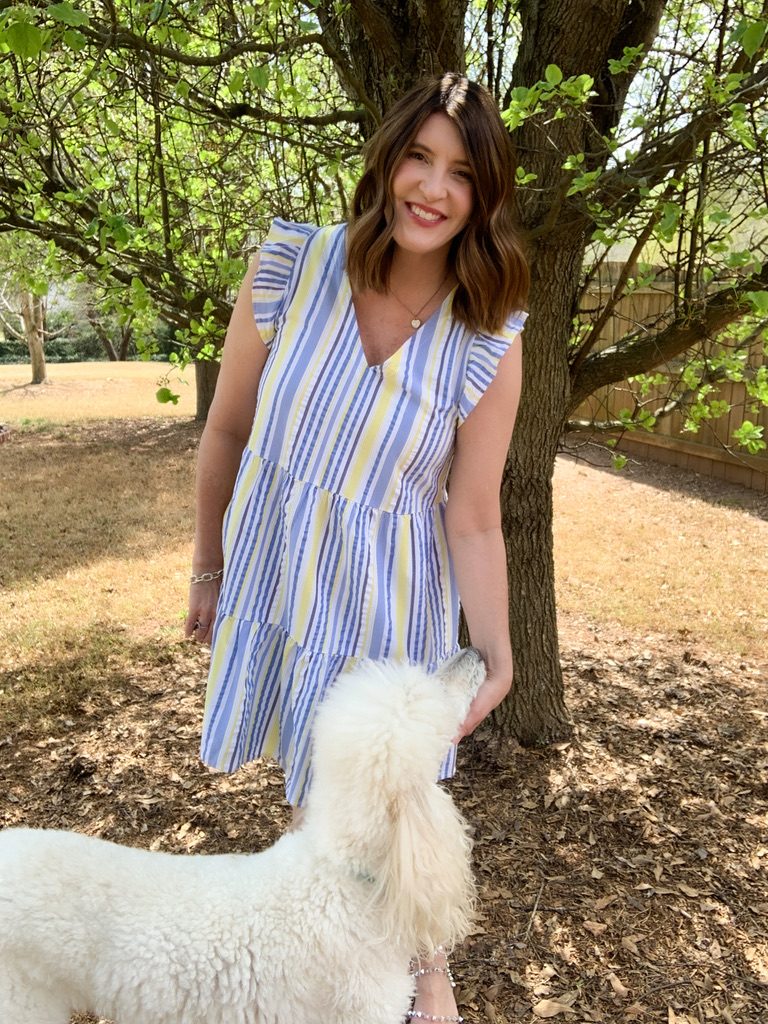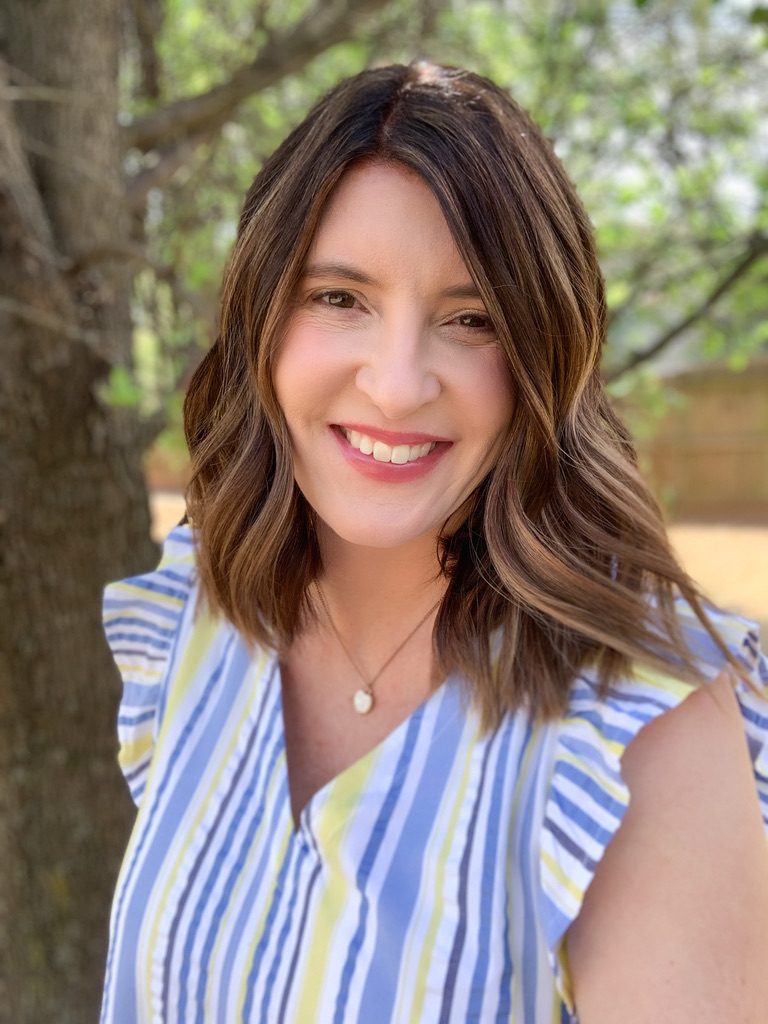 White Eyelet Version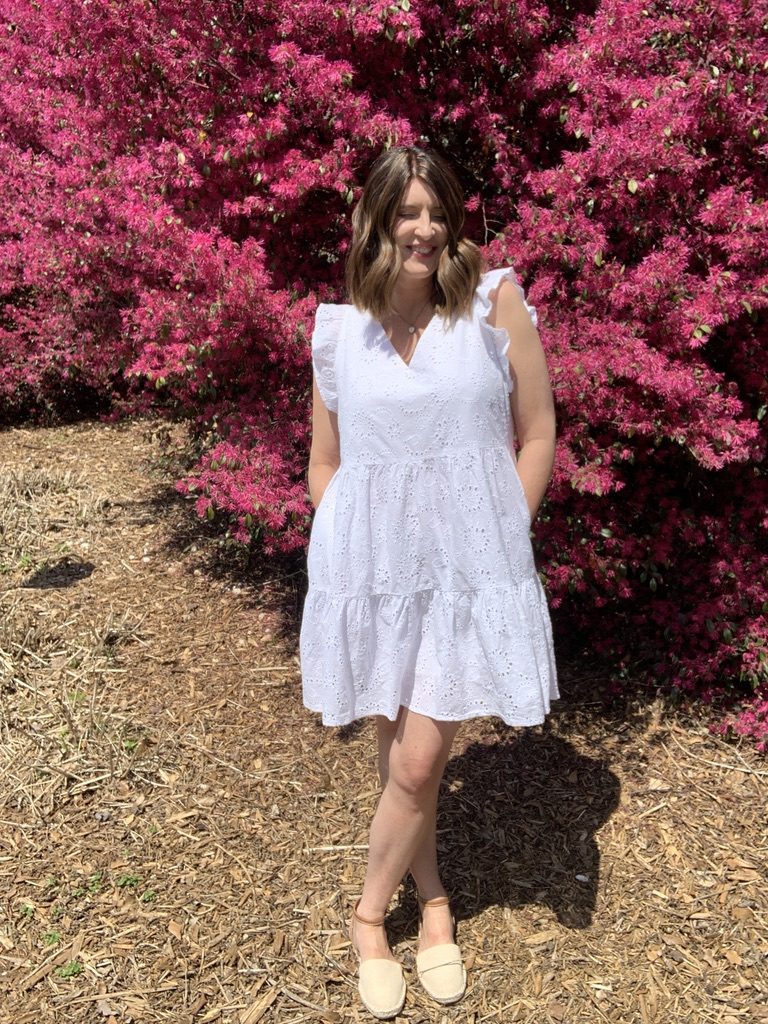 I absolutely love a white dress! White eyelet is so pretty for spring and summer. When I saw this version of the dress it instantly reminded me of something I would see at J.Crew.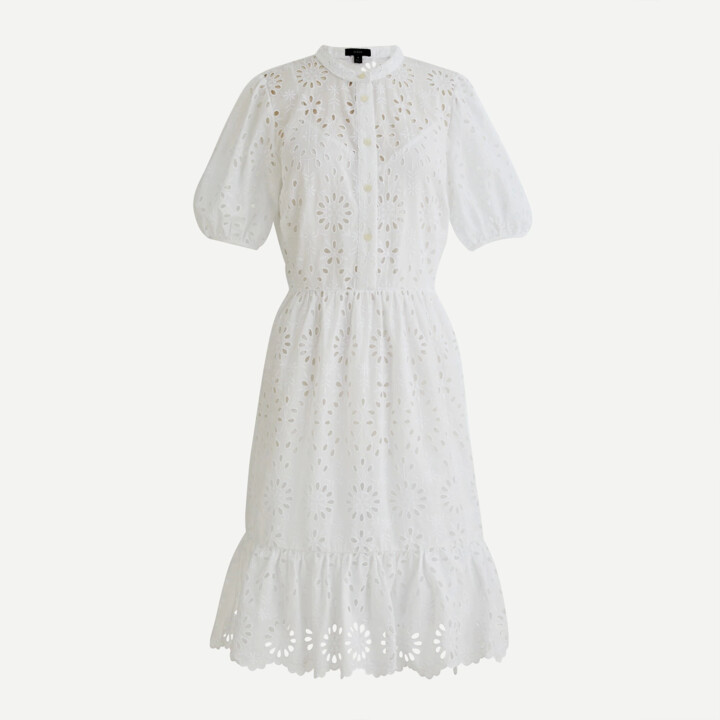 The fit of this dress is exactly like the stripe one. The only difference is that the white one is fully lined, which I really appreciate in a white dress!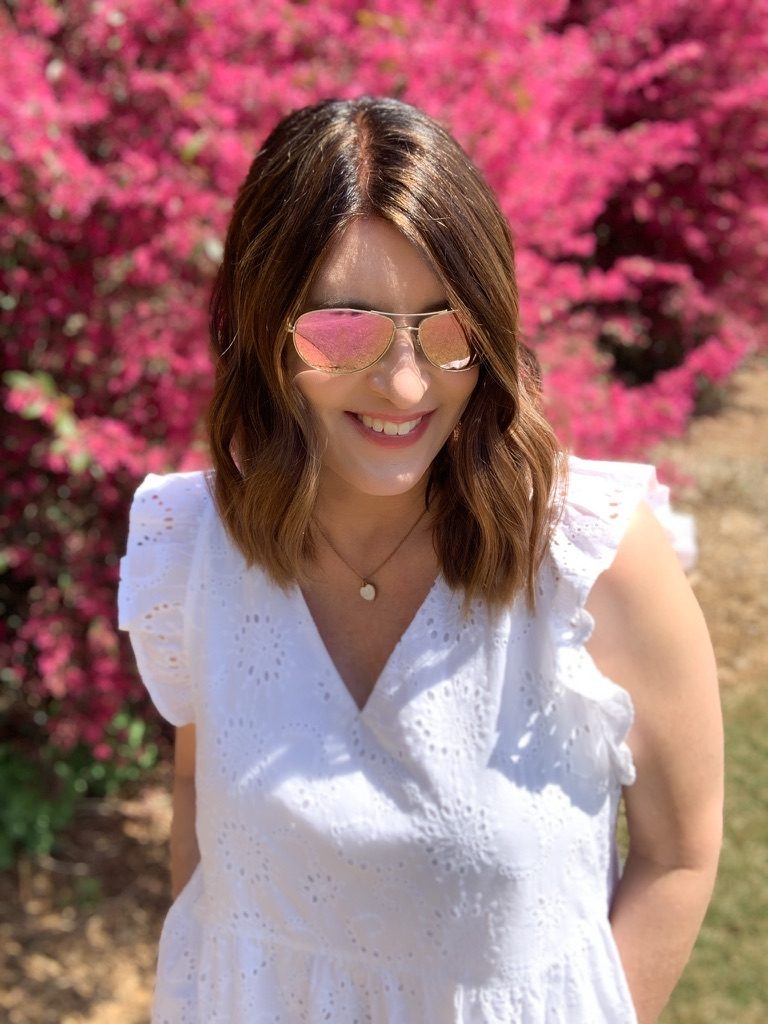 My rose colored aviator sunglasses are a new amazon purchase. They are a budget friendly option to the Maui Jim Baby Beach Aviators, which are made for women with small faces like mine. I love the Maui Jims, but for a fun bold colored lens, the less expensive alternative looks nice and also comes in the smaller frame.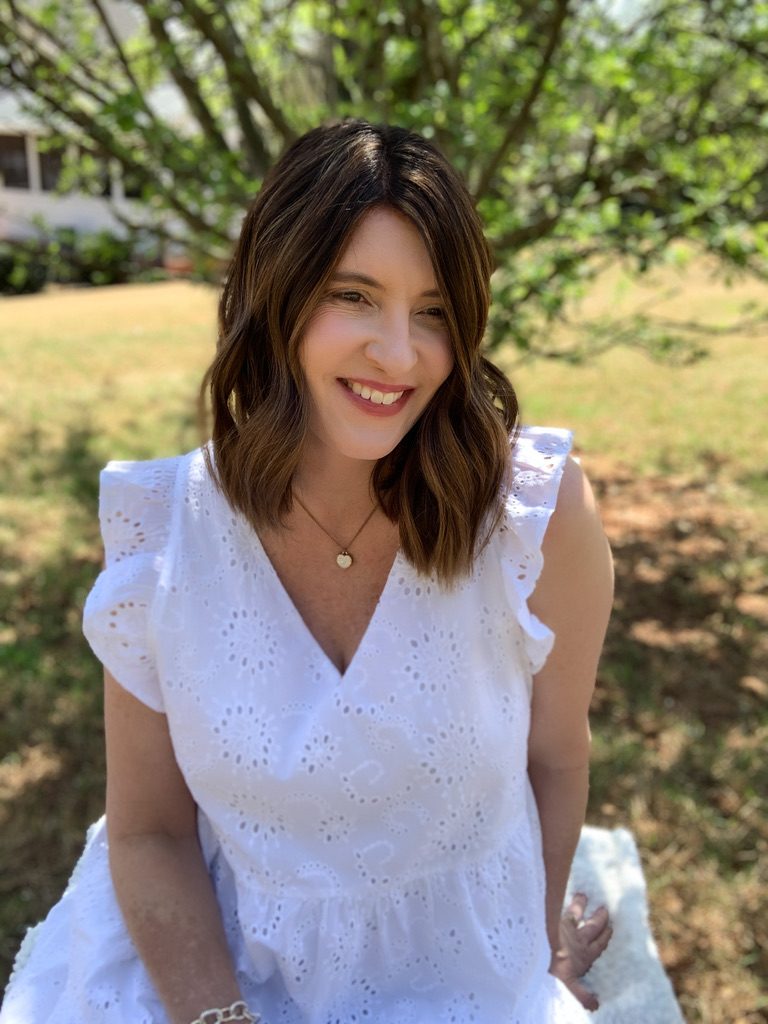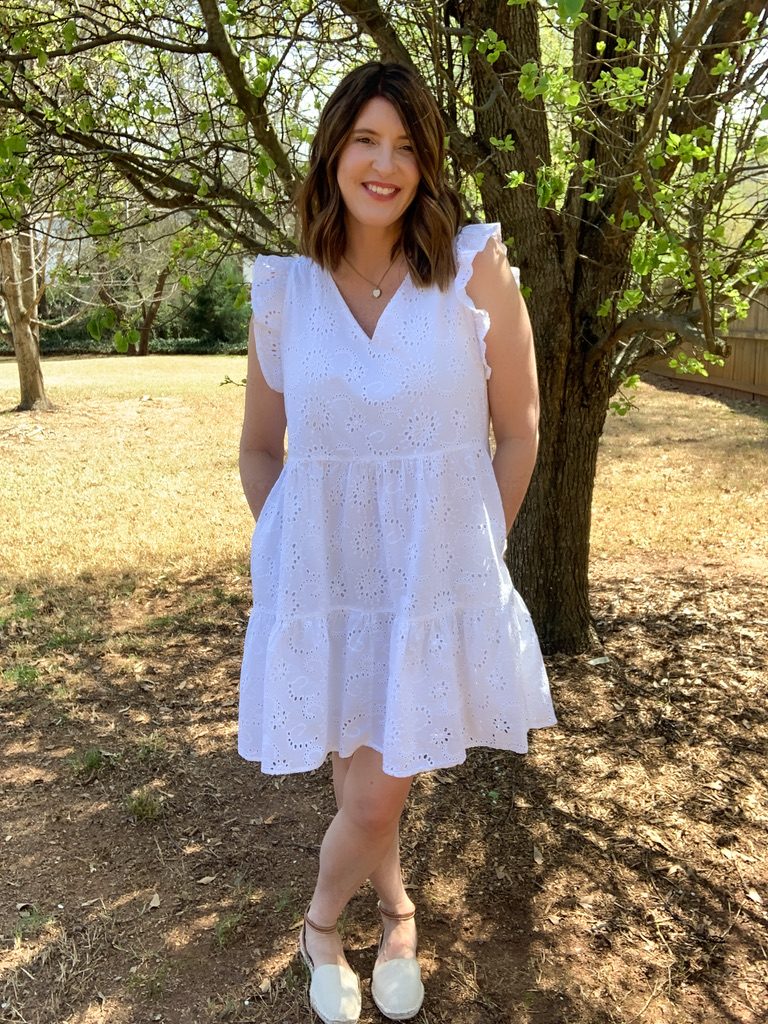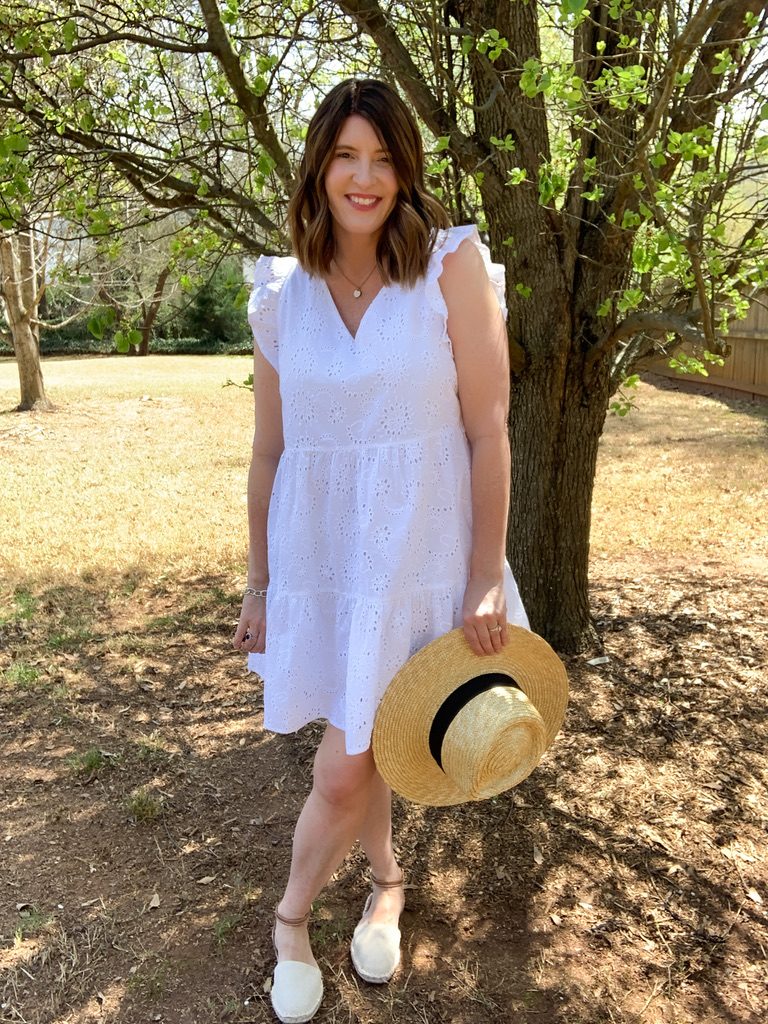 For accessories, I am wearing my Espadrille flats and my favorite straw hat.
Walmart has so many options for bargain dresses that look expensive. Here is a roundup of some other styles that you might enjoy!
Thanks for spending a few minutes here at The Scarlet Lily today! If you would like more midlife style and beauty, follow me on Instagram @ the_scarlet_lily. I post frequently during the week and on Instagram stories with content that may not be here on the blog!