I have some great casual styles from Old Navy to share with you today! Old Navy is my go-to for everyday casual essentials like jeans, tees, and sweatshirts. These are the types of clothes that I wear 90 % of the time since I work from home.
I've said this before, but just because you may work from home or you are staying home more these days doesn't mean you should let yourself go. You will feel better and be more productive if you have some nice looking, yet practical things to wear. So let me show you some casual styles from Old Navy that I recently found!
Crew Neck Sweater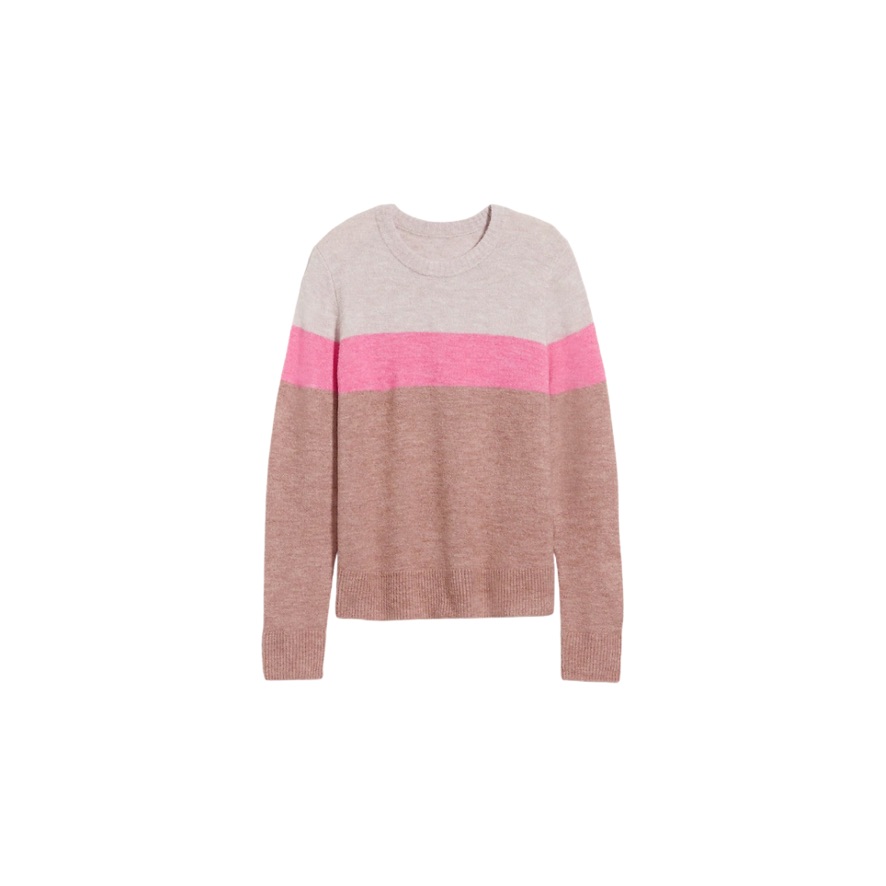 This is the cozy color blocked crew neck sweater. I chose the pink since it was a little different that the typical fall colors that I have been leaning towards lately. This will be something I wear all winter, and I like having some bright colors to wear after Christmas. It also comes in a few other colors.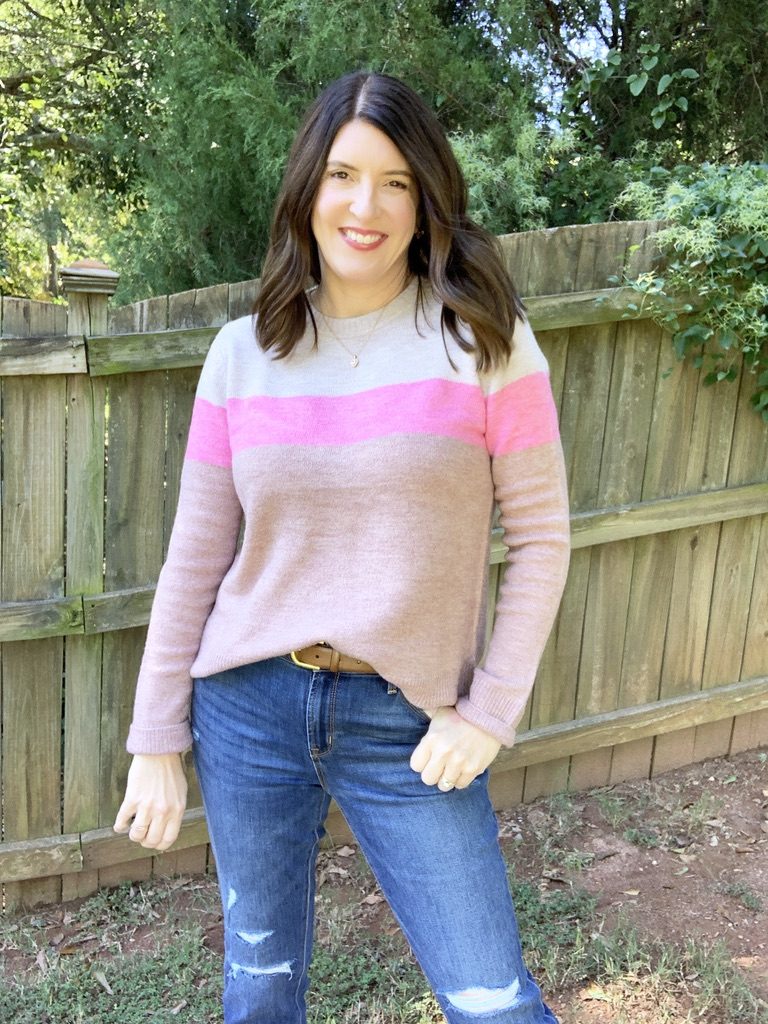 As the name implies, it is very cozy feeling and soft. It took me quite a while to decide between the size medium and the large. Honestly, I could have worn either. They didn't look that much different. I went with the large just to make sure it had a comfortable oversized fit.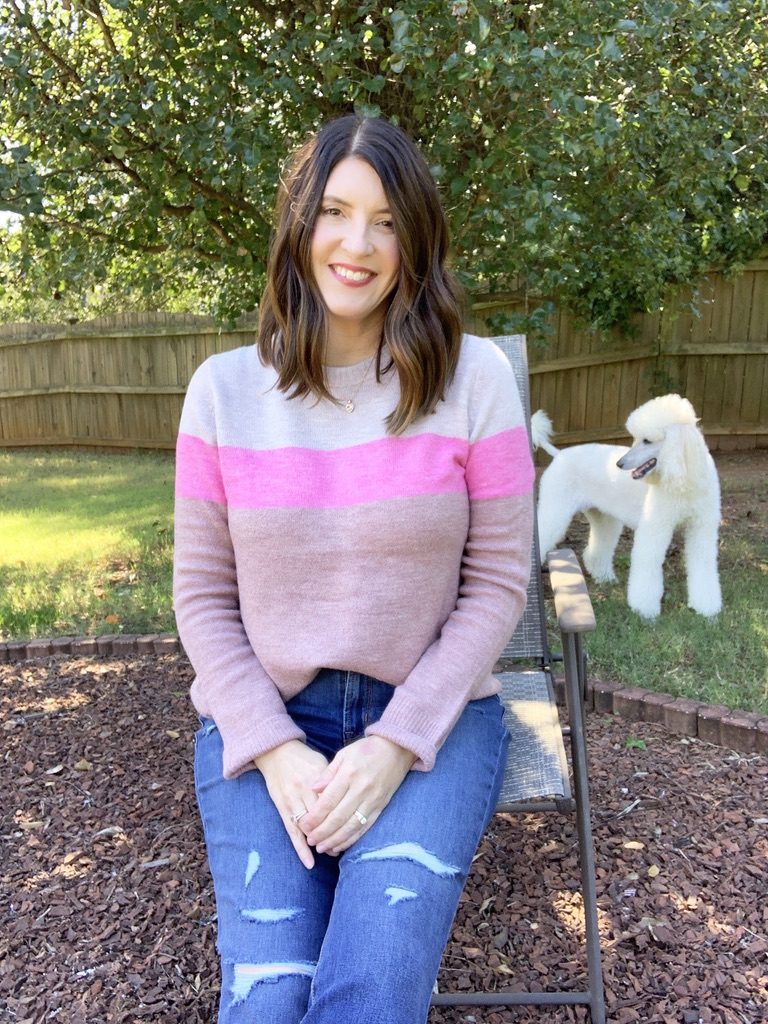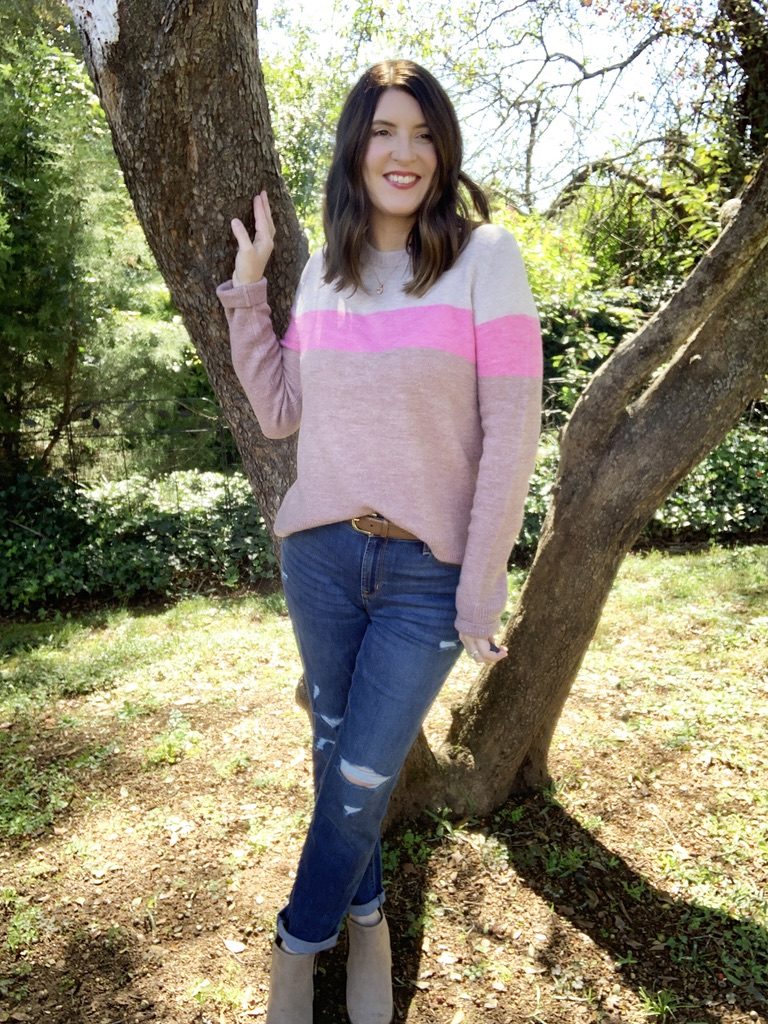 Crew Neck Sweatshirt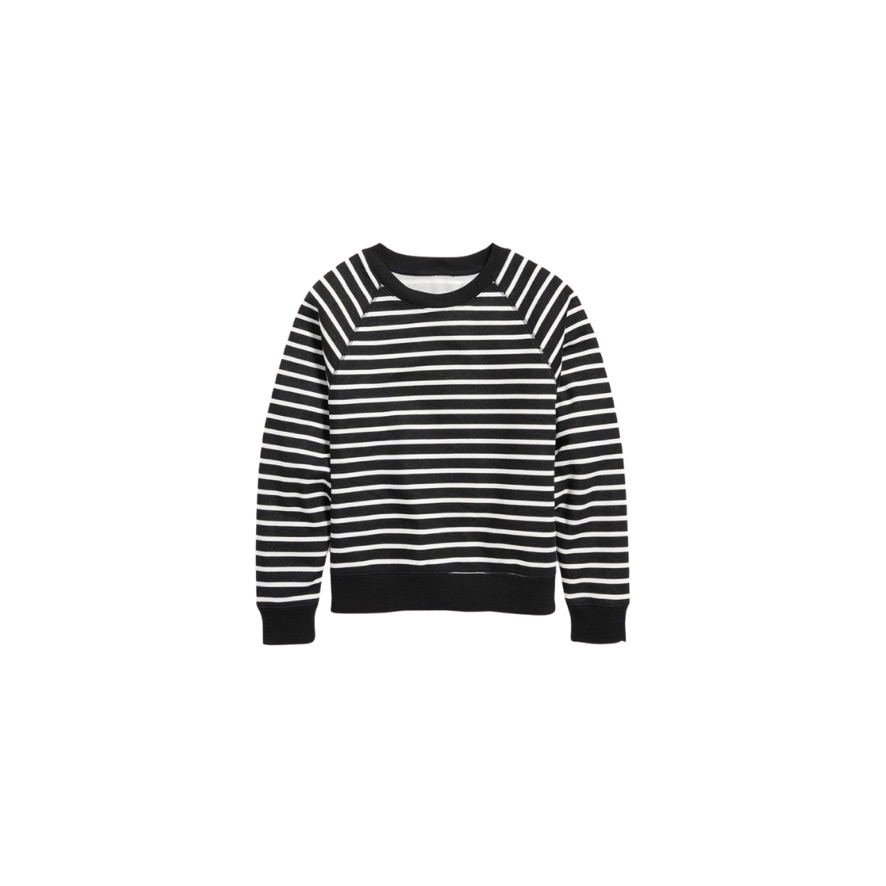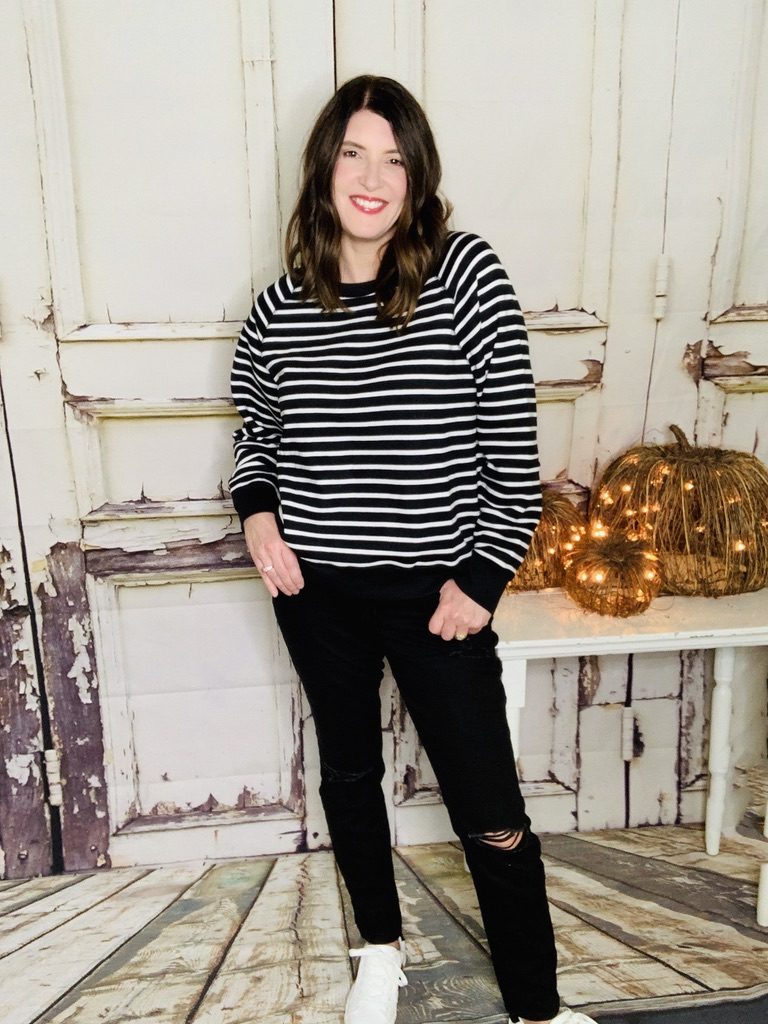 Next, is the vintage crew neck sweatshirt in black and white stripe. This is just a good basic sweatshirt that will suit any occasion. Here I have paired it with black distressed jeans and fashion sneakers. For a little more dressed up look, you could wear some ankle boots with a heel.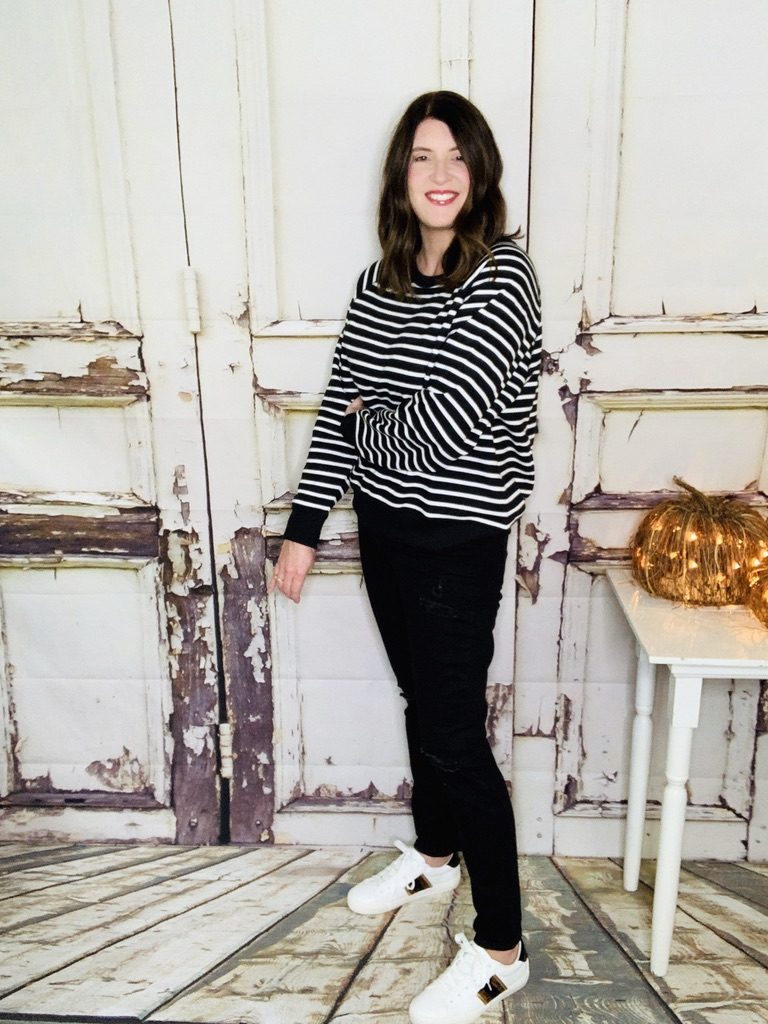 I am wearing a size large. This sweatshirt comes in several colors and prints.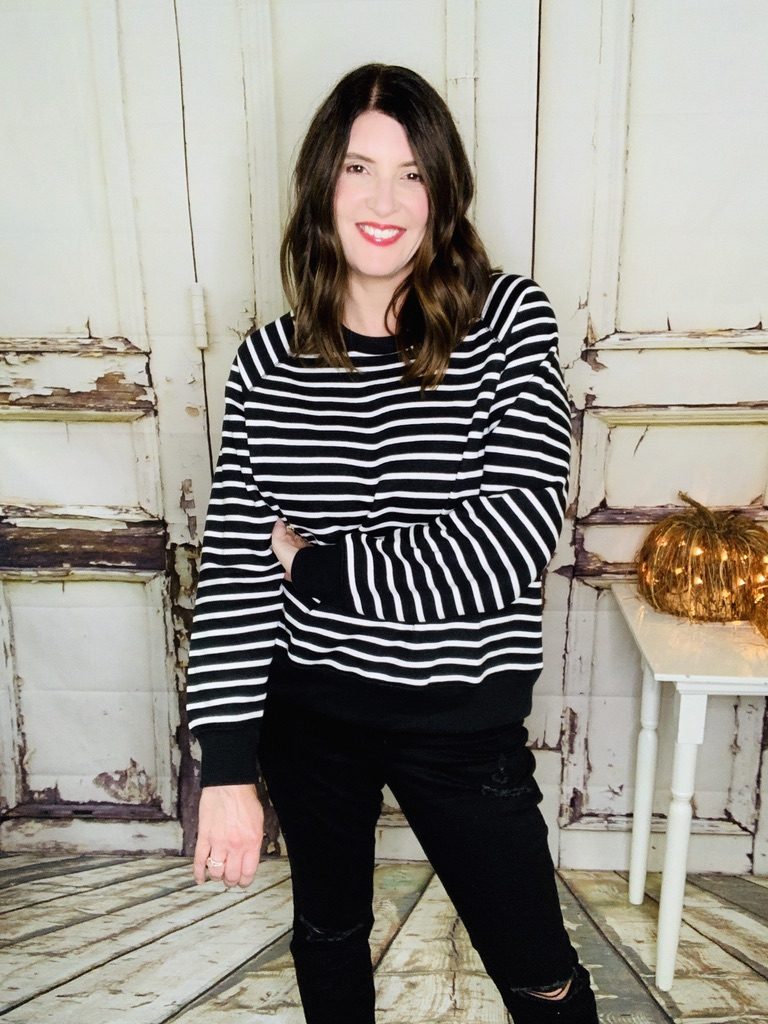 Tunic Length Sweatshirt
I absolutely love Old Navy's tunic length sweatshirts! I had two last year and I knew I wanted a couple more for this year.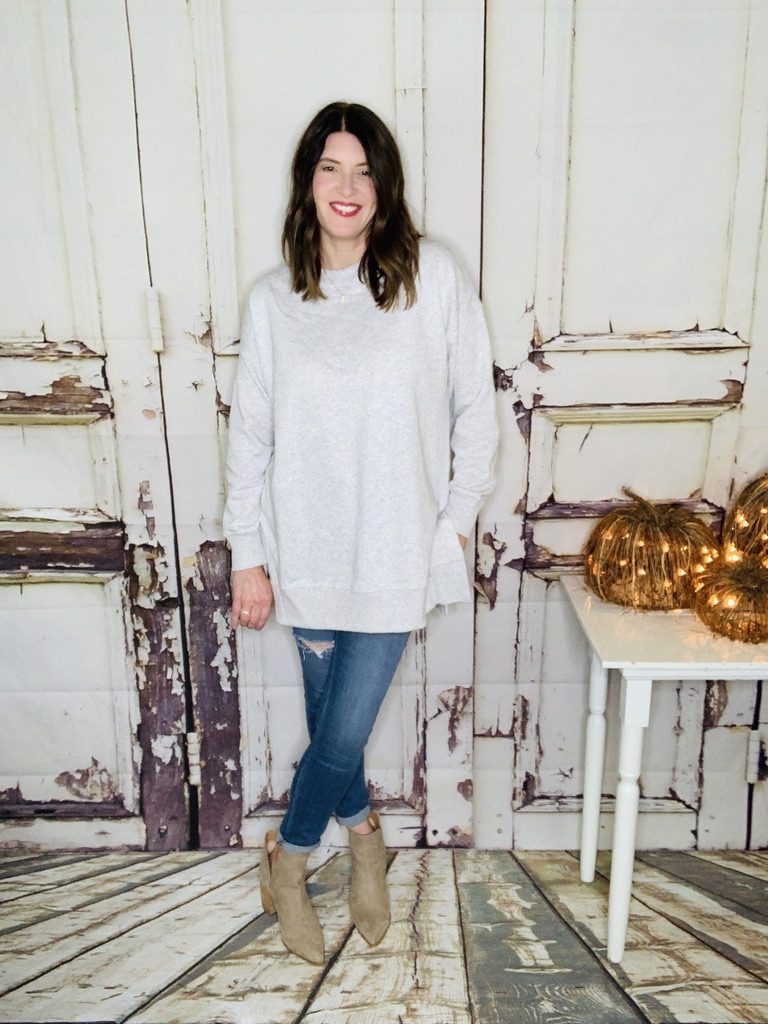 For the first outfit, I am wearing the grey tunic sweatshirt with some fitted skinny jeans and ankle boots. I like this look for running errands or going somewhere that I want to look stylish, but not dressed up.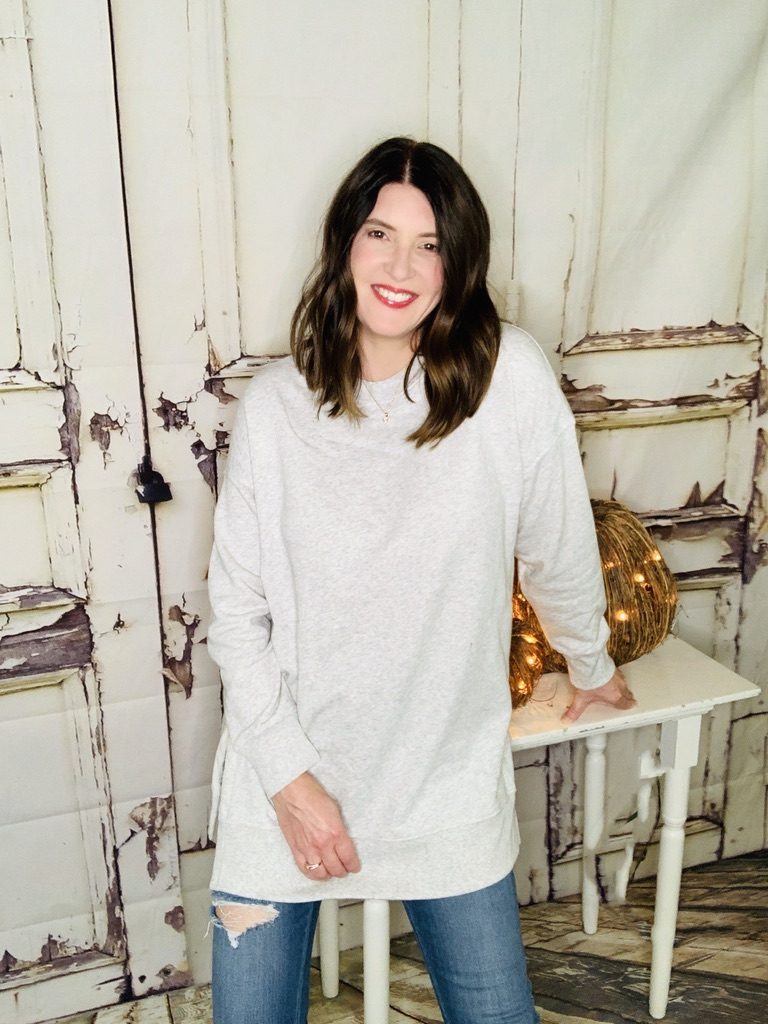 Style Tip: If you wear a tunic length sweatshirt with jeans, make sure they are jeggings or very form fitting. Otherwise you will look frumpy with the long oversized sweatshirt.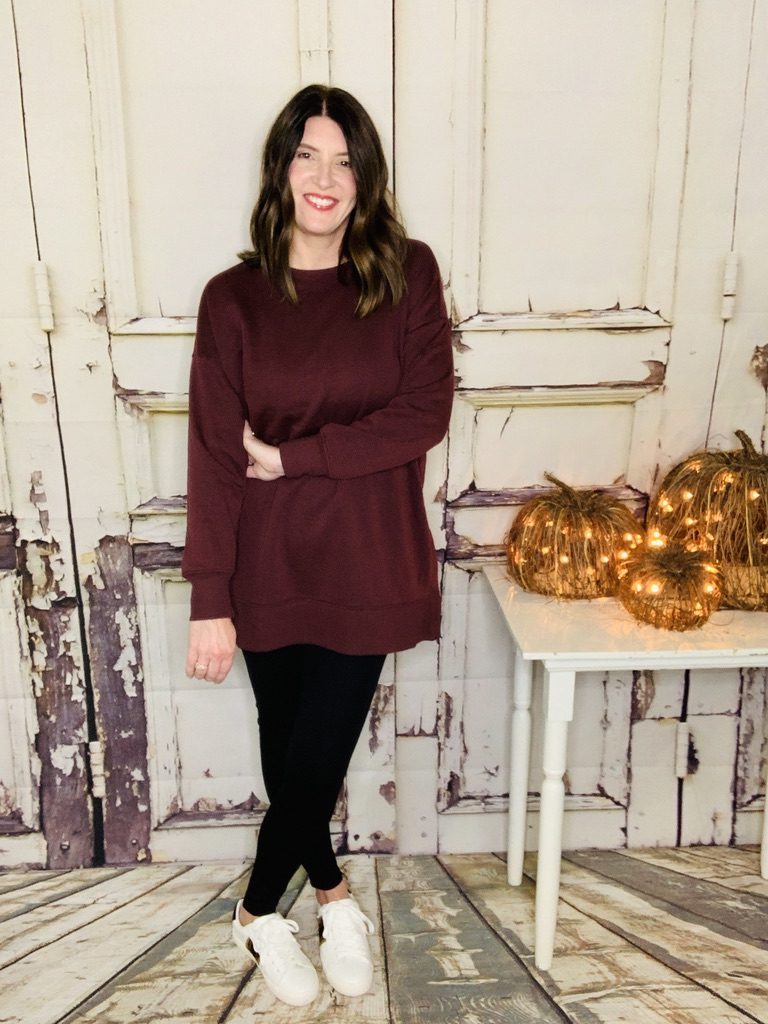 I bought two of these, and for the second outfit I wore the burgundy tunic sweatshirt with traditional leggings and fashion sneakers. This is a great wear around the house outfit. I will link the leggings down below in the shopping widget.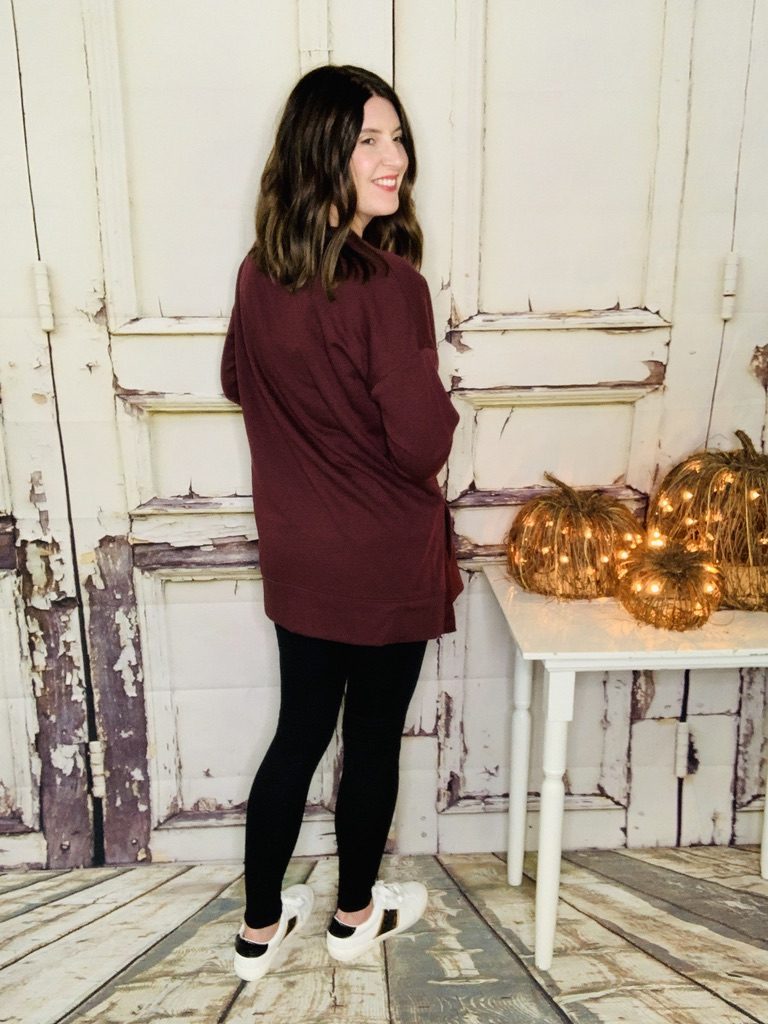 As you can see, the length is long enough to cover the bum and I am 5'7″. I would feel comfortable wearing this out in public.
Straight Leg Jeans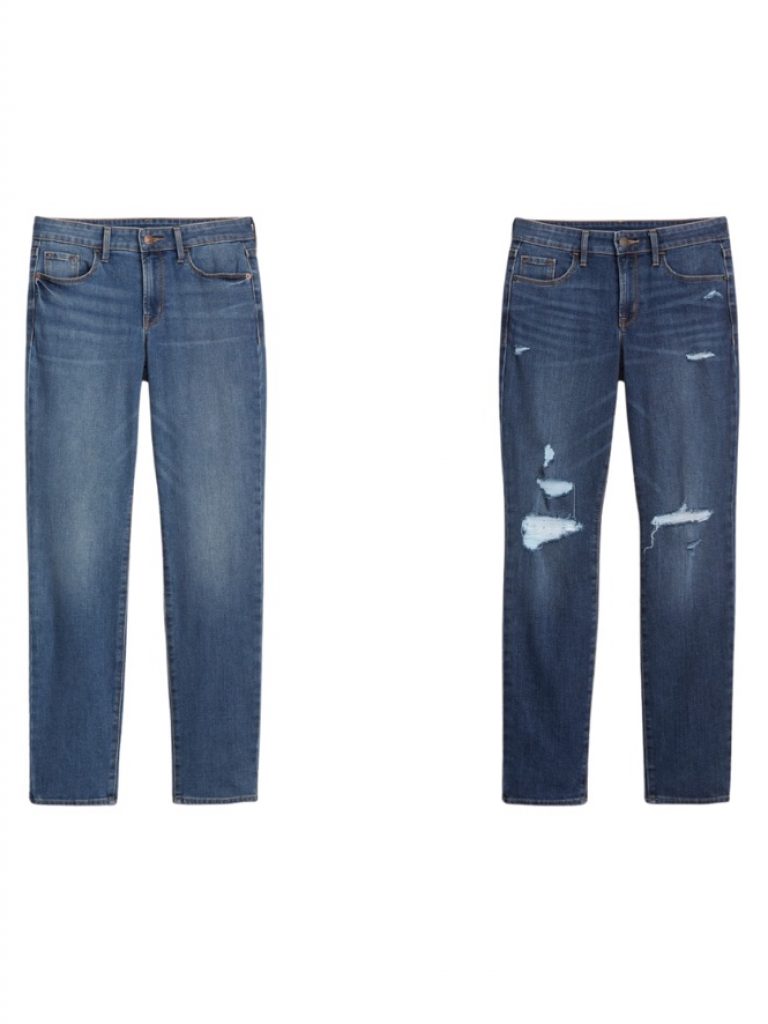 I'm very excited to share these jeans with you because they are so good! These are the type of jeans you call your girlfriend and tell her about. In case you don't know, straight leg jeans are the most on trend right now. That doesn't mean that you have to wear them, or that you can't still wear your skinny jeans. It's just the most modern trend at the moment.
I actually like straight leg jeans because they are somewhere in the middle between skinnies and boot cut or flares. I have broad shoulders and wear a D cup, so skinny jeans often accentuate my larger top half. Flares are ideal for my shape because they balance out my top and bottom portions. Straight leg jeans are a good middle of the road and they are flattering to most body types.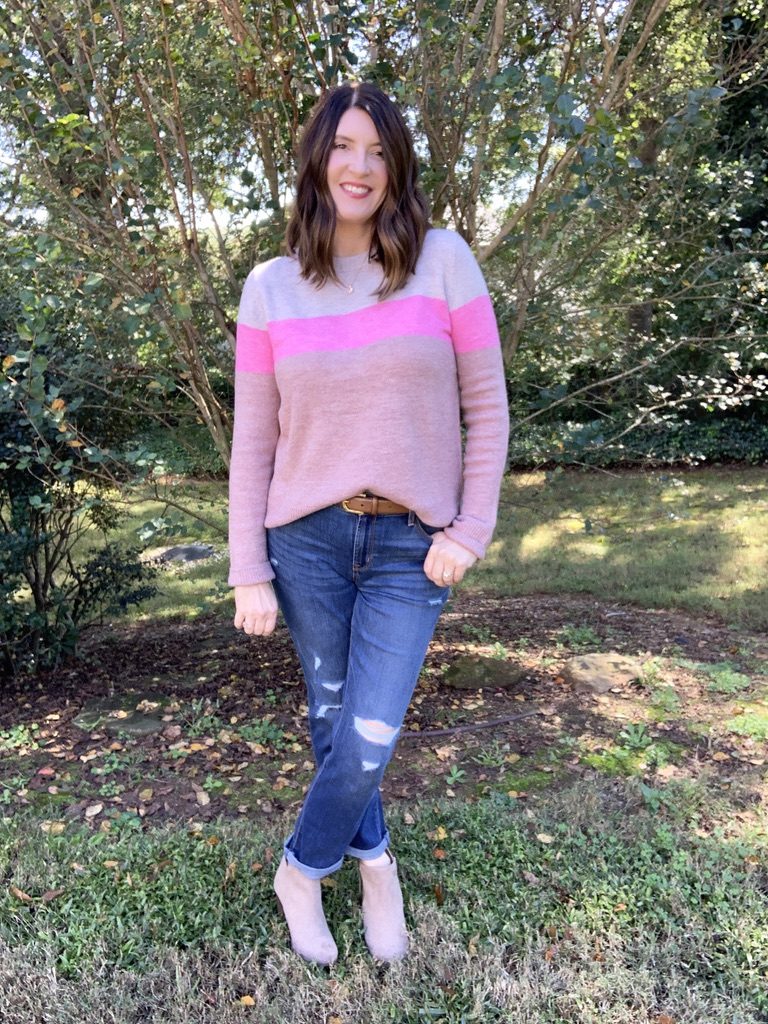 I love these Mid-rise distressed power slim jeans. I purchased one pair with the distressing and one pair that is just plain and simple. These are flattering AND comfortable…as in you can sit down all day in these and not long for your yoga pants!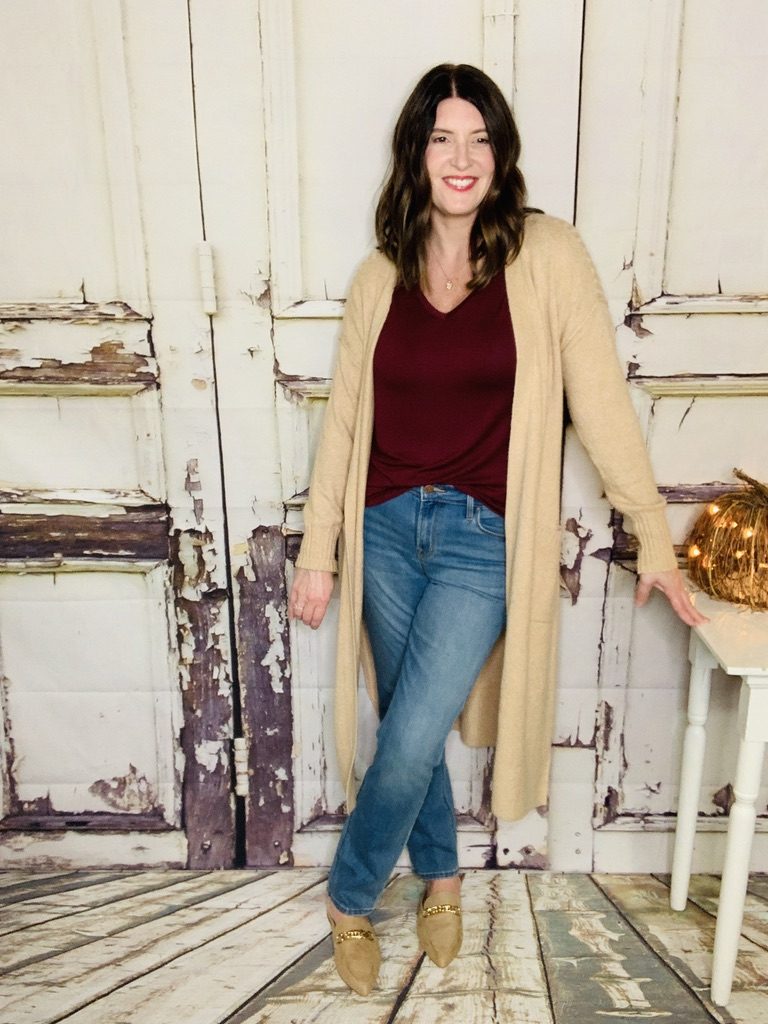 V-neck Sweater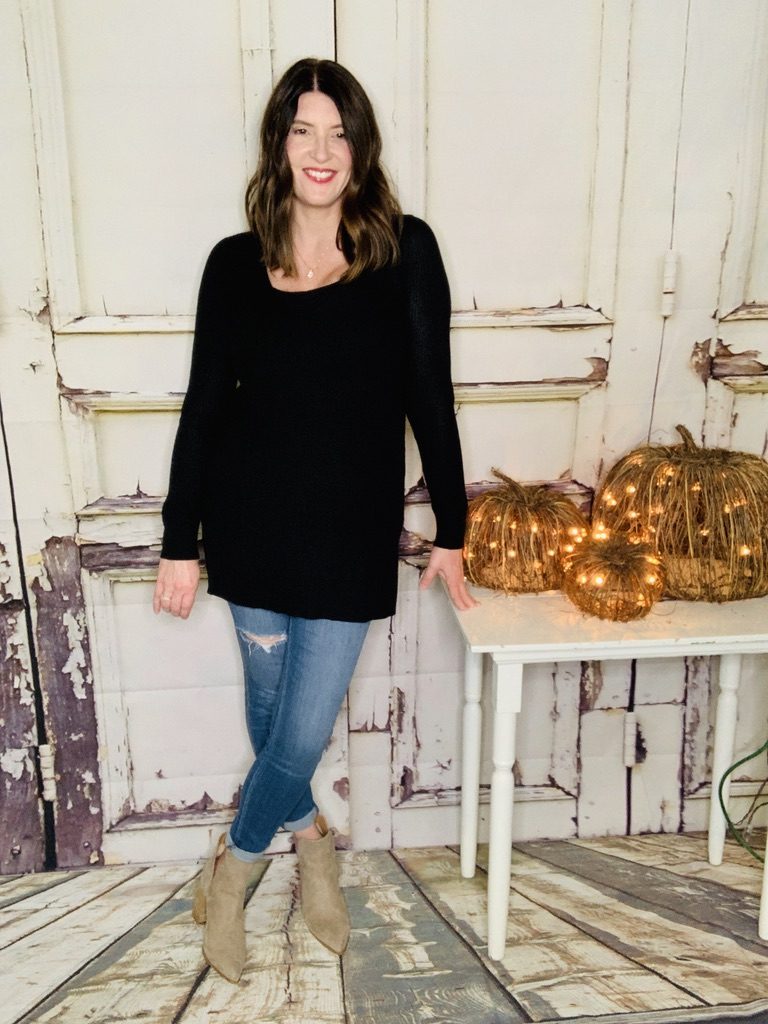 Staying with the tunic style, this is the textured V-Neck Sweater Tunic in black. This is a flattering style and can also be worn with jeans or leggings. Here I am wearing jeans and ankle boots.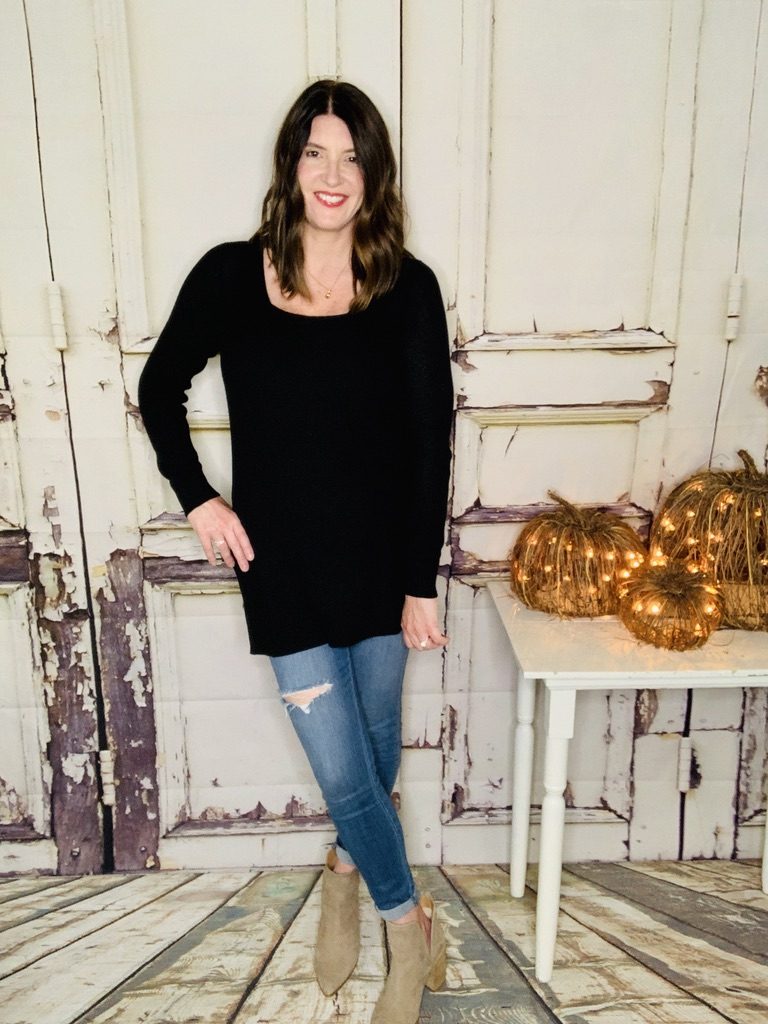 For reference, I am wearing a medium. The weave of this sweater is more open, so you will need to wear a cami underneath. It also comes in several other colors.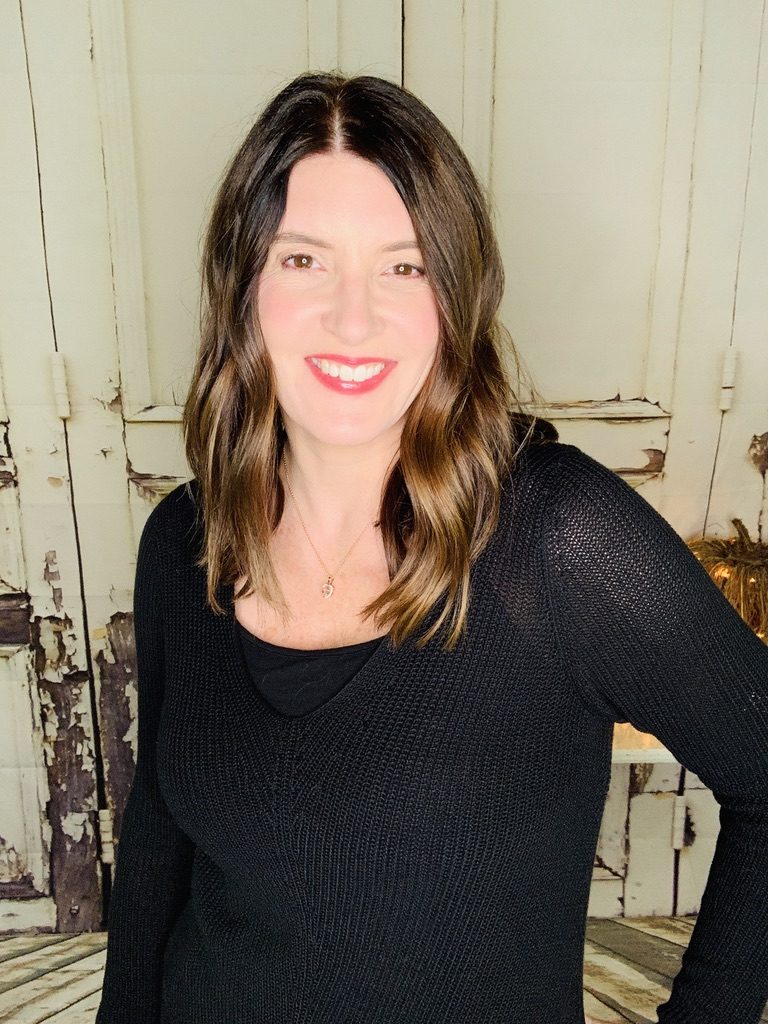 V-Neck Tee
T-shirts are a must for any wardrobe and I usually have the most success for this type of thing at Old Navy. This is the Luxe V-Neck Tee. I like the luxe line of t-shirts because the fabric drapes nicely if you want to tuck it in. They are super soft and comfortable.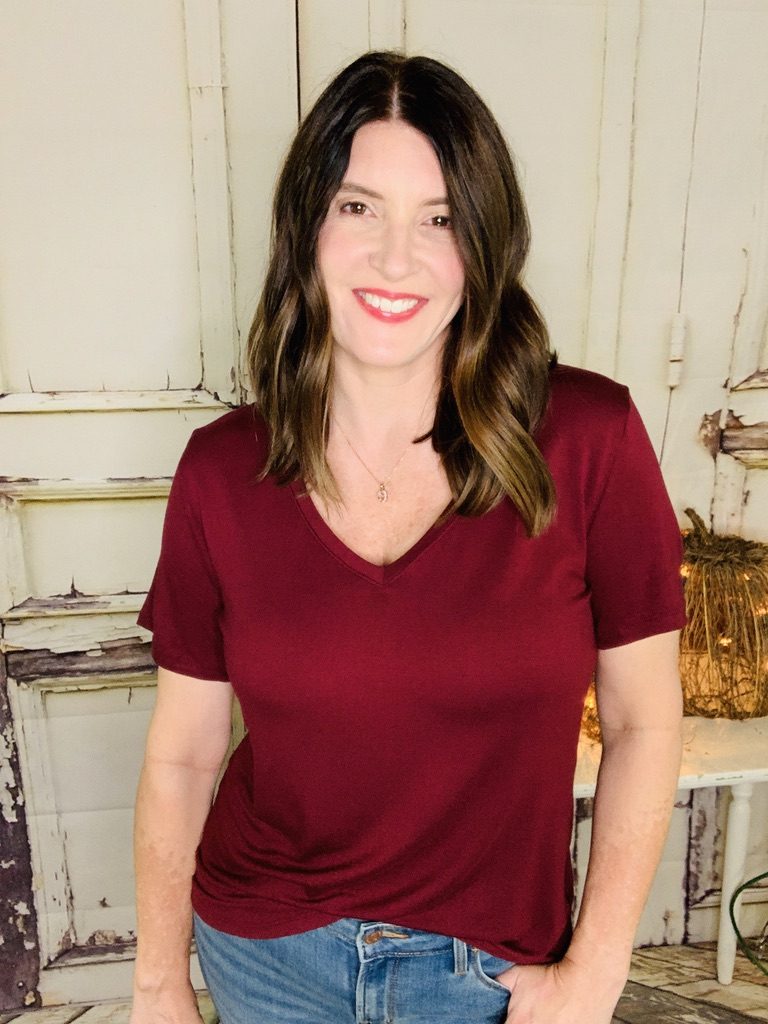 There is a long and short sleeve version, but I chose the short sleeve so I could layer in under a cardigan. This burgundy is very fall-like and it also comes in several other colors.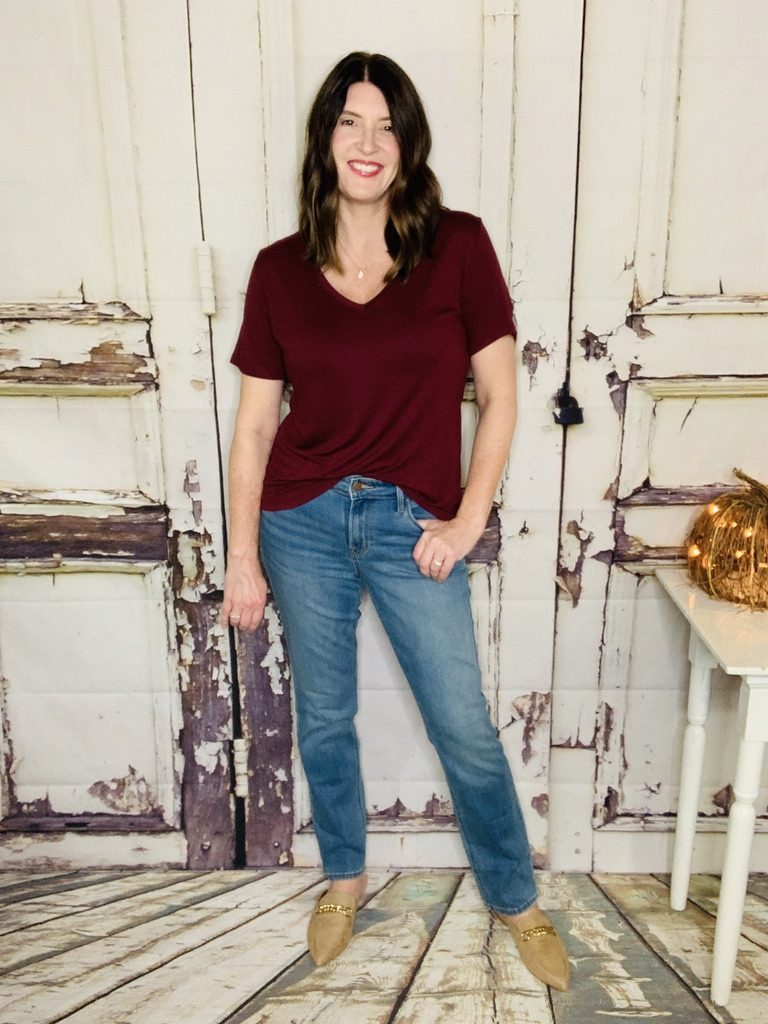 Here I paired it with my favorite camel cardigan. If you missed my post on several ways to style camel for fall, you can see it here.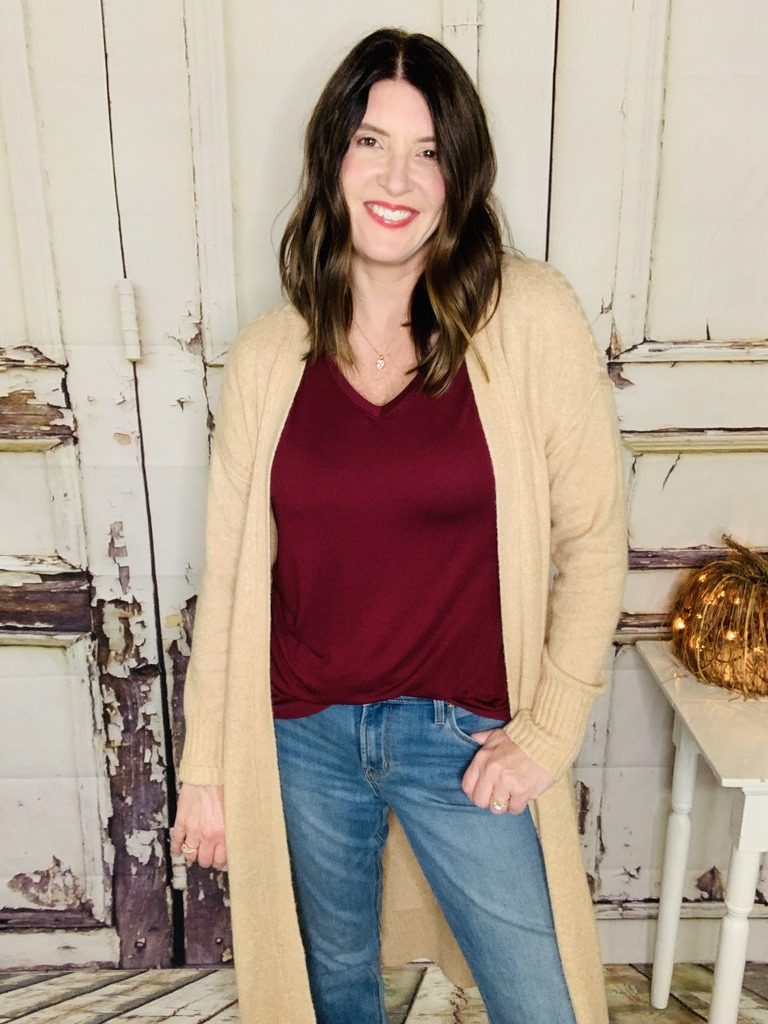 T-Shirt Dress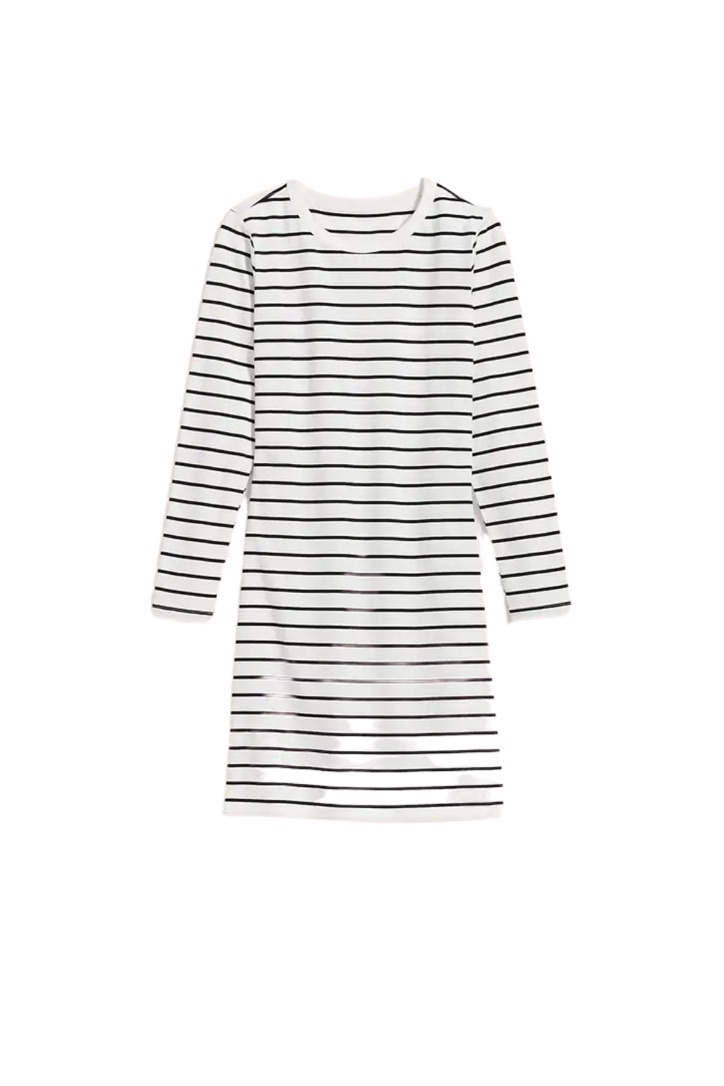 The last casual style from Old Navy I have for you today is this long sleeve T-shirt dress. A t-shirt dress is one of the most versatile pieces I can think of. Here I have dressed it up a bit with knee high boots, but you could wear flats or sneakers for an entirely different type of look.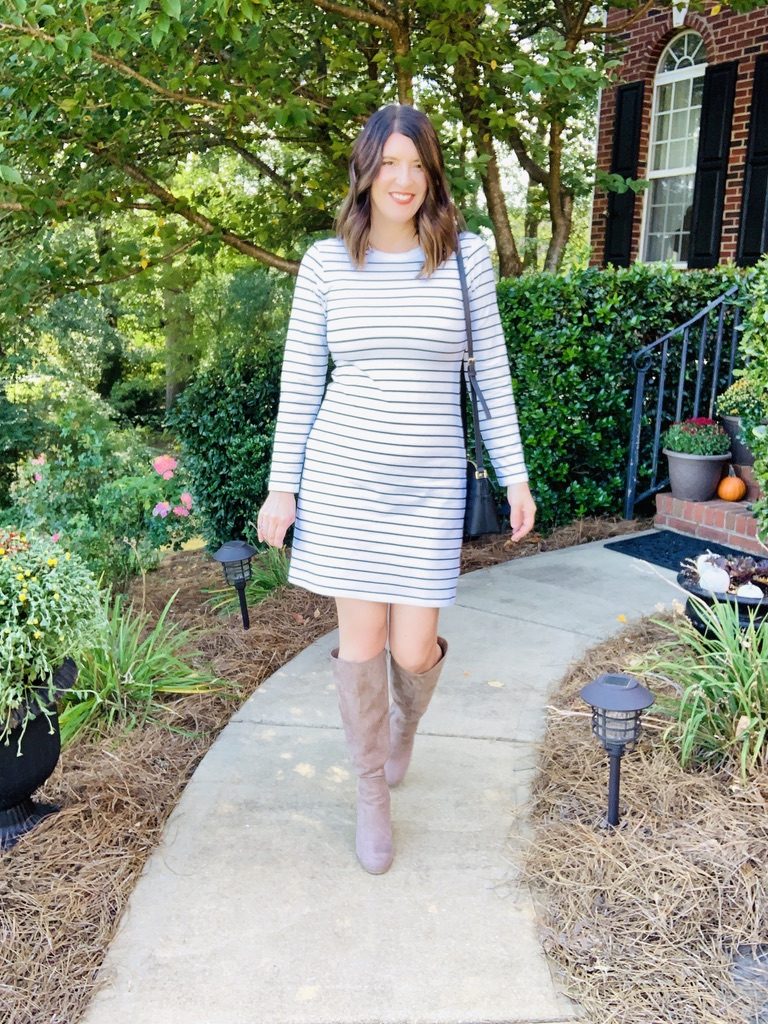 This dress is very comfortable. I am wearing a size medium and it is a little bit form fitting. If you prefer a looser fit, then I would size up.
These casual styles from Old Navy can really help build a practical wardrobe for everyday basics. I have linked all the products shown today if you have some shopping to do.