Plaid always comes to mind when I think about fall and winter styles. Typically I purchase a new plaid shirt every year, and this year Target had some really pretty ones. I decided on this navy plaid with some neutral tones mixed in. If you are not looking to purchase a new plaid this year, I'm sure most of you have one in your closet from years past. Here are 3 ways to wear a plaid shirt.
Plaid Shirt + Cardigan + Jeans + Tall Boots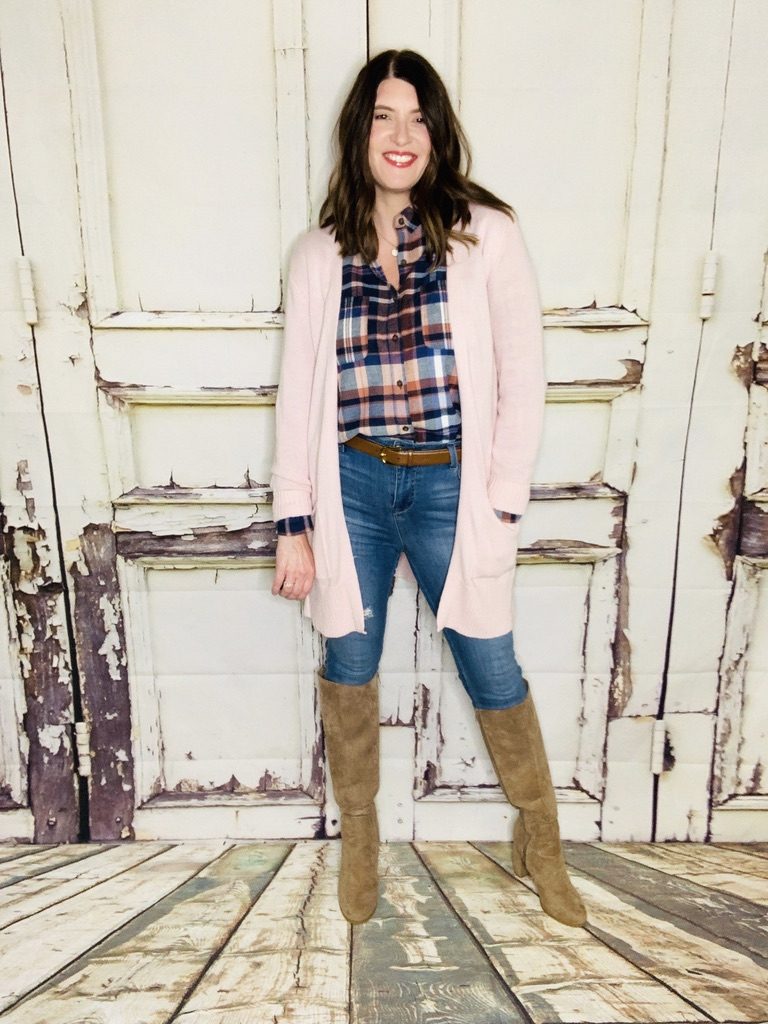 I love this combination. The proportions of this outfit compliment a body type like mine. Tucking the shirt will give shape and the long cardigan with the tall boots creates a nice long line. If you are petite, you can still achieve this look with a cardigan that is not quite so long.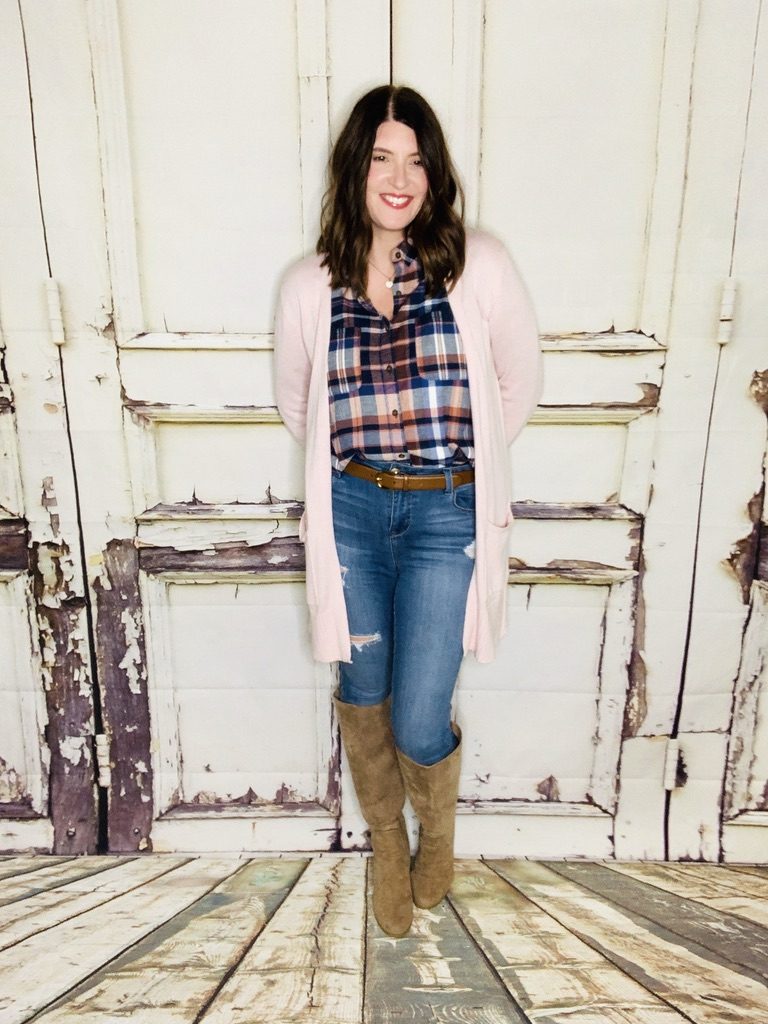 I purchased this plaid top in a large, and in some ways I wish I had gotten a medium instead. These types of shirts are always tricky for me. If you are smaller in the chest and shoulders, then you could size down for sure.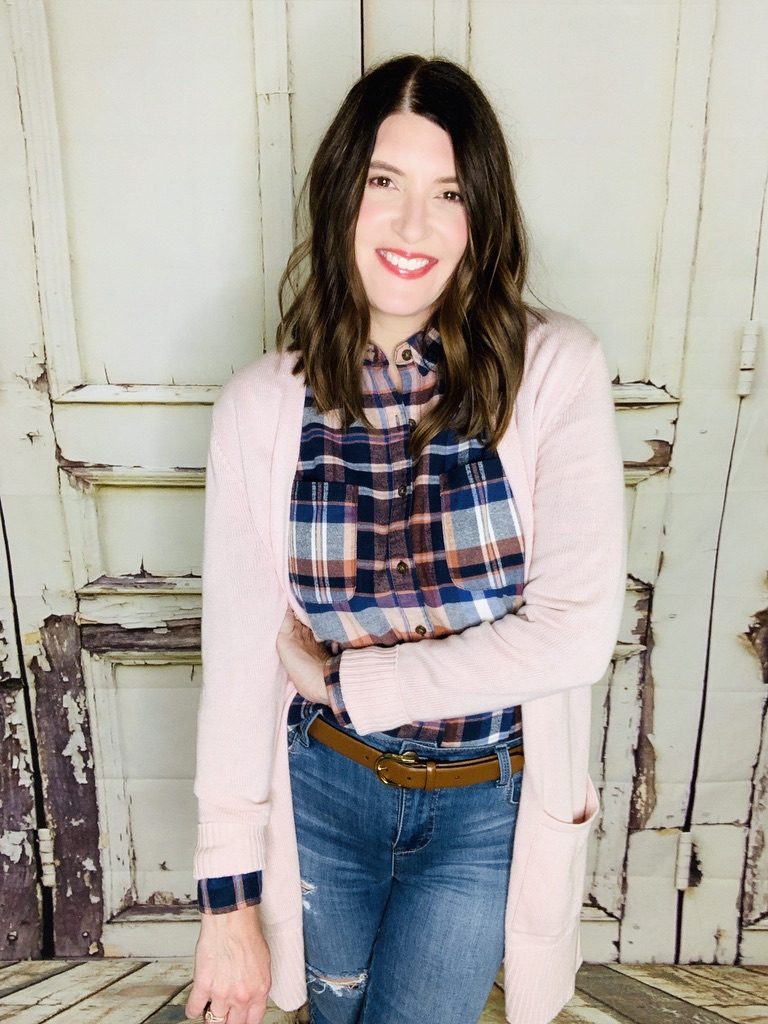 The only thing new in this outfit is the shirt. My cardigan is from Old Navy (last spring), and my jeans are just some distressed skinny jeans that I have had for a long time. These jeggings from Target are similar. This sweater from Old Navy is similar. You are going to want some jeggings or really fitted skinnies for this look to work with the boots.
Plaid Shirt + Tank + Straight Leg Jeans + Mules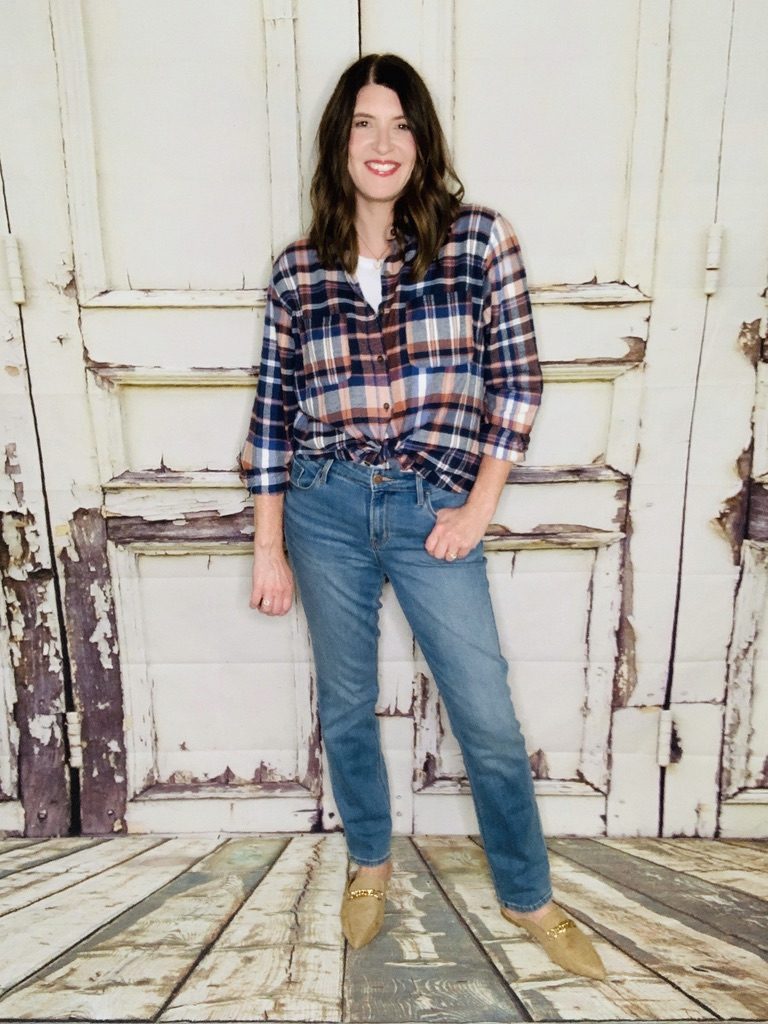 This combination is a good option if you want to define your waist without messing with a tuck of some sort. The tank underneath is tucked in, but it does not seem as bothersome as a bulky shirt tucked in.
Then I knotted the bottom of the shirt for a different look. The tank underneath prevents any skin from showing. I think this would have looked better with a belt now that I see the photos.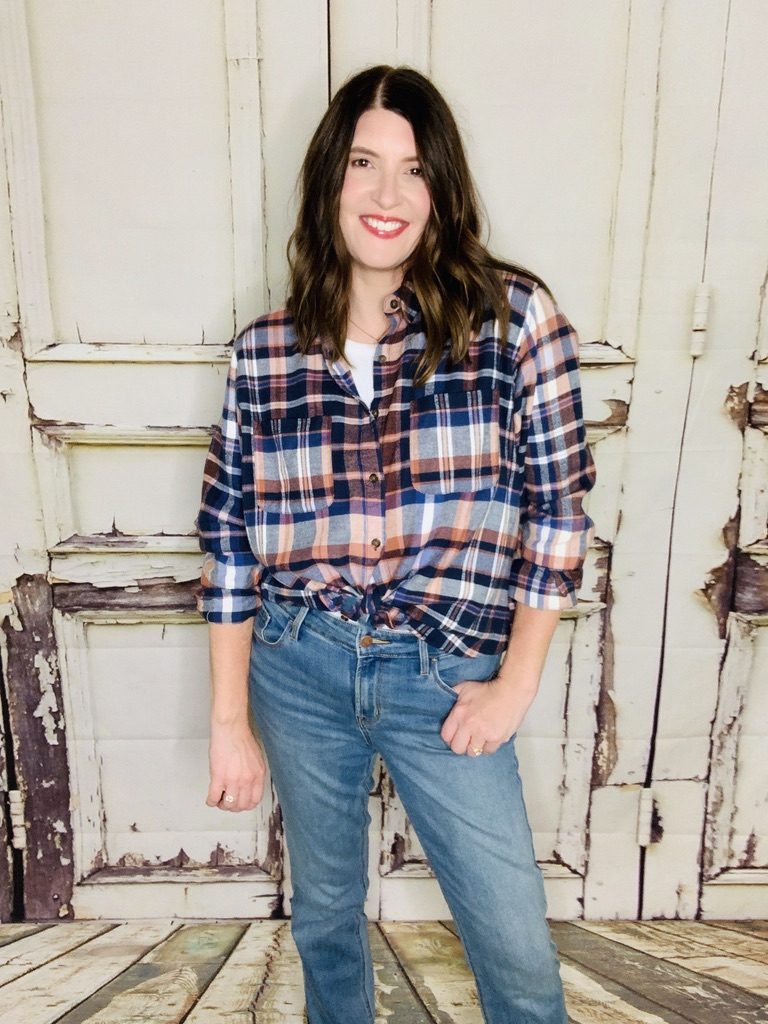 Straight leg jeans are very on trend and pairing them with pointed toe mules completes the updated look. My jeans are from Old Navy and my shoes are from Amazon. I will link all of these in the shopping widget. I featured these jeans in my Old Navy Try On. If you missed it, you can see it here.
Plaid Shirt + Oversized Sweater + Wide Leg Trouser Jeans + Ankle Boots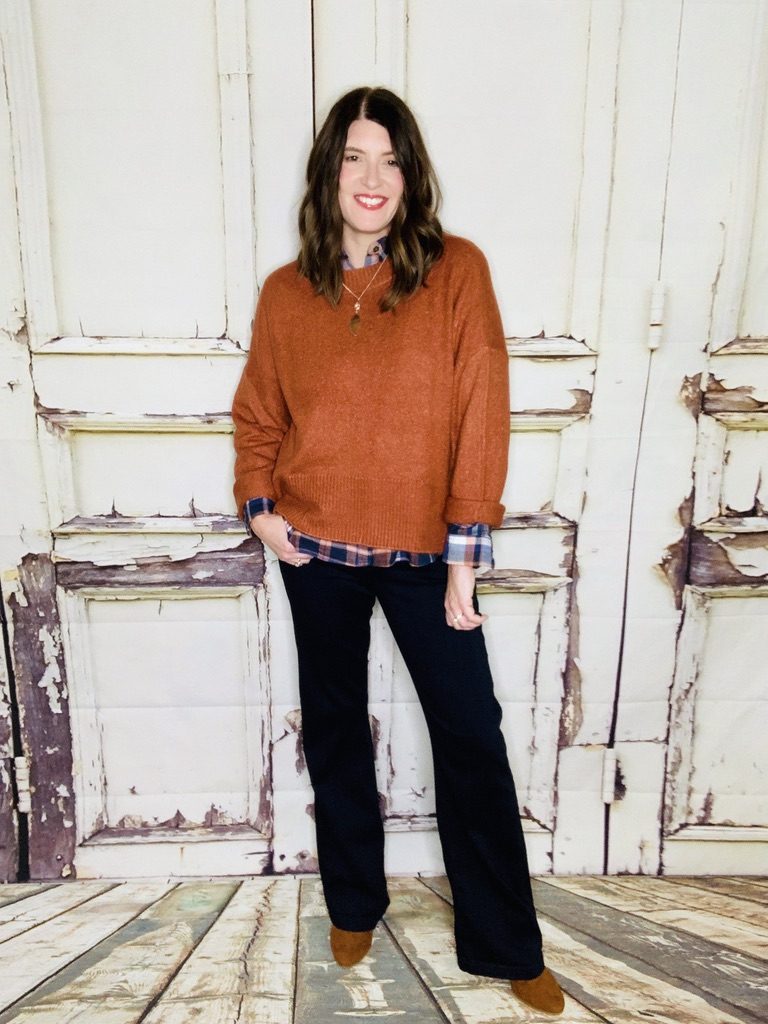 The third way to style a plaid shirt is to layer it underneath a sweater. This look is a bit more dressy and sophisticated. Layering in general is very up to date and you will see lots of it this year.
Here, I chose an oversized sweater to layer over the shirt. Leaving the shirt exposed on the bottom makes it more visible and tucking the shirt with this look would not work very well. Also by cuffing the sleeves of the sweater, the plaid shoes underneath.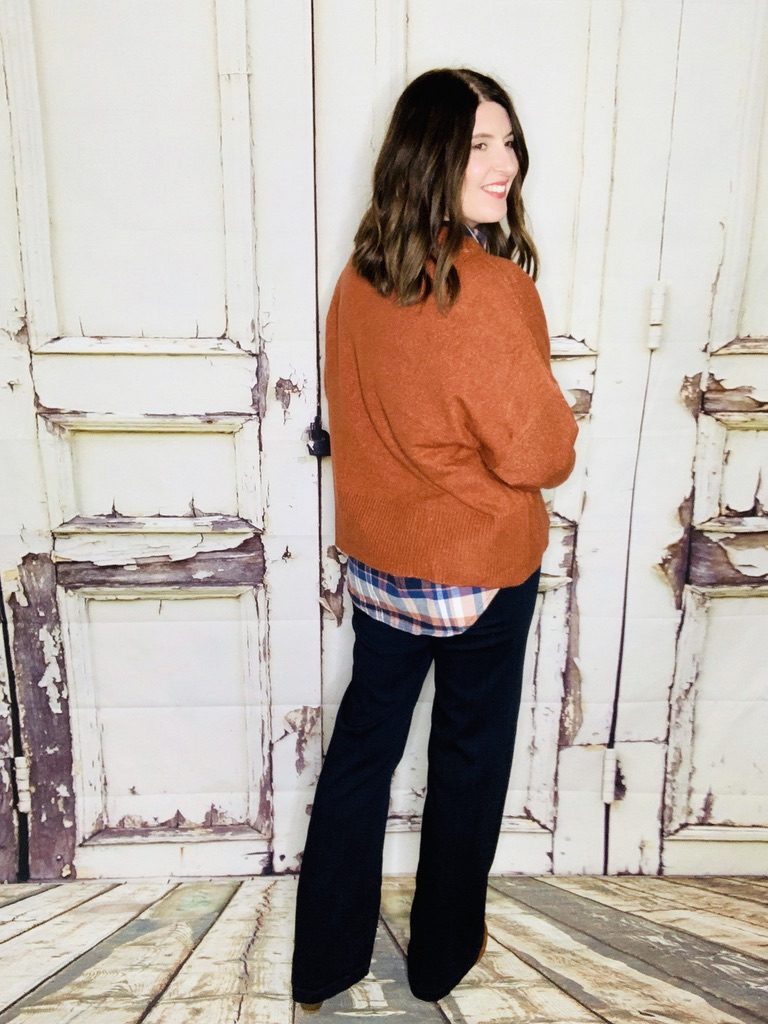 My sweater is last years style from Target. They have a style nearly identical this year that I will link for you. My pants are technically a dark wash denim, but the trouser style with wide legs gives them a much more elevated look. These are a couple of years old, so I will link something similar.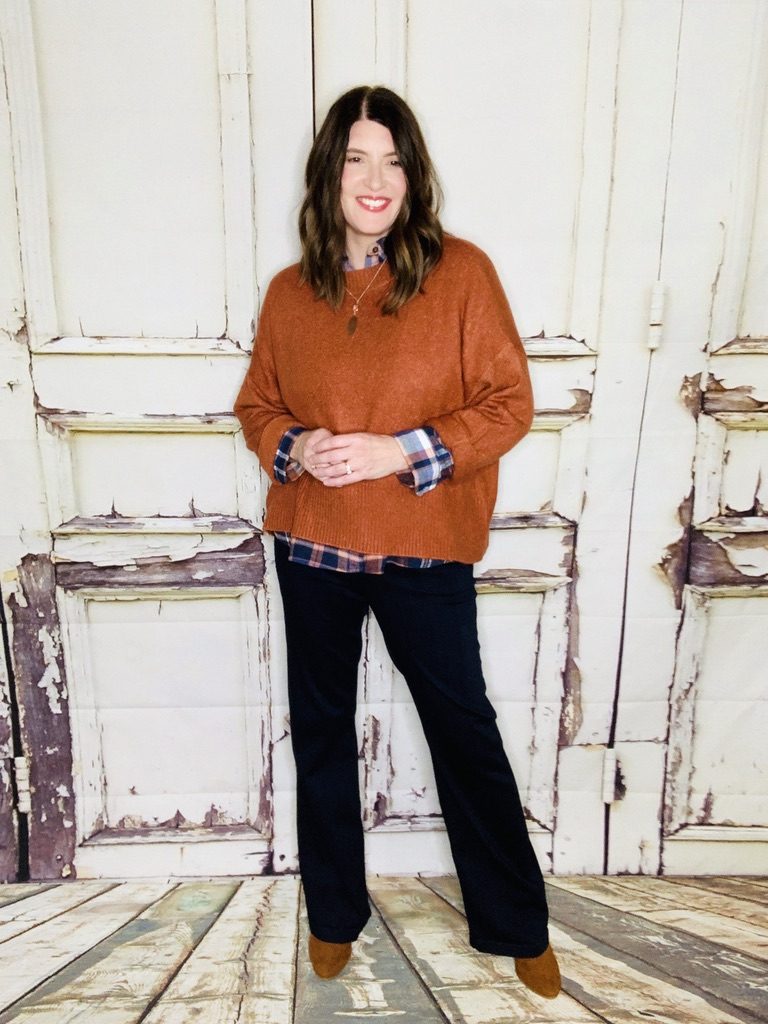 My boots are the same color as my sweater and are barely peeking out. You will want to wear a heel with this type of jeans or pants. Even though they are ankle boots, you can't see them so it really doesn't matter. My boots are last years style from Old Navy. They have a version of these every year, so I will link some similar styles/colors.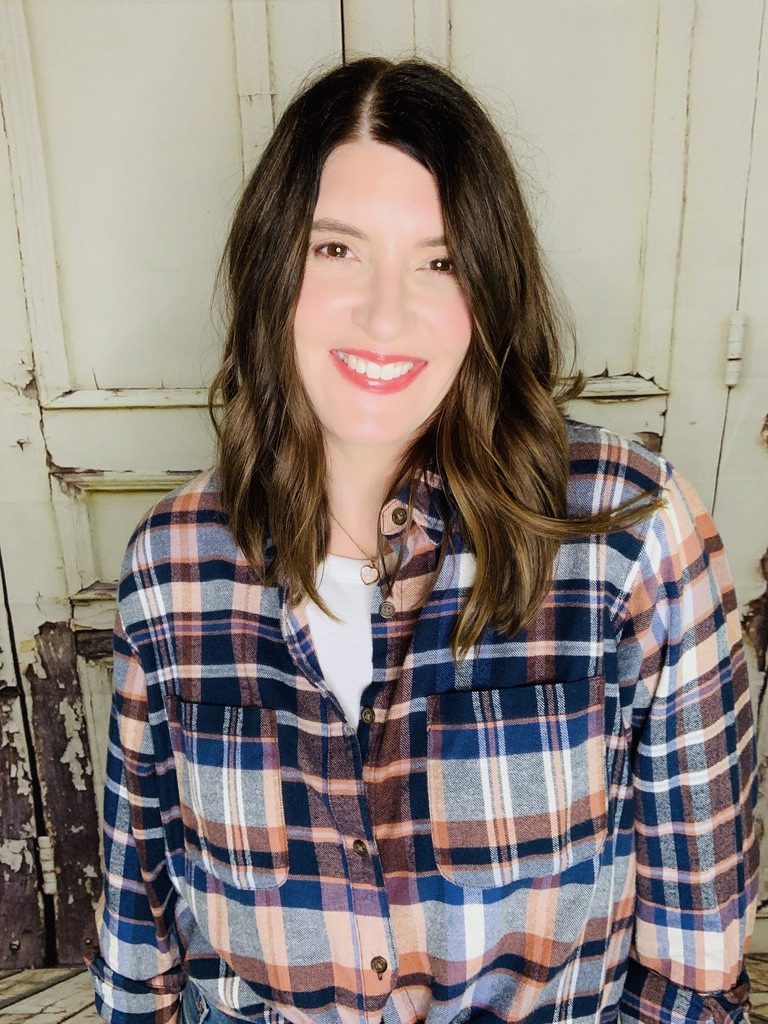 So there you have 3 ways to wear a plaid shirt. I always have fun putting these outifts together! It helps me as much as I hope it helps you! What is your favorite combination? One, two, or three?