I love sweaters! Every year I have to make a conscious effort not to over buy when it comes to sweaters…it's a challenge for sure! It's even harder when there are so many adorable sweaters to choose from at such reasonable prices. Today I have some pieces from Walmart. These stylish, affordable sweaters will take you from fall to winter in style!
Striped Crew Neck Sweater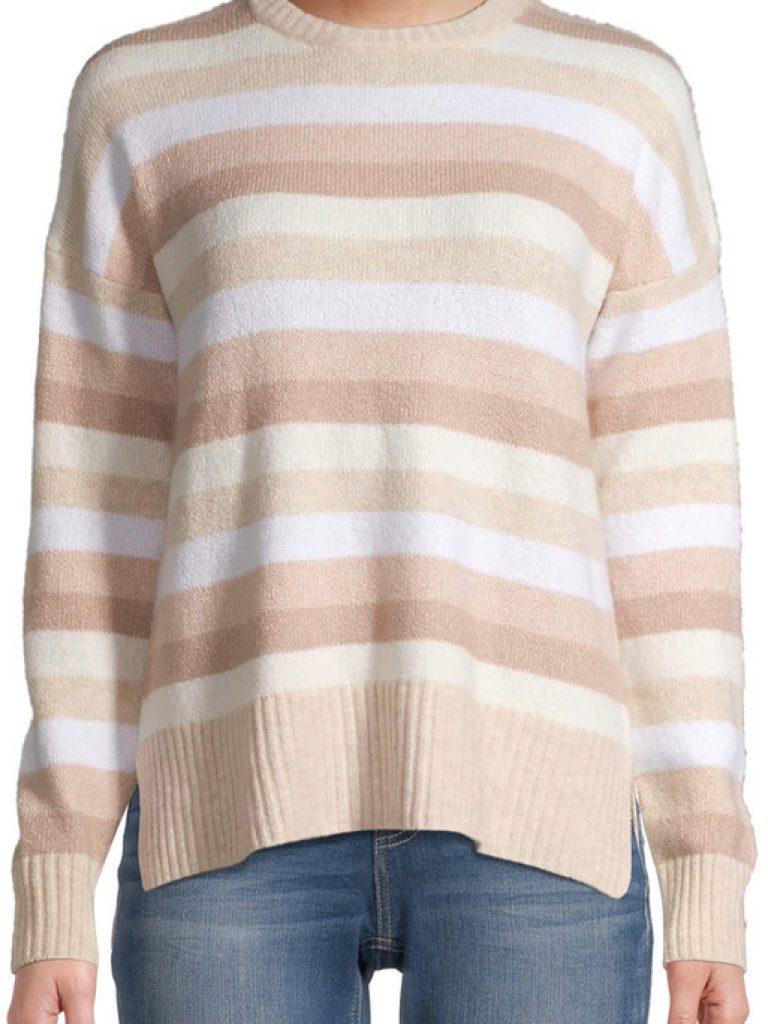 First is this super soft pullover sweater by Time and Tru. I couldn't decide which color or size, so I bought one of each! At $11.96 there's no reason not to. For under $12 I am amazed at the quality and comfort of these sweaters. Time and Tru is one of my go-to Walmart brands and I am rarely disappointed.
Oatmeal Stripe
I purchased the oatmeal stripe in a size large. I think these are just the prettiest soft neutral colors. They are not my personal best colors, but I really like this color combination.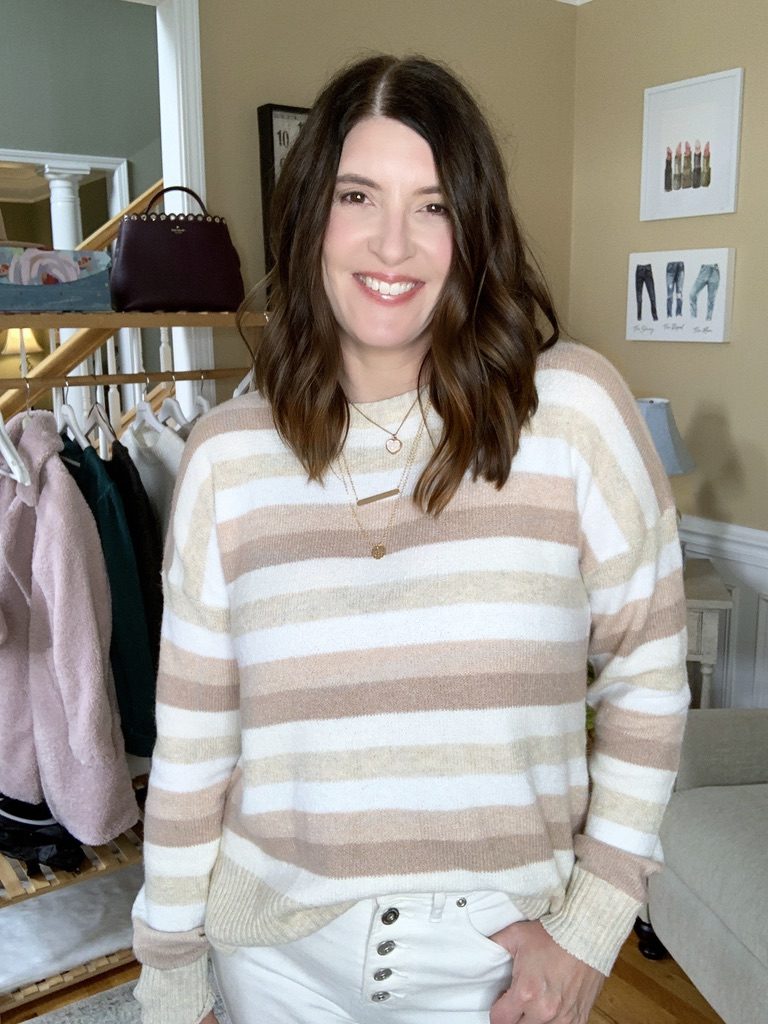 Time and Tru usually runs on the larger side, so I really had a hard time choosing a size. The large fits fine and gives an oversized look. I paired it with my Sophia Vergara White Flare Jeans. This is a good example of how you can wear your white jeans all year.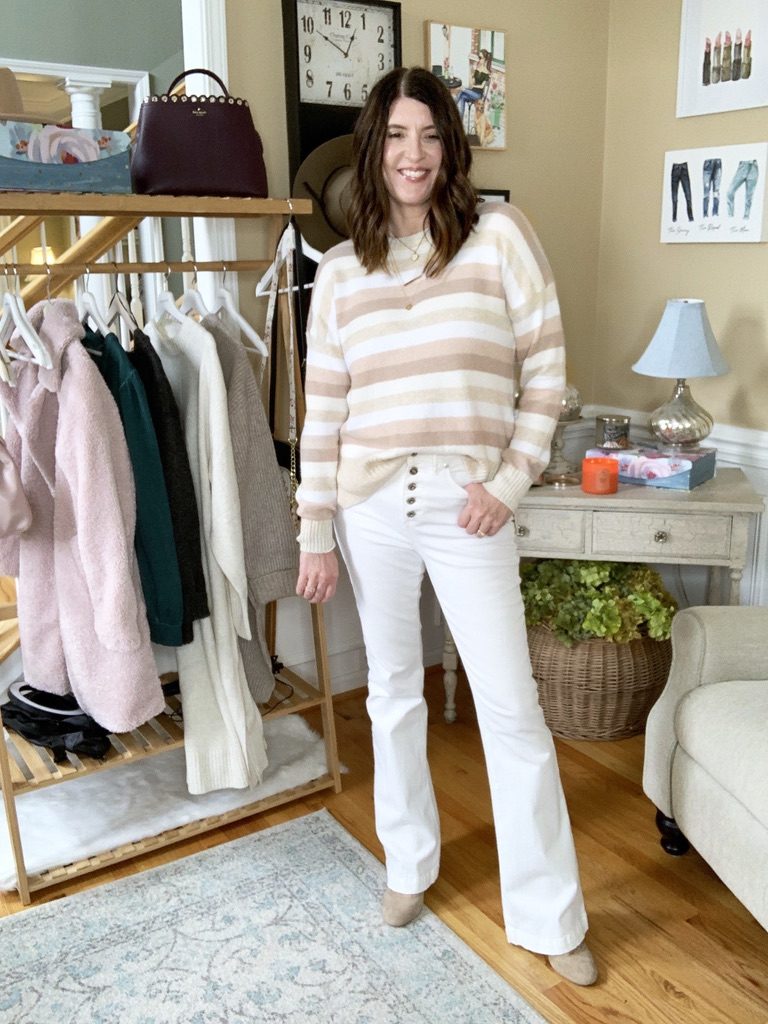 I prefer a front tuck on myself, but here is what it looks like untucked. My shoes are a faux suede pump by Sam Edelman.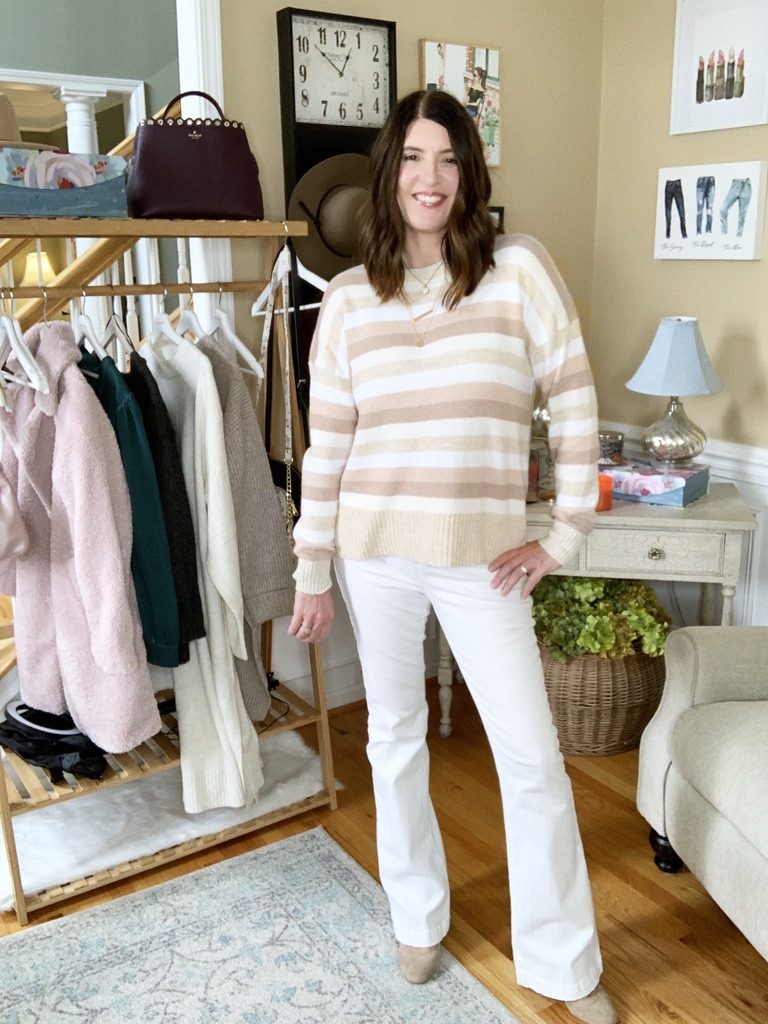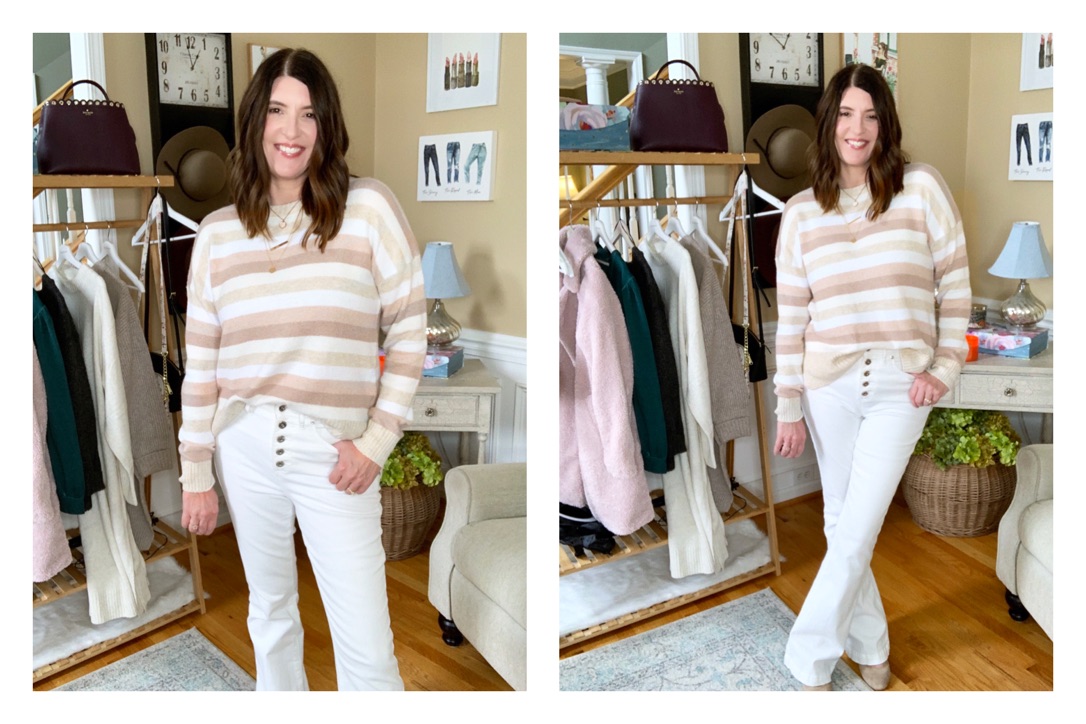 As an alternative way to wear this sweater, here I paired it with my faux suede skirt and tall boots. The sweater is thin enough to tuck in without causing too much bulk. I have shown this skirt before in my 10 Ways To Wear Camel post. You can see it here.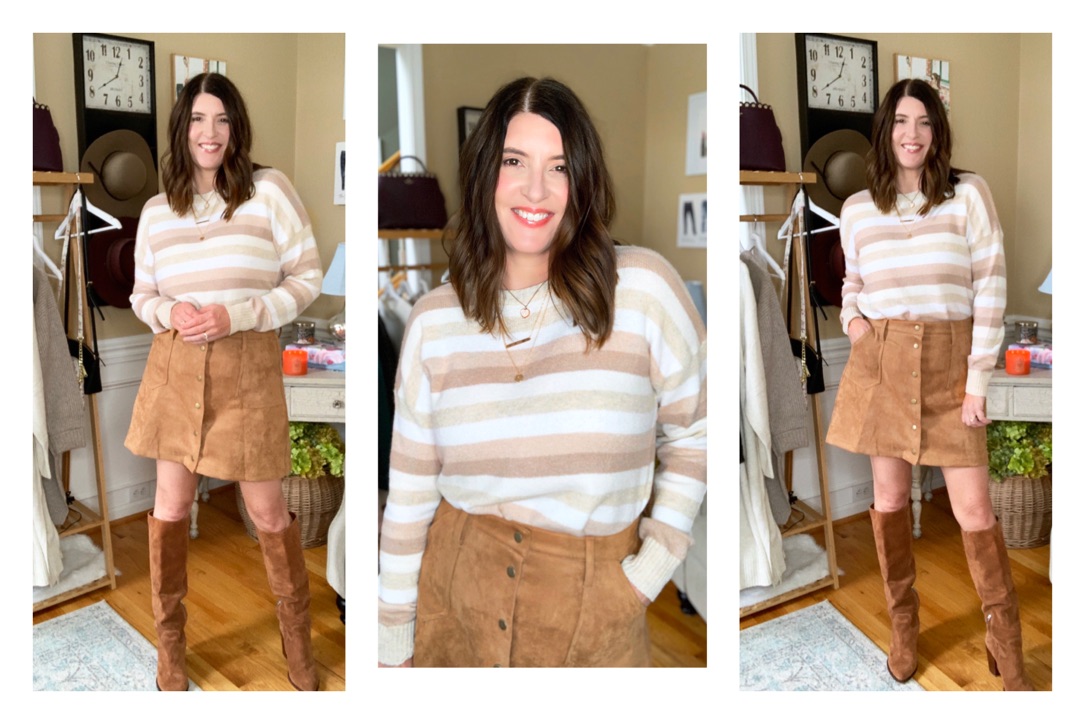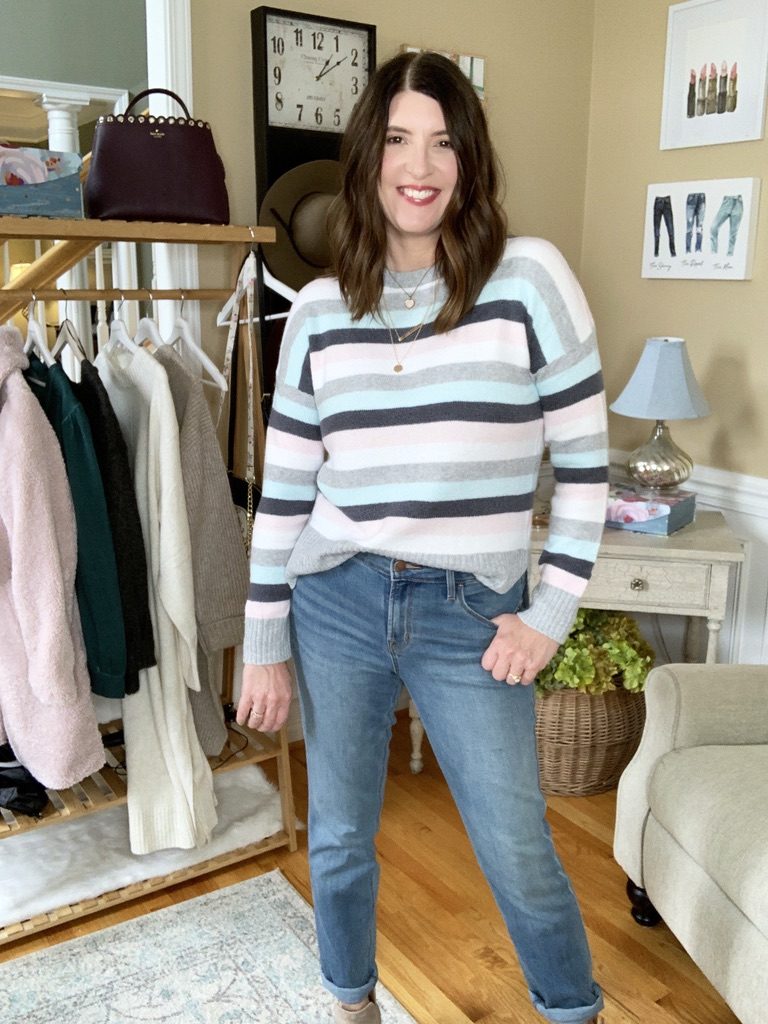 Aqua Stripe
I also purchased this aqua stripe in a size medium. This cool toned color combination is more flattering on me. I also think I like the fit of the medium better for this style of sweater.
For this outfit, I paired the sweater with my new favorite jeans. The Power Slim Straight Leg Jean from Old Navy. I rolled the bottom up to look better with my ankle boots.
Here is how it looks untucked.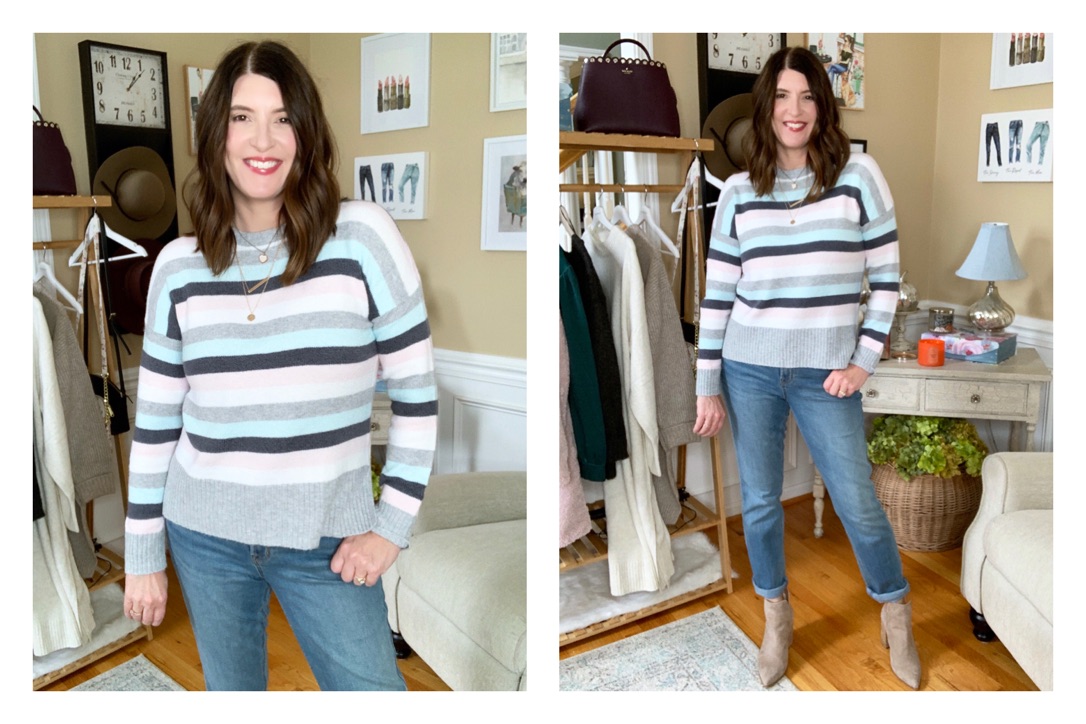 Here it is with a front tuck.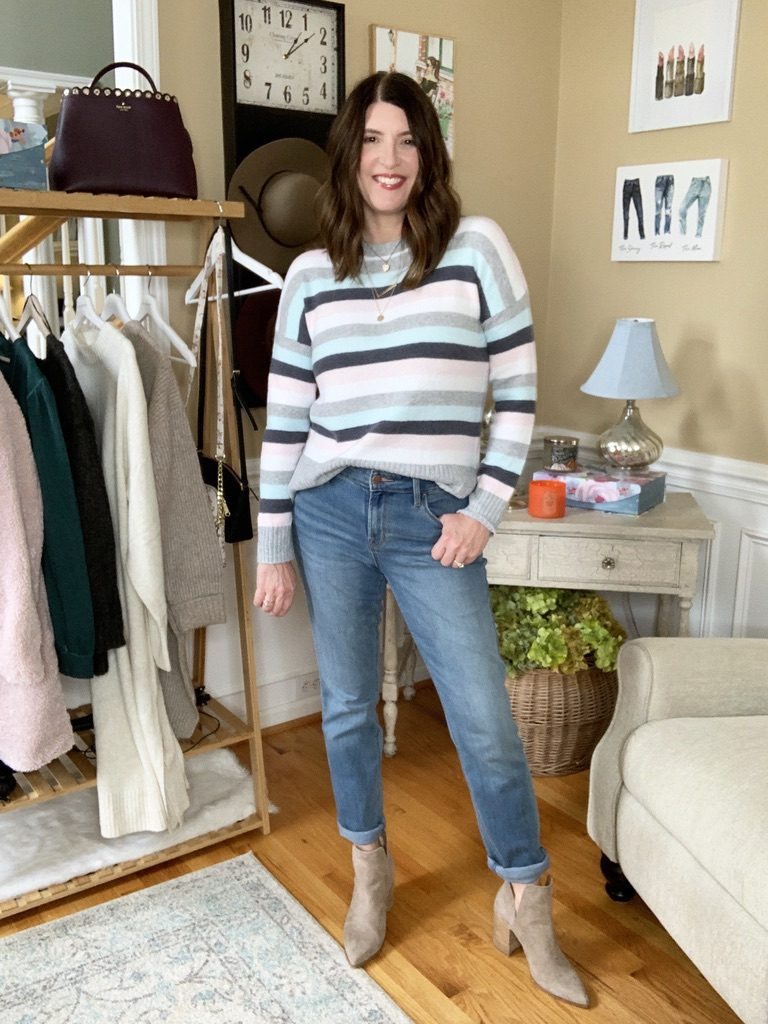 This sweater is a little more fitted than the size large, so I think I could wear it tucked or untucked. By the way, if you want to purchase this color click on the link with the oatmeal stripe and then choose aqua stripe on the Walmart website. It will only let me link one color for some reason.
Drop Shoulder Mock Neck Pullover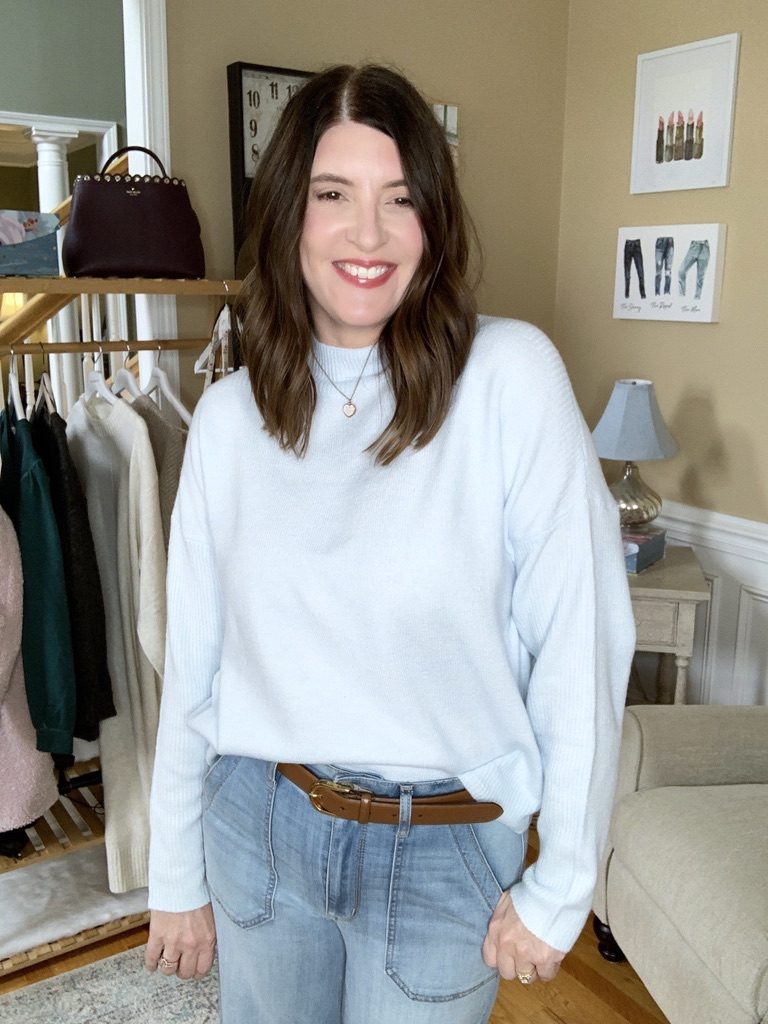 The next outfit centers around this mock neck pullover sweater in this icy blue color. It also comes in white, grey, and black. I went with a size large in this style because it is meant to look oversized and a bit slouchy.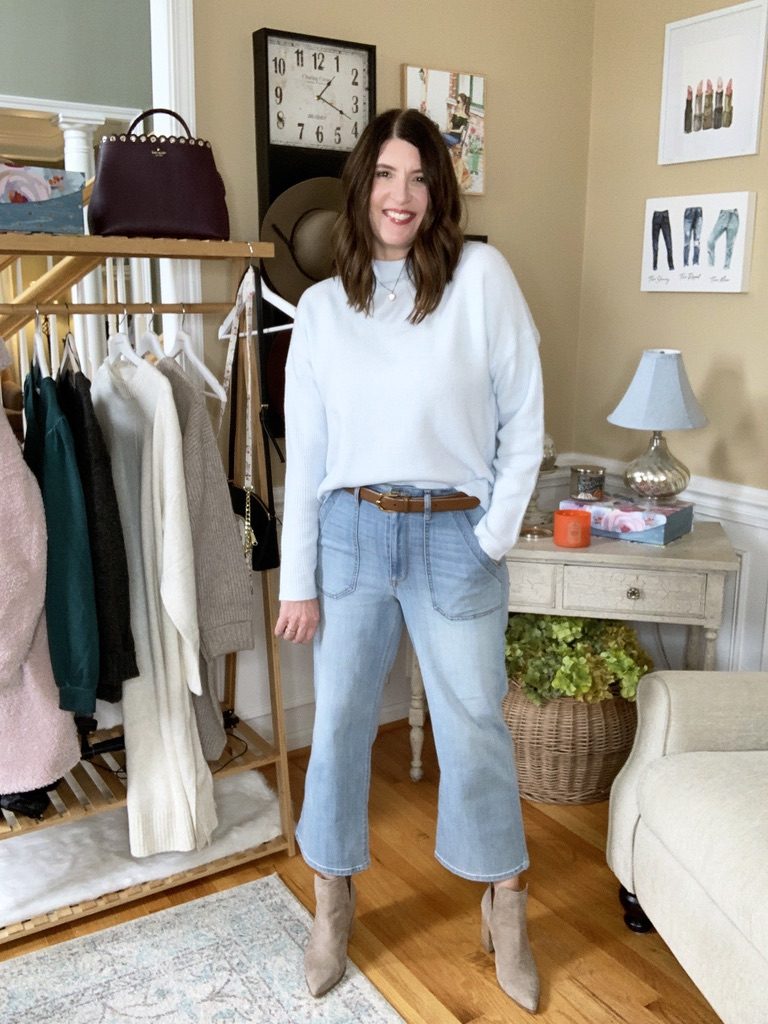 There are several trends going on here. First, the oversized sweater. Then I paired it with wide leg cropped jeans in a light wash. This created an almost monochromatic look. Finally, the booties give this outfit a modern touch. I would not recommend wearing this type of jean with flats. I think it would be a bit frumpy looking.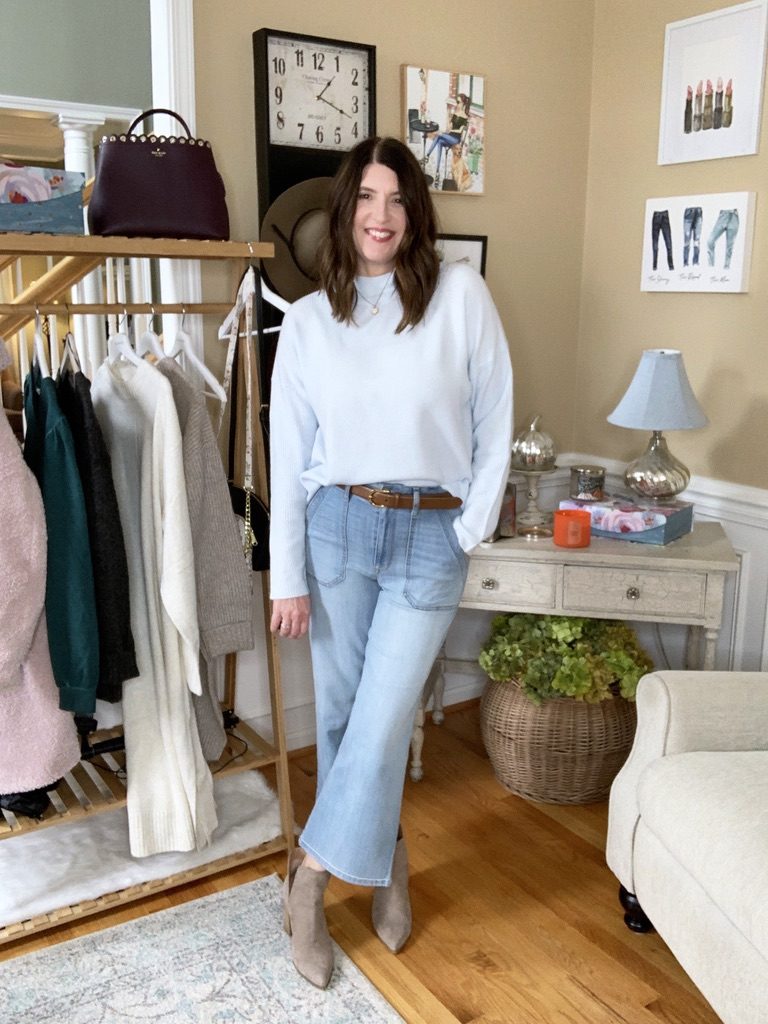 This style sweater also looks good with a midi skirt. Here is last years version in white paired with a pleated midi skirt.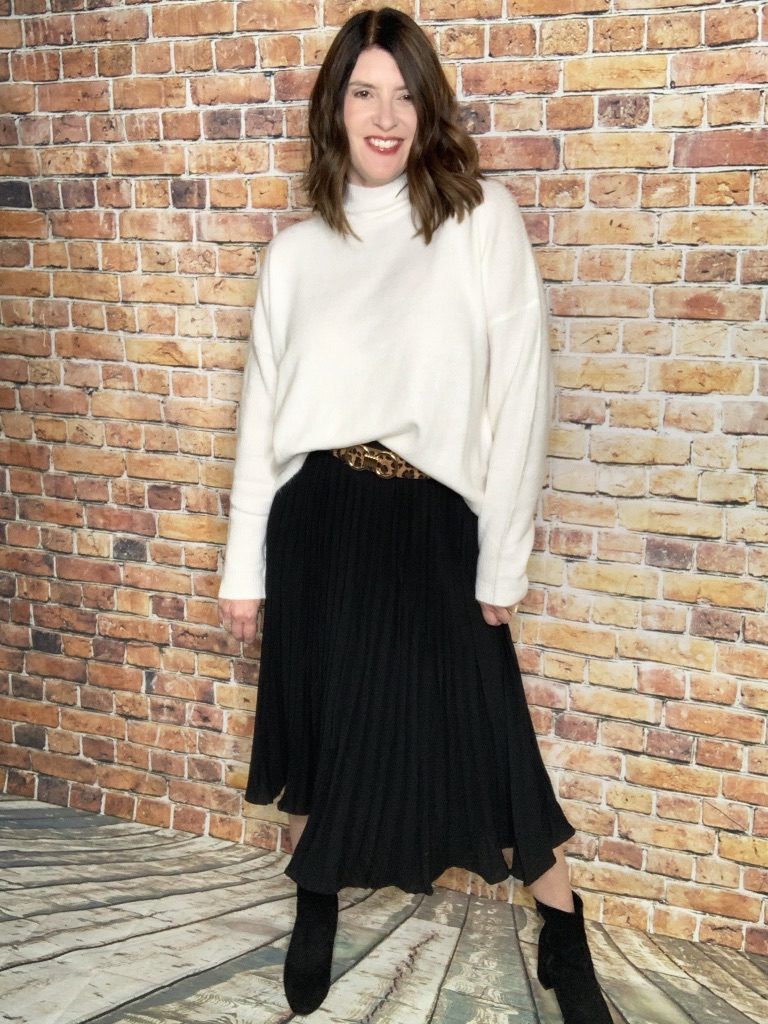 This one is a keeper!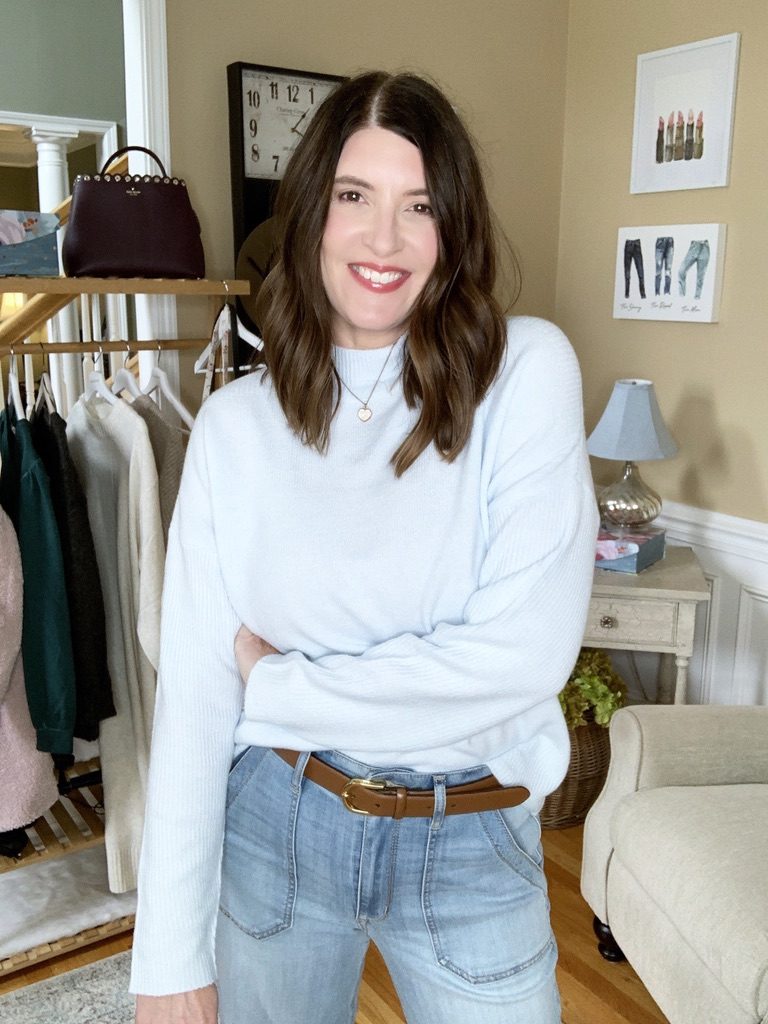 Teddy Bear Faux Sherpa Coat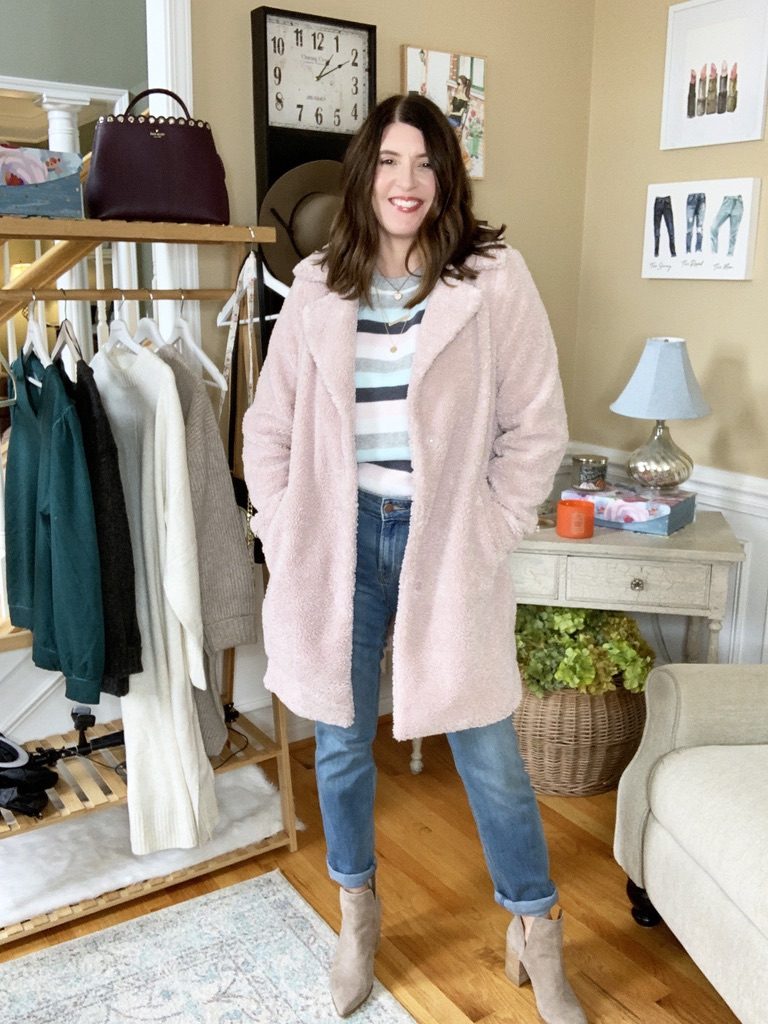 The last thing I have for today is not a sweater, but I wanted to include it here because it is also from Walmart and is such a great deal. This Teddy Bear Coat is so adorable and I think it would be such a good piece to have for colder weather.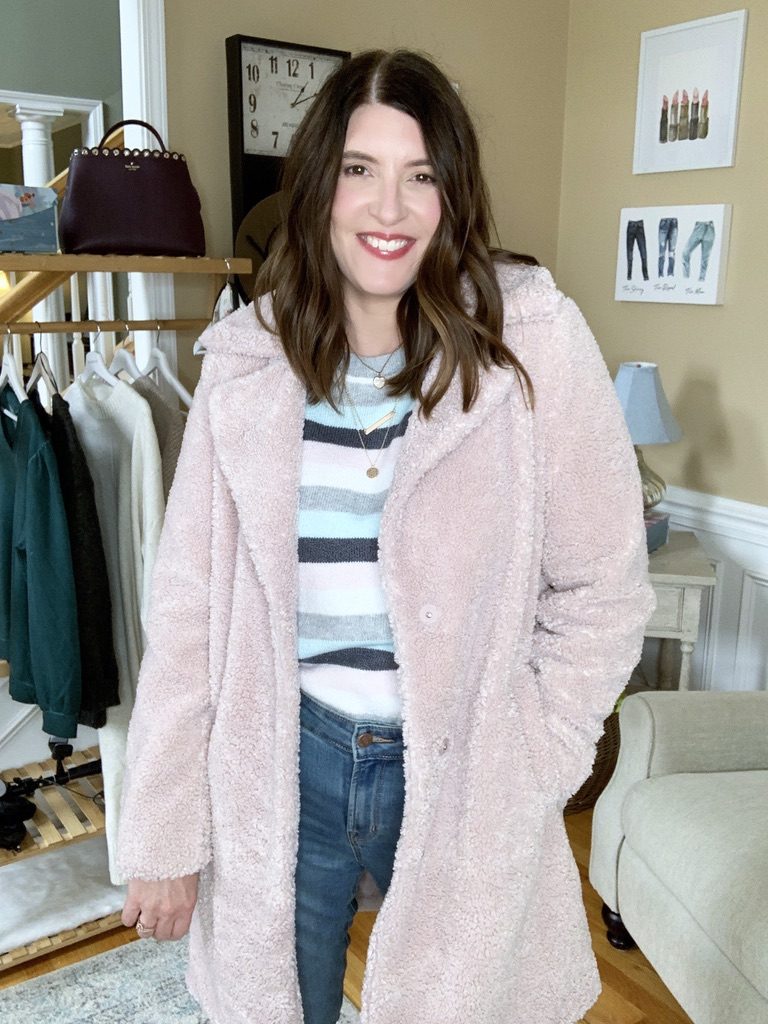 I usually stay away from sherpa coats and jackets because they add so much bulk…sometimes they are just not flattering. This one doesn't seem to add near as much bulk and I really like it.
It also comes in this gorgeous camel color and black. Normally I would gravitate toward the darker colors, but for some reason I was feeling the pink. Whatever color you choose, I think you will be happy with this cute little coat. I am wearing a medium for size reference.
These stylish, affordable sweaters will truly take you from fall to winter, and at such great prices you will want one (or two) of each! For some more Walmart fashion, you may enjoy this post.
Random Thoughts
I was having one of those days when the lighting would not cooperate when these photos were taken, so I apologize for these looking dark. Photography is a frustrating skill to learn at times! Despite my best editing attempt, I couldn't seem to correct it. I think you can still tell what the clothes look like, which is the important thing.
I also want to take just a moment to thank you for spending a few minutes here. If you are a subscriber, I especially want you to know how much I appreciate your support! You ladies are the core of who I try to serve here, so always feel free to tell me what you want to see or what would be helpful for you. You can always email me at thescarletlilyblog@gmail.com or leave a comment down below.