Spring and summer are all about the outdoors. Here in the south, we take our front and back porches seriously! Of course southerners also have the summer heat to contend with, so our outdoor spaces are only enjoyed if the space is shaded from the harsh temperatures we experience. No matter where you live, you can enjoy your porch or patio. Today I'm sharing my screened house and how to make a cozy outdoor space.
My Screened House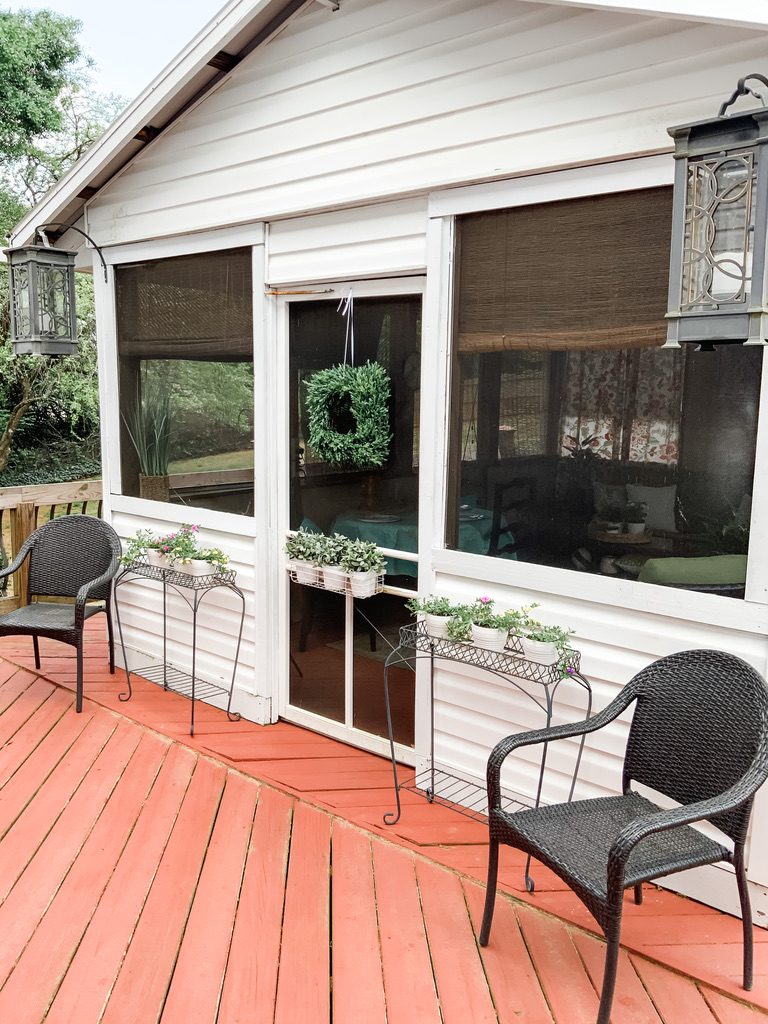 This is my screened house which sits on our back deck. This is probably my favorite space in our entire home. The main reason it is so special is because my husband built it. He constructed it for me all on his own because I really wanted a screened in porch. Well, he did have one little helper….this is our daughter helping him when she was really little. She's 19 now!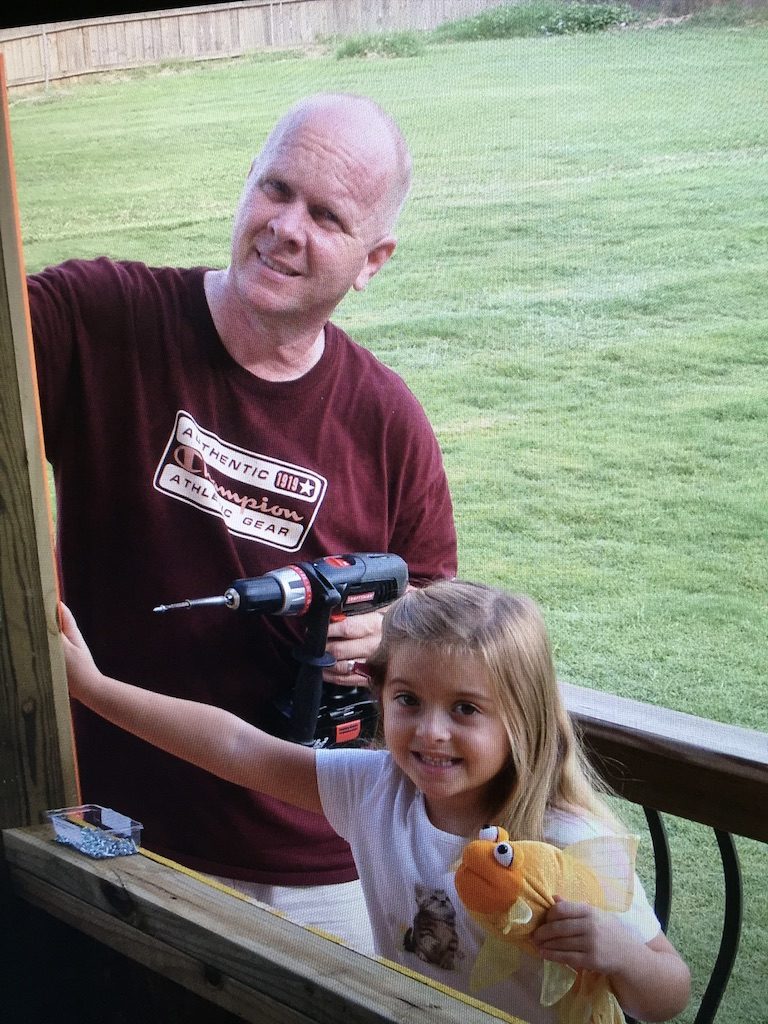 All these years later it's still standing strong and it's such a unique space.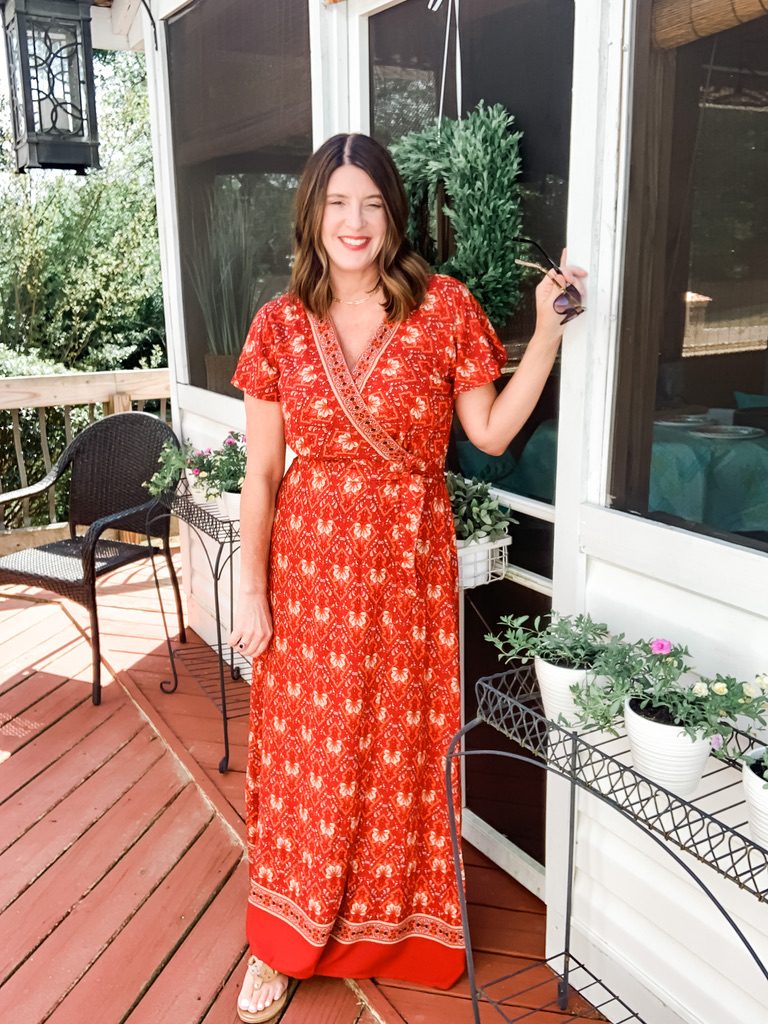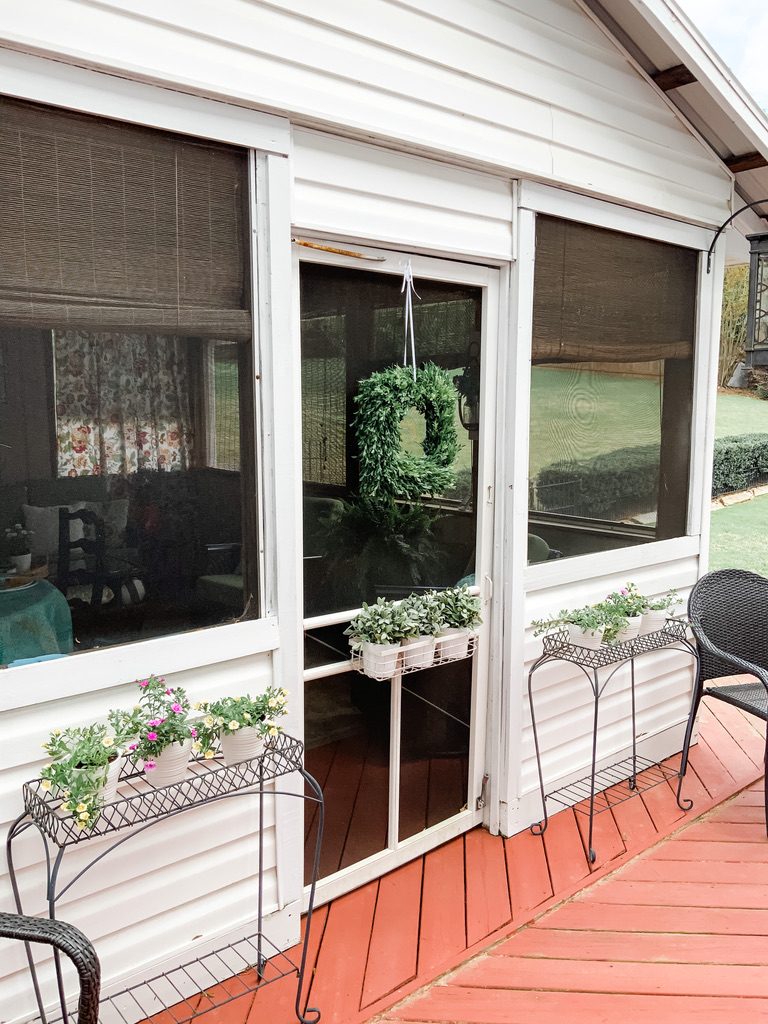 Every spring we have to restore it to it's present condition after a cold winter and the heavy pollen season that just passed. My husband and I recently cleaned all the cushions and furniture so we could enjoy it once again.
Welcome In
Step inside so I can show you how I decorated this space to feel more like a part of our home.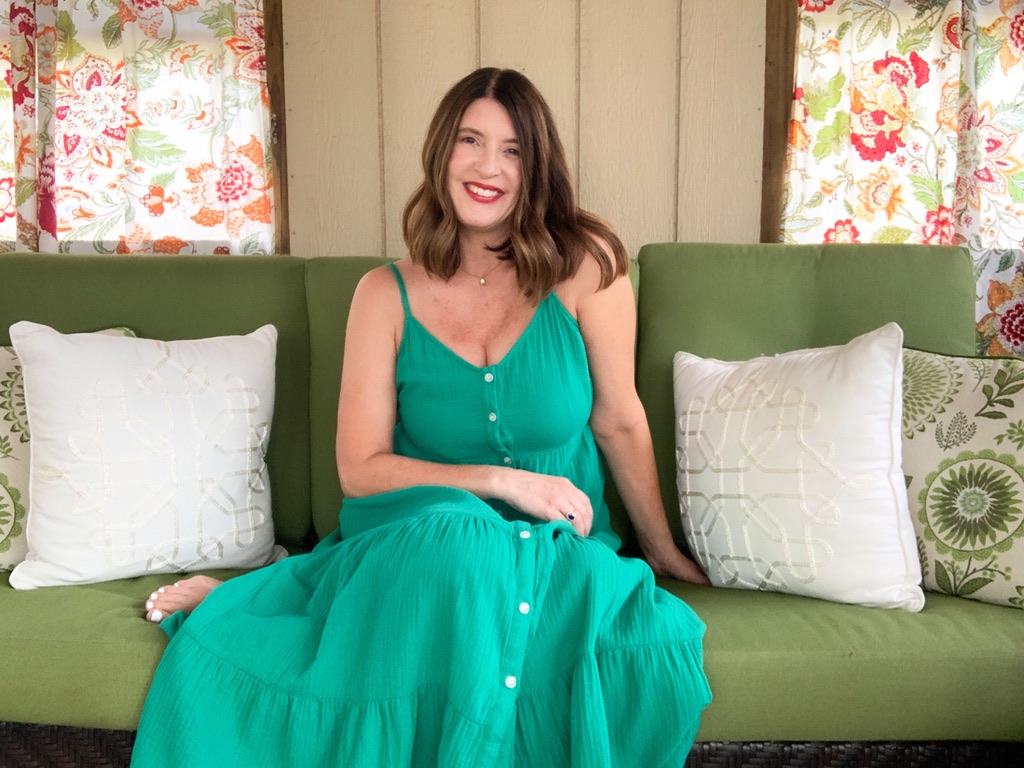 When creating a cozy outdoor space, having comfortable and inviting patio furniture is a must. This set is a couple of years old and came from Sams Club.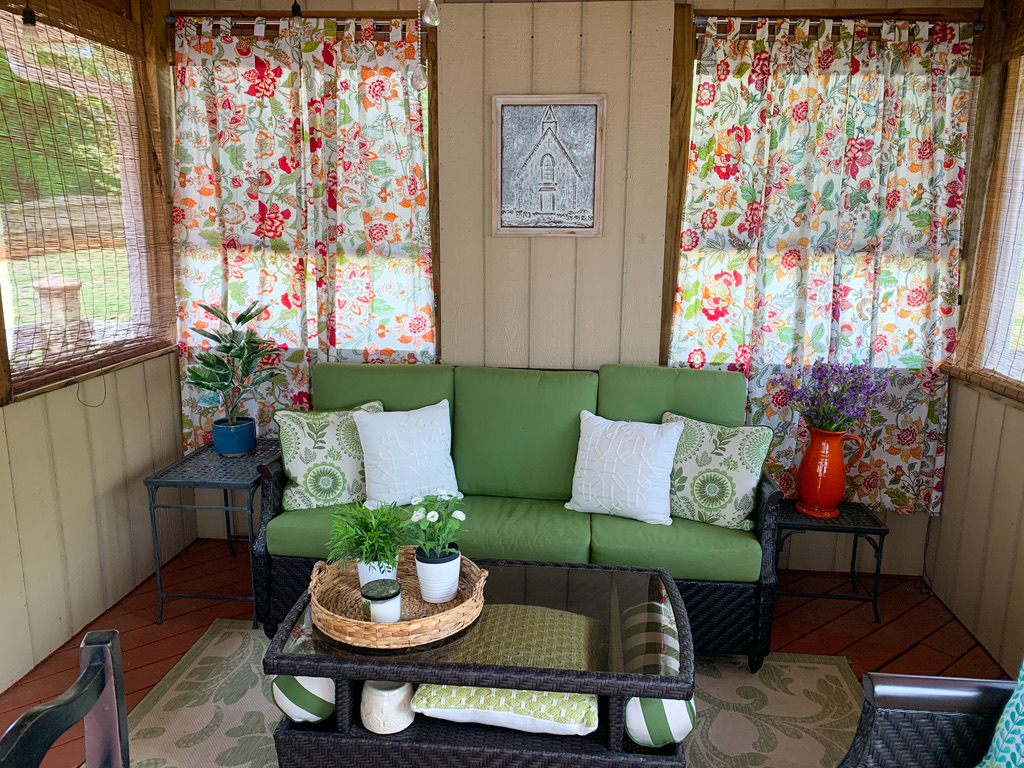 Our back porch gets the evening sun, which makes it extremely hot in the summer. The blinds help create some shade, but the addition of the curtains has had the most impact. They not only provide a cozy atmosphere, but they block the setting sun and make the space more enjoyable during the hotter months. This set and this one are similar.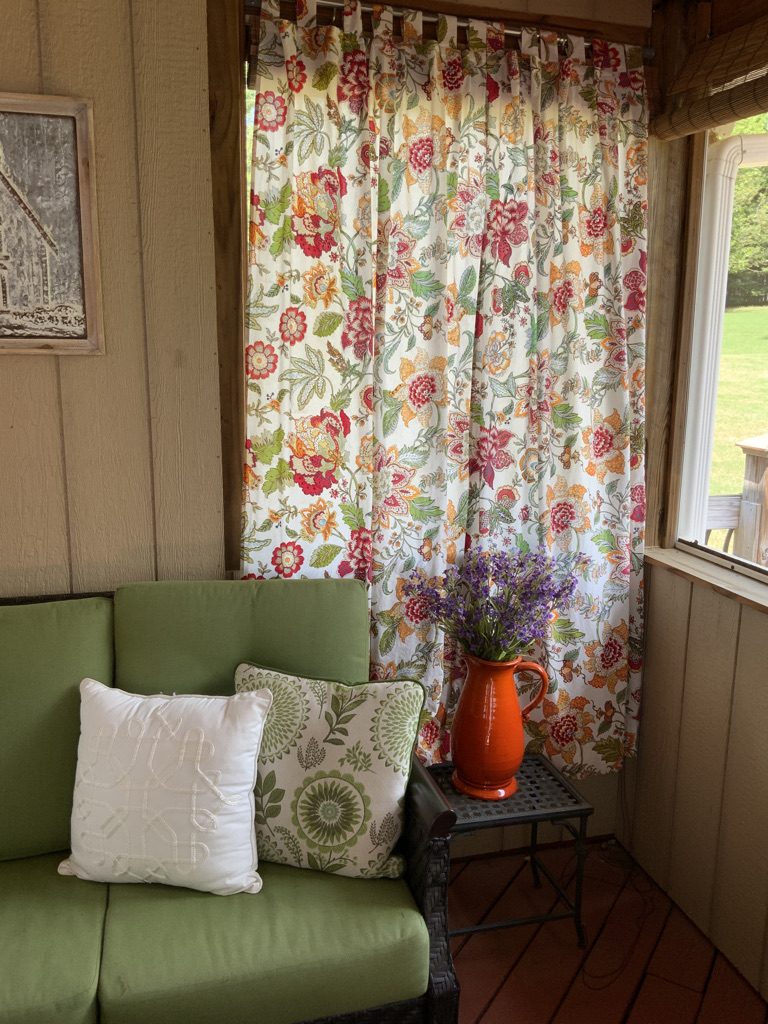 The bright green and orange floral print curtains coordinate well with the seat cushions. I originally purchased these at World Market a few years ago and I used them in my family room for a while. When I got new curtains for the family room, I held on to these and I was glad I still had them when I came up with the idea to hang curtains on the porch.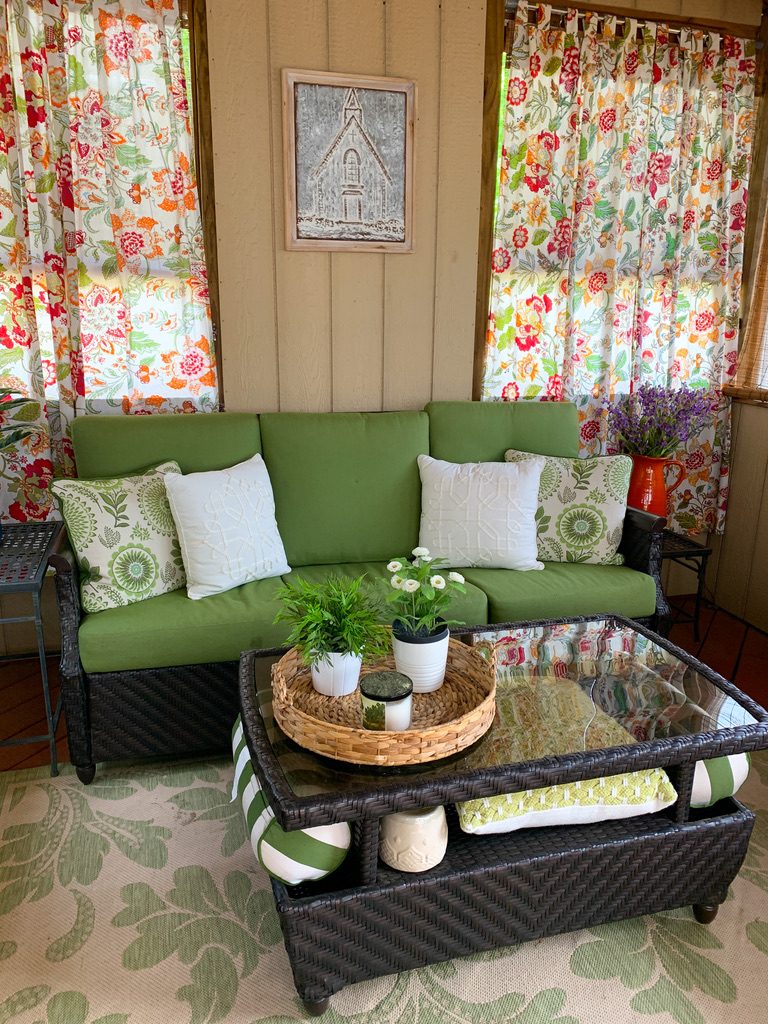 I think using some type of curtain panel or drapey fabric is the most effective way to make a cozy outdoor space. When I hung these panels, it really transformed the look and feel of the space.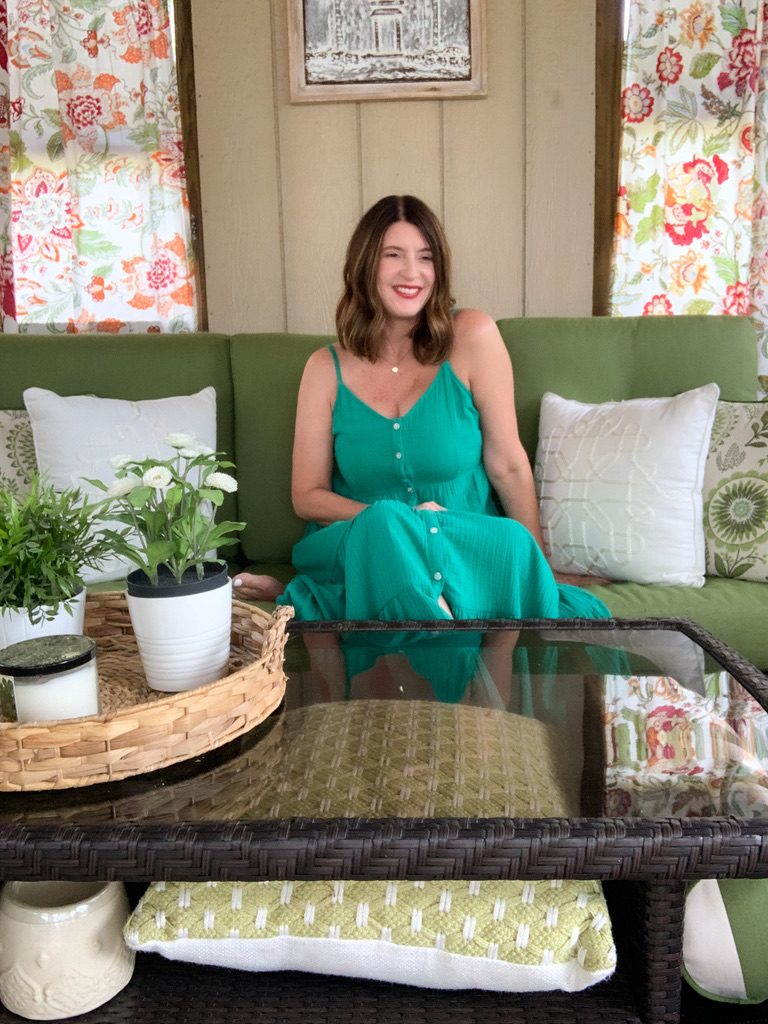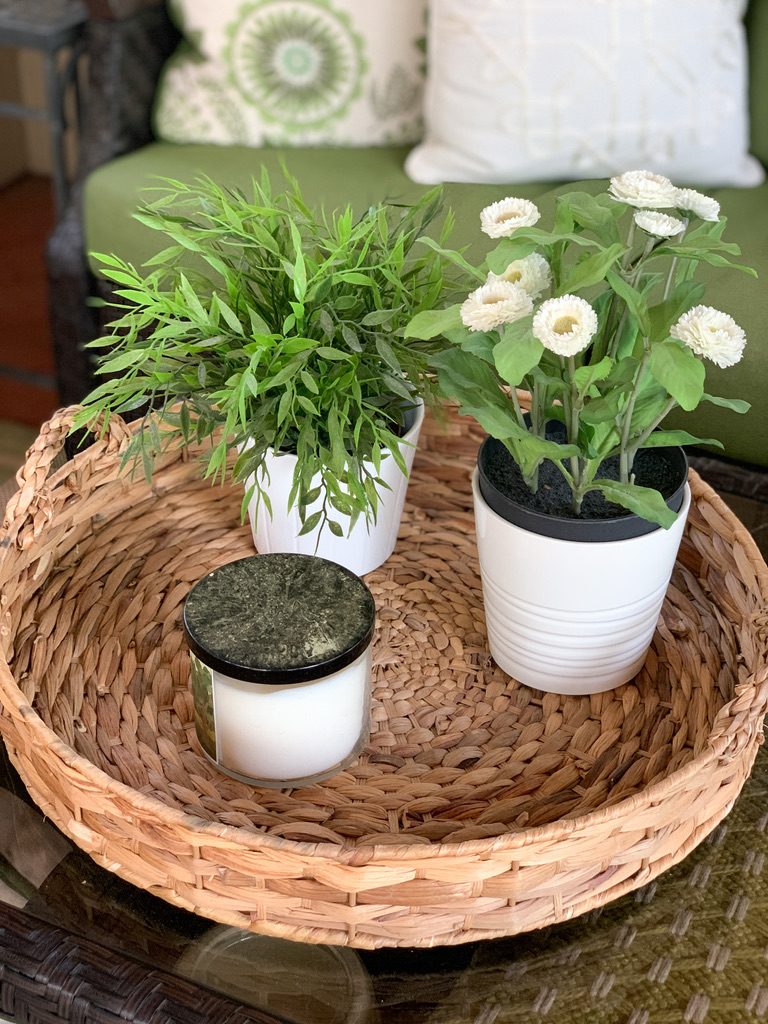 Plants always make a cozy outdoor space, and these artificial ones are perfect for the sofa table. I never have to water them and they stay pretty all summer!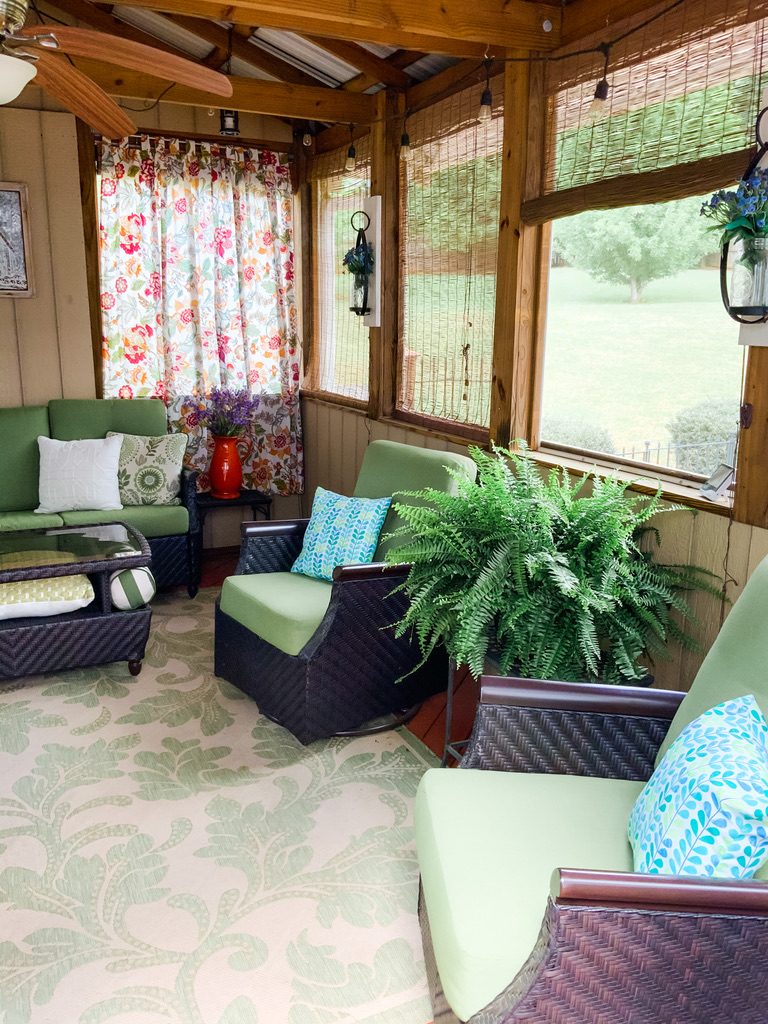 The only live plant in this space is the fern. I'm not the best with plants and with the intense heat they always tend to die. I think I can keep up with this one and the ferns like the shady area.
Eating Outside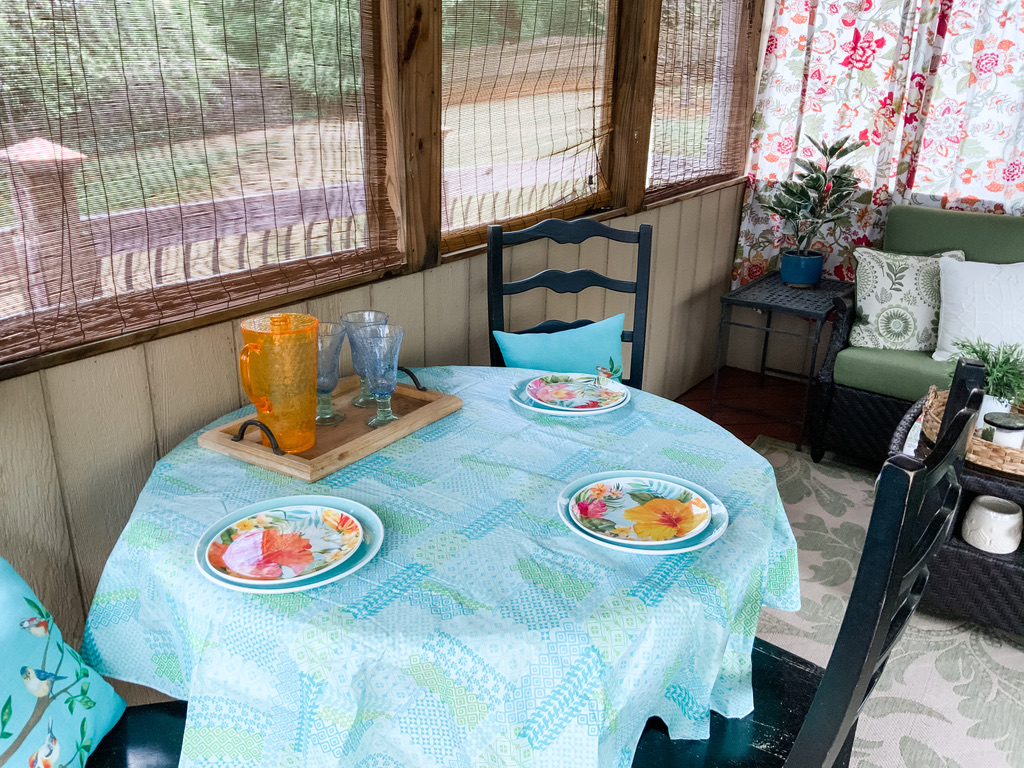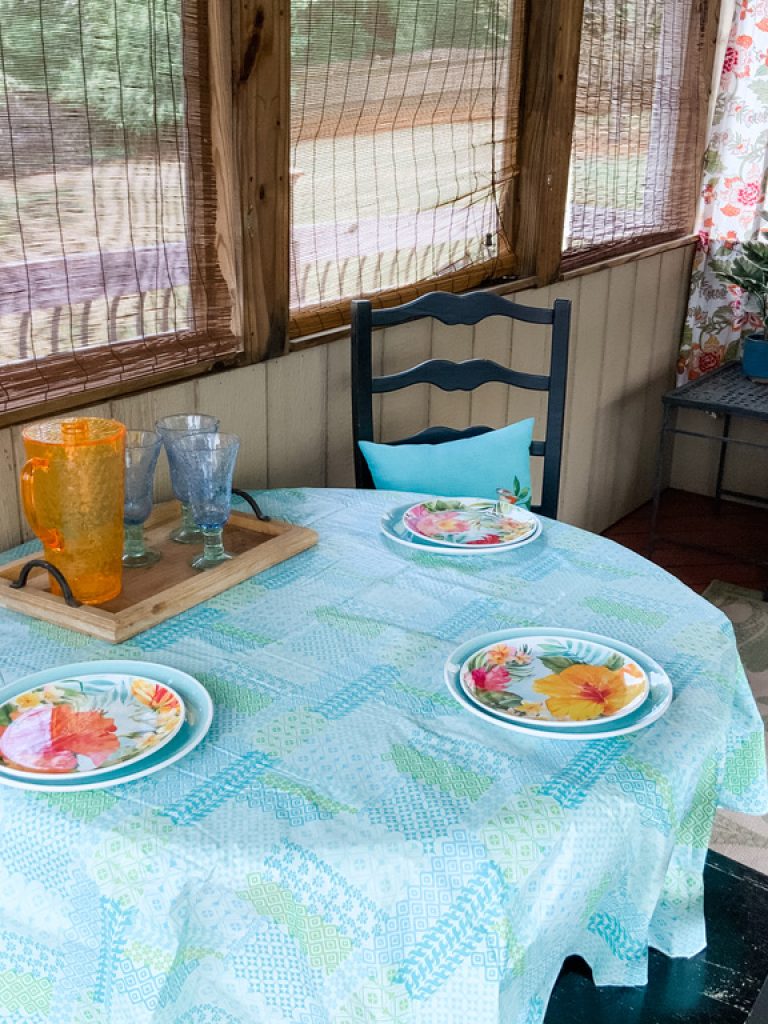 We love to eat meals out here, so I have always had a table of some sort in the screen house. The one I'm currently using is an old piece that used to be inside, and the weather has really taken a toll on it.
I just decided to cover it with a pretty outdoor table cloth and use our colorful melamine plates.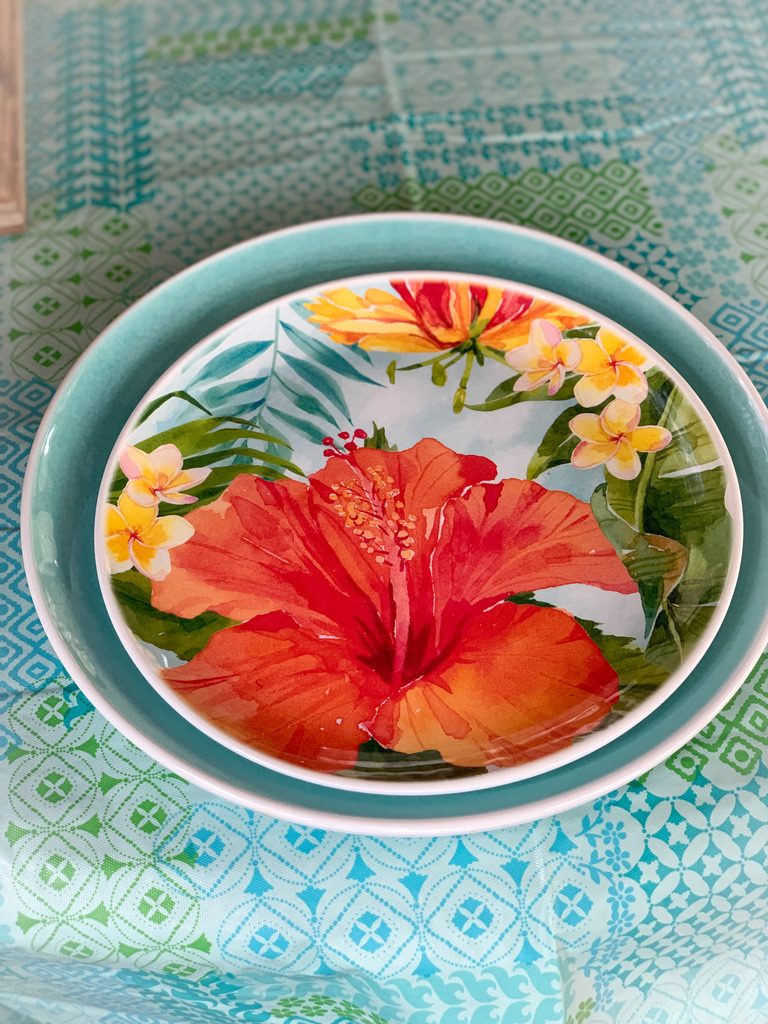 I hope you enjoyed this little tour. Hopefully you now have some ideas if you want to make a cozy outdoor space of your own. This is the place where I relax, recharge, and enjoy being outside as much as possible! I might even take a nap out here every now and then.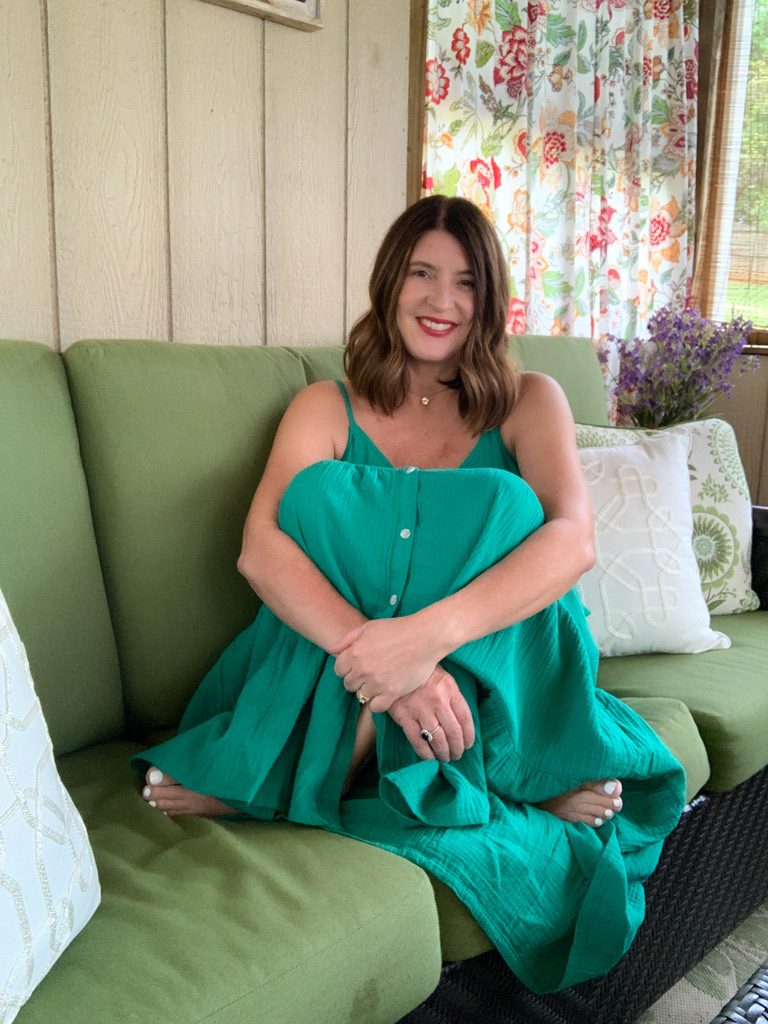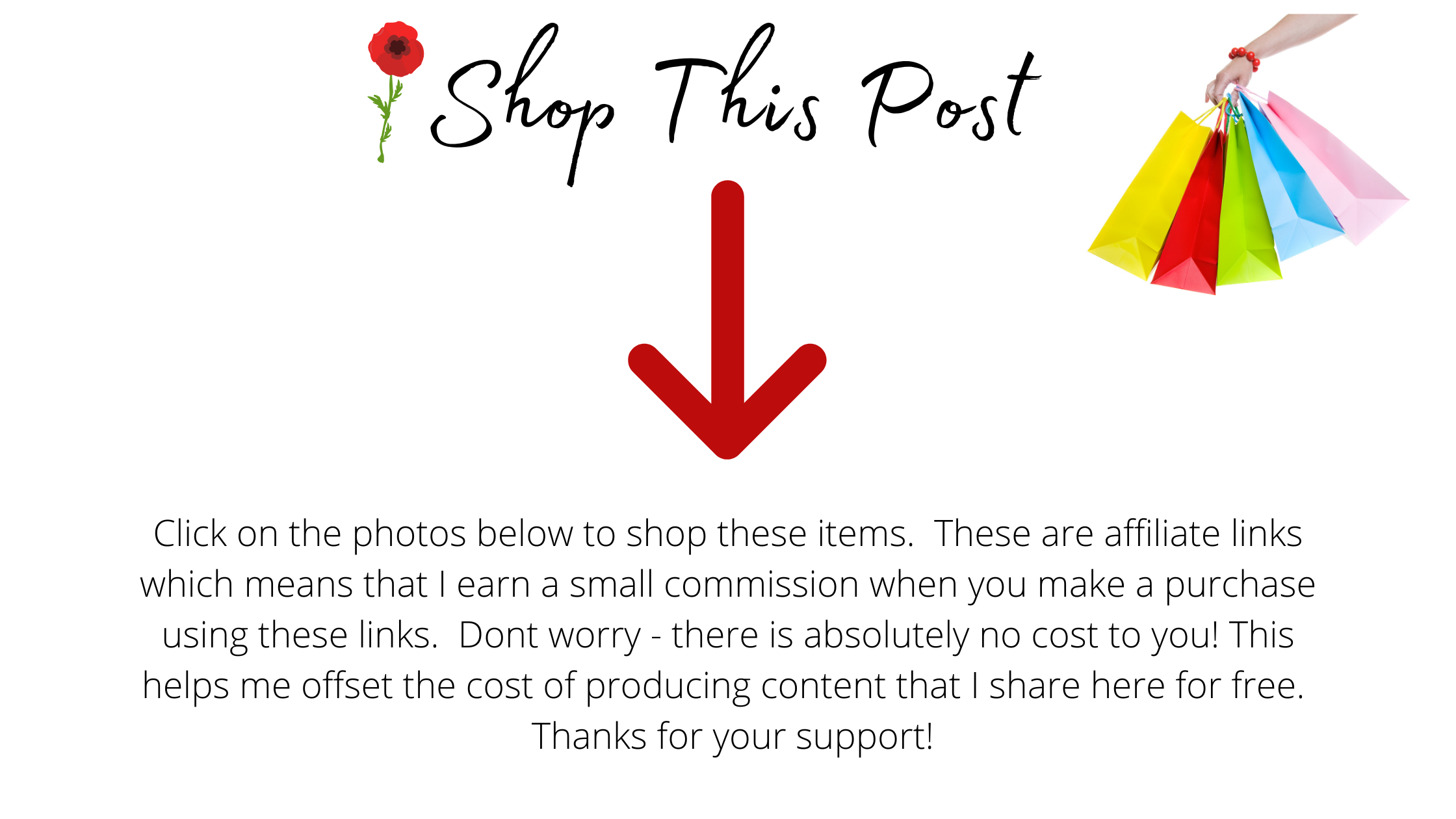 You might also enjoy this post.