I have been systematically reorganizing my kitchen by work zones. I recently wrote a post about organizing the kitchen sink area. If you missed that post, you can see it here. Today the focus will be on two areas. First, I created a coffee station, and secondly I also updated the decor on our dining table.
Coffee Station
Our coffee pot and Keurig used to be on the opposite side of the kitchen in relation to the sink. The coffee, keurig pods, and coffee filters were in the pantry. I am very spoiled in that my husband always makes the coffee, but I was aware that it was not set up for a convenient flow. Everything needed to make the coffee was spread out all over the kitchen.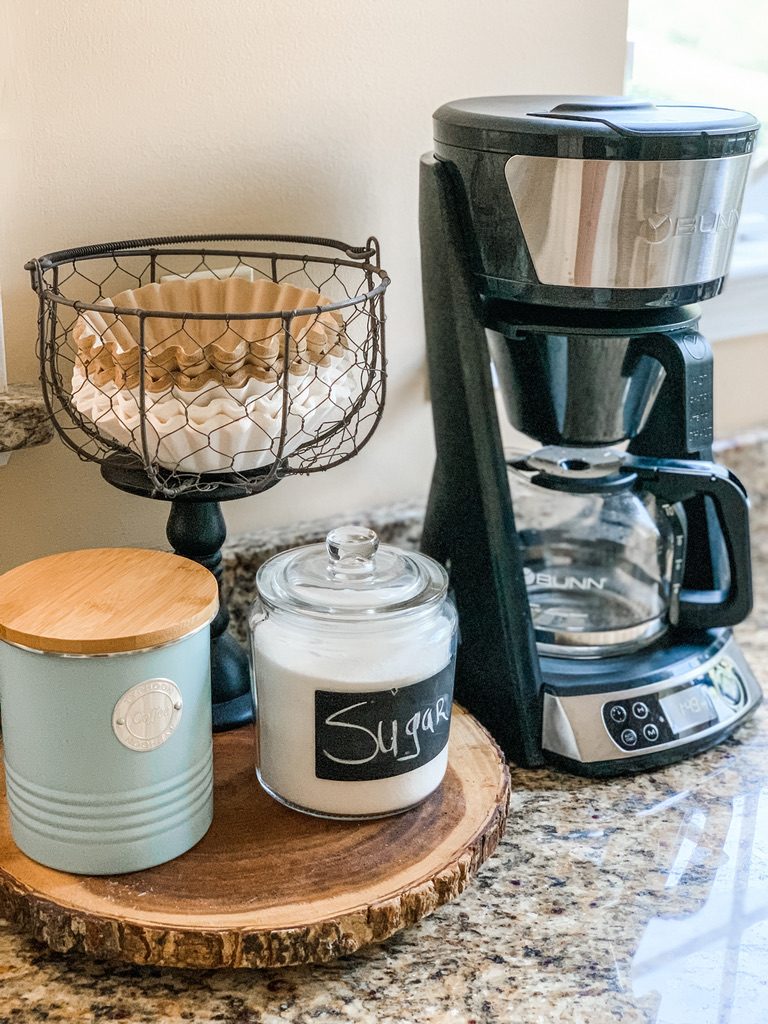 My first priority was to move the coffee pot closer to the sink so we could fill it with water more easily. Then I found a container to put the coffee in. I ordered this pretty blue canister from Amazon, but I realized when it came in that it was too small, so I had to return it.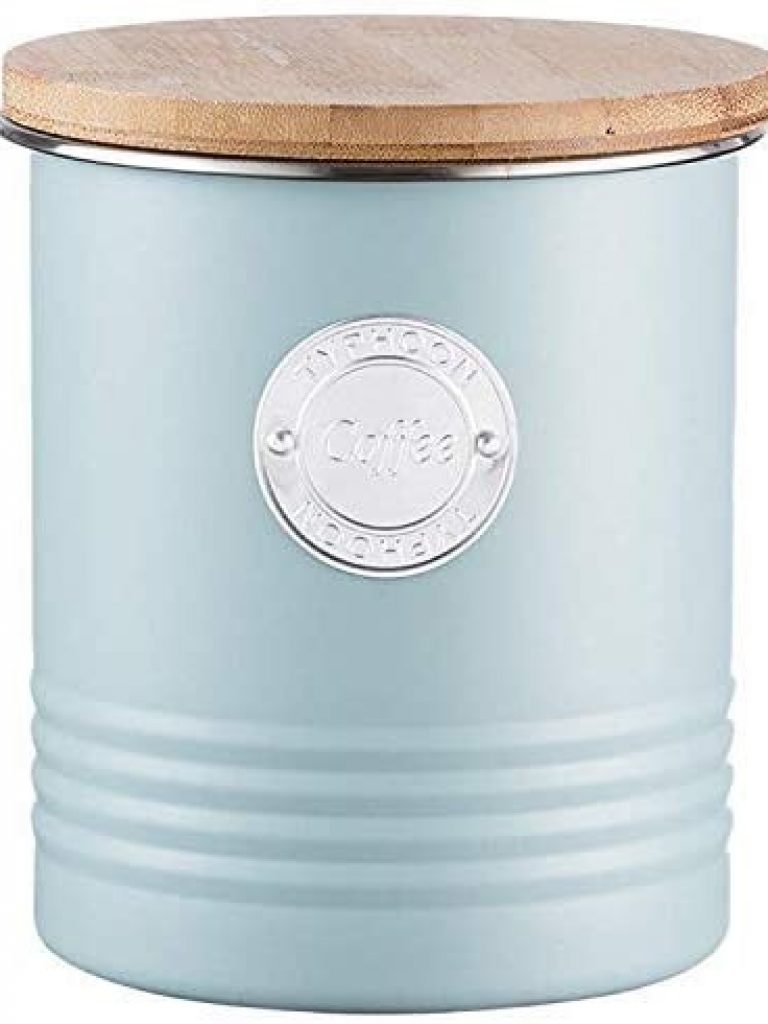 I improvised by putting the coffee in a glass container with a black airtight lid. The coffee filters are displayed in a wire basket, and the sugar is in a canister so everything needed to make the coffee is in one place! The trivet is a wooden piece designed to look like a tree. Mine is old, but this one is similar.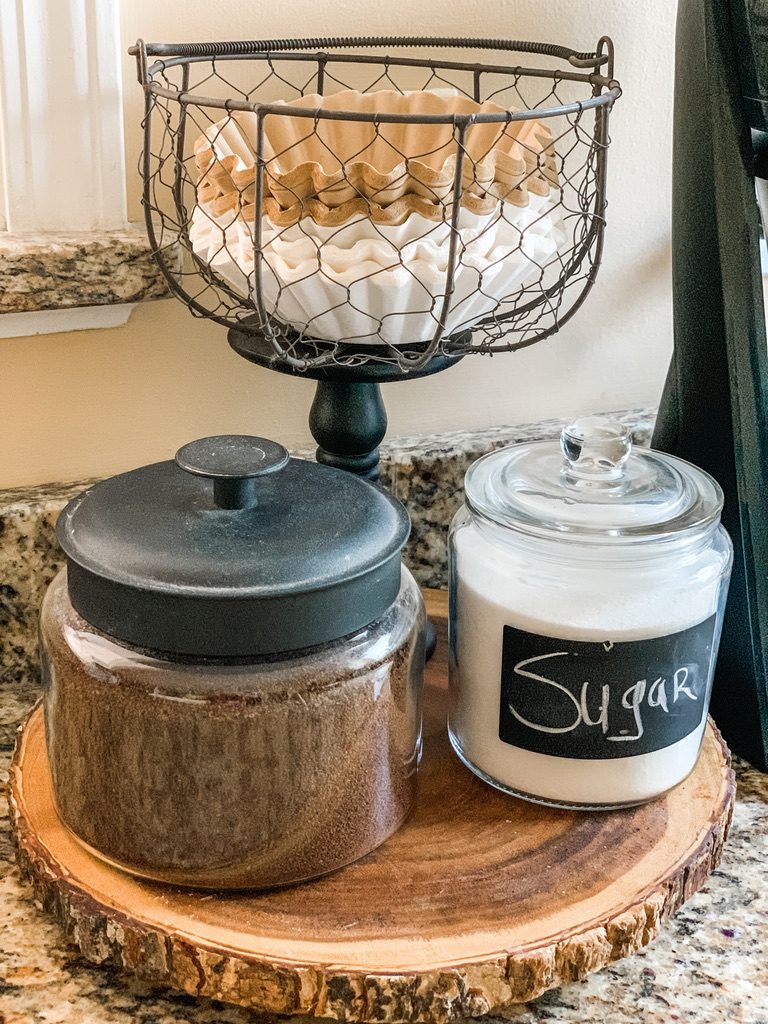 Coffee Bar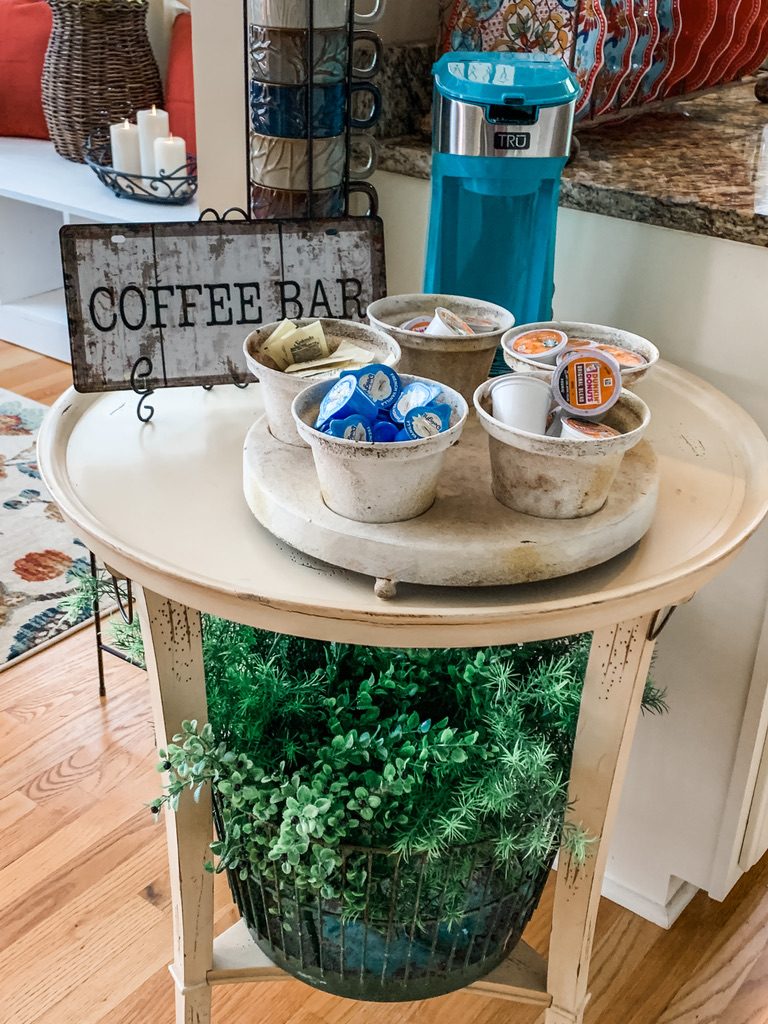 For the single cup coffee maker, I wanted to create a coffee bar, so I repurposed this accent table that was already in my kitchen. I ordered the rustic "coffee bar" sign from Amazon and stood it up in an easel.
If you want to create a coffee bar of your own, it really needs some mugs and a nice way to contain and display them. The one pictured here is one that I have had for a while. These are easy to find and I will link some similar options in the shopping widget.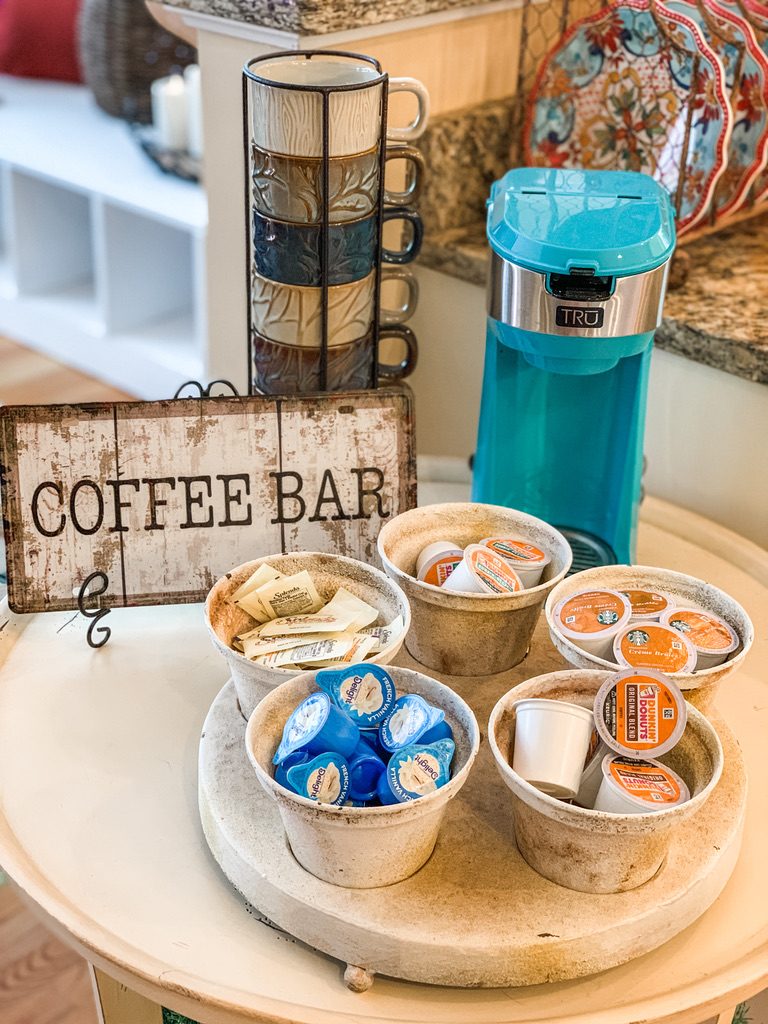 I displayed the other coffee essentials in this rustic container that has been used in all sorts of ways throughout my home. This K-cup carousel is a cute idea. There are really countless ways to display things and that is the fun part of creating your own coffee bar. Get creative and use things around your house in a nontraditional way.
Of course it depends on the space you have. It can be small and simple like mine, or you could devote a larger area or a larger piece of furniture to your coffee bar. I have linked some accessories down below as options.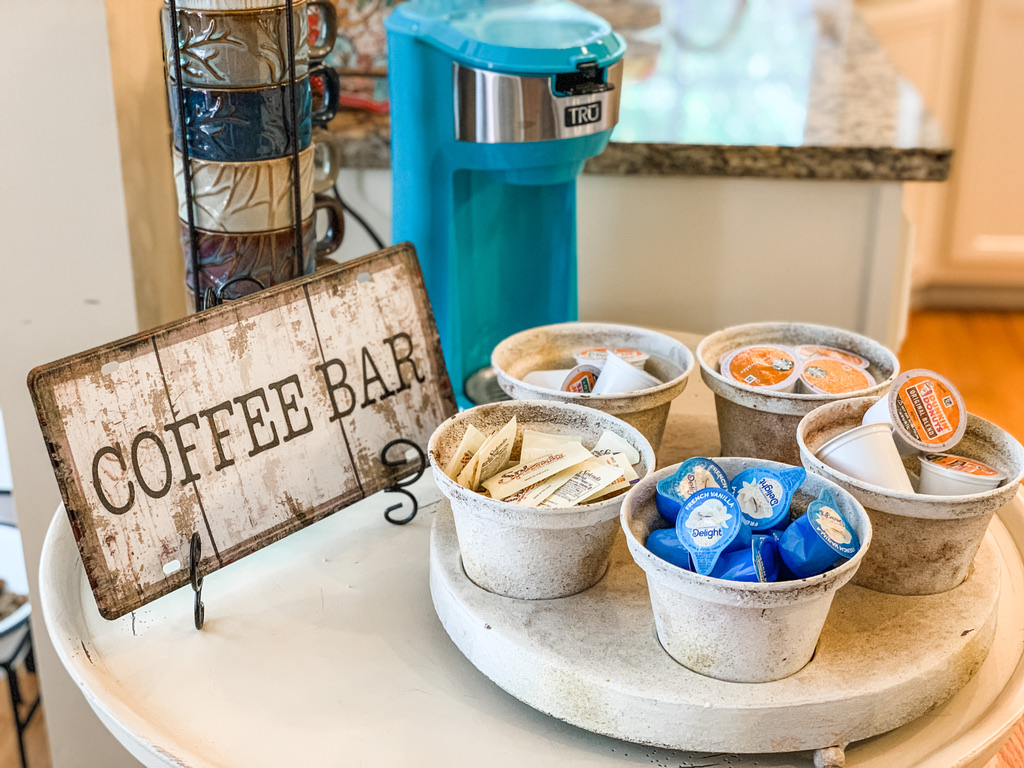 There is nothing special about our single cup coffee maker. I couldn't find the exact one we have, but this Keurig K-Mini is adorable and comes in several colors.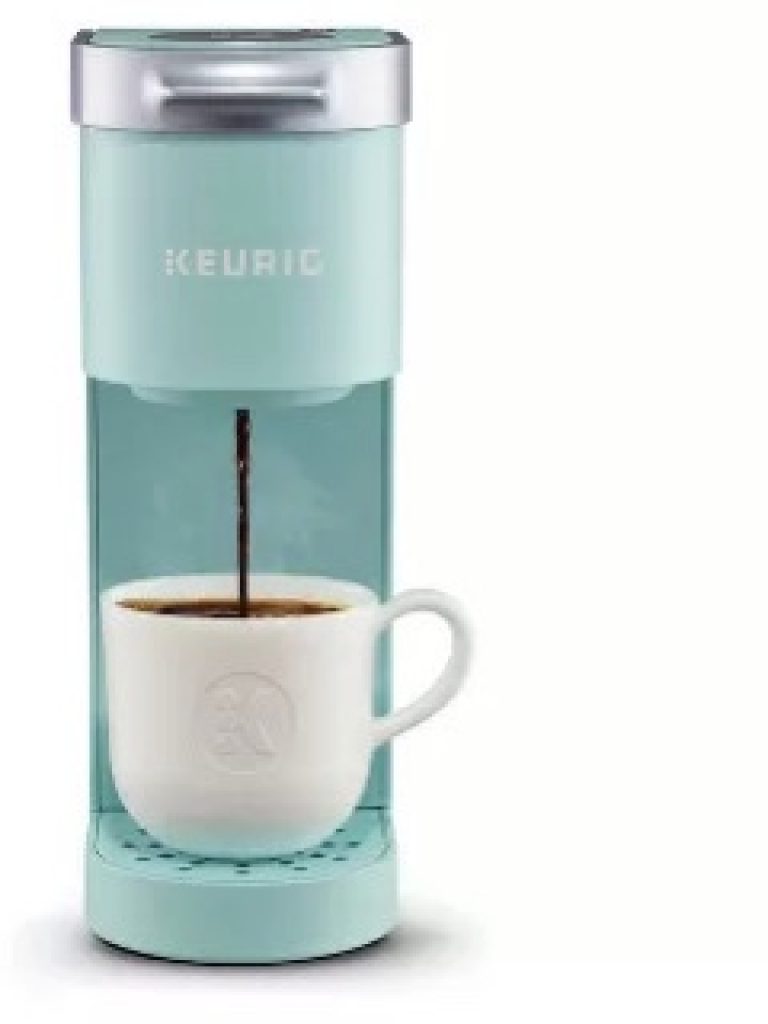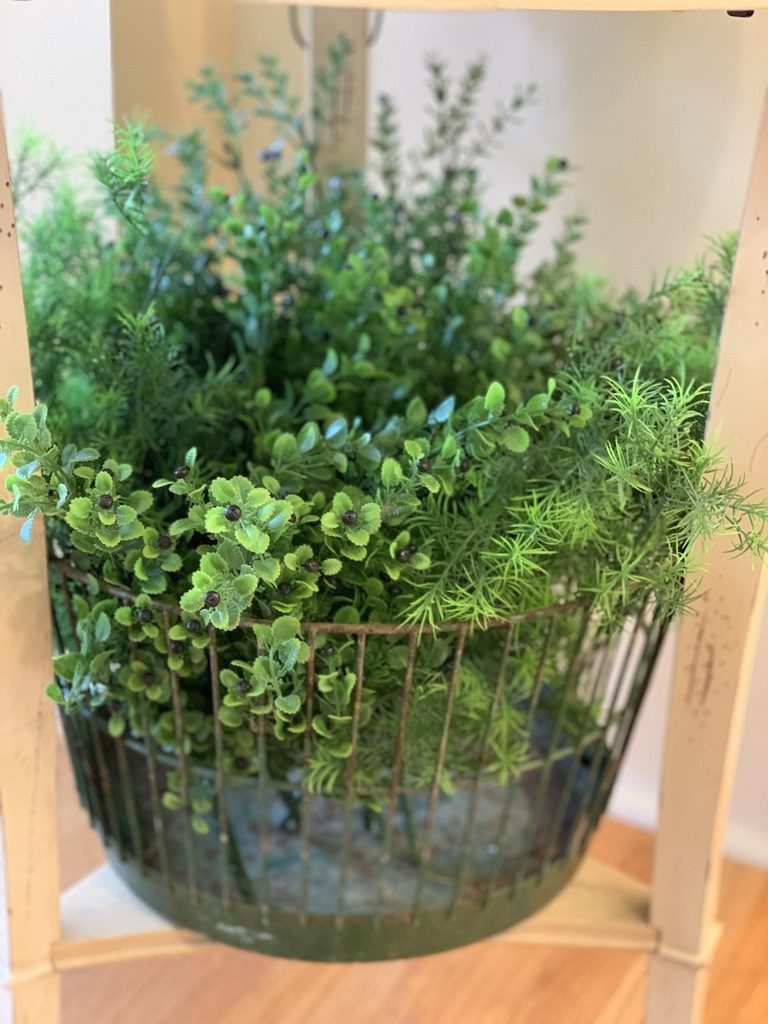 Underneath the coffee bar table, I placed a simple rustic basket with some greenery in it.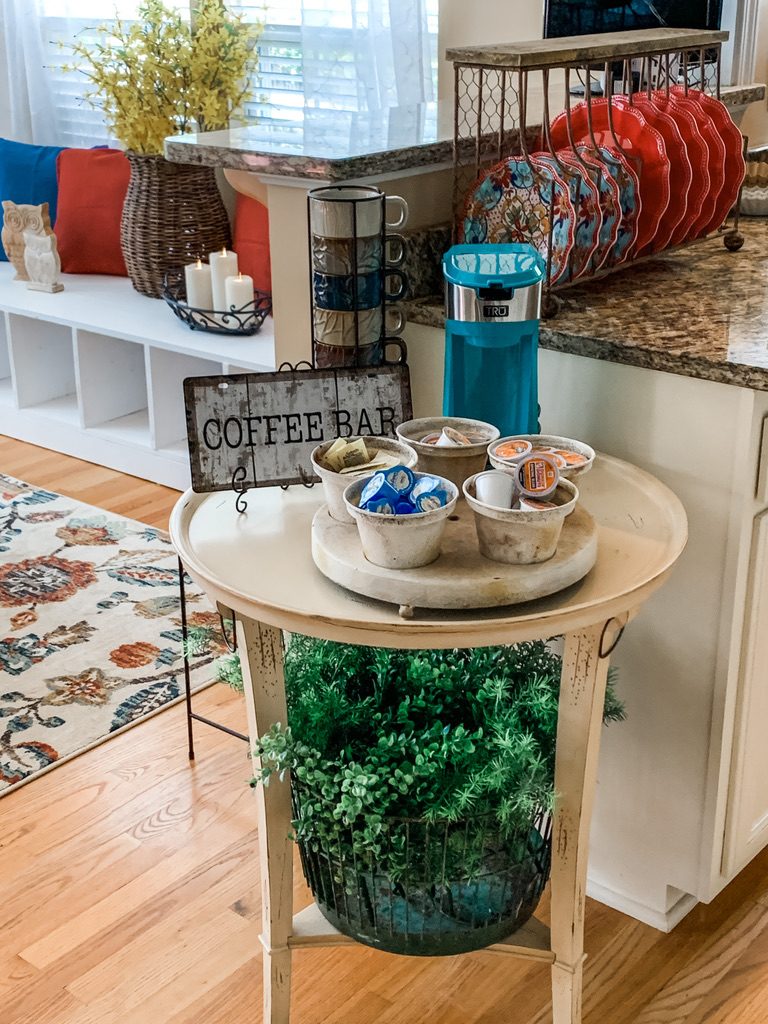 Dining Table Decor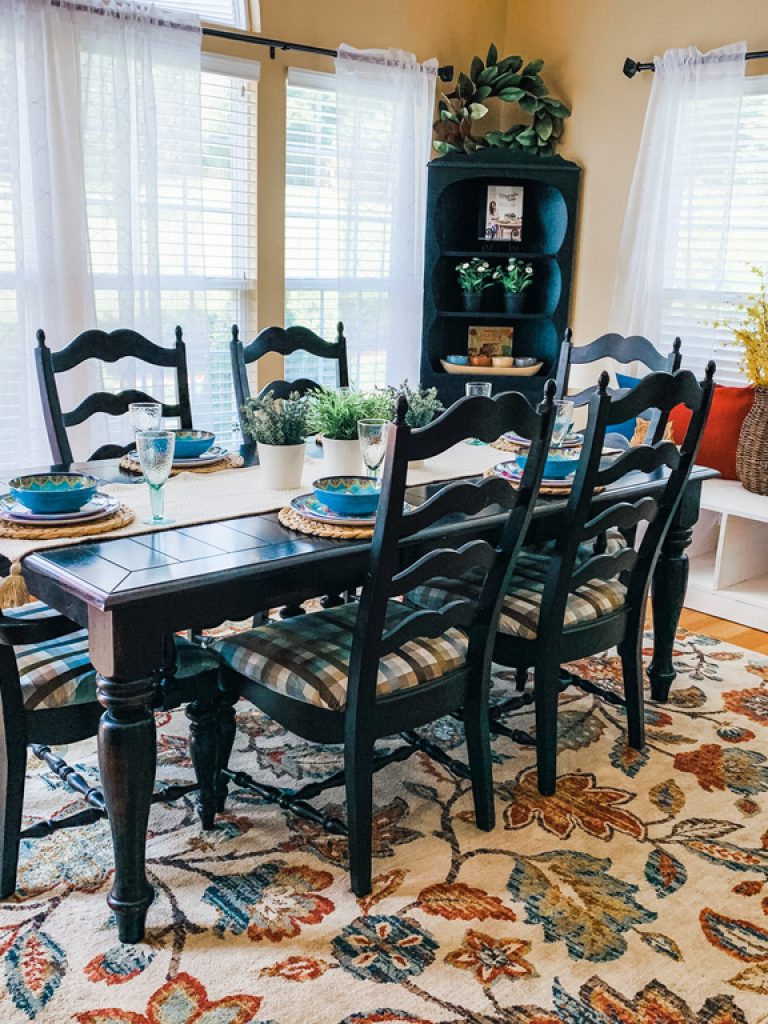 Our dining table is directly off of the kitchen. It is a very open space, so I try to make the decor flow from one space to the next. I just did a few things to update the decor in this space. The first thing I added was an area rug under the table.
To add some texture, I purchased these rattan woven placemats, and a natural colored table runner. My husband surprised me one day by bringing me these pretty melamine dishes! It was perfect timing as I was working on this table, and the new dishes fit in perfectly.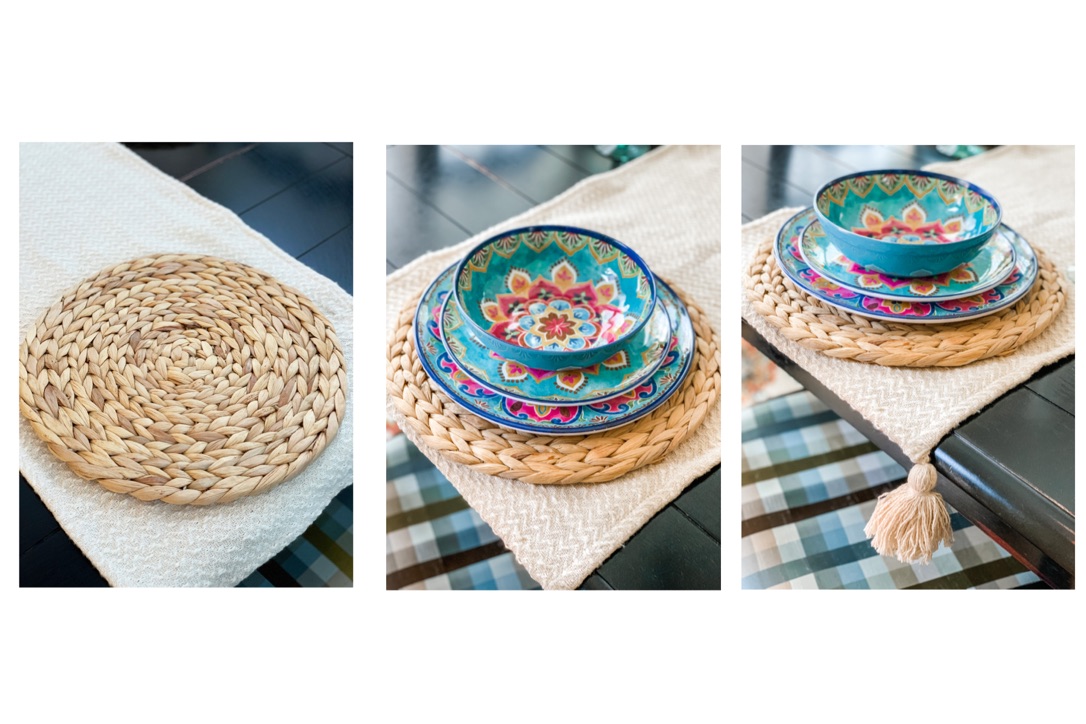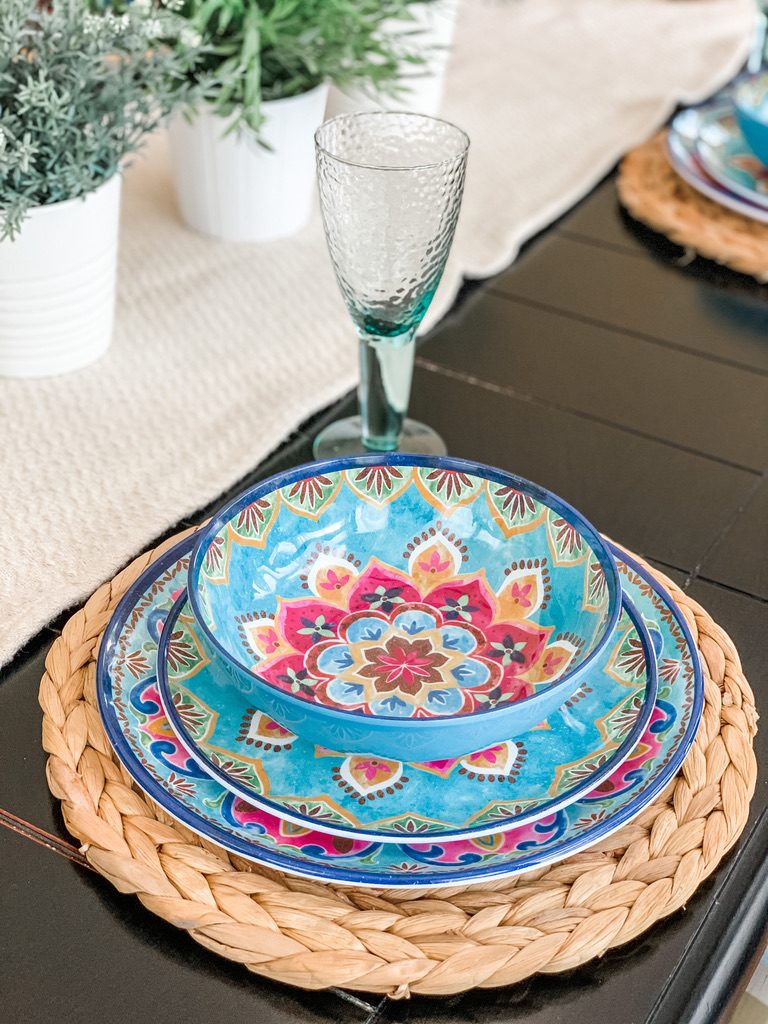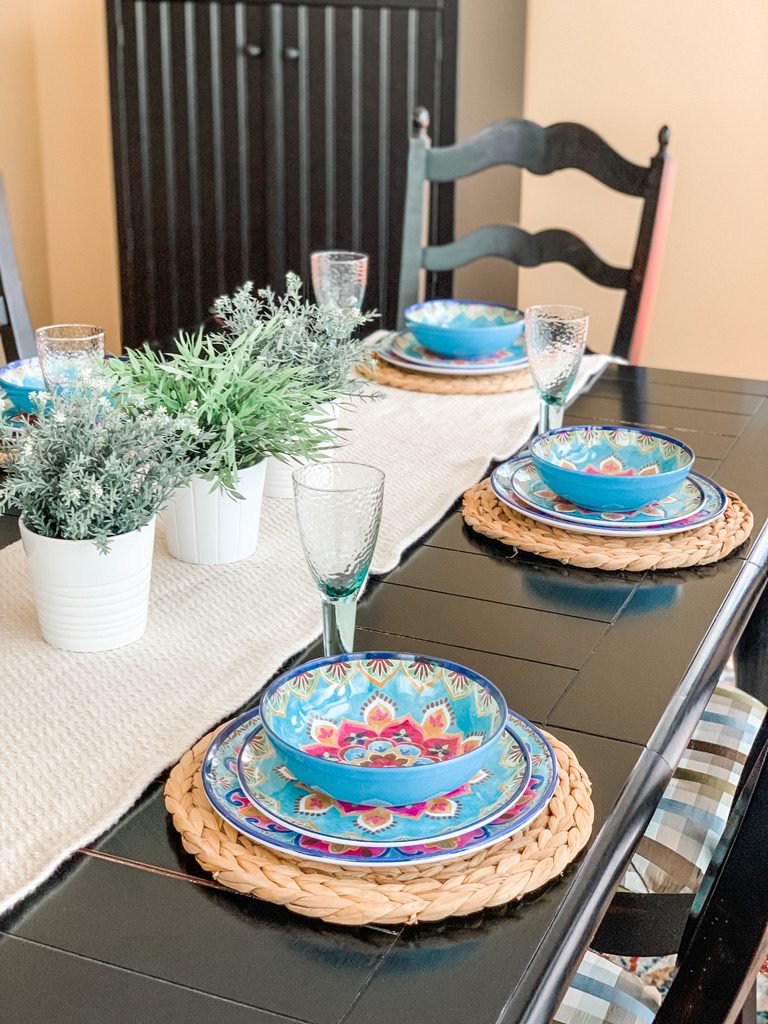 For the center piece, I used some simple artificial plants from Ikea.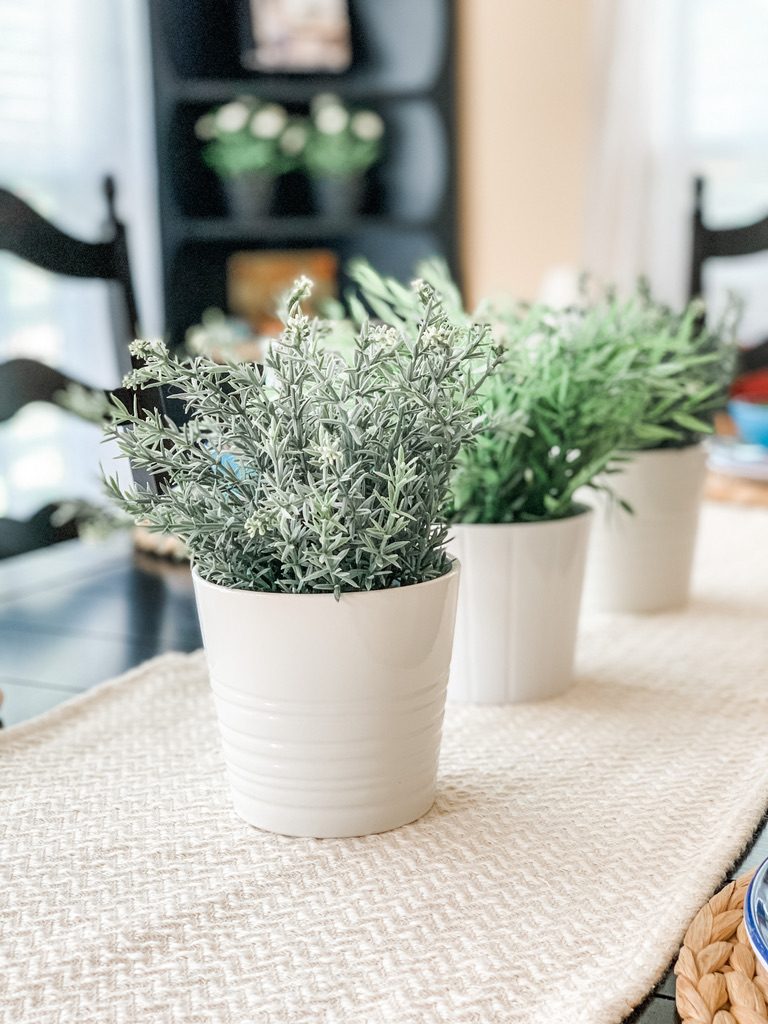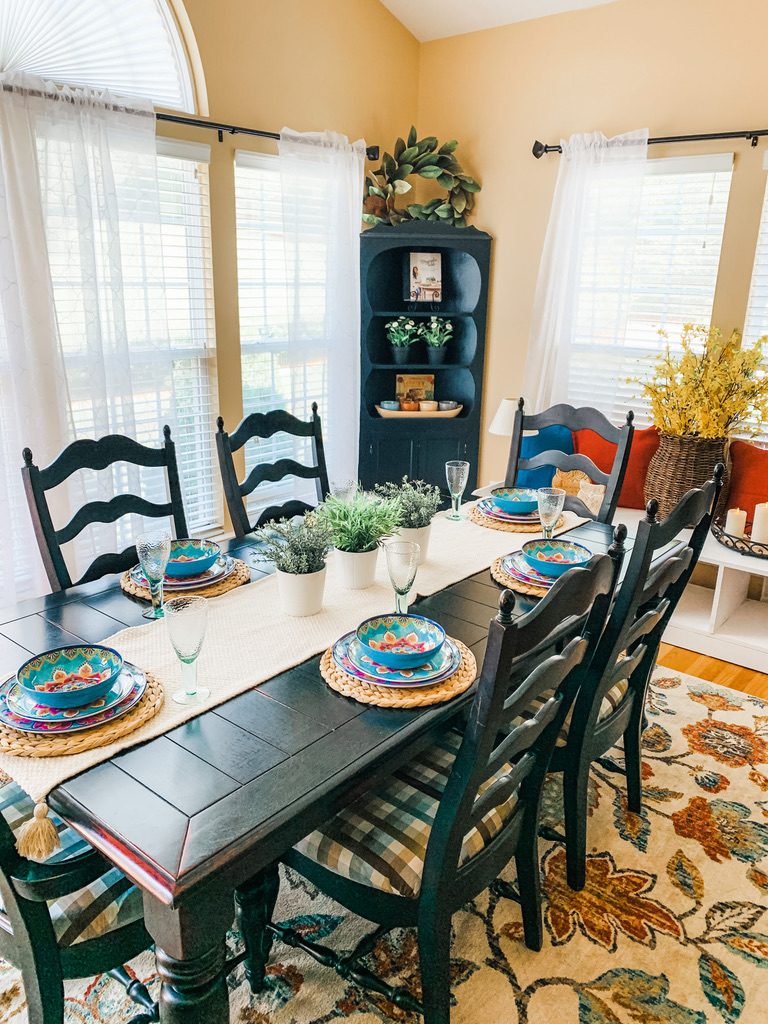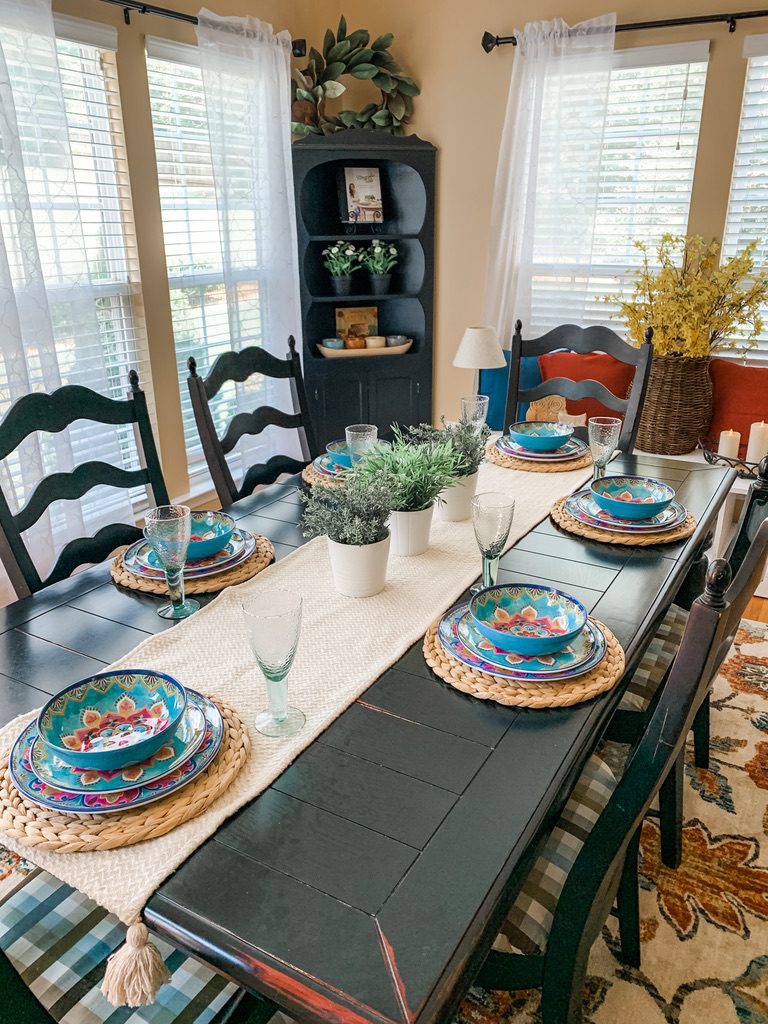 I was very pleased with how the table came together.
Pet Food Area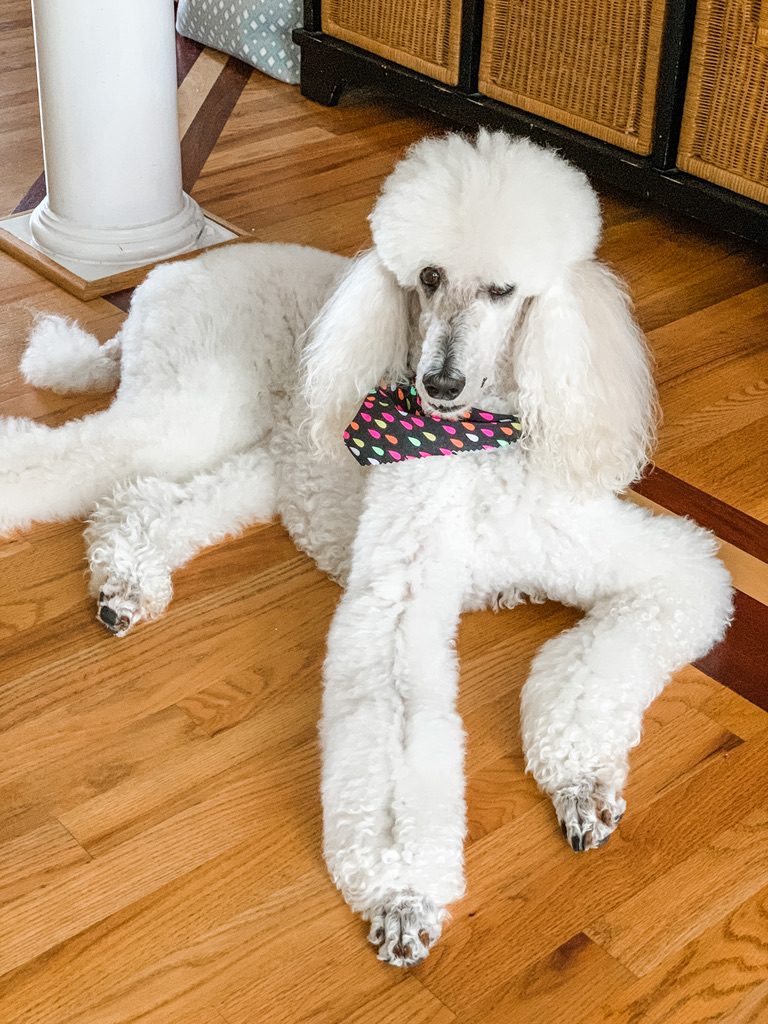 When I made the coffee bar, I had to move the pet food containers that were there. I decided to make a designated area for this as well. The baskets underneath just have some faux fruit for decoration.
Lily's food and water bowl is right next to this little black table, so again I'm trying to make all the "zones" very convenient. Now we can scoop her food from the canister right into her bowl. Our other dogs eat in a separate area, but having the food in one central place makes feeding time easier.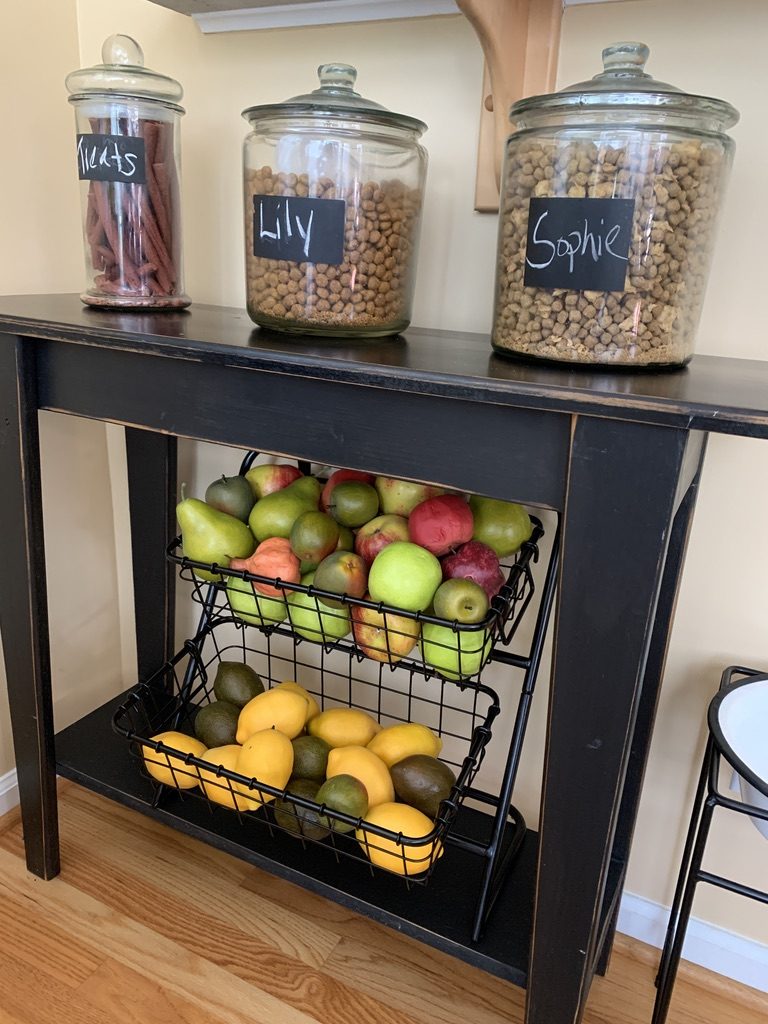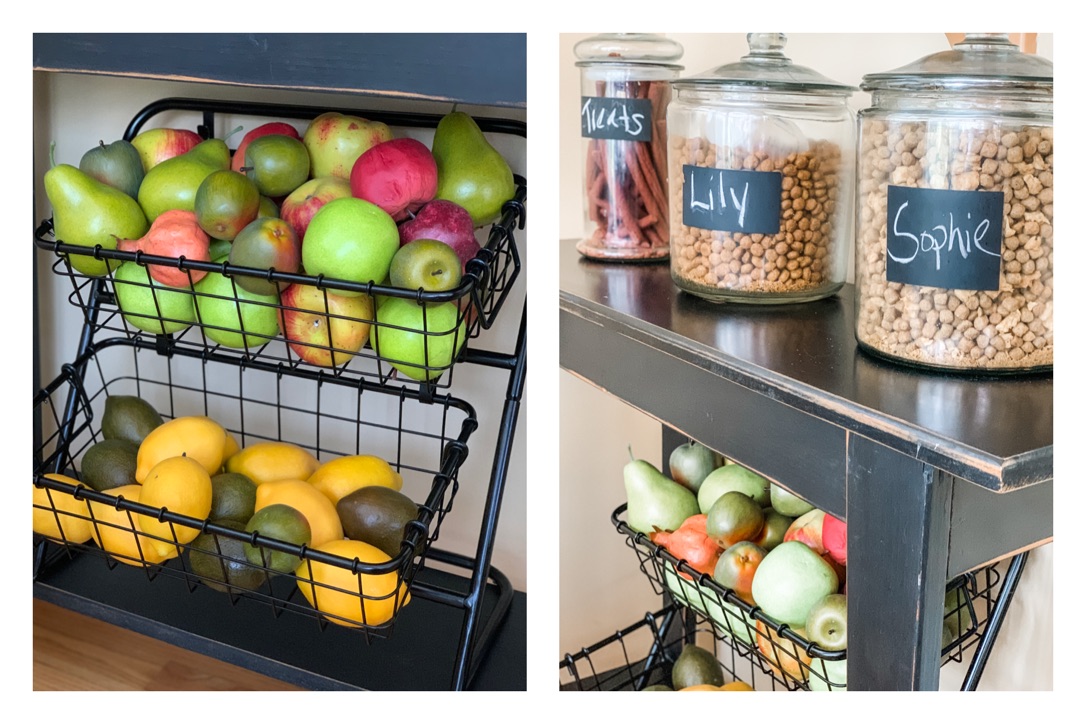 I hope you enjoyed this coffee station & dining table decor update. I am already enjoying my kitchen so much more now that I have conquered three areas. There are a few more work zones to organize and I will share those with you soon!
Here are links to some items that can help you achieve these looks. Some are exact, but most are similar items. As always, I encourage you to look for things you may already have in your home and think of creative ways to repurpose them.