Monochromatic style is one of my favorite looks, and today I want to show you some easy white monochrome style that you can recreate for yourself for spring and summer. I'm partnering again with UpstyleDaily.com to bring you these looks, so if you are not familiar with them you are missing out! They are a great resource for fashion and beauty and have lots of DIY ideas. While you are there, be sure to follow yours truly @The Scarlet Lily.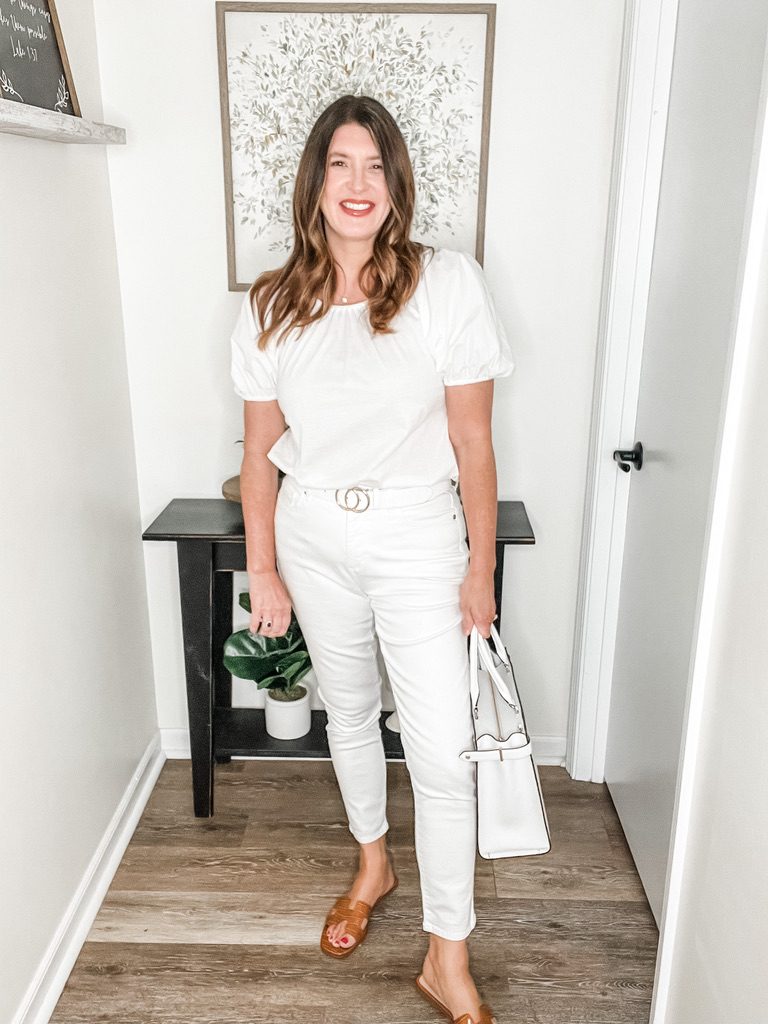 This first easy white monochrome style is achieved with a white tee that has a cute bow detail in the back. When wearing a monochromatic outfit, details like this can add interest. The white jeans are the Ab Solution Straight Leg by Democracy.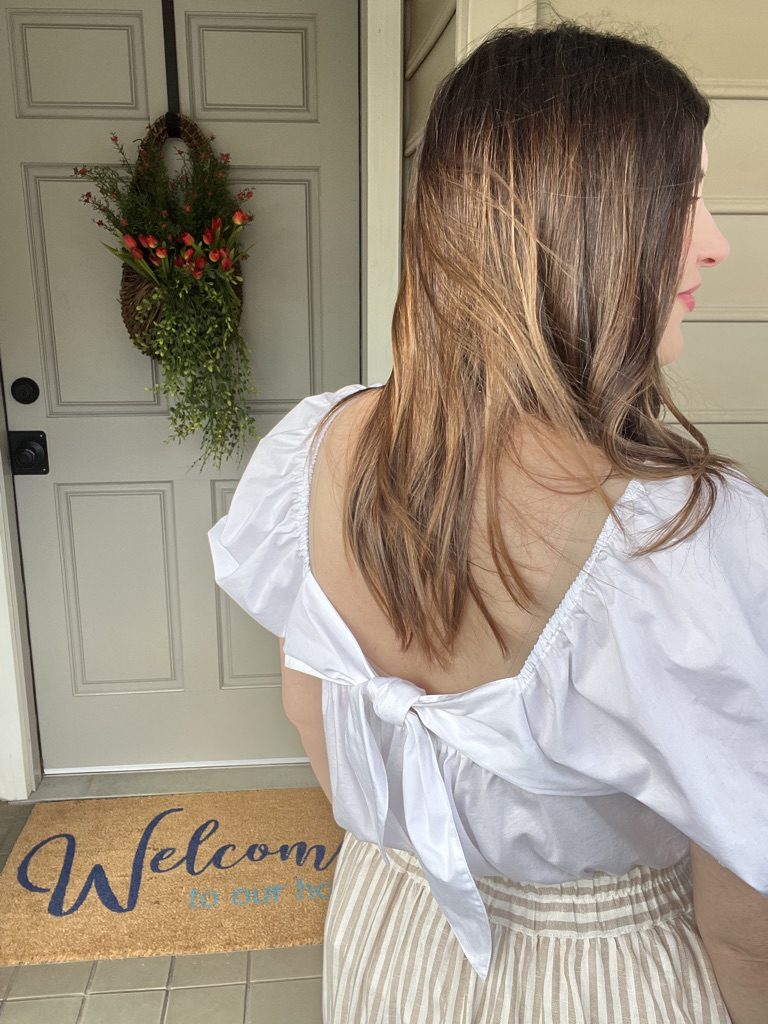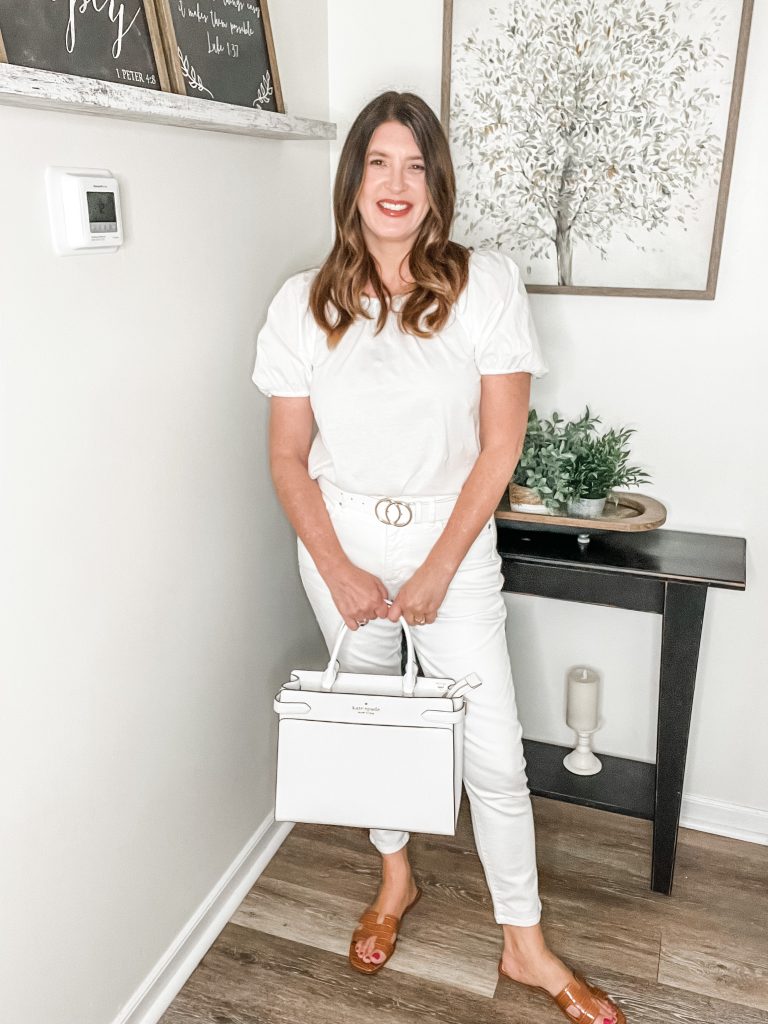 A large white tote and tan slides complete this outfit. Another good way to add interest to a monochromatic outfit is to add a different colored shoe. My tan slides are from Nordstrom Rack. My handbag is by Kate Spade and this one is similar.
If you don't have a white blazer for summer, you might want to consider this one from Free Assembly. It's a light linen fabric and runs TTS. I'm wearing a medium. For more tips on how to style a white blazer, you might enjoy this post.
A white tank and the same white jeans from the previous outfit complete this monochromatic look.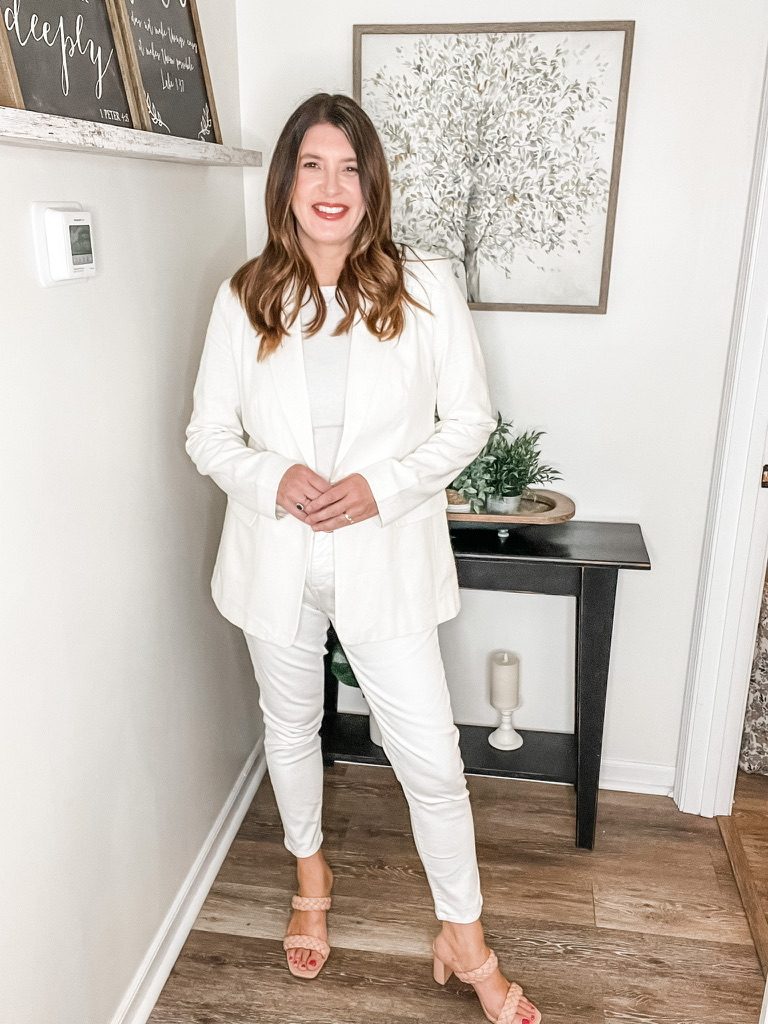 I chose a nude colored braided sandal for this outfit. These are a staple in my wardrobe.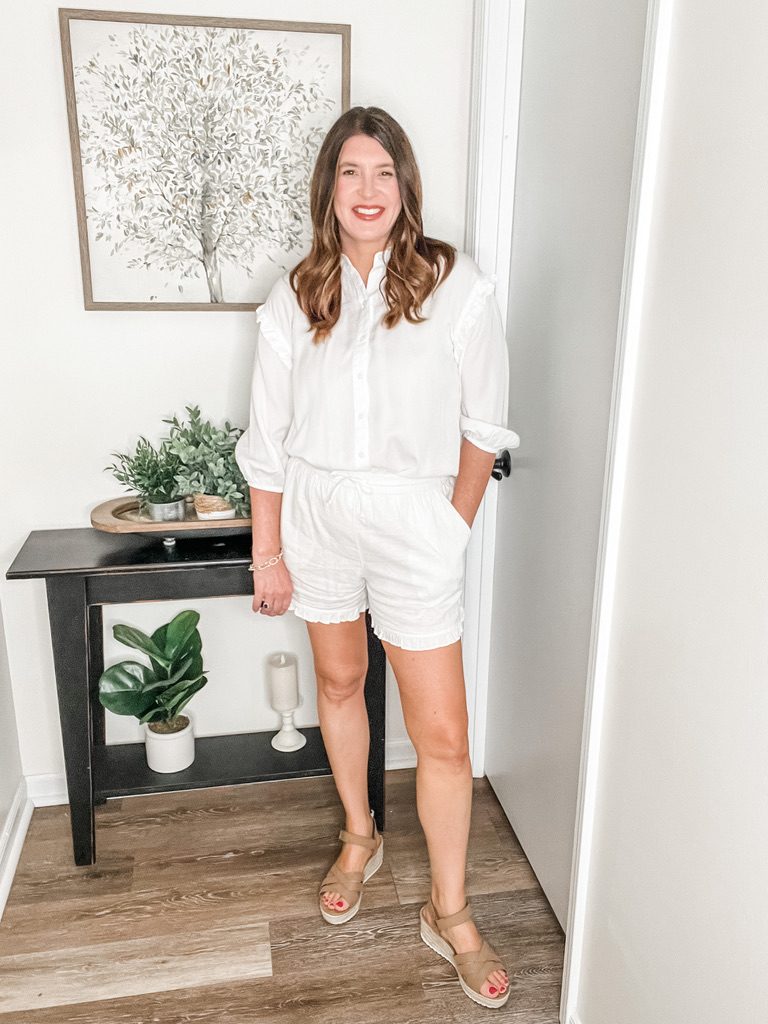 Most of this outfit is from Walmart! The top, by Time and Tru is perfect for summer…especially if you like a little more coverage for you arms. The sleeves are 3/4 length with an elastic cuff. The ruffle is very subtle and is just off the shoulder. To see this top styled other ways, check out this post.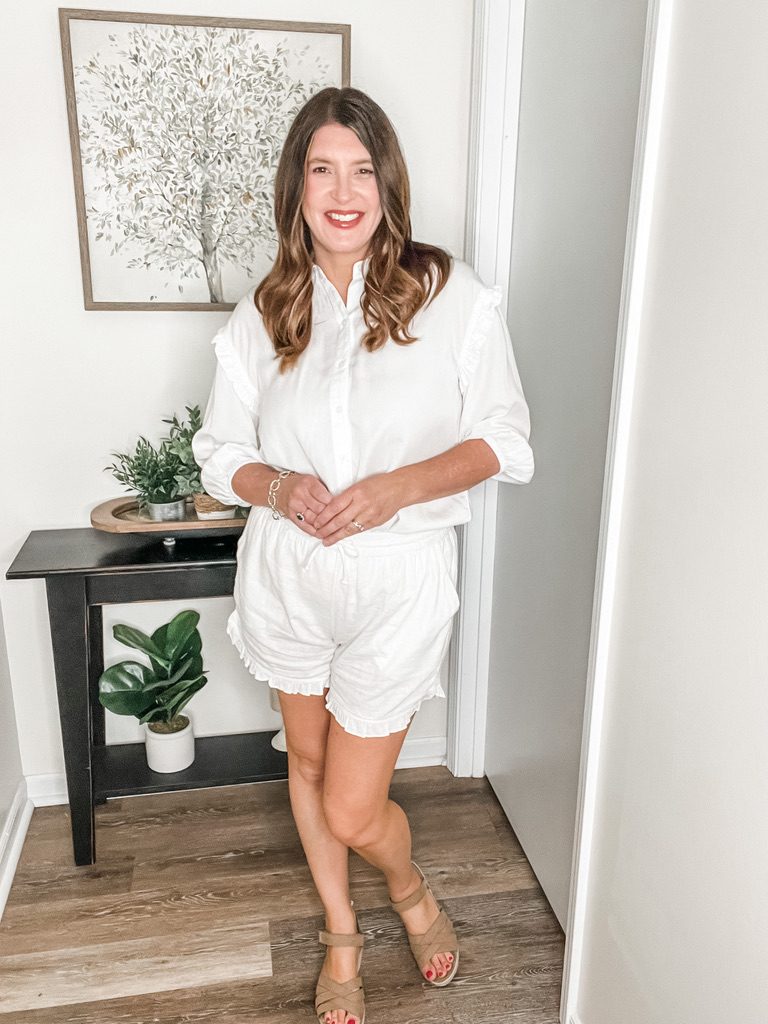 The shorts are a drawstring style with a small ruffle detail on the hem. They are by Crown & Ivy, and I'm wearing a medium. The shoes for this look are my Time and Tru wedge sandals. Grab these while they are still in stock! You won't regret it.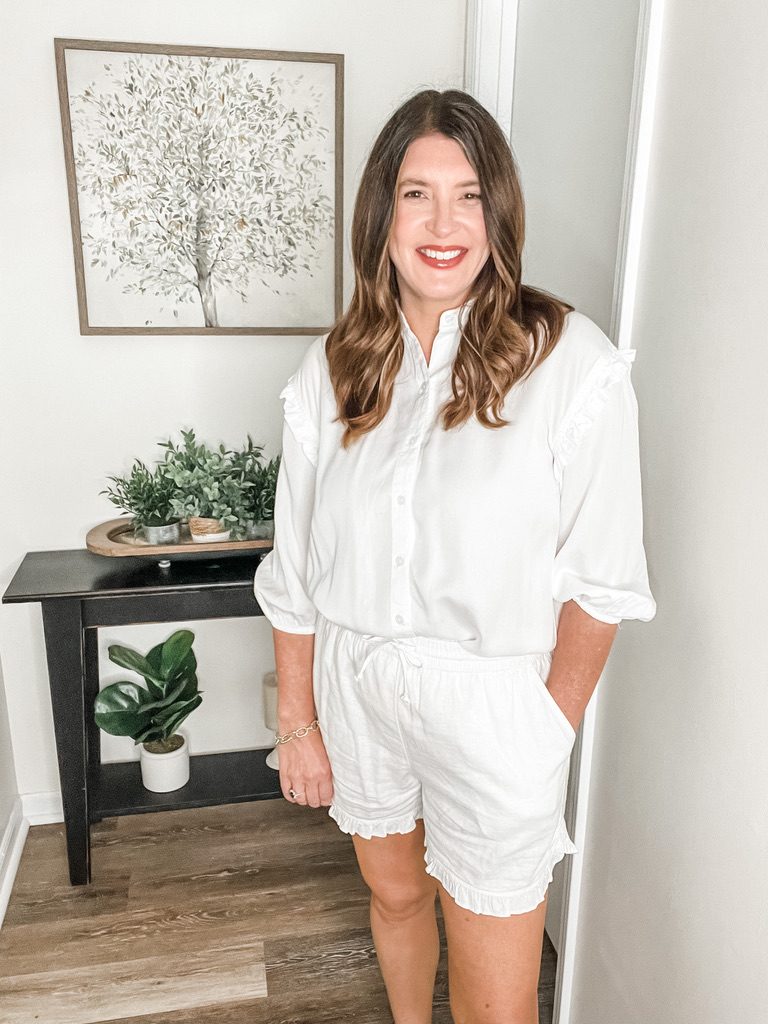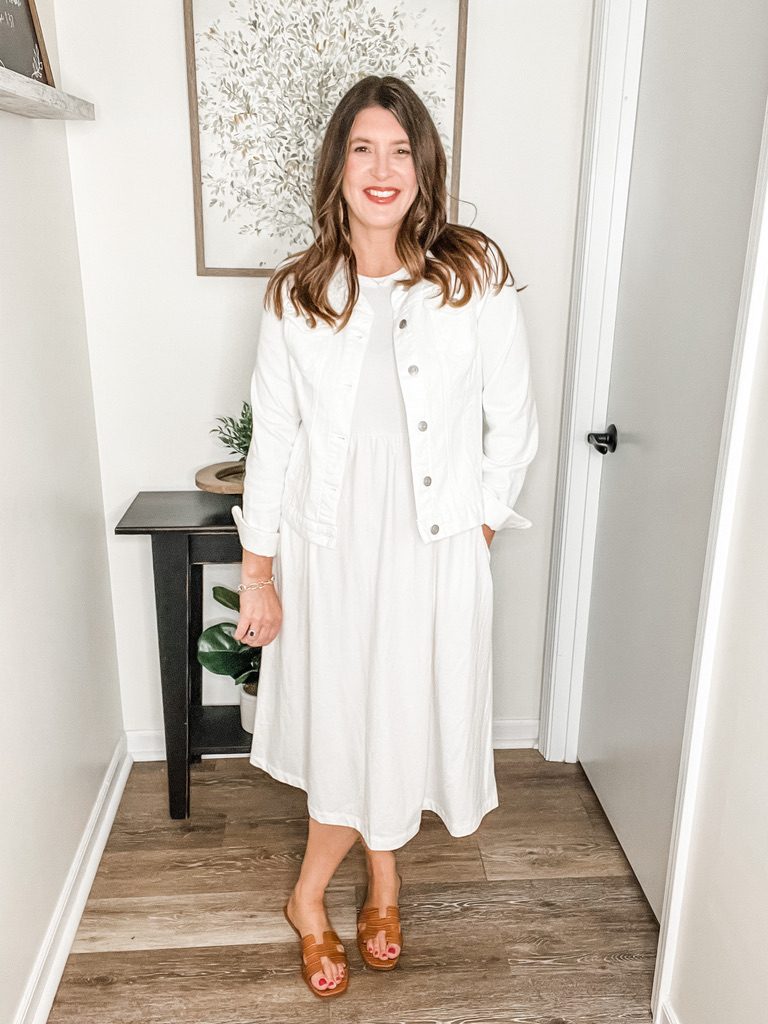 Another way to achieve easy white monochrome style is with a simple white dress. This sleeveless ballet dress from Target is a good example. Currently it's only $20 and it would also make a good travel dress with the midi length and soft cotton fabric.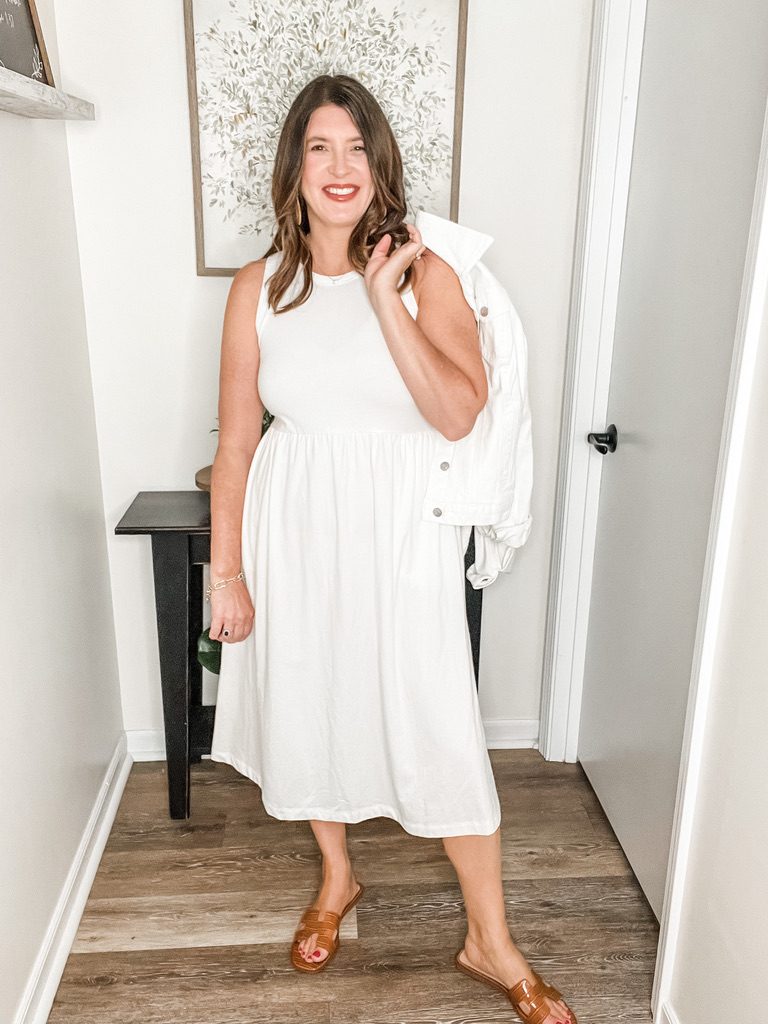 I also ways recommend layering when traveling, so pairing this dress with a white denim jacket would keep the monochromatic style while giving you the option to layer if you get a chill. The jacket by Time and Tru is no longer available, but this one and this one from Old Navy are very similar.
I liked this dress so much, I also bought it in pink.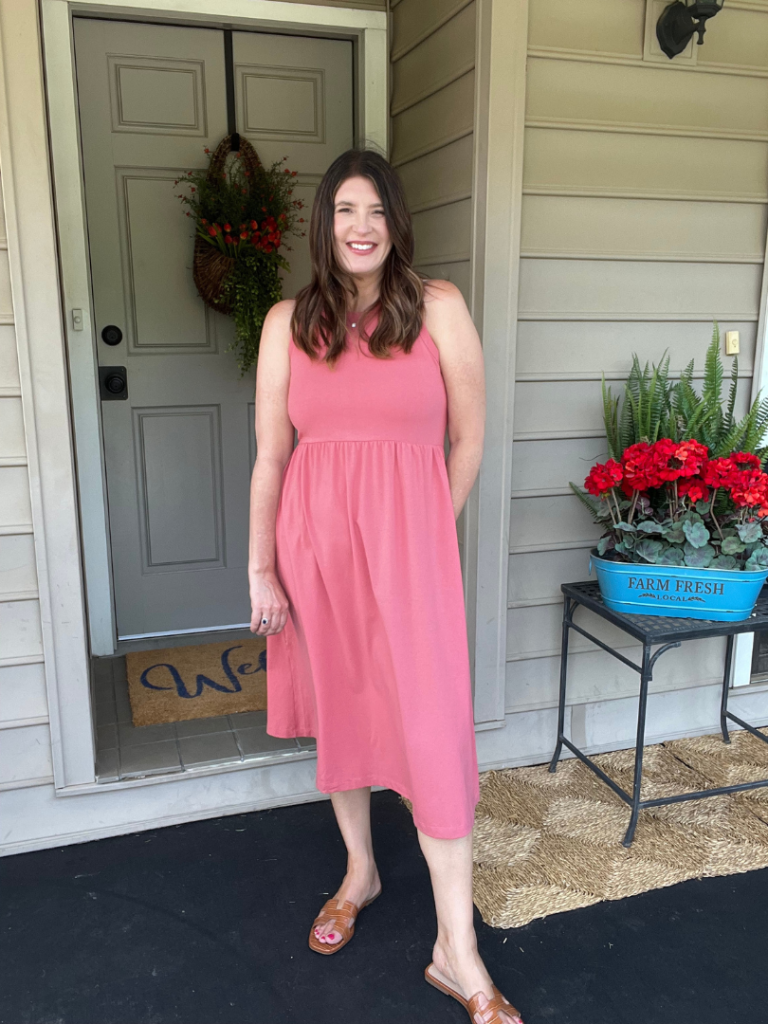 Last year, I did a whole post on white dresses. You can see it here. Many these styles are Amazon finds, so they may still be available. If not, you probably have something similar in your closet.