One of my most worn styles these days is what I call "Sporty Chic". It's a great style for casual summer days and it's very practical for my work from home lifestyle. I love to get dressed up, but the reality is that I don't need a lot of dressy clothes. The past few months, I've focused more on purchasing sporty chic summer style that I can wear everyday.
What You Need For Sporty Chic Summer Style:
There are two main pieces you will need for sporty chic summer style. An athletic dress and a skort. Some people call them tennis or golf dresses and skorts (which many of them are), but you don't have to play golf or tennis to wear them.
Some other key pieces are some casual sandals like footbed slides, sneakers, and some tops to wear with your skort.
I've put together a few outfits that I'm loving right now as well as the links to some of my favorites!
Athletic dresses or tennis dresses are great options for summer. Many of them have built in bras and built in shorts underneath. They are cool and comfortable, and can be worn to sporting events, summer get togethers, or to actually play a sport such as tennis or golf.
I recently purchased this one from J. Crew Factory in this pink color. Since it is on sale, I also ordered one in white. It does not have a bra built in, but it does have shorts underneath. I'm wearing a size large. I typically size up in activewear unless it runs big.
While we were vacationing in Colorado earlier this month, I discovered Sierra. It is a retail chain of athletic clothing owned by T.J. Maxx. I purchased this lavender active dress there and was thrilled to find it on the Sierra website so I can link it for you!
The photo below is the Double Springs dress by Columbia. I'm wearing a medium in this style.
Amazon, Marshall's, and T.J. Maxx are also good places to find affordable athletic dresses.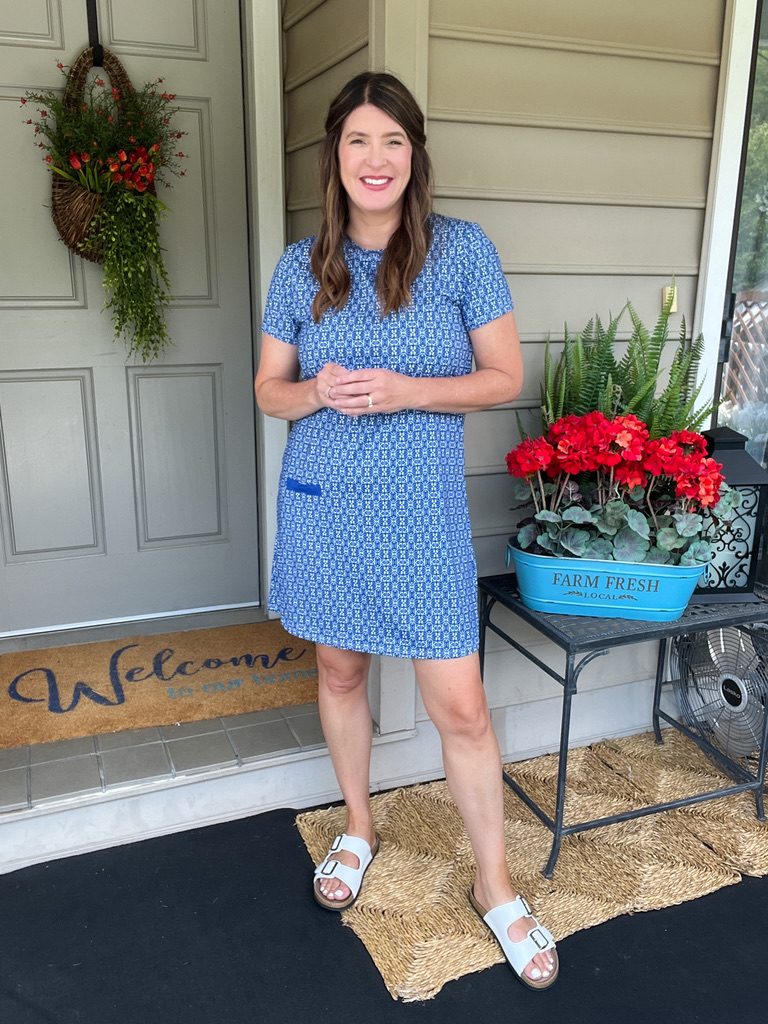 The blue dress above also came from Sierra, but I couldn't find it on the website. If you live near a Sierra store, you might be able to find it.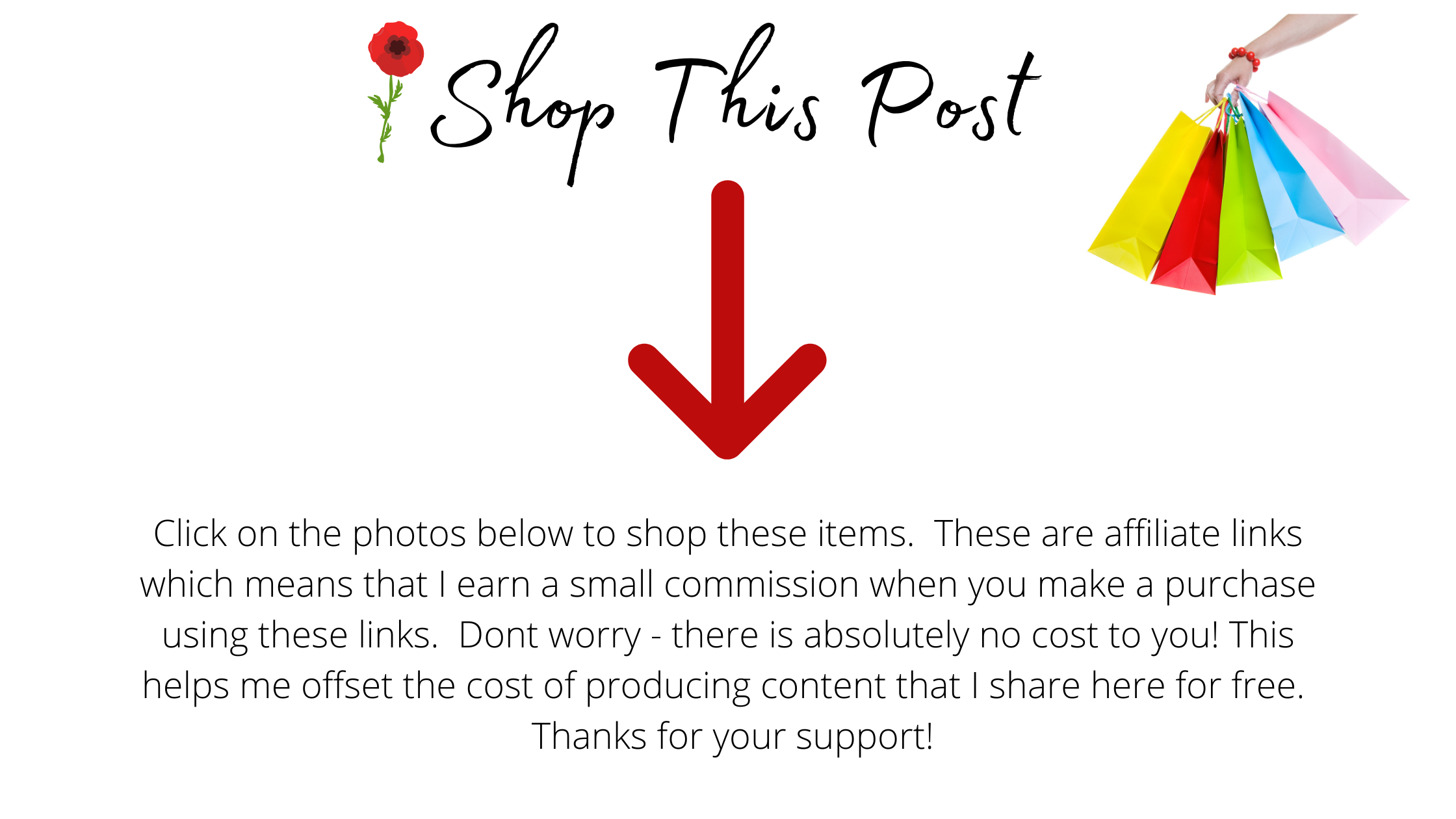 I must confess, I've gone a little crazy with the athletic skirts this summer. They are just so easy to wear and the outfit combinations are endless! You can find them just about anywhere, but I've linked some that I personally have and enjoy wearing.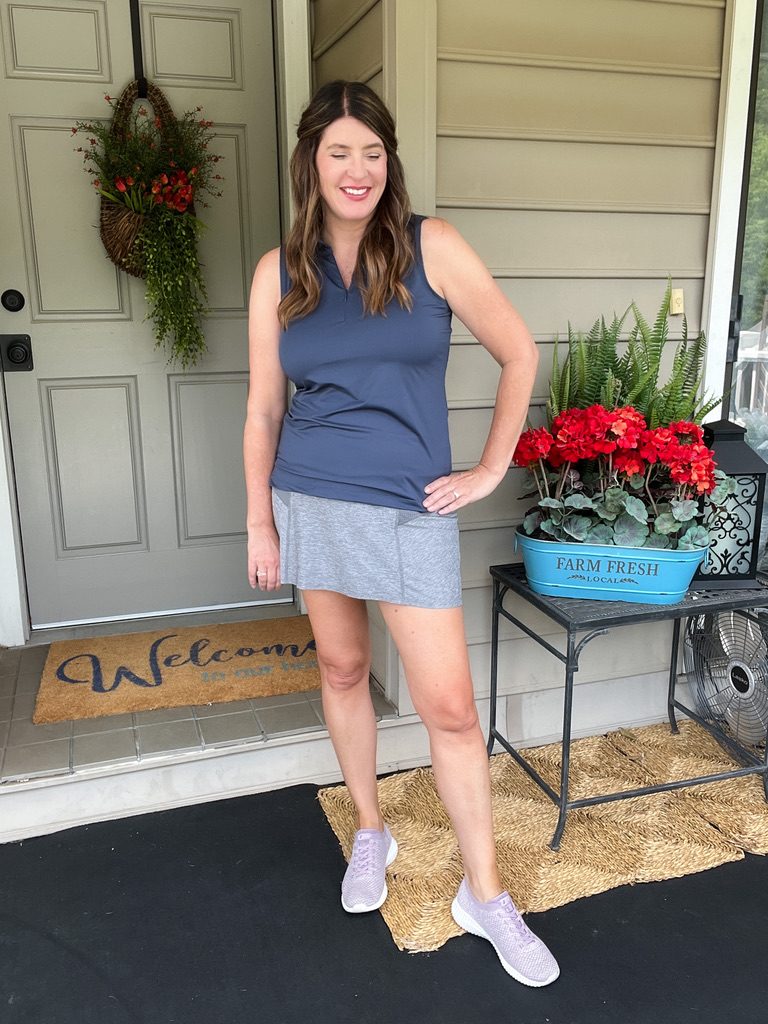 My favorite way to wear a skort is with a tank top. In the photo above, I'm wearing a golf tank that I found at Marshall's. In the photo below, I'm wearing my favorite ribbed high neck tank from Target. This pink skort from Amazon is similar to the one I'm wearing here.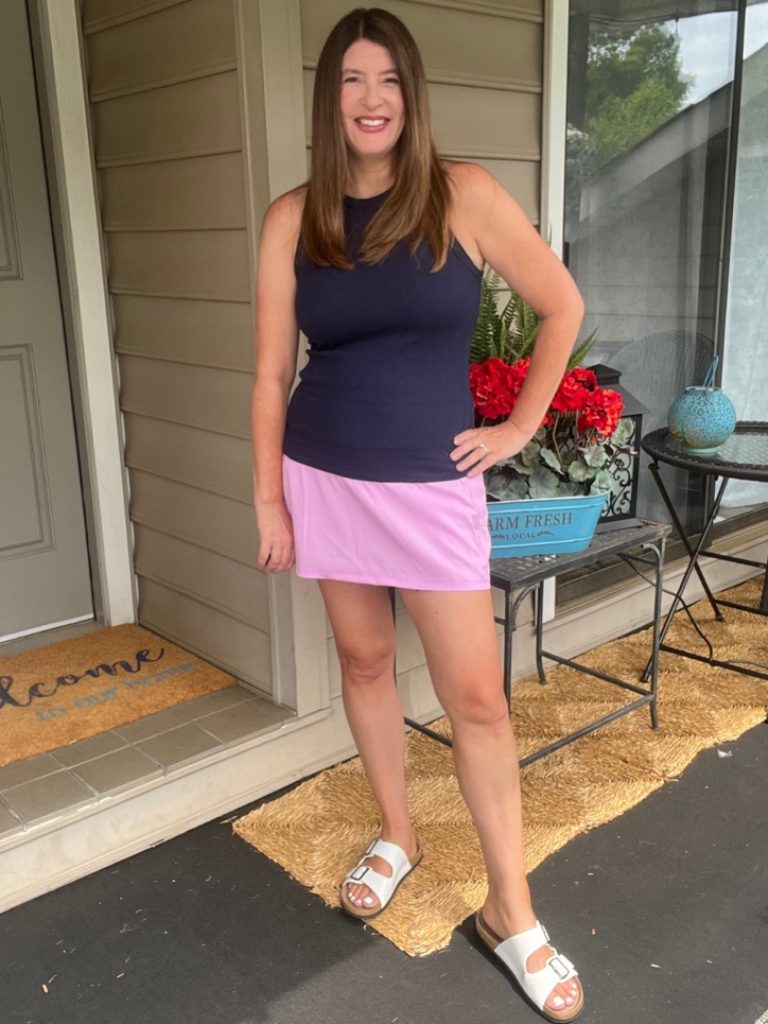 Old Navy has some really nice activewear. This rust colored skort and black tee are both from Old Navy and I love the fit of both. Currently this high waisted skort is 30% off.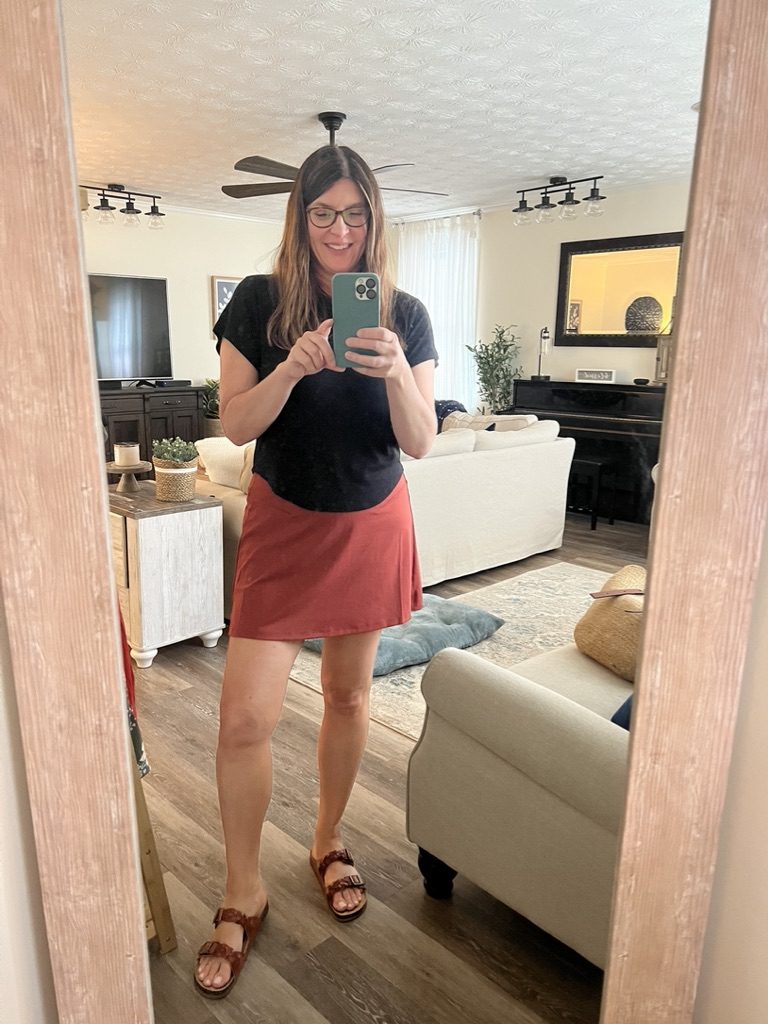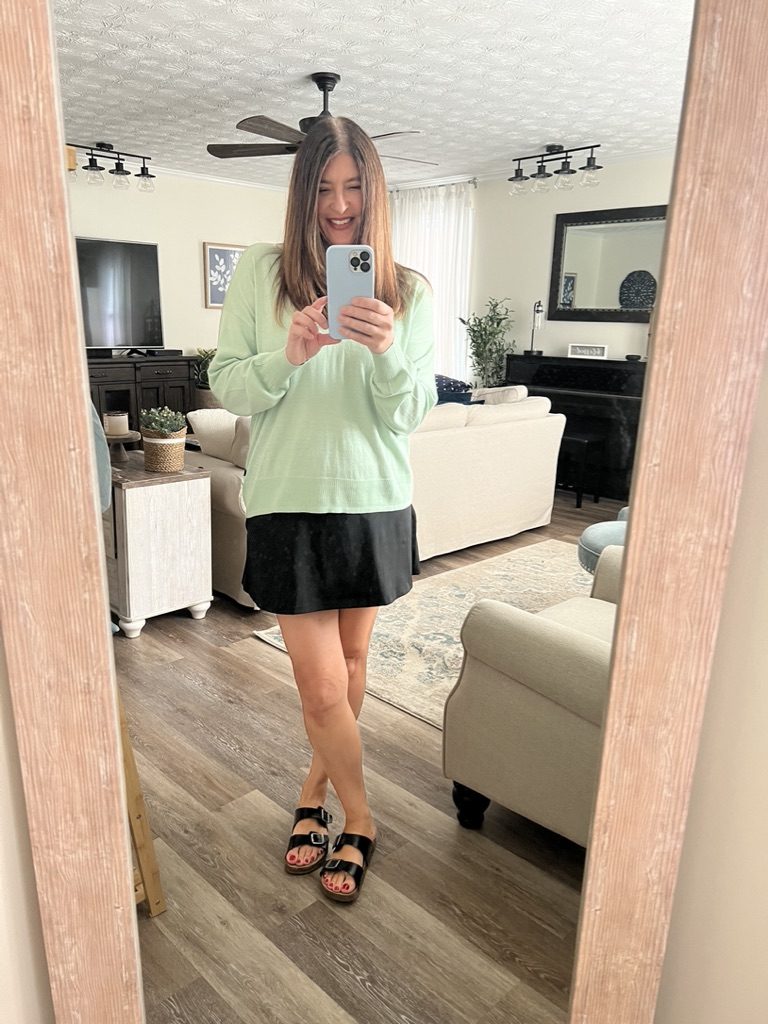 In the photo above, you can see the black skort from Amazon that is in the collage. If you only buy one, I would recommend this one. You can wear it with anything and the fit is flattering. It is smooth in the front and pleated in the back. Be sure to click on the link to see all the views.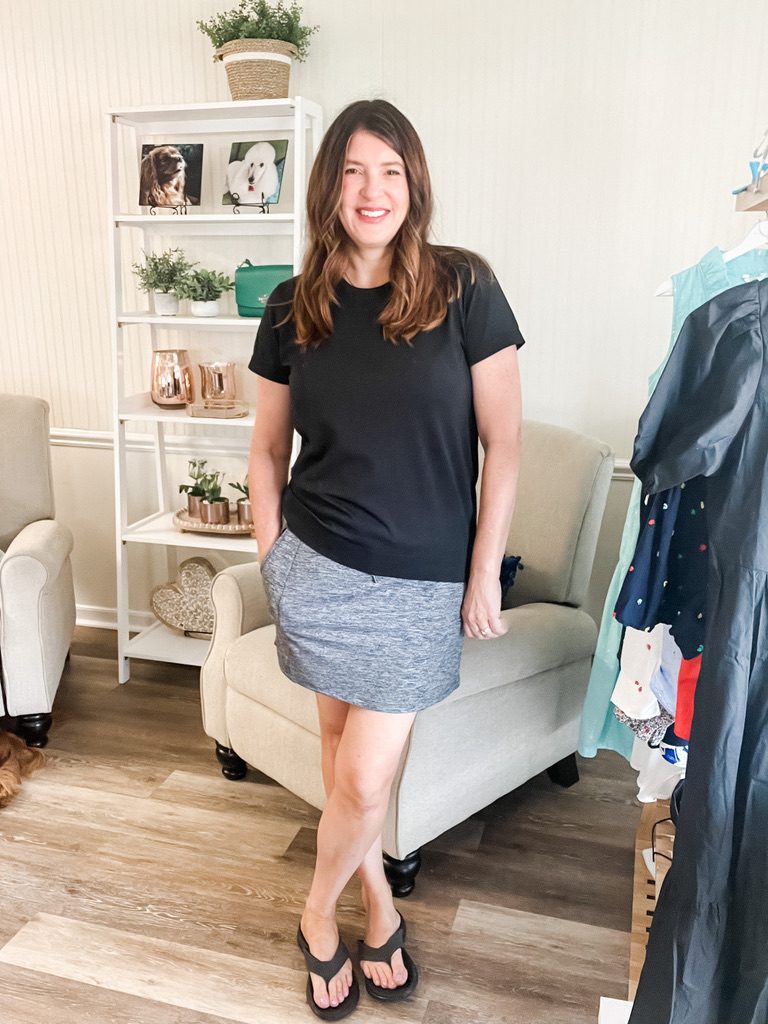 Here is one more example of how comfy and casual a skort can be. Just a simple black tee and flip flops is how I wear this look the majority of the time. This particular grey skort came from Sam's Club, and that is another great place to find sporty chic summer style. This color is sold out, but there are other colors still available.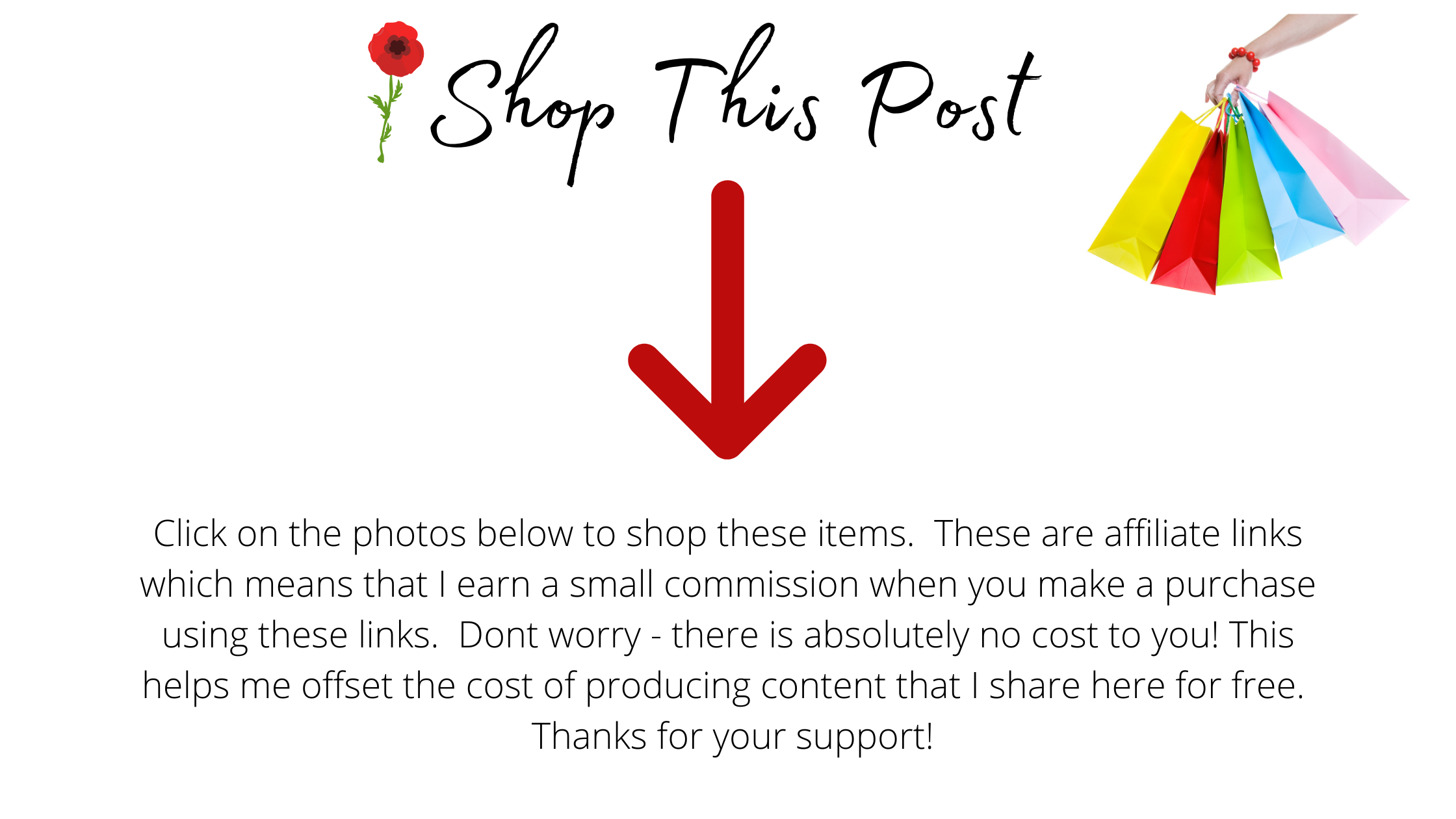 Last Thursday we had to say goodbye to our beloved poodle, Lily. She was 10 1/2 and she died after she ate part of a rug. She had surgery to remove the foreign body, but could not recover. She's made appearances on the blog in the past…you may remember seeing a big white poodle in the background of many of my photos. My little toy poodle Claire also died about a month ago. I've had a really hard time behind the scenes and losing Lily right after Claire was devastating to say the least.
The hole in my heart was just so big that I started looking for another Standard Poodle and just happened to find a local breeder that had some ready to go to their new homes. So we are moving past the grief the best way we know how and Daisy is already helping us find some joy.
She is about 3 months old and weighs almost 20 lbs. She's a big baby that loves to cuddle. I can never replace Lily, but I will love Daisy just as much. I'm sure you will be seeing more of her soon.