It's time for another Walmart post, and I have so many things to share with you today! I recently drove about 30 minutes to another Walmart that typically has a better in store selections than my neighborhood Walmart up the street. So let me show you everything I found from my Spring Walmart haul. I will be sharing some clothing, beach essentials, and a few home decor items.
Clothing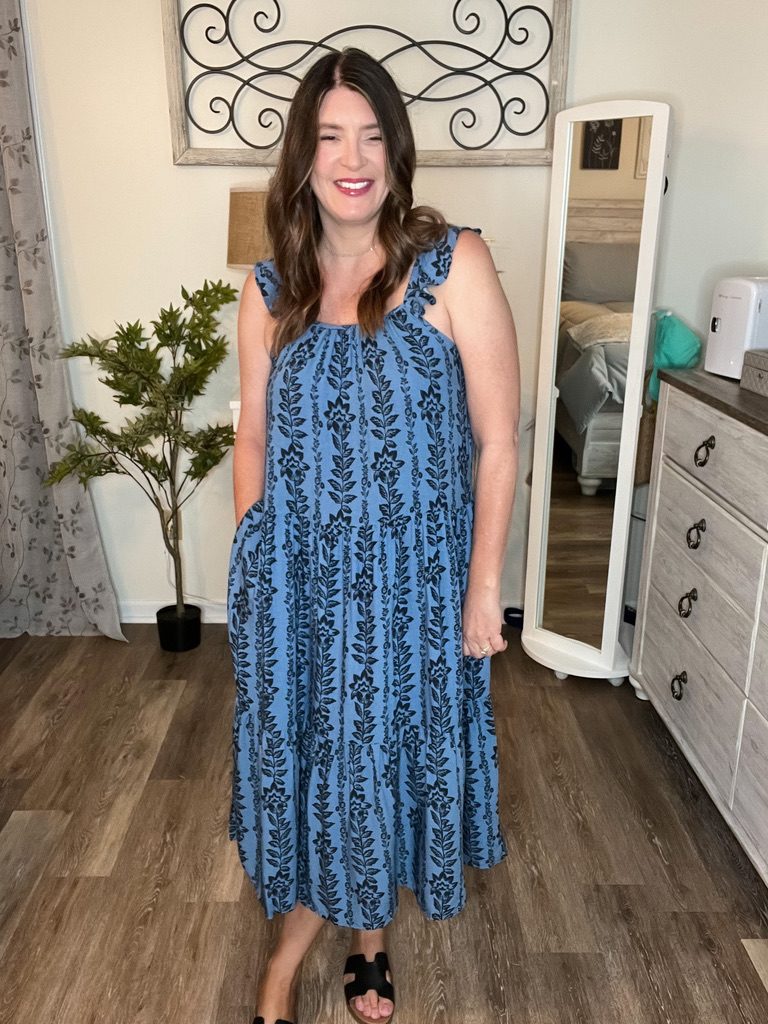 This is a flutter sleeve style pullover sundress with a tropical floral print. This is perfect for the hot days of summer that lie ahead here in the south. I'm wearing a medium.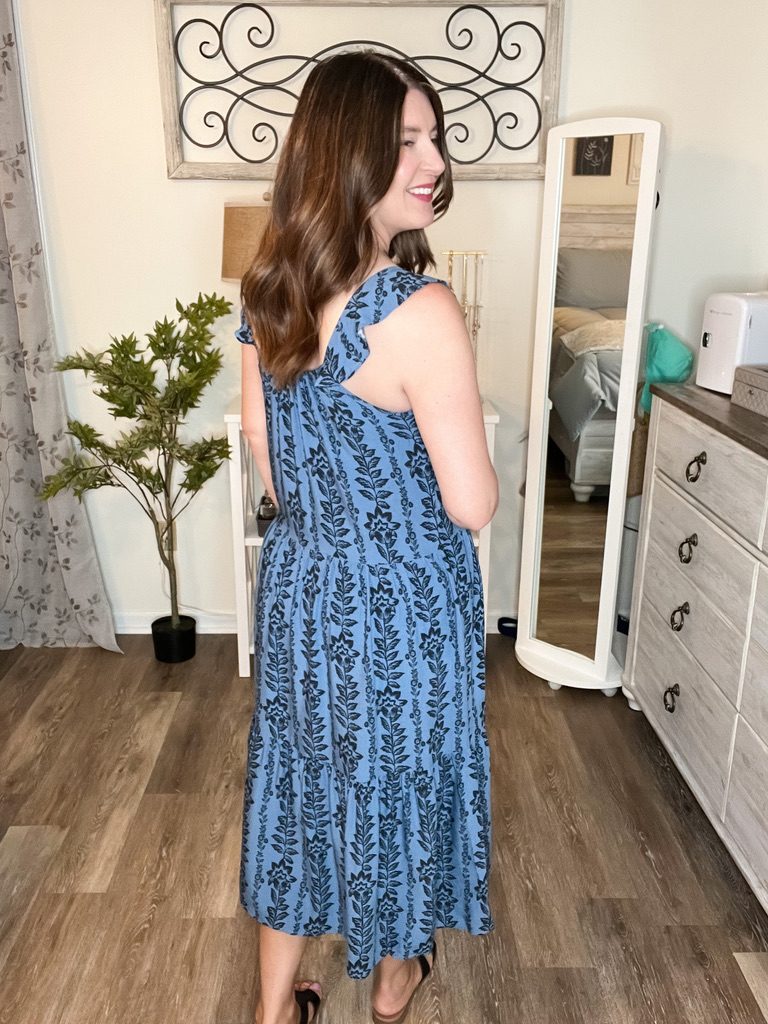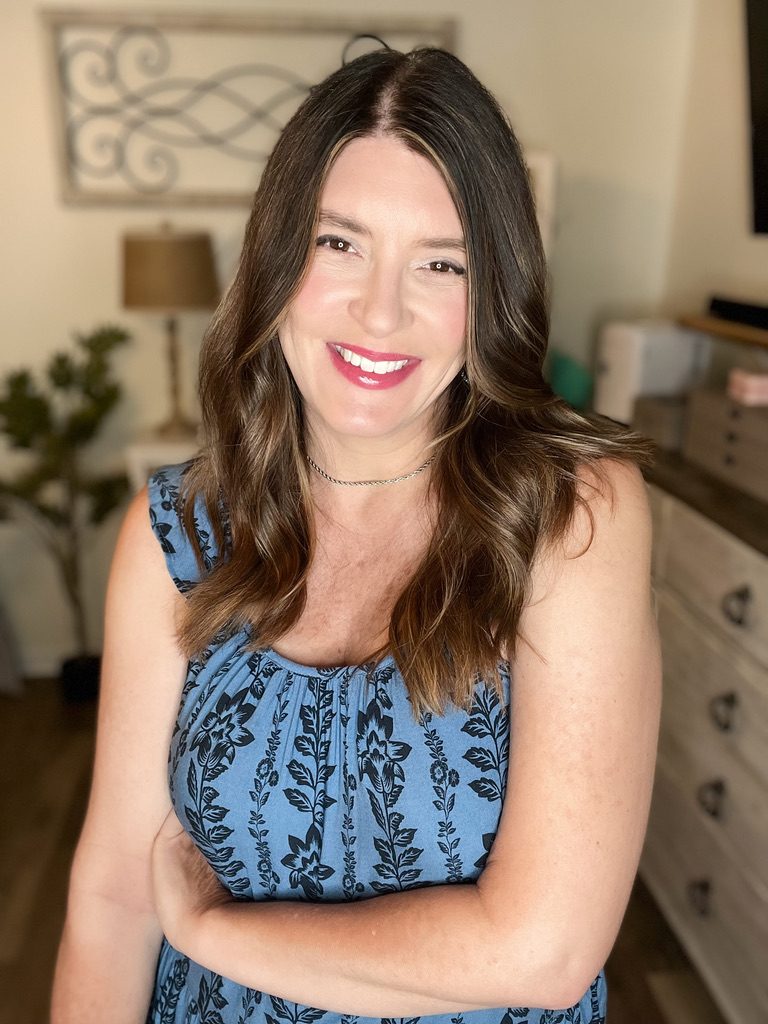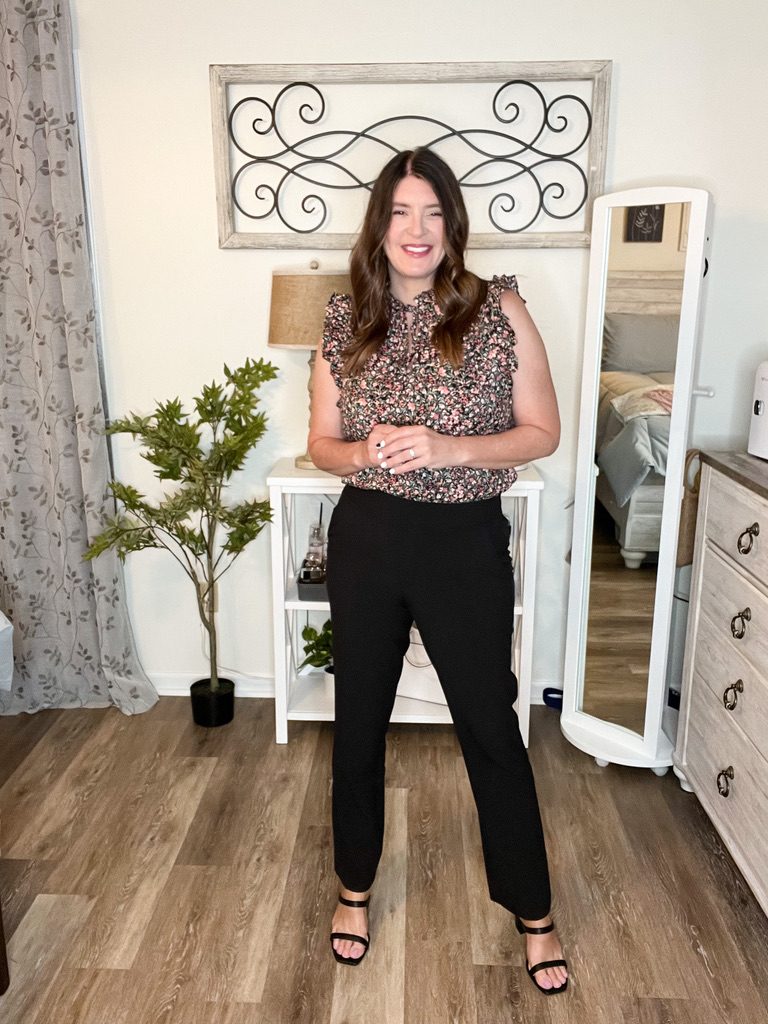 I have lots of pants in my wardrobe, but oddly enough I was missing just a simple pair of straight leg black dress pants. I don't wear them a lot since my work from home lifestyle is very casual, but I wanted to have a pair in case I need them.
I found this pair from Time and Tru and they are so comfortable. They are a pull on style with an elasticized band in the back for an easy flattering fit. For only $15.96, you can't go wrong. They also come in grey and if I worked in an office I would pick up an extra pair for sure!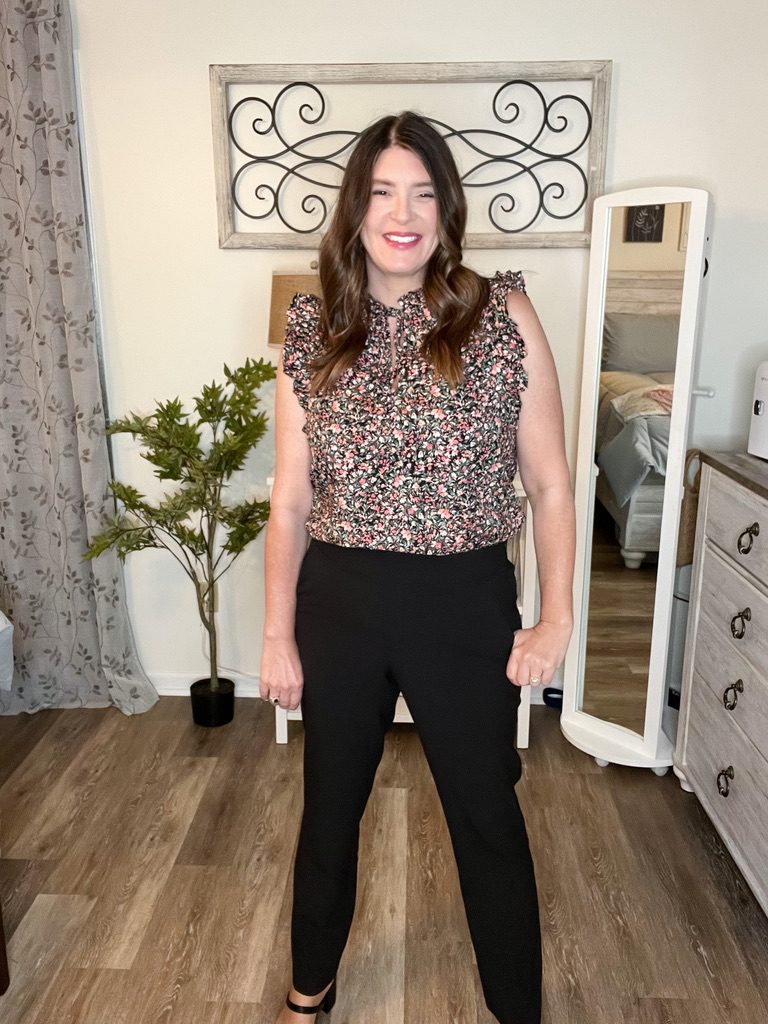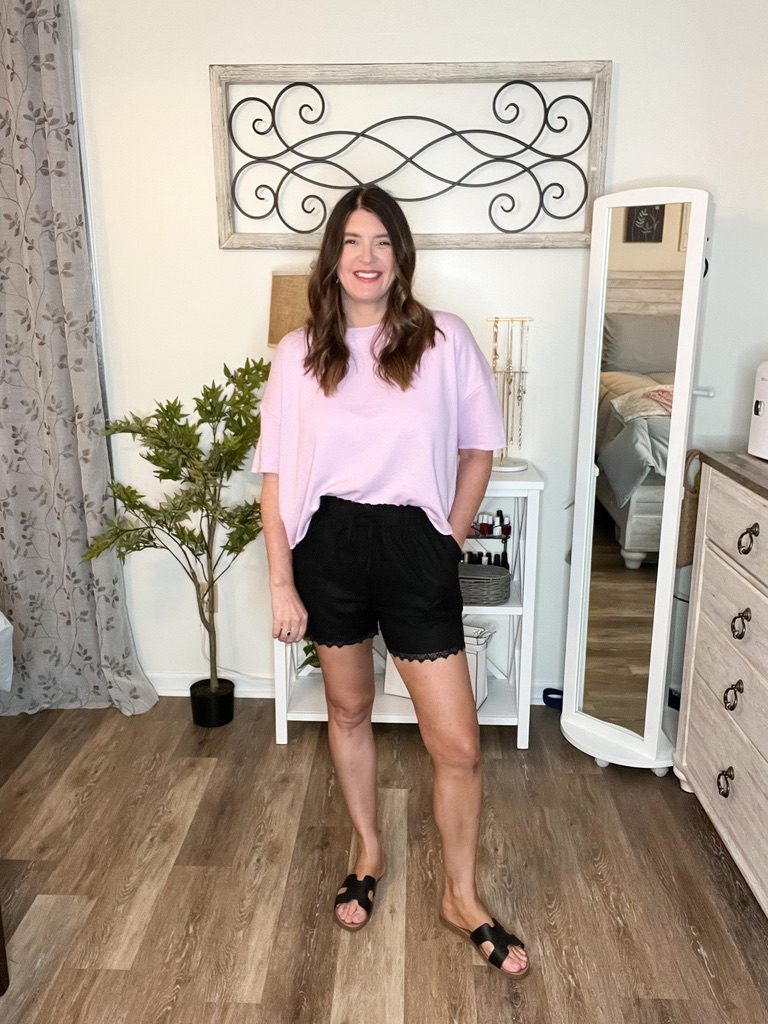 The Time and Tru Linen Blend Shorts are a great basic summer piece to have in your wardrobe. They are a pull on style with a cute lace detail around the bottom. I'm wearing a medium and the fit is spot on. These are only $16.98 and come in a few other colors. My sandals are the Steve Madden Roceen style. I got them at Sam's Club.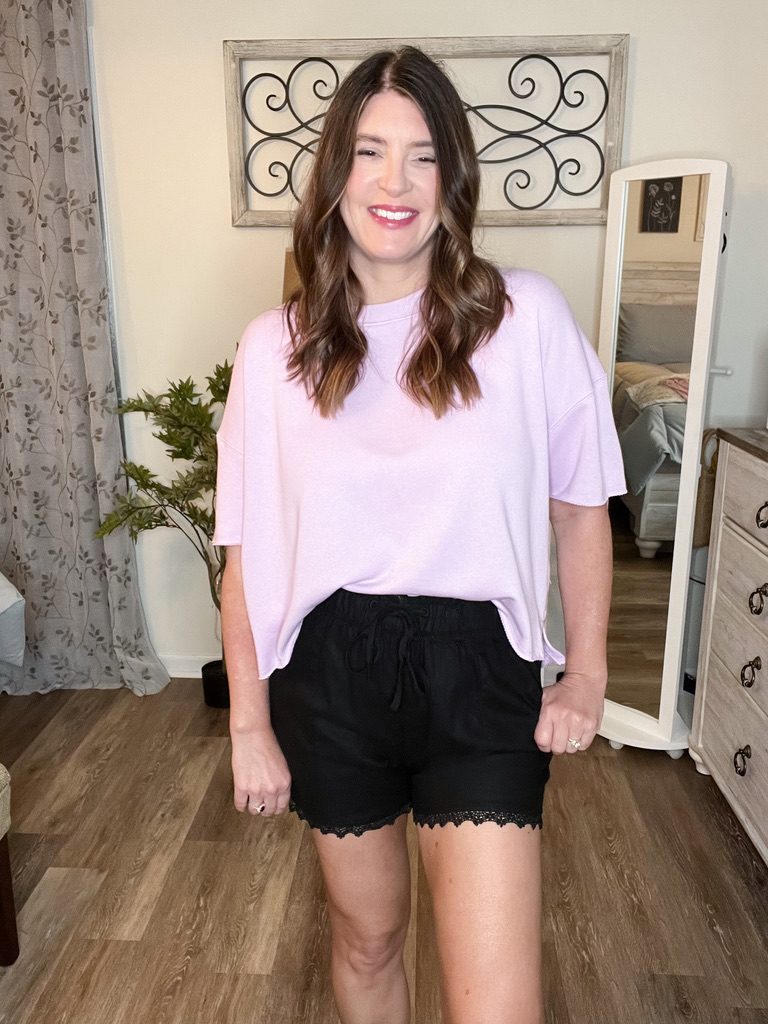 My top is a very thin sweatshirt knit material by Secret Treasures. Yes, this is technically a pajama or loungewear top but it works just fine for a regular top. I love this lavender color, and other colors are also available. I have lots of lounge shorts, so I just bought the top. It also comes as a set with the top and the matching shorts. I will link both options.
Athletic Looks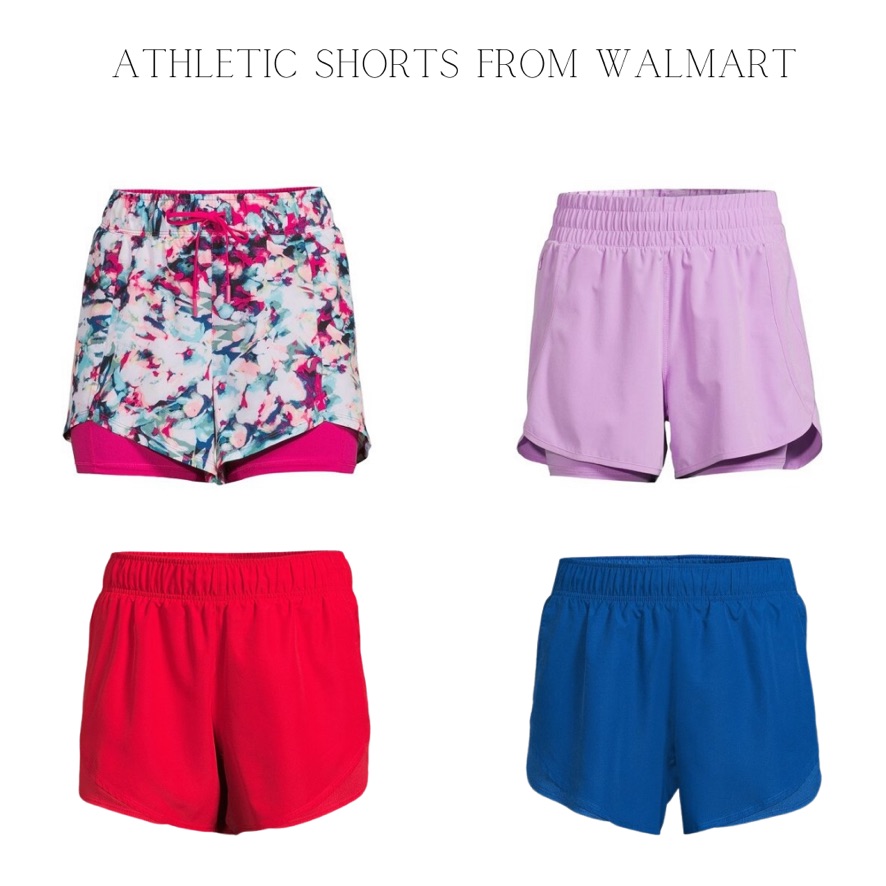 I picked up several styles of athletic shorts at Walmart recently. I shared this first couple of styles on Instagram last week. The Avia running shorts have spandex underneath. I chose the floral and solid lavender colors. I also picked up a couple of solids by Athletic Works in red and blue.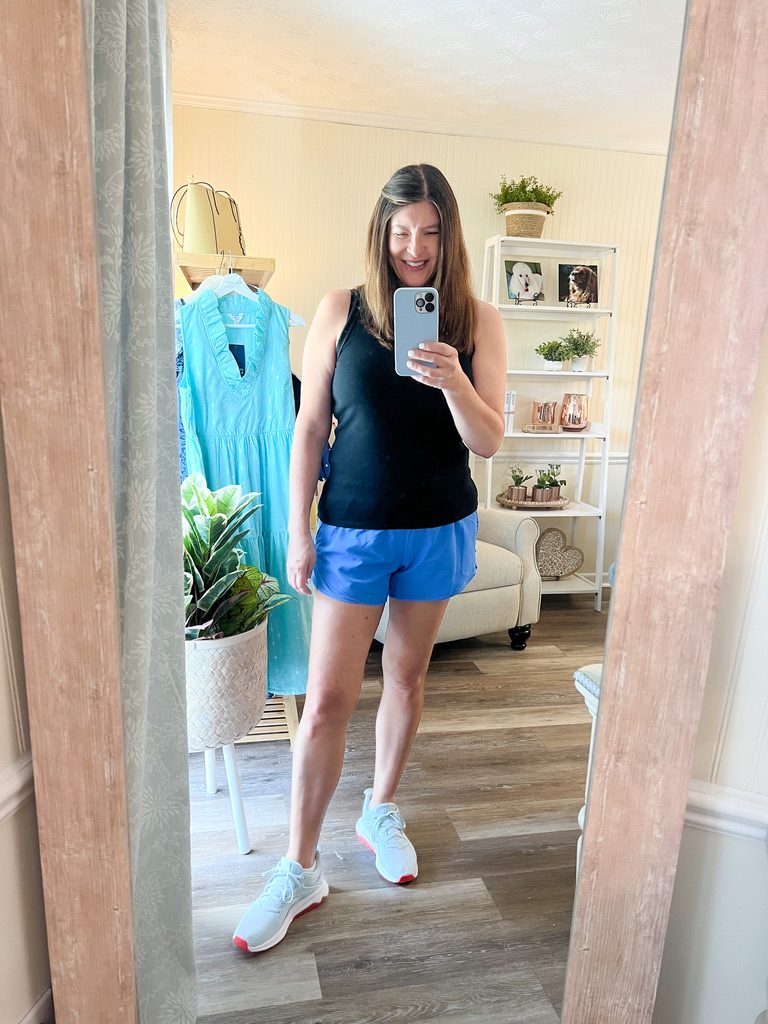 I was really impressed by these Avia mixed knit sneakers in blue. For only $15 they are ultra lightweight and have memory foam in the sole.
I'm wearing them in the photos below along with the Athletic Works Gym shorts. The shorts are perfect for lounging or exercising and are only $5.98. They run TTS and I'm wearing a medium. I purchased these blue ones, and 3 other colors.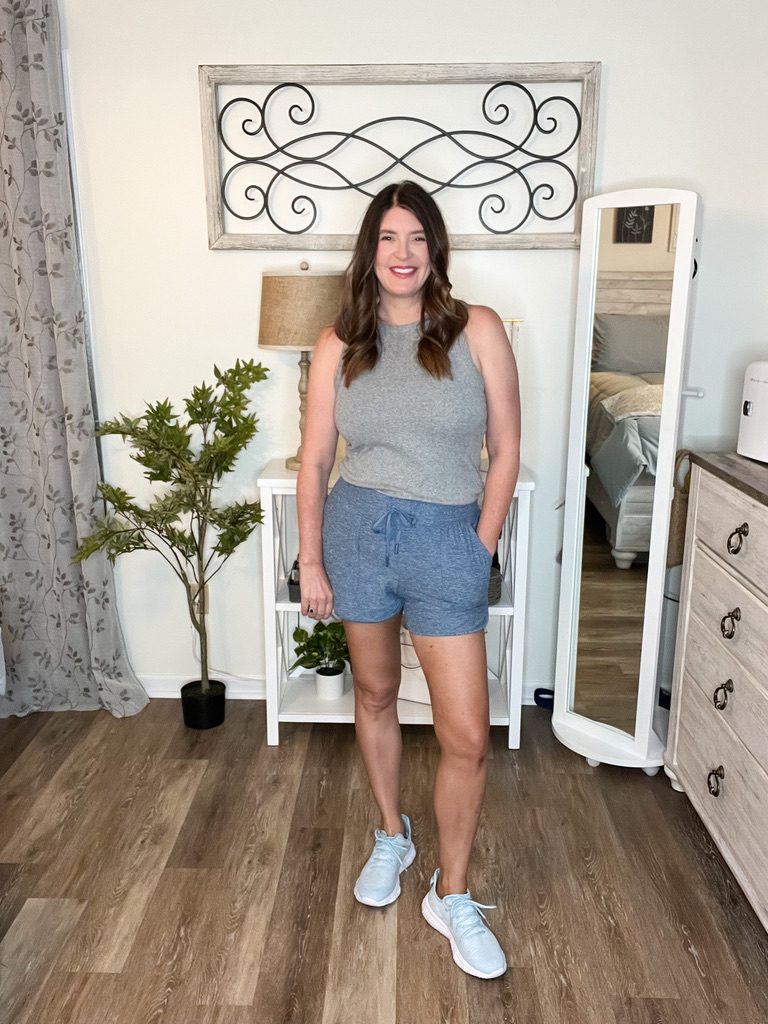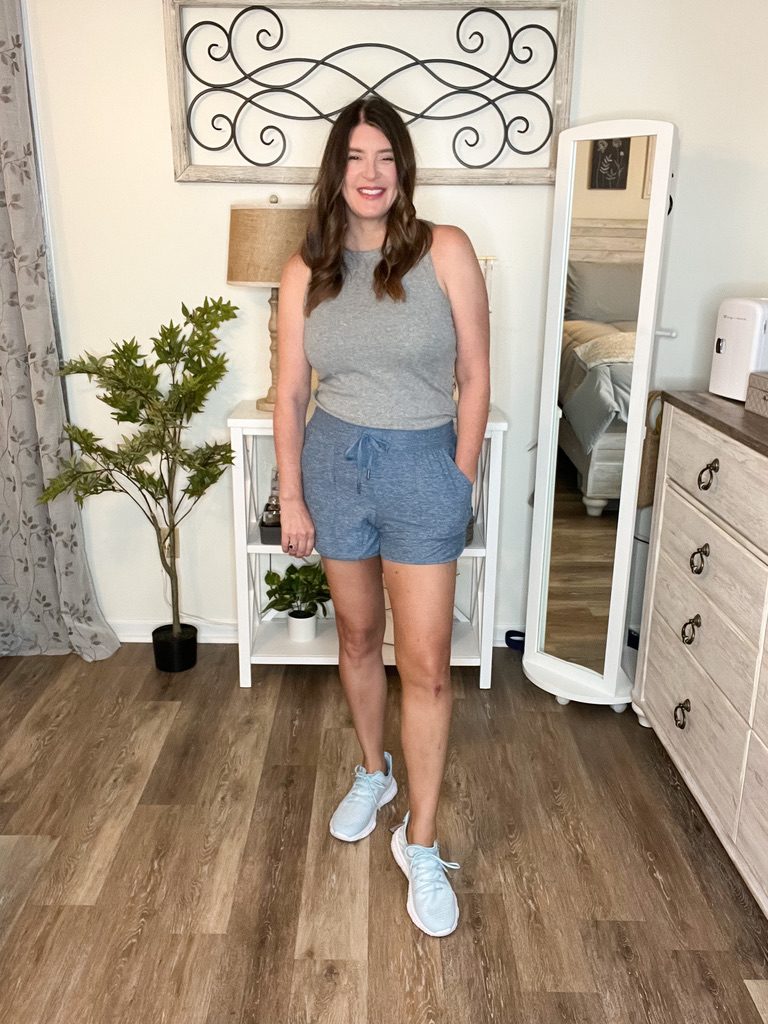 Pajamas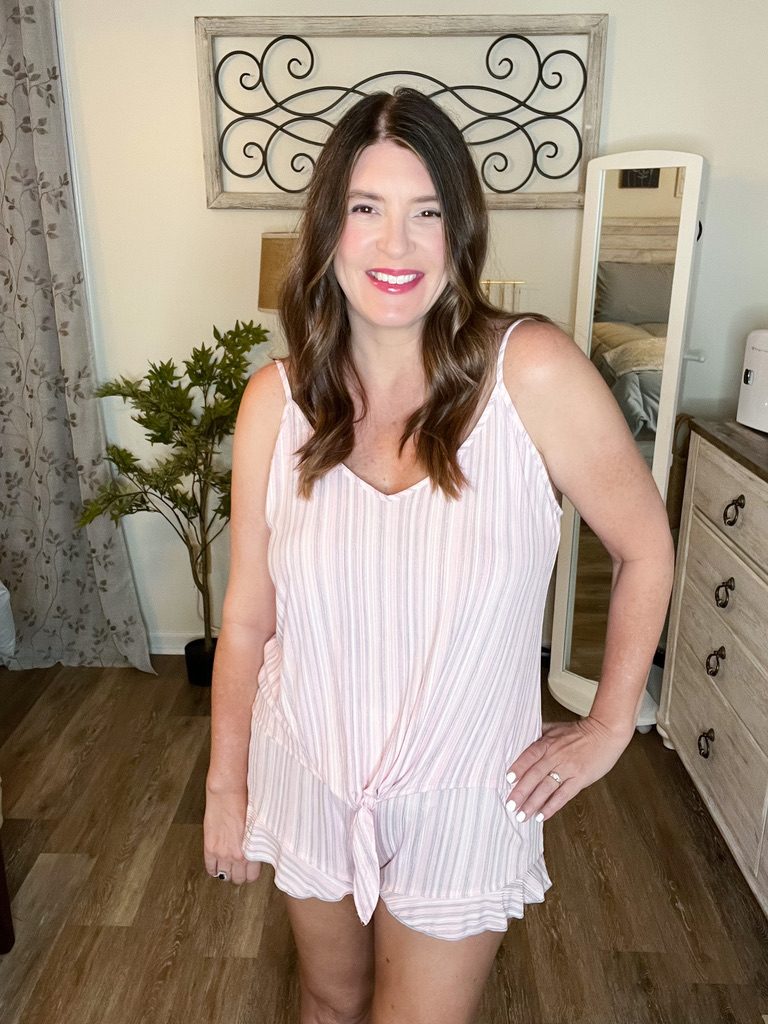 Secret Treasures is my favorite go-to loungewear and P.J's. I picked up 2 pair of these cami and short sets. The set is only $11.98 and other colors are available. There is also a chemise version that is very cute…some of the styles were on sale and I picked up a few of those as well.
For The Beach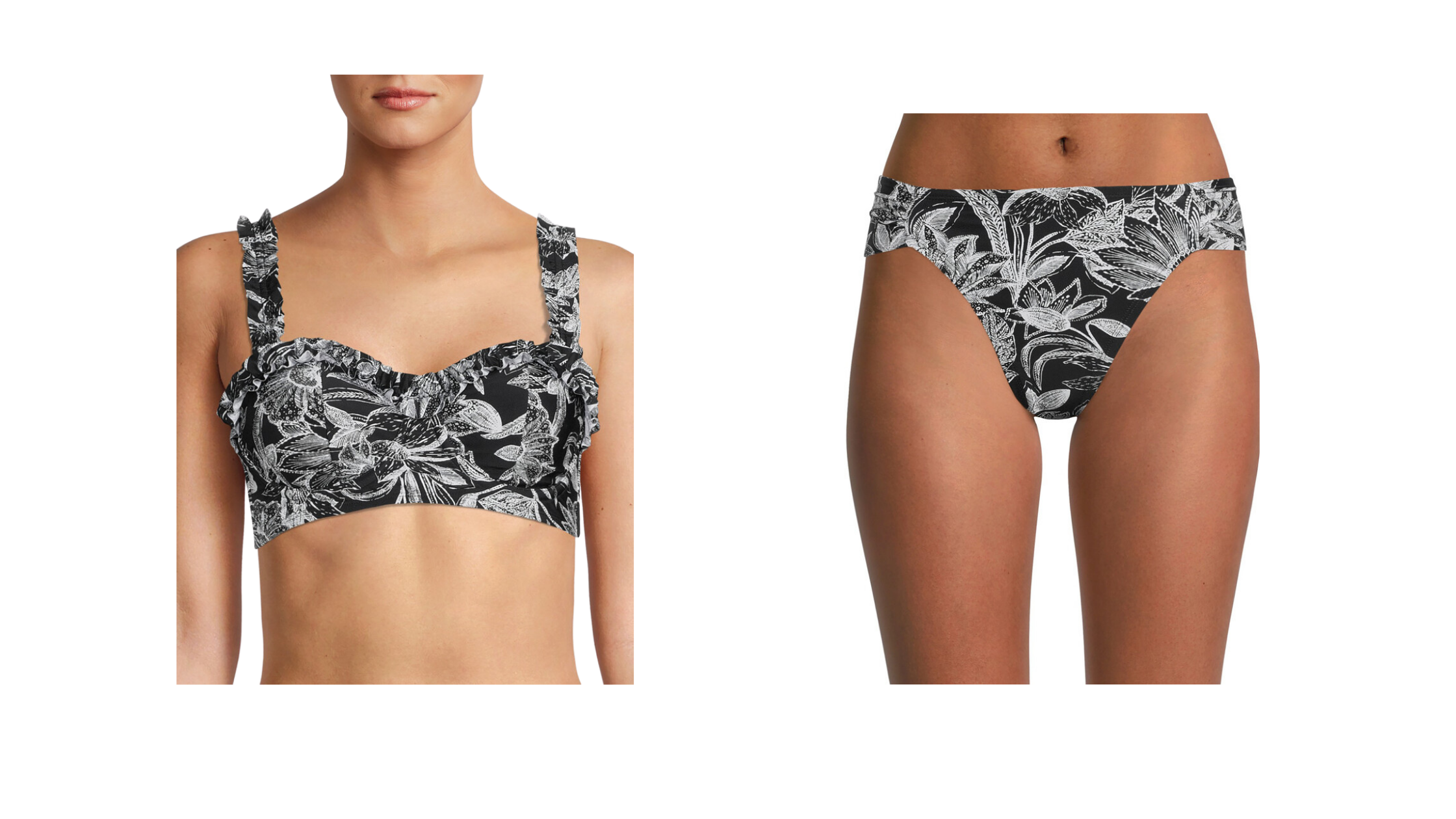 Time and Tru has a wide variety of swimwear that look promising for mature women. I saw this black and white floral 2-piece and decided to give it a try. I bought an XL in the top and a L in the bottoms.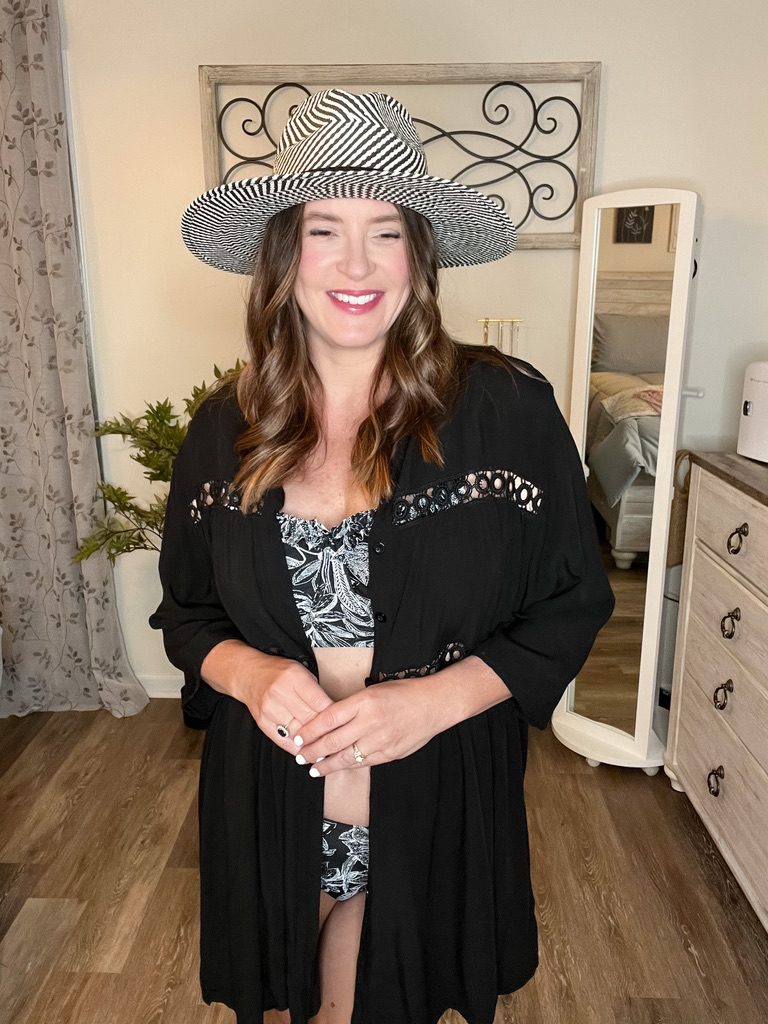 Unfortunately, the top was too big, but if you have a large bust this style would probably work well for you. That's what drew me to the top in the first place. My hat is by Scoop and I have rounded up some other beach essentials below.
Walmart is killing it with cute beach totes. I few of my favorites are in the collage below as well as a great beach cover up that also comes in black. The cover up in the photo above is from Amazon and you can find it here.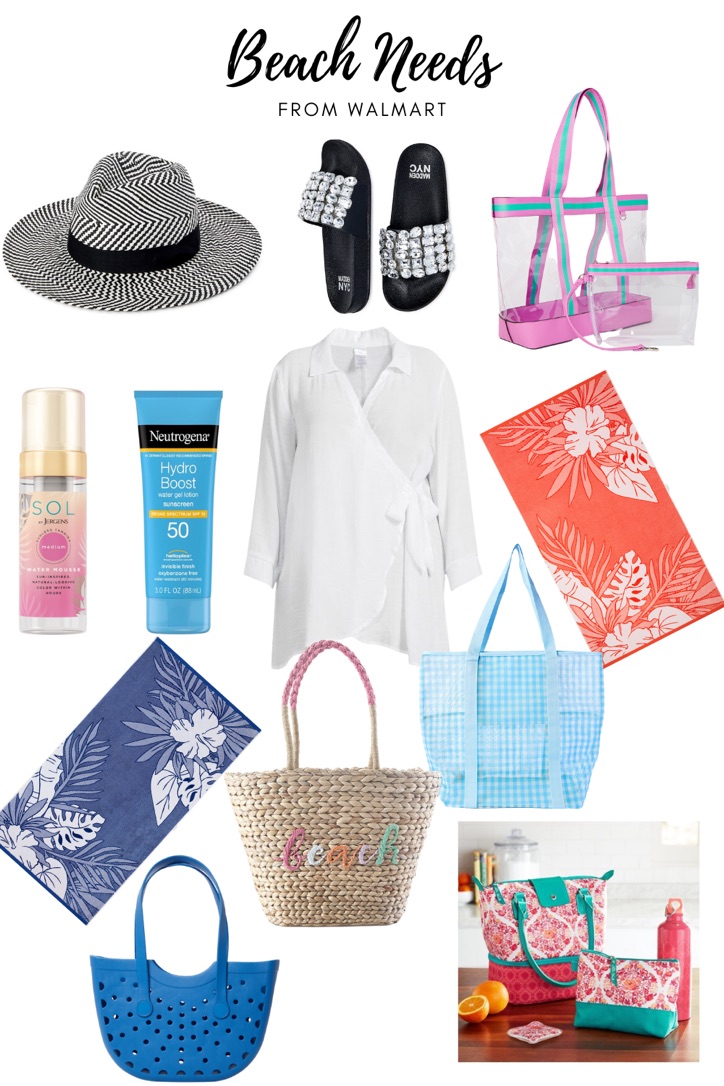 Beach Hat // Jeweled Slides // Clear Beach Tote // Jergens Self Tanner // Neutrogena Sunscreen // Swim Cover Up // Orange Beach Towel // Blue Beach Towel // Straw Beach Tote // Gingham Beach Tote // Molded Beach Tote // Pioneer Woman Insulated Lunch Kit
For The Home
My spring Walmart haul also includes some amazing finds for the home.
I don't like to recommend candles that I haven't smelled, and when I saw these in my local Walmart I tested them all. My favorites were these scents from Better Homes and Gardens, and the packaging is so luxe.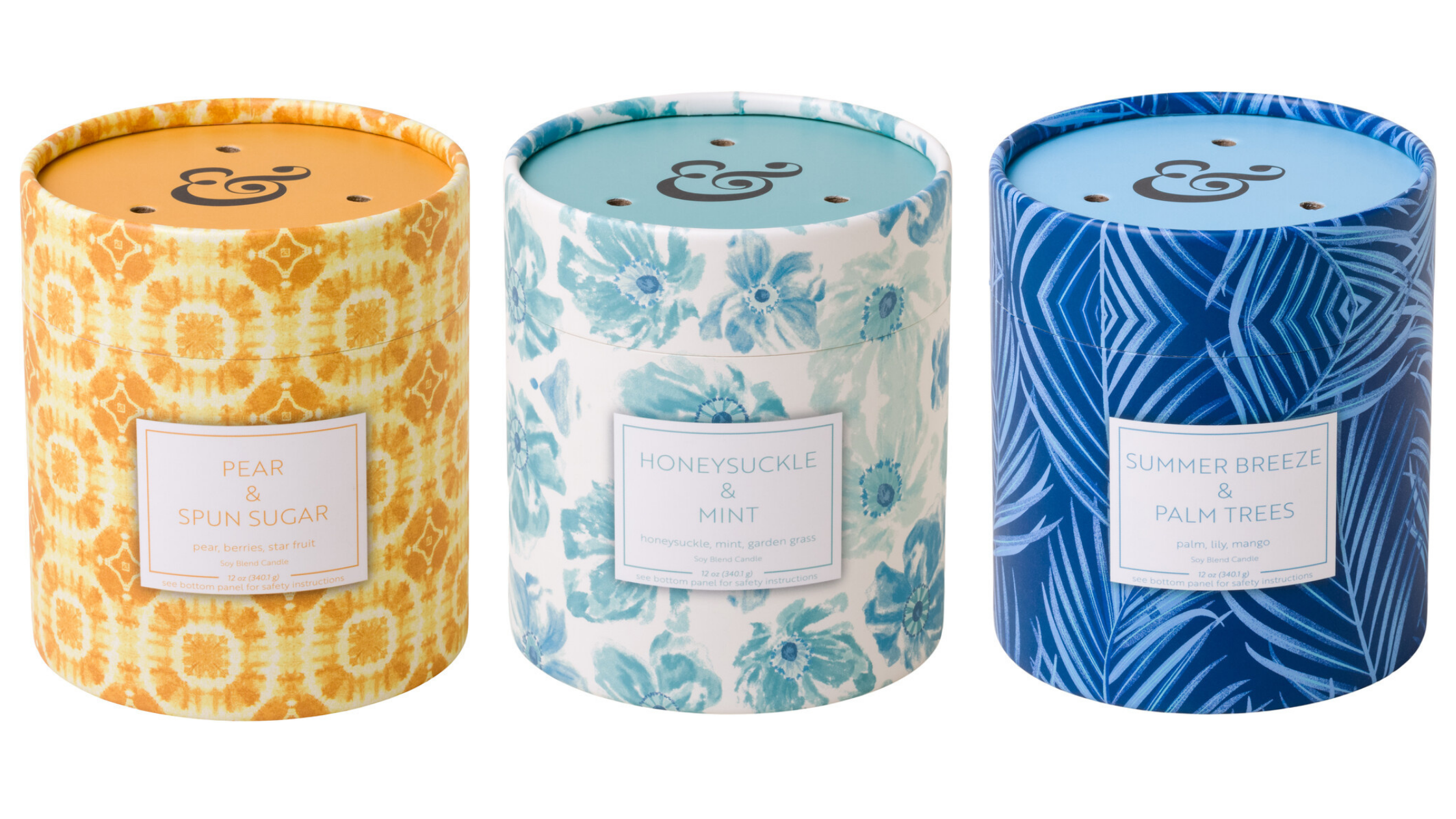 Pear & Spun Sugar // Honeysuckle & Mint // Summer Breeze & Palm Trees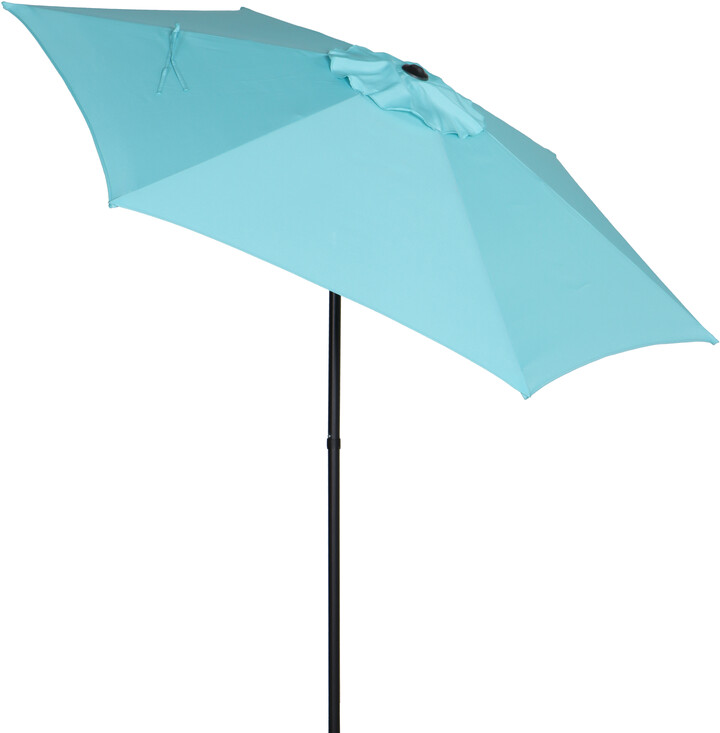 For some reason, we go through patio umbrellas like crazy. It seems every year the wind is determined to destroy my umbrella and this year was no exception. Walmart has a great selection of patio umbrellas that won't break the bank, and we recently purchased this one for our deck.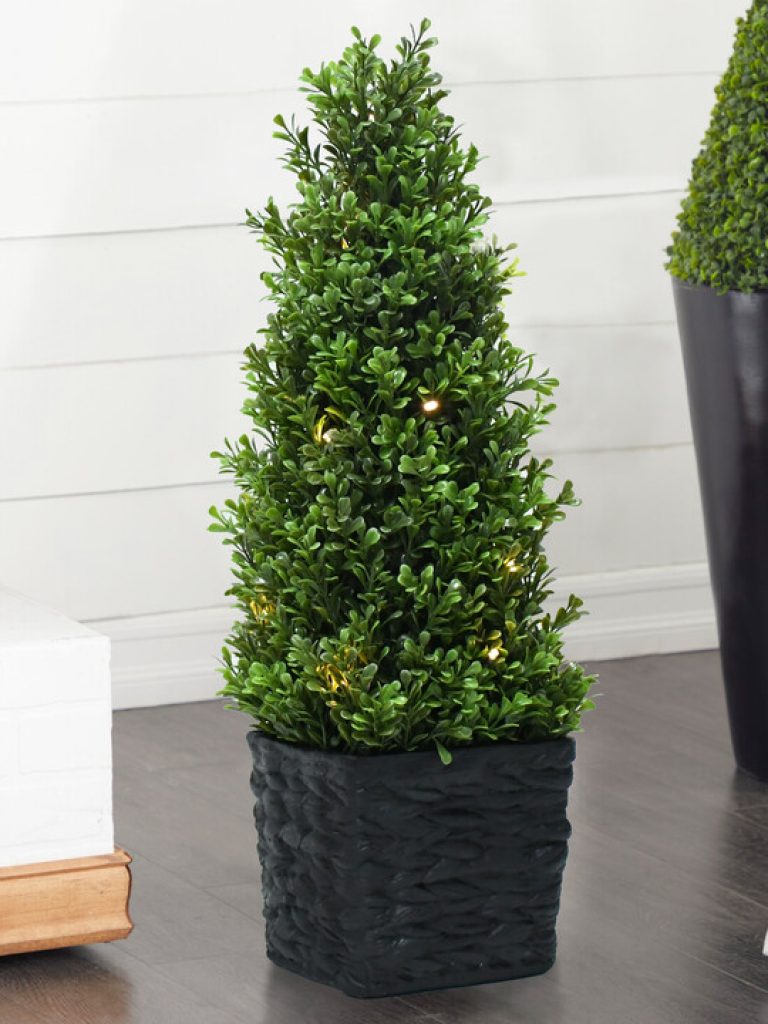 I purchased 2 of these solar powered topiaries for my deck and I am really enjoying them. I placed them in some large pots and surrounded them with some other plants. They light up at night and look so pretty!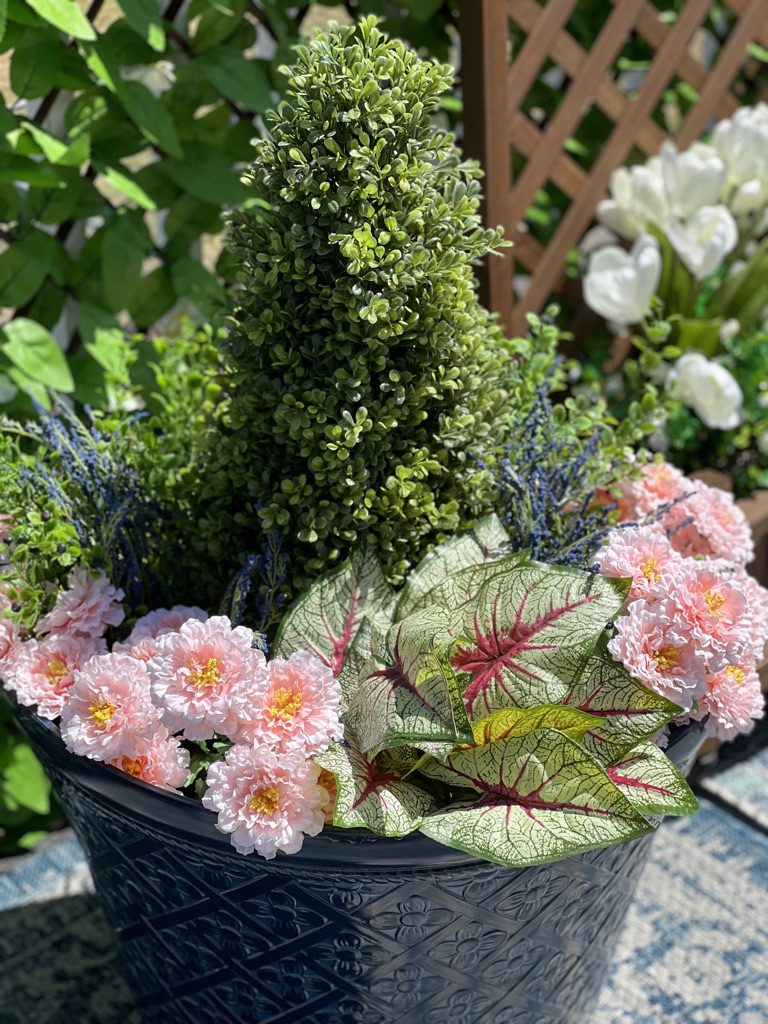 Beauty
The last part of my spring Walmart haul contains some beauty products. These hair products were a total impulse buy, and the packaging caught my eye. Anyone else a sucker for pretty packaging? I thing I would buy a bag of dirt if it was in a pretty package! Anyhow, this shampoo and conditioner is sulfate and paraben free and smells like a dream.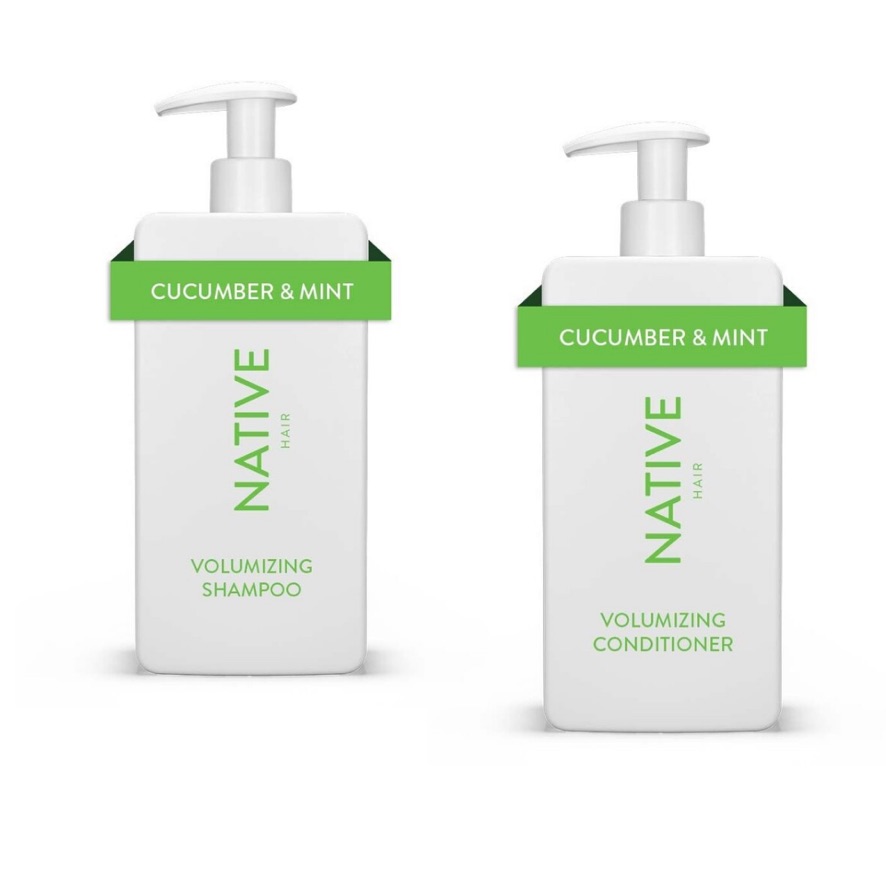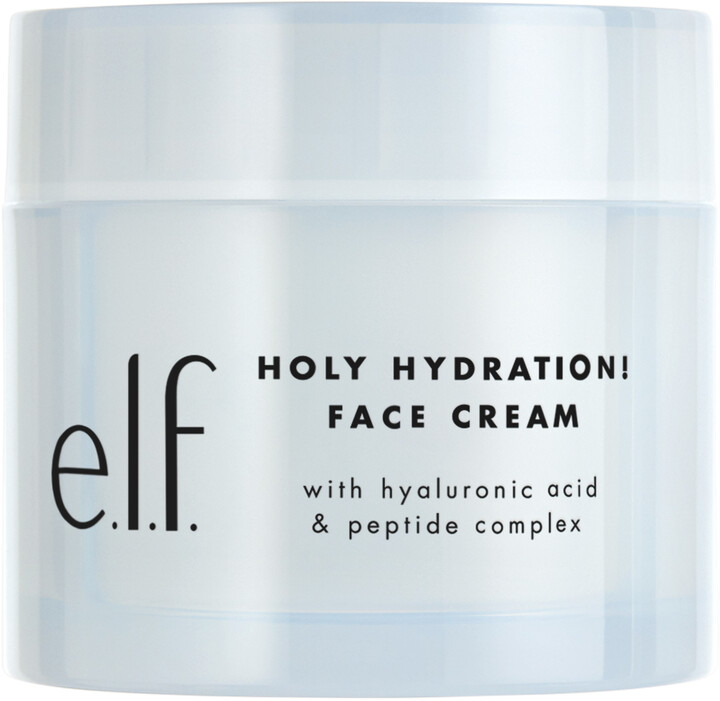 E.L.F. has some really great products, and their skincare line is something to consider. The Holy Hydration Face Cream has all the right ingredients for locking in moisture for a plumped up even complexion. There is a scented and nonscented version. I have the scented version and it does not bother me. The scent is light and dissipates quickly after application to the skin. I've been using it in the A.M. in place of the Cere'Ve moisturizer that I ran out of.
In a previous post, I talked about the e.l.f. makeup removing balm. I would recommend this as well. It comes in a small lightweight container that is easy for travel. To see that post click here.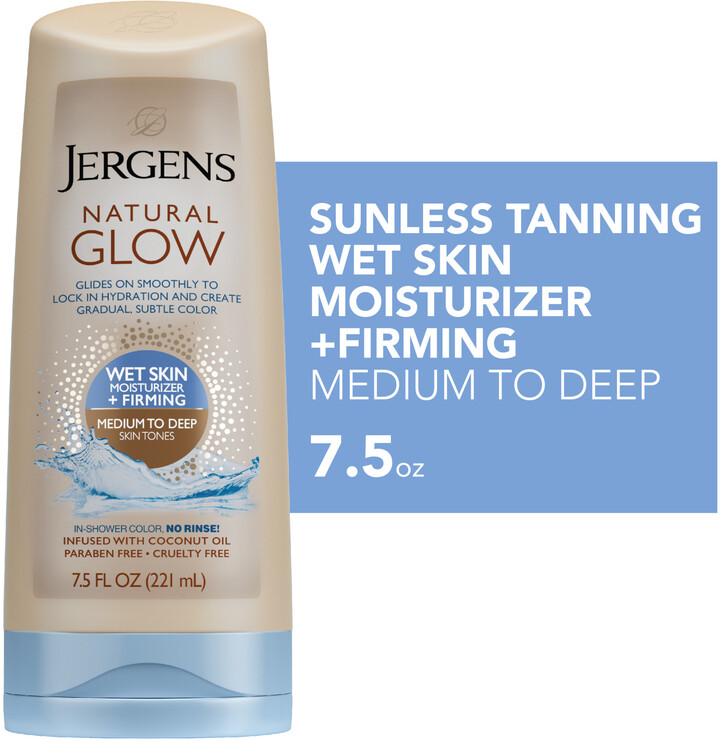 I've been recommending Jergens self tanning products for quite some time. This Natural Glow Wet Skin Moisturizer takes a little practice, but once you learn how to apply it the results are worth it. This is a self tanner and moisturizing lotion that is applied to wet skin right after you get out of the shower.
Since you can't see where you have applied it, there is a chance for a streaky or uneven result. This happened to me the first few times I used it so I put in on the shelf for a while. If you can get the hang of applying it very evenly, you will have skin smooth as silk and a nice looking tan.
If this sounds too complicated, I still recommend and love the Sol by Jergens water based tanning mousse, and the Minetan Self Tanner from Amazon. To see a full post on my favorite self tanner, click here.
That's it for this spring Walmart haul. I hope you see some things you like…remember to shop my links. It's the easiest way to find the items you see here, and it helps me out. This post is not sponsored my Walmart and all items were purchased by me. Thanks so much for joining me today!