It's that time of year….time to think about self tanning! Over the years I have tried several self tanners and I have always gone back to the Jergens line. They seemed to be the most affordable and the easiest to work with. Well, I've found a new one and it's THE self tanner you need to know about!
So what is the self tanner I'm so excited about? It's the MINETAN BODY.SKIN Wonder Tan Self Tan Foam

Until now I have never been able to find a self tanner than gave me color without appearing too orange. Some are worse than others, but this one gives me an instant brown tan that deepens as the day goes on. No orange fake looking tan!
There are several different formulas within this brand, but I chose this one because it has hyaluronic acid (moisturizer) and vitamins A, B5, C, & E. Why not use a self tanner that also has beneficial skincare ingredients?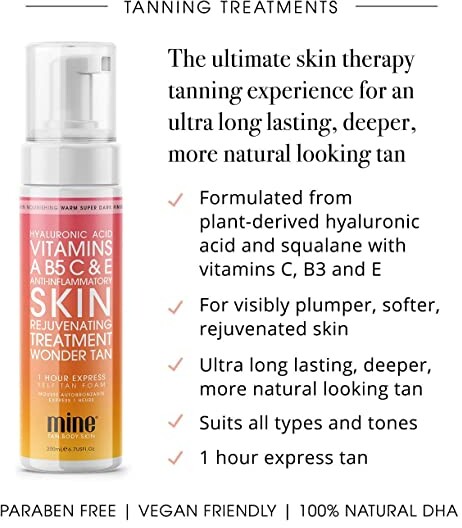 Application Method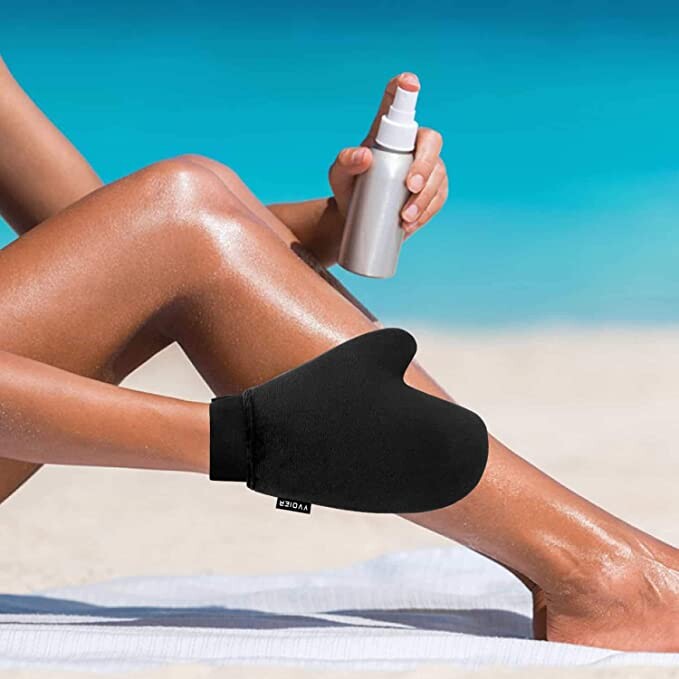 This is a mouse consistency that needs to be applied with a mitt. I was really impressed with how easy it was to apply and how well it blended into my skin. Since it gives you instant color, it is easy to see where you have applied and to spread it evenly. It dried quickly and did not transfer onto my clothes throughout the day.
I purchased this mitt from Amazon and it has worked well.
This is a great option if you want some color in a hurry, and don't have time for a self tanner to develop. The color is instant and subtle and then darkens the longer you wear it. The instructions say that you can wash it off once you reach the desired color, but I left it on until the next day when I showered. It did not get too dark and it did not streak! Yay!
The photo below was taken after only one application of the Minetan, which was applied the day before. For a darker tan, you can build it by applying it again until you reach the desired depth. My pink top is from Walmart and I just love the polka dots!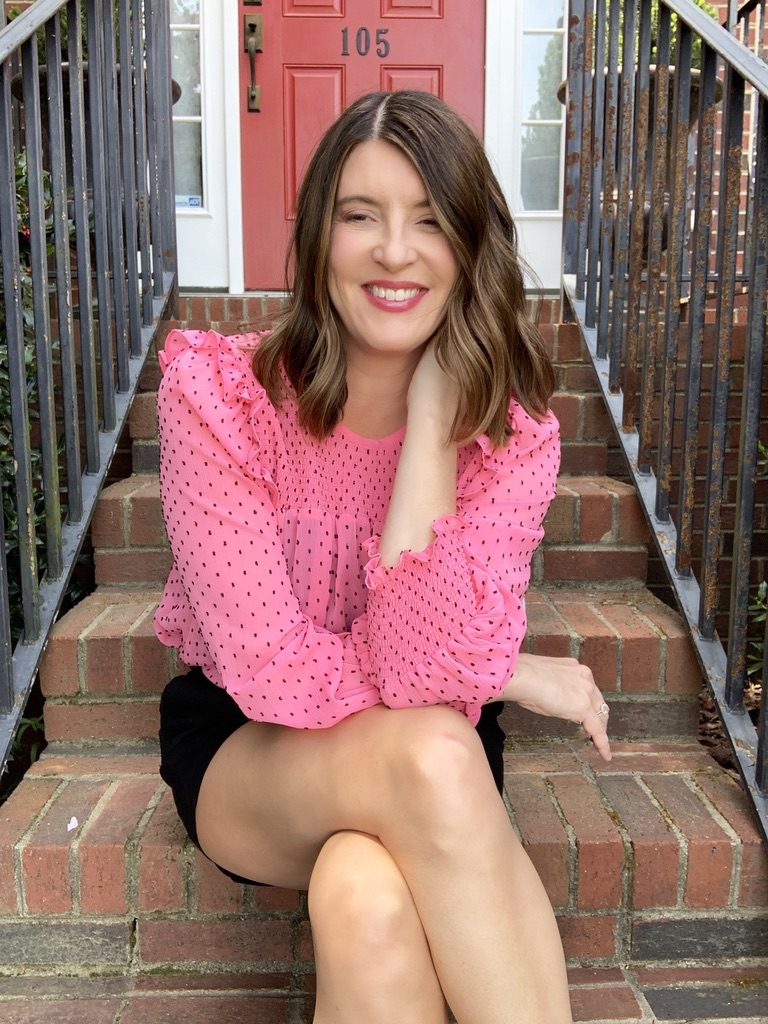 My results were as close to a real tan as I have ever achieved with a self tanner. Is it absolutely flawless? No, you can still make a mistake, but I think it looks amazing. With all the effort I make to protect and restore my mature skin from sun damage, the last thing I want or need to do is bake out in the sun. This allows me to wear summer clothes or a swimsuit and have a healthy glow to my skin.
I'm all about finding the most affordable options in fashion and beauty. This product is more expensive than drugstore self tanners, but well worth it in my opinion. If you have had trouble finding a self tanner in the past, I think you should give this one a try!
Other Favorites:

If the Minetan is just not in your budget, or maybe you just want to save it for special occasions I still think the Jergens Natural Glow lotion is a good product. The lotion is very moisturizing and gives a nice even tan without looking too orange. The Jergens Instant Sun is a mouse and I also like that one. The color of the mouse seems to come out a little more golden than the lotion on my skin.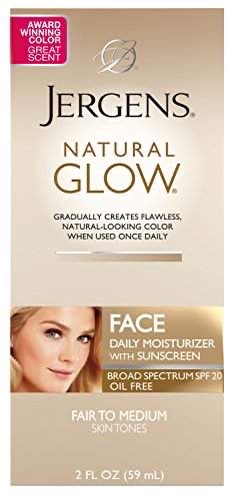 In the past I generally do not use self tanner on my face. I was afraid that it would make a mess. I found the Jergens Natural Glow Oil-Free Daily Moisturizer for Face with Broad Spectrum SPF 20 and I have been using it at night. It gives a very subtle amount of color and never looks uneven. Then I use a foundation that is one or two shades darker than what I use with no tan.
One foundation that I have really been enjoying is the Maybelline Fit Me Matte + Poreless Liquid Foundation in the shade #125 nude beige. I have worn it for photos and it gives a beautiful and natural looking finish to the skin. I didn't want to spend a lot of money for a darker foundation in case I didn't like it, so at $6-$8 depending on where you buy it it was very affordable. It wears like a high end foundation and I am really impressed!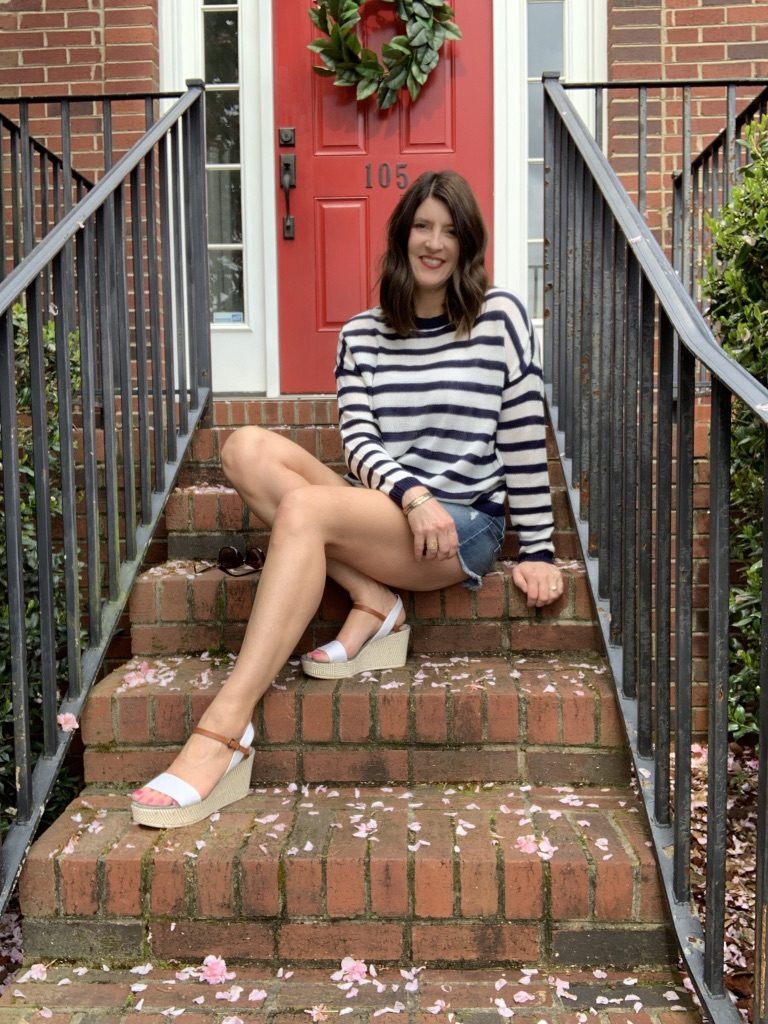 So that's the self tanner you need to know about. Do you have a self tanner that you love? Please let me know in the comments below. I am always looking for new products to try.
You might also enjoy this post.
Did you know?
Here is some information you might find helpful about the shopping widgets and how to use them: