Christmas is almost here and most of us are doing things differently this year. I thought it would be helpful to share some ideas of what to wear if you are staying home for Christmas.
Christmas Eve and Christmas Day have always been a big deal in my family. Growing up, we always dressed up nice for Christmas Eve and had a house full of people. Those memories still inspire me to this day, and I like to dress nice for Christmas even if we are at home.
By the way, Claire insisted on being in these photos! You will see her in the background of several of the photos today. I hope you won't mind.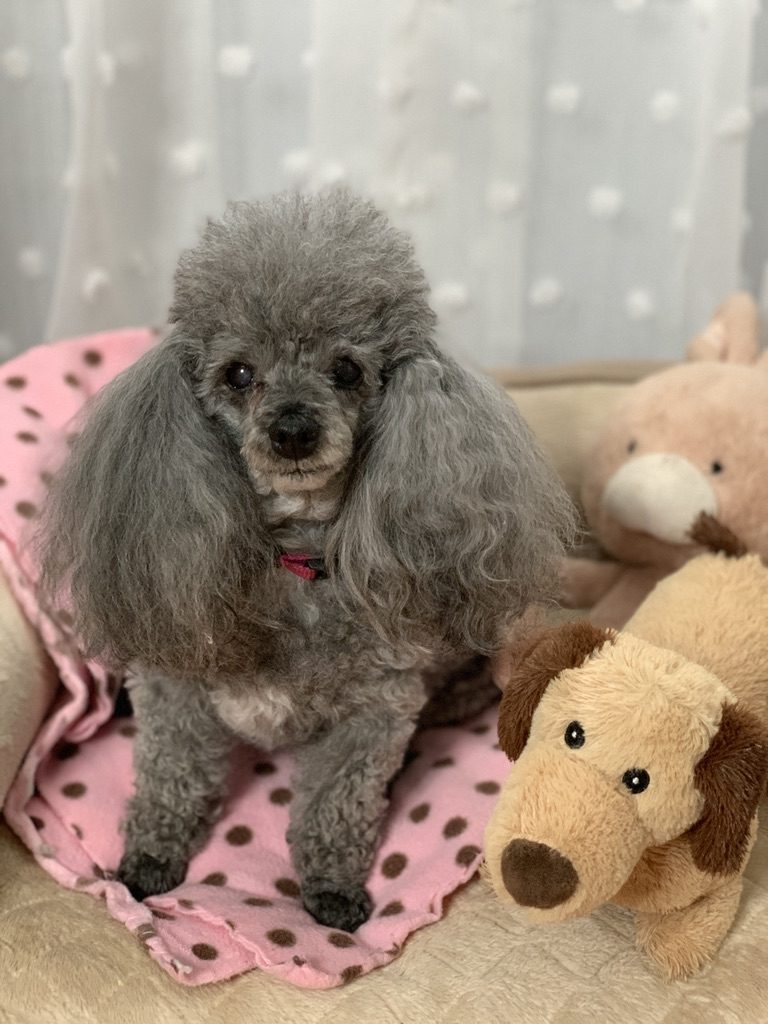 Soft Knit Dress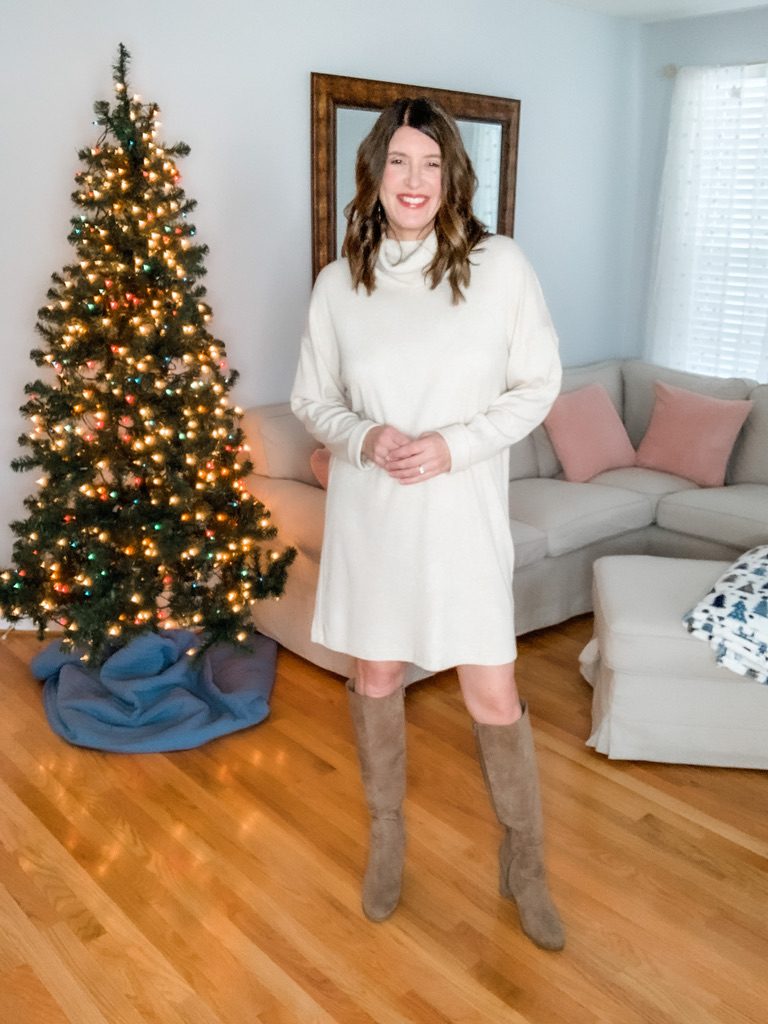 The first Christmas outfit idea is this soft and comfortable knit dress. If it looks familiar, that's because I featured the same dress in black a while back. You can see it here. I liked this dress so much that I also purchased it in this neutral oatmeal color. Paired with a light and neutral scarf, this could be a good winter outfit as well.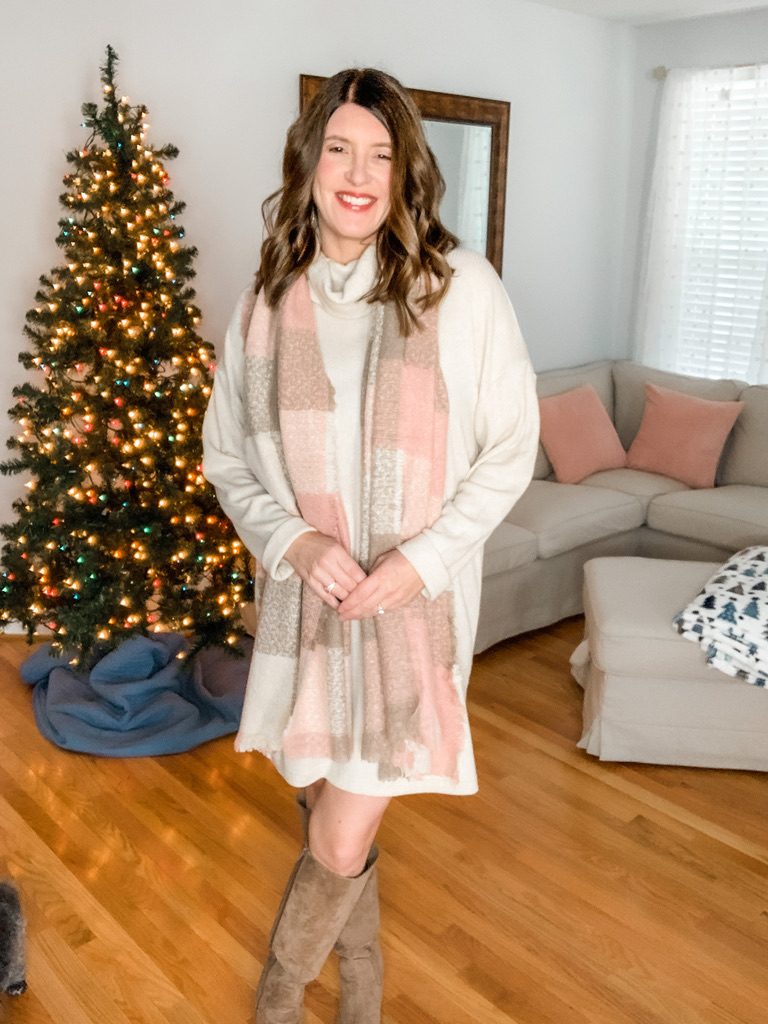 My scarf came from Marshall's, but I linked a similar one from Amazon.
Sweater Dress
A sweater dress is a great thing to wear if you are staying home for Christmas. They are the perfect combination of dressy and casual. Sweater dresses are also warm and comfortable. Here are some examples of some sweater dress outfits.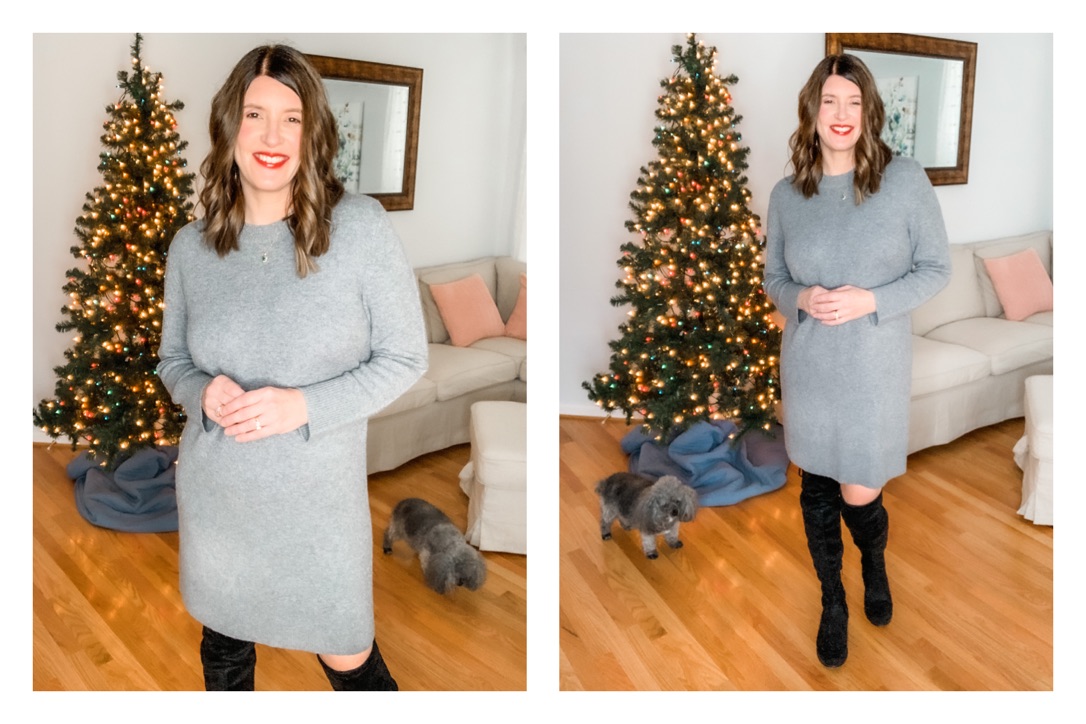 I've had this grey dress from Loft for a couple of years.
This dress from Old Navy in red is perfect for Christmas! This is from last year, and this year's version is sold out. I had a hard time finding a red sweater dress, but I did link a similar style in the shopping widget.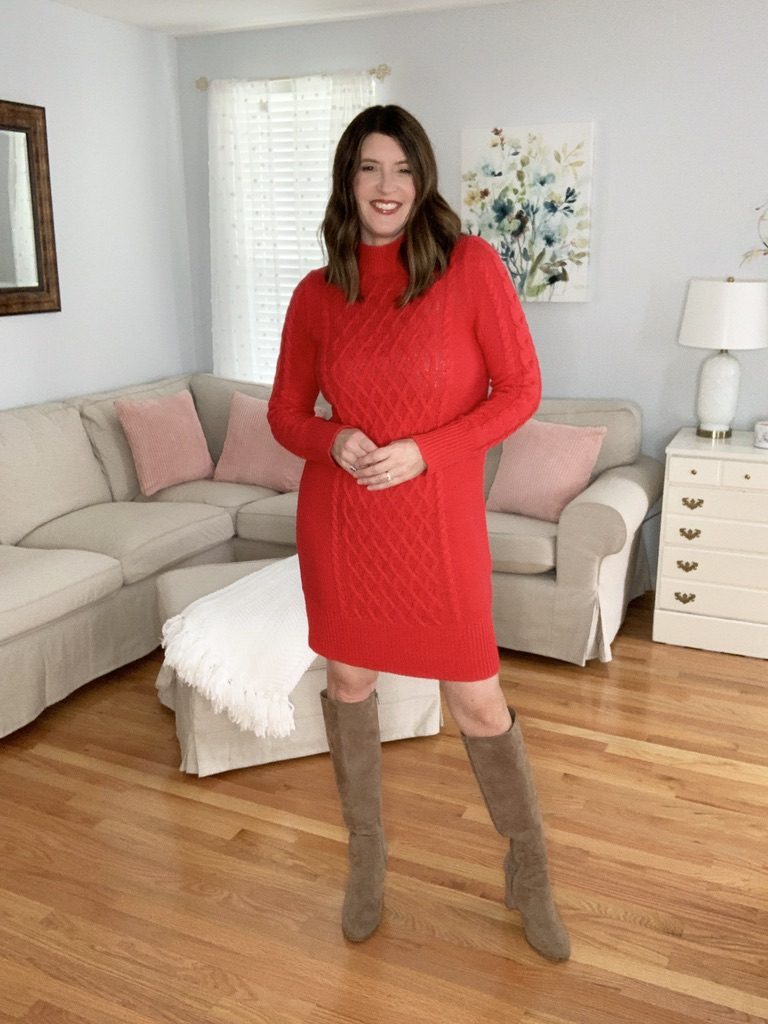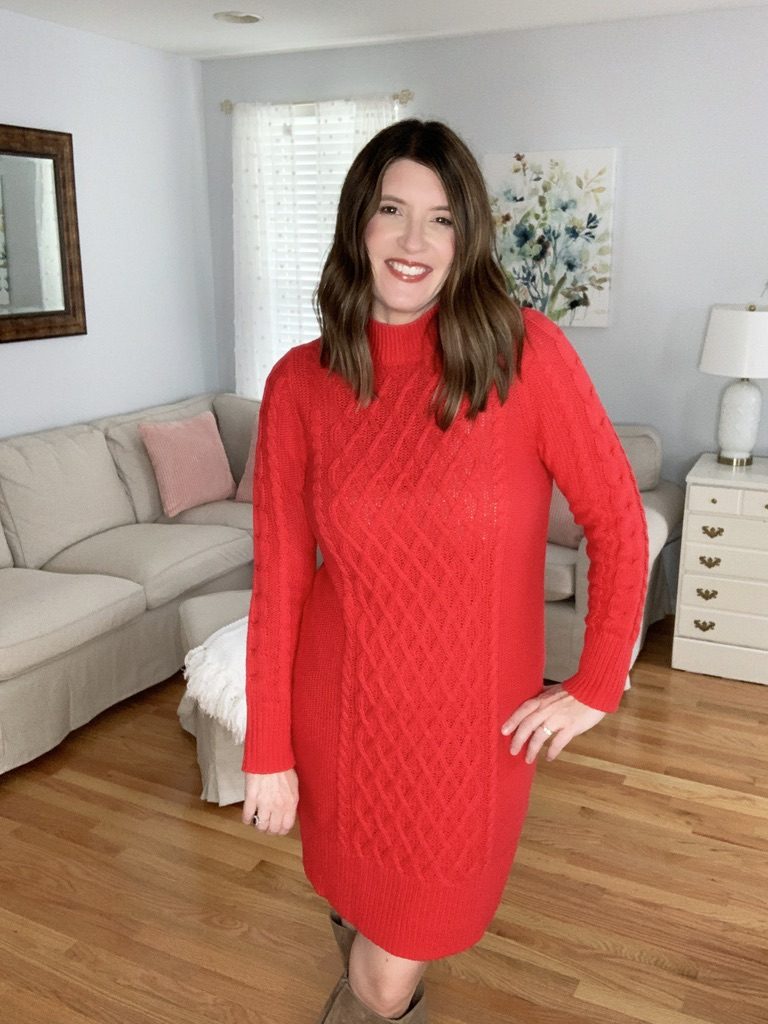 Wear Red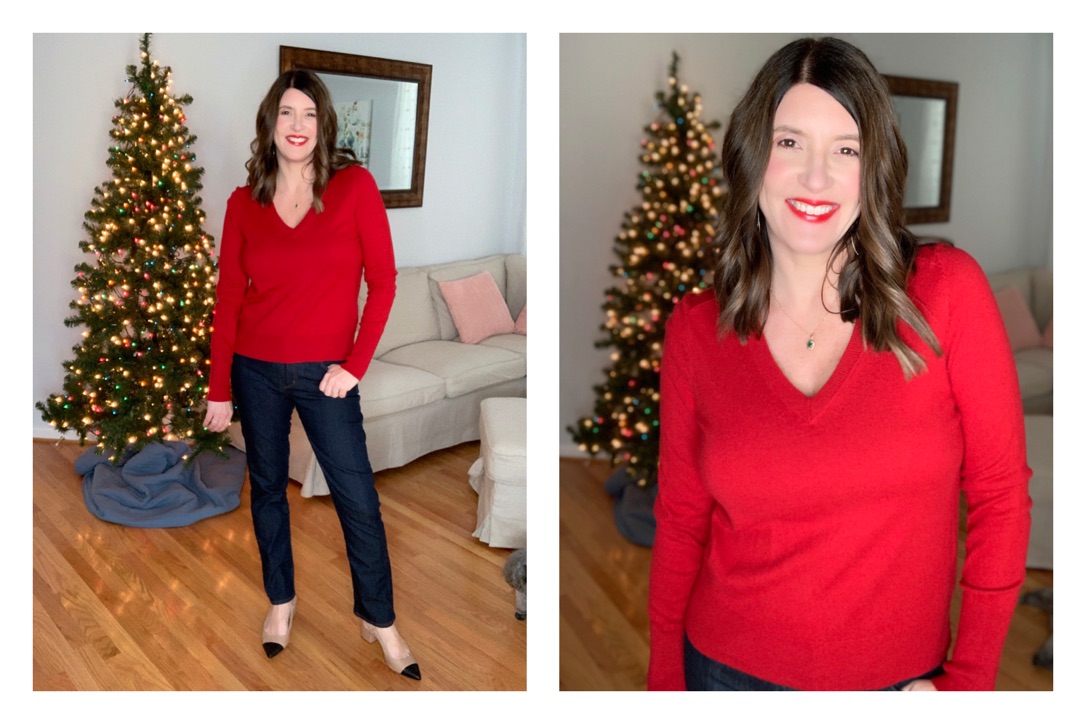 Speaking of red….Nothing says Merry Christmas like red! A simple red sweater and jeans outfit looks festive. I love to wear red and I have several red pieces in my wardrobe. Here are a couple outfits that center around red.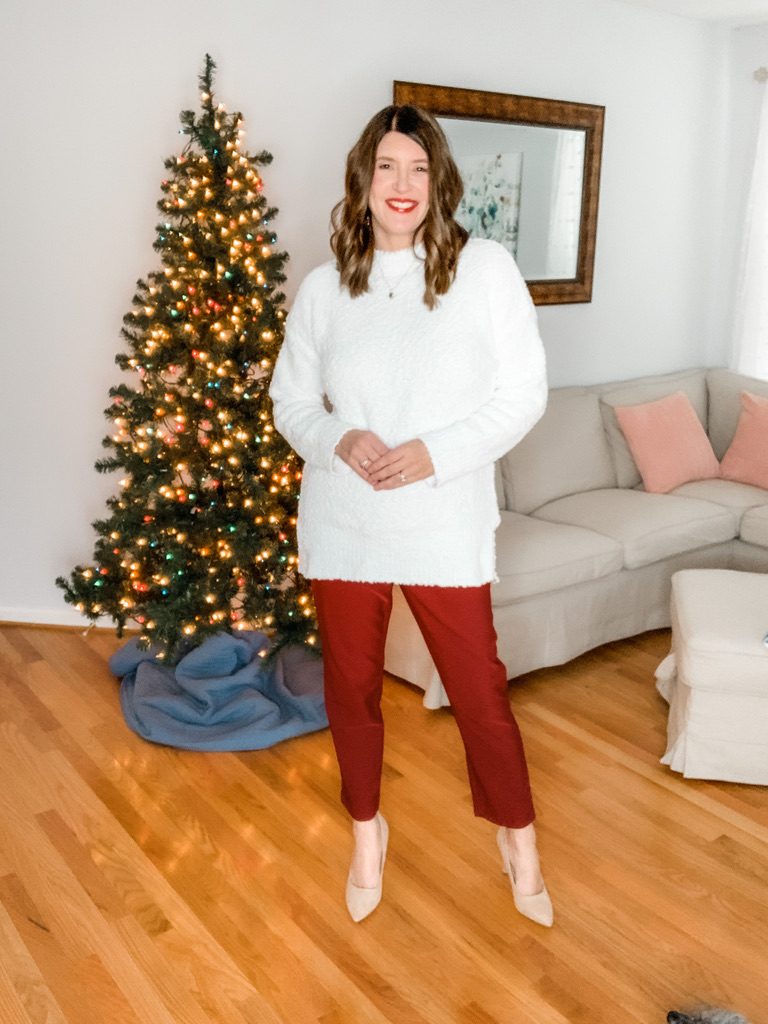 These red paper bag waist pants are from Amazon. I also have them in black. I simply removed the tie at the waist, and paired them with a crisp white sweater.
This casual dress from Loft would be comfortable and easy to wear. For colder weather, black tights would look nice.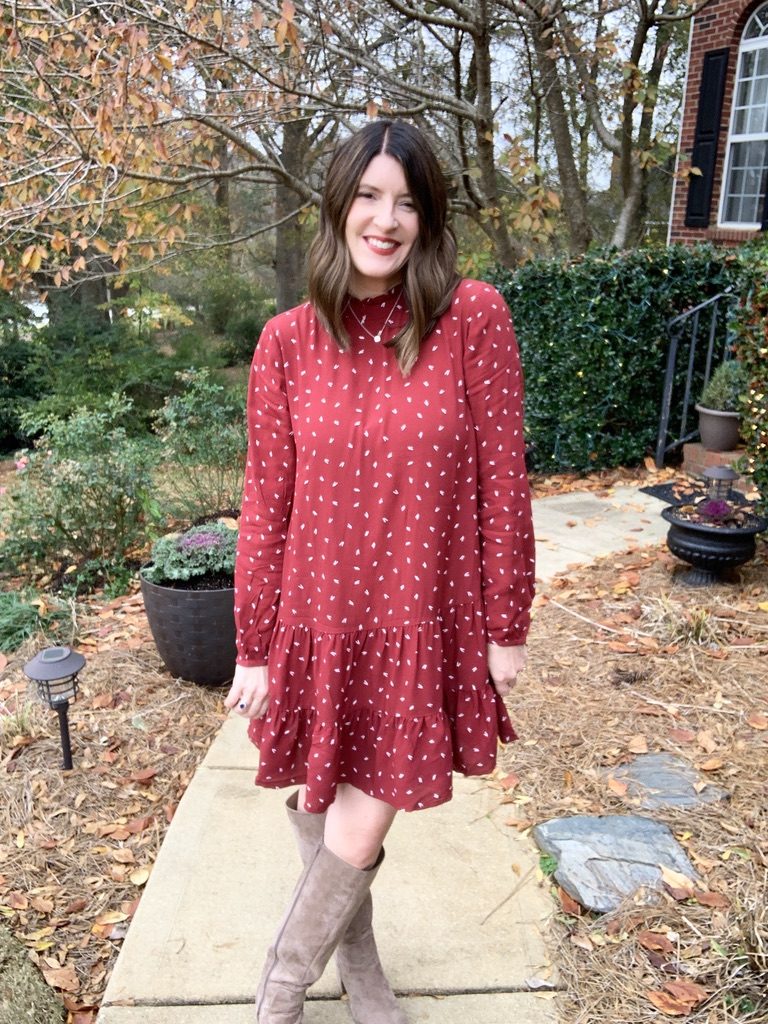 Plaid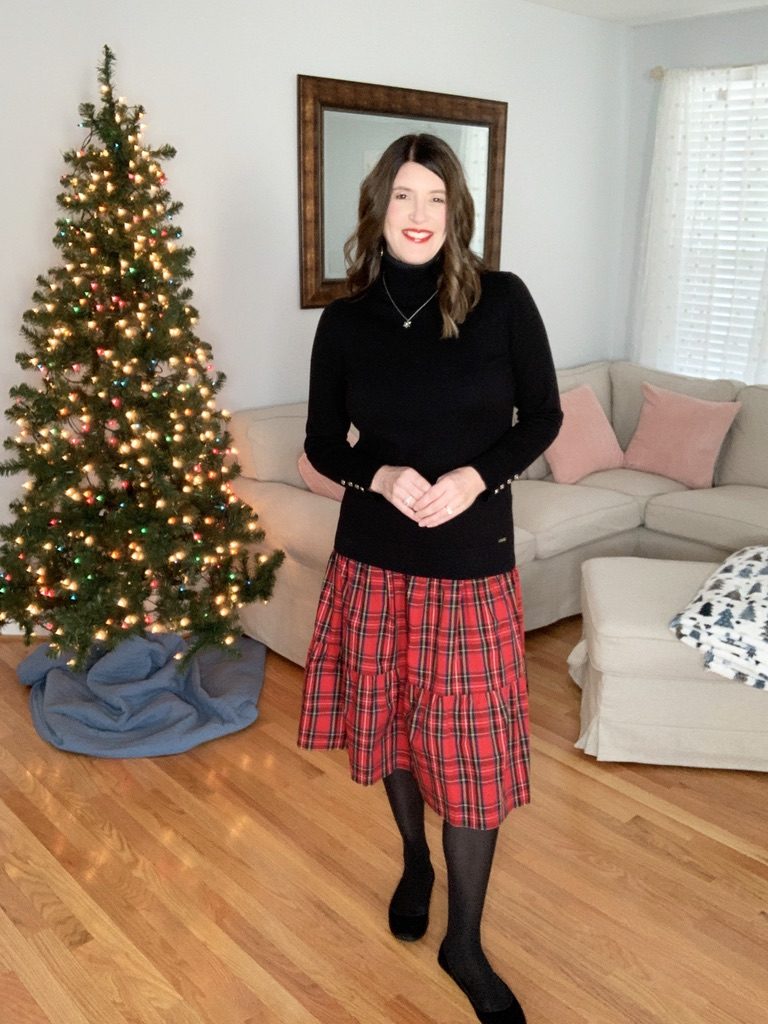 Plaid is always a good choice for the holidays. This red plaid skirt from J.Crew Factory is probably my favorite purchase this year, and I will probably wear this for Christmas Eve. I featured it earlier and I hope you were able to grab one when they were on sale! They are sold out now, but you could substitute another plaid skirt to create this look.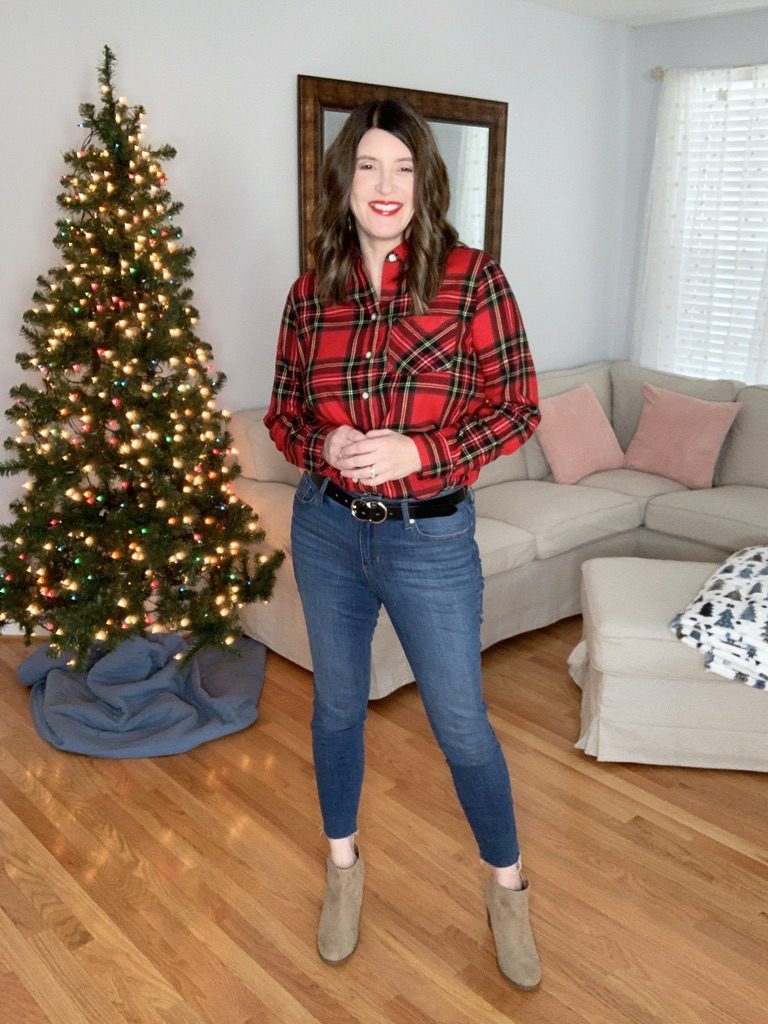 My red plaid shirt is also a favorite of mine. This is from Old Navy (last year), so I will link this years version.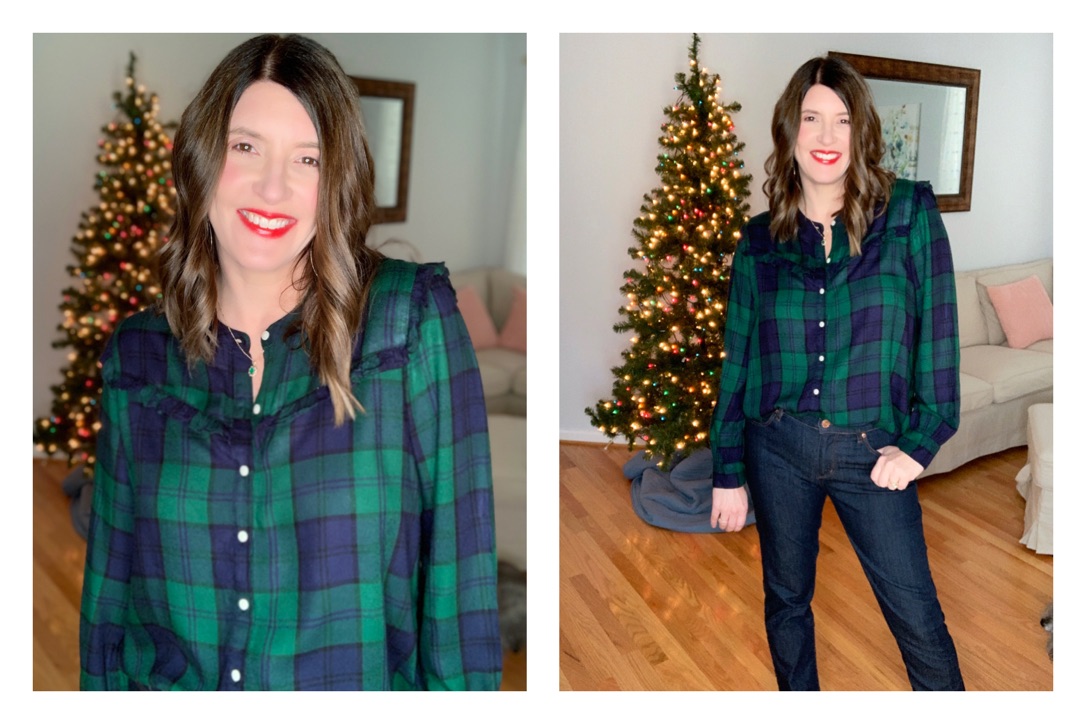 My favorite plaid top from this year is the navy and green top from Old Navy. It also comes in a few other colors. It looks appropriate for the holidays, but I also plan to wear it after Christmas.
Leggings
We can't forget leggings! They are some of the most comfortable and forgiving pants to wear. Who wants to wear jeans after a big meal? Not me!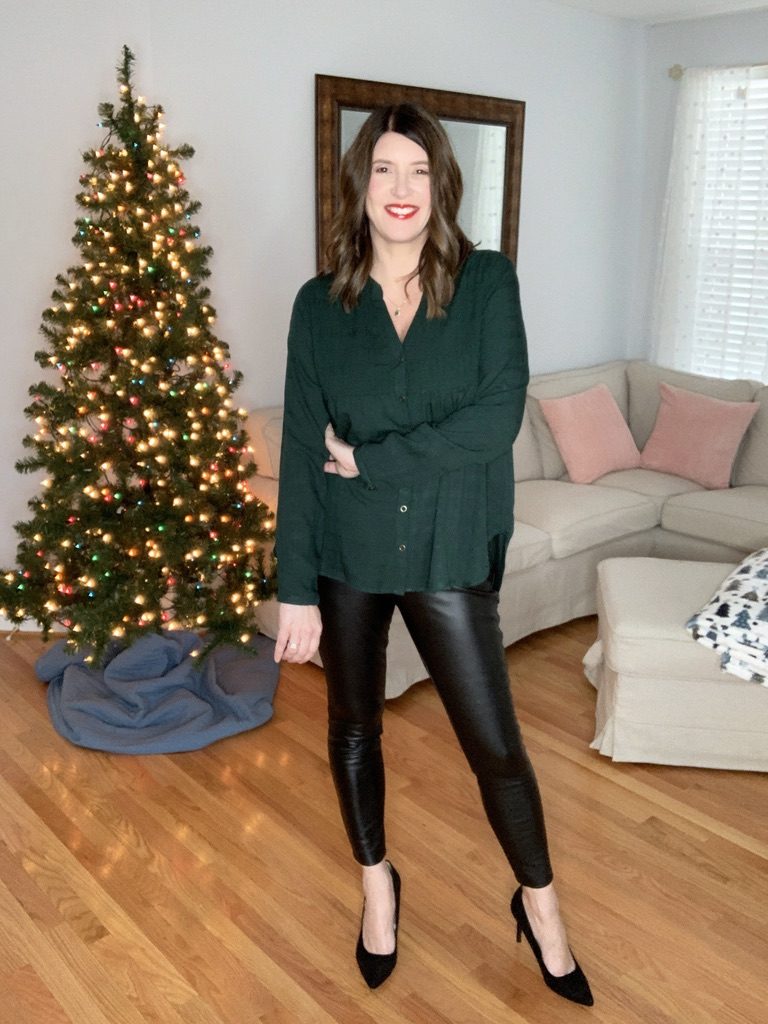 Here is an outfit with faux leather leggings from Loft. These are also from last year, but faux leather leggings are even more popular this year. I will link some similar options. My green top is from Target. This is a good option if you tend to get hot or live in a warmer climate.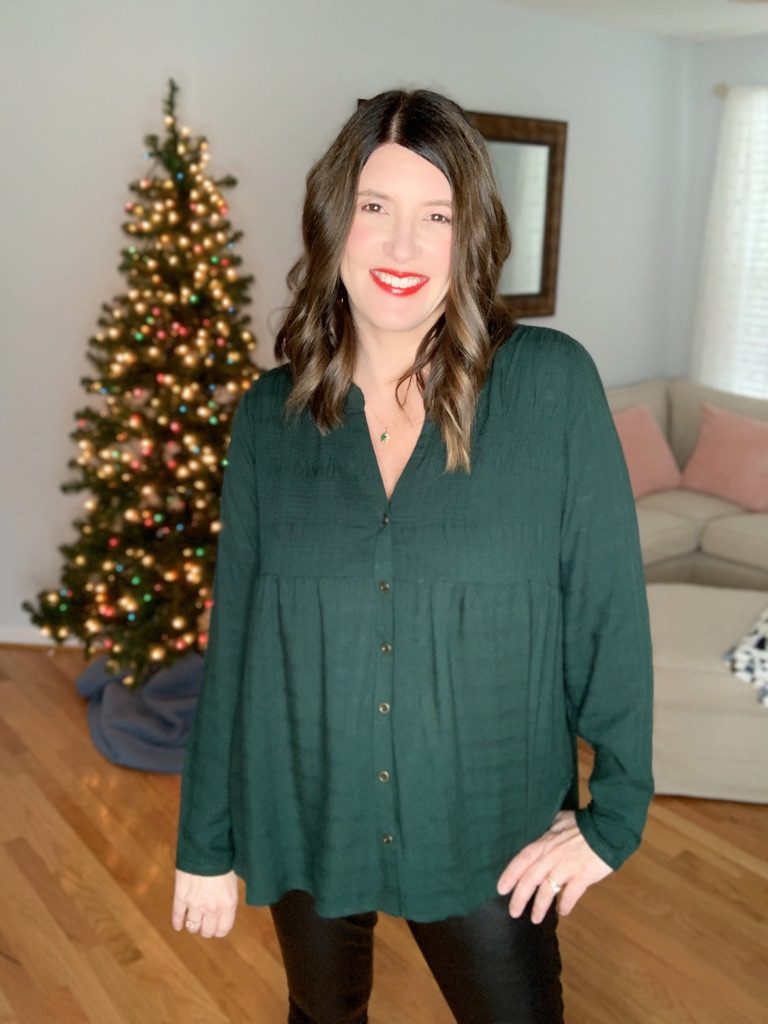 Not into faux leather? How about some plain black leggings with a warm cozy sweater? This is the same white sweater from earlier, which is an Amazon purchase. I love this look for a cold day.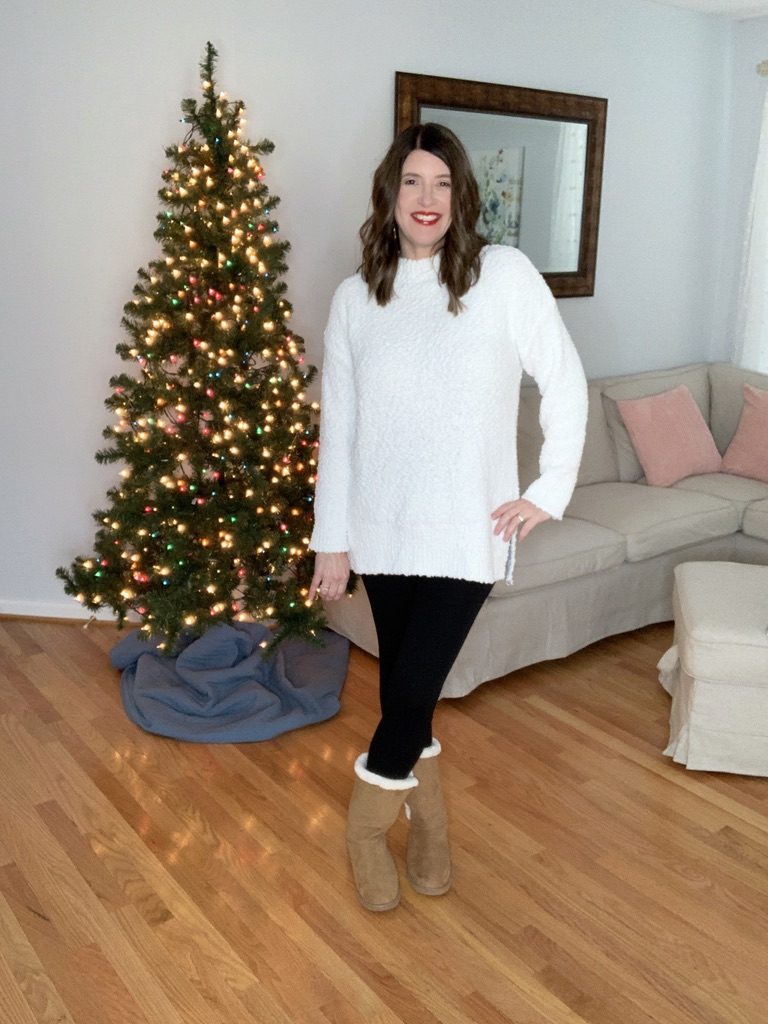 Ponchos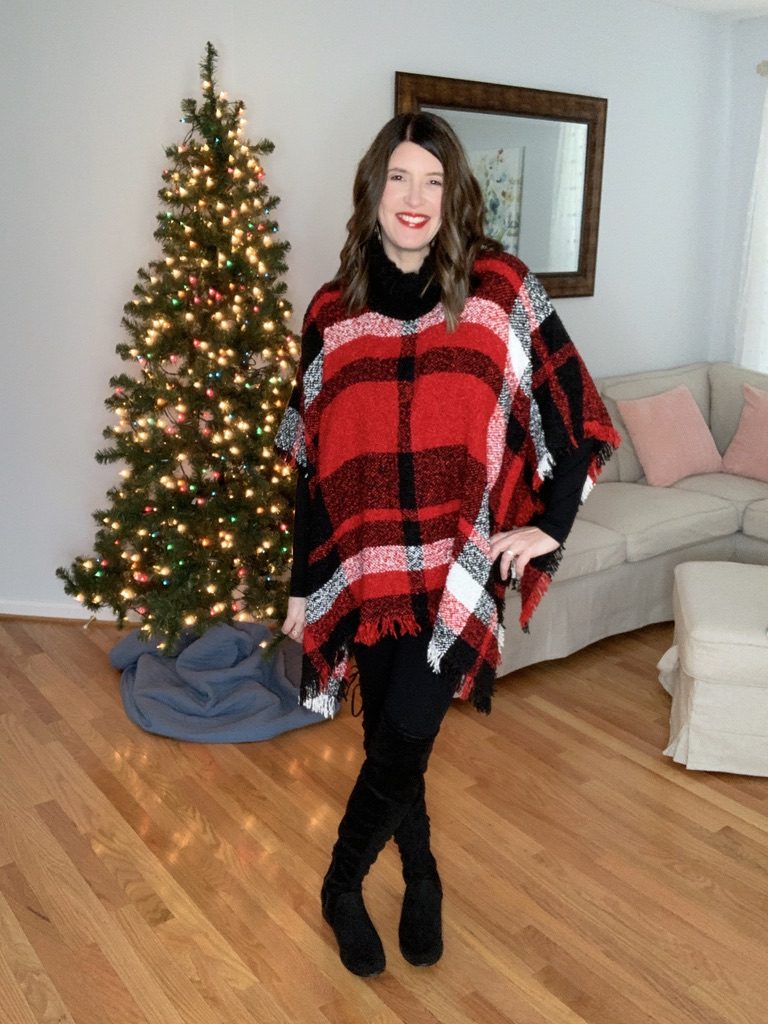 Ponchos aren't always practical, but they are fun to wear for special occasions. This red and black combination is paired with black leggings and over the knee boots. My poncho is from last year (Walmart).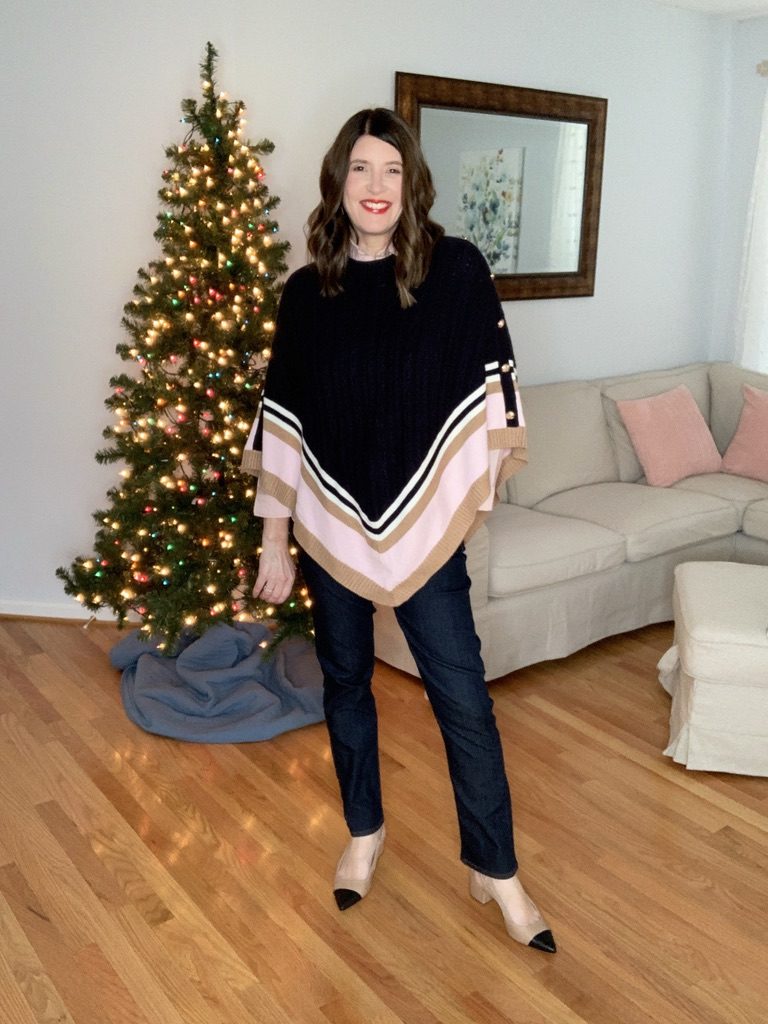 For a non-traditional look, this navy poncho with pink and tan stripes from Talbots paired with dark wash straight leg jeans is a classic look. My shoes are from Express and you can shop them by clicking here.
Sweater Lounge Set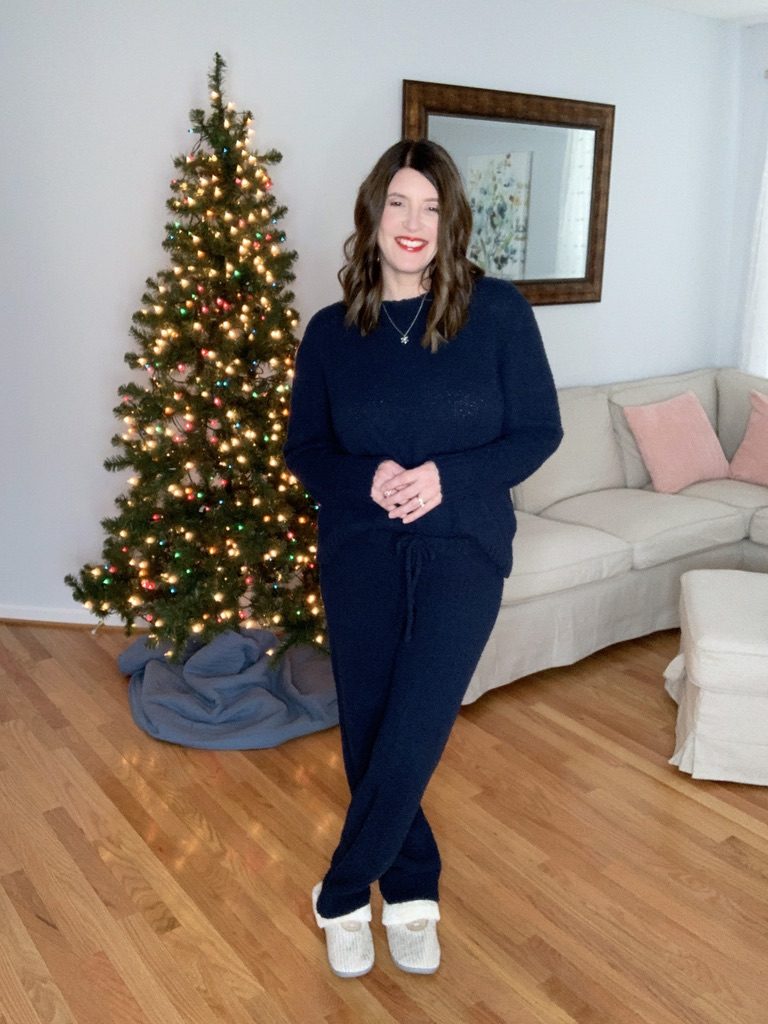 If you are staying home for Christmas and want to keep it super casual, this sweater lounge set from Amazon fits the bill. The only thing better than a cozy sweater is cozy sweater pants!!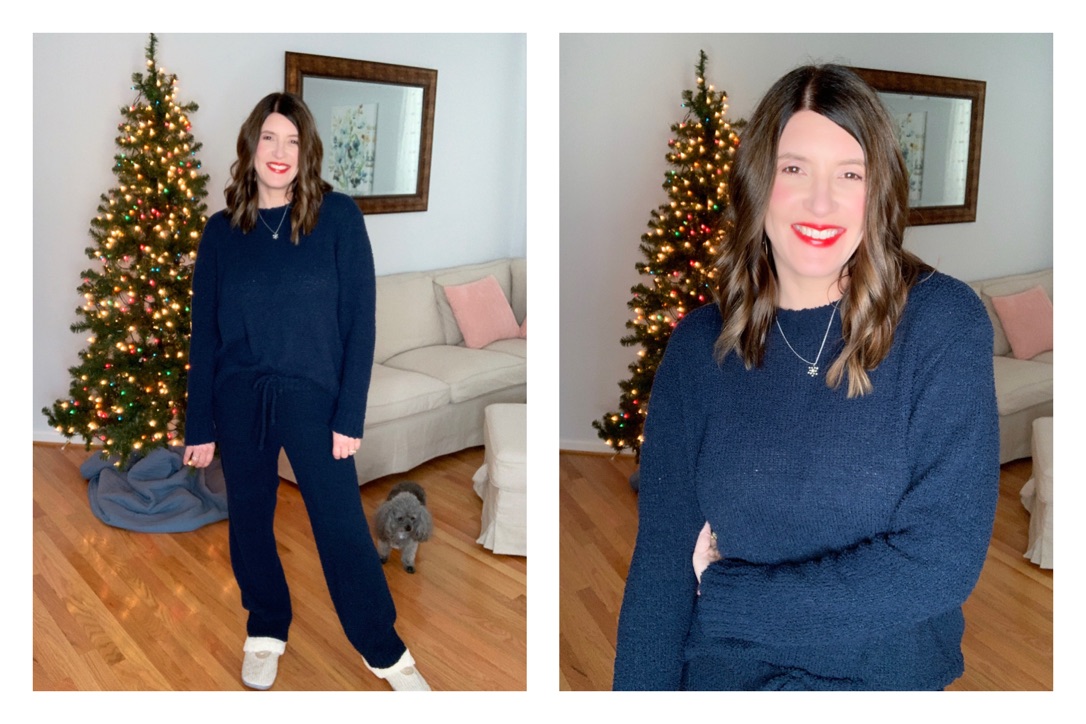 I love wearing this outfit, and I could see myself sitting around the fireplace watching Christmas movies in this. It also comes in other colors, so check out the link to see all the options.
Pajamas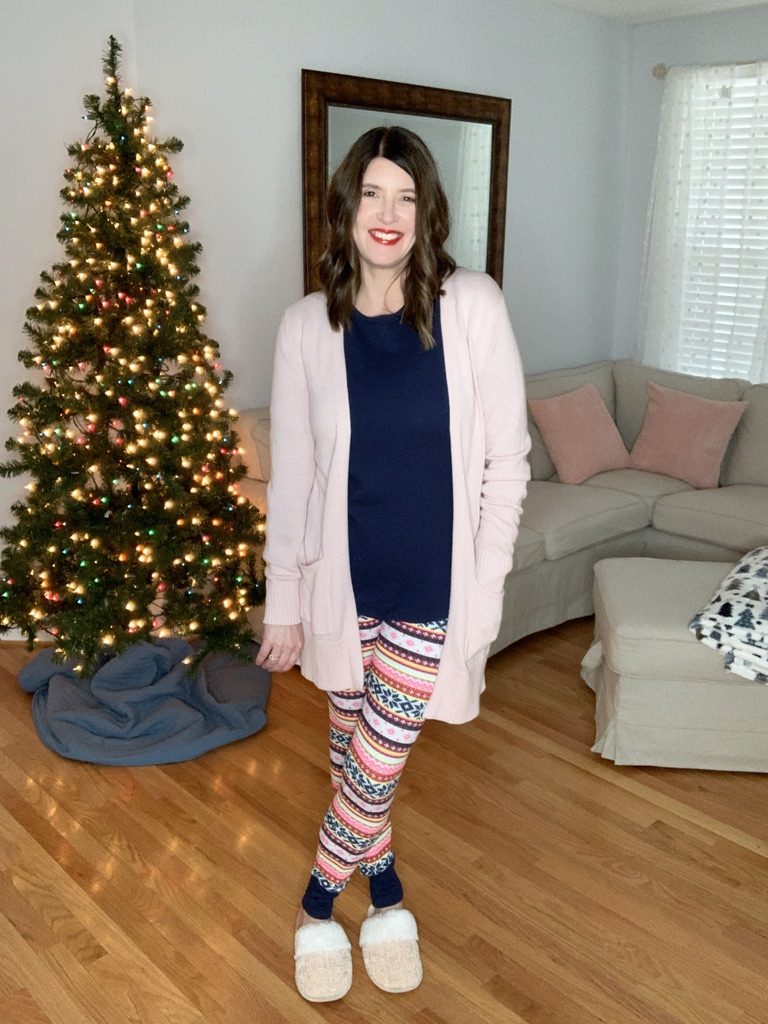 If you are staying home for Christmas and want to be in your jammies all day, no one is judging! If you're going to be in P.J.'s they might as well be cute! I love Old Navy for reasonably priced pajamas and lounge pants.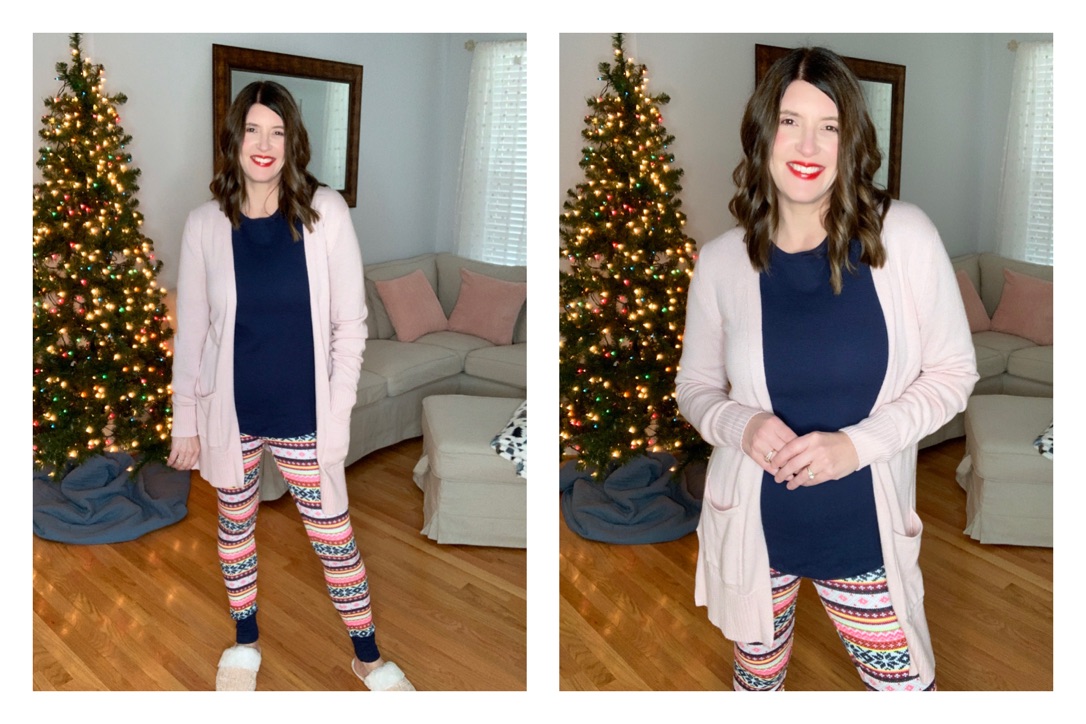 This outfit is the thermal joggers and thermal shirt from Old Navy paired with a cardigan sweater.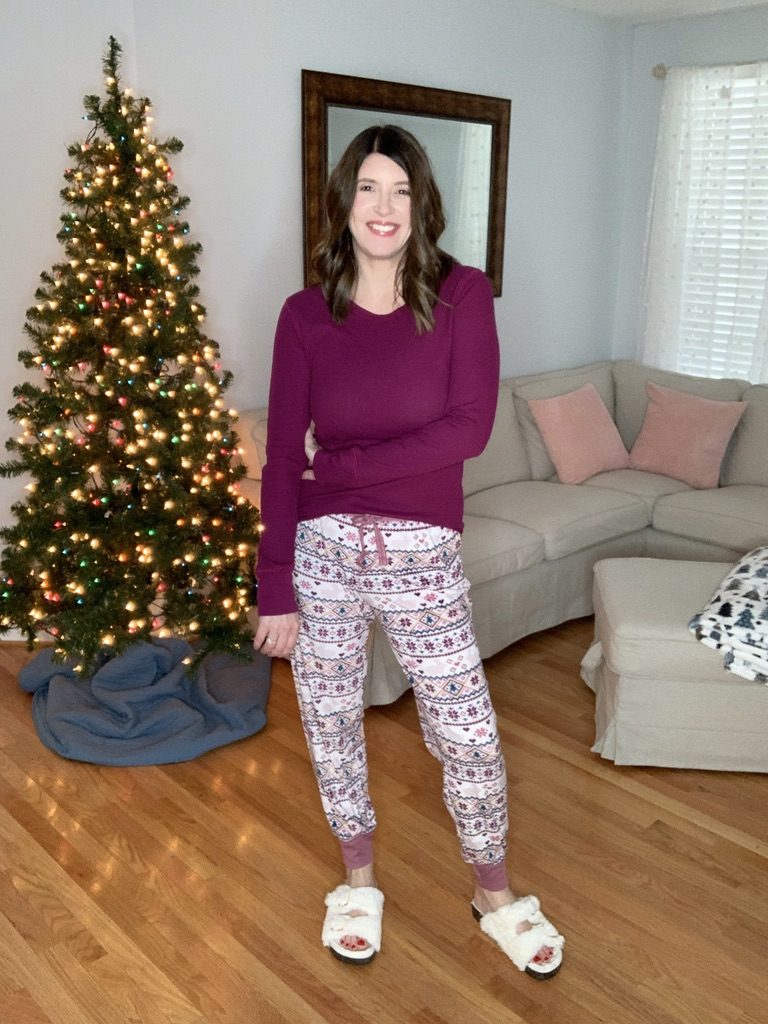 Here is another P.J. set. The top is from Old Navy and the bottoms are from the Secret Treasures line at Walmart. The pants are from last year, but Walmart has some similar styles this year as well.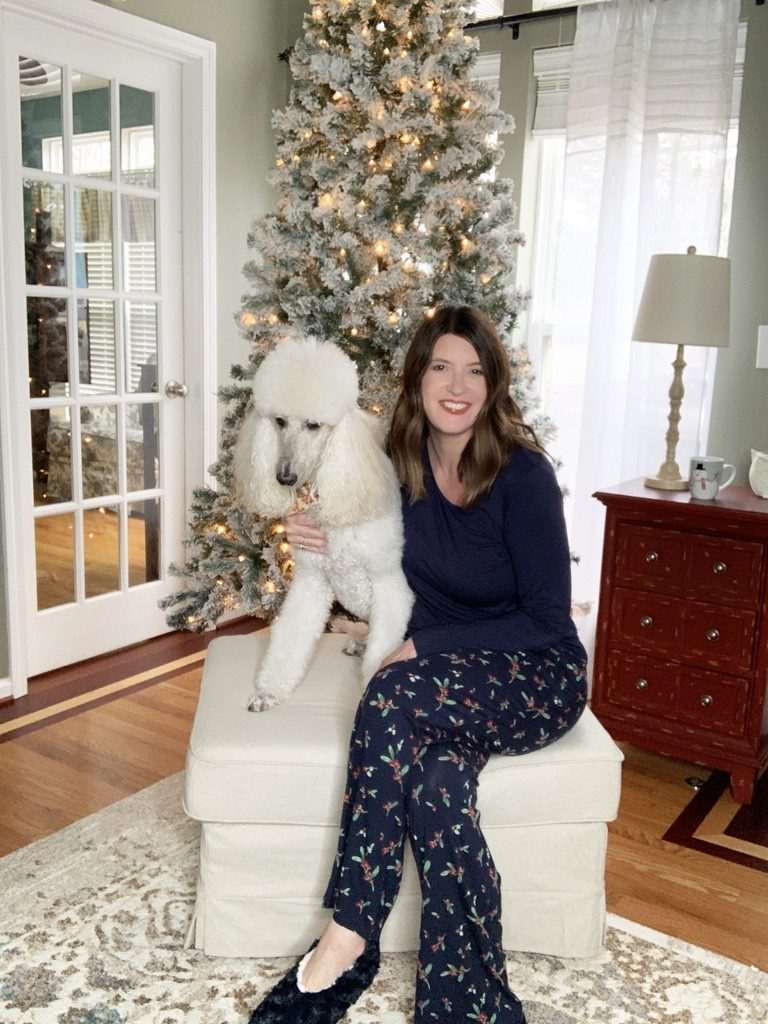 Of course, Soma is my favorite source for more grown up pajamas. The cool nights line are perfect for us midlife women who tend to get hot easily. I have several pair of these and I featured this set in a previous blog post. If you would like to see that one with more Soma options, click here.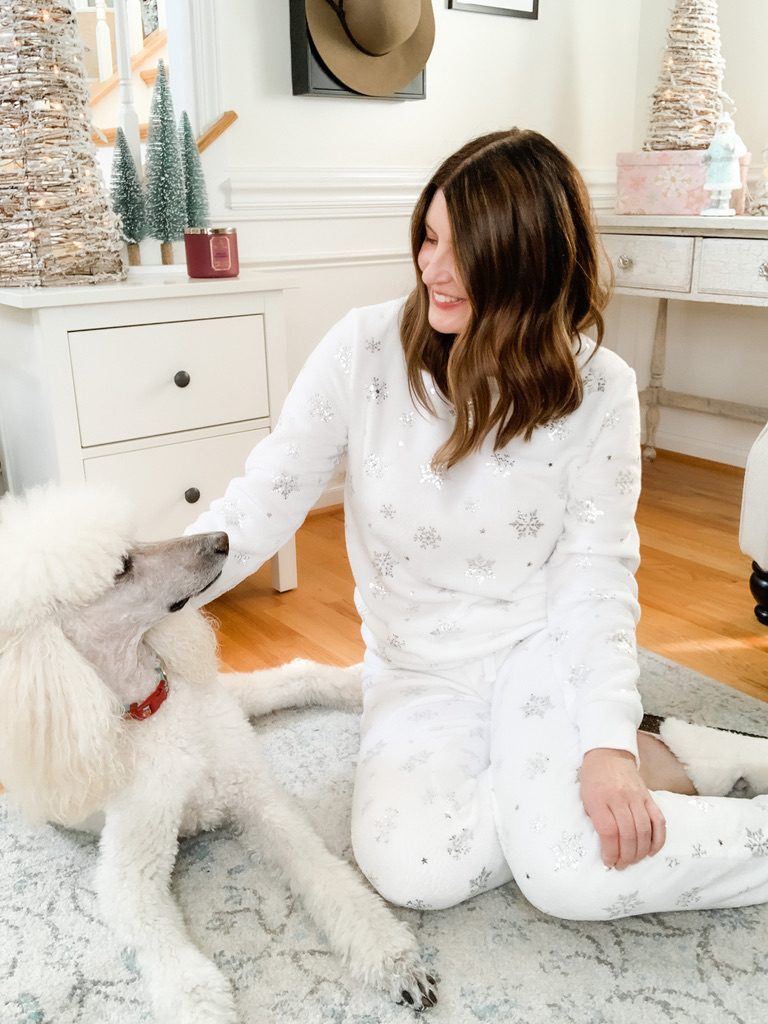 I had to include this set from Walmart. The snowflakes are so adorable! This set was the top seller of all the lounge clothes I shared this past month, and I featured a lot!

Well, that concludes today's post. What are your plans for Christmas? I would love to know in the comments. My family will be celebrating with my parents, my sister, brother-in-law, and my niece.
This will be the last blog post for 2020. I will be taking a couple of weeks off to enjoy the holidays with my family and begin planning content for January.
I want to sincerely thank those of you who are email subscribers. You are my people and can't thank you enough for being supportive of what I do here. It's only been a few months since I launched this new blog, but I hope it enriches your life in some small way! Feel free to comment or email me at any time if you have a topic you would like for me to address.