A white blazer is one of the most versatile pieces you can own for spring and summer. It can change the look of any outfit and can compliment so many different styles. For some reason, I have never owned a white blazer, so this year I wanted to add one to my personal wardrobe. I had so much fun going through my closet and just seeing how many outfits I could put together! I could have gone on and on, but I chose just a few to share with you today. So, here are 10 ways to wear a white blazer!
Price points vary greatly for a piece like this. I typically will spend more for a foundational piece such as a blazer, but since I have a pretty casual lifestyle and wasn't sure if I would like it, I chose a more affordable option.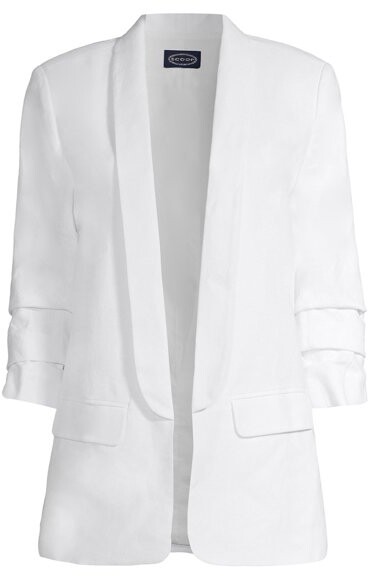 This is the Scrunched Sleeve Blazer by Scoop, which is an online brand from Walmart. It has a slightly oversized look which is really trending this year. If you prefer the more traditional fitted style, that would also work and I will try to link a few of those for you. The fabric is linen, and it runs true to size. I am wearing a medium.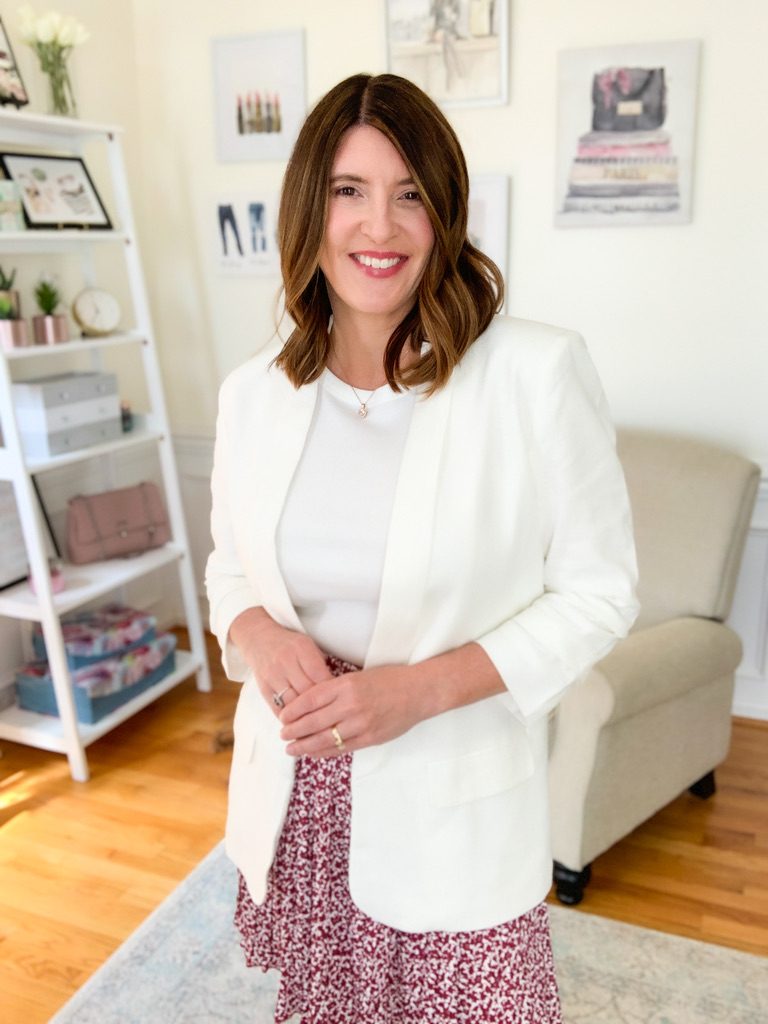 As a side note: You will just have ignore my dog in the background of most of these photos. Bless her heart, she just has to be where I am. I moved her several times and she kept coming back to her favorite spot. Her name is Sophie and she is the sweetest dog! This is the real me…I love my dogs so they might as well be in my photos.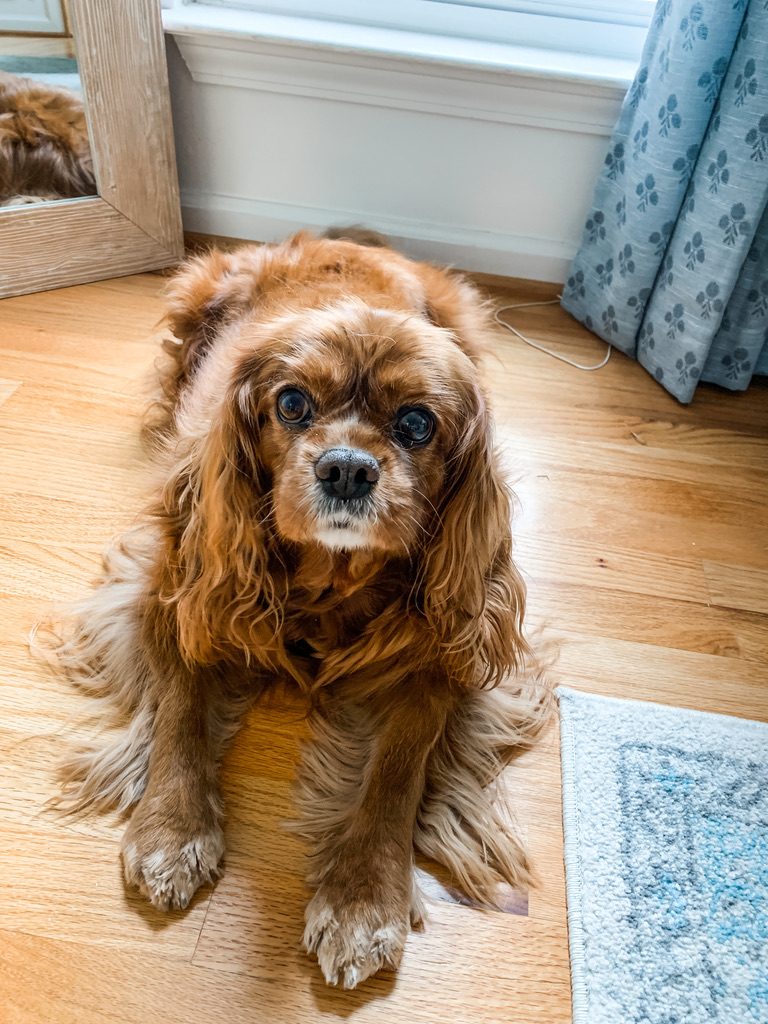 Some of these items are from last year, so I will link something similar if possible. Also, I will put my sizing information at the end of the post to help you gage the size you might need.
1. White Blazer + Midi Dress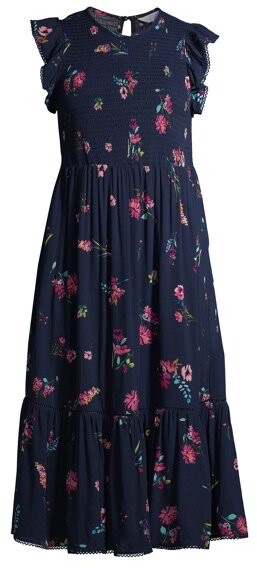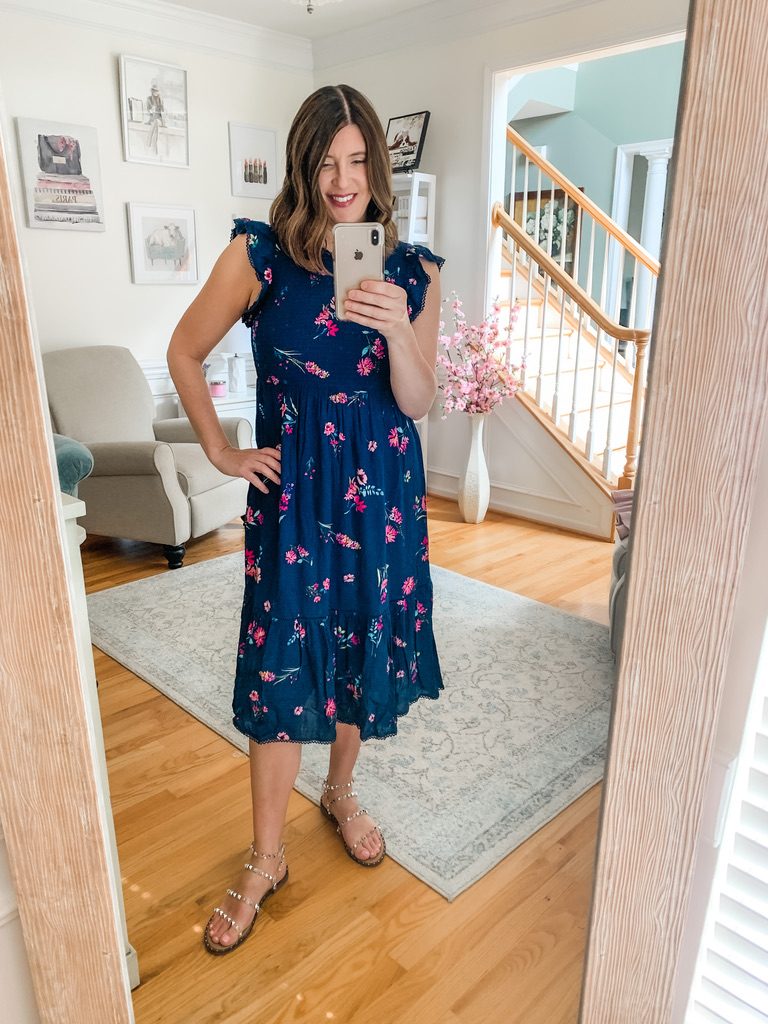 One way to wear a white blazer it to layer it over a midi length dress. This smocked blue floral dress is by Time and Tru. Adding the blazer just takes it to another level.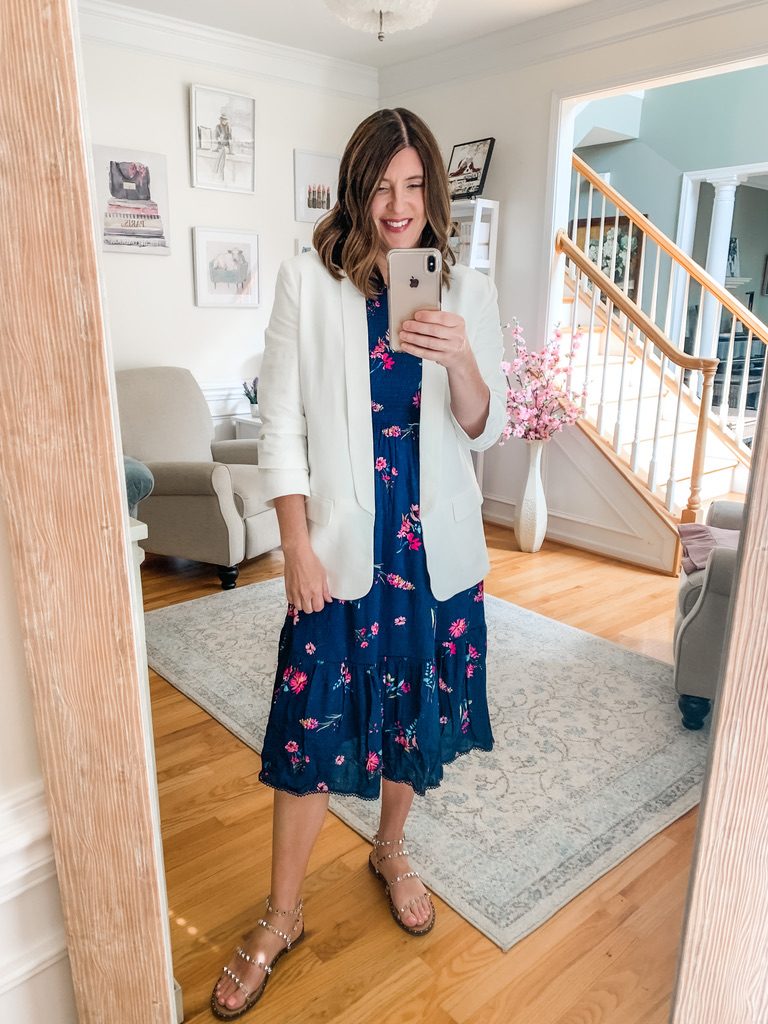 2. White Blazer + Tee + Shorts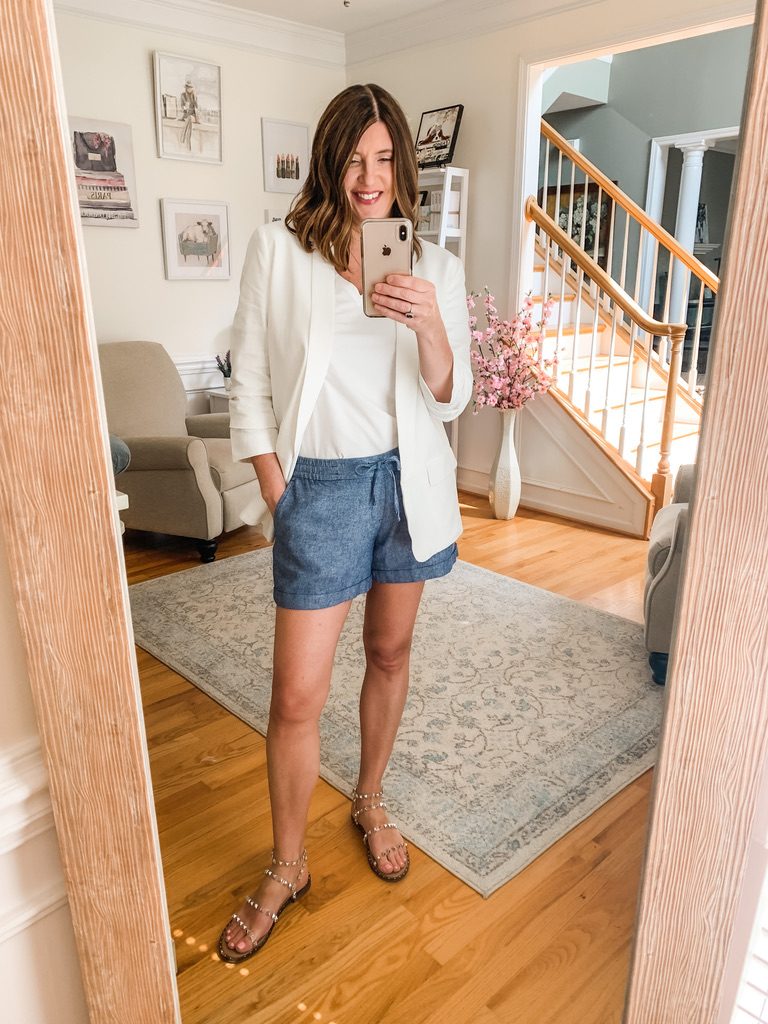 These are the same shorts from my previous Old Navy post. If you would like to see it, click here. Wearing the white blazer with a simple white V-neck tee keeps the look classic.
3. White Blazer + Tank + Short Skirt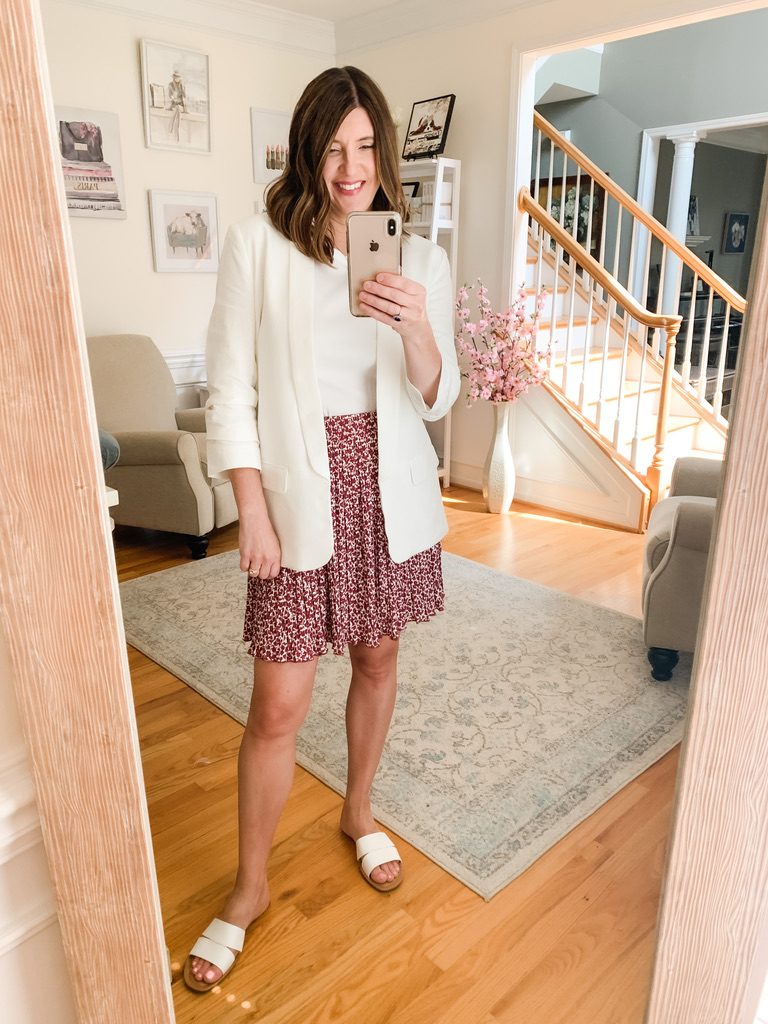 A short pull on skirt is cool and comfy for summer. The one in the photo is from last year, but this one is very similar.
4. White Blazer + Button Down + Jeans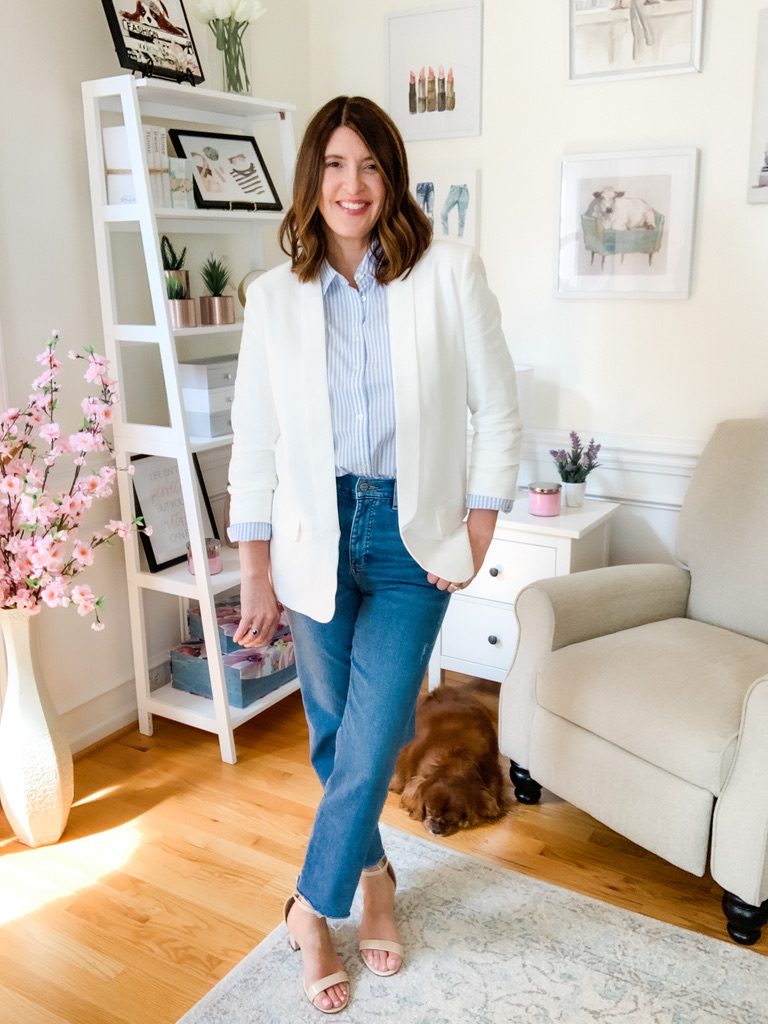 This outfit is a good example of using all wardrobe basics to create a classic look. This top has been featured in previous blog posts, and has been a top seller. I bought mine last month and have already worn it several times!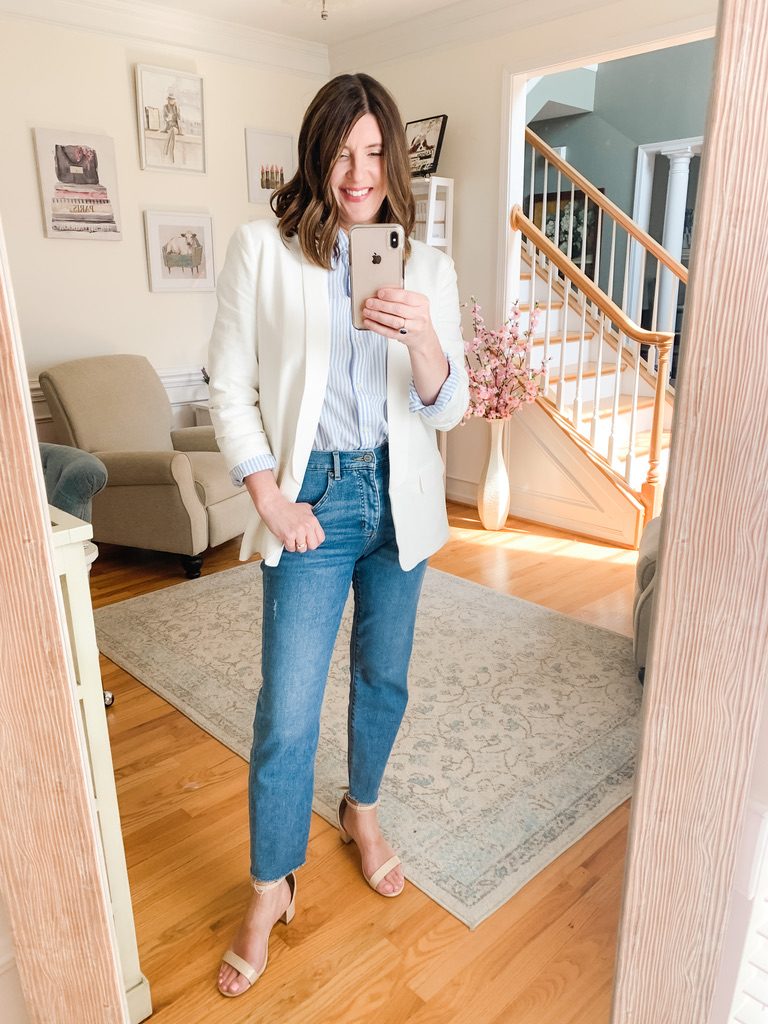 5. White Blazer + Short Dress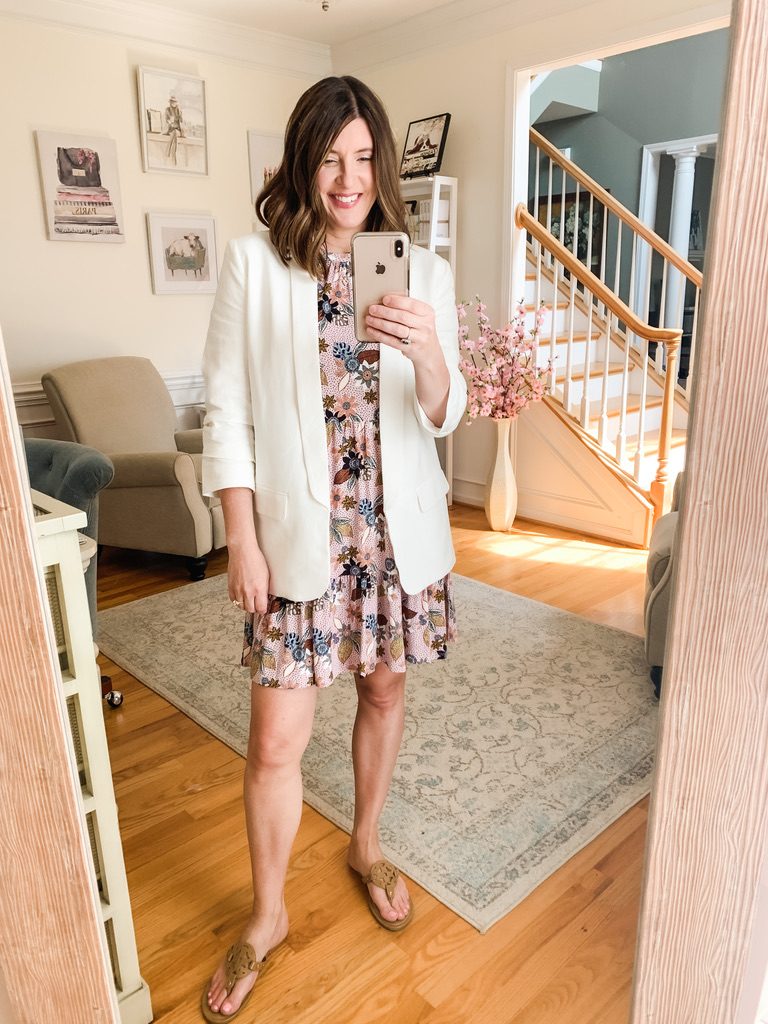 This is another Loft dress from last year. I have linked a couple similar styles.
6. White Blazer + Cami + Black Pants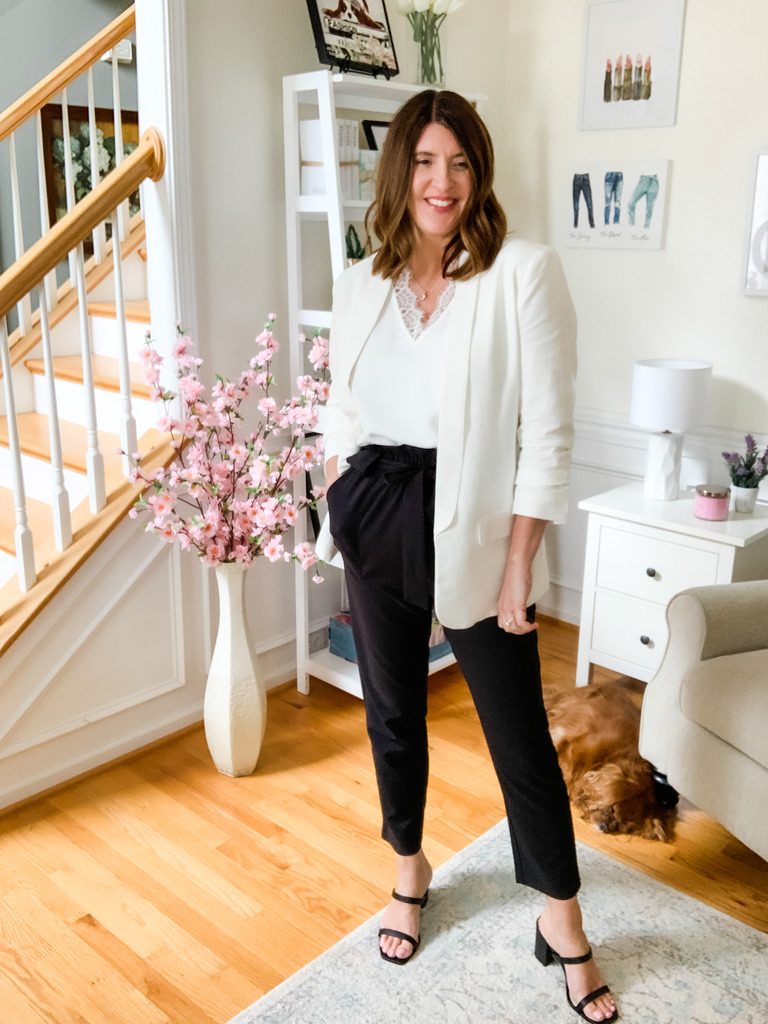 Another popular style has been these Grace Karin high waisted pants. Both the pants and the lace tank are from Amazon. This work be a good option for workwear if you work in an office setting.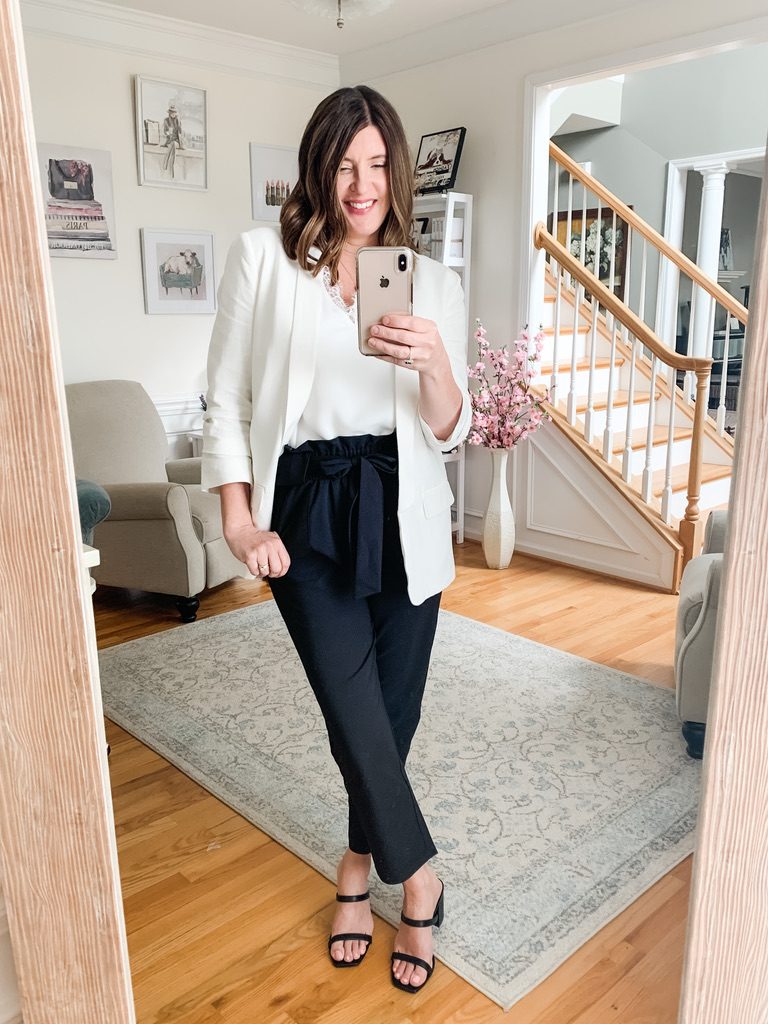 7. White Blazer + Top + Wide Leg Jeans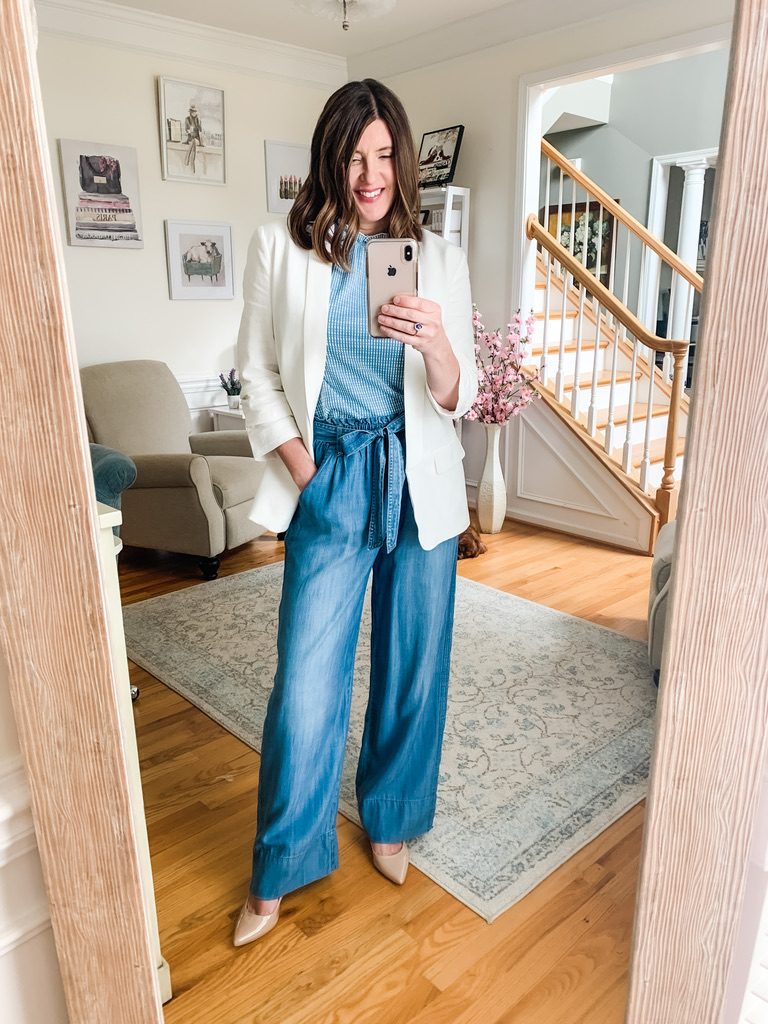 I love a good wide leg pant. These are a chambray denim style from Target and they are so comfortable. They are quite long and even at 5'7″, I have to wear heels with them. If you are petite then you might want to pass on these unless you plan to have the altered.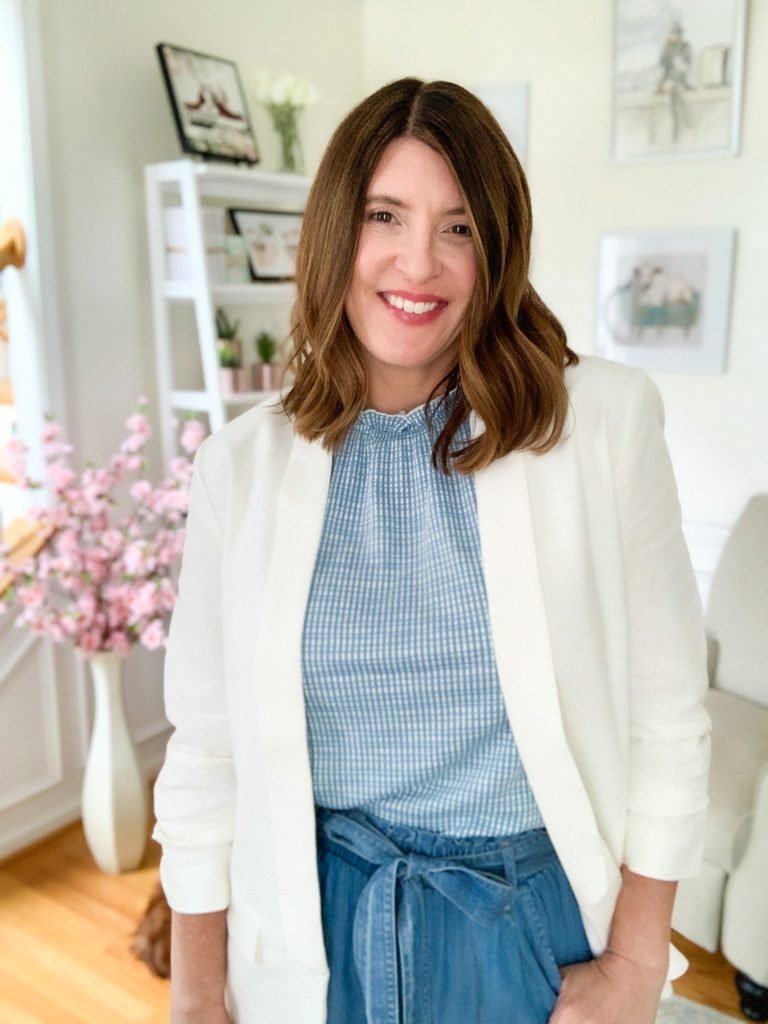 8. White Blazer + Striped Tee + Jeans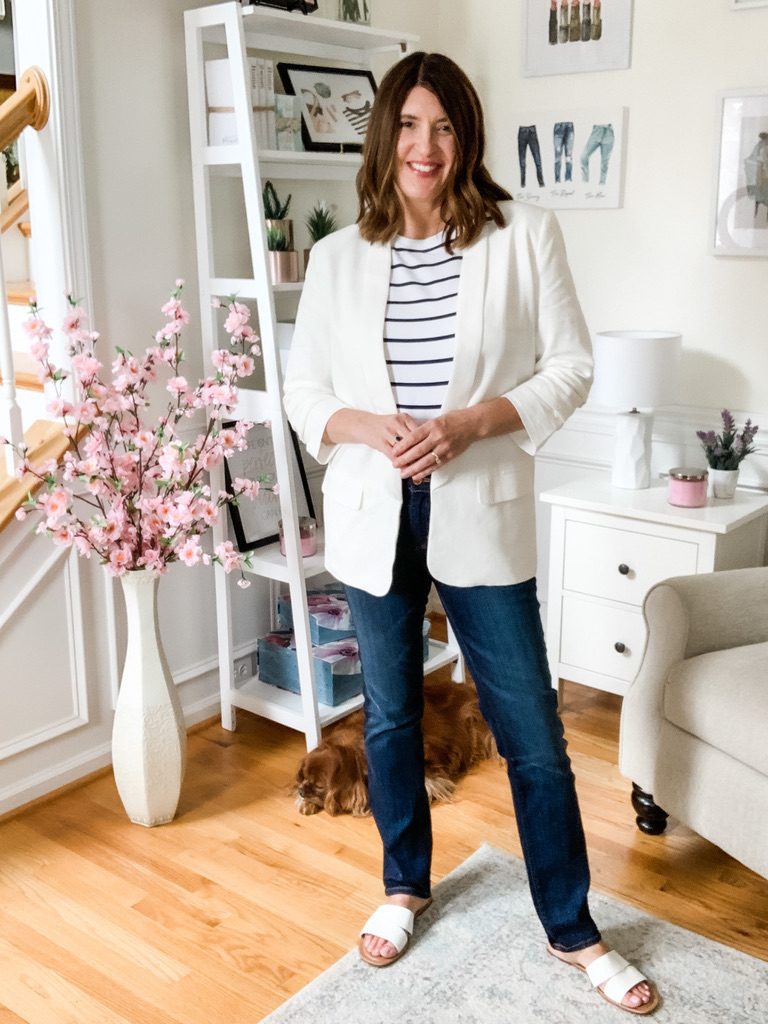 A striped tee will never go out of style, and I love the look of it with a white blazer!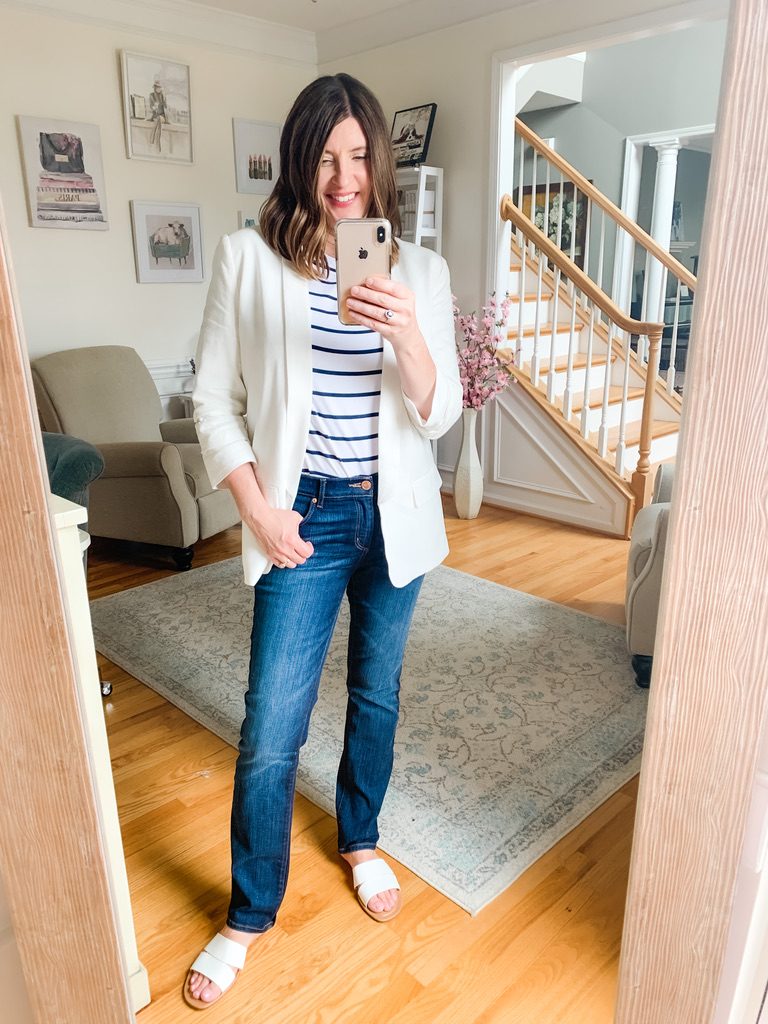 9. White Blazer + Grey Tee + Light Denim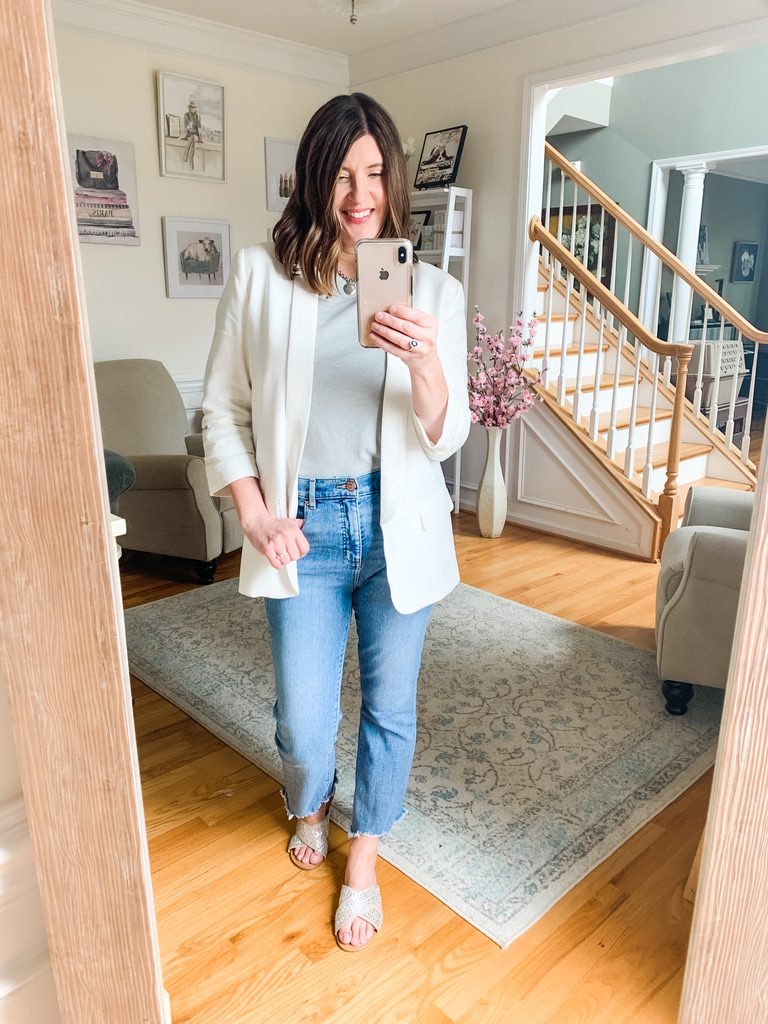 Chances are you probably have all the pieces to recreate this outfit in your closet already. A white blazer over a tee of any color looks chic.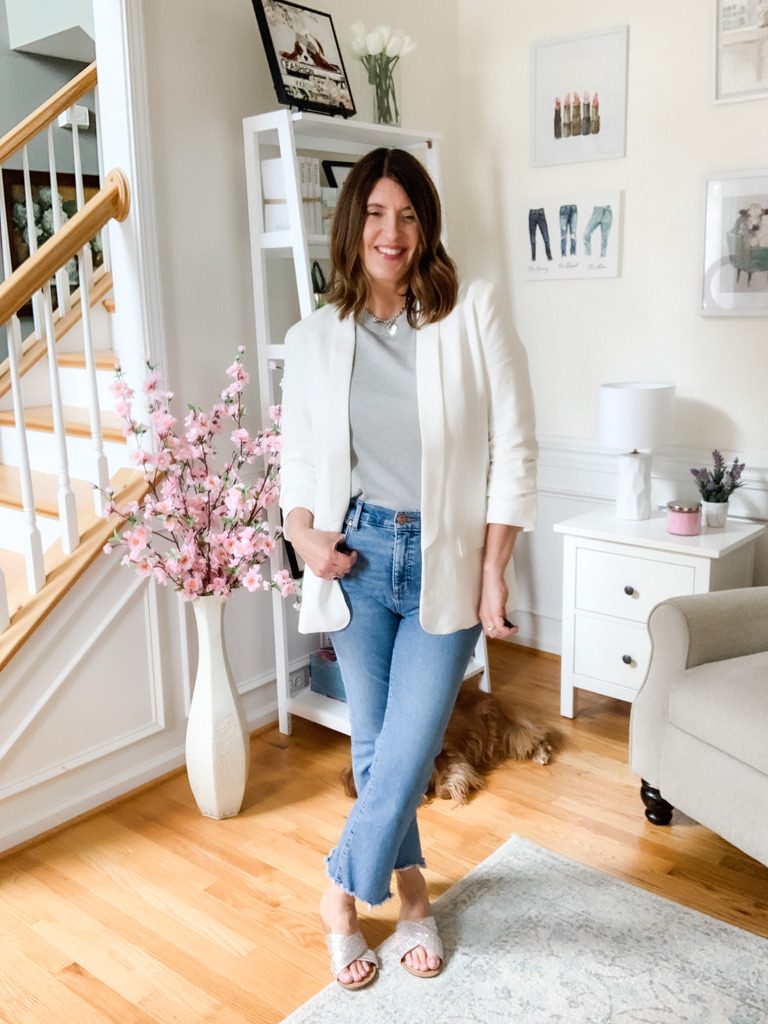 10. White Blazer + Maxi Dress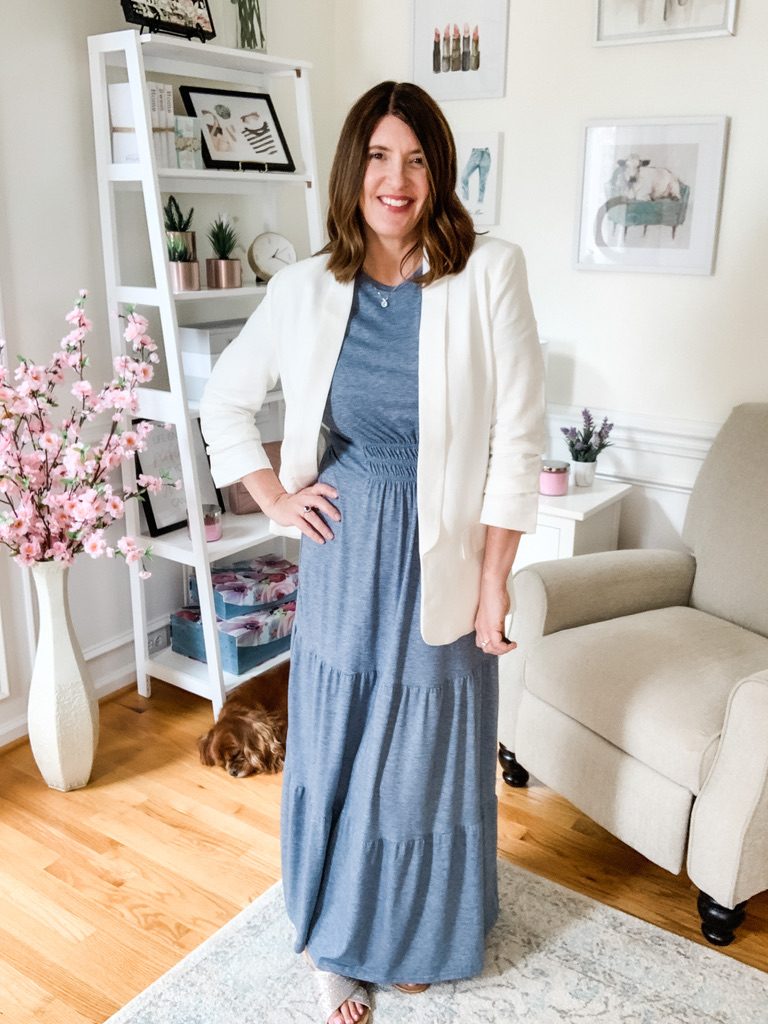 The last way to wear a white blazer is with a maxi dress. This is my favorite style from Amazon that I have mentioned several other times before. I think this is the most flattering style maxi dress that I have ever owned.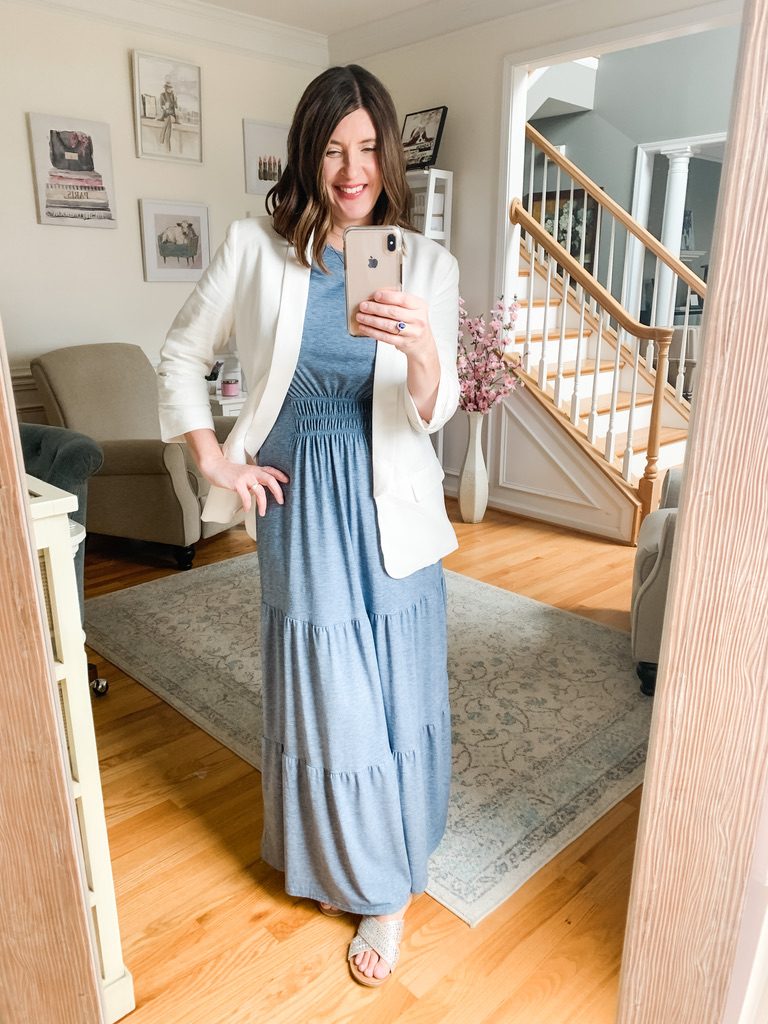 As I mentioned, the possibilities are endless but I hope these 10 outfits are a good variety to get you thinking how you might style this piece. If you don't have a white blazer here are a few different styles and different price points.