Now that we are well into to August, I'm in fall mode for sure. Yes, it's still very hot outside but I'm not in the market for anymore summer clothes and I'm guessing you're not either! You're going to be seeing the word transition quite a lot because now is the time to slowly start transitioning to more fall inspired looks. Here are 5 fall tops I'm loving…some you can wear now and some are for later.
With the exception of one, all these fall tops I'm loving are from Amazon. The other is from Walmart, so let's start with that one.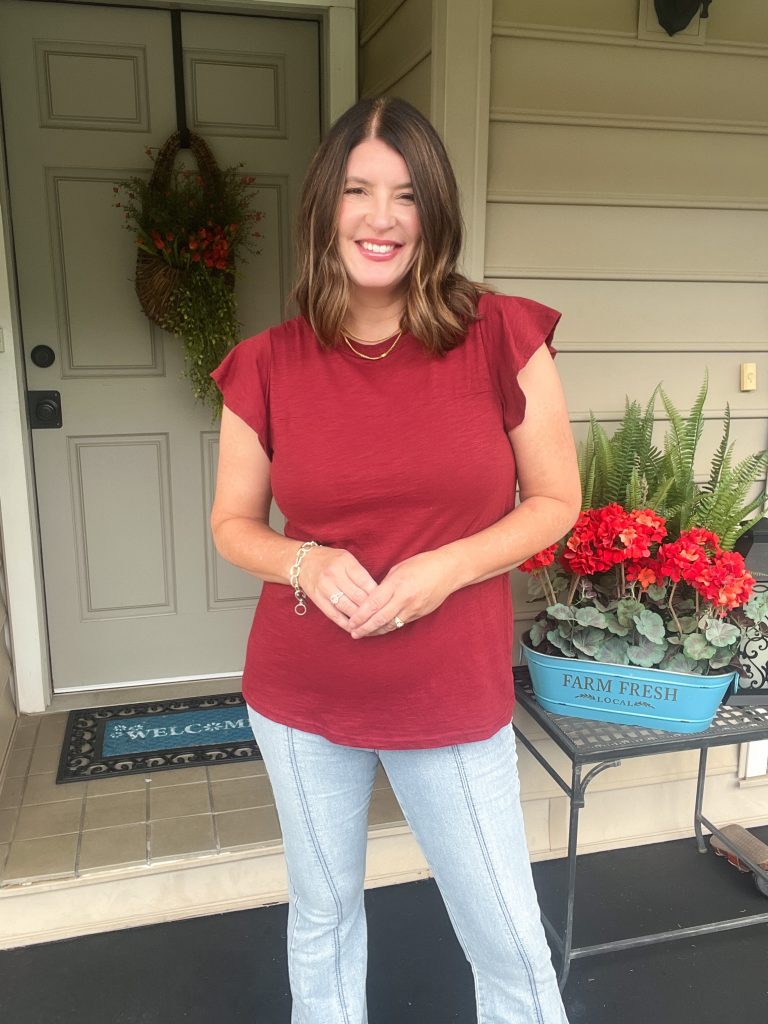 This is the flutter sleeve tee by Time and Tru. I bought this in store as a single item in this deep burgundy color. I can only find it online as a 2-pack, but the bundle is a better deal anyway! I linked the burgundy and black 2-pack for only $19.96.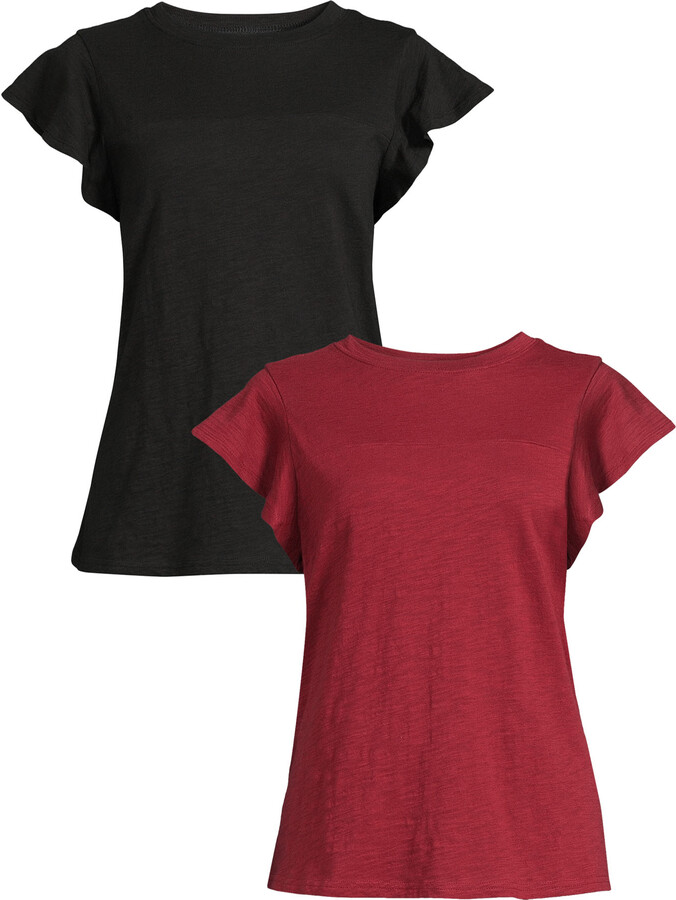 I love the fit of this top. It can be worn tucked or untucked, but since I'm wearing pull on jeans I left it untucked. More about the jeans in a moment. I'm wearing a size medium, which is my usual size in Time and Tru.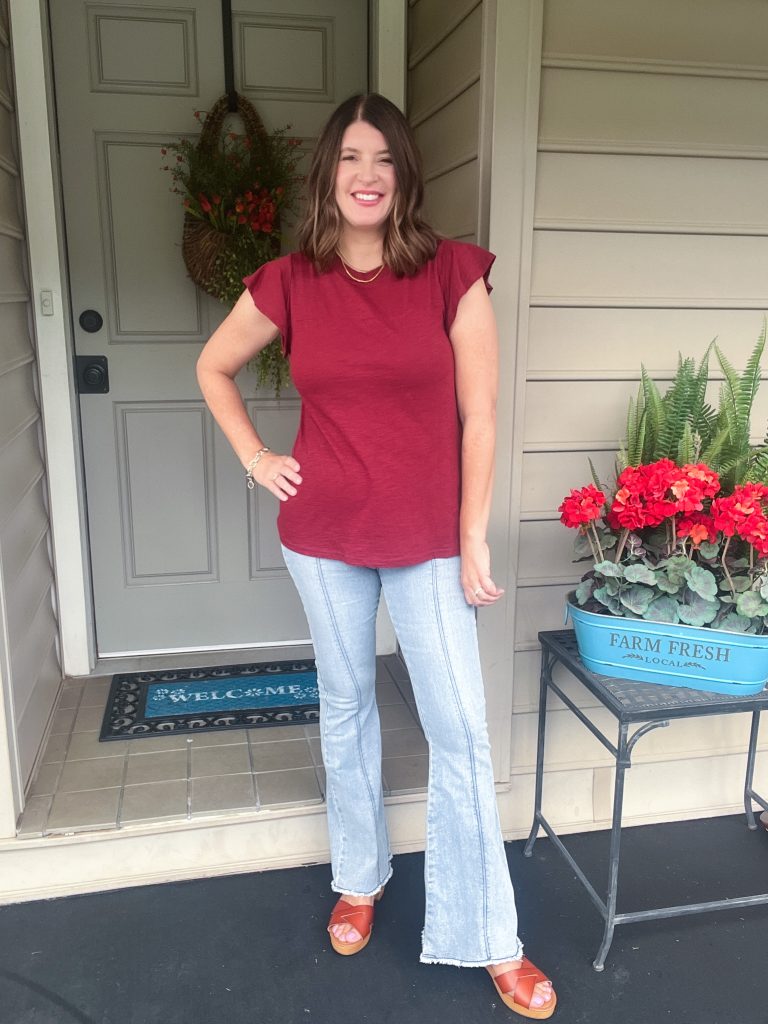 The jeans are the pull on flare jeans by No Boundaries – a junior brand. I also saw these in-store and I debated about the size since they appeared to run small. I got a large and I should have gotten the extra large. You can see in the photos that they are a bit too snug, but you can get the idea of the style.
I've already ordered the XL online and I plan to return the size large. They also come in a darker wash if you prefer.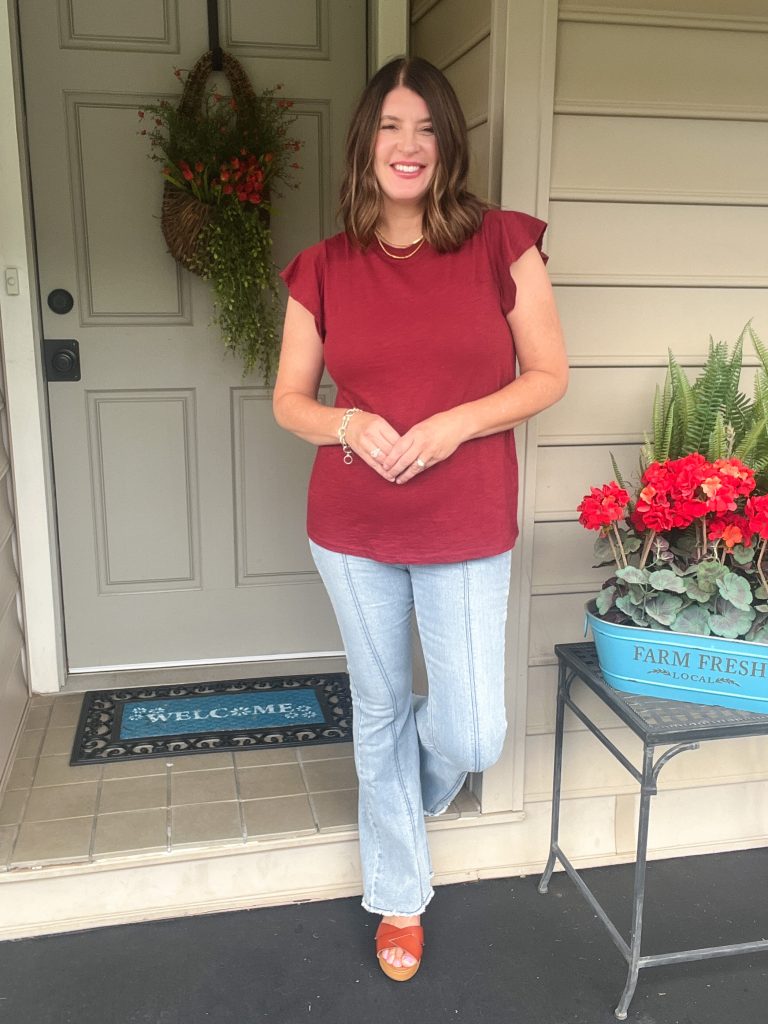 Lastly, for this outfit I'm wearing my wooden sandals by Time and Tru from last year. I found a nearly identical style on Amazon and linked them for you. Wooden sandals or clogs are a great shoe option with a flared jean.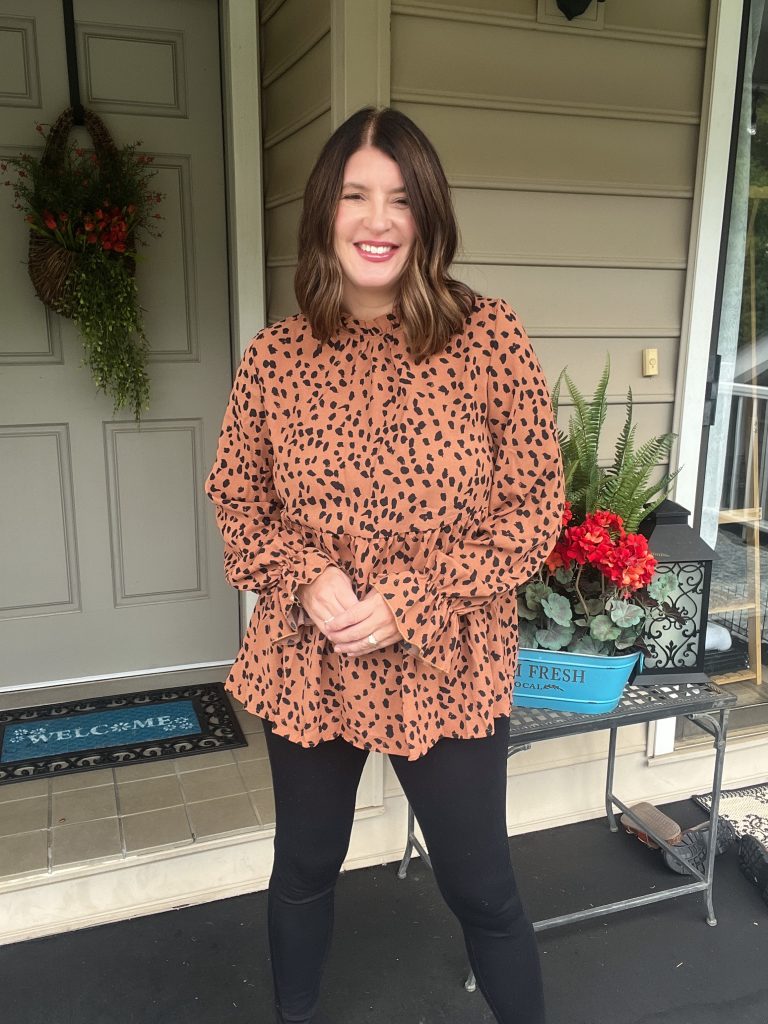 Animal print is still on trend, and I love the combination of brown and black for fall. This is a tunic length top perfect for pairing with leggings or skinny jeans. I'm wearing a size large and it also comes in lots of other colors/prints.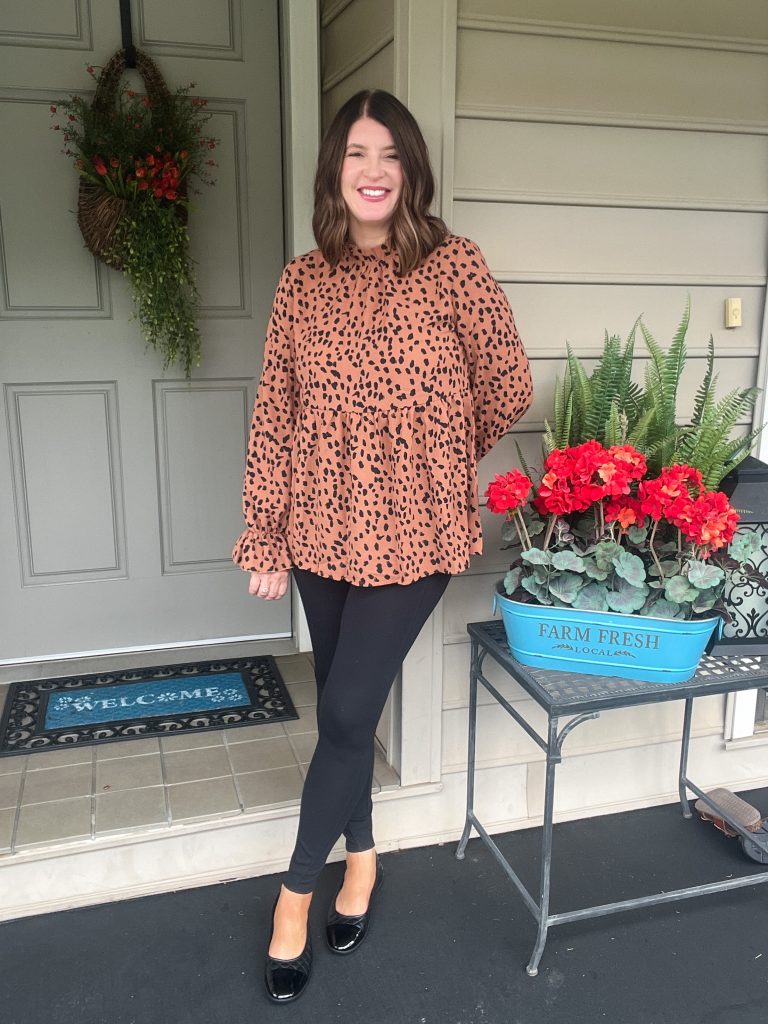 Notice the cute quilted ballet flats by Time and Tru. These are another new purchase that I know I will wear a lot in the fall. They run TTS.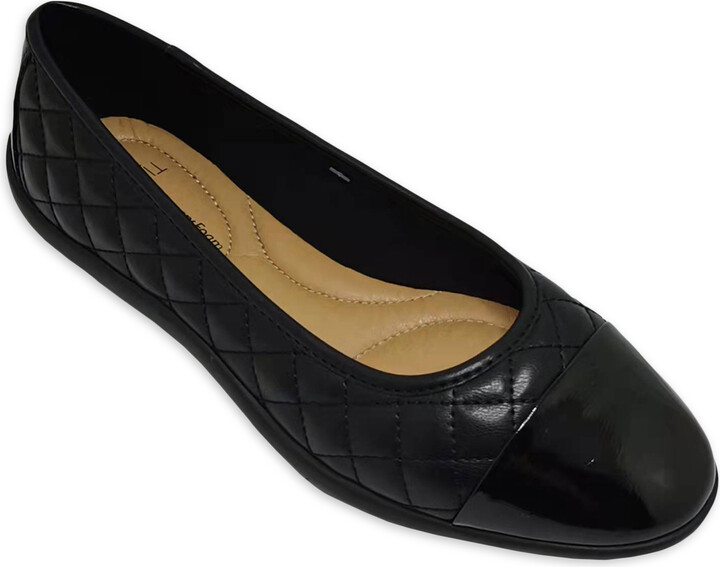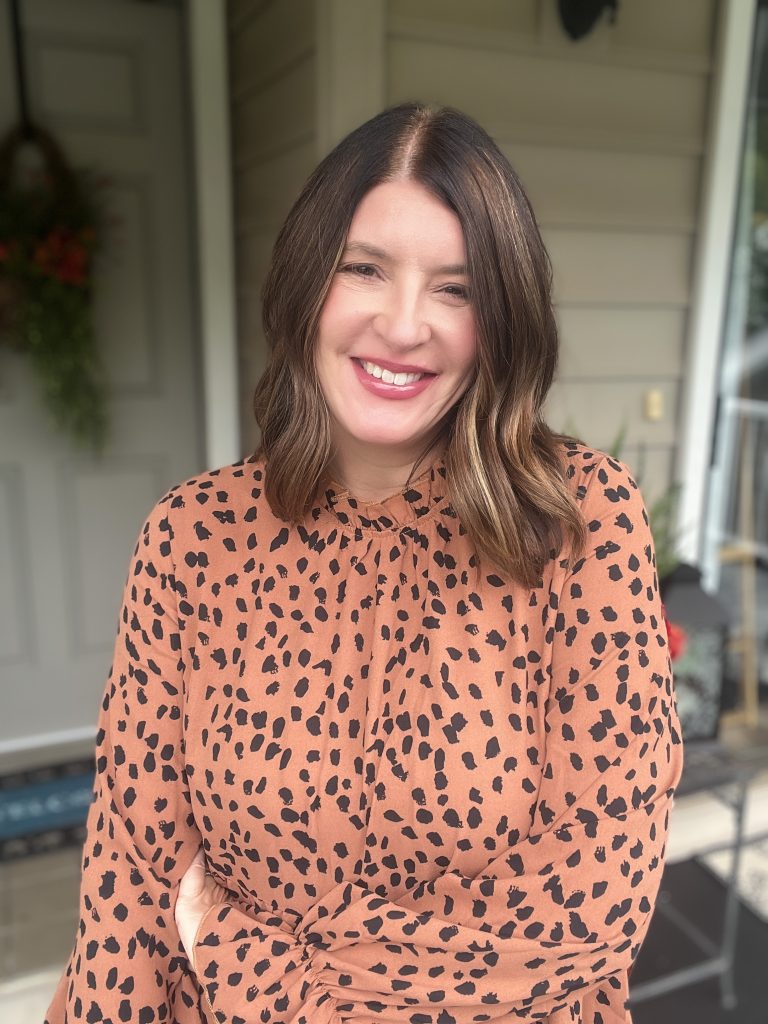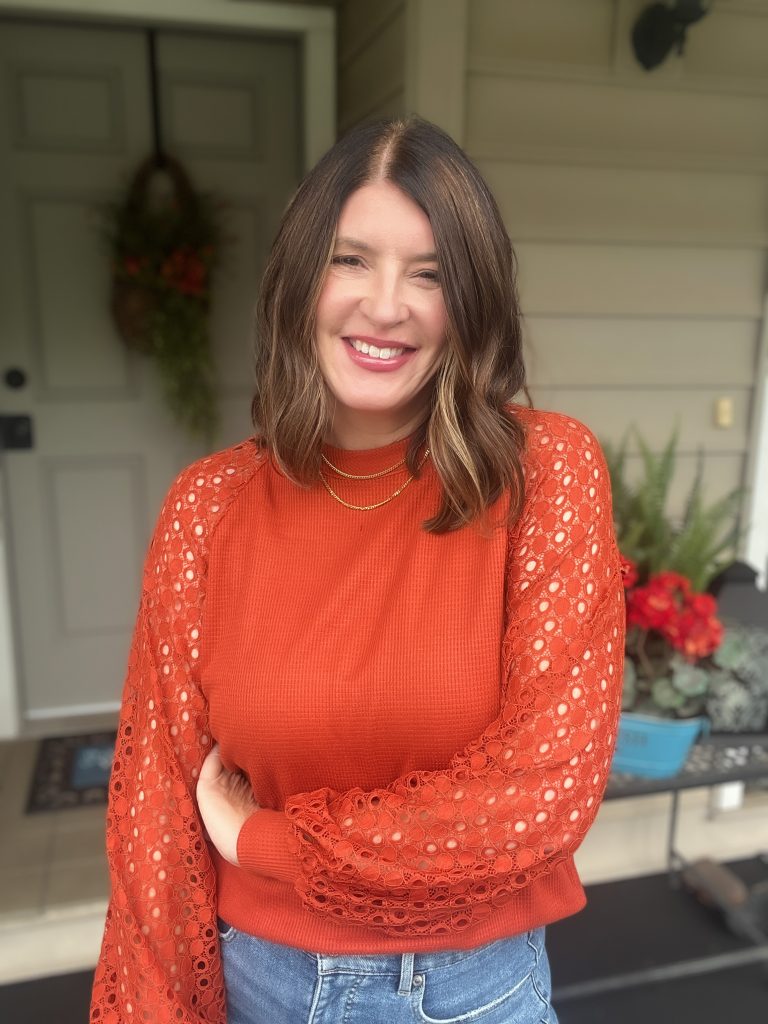 My personal favorite top in this post is this burnt orange waffle knit lace sleeve top. This captures the essence of fall in both a casual and unique way. Lace sleeve details are still trending for fall 2022.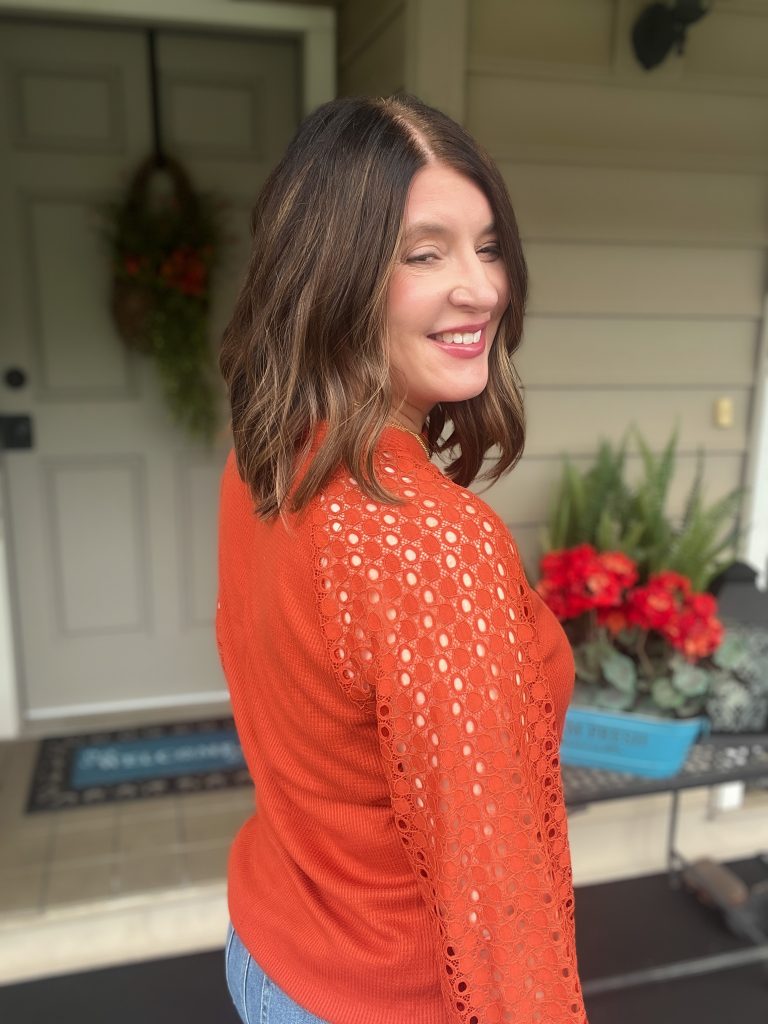 I'm wearing a size large and there is also a zipper closure in the back, which is covered by my hair. It's just a small zipper that allows you to pull the top over your head easier. Check out the link for all the different color options is orange isn't your thing.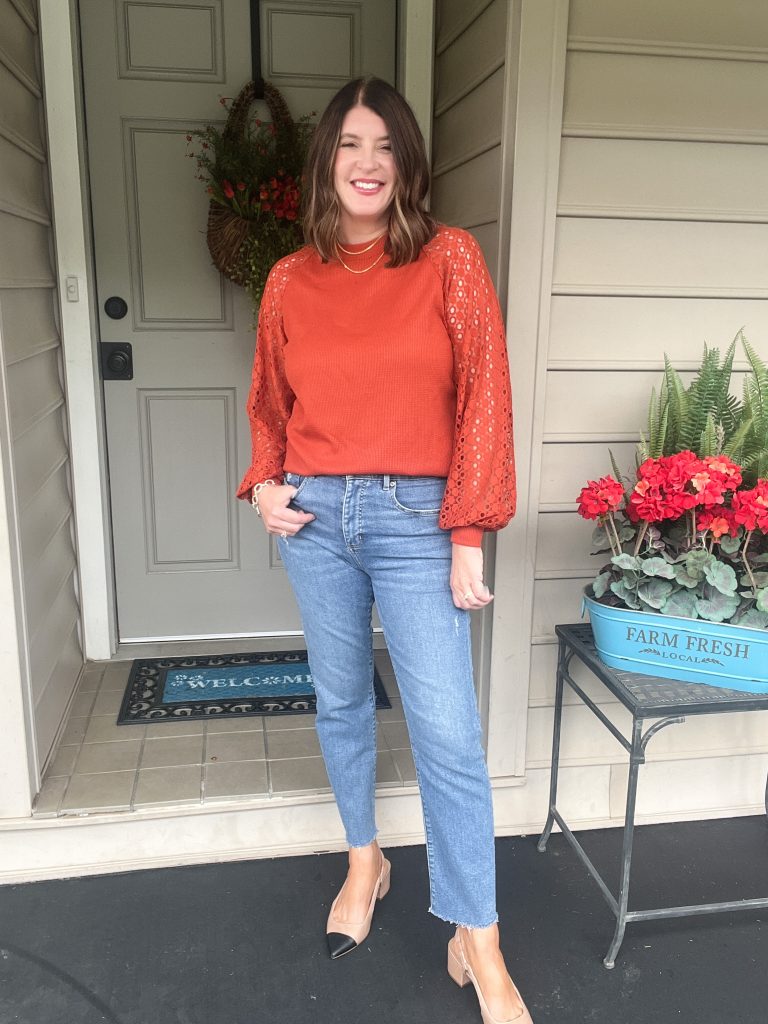 My raw hem straight leg jeans are from Loft (last year). Similar style linked here. These are my favorite classic shoes from last year. This pair from Amazon is very similar.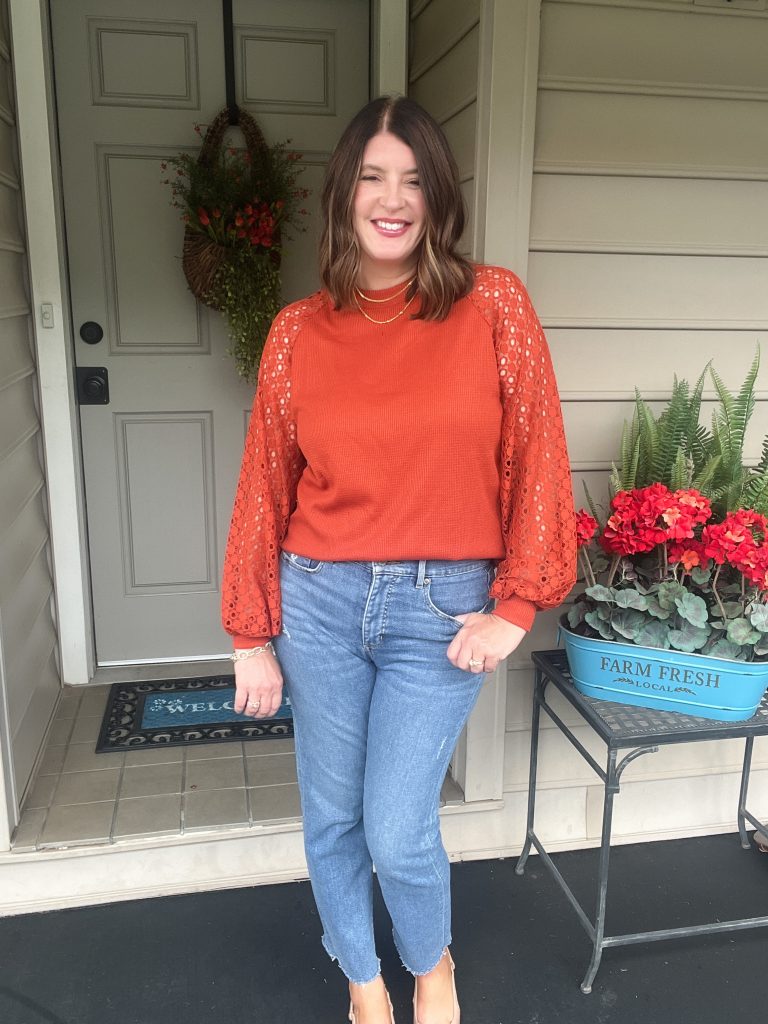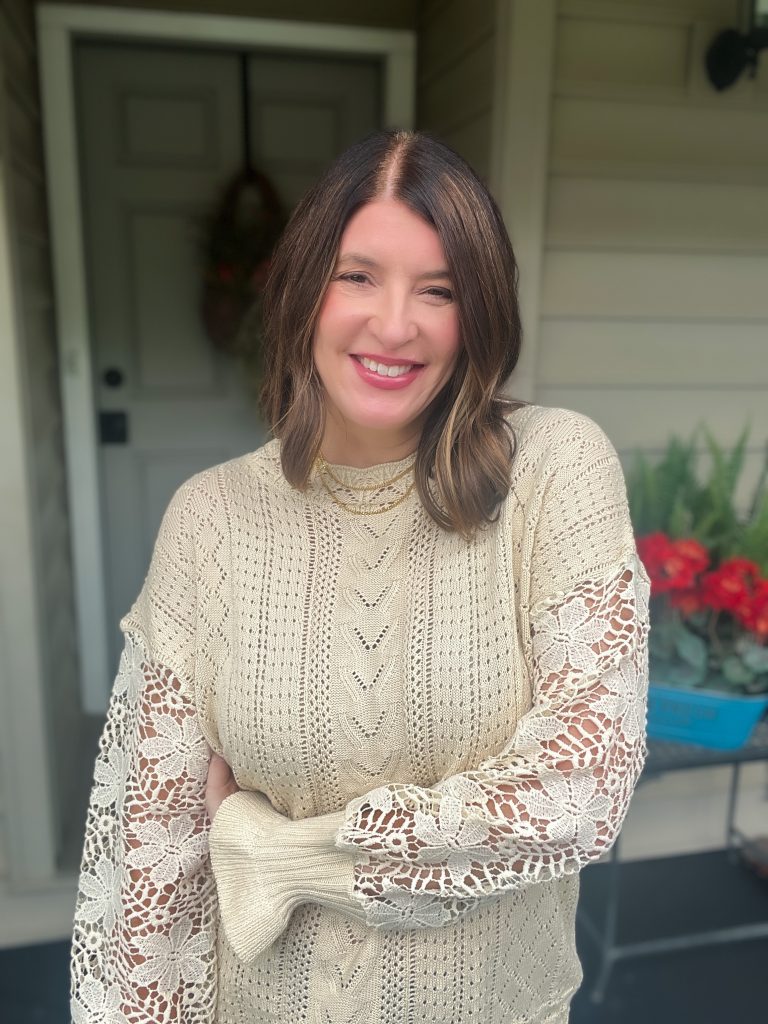 Next is this lace crochet sweater. It is a lighter weight knit…perfect for early fall. I chose this basic oatmeal color (which is called Apricot on the Amazon website), but there are several colors to choose from. I'm wearing my usual size large, although you could size down if you don't want an oversized look.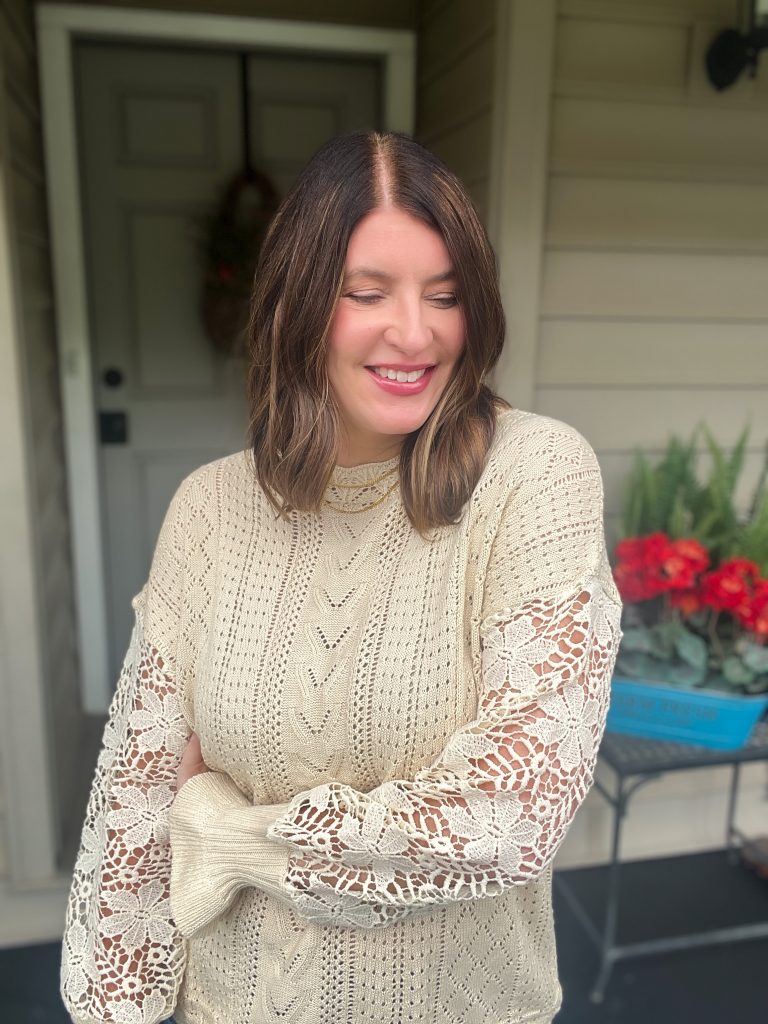 The crochet detail on this sweater is so pretty! I'm tempted to pick up another one in a different color.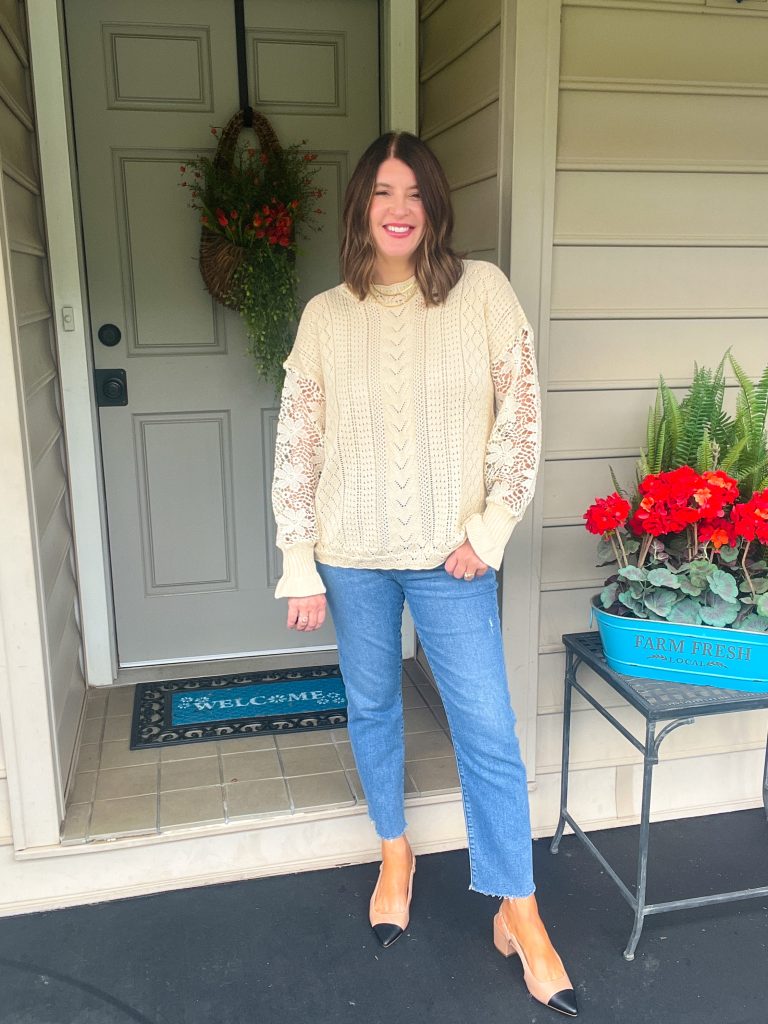 I kept on the same jeans and shoes from the previous outfit because it's really just about this gorgeous sweater!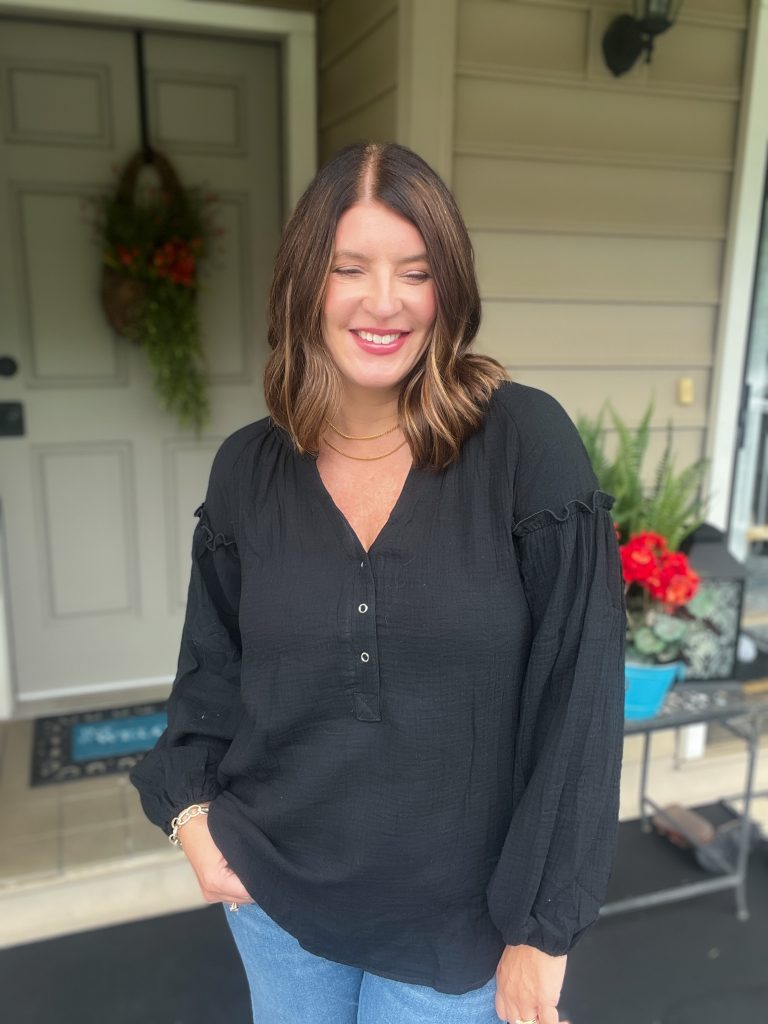 The last item in my 5 fall tops I'm loving is this black lantern sleeve button down. Amazon calls it a button down, but I suppose Henley would be a more accurate description since it does not button all the way down.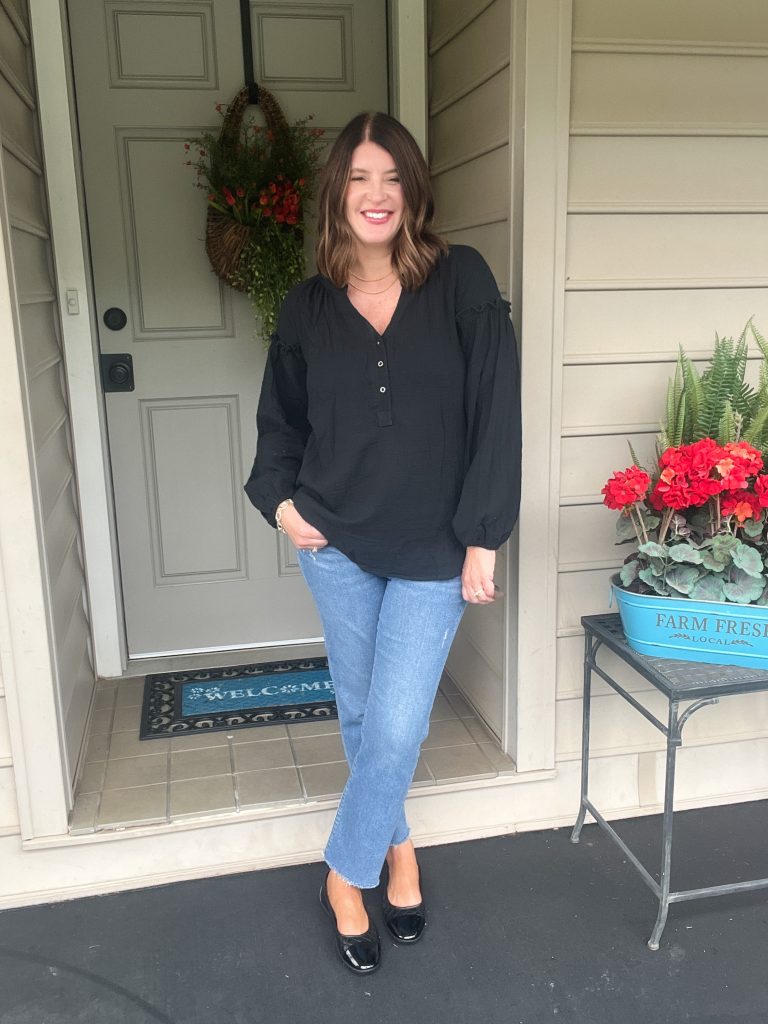 I also like the tiny ruffle detail near the shoulder. This top could be worn with shorts now and jeans or pants later. It would also look nice with a short fall skirt.