Are you getting bored of summer fashion? It happens to me every year about this time. Maybe you're wondering what to wear for the last bit of summer? Yes, I know we still have a lot of hot weather ahead, but here are some outfit ideas if you're in need of some end of summer outfit inspiration. I shopped my closet for these looks, so I will link exact items that are available and link similar items otherwise.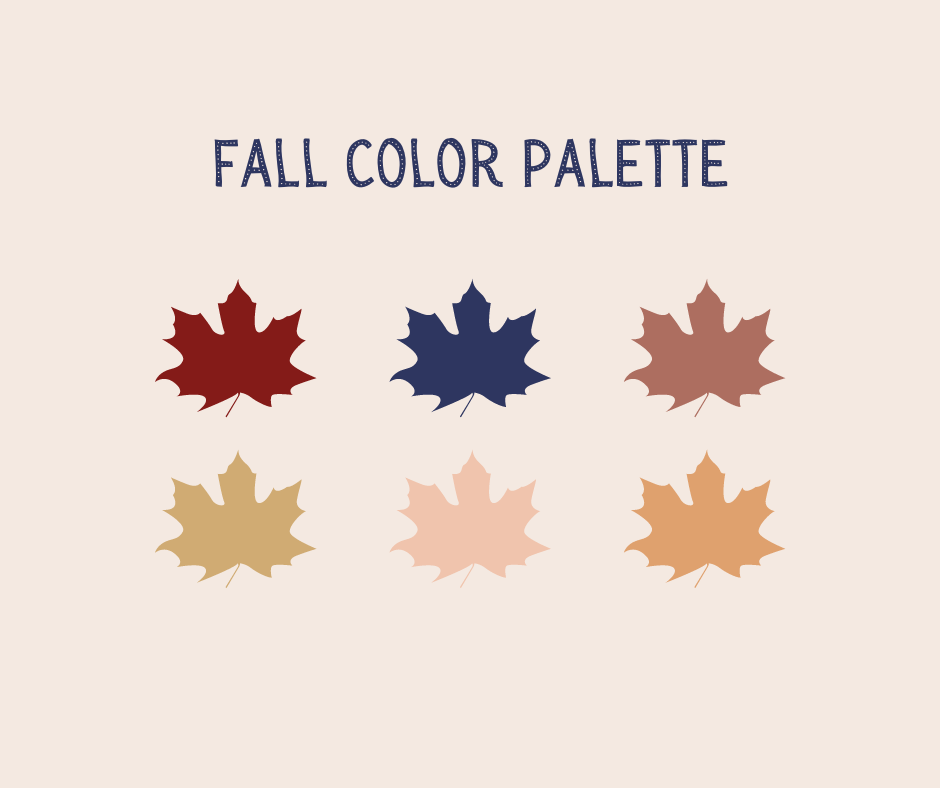 Dresses In A Darker Color Palette
I primarily wear dresses in the summer. I am much more comfortable in a dress than shorts, in fact on our last trip to Orlando, I didn't even pack any shorts! Since the weather this time of year is still hot (especially in the South wear I live), I still wear a lot of dresses. The difference is that I gravitate toward a darker more fall-like color palette. I also tend to be bored of tropical prints, so I avoid those.
Ruffle Sleeveless Knit Dress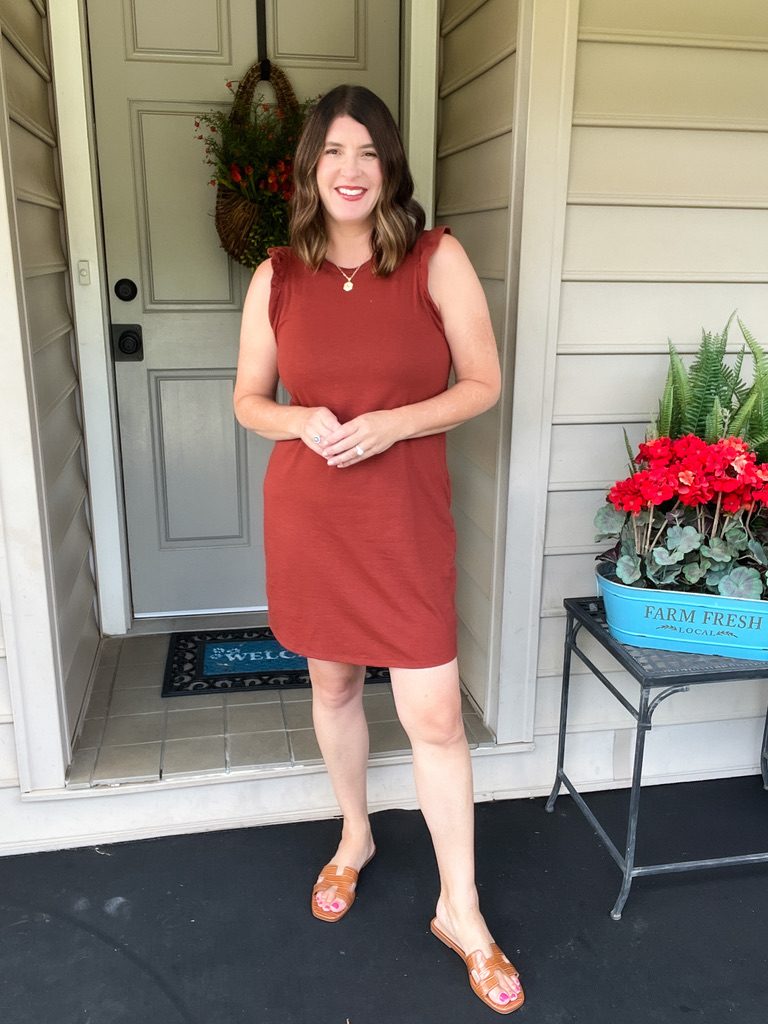 This ruffle sleeveless knit dress in the color rust red is currently on sale for $12! It runs TTS and I'm wearing a medium. This will keep me just as cool as my other summer dresses, but has a much more fall-like vibe.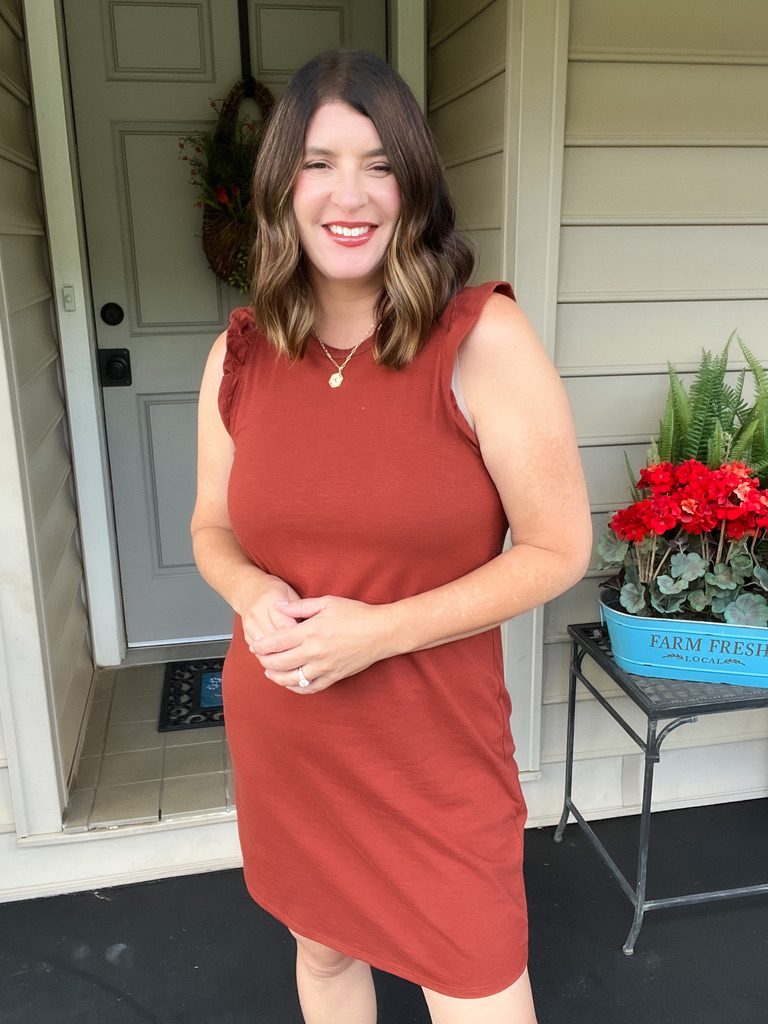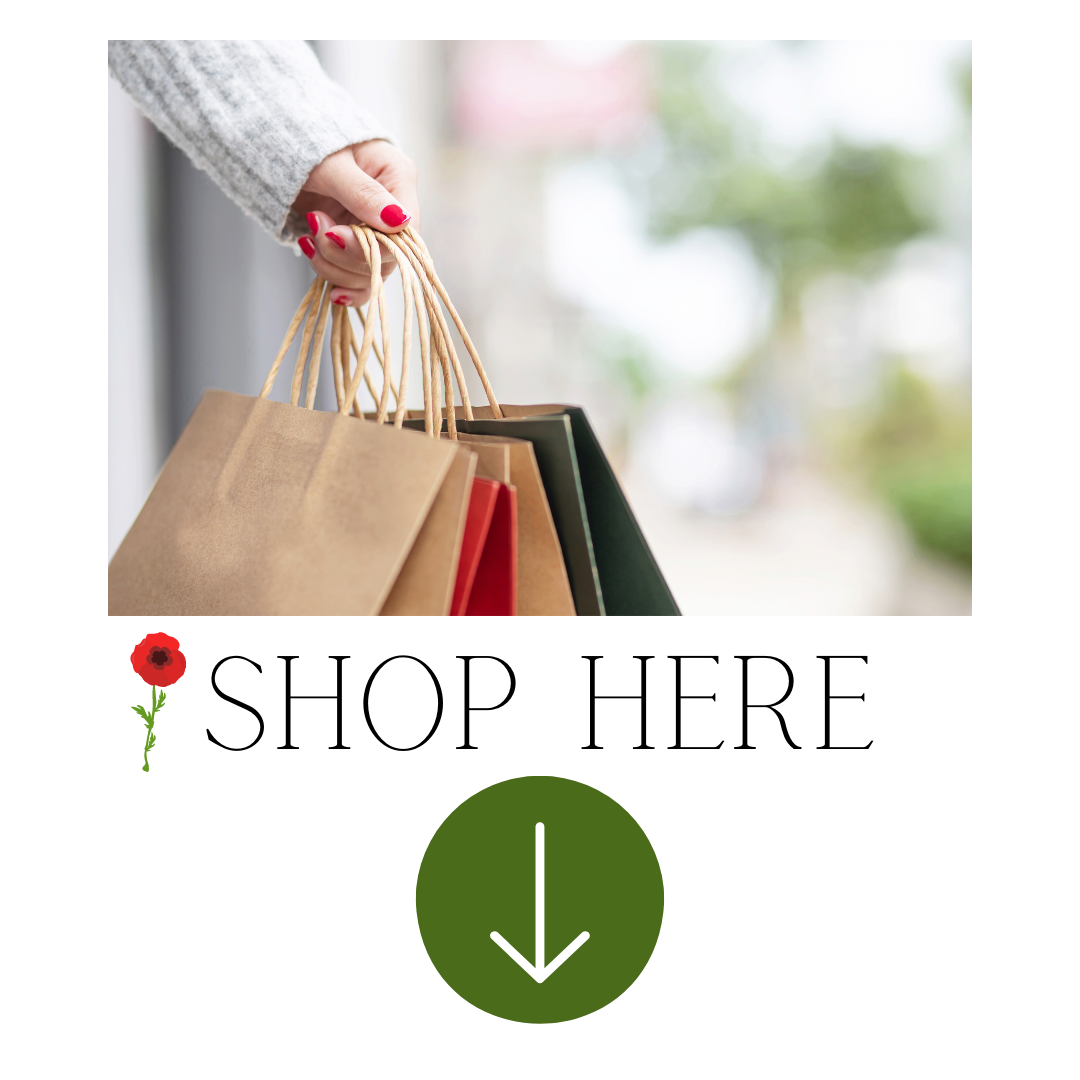 Surplice Knit Dress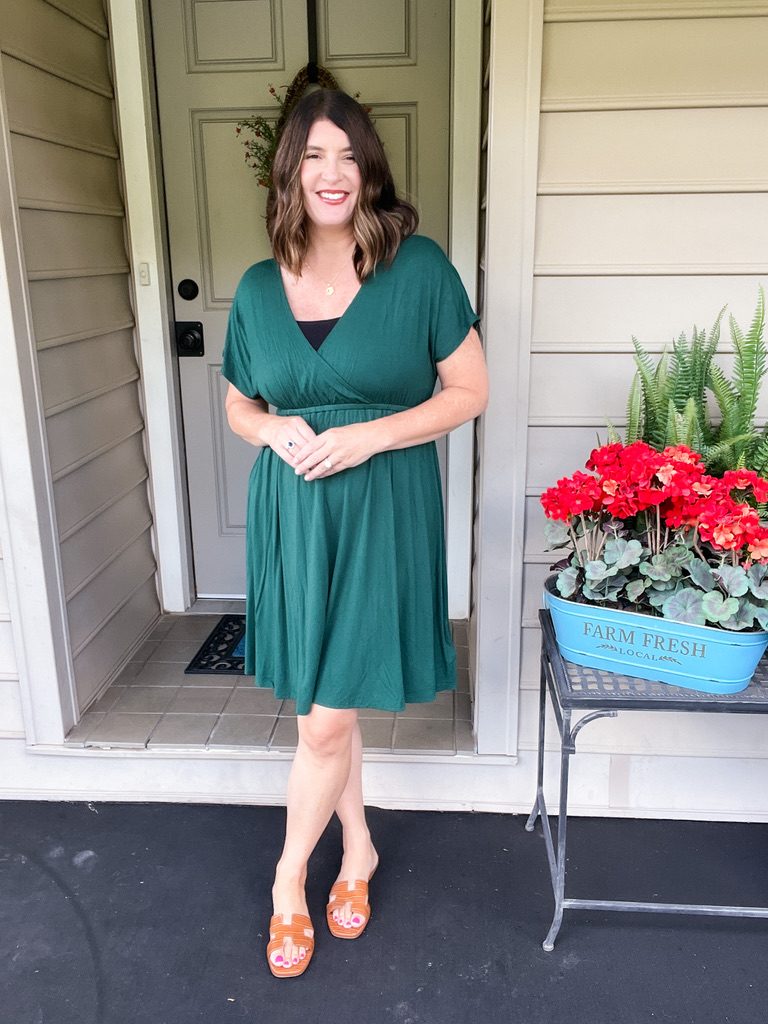 I picked up this dark green surplice knit dress on Amazon Prime Day. It doesn't get much more comfortable than this. For these style dresses, I always wear a cami style bra underneath. I get them at Walmart and they come in a three pack. I'm wearing a size medium in the dress.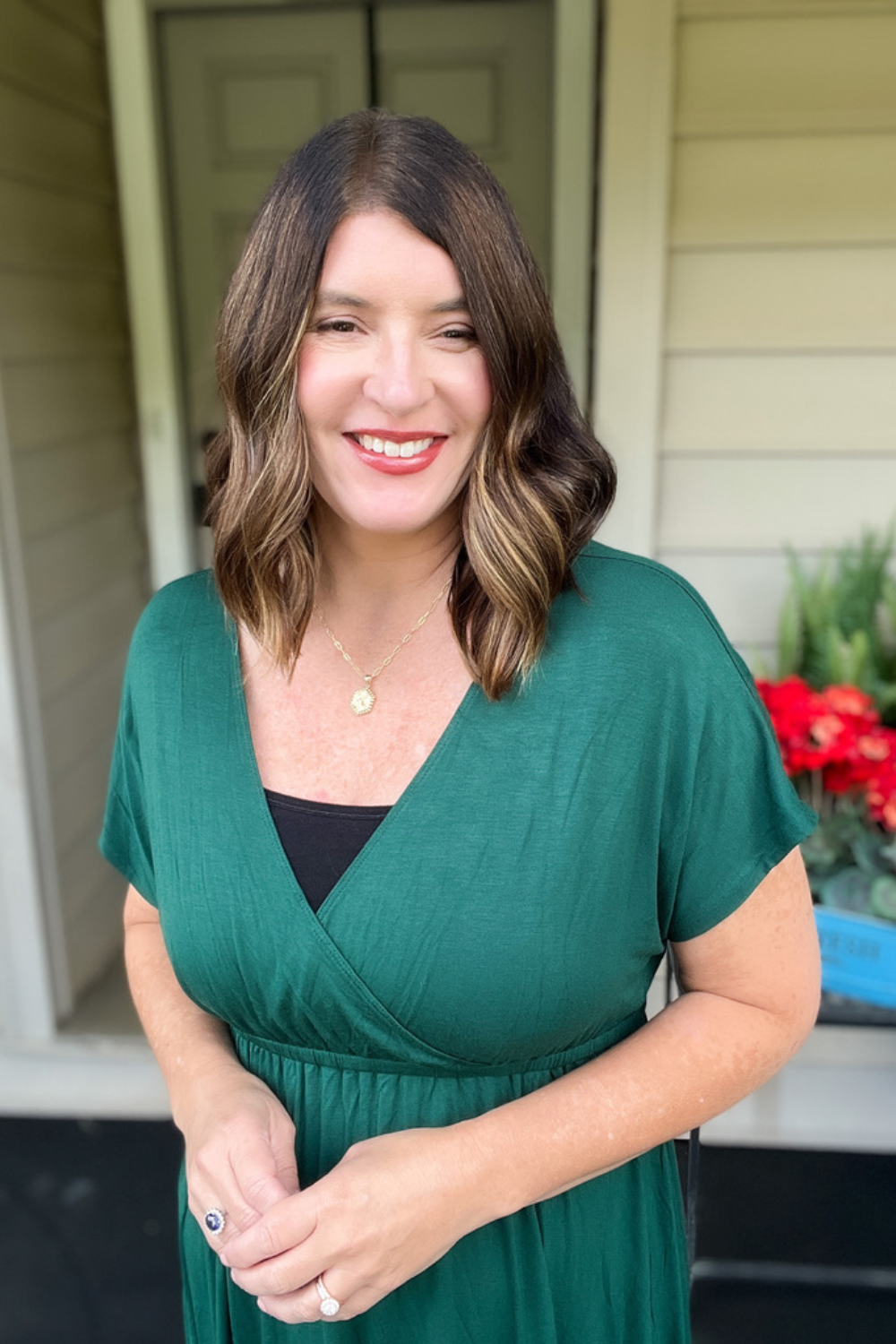 Surplice Maxi Dress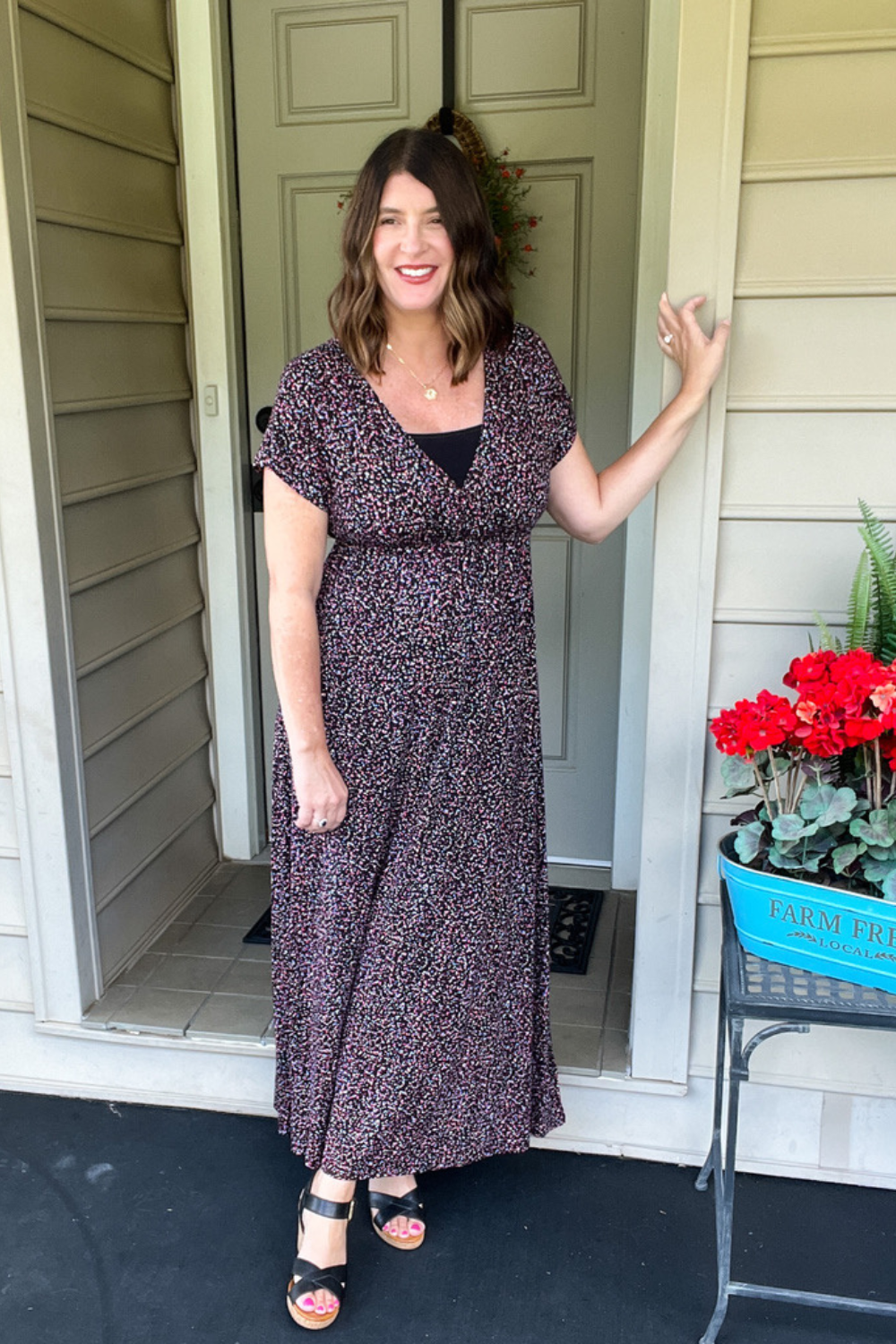 This dress is the maxi version of the previous dress in the black confetti print. Sizing is the same and this is a dress that can be styled casual or more formal depending on the shoes and accessories you pair with it.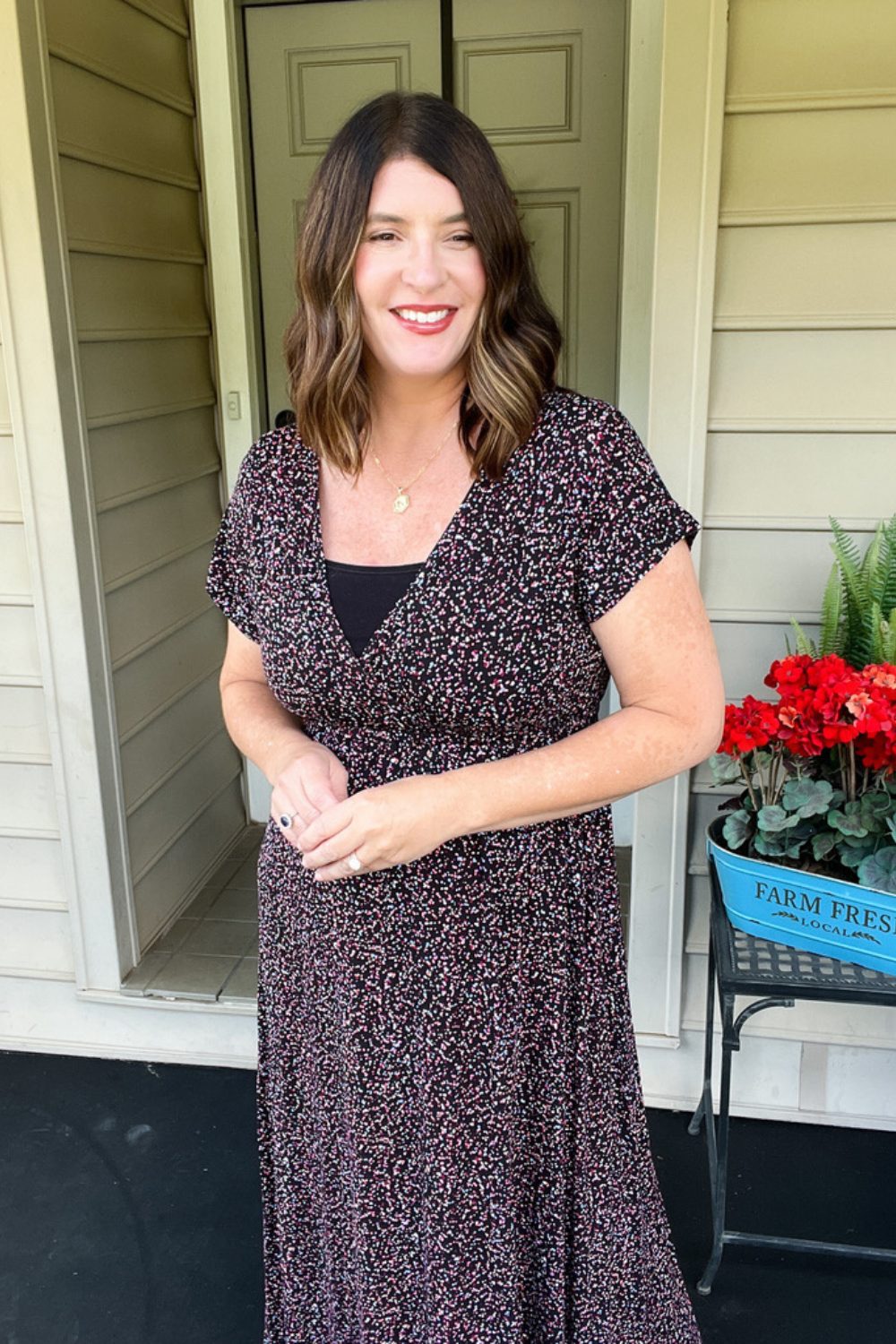 Sleeveless Sweater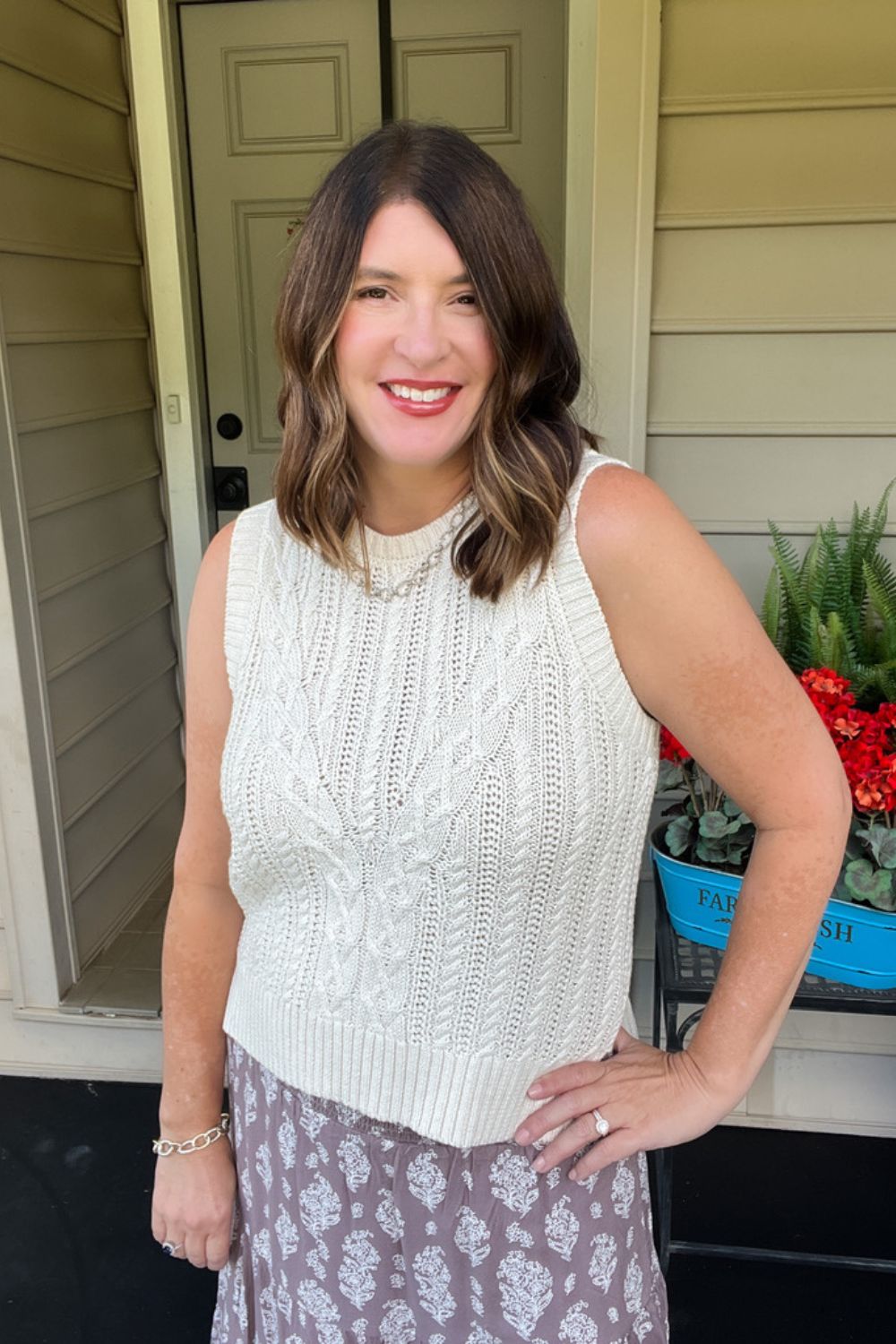 Sleeveless sweaters are good to wear for the last bit of summer and then can easily transition into fall with layered something either underneath or over the sweater. For now, the sweater by itself is plenty and here I styled two different sleeveless sweaters.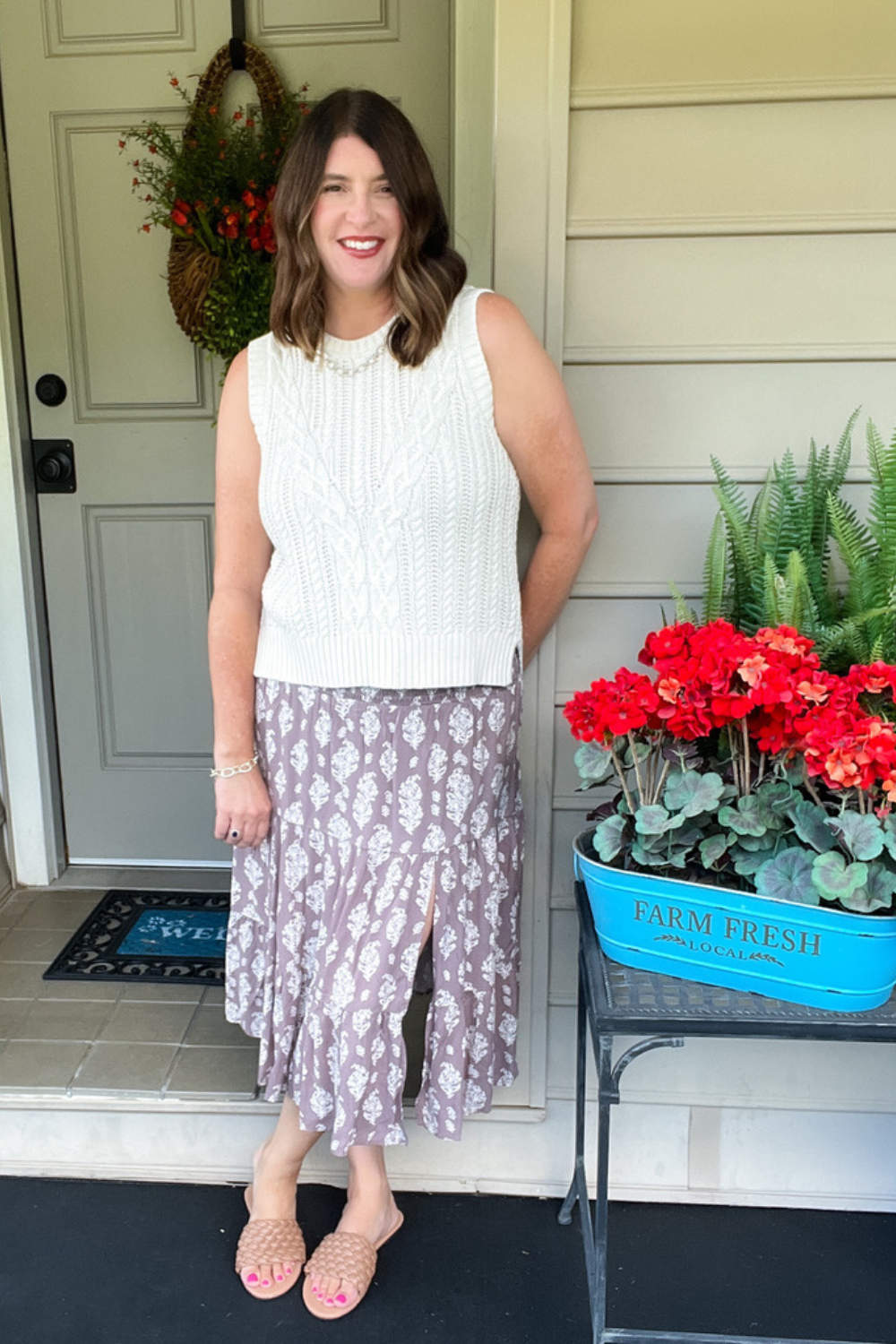 The first sweater is from Marshall's, so I can't link the exact style. I paired it with a skirt that I have shown before in this post. It is from Belk. This would also make a good teacher/back to school outfit.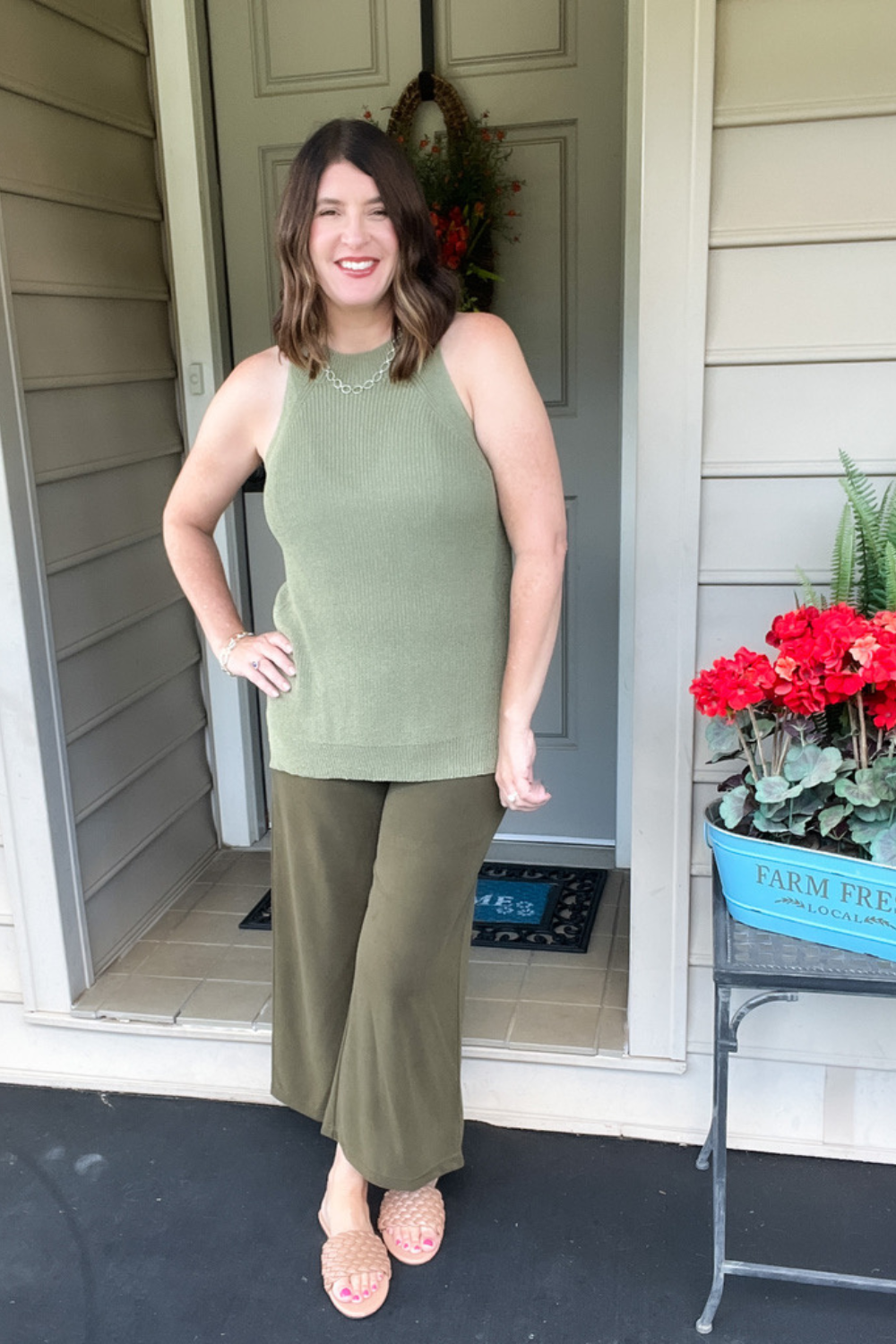 The second sleeveless sweater outfit is built around this mossy green halter style sweater. This is a long – almost tunic length sweater that I paired with some wide leg pants from Loft. The pants are at least two years old.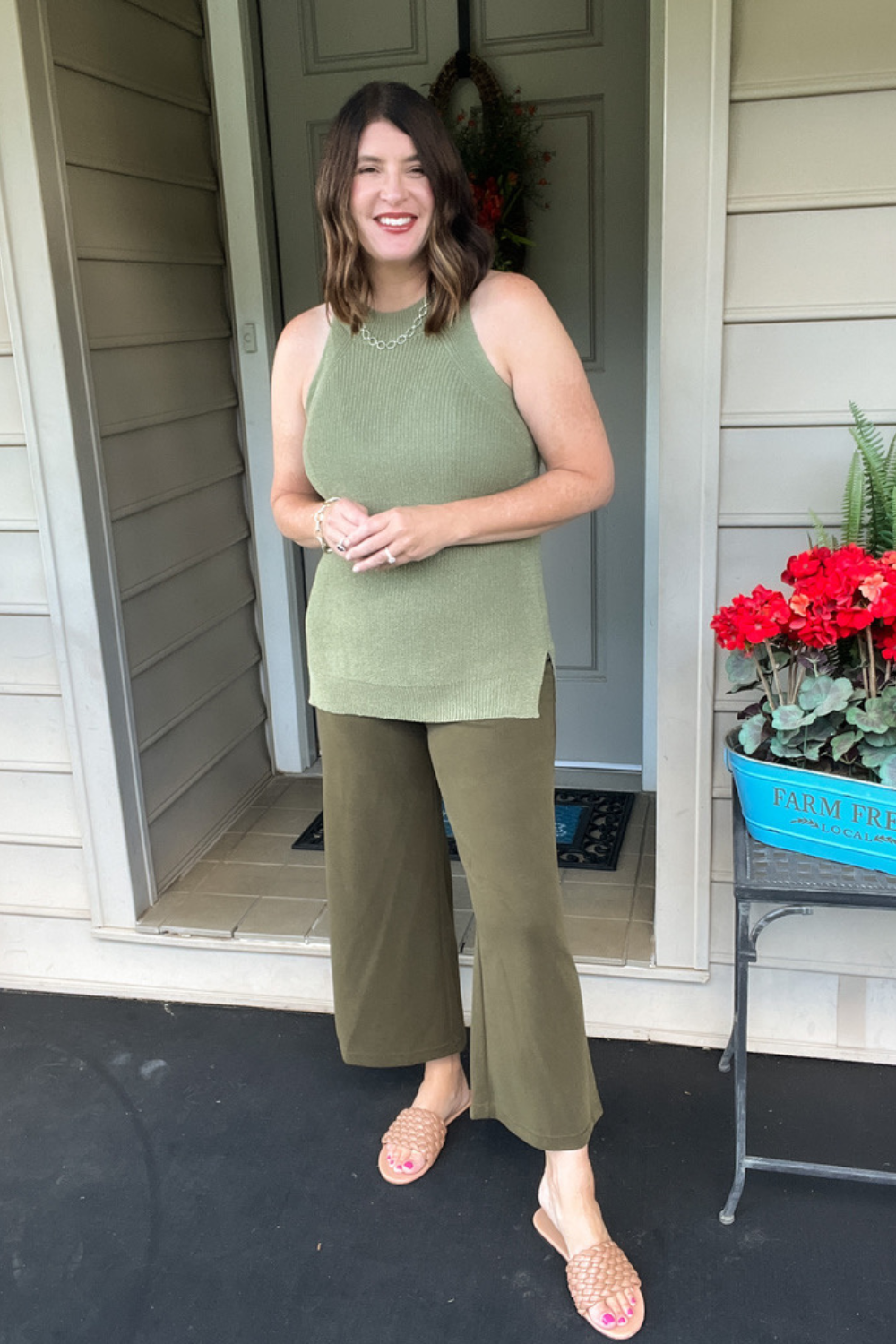 Please excuse my bra choice with this outfit. I needed a racer back, and they were all in the laundry so a bralette was my only choice and it looks lumpy under the sweater.
Fall Colored Top With Shorts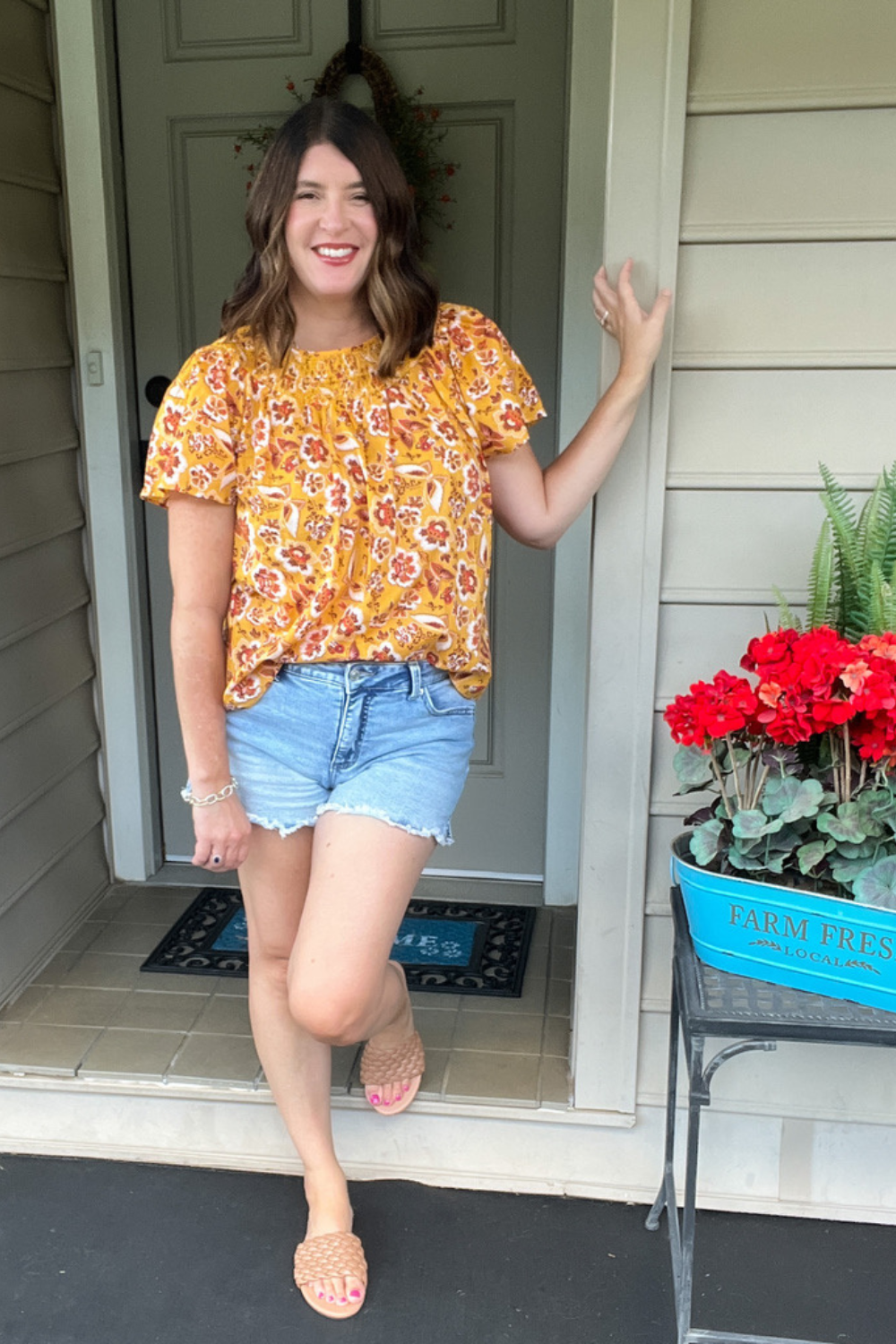 There is still plenty of time to wear shorts, and my go-to is usually this pair of denim shorts by Time and Tru. They have a lot of stretch to them, and they are very comfortable. To make shorts seem a little less mundane, I like to pair them with a blouse in a more fall color palette.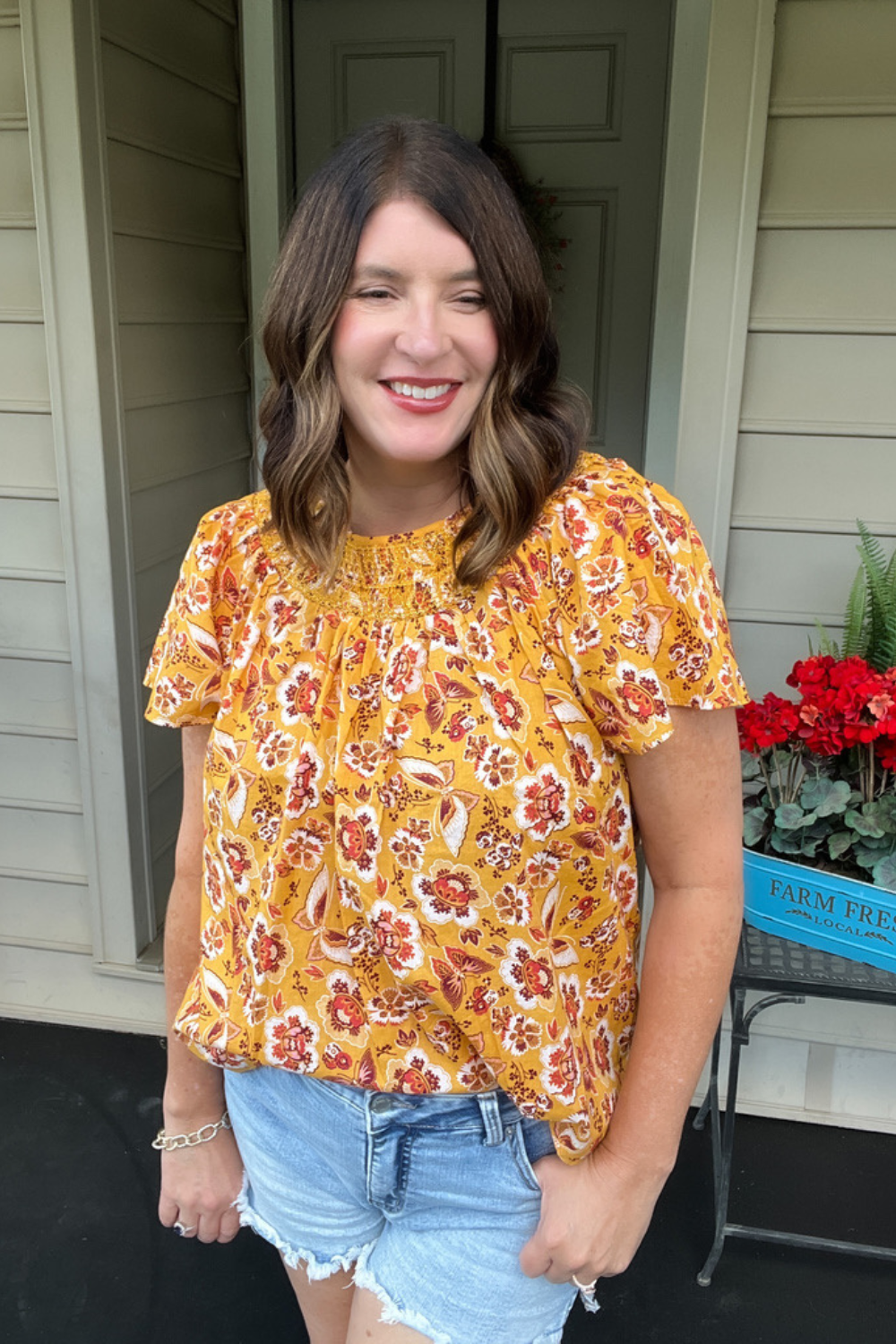 This top is a recent purchase from Loft Outlet. I linked some similar tops since Loft Outlet no longer offers online shopping.
Skort In Fall Color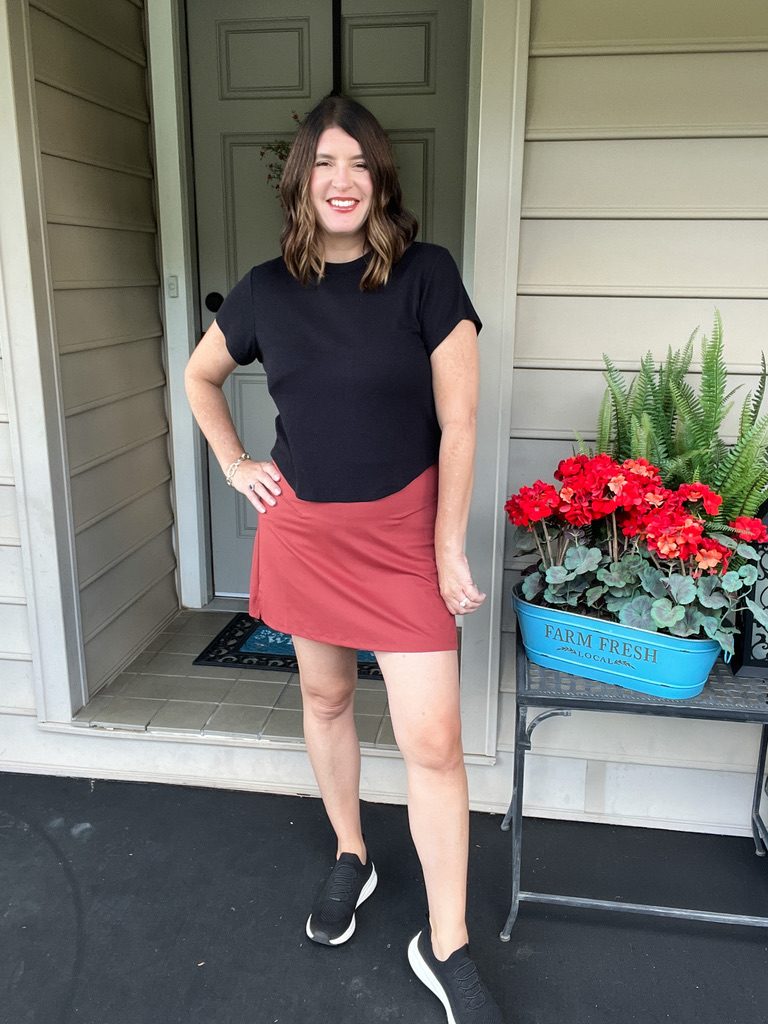 I have fallen hard for athletic skorts this year, and I will continue to wear them through the fall season. For now, a short sleeve tee or tank is still appropriate for the hot weather. Later on I like to wear a skort with a sweatshirt.
I have also become worn out with self tanner, so I'm embracing my natural pale legs these days. Anyone else just tired of fooling with self tanner?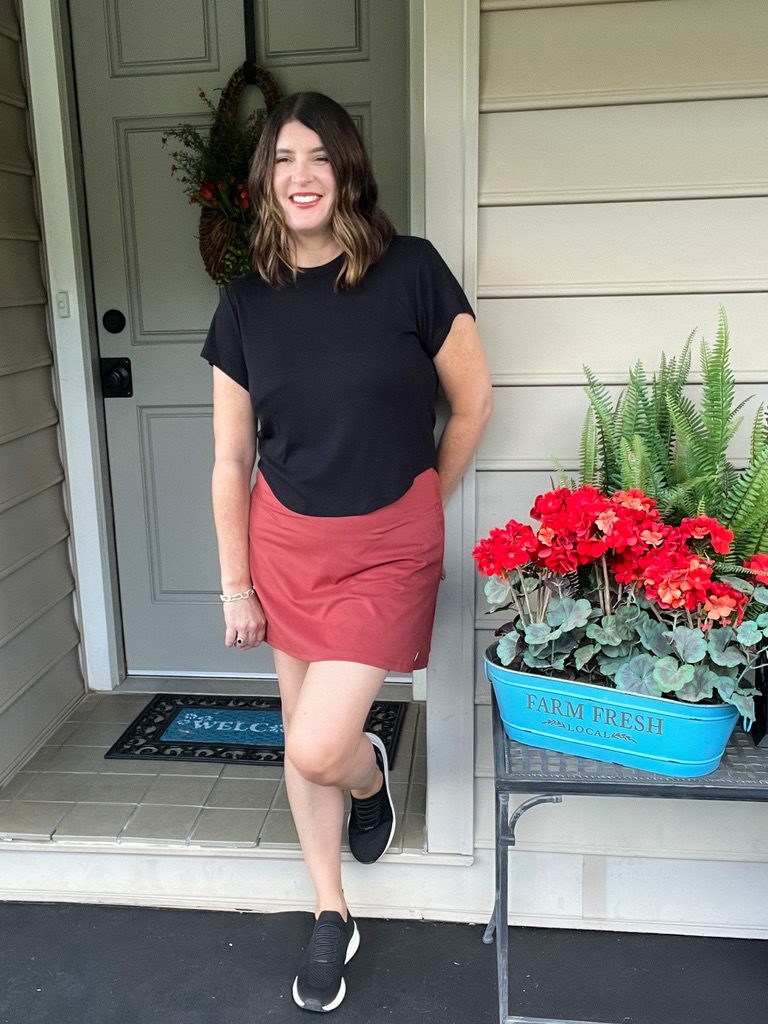 This rust colored skort is from Old Navy and I love the fit. I did size up to a large as I often do in skorts. My black tee is also from Old Navy and comes in several colors.
Kimono With Shorts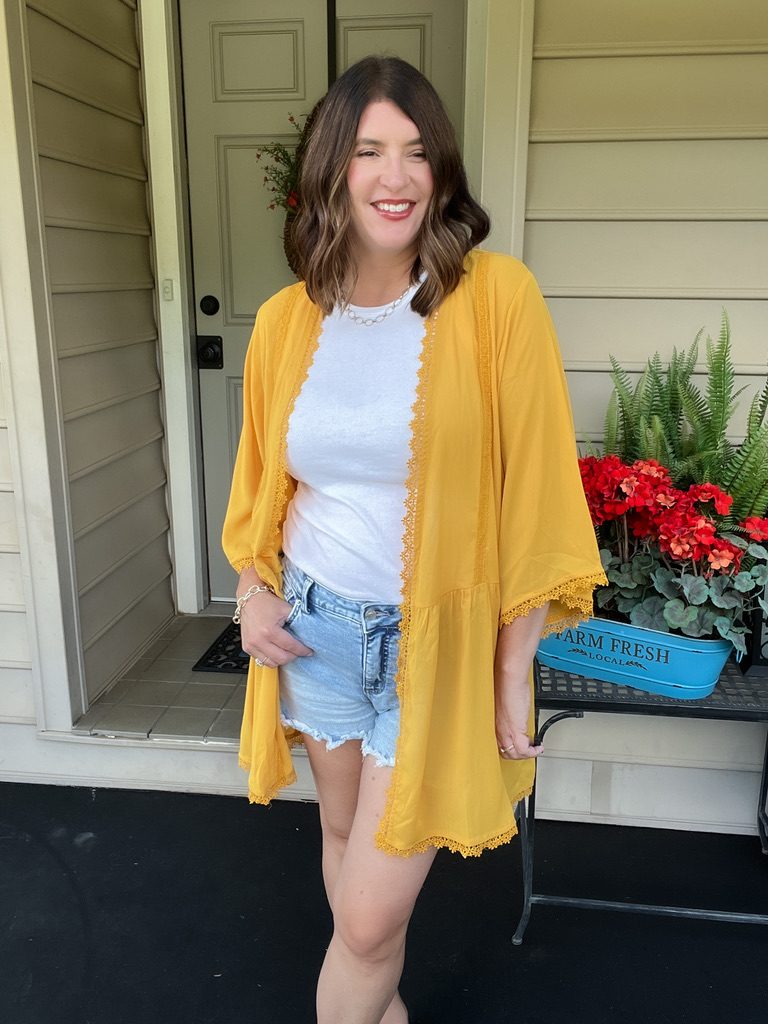 Kimonos are a fun way to add some interest to your outfit. This last bit of summer outfit features a dark yellow – almost gold colored kimono from Amazon. Just add a simple tank and some denim shorts and this look is complete!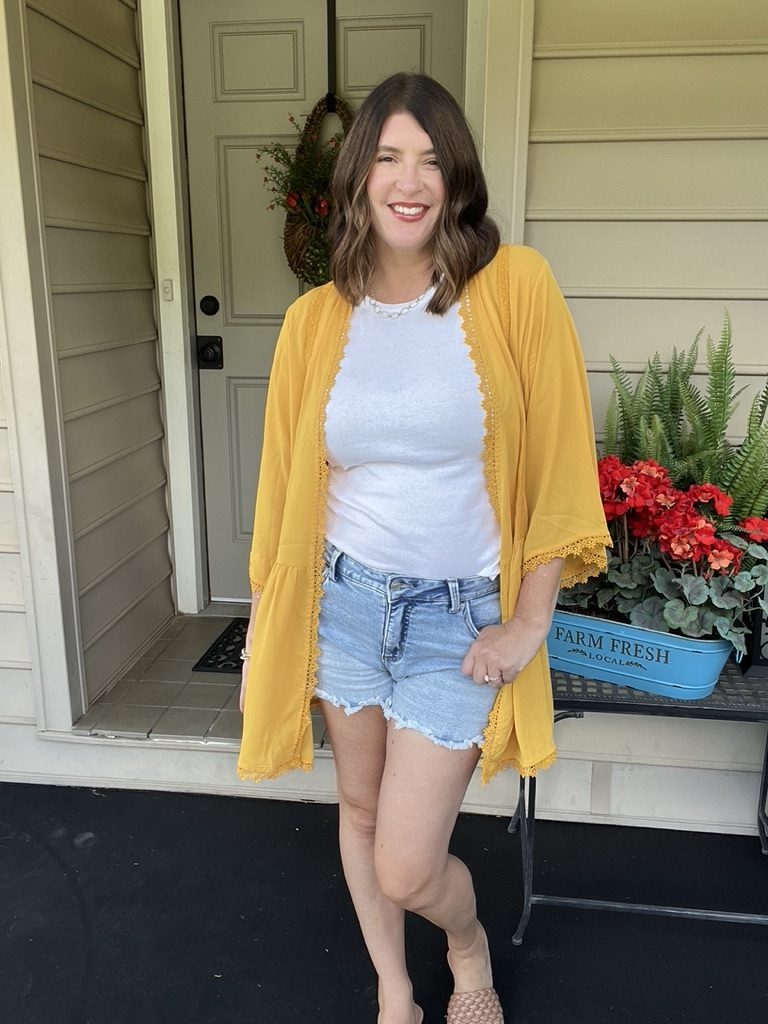 This black floral kimono from Walmart is another good option.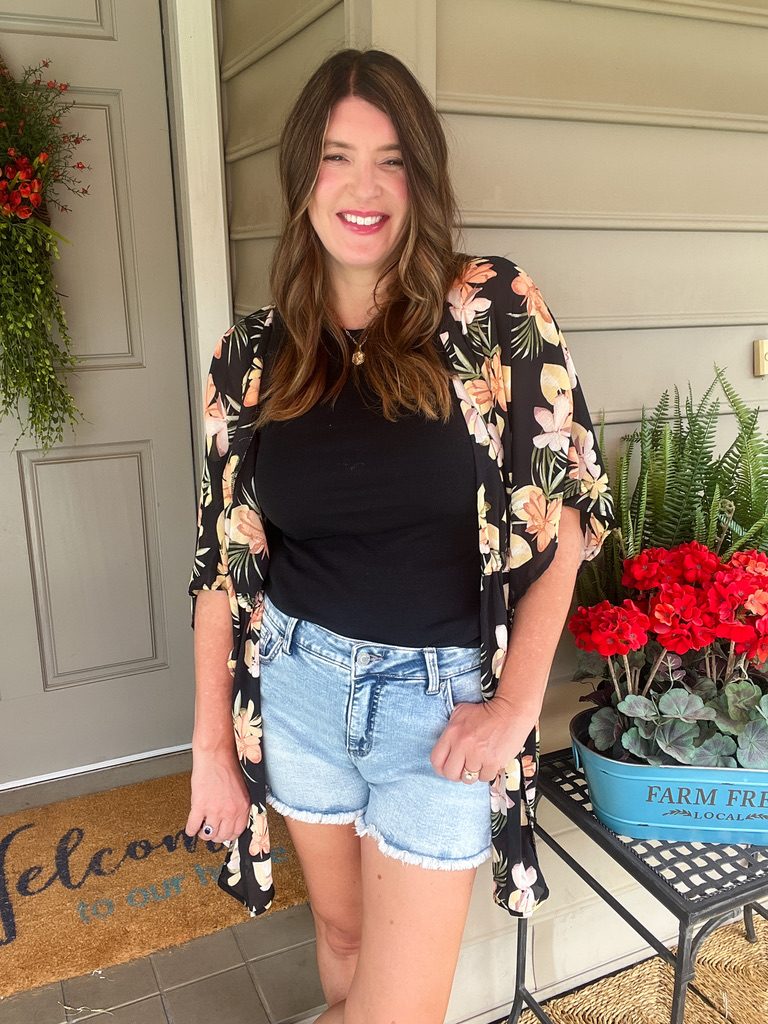 Cropped Jeans & Fall Colored Top
Depending on the climate that you live in, jeans are a possibility for late August. Cropped jeans in a lightweight denim are ideal. Here I paired my Sophia Vergara Luisa Wide Leg Crop Jeans with this pumpkin dolman sleeve sweater from Sam's Club. I couldn't find the sweater on the Sam's Club website, so I linked a top from Amazon for a similar look.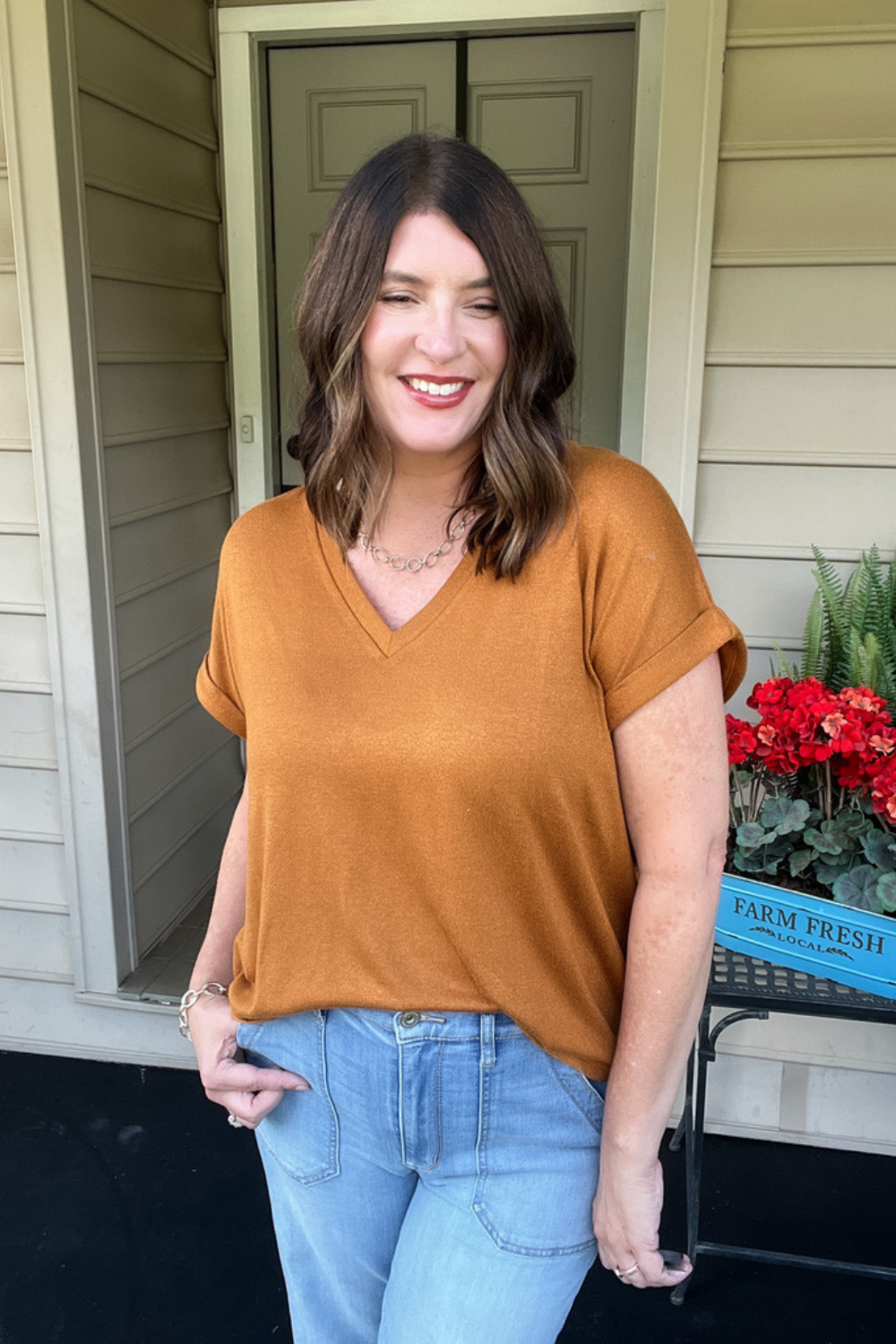 I hope you enjoyed these last bit of summer outfit ideas! What do you like to wear this time of year? Let me know in the comments below.