Many women decide to re-enter the workplace in their 40's and beyond. Maybe you have stayed home to raise your children, and now as an empty nester you are ready to try something new or return to your previous career. Whatever your scenario might be, dressing for the workplace can be overwhelming if you have worked from home for a long time. Today I want to show you 6 easy steps to build a professional wardrobe.
You're going to see pieces in a variety of price points. This is intentional, which I will explain a little later on. I always try to offer affordable style here, and I have shopped everywhere from Ann Taylor (most expensive), to Walmart (least expensive). In the middle are Loft, T.J. Maxx, Marshall's, Amazon, and Target. There is truly something for every woman's budget…you just have to know where to look.
1. Consider Where You Will Be Working
Before you start to build your professional wardrobe, the first step is to consider the atmosphere and dress code (written or implied) of your workplace. Teachers, for example, would have a more relaxed look than a corporate executive. The red floral dress is from Old Navy.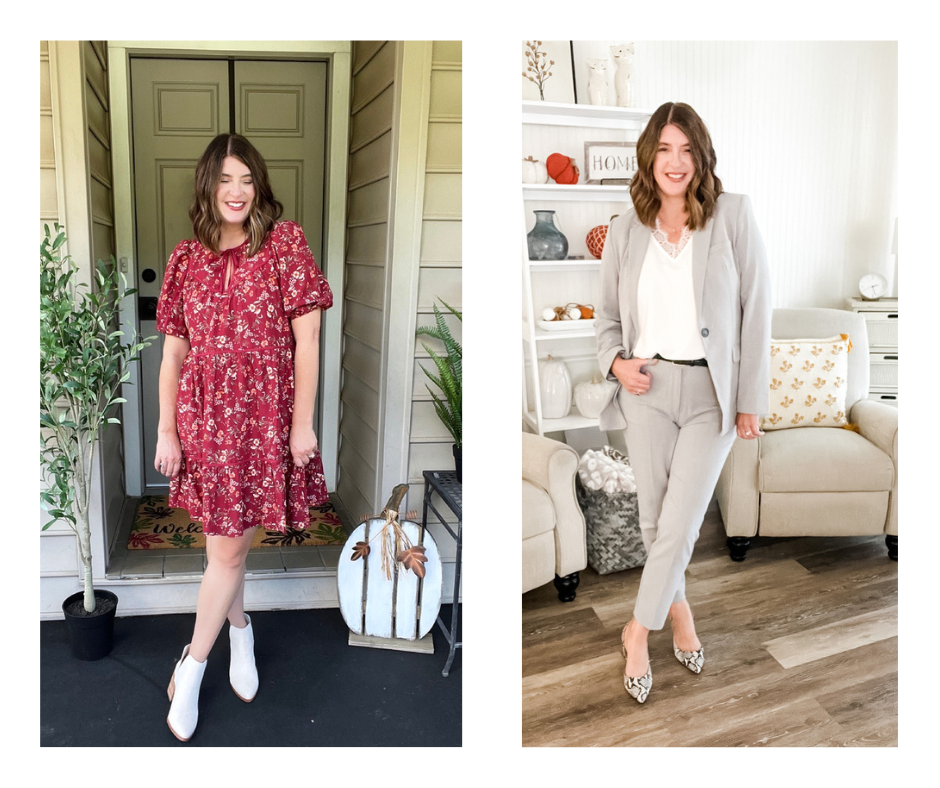 Some offices may have casual Fridays when jeans are appropriate, and some professions require blazers and dress pants or skirts. You will want to build your professional wardrobe around these considerations. Remember that just because you like something does not mean it is work appropriate!
2. Build A Professional Wardrobe By Investing In Quality Staple Pieces
As you start to build your wardrobe, you will want to invest a little more money in the essential pieces that will be worn over and over. These are the pieces that you build your outfit around and are the most neutral and versatile.
Blazers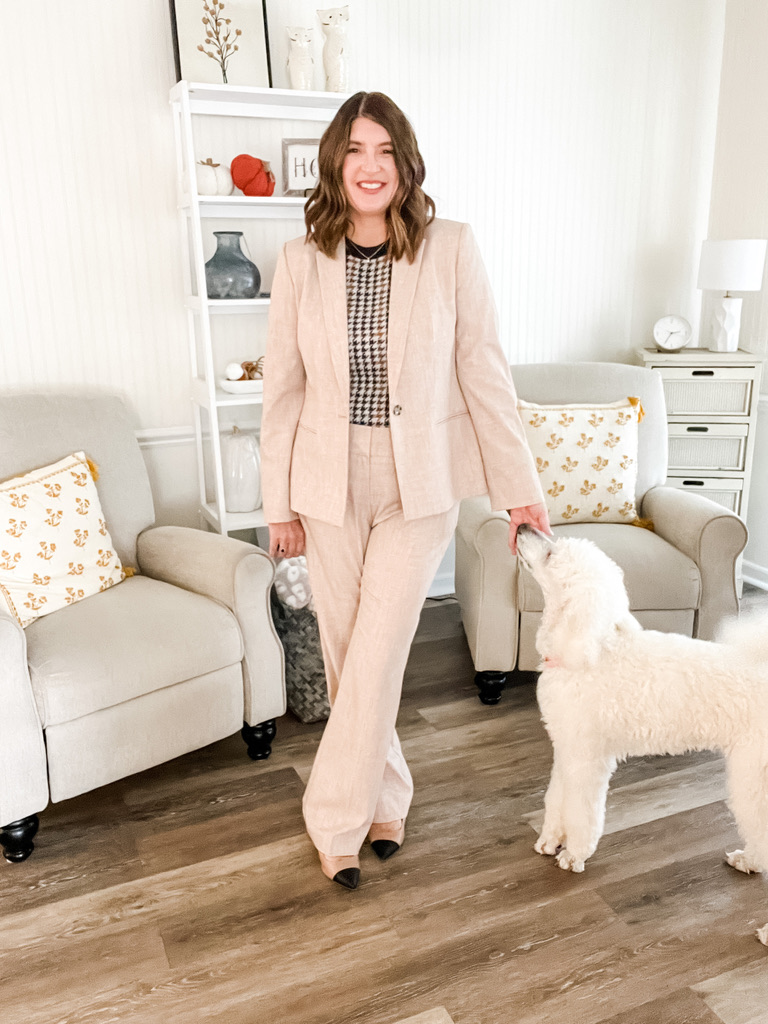 The first workwear essential is a blazer in a neutral color. Depending again on where you work, you may want 2 or 3 blazers. Focus on black, navy, or beige. The blazer and dress pants in the photo above are from Ann Taylor. They are two of my investment pieces because they form the basis for many outfit combinations.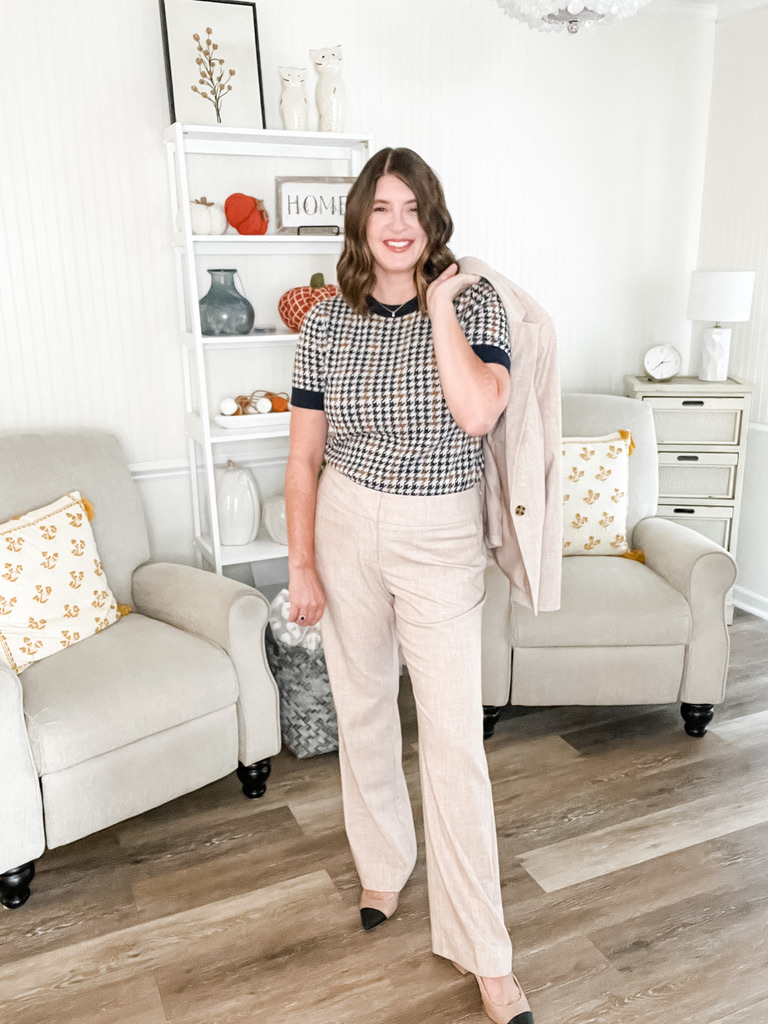 I couldn't find this exact set online, but I linked a very similar blazer and pants in the shopping widget below. I love the houndstooth sweater, which is also from Ann Taylor. This style is similar.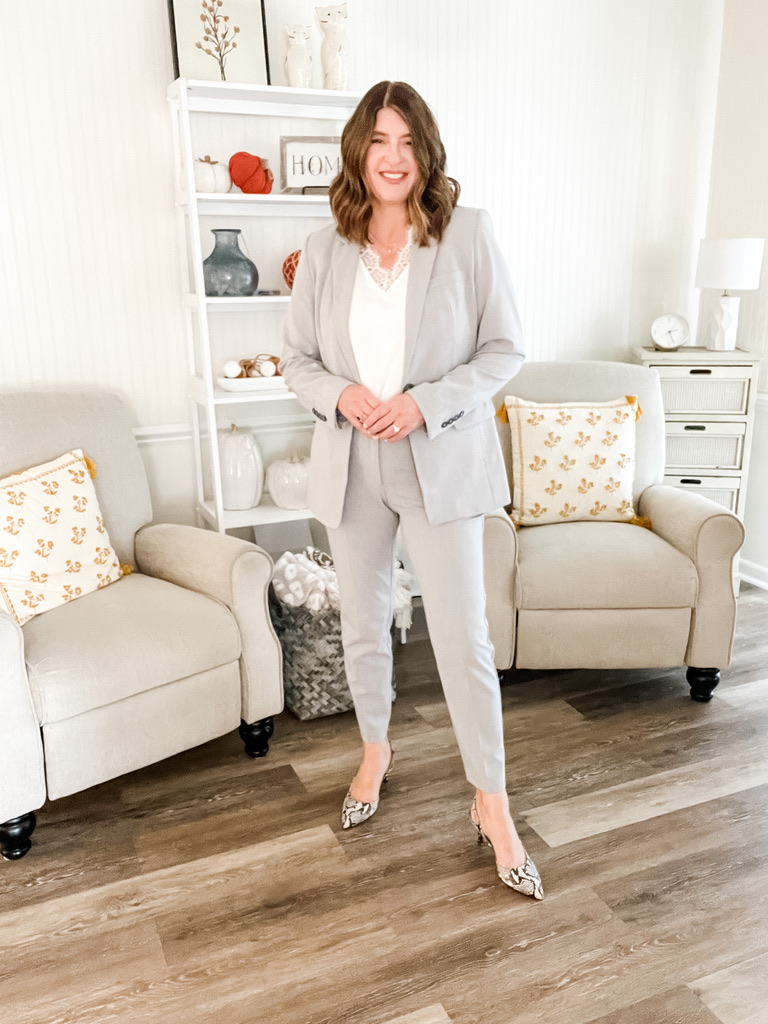 This grey blazer and dress pants are other investment pieces, but not quite as expensive as the Ann Taylor pieces. These are The Limited brand from Belk. I layered my favorite cami from Amazon under the blazer and finished off the look with faux snake skin shoes.
Dress Pants
Good dress pants are another essential. Several pair including solids and a plaid or pin stripe are good options. Nothing too trendy here…think classic pieces. Choose the cut based on your body type. Wide leg, straight, or slim fit are all appropriate and there are so many to choose from.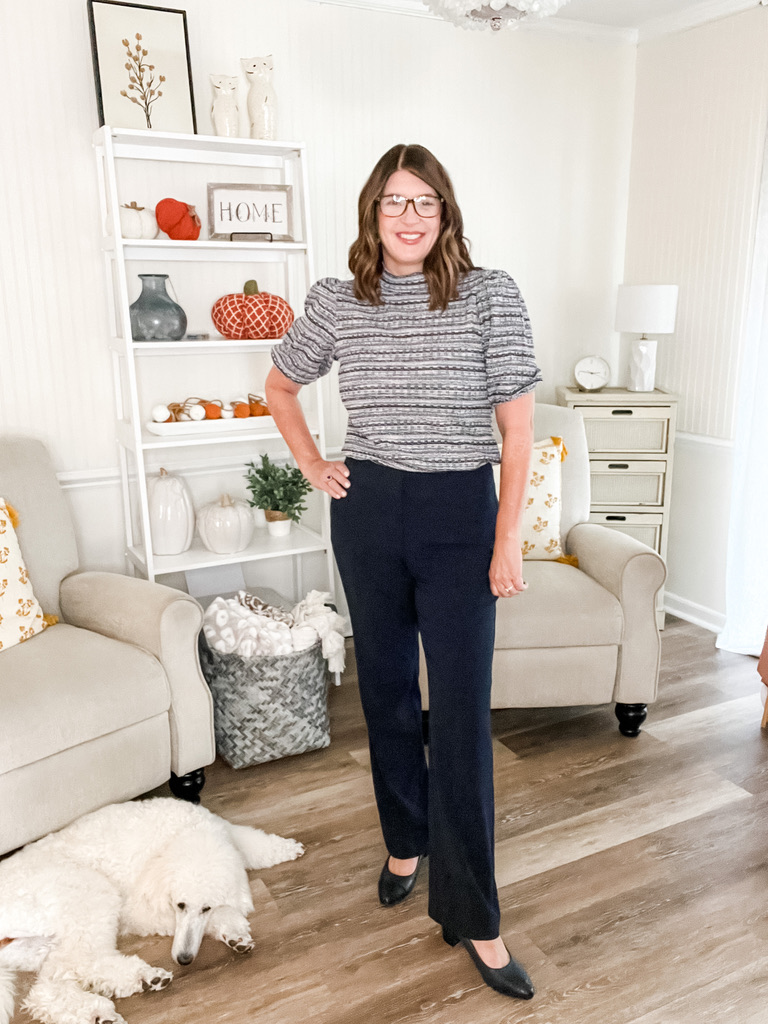 The navy pants shown above are the Trouser Pant in a size 8 curvy. I love that Ann Taylor offers regular and curvy fit. The beige pants below are in a size 10 curvy. They have a looser fit, but they did not have the size 8. I think either size works pretty well.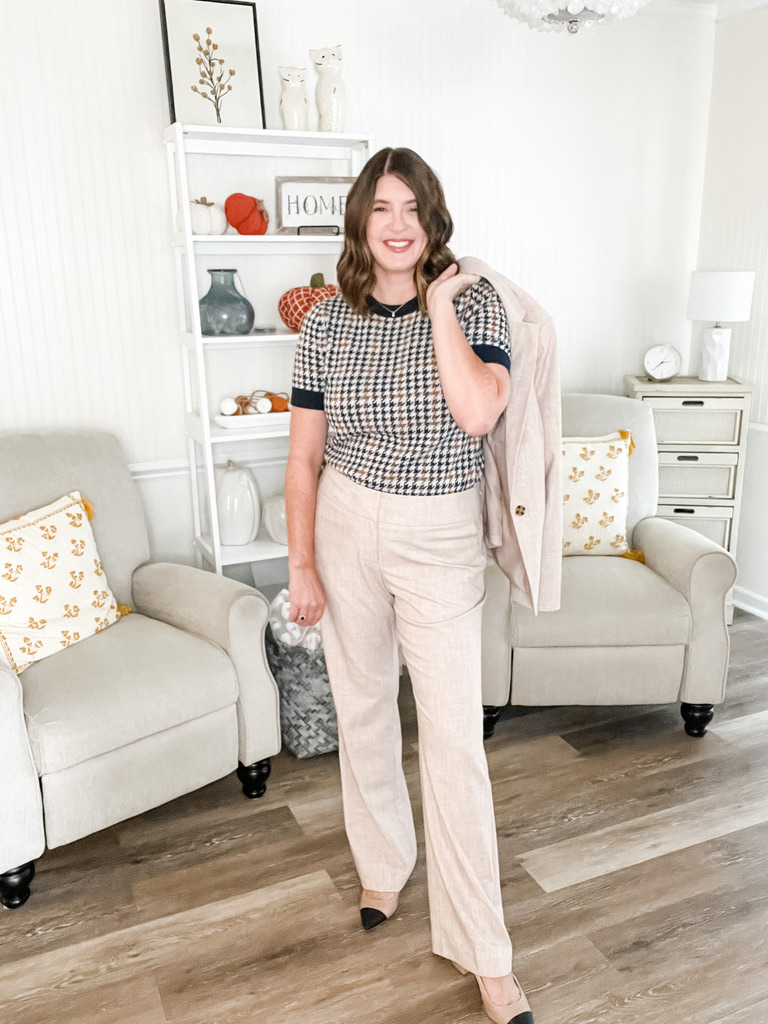 3. Purchase Affordable Pieces To Create Variety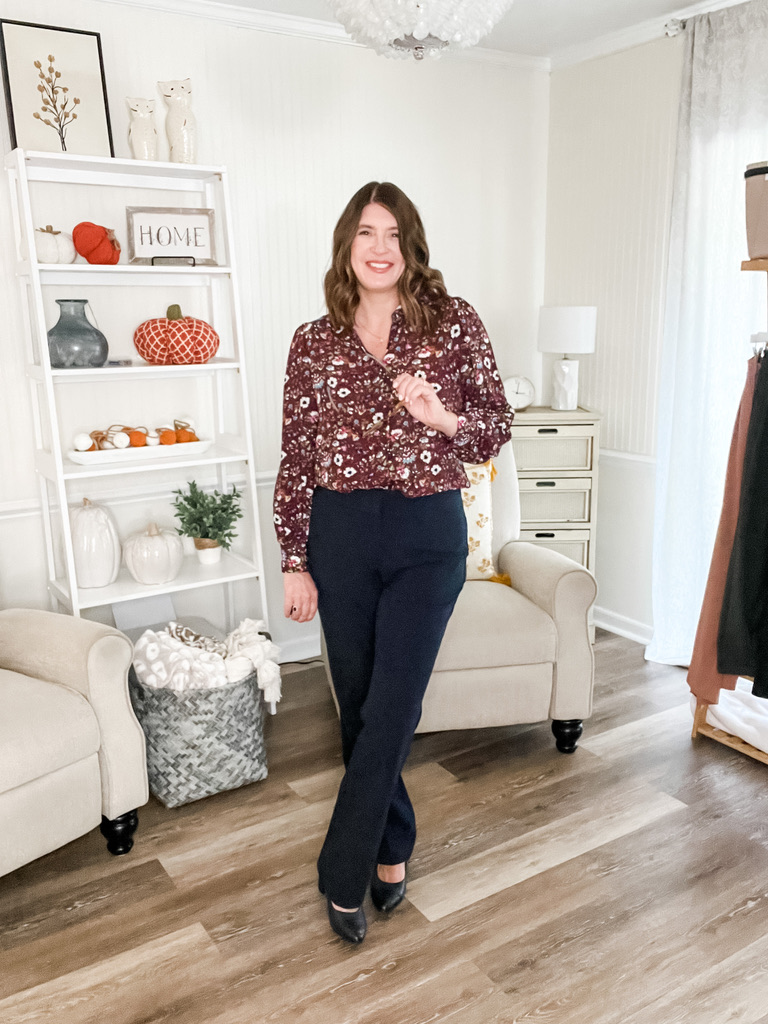 After you find your investment pieces, then look for more affordable options to create variety in your workwear wardrobe. This may include shells to layer under blazers or cardigans. Also affordable tops and sweaters will stretch the outfit combinations that you can create with your investment pieces.
Affordable Workwear Tops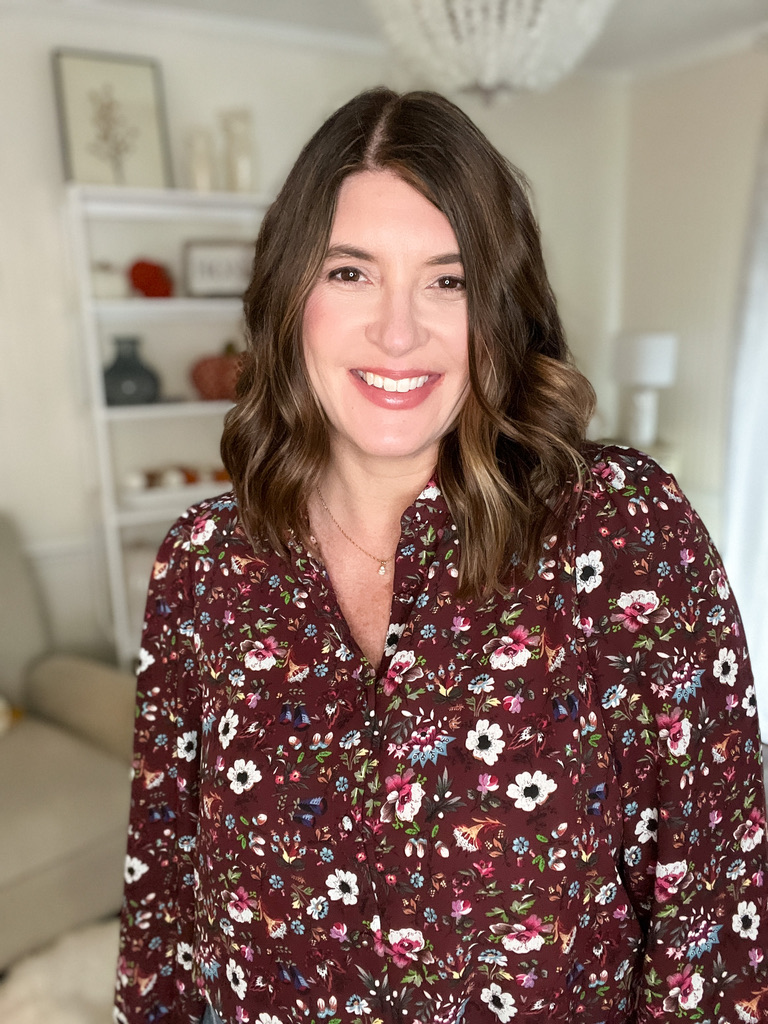 This fall floral button down top is from T.J. Maxx. It was under $20. It also looks nice with wide leg jeans for a casual day.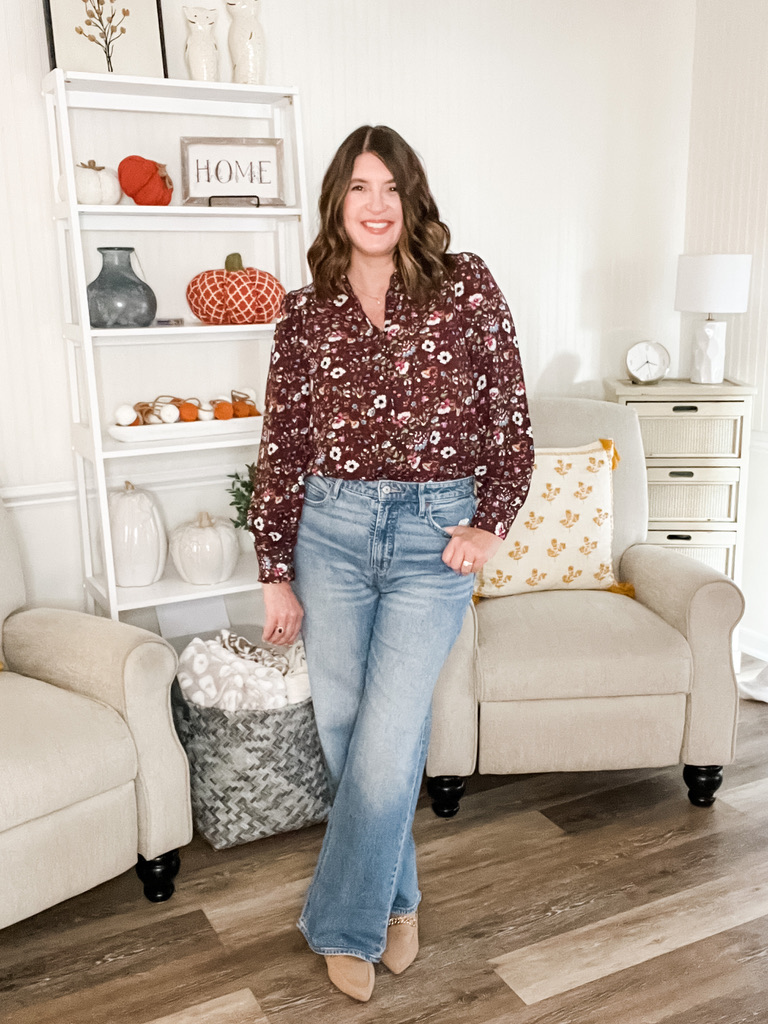 Similar Top // Jeans //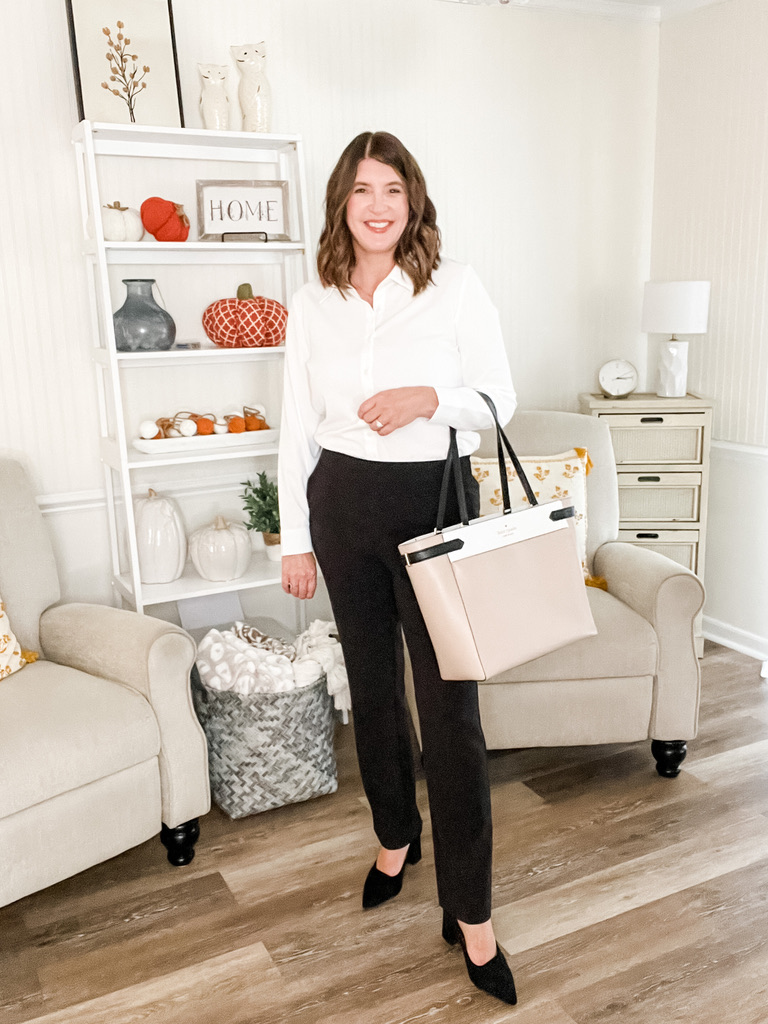 My favorite white button down from Amazon.
Below are some workwear tops from Amazon that are all budget friendly.
Budget Friendly Houndstooth Sweaters:
Time and Tru Pull On Dress Pants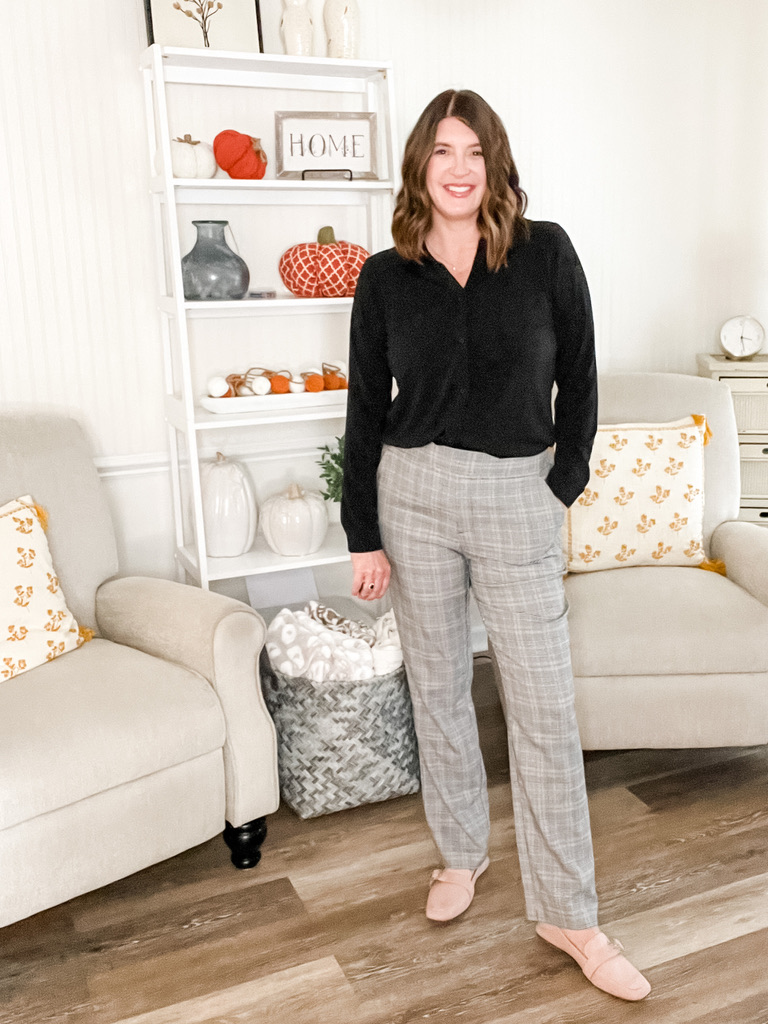 One of the best affordable workwear items that I came across are the Time and Tru Pull On Dress Pants from Walmart. I have them in three colors and they are so comfortable! Here I'm wearing the plaid, and I also have the grey and black. They have a straight silhouette with a flat front and an elasticized waist in the back. I'm wearing a medium.
Affordable Workwear From Target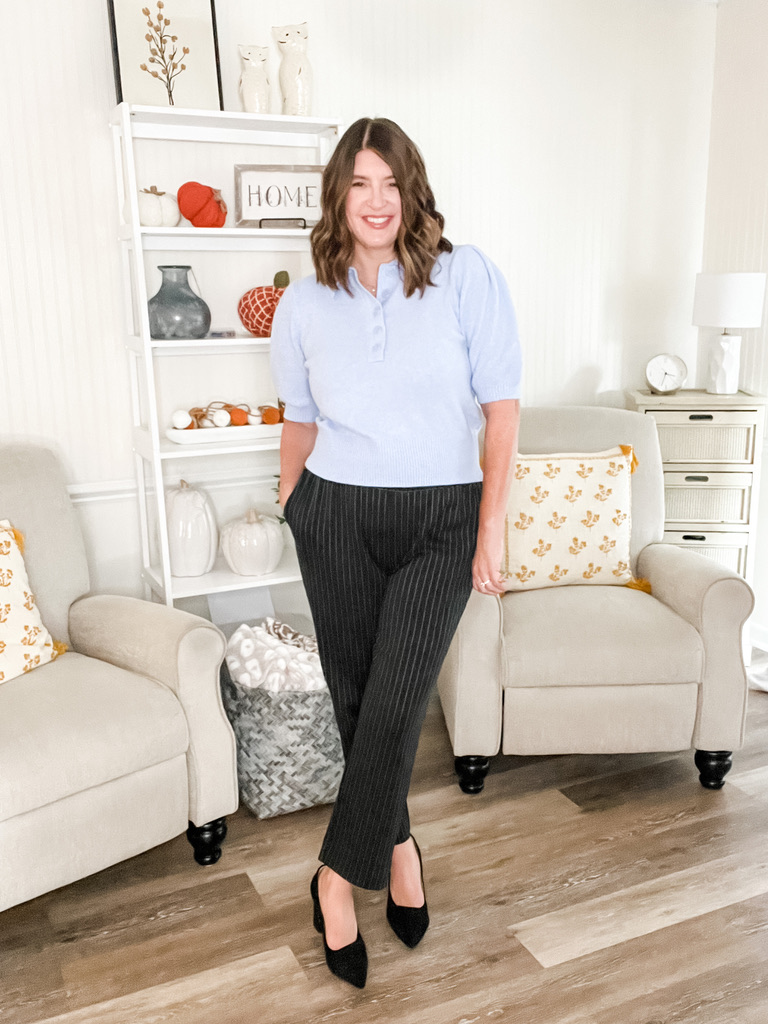 I picked up this outfit last week at Target. They have a pull on dress pant similar to the Walmart style. I chose the black pinstripe, but there are other prints and colors. I'm also loving this short sleeve sweater by A New Day. Both of these pieces are only $25 and would be great for workwear. I'm wearing a medium in the sweater and the pants.
4. Take Inventory Of Your Shoes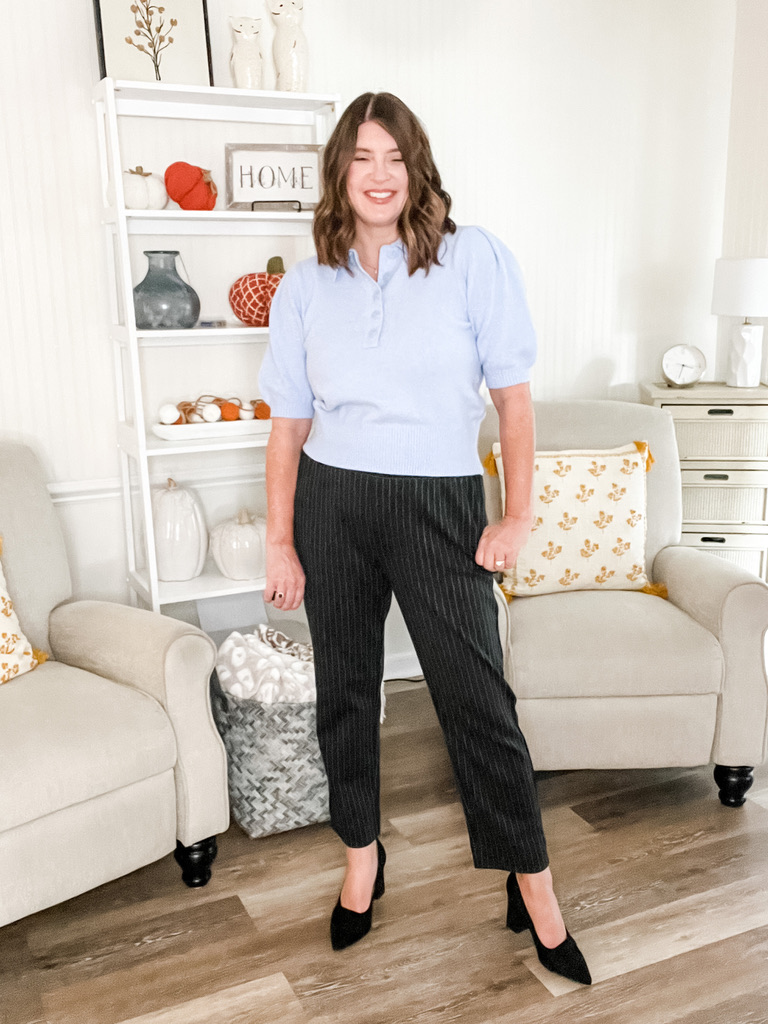 If it's been a while since you worked outside of the home, your shoe collection might need some updating. It's very likely that most of your shoes are casual with a few pair of heels thrown in the mix. For the workplace, look for classic shoes that are practical in neutral colors. By practical I mean a shoe that looks professional with a moderate heel…not a high heel that will have you feeling miserable within the first hour of your day.
I would suggest the following:
Mule or Ballet Flat
Loafer
Sling Back
Taupe or Neutral Tan Heel
Black Heel
Navy Heel
Below are the shoes I purchased for my personal workwear wardrobe. I prefer to shop on Amazon for most of my shoes, and I have been happy with the quality. The pink loafers and the black mules are from Walmart.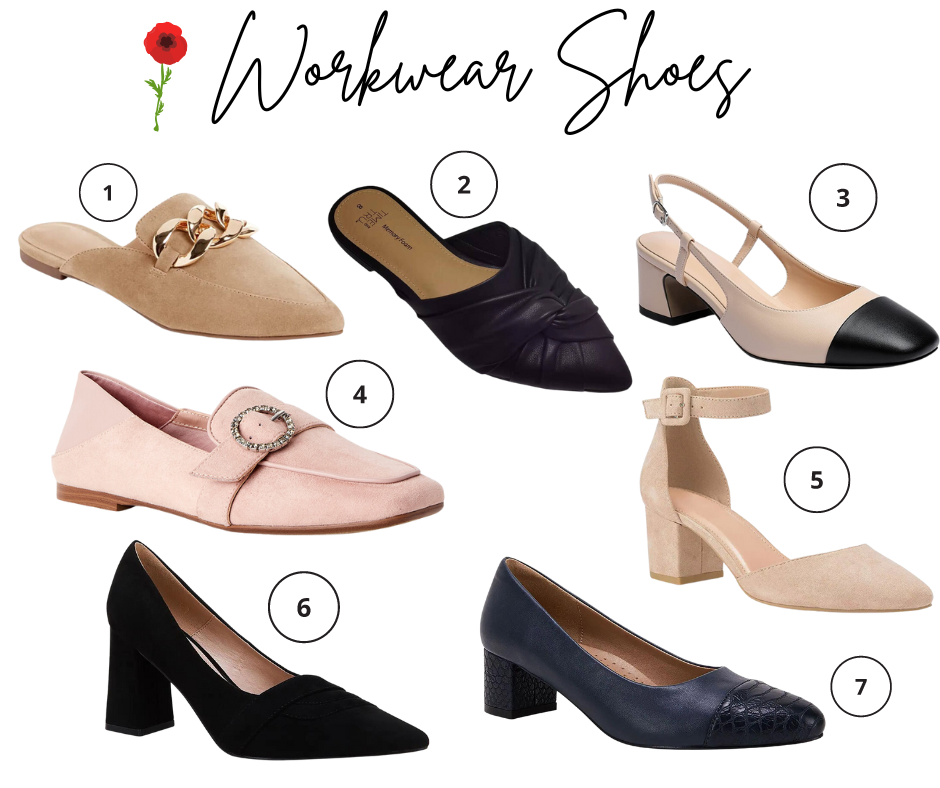 Click on the highlighted number for links to each pair of shoes.
5. Professional Tote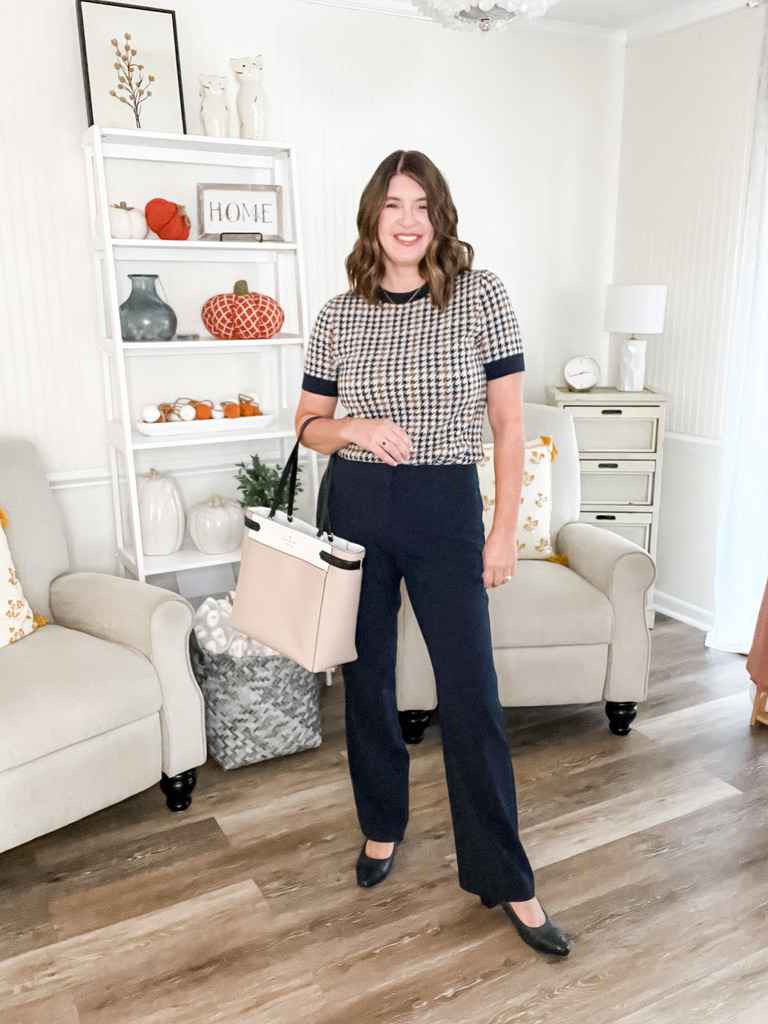 The handbag you choose for the workplace will again depend largely on where you work. For most women, some type of tote will come in handy to transport all the things you might be carrying back and forth, especially if you have lots of papers or a laptop to transport.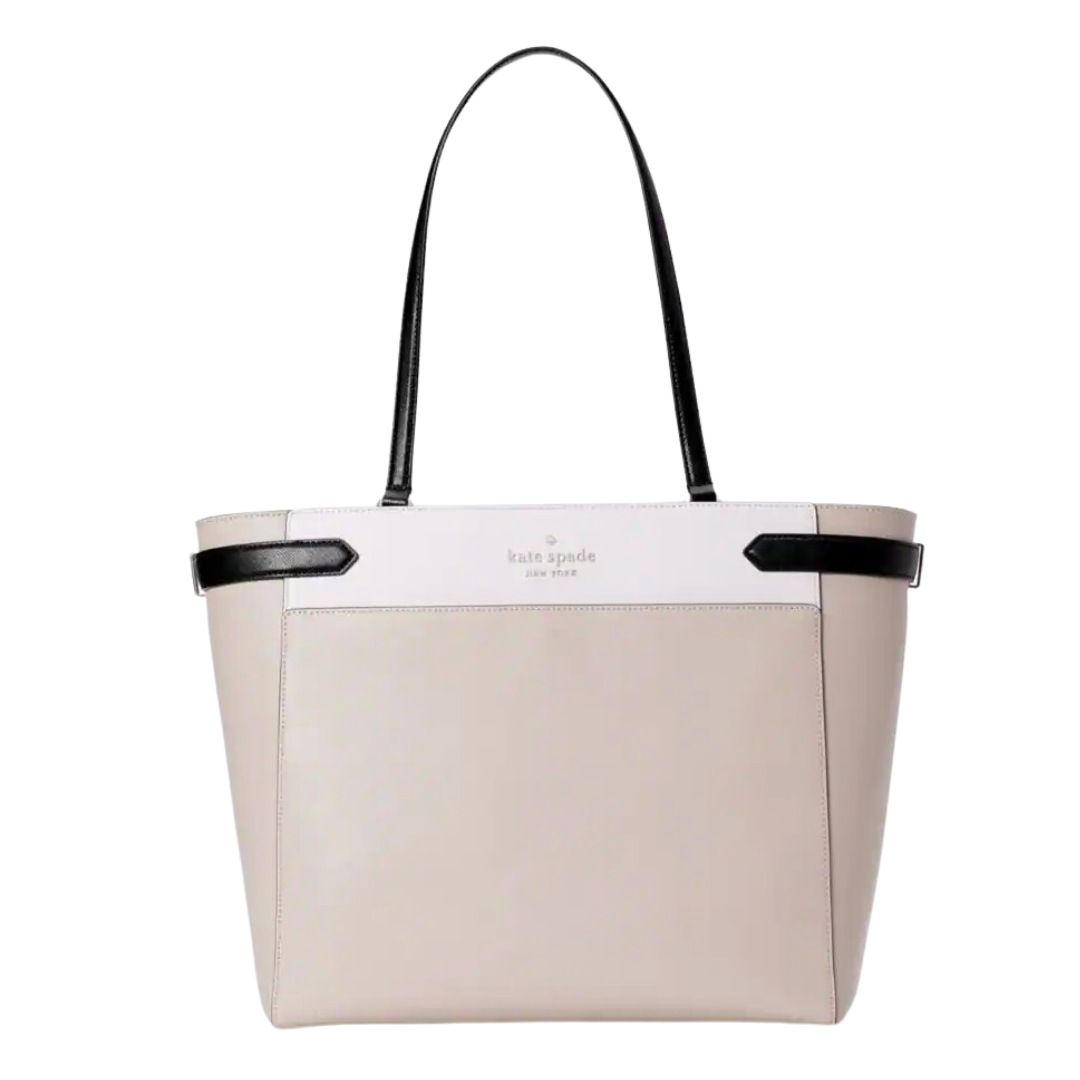 My favorite tote is this laptop tote by Kate Spade. It has plenty of room and has classic neutral tones.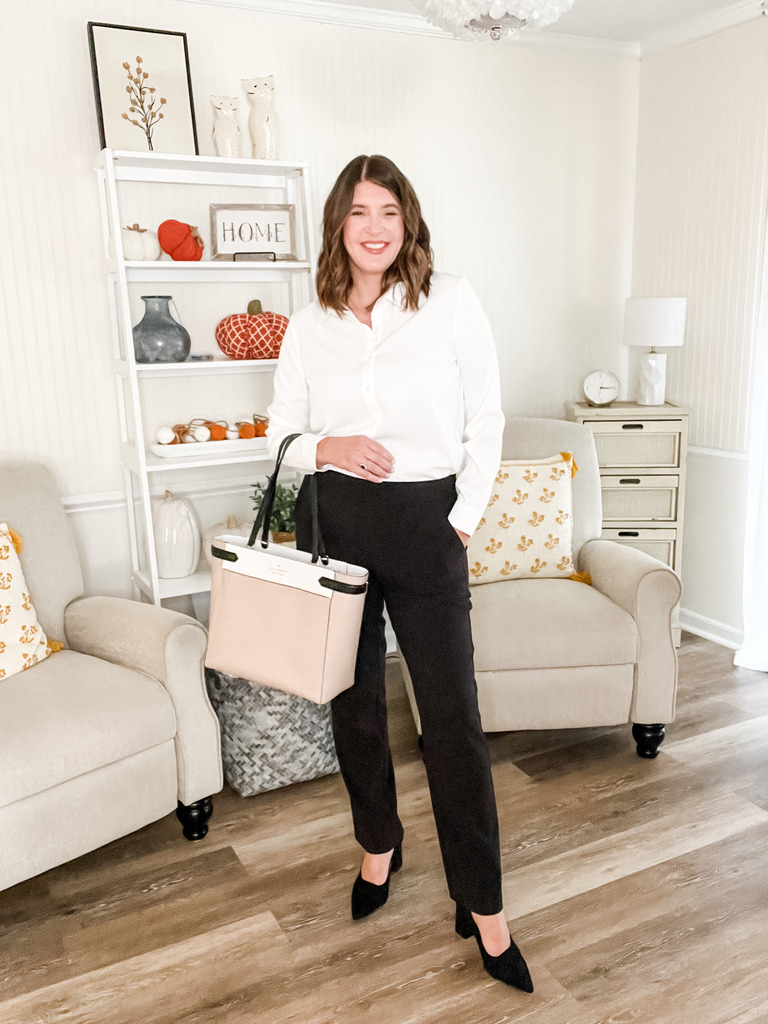 I've also included some look for less totes from Amazon:
6. Makeup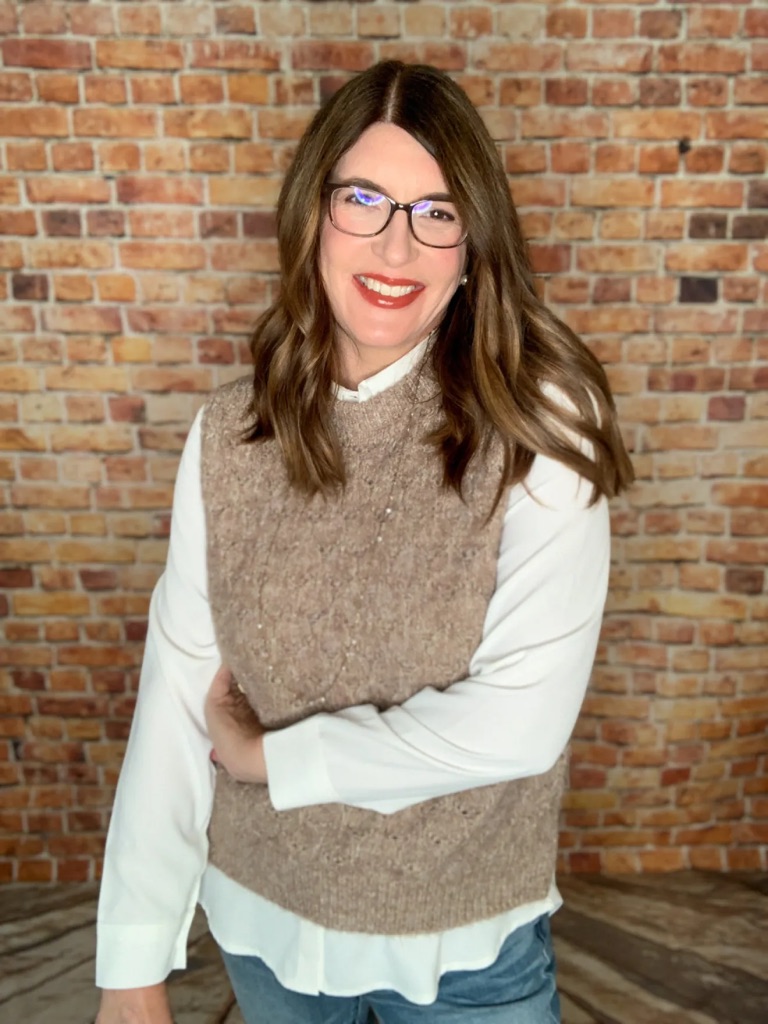 I consider makeup a part of your professional wardrobe. Dressing for the workplace means you present yourself as a total package. If you have gotten out of the habit of wearing makeup, then start simple. You may even want to visit the beauty counter for some makeup advice to get started with the basics. I have some beauty posts that you might be helpful:
If you are the type of woman who loves makeup and likes to go all out, then make sure you keep it classy and toned down for the office. Save the bold looks for date night or when you are not working.
Nails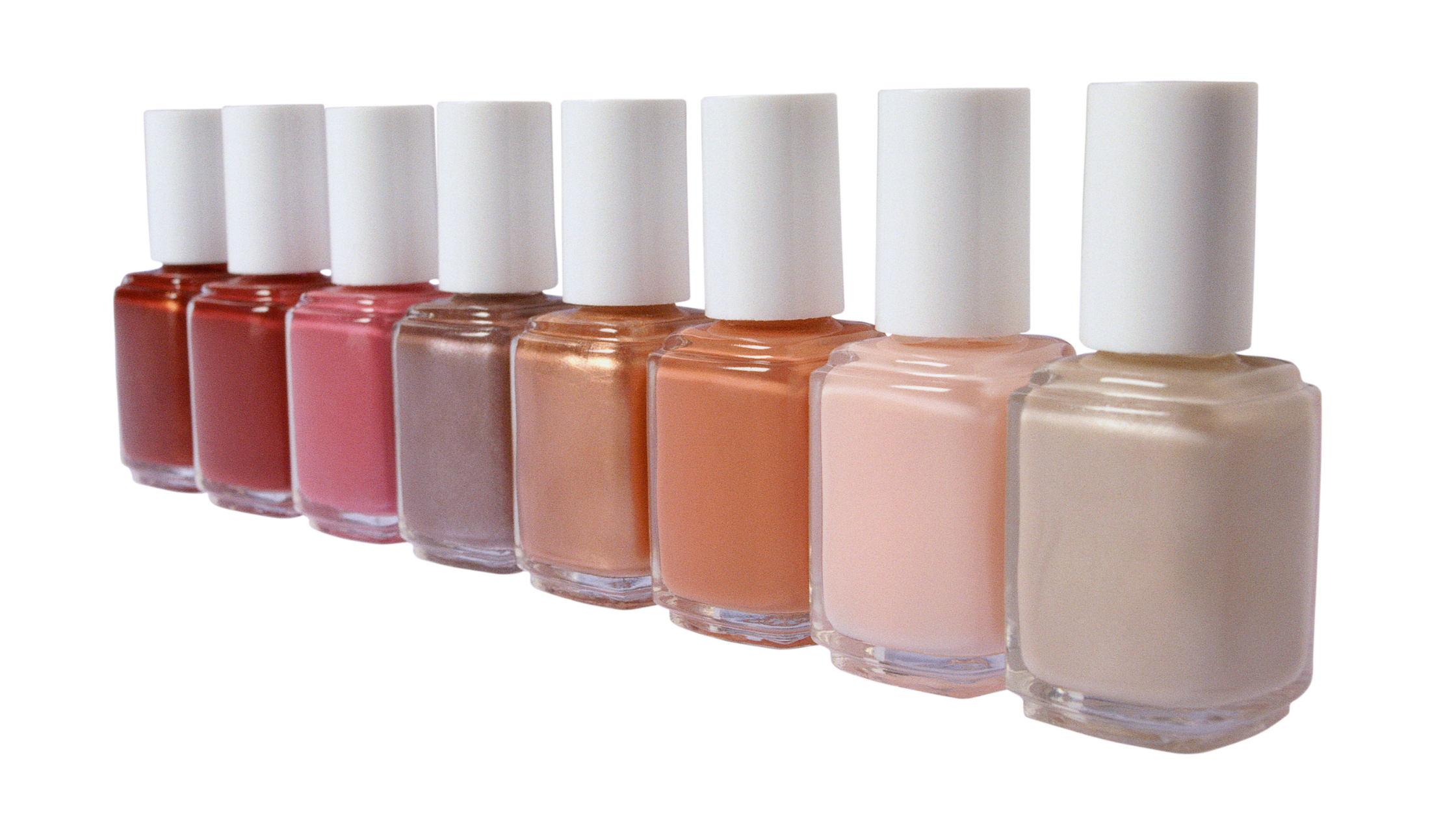 Another consideration is your nails. Well manicured nails in a natural or light color is a safe choice. You don't have to spend a lot of money, just do a home manicure and make sure those hands look professional.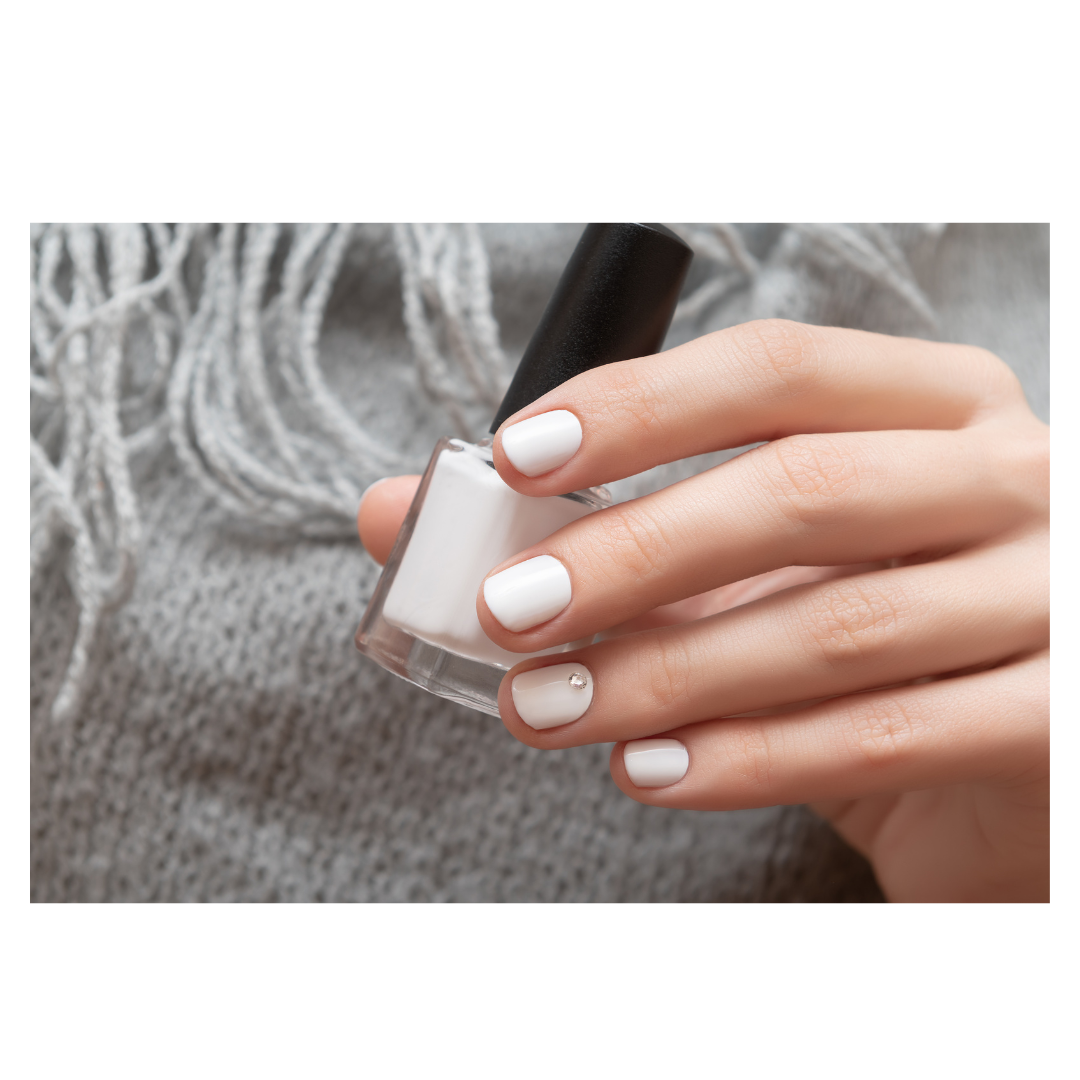 Some of my favorite neutral colors are:
I hope you enjoyed these 6 easy steps to build a professional wardrobe! If you have any questions, please leave them in the comment section below.