I think puffer vests are underrated. Over the years I have purchased them, only to stuff them in the back of my closet and forget about them. A few weeks ago, I saw this white puffer vest at Old Navy and I decided to give the vest another try. In fact, I went into my closet and put together 7 ways to wear a puffer vest.
Puffer vests are great at keeping your core warm, while still allowing for movement and flexibility. I like to wear a vest when I have lot of errands to run. I want to be warm as I get in and out of the car, yet I really don't like wearing a coat while I drive.
They also can look quite chic depending on how you style them. Let me show you the looks I came up with by literally just playing around in my closet. I will tell you now that most of these pieces are from last year, but I will link similar options if they are no longer available.
The vest I am wearing is the Frost Free Puffer Vest from Old Navy. It also comes in a few other colors.
Puffer Vest + White Sweater + White Jeans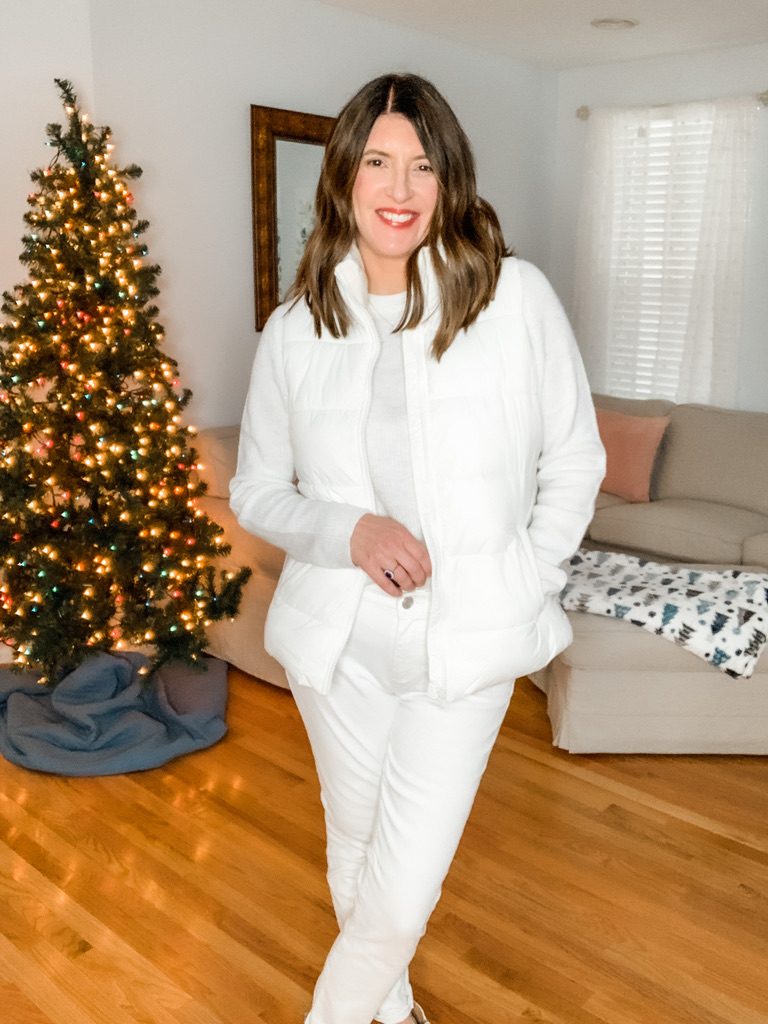 For this look, I wanted a column of white. A monochromatic look does not have to be black. My jeans are the white skinny jeans from Loft. Mine are from last year, but I will link the current style.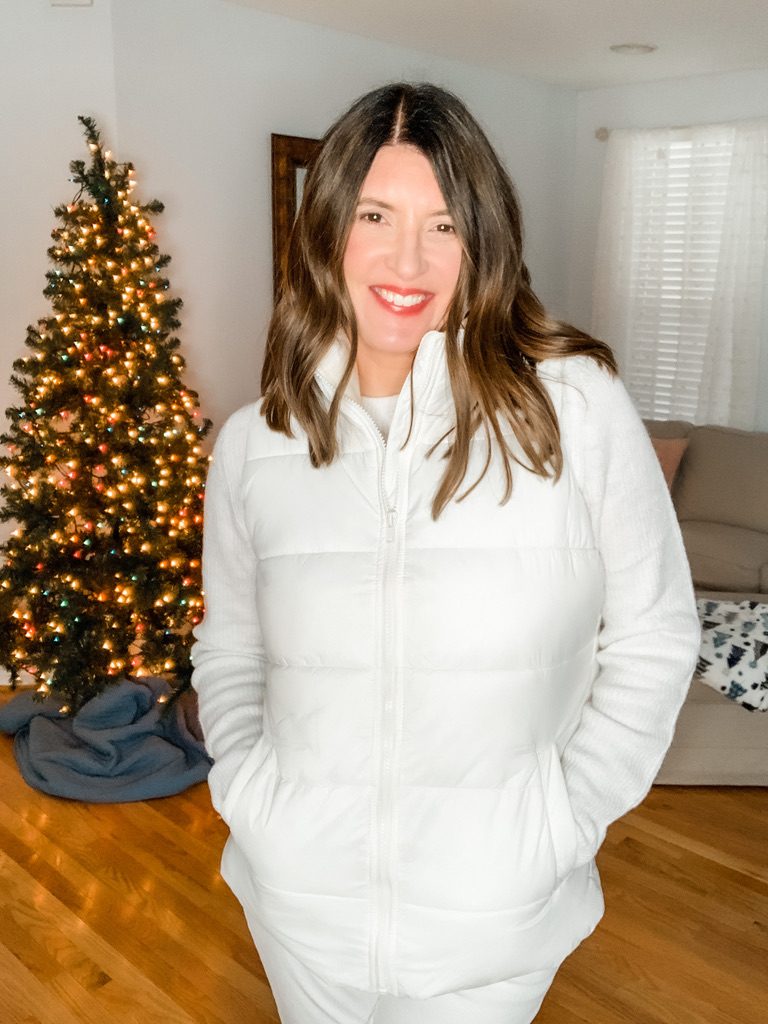 My sweater is also from last year. Old Navy has a very similar crew neck style this year as well.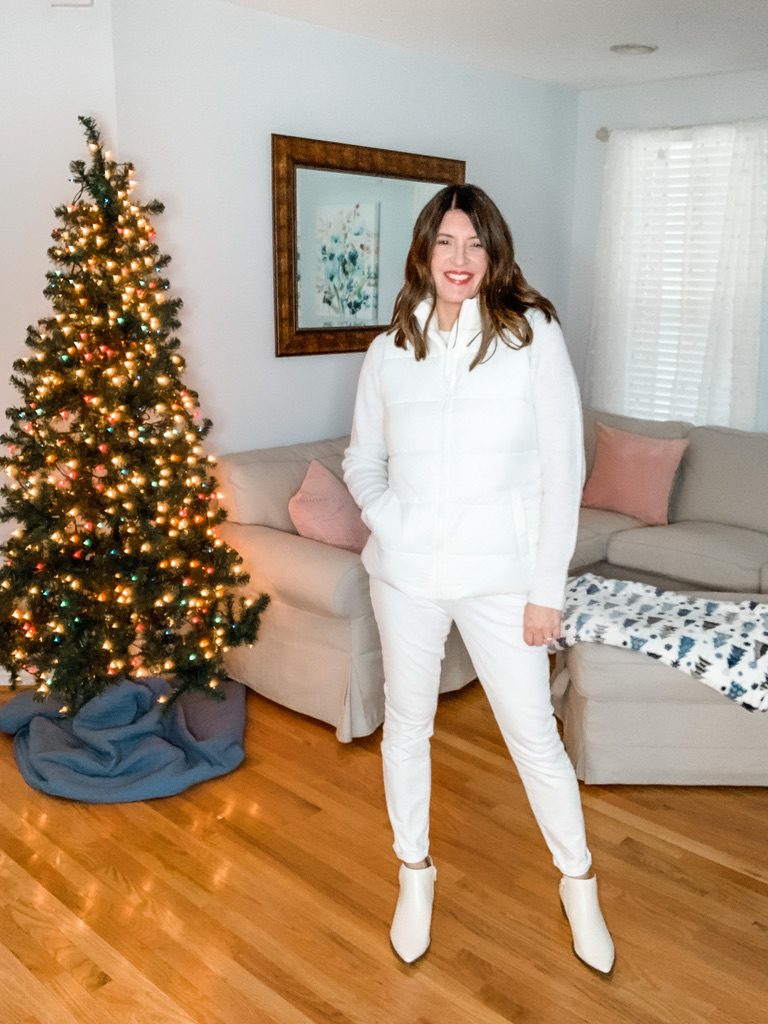 I thought this would be a good opportunity to wear my white ankle boots. These are from Walmart and I will provide a link if they are still available.
Puffer Vest + Camel Sweater + Skinny Jeans + Suede/Sherling Ankle Boots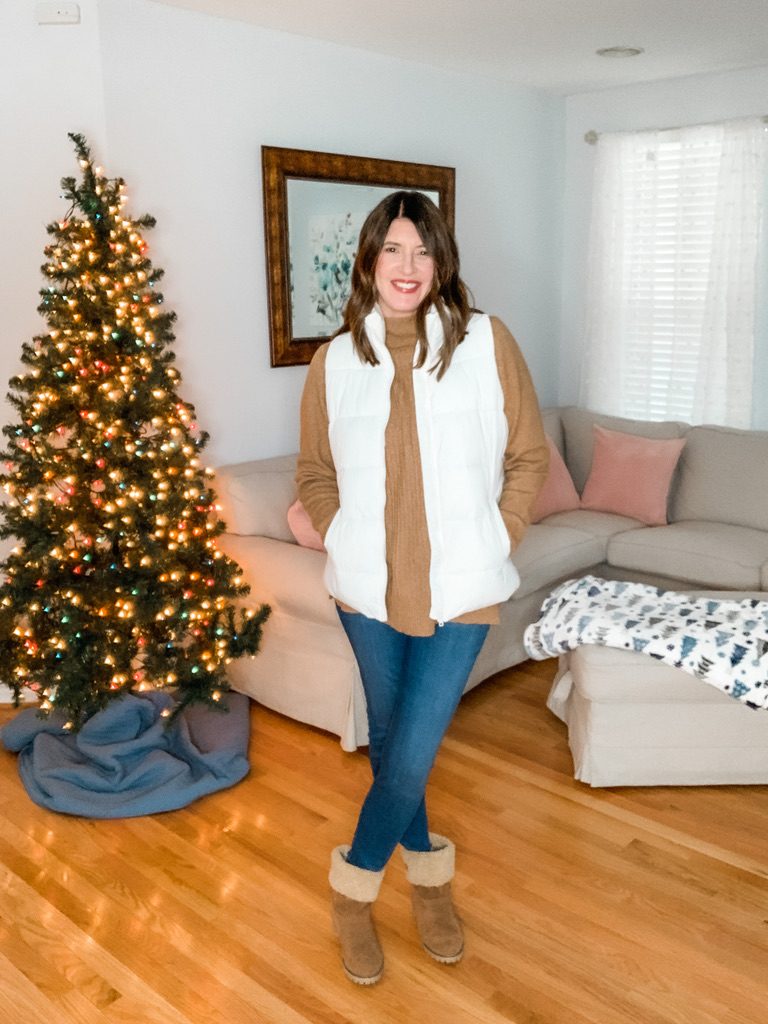 I look like I should be headed to a cabin in the mountains in this outfit! The white and camel are a nice combination and the boots tie everything together.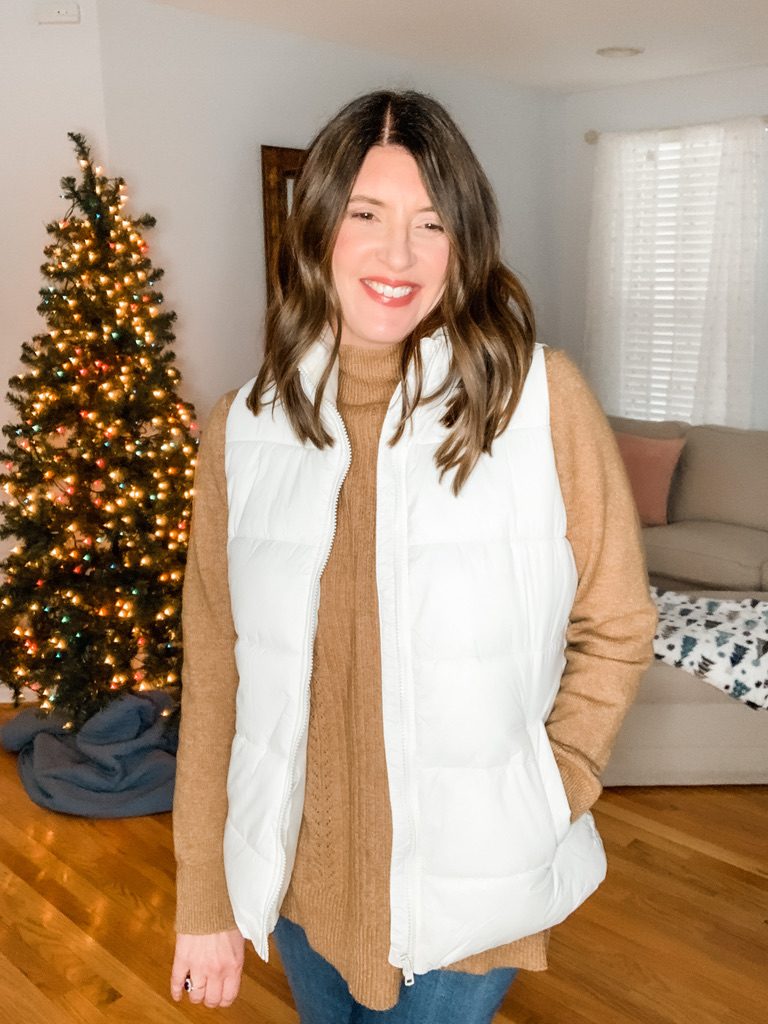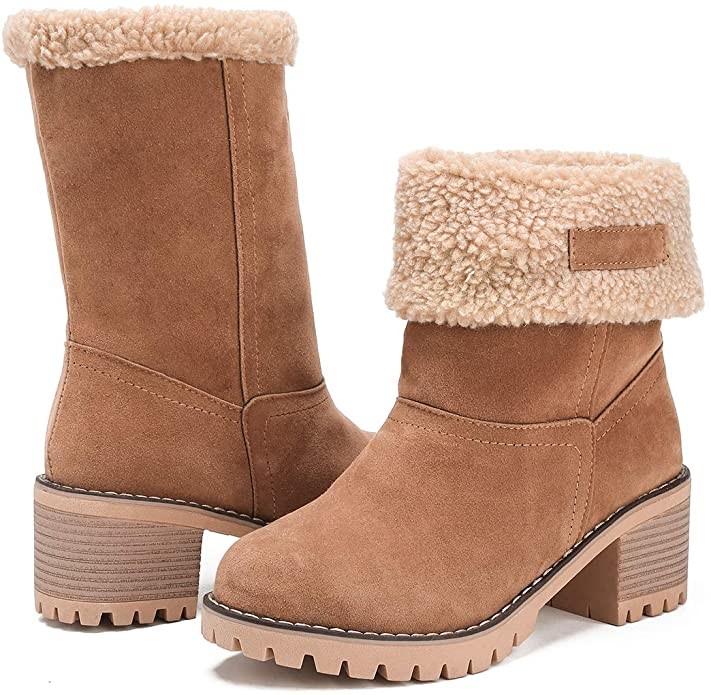 I purchased these boots last year, and I was thrilled to see that Amazon still has them! They come in several colors. I have the camel and the black and grey options are also really nice looking. The price is great on these, so be sure to click over to Amazon and check them out.
Puffer Vest + Striped Sweater + Skinny Jeans + Ankle Boots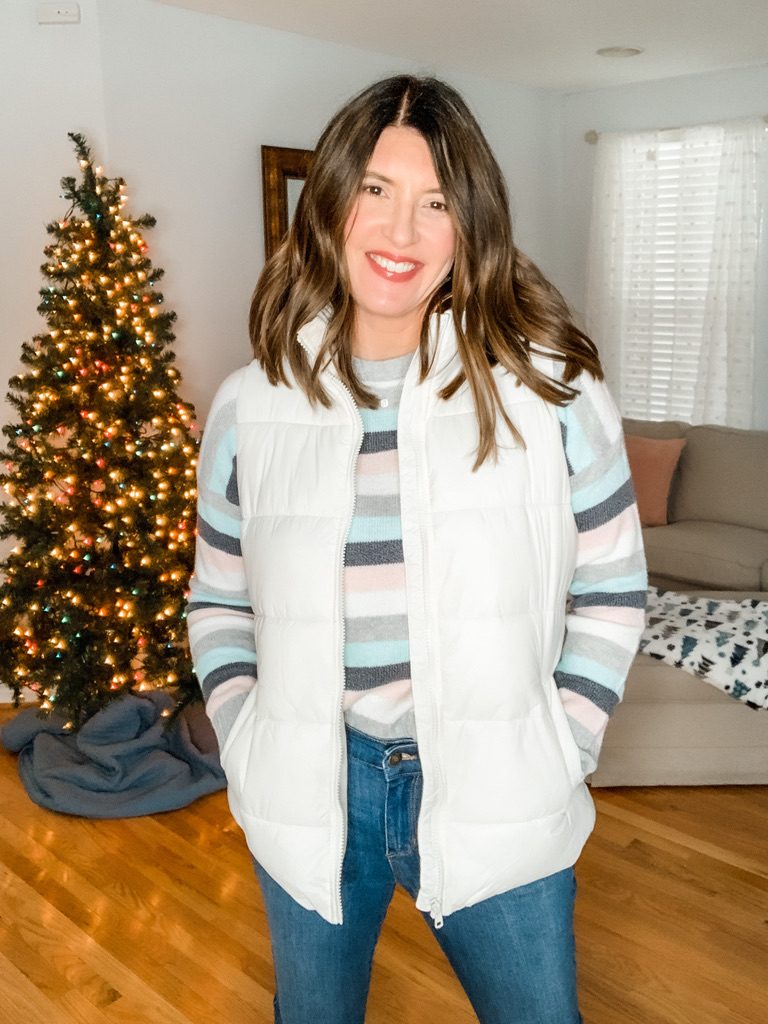 Remember this sweater? I have shown this one several times and it has been one of the most popular items that I have featured! It really is a great sweater, and it has been marked down. Right now it is still stocked in most sizes, but that could change by the time I publish this post.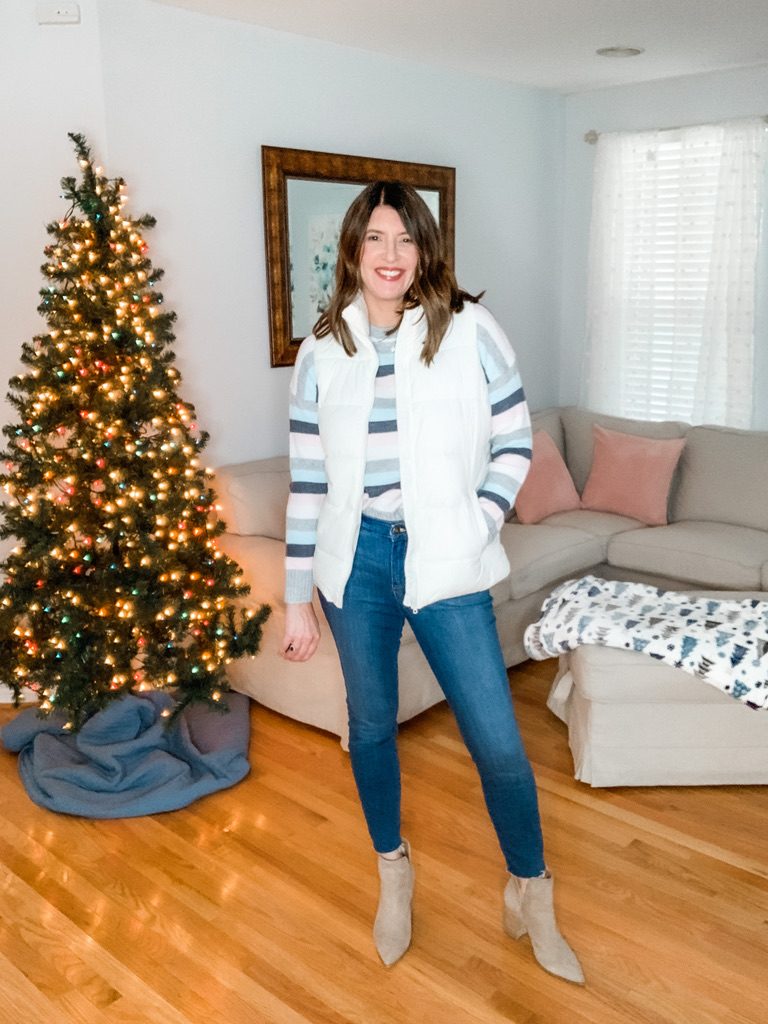 I paired the sweater with my Sophia Vergara Skinny Jeans. If you want some affordable jeans that fit well, I highly recommend the Sophia Vergara line. I have several pairs and love wearing them.
Puffer Vest + Waffle Knit Tee + Leggings + Sneakers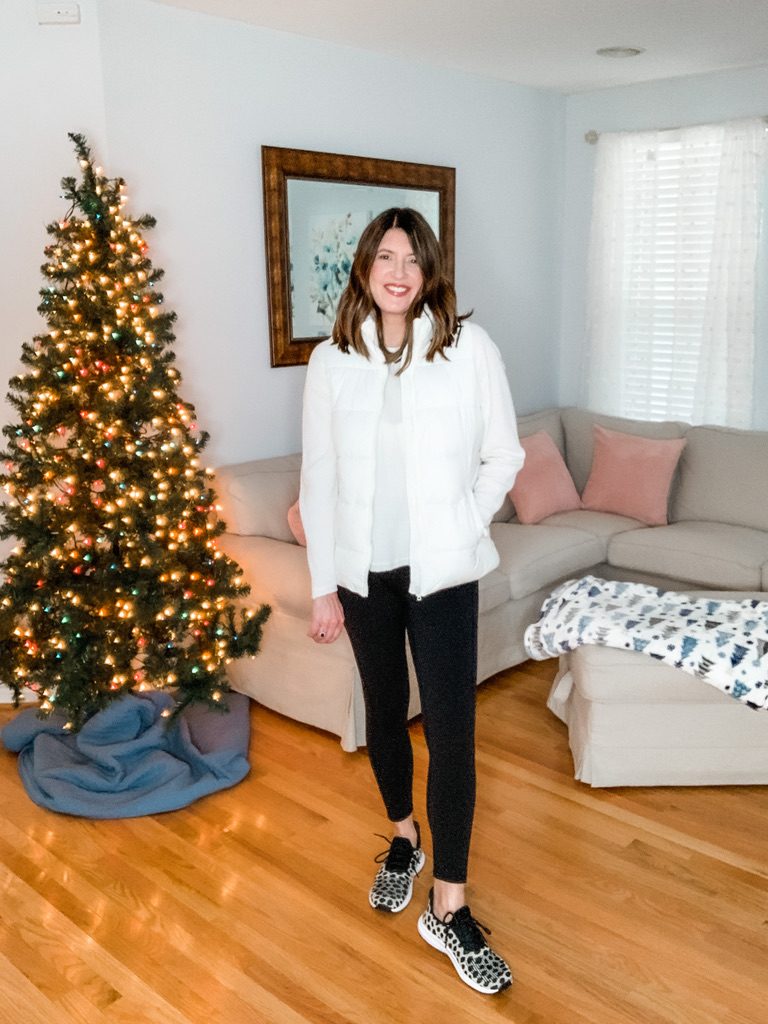 Another way to wear a puffer vest is with athleisure. This is the kind of outfit you will find me in most of the time these days. It's comfortable and great for taking a walk or playing with my dogs in the yard. If the weather is cool, a vest is just the perfect amount of warmth.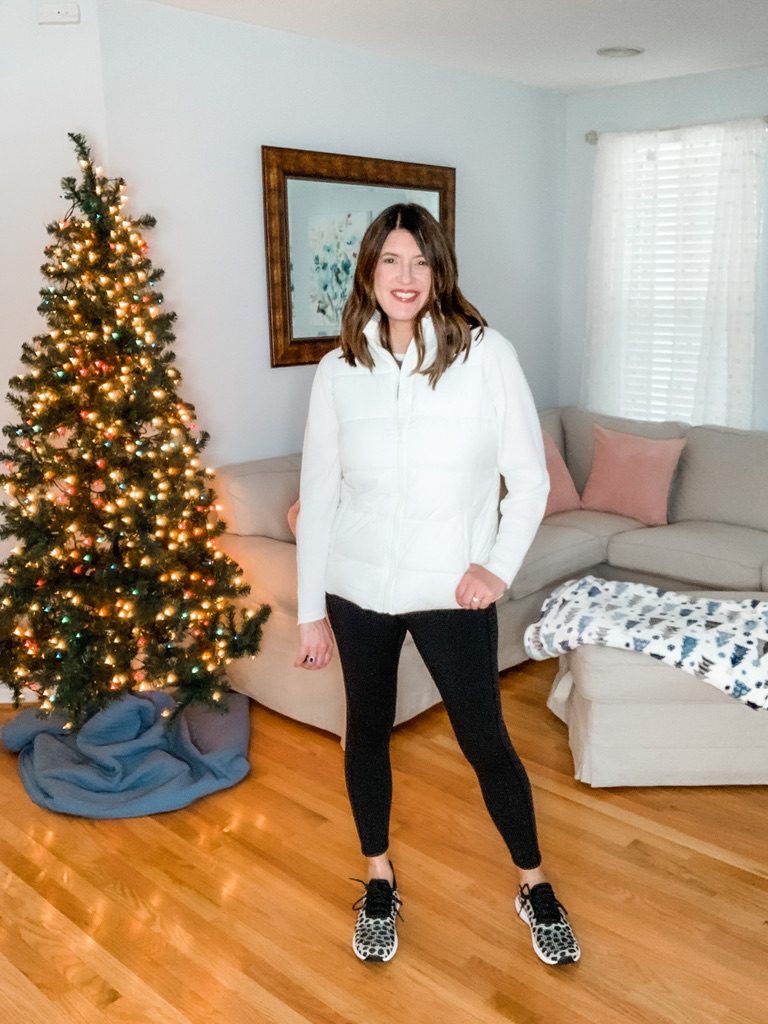 Puffer Vest + Sweater + Skirt + Tall Boots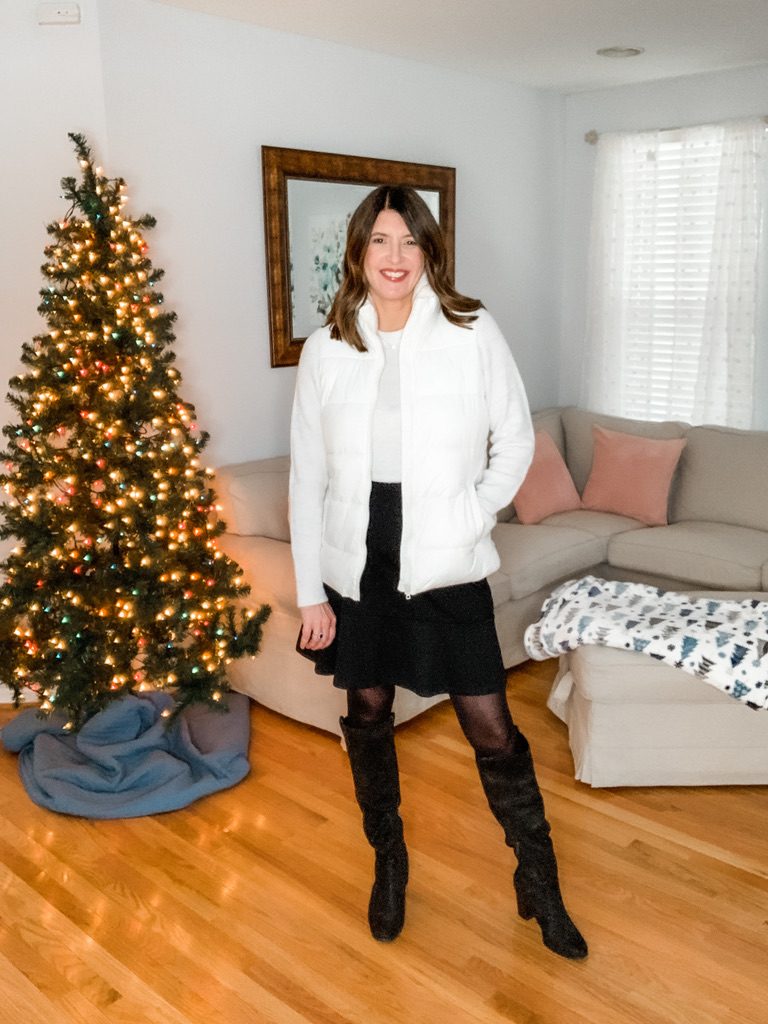 Here is another way to wear a puffer vest that is more dressy. I'm wearing the same white sweater as before with a black skirt from Loft. Then I just added tights and boots.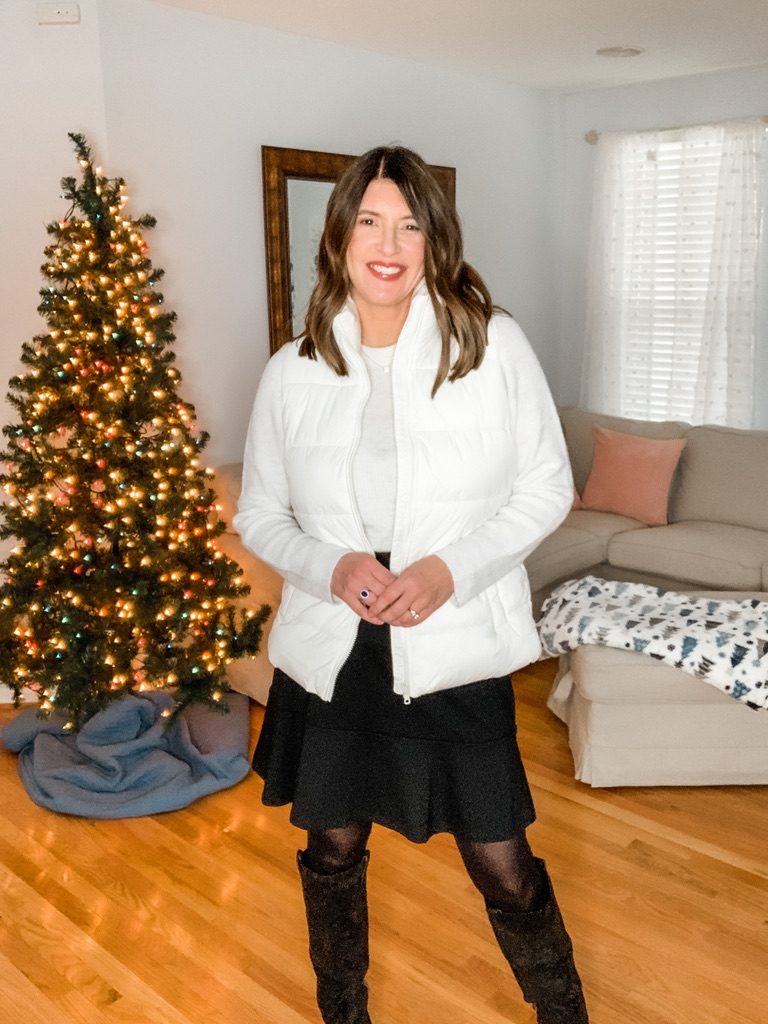 This is a chic look that could be worn for a variety of occasions. I think it looks even better zipped up.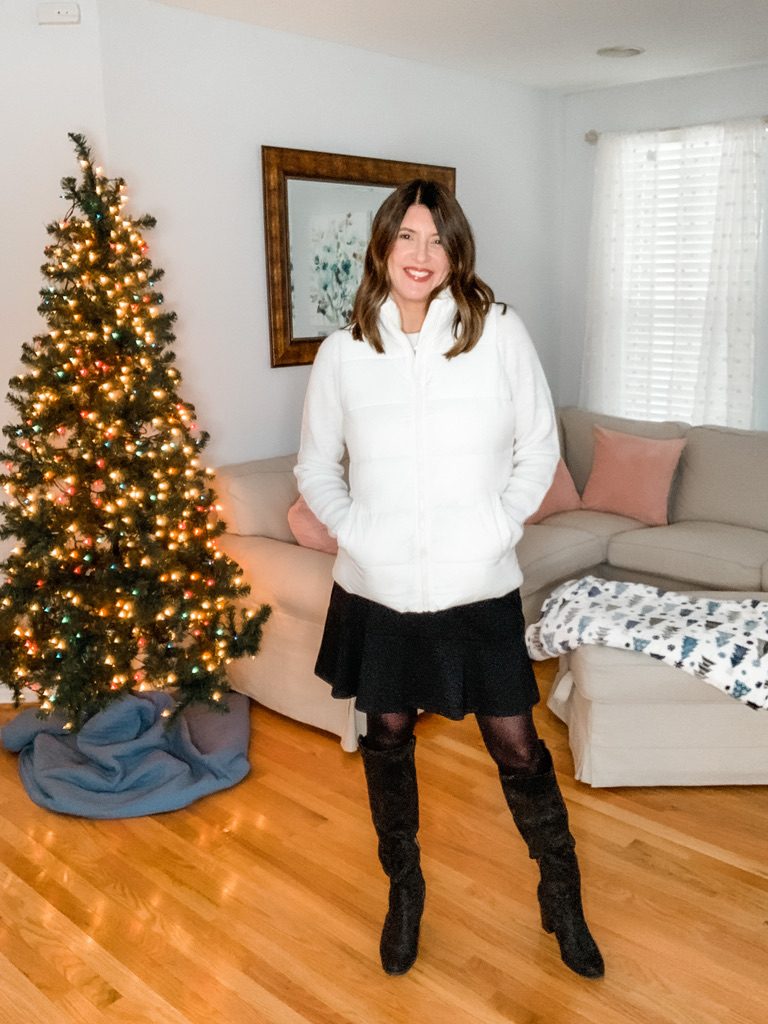 Puffer Vest + Chambray Dress + Tall Boots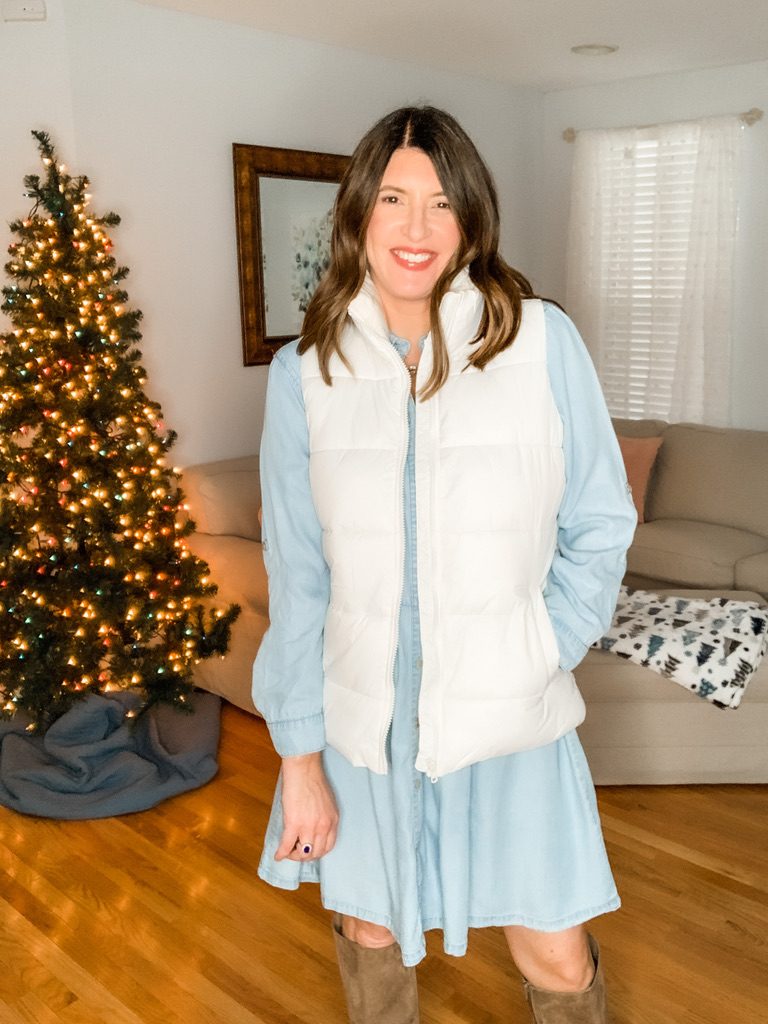 I originally purchased this Chambray dress back in the fall from H&M to feature here on the blog. It took forever to come in and by then it was sold out. Anyway, a Chambray dress is relatively easy to find so I will link something similar.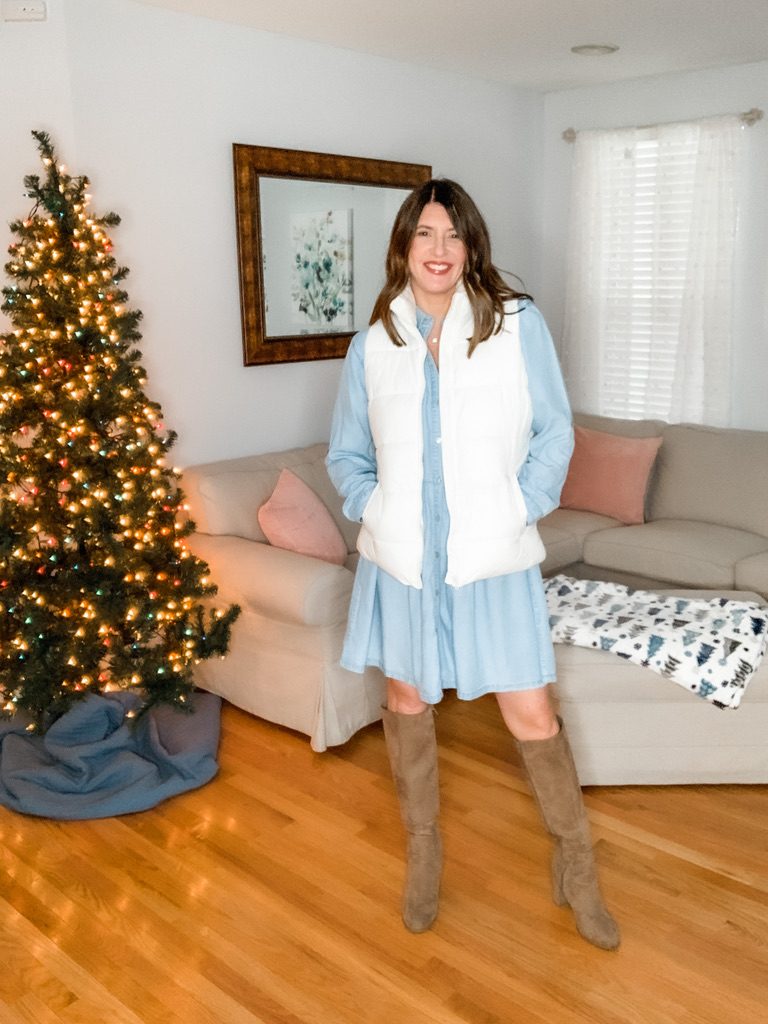 The point here is not so much that it needs to be a Chambray dress. Any dress with similar structure would work here. A swing dress like this one would also look great with a puffer vest.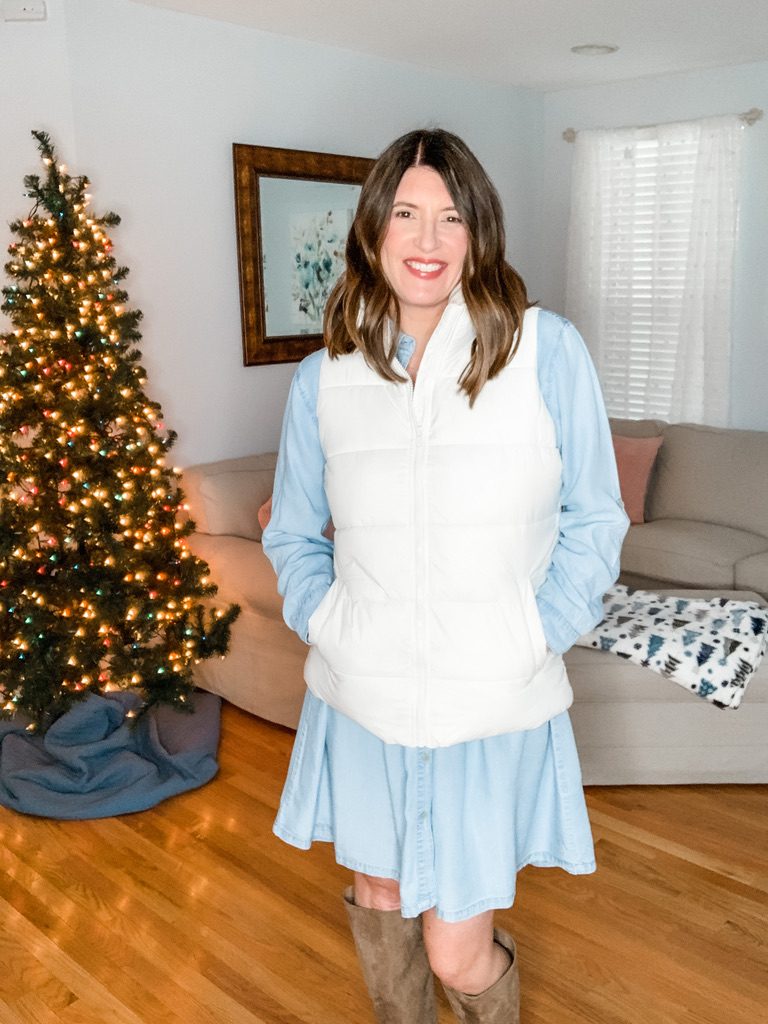 Puffer Vest + Bright Sweater + Flare Jeans + Booties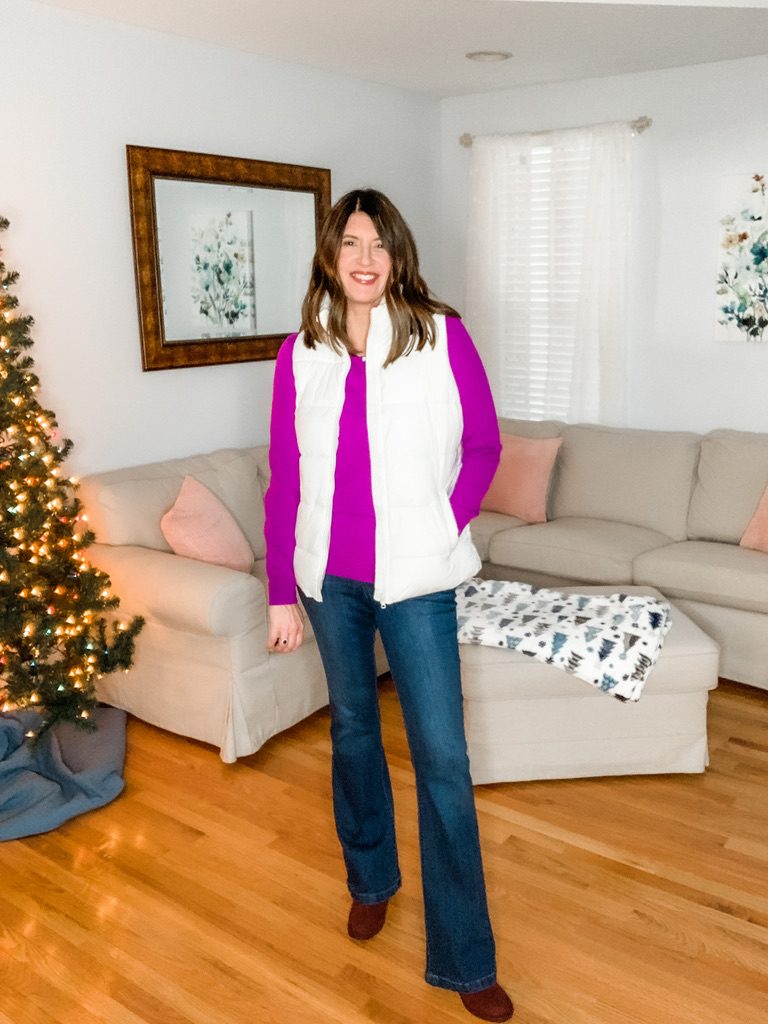 This is another way to wear a puffer vest that is more about the style and proportions than the exact pieces.
My sweater from Loft is from last year. I also wore it here layered with a dress. To see this post click here.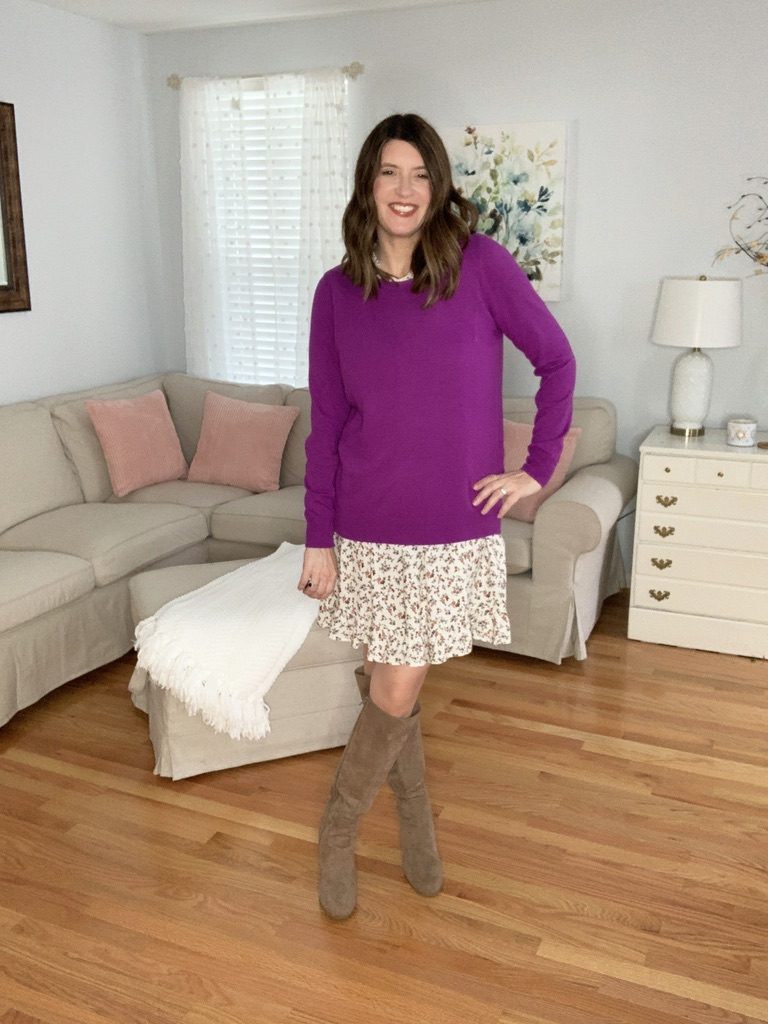 I'm wearing my Sophia Vergara Melisa Flare Jeans, which by the way are a pull on style. Total comfort! My ankle boots are a cranberry color that I purchased as Belk last year.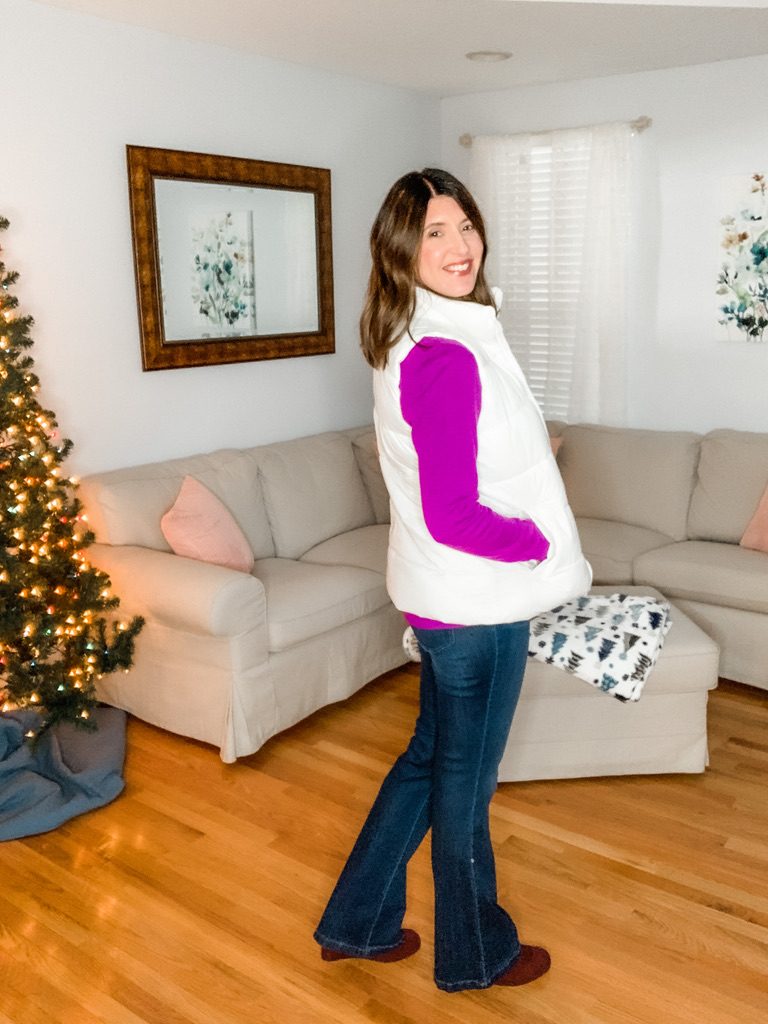 You could recreate this look simply by wearing a flare or boot cut jean with any color sweater or vest that you have.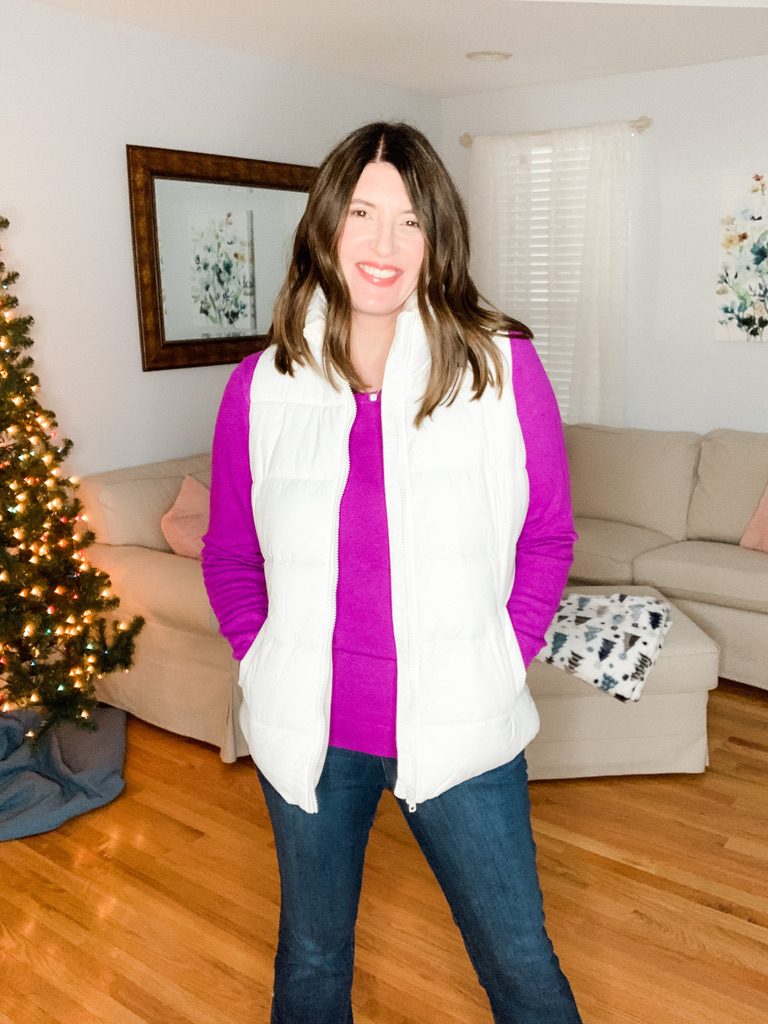 These are 7 ways to wear a puffer vest, and I could have come up with several more outfits. I think this was plenty to give you some ideas of how to style this piece. This is probably my favorite kind of post to create because I enjoy just going into my closet and experimenting with different looks. I hope you are inspired to do the same!