The most important thing that I have learned about putting together a wardrobe that I am happy with is to have good basic pieces. Since I have concentrated on basics and neutrals more, I find that I no longer have a closet full of clothes and nothing to wear! Today I'm hoping you will enjoy these winter basics from Amazon!
It's been a while since I have done an Amazon Prime Wardrobe box. I recently put one together and those are the pieces that I will be showing you today. If you are not familiar with Amazon Prime Wardrobe, here is how it works. First you must be an Amazon Prime Member. Then you click on the Amazon Prime Wardrobe feature, and you will be able to pick up to eight items to put in your box. Not everything on Amazon is eligible for Prime Wardrobe, but the items that are included will be listed for you. The nice thing about Prime Wardrobe is that you are not charged a penny up front. You have one week once you receive your box to try on and decide what to keep or return. There is no minimum purchase, service charge, or shipping fee! You will only be charged for the items that you keep. Sweet deal!
Daily Ritual Sweater & Pencil Skirt Set
I don't think I have ever seen a set like this before. This is a sweater and pencil skirt both made of sweater material. These are great basics for a couple of reasons. First, the color is neutral which is always a good idea, and second because both pieces can be worn with other things.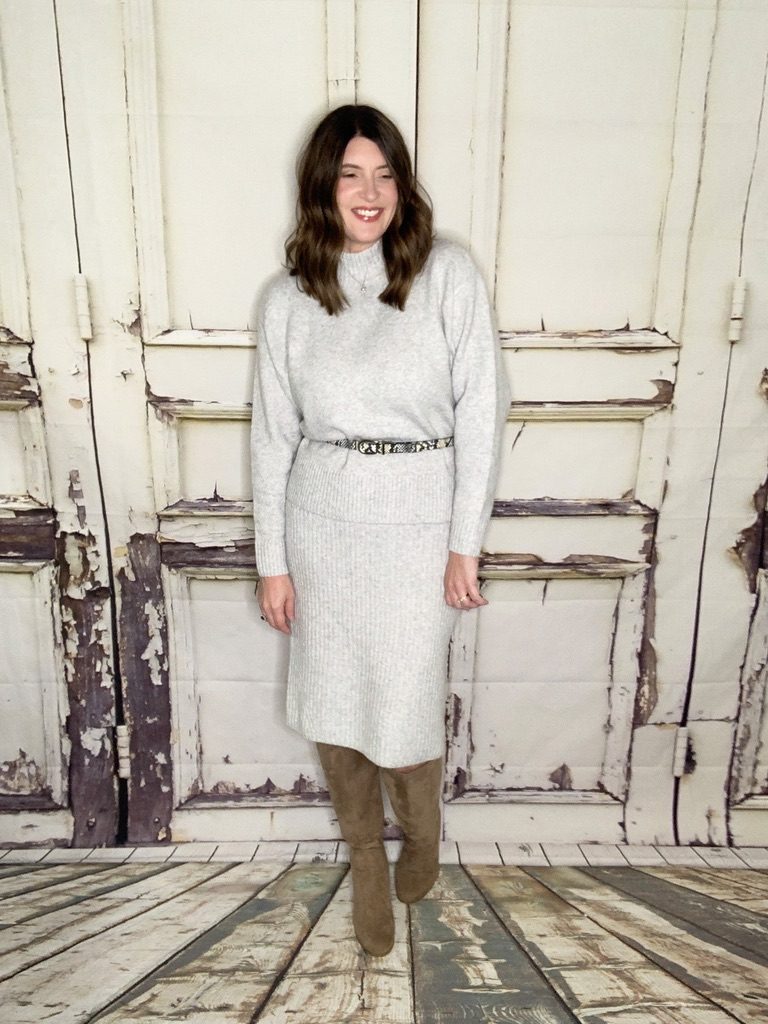 It takes on the appearance of a sweater dress, especially if left untucked like I have done here.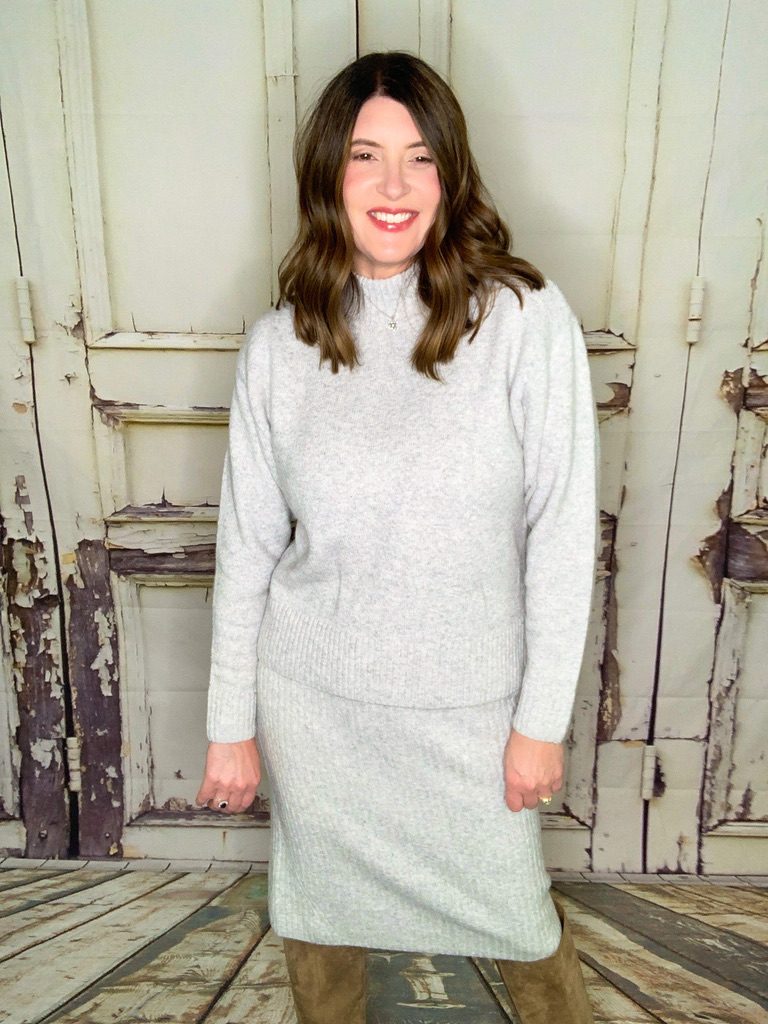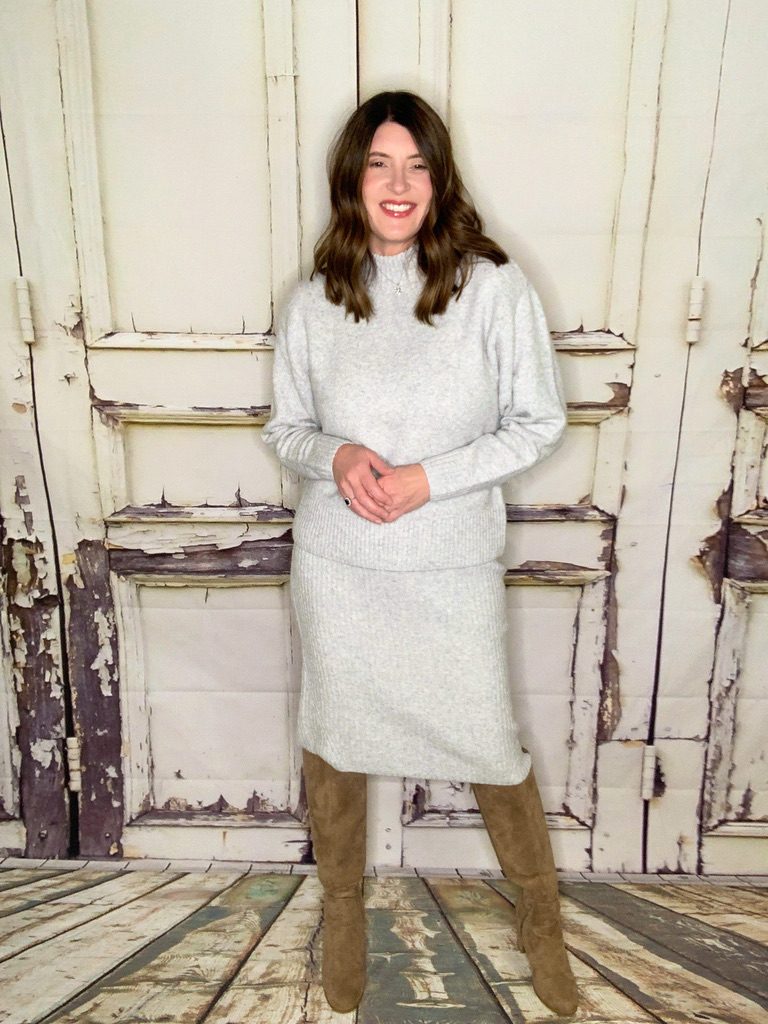 My shape always looks better with a defined waist, so for me personally I would wear this belted.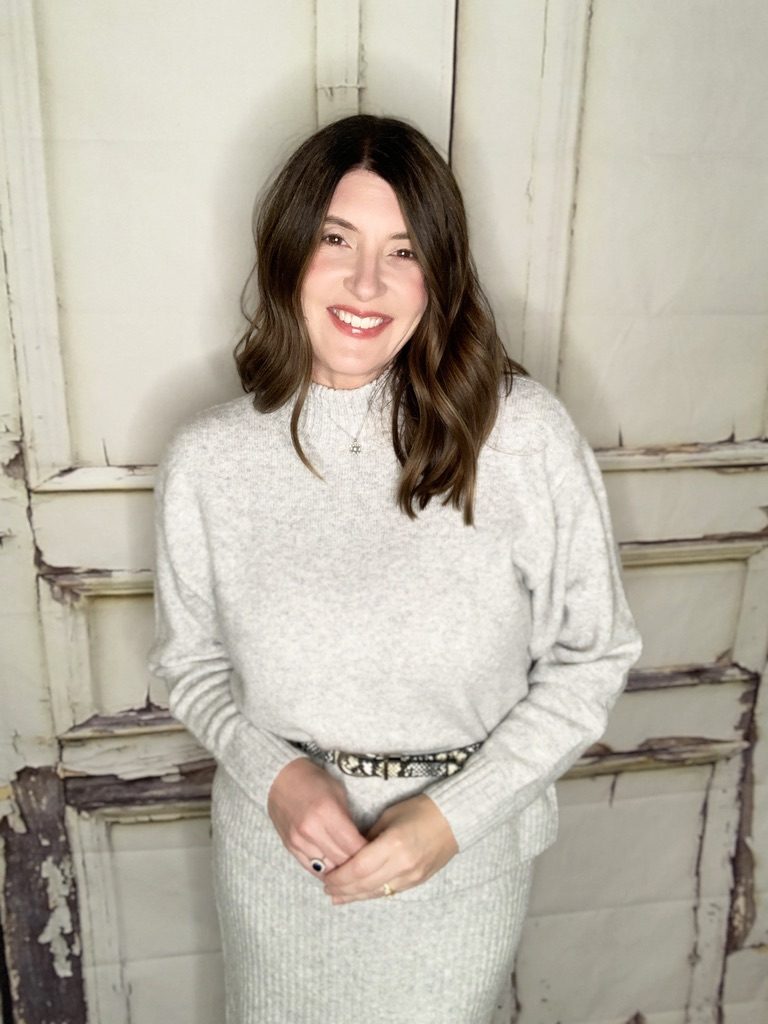 The set runs TTS and I am wearing a medium. It also comes in a few other colors if grey is not your thing. I decided to pair it with tall boots that are also in a neutral tone.
Comfortable Wear At Home Outfit
You can't talk about winter basics without some good comfortable wear at home outfits. With so many people staying home more and working from home, I think it is more important than ever to have lounge outfits that still look nice. It just makes you feel better to be put together, even in a casual way.
This french terry hoodie and grey lounge pants are great winter basics from Amazon. The fabric is so soft and both pieces have a flattering fit.
French Terry Hoodie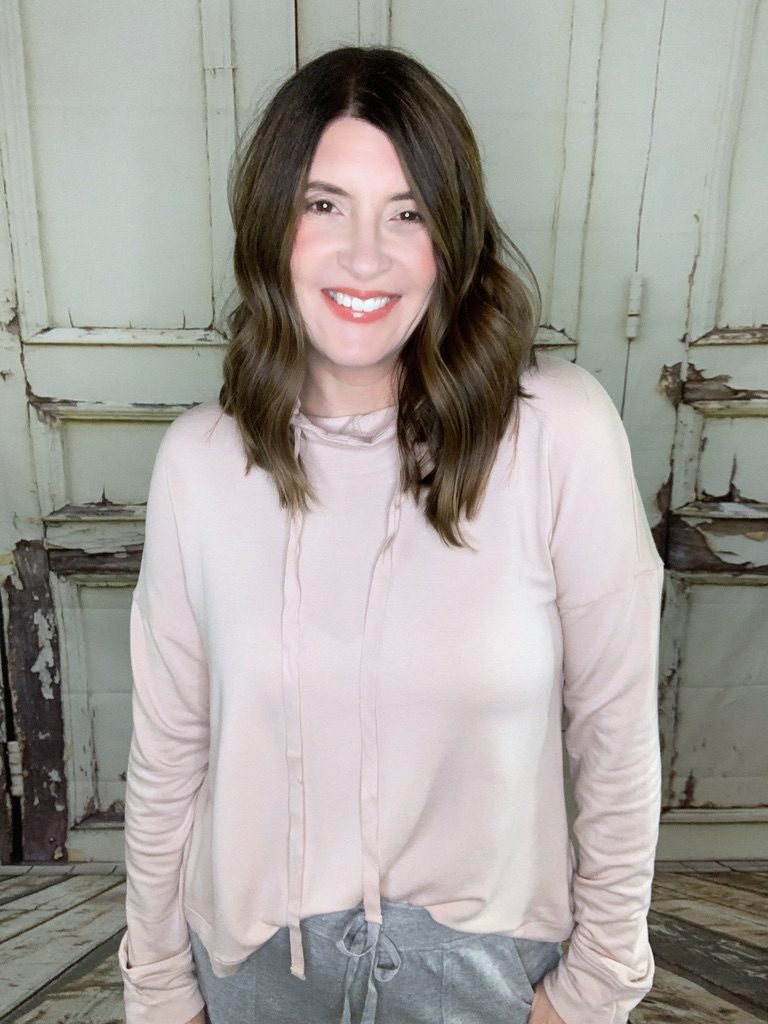 The french terry hoodie is an a soft pink color. This is a medium weight fabric that is warm, yet not too hot to wear in the house. It has a boxy fit that front tucks easily into the pants.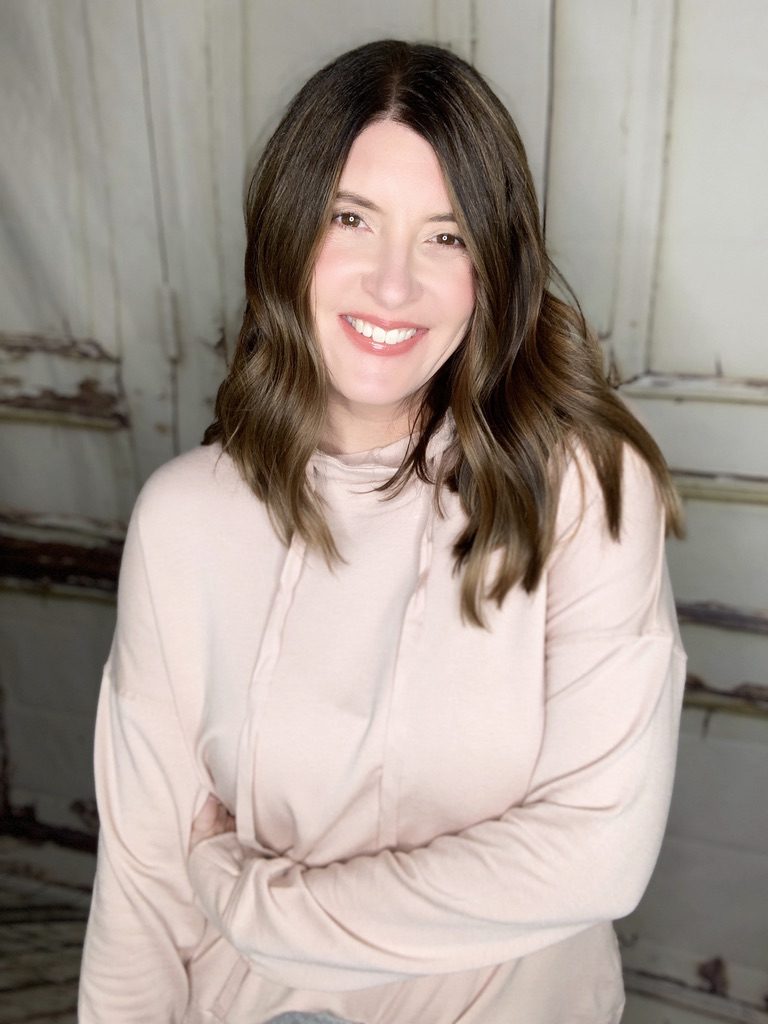 I am wearing a large, which is a good fit for me. It also comes in a few other colors.
Loungewear Pants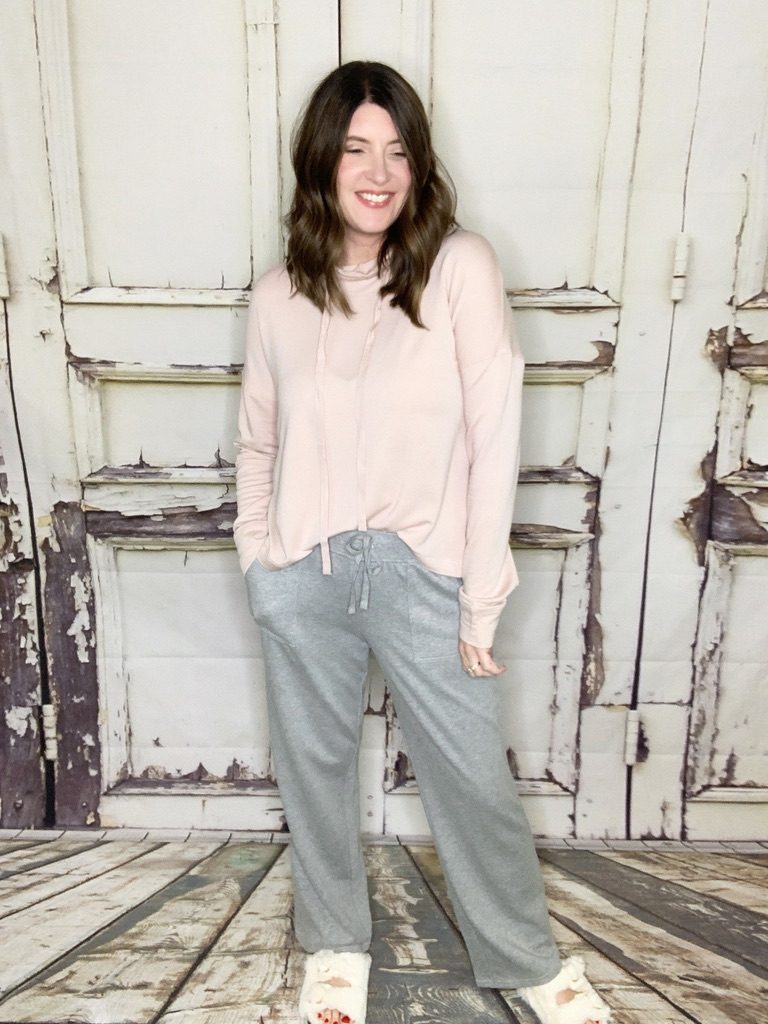 These loungewear pants are a perfect match for the hoodie. They are the same soft fabric and they run TTS. I am wearing a medium. Other color options are available.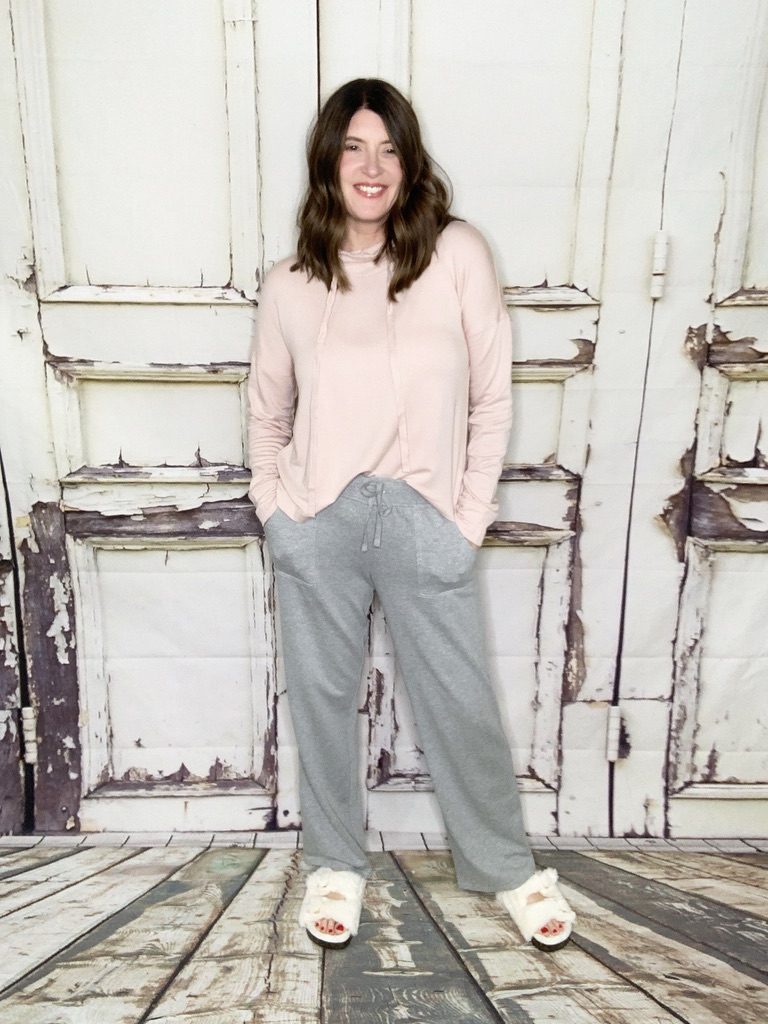 My fuzzy slippers are not from Amazon. I have shown these before and they are from Walmart. There is a similar style available on Amazon, so I will link both. I wear these all the time! They keep your feet warm without making them sweaty. Also they have a hard sole in case you need to walk outside in them.
Mock Neck Sweater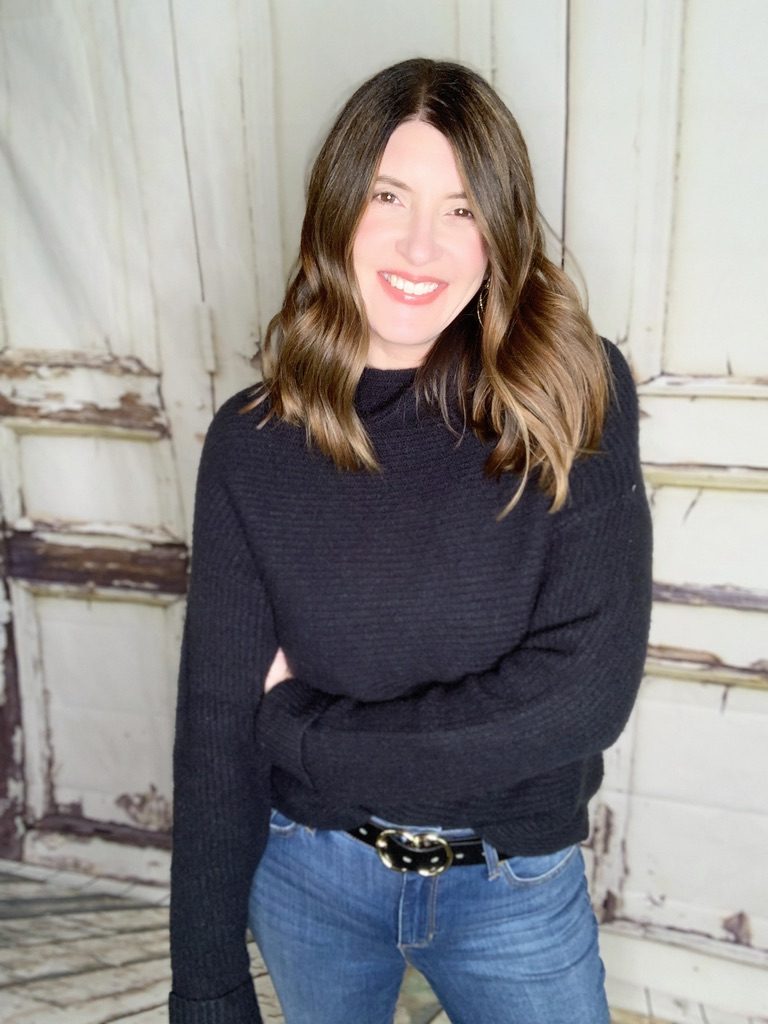 My next winter basic from Amazon is a black mock neck sweater. This is a classic piece that can be worn in a variety of ways.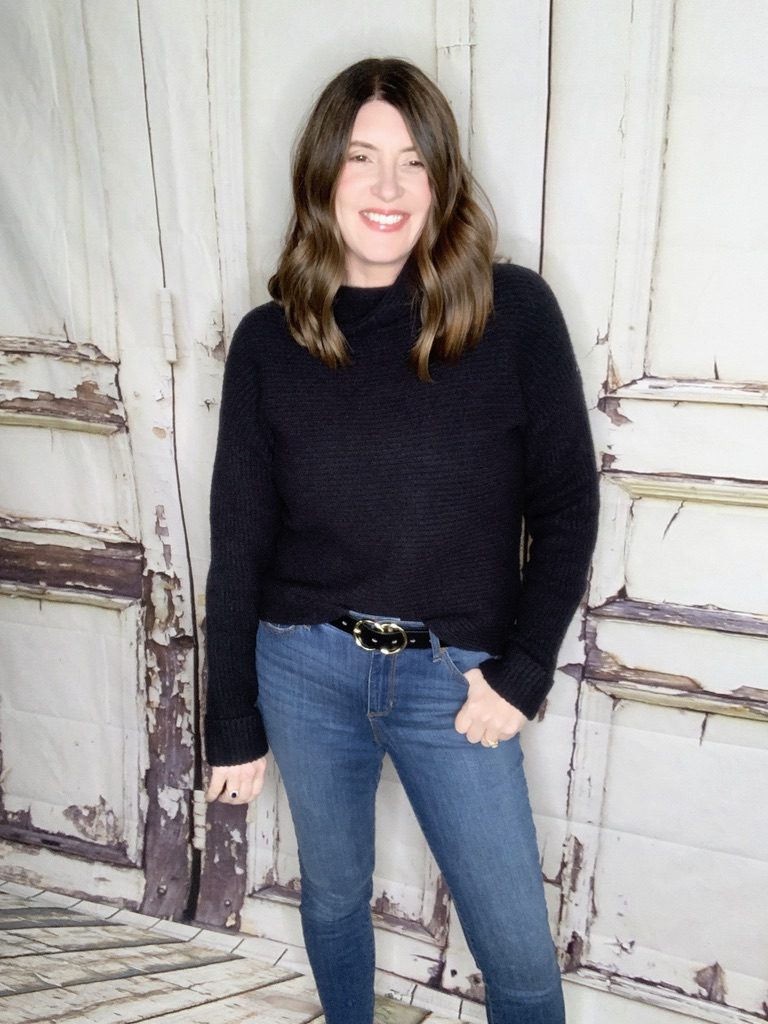 As far as fit, it has a shorter boxy fit. I like the shorter length for tucking it in. I am wearing a size large. The horizontal stripes are subtle and give it some interest. It also comes in a variety of other colors.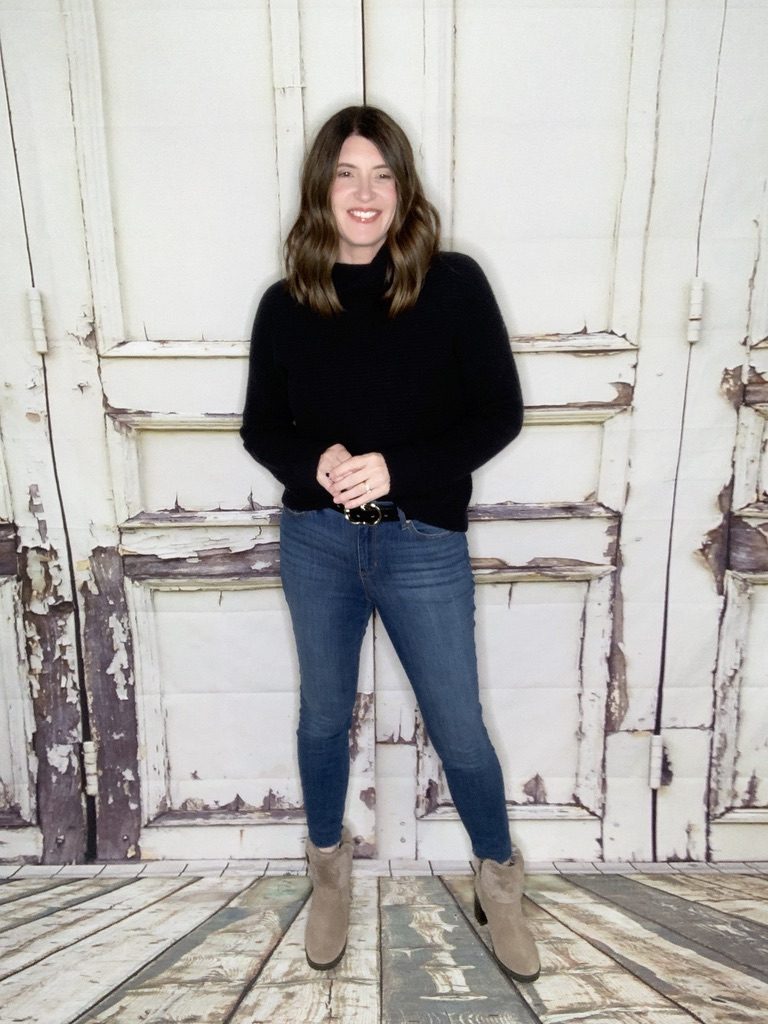 I paired it with some skinny jeans from Walmart, which I will link in the shopping widget.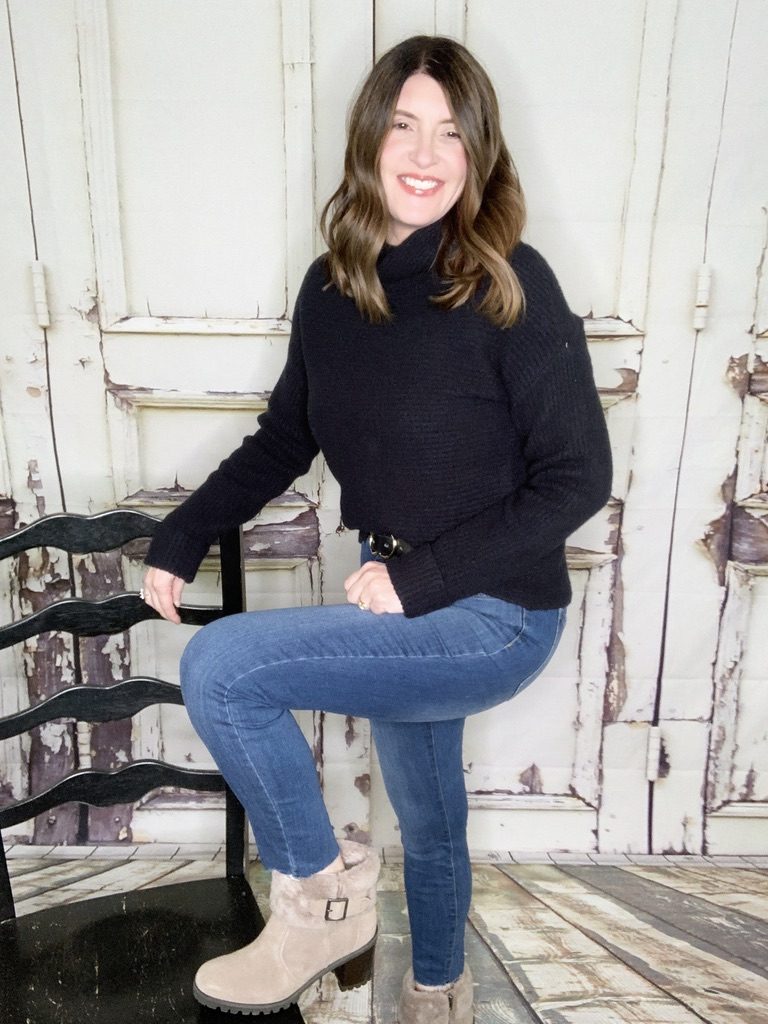 My favorite part of this outfit are UGG Women's Elisiana Fashion Boots! I love the chunky heel and the rubber sole is practical for those of you who live in areas with ice and snow this time of year.
They are a little pricey, but they are Uggs, and the quality is really good.
Sherpa Fleece Tunic Sweater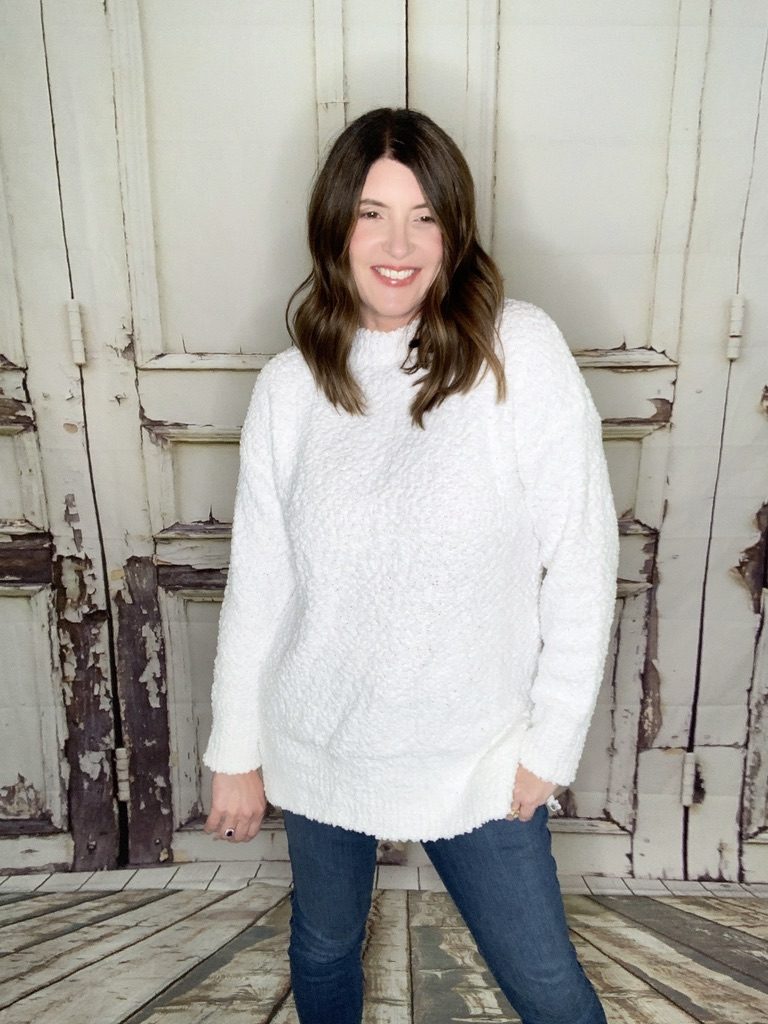 This Sherpa Fleece Tunic Sweater is a top seller on Amazon. It comes in several colors, but I really like this classic white. It is bright and neutral and I can see me wearing it a lot this winter.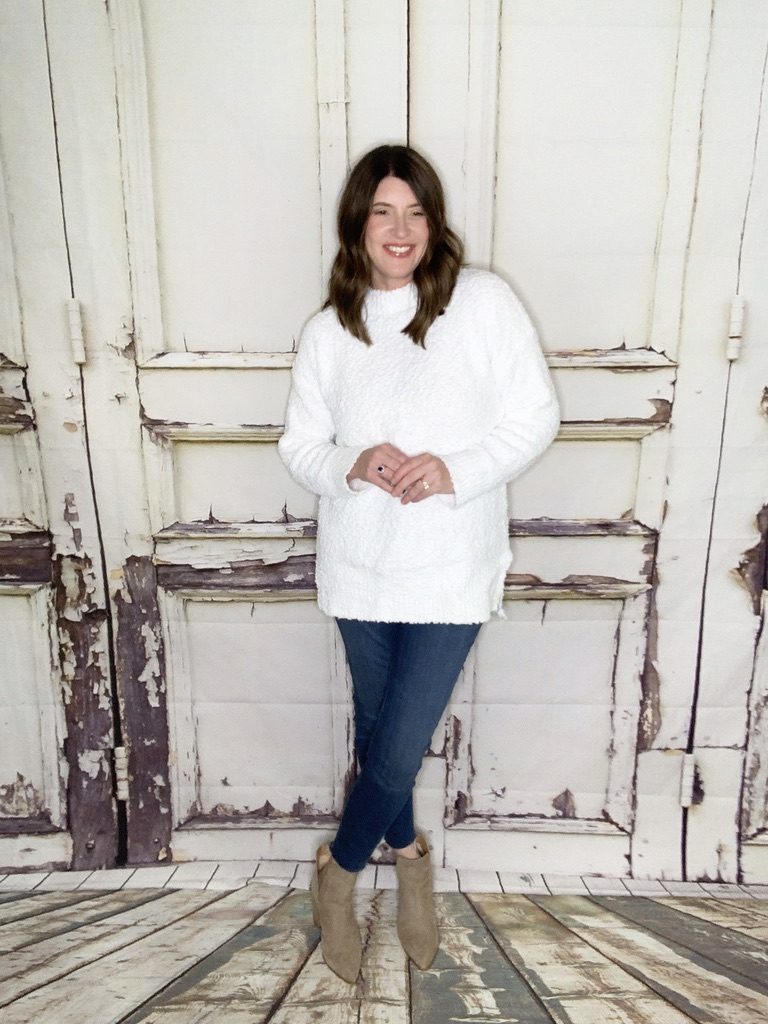 Here I paired it with the same skinny jeans as before, but it would also be long enough to wear with leggings.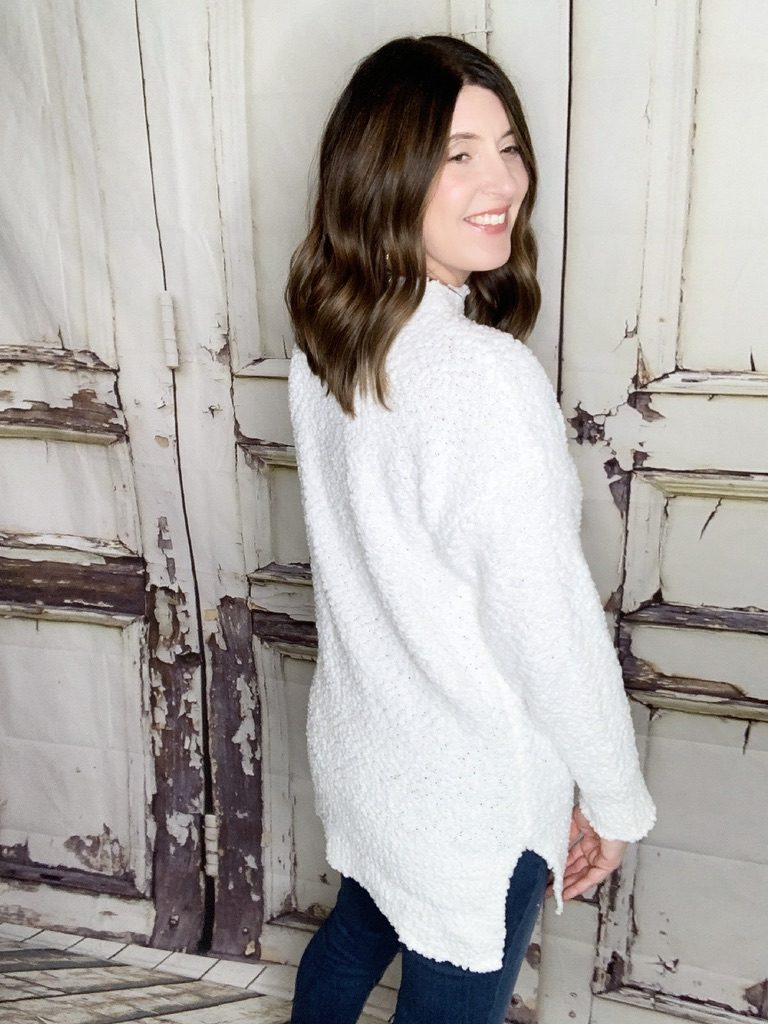 Sizing is what you would expect, and I went with my usual size large for an oversized fit.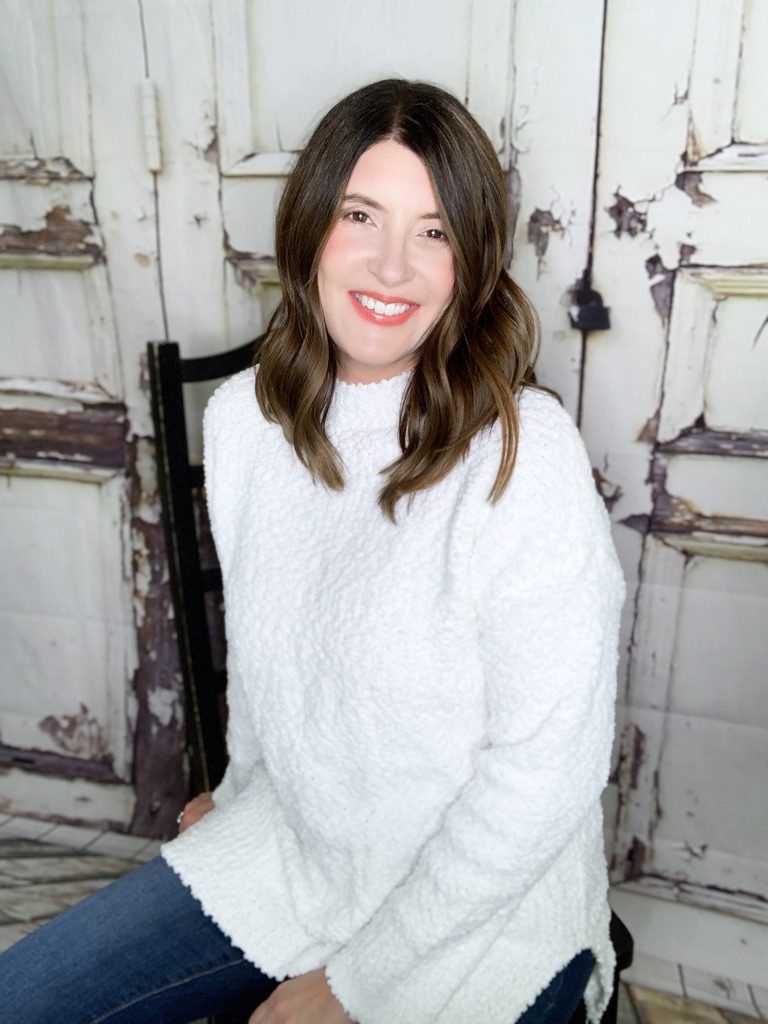 Camel Cardigan Sweater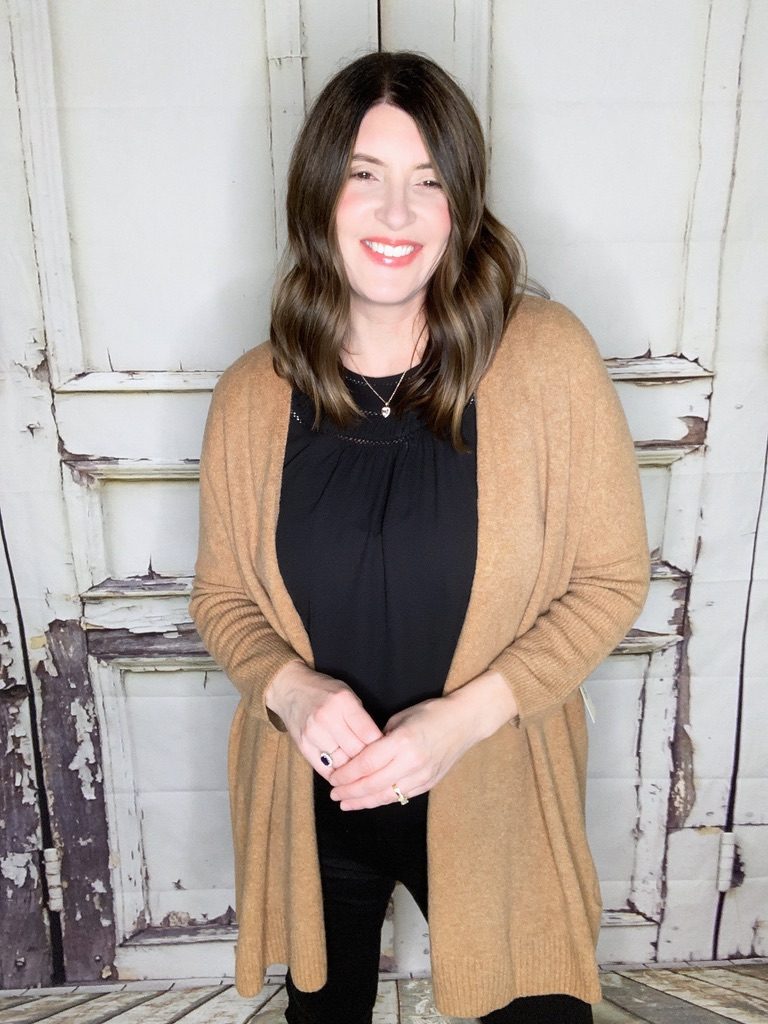 Camel is really on trend this year. The last winter basic from Amazon is this camel colored cardigan. Camel and black are great basics and you can build so many outfits with this combination.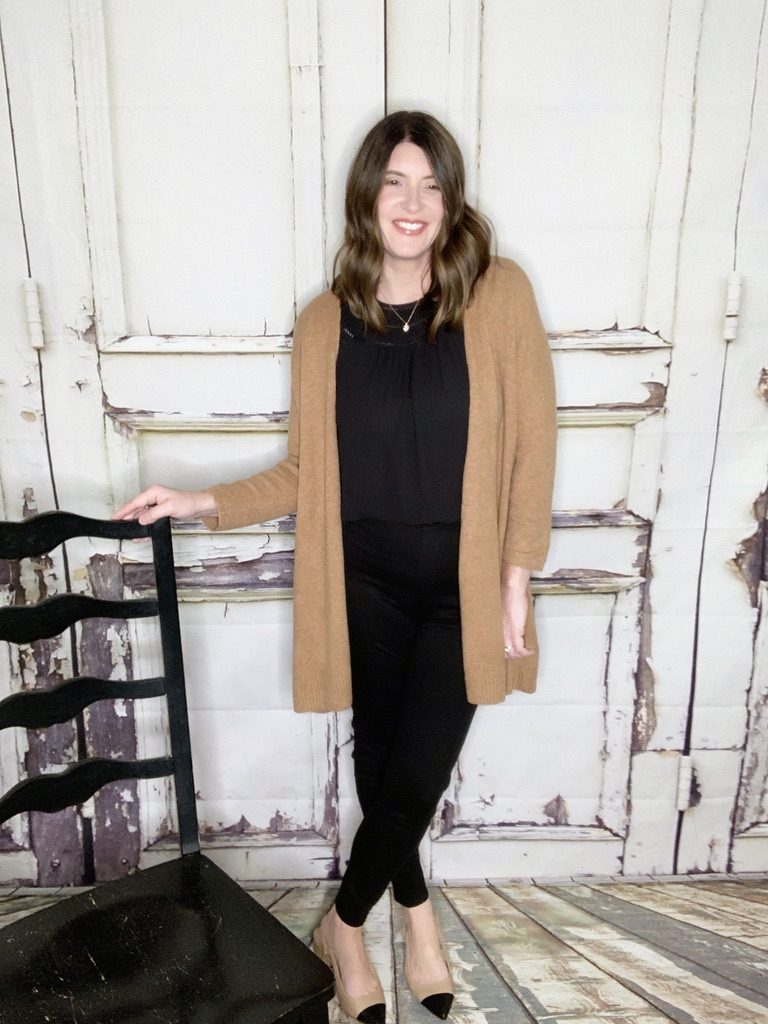 I paired the cardigan with my Time and Tru black jeggings. If you would like to see these styled some other ways click here.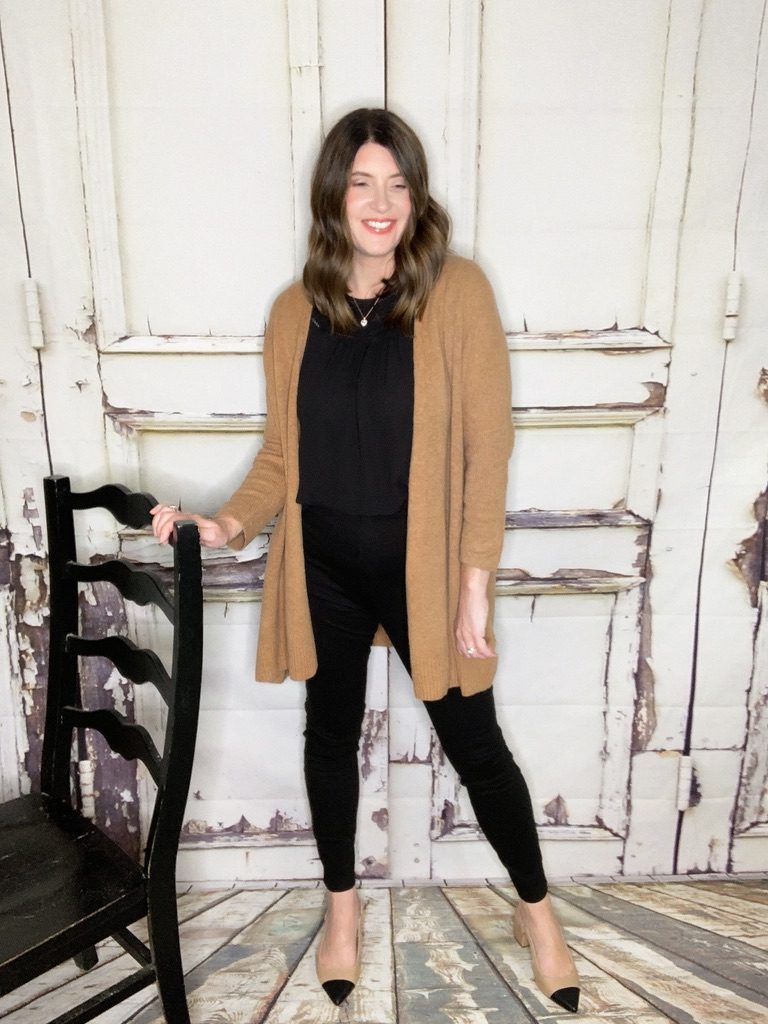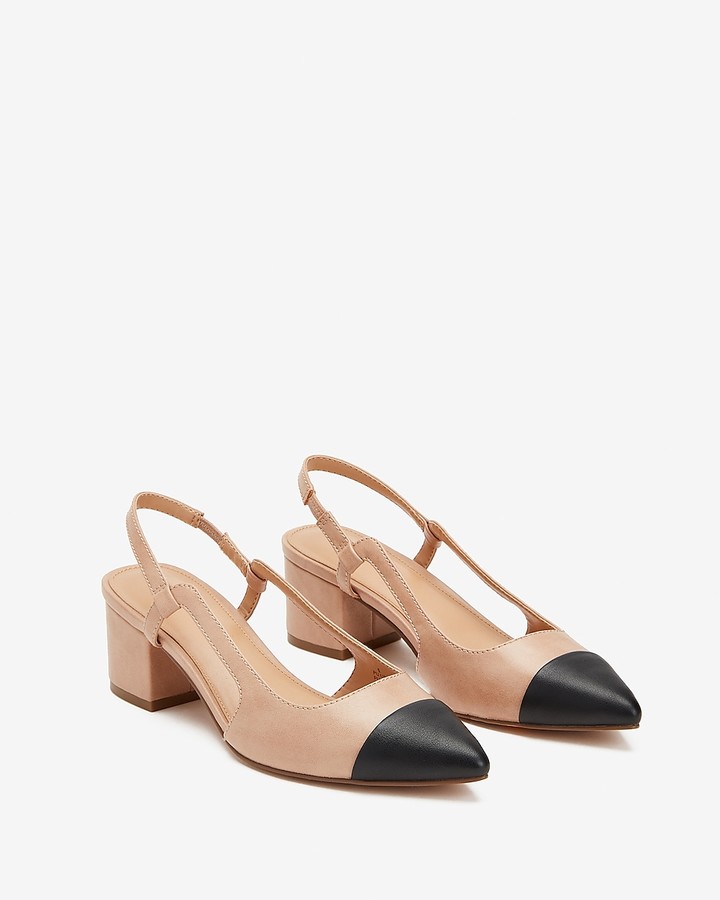 Another classic basic that I recently purchased are these two toned slingback block heels from Express. They are a more affordable option of a designer brand that looks very similar. They won't keep your feet warm, but here in the south they can be worn on warmer winter days.
If you haven't tried Amazon Prime Wardrobe, I highly recommend it. These winter basics from Amazon will be an asset to any wardrobe. What was your favorite piece? Let me know in the comment section!