Today we are talking hair! I get asked from time to time how I style my hair, or more specifically how I curl my hair. I've tried a variety of methods and tools, but for the most part I have a certain way that I usually create soft waves. Hair tutorials are not really my strength, but I'm going to do my best to share how to style a long bob.
The long bob or "lob" as it is commonly referred to is a style that flatters almost everyone. Over the years, my hair has gone through several style transformations….some good and some not so good! My hair has been very long, chin length, blonde, brunette, and a few years ago I had bangs! When I was younger I had a tendency to impulsively make radical hair style changes. If I was having a bad day, I guess I thought a new haircut was the answer. Don't do that!
Now as I'm about to turn 50 next month, I have learned to never change my hair when I am emotional! Also over the past few years, I have finally found my style and it hasn't varied too much since then. I still like to freshen up my look every now and then, but I don't make such radical changes these days.
The Cut
Before I get in to how to style a long bob, let's talk about the cut itself. As I mentioned, a lob is basically a longer bob. I am a mid-length girl and I am happiest when my hair is somewhere from just grazing my shoulders to about the length it is now. My haircut is basically a blunt cut with layers around the bottom.
Last year I went a little shorter, which I really liked.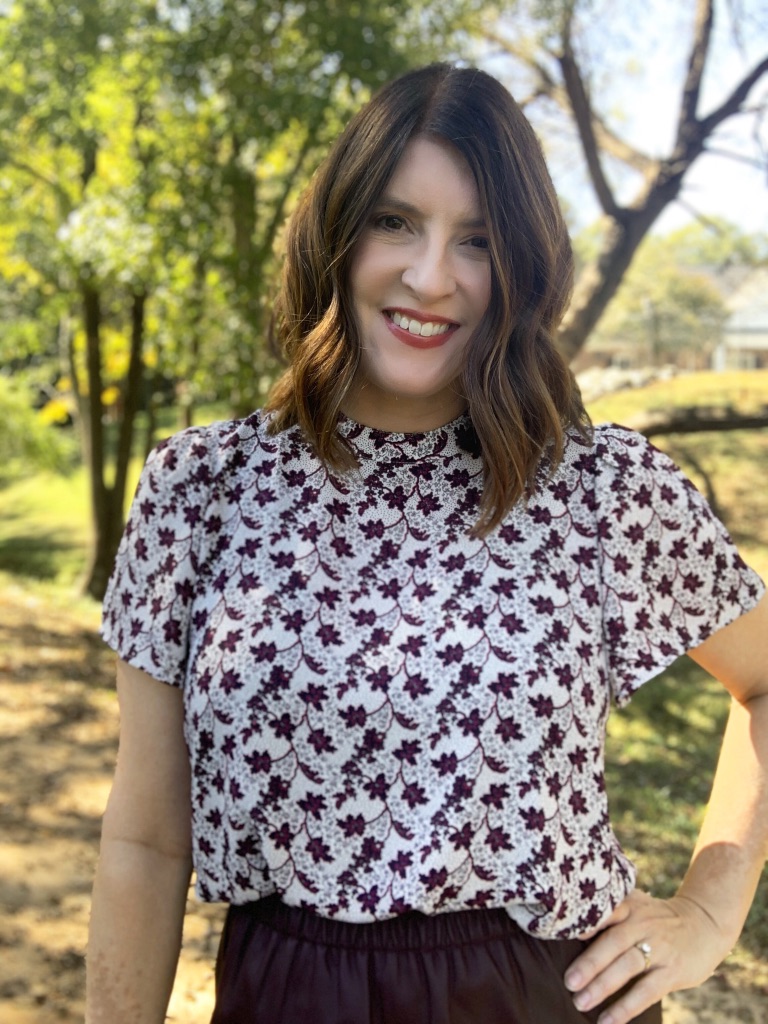 I have very thick, frizz prone hair. I get keratin treatments at least twice a year to manage the frizz, and it has been life changing! If you struggle with frizz, I can't recommend it enough. It truly changes the texture of your hair!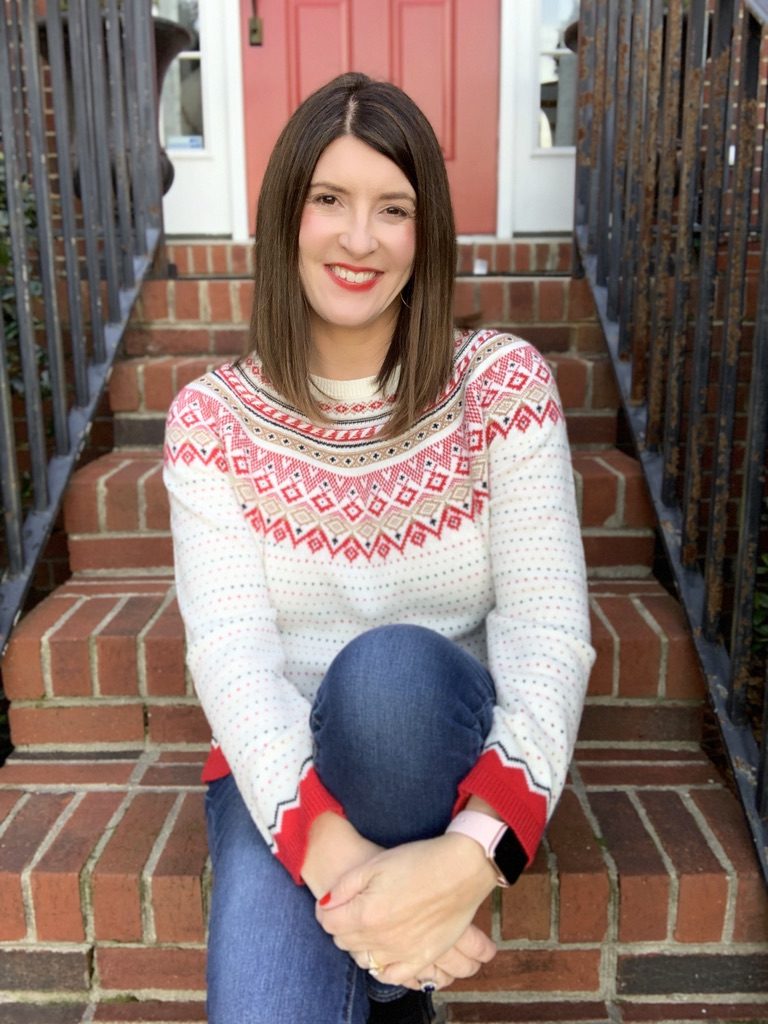 My stylist is wonderful and if you are local to the Greenville area, her name is Brooke Bagwell and she works at Wilson's On Washington. She cuts my hair with layers around the bottom so that I don't end up with a triangular look. The layers are subtle and you might not even know that they are there. I get a trim every six weeks.
Color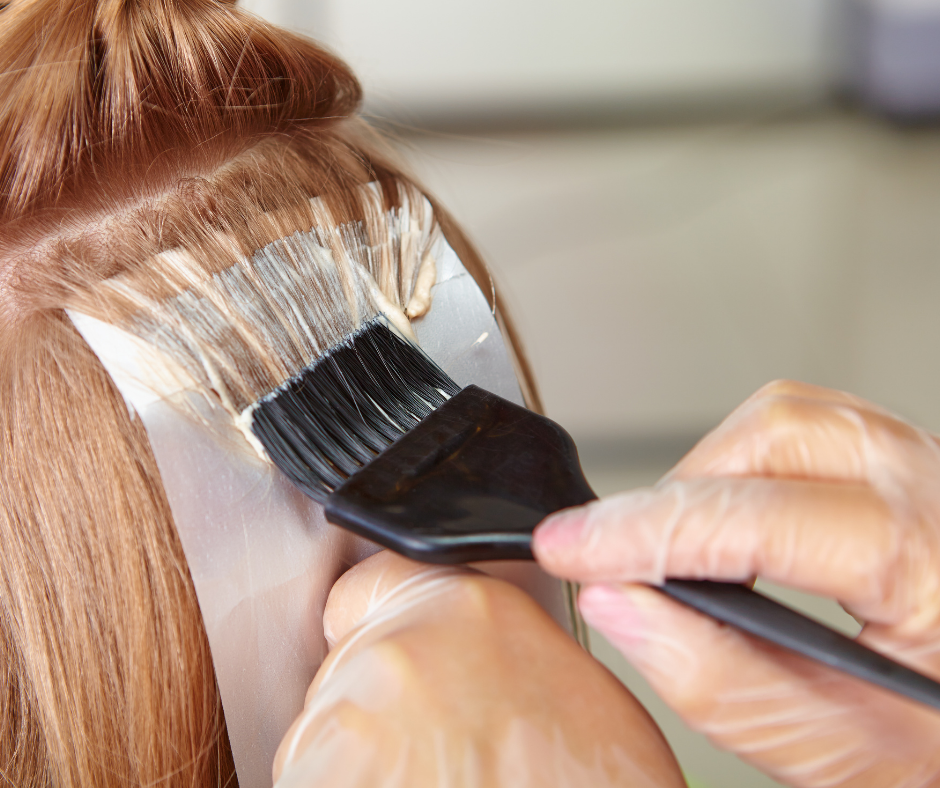 I have been coloring my hair since I was in my 30's. Premature grey runs in my family, and I started noticing grey hair when I was 30-31. I get my roots colored with a medium brown to cover the grey and occasionally get highlights or low lights to give it dimension.
Since I have so much grey and my hair grows really fast, I have to color my roots every 3 weeks. I color my hair at home in between salon visits. If you would like to see how I color my hair and what products I use, you can see the full post here. e-Salon is my preferred source for at home hair color.
Style
Now let's get to how I style my long bob hairstyle. First, I wash my hair every other day. I typically wear my hair straight on the days that I wash it, and then curl it the next day. In my opinion, it looks better wavy so I usually wear it that way for photos.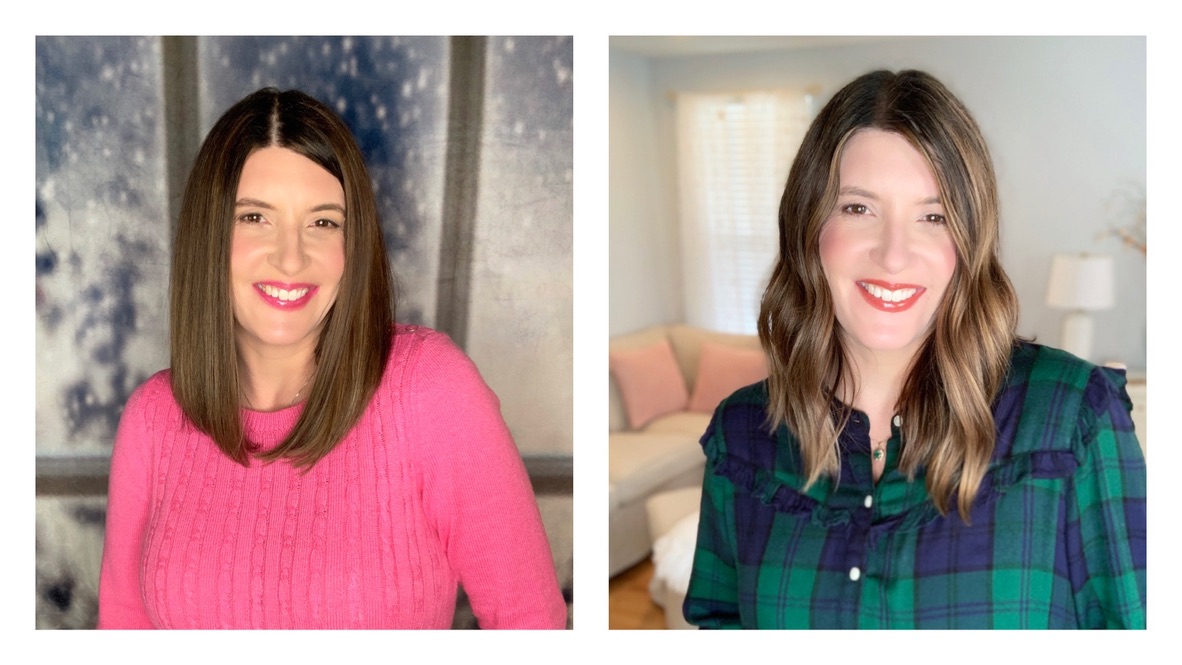 When trying to achieve a wavy, undone look it's really best on hair that is not freshly washed. If I have to curl my hair the same day that I wash it, sometimes I will put some dry shampoo at the roots to give it some texture. This way the curl holds better.
I have experimented with all sorts of hair tools and techniques for achieving the soft wavy look. My hair stylist always curls it with a flat iron. I have learned how to curl my hair with a flat iron, but it takes a lot of practice!
I try to purchase hair dryers and other tools that are midrange in price. There is not any particular brand that I swear by. I have enjoyed my Revlon One Step Hair Dryer and Volumizer. It's great for smoothing out my hair when I don't want to straighten it with a flat iron. The T3 line of hair tools intrigue me, but the price is crazy expensive!
The best method for me is to use a 1 1/4″ barrel curling iron. That 1/4 " may not seem like much, but it makes such a difference in the curl pattern.
How To Style A Long Bob: Step By Step
Here I have started with day 2 hair that has been slept on and just brushed out. I wore it straight the day before.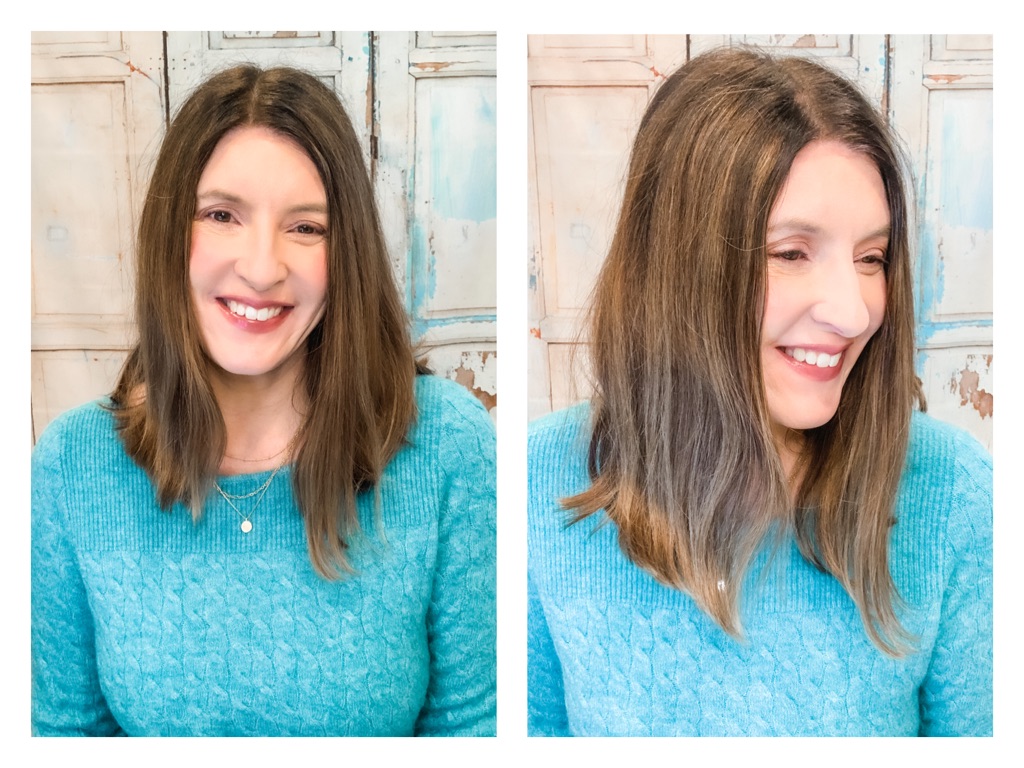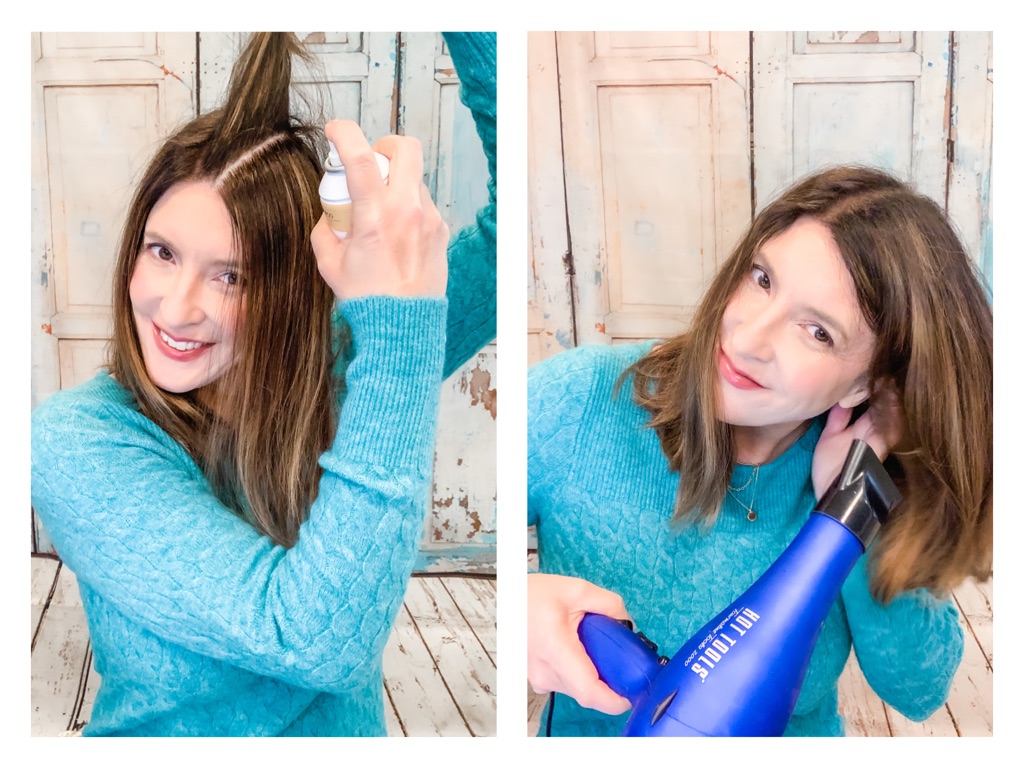 Even though it wasn't greasy, I sprayed the roots with dry shampoo to give it some texture and lift at the roots. Then I hit it with the hair dryer for just a few seconds, again concentrating on the root area.
Next I start sectioning off my hair in to three sections. As I mentioned, I have very thick hair. If your hair is not as thick, you could probably just do two layers.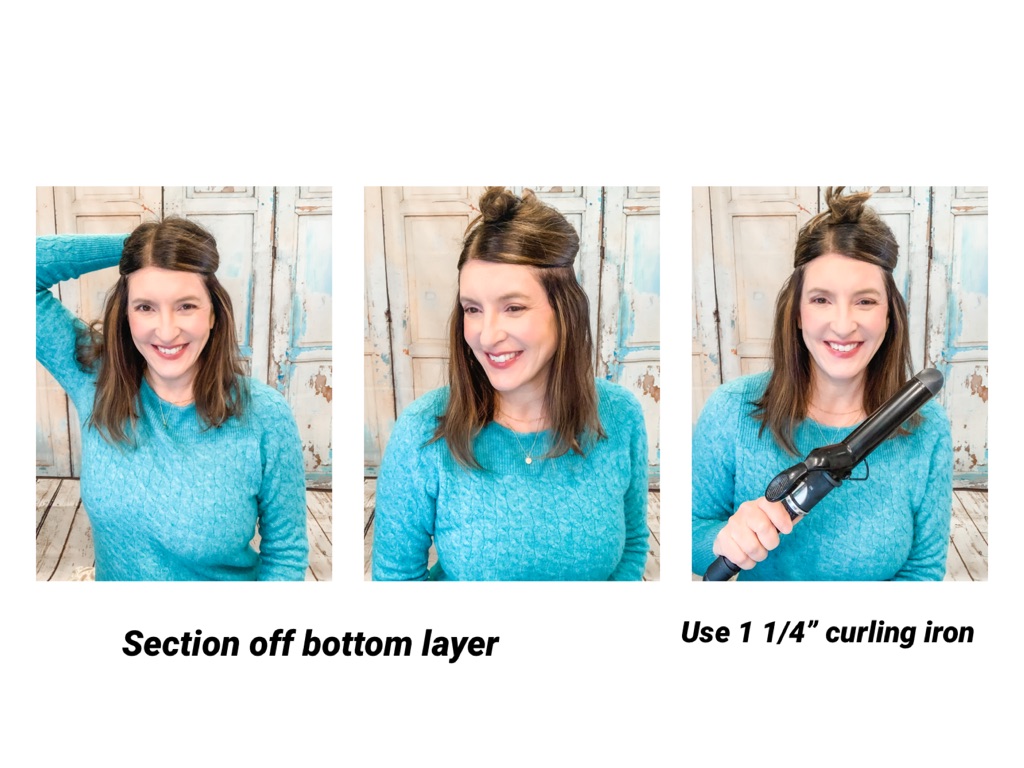 The next step is to start curling in small sections. This part of the technique is crucial. Clamp the curling iron near the root of your hair leaving the ends out. Slowing work the curling iron down the hair, but don't go all the way to the end.
NEVER start at the bottom of the hair and roll up! You will have old fashioned looking curls that are primarily at the bottom of your hair.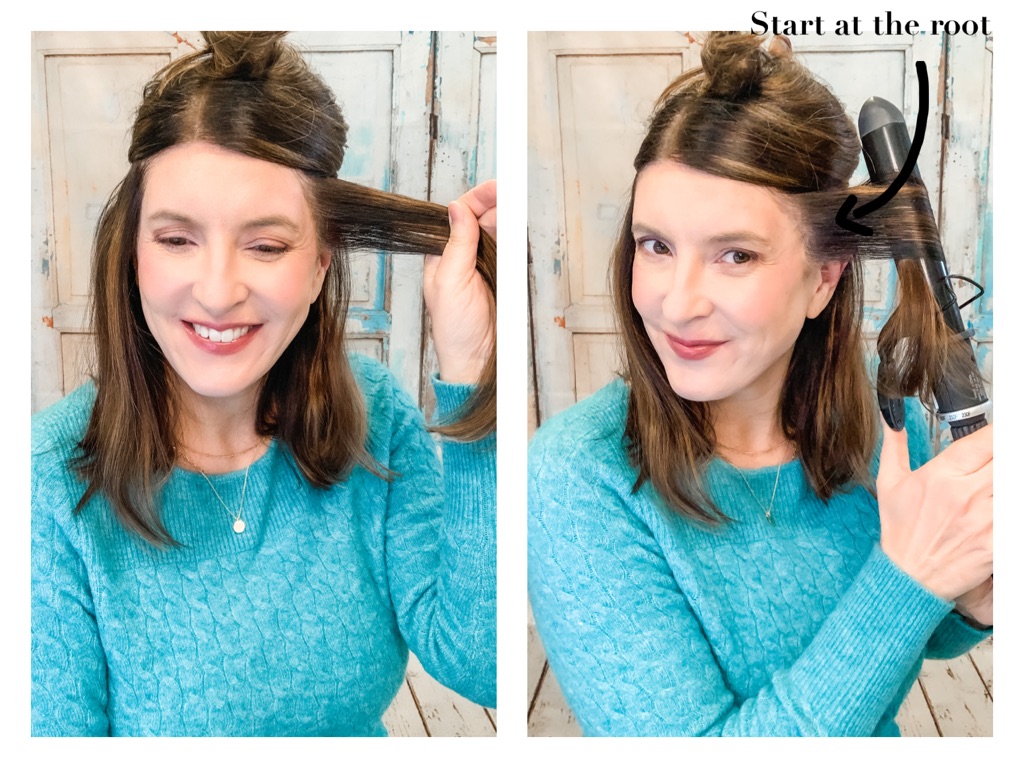 As I near the end of the hair, I pull the curling iron straight down so that the end is straight.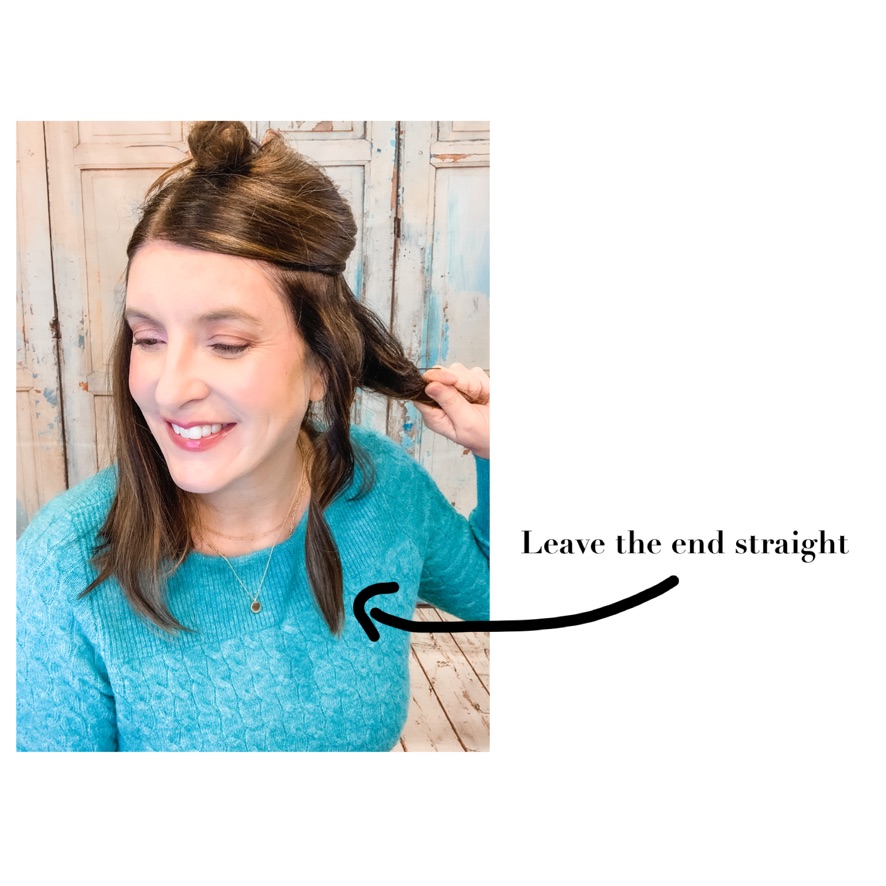 The pieces around your face should ALWAYS be curled away from your face. Sometimes I will curl a couple sections toward my face for a more undone look, but only do this near the back of the head.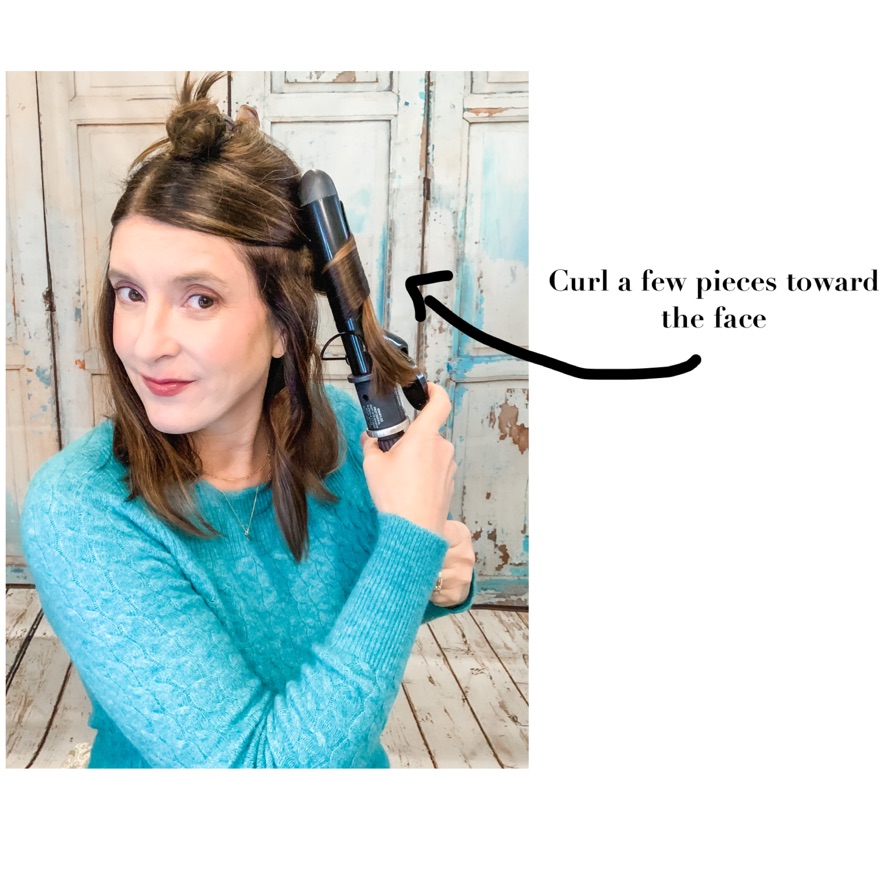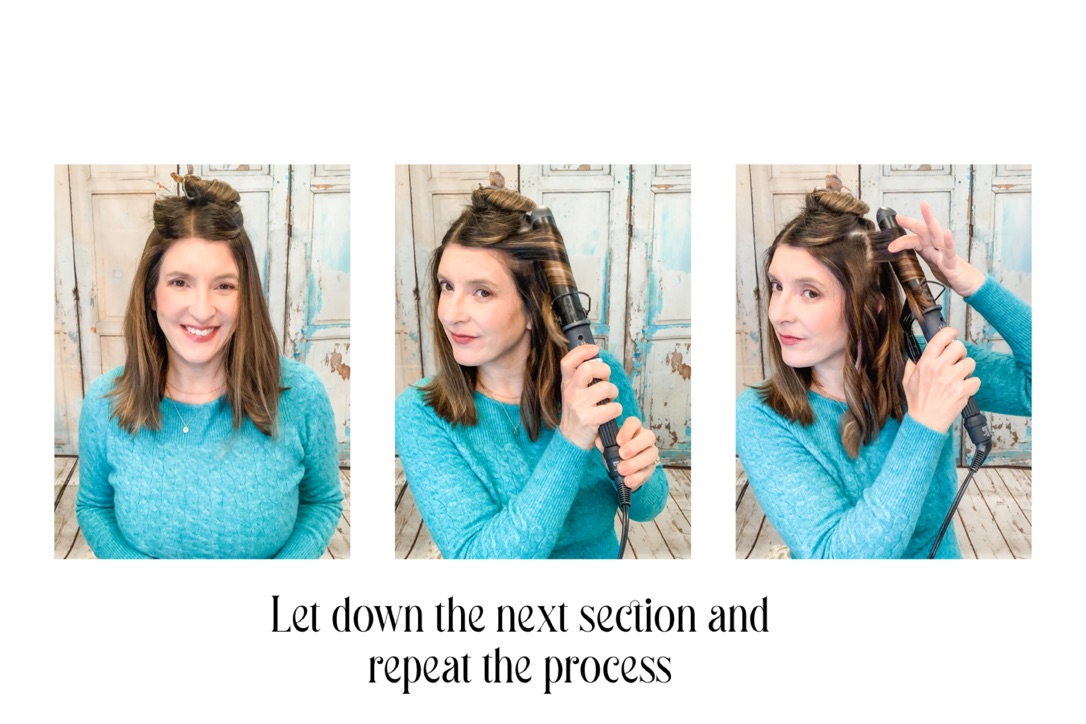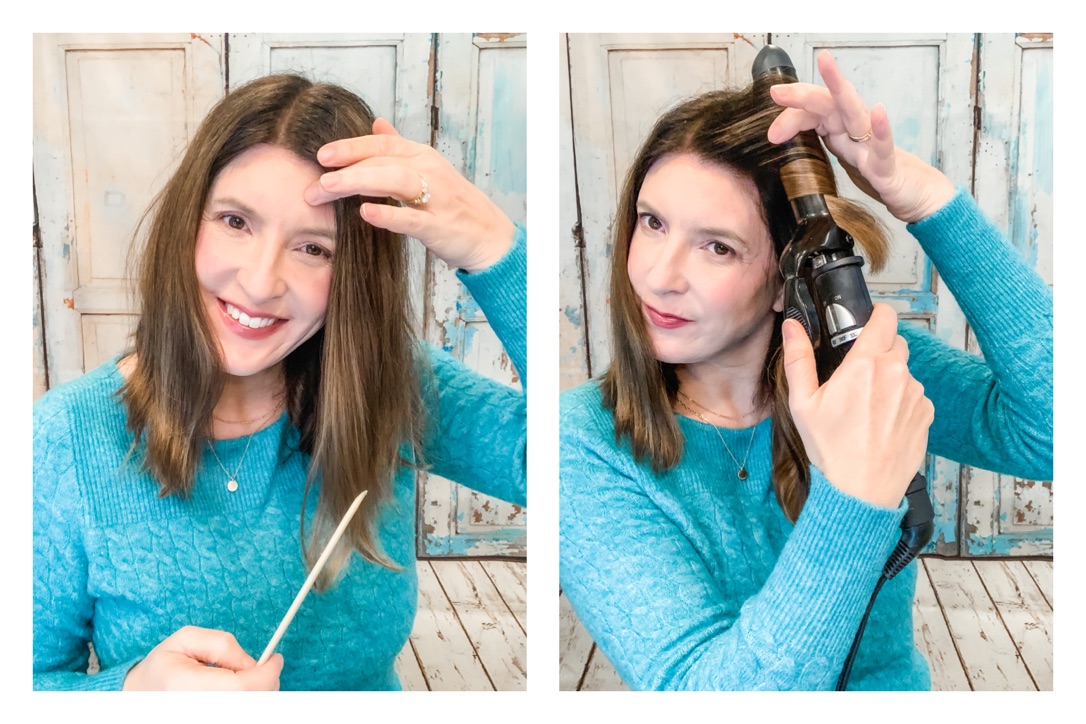 The picture below is a good example of how I turn the curling iron vertical and pull the end straight down.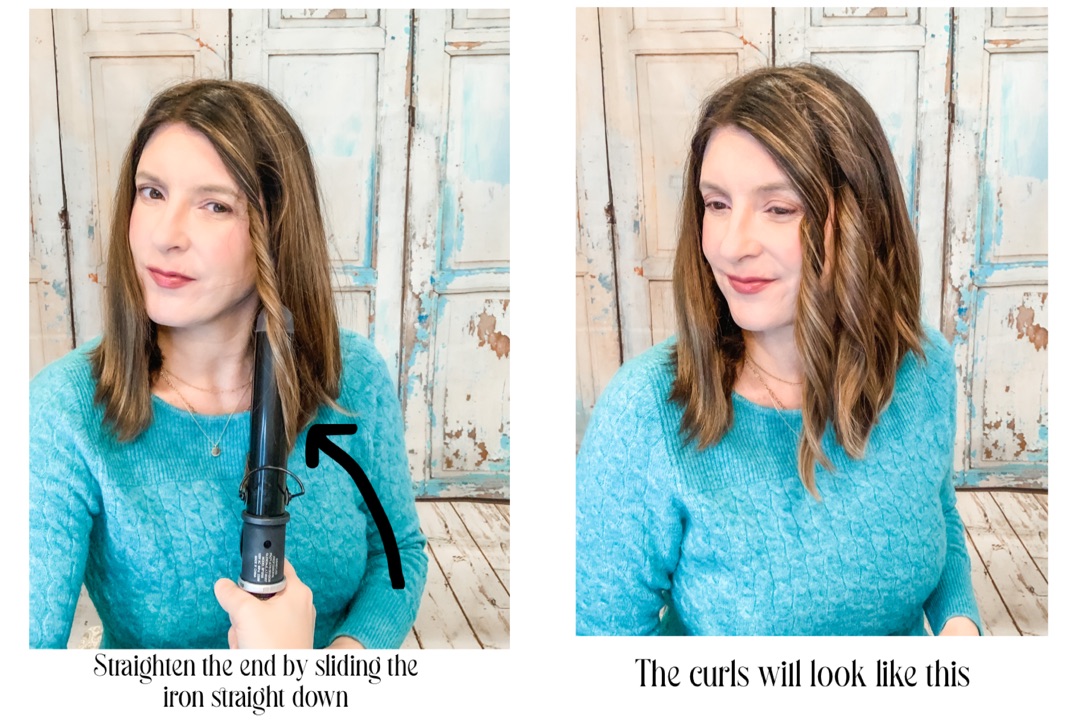 After I finish curling, I just let it sit for a few minutes without touching it. Then I gently run my fingers through the hair to separate the curls. Never brush out the hair…just use your fingers. Then I follow up with a few spritzes of hairspray and I'm good to go.
Finished product. I do want to mention that the lighting in my bathroom was not very good and I had to lighten these photos quite a bit in editing. That is why my hair looks so much lighter than it normally does. Photography is a tricky thing, and I'm still learning how to take good indoor photos.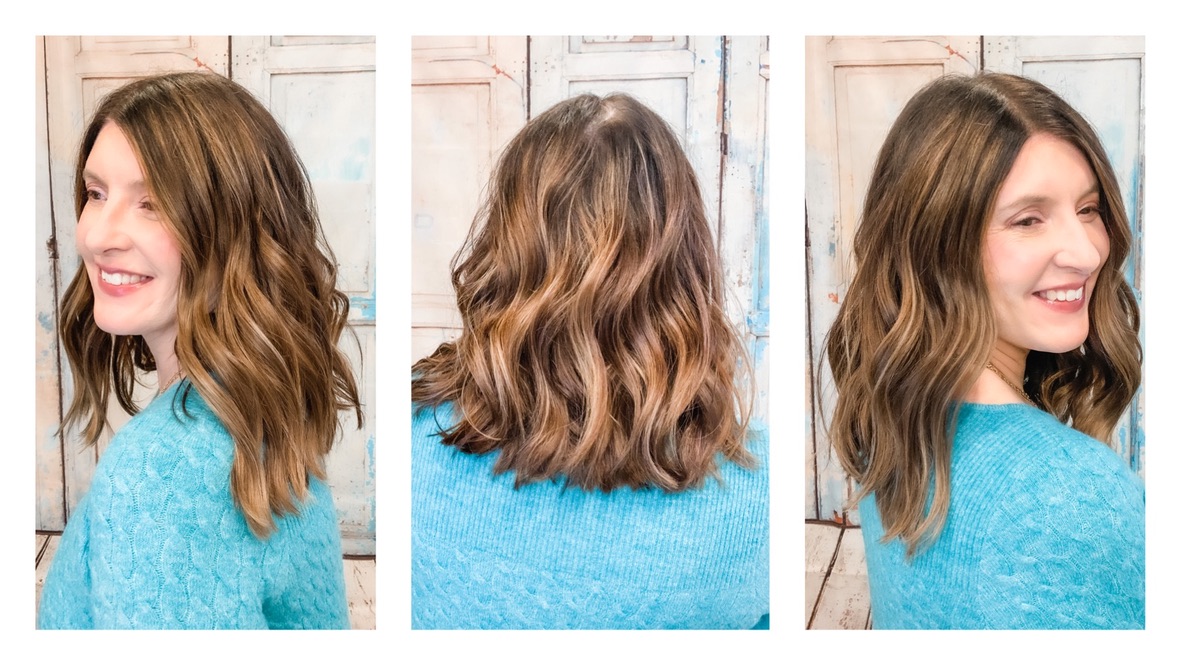 Hair Products
As I wrap up how to style a long bob, I should mention a few hair products that I like.
Dry Shampoo
Dry shampoo is a must have product for me. As I mentioned, I use it for volume and texture as well as for in between washes. I don't have a favorite dry shampoo. Currently I am using Dove Dry Shampoo and Hairitage also makes a good one. I use a lot of dry shampoo, so I try to use less expensive options.
Tip: Spray dry shampoo at the root of your hair before you go to bed at night instead of in the morning after you wake up. It will keep the oils from accumulating during the night, and will keep your hair fresher.
Color Correcting Shampoo/Conditioner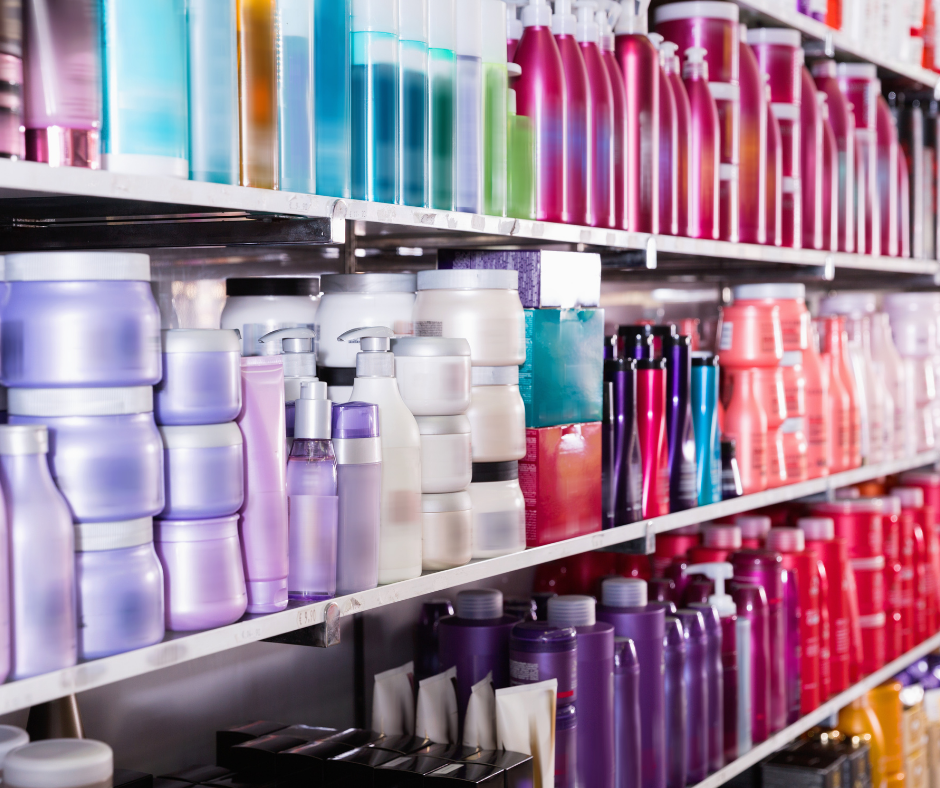 For those of you who have color treated hair that tends to get brassy, using a color correcting shampoo is essential. Blondes should use a purple shampoo, and brunettes like myself need to use a blue shampoo to correct brassiness. When I was blonde, I liked the Kenra purple shampoo.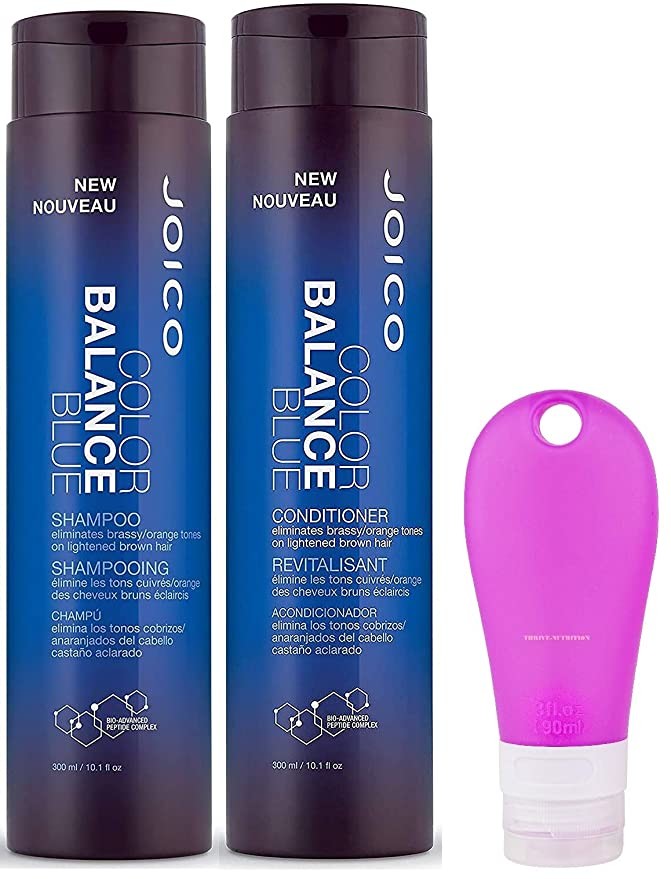 Blue shampoos are a little harder to find in my experience. If you browse the shampoo isle at Ulta, you won't find a lot to choose from. I use the Joico Blue Shampoo and Conditioner. You can find it at Ulta, but I usually buy mine at Marshall's or T.J.Maxx. They almost always have it. Amazon also has it, and that is where I linked to.
Sulfate Free Shampoo
As I mentioned, I have Keratin treated hair. For that reason, I have been using sulfate free shampoos for years. They have become much more popular now, and are easier to find at the drugstore. I have used several different ones, and I don't have a favorite, but I will link the ones I have tried.
Leave-In Conditioner
I like to use a leave in conditioner as well. Currently I am using the Hairitage Light As A Feather Leave In Conditioner. This is a Walmart brand that I have been really impressed with. There is a whole line of hair care products. I have also used the shampoo and conditioner and I will link them as well.
Kenra Hairspray

The Kenra Volume 25 hairspray is my all time favorite. I don't use a lot of hairspray, so it will last me a long time.
Wow! Dream Coat

If you don't want to pay the big bucks for a keratin treatment at the salon, you might want to try the Wow! Dream Coat Supernatural Spray. This is a heat activated anti-humidity treatment that is supposed to last through three shampoos. I like to use this product in the winter when humidity is not as much as a problem as it is in the warmer months. It makes your hair silky smooth and does control frizz quite well. I just used it a couple of weeks ago on my hair.
Wet Brush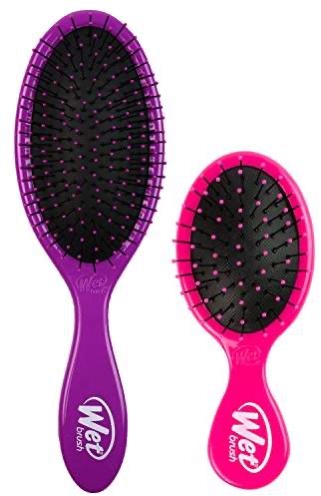 If you don't have a wet brush, you need to get one! Our hair is most fragile when it is wet, and using this brush to comb out wet hair is less likely to break off or damage your hair.
Heat Protectant Spray
The last product I want to mention is a heat protectant spray. My favorite is the Kenra Blow Dry Spray. For a less expensive option, I like the L'oreal Sleek It Heat Spray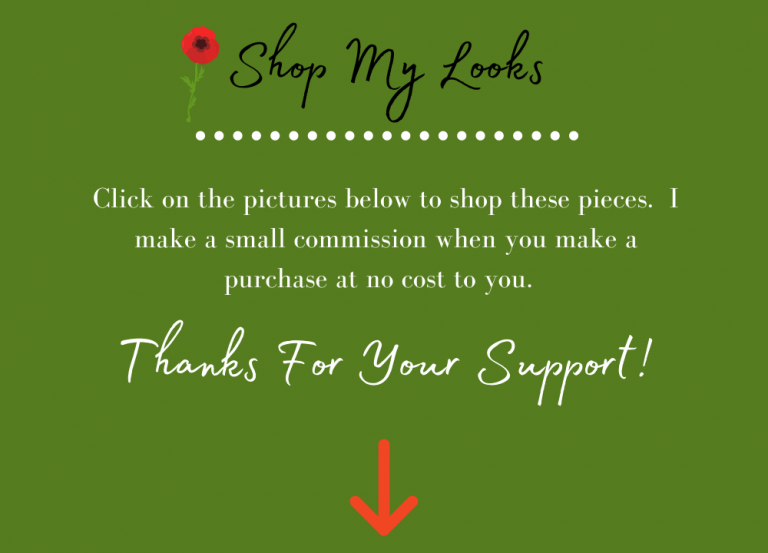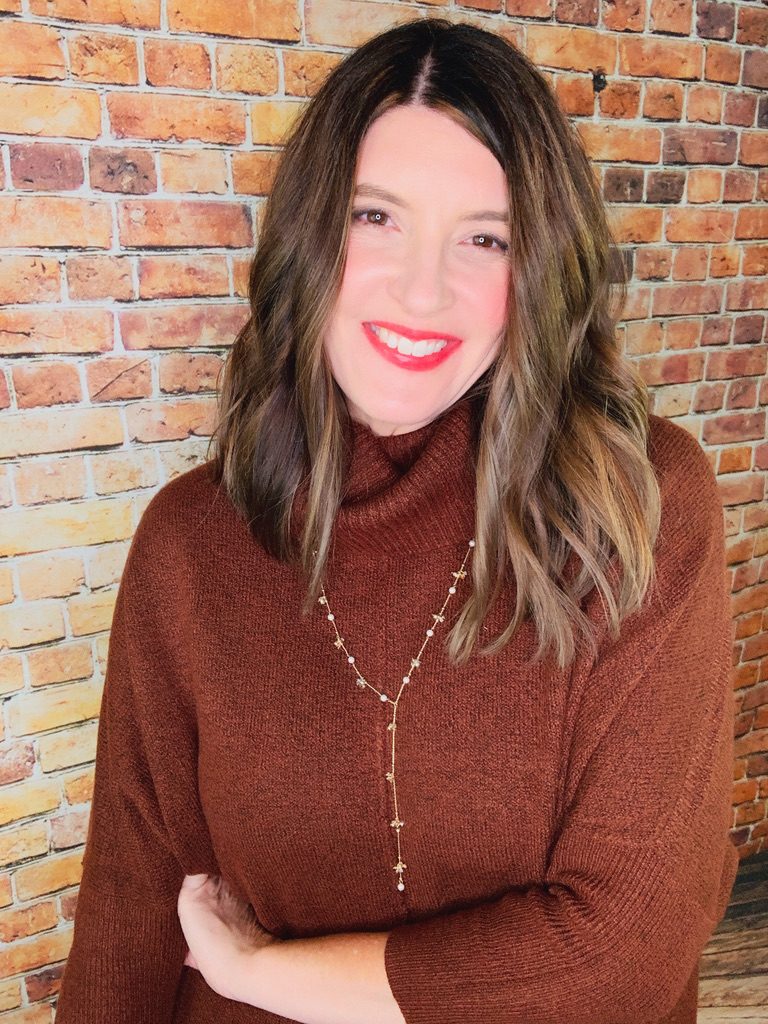 So that is how I style a long bob. I think a lot of women my age are under the impression we can't wear certain hairstyles. Not true!! If you like long hair, then you can certainly rock long hair at any age. It's more important to choose a style that flatters your unique characteristics.
Take the time to visit an experienced stylist who can recommend a style that also works with your hair's texture. If you see a photo of a style you like, consider what type of hair that person has. Be realistic about what your hair will or will not do. I have learned that lesson the hard way!