It's time to start putting away the boots and thinking about spring footwear. I'm always so excited to get out my boots in the fall, and this time of year I'm always ready to put them away and get out my sandals. I don't think I could ever live somewhere that did not have a change of seasons! I would get so bored. Today I want to highlight the 5 spring shoes you need this year, but of course feel free to add to your collection….I know I will have more than 5! This is just a guide for you to know what is on trend and where to begin if you are cleaning out your shoe collection or building one from scratch.
I will be sharing some styles that I currently have in my collection as well some new styles that I have my eye on. I will be linking lots of options and as always I am trying to keep the price point in the affordable category.
You may also enjoy this post from last year about how to style white jeans and my packing guide for a spring getaway!
Loafer/Mule Slide
A loafer or mule is a spring shoe essential because they are a close toed style that can give you a little extra warmth while the weather is transitioning. They look great with jeans and dress pants and come in several styles and colors.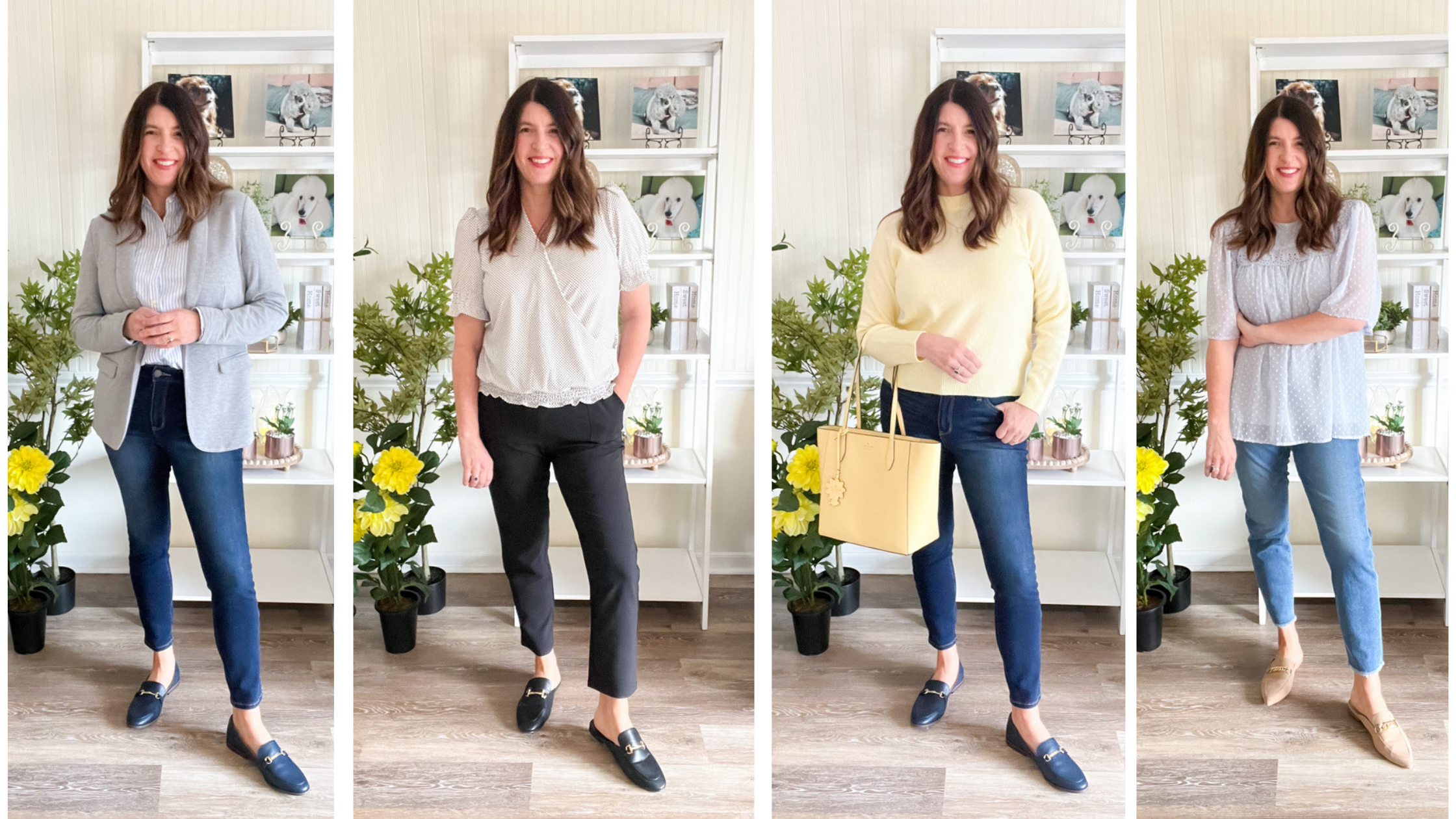 I've linked some pretty spring looking styles for you to browse. I have my eye on these for myself!
White Sneakers
I pair of white sneakers is another must have style for spring and summer! It took me a while to figure out how to style them, but now I'm feeling more comfortable wearing them. Here are some examples of how you can incorporate white sneakers into your wardrobe.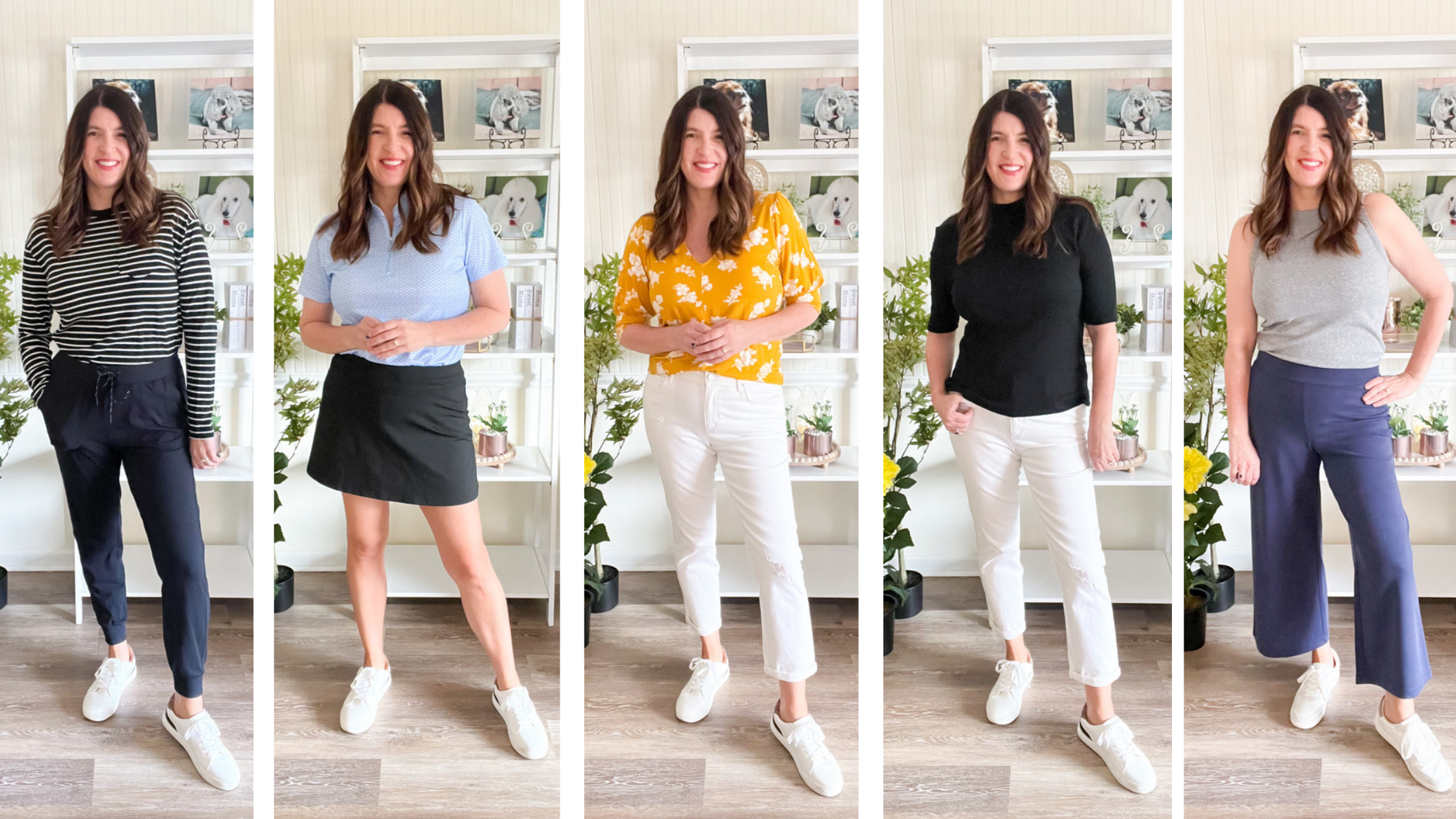 Don't forget about spring and summer dresses. White sneakers look best with either a short dress or a maxi dress. Midi dresses can look frumpy with sneakers if you're not careful, so I generally stay away from that combination.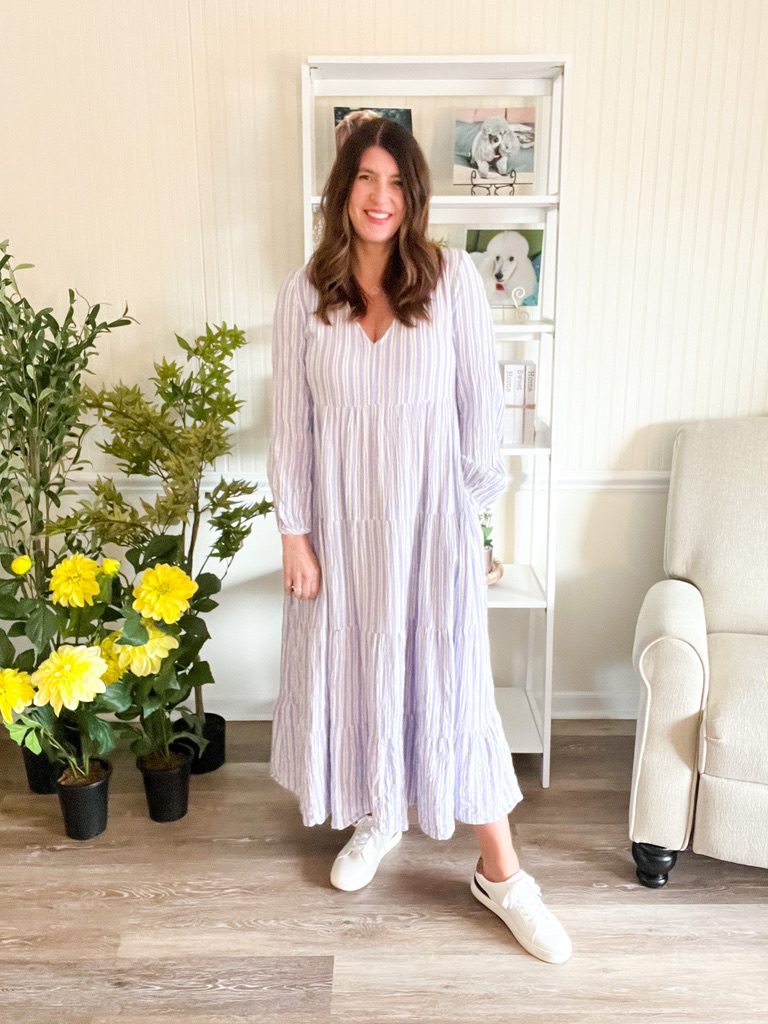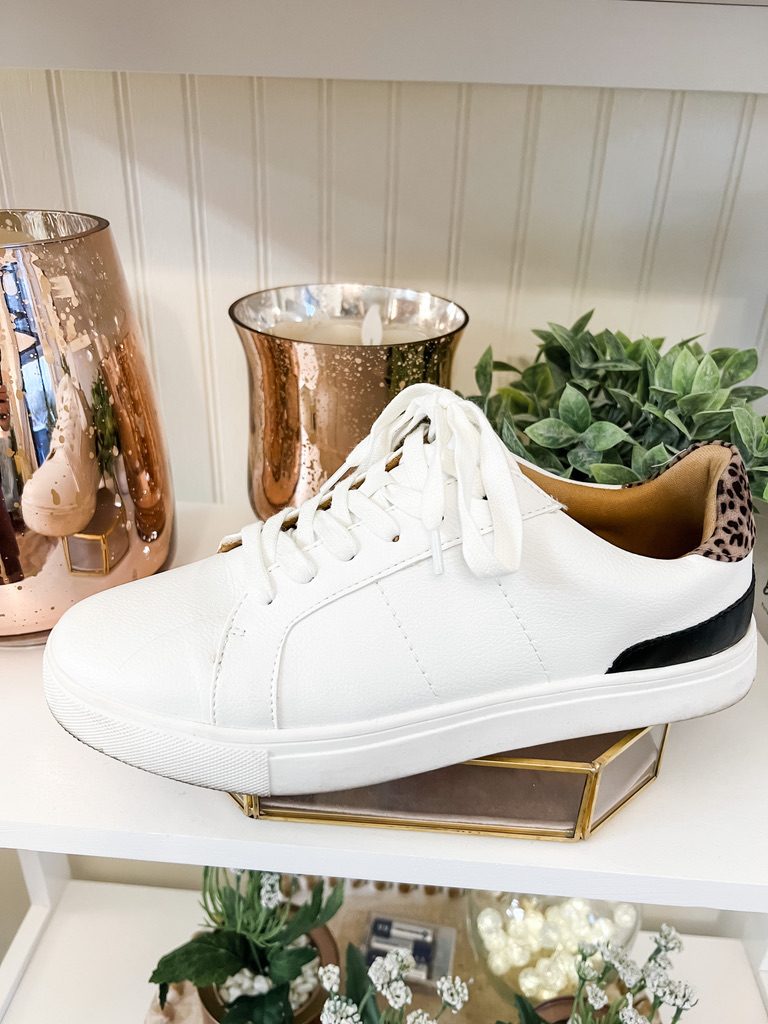 I haven't tried a lot of different white sneakers. There are two or three pair that I have personally worn, and my favorite pair came from Sam's Club. They are by Dolce Vita and they are the most comfortable white sneakers that I have worn. I can't find them on Amazon, but here is the link for Sam's Club. As of today, they still have them.
Other than these, I would recommend a pair from Target and Time and Tru makes a really affordable one.
Wedge Sandal
Number 3 in the 5 spring shoes you need is a wedge sandal. Wedge sandals compliment jeans, pants, and skirts & dresses! They give you added height with the stability and comfort of a wedge heel. This style is flattering and gives a more casual vibe to your outfit.
Wedge sandals have been on trend for the past few years and are still going strong. I would invest in a good pair in a neutral color such as black, white, or nude. I'm looking for a new pair this year to replace some that are a few years old. This pair from Walmart are currently in my cart. They are only $19.98!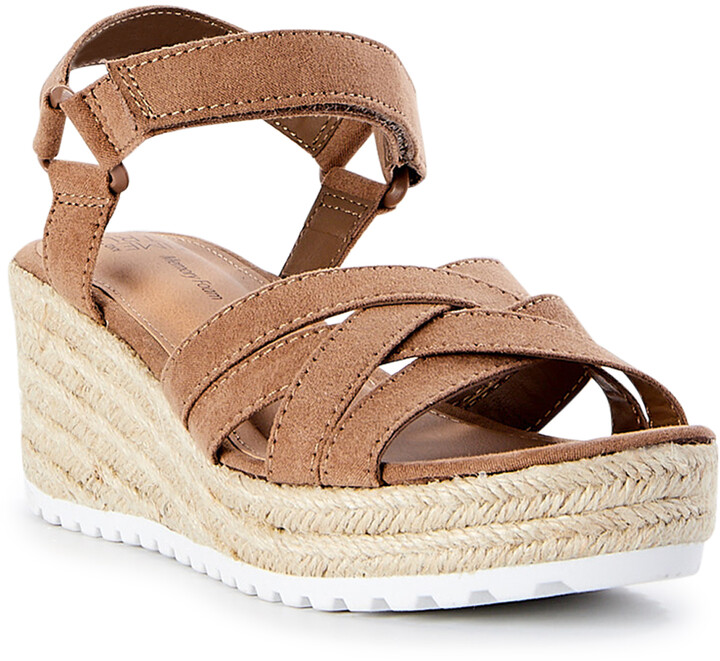 Here are some ways to style wedge sandals.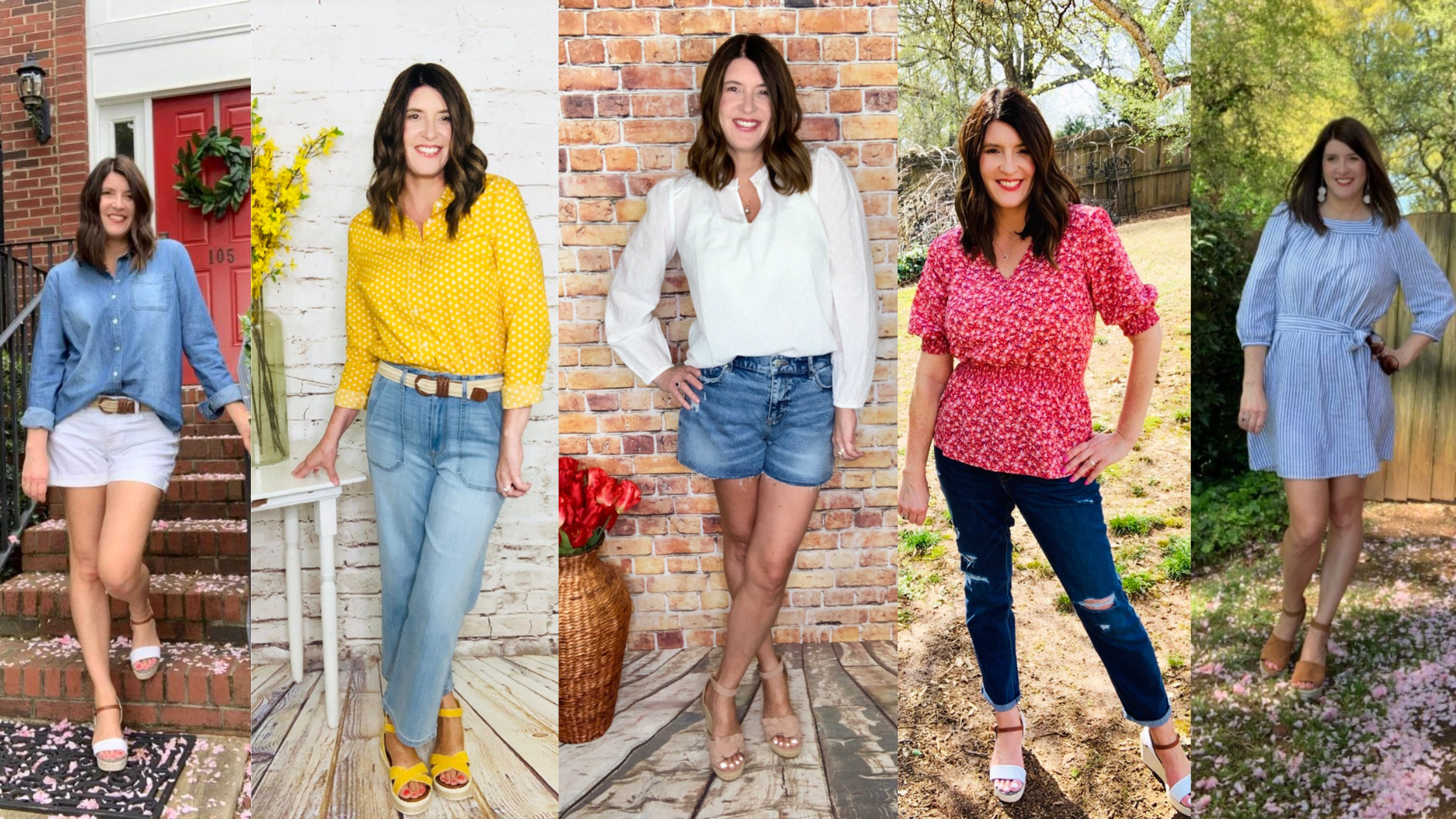 I love a classic espadrille wedge, and these from J.Crew Factory are so pretty!
Flat Sandal
Flat sandals are probably my most worn spring and summer shoe styles, and this is where I tend to collect too many shoes! There are endless styles to choose from, so I'm going to just hit the highlights of what is currently trending this year. In my mind, there are three main categories of flat sandals…everyday styles (flip flops, casual slides), basics such as neutral styles for shorts and dresses, and fun styles for special occasions such as embellished looks (rhinestones, bow detail, ect.)
Everyday styles
Every woman needs some everyday, wear around the house sandals. For me, that means flip flops and a pair of banded slides.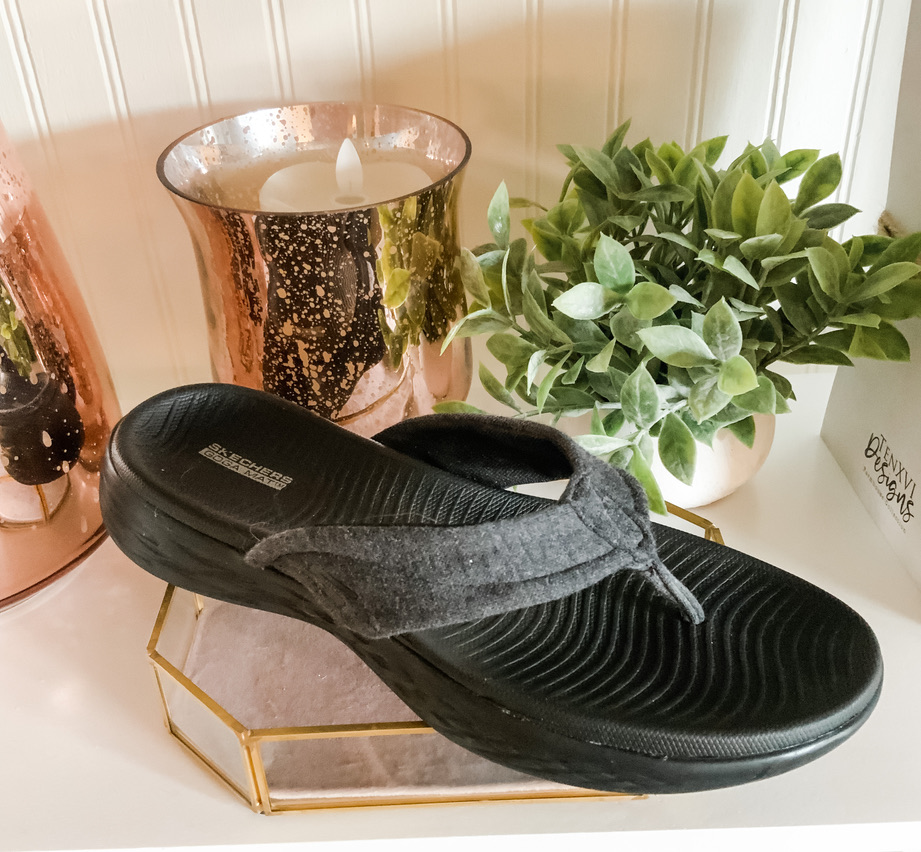 I recently picked up these black flip flops by sketchers (Sam's club again), but any style with some cushion will do. Also, I like to wear the Birkenstock look for less style by Time and Tru. I like to have a pair in brown and black. This year I'm looking for a white pair.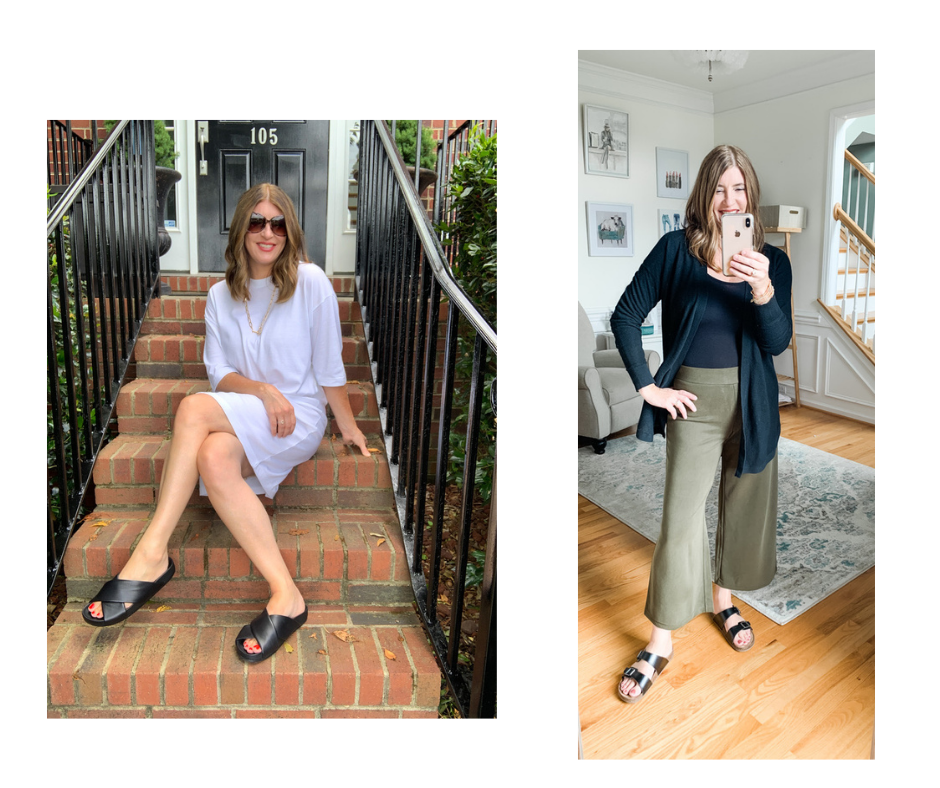 I featured this pair of pink athletic looking sandals in my Walmart post. You can see it here. This is another style sandal that is very casual, but as you can see in the photo below you can also dress them up.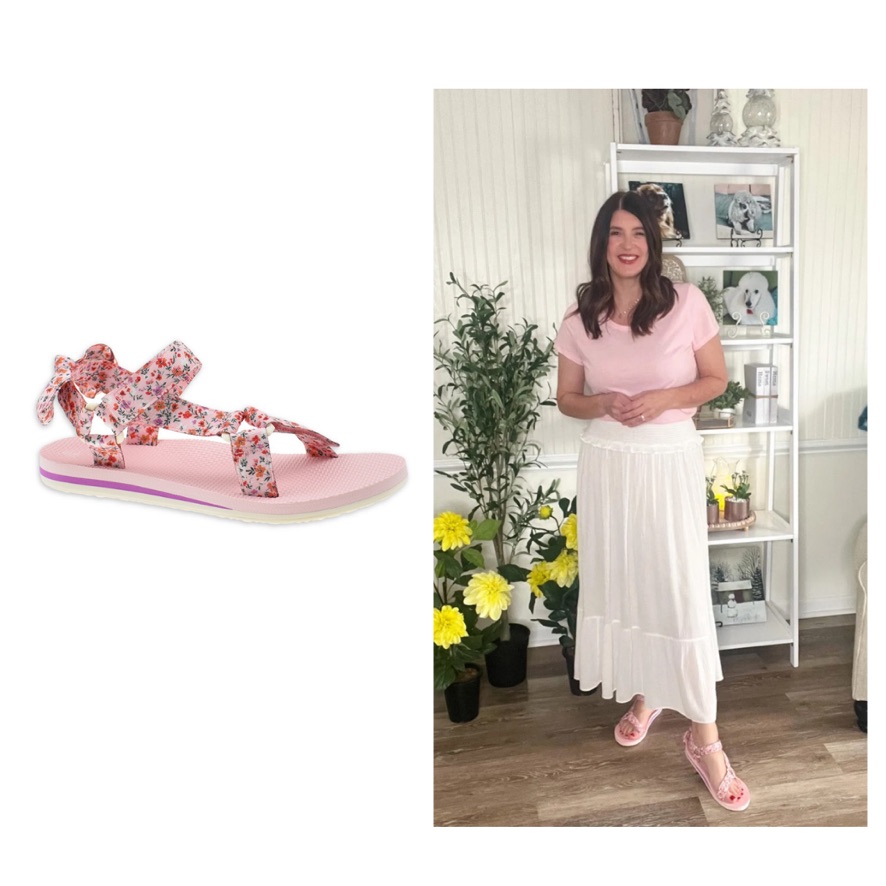 Basics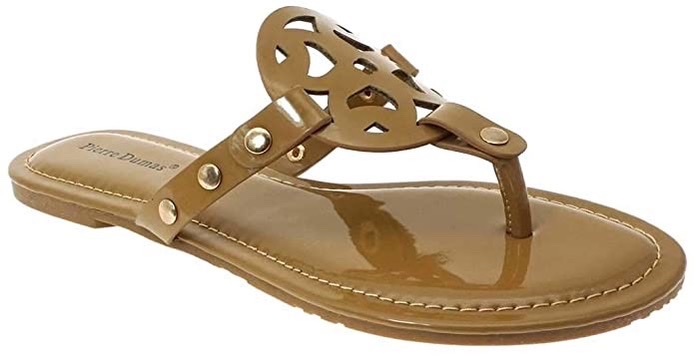 Basic flat sandals are probably the most commonly worn shoe for spring and summer. They look great with any style outfit and they also pack easily for travel. The Tory Burch Miller look for less style has been my go to sandal for the past two years, and although I still plan to wear them this year I'm growing tired of them. I'm linking the Amazon version and I have them in several colors.
A braided sandal is very popular this year, and of course you can't go wrong with a banded slide in a neutral color. Most of the styles that I linked below come in multiple colors, so click through the link to see all the options.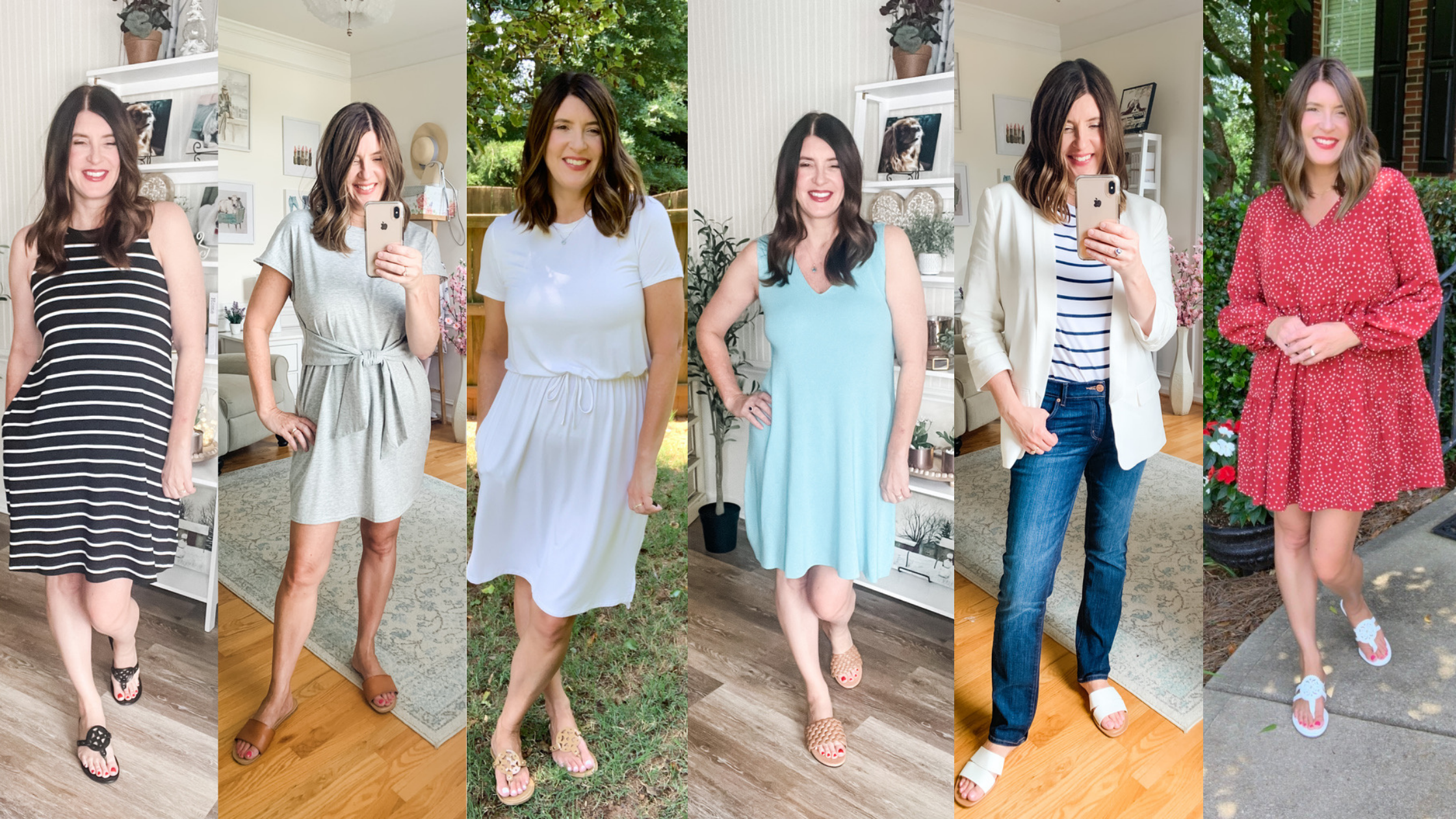 Embellished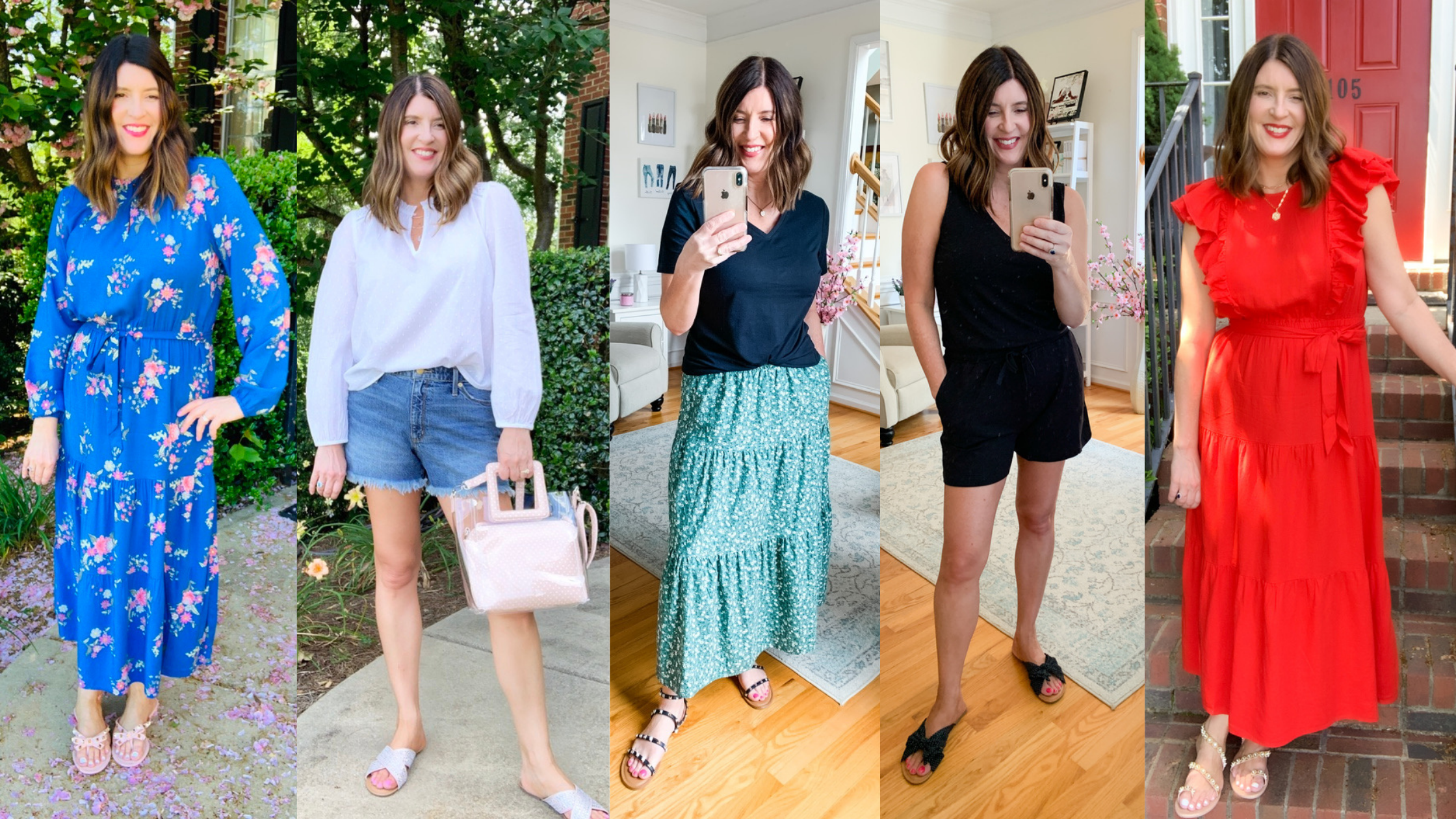 Sandals with added detail such as bling, bows, interesting ankle straps, and so on are fun to wear for special occasions but generally aren't the most comfortable for a full day of walking. Not to say that they can't be comfortable, but I find that I don't wear these types of sandals as often. They can really add interest to an otherwise boring outfit and they are just plain fun to wear.
Heeled Sandal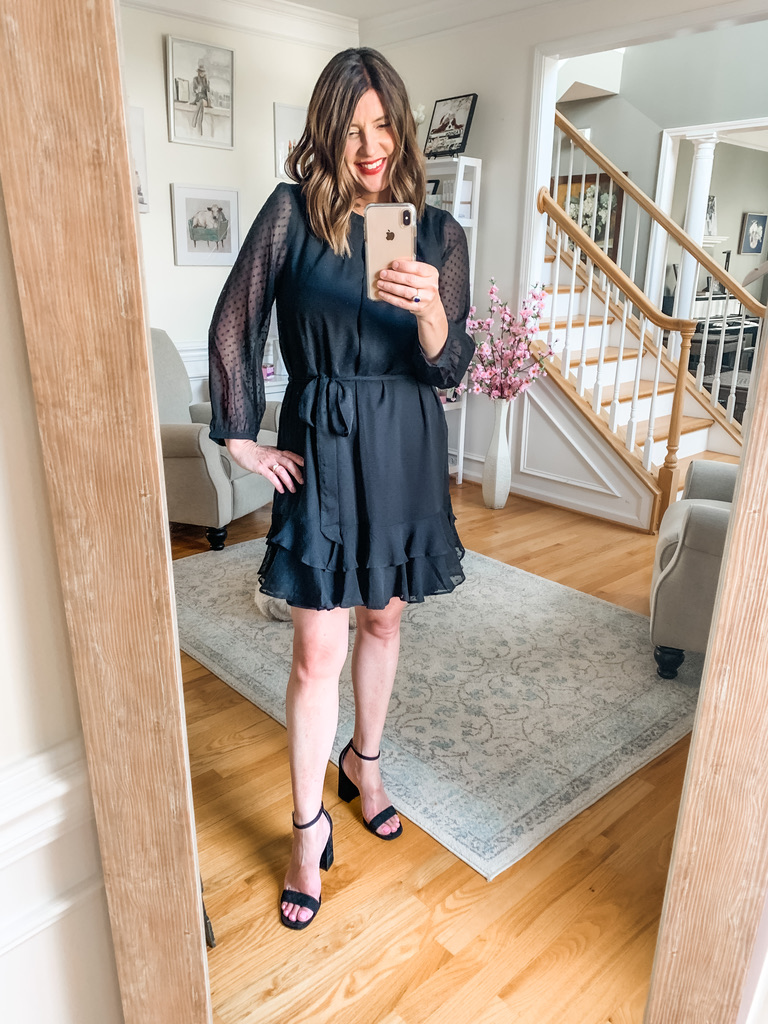 The 5 spring shoes you need would not be complete without a heeled sandal or two. These are my go-to styles for dresses and special occasions. I also like to wear them with jeans or shorts for a chic look for date night or anytime I want to take it up a notch. Heeled sandals are elegant, they give you extra height, and make your legs look long. Who doesn't want that?
I know some women simply can't wear heels for various reasons. If you struggle with balance, opt for a chunky heel that will provide some stability and an ankle strap.
Besides the braided style that I have mentioned already, the square toe style is really on trend. If you are purchasing any new shoes this season, be sure to consider this style. I recently purchased these two styles, and I'm loving them! They are both affordable on Amazon and are linked in the shopping widget below.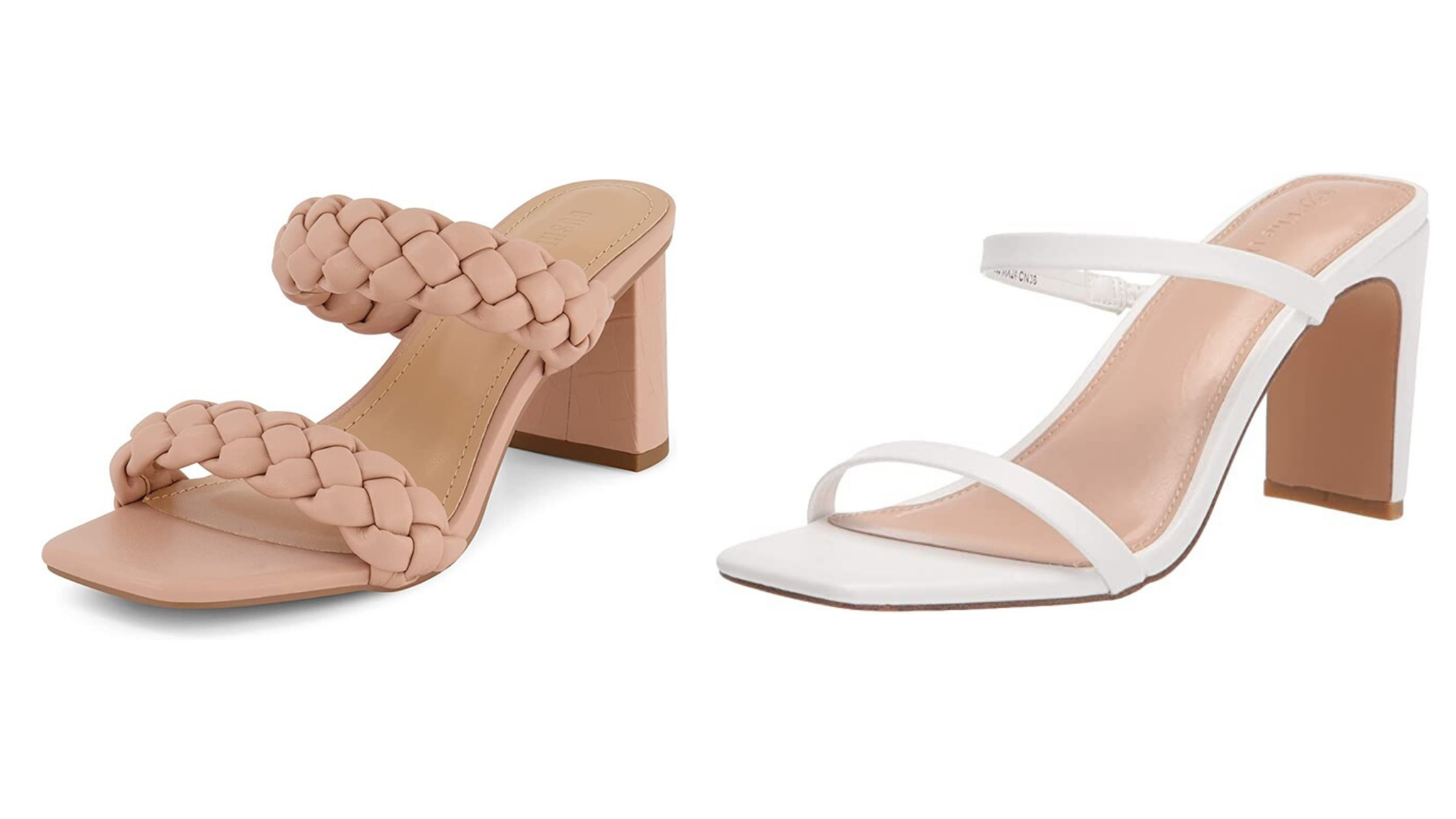 They come in several colors, so if you like these check out the link for all the available colors. I also have a black pair similar to the white ones. You have seen them here on the blog numerous times and I will be wearing them again this season.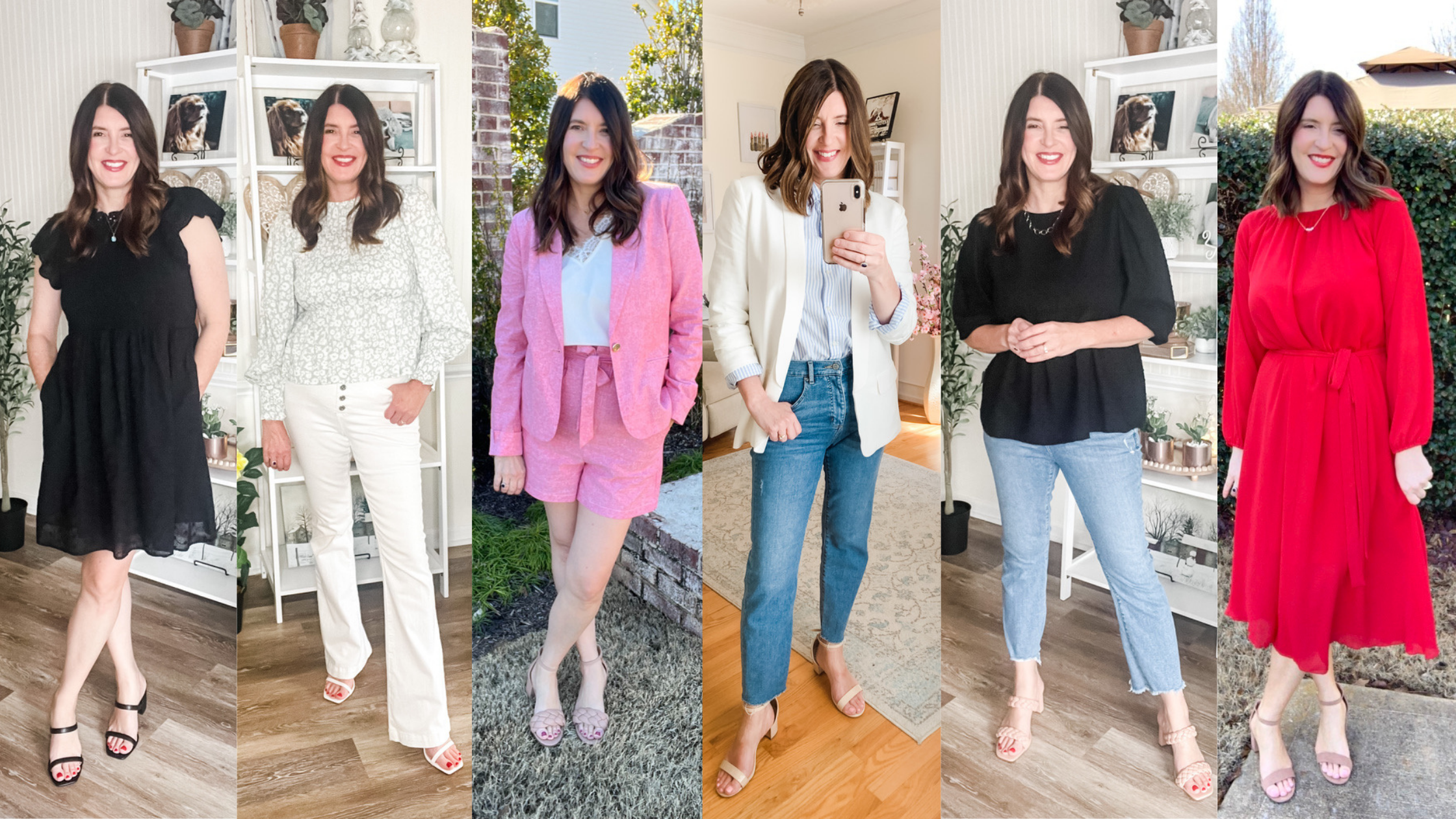 This is a good lower heel option if you have trouble with the 3-4 inch heels. It's from Target and is only $24.99
Style Tip
I've linked my favorite styles of heeled sandals. You will notice many of them are a nude color. The reason I like to wear nude heels with dresses is because it creates a longer silhouette and the color of the shoe does not break up the leg. This is especially important when wearing an ankle strap. That doesn't mean you can't wear a colored shoe…it's just a little style tip to keep in mind.
Well, after spending hours putting this together, I suddenly feel the urge to go shoe shopping! If you enjoyed today's post, please don't forget to share it on your social media sites. I would love to grow this community and the best way for other women to know about The Scarlet Lily is for you to tell them! Thanks in advance.