Spring is such a fun time of year! Each day as I look out my window, I see nature coming to life. It encourages me and gives me energy and enthusiasm that winter just can't produce. I've been talking a lot about basics and how they are so important in creating a wardrobe that works well for you. If I had to choose THE must have piece for your spring wardrobe, it would be white denim.
White denim is crisp and fresh looking. It brightens up any outfit and goes with literally everything! In past years, I overlooked my white jeans and I think it was because I didn't have a pair that I really loved. As with all denim, fit is key and there are so many styles to choose from. Today I'm going to show you several outfit ideas that all revolve around white jeans so you can style this must have piece.
Denim Styles
For this post, I have several different styles of white jeans. Straight leg, cropped flare jeans, skinny jeans, boyfriend, and flare jeans. Hopefully there is something for everyone here.
Democracy Ab Solution Straight Leg Jean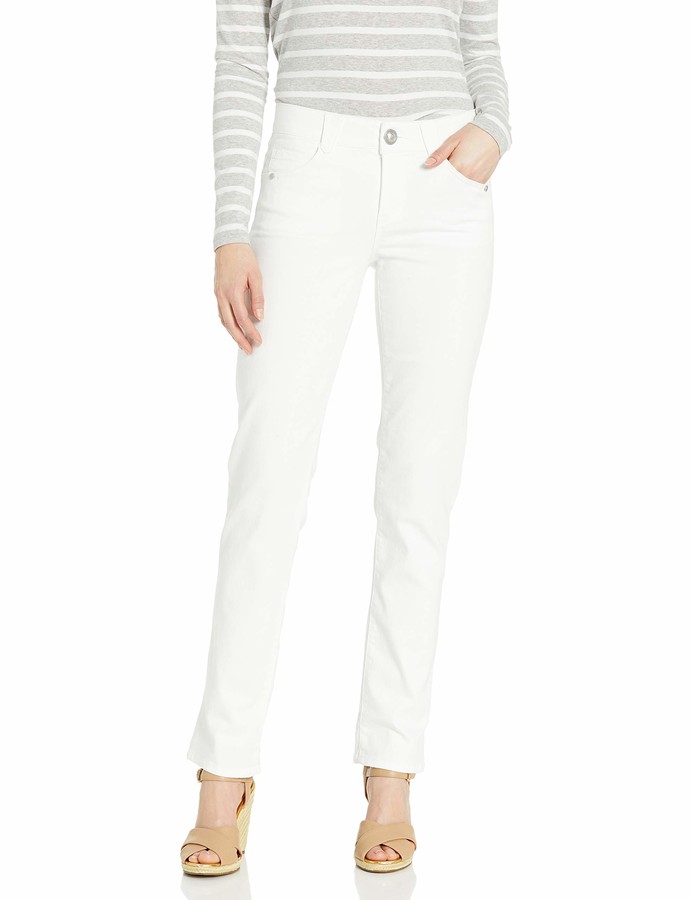 The must have piece for your spring wardrobe starts the Democracy Ab Solution Straight Leg Jean. They have a nice stretch to them and a wide waist band for tummy control. I have purchased this style in blue denim before and have been very happy with them. Using these pieces below I was able to create four outfits.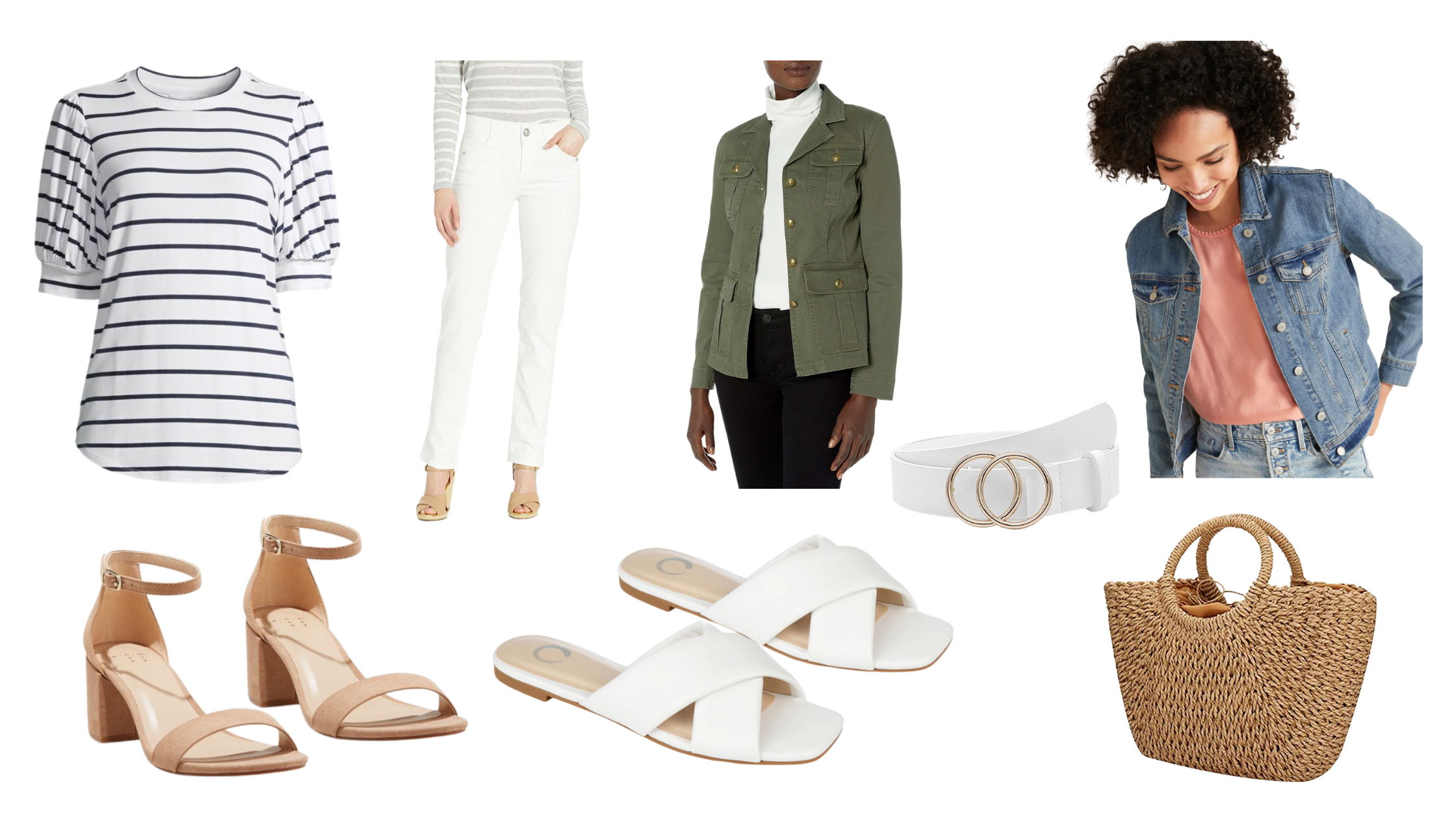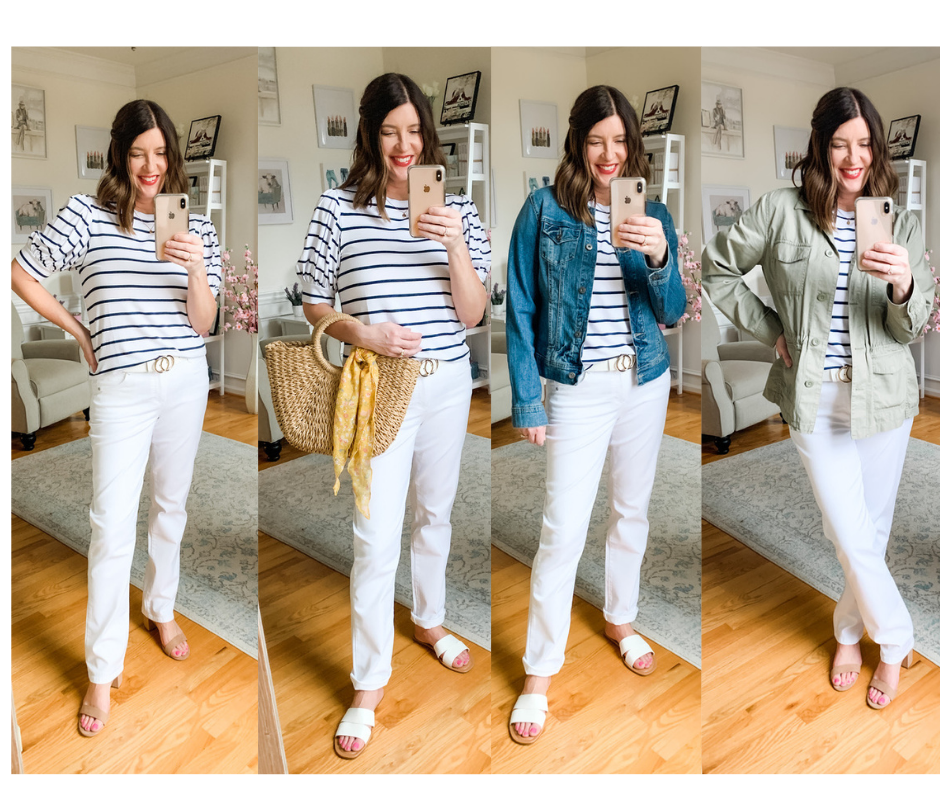 Here is the same jeans with a pretty floral top. This particular top has sold out, but this look is easy to recreate with any floral top. I will link some options. I also wore a block heel sandal with this outfit.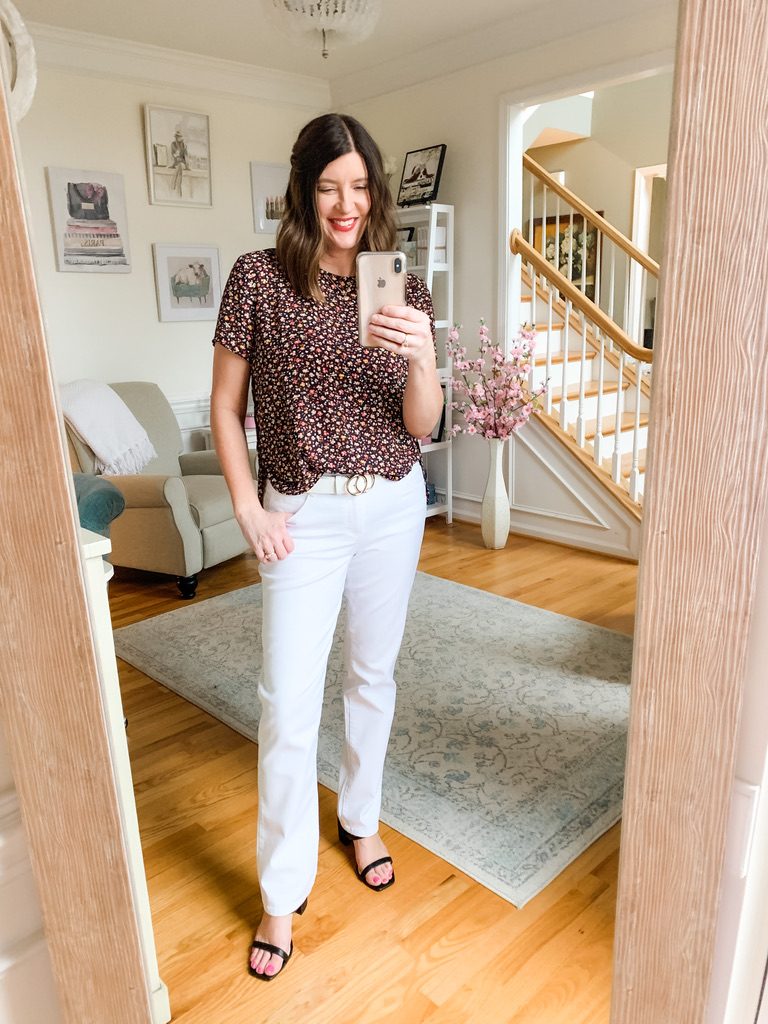 Add a long cardigan for cool weather.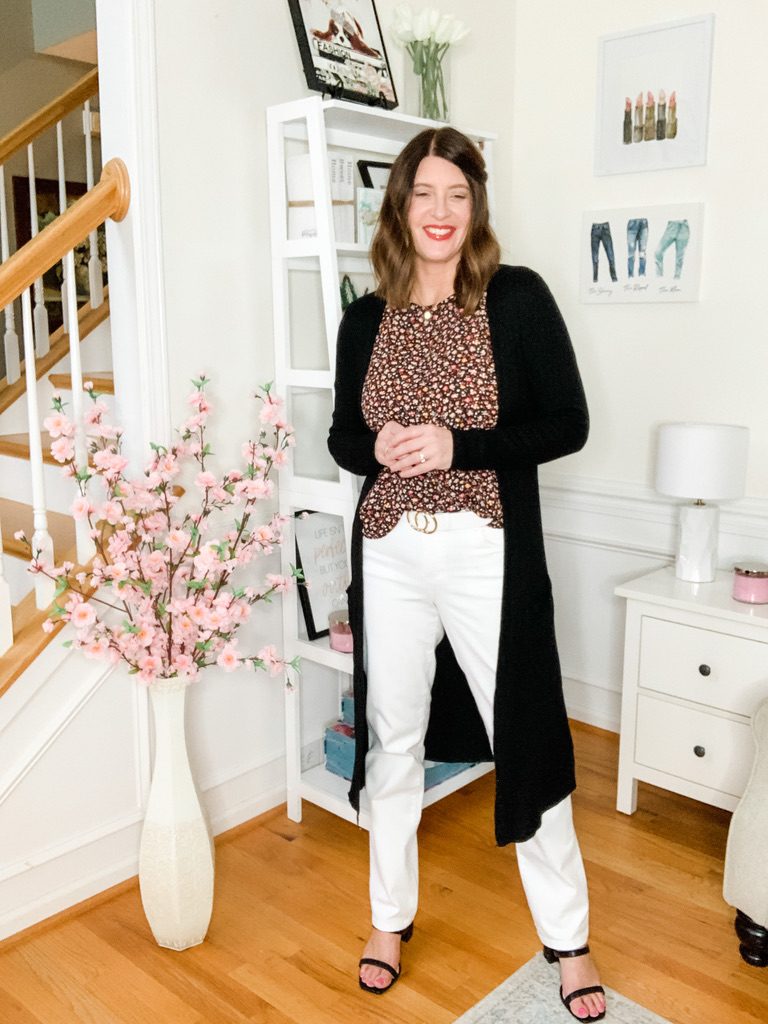 Kick Flare Jeans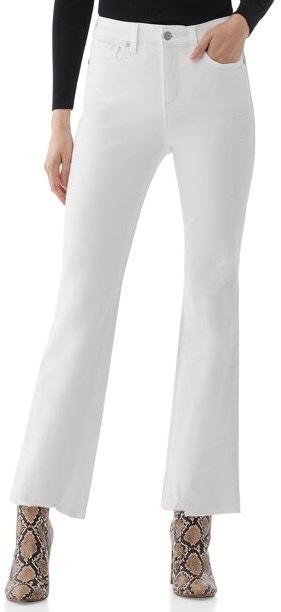 These are the Scoop Raw Hem Kick Crop Flare Jeans. These jeans run small. I sized up one size and they are still snug fitting. I am wearing a size 10. If you have broad shoulders like I do, this is a good style to help balance out your proportions.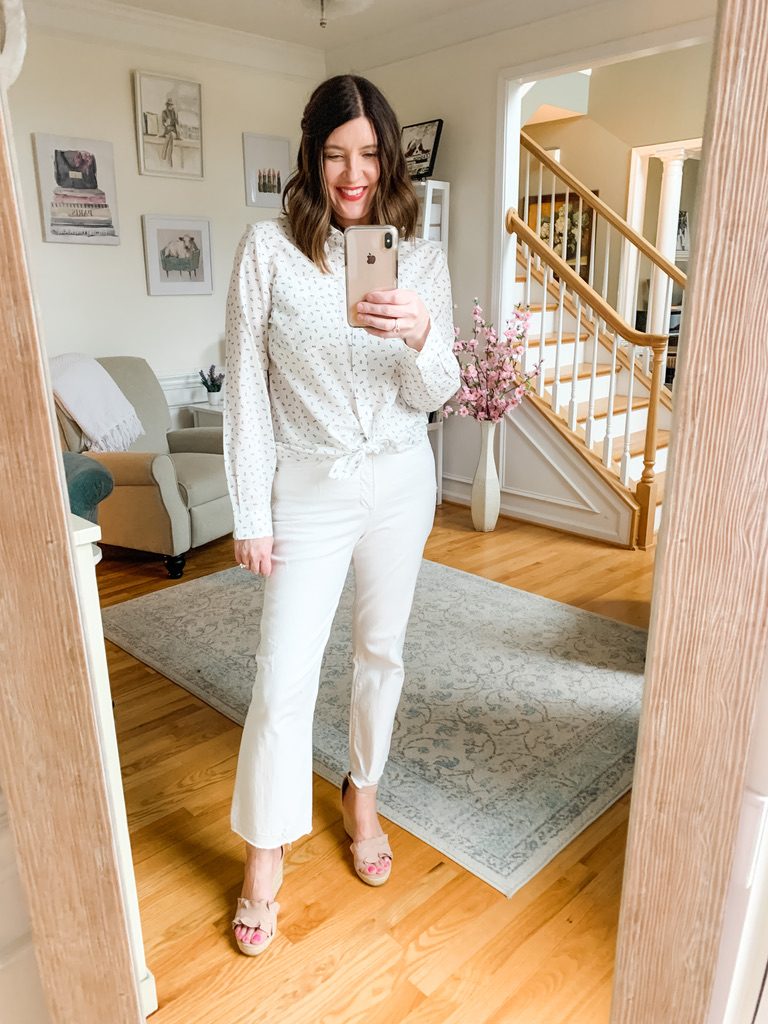 I paired them with a classic button down shirt with a small floral pattern. This top is from the daily ritual collection on Amazon. It runs true to size. My wedge sandals are from last year. I couldn't find a blush pink sandal, but this tan style from Target is similar.
Skinny Jeans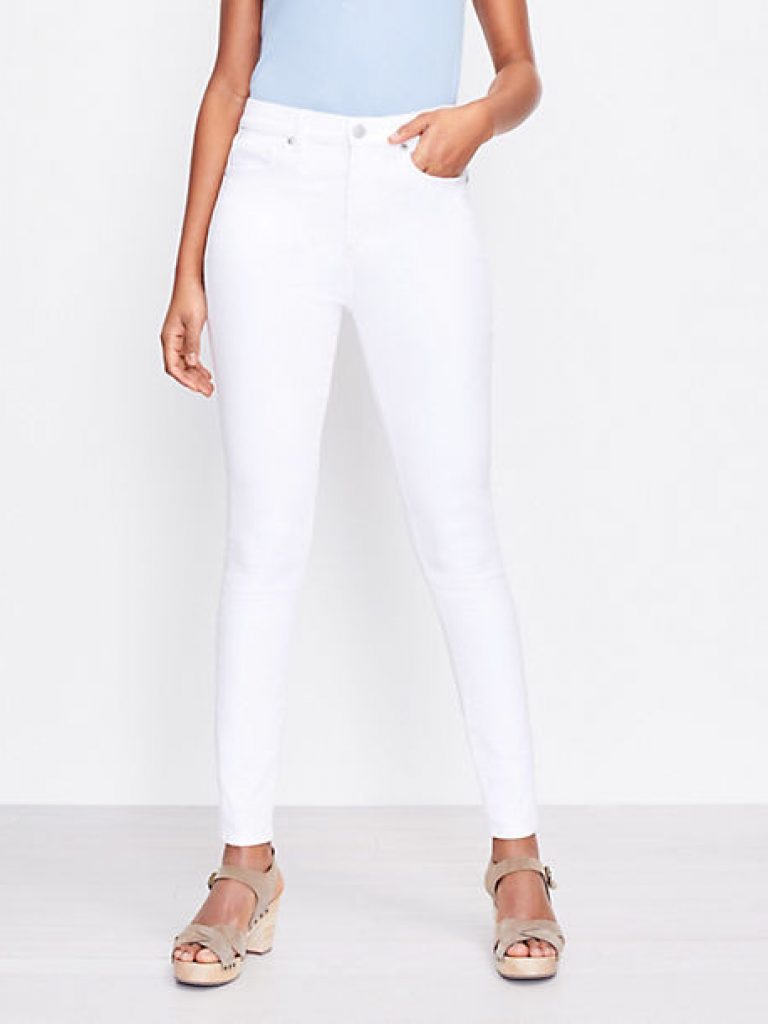 Skinny jeans are still in style no matter what you might be hearing. Yes, looser fits are more on trend but don't be afraid to keep wearing your skinny jeans. My white skinnies are from Loft and I have had them at least one year- maybe two. I will link several white skinny jeans in the shopping widget.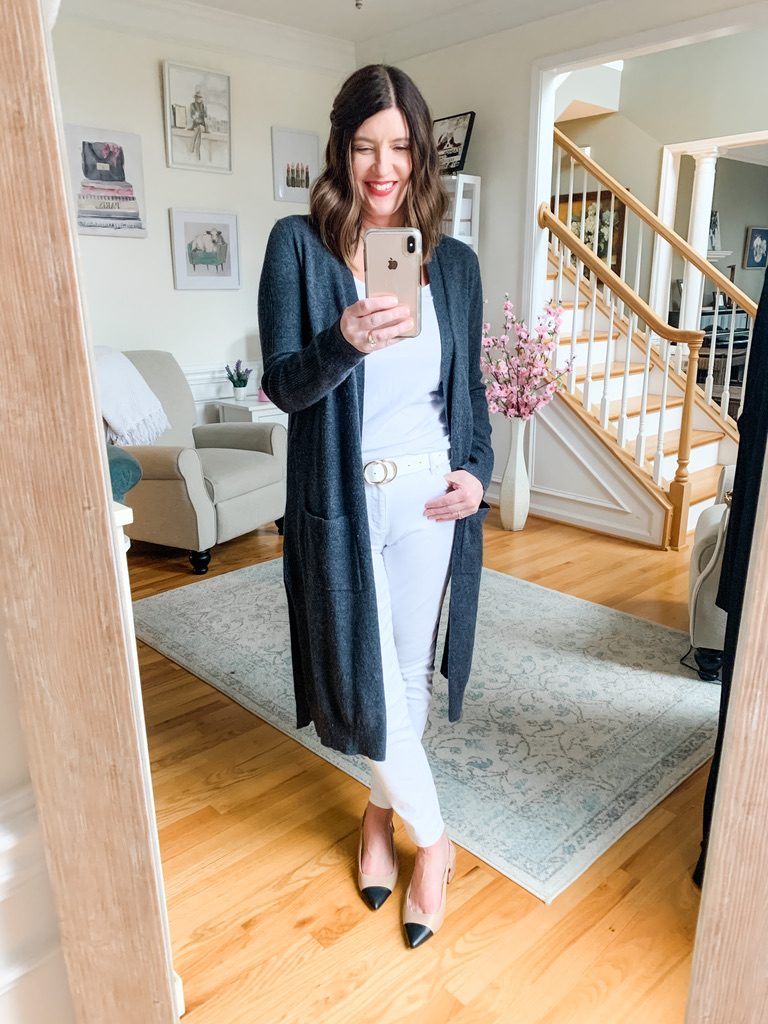 An outfit formula you can always fall back on is a tank + jeans + cardigan. For this outfit, a column of white is accented by a dark grey long cardigan. The toe toned pumps keep the classic style.
Boyfriend Jeans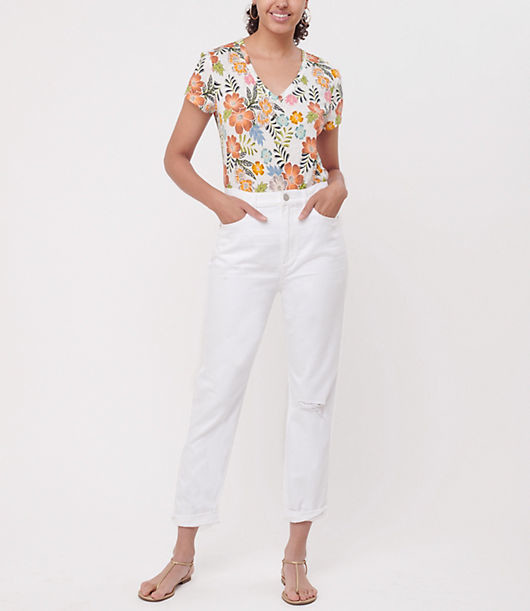 Boyfriend jeans can mean different things. Generally they are more baggy, but the extent of the loose fit seems to vary a lot. I am wearing a cropped boyfriend jean with a tiny bit of distressing from Loft. They are also from last year, so I am linking this years version.
I have four outfits put together with this style of jean. I like that the boyfriend jeans is very casual.
Outfit #1: Chambray top + white boyfriend jeans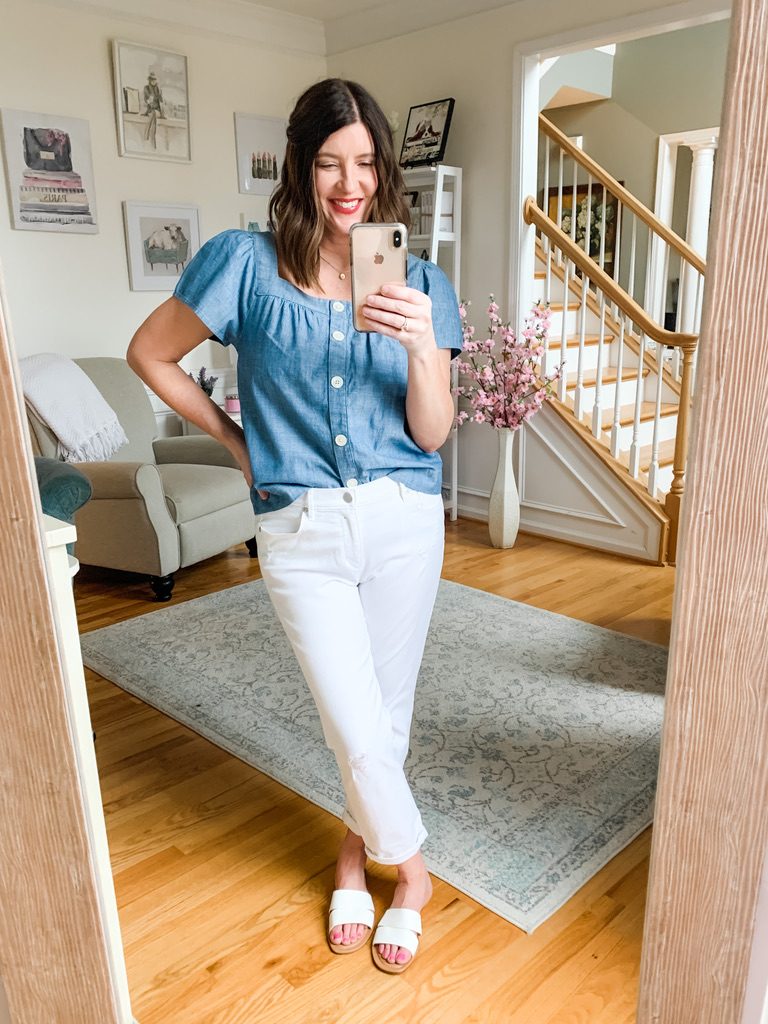 Outfit #2: Pink classic button down + white boyfriend jeans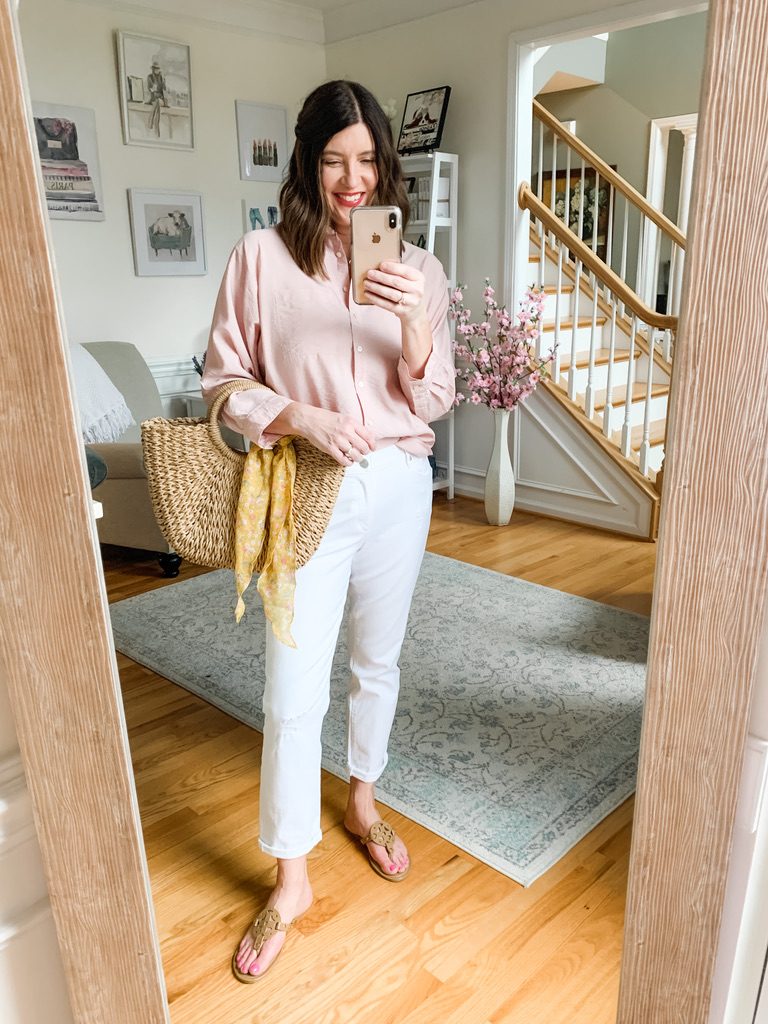 Outfit #3: Ruffle sleeve top + cardigan + white boyfriend jeans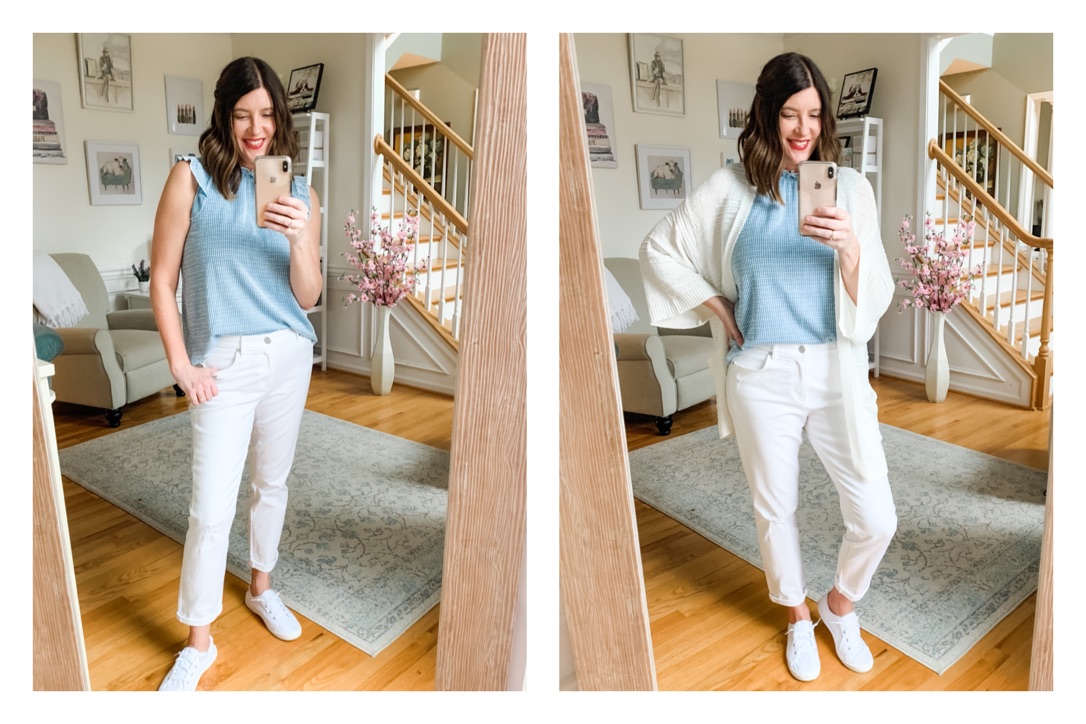 Outfit #4: Grey tee + white boyfriend jeans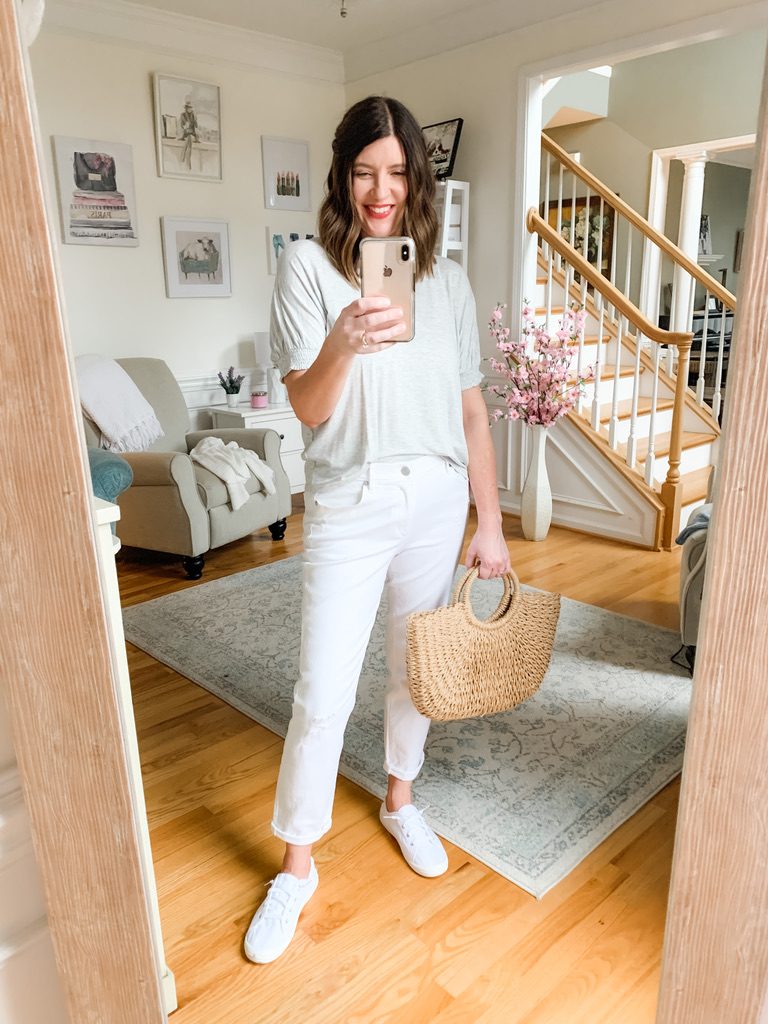 Flare Jeans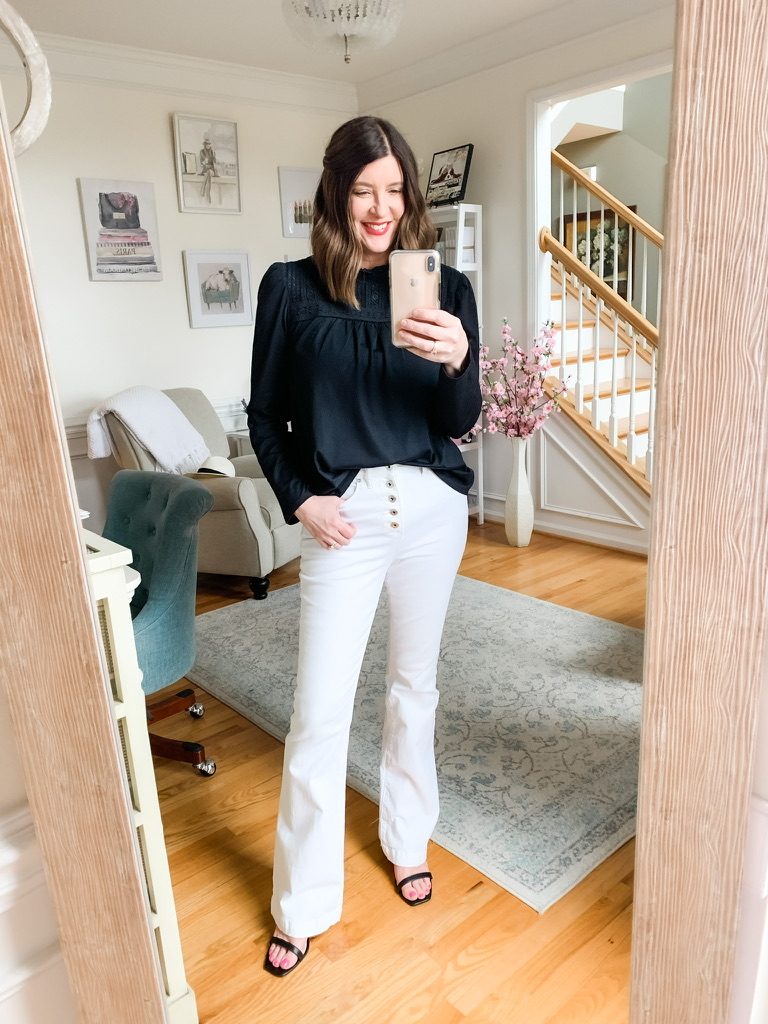 Don't forget about flare jeans. This is a great silhouette for women who are bigger up top. I've had these Melisa High Waist Flare Jeans since last year, and they are still available.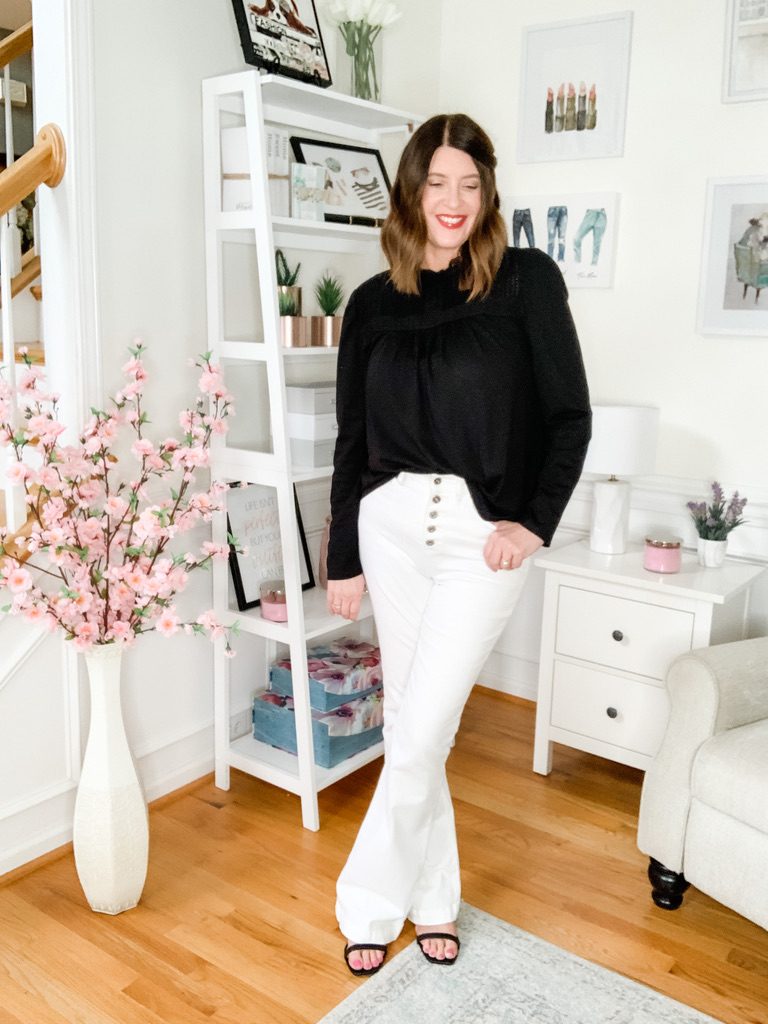 For this look, I am wearing the lace yoke top from Loft. It is nearly sold out, but there are a few sizes left. For shoes, I am wearing the same black sandals from before.
Do you plan to wear white jeans? I hope this has given you some ideas on how to wear the must have piece for your spring wardrobe. You might also enjoy this post.