A few days ago I came across the term "The Coastal Grandmother" and I had no idea what it was. So I did a little Google search and found out all about this new style aesthetic, which really isn't new at all…it's just a new label for this look. At first it doesn't sound like a style that you might want to emulate, but after some research it all made sense to me. Before I show you how to nail the Coastal Grandmother look, let me tell you a little bit about her.
First of all, you don't have to be a grandmother or live at the beach to embrace this style, so yay for that because I am neither one of those. The "Coastal Grandmother" is a middle aged woman who always looks effortlessly put together in a very casual way.
She enjoys the finer things because she can afford them. Cashmere sweaters are a staple of her wardrobe. She might be seen gardening or at the local farmers market picking out the freshest ingredients for her meals. She invites her friends over for fresh squeezed lemonade on the front porch in the afternoons, where she serves homemade cookies sitting on a plate next to a vase of freshly picked hydrangeas from her garden. She's the perfect hostess and homemaker. Are you getting the picture?
If you still need a visual, think of Diane Keaton in the movie "Somethings Got To Give". I have not seen this movie, but as I was researching this look, her character in this movie came up several times. Based on the photos from the movie, I was starting to get the vibe.
This is a classy style that I picture someone in The Hamptons or Martha's Vineyard wearing. Or perhaps a southern lady who still sends handwritten thank you notes. Now, before you go feeling frustrated by this seemingly perfect persona don't worry. You don't have to be wealthy, live on the beach, or have a closet full of cashmere sweaters to pull off this look.
I decided after looking through Pinterest for some inspiration to create my own "Coastal Grandmother" looks just by experimenting with the clothes already in my closet. I realized that I naturally gravitate towards this look even though I didn't call it the same thing.
Wardrobe Staples Of This Look
canvas or straw tote
shirtdress
linen blend wide leg pants
button down shirt (white, or striped)
chambray top or dress
jeans (not skinny jeans)
footbed slides (Birkenstocks or look for less)
straw hat
bucket hat
neutral sweaters
White Button Down + Wide Leg Linen Pants
Here is one example that will help you nail the coastal grandmother look. This outfit consists of a simple white button down and some light green linen pants. The look is completed with the key accessories…the straw tote and hat. The sandals are neutral and classic in style.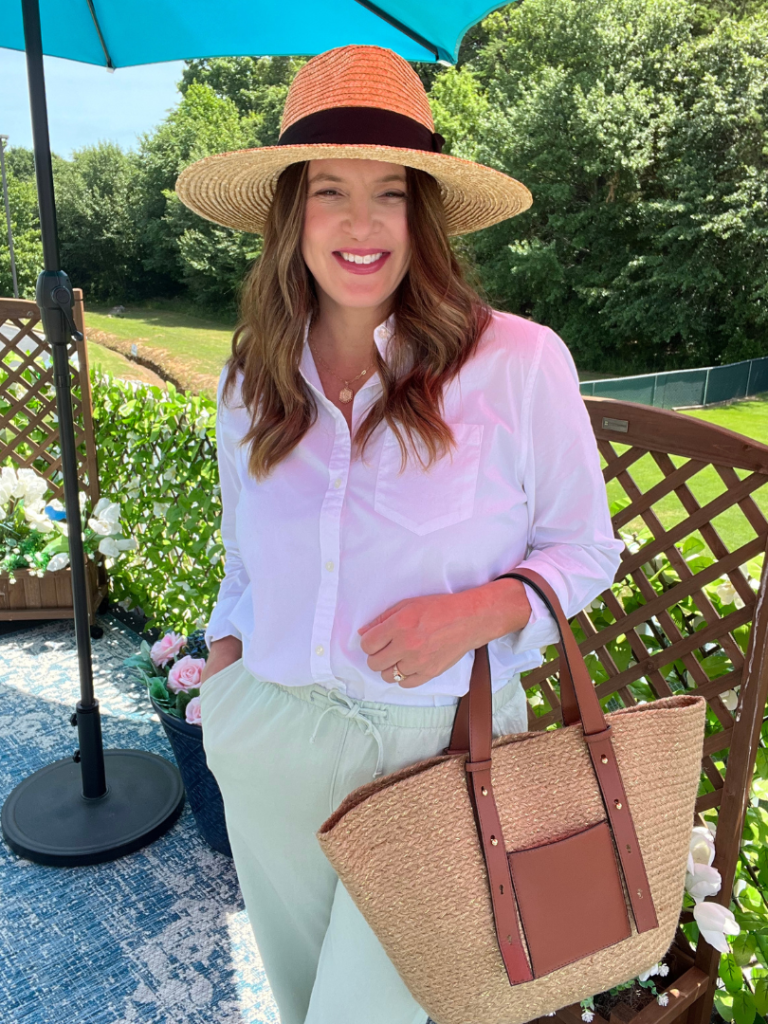 You may remember these pants from a recent Walmart haul. I purchased them in black and the sizing wasn't quite right. I mentioned that I was going to order them in a size small and these are the pants in green. Now I very rarely fit into a size small, so this is something important to mention about these pants. You will want to size down in these.
My white button down is by Amazon Essentials, and you will want a top similar to this to create this look. This is a very budget friendly version (as all of today's outfits are) of this otherwise expensive looking style.
Summer Sweater + Wide Leg Crop Pants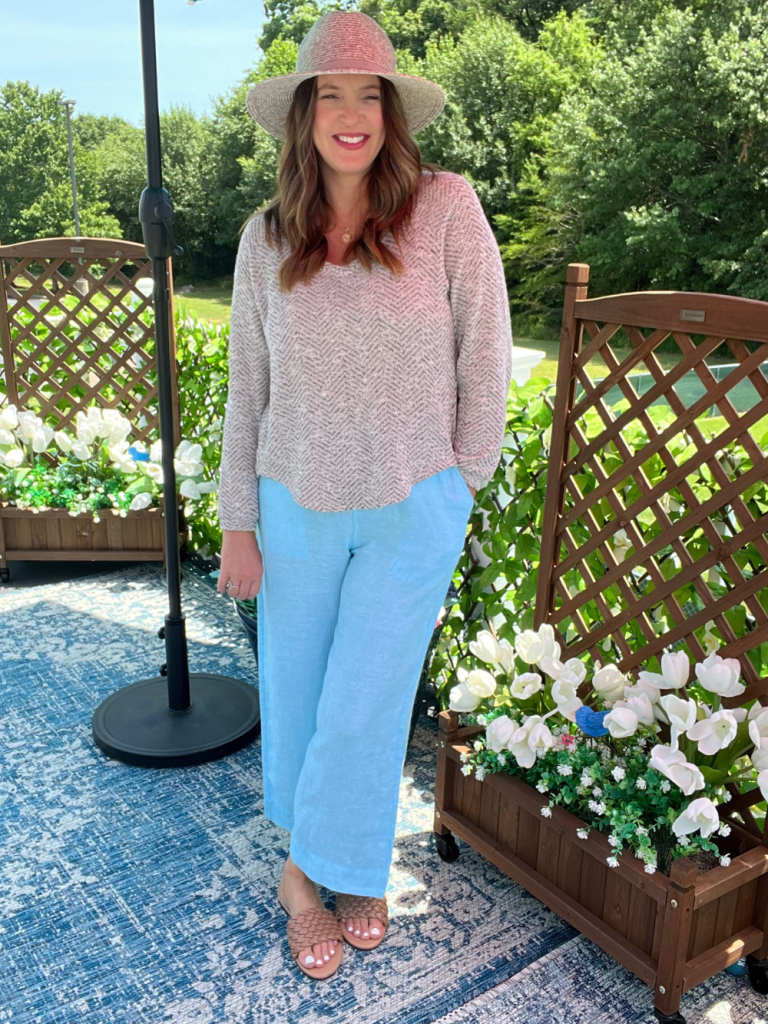 This outfit is similar to the first, except I exchanged the button down for a beachy looking summer sweater and the pants are a pull on style linen pant that I found at T.J. Maxx.
My sweater came from a boutique called Dress Up. You can order online and shipping is free with a $75 purchase. This exact sweater is no longer available, but I have linked several similar styles. J.Crew Factory and Talbots are great retailers to shop for this look.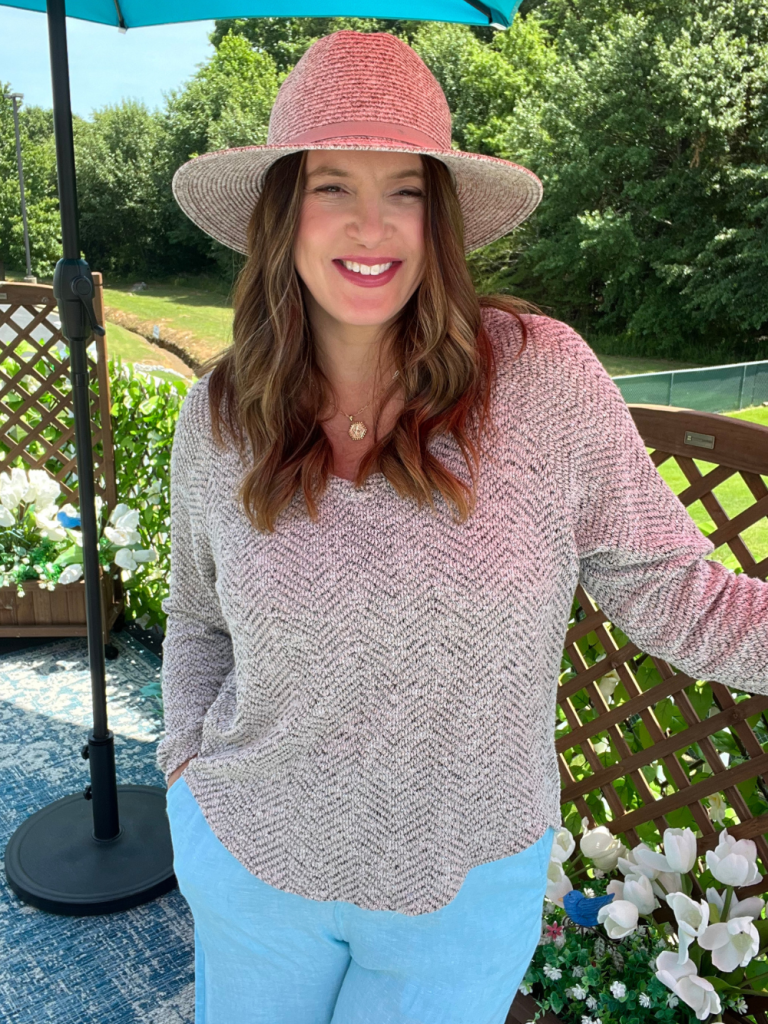 Chambray Top + Wide Leg Twill Pants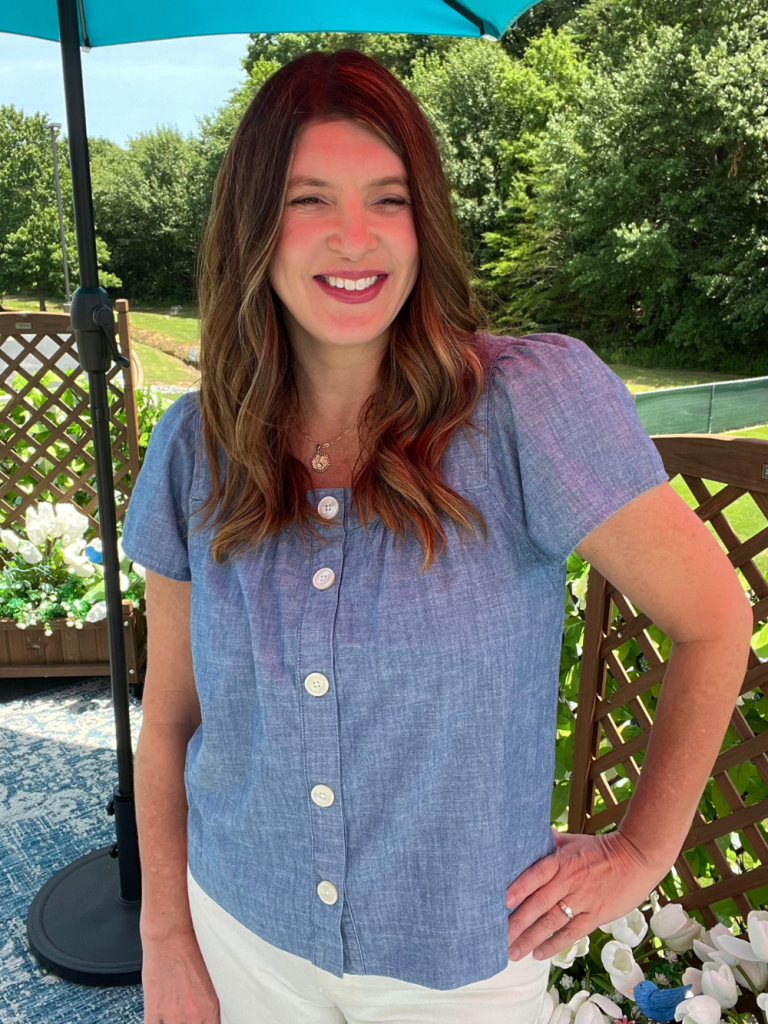 Another key wardrobe piece you will need to nail the coastal grandmother look is a chambray top. I'm wearing a square neck style from J. Crew Factory from a couple of years ago. My twill wide leg pants are from Loft (old). I linked some similar styles to help recreate this outfit. My handbag is a new purchase from Walmart.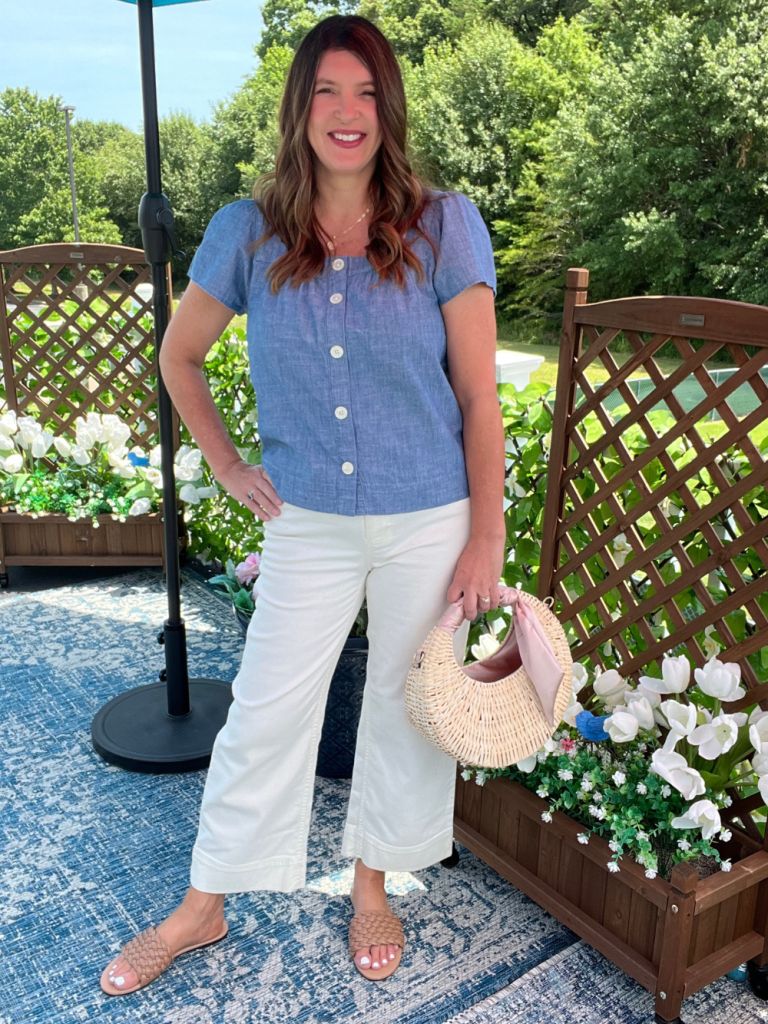 ShirtDress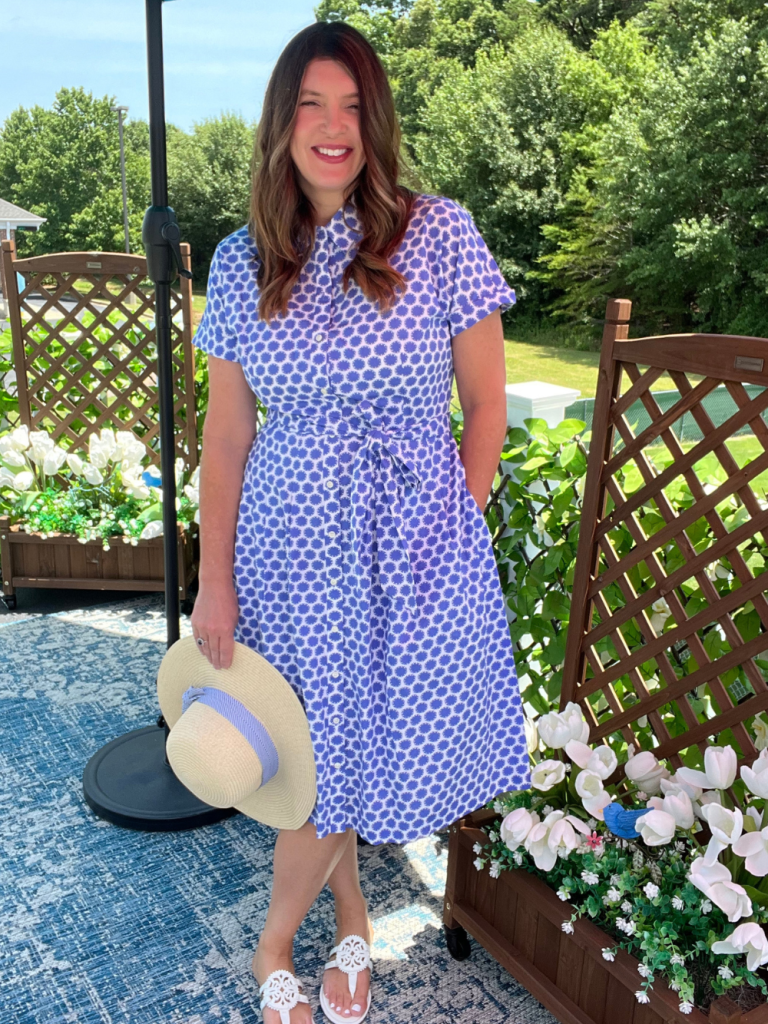 The Coastal Grandmother also enjoys a good shirtdress. They are flattering and have such classic style. You can pair a shirtdress with sneakers, sandals, flip flops, or wedges to achieve the look you want.
This is one of my favorite shirtdresses from Talbots. I purchased it last year and have worn it many times. They still have it in black. I will link some similar styles so you can shop for your favorite!
Nude Sweater + Black Linen Shorts
Here is an example of the coastal grandmother style with shorts. Again, I'm sticking with neutral tones here with a nude short sleeve sweater and black linen shorts.
Sundress + Straw Hat
The coastal grandmother loves a good sundress…usually a midi or maxi length. These types of dresses are perfect for the hottest days when you still want to look put together, which the coastal grandmother always does! Here are some examples.
Sweater + White Straight Leg Jeans
This is one of my favorite sweaters from J.Crew Factory (last year). They have a solid version of this sweater without the ruffle in several colors, including this classic green. My jeans are the Ab Solution Straight Leg Jeans by Democracy.
Striped Button Down + White Shorts
One piece that really captures the essence of this style is a striped button down shirt! I've had this one going on two years now and I wear it often. It's still available on Amazon and the quality is amazing. The white shorts are by Time and Tru (last year). This pair is similar.
Black Sweater + White Knit Wide Leg Pants
The last coastal grandmother outfit ideas is a combination of classic black and white. The white wide leg pants are an essential component of this look, so I paired them with a short sleeve summer sweater from J. Crew Factory. This is such a comfortable outfit combination and perfect for running errands or a walk on the beach.
Hats
Straw hats and bucket hats are wardrobe essentials for the coastal grandmother look. Here are some hats at different price points that you might enjoy browsing.
Handbags & Totes
If you want to nail the coastal grandmother look, you need a straw handbag or tote. Here are some favorites of mine!
Shoes & Accessories
The coastal grandmother look is all about casual, comfortable style that looks like you're not trying too hard. Shoes should reflect this vibe.
Are you a coastal grandmother? Let me know in the comments below!