Today I have a cozy sweater try on with some great options from Nordstrom! I love to shop at Nordstrom because they have free shipping and free returns. They also offer a wide price range and you can find some high quality pieces on sale. Now that we are getting into the coldest months, it's a great time to stock up on some sweaters to keep you both warm and stylish!
V-Neck Tunic Sweater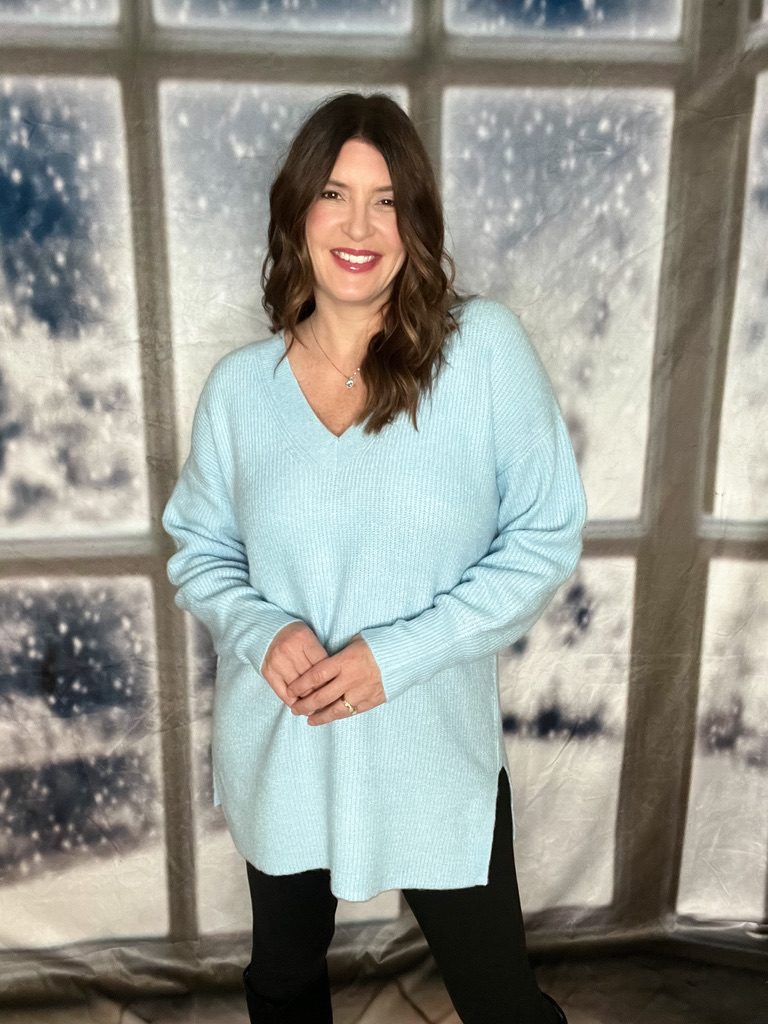 First is this cozy V-neck tunic sweater. Tunic length sweaters are a must if you enjoy wearing leggings…which I do! In fact, leggings and a sweater is my go-to winter daily outfit. As you can see, it covers the bum area nicely.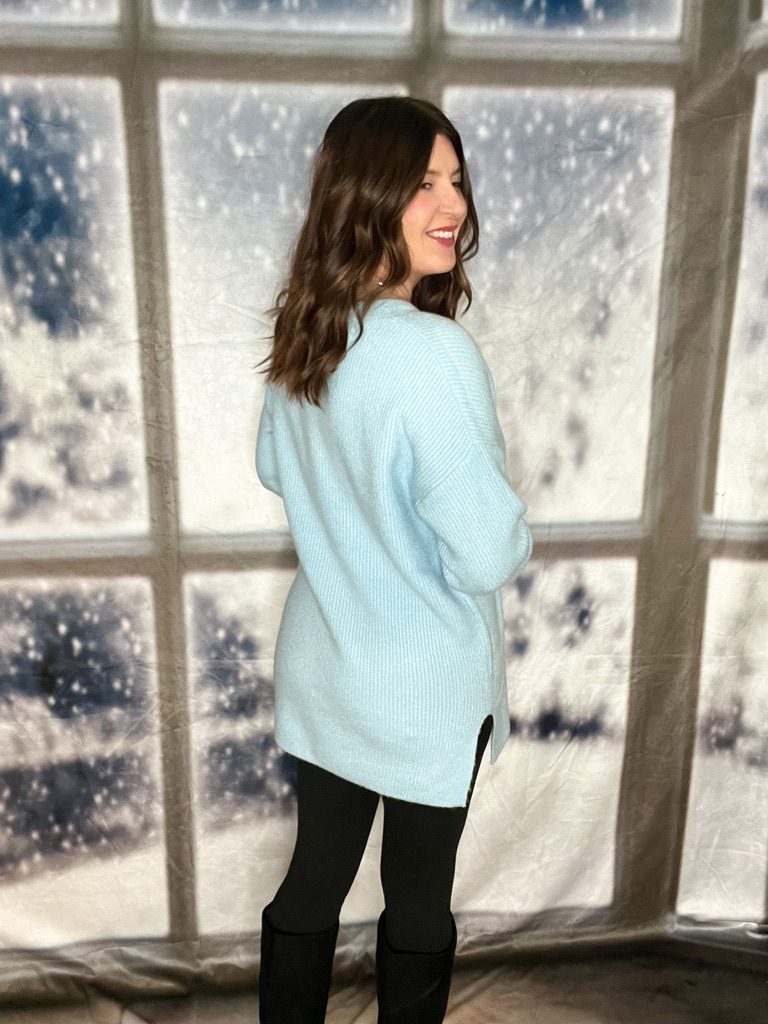 This icy blue sweater by Halogen is currently on sale and comes in several colors. I'm wearing a medium, and it still gives me an oversized fit.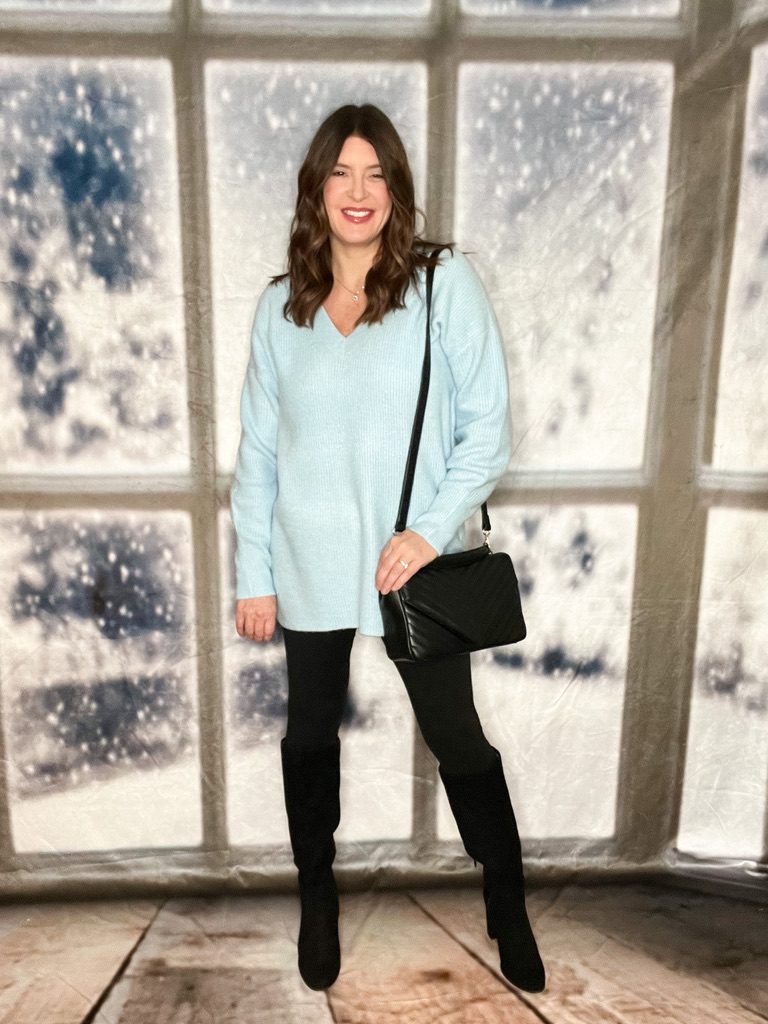 For this outfit, simple black leggings are elevated with tall black suede boots and a black crossbody bag. My handbag is a new purchase from Walmart, and it's a great size if you need a midsize crossbody.
Weekend V-Neck Sweater
Next, I have a classic camel colored v-neck sweater by BP. This is a boxy style sweater that can be worn out or front tucked. I also sized up to a large since BP is a junior brand. I'm not sure that it was totally necessary, but I was happy with the fit.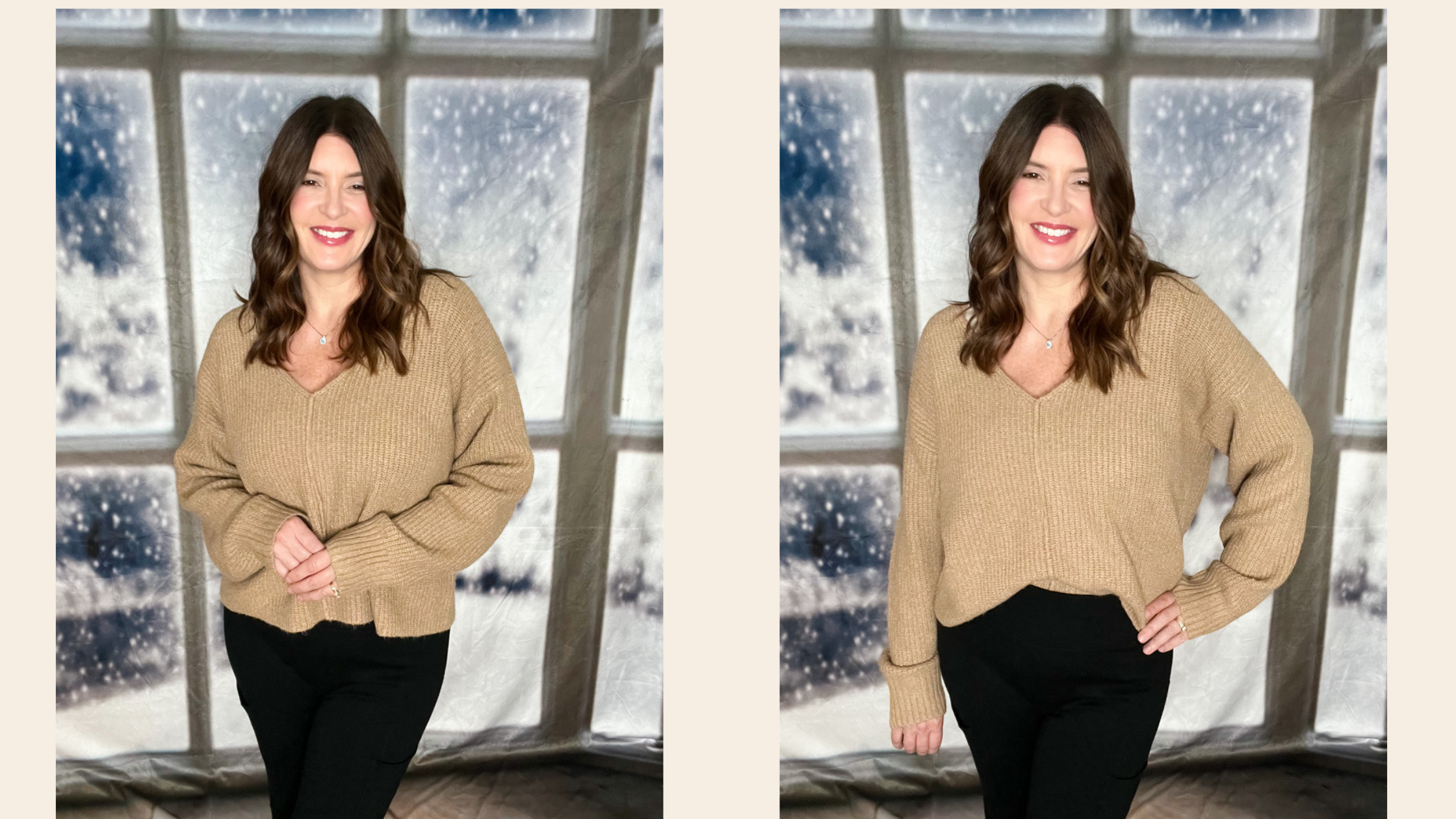 There are so many ways to wear a sweater like this one, but for this outfit I chose simple black knit ponte pants and my favorite capped toed flats.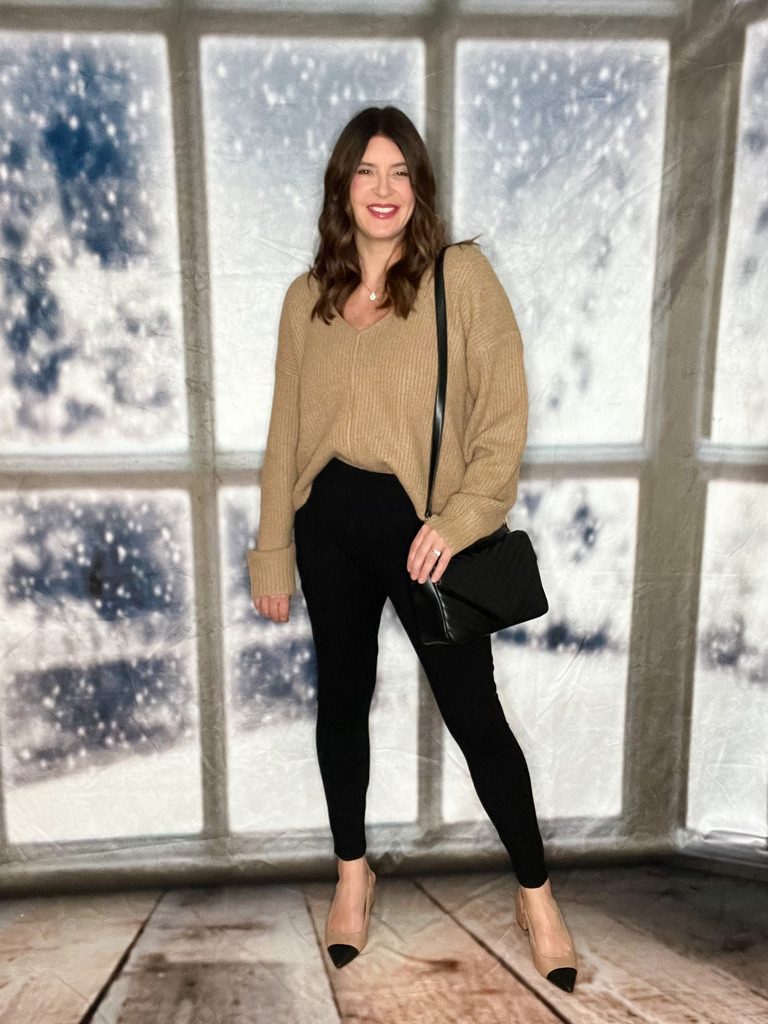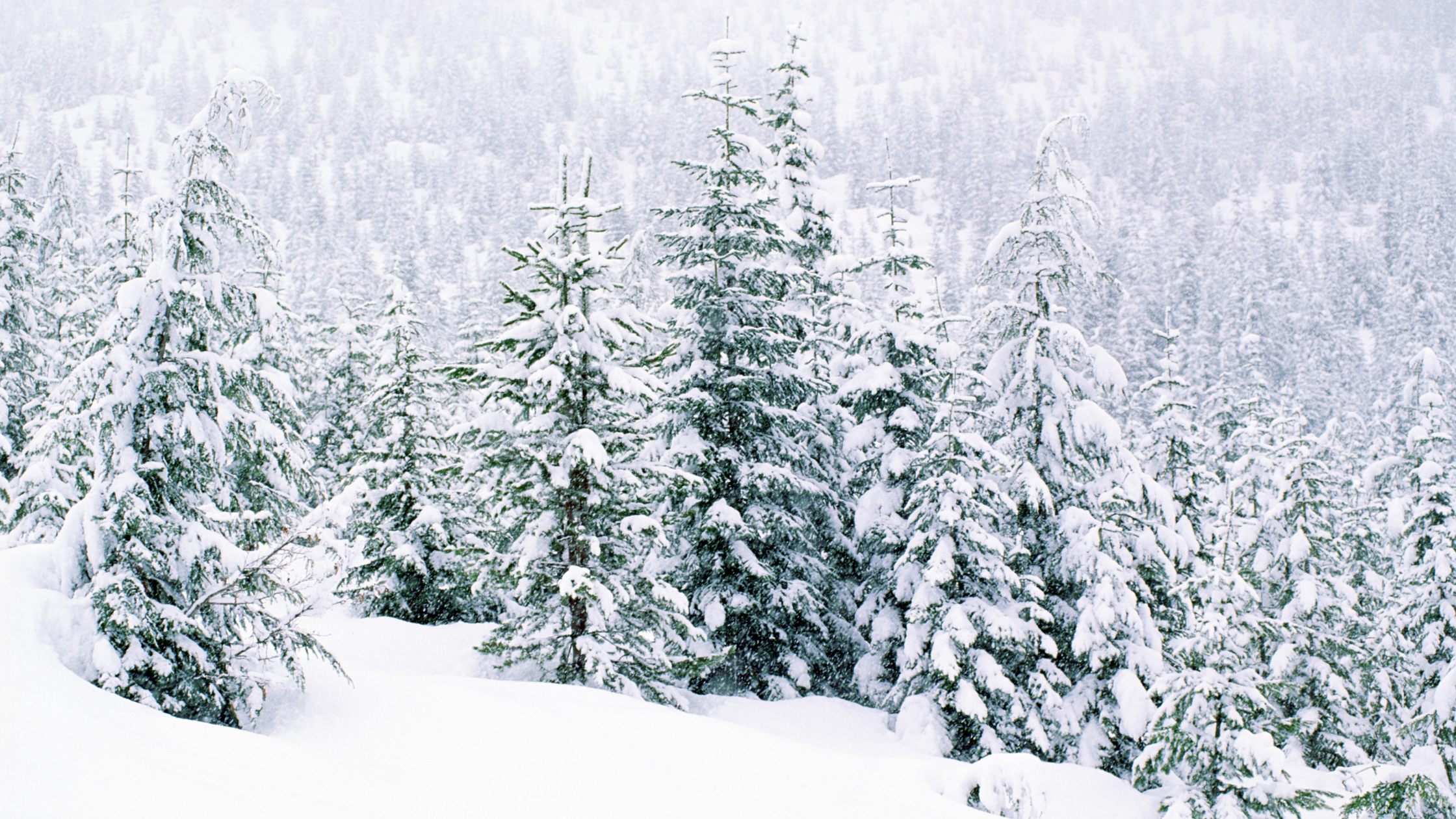 Cashmere V-Neck Sweater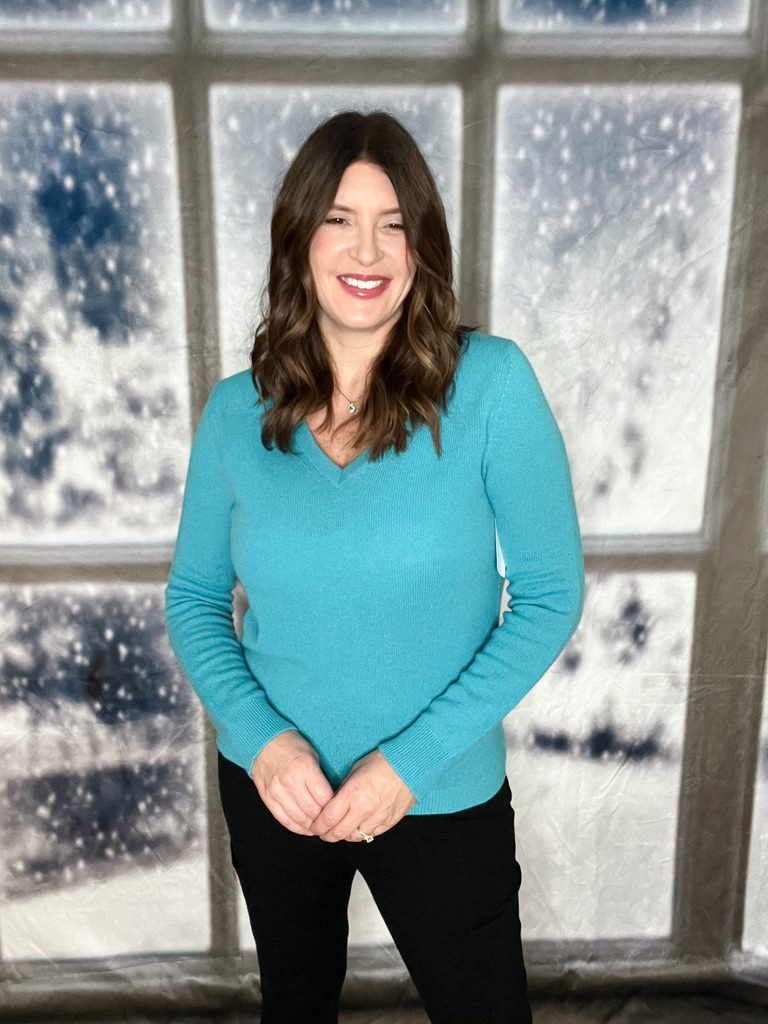 A cashmere sweater is a splurge for sure, but I would recommend having one really nice one in your wardrobe. This bright turquoise blue is perfect to cheer you up on a gloomy winter day. There are other colors available if you prefer a more basic color.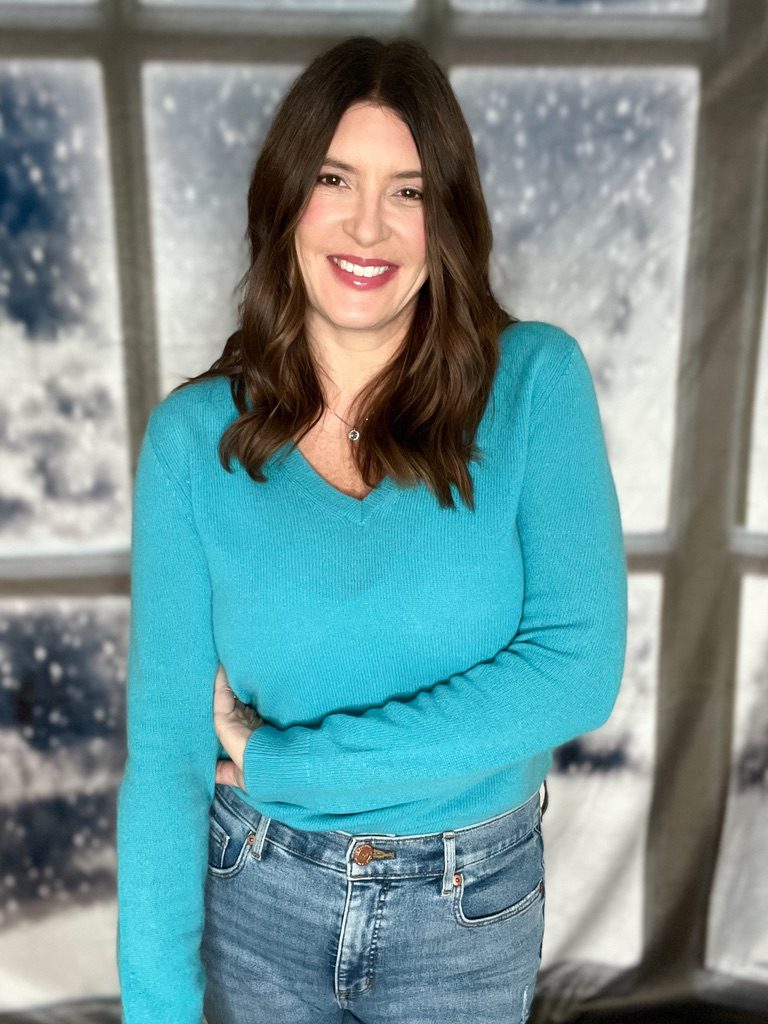 A cashmere sweater should have a more fitted silhouette, but not too tight. This would not be the kind of sweater that you would want an oversized look. This is classic style that you can wear year after year. I'm wearing a size medium.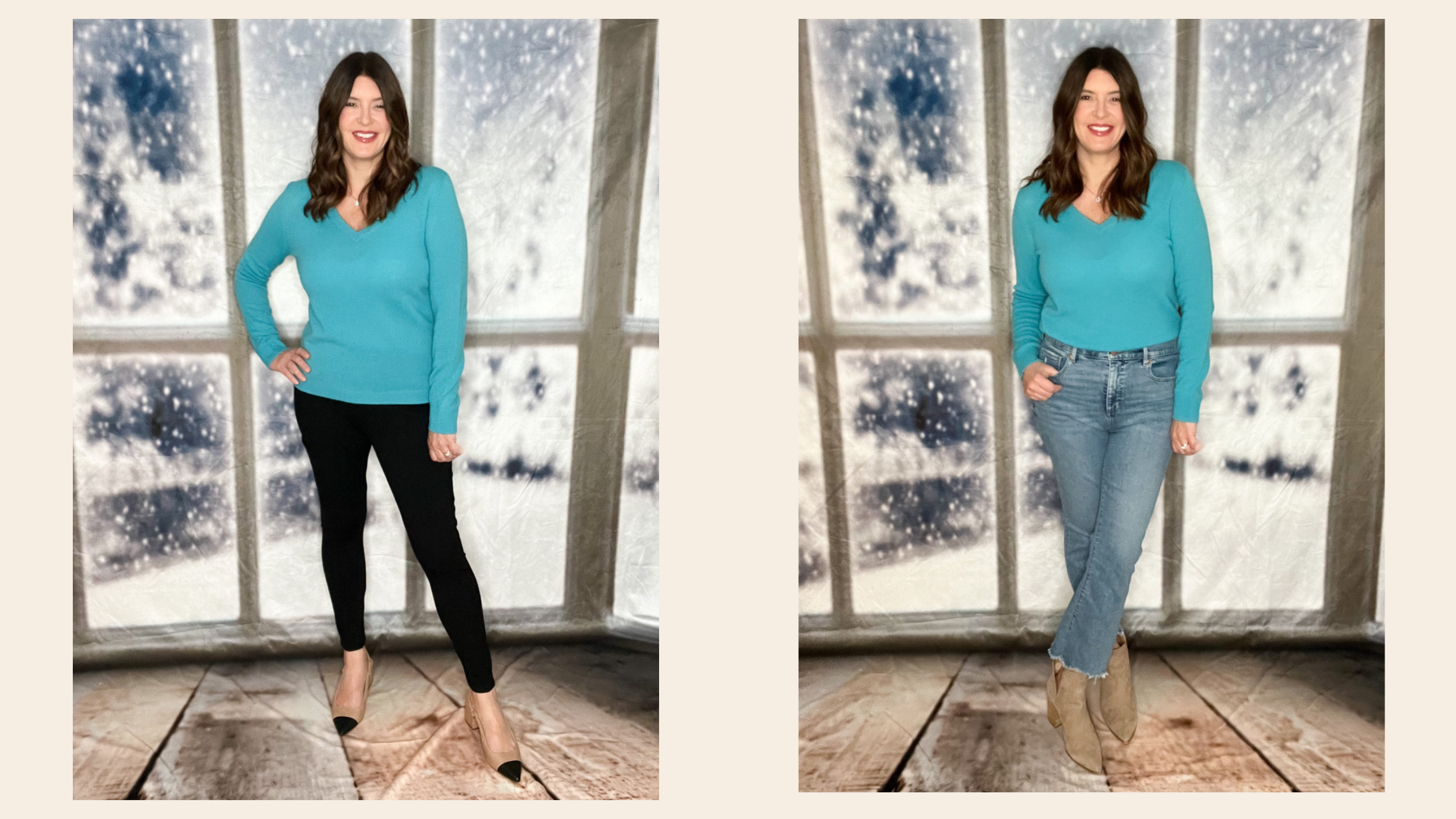 I styled this one a couple of different ways. First with the same black knit pants from the previous outfit, and then with a pair of light wash denim. This sweater can pair with most anything!
Animal Print V-Neck Sweater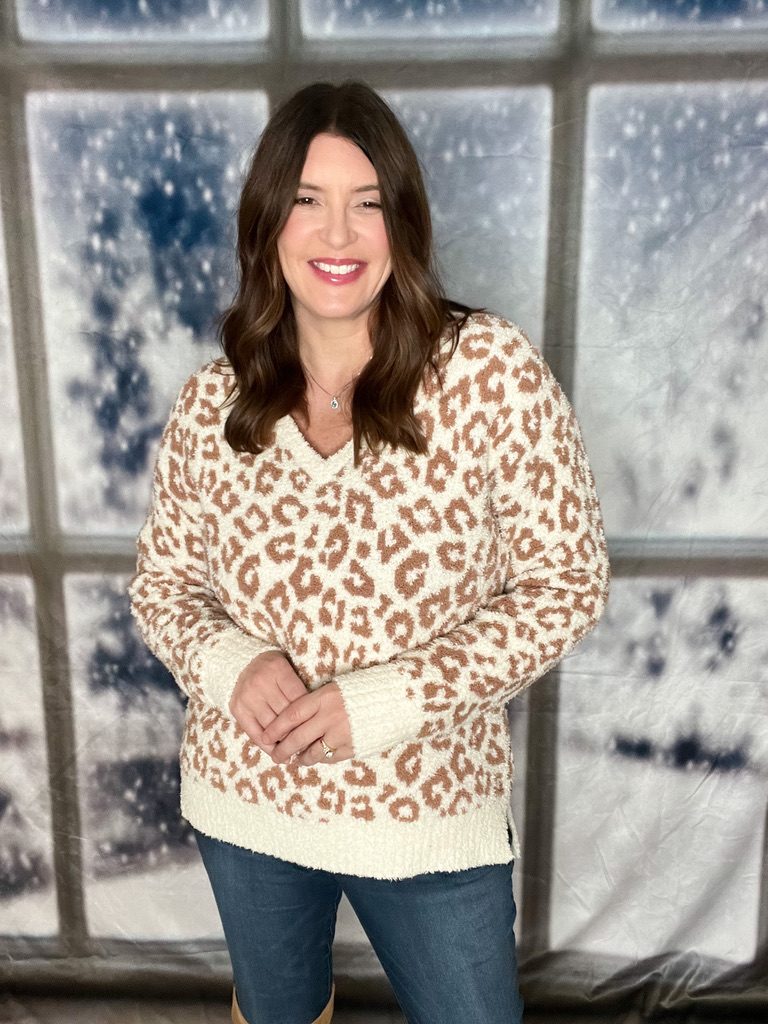 For a more fun and trendy look, animal print is still going strong. I'm really enjoying the lighter neutrals that are available in animal print. This sweater by UGG is a real deal right now, so if UGG is normally out of your price range now is your chance to pick up this cozy sweater!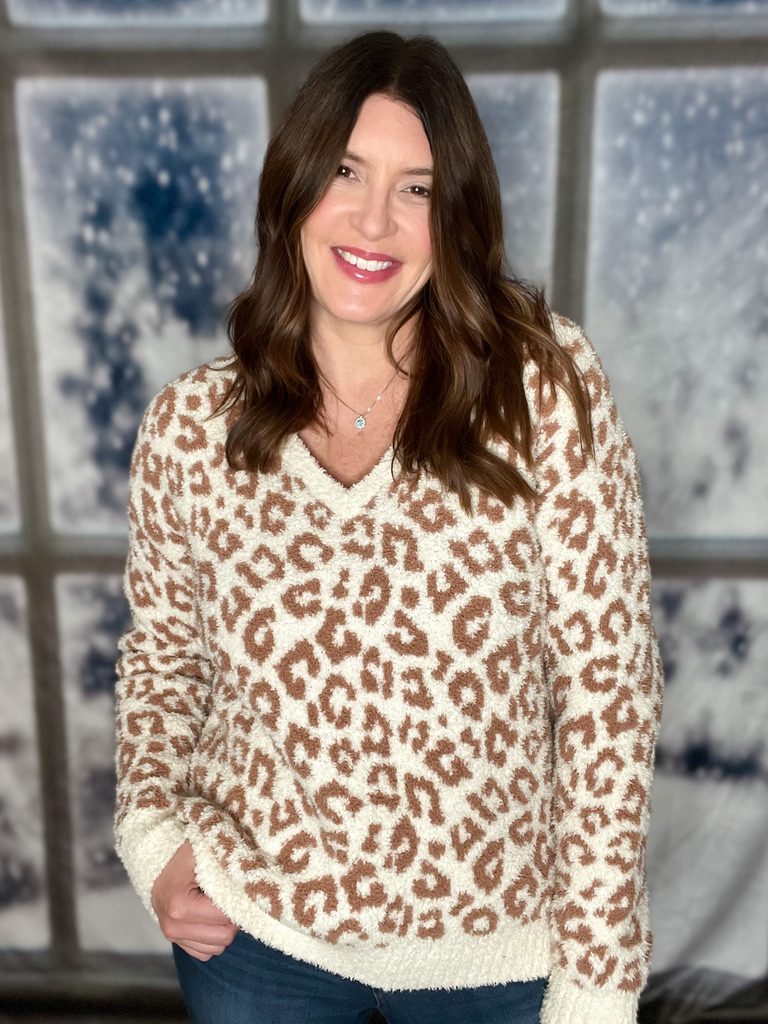 This is typical UGG quality and very soft! You will want to save this one for a really cold day because it is super warm and you might overheat on a mild day. I'm wearing a size medium in this style.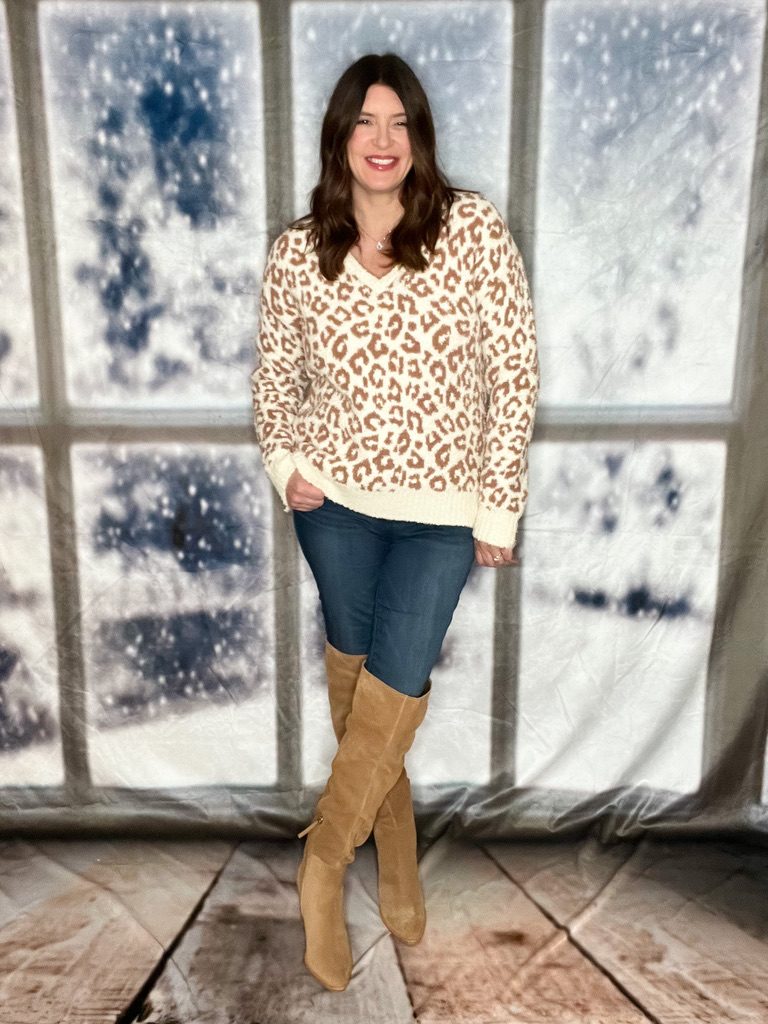 Here is a good example of why you should hold on to your skinny jeans! Over the knee boots with skinny jeans gives any sweater a chic look, and I just love this combination. My boots by Treasure & Bond were a Christmas gift from my hubby and they are also from Nordstrom.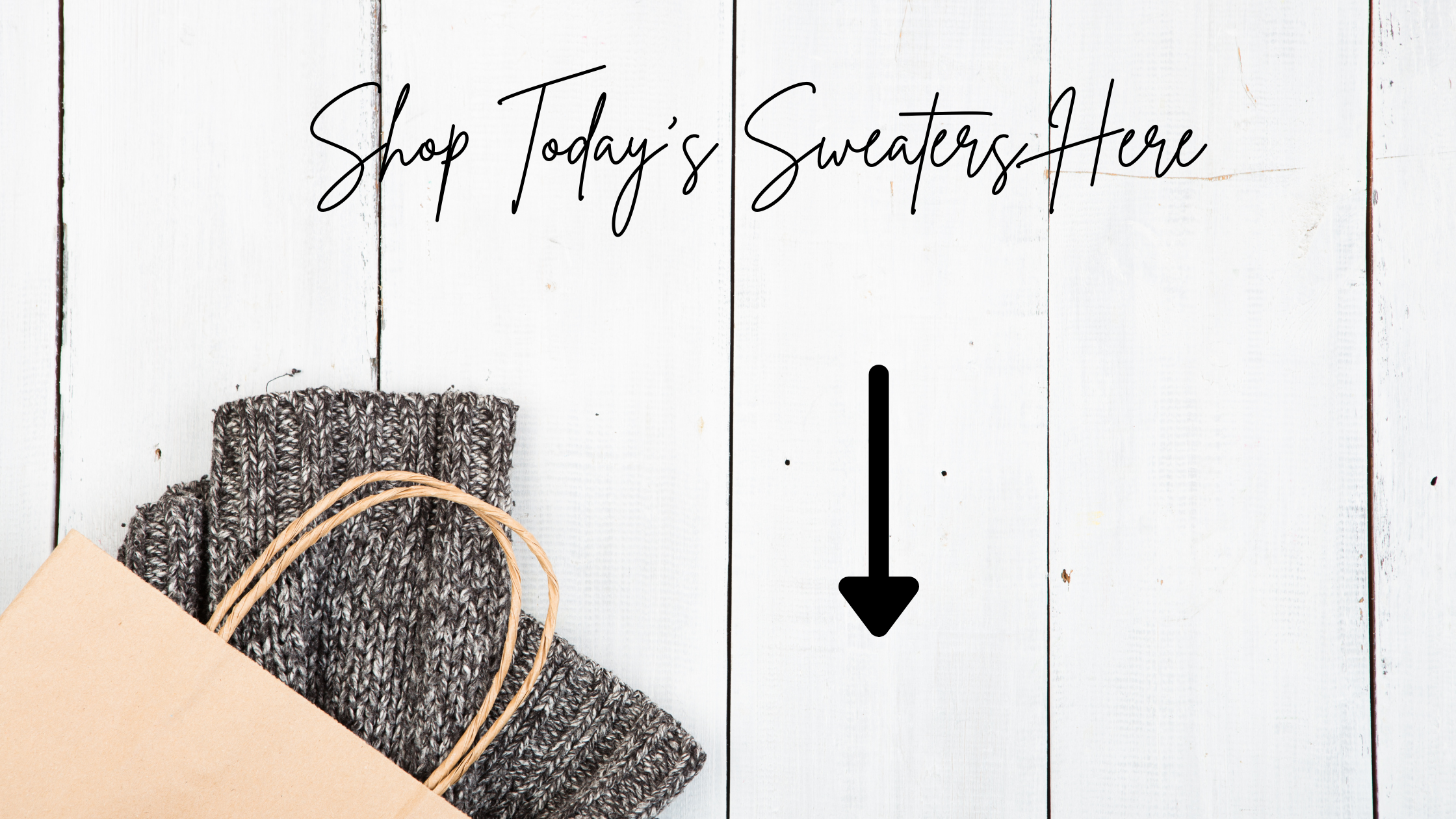 I hope you enjoyed this cozy sweater try on! It's nice to be back to work after taking some time off for Christmas. Thanks so much for joining me today, and don't forget to sign up for my emails for 2022!