As I always say, learning to dress your unique shape is so important, but if you don't know where to even begin there are some styles that are generally always a good choice for all body types. Today I'm sharing some winter styles that are universally flattering.
Wrap Dress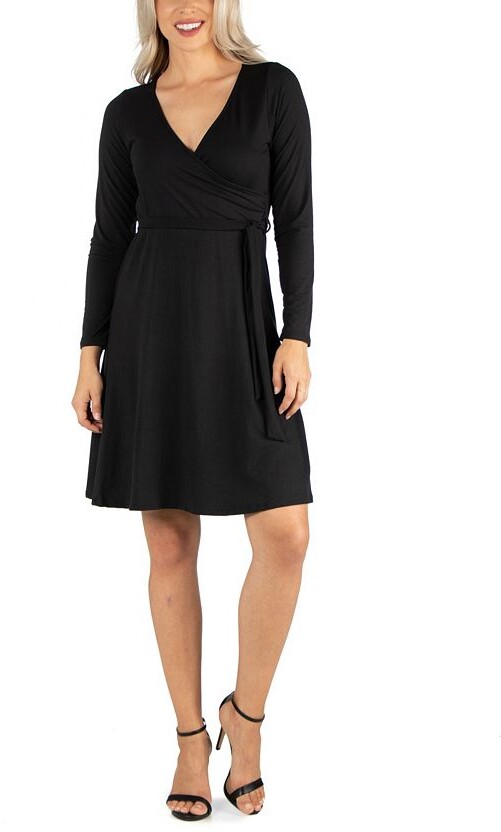 A wrap dress is first on this list because it is such a flattering piece and in my opinion, every woman should have one. Whether it is a true wrap or a faux wrap style, both are going to be your friend.
A wrap dress is flattering to all shapes and sizes, but it's especially great for curvy shapes. It is forgiving in the chest area for large busted women, but cinches around the waist to create that hourglass silhouette that is oh so feminine.
Wrap style dresses come in all sorts of styles and lengths. The black dress above is the classic style that hits just above the knee. You could also consider a midi length or maxi dress with a wrap style.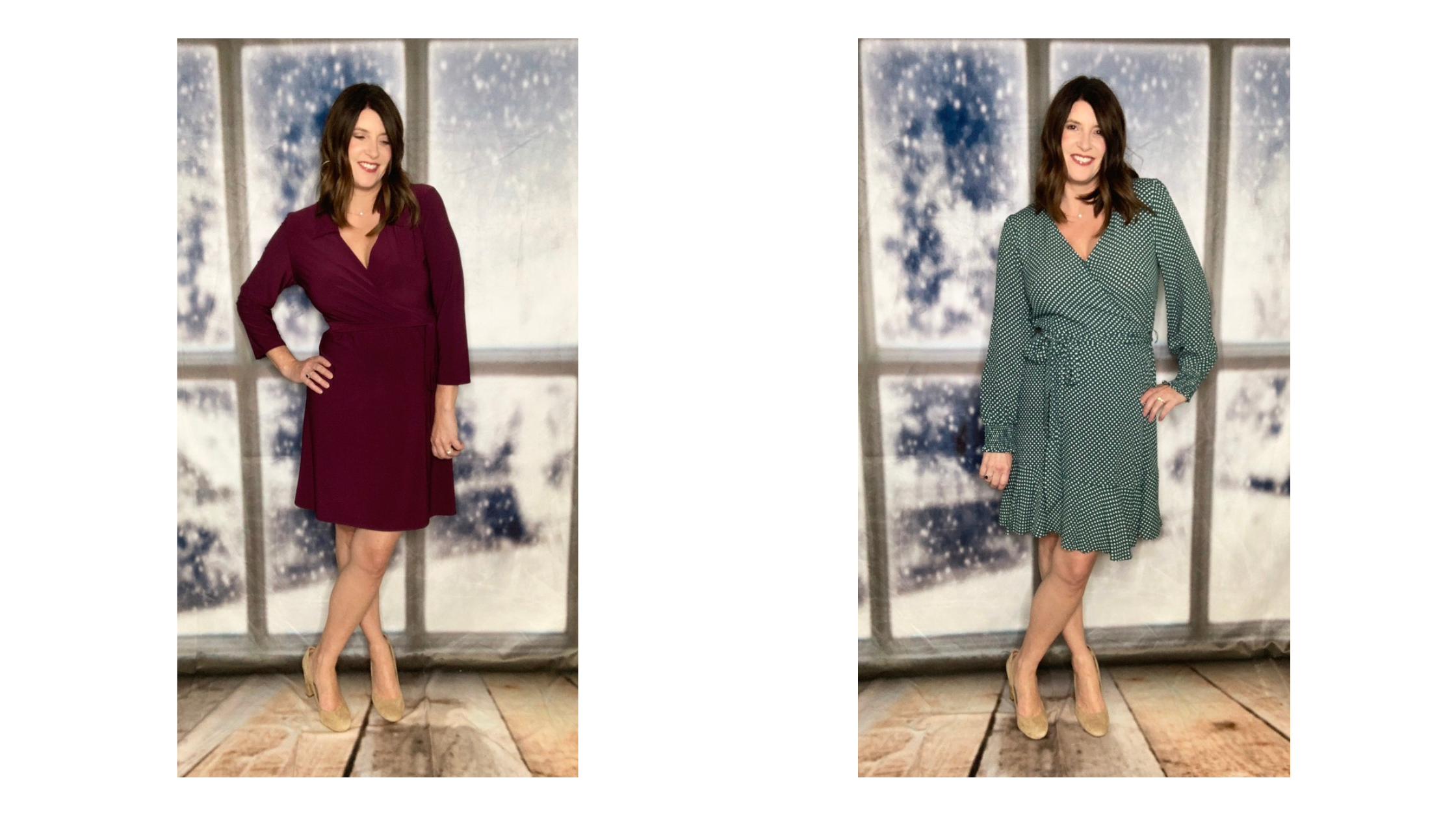 V-Neck Sweater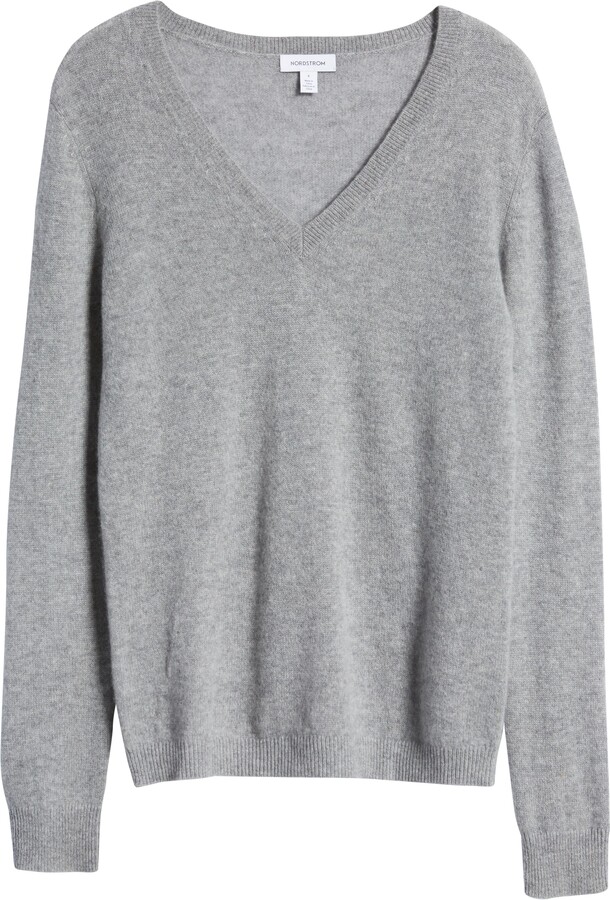 Another winter style that is universally flattering is a V-neck sweater. Actually, v-necks in general are flattering but since we are talking about winter fashion a v-neck sweater is a good thing to have in your wardrobe. The grey sweater above is from Nordstrom and comes in several colors.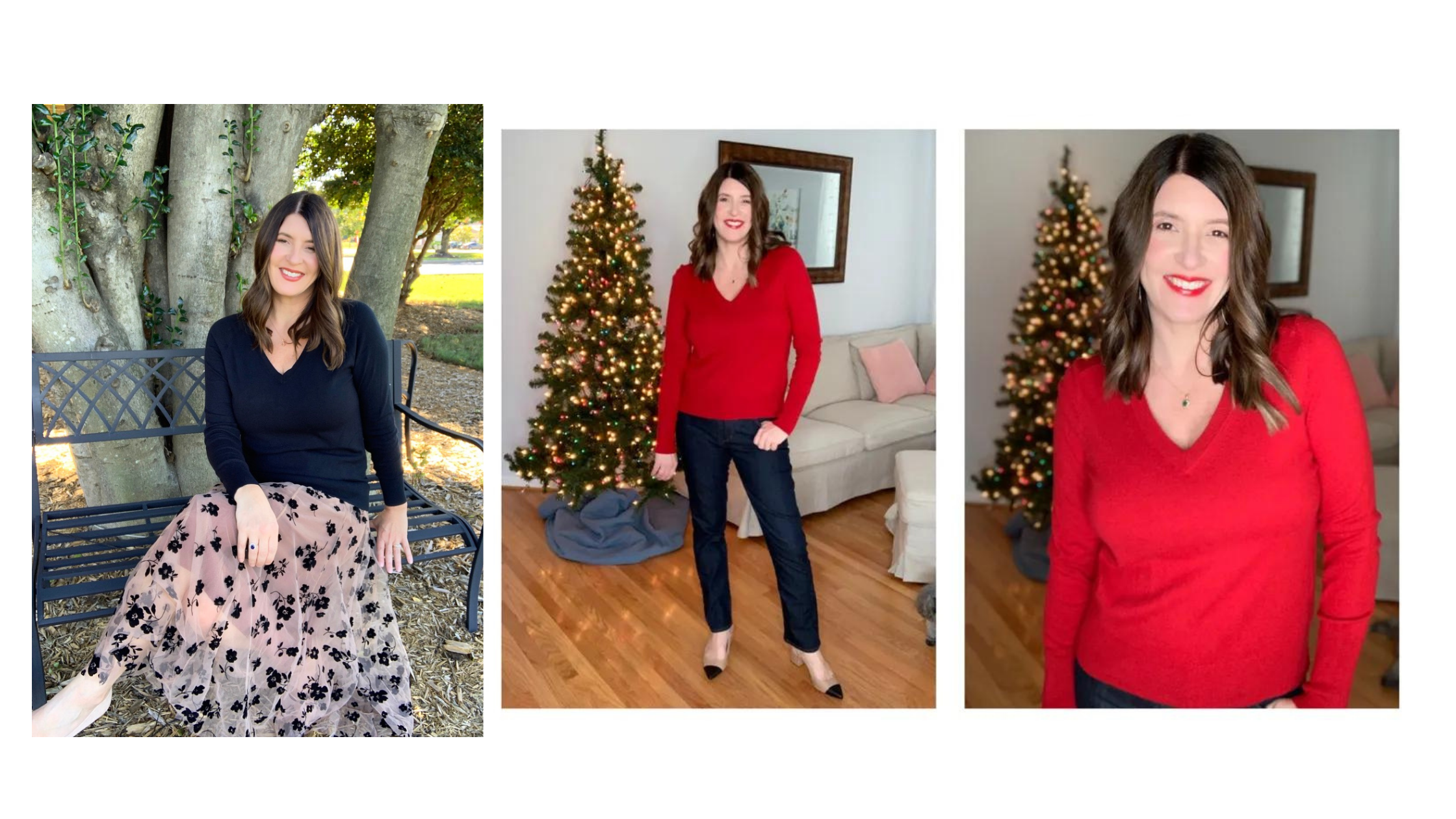 Whether your preference is a solid color or a pattern, this style sweater will never go out of style. They're especially helpful for women with broad shoulders, and short necks because they lengthen the look of your body and draw the eye up toward your face. This neckline helps petite women look taller and balance out a pear figure.
In the photos above, I'm wearing my favorite classic v-neck sweater by Amazon Essentials. It comes in several colors and runs true to size. I'm wearing a medium. I've also linked some other beautiful v-neck styles in the shopping widget.
Blazer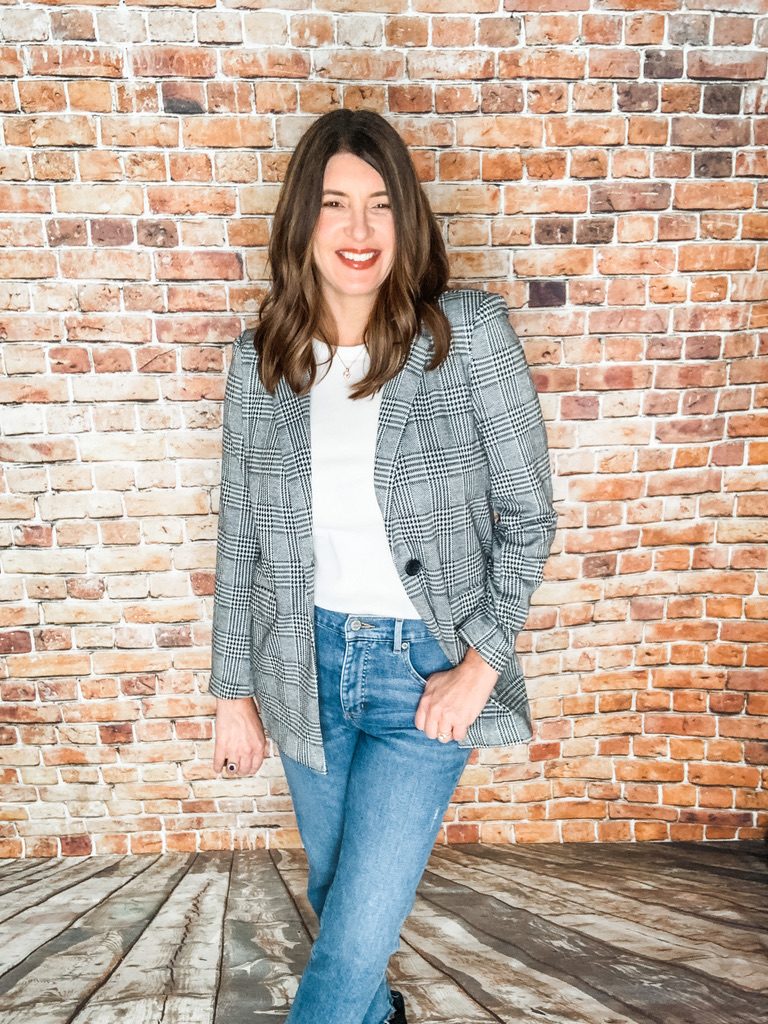 A blazer is a great option as an outer layer and they are very flattering. A more fitted and classic style will be more slimming than the trendy boyfriend style blazers. Even if you have a casual lifestyle, having one blazer in your wardrobe will serve you well.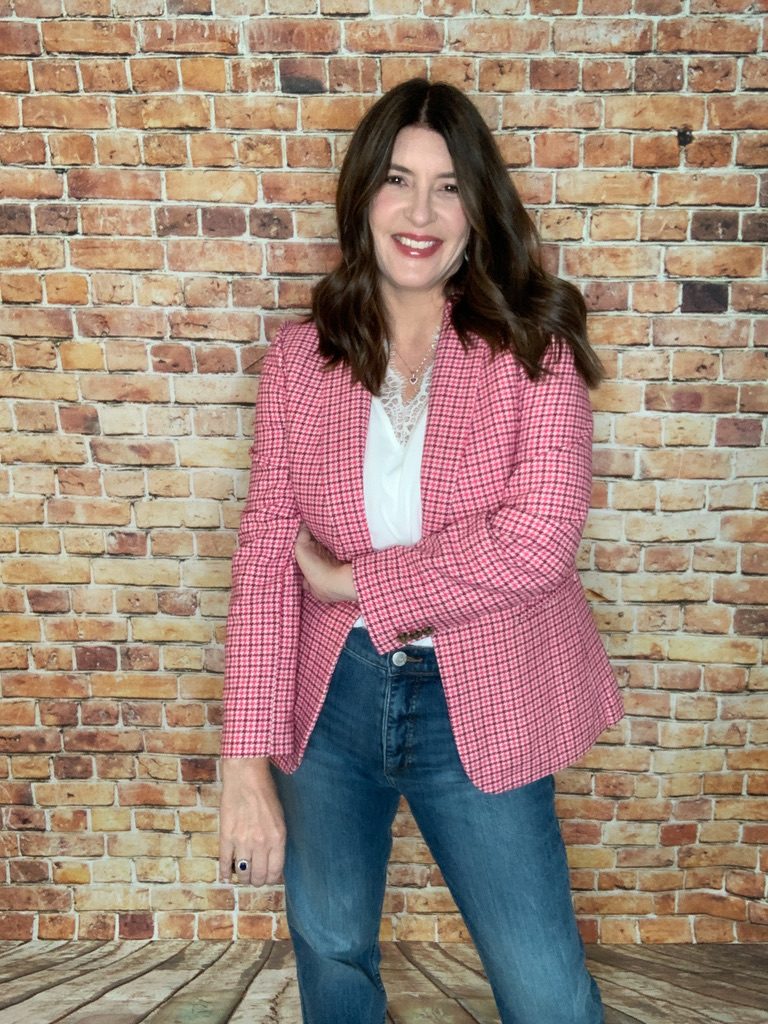 For the most flattering fit, choose a length that hits just above your hipbone or at the tip of your fingers. Avoid a blazer that cuts off at the widest part of your hips. It should skim your curves and create a waistline for stylish a chic look.
Sweater Dress
A sweater dress is a cozy and comfortable piece for winter and they are flattering to so many body types. The key with a sweater dress is to choose the right length for your height and to find one that skims the body without being too form fitting or too baggy. Both extremes can add visual weight to your silhouette.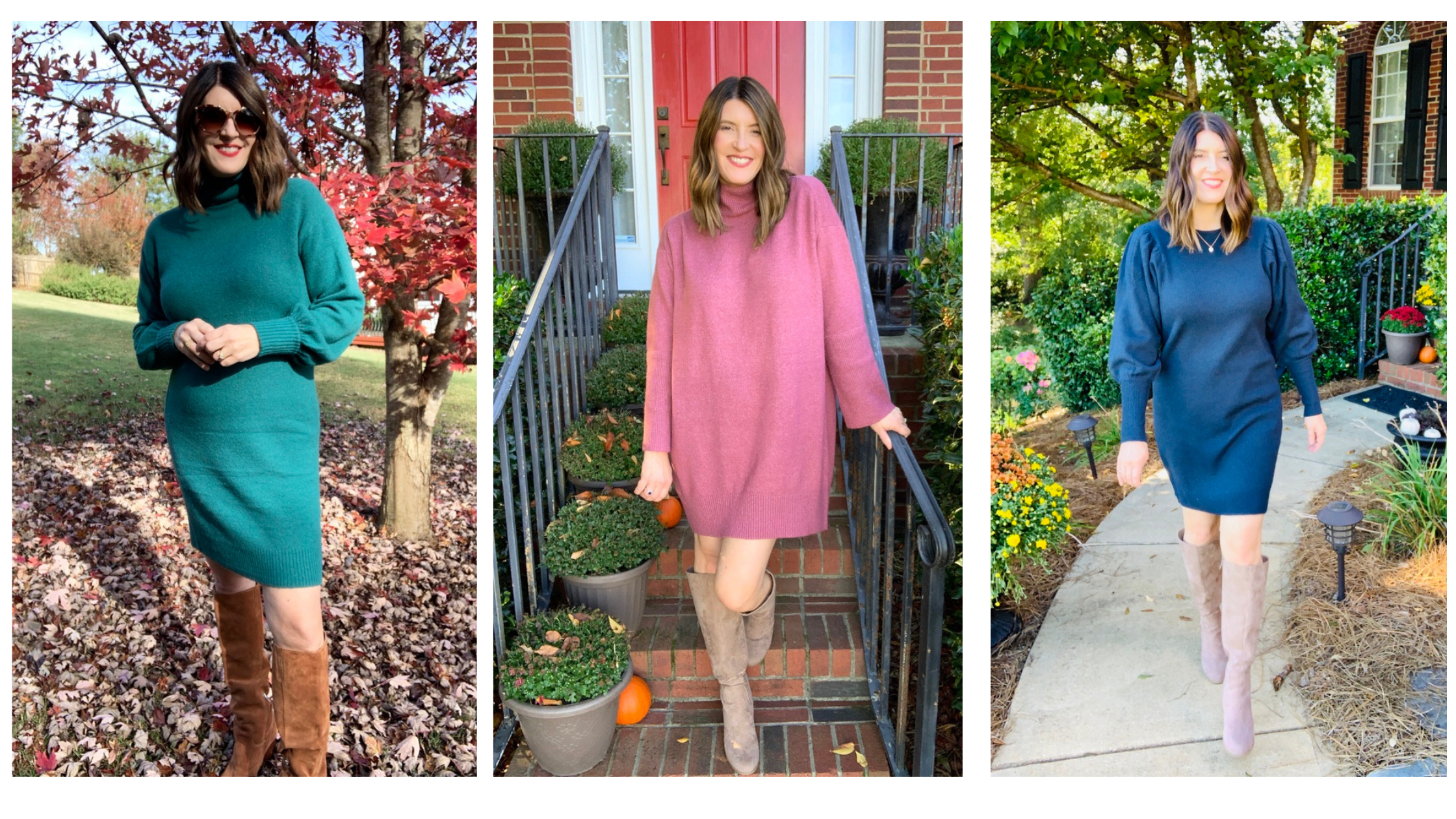 I have featured several sweater dresses in the past, and they continue to be a favorite. One of the most common mistakes I see with sweater dresses is wearing styles that are too short. If you have a sweater dress that you love, but it's just a little too short to be worn alone then you might enjoy this post.
The dresses in the photos above are from last year, so I have linked some sweater dresses that are currently available for you to browse.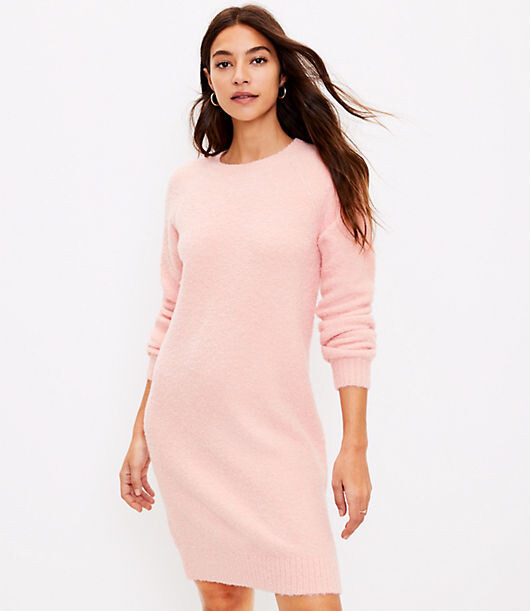 This dress from Loft is particularly lovely!
Flared Jeans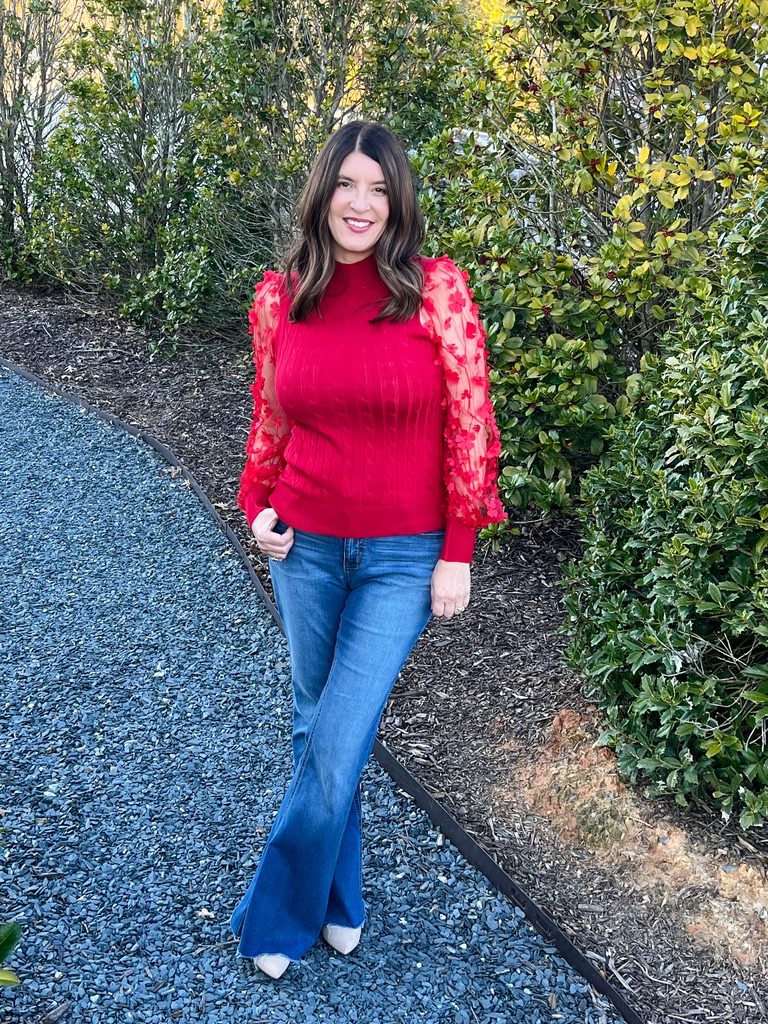 This one may seem like a surprise, but flared jeans are very flattering if they fit correctly. The length of your flare style jeans is crucial…they must be long enough or they will look awkward. The hem should be no more than 1″ off the ground. To make this style look even more chic, it's best to wear them with heels. I have really been enjoying the raw hem flare jeans from Cato shown in the photo above. They are under $30!
If you are petite, then you may have to have your jeans altered or try to find them in a petite length. Loft is a great resource for denim in all sizes. They have regular, curvy, and petite.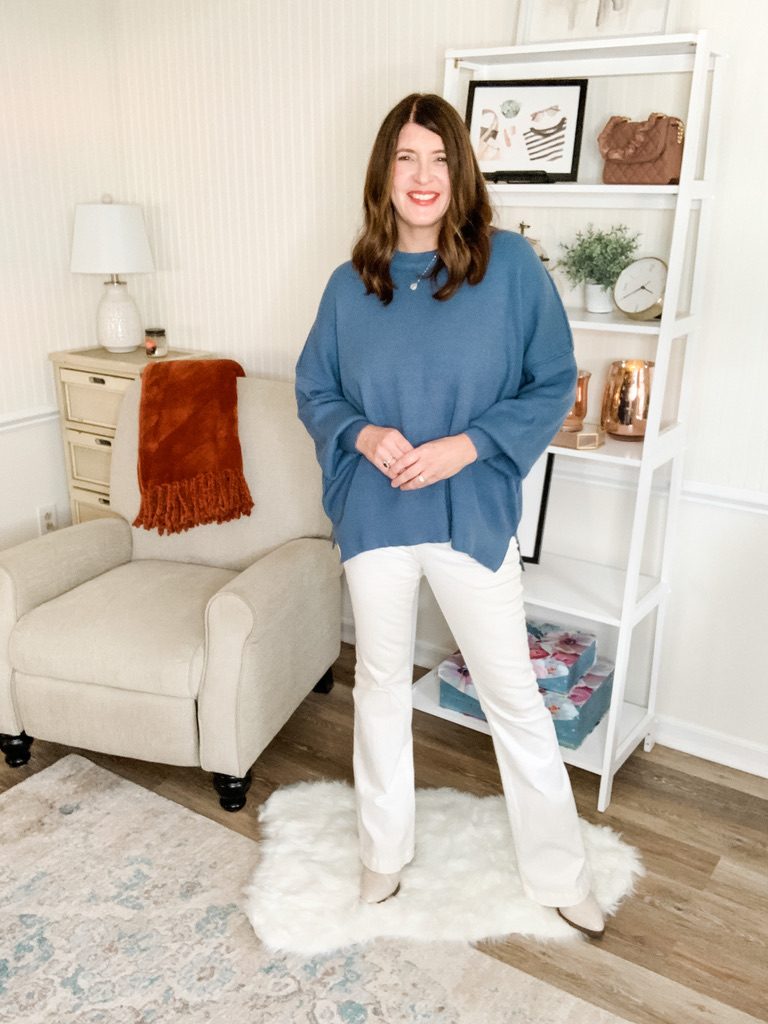 The reason flared jeans are so flattering is because they make your legs look longer. Also if you are bigger up top, the flare of the jeans will help to balance out your proportions to give you an hourglass silhouette. They often look best with a shirt that is tucked in.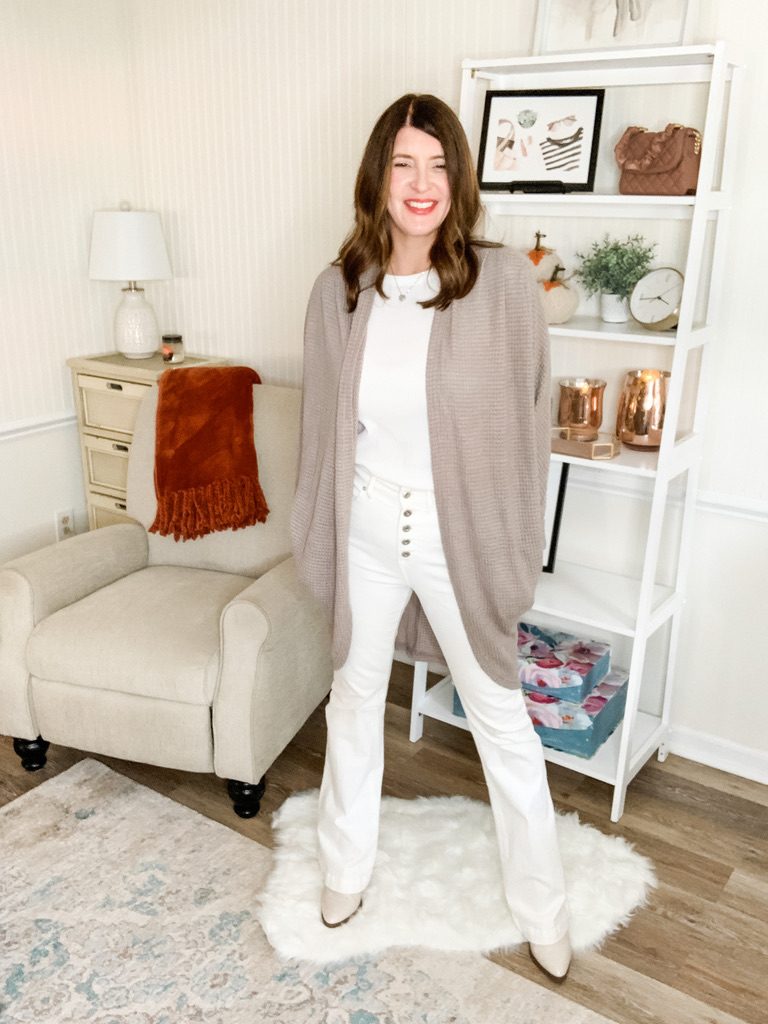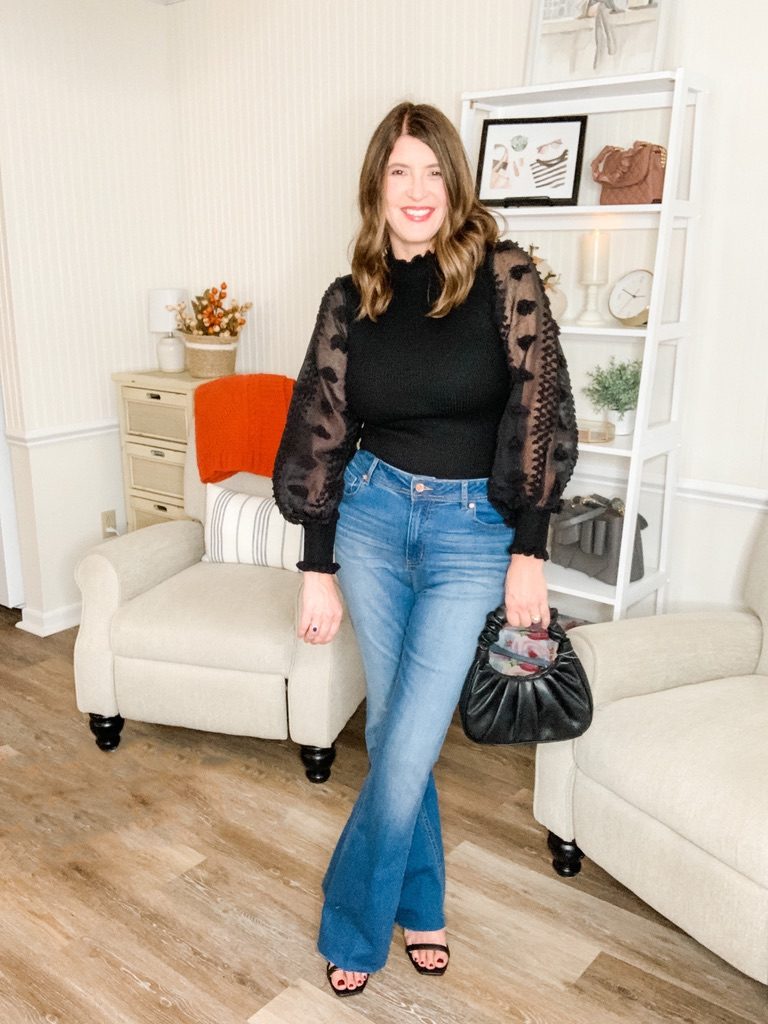 There is a difference between a flare style and a wide leg jean. A flare style is more fitted through the top of the leg, and then flares out at the bottom. Wide leg jeans are wide all the way down.
Fit & Flare Dress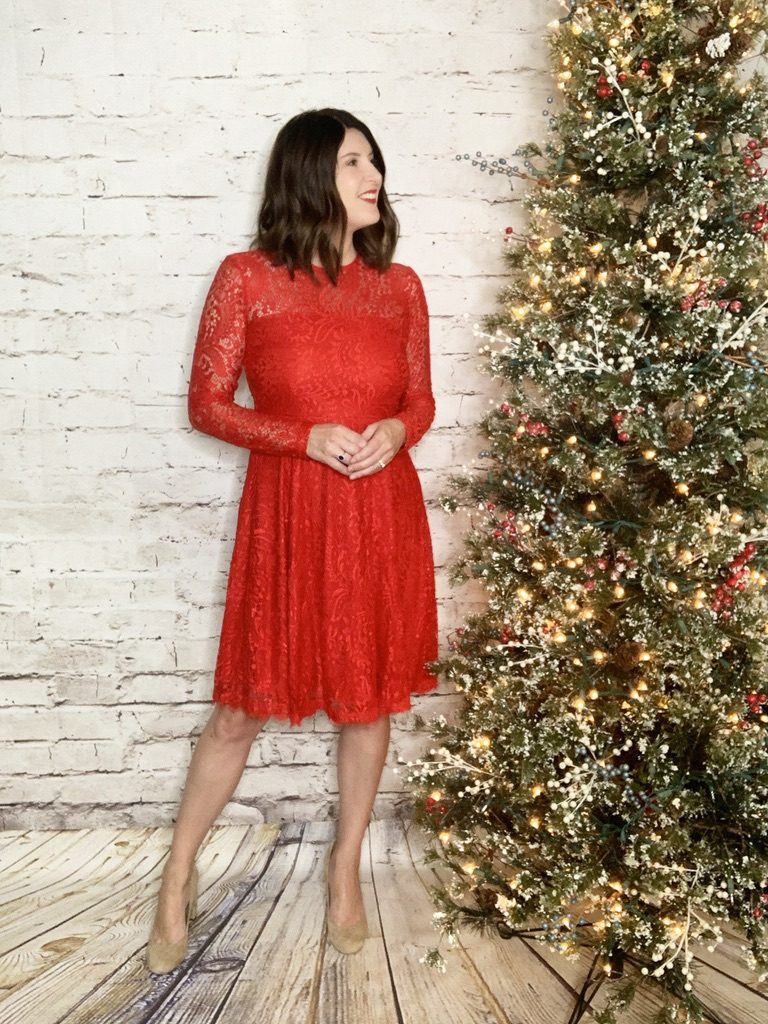 A fit and flare style dress is just what the name implies. It is fitted at the top, comes in at the waist and then flares out. This style dress is universally flattering because it creates a nice silhouette by defining the waistline and skimming over the hips.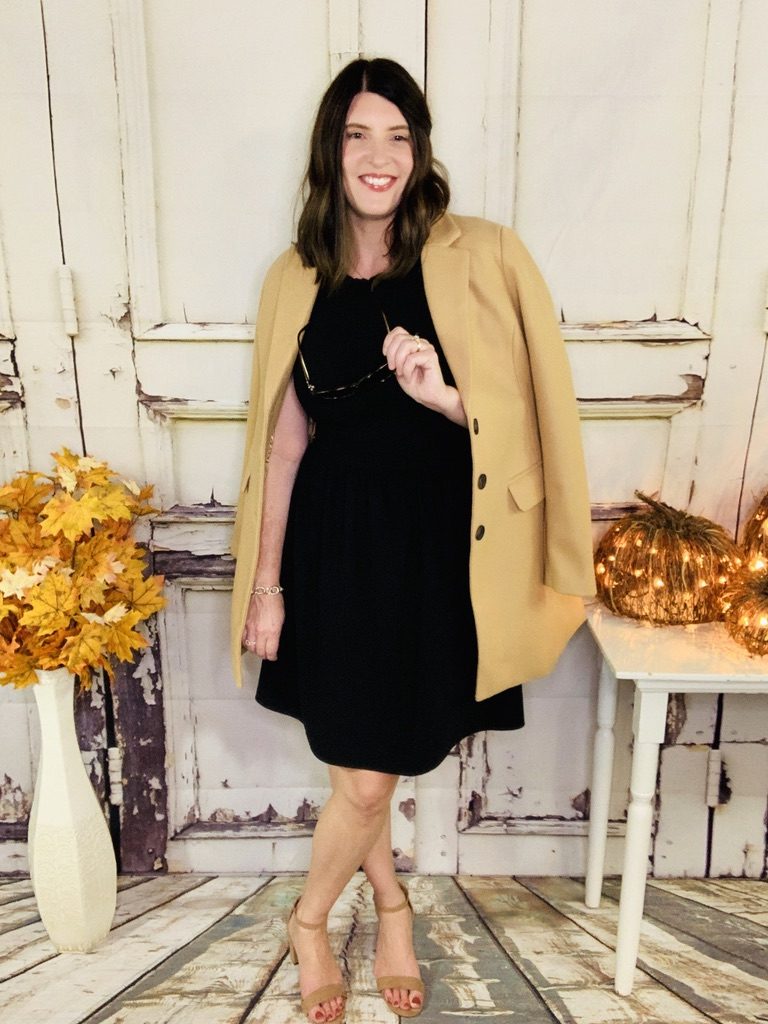 Whether you are a size 2 or 22, you will always look thinner when you cinch in your waist. This can be achieved with a fit and flare style dress or you can always add a belt to make something more of a fit and flare style. I do this a lot with swing dresses because they make me look bigger than I am if I don't define my waist. The dress below is a good example.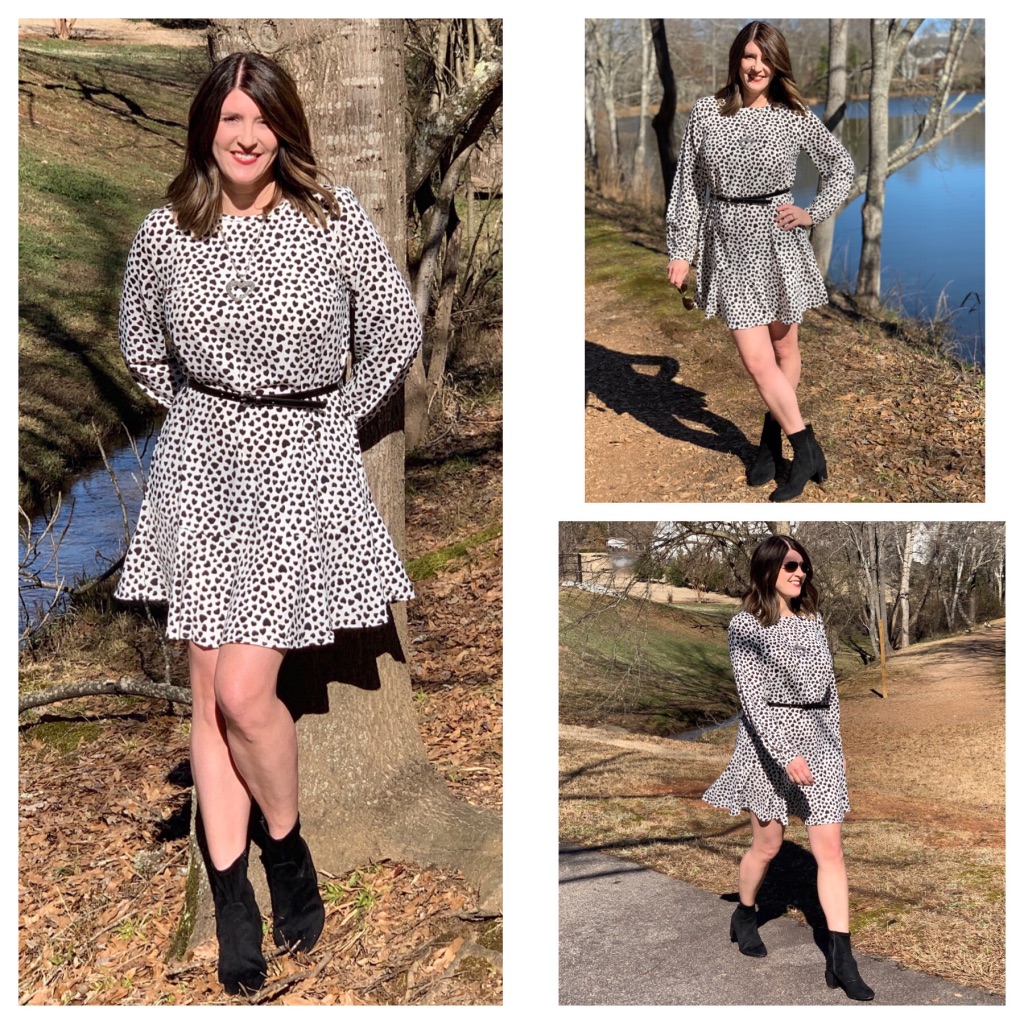 Tunic Length Top + Leggings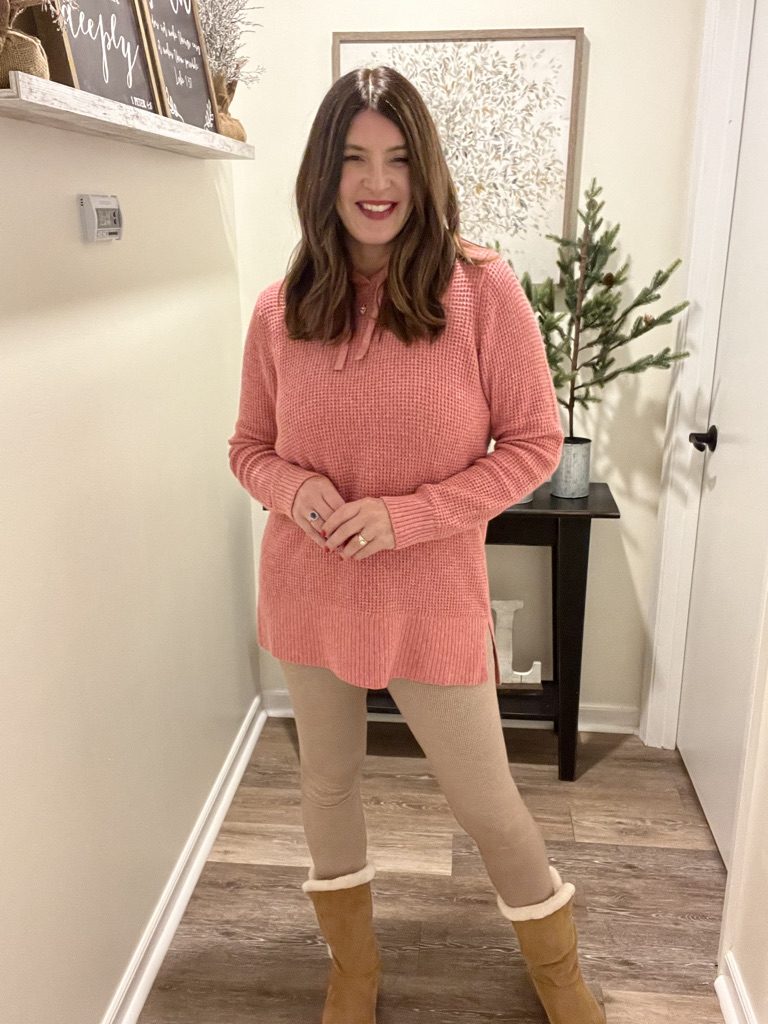 My standard go to outfit for the winter is a tunic length sweater or top with leggings. This combination can be dressed up or down for any occasion. This also makes a nice travel outfit if you will be sitting for long periods of time. This pretty pink waffle knit tunic is from Kohl's.
Sometimes, adding a belt to a voluminous sweater can be a more flattering look. This animal print tunic sweater is from Amazon.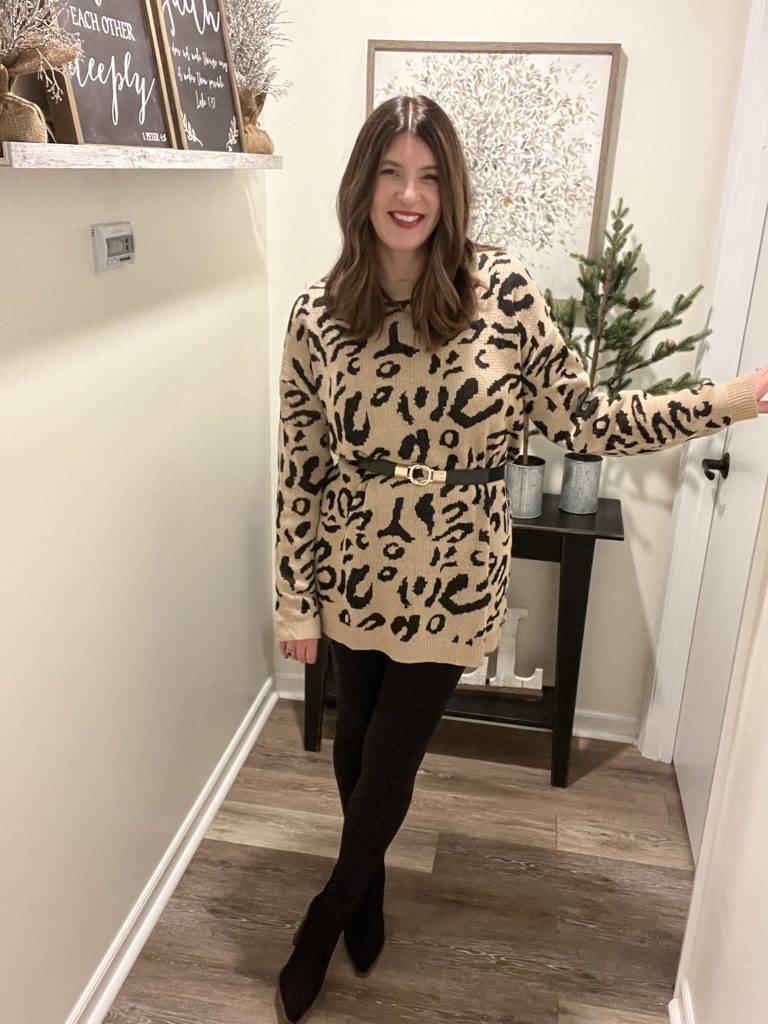 Again, this look is universally flattering provided that you cater it to your shape and size. Leggings should cover your bum, so keep it classy with a top that is the proper length. If you are petite, then you can probably get by with a normal, slightly oversized top. If you are tall, then a tunic length is probably a must.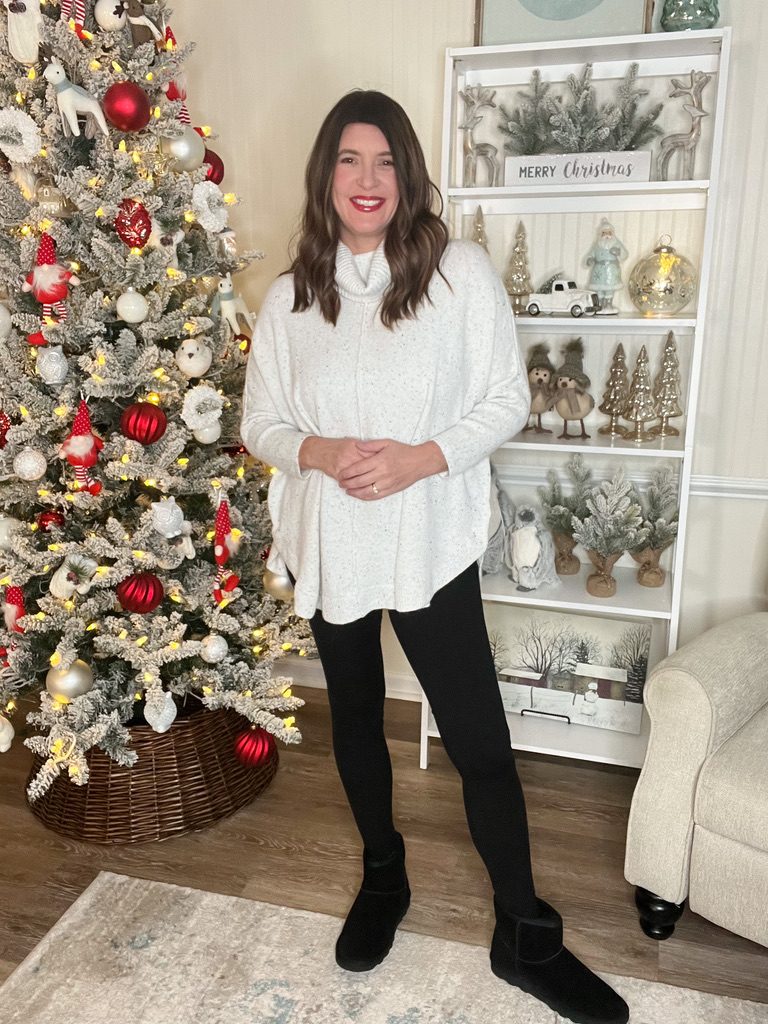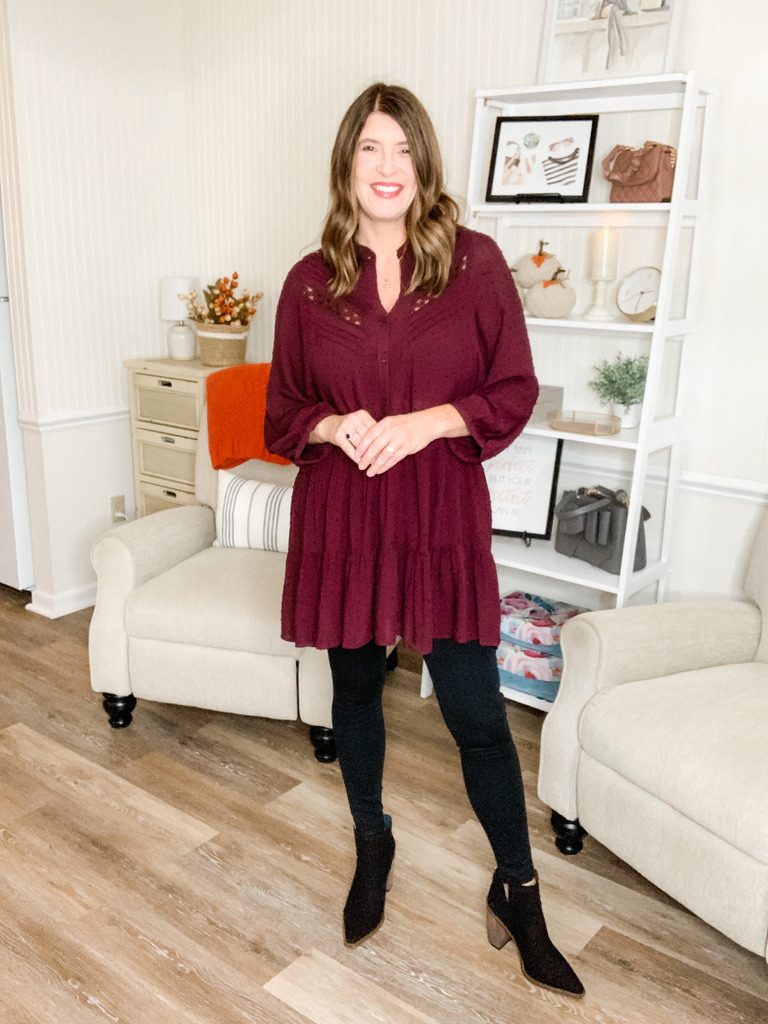 Wide Leg Pants
The last winter style that is universally flattering is wide leg pants or jeans. This is another style that can really lengthen the leg and looks best worn with heels.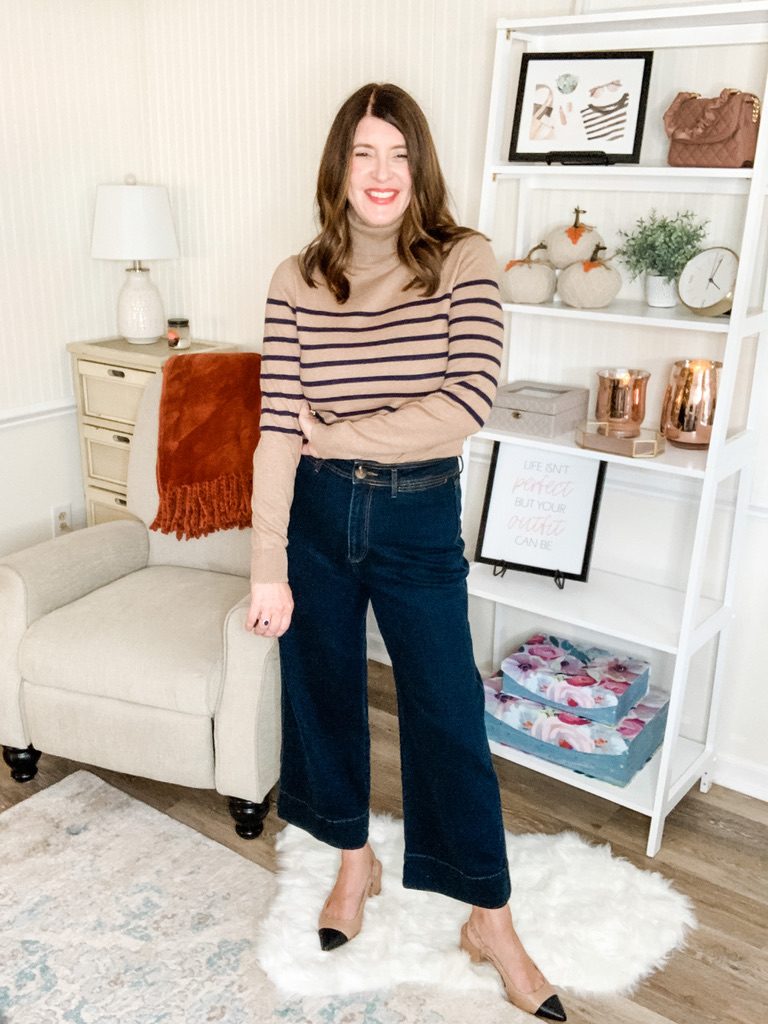 I buy most of my denim from Loft, but unfortunately they usually don't keep styles stocked for very long. This is a dark wash wide leg denim that I purchased a few months ago. Loft does not have a style similar to this available now, but I will link some similar styles from other retailers.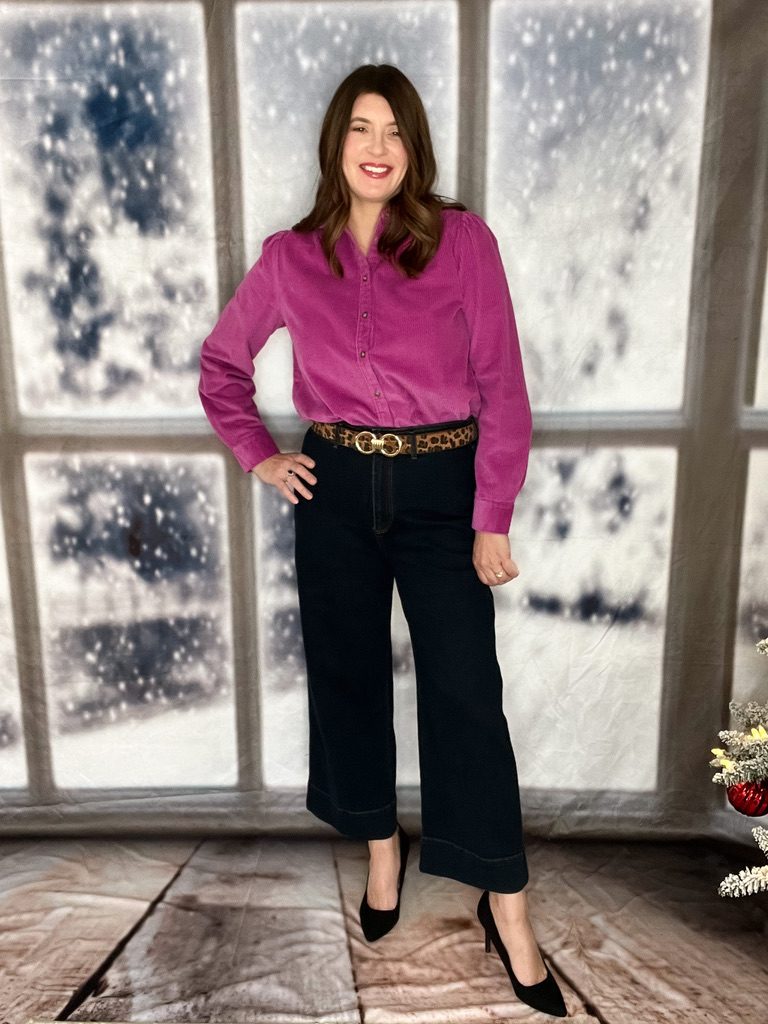 Both of the tops I'm wearing with these jeans are still available. The striped sweater is from Amazon and the pink top is from Loft.
This pair of winter white corduroy pants is from last year (Gap). I wish they had them again this year, but I did find a pair by Time and Tru that are similar although they don't come in white.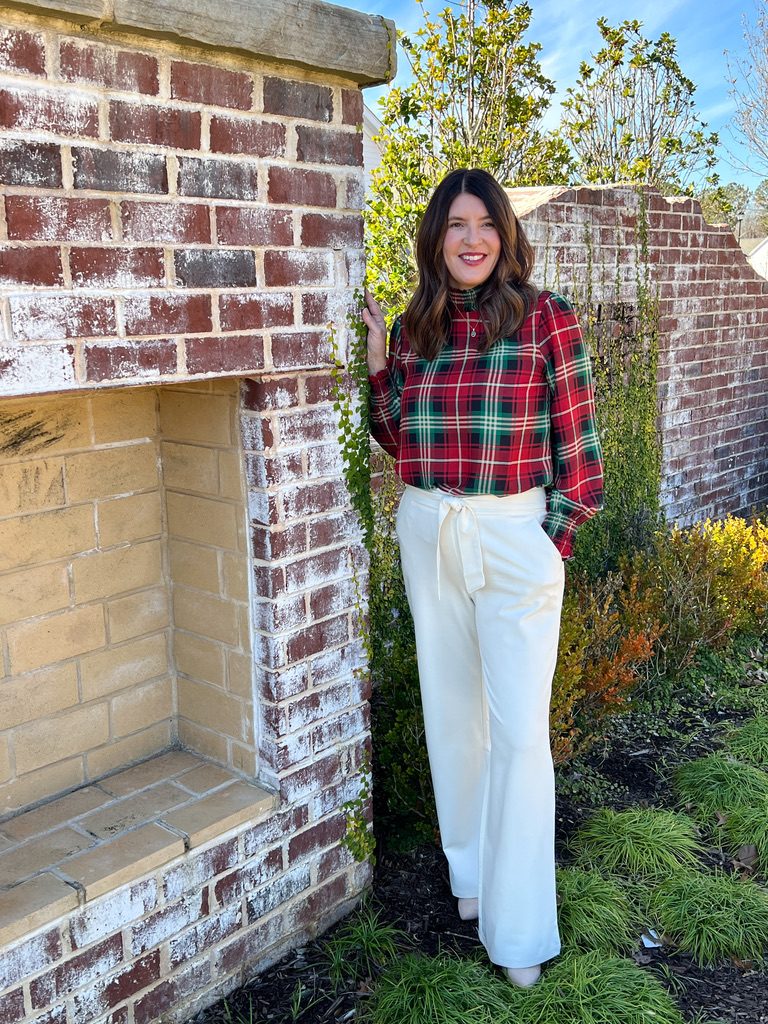 These tie waist pants are from my recent collaboration with Cato Fashions. I love these winter white pants! I think they also come in black. I'm wearing a medium in these and my normal size is an 8 or 10 for reference.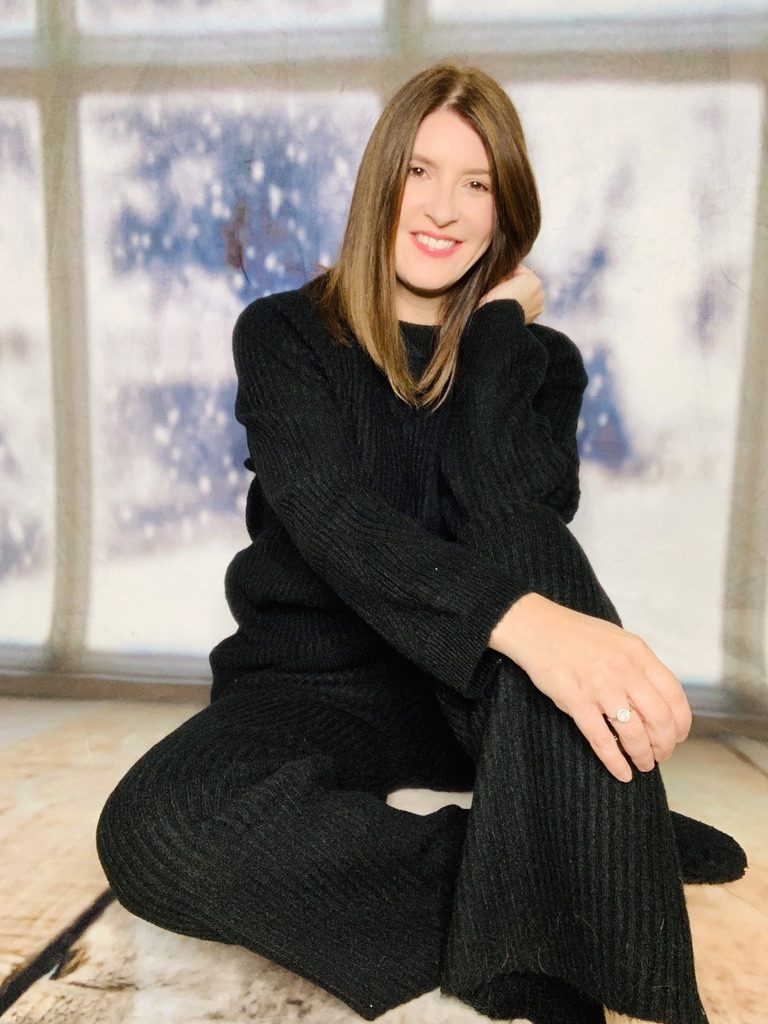 A cozy pair of knit wide leg sweater pants is a great option for winter. They make great lounge pants and still look stylish! The pair I'm wearing above are from Walmart. I also love this solid pair from Macy's. They come in three colors.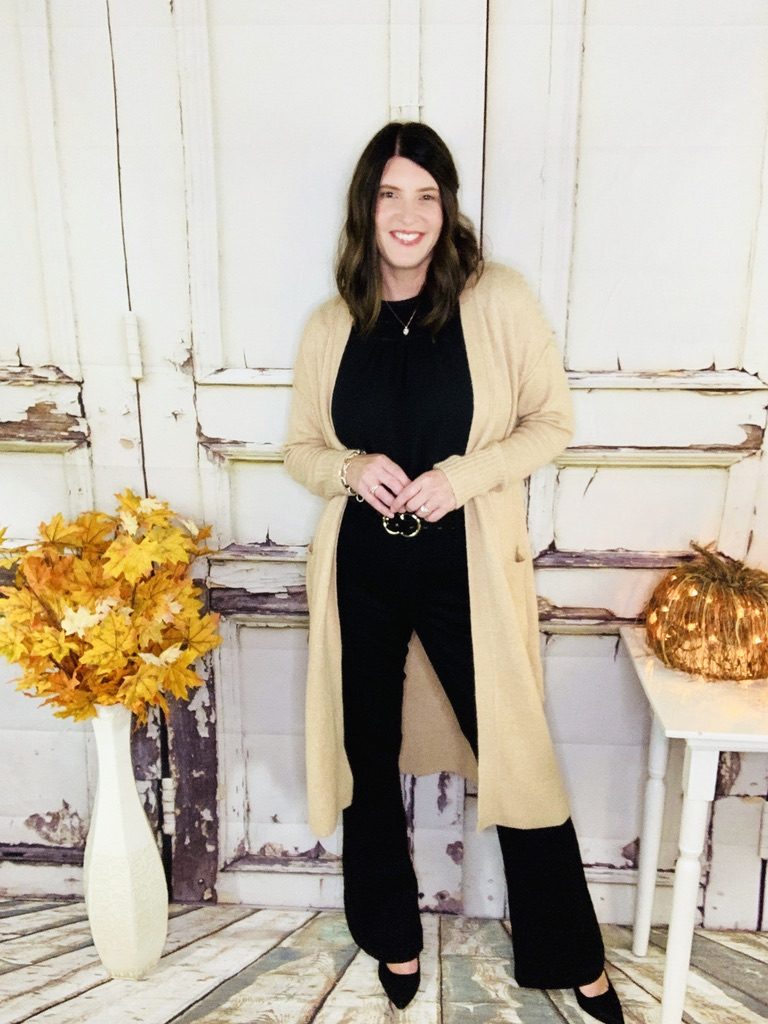 A nice pair of black wide leg pants will always be useful to have, so I have linked some of those as well.
If you found this post helpful, please share it with your friends, and if you have not subscribed to my newsletter then don't forget to do that before you leave!