It's that time of year when many of us are thinking about getting away for a few days. Whether it's spring break for your children or just a couples trip, a spring getaway is a great way to recharge. My husband and I are taking a trip later this month to the beach. I don't remember the last time we went anywhere by ourselves! We have always sincerely preferred to have our daughter with us, but her school is not getting a spring break this year due to some COVID related schedule changes, so she can't go this time. I have bought a few new things in my anticipation of our trip, so I thought I would share an easy packing guide for a spring getaway.
Swimwear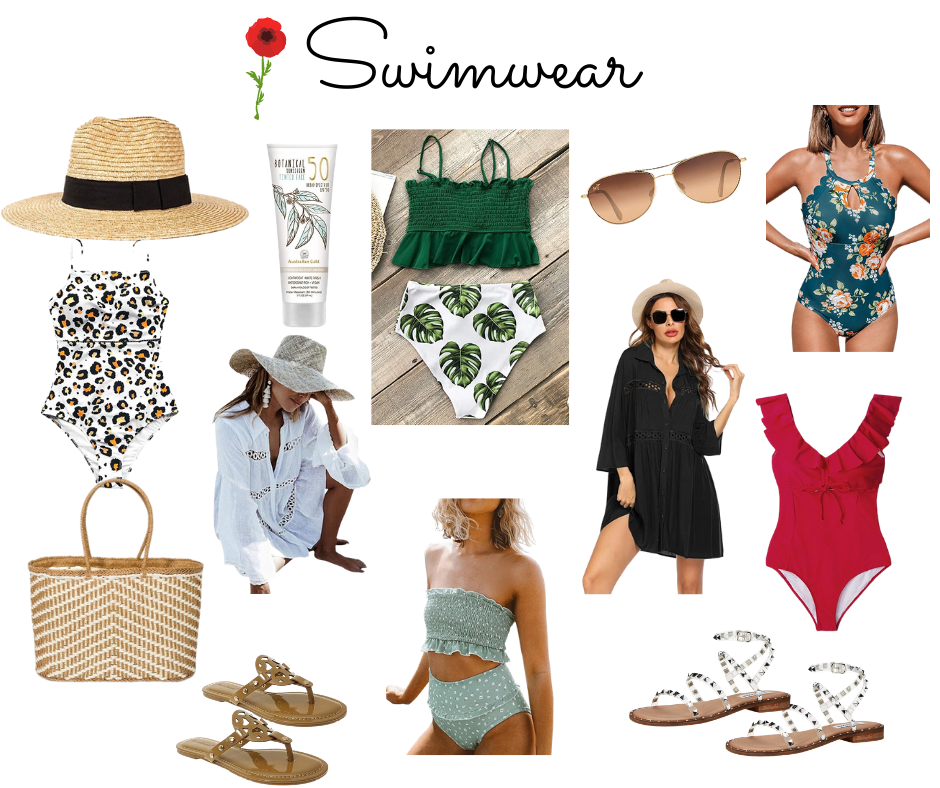 First on the easy packing guide list is swimwear. Since we are going to the beach, I've rounded up my favorite swimsuits. No one likes trying on swimwear, and we all have problem areas that we would rather not emphasize. My number one challenge in any style bathing suit is finding a top that is big enough. If you are like me and have this issue, I can personally vouch for these styles. I own each one of these swimsuits, and I have worn them so I know how they fit and they cover what needs to be covered!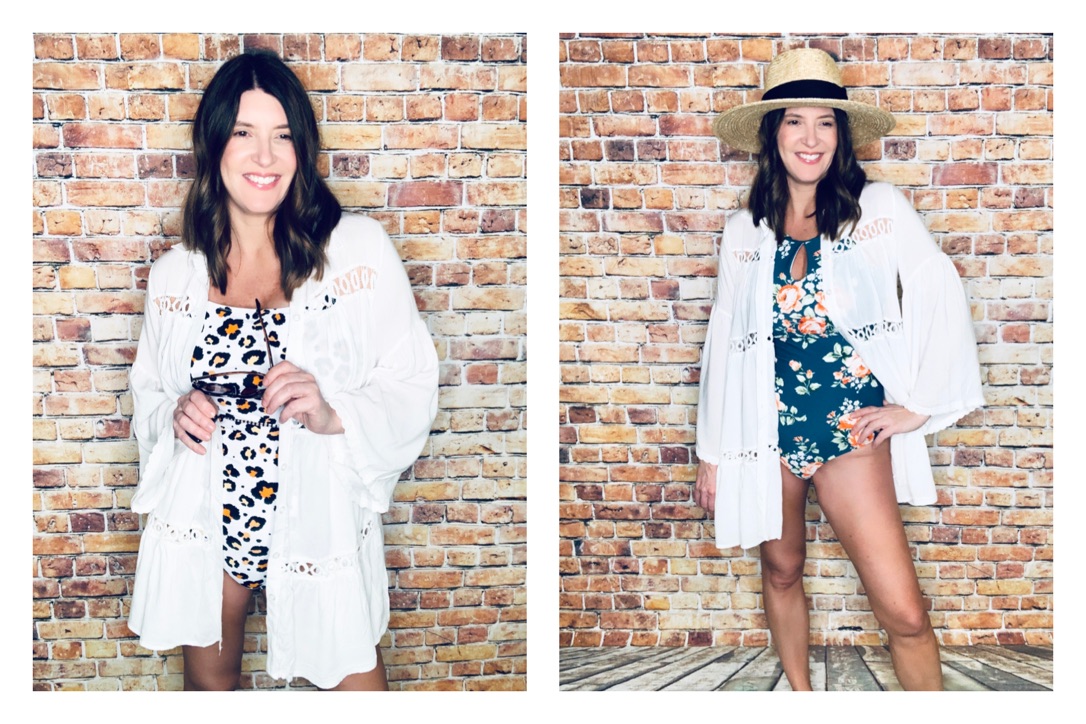 If you have not discovered Cupshe swimwear, then you should give it a try! They have their own website (Cupshe.com), but I find it easier to shop for Cupshe swimwear on Amazon. The prices of their swimsuits are amazing and the quality is very good. I will never pay over $100 for a decent swimsuit at a department store again. Most of their swimsuits are under $40.
Dresses
I'm so excited to be able to wear some spring dresses! We are traveling in March, and the weather will still be on the cool side, so I have to plan for that. Long sleeve maxi dresses are at the top of my list, or a short sleeve dress with a cardigan or denim jacket.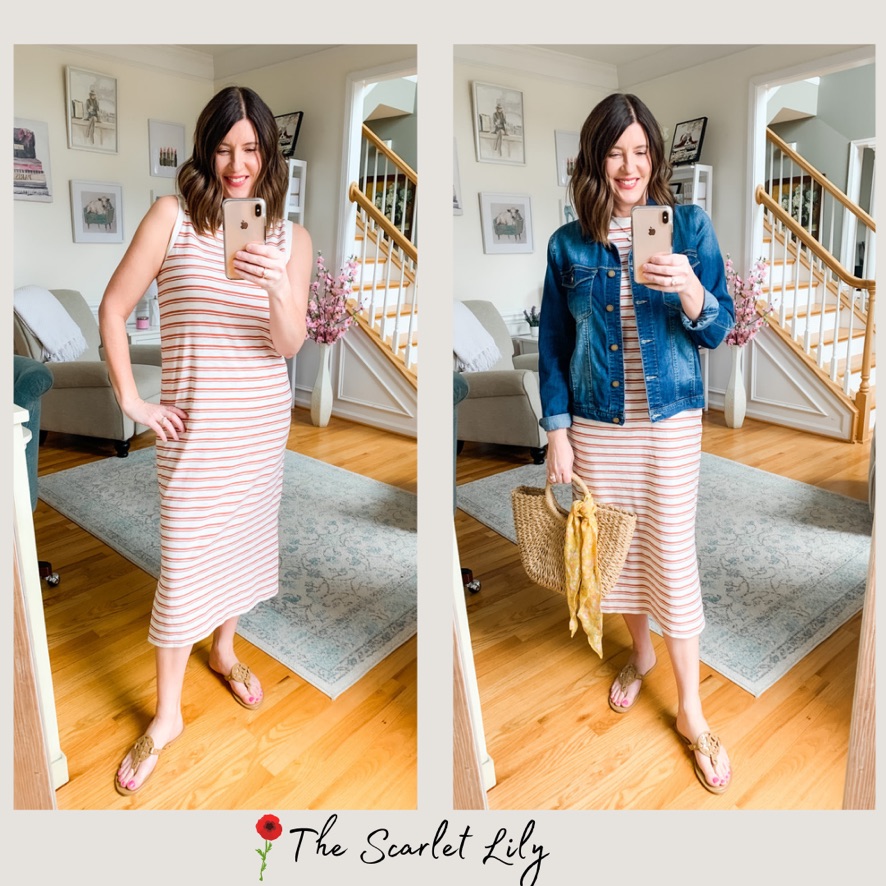 I recently purchased some casual spring dresses and some of these are from last year. The amazon dresses are still available, so I'm happy to link those for you. Also maxi dresses can be worn on the beach as a cover up, casual sight seeing or shopping, taking a walk or going out for lunch or dinner. They are one of the most versatile pieces that I will be taking with me.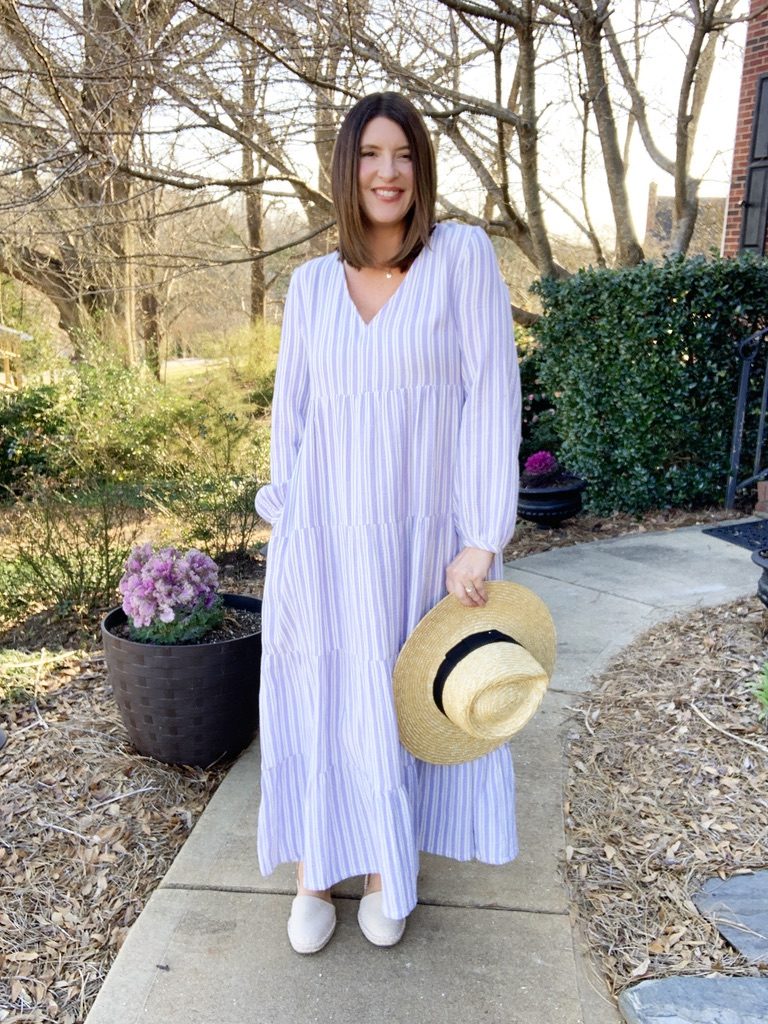 This dress from Target will be perfect for any occasion and will be a little warmer with the long sleeves. I featured this dress in my last post and it is one of my favorites.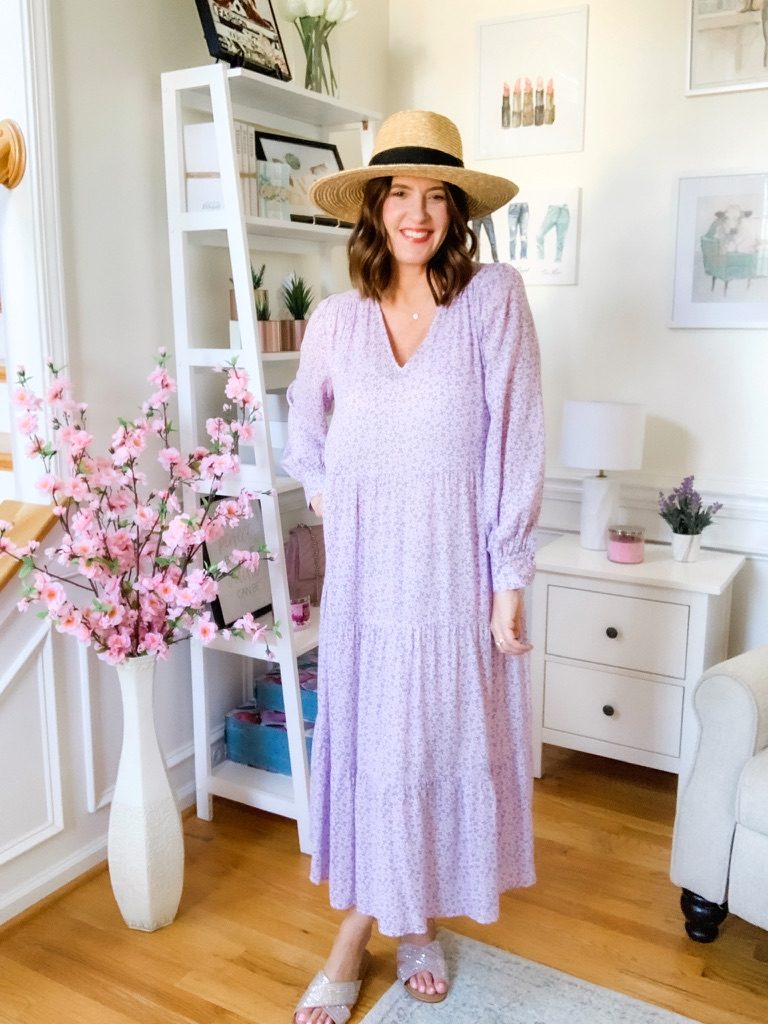 Here is another option from Target with long sleeves.
In the photo below, I have an Amazon dress that has been a top seller. This is a flattering style maxi dress because of the elasticized waist that helps give you shape.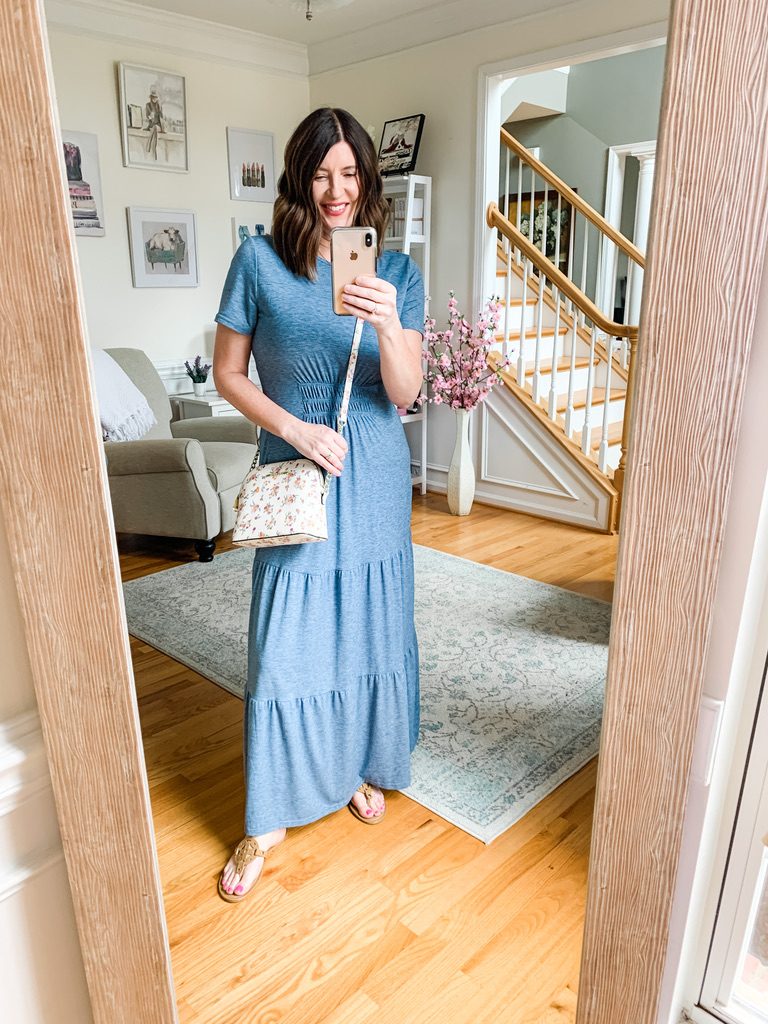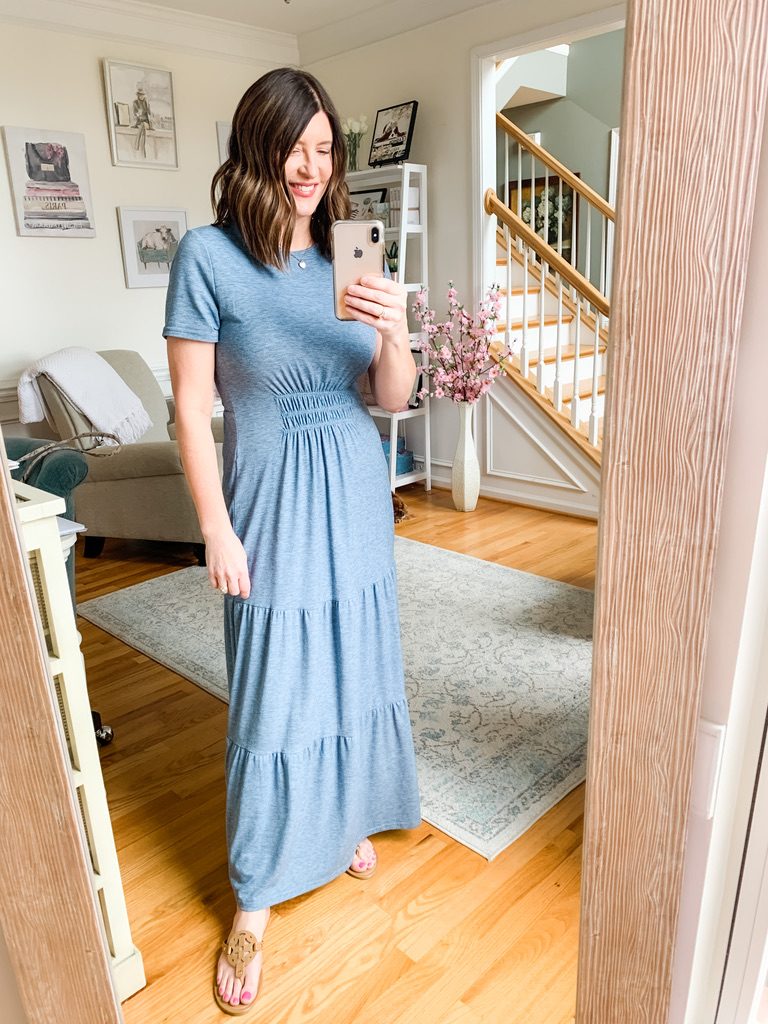 I love a sweatshirt dress! This one is from Amazon and I have already worn it so much. It's the perfect blend of dressy and casual. Just by changing the shoes and accessories I have created three different looks.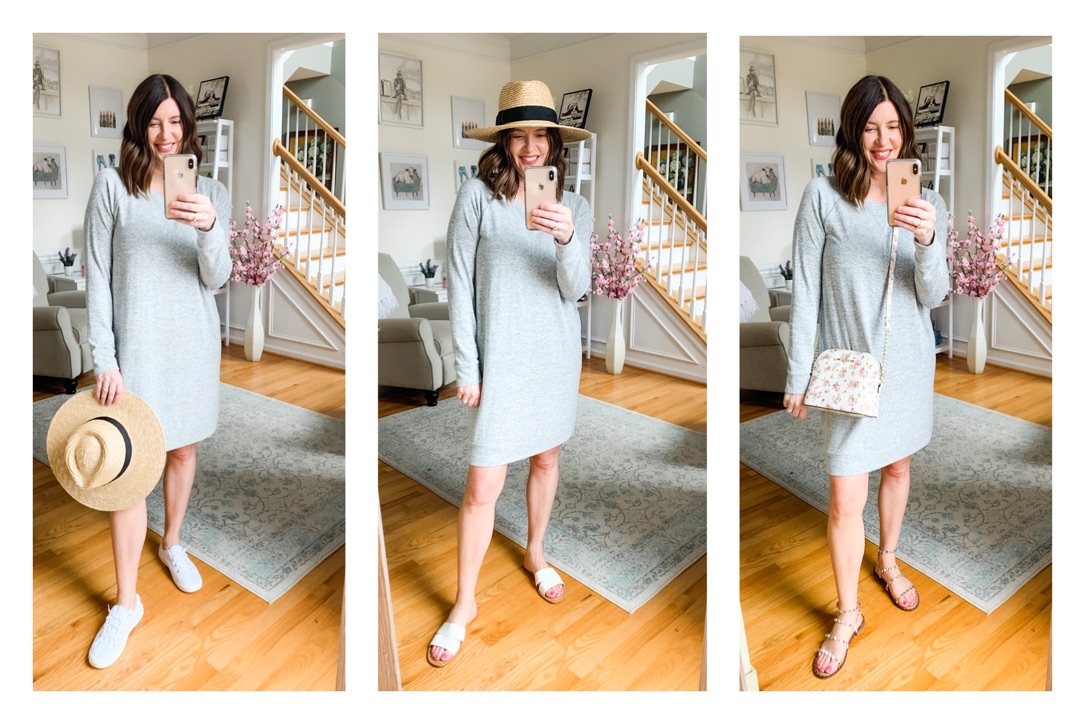 Basics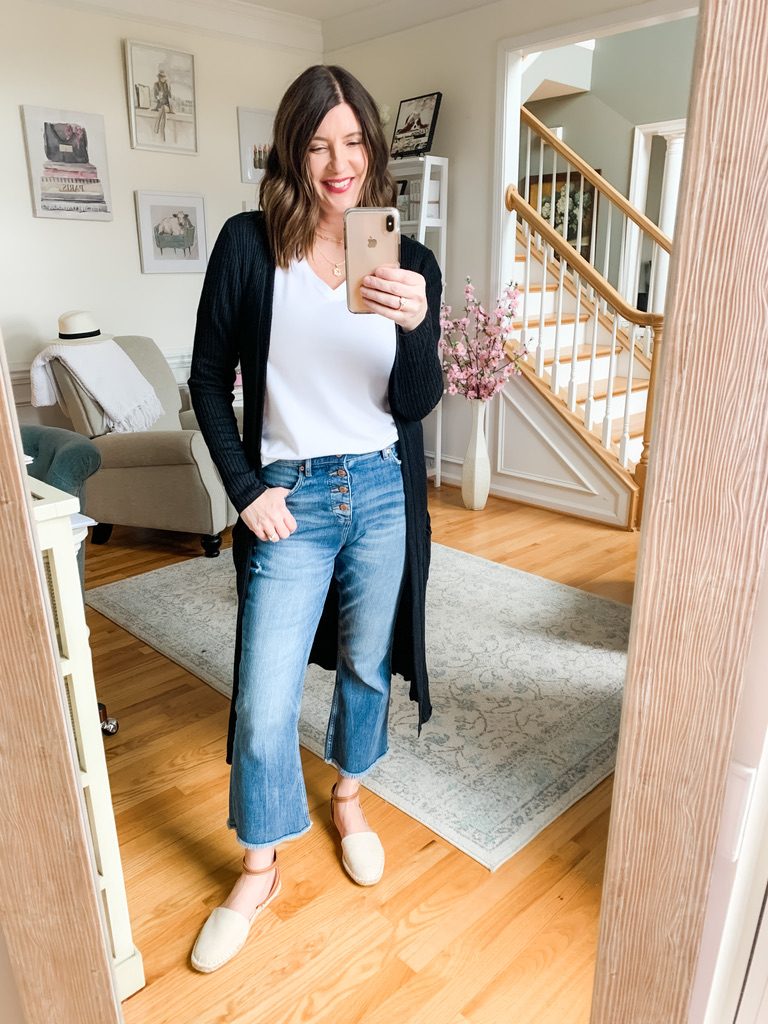 Basic pieces that will go with everything make traveling so much easier. Here is an easy packing guide list to keep in mind:
Basic Tees (long & short sleeve)
Jeans
Cargo Pants
Denim Jacket
Cardigan Sweater (black & white)
Long Sleeve Button Down Shirt
Sweatshirt
Leggings
Light Weight Pullover Sweater
Joggers
Lounge Clothes
PJ's
Casual Dresses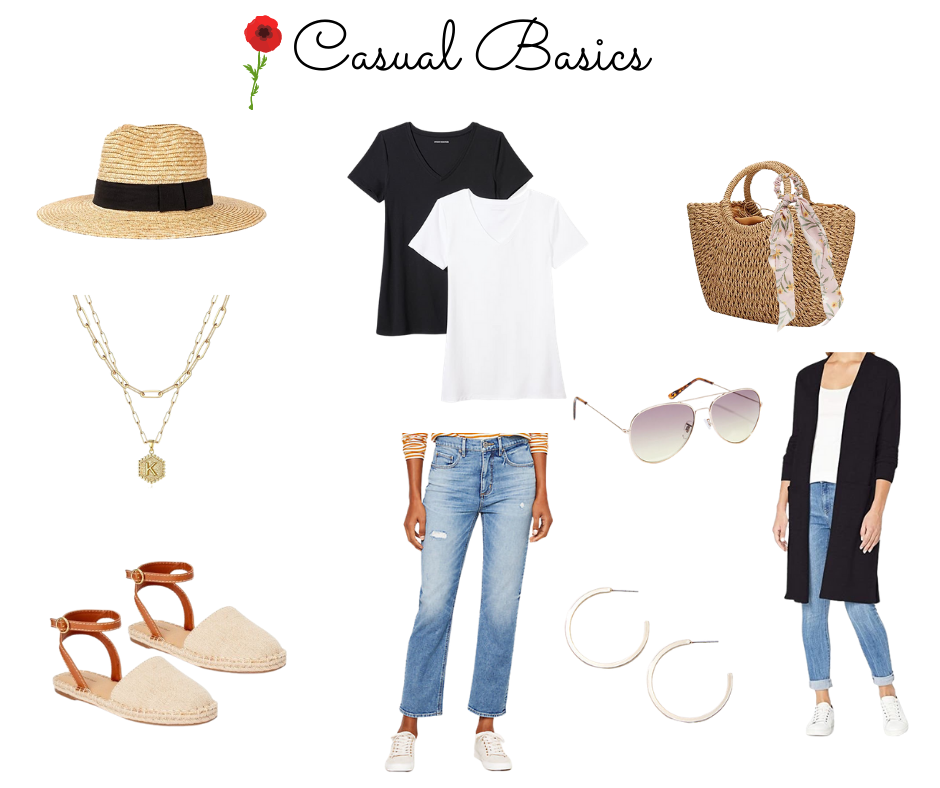 Here are the pieces from the collage above using basics to create this outfit.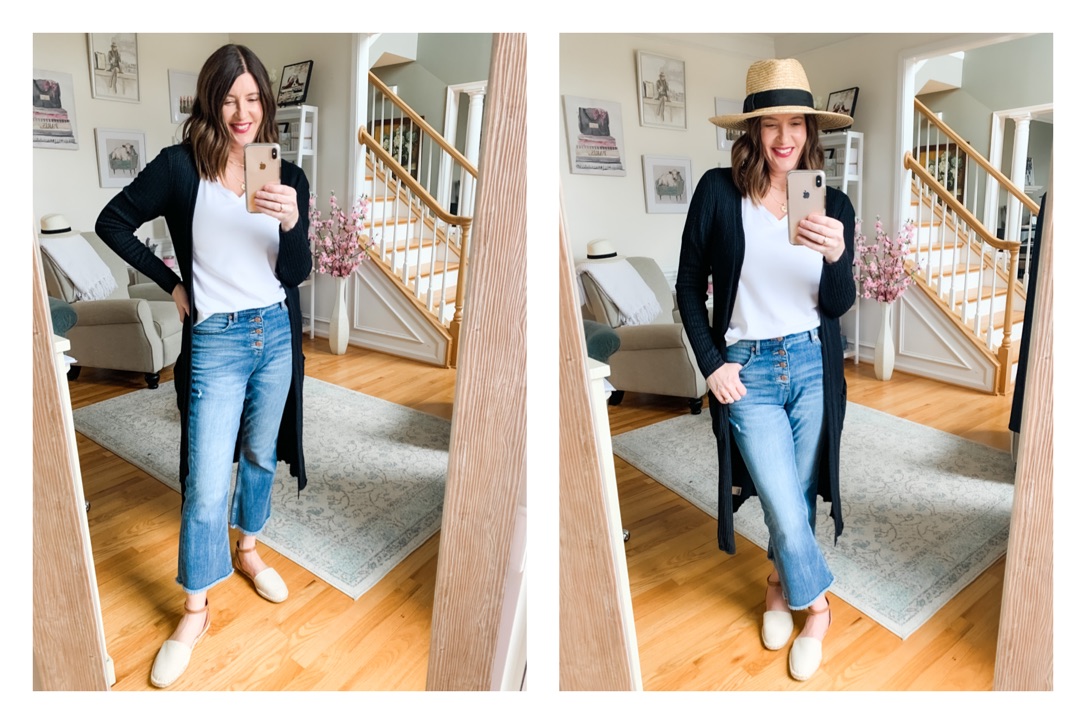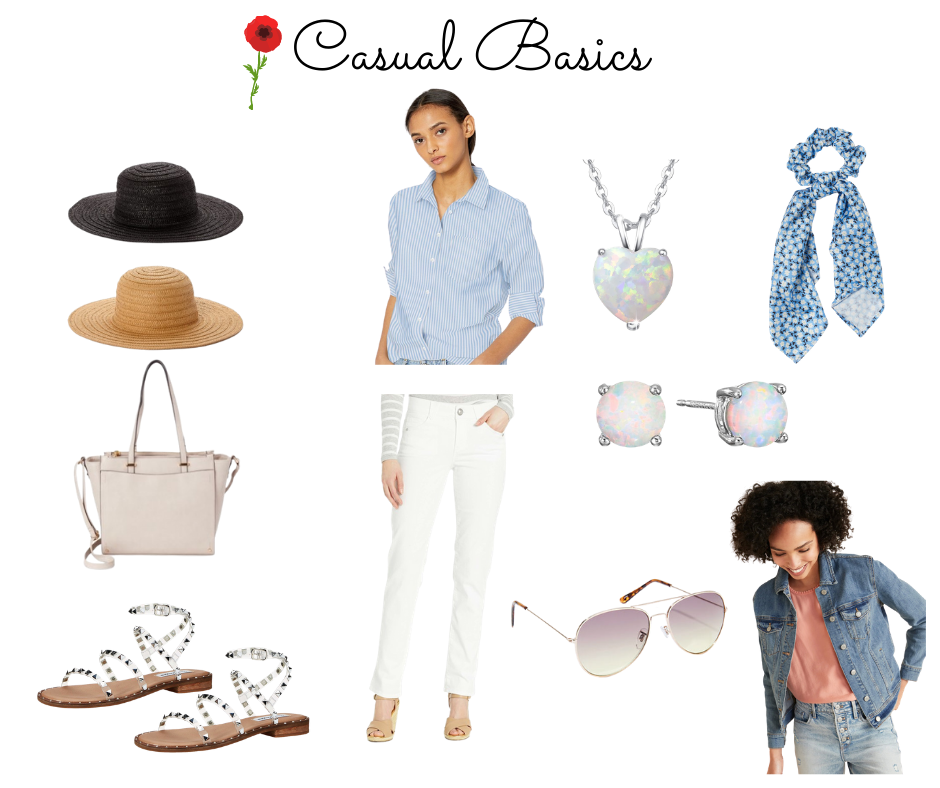 The outfits in the photos below are put together using pieces from the collage, except I just kept on the same jeans instead of changing into white jeans. The first look is a little elevated with a block heel sandal.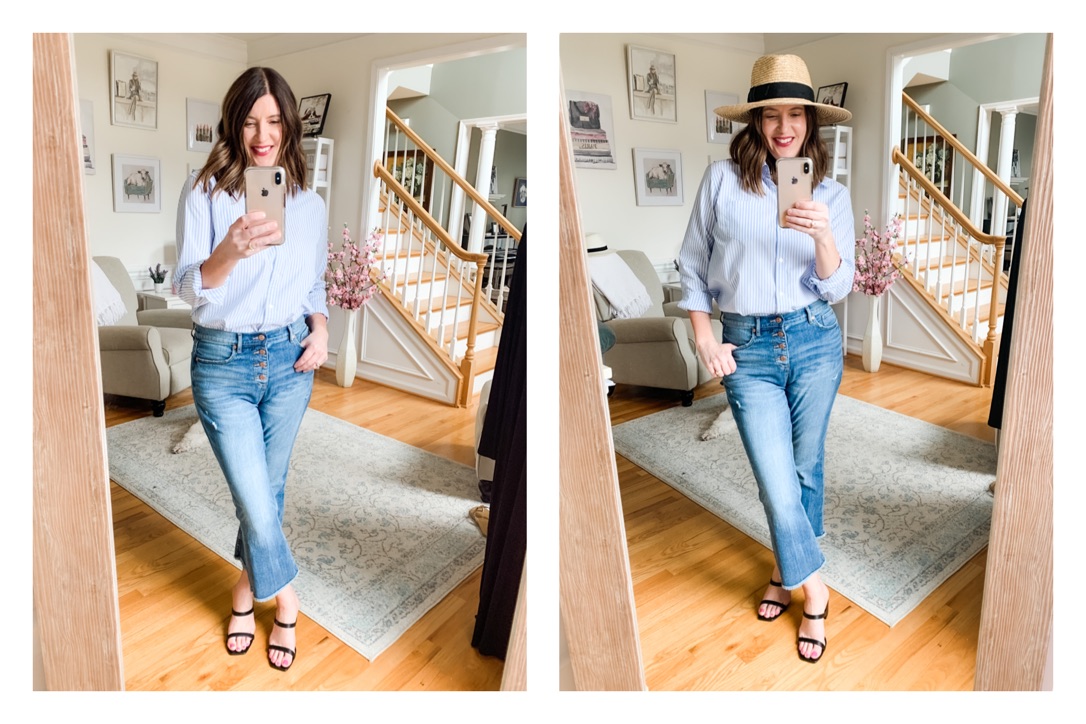 In the outfit below, I changed into some flat sandals for a more casual look.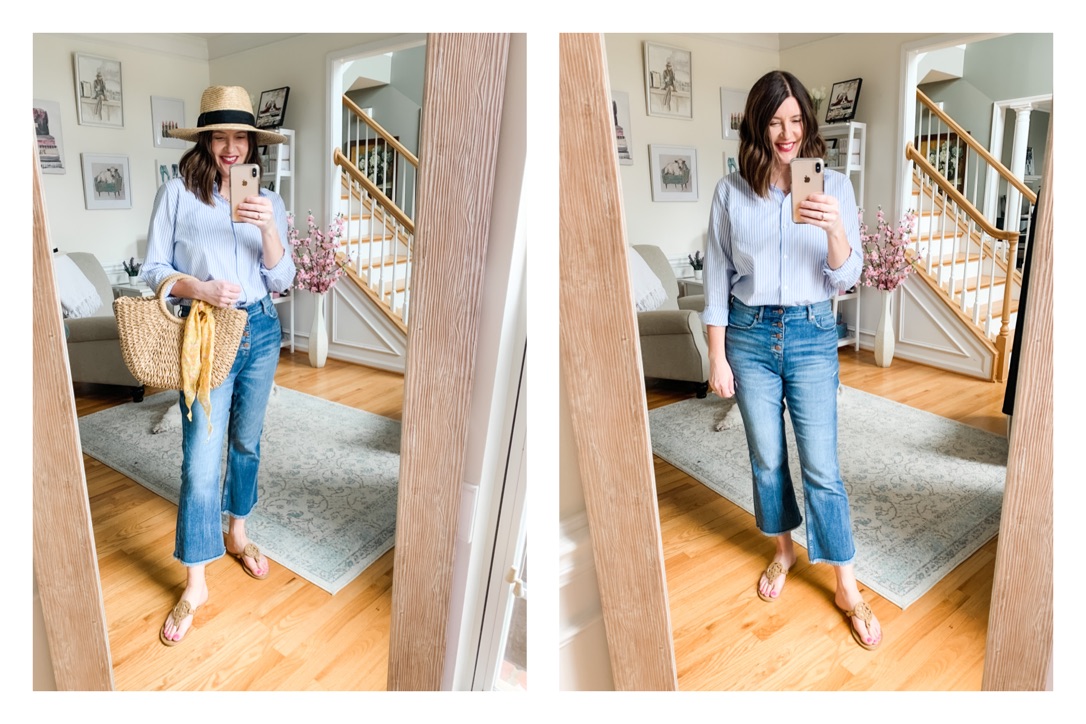 In addition to denim basics, a casual pair of cargo or utility style pants can also be very versatile. The photo below, is an example of using the same basic denim jacket and white top paired with olive green pants. This particular pair came from Old Navy last year. I will link something similar.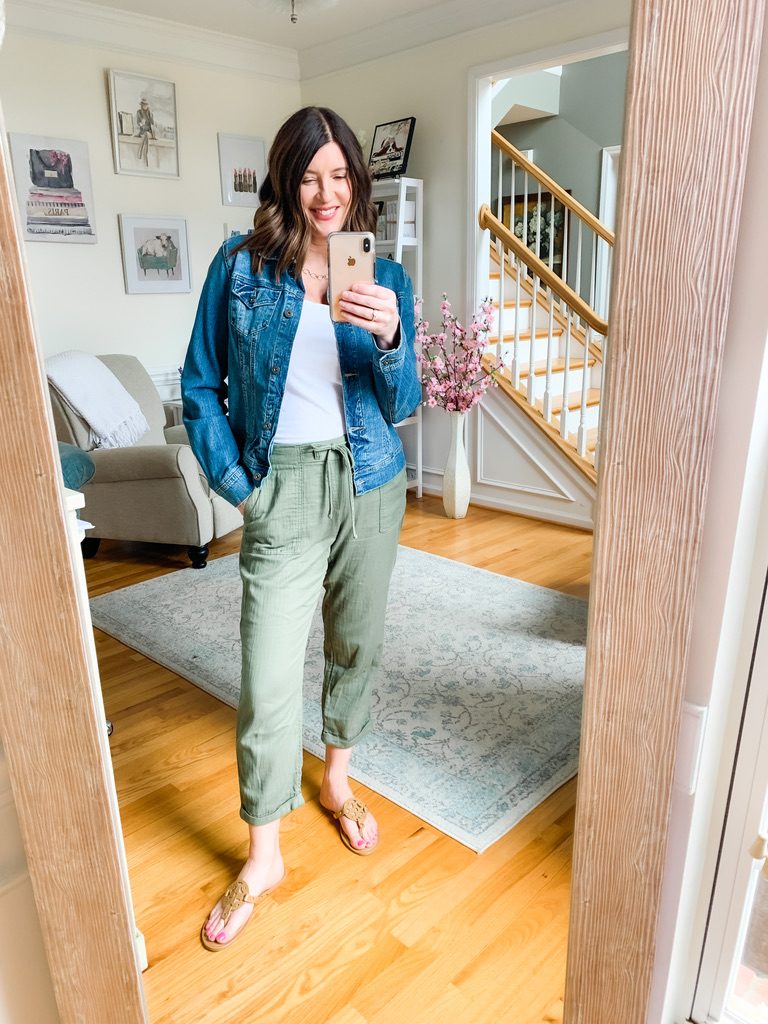 Shoes
Taking shoes that are neutral will eliminate the need to pack multiple pairs of shoes. I usually stick with flats when on vacation unless I add in a wedge sandal for a dressier look.
Loungewear & Pajamas

No easy packing guide would be complete without loungewear. Comfortable, cozy clothes are a given wherever I go. I will try to keep my packing light with just a couple of pieces since we will be able to do laundry while we are gone. This floral one piece is a purchase from last year (old photo), but this is still available on Amazon. I like to layer it with a cardigan or a pullover sweatshirt.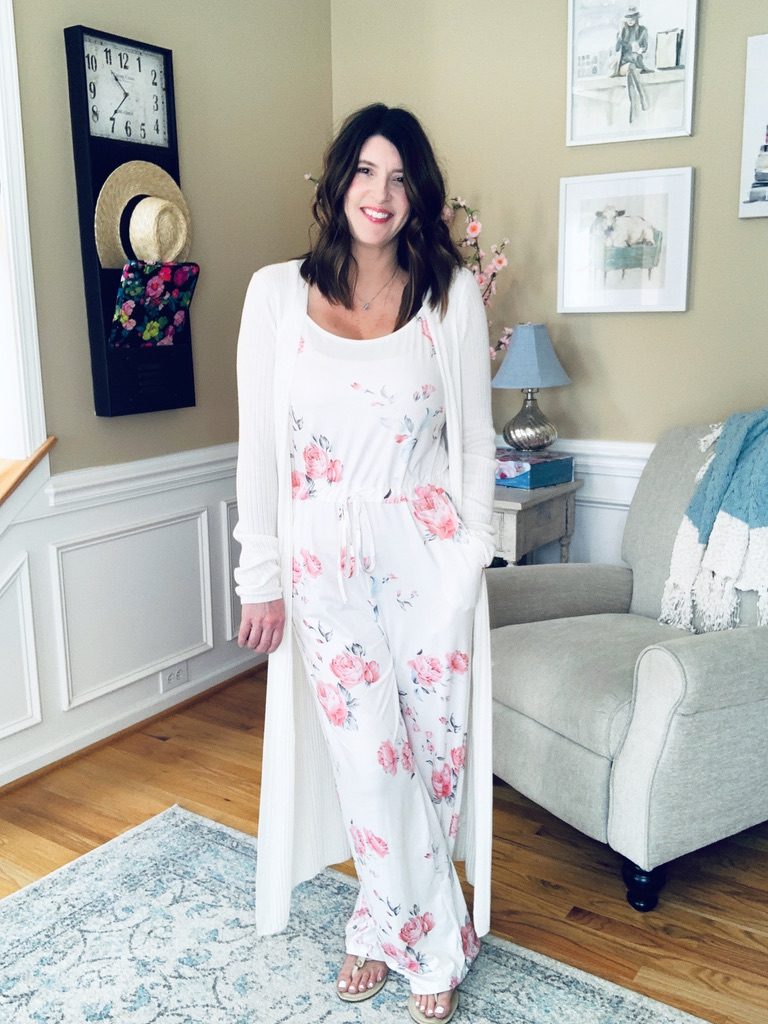 A more recent purchase is this lounge jumpsuit by Stars Above – my favorite line from Target. All of the Stars Above pieces are incredibly soft. This piece has a wrap front with a snap to keep it secure. It can be worn as is or layered as I have done in the photo below.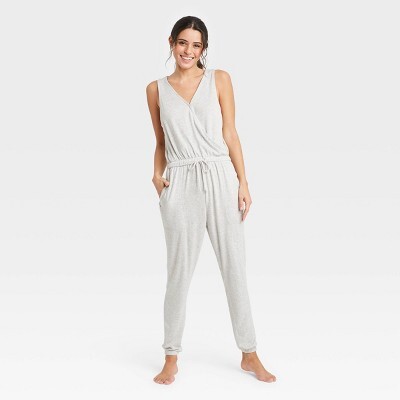 Here I layered it with a long sleeve linen tee by A New Day from Target. For shoes, I chose white slides and white canvas sneakers.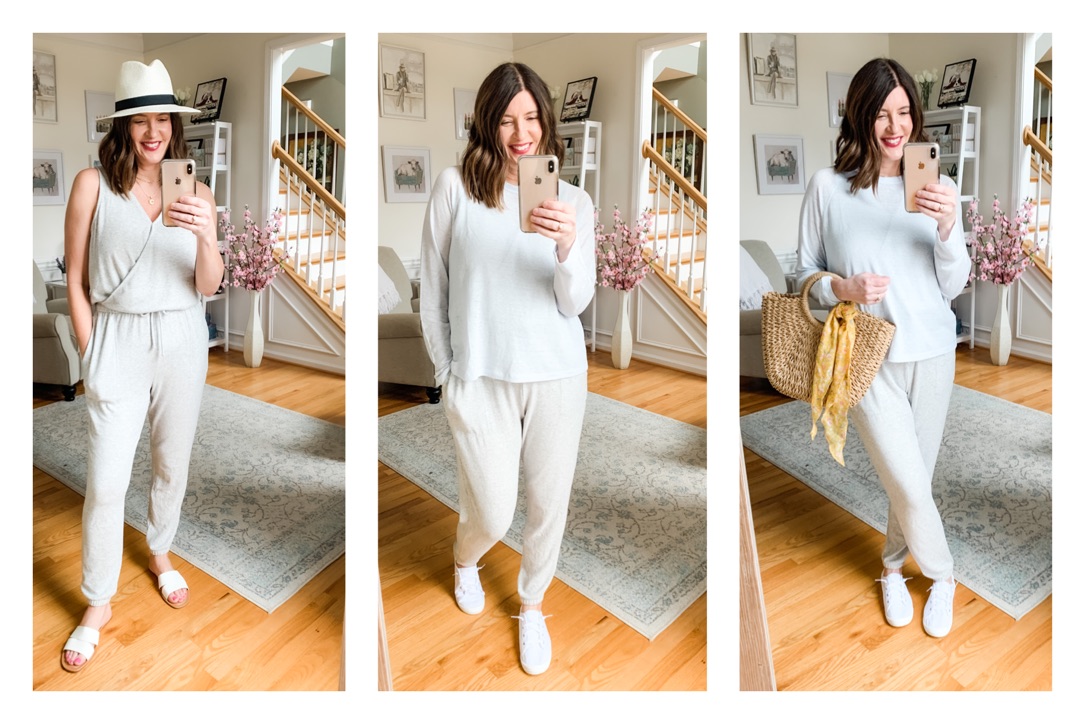 Here are the links for these specific items as well as some other loungewear pieces you might want to take a look at.
I hope you enjoyed this easy packing guide for a spring getaway. Even if you are staying home, these are some essential pieces for any spring wardrobe. In fact, you probably have a version of many of these pieces in your closet. Sometimes it's just nice to see them put together in a fresh perspective.