Can you believe that it is almost Easter? I remember this time last year we were all on lockdown from COVID-19 and life was different than anything we had ever known. Things are certainly not back to normal yet, but we are making progress. There were several disappointments last year. Graduations, weddings, sports, and all gatherings were cancelled or postponed. As a Christian, not being able to go to church was really hard and not being able to gather on Easter was even worse! I'm so grateful that this year we will be able to go to church on Easter. Easter is on April 4th this year, and today I have some maxi dresses for Easter that I think you will like. Even if you don't celebrate Easter, maxi dresses are key pieces of a spring and summer wardrobe.
Meet Fonda from Savvy Southern Chic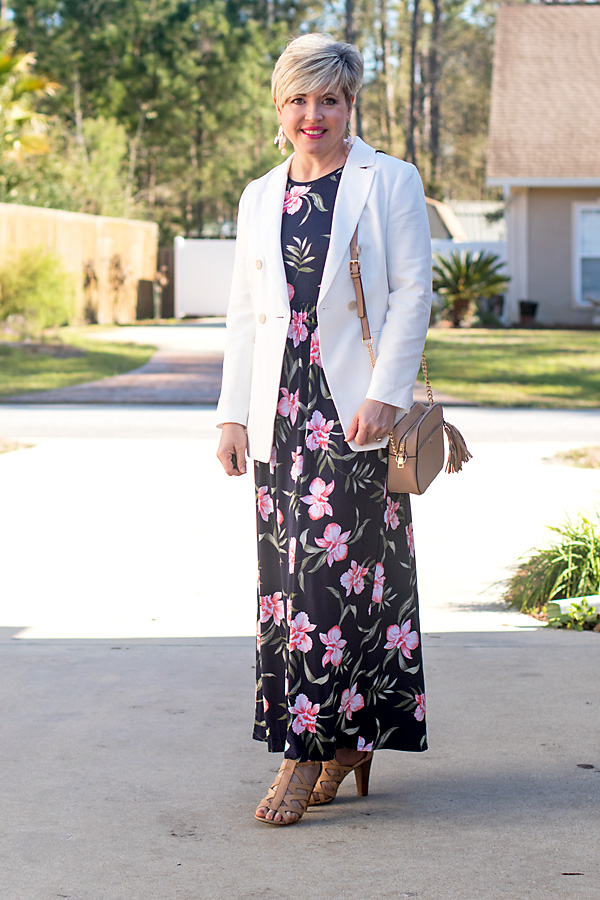 Before I show you the maxi dresses for Easter, I am so excited to be collaborating with my blogger friend Fonda, from Savvy Southern Chic. I have been following Fonda since I started my former blog in 2018. She has much more blogging experience than I do, and I love her blend of stylish workwear and casual outfits for mature women. We are both southern women and I had to chuckle when I first read her bio and she stated that she didn't like sweet tea! I don't like sweet tea either and as a southerner that is rare.
Fonda has great style and I particularly enjoy her talent for styling a piece of clothing multiple ways. Who wouldn't love ideas on how to maximize your wardrobe? If you are a career woman, then you will love her workwear. If you have a more casual style, she's got that covered too! Be sure to visit her blog today @savvysouthernchic.com and see all the dresses she is styling today! Also be sure to follow her on Instagram. She shares lot of daily outfits there that you won't want to miss. https://www.instagram.com/savvysouthernchic
Welcome If You Are New!
For those of you who are visiting from Savvy Southern Chic, welcome to The Scarlet Lily! I'm so glad you decided to spend a few minutes here today. If this is your first time here, you may want to read the "about me" page which you can click on from the main menu. In short, I am a 50 year old wife and mother of a college age daughter. I worked as a nurse in my earlier adult years and now my husband and I are learning how to be empty nesters! It's not easy, but there are some perks that come along with this stage of life. I love fashion and beauty topics, but most of all I love helping other women my age find their unique style and beauty! You can expect affordable options for real women here. I am a curvy, midsize shape and I firmly believe you do not have to be a size 2 to look fabulous. So let's look at some dresses!
Maxi & Midi Styles
Fonda and I originally decided to style maxi dresses for Easter, but I had a hard time finding a lot of maxi dresses that I liked, so I have a blend of maxi and midi styles. Also I am on the taller side, so sometimes even if a dress is described as a maxi dress it is not always full length on me.
Chiffon Maxi Dress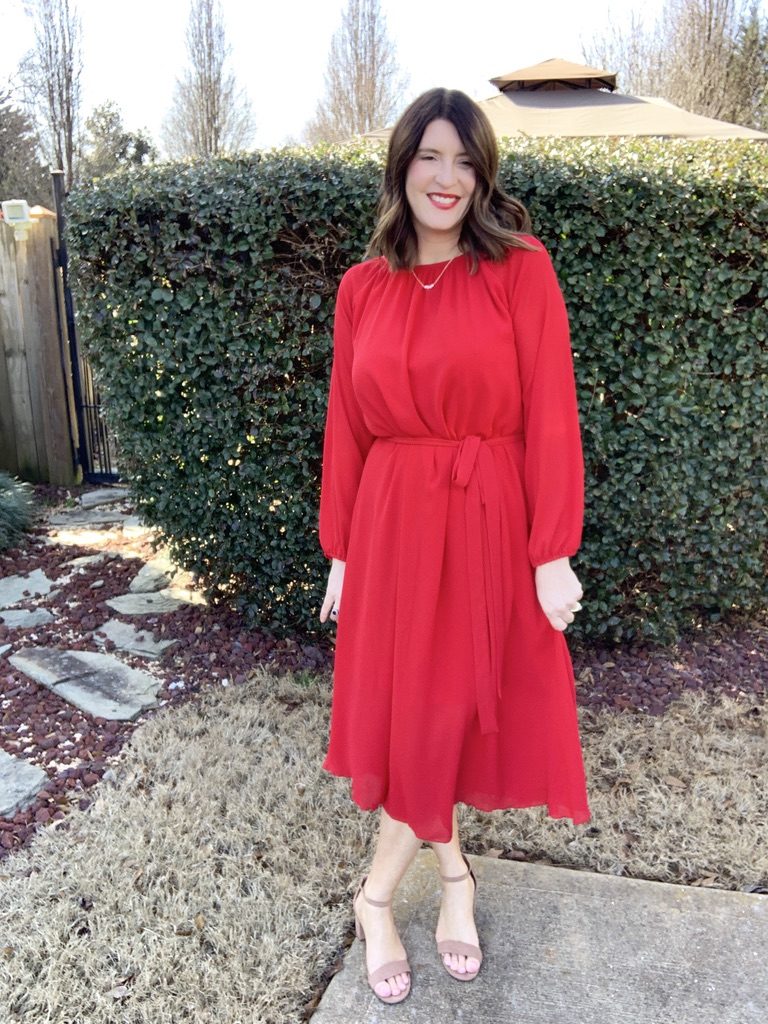 Pastels typically come to mind when we think about spring dresses or Easter dresses, but red is one of my favorite colors so when I saw this dress I wanted to try it. It also comes in a really pretty lavender as well.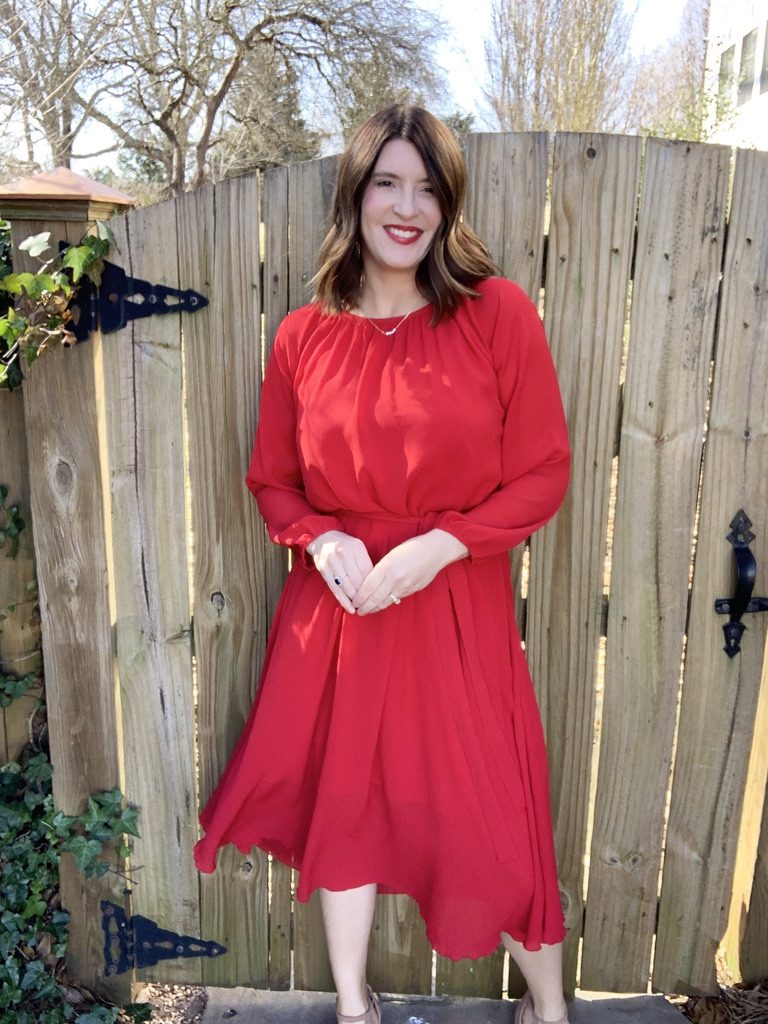 This is a simple, flattering style that comes with a belt to define the waistline. I also like the long sleeves since spring weather can still be chilly at times. I would say this runs true to size, and I am wearing a medium.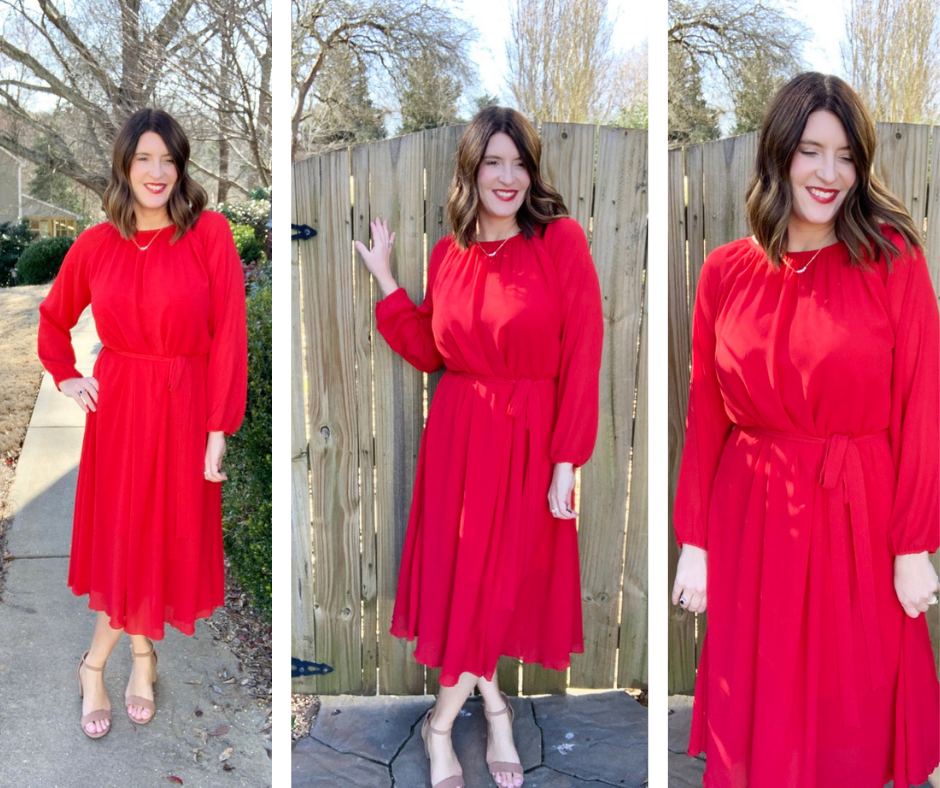 Ruffle V-Neck Midi Dress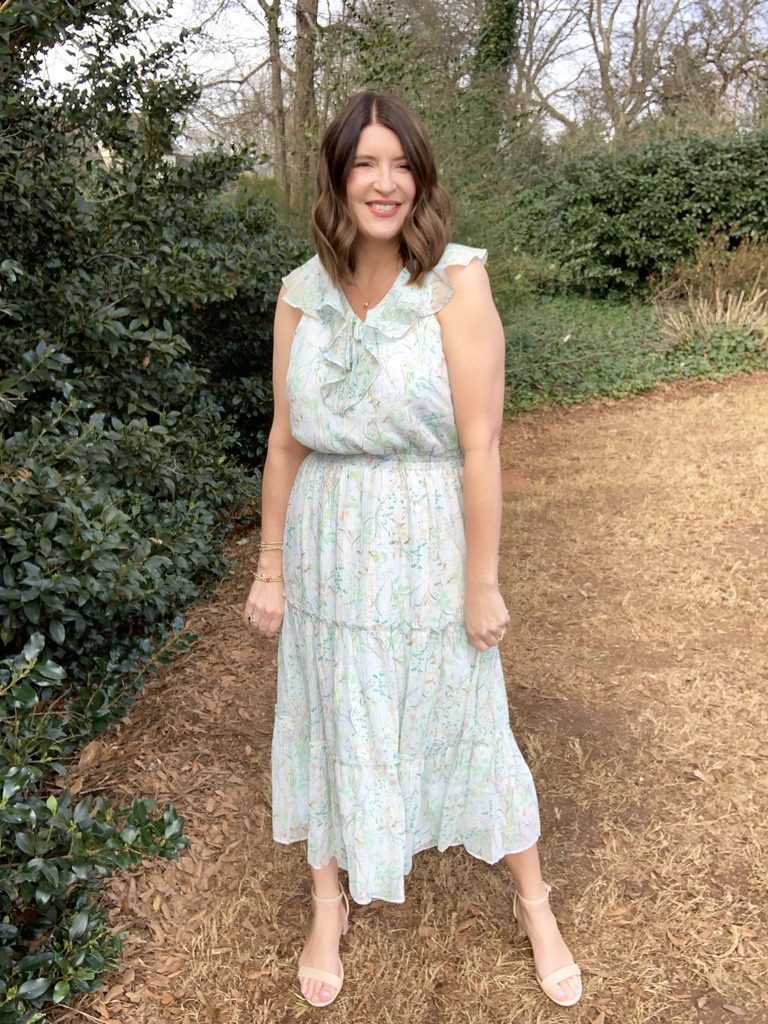 The next dress is by Lauren Conrad, which is sold exclusively at Kohl's. If you like feminine style, then this brand is one you may want to try. This is a fully lined dress with a floral pattern. I prefer cooler tones, so I chose this blue and green color combination. It also comes in a beautiful coral color if you prefer a warmer tone.
As far as the fit, this one is also true to size. It has a nice elastic waistline and I am wearing my usual size medium.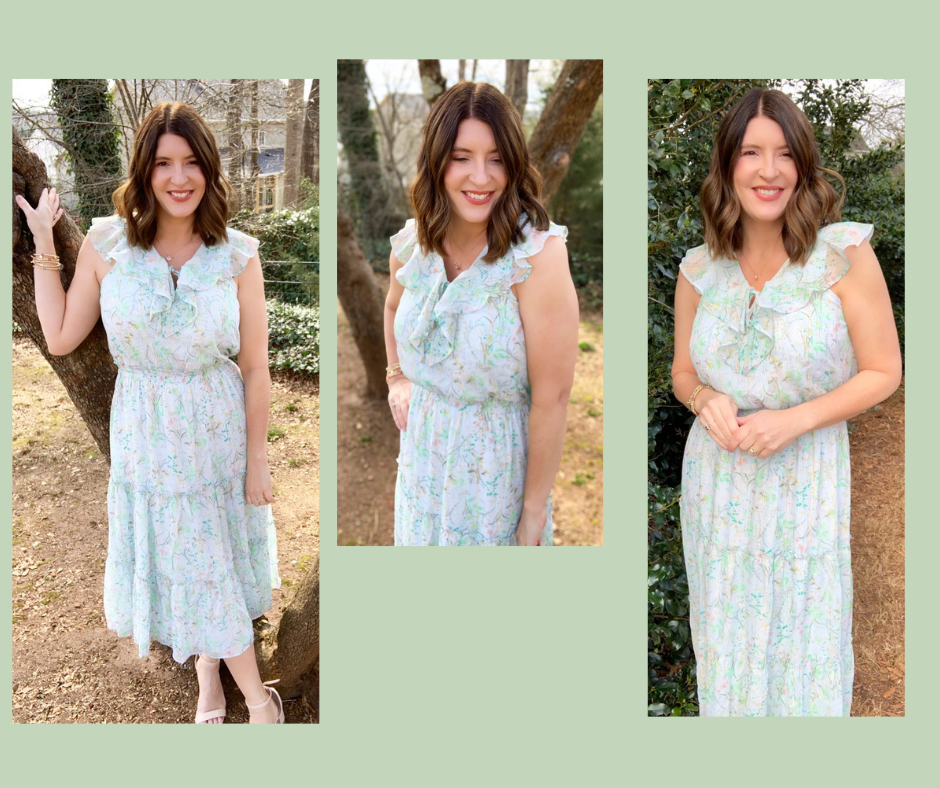 Pleated Fit & Flare Dress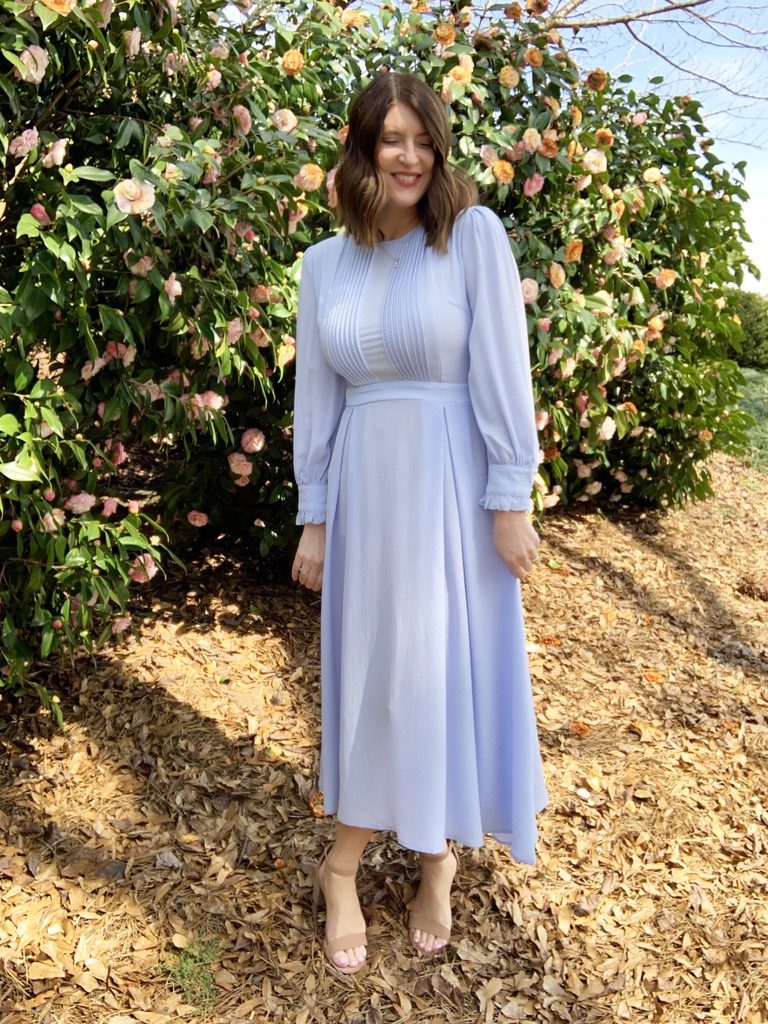 Here is another midi dress that is a flattering fit and flare style. The lavender color is perfect for Easter or spring in general. As with many Amazon dresses, there are several colors to choose from. I styled this same dress in red for Christmas. If you would like to see that post, you can see it here.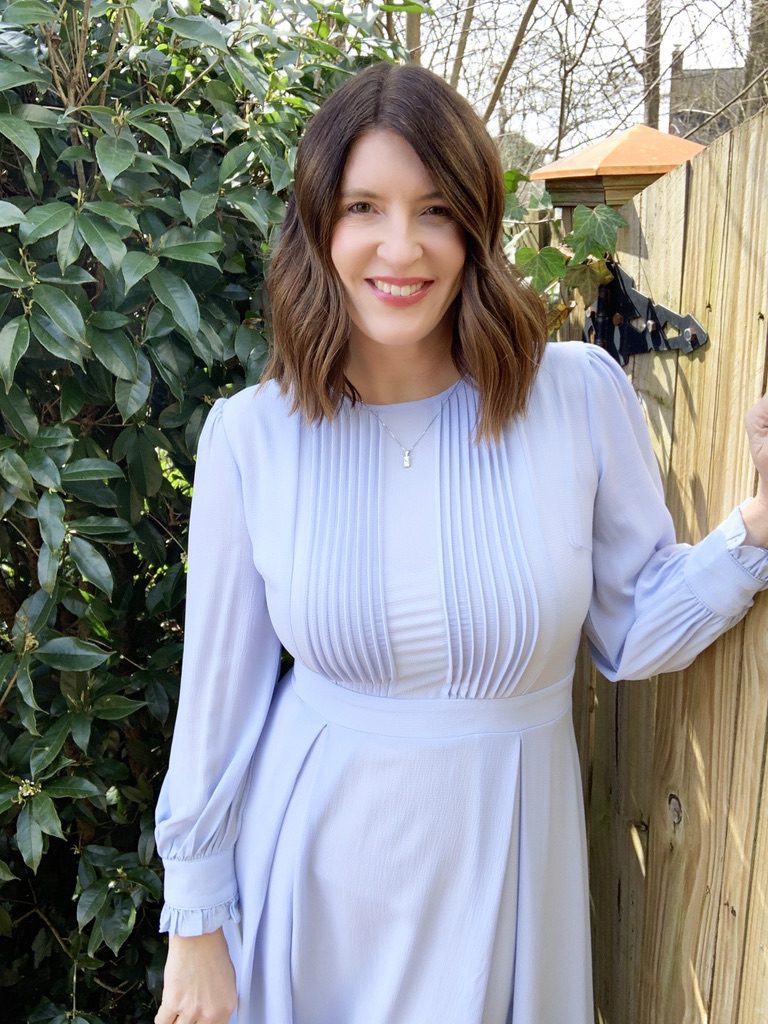 This would also be a good choice for a spring or summer wedding or a graduation ceremony. I am wearing a medium and it runs TTS.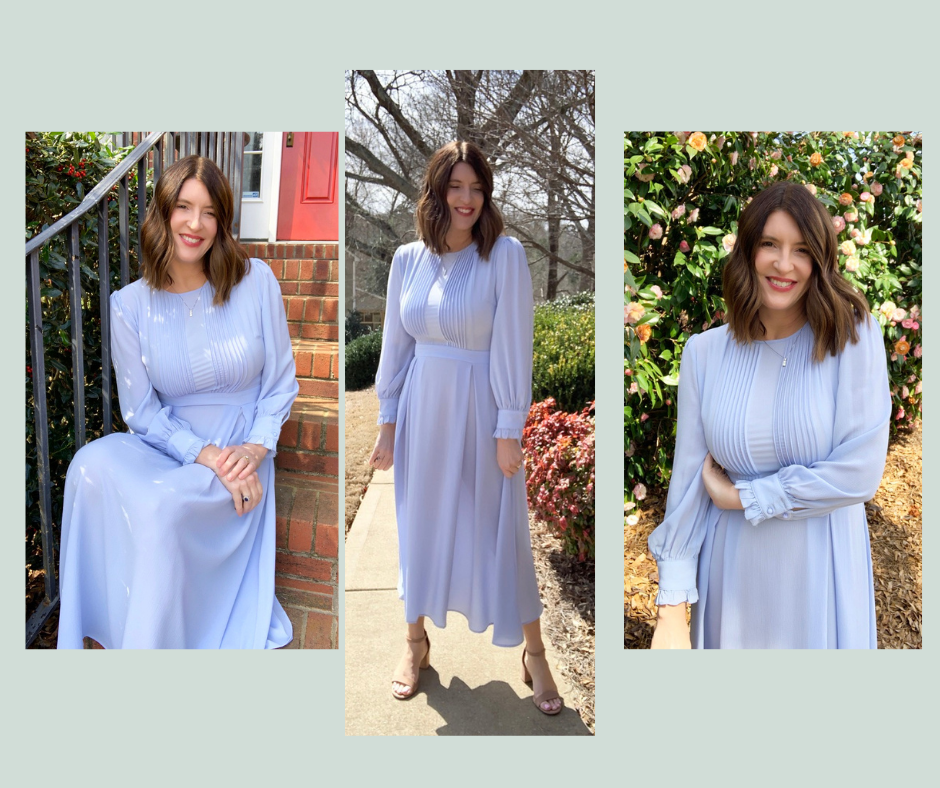 Sleeveless Tiered Maxi Dress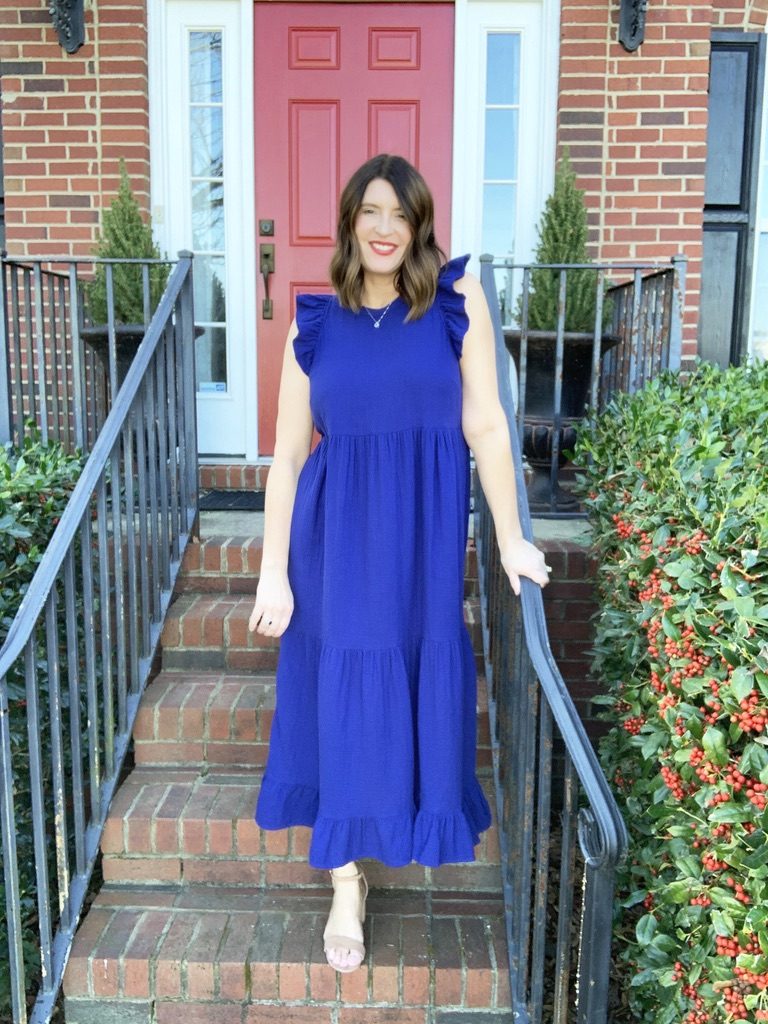 This is the sleeveless tiered maxi dress by Universal Thread from Target. In fact, the last two dresses I have for you today are from Target. These could be worn for Easter, but the possibilities go far beyond just one occasion. Date night, bridal or wedding shower, church, vacation, or even just running errands. I really can't think of anywhere that you couldn't wear these last two styles.
This dress was brought back again from last year. In fact, I purchased the same dress last year in lavender.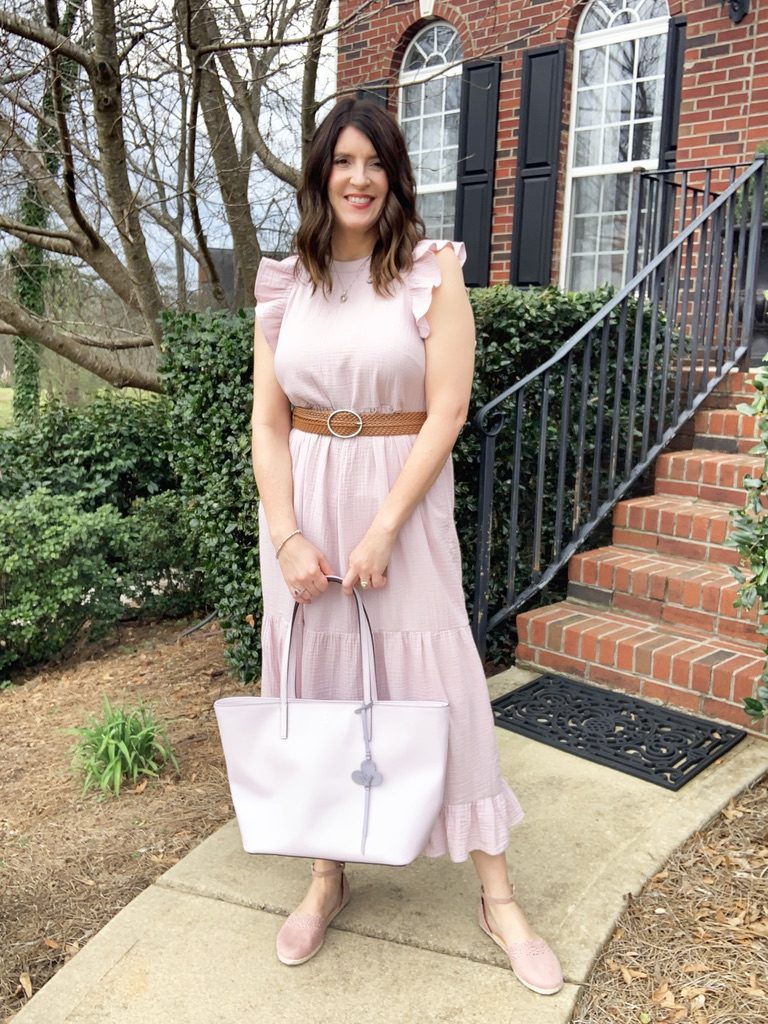 When I saw this deep indigo blue, I gave in and purchased a duplicate because I just love this color so much! It comes in six different colors this year.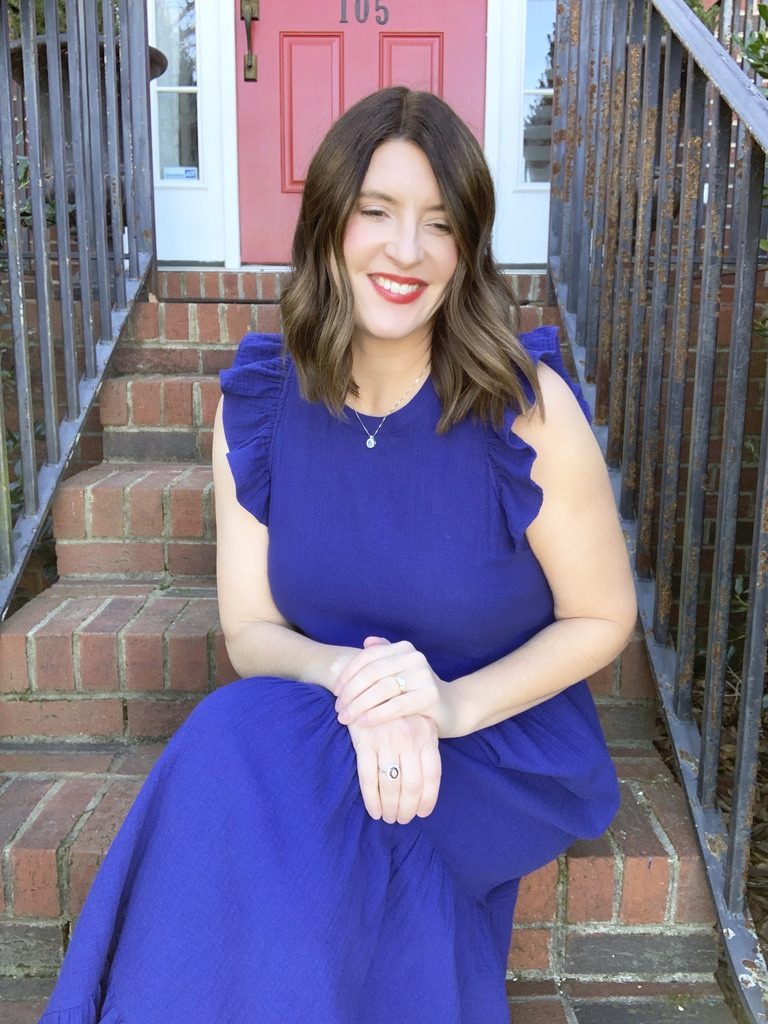 It does run big. I am wearing a medium because I am bigger up top, but otherwise I might even size down one size.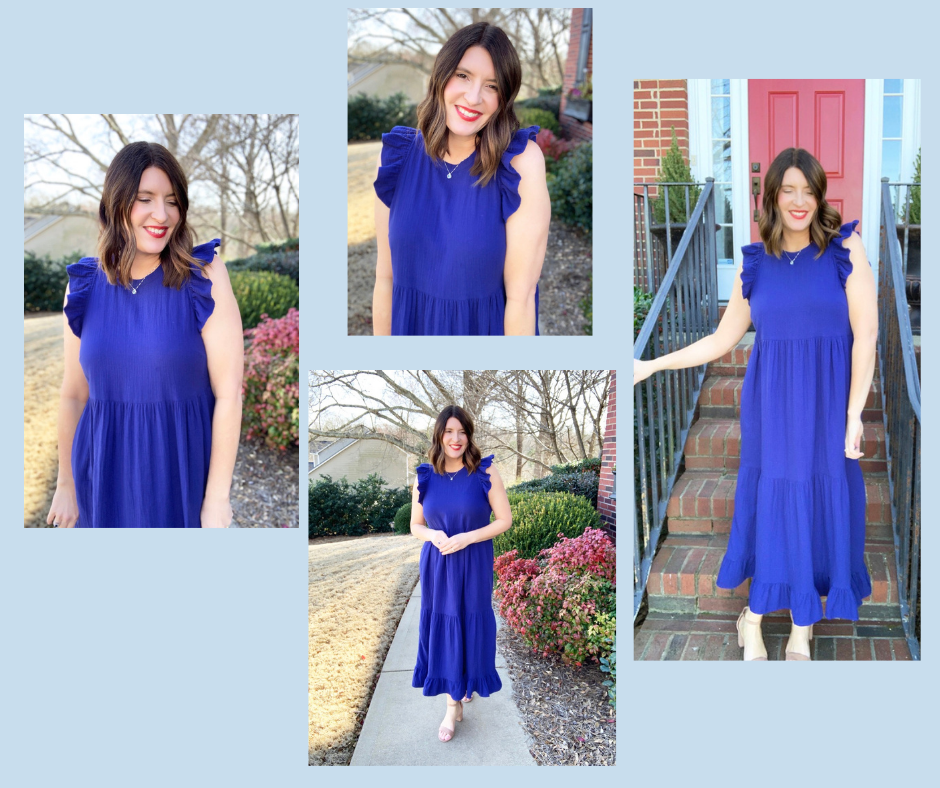 Long Sleeve Tiered Dress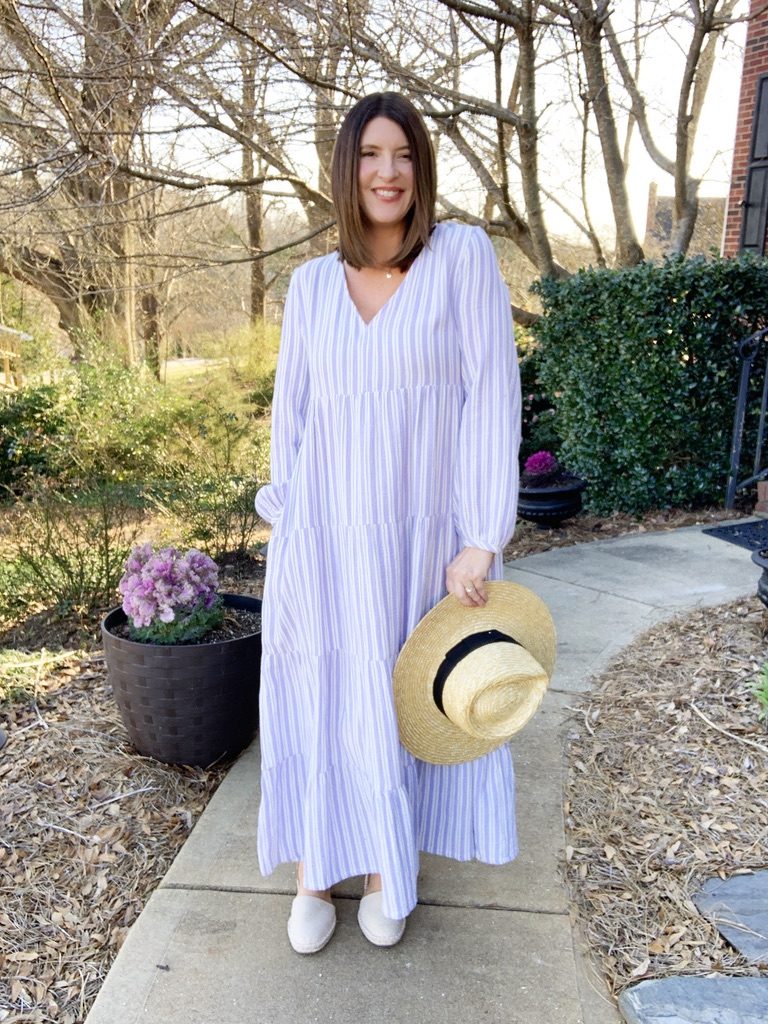 The last maxi dress I have is another Target find. This is the Balloon Long Sleeve Tiered Dress by Universal Thread. The fit on this dress is very similar to the prior dress. Again, if you are smaller up top I would recommend sizing down. I went with a medium for my shape.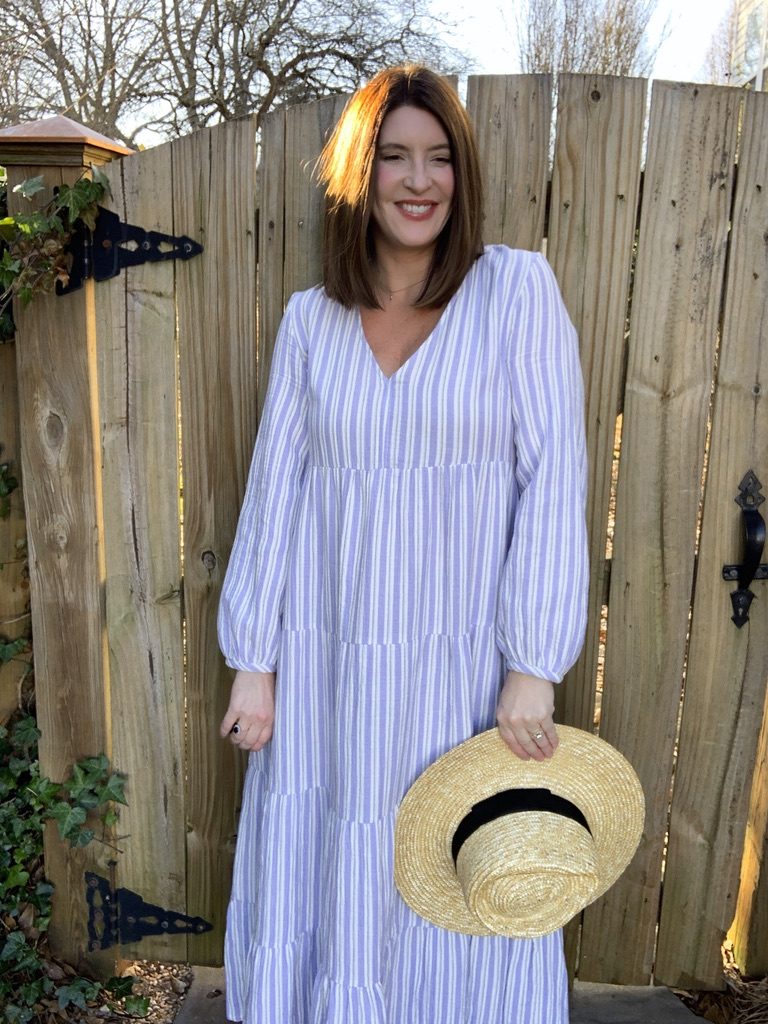 I feel confident that I will be wearing this dress over and over again. It is the perfect beach or vacation dress, and the flowy fit is so comfortable. I like the long sleeves even for summer because my arms often get cold.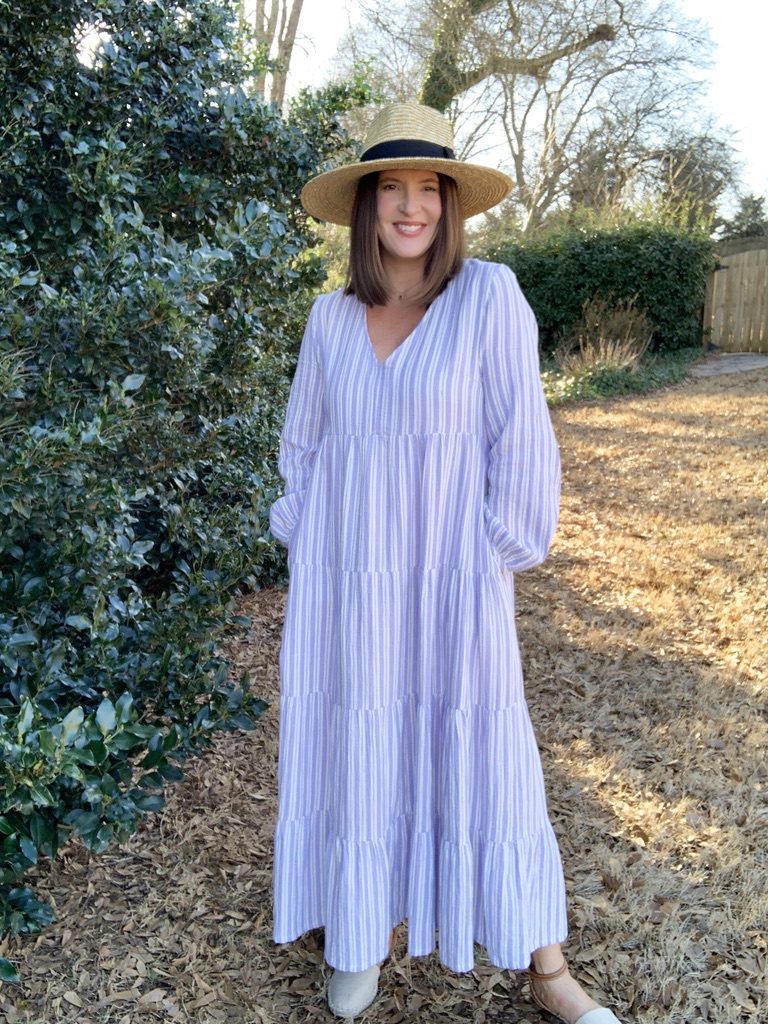 Add a straw hat and you are ready for vacation!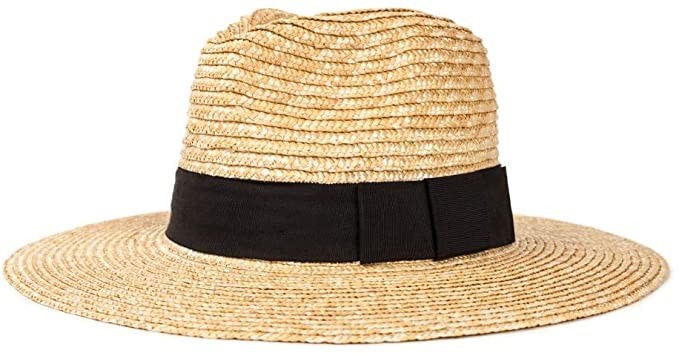 This is my favorite summer hat. It is sold at Nordstrom and also on Amazon, but it frequently sells out. I have had better luck finding it in stock on Amazon, and the closer we get to summer the harder it will be to find it. As I am writing this post, it is available at both retailers for the same price. Nordstrom always offers free shipping and returns, and if you are an Amazon Prime member you will also get free shipping. It is a little more expensive than the typical hats that I purchase, but I think this hat is worth the money. I bought it last year and have worn it many times.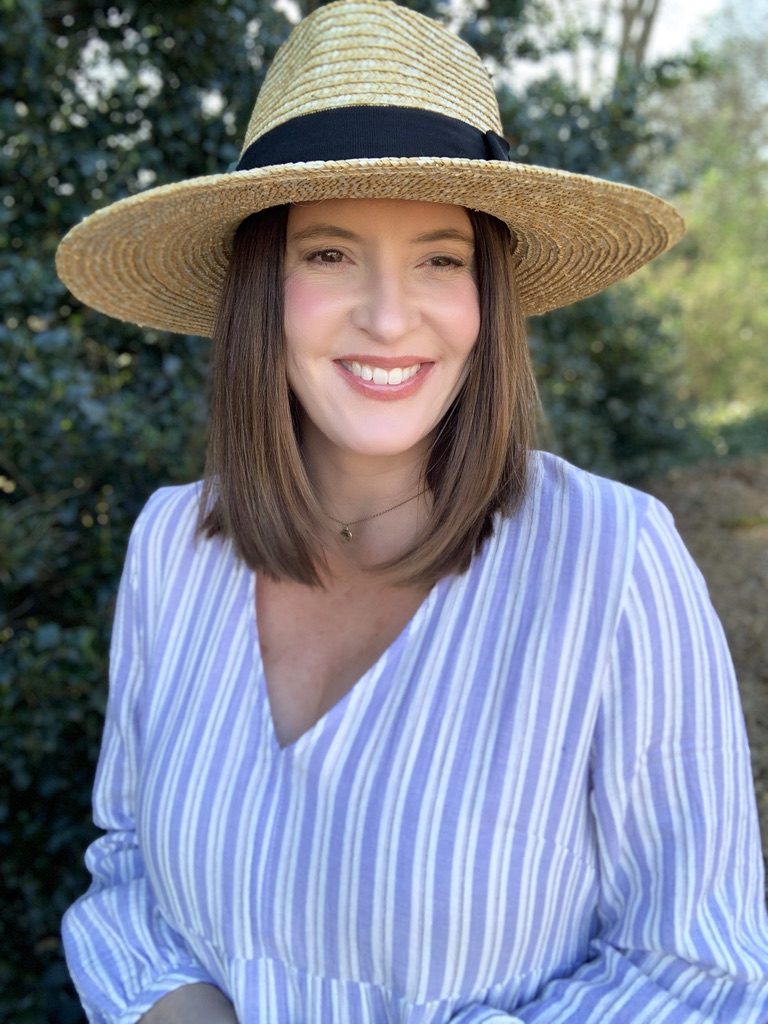 Accessories
I have kept my jewelry very simple. I prefer understated pieces and to be quite honest, it's easier when you are taking photos of multiple outfits to keep it simple. You might notice that my shoes are all neutral. Wearing a neutral sandal or any type of shoe will naturally make your legs appear longer since the shoe is close to the color of your skin. I don't always do this, but it's just a little style tip I wanted to pass along. I will link all of my sandals shown here in the shopping widget below.
Shop The Dresses
I hope you have enjoyed these maxi dresses for Easter! Don't forget to head over to Savvy Southern Chic to see what Fonda has found for Easter. For those of you who are visiting from Savvy Southern Chic, I hope you will stick around. You can also follow me on Pinterest, Facebook, and Instagram. I am most active on Instagram and I post outfits, sale notifications, and extra content there.