I have been introducing a lot of spring trends lately, so today I want to shift gears a little and talk about classic style for spring. I always recommend building your wardrobe around foundational classic pieces that can multitask and remain in your wardrobe for years. These are the pieces that you will typically spend a little bit more for because quality is key with classic style. That doesn't mean you have to spend a fortune!
There are several variations of classic style…I would describe my style as a more feminine version of classic style. Yours might me more minimalist or edgey, but the basics of classic style are essentially the same. Today, I'm going to share several ways to achieve classic style for spring that is affordable and very chic.
The Essence Of Classic Style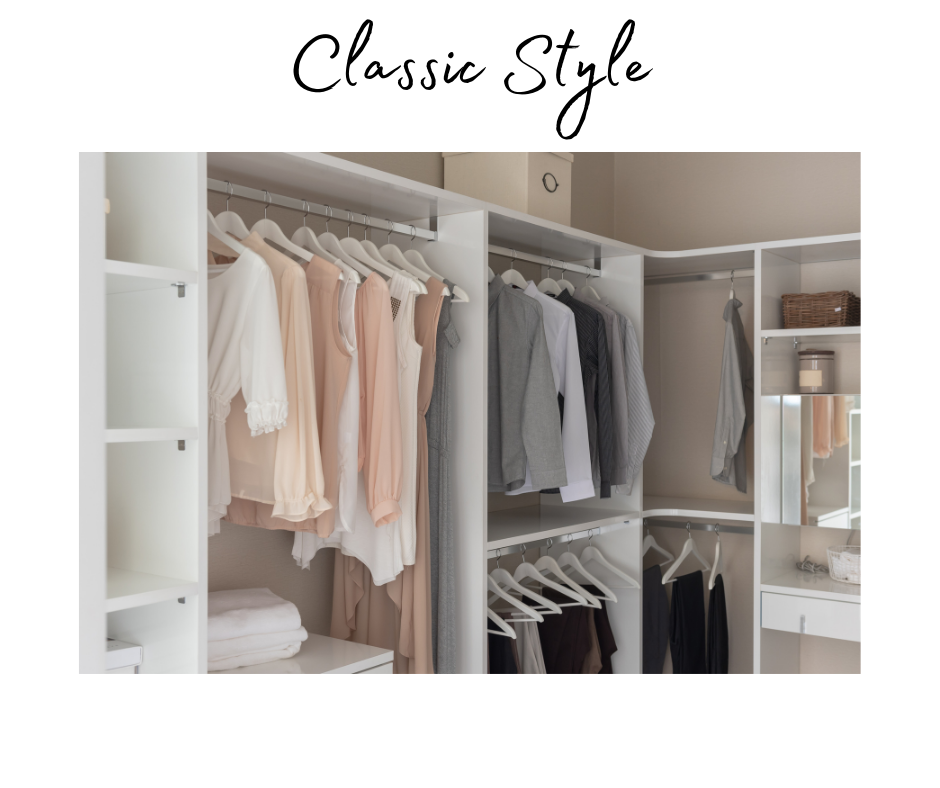 The hallmark of classic style is timeless, structured, neutral pieces that never really go out of style. There may be subtle variations that blend in with the overall current trends of the time, but it is a much slower and less noticeable change. Quality as opposed to quantity is usually the mindset of the classic style woman. She will spend a little more for pieces that she knows she will wear over and over again.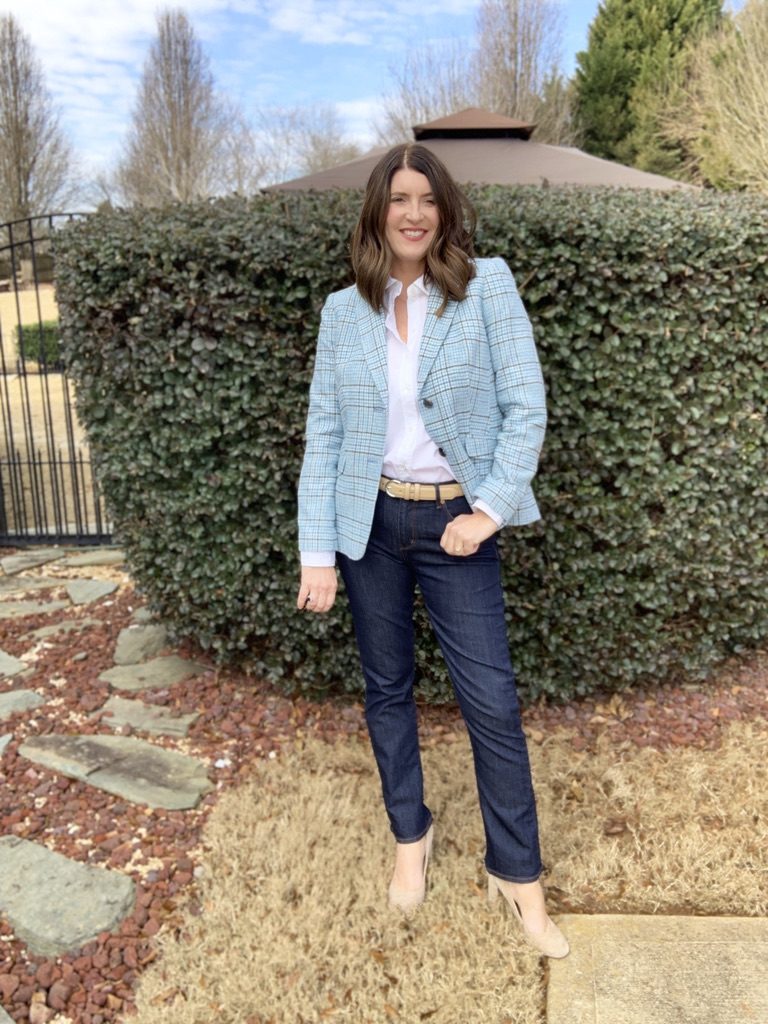 Think crisp white button down shirts, denim jackets or blazers, and simple clean lines. Classic style can also incorporate patterns and color, but it is more subtle. Solid neutrals are the key to this look and everything else is built around those vital pieces.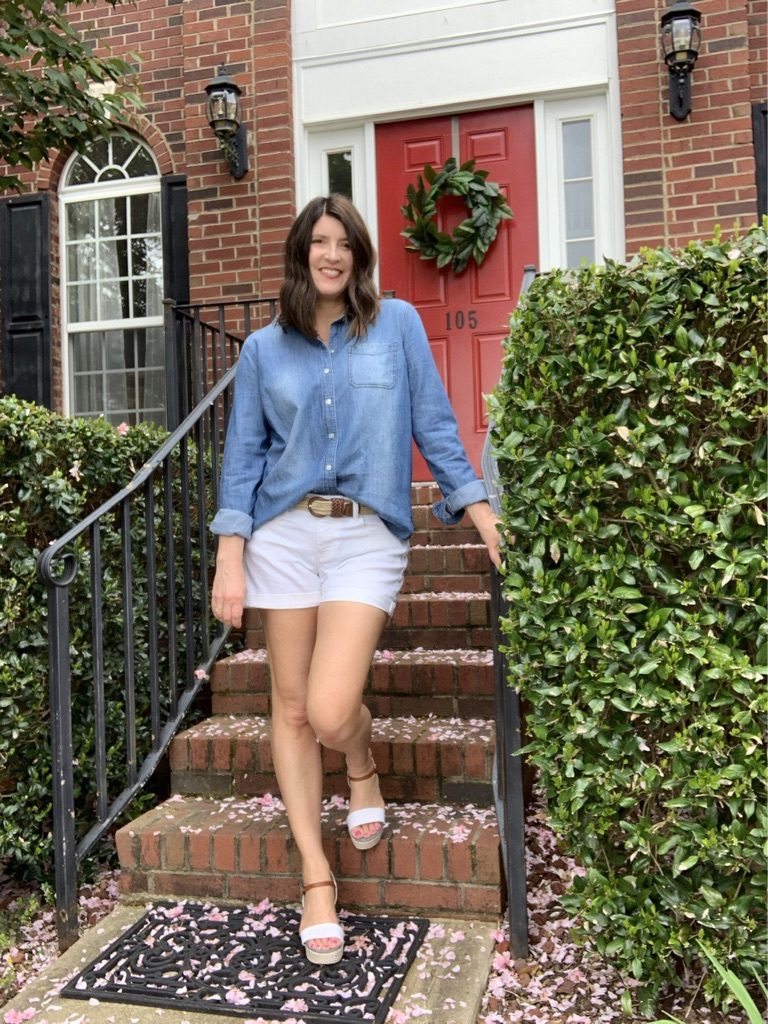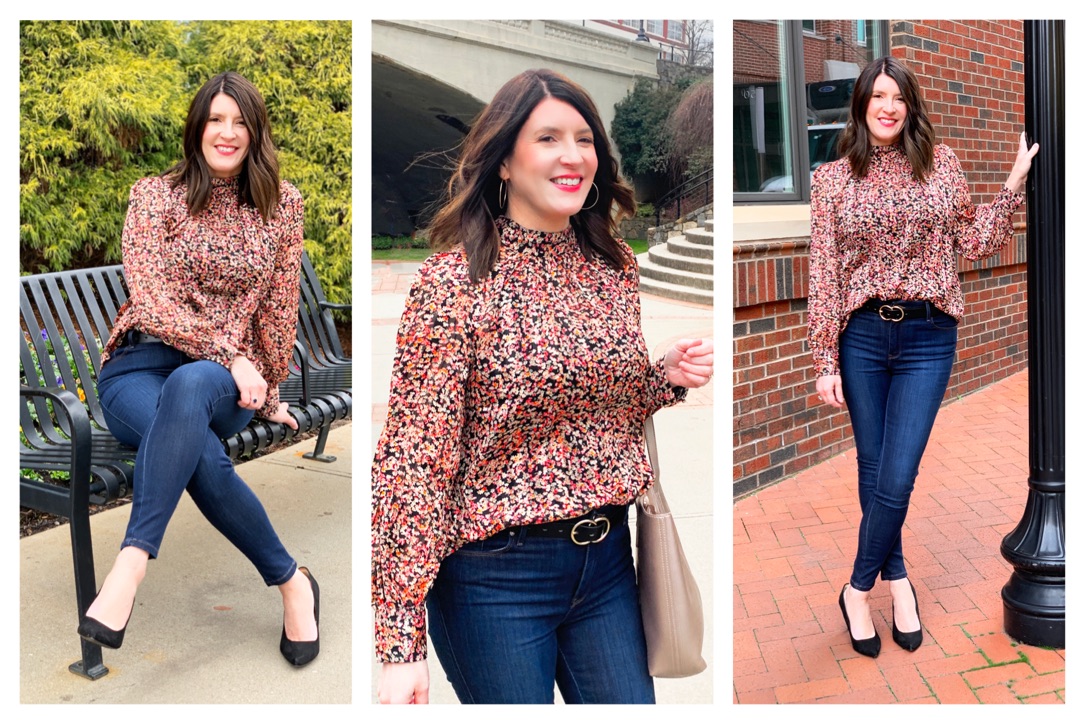 The woman with classic style always looks put together. She looks chic even if she is just going to the grocery store. She may be asked why she is so dressed up even though she is only wearing a t-shirt and jeans. It's because she looks effortlessly stylish and neat. Her hair and makeup are natural looking and if she is wearing a bold color or print, it will usually be only one element of her overall look. She may be wearing all black with a bold red lip or neutral tones with a bright handbag or shoes.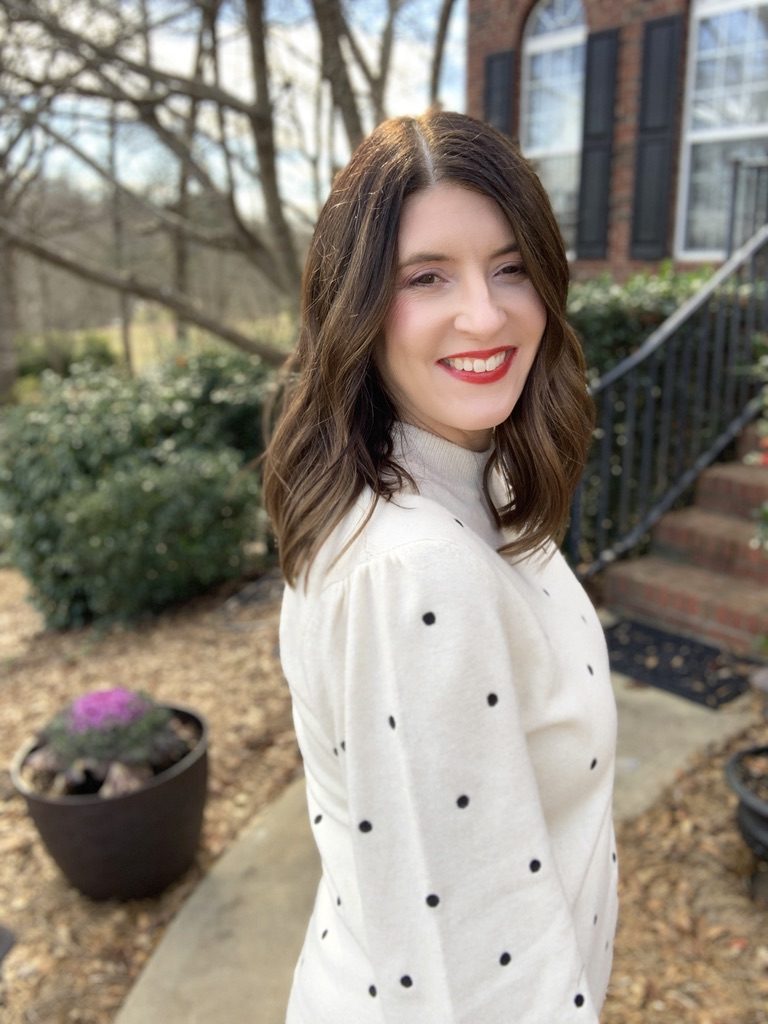 Jewelry for the classic woman is dainty and minimal. She probably has a special necklace that was given to her by her spouse or a loved one that she wears almost every day. She probably wears stud earrings or something small.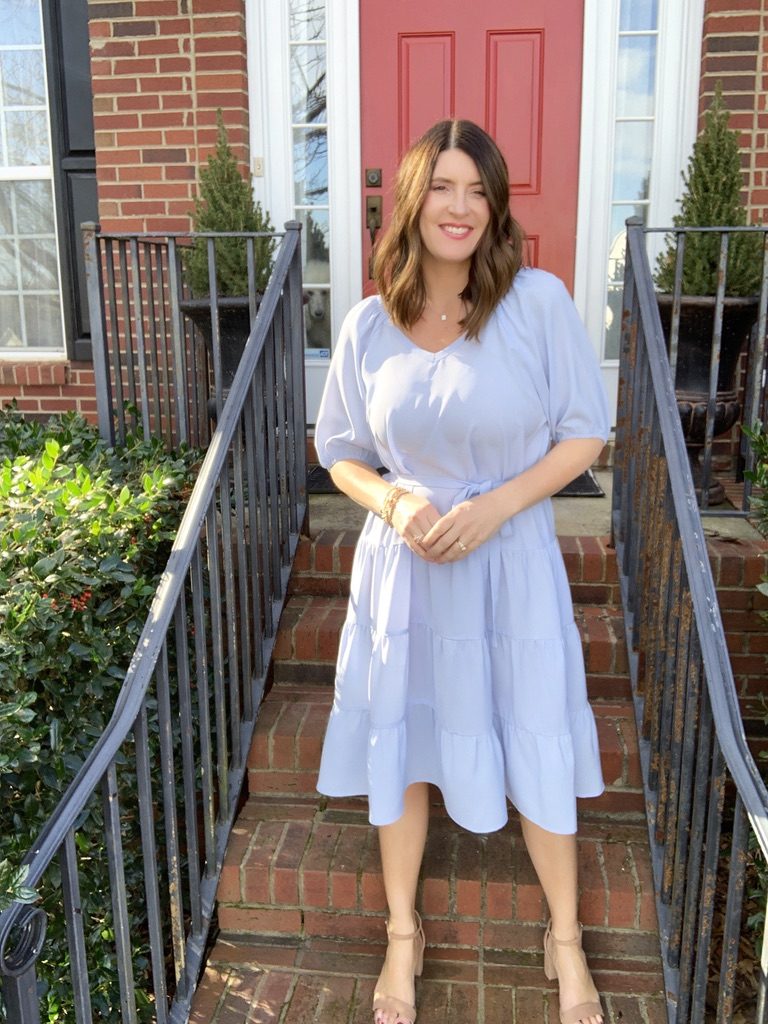 When people see the classic style woman, they admire her and notice that she always looks nice no matter what she is doing. Her style looks effortless even if in reality it is not. She spends a lot of time making sure she has her hair cut and colored regularly, will generally have well manicured nails that are not flashy, and generally maintains herself in every way.
Now we all know that no one is perfect, and the classic style woman certainly is not, but if you would like to incorporate some of these elements in your personal style, here are some ways to accomplish this look.
Good Black Pants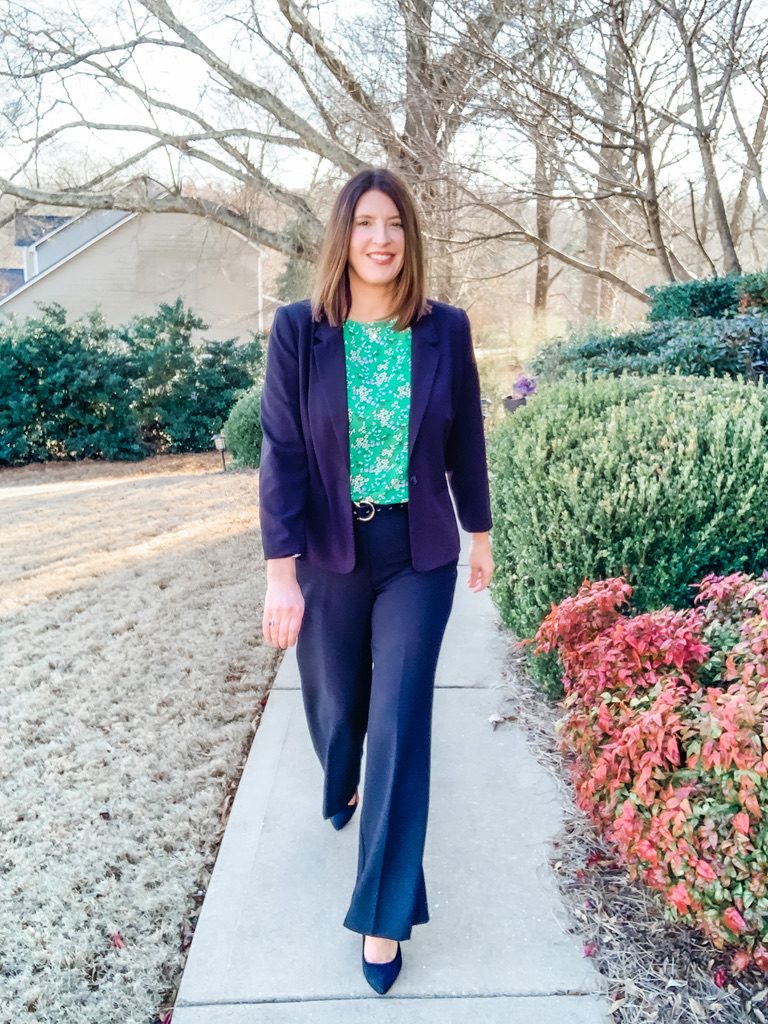 Black pants are a key to classic style. Really, anything in black can be beneficial when creating a classic look. Think clean lines with no trendy details. Wide leg or slim fit styles both work, it's really a matter of preference. A structured look is the goal.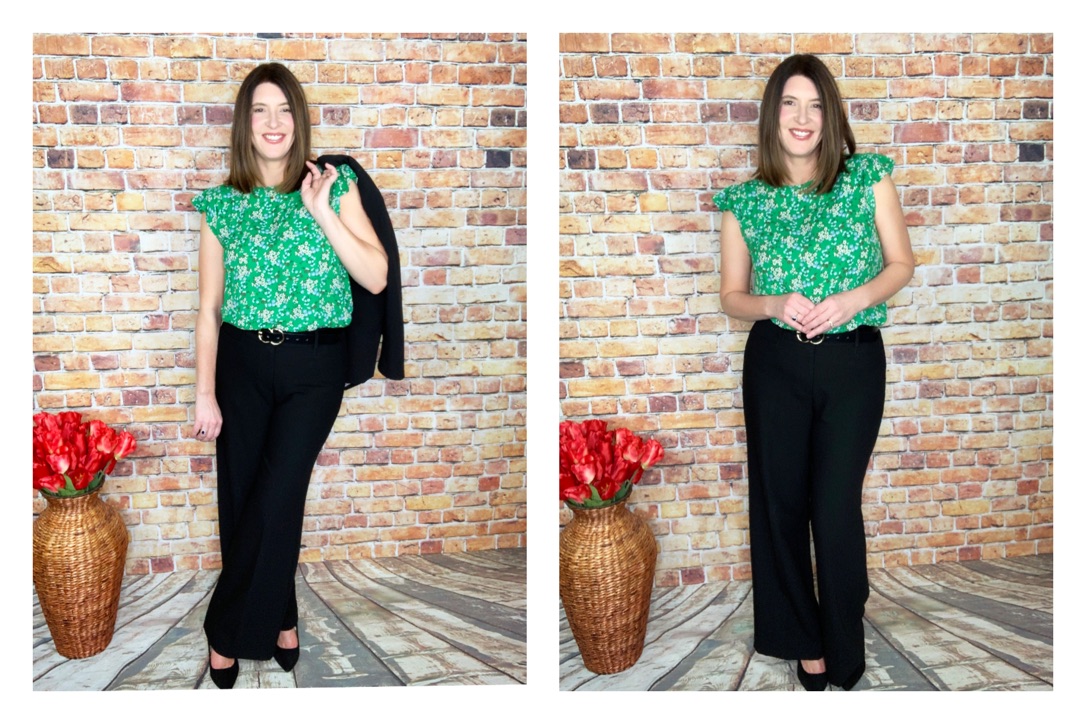 Structured does not mean stuffy or boring. Here is an example of how I incorporated my more feminine classic style to some wide leg trousers. The floral print top with a small ruffle detail softens the look without adding too much frill.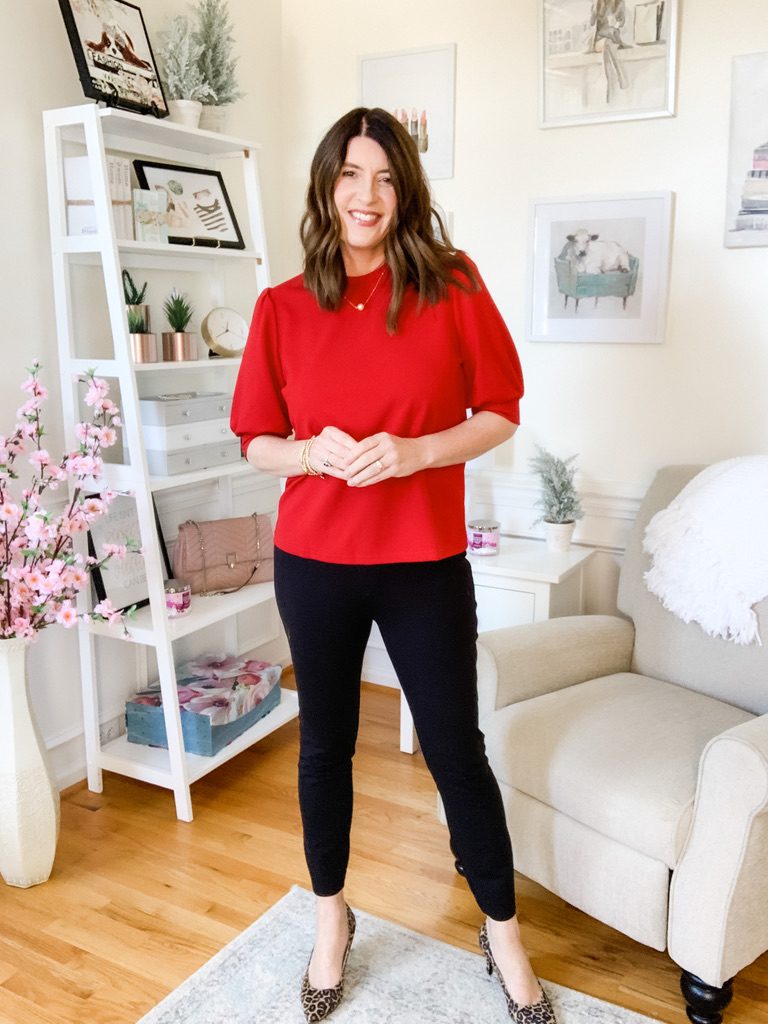 Here is a straight leg style that looks just as chic. If you missed my post on the perfect black pants, you can see it here. I reviewed the Spanx Perfect Black Pants in detail.
Black Dress
Classic style for spring should include a black dress. You can spend as much or little as your budget allows, but the most important thing is that it fits you properly. Classic style is a more tailored look, but here is another example of how I softened the look just a little bit.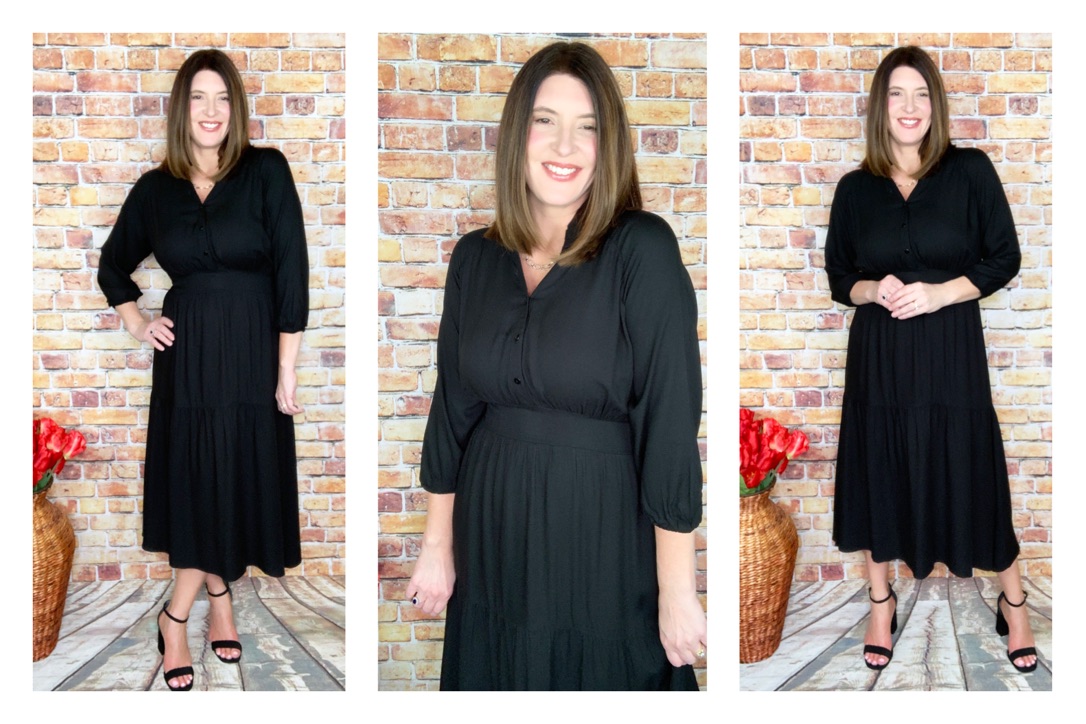 This midi style dress is by Time and Tru from Walmart and is under $12!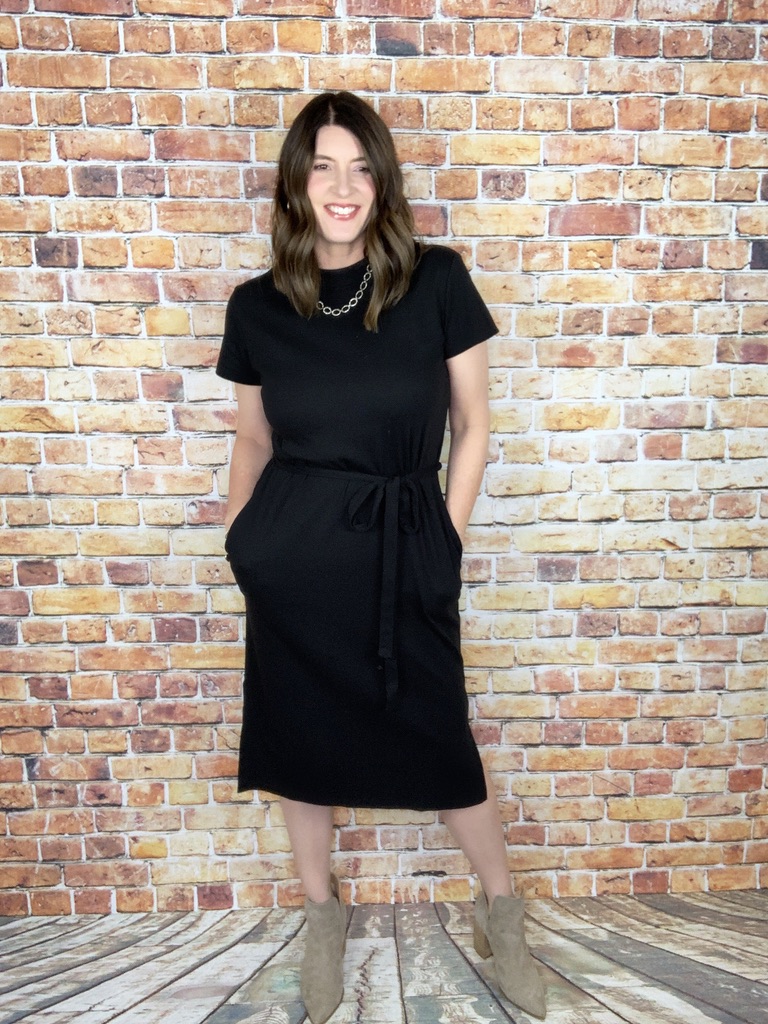 This is another Walmart dress that I featured a few weeks ago. It has a more streamlined look and it is another bargain! In fact, this dress remains the top selling item from The Scarlet Lily for the past several weeks.
Button Down Shirt
Another important piece for achieving classic style for spring is a button down shirt. White is the most versatile and is the epitome of classic style. Other solid colors also work well. They can be dressed up or down depending on what type of pants you wear.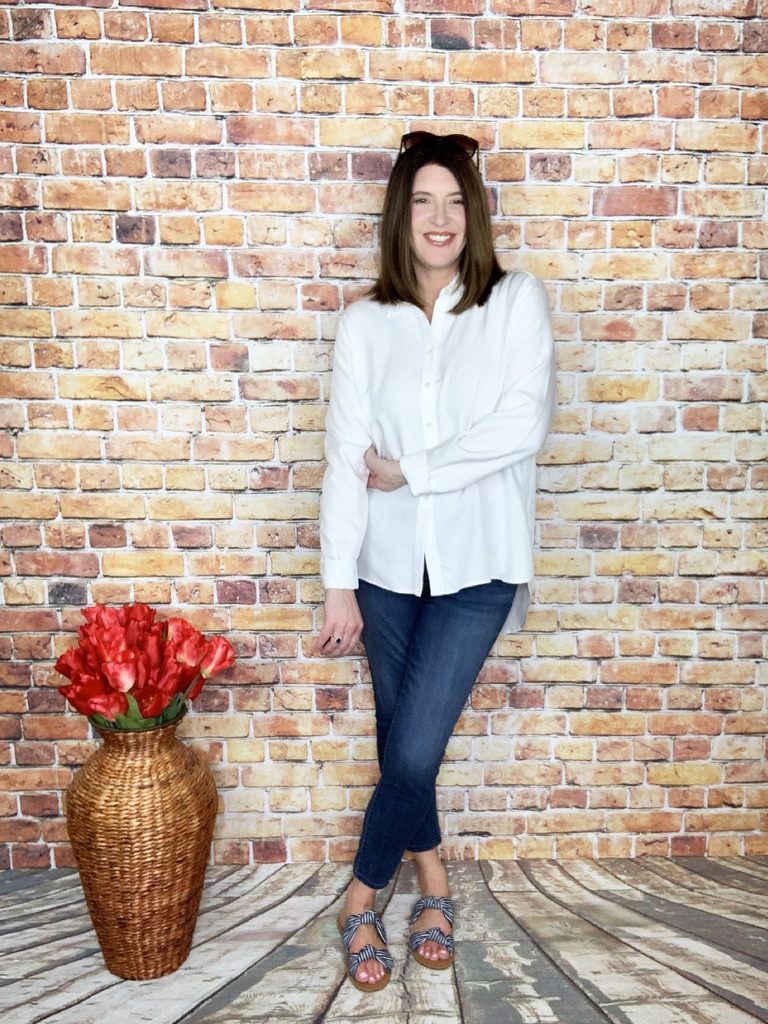 Here I am wearing a tunic length white button down and some dark wash jeans. This is a good time to throw in some shoes with some interest. These blue and white bow flats are the only statement this outfit needs.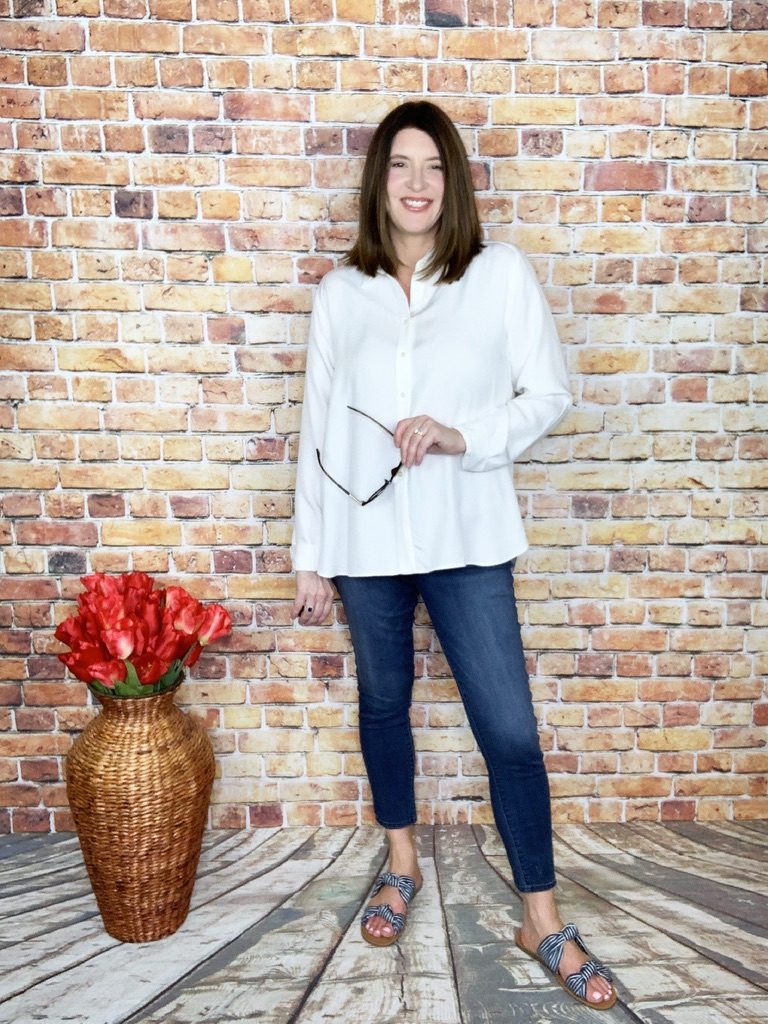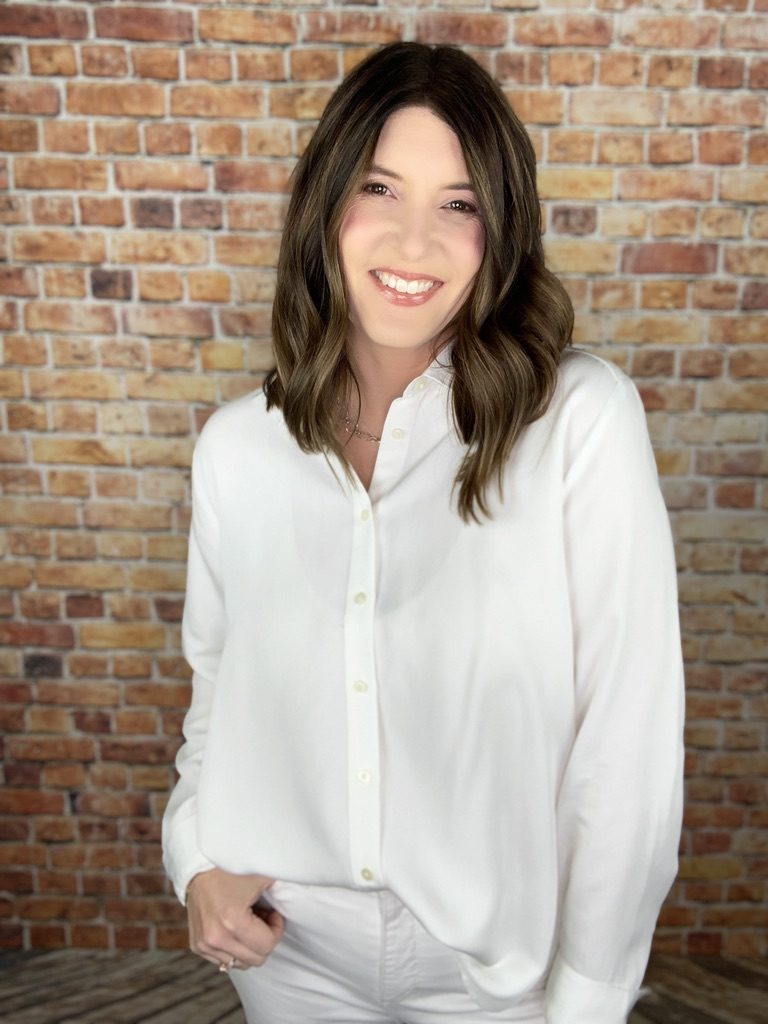 The photo above is a more traditional white button down tucked into white jeans.
Here are some other button down shirts with color.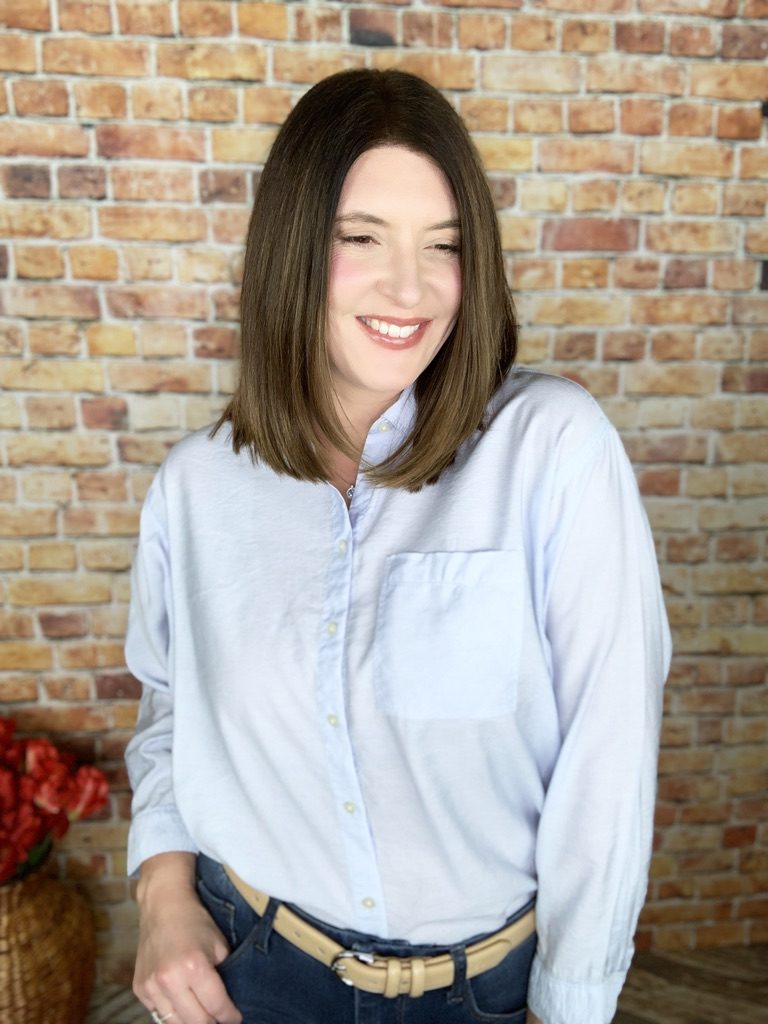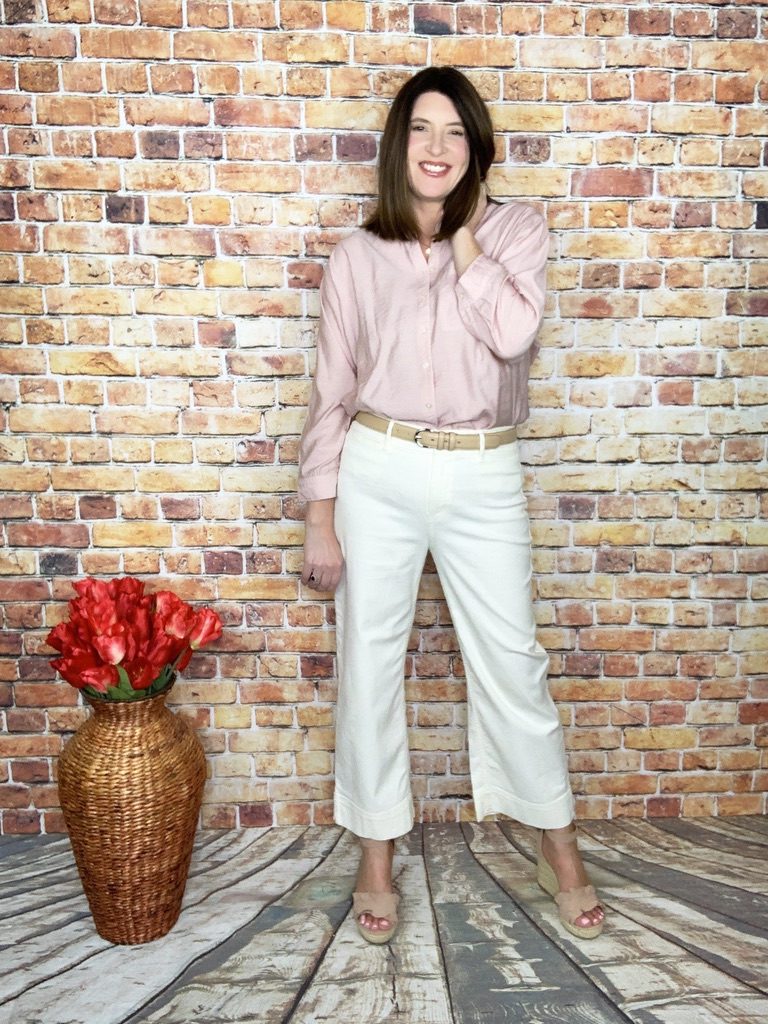 Classic style for spring does not have to be all solid colors. These printed button downs add color and look very sophisticated with jeans. Both of these are from Talbots (last year) so I can't link them for you.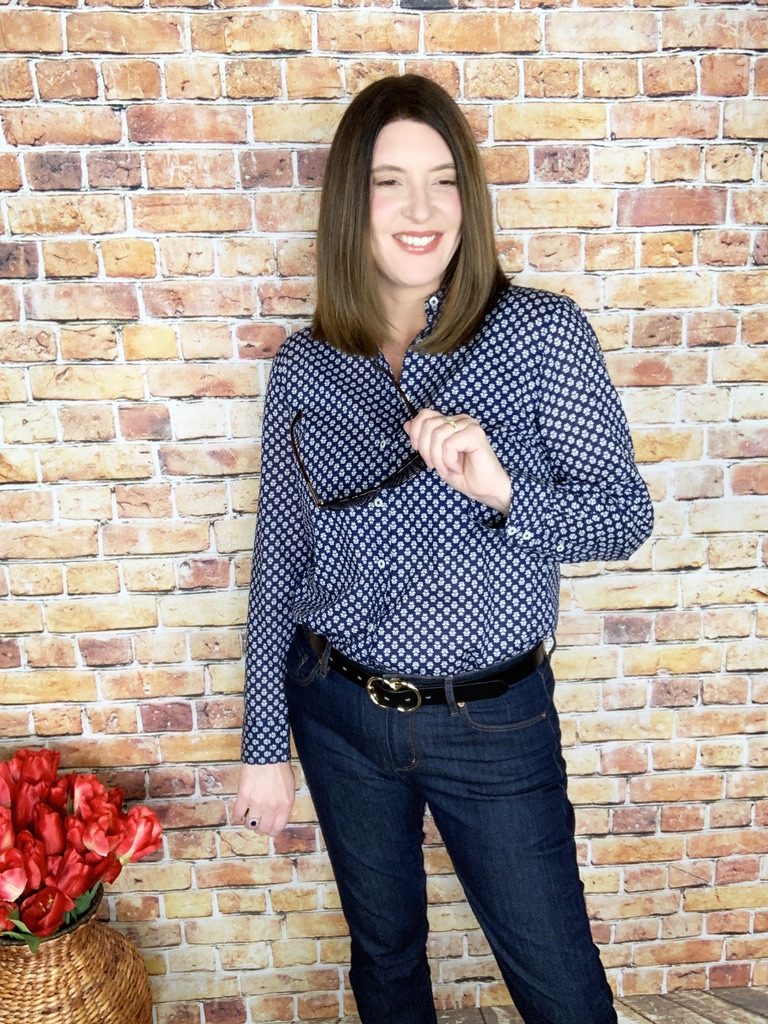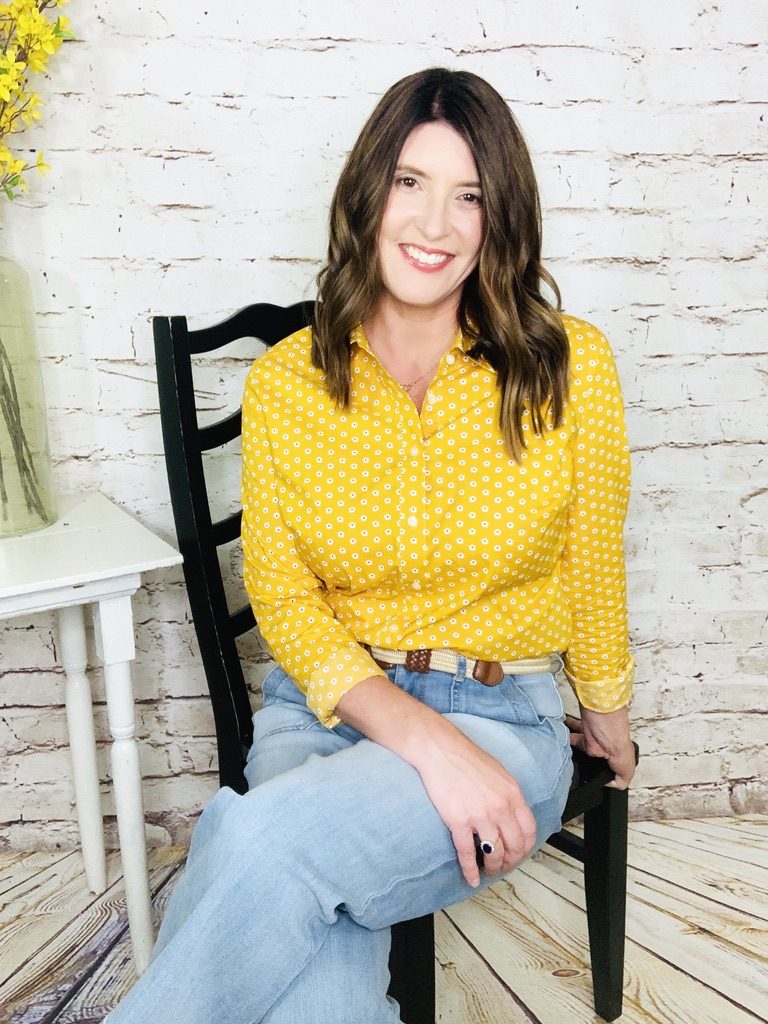 A Blazer
If you don't work outside the home, chances are you probably won't have much of an opportunity to wear a blazer. That said, classic style would not be complete without at least one blazer in your wardrobe. There are more casual styles to choose from if that suits your lifestyle better.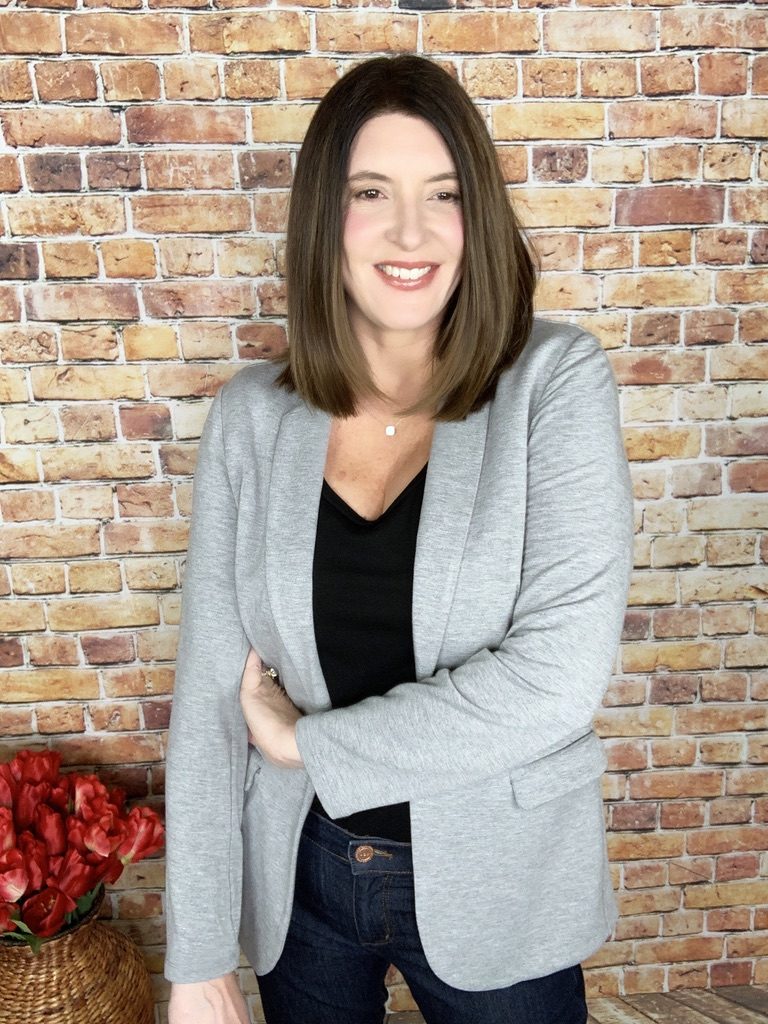 This grey knit blazer is a way to have classic style that is more casual. Paired with other classic pieces such as a black t-shirt and dark wash jeans, and you have easy classic style!
For a dressier look, a black blazer has endless possibilities. The photos make this blazer look blue, but it's just the lighting…it is black.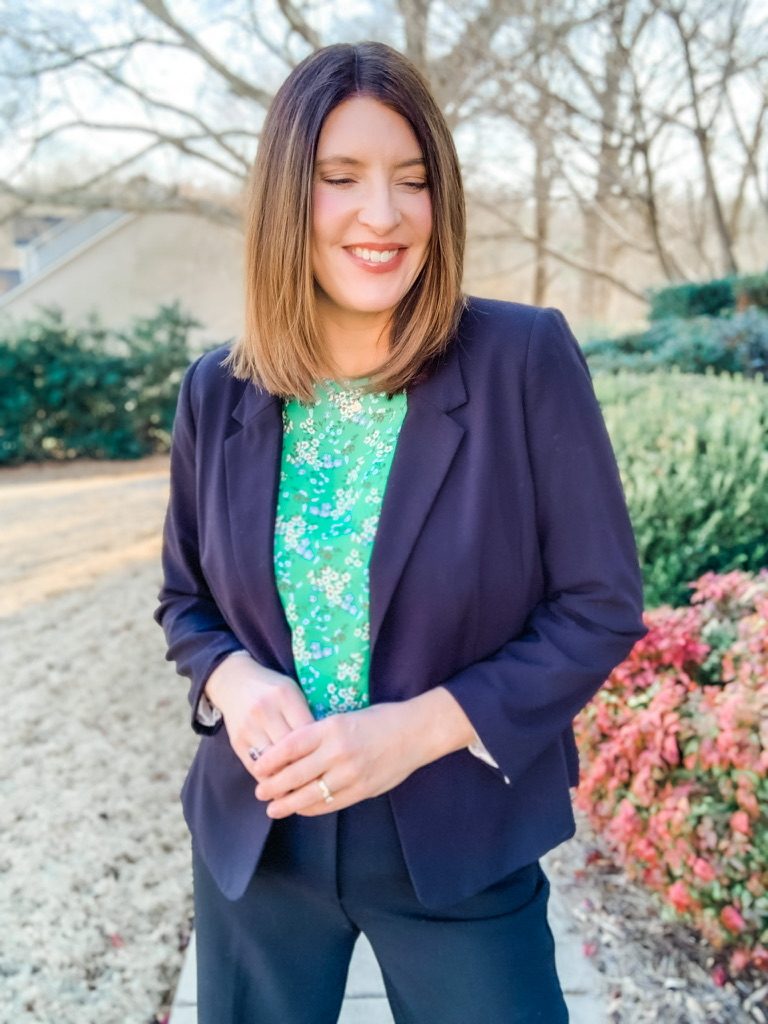 This is a classic look for work wear.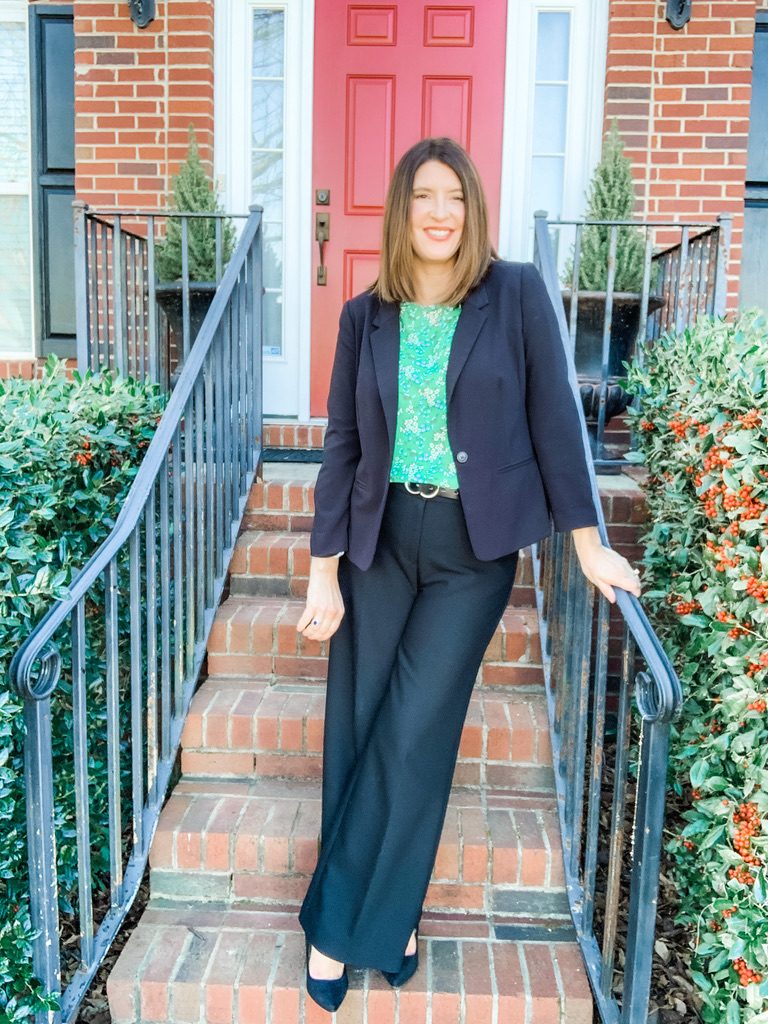 Your budget for a piece like this really depends on how much you would wear it. If your job requires this type of dress, then I would invest in a couple of good quality blazers. If you're like me and only wear them occasionally, then there are plenty of budget options.
Basic T-Shirts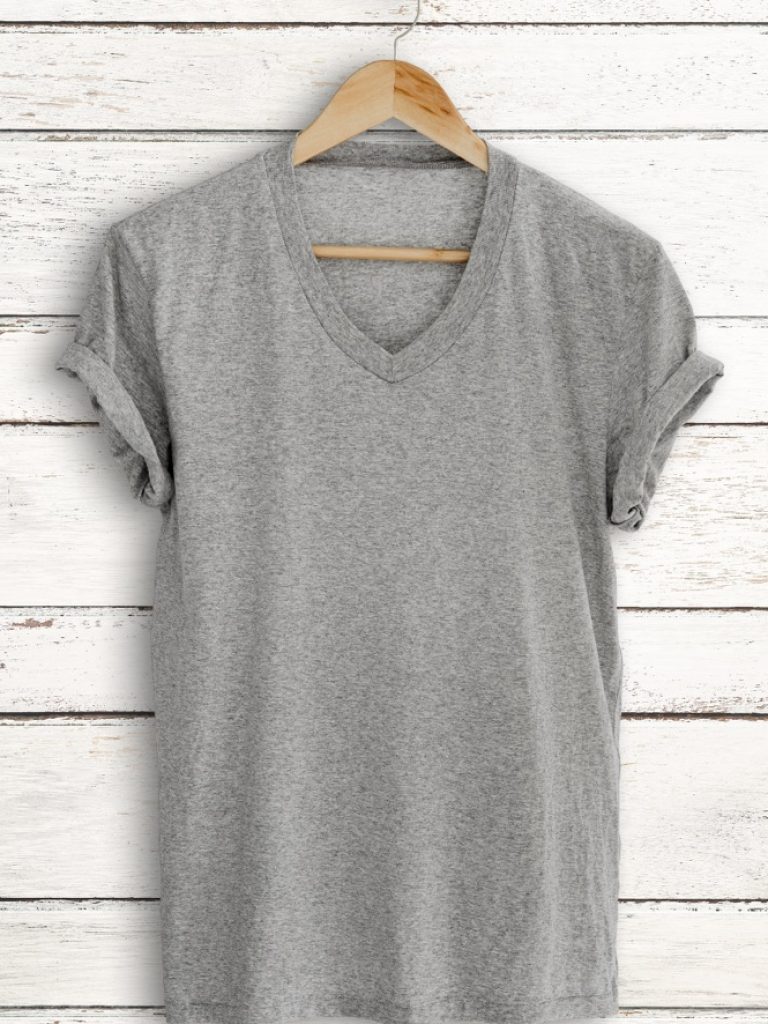 Neutral toned T-shirts are another key element to classic style. Again, think structure and quality vs. trendy details. Avoid a lot of ruffles, puffy sleeves, and other embellishments to keep the look classic. A v-neck is always flattering, but the neckline can be your preference.
My favorite V-neck tees are by Amazon Essentials. I am wearing a grey one in the photo below. They have a nice weight to them and are not see through. They come in a pack of two for $18.90.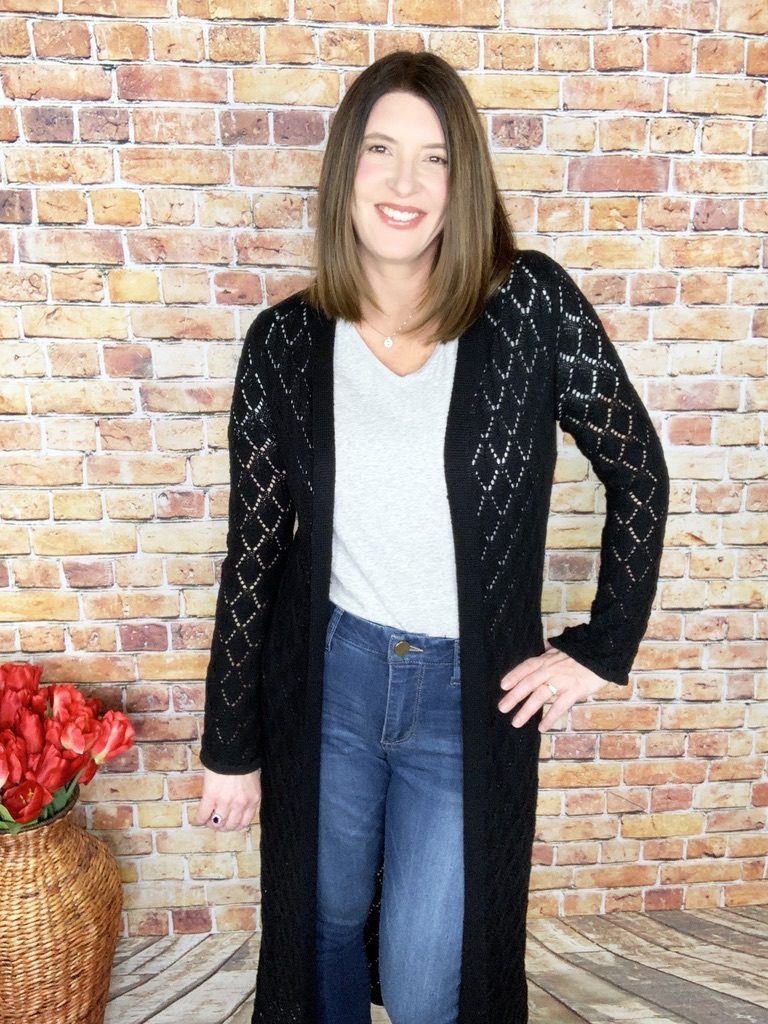 Striped tees are also a good example of classic style. Below I paired a striped tee with some black denim. This tee is from Target.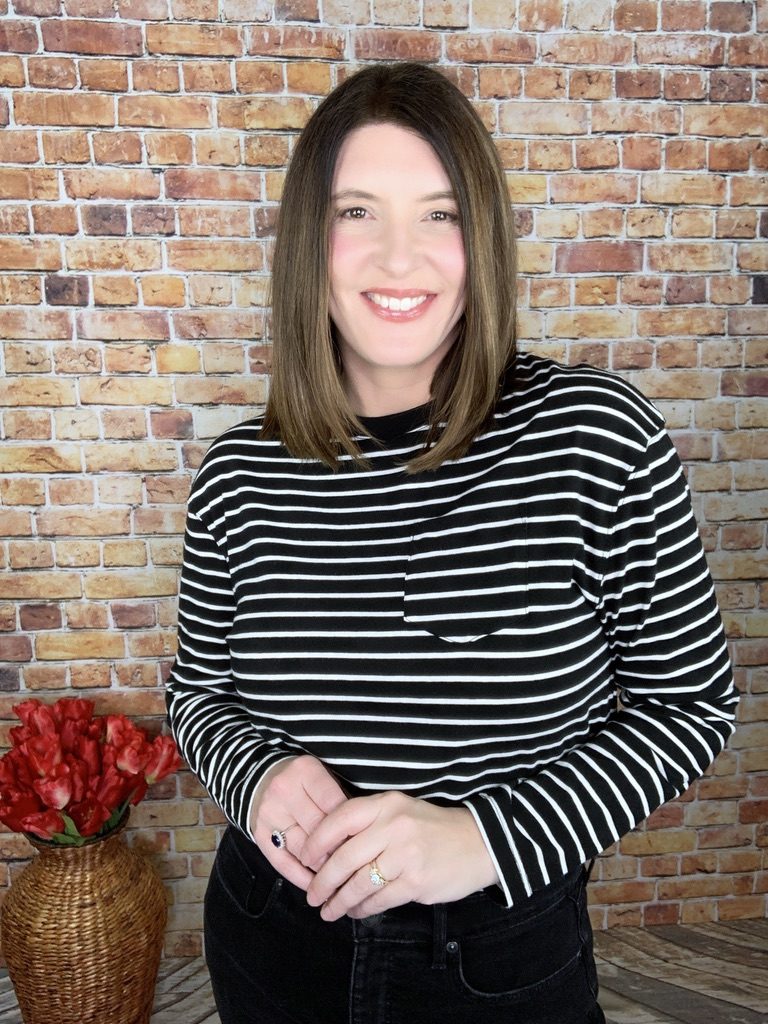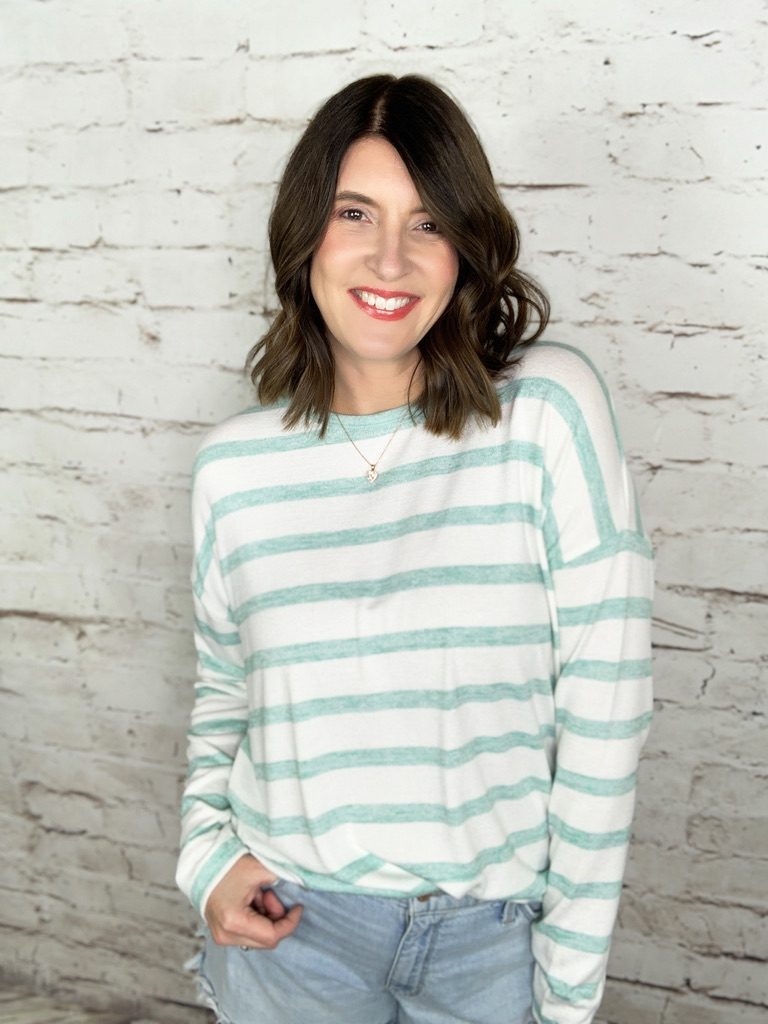 Denim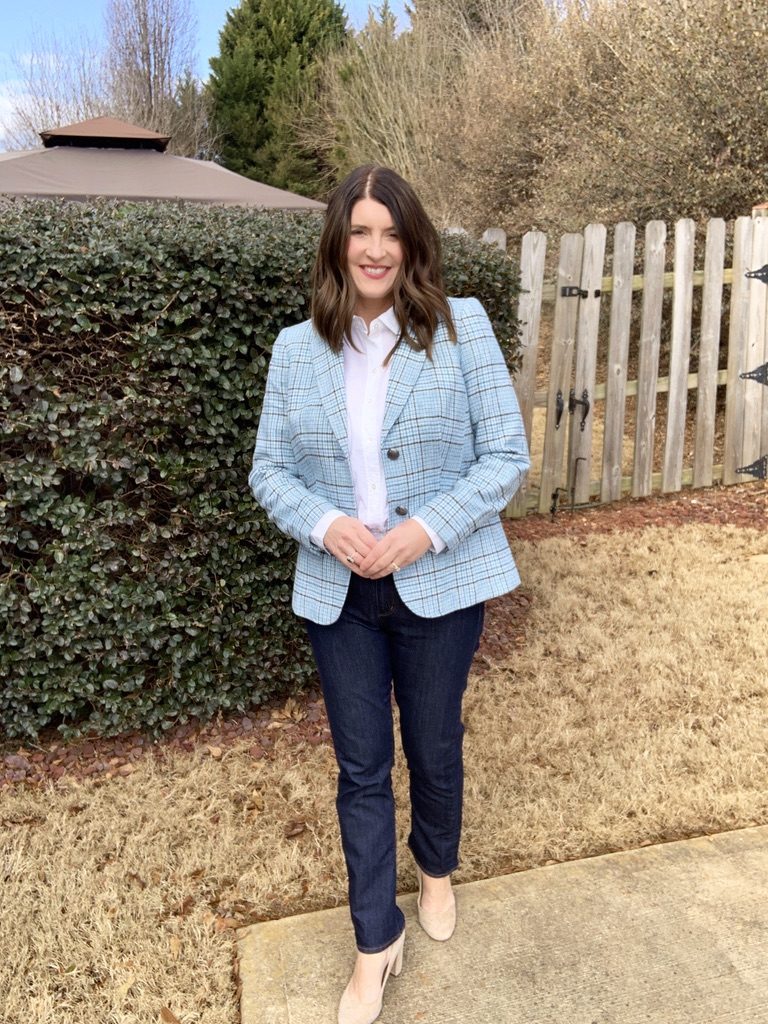 Classic style for spring must include denim! Without getting into the debate about skinny jeans vs. other styles, it's safe to say that with classic style you wear whatever cut flatters your shape.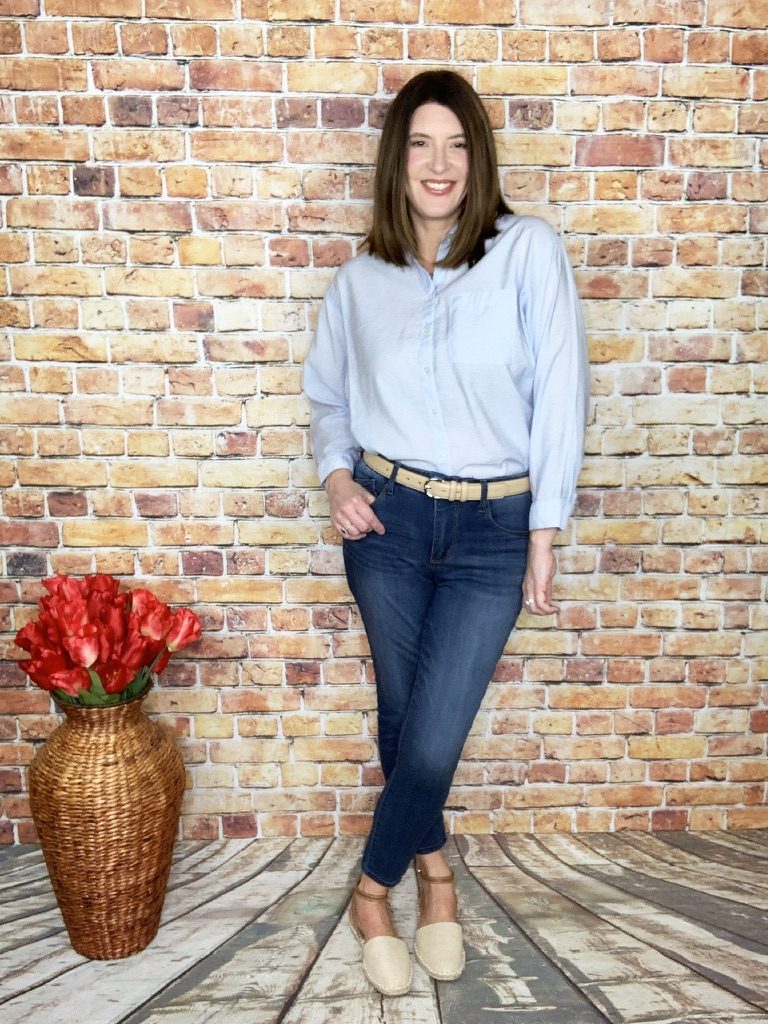 The important thing to remember is with classic style, you will want to avoid rips, tears, and other embellishments. Stay with a dark wash or medium wash that has a neat and structured appearance. The photo below is an example of classic style with a bold color. Notice the rest of the outfit and the makeup is neutral.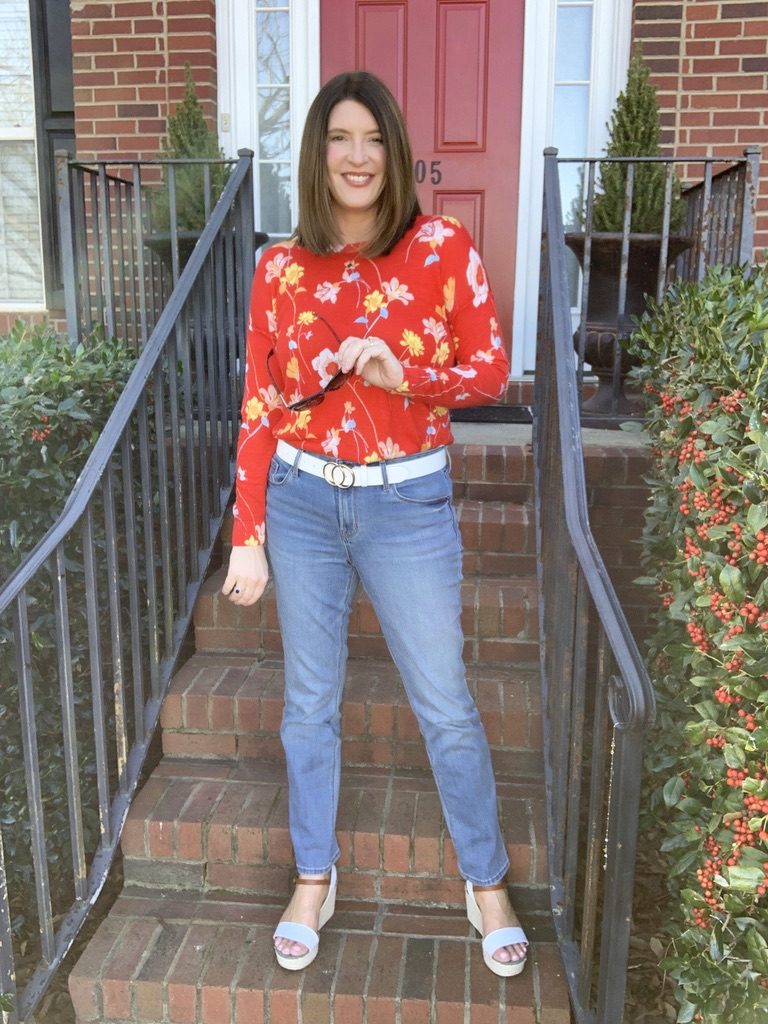 White jeans are another way to display classic style for spring. They are bright and fresh looking and go with anything.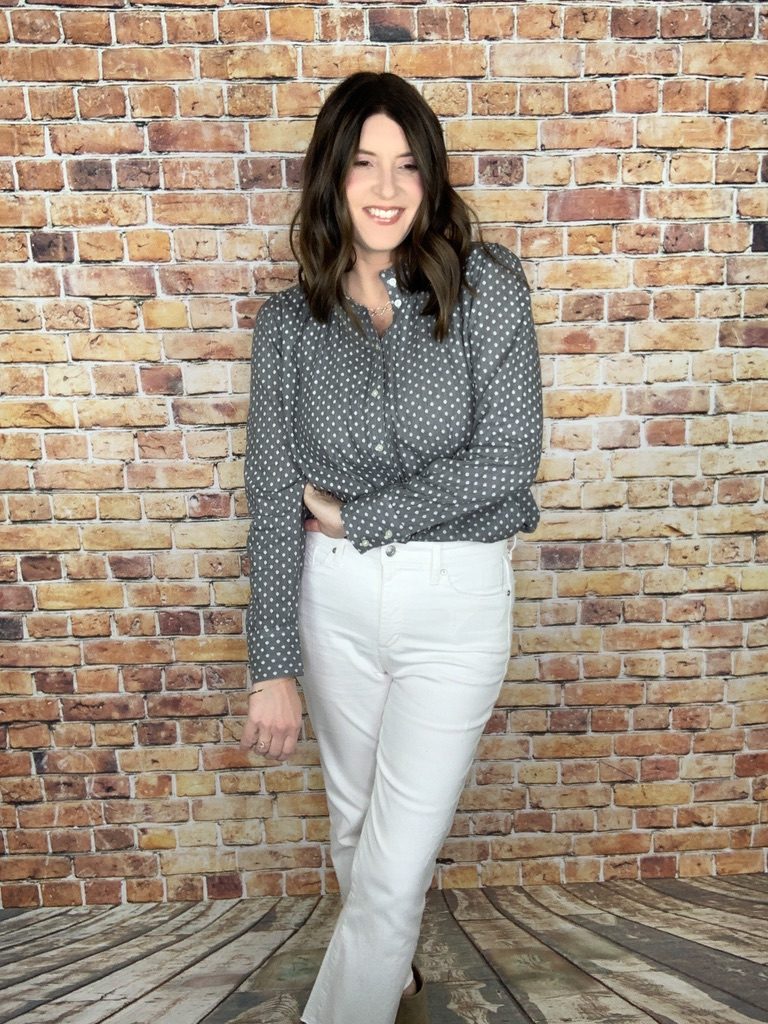 There are other classic style pieces, but these are the basics to guide you in the right direction if this is a look you would like to achieve. I hope you found this helpful! Is there a certain style that you would like me to feature here on the blog? If so, leave me a comment and I will do my best!