Leggings might be the one piece of clothing that I just can't live without! As we move into the warmer months, I won't be wearing them quite as much as I do in the winter but they are still a vital part of my wardrobe. One of the most important things to consider is your top, so today I'm sharing the best tops to wear with leggings as well as some style tips for leggings in general. There are a few key things to remember when wearing leggings:
Choose a quality fabric that is not see through
High rise mid compression will give you more tummy control
Darker colors are generally more flattering
Cover your lady parts…front and back
Choose the correct size. Too tight = lumps and bumps. Too loose = visual weight and sagging
Tops To Wear With Leggings
When searching for the best tops to wear with leggings tunic length are key words to look for. Unless you are very petite, a tunic length top will probably be most likely to give you the length you need.
White Top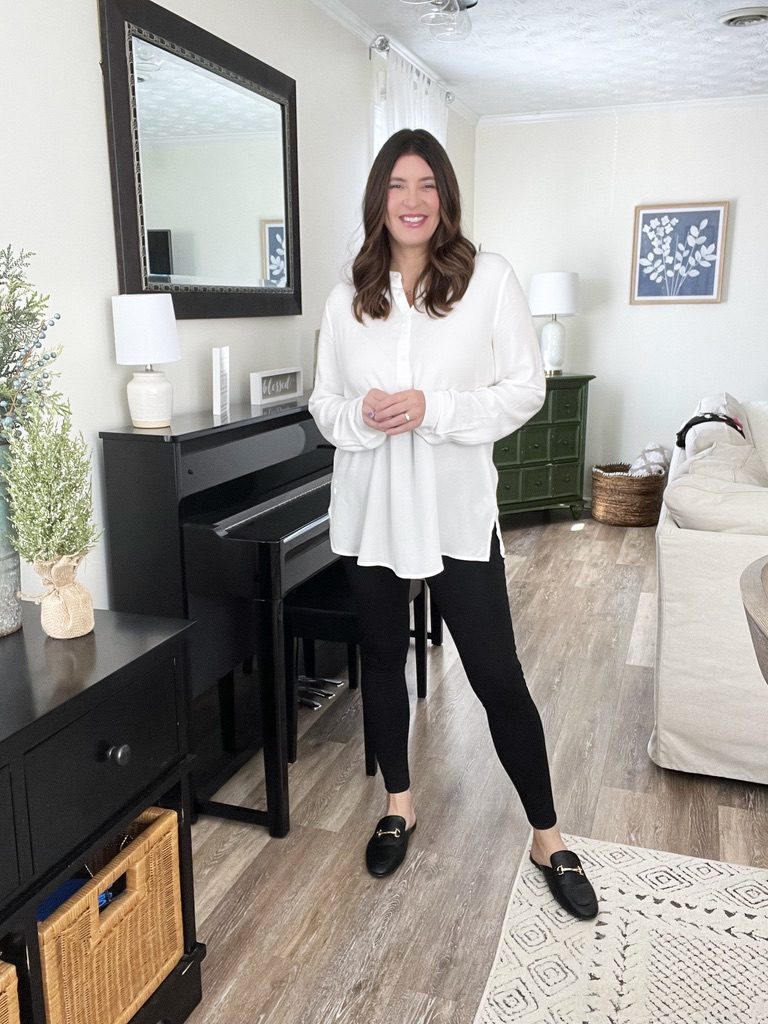 A white tunic length top will serve you well in your wardrobe, but it will come in particularly useful when looking for a top to pair with leggings. Since black is the most common color for leggings, a black and white outfit will always look chic.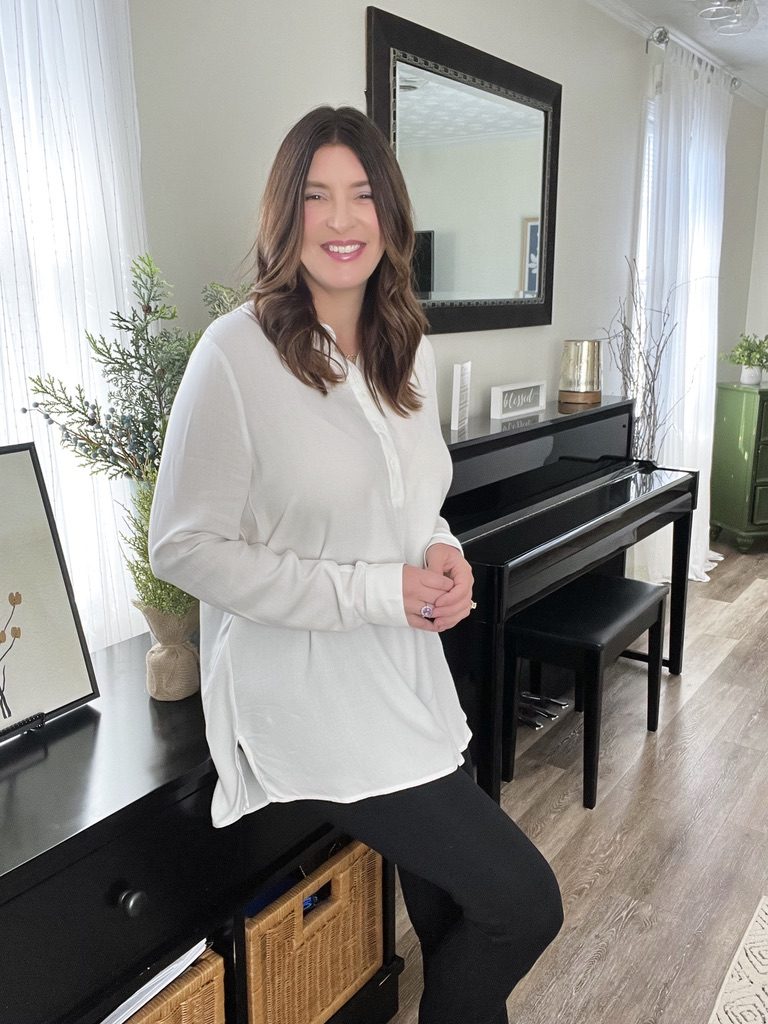 This long sleeve white blouse is by Amazon Essentials and comes in several colors. It has a button front closure, but the buttons only go about half way down the top. This is a great transitional piece for cooler spring days, and you can roll the sleeves up when the weather gets warmer.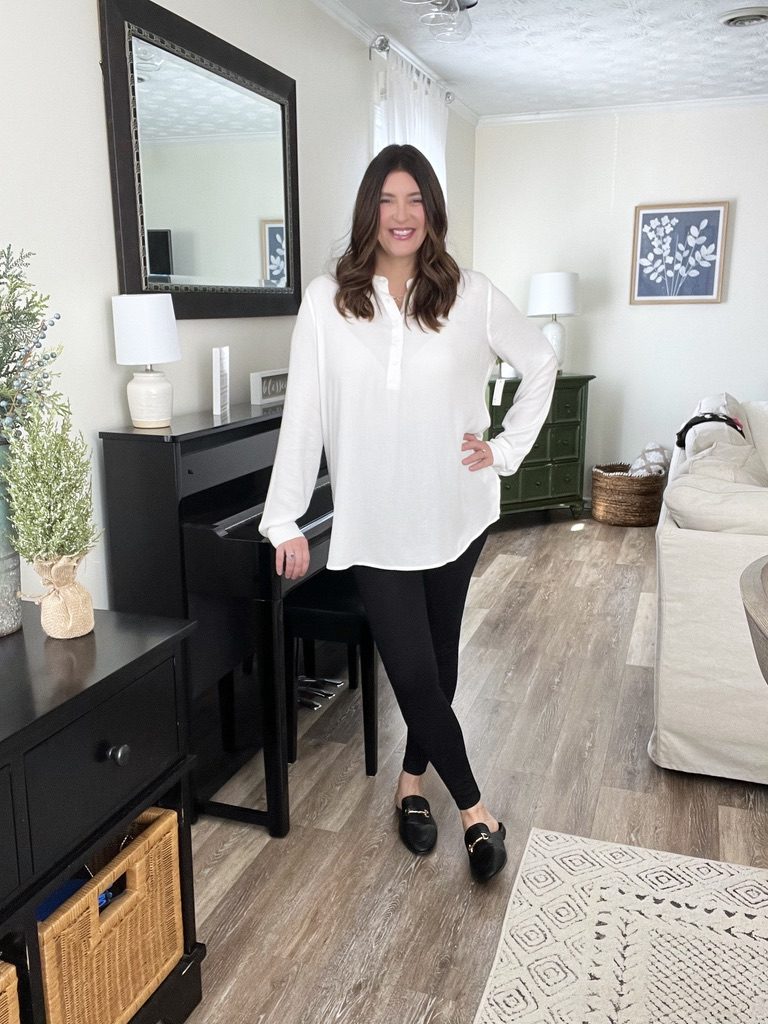 I debated the size on this and after trying both the medium and the large, I ended up with the large. I have broad shoulders and the medium was a little tight in that area. If you have smaller shoulders, then you could size down.
V-Neck Chiffon Blouse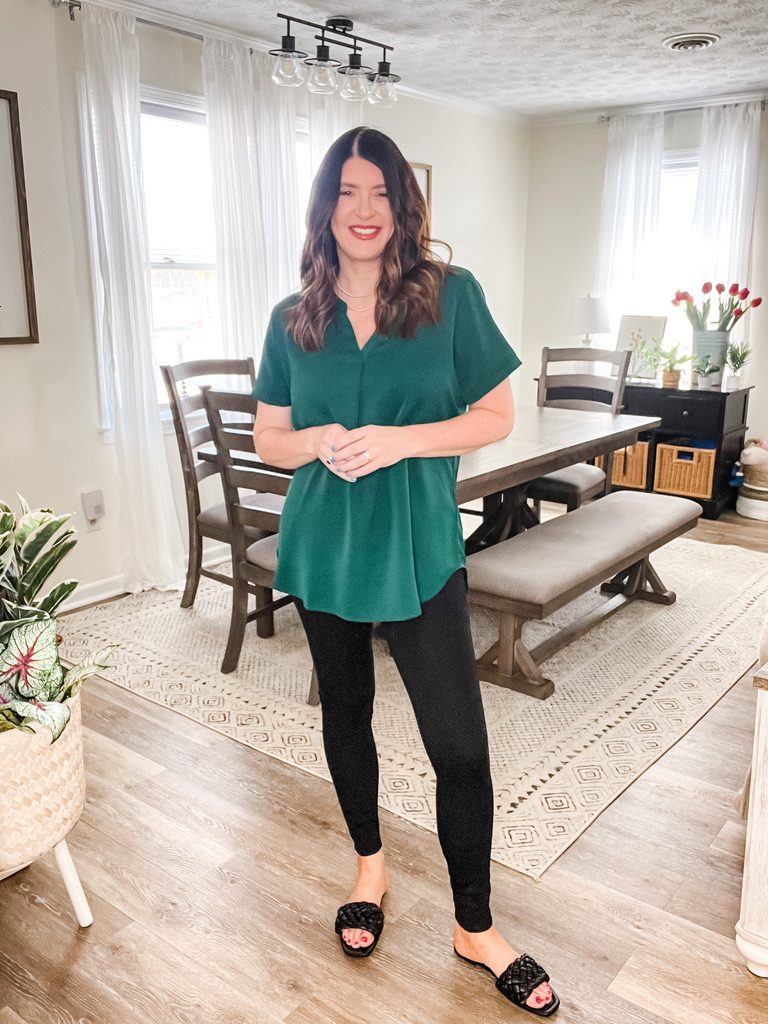 For a short sleeve option, I love this V-neck chiffon blouse. It has a nice curved hem, and looks perfect with leggings. It has a nice drape effect that is flattering.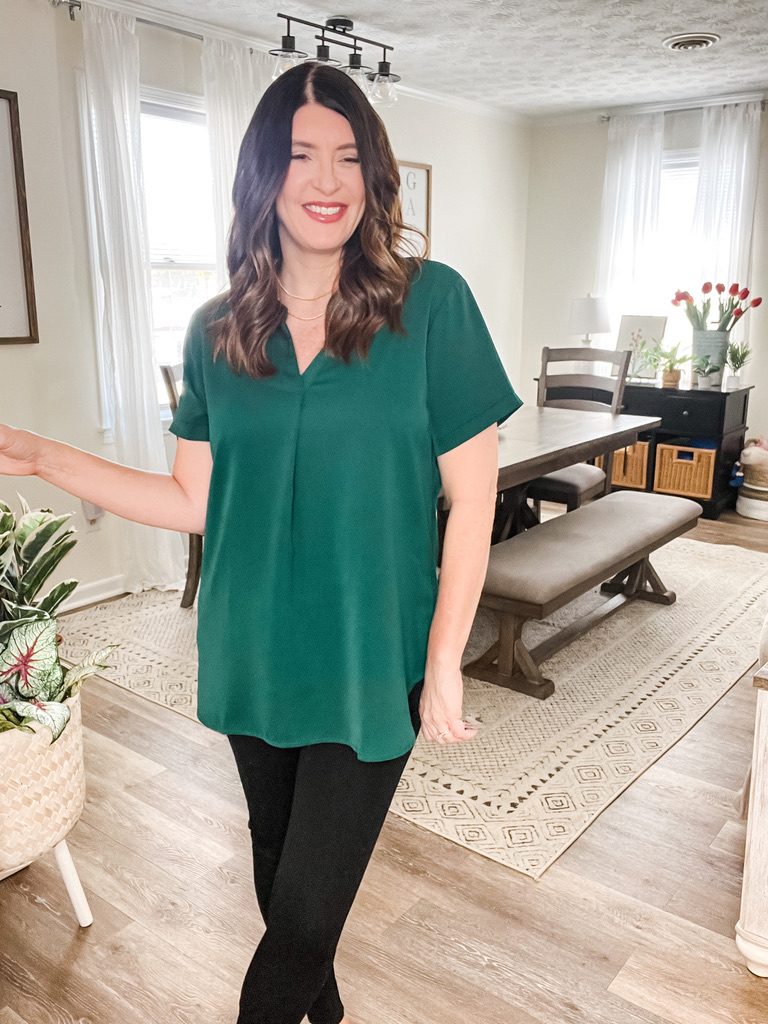 I went with a size large in this style, and I'm happy with the fit. Here is a back view, and as you can see it covers the bum nicely.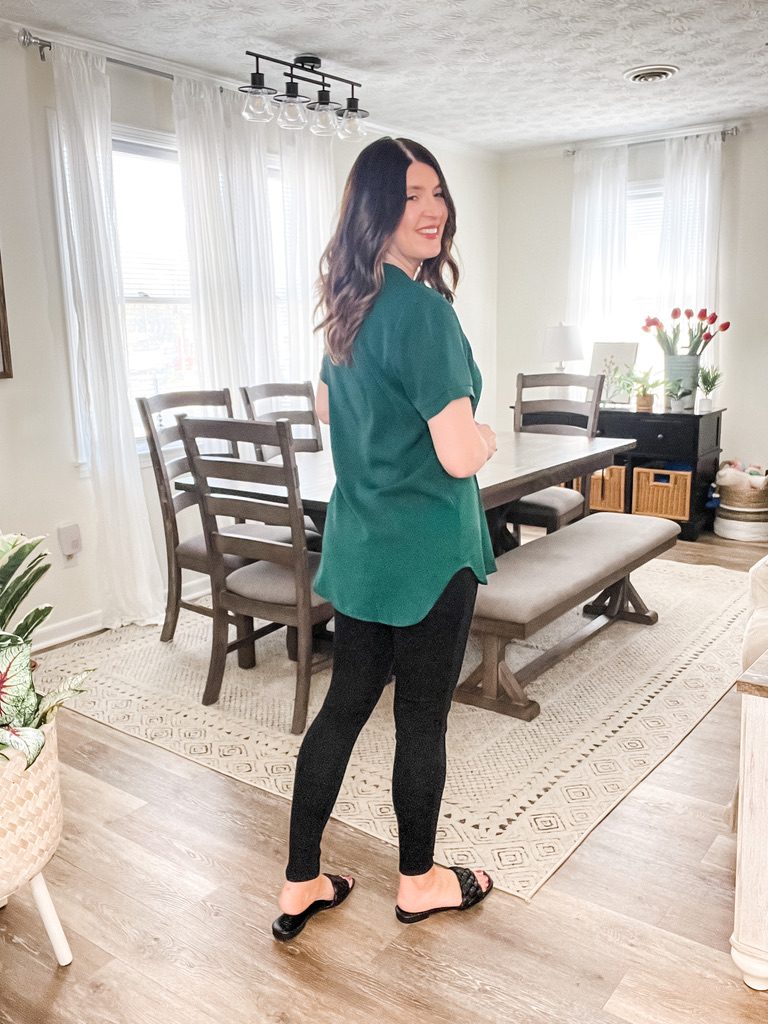 My black slides are a new purchase from Target. Be sure to check out my spring shoes post if you missed it!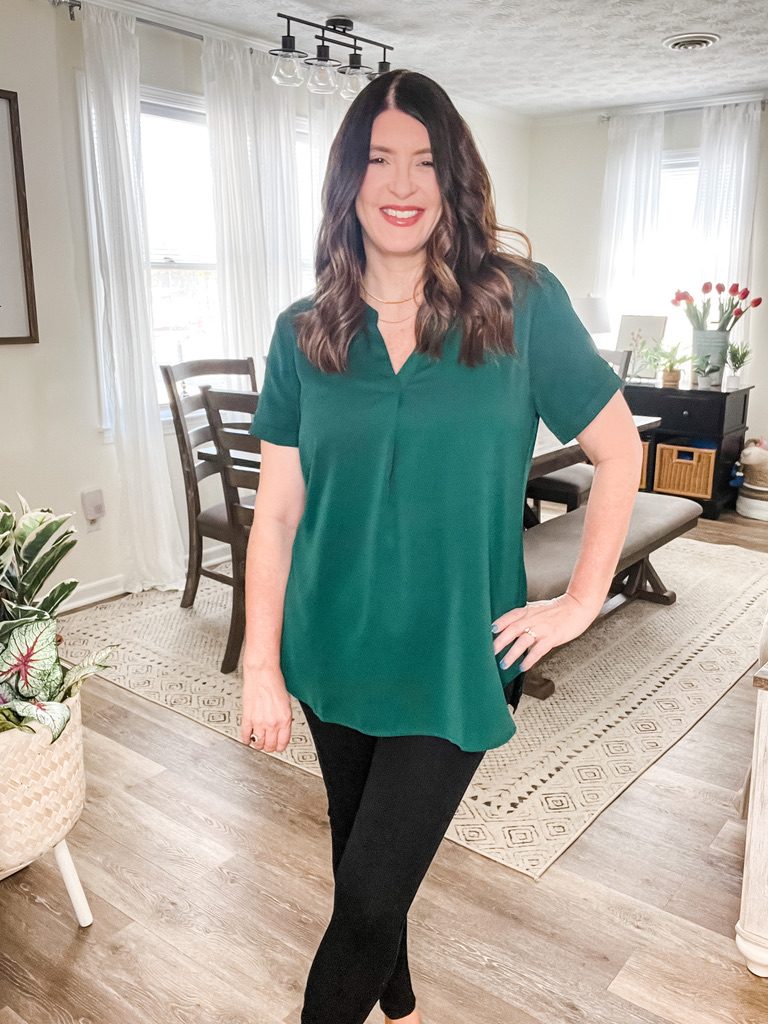 Green is a favorite color of mine, but this top comes in many different colors. My leggings are the Red Hot by Spanx brand from Kohl's.
Pullover Tunic Top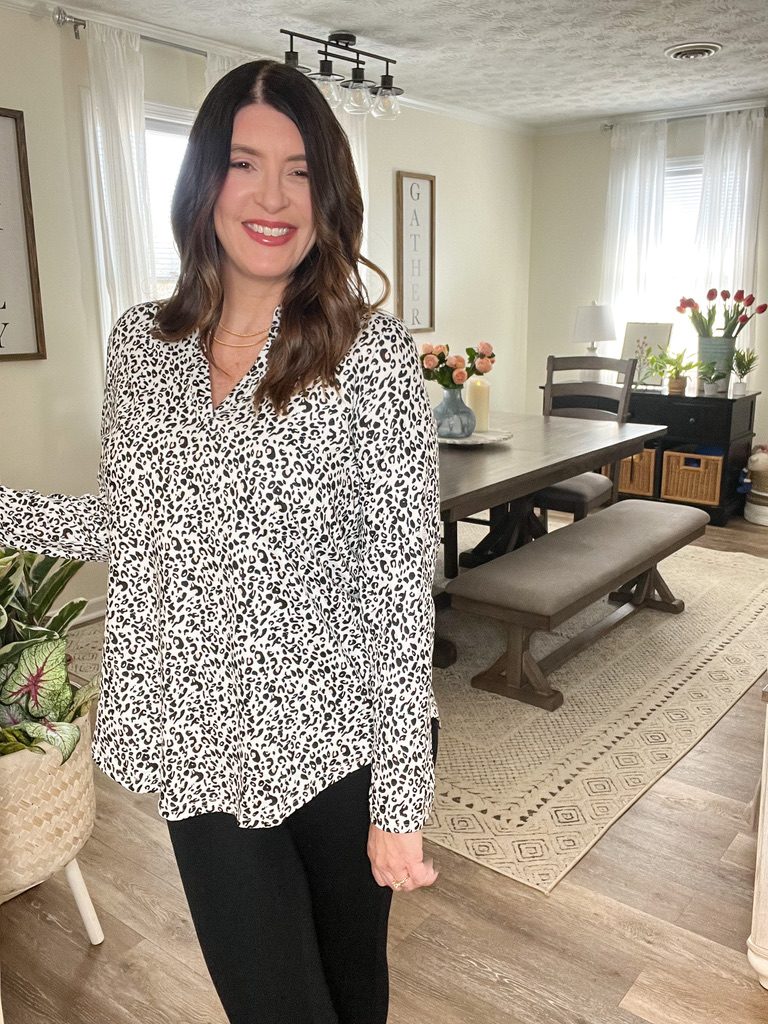 Animal print is still going strong, but this soft pullover tunic also comes in a variety of colors and prints! I'm wearing my usual size large. This top is very comfortable…much softer than I was expecting.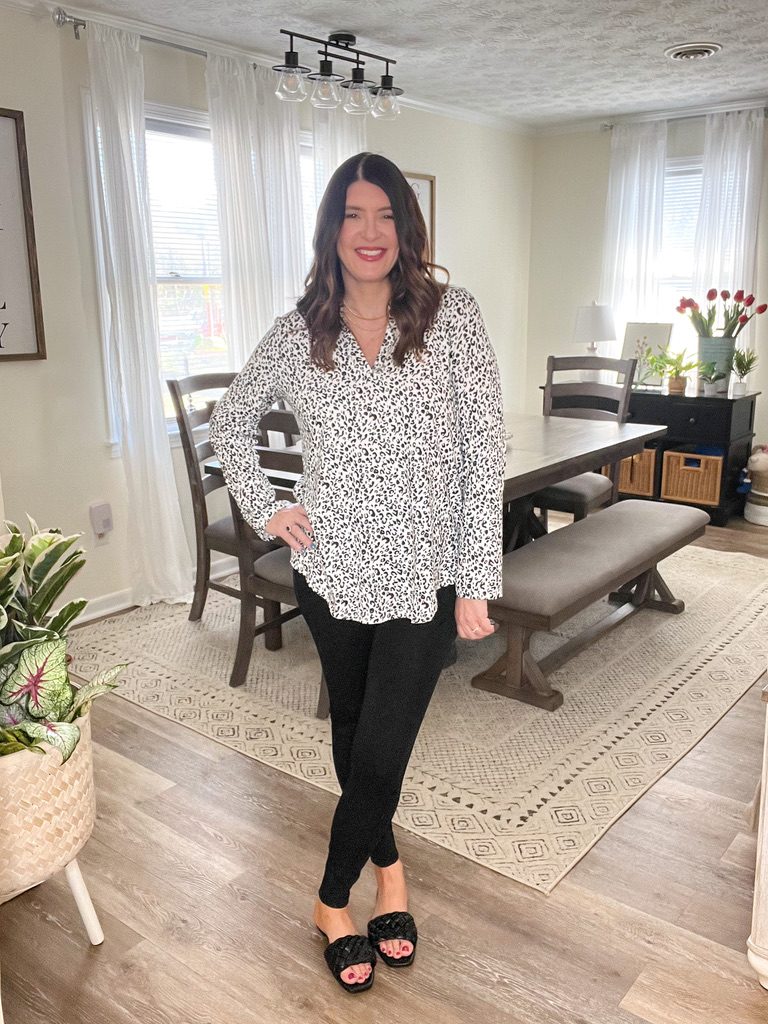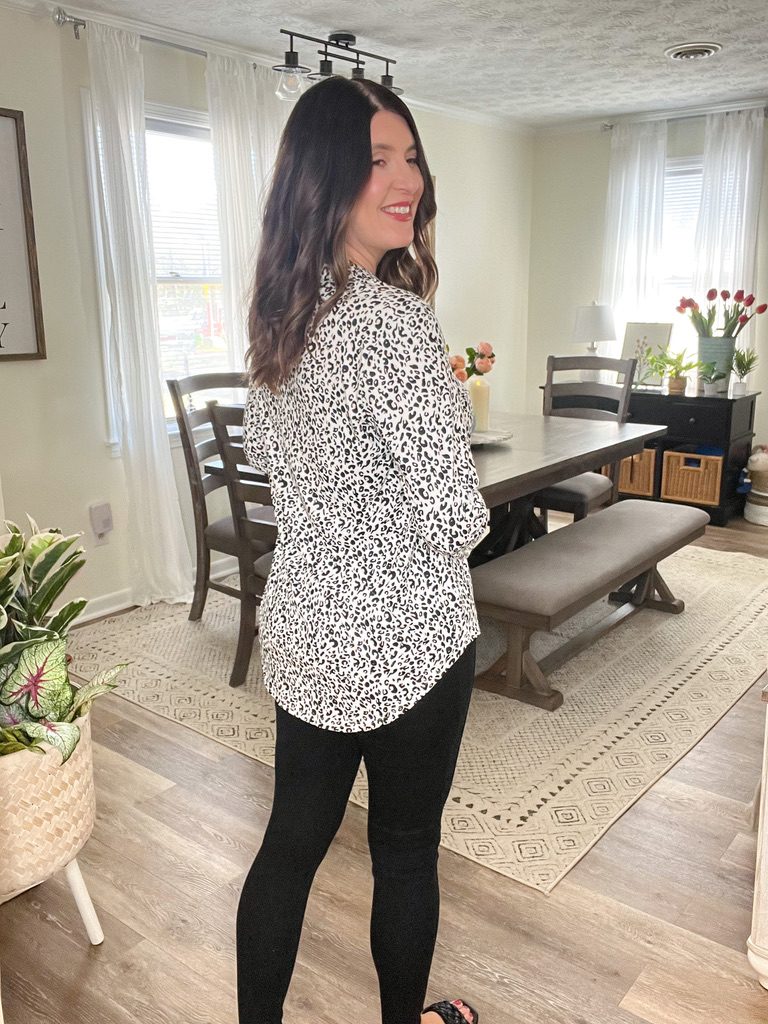 I like that this style covers what I want it to cover without being too oversized.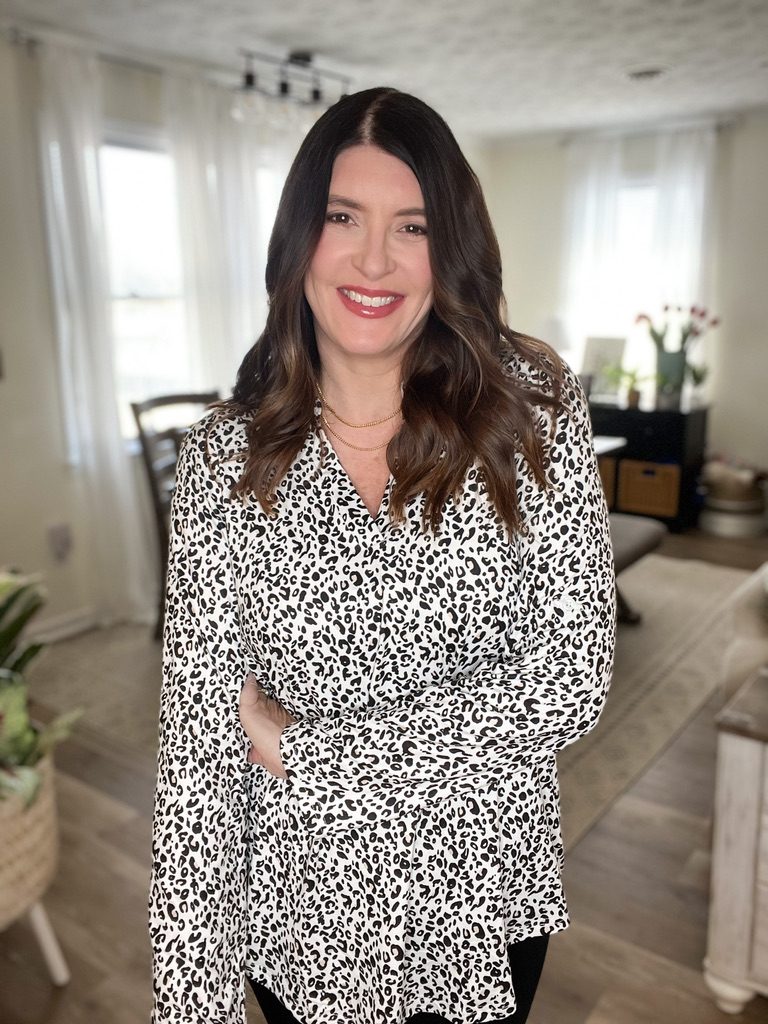 Athletic Look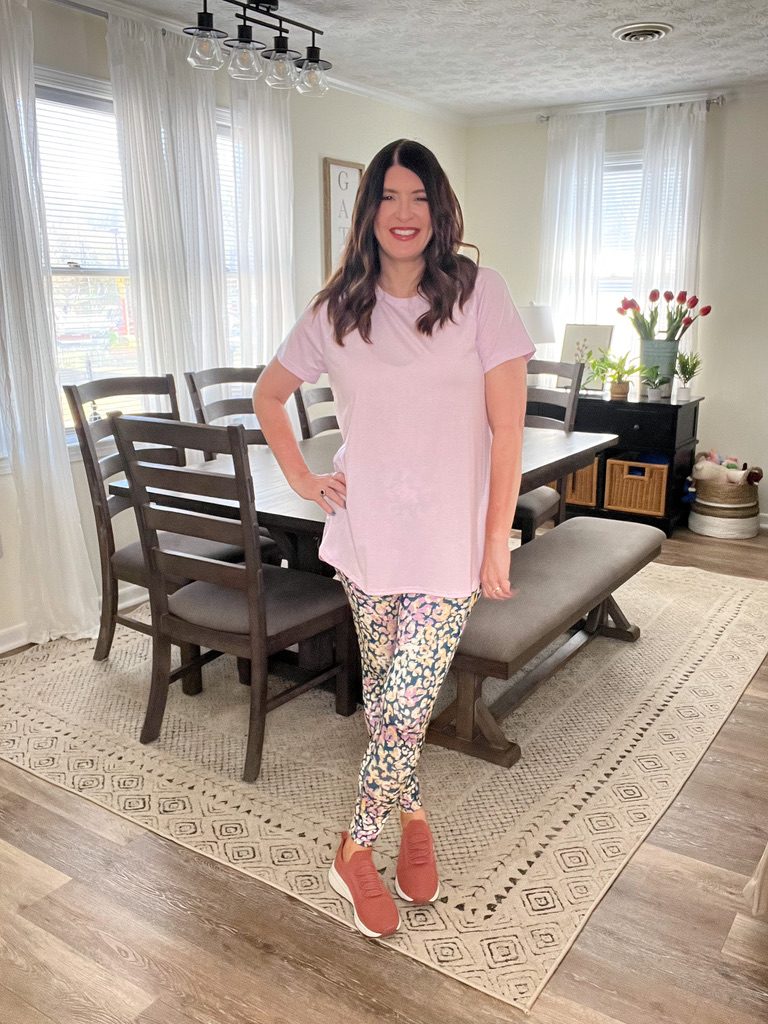 When choosing a top top wear with athletic leggings, the same style guidelines still apply for the most part. I personally prefer a longer top with my athletic leggings, but I don't think it's absolutely necessary.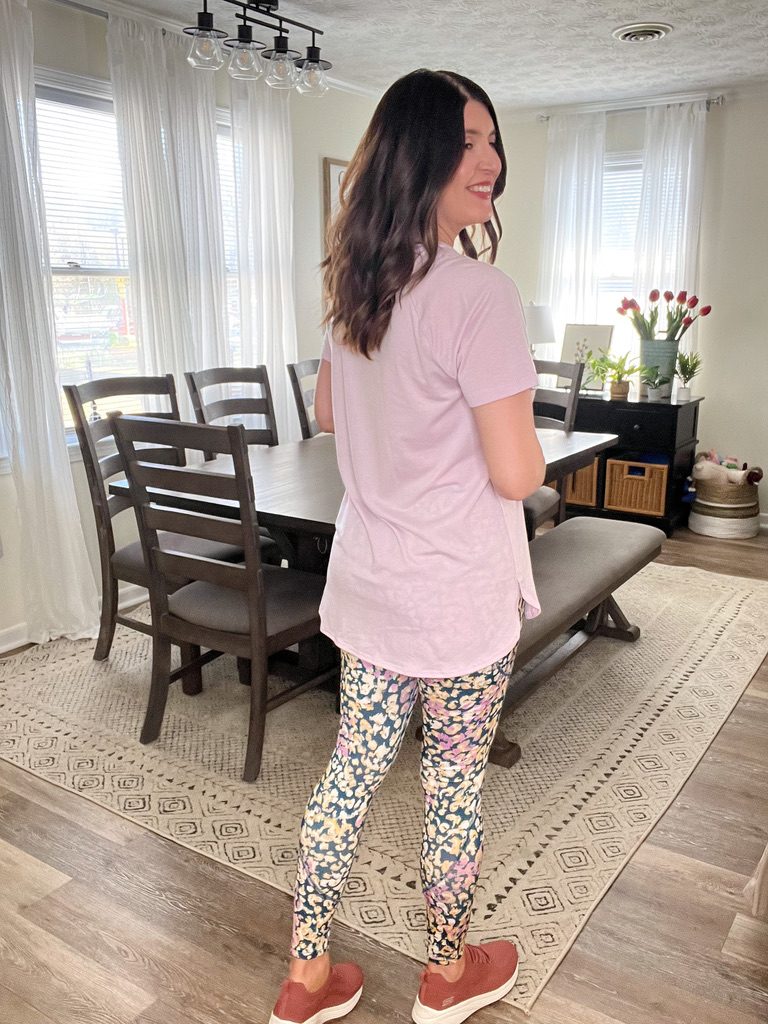 Here I'm wearing some colorful spring inspired leggings and a tunic length tee from Kohl's. The leggings are a size medium and they are nice and high waisted. I got the top in a large.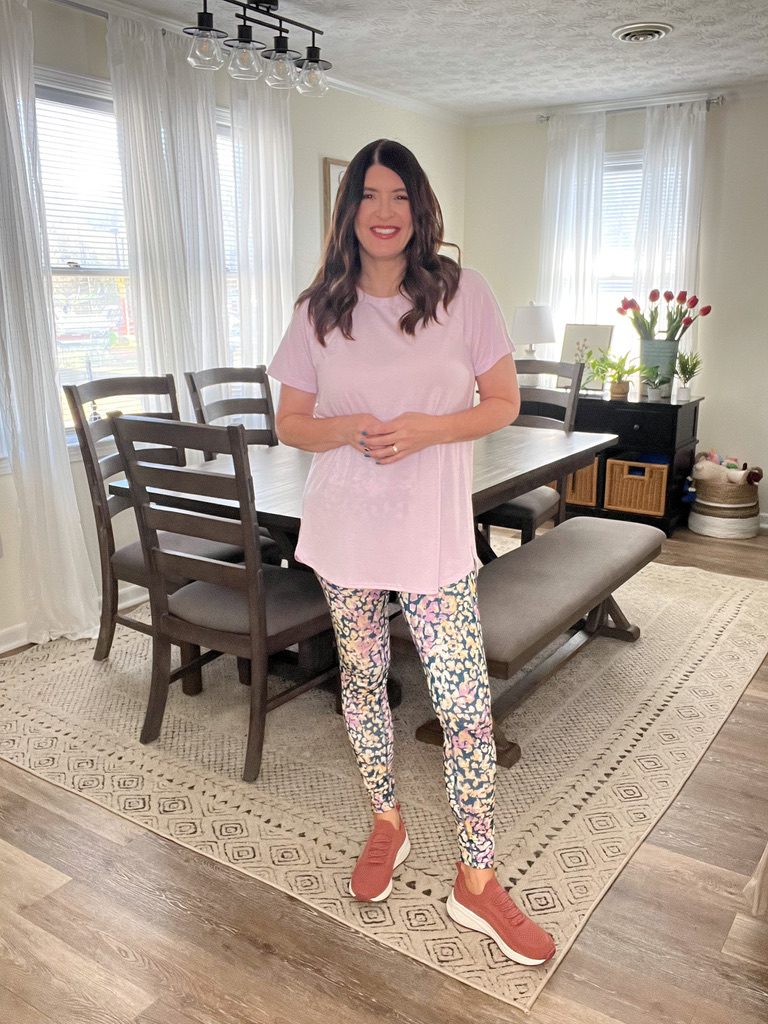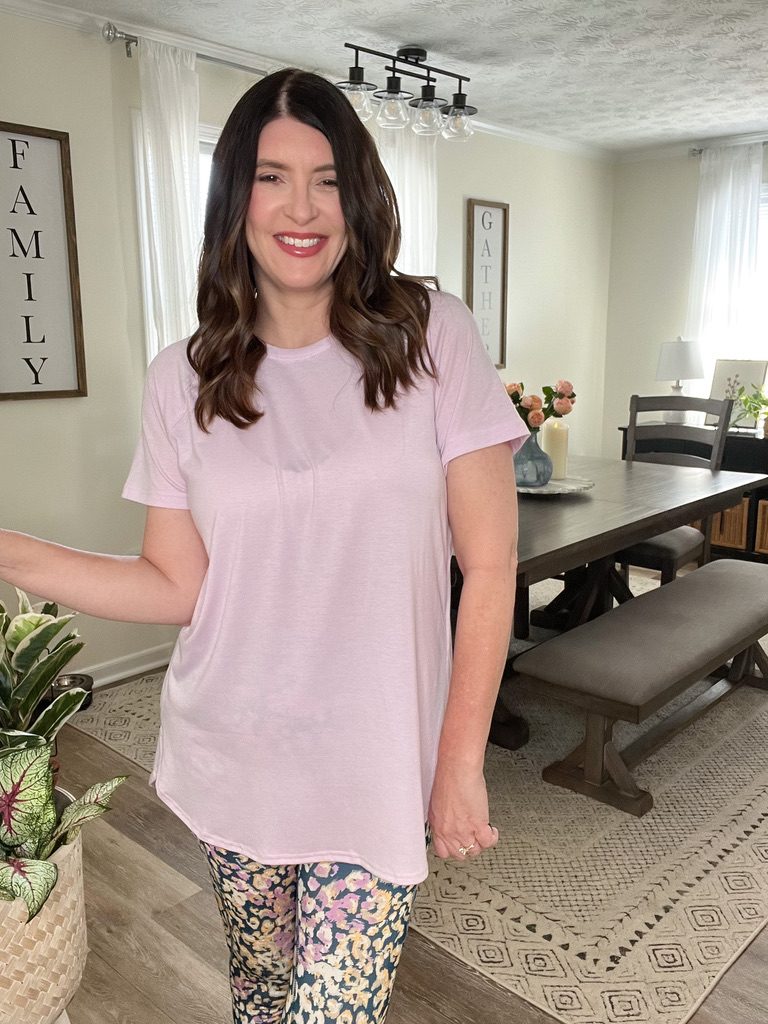 I hope this has given you some inspiration on how to wear leggings in the spring months. All of the items in today's post are linked down below for you to shop. Please leave me a comment or email me if you have any questions.