Since we are now in the midst of winter, I thought it would be a good time to share some winter outfit ideas. Sometimes we all get in a rut, and even though we have plenty of clothes in our closets, we can struggle to come up with outfits that we like. I put this post together without shopping for a single piece, and I'll bet you could put together similar outfits by shopping your closet! So here are some outfits to inspire you to get into your closet and see what you can come up with.
You will notice that these outfits are put together using basic neutrals like black, camel, tan, and blush pink. Also the pieces are basic essentials such as denim, black leggings, black and camel colored coat, solid colored sweaters, a plaid shirt, and neutral hats. There are endless combinations using these basic pieces.
Basic shoes are white sneakers, black booties, and camel booties.
Since I did shop my closet for these outfits, I won't be able to link the exact items in most cases. I will link similar options so you can shop for any pieces that catch your eye.
Black Leggings + Plaid Shirt + Camel Coat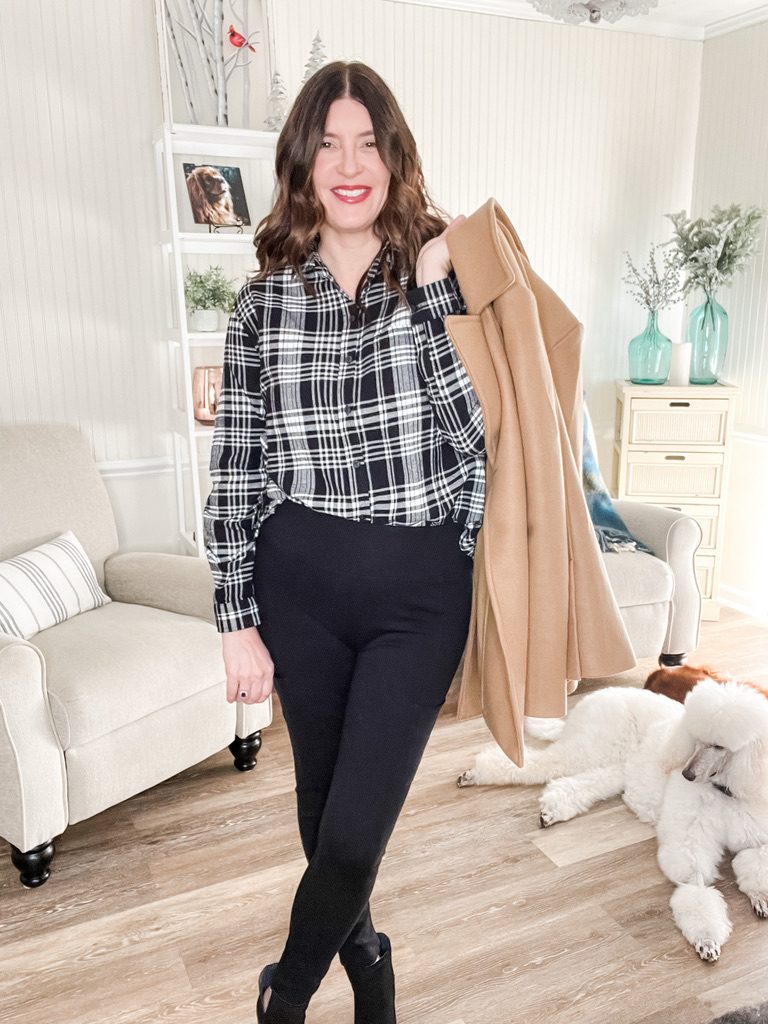 The first outfit is a black and white plaid shirt from Gap. I paired it with some black ponte knit pants that look like leggings. They are from Kohl's but have sold out. Black ankle boots and a camel coat complete this look.
Style Tip:
While you could wear a camel or beige boot with this outfit, black boots create a long uninterrupted silhouette that is more flattering, and will make your legs look longer. This pair of Vince Camuto boots are very similar to the ones I'm wearing.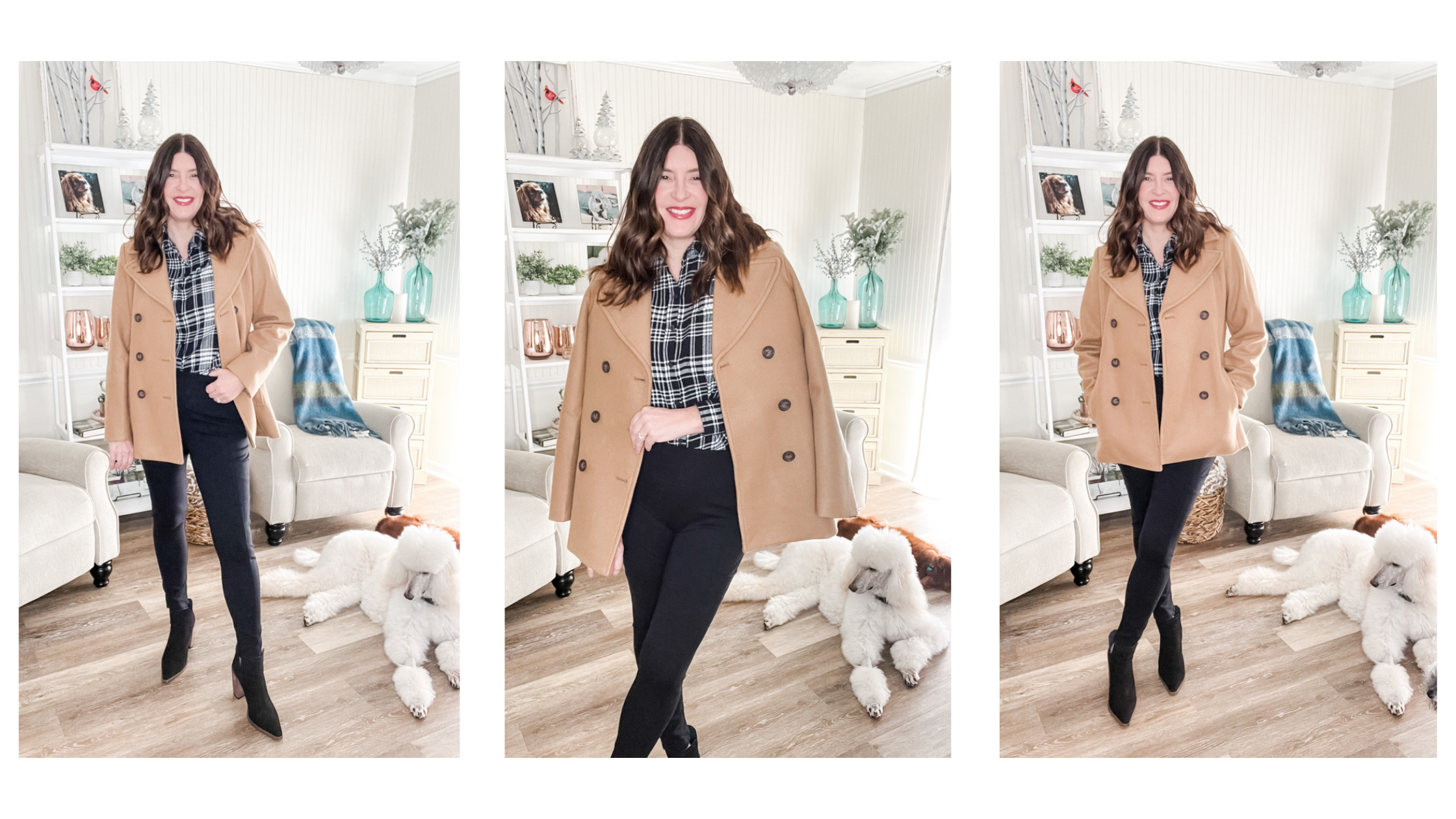 Chic Sweatpants and Sweatshirt
This is the perfect work from home outfit, but is also appropriate if you need to run out for some errands. I added some white leather sneakers, a neutral beanie, and the camel coat. I really like the blend of soft neutrals in this outfit.
Camel Tunic Sweater + Black Leggings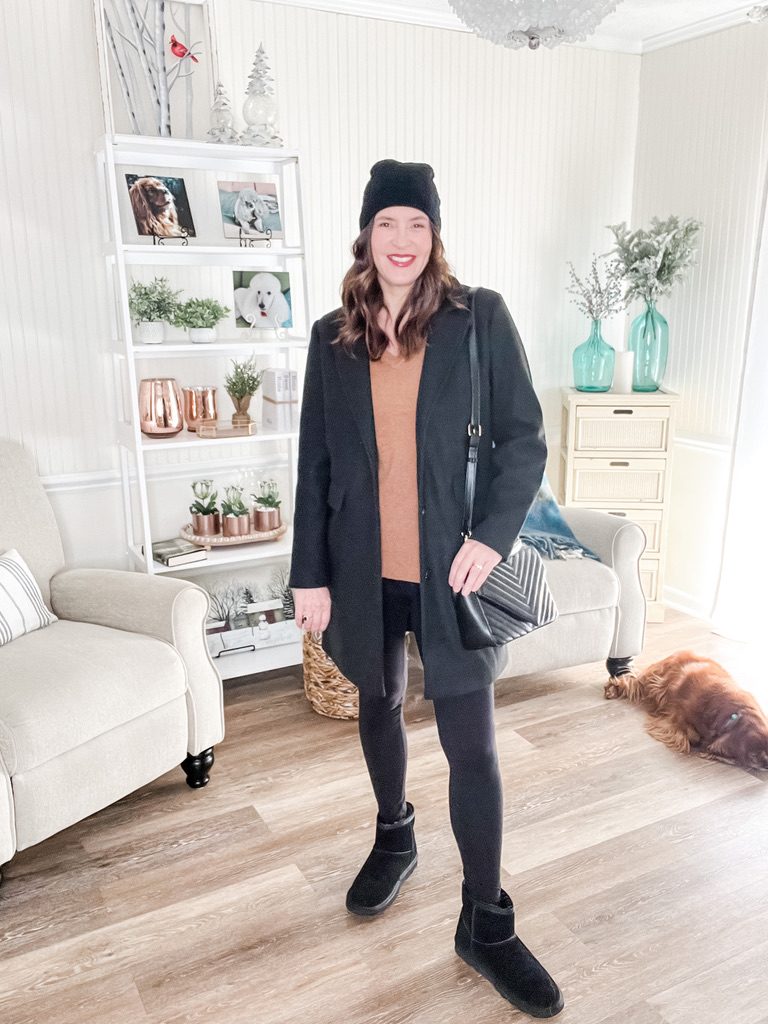 If you don't have a camel colored sweater in your wardrobe, you should! They are so classic and I love mine paired with simple black leggings. This look is completed with my black coat by Time and Tru, and warm black boots – also by Time and Tru. Accessories include a chic black beanie and a black cross body bag.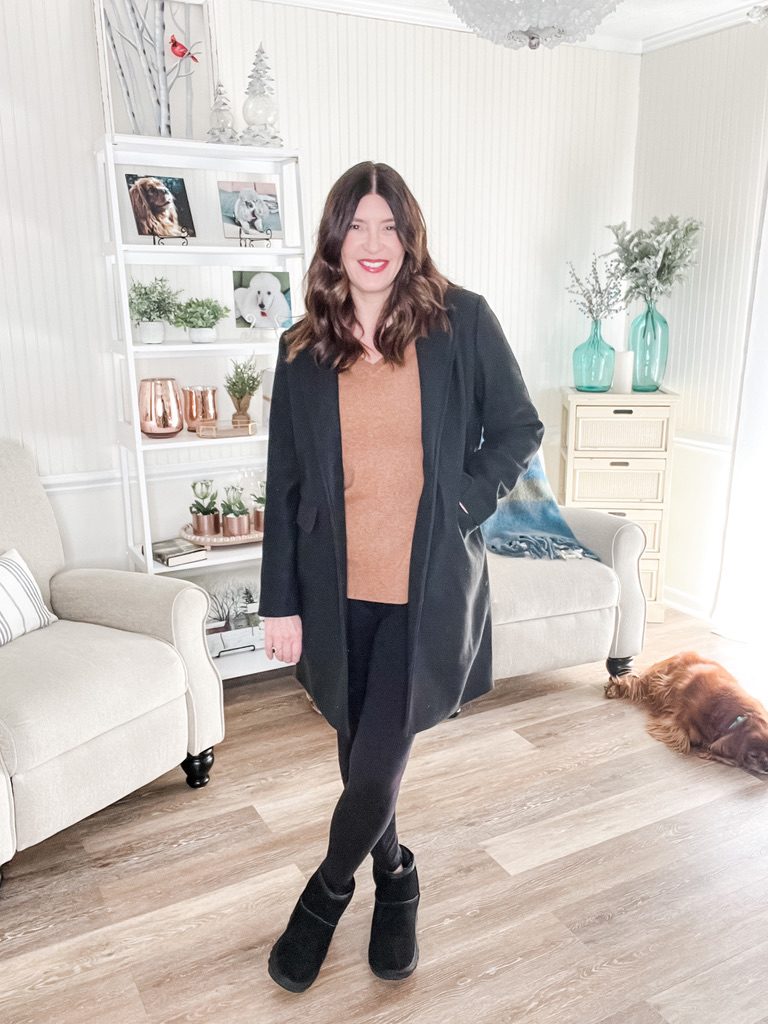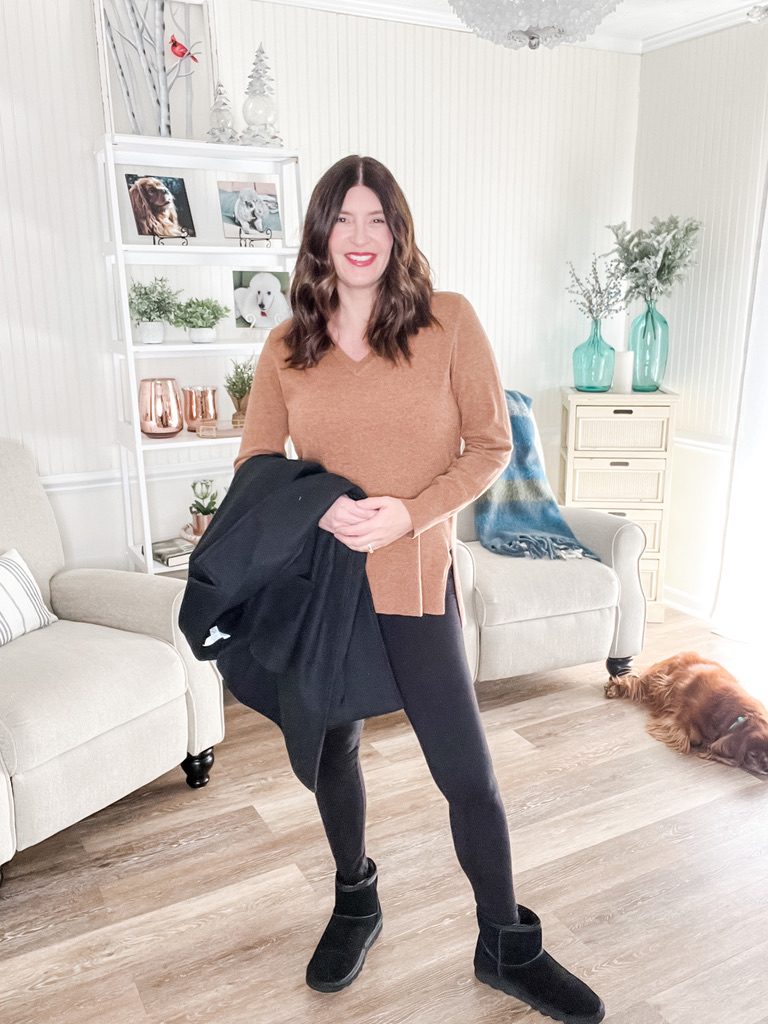 Cashmere Sweater + Straight Leg Jeans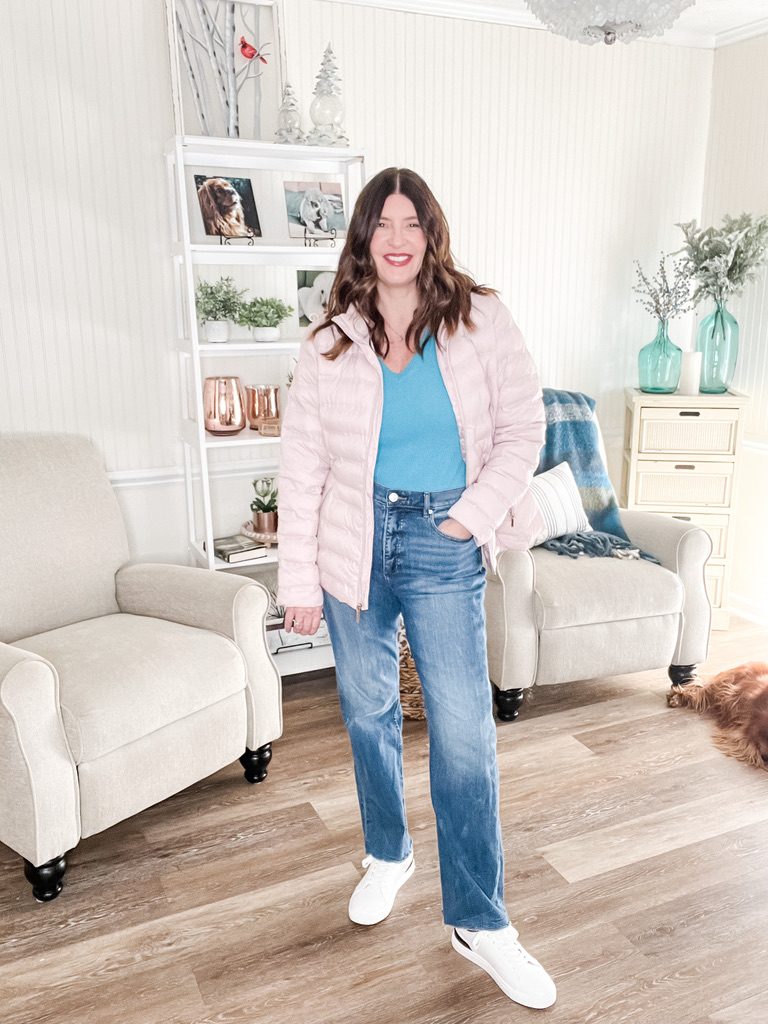 I treated myself to a cashmere sweater back in December. I chose this bright blue V-neck style , and this outfit is all about light and bright colors. My sweater is from Nordstrom and is linked here. The sizes are picked over, but it also comes in several other colors.
Of course, you could recreate this look with just a plain v-neck style, but if you would like a cashmere sweater now is a good time to find one on sale.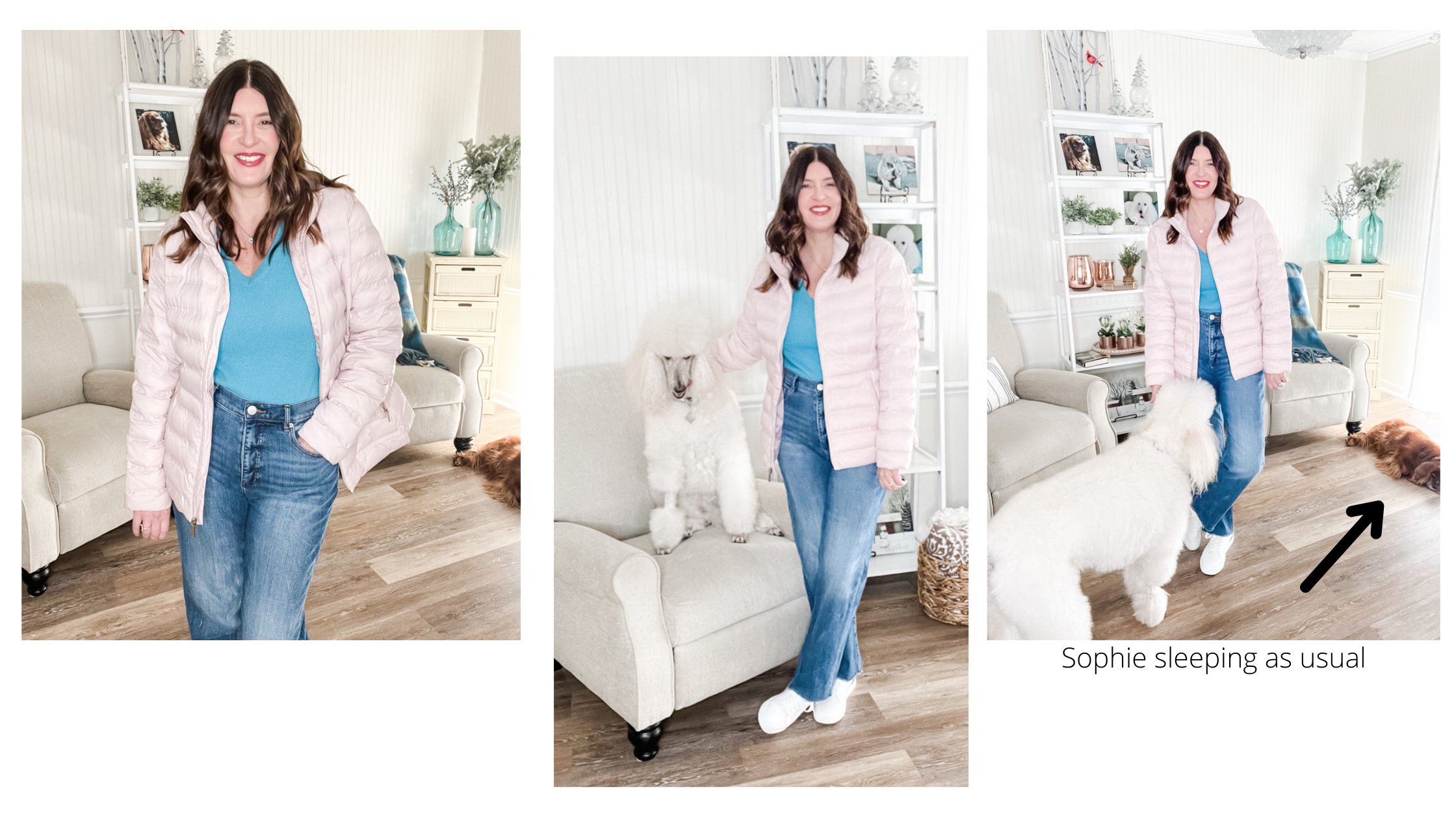 My jeans are from Loft and they are the high waisted straight leg style, and my coat is from Walmart (last year). Lily and Sophie are visiting today…hope you don't mind! They are always by my side and they don't understand when I'm taking photos why that should be any different.
Long Cardigan + White Denim
If you happen to get in a style rut, then don't forget about your white denim. Here I chose a garnet colored shell and a camel colored long cardigan to pair with my white jeans. These are the ab-solution jeans by Democracy in the straight leg style.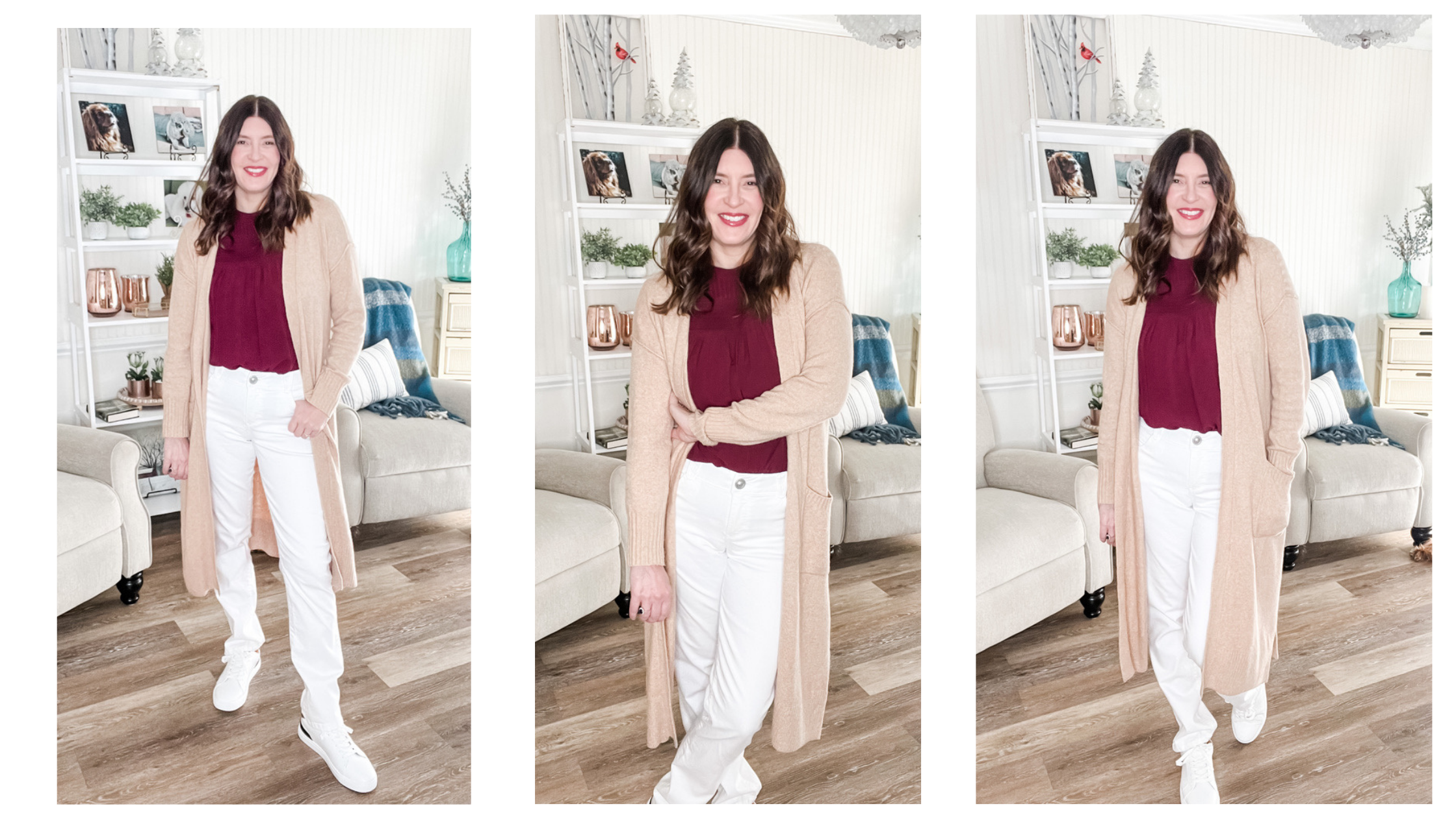 This outfit is a little more elevated without sacrificing comfort.
Neutral Sweater + Black Leggings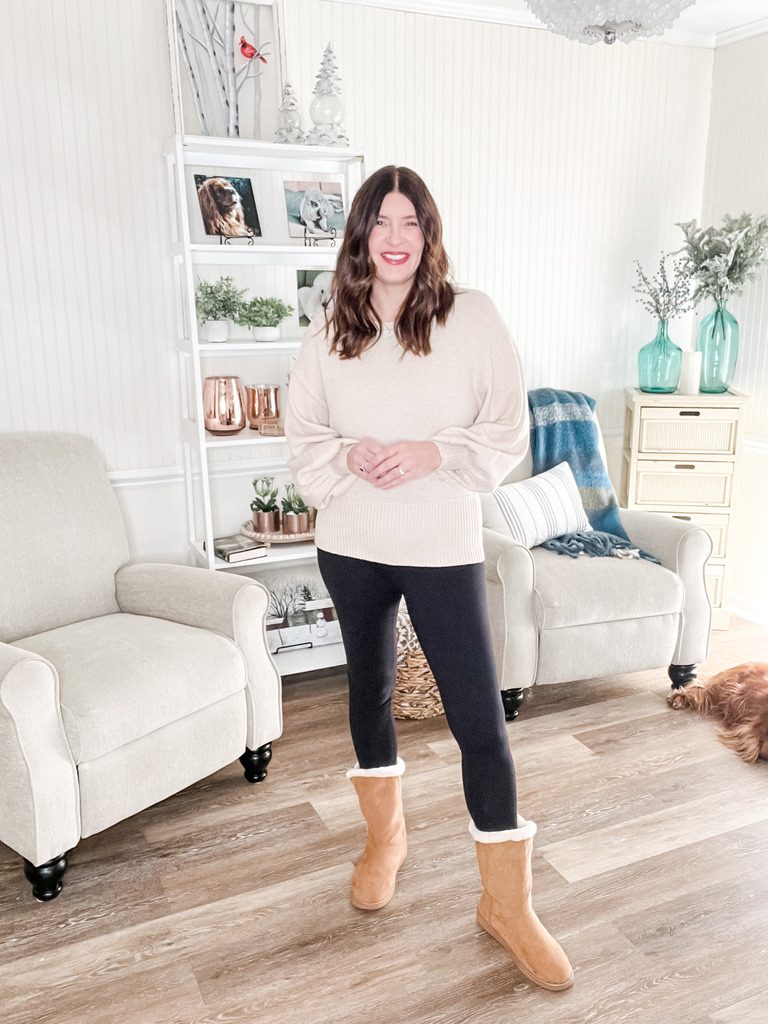 The last outfit I have for today is this neutral combination. I've mentioned this sweater before…it's from Walmart and is still available. It has a very flattering fit with the balloon sleeves and the ribbed waist band. I'm wearing a medium.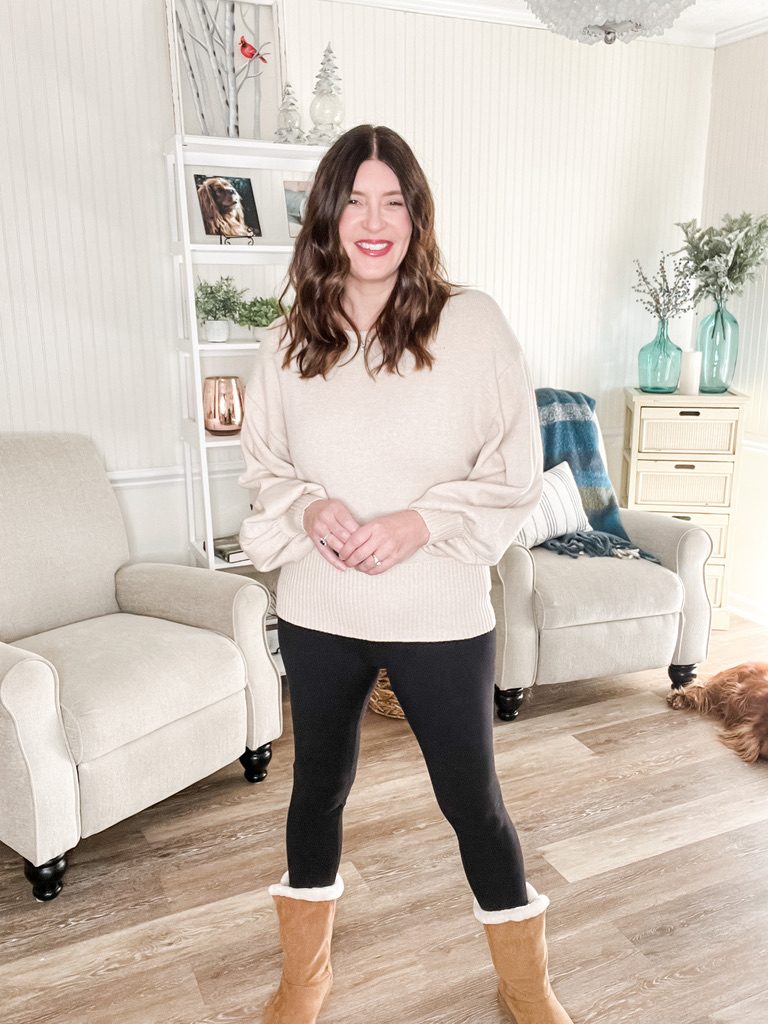 All this outfit needed was some leggings, a neutral colored beanie, and some cozy boots.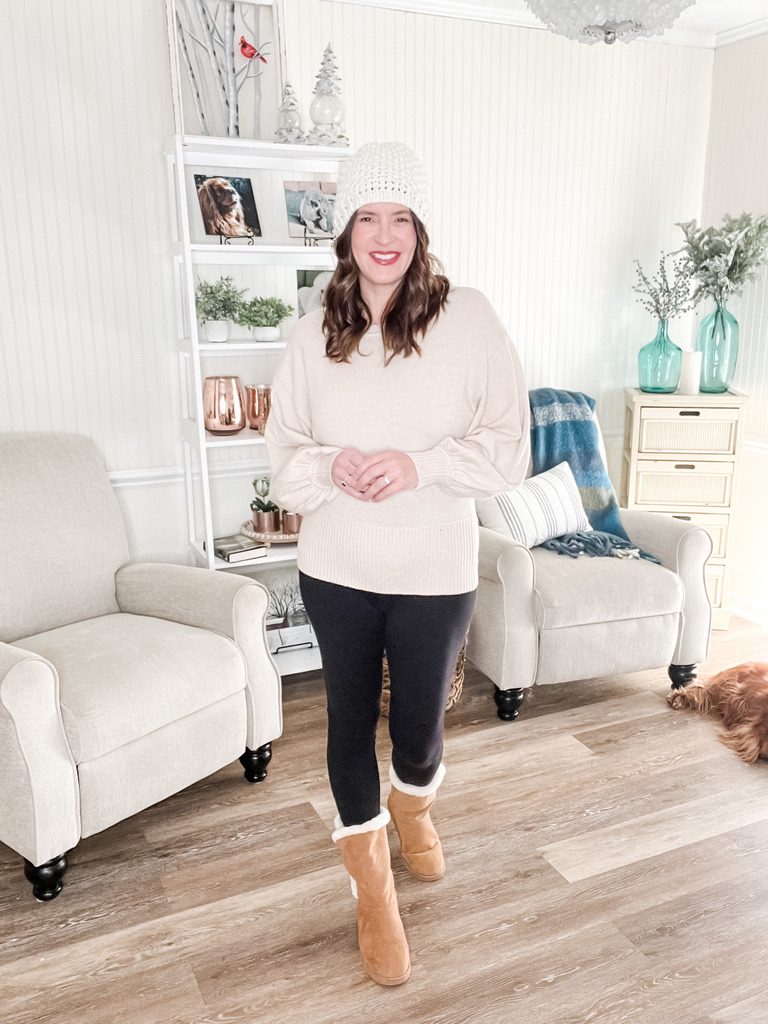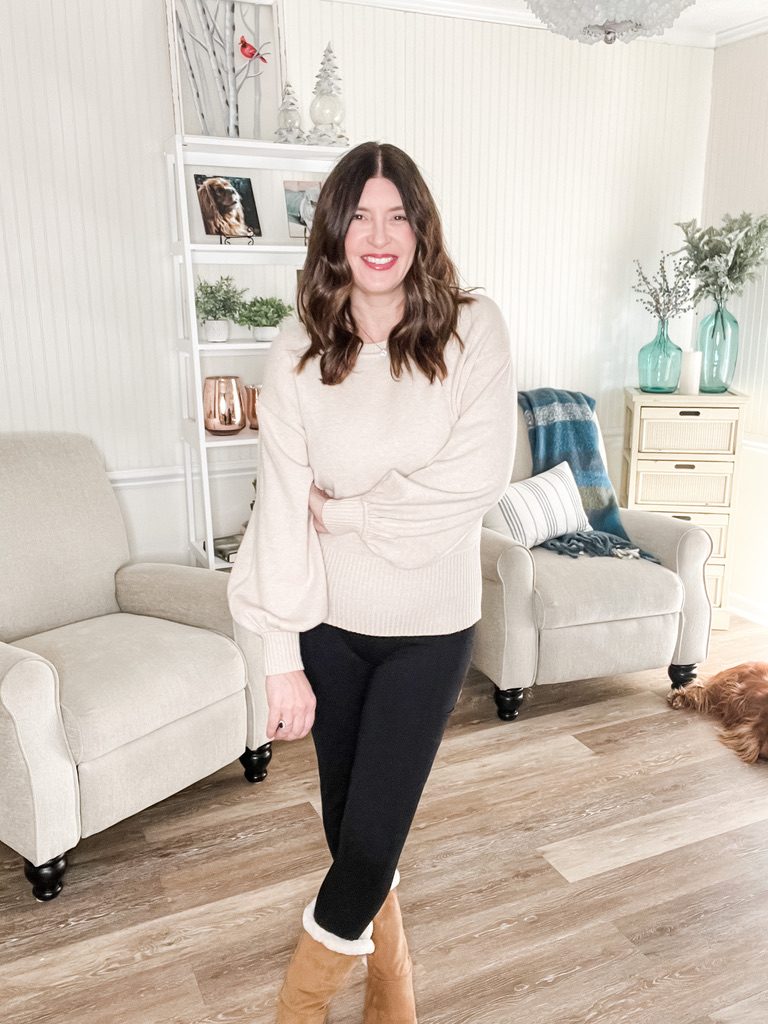 I hope you enjoyed today's post! If you did, please share it with some girlfriends that might also enjoy it. Also, if you would like to get new posts sent to your email…hit the subscribe button!