Hello and welcome to a brand new week! I truly like Mondays because it feels like a fresh start. Whatever happened last week is in the past (good or bad), and now we can focus on what this week has in store for us. I have been trying to feature lots of casual styles lately. In general, I get the feeling that most of us are living a little slower paced lifestyle lately, and casual comfortable outfits are what we are reaching for these days. Today I thought I would share a couple of fun ways to wear a sweatshirt.
Both of these sweatshirts are from Target. In fact, they are the same tops in two different colors. If you have been following The Scarlet Lily for any length of time, you know that I am a little obsessed with soft clothes! These sweatshirts check off the softness box for sure.
Neutral Sweatshirt + Black Jeans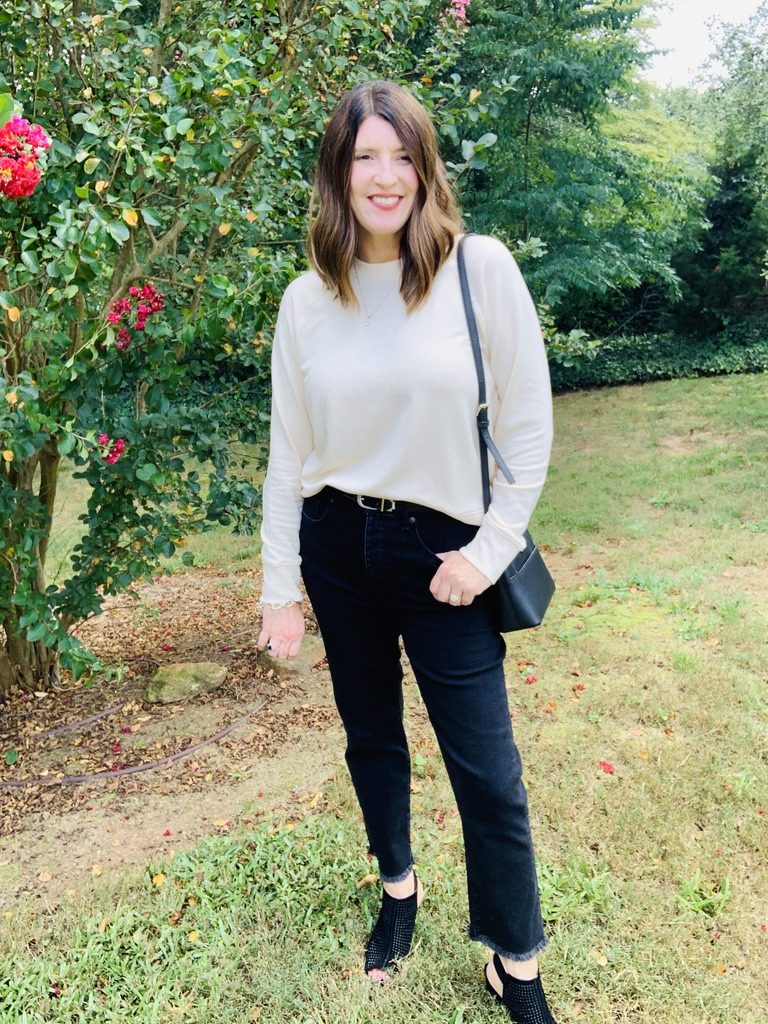 The first fun way to wear a sweatshirt is to dress it up a little bit. This neutral beige color can be worn so many ways. For this outfit, I paired the sweatshirt with some black cropped jeans from Loft. They appear to be sold out, but these black skinny jeans would also look nice. The raw hemline is really trending right now. If that is not your style, don't feel like you have to wear them. There are plenty of options with a finished hem line that will give a similar over all look. Here are some of my favorite black jeans.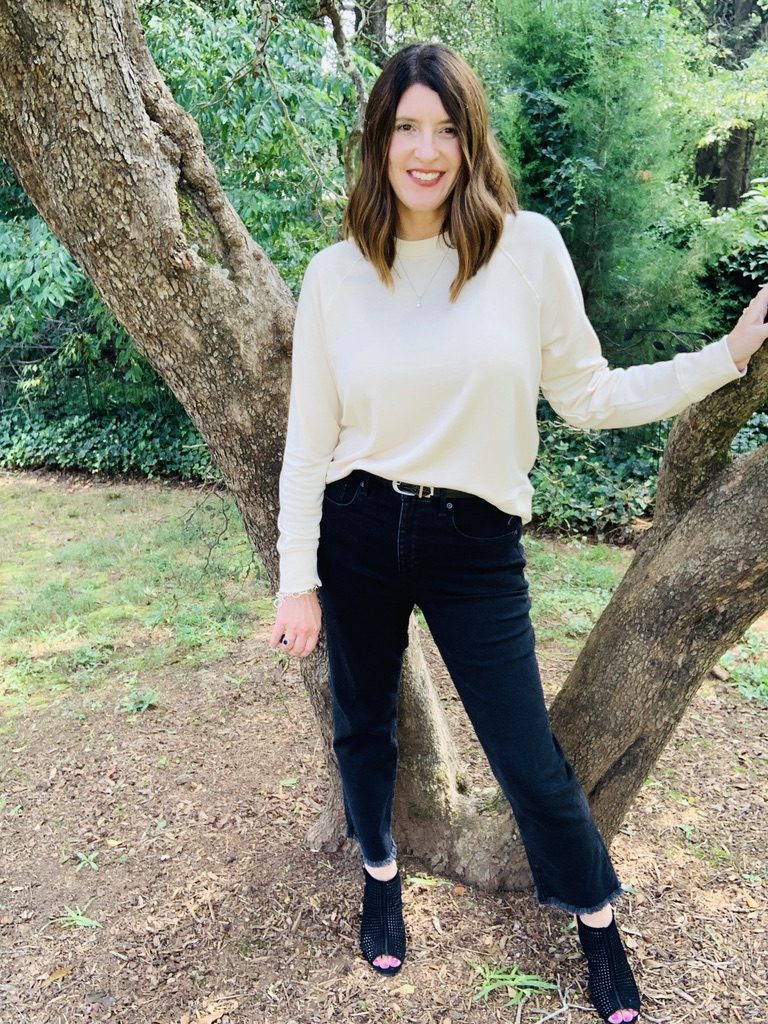 My sweatshirt is from the A New Day line at Target. I am wearing a size large. By tucking the sweatshirt in and wearing some ankle boots with a heel, it makes the outfit a little more dressy.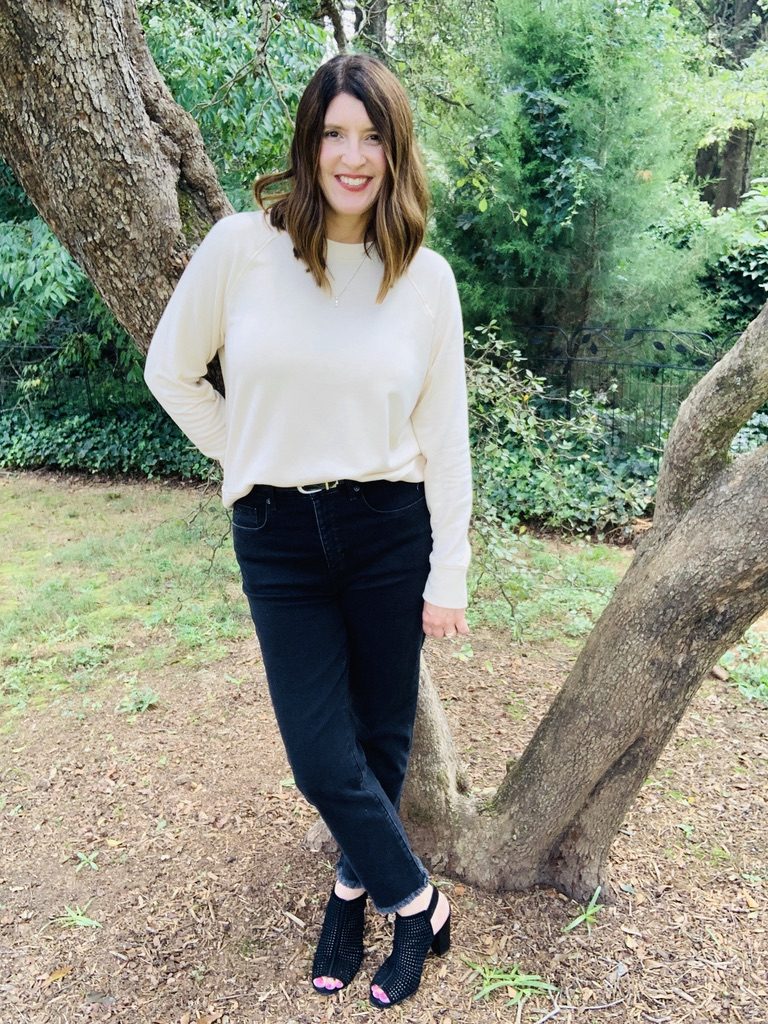 I like to wear open toed ankle booties in the late summer and early fall since it is still quite hot where I live. The booties in the photos are old, but these from Amazon are very similar. This style bootie also looks good with dresses.
A simple necklace, belt, and a small black crossbody bag complete the look.
Neutral Sweatshirt + Joggers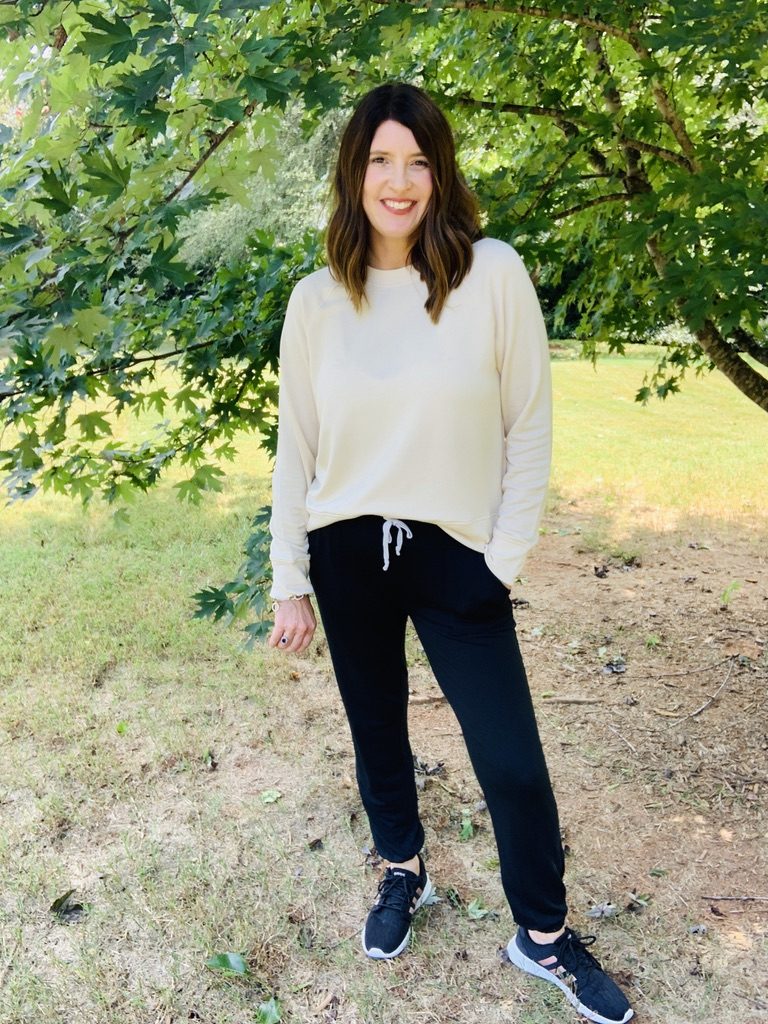 Another fun way to wear a sweatshirt is to pair it with some comfortable joggers. The great thing about joggers is that they are comfortable enough to lounge around the house in and they also look nice enough to wear out in public.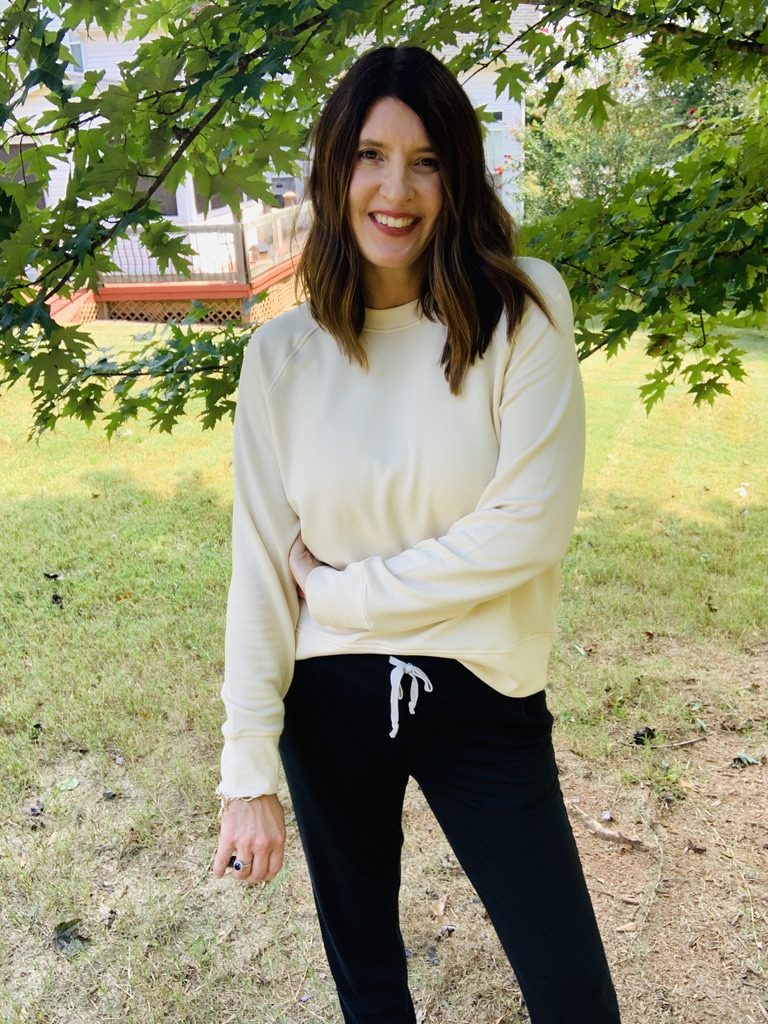 Style tip: If you want to create a long line that is more flattering, try wearing black shoes with black pants. These black Adidas sneakers keep the look more streamlined, which makes your legs look longer.
My black joggers have made several appearances. They are my go to joggers because of the quality and the fit. These are at least two years old, so I have been looking for another pair.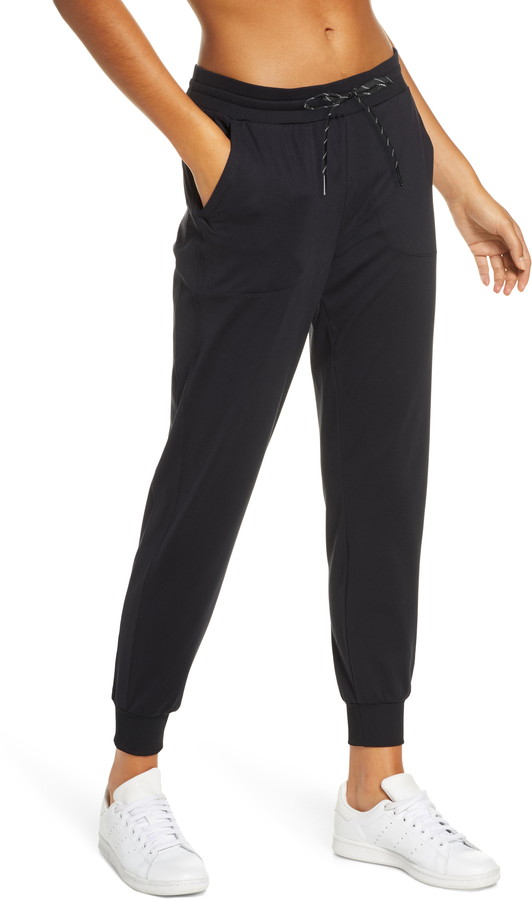 I recently purchased these joggers by Zella during the Nordstrom anniversary sale. They are perfect! I highly recommend them. They run true to size. They are currently sold out from the sale, but if you keep checking the Nordstrom website, I bet they will be restocked.
FYI: Did you know that if you like an item in my shopping widget, you can be alerted when the item goes on sale or is restocked? Be sure to take advantage of this feature! You can also find all my shopping widgets at shopstyle.com and follow The Scarlet Lily. Here is the link: https://widgets.shopstyle.com/?sc-widget-id=L-5ef282552b888237c3c56e4d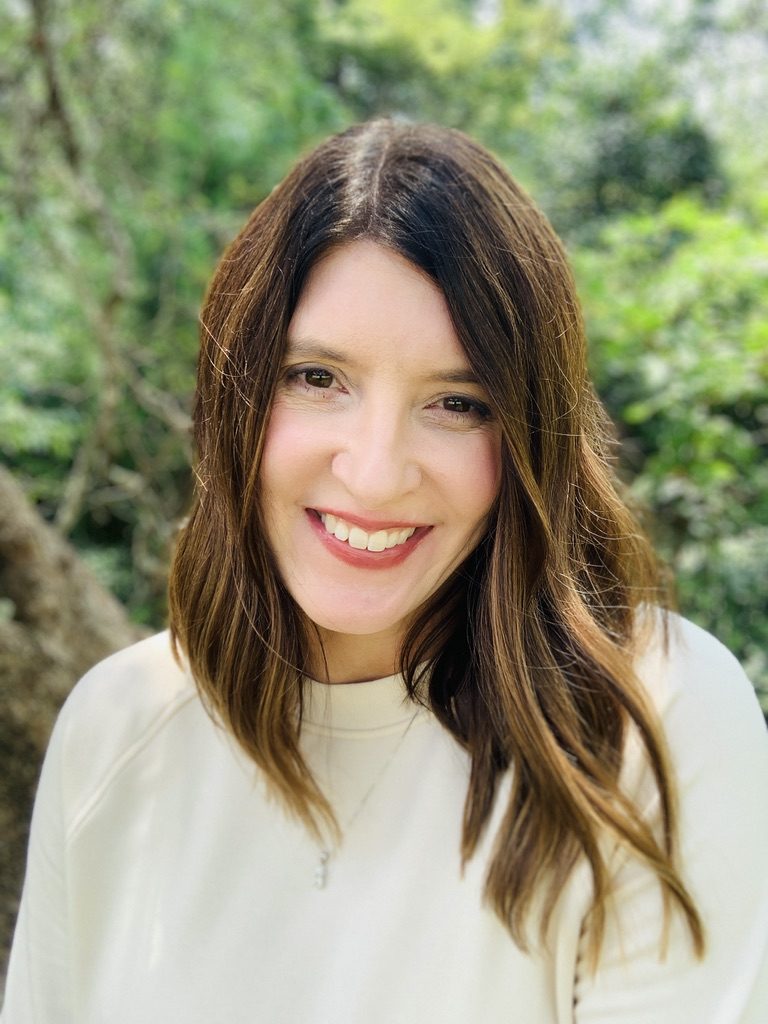 Pink Sweatshirt + Joggers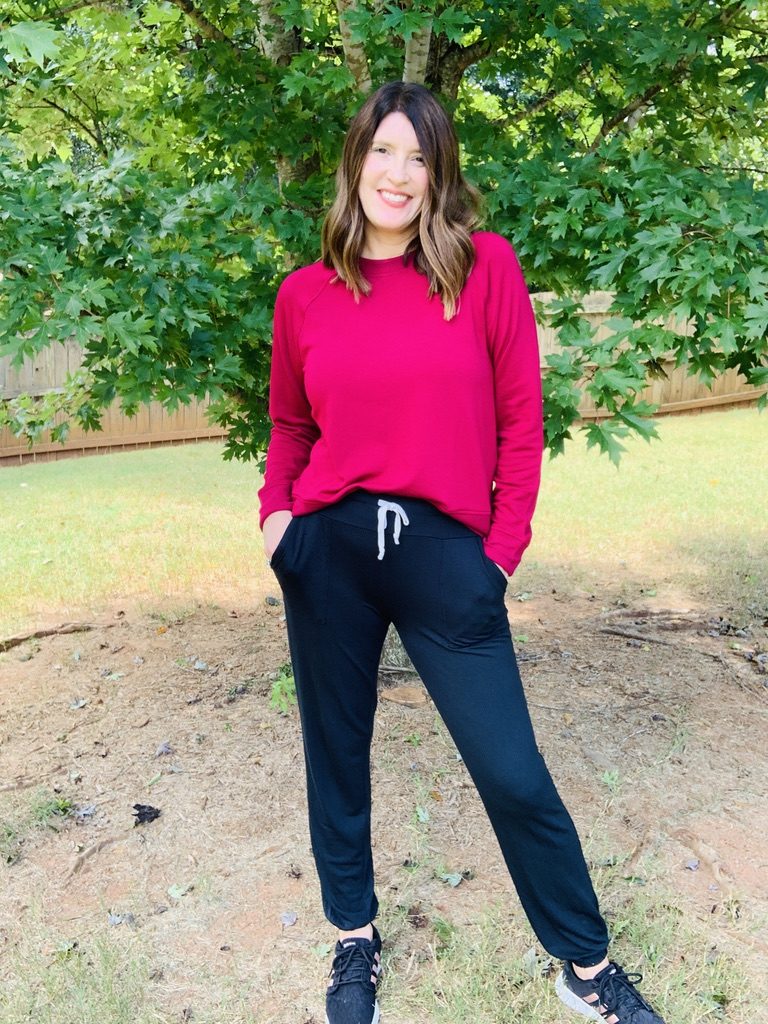 Experimenting with different color combinations is another fun way to wear a sweatshirt. This bright pink color caught my eye and I like the way it looks with the black as well.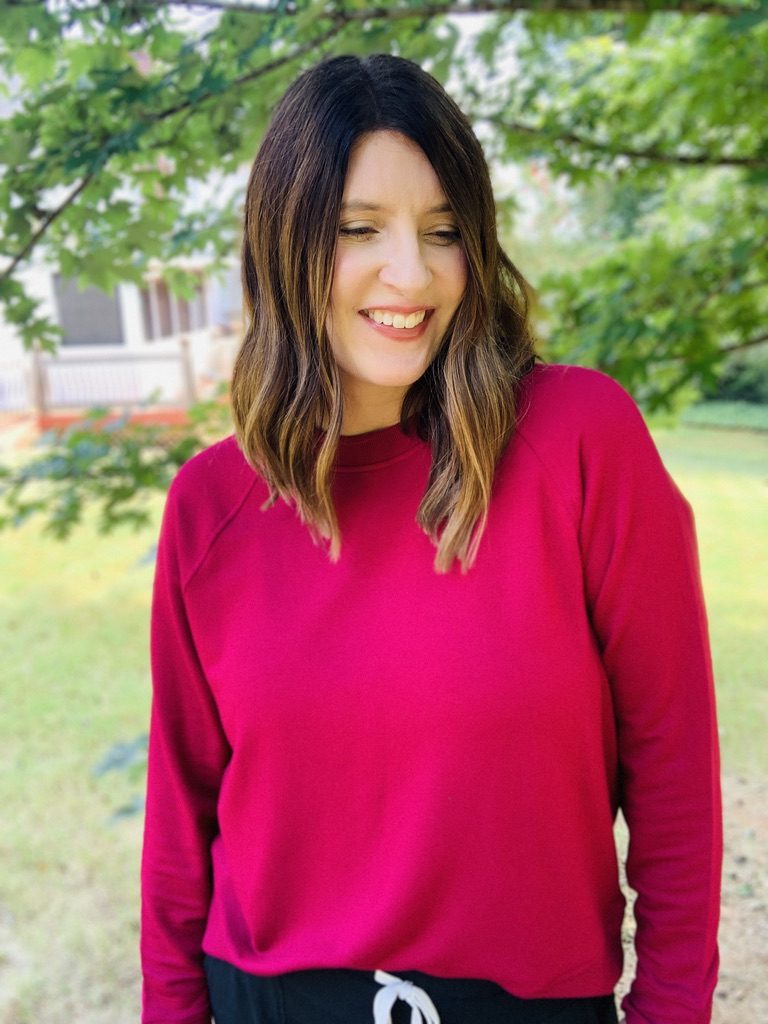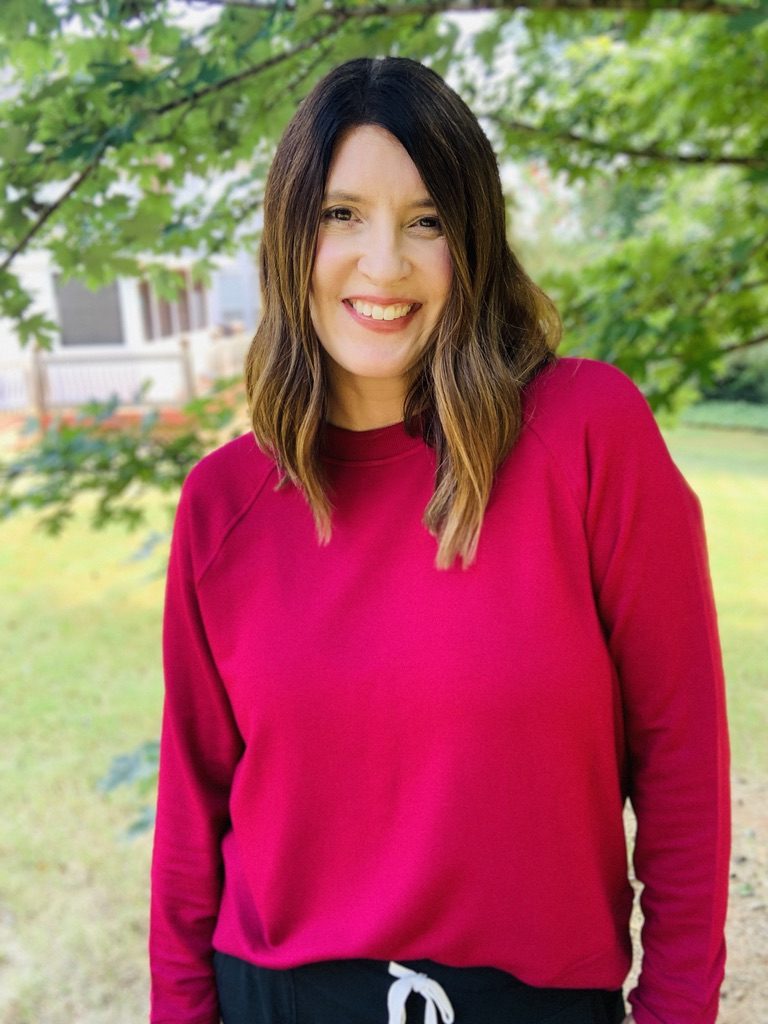 This sweatshirt comes in a total of 10 different colors, so make sure to click on the link to the Target website and take a look.
There are so many ways to wear this sweatshirt no matter which color you choose.
Outfit Ideas: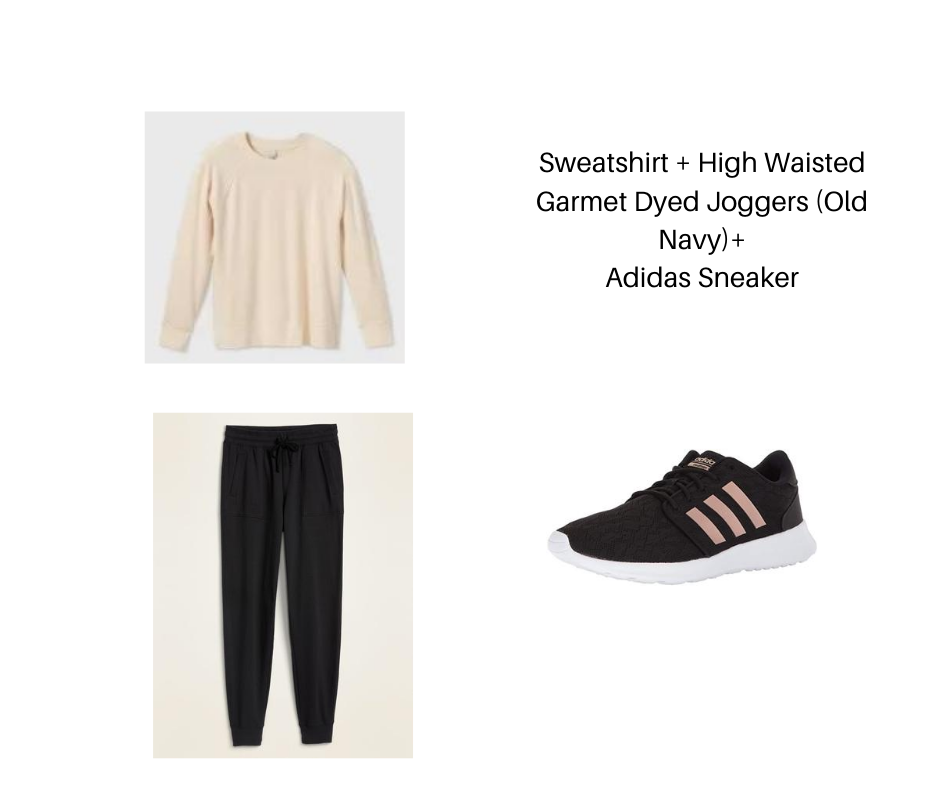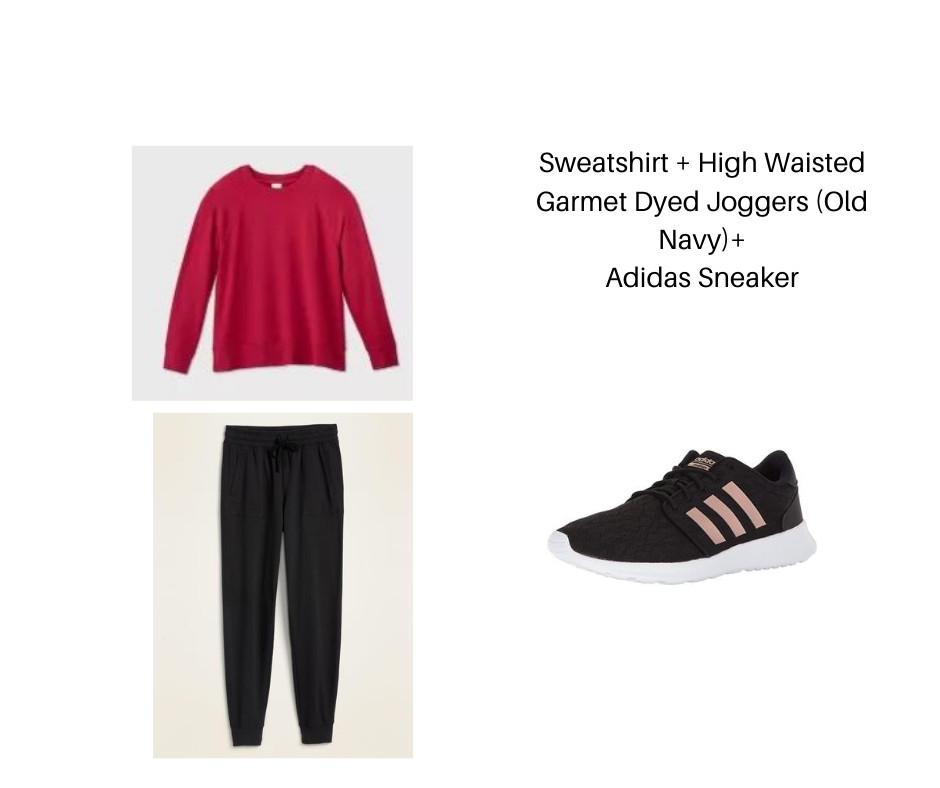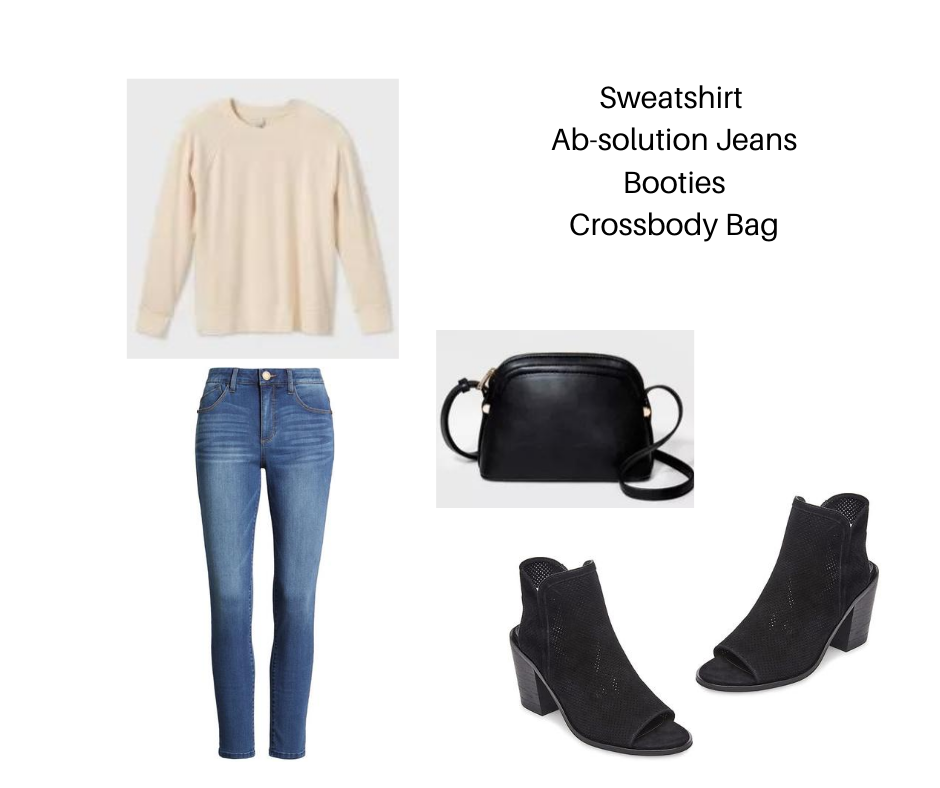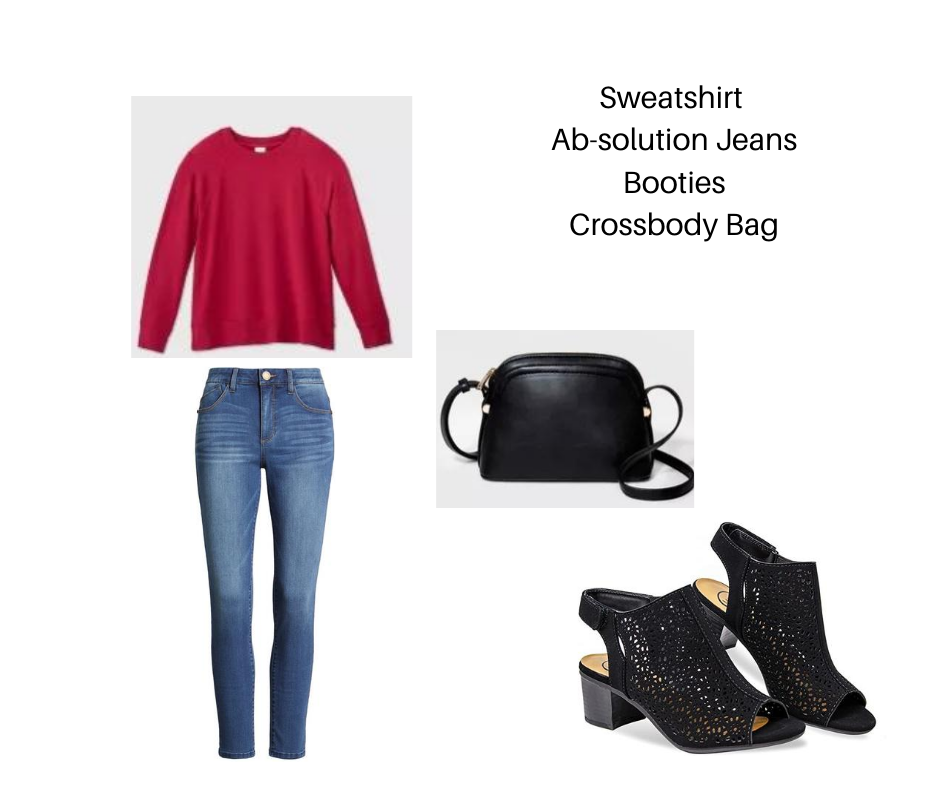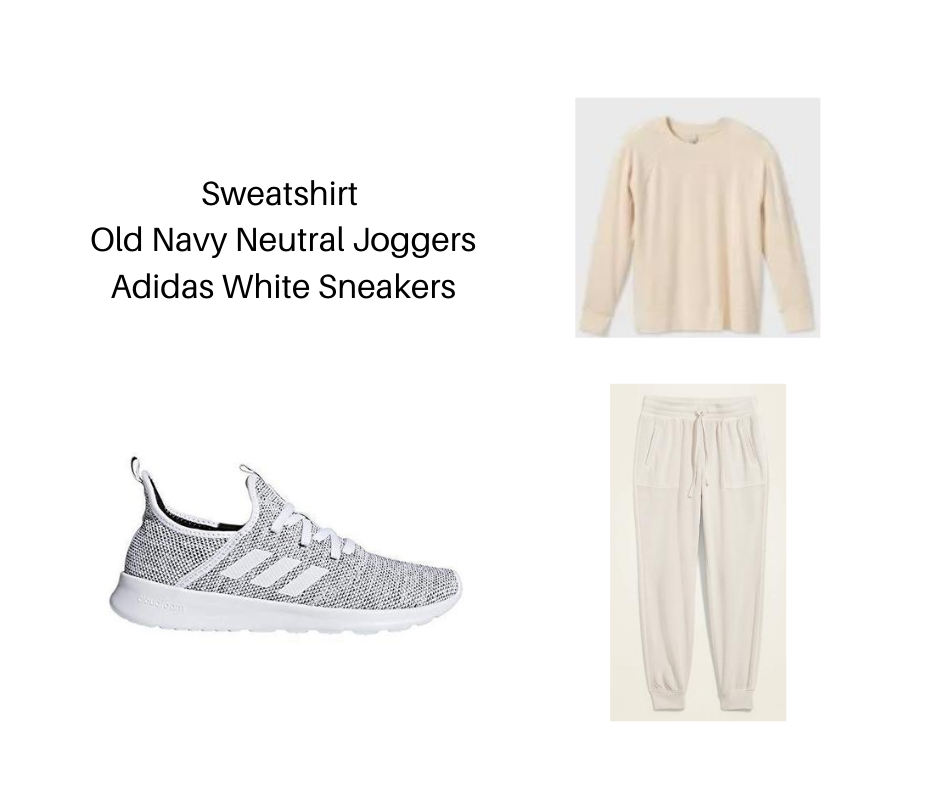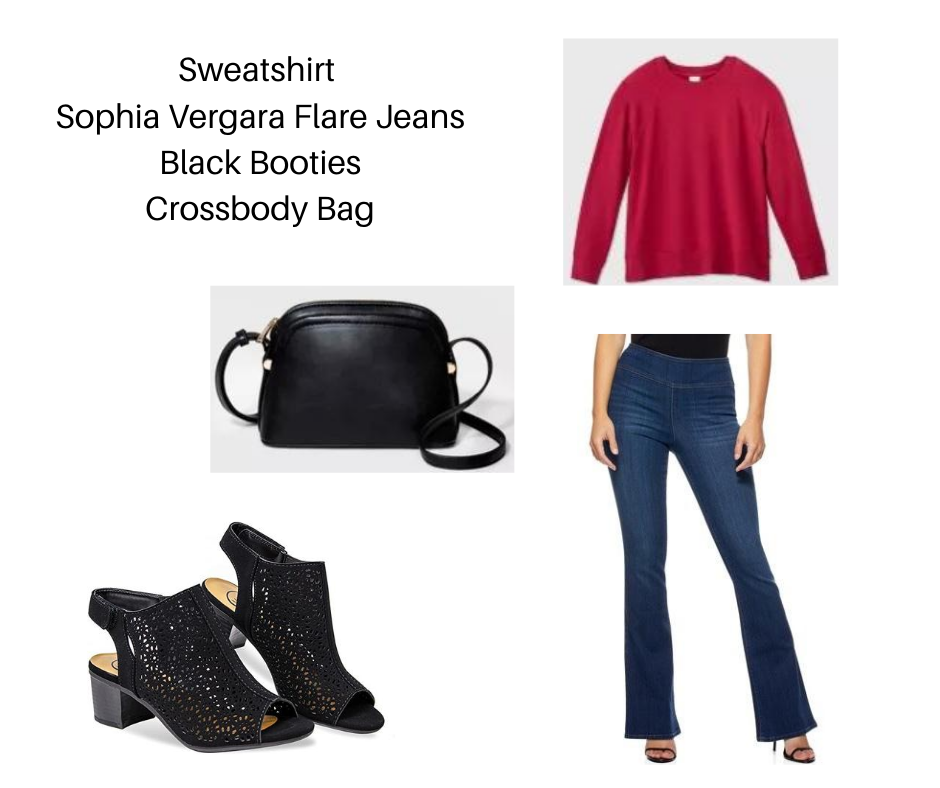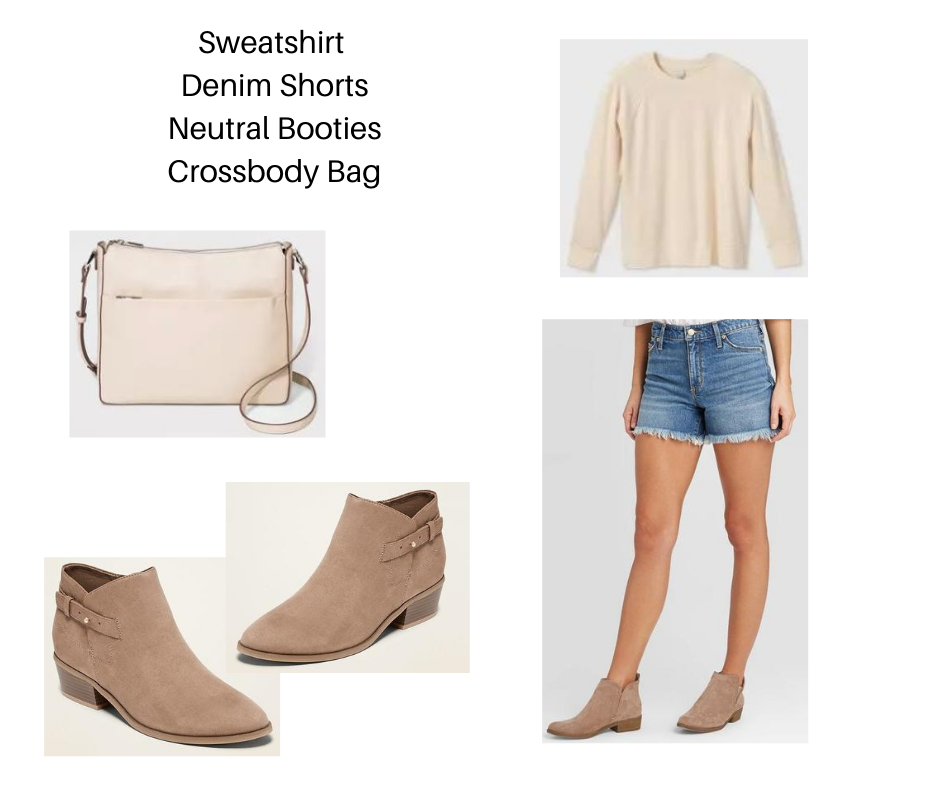 I hope you have seen some fun ways to wear a sweatshirt that you can use in the upcoming months. These are also good outfit formulas that you can use to shop your closet. If you are interested in the pieces shown here today, you can shop these looks in the widget below!
You may also enjoy my Transition To Fall Tops post. You can view it here.