Happy Friday friends! Well, it's been a week! I started my new job on Monday and I am exhausted! It's been a really long time since I have worked outside the home, and it's going to be a big adjustment. In fact, today's post is going out late because I was too tired to finish it yesterday. I have enjoyed getting dressed up for work, but I sure did enjoy coming home to my lounge clothes every day! That is the topic of today's post. Wear at home outfits for fall. Of course these can be worn now, especially if you tend to get cold in the air conditioning.
Lounge clothes are my favorite! There is nothing like coming home and changing into your most comfortable clothes that make you feel relaxed. Many of us are also working from home or generally staying home more, so having some good wear at home outfits for fall will be essential.
With the exception of two pieces from Amazon, the rest of these comfy outfits are from Target. Target's Stars Above line of pajamas and lounge wear are particular favorites of mine because they are so soft and flattering. They tend to sell out quickly in the stores, so I would recommend shopping online to find the style and size you are looking for.
Perfectly Cozy Nightgown
First is the Perfectly Cozy Long Sleeve Nightgown. It's called a nightgown, but I would describe it as a long sweatshirt. I really wish you could reach through your screen and feel how soft this fabric is! Also, it holds it's shape very well. I actually slept in mine the night before I took these photos and it did not even wrinkle. This is the dark grey color, even though it looks black.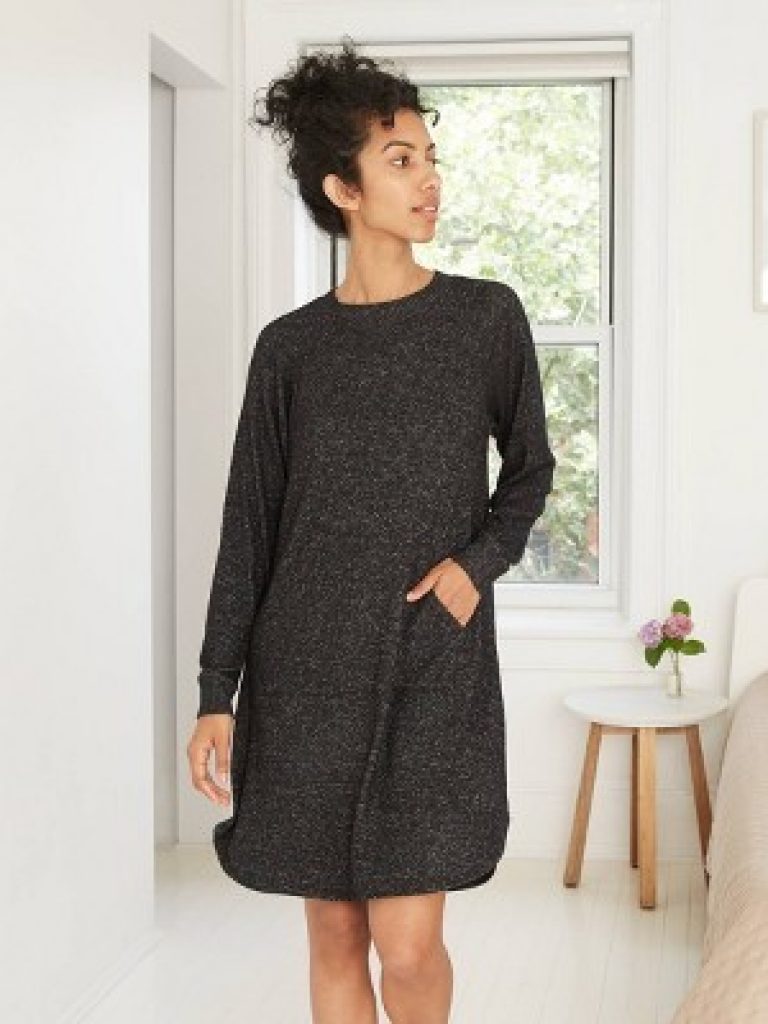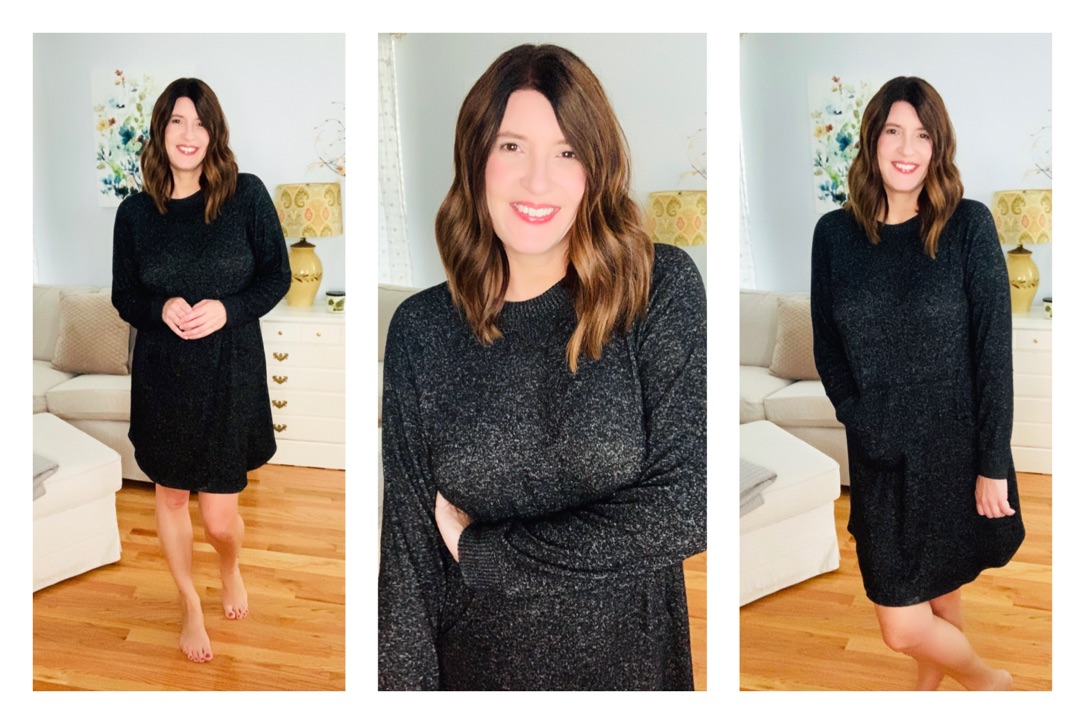 The length is perfect for wearing around the house and if you needed to walk outside it would be perfectly appropriate. This would also be a good option for working at home since it almost resembles a T-shirt dress. The sizing is generous. I am wearing a medium with plenty of room to spare.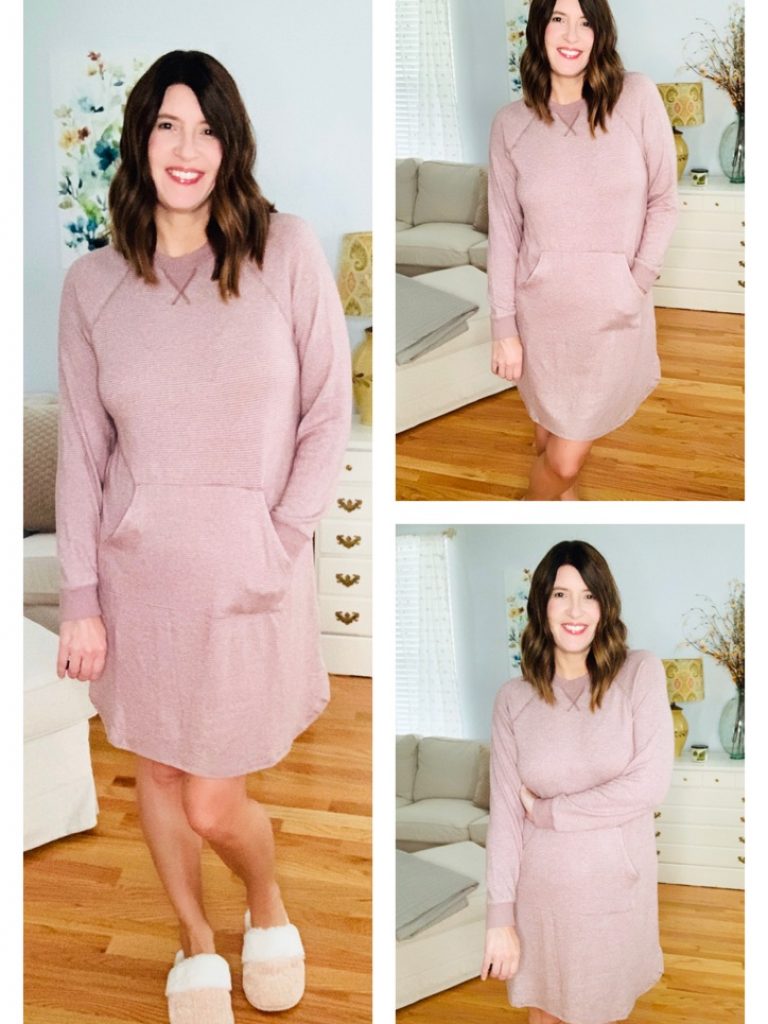 I liked this piece so much that I purchased two of them! This second one is in the color clay. It is a nude pink color with a tiny white stripe. You can see the details better in this color than in the photos of the dark grey one. I especially like the pocket in the front.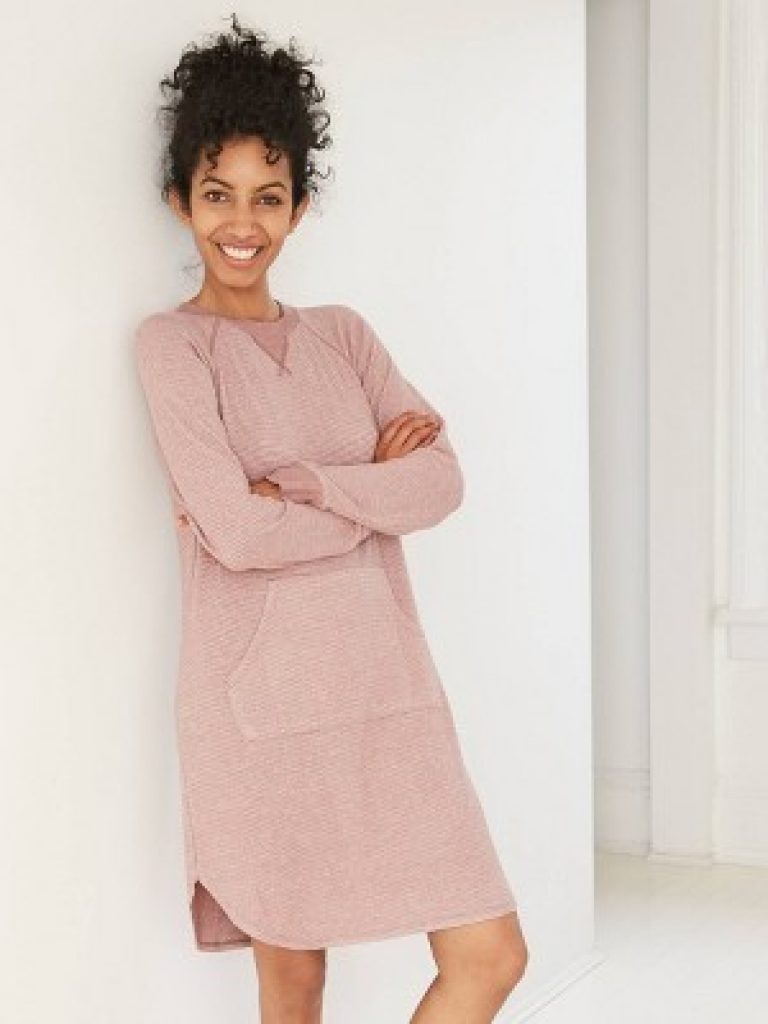 Animal Print PJ Set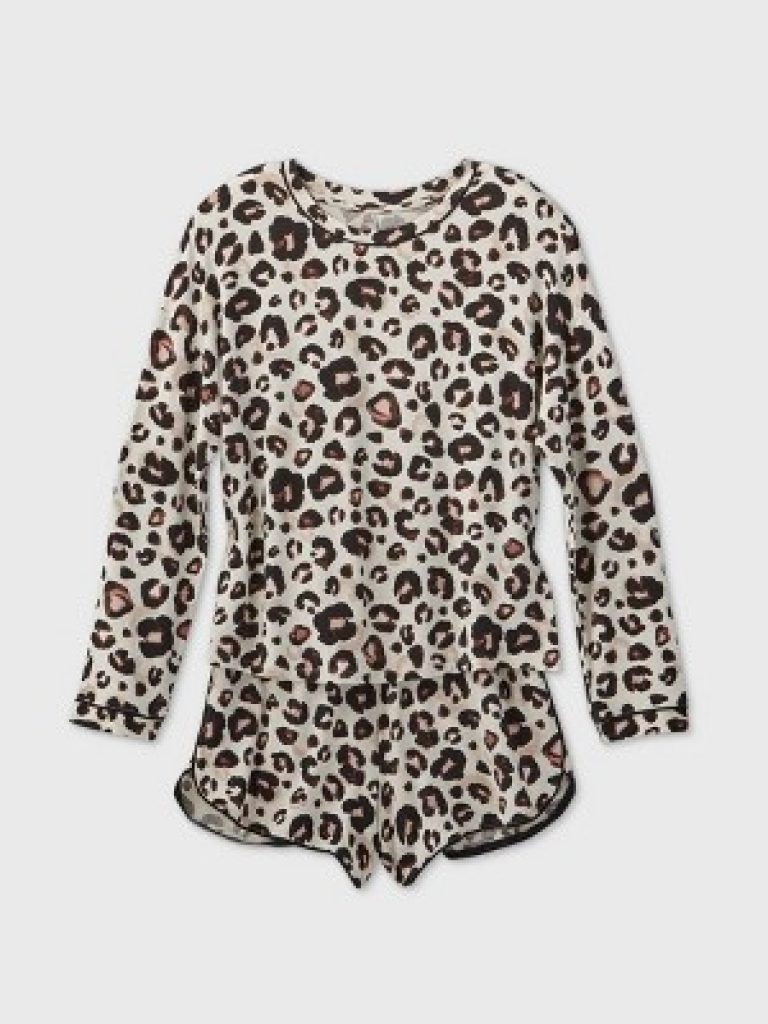 This animal print pajama set is another great find. The fabric is different that the nightgowns above, but it is just as comfortable. This would be a good set to wear now and into fall. I chose the long sleeve shirt and shorts set, but there are other variations of this set. There are button down tops, pull over tops, and pants options that I will link for you.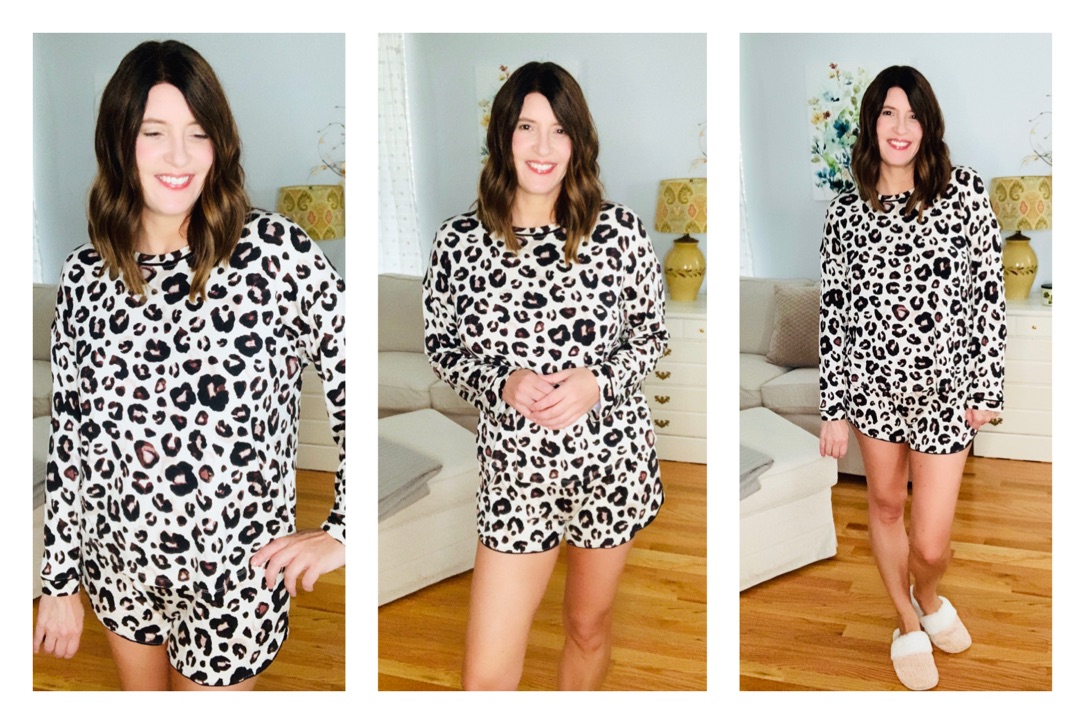 I debated for quite a while in the store as to which size to buy. Sets are tricky for me because I usually wear a large top and a medium bottom. I ended up going with the medium since the top is oversized, and that worked out fine. I probably could have worn the large since the shorts are not oversized so if you like a really loose fit, I would suggest sizing up.
Daily Ritual Sweatshirt Dress

The next wear at home outfit for fall is this Sweatshirt Dress by Daily Ritual. Daily Ritual is an Amazon brand and if you have never tried it, I think you will be impressed with the quality.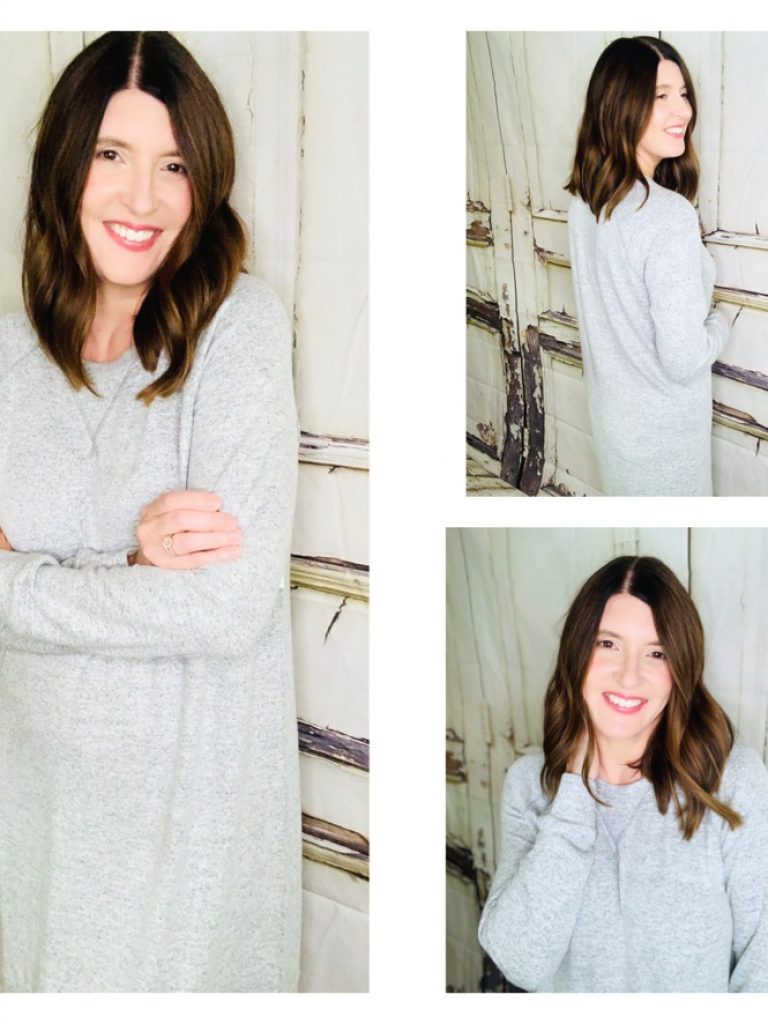 This is another outfit that is maximum comfort! The fabric is so soft to the touch, you will want to wear this every day! The nice thing about this dress is that it can be worn out and about. It looks cute with sandals for now, and also looks nice with sneakers for cooler weather.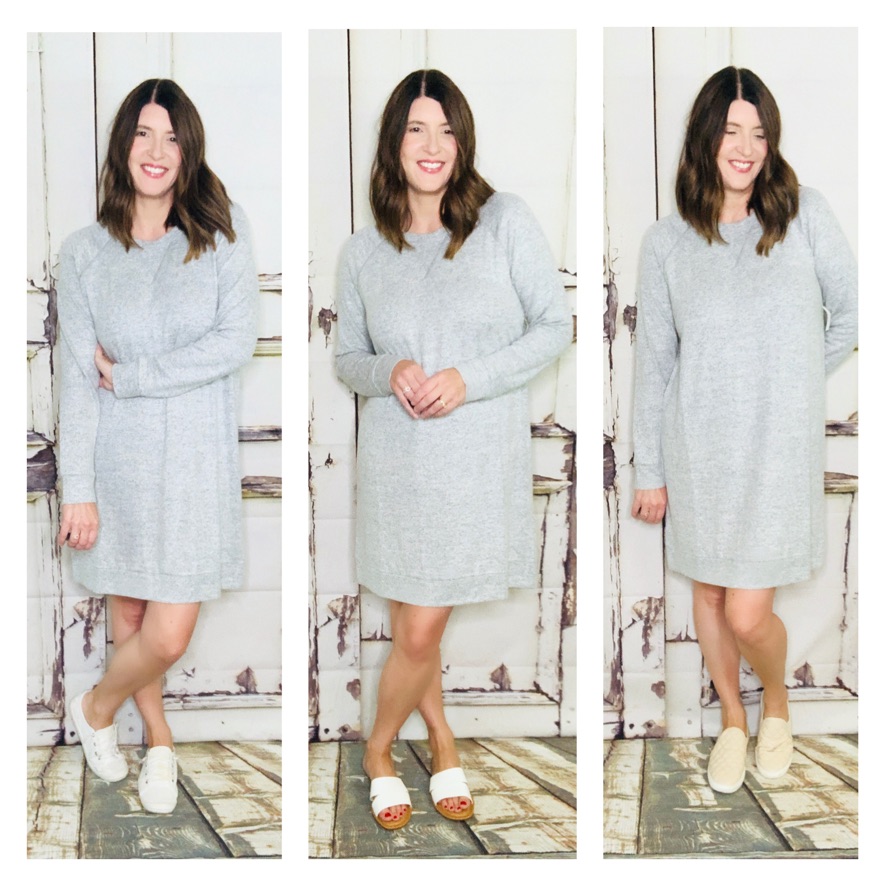 I am wearing a large and it is very roomy. I might could have worn a medium for a more fitted look, but I am happy with the large since this is all about comfort. This is the grey heather shade. It is also available in black and a black marl.
Batwing Pullover Top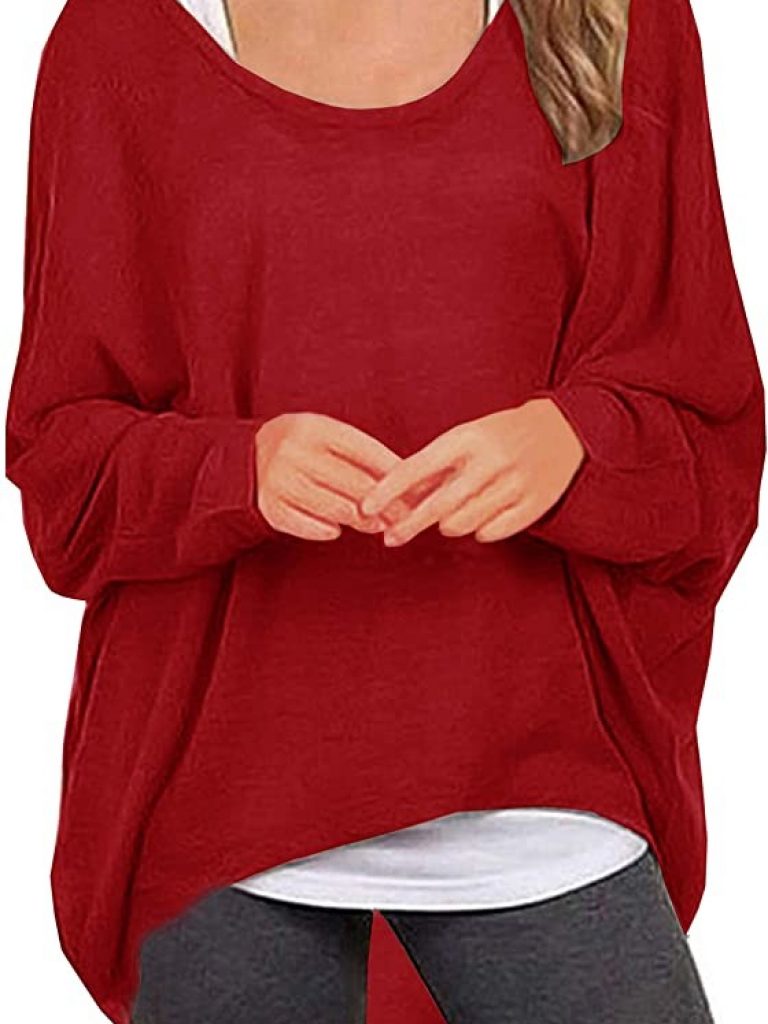 This wear at home outfit focuses on the Batwing Pullover Top. I had this top in black last year and wore it so much that I wanted another one for this year. I chose this bright red and it comes in a bunch of other colors as well.
The style is oversized and very casual. It has a high-low style which makes giving it a front tuck very easy. It can be worn tucked or untucked, but I prefer a little tuck when I wear joggers.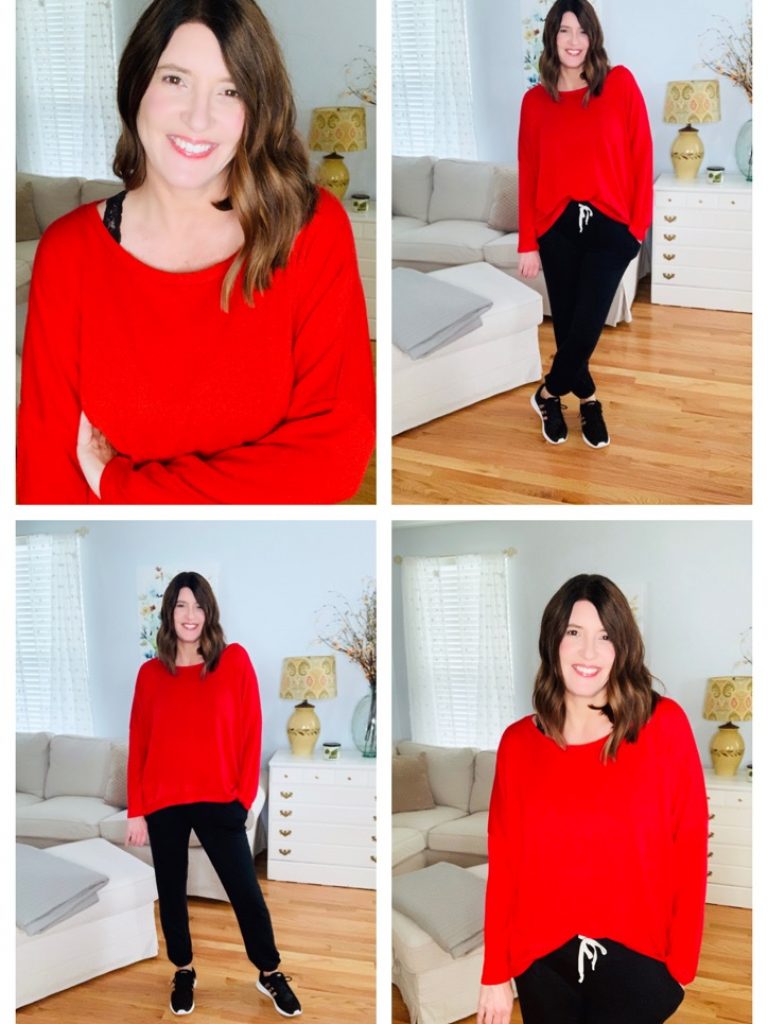 The neckline is wide and can be worn almost off the shoulder or the traditional way. I usually wear a bralette under mine so it can peak through a little bit. Because of the shorter length in the front, I would not wear this top with leggings; however, if you are shorter it might work.
My joggers are old. I purchased a few new pairs in the Nordstrom sale and I will be reviewing those soon.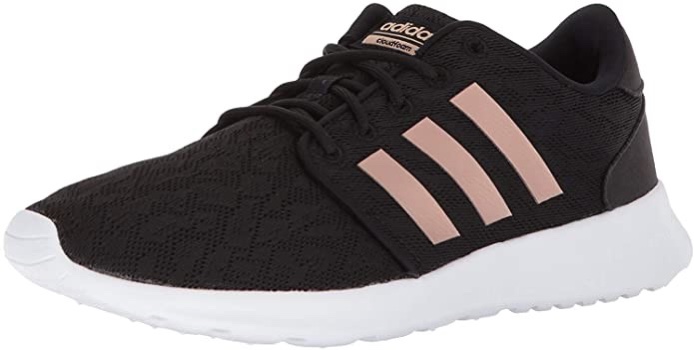 I completed this look with black Adidas sneakers. An outfit like this is so versatile and I would recommend having a couple of versions of it in your wardrobe if you like a casual style. It is comfortable to wear around the house, but also nice for running errands if you need to go out.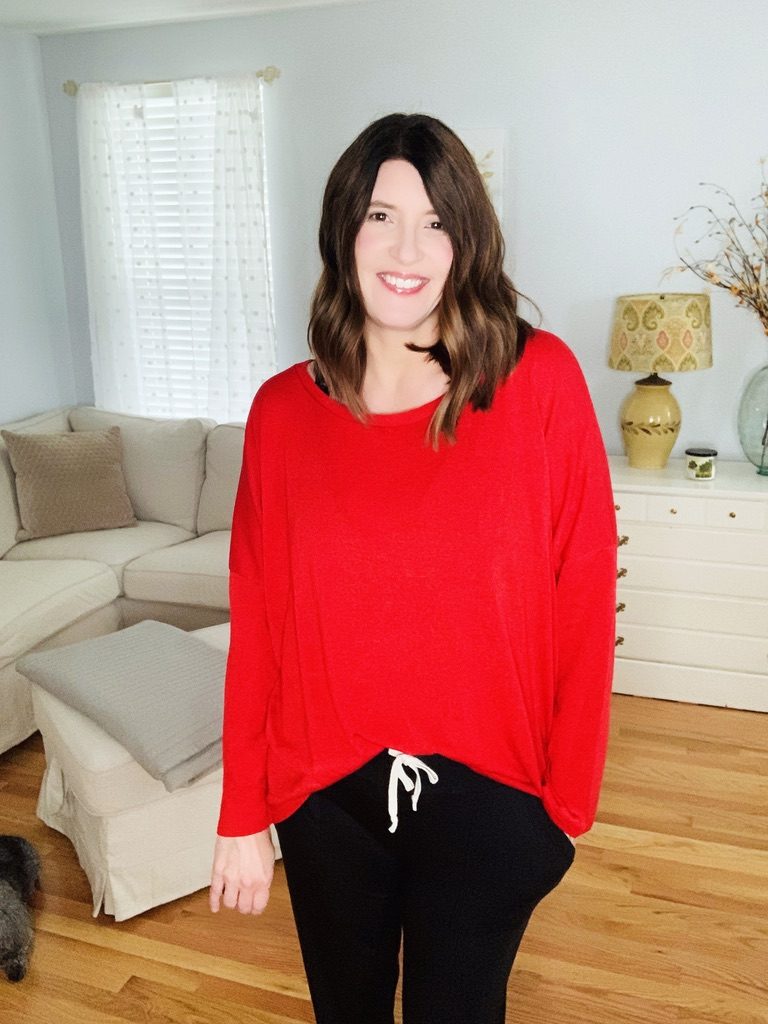 These wear at home outfits for fall will keep you comfortable and stylish. I hope you found this post helpful. Don't forget to follow along with me on Instagram and Pinterest! You may also enjoy my Transition To Fall Tops post.