Walmart is a good resource for affordable pieces. I was looking for some good transitional pieces that would bridge the time between now and spring. Today is a simple Walmart try on and I hope you like the items that I found!
Time and Tru Knit Midi Dress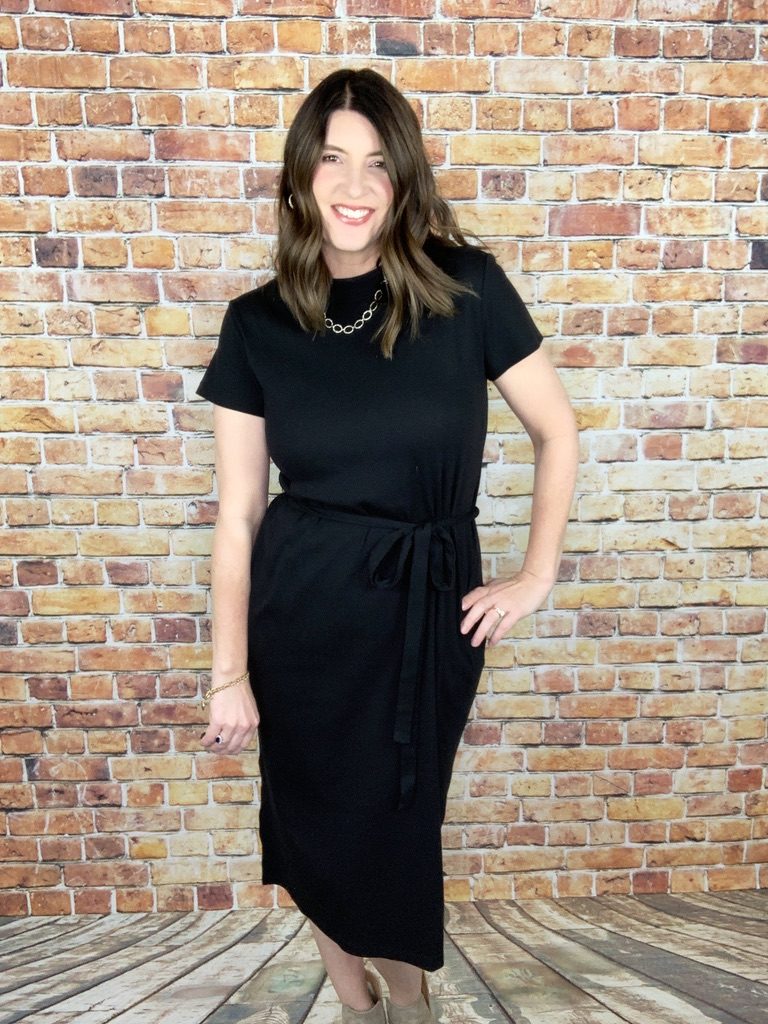 The first piece in my Walmart try on is this knit midi dress by Time and Tru. Knits are a favorite of mine for their comfort and versatility. This black dress could serve so many different purposes. For example, I would wear this to run errands by pairing it with sneakers or flats.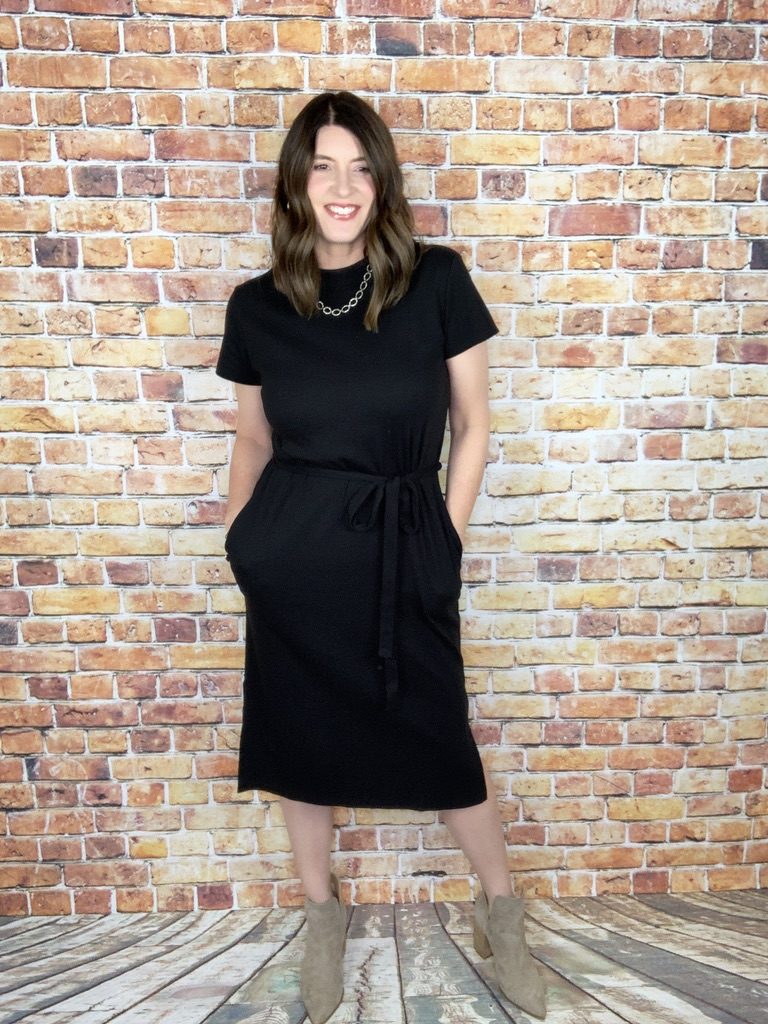 Here I have dressed it up a little bit more with ankle boots. This is a good way to style this dress while the weather is still cold. A simple necklace and the outfit is complete.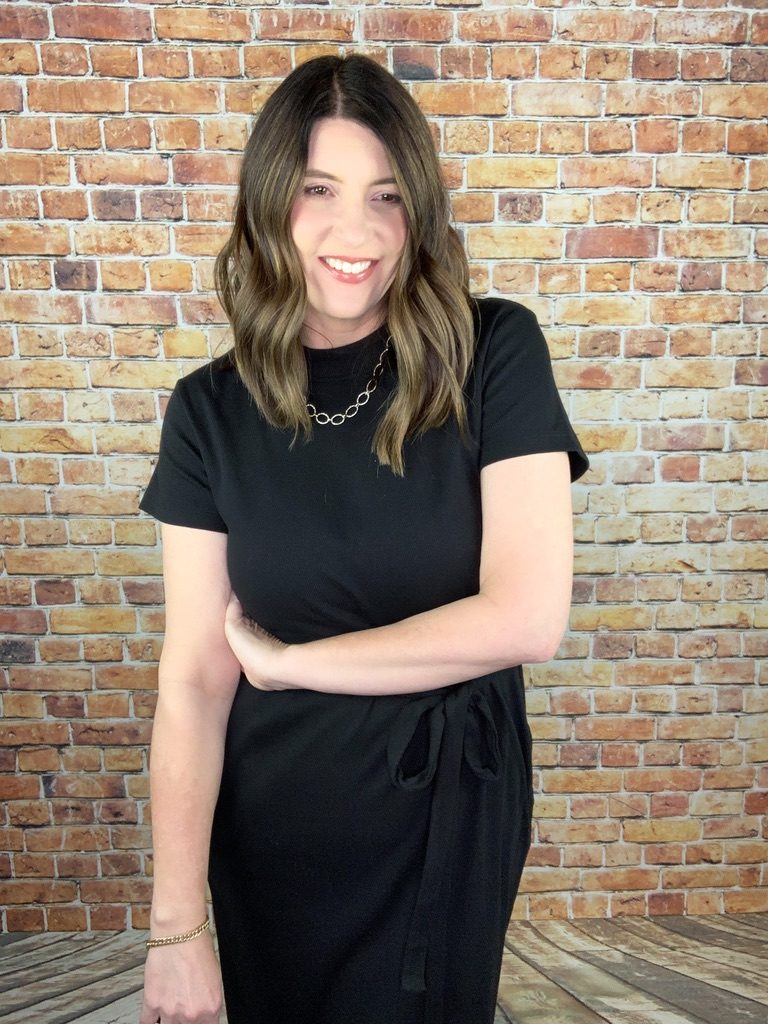 The fit if very flattering. The tie at the waist allows cinching that compliments my body type. It also has pockets. I am wearing a medium which is my normal size in Time and Tru.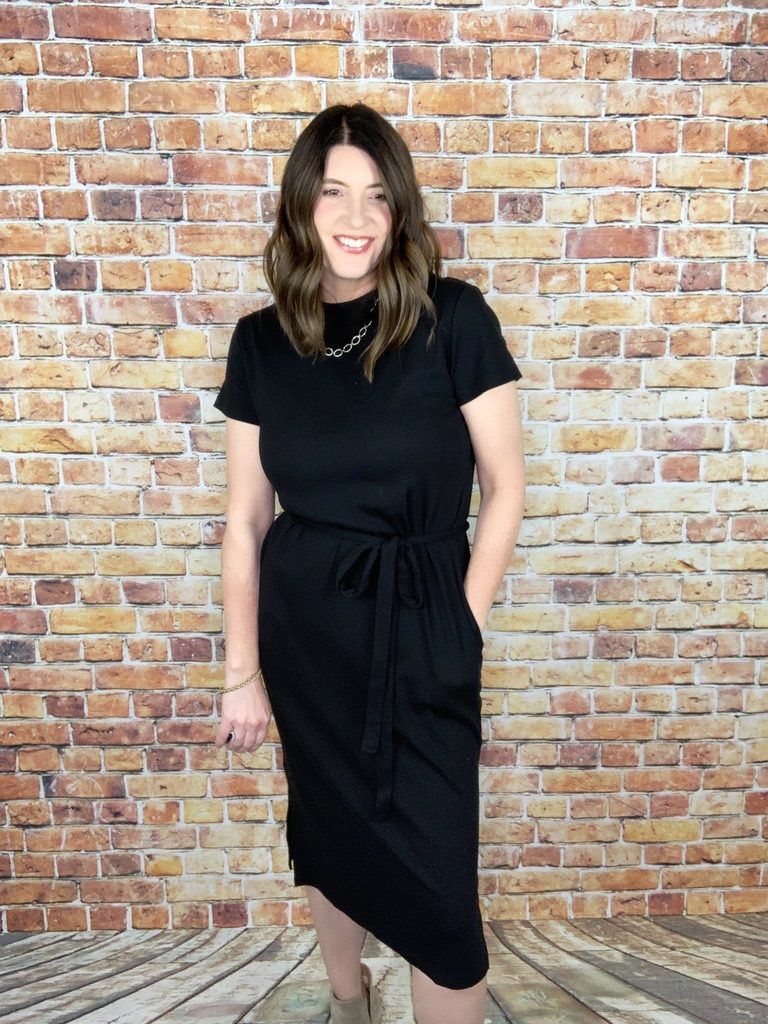 The price is unbelievable and it comes in a total of 8 colors.
Nylon Tote Bag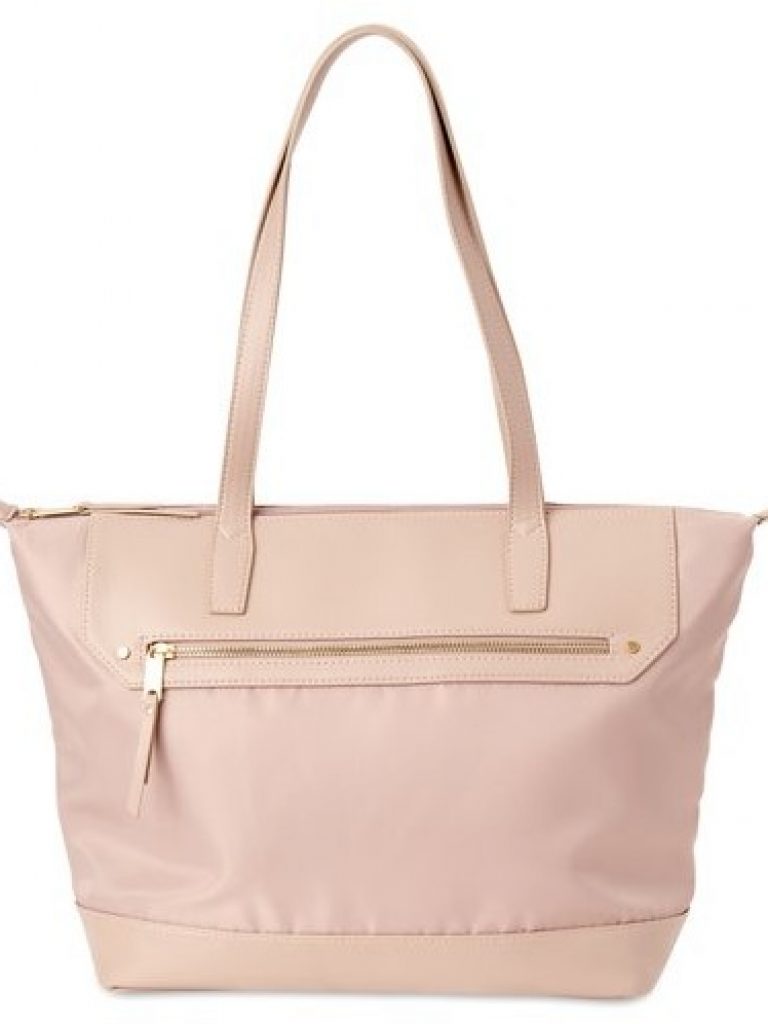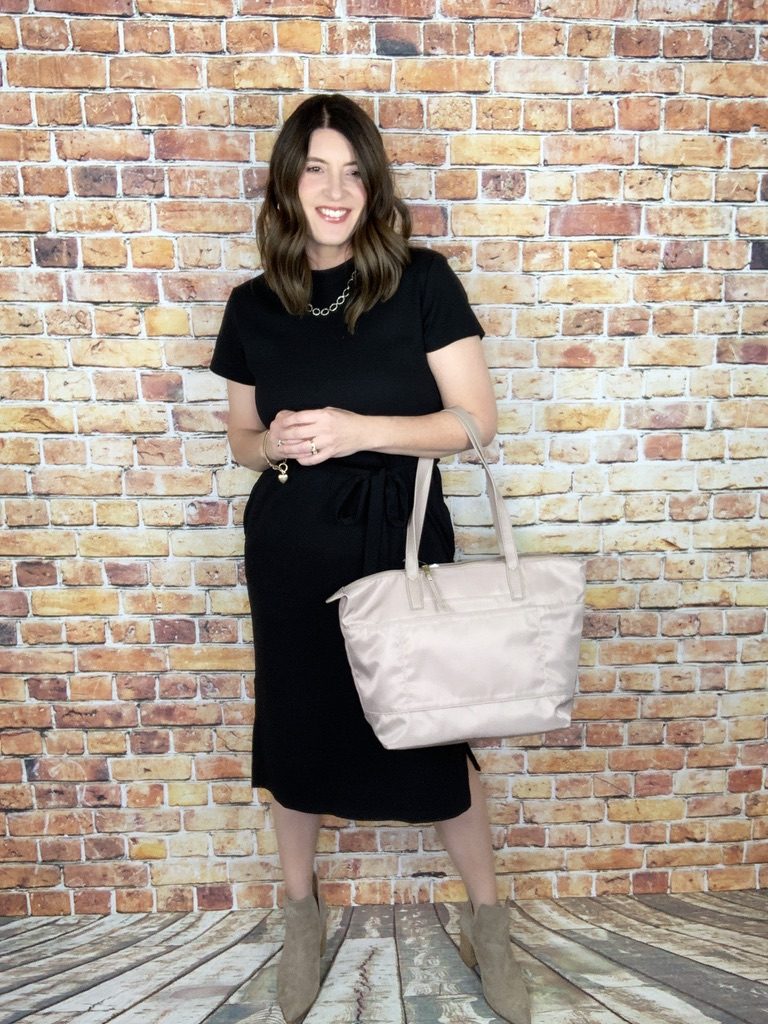 My nylon tote bag is a great fabric for spring. This bag has all the compartments I like and is very lightweight.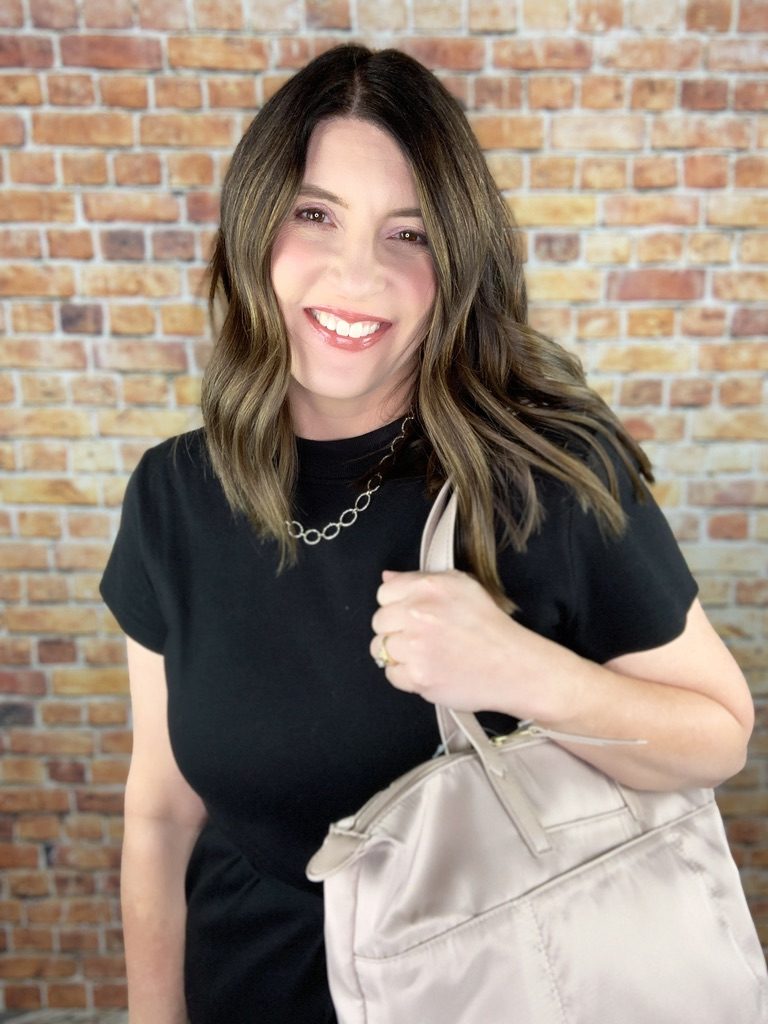 The Walmart website calls this color Nomad Brown, but I would describe it as a light taupe color. It also comes in black and navy.
Peplum Top & Jeans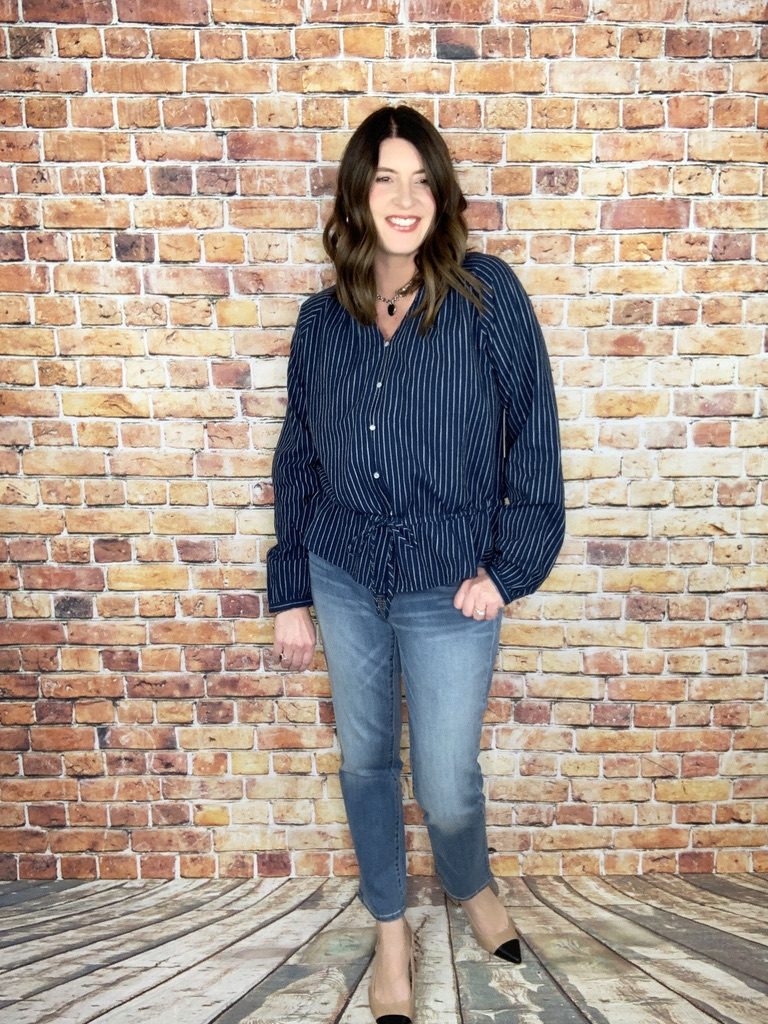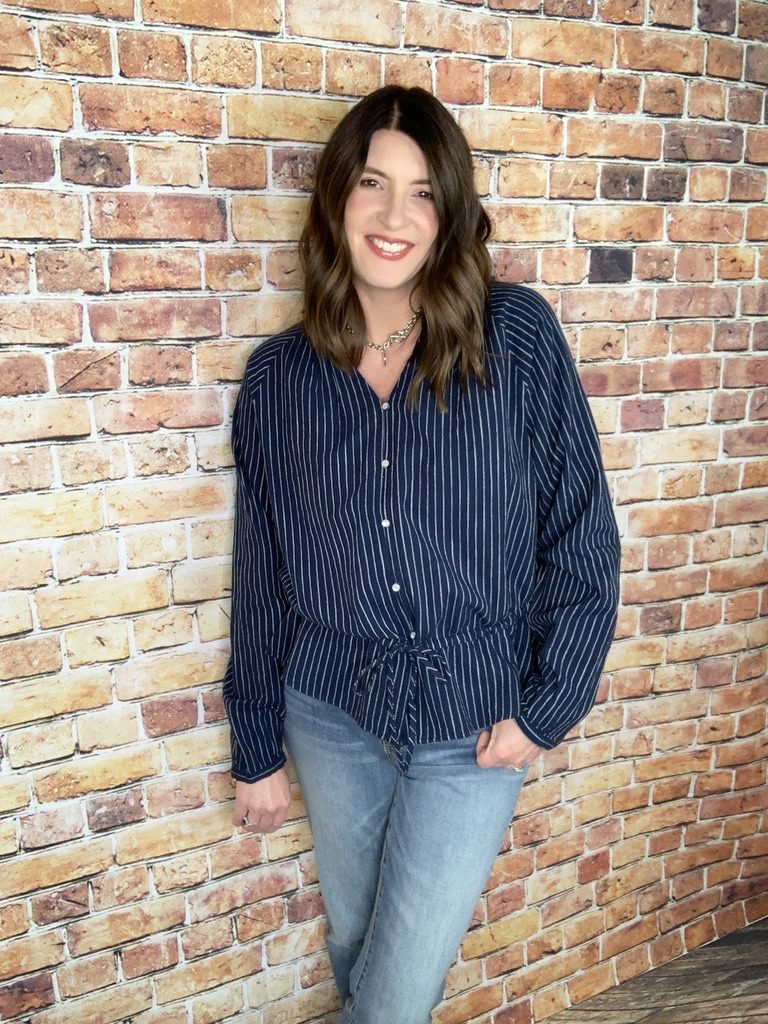 Here is a casual outfit with some denim. The peplum top by Time and Tru comes in four prints. I chose the navy and white stripe. I had difficulty deciding on what size…I ended up with the large. The medium would have probably been a better fit because there is a lot of extra fabric above the waist area.
Other than it being too big, I really like the style and would recommend it for a nice spring top.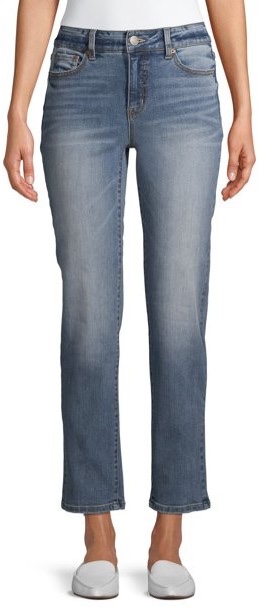 Next in my Walmart try on are these Time and Tru Women's Core Straight Leg Jeans. I really like the fit of these. They sit right at my belly button, so I would say they are mid-rise. The cropped length is also on trend.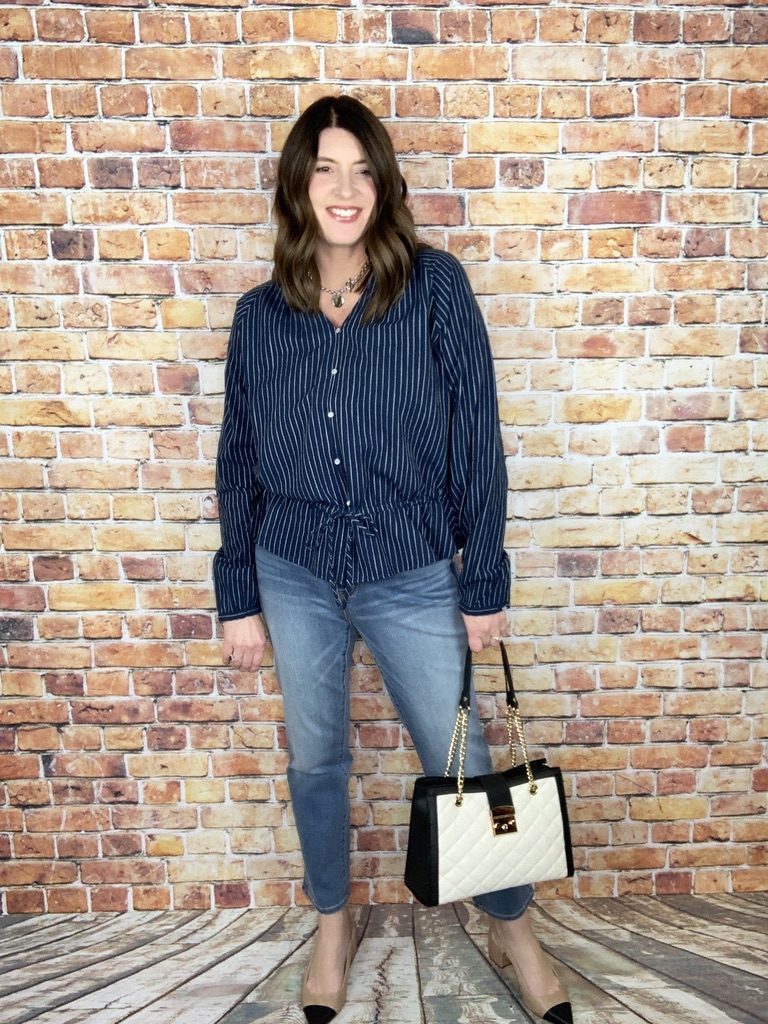 If you are looking for an affordable pair of jeans that will keep your wardrobe looking modern, these would be a great option. They run true to size.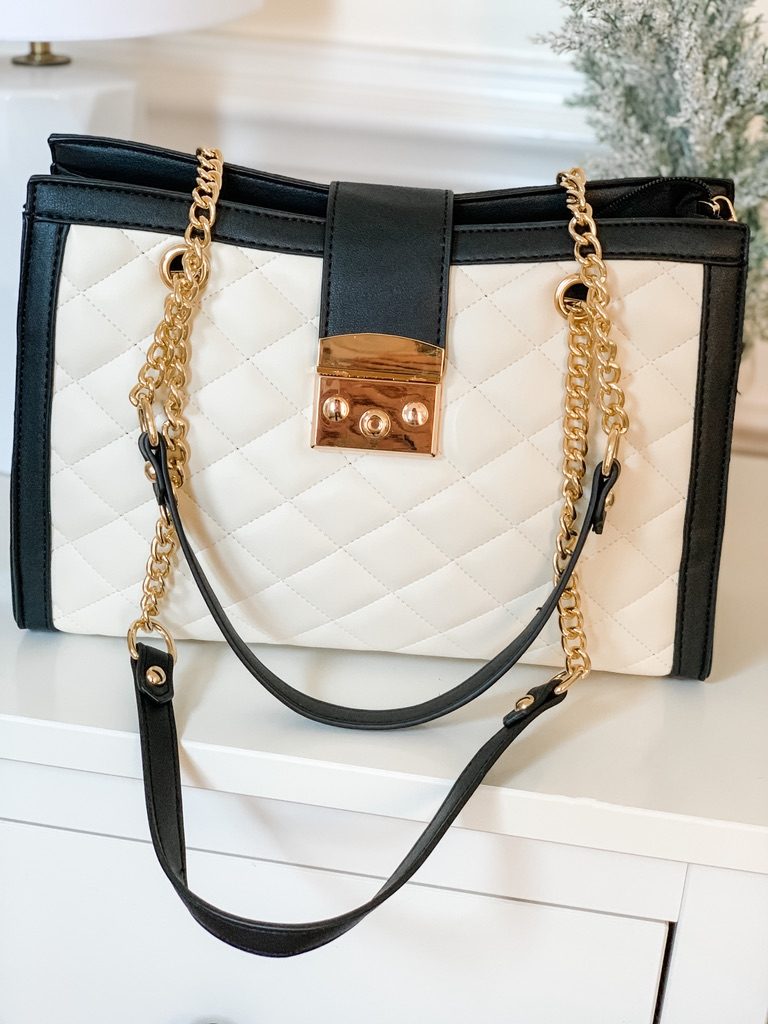 I mentioned this quilted bag in my last blog post. It has good neutral tones that will go with most outfits.
Comfy Top & Joggers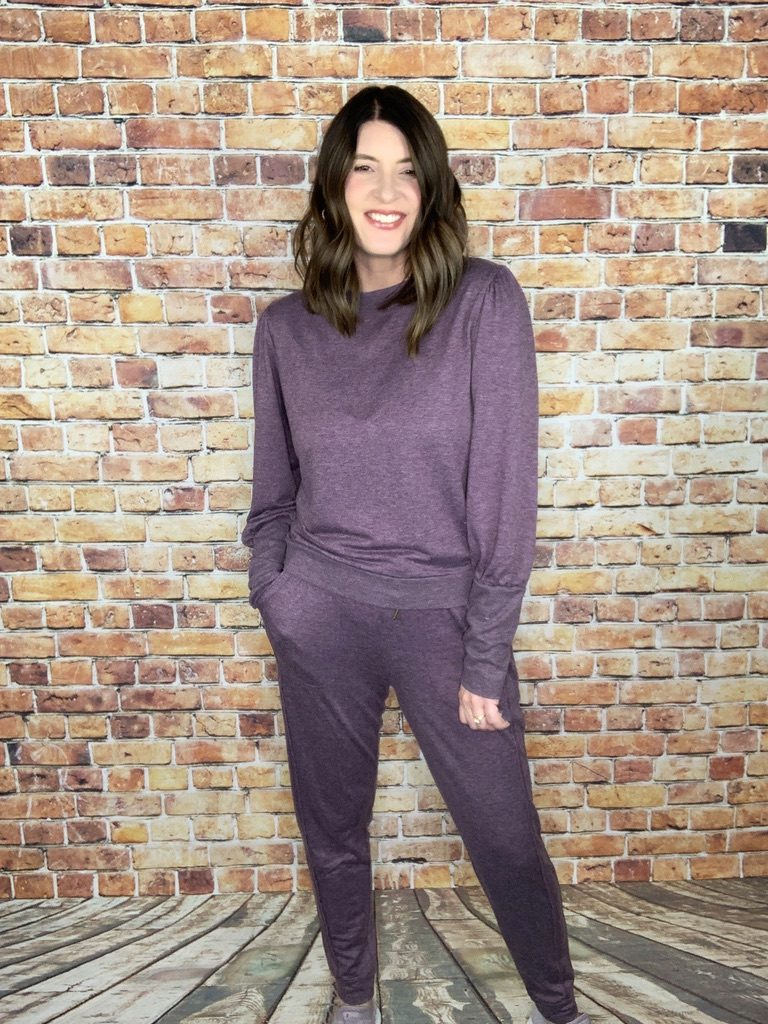 Comfy clothes are still a big part of my wardrobe. As much as I love to dress up a little, the reality is that I spend most of my time in outfits like this one. 2020 really had an impact on how we dress, and comfortable wear at home clothes became the most worn items for most women.
In 2021 you can expect to see elevated loungewear as a popular trend. This is loungewear that is taken up a notch to make you look and feel more put together and stylish. Think of these as casual pieces that you wouldn't hesitate to wear outside of the home.
This set is by Scoop- an online only brand from Walmart. I wish you could feel how soft this knit fabric is. Softness has become a prerequisite for all of my casual clothes, so I won't be recommending anything that does not check that box.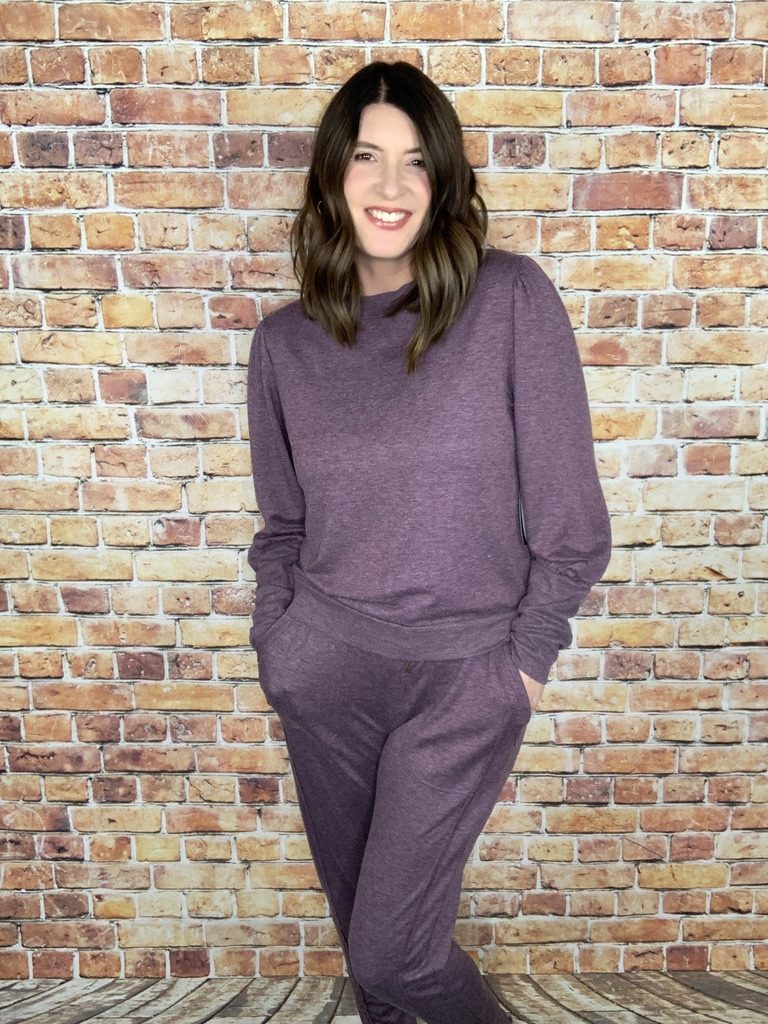 These pieces are sold separately, which I like because I like to buy a large top and medium bottoms. Notice the unusual and interesting cuff detail on the sleeves.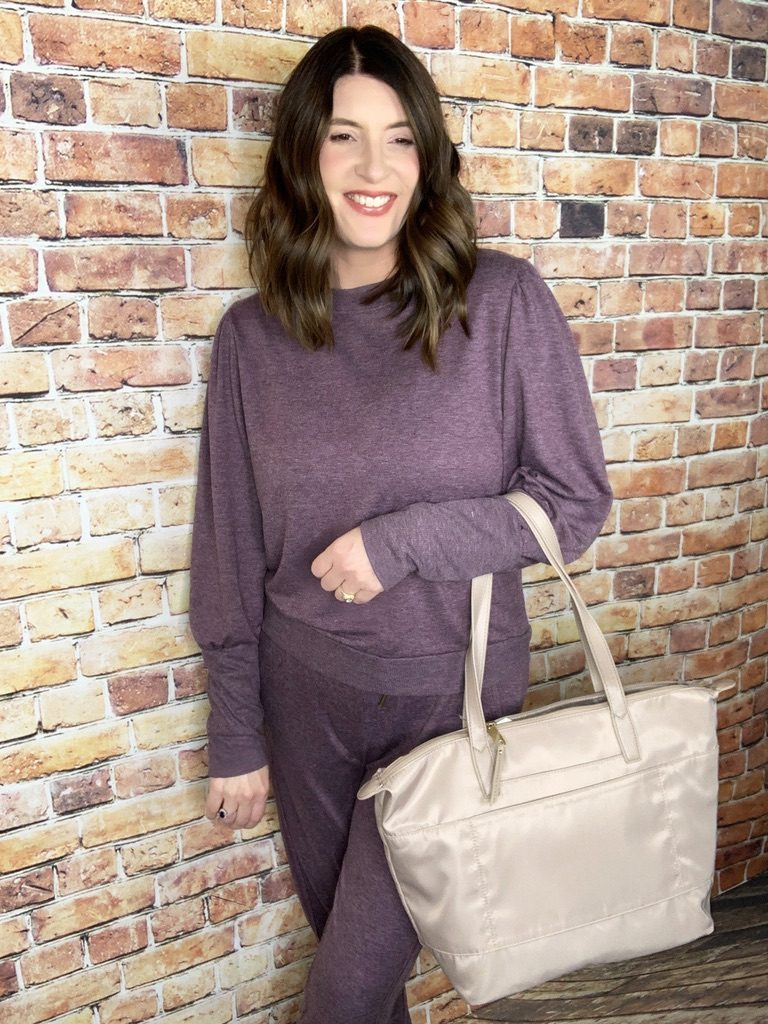 The joggers have a drawstring waist and cuffs at the ankles like you would expect. My sneakers are sketchers and I purchased them at Target.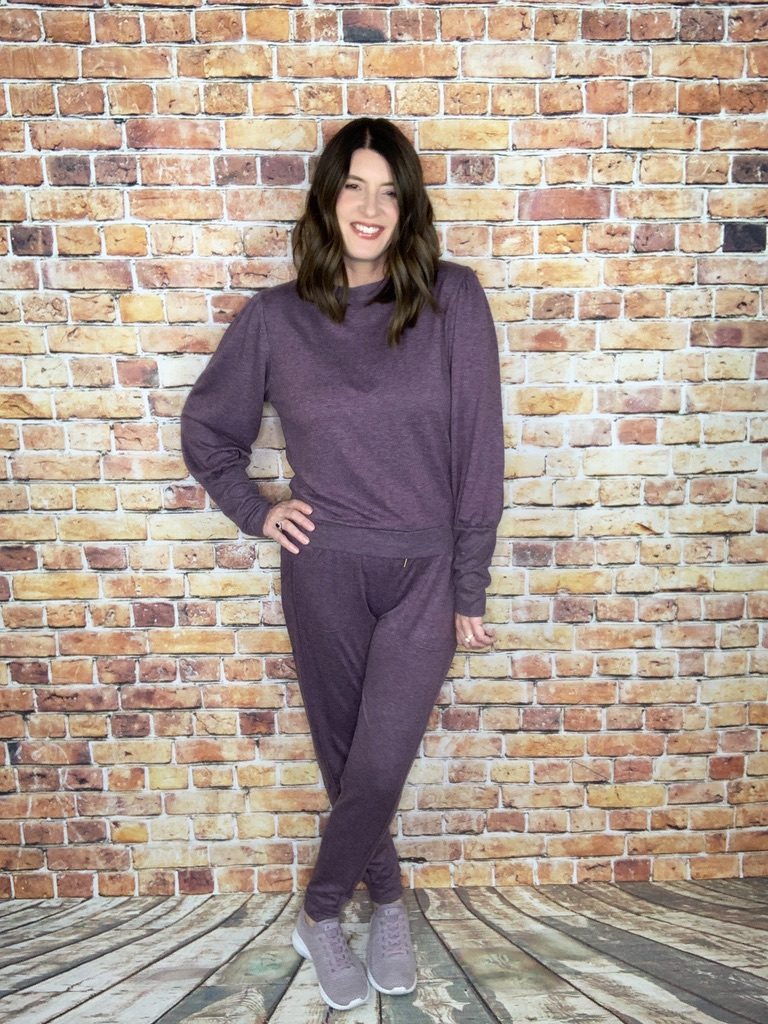 I hope you enjoyed this Walmart try on. There will be many more to come as we get closer to spring. Did anything catch your eye? Now is a great time to do a closet clean out and see what pieces you need for the upcoming months.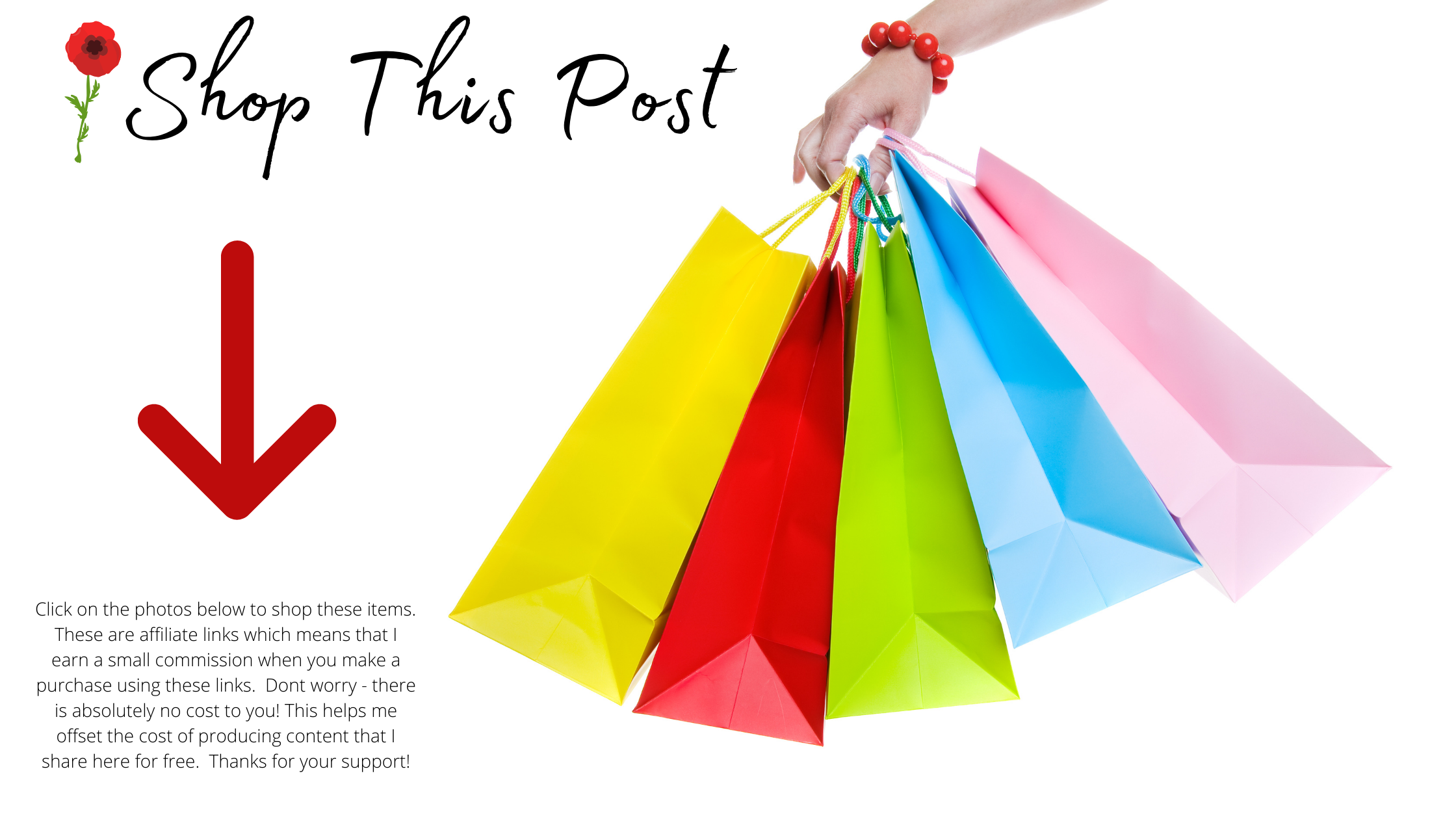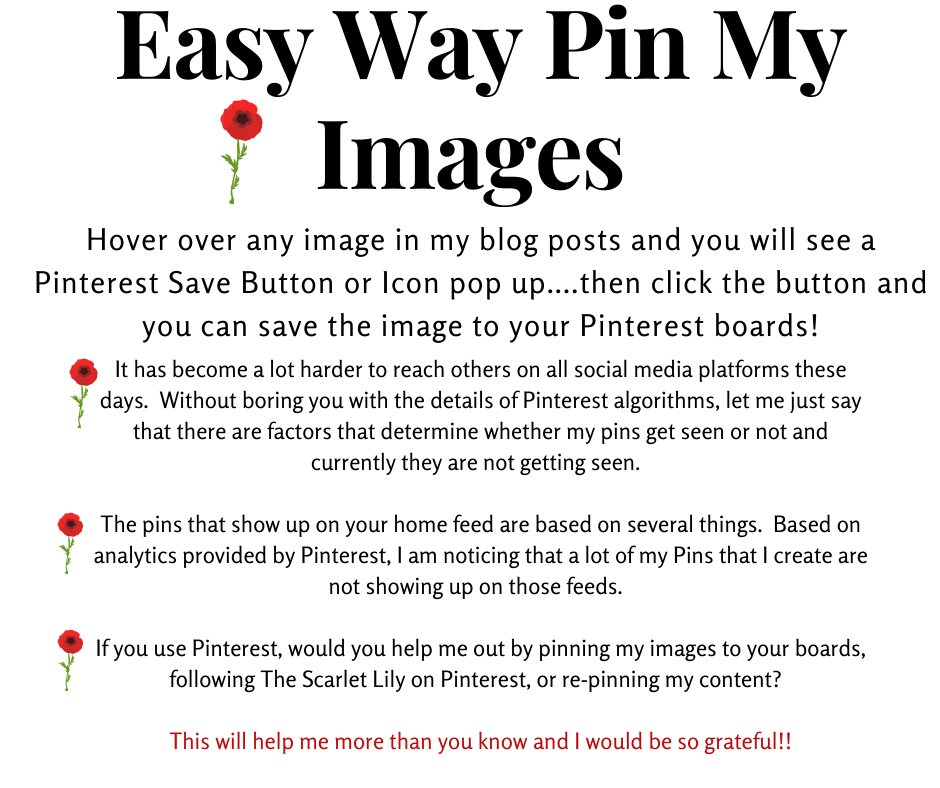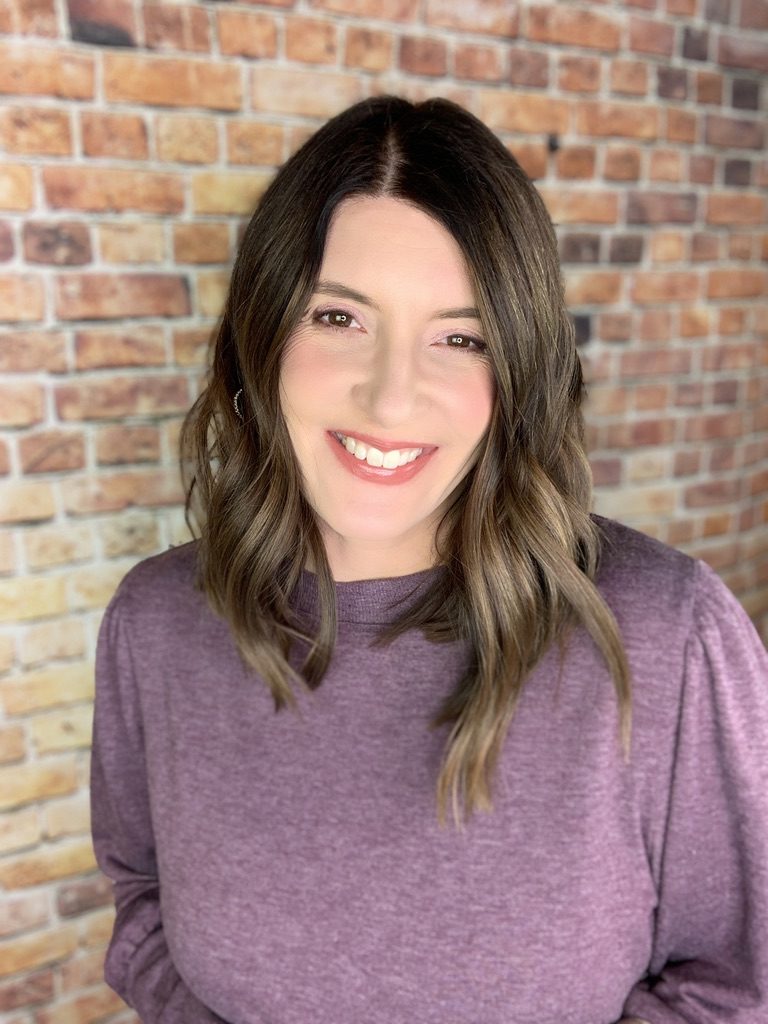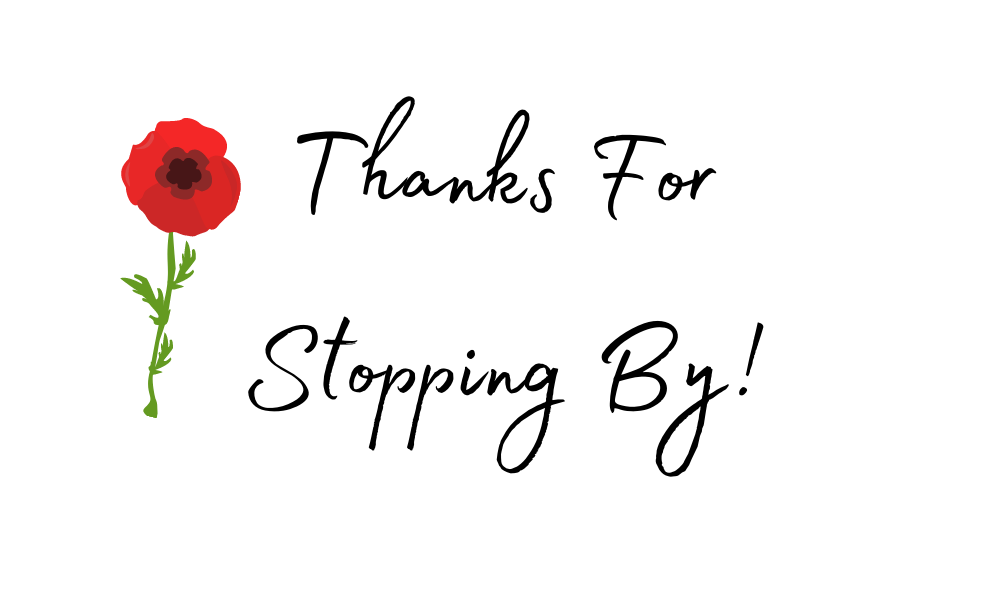 You may also enjoy this post.