If you have spent much time here, you already know how much I love Amazon. As a prime member I enjoy the benefits of free shipping and free returns on most items and quick delivery times. There is also another benefit that you may not be aware of…it's the Amazon Prime: Try Before You Buy option. You can choose up to six items and once you receive them, you have 7 days to try on and decide what you keep and what you return. You are only charged for what you keep!
The easiest way to find the items eligible for try before you buy is to type in what you're looking for in the search bar like you normally would. Then to the left, check the box "try before you buy" as a filter. Many of my favorite Amazon brands like Amazon Essentials and Daily Ritual are eligible for this program. Also, many higher end brands are included so you don't have to fork out a lot of money until you try them first. This is also a good way to try multiple sizes of an item without having to pay up front.
I use the try before you buy as often as I can. As a fashion blogger, it can get really expensive buying all the clothes that I feature here, so I love this option. I recently placed an order so here is what I got and what I kept.
Ruffle-Neck Tiered Mini Dress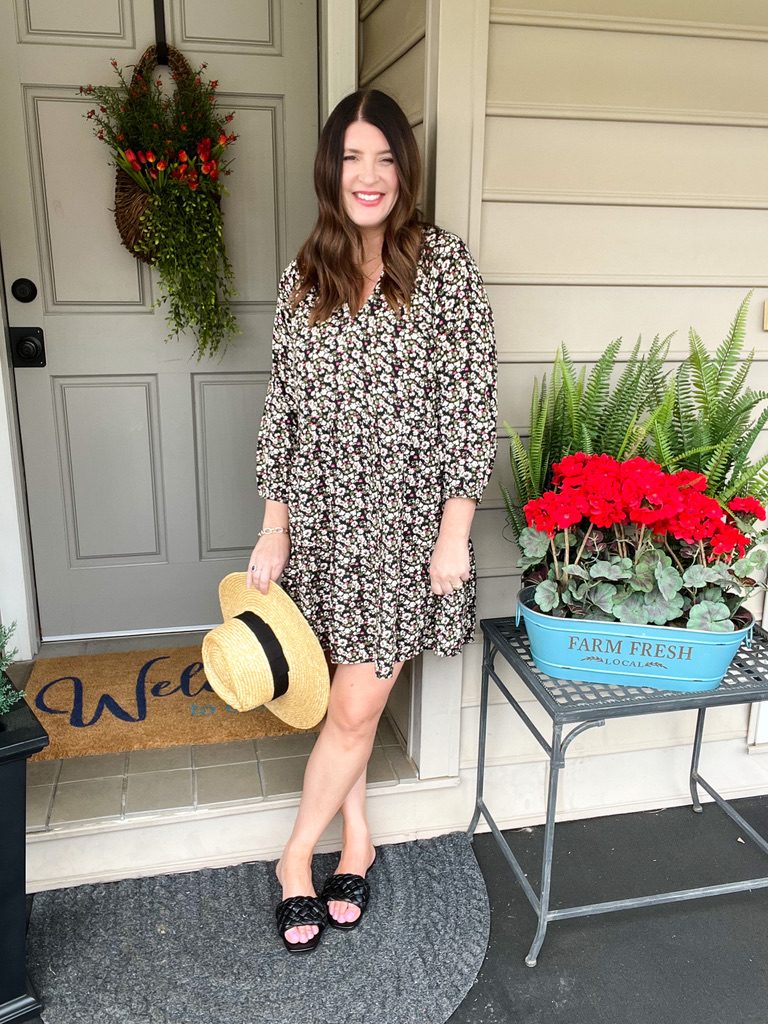 The first piece is this tiered mini dress. The is part of The Drop collection from Caralyn Mirand. If you're not familiar with The Drop, you may want to read this post. This is a loose and comfortable dress with a tie neck.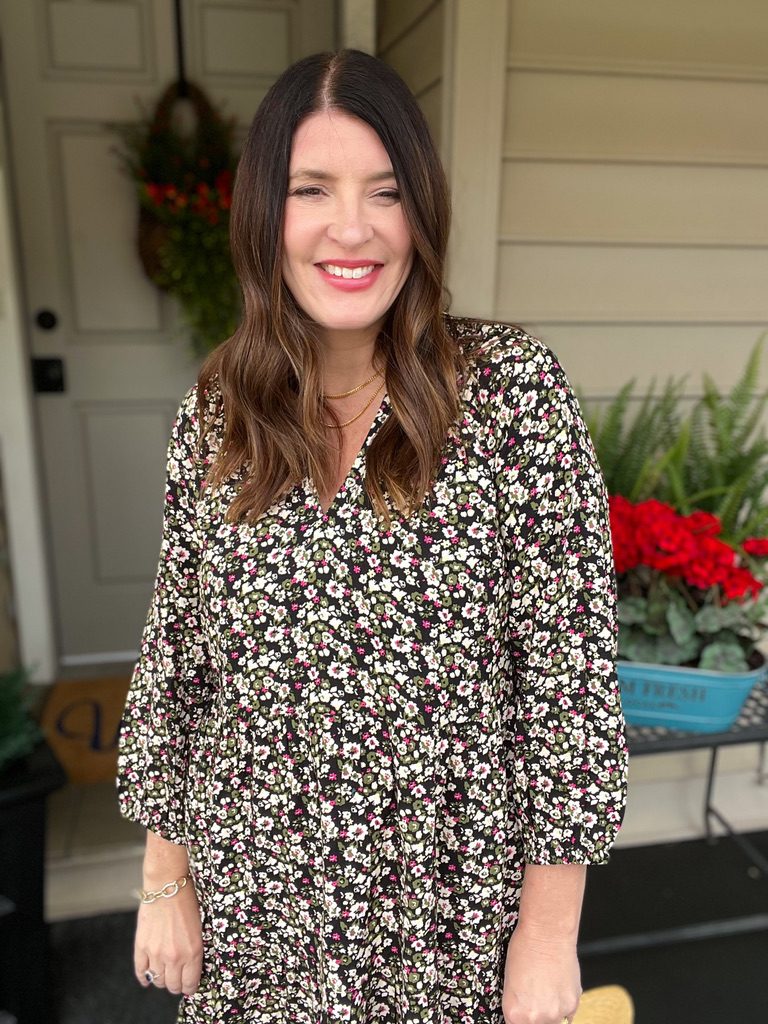 This is the sort of dress that I live in during the spring and summer. I'm wearing a medium and I like the fit. The dark background is the perfect backdrop for the white floral pattern.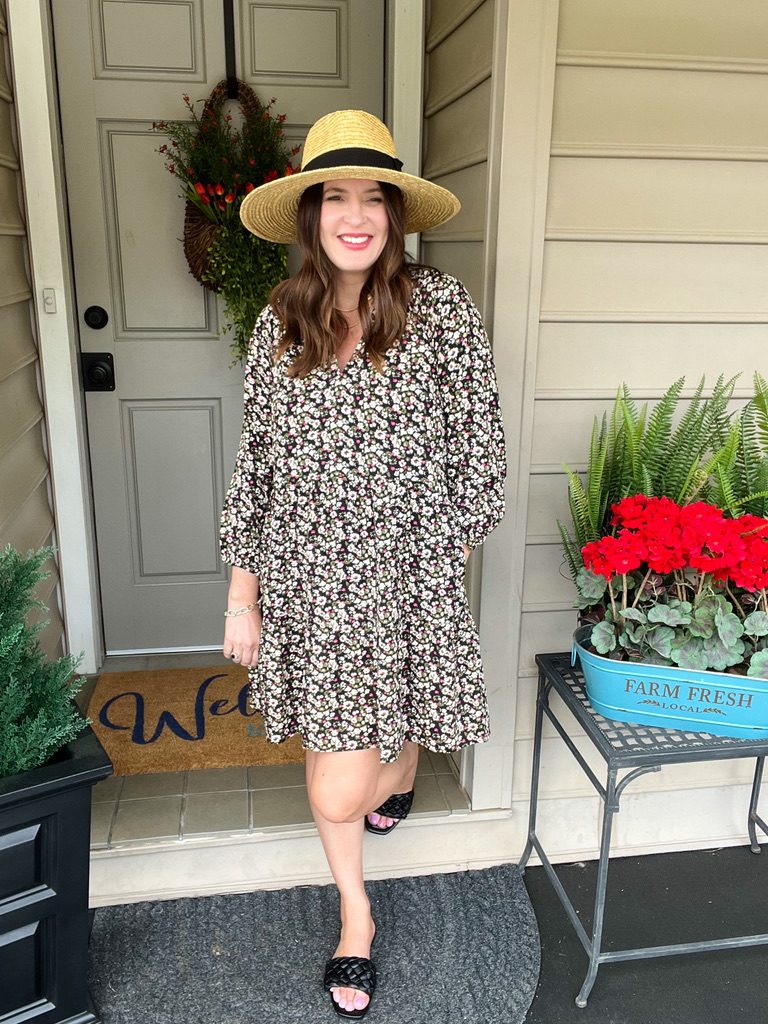 Paired with black braided flats and a straw hat, this would make an adorable vacation outfit.
Polka Dot Swing Dress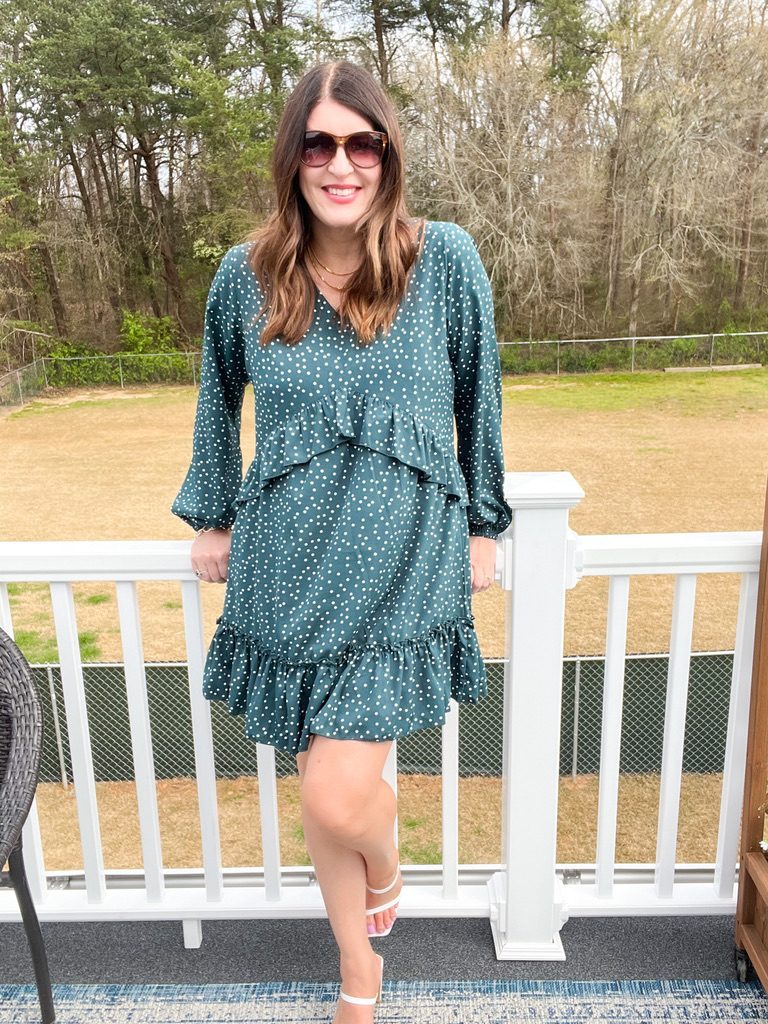 This polka dot swing dress has been a top seller on Amazon for a few years now. In fact, I have shown this dress in red, navy, brown, and now this dark green. It's just such a cute style that I keep coming back to it.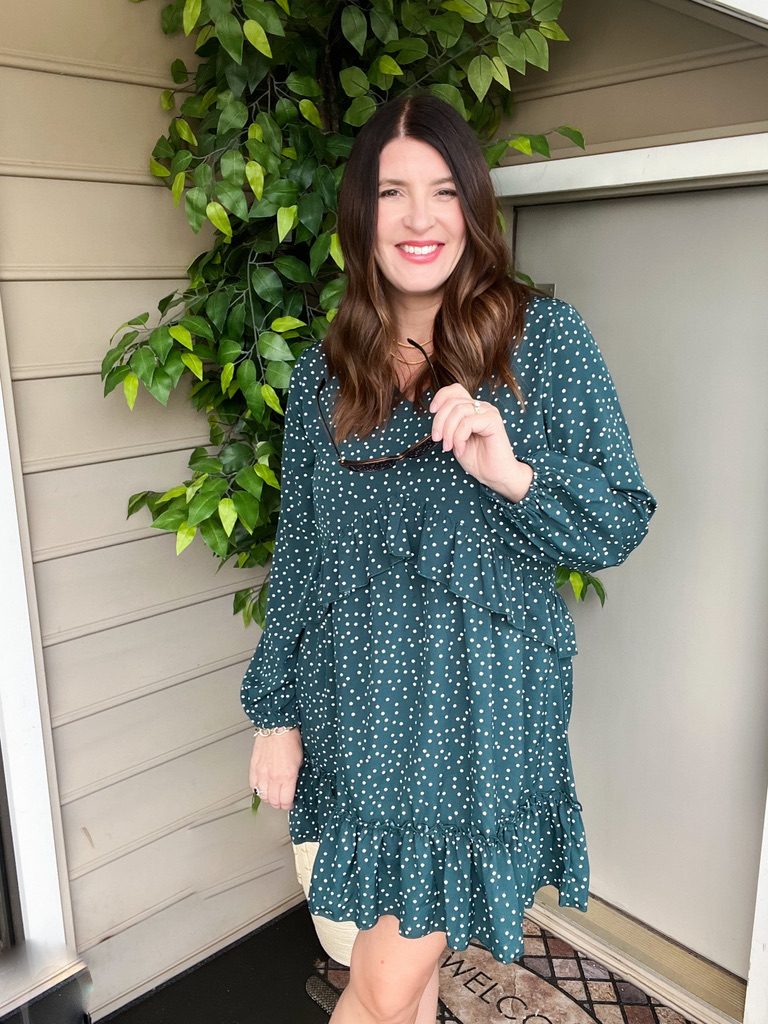 I would recommend sizing up in this style. I'm wearing a large.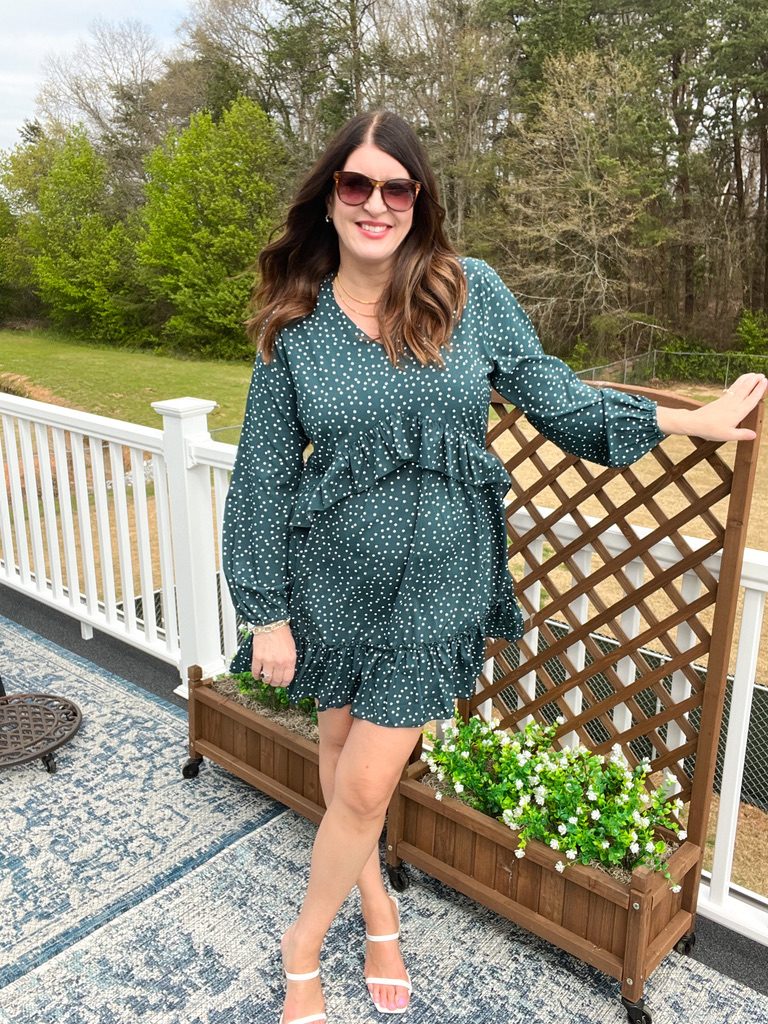 Here I styled it with white heeled sandals, but I would probably be most likely to wear it with flats because I am on the taller side (5'7″) and the dress is a little bit short. This is one of those dresses that can be casual or dressy depending on what shoes and accessories you put with it.
Here are some photos of the same dress in red taken a couple of years ago.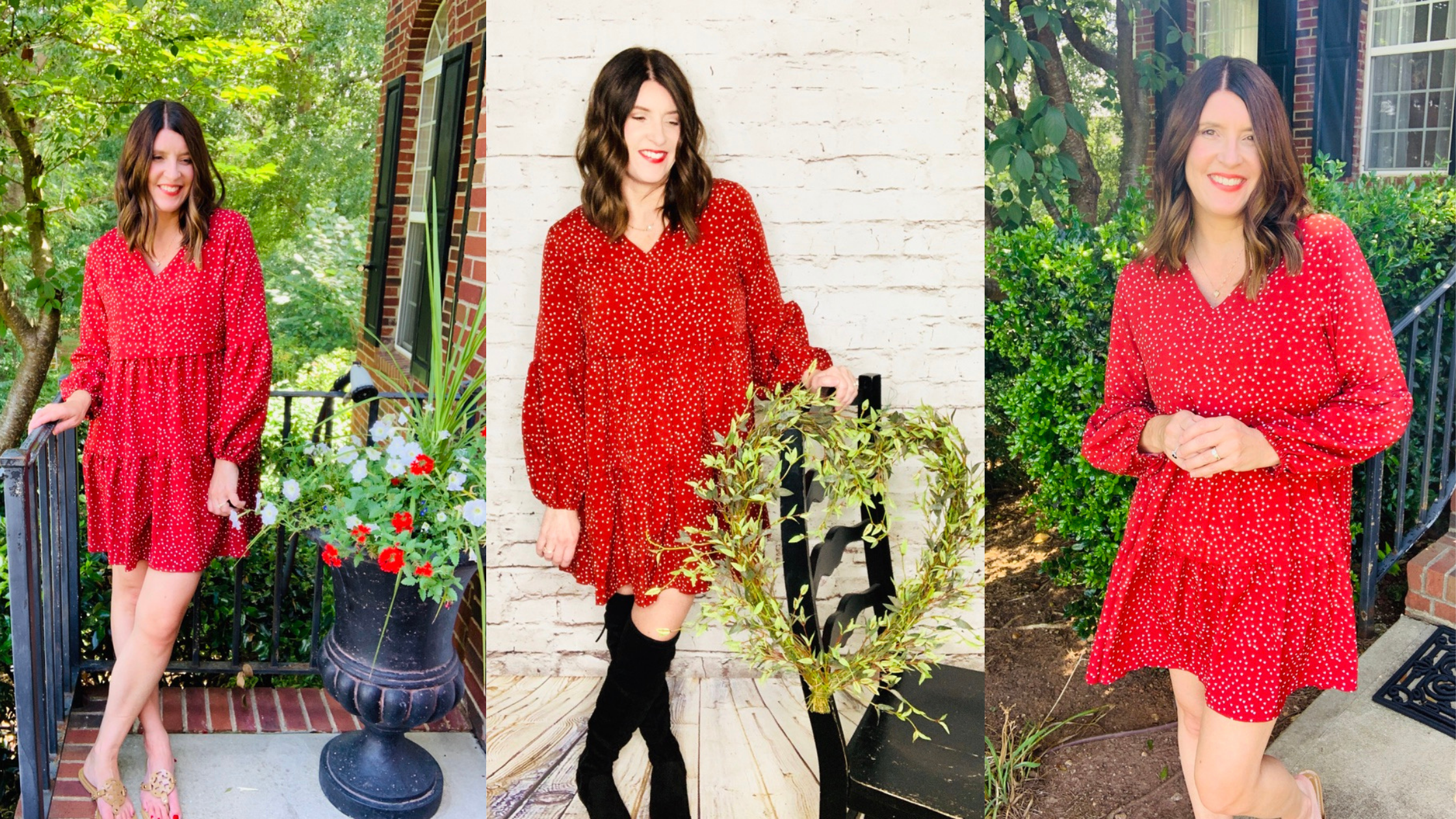 Chiffon Tiered Blouse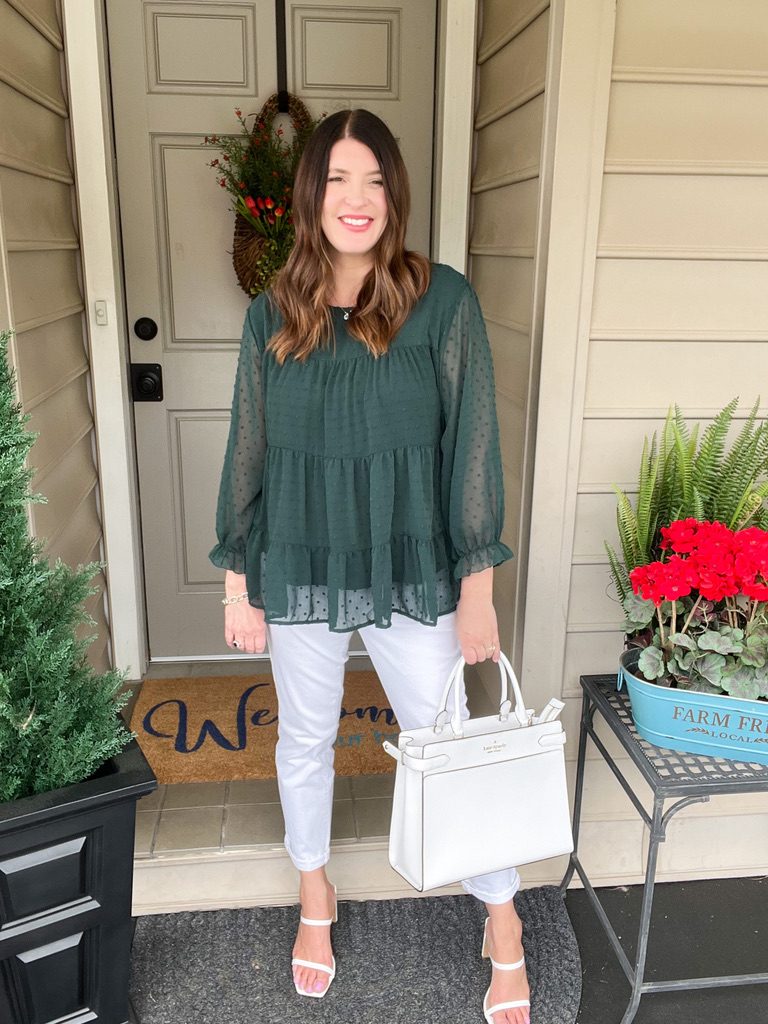 If the weather is till on the cool side where you live, this chiffon tiered blouse would be a good transitional piece. It has long sleeves, but the fabric is thin enough to take you into summer and fall. This top comes in several colors and I'm wearing this dark green in a size large.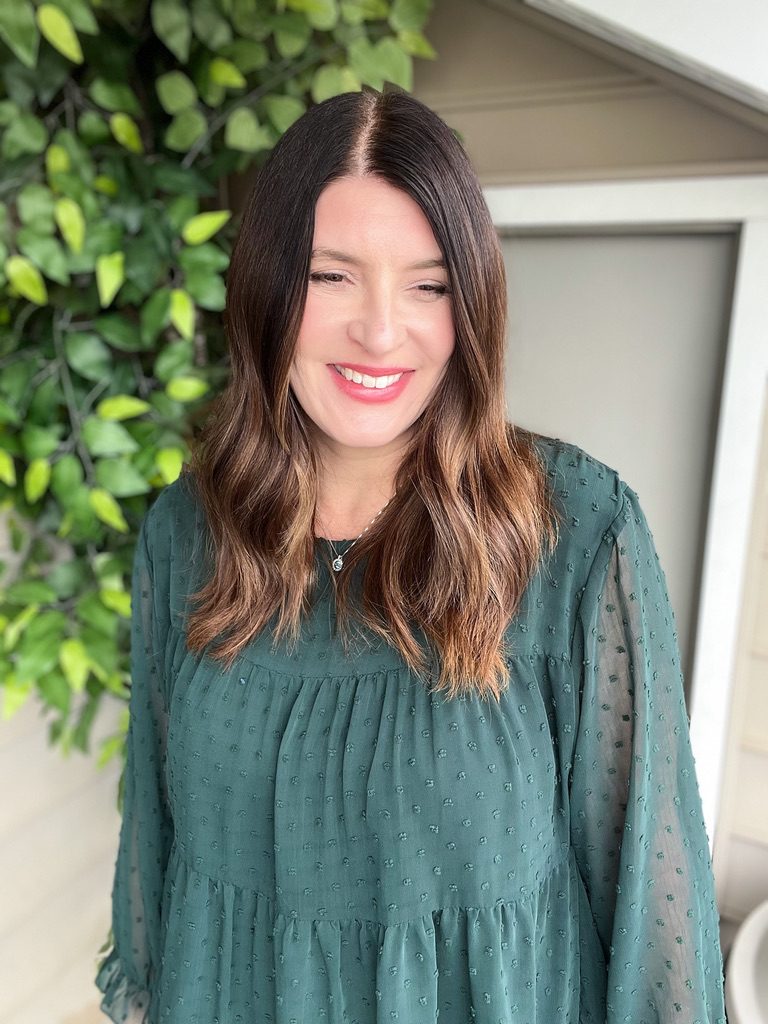 Amazon describes this as a peplum top, but I consider it more of a tiered baby doll flowy top. I paired it with white jeans for a fresh spring look. You could also pair it with dress pants for the workplace.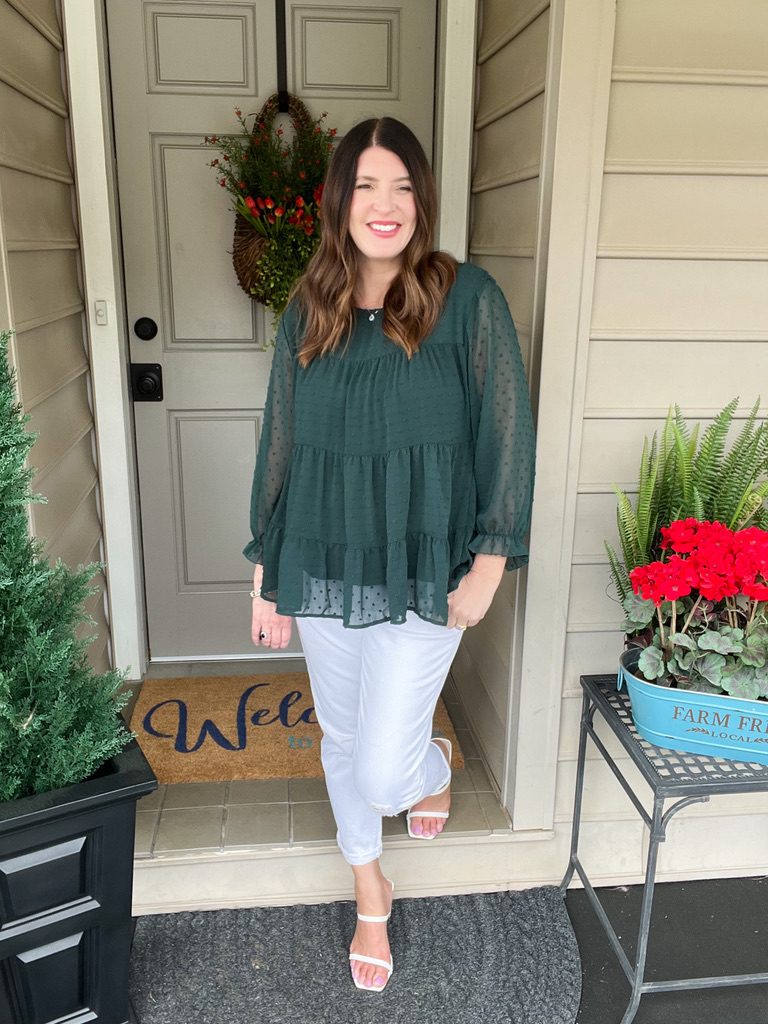 Sleeveless Wrap Jumpsuit
My one fail for this post is this sleeveless wrap jumpsuit. I wanted to love this…I really did! The problem is that it just wasn't a good fit for me. I ordered a size medium, and what commonly happens with my body type was the case here…the top part was too small. Sigh.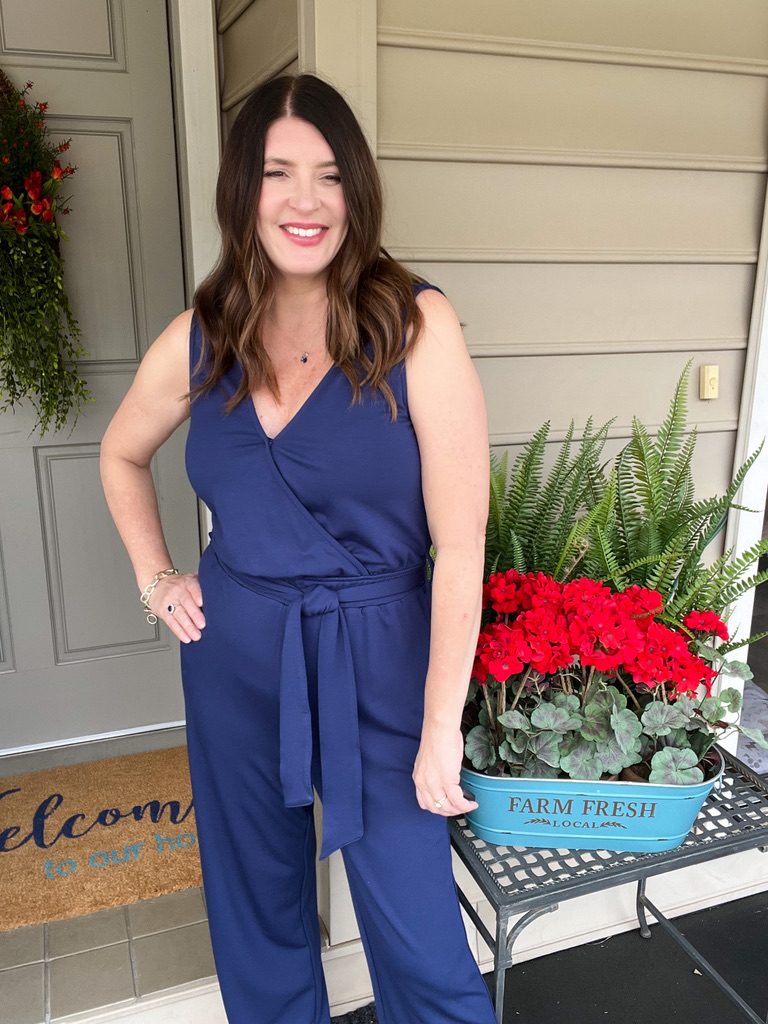 This is a heavy well made knit fabric and I might could have sized up to a large, but I decided just to pass for now. I do like that it has a snap closure at the front. That poor snap was begging for mercy while I was wearing it, but if you have a smaller bust I really think you would like this.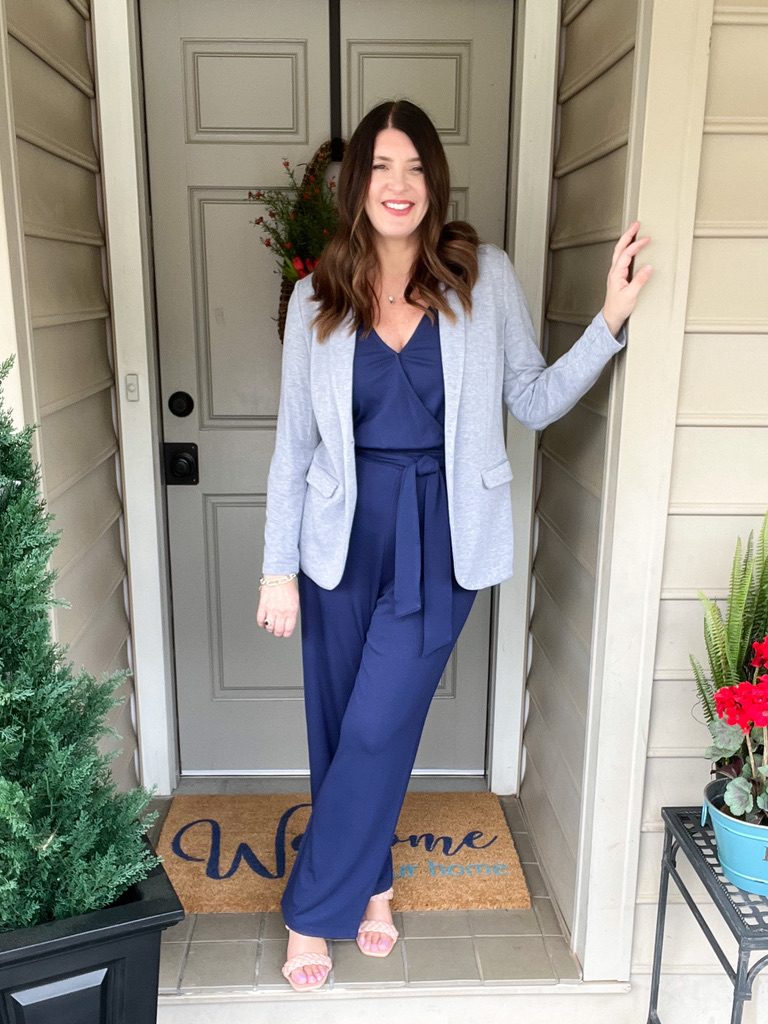 It also looks chic paired with a blazer for workwear. This would also be a nice piece for a special occasion such as a graduation or wedding.
V-Neck Casual Dress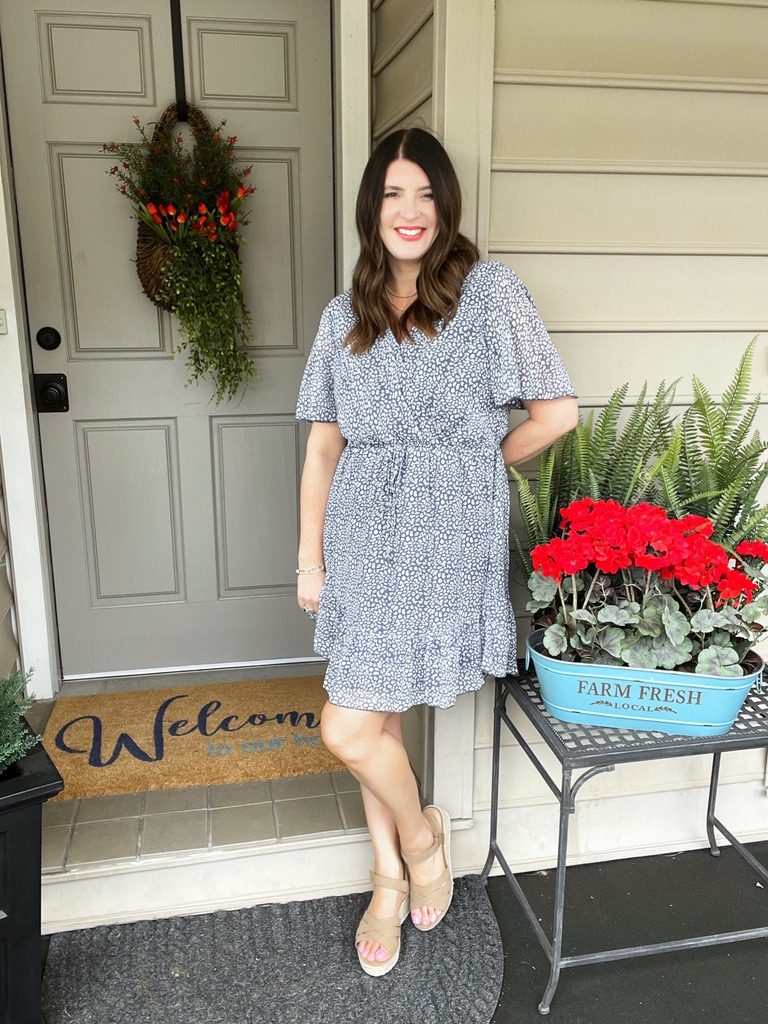 My favorite piece from today is this V-neck dress. Yes, this is what I kept! Not only do I love the style of this dress, but the fit was perfection. I'm wearing a size large. There are several color options and I chose the dark blue. It was such a cloudy day when I took these photos that the color of the dress didn't really come across very well on camera.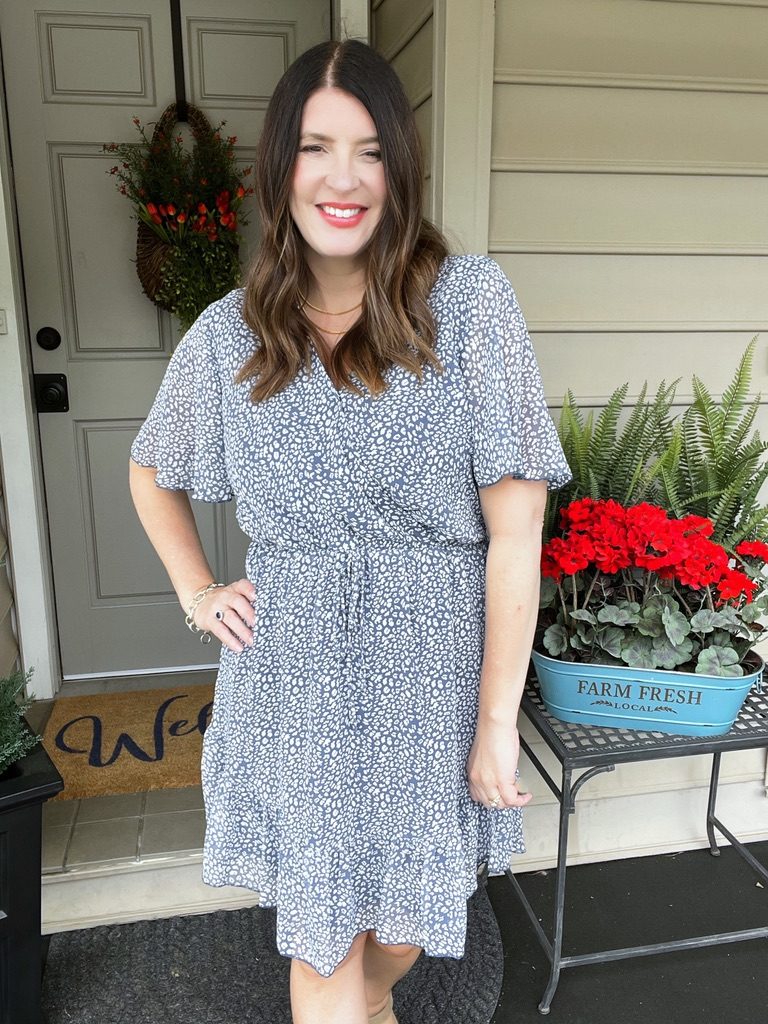 It features a snap closure and an elasticized tie waist that is figure flattering.
Have you ever tried the Amazon Prime Try Before You Buy? What were your favorite pieces from today's post? Let me know in the comments below.