The kitchen is frequently thought of as the heart of the home. It's where families eat everyday meals, and it's where our guests like to congregate at social gatherings. Cooking is one of my least favorite tasks. I wish I just loved to cook…but honestly I don't. I enjoy baking for special occasions and holidays, but the task of cooking dinner everyday stresses me out. Anyone else? Well, I don't think we will be hiring a chef anytime soon, so I need to make it as pleasant as possible. Today I would like to offer some tips on how to enjoy your kitchen. Even for those that love to cook, if your kitchen is not set up in a convenient way it can be frustrating.
This past January, one of my organizational goals was to completely clean out all the kitchen cabinets. I have a lot of cabinets, so it was a daunting task. My husband and I spent a whole day taking everything out, and donating the items that I didn't need or want anymore. It really made me feel good to get rid of all the extra stuff!
Over the past few months I have noticed that even though we cleaned out the kitchen cabinets, my work space is still not flowing well. Things seem to be in the wrong place, so I have decided to take a "zone" approach to organizing each work area to better suit my needs.
Over the next several weeks, I am going to tackle one work zone at a time. I will share with you ladies the results here on the blog. Hopefully it will give you some ideas if your kitchen needs a little reorganizing.
Start With The Kitchen Sink
The most logical place to start was the kitchen sink area. I find that if this area is clean and organized, I don't feel so overwhelmed.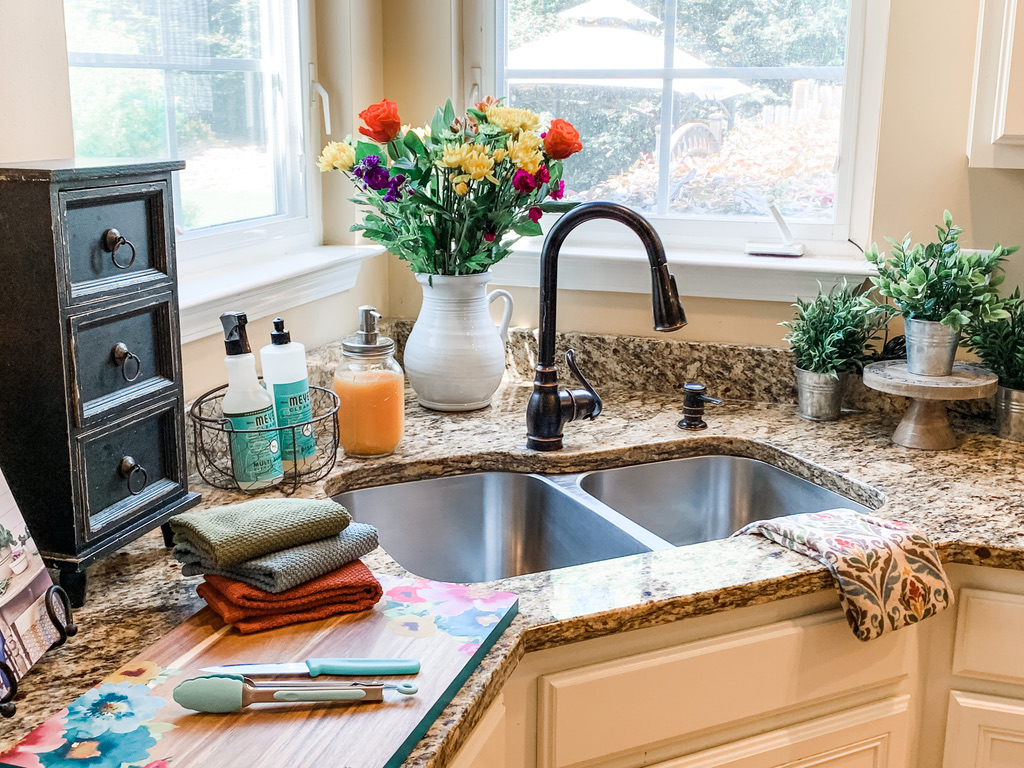 I started by removing everything that was in and around the sink area. There were multiple bottles of detergent, hand soap, and cleaners that didn't need to be there.
Then I gave the inside of the sink a good cleaning, followed by a stainless steel cleaner.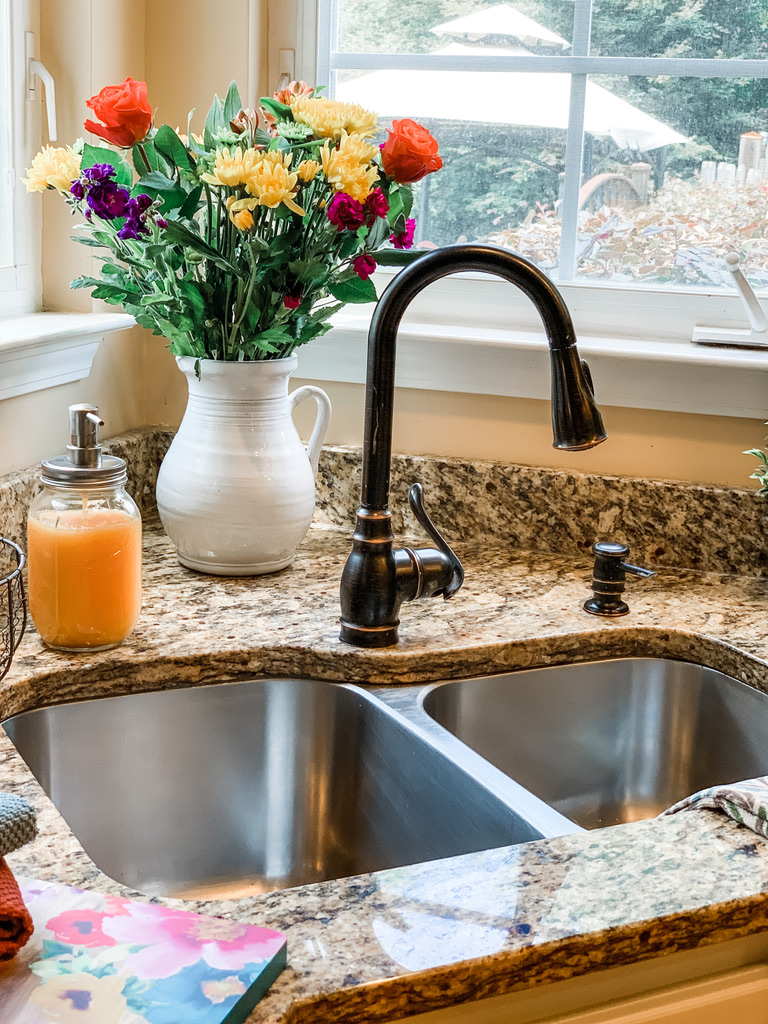 Display Cleaning Products Neatly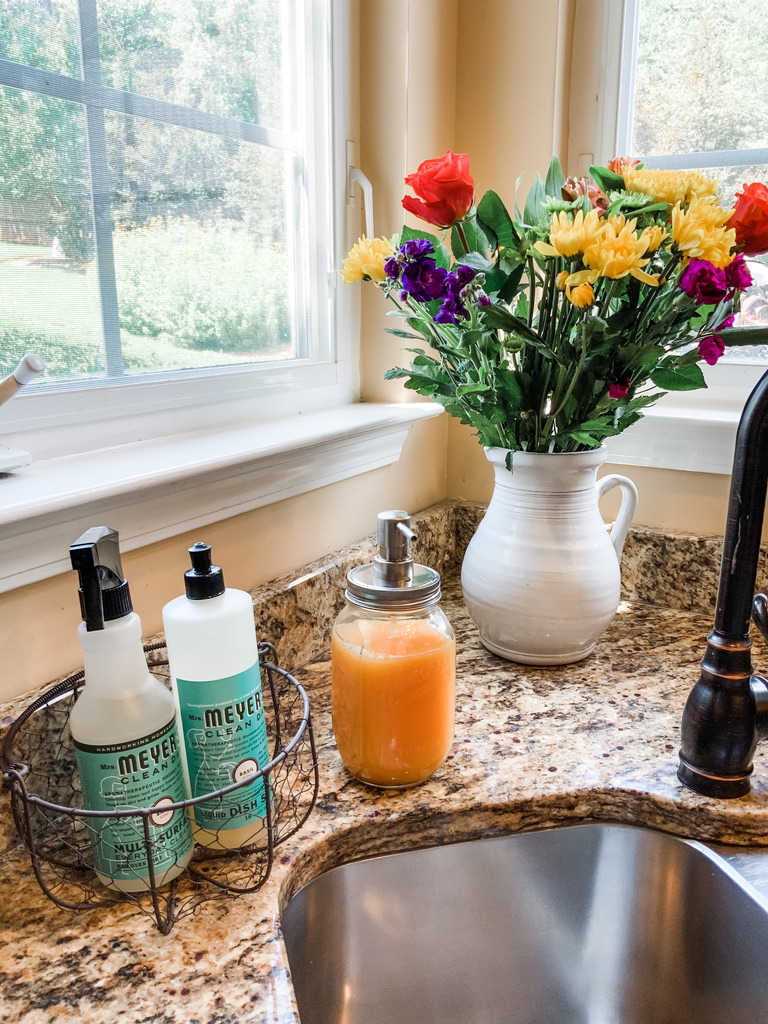 One of the best ways to enjoy your kitchen is to make it functional and pretty at the same time. One without the other pretty much defeats the purpose.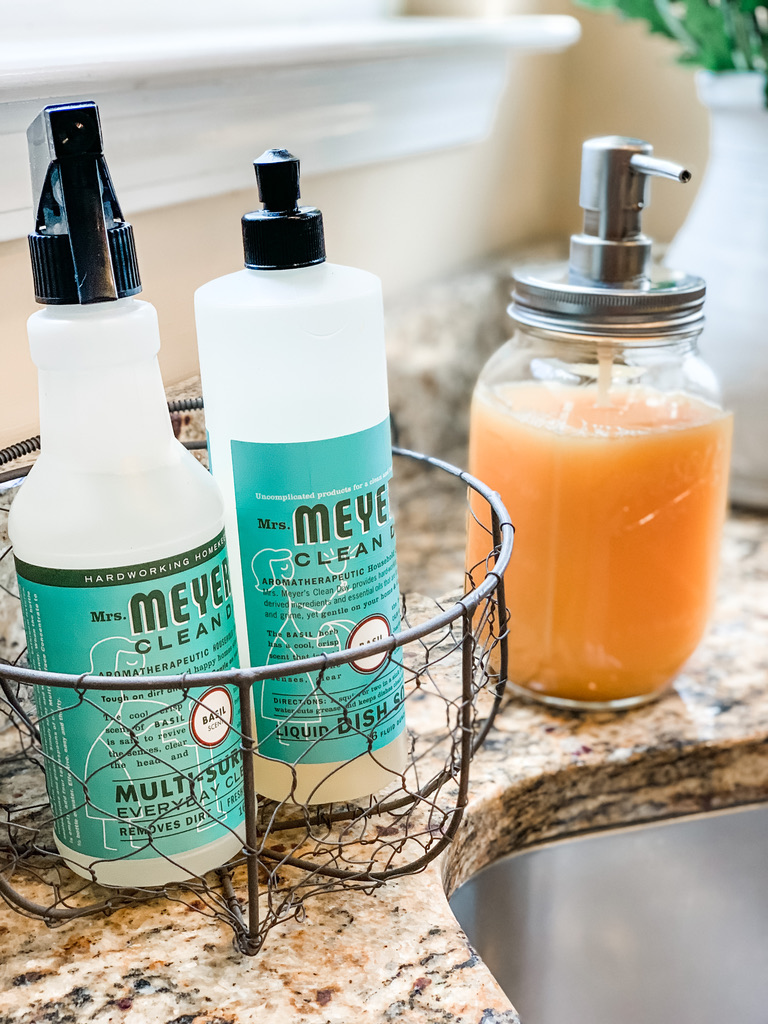 We love the Mrs. Meyers dish soap and multi surface cleaner. They come with decent looking packaging, so I don't mind them sitting out. Putting them in the wire basket makes them look organized and gives the area more character. These are the things we reach for all the time, so they need to be easily accessible.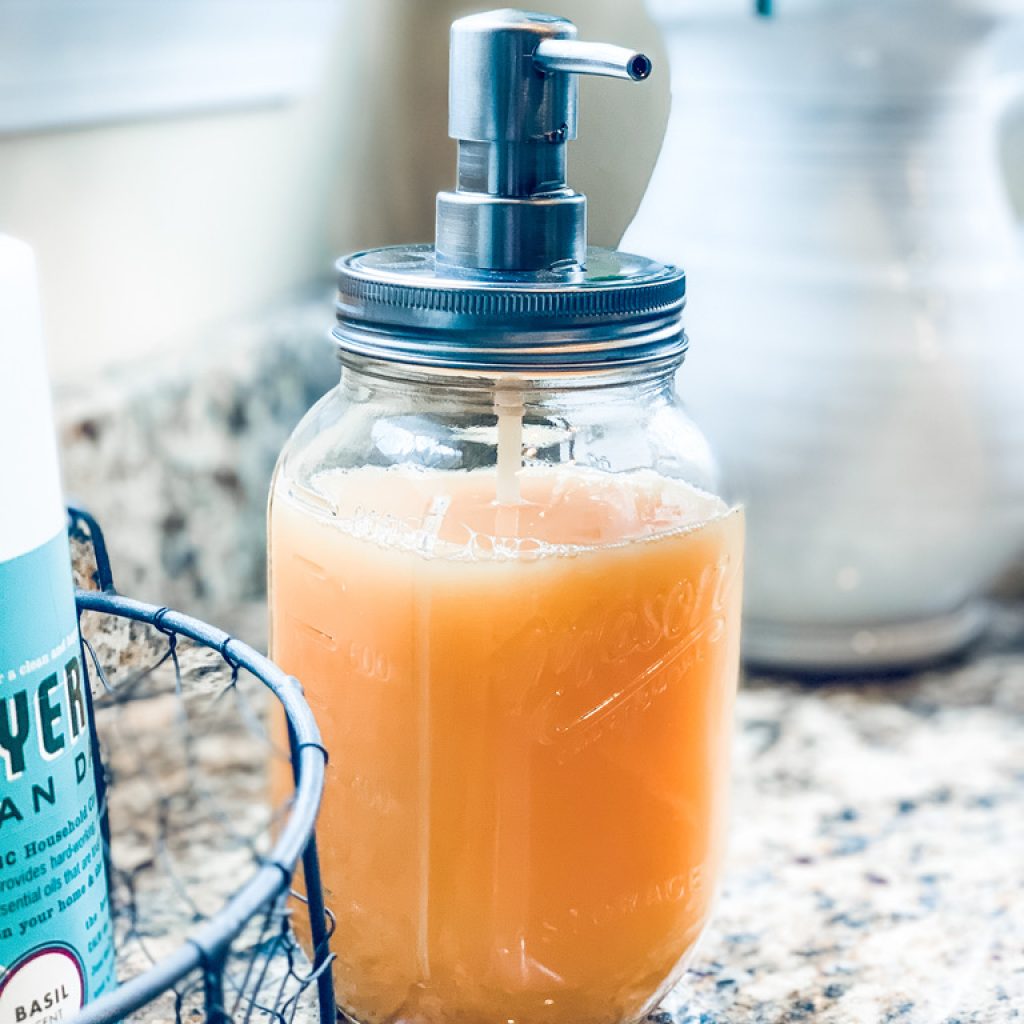 Hand soap is a must have, so try to find interesting containers or pumps to transfer your hand soap into. I found this mason jar pump at Marshall's. This one from Walmart is very similar.
Add Fresh Cut Flowers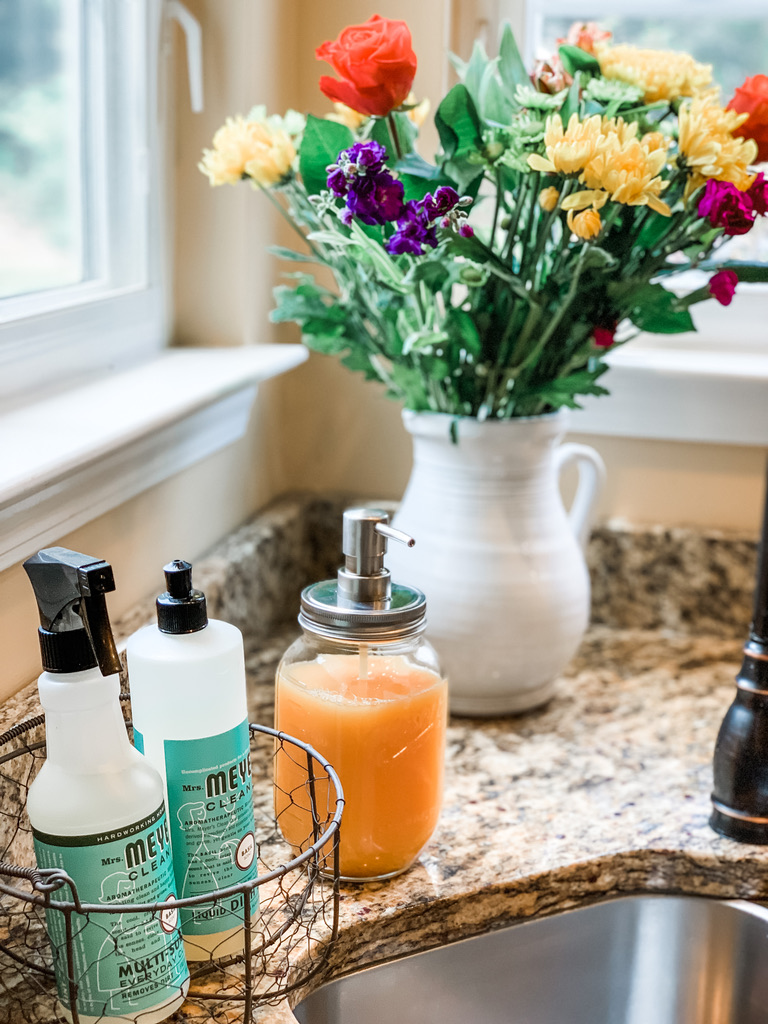 Nothing makes a space more inviting than fresh cut flowers. If you don't want to buy them, consider cutting some fresh flowers from your yard.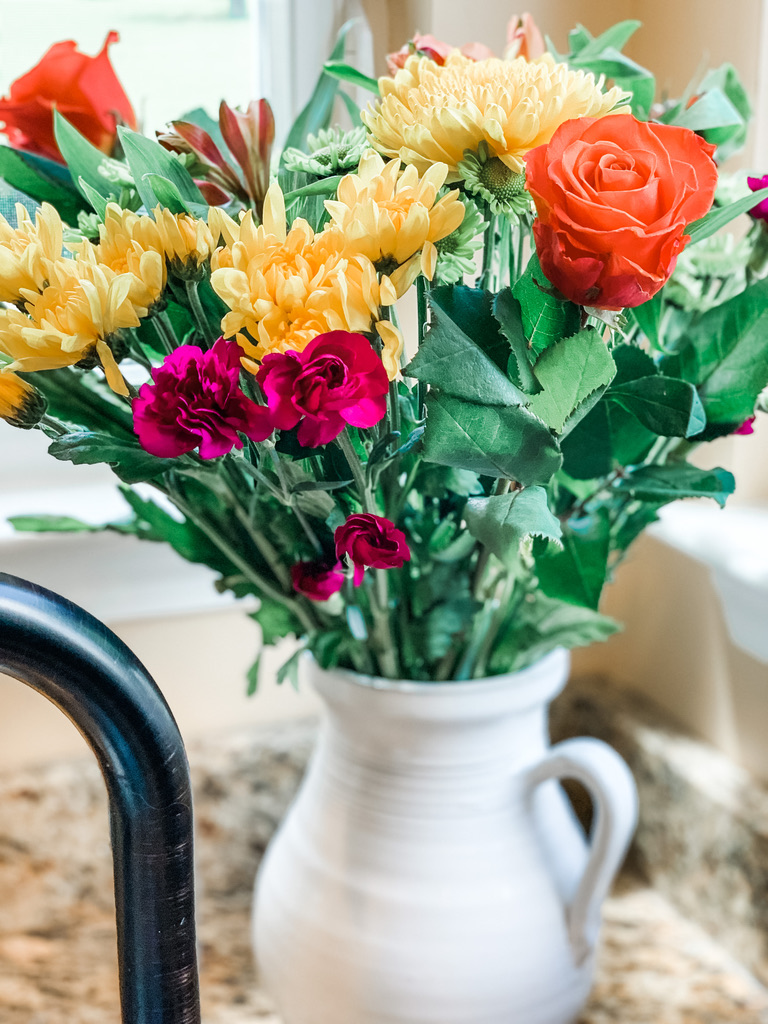 This bouquet is from the grocery store. Sam's and Costco also have beautiful bouquets that are priced pretty reasonably. I'm really not much of a gardener, so I will probably be purchasing most of mine!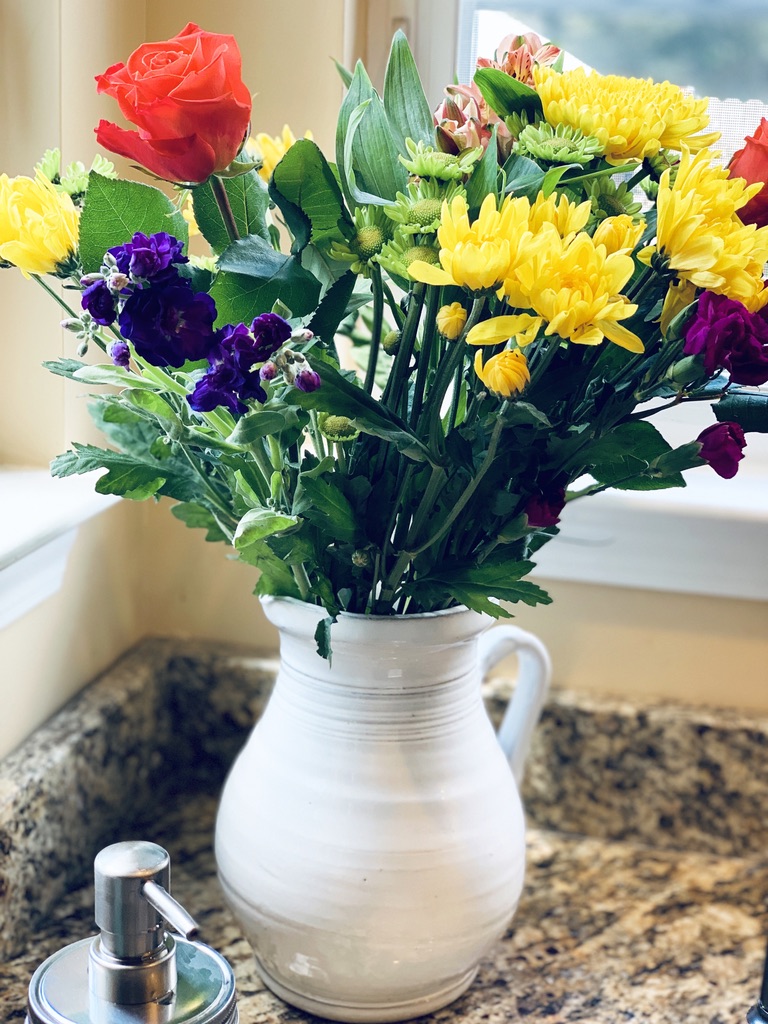 Add Some Accessories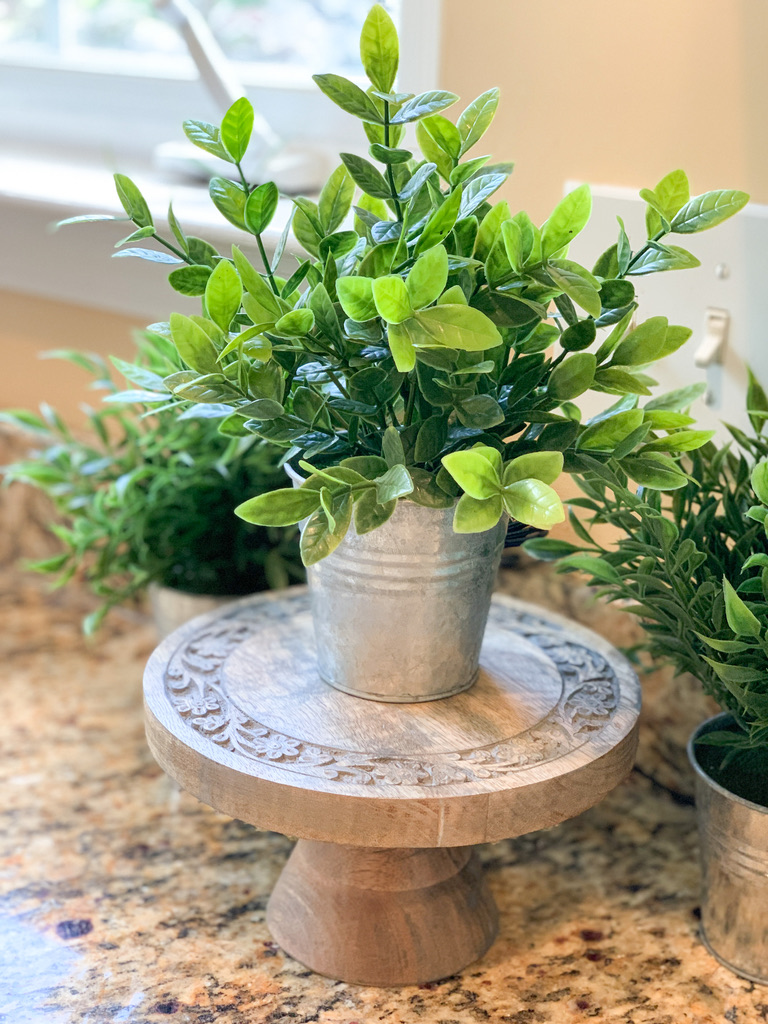 I was very conservative with the accessories. The last thing I wanted was for the space to appear cluttered. While at Marshall's, I found this cute little mini pedestal. I purchased three containers of faux greenery for an extra touch.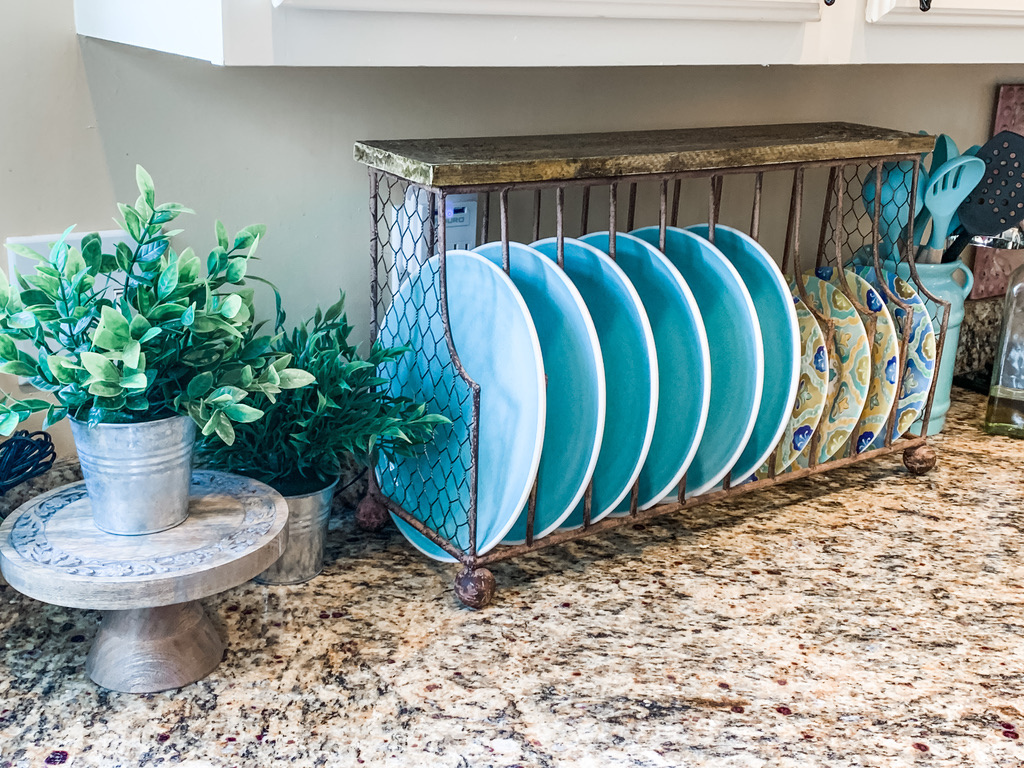 I placed them strategically to cover up some ugly cords. You can still see them barely peaking through, but they are hardly noticeable. My antique plate rack gives a little more farm house style to the space. The dishes are just some inexpensive melamine plates. I usually change them out with the seasons. These are the summery ones.
Add A Decorative Cutting Board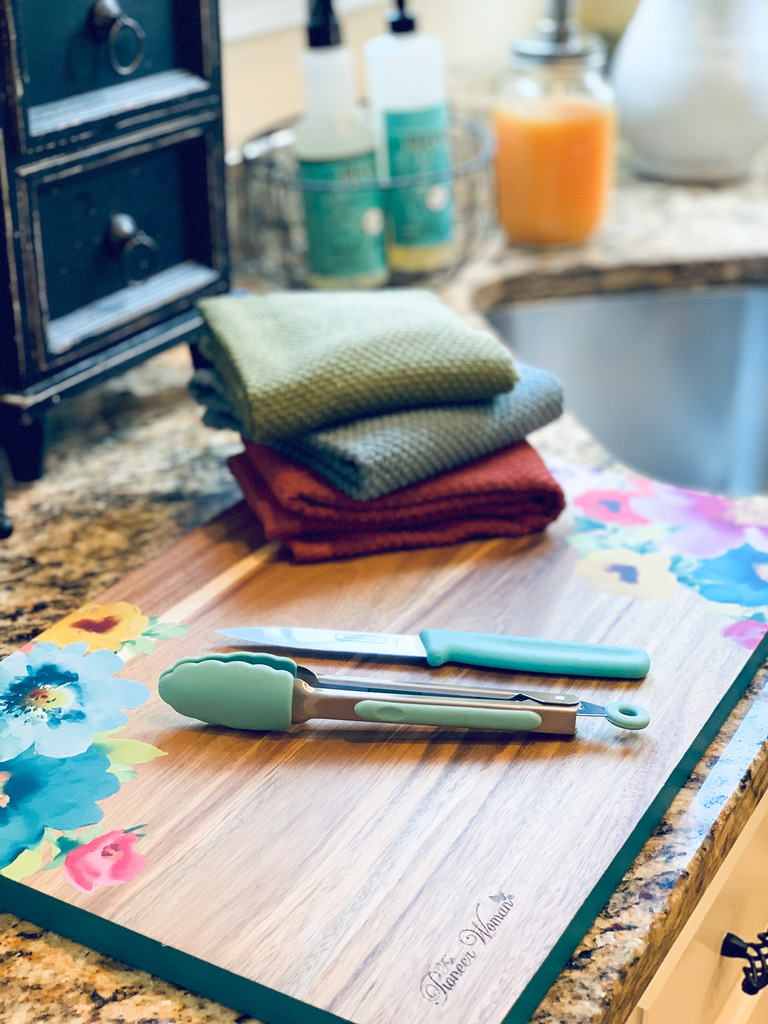 As I mentioned earlier, my goal is practical and pretty. This is really the key to enjoying your kitchen. We all need a cutting board for cooking, so find one that is pleasant to look at. This one is by Pioneer Woman. She has some really pretty kitchen accessories if you like bright and bold colors.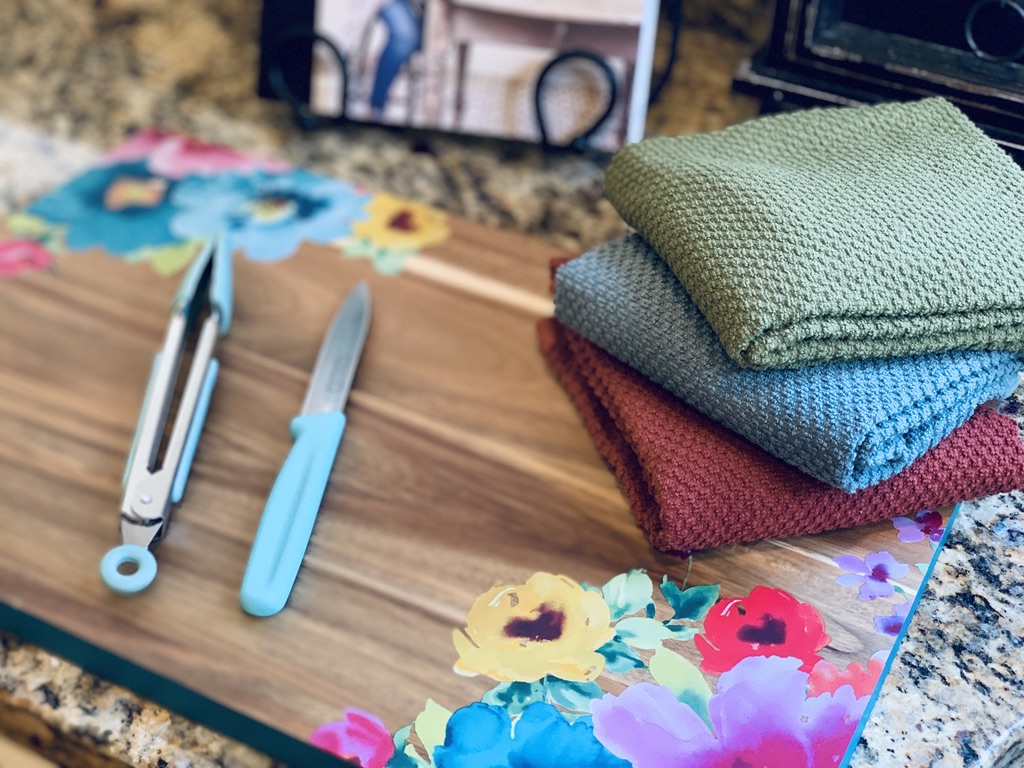 Replace Old Dish Towels
I added some new dish towels that coordinate with my kitchen colors. Another way to enjoy your kitchen is to get rid of old dish towels that are torn or stained. I'll admit that buying towels is not the most exciting way to spend money, but you will be surprised how much you enjoy them the next time you are busy cooking in your kitchen. These towels by Pioneer Woman are pretty as well as these.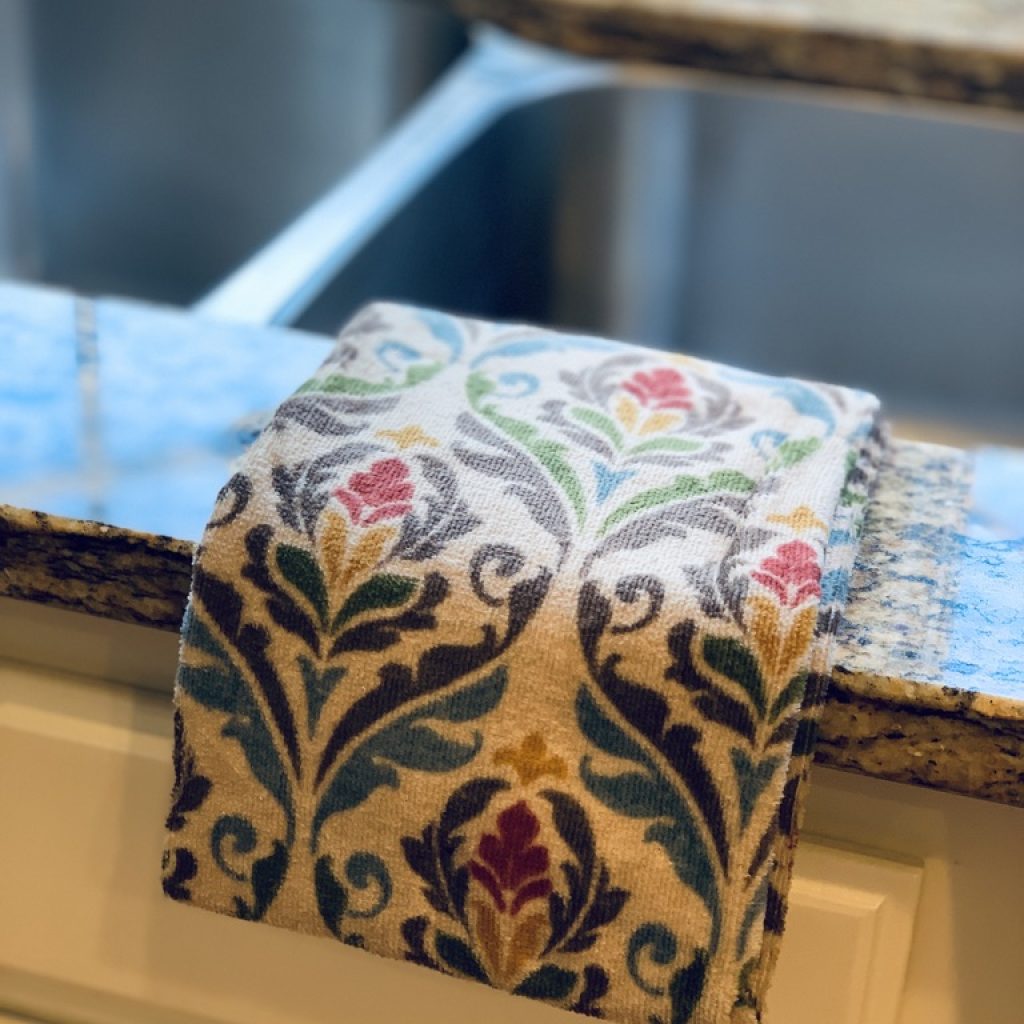 Finished Look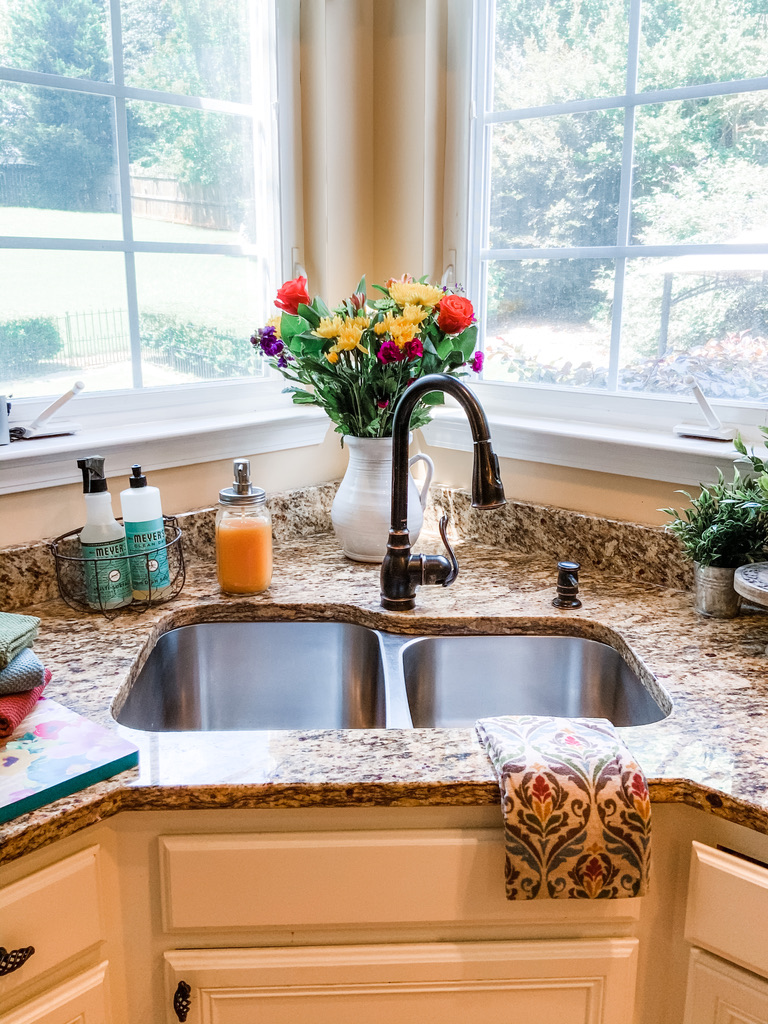 This kitchen sink work zone project only took me one afternoon, which included a trip to Walmart to purchase some of the items I needed. I have already enjoyed being in my kitchen more because this area is clean, neat, and pretty!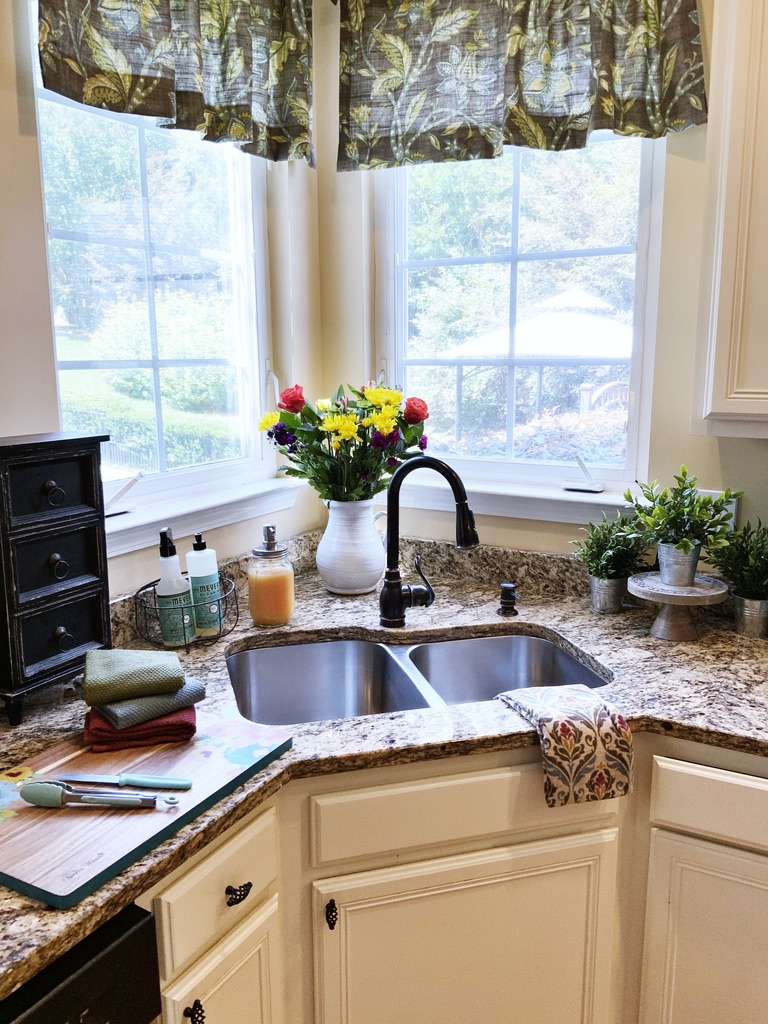 I hope you enjoyed these tips on how to enjoy your kitchen. Now, go clean your sink and dare anyone to leave dirty dishes in it!
You may also enjoy this post:
Farmhouse Style: Antique Ladder