I recently updated our master bedroom with a fresh new paint color. It was a much needed improvement and I had been putting it off for quite a while. I finally tackled the project a couple of months ago, and today I thought I would show you how I added in some fall bedroom decor.

Before I talk about the fall bedroom decor, let me share the most obvious change in the room. Paint can transform a space without spending a lot of money. When we bought our house in 2006, I painted the walls a medium taupe color. I really liked it for a while, but as my taste has changed over the years, I was wanting to lighten up the space. Here is what the paint color looked like before.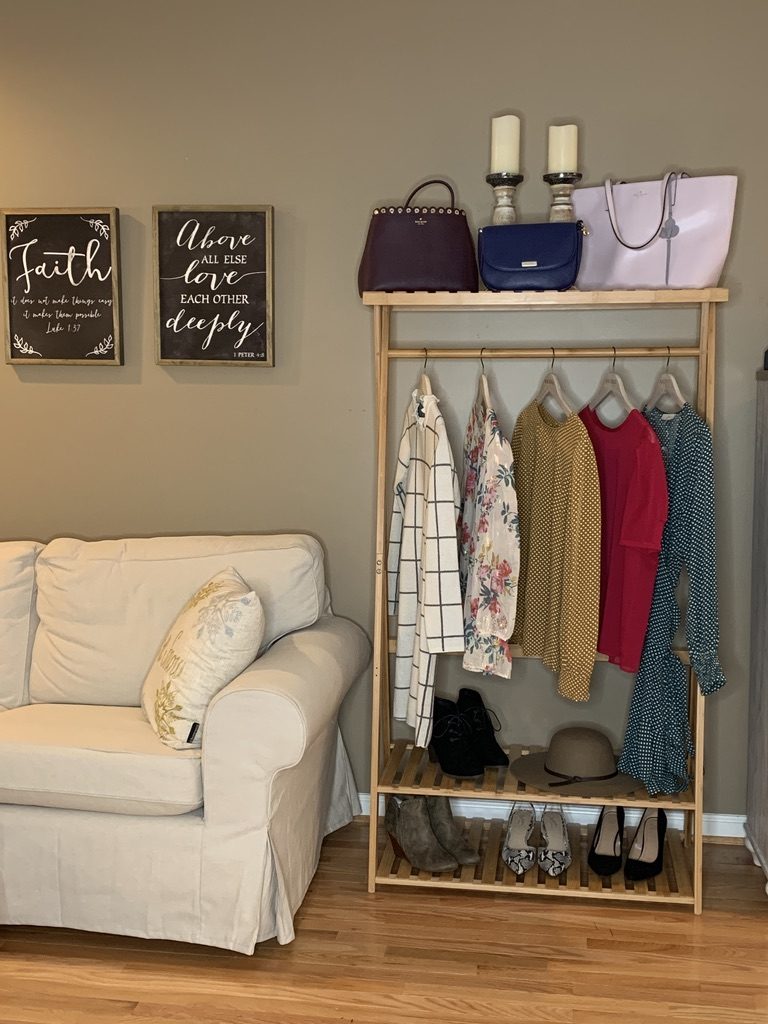 It was hard to find photos of the bedroom, but these are the best I could find.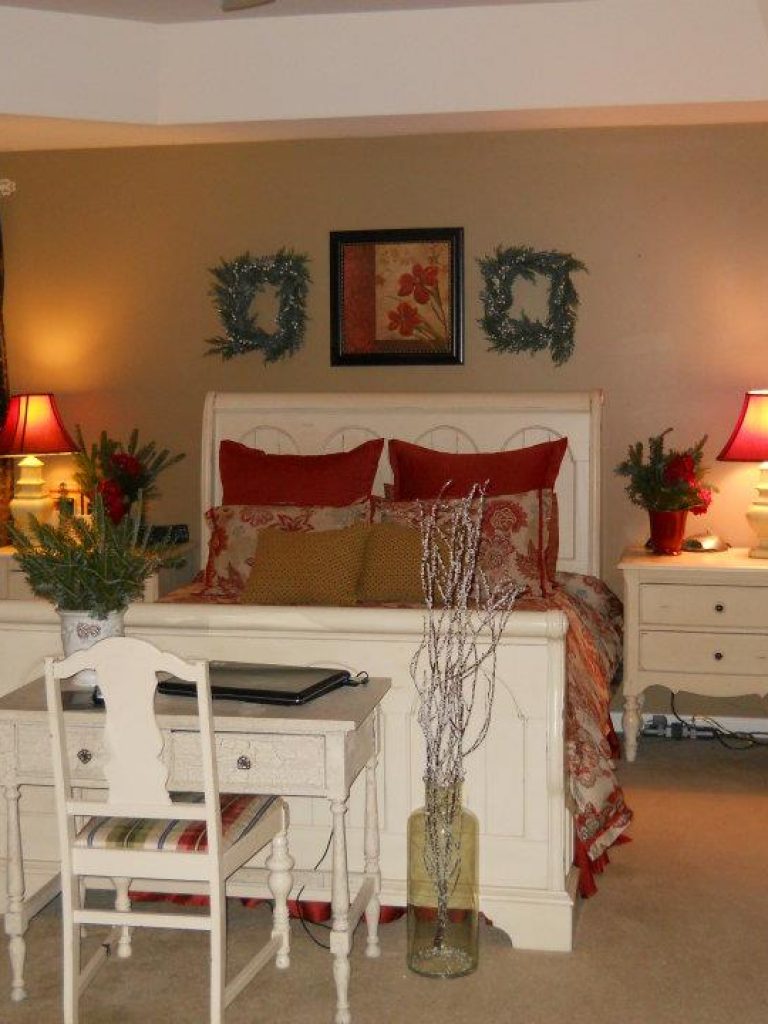 The photo above and below are from 2011 when my home was part of a Christmas tour of homes. Sorry, the lighting is terrible. Also we had carpet then instead of hardwood floors.
If you would be interested in seeing the photos from the full Christmas tour, I can share those before Christmas. Let me know in the comments if that is something you would enjoy. I still have the photos, even though they are several years old.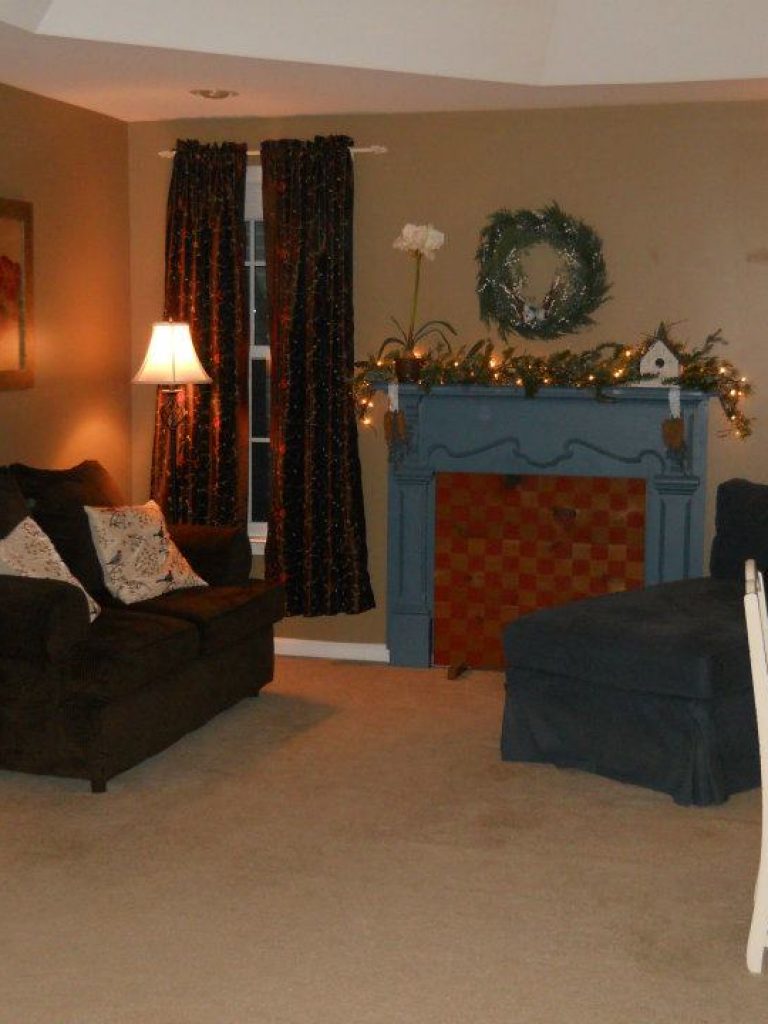 Here is what our bedroom looks like now.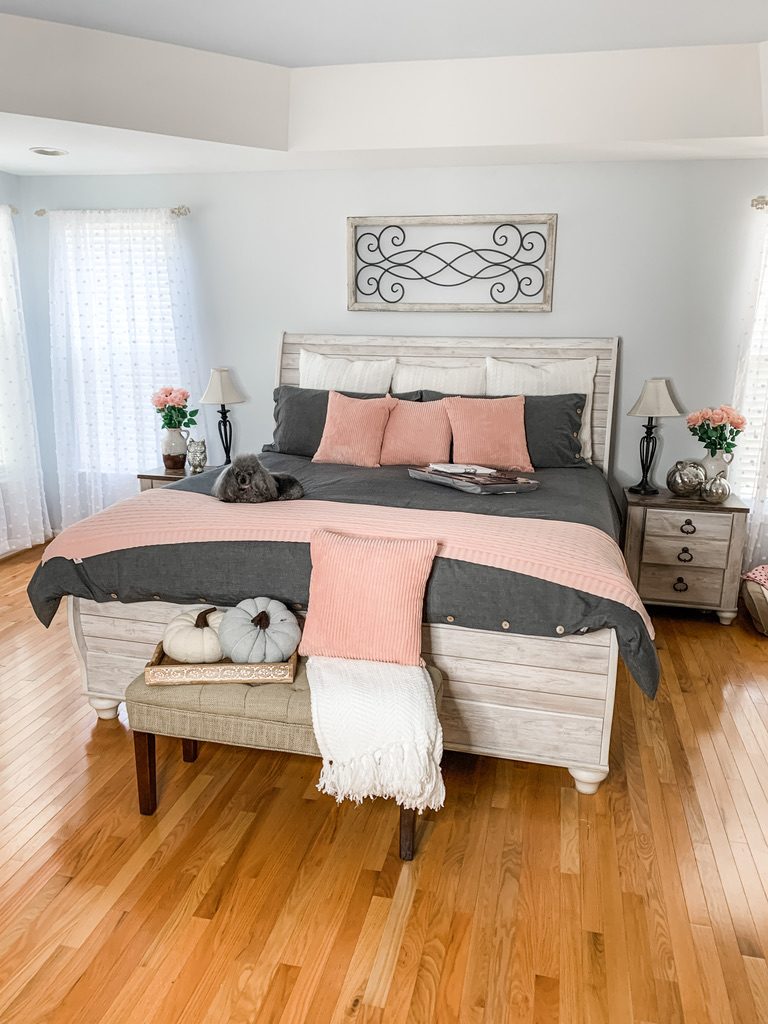 The new paint color is Icicle by Sherwin Williams. It is a very pale blue that is almost white.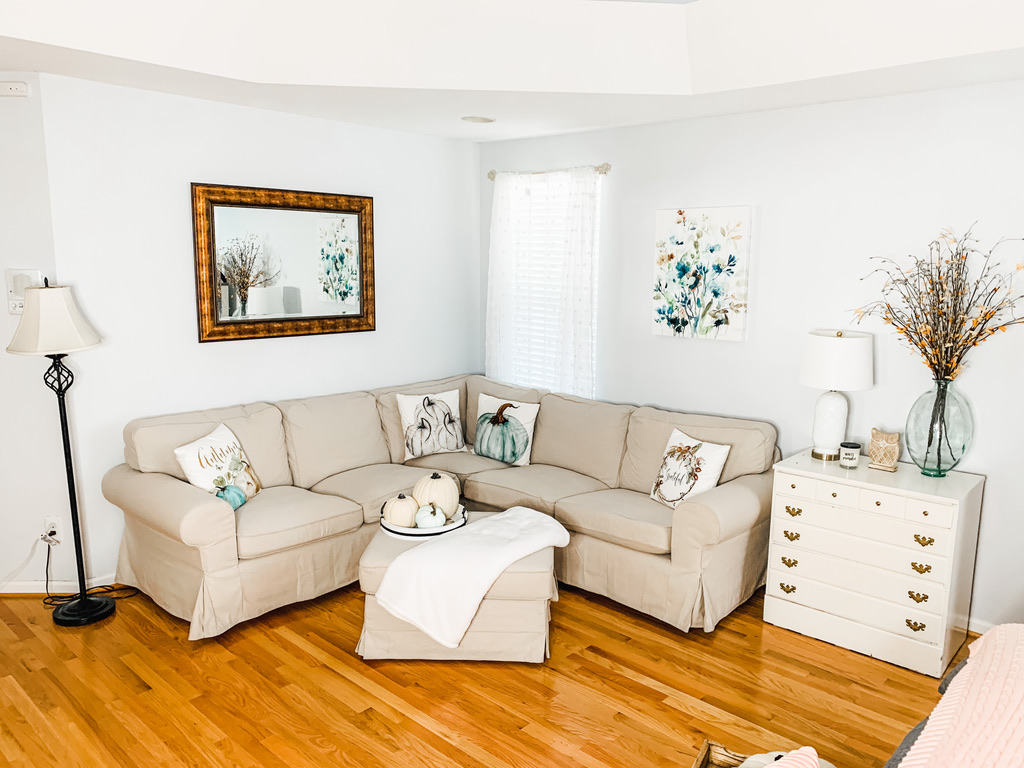 This is the opposite wall from where the bed sits. We have a pretty large sitting area with lots of room to lounge.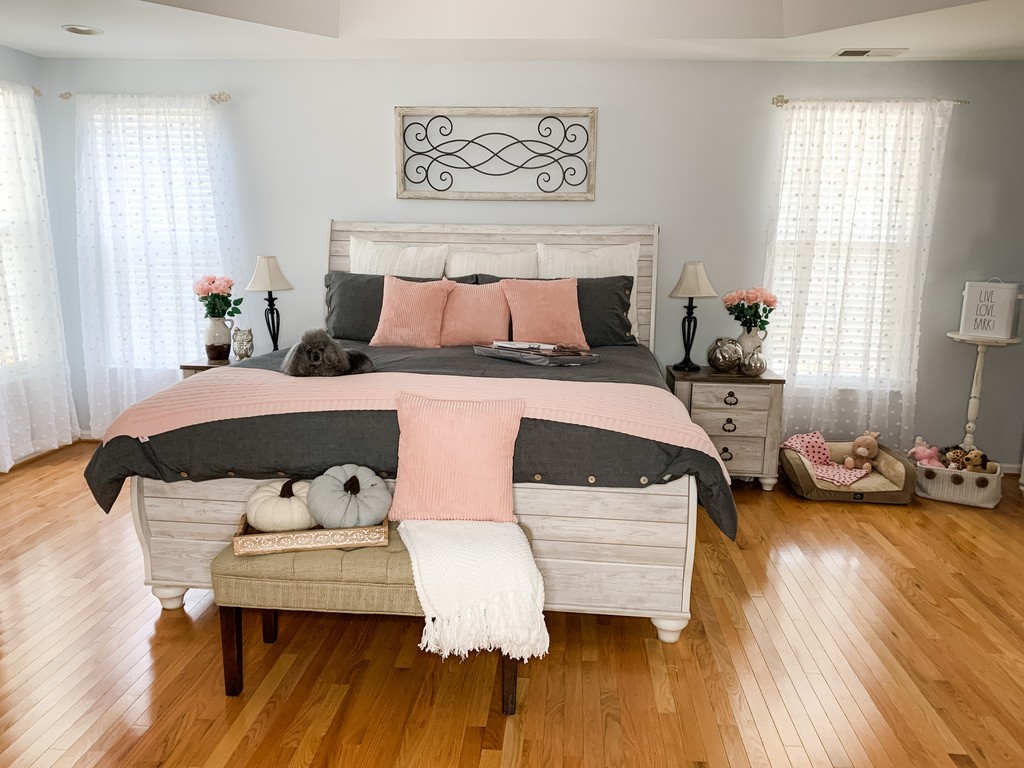 You may also notice that the furniture has been updated as well. We upgraded to a king size bed a couple of years ago along with new furniture to match.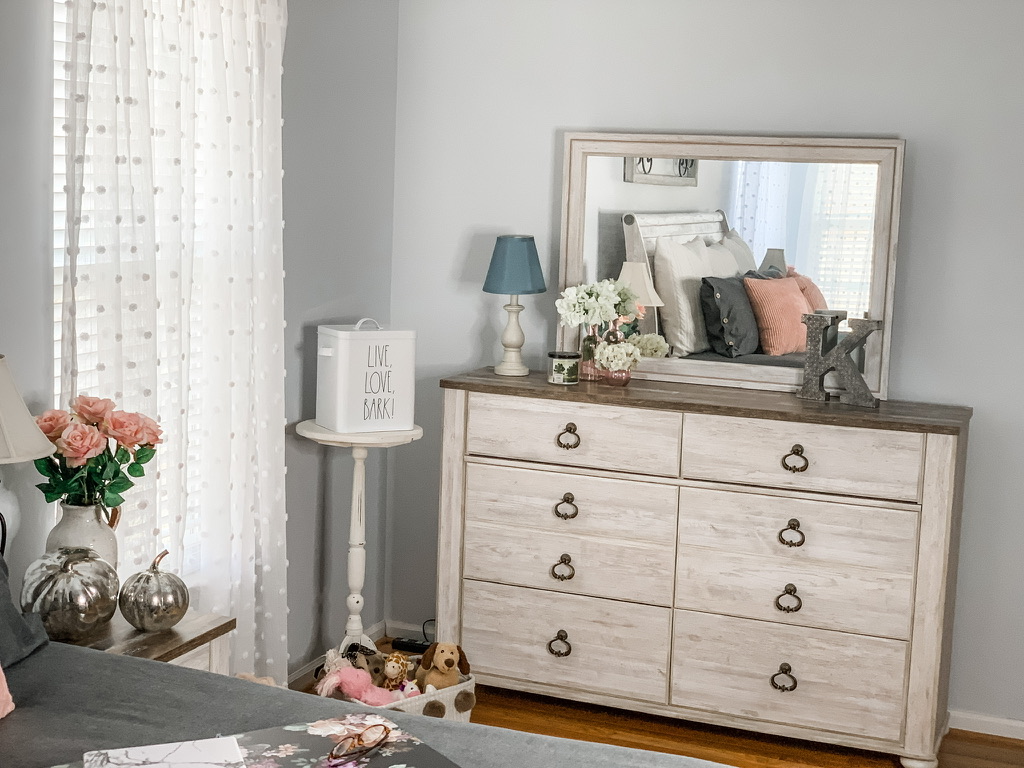 For the bedding, I chose a duvet cover to keep the cost down. There are so many good options for duvets. If you are like me, I like to change my decor frequently, so a duvet cover is a good way to change the bedding without spending a fortune.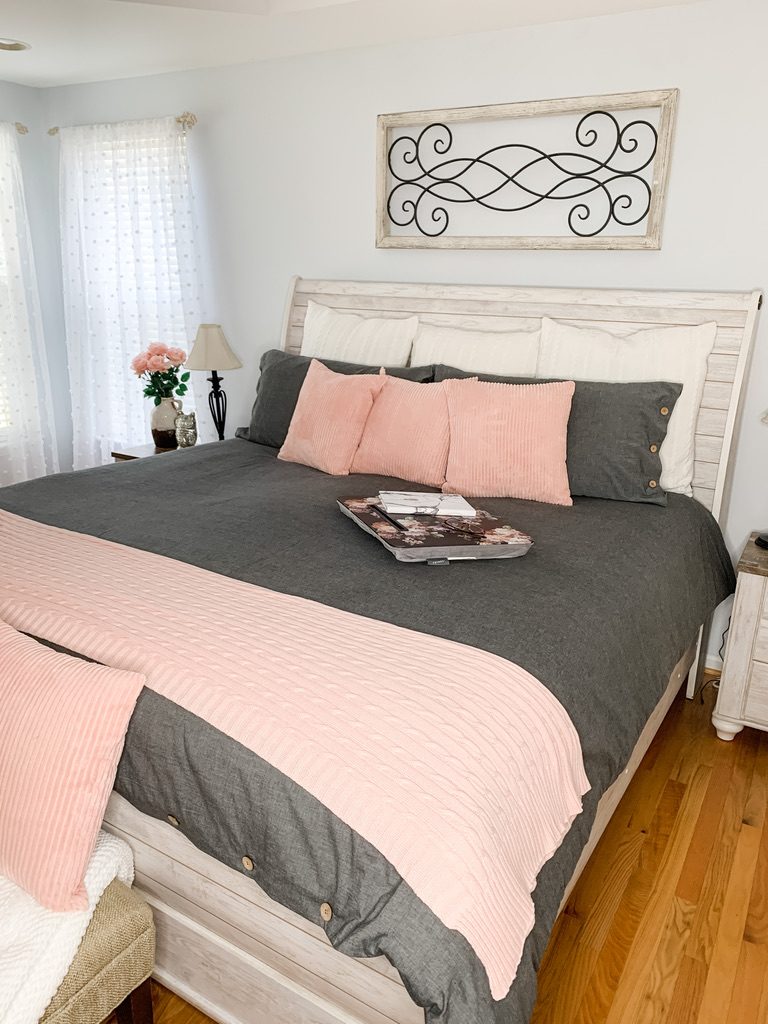 This exact duvet is from Amazon, but is not currently available. I linked a very similar one in the shopping widget. It took me a while to get the bedding combination right. I liked the grey, but it seemed sort of dull and masculine. My husband probably liked it that way, but he doesn't protest when I girly it up a bit.
I think adding in the touches of pink was the key to making this space feel more inviting. I don't gravitate towards pink very much, but in this case I really like it.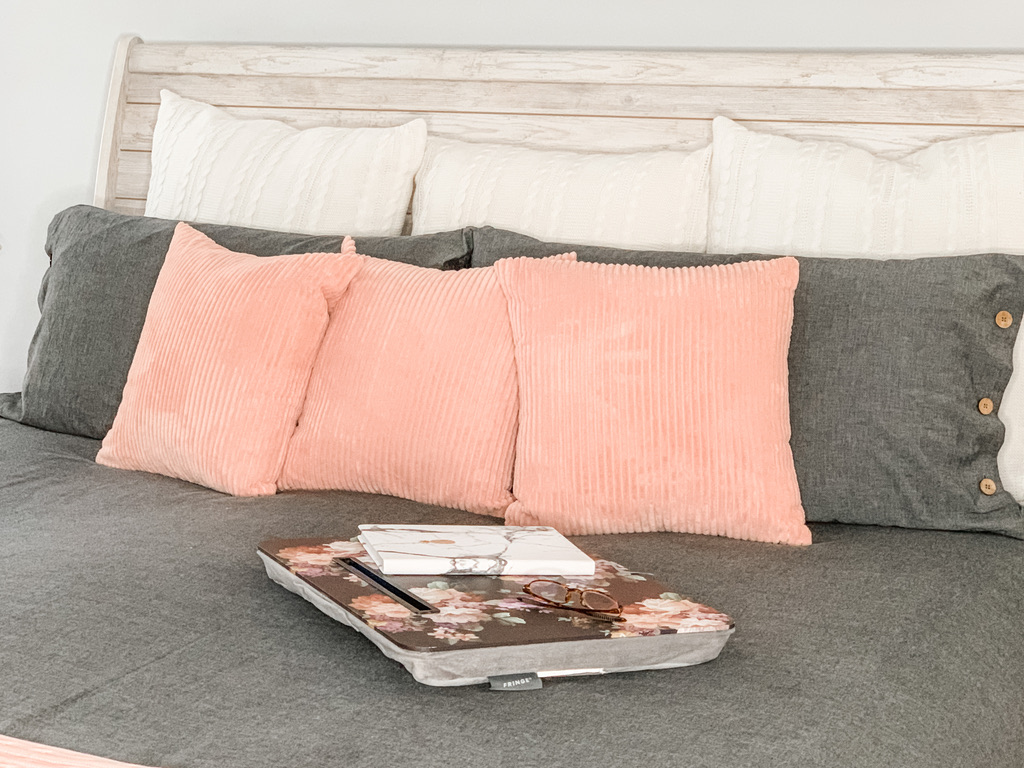 New pillows are so important with bedding. I am a big fan of cable knit…as you can tell. I think it is so cozy. The larger Euro pillows in the back are a white cable knit and the pink throw is also cable knit.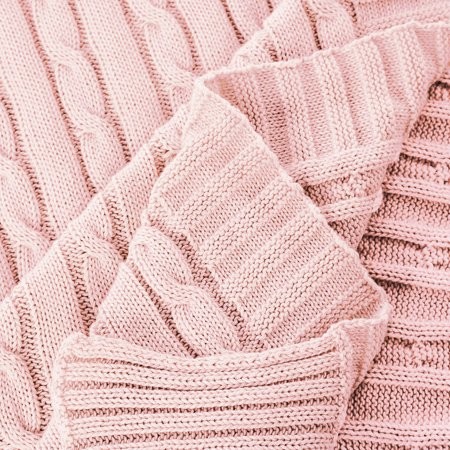 I linked some similar Euro pillows. Mine are from Walmart, but are sold out.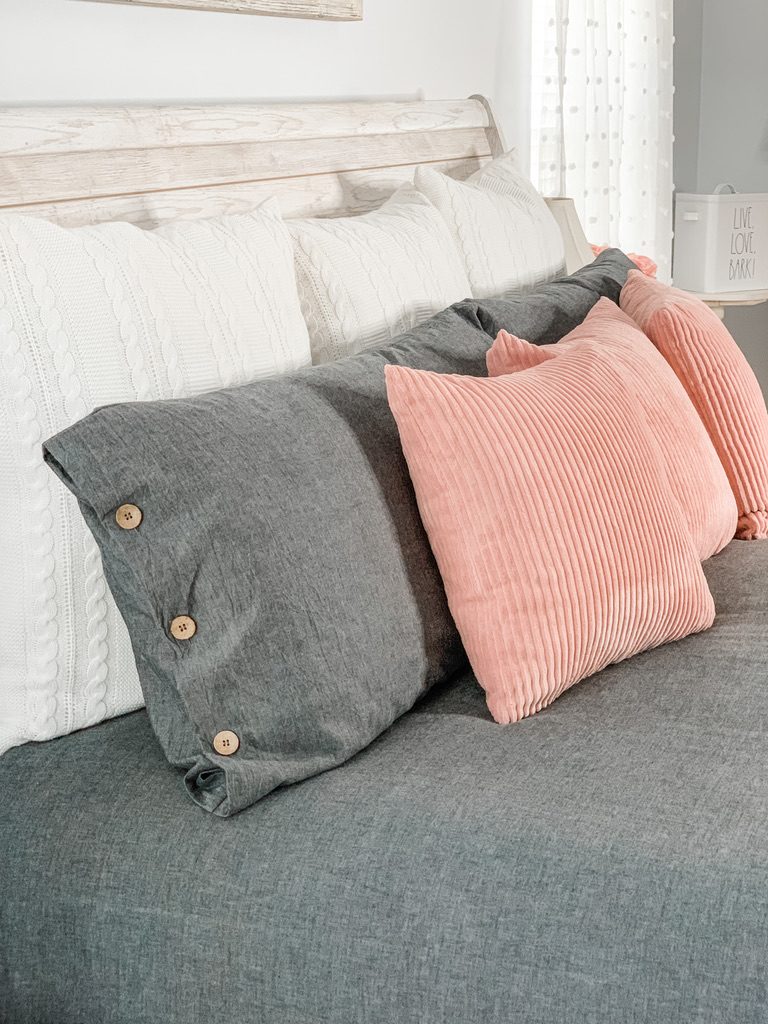 The pink pillows are just pillow covers that I purchased from Amazon. This is another good way to save some money. I just used pillow inserts that I don't like anymore and covered them with the new pillow covers.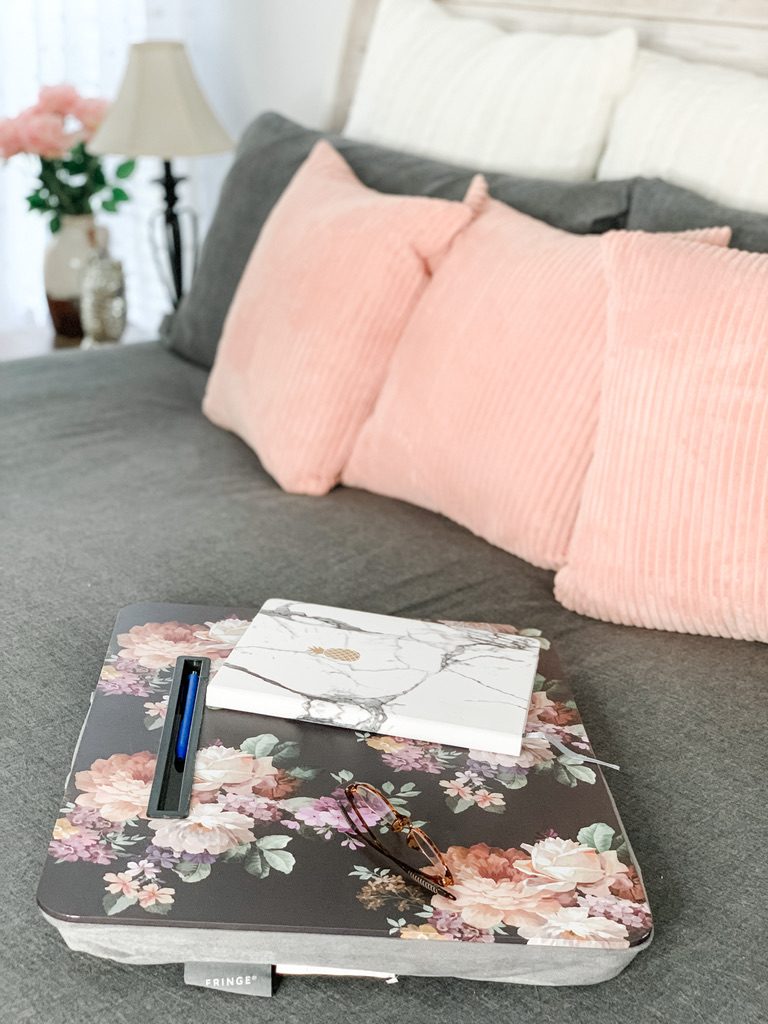 My lap desk is from Marshall's. I use it all the time to do computer work or enjoy a snack! These are easy to find, but I linked a similar style if you are interested in having one.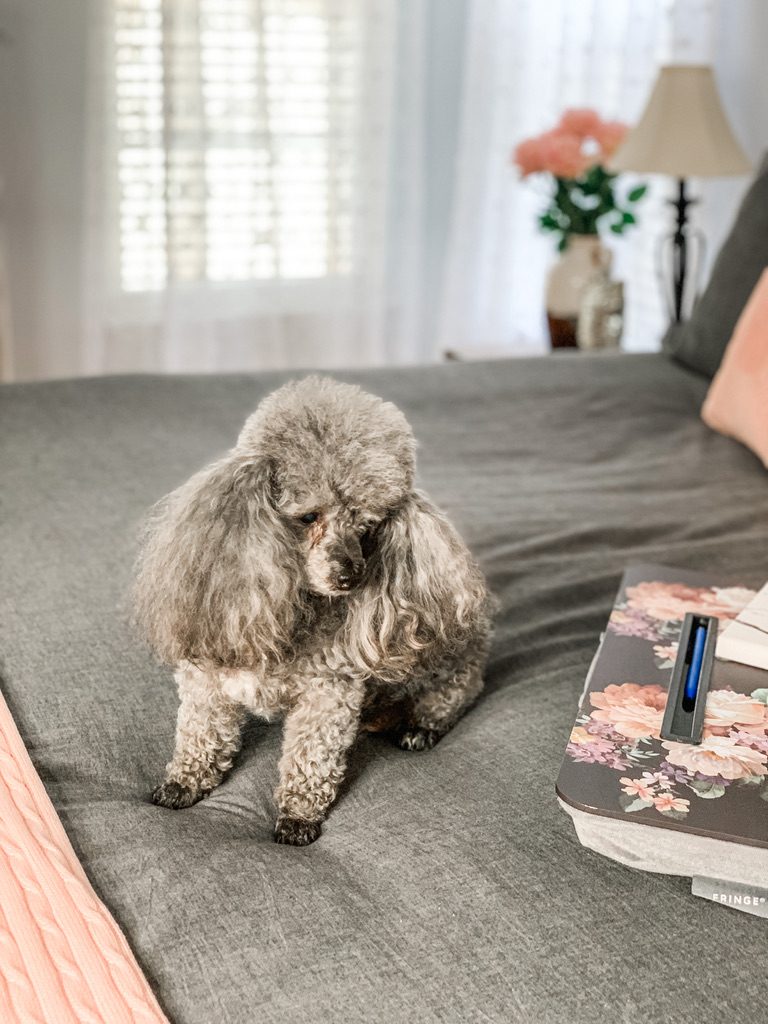 Fall bedroom decor does not have to be traditional fall colors. Although I love the oranges, browns, and yellows, I wanted the bedroom fall decor to be nontraditional and blend in with the current color scheme.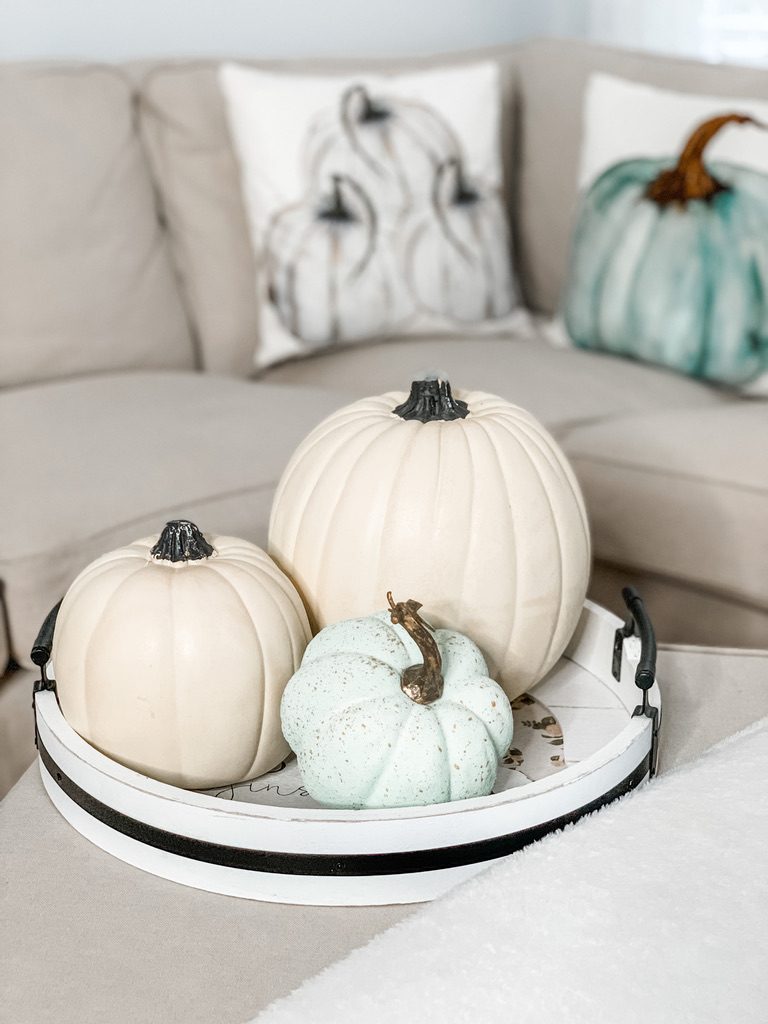 By using blue and white pumpkins, they tie into the colors of the room yet still give that fall vibe. On the bedside tables, I wanted some sparkle so the mercury glass pumpkins and the owl were perfect.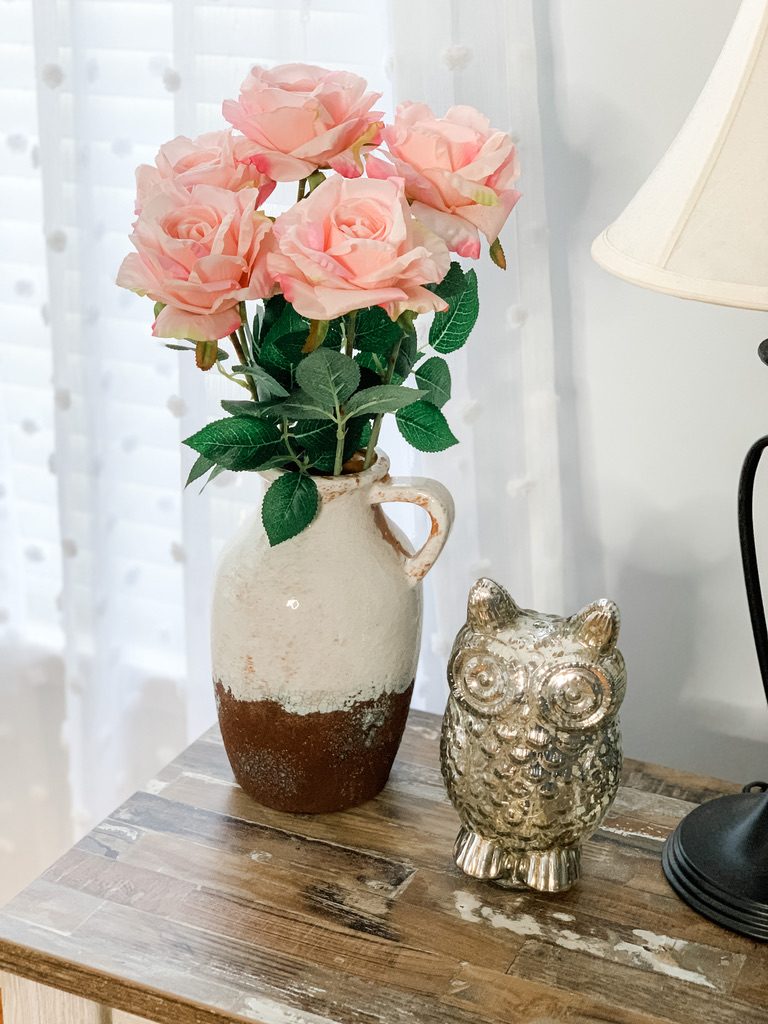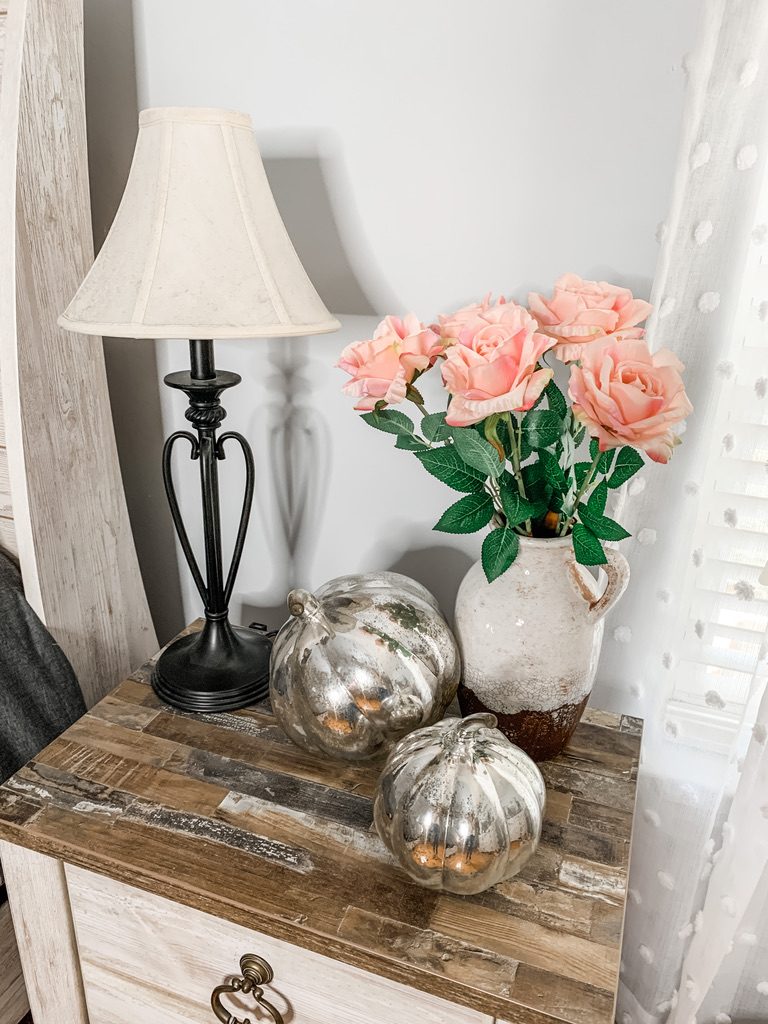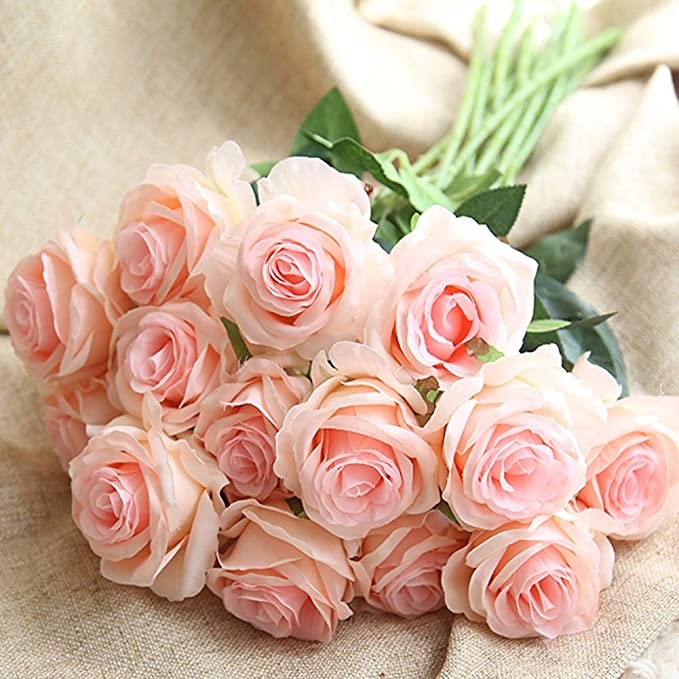 The final touch on the bedside tables are the pink roses. Again, I do not normally gravitate toward a lot of pink, but these pink flowers really finish off the look in my opinion. I purchased my artificial stems at Hobby Lobby. I linked what seems to be a similar option from Amazon, but be really careful with artificial stems. If they look cheap, it will really ruin the look….especially with pink. Putting the flowers in the rustic farmhouse style vases is a nice contrast to the shiny pumpkins.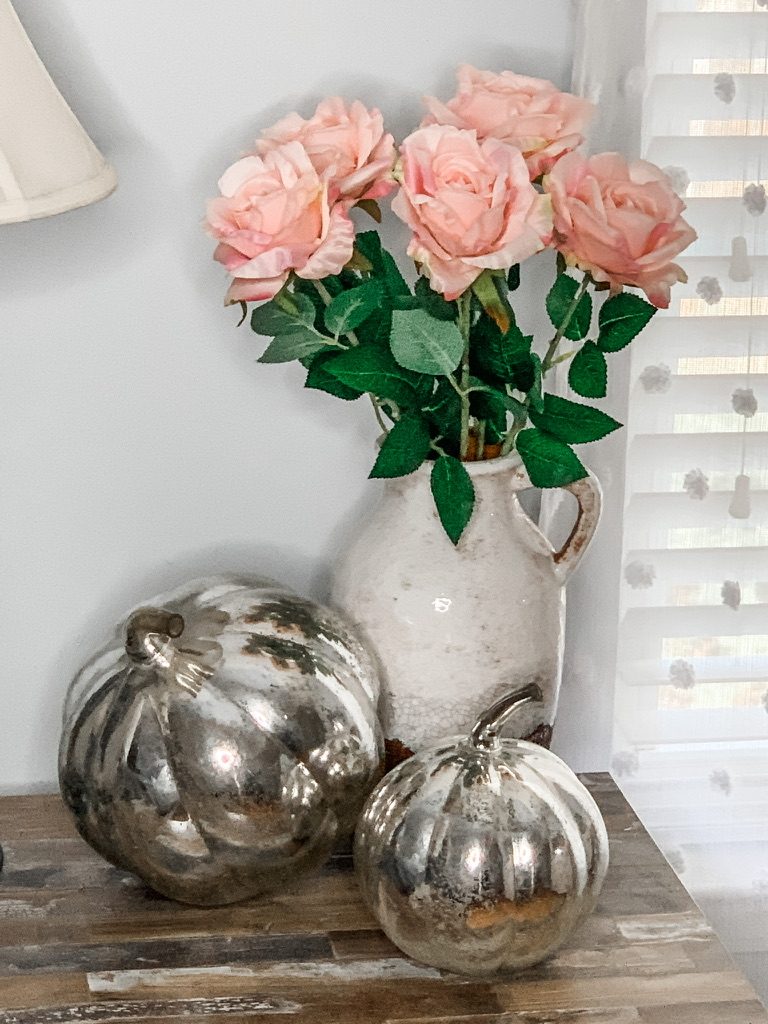 At the foot of the bed, we have a bench with some felt pumpkins sitting in a tray. I also added a white throw and another pink pillow to tie everything together.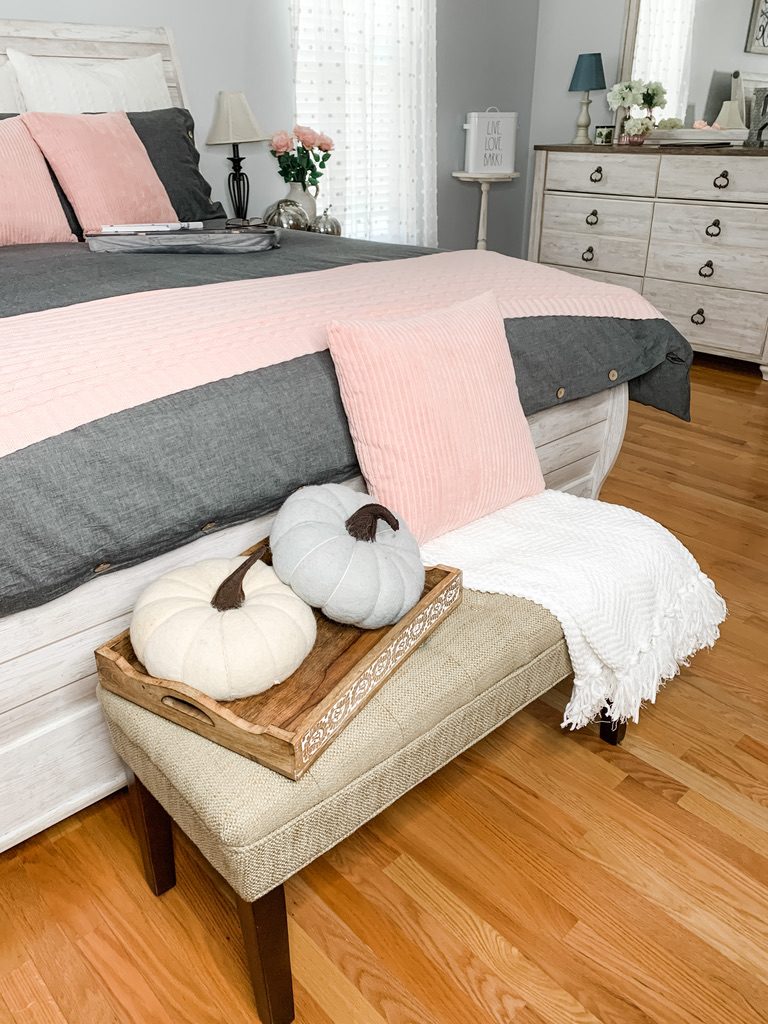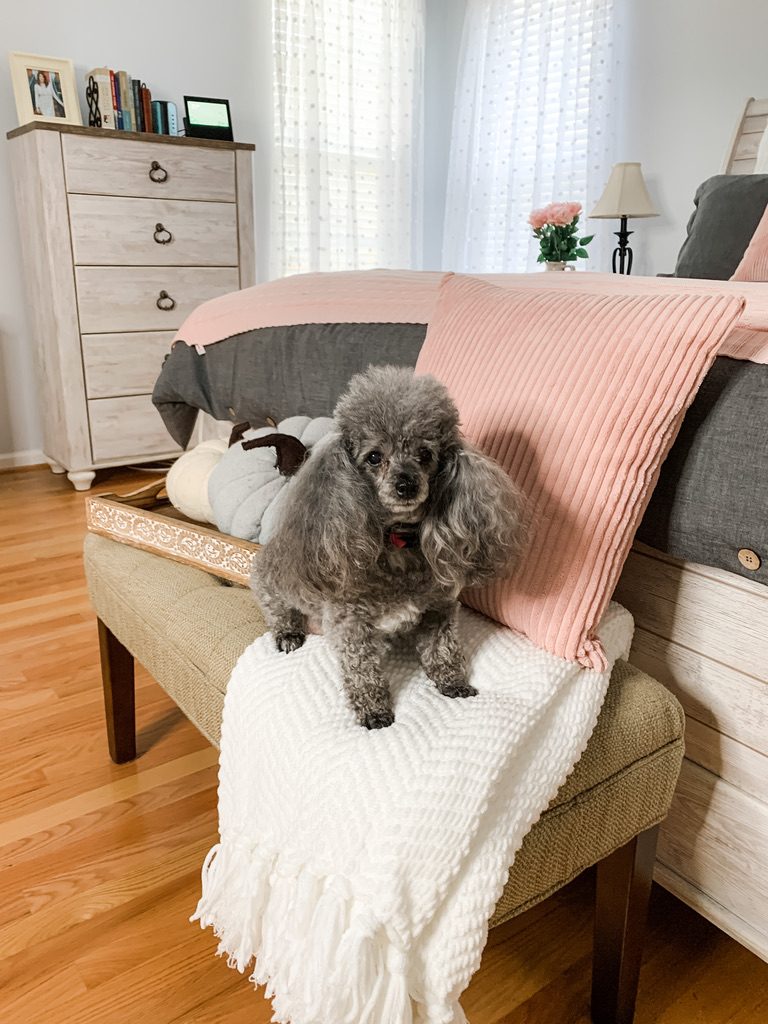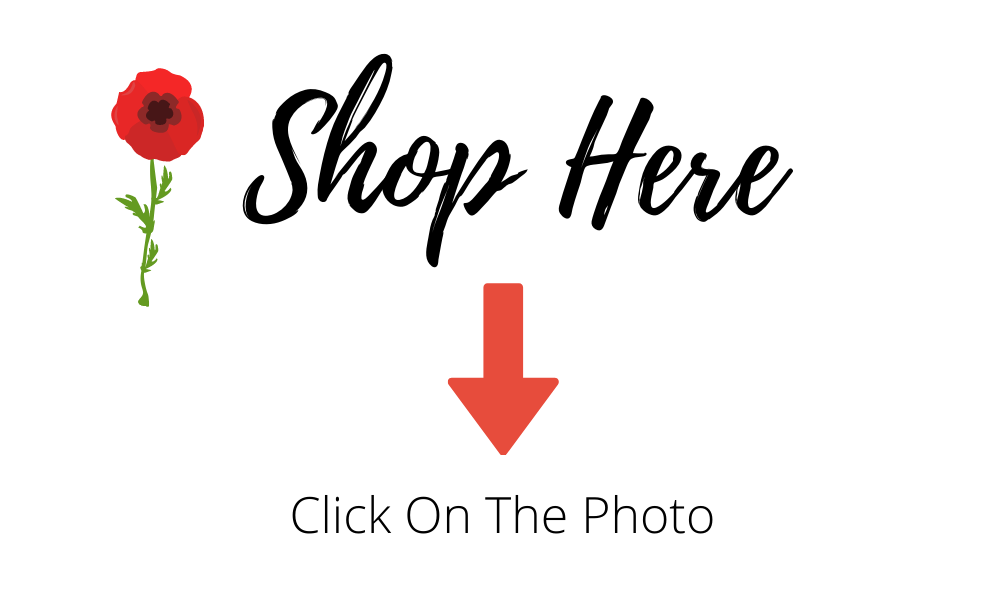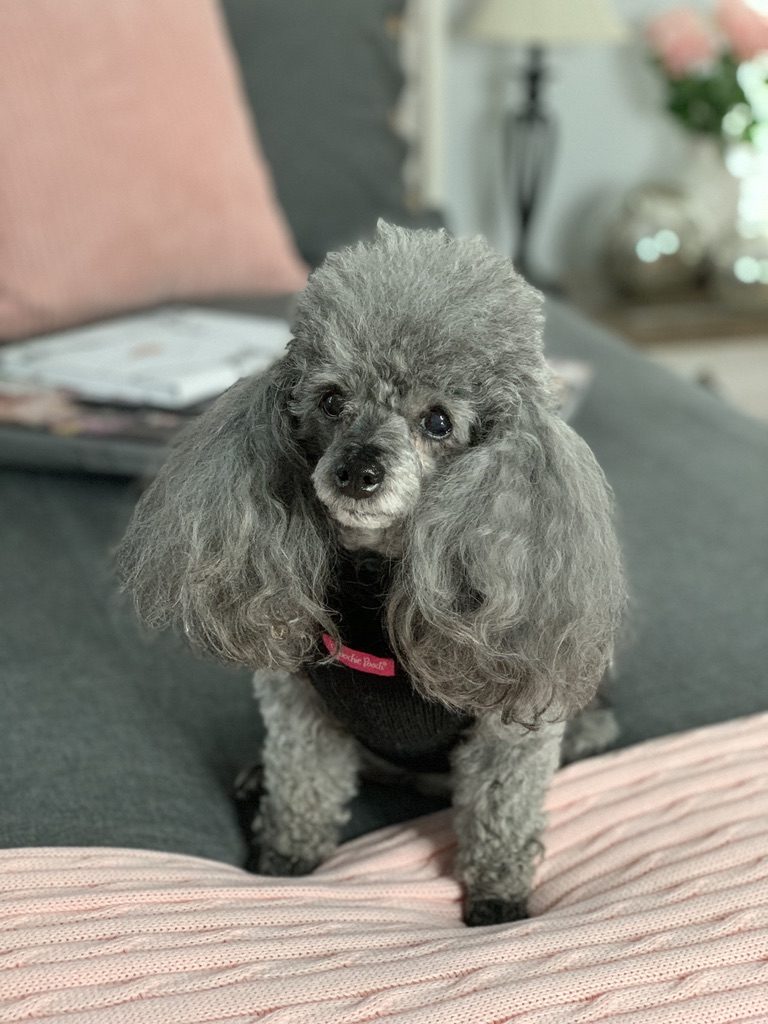 I would like to introduce you to Claire, our Toy Poodle. We have three dogs, but she is the only one allowed upstairs. Unfortunately, she and my Standard Poodle do not get along so Claire lives exclusively upstairs.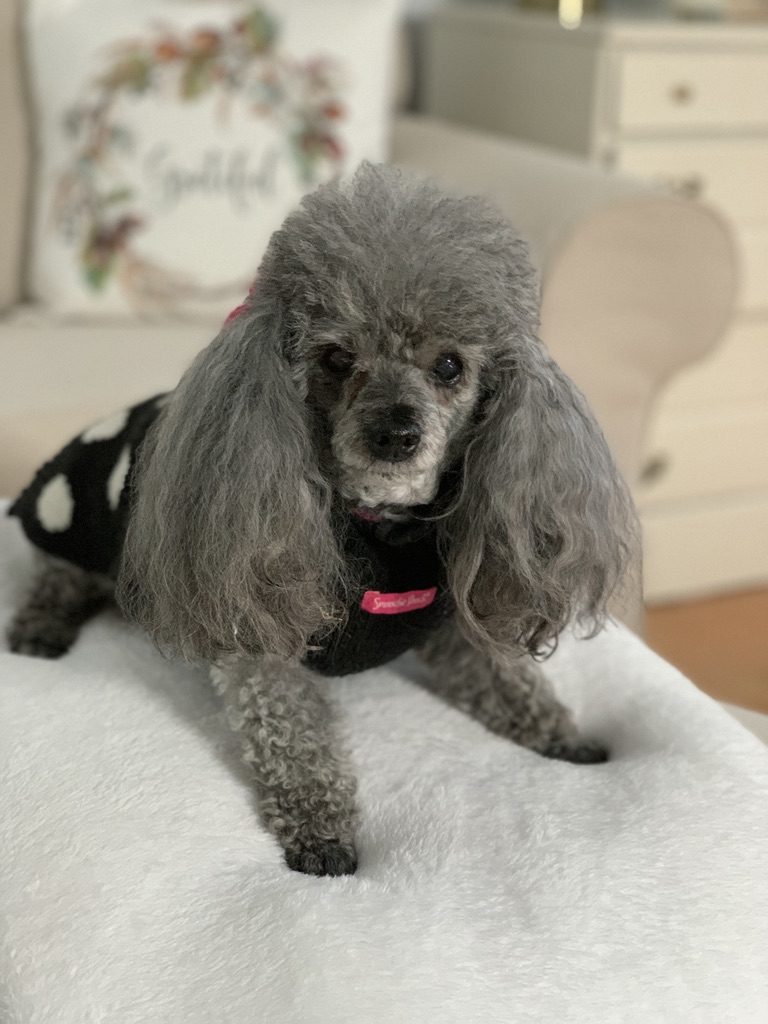 Claire has a sweet and fragile personality and I have never known a dog that has such a precise sense of time. We NEVER use an alarm clock because she wakes up promptly at 6 a.m. every morning. She used to be black, but as she has aged (she is 11) she has changed to silver. She also reminds me promptly at 2 p.m. that it is time for her to eat.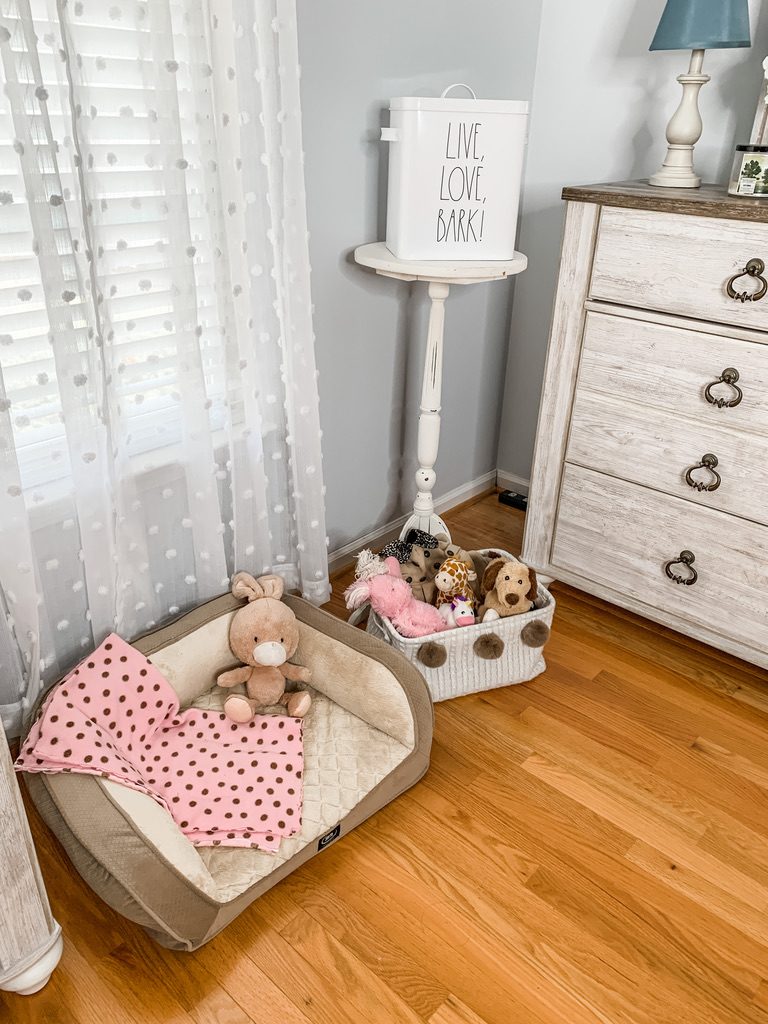 This is Claire's doggie area in our bedroom.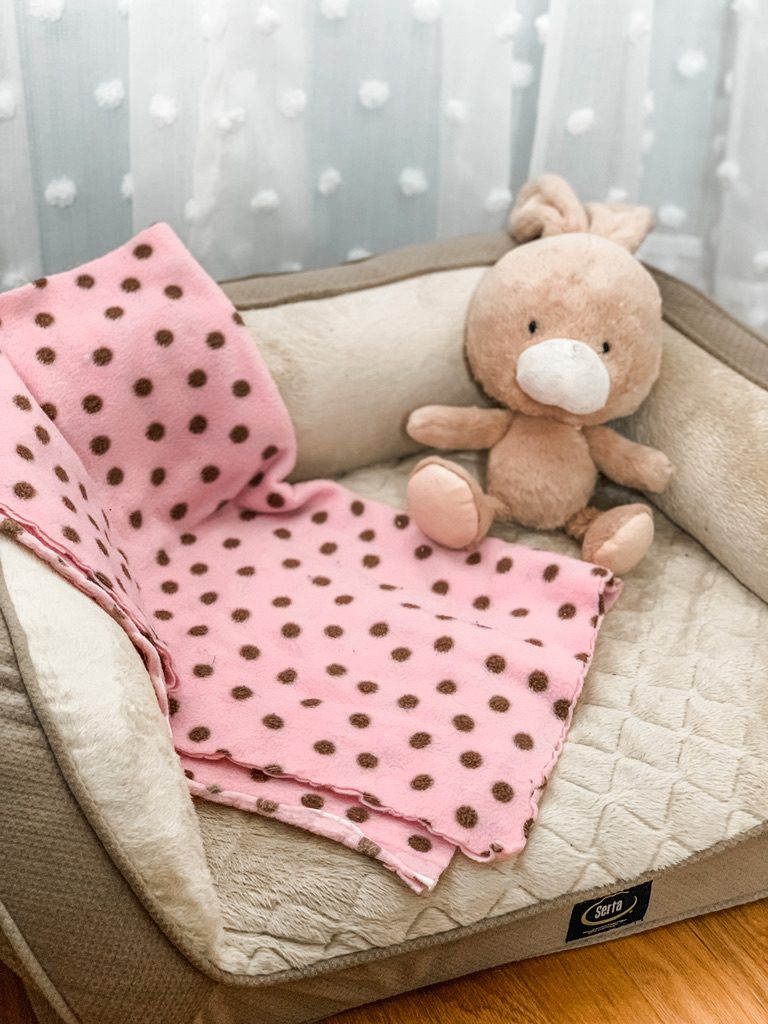 She enjoys her pet bed during the day, but don't let that fool you. She sleeps in the bed with us every single night and she won't have it any other way! We really don't mind. We hardly know she is there.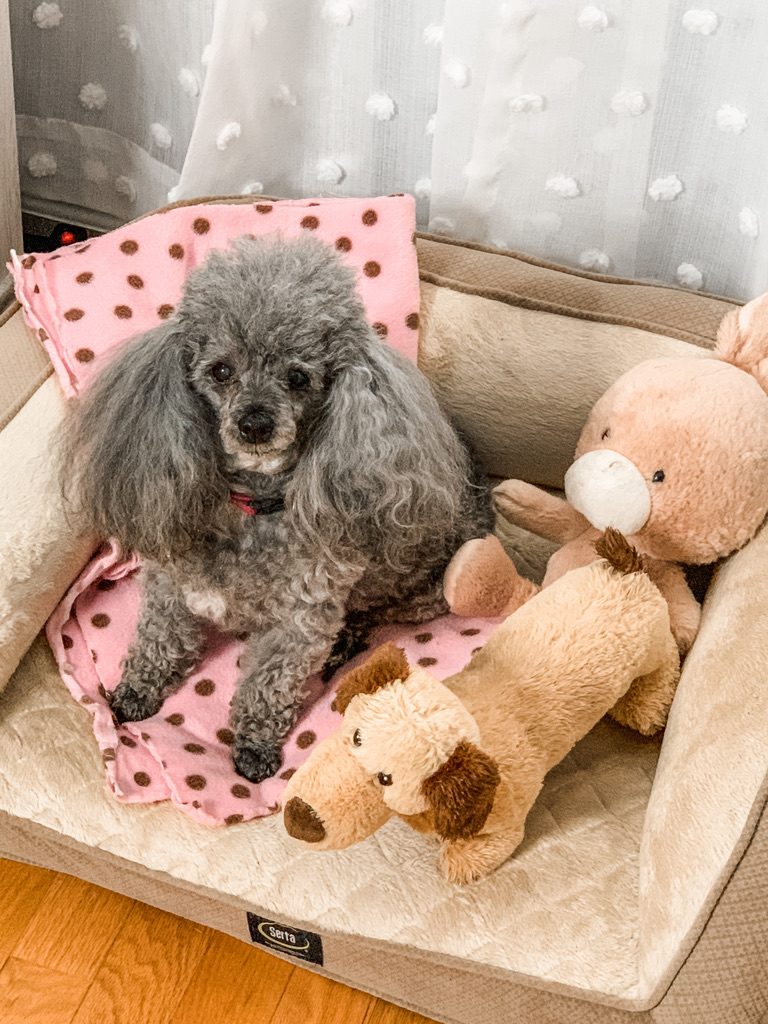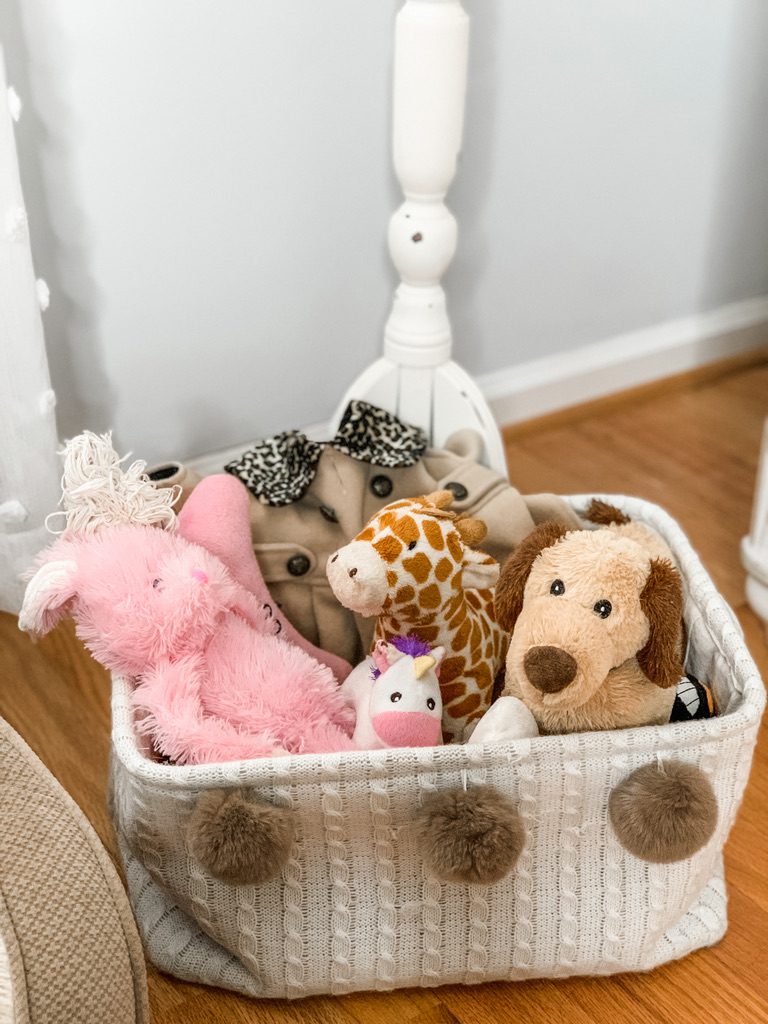 She has a basket of toys that she loves to play fetch with.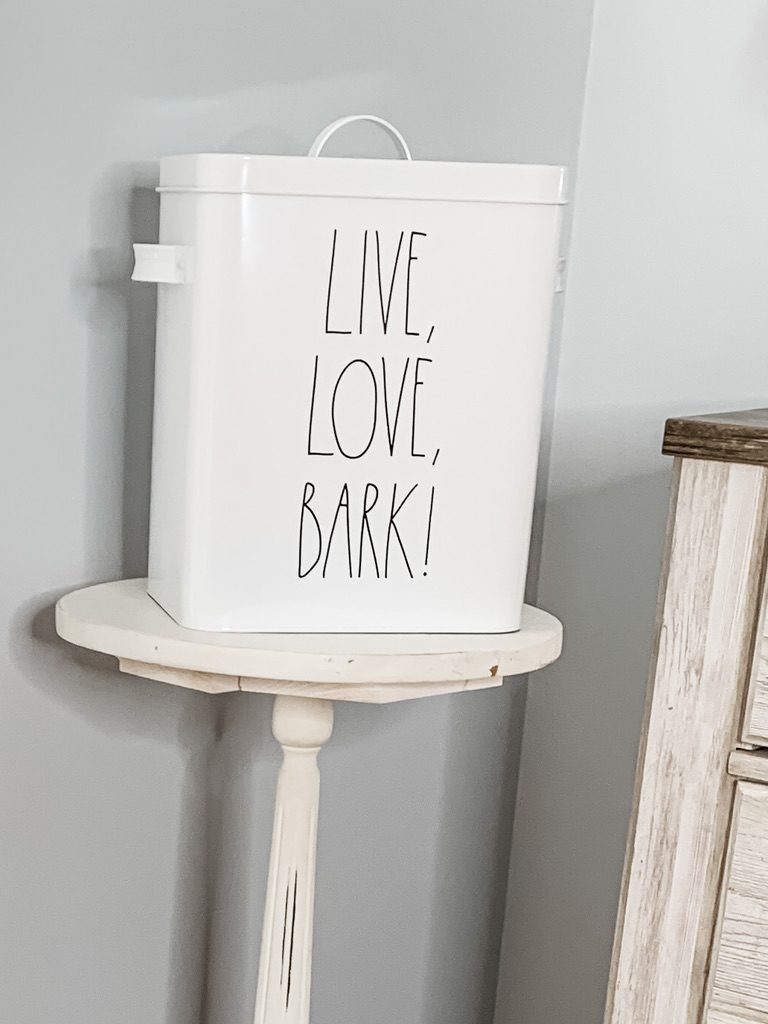 I also keep her food in this area so we don't have to carry it up and down the stairs everyday. If you have a pet, you know how dear they are to us. Mine have always been like children to me. It's a good thing my husband is a Veterinarian! I've linked some adorable pet toys and accessories if you are looking for some new ones for your pet.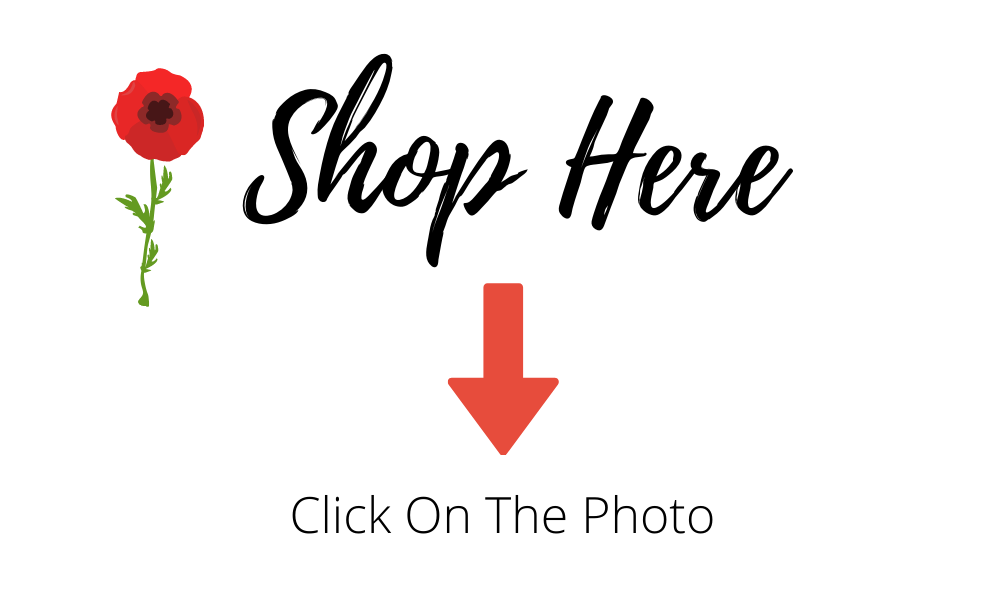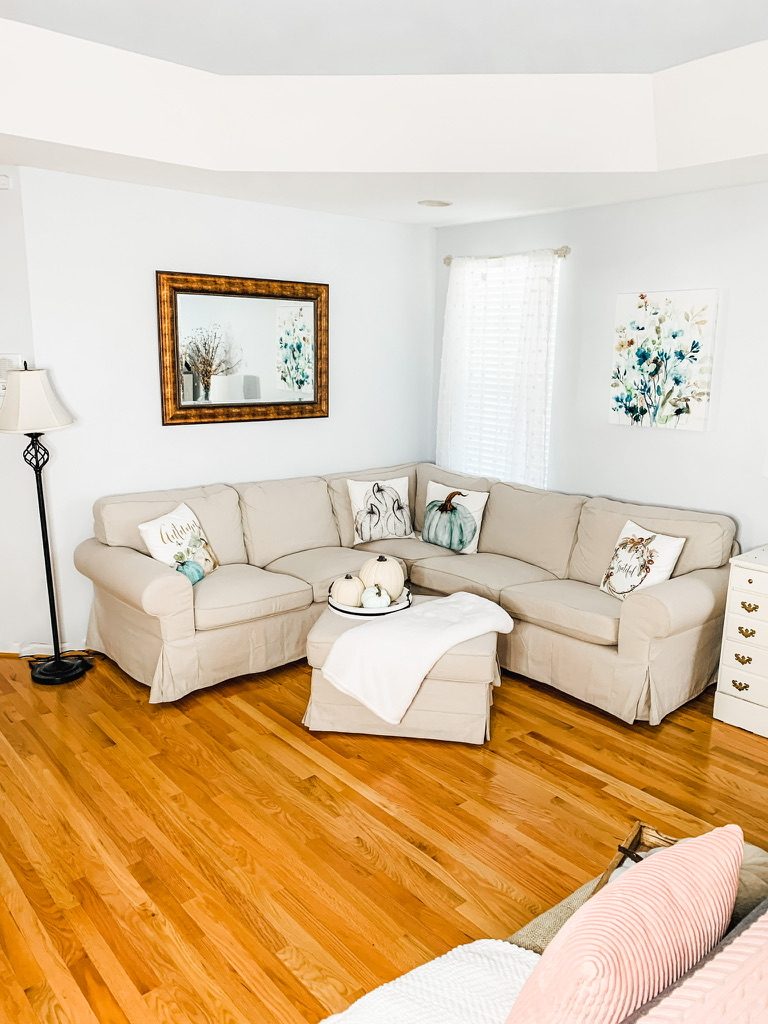 As I mentioned earlier, we have a nice size sitting area in our bedroom. It is not uncommon for us to head upstairs for the night by 8:00 to our little sanctuary. We like to watch t.v. up there until we go to sleep. I kept the decor very simple here with some pumpkins on the ottoman and some fall pillows on the sofa.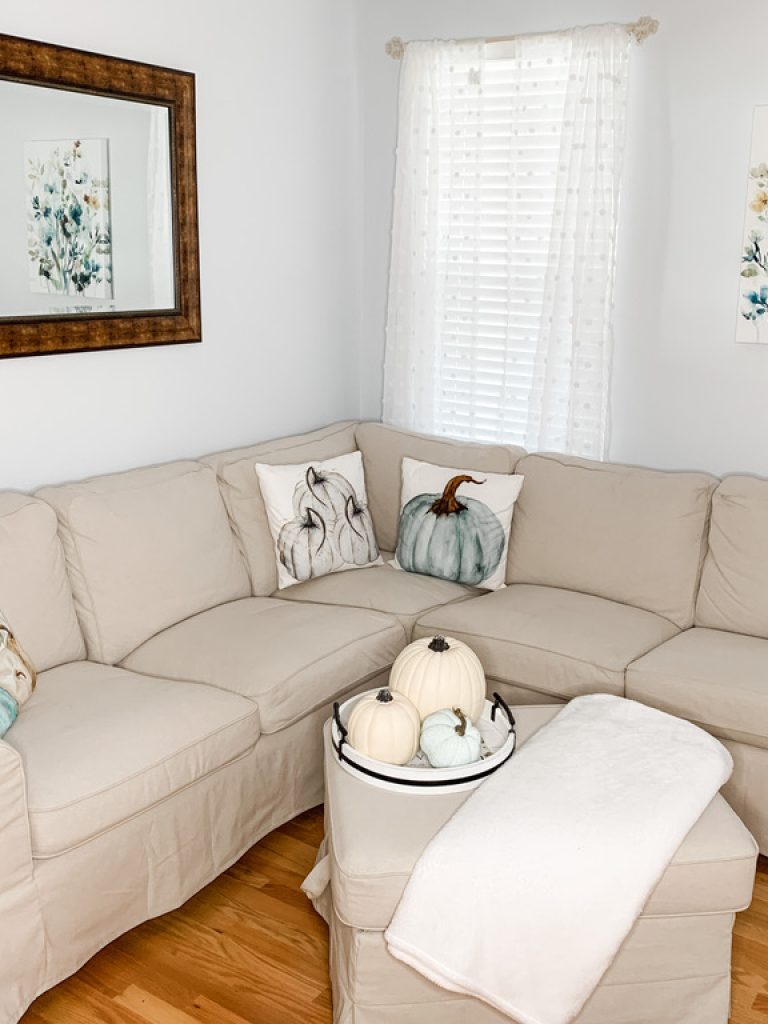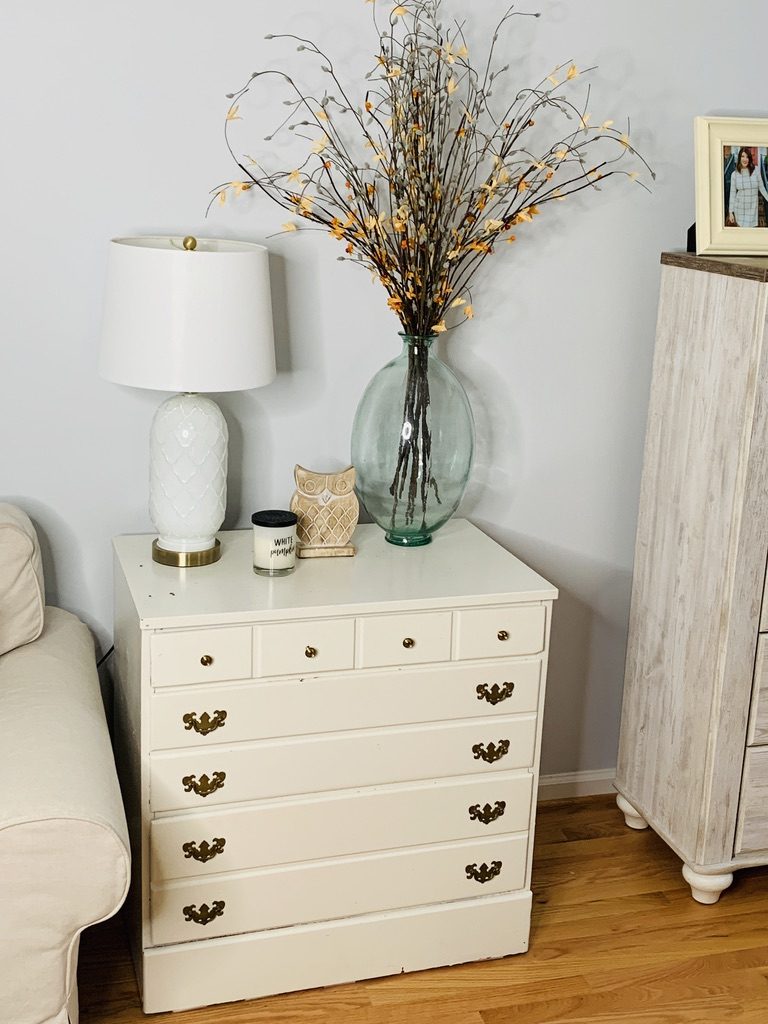 Here on the side table, I just added a fall floral arrangement and another owl.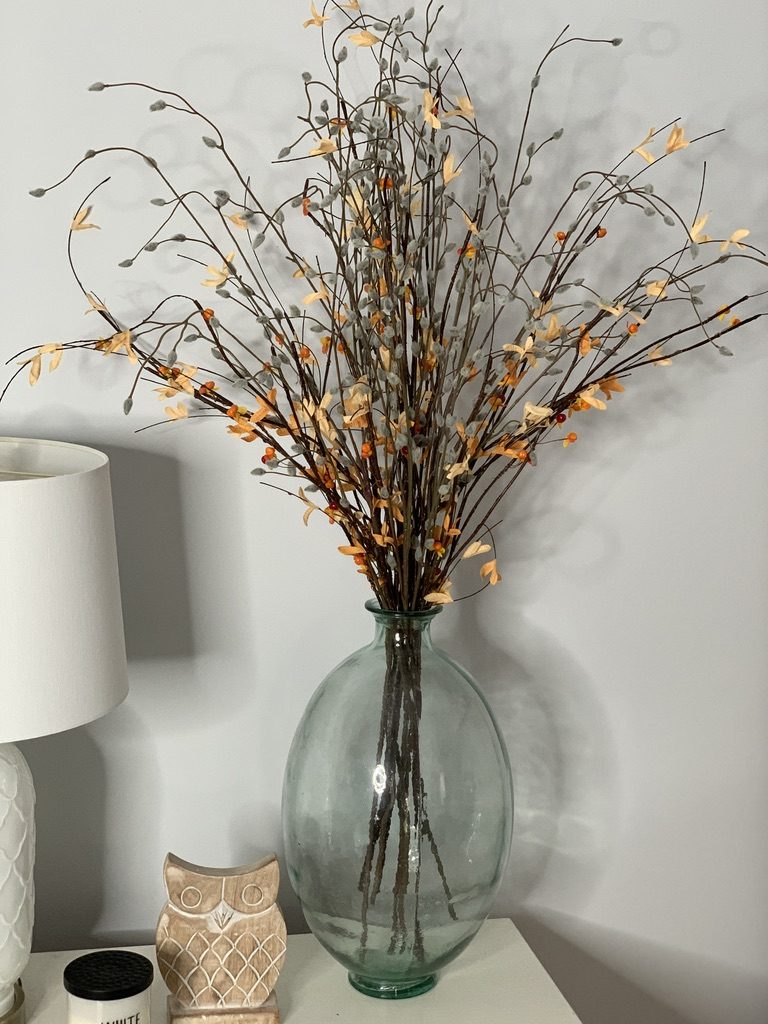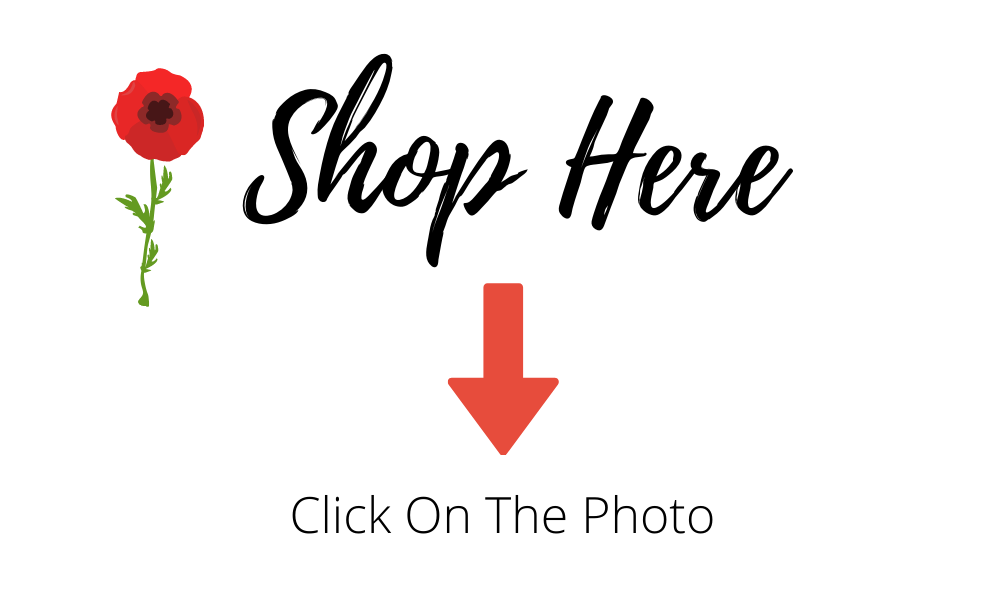 That completes my fall bedroom decor! It took some time, but I finally got my bedroom looking fresh and updated! Pretty soon it will be time to decorate for Christmas….it's coming soon. For now I'm just going to enjoy fall for a bit longer.