There are few things more feminine than red shoes! This one accessory can take an outfit from bland to bam, but some of you may be a little unsure about wearing such a bold color. Today I'd like to show you how to rock a red shoe for spring and summer.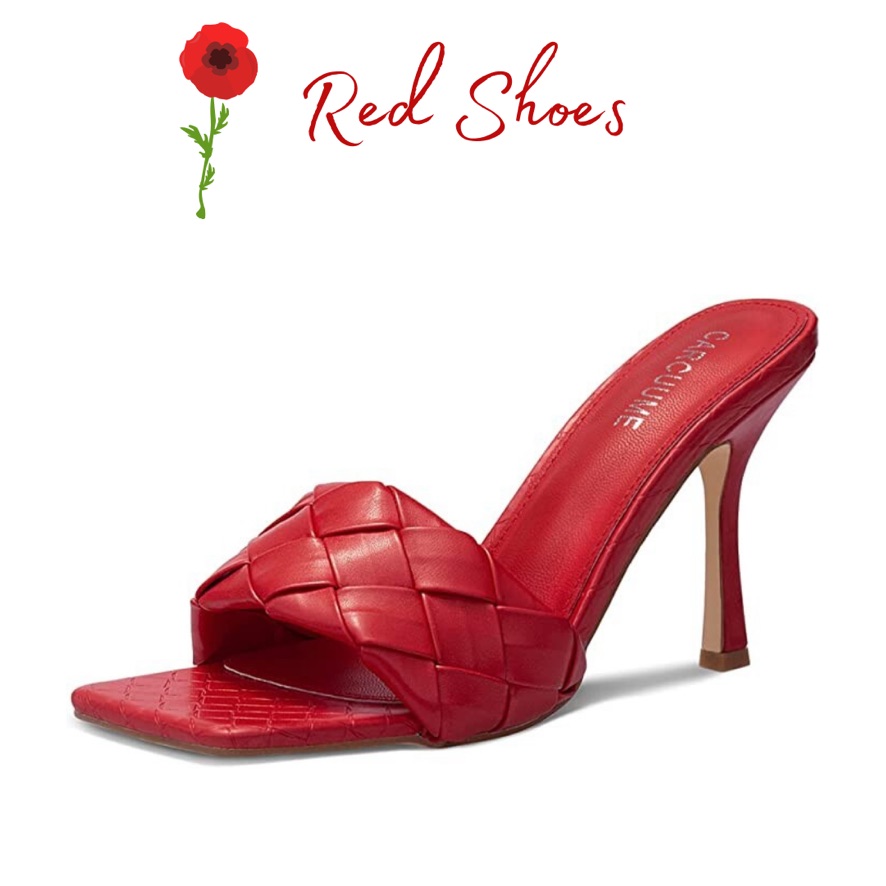 I've owned red sandals in the past, but recently I found these beauties and I had to have them! They are on trend with a square toe, braided band, and slip on style. What's even better is that they are only $35! All of the outfits today will be styled with this pair of red shoes, because it's the only pair I currently own.
Also, I realize that not every woman likes to wear a stiletto heels, so I will be linking some other red shoe options in varying heel shapes and heights. There is a whole shopping widget full of other styles of red shoes for you at the end of this post!
Monochromatic Outfits With Red Shoes
The first style tip to rock a red shoe, is to pair it with a monochromatic outfit. This really lets the shoe stand out and get the attention that it deserves, while keeping your overall look from being too overwhelming.
All Black Outfit + Red Shoes
You can't go wrong with all black and a pop of red to top off the look. Here are some examples from my closet.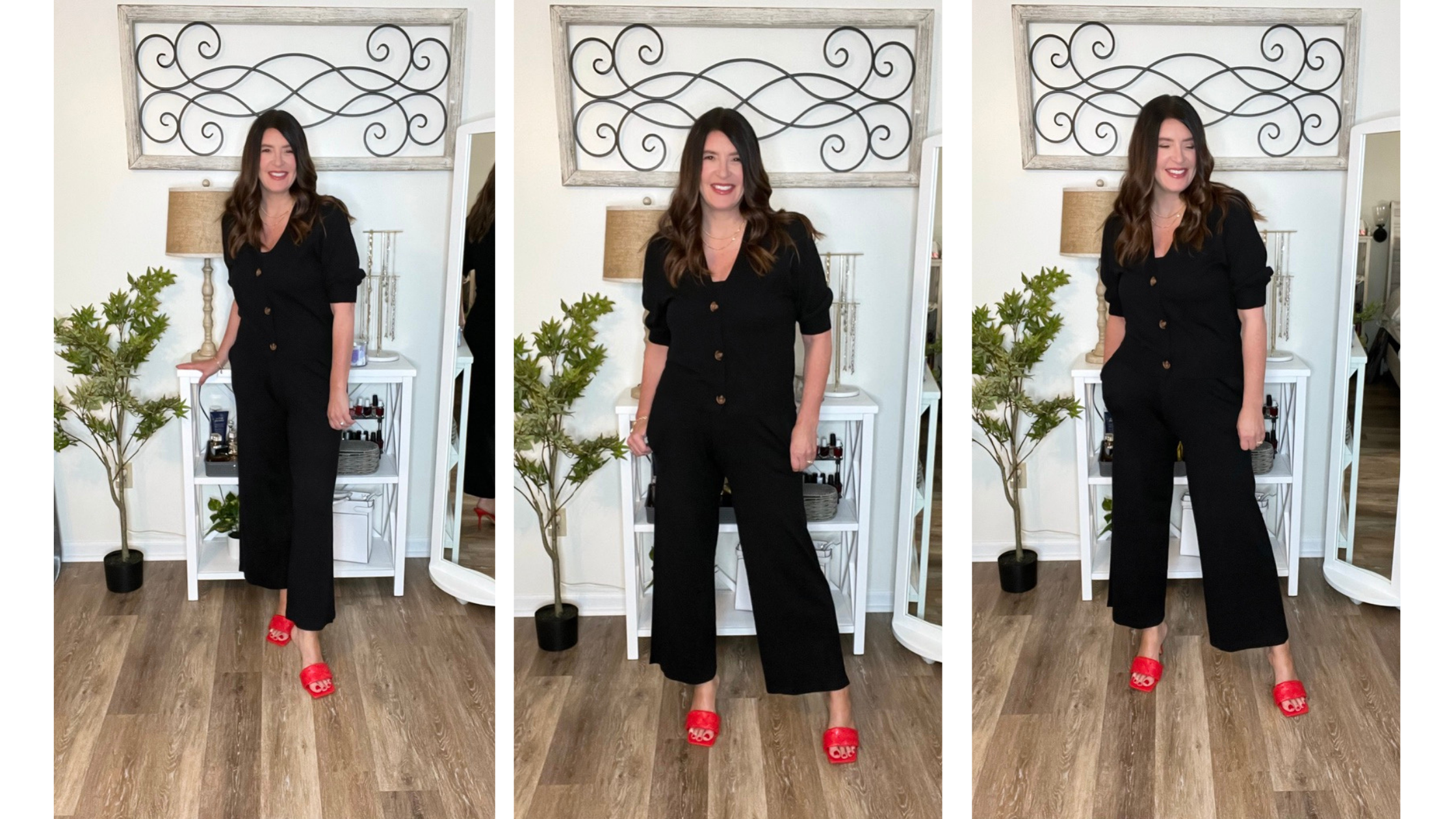 You may remember this outfit from a previous Weekly Walmart Finds post. This two piece set by Time and Tru is perfect for this time of year! It is still available in all colors including this black for only $24.98.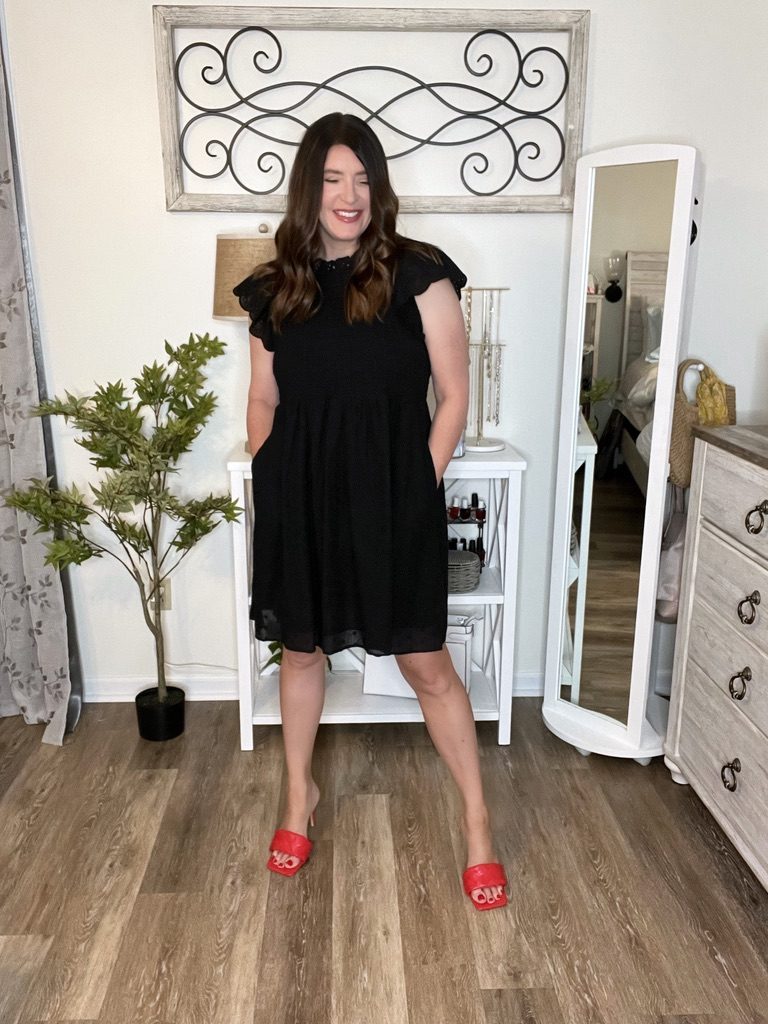 Every woman needs a little black dress and I love how this one looks with red shoes. This dress is another Walmart find and I plan to wear it as much as possible this spring and summer.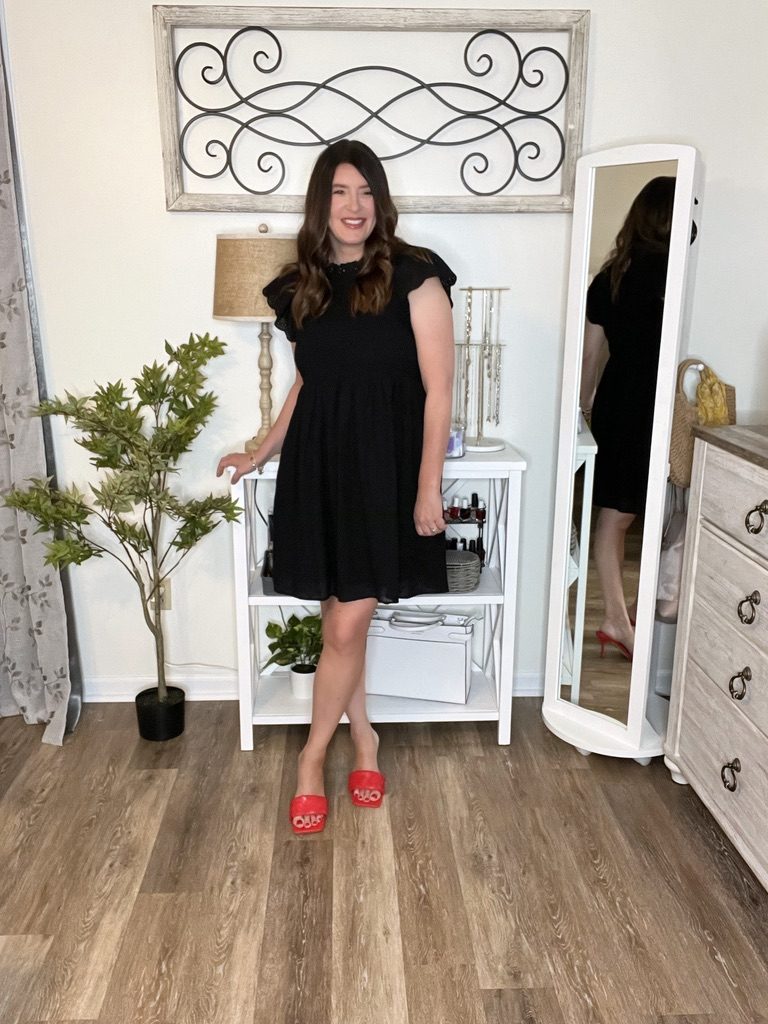 For a more casual look, an all black outfit consisting of a body suit and jeans really shows off the red shoes. This is a very chic look and one of my favorite go-to outfit combinations.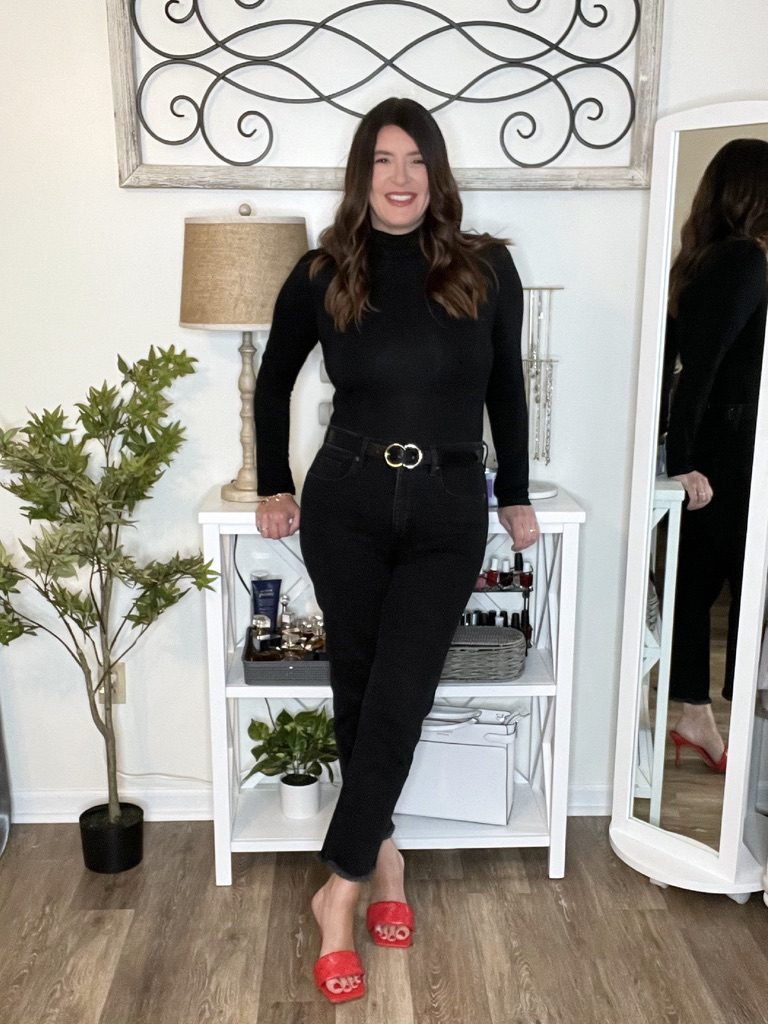 The bodysuit is a very thin material, so it can be worn in spring. You could also look for a short sleeve bodysuit or just wear a more fitted black top instead. This bodysuit from Amazon has exceeded my expectations with quality and fit, and I have it in black and red.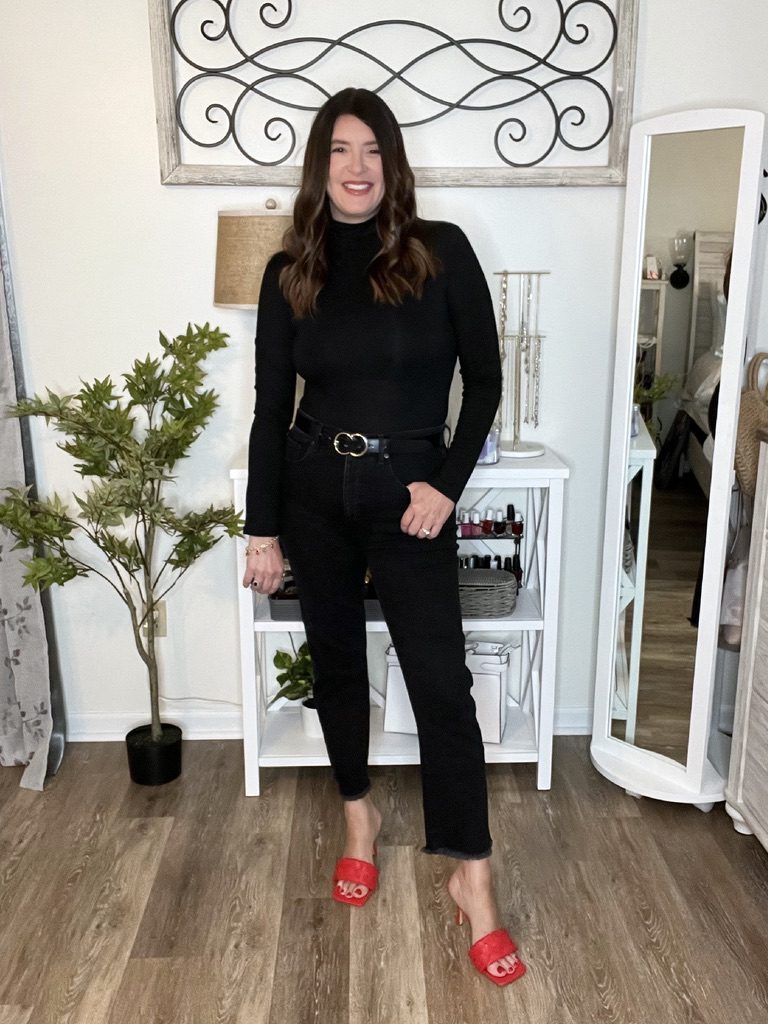 I buy most of my jeans from Loft, and these are a pair from late last year. The thing with Loft is that once they are gone, that's it so it's hard to link to their products sometimes. This pair is currently available and has a similar style.
All White Outfit + Red Shoes
The same concept can be applied by a wearing monochromatic white outfit and red shoes.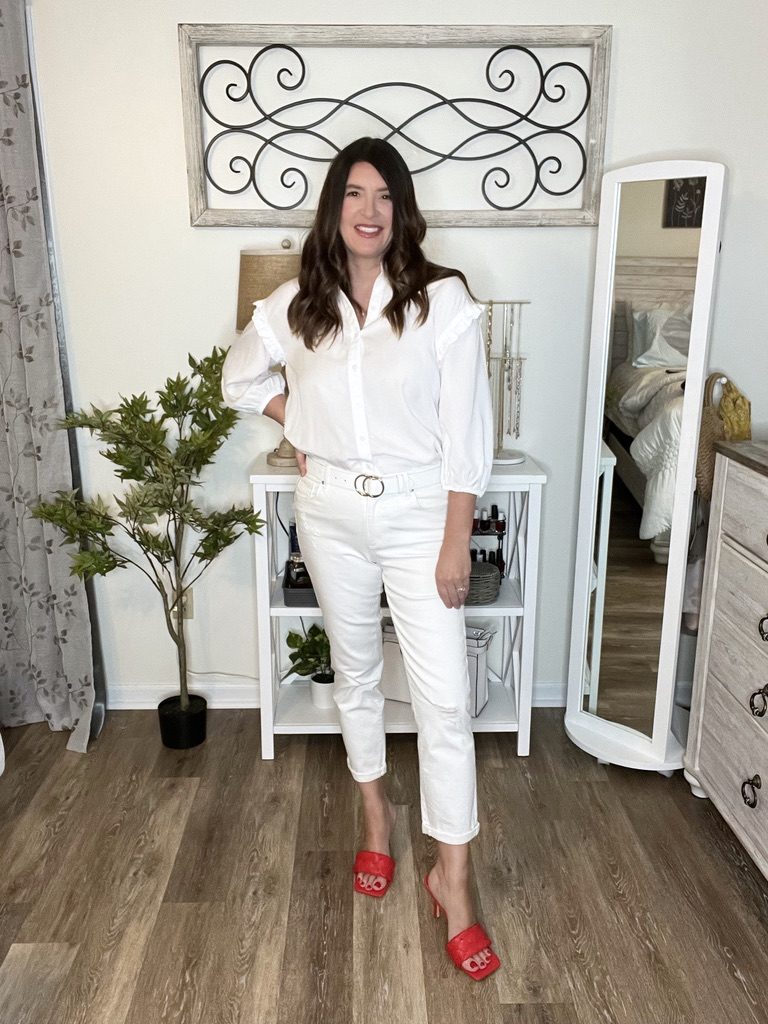 Again, keeping one color on the body allows your eye to go straight to the pop of red. You could also use the same concept with another bold colored shoe, such as hot pink or bright yellow. This top has quickly become a favorite of mine because I like the placement of the ruffles below my shoulder. It also has a nice 3/4 length sleeve.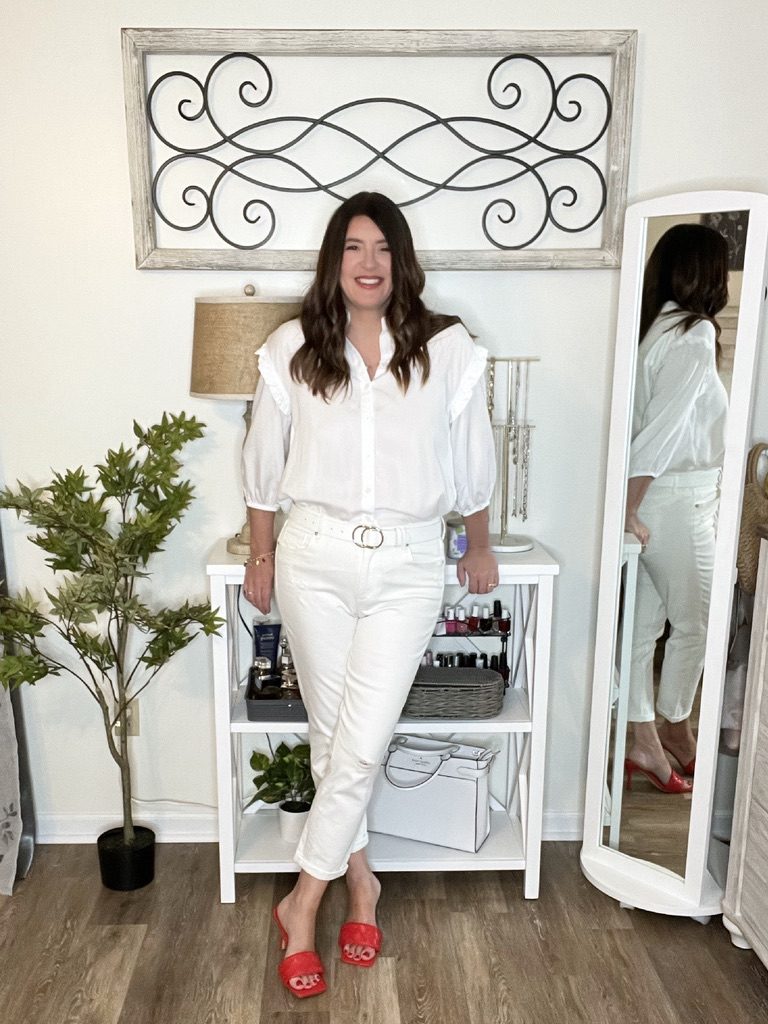 My jeans are another pair from Loft (last year), so I will link something similar. One thing to point out about these outfits is that the pants are cropped. This is not something you would have to do, but I think a cropped pant with a bold colored shoe helps to show off the shoe.
Navy Outfit + Red Shoes
One last monochromatic way to rock a red shoe is with navy. The two colors really compliment each other, and navy is a good alternative to black.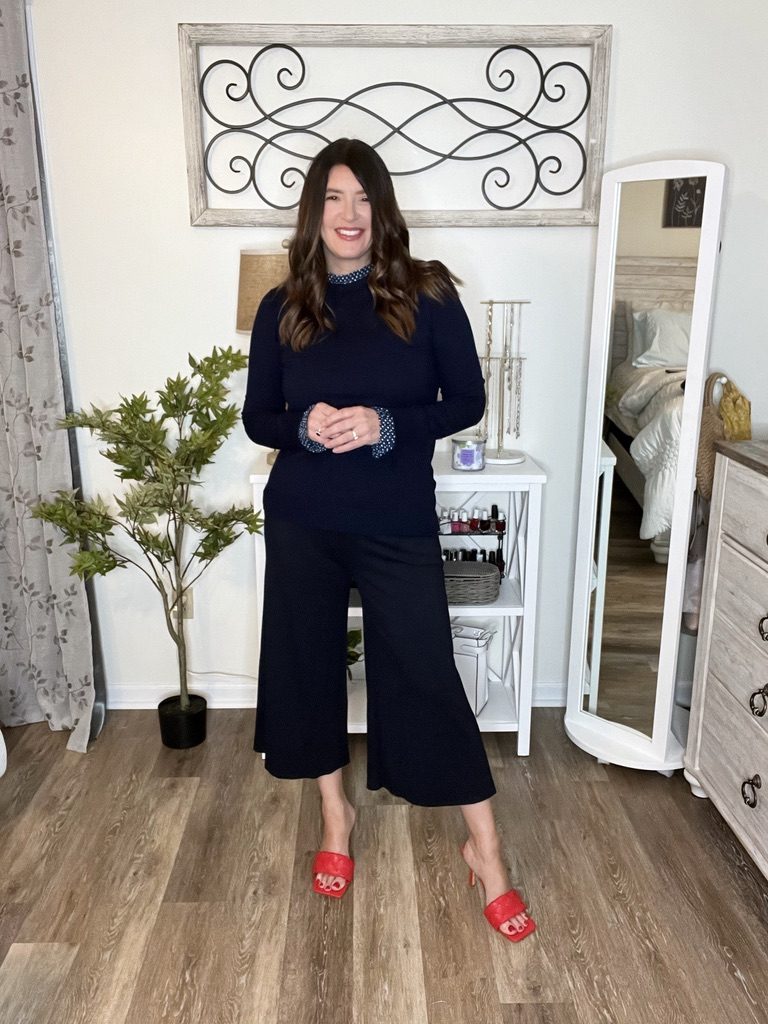 This outfit is old, but I have worn it so many times! The sweater is a good spring knit, and the wide leg knit pants are a purchase from Nordstrom. If I remember correctly, this is the third season I have worn them. A wide leg cropped pant is a good piece to wear with a shoe like this, so search your closet and see what you can come up with!
Floral Top + White Jeans + Red Shoes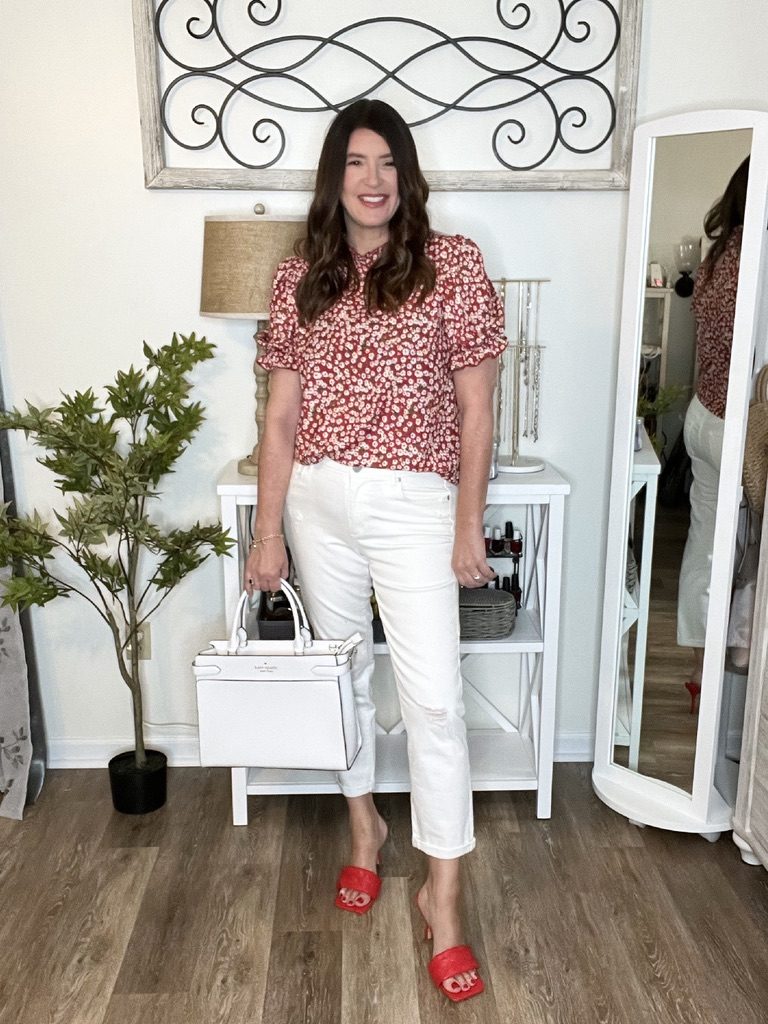 Now that we've seen some monochromatic looks, lets look at some other ways to style red shoes! I bet you have a floral top in your closet. It doesn't have to be red as long as it coordinates with red.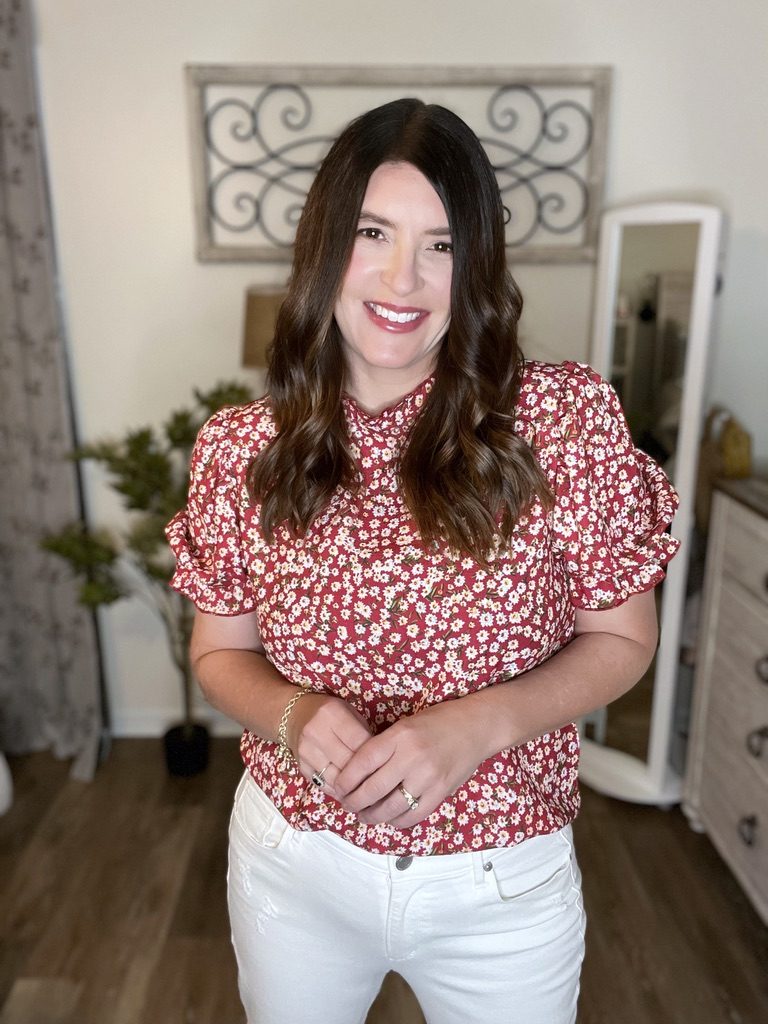 I've had this red floral top from Amazon since last year and I wear it so many ways! Here with the same white jeans from earlier and a large white tote, the red shoes still have their moment and don't compete with the top.
Printed Tunic Top + Blue Denim + Red Shoes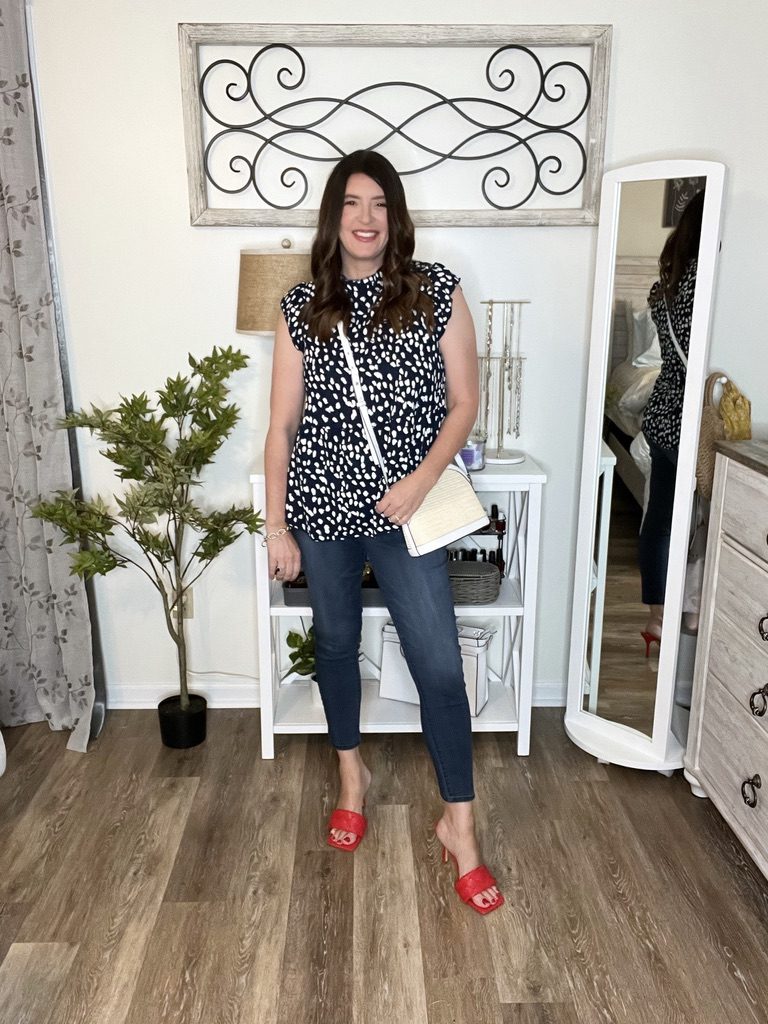 You may remember this top from my recent Amazon try on post. I kept this top, and it pairs very well with skinnies and the red shoes.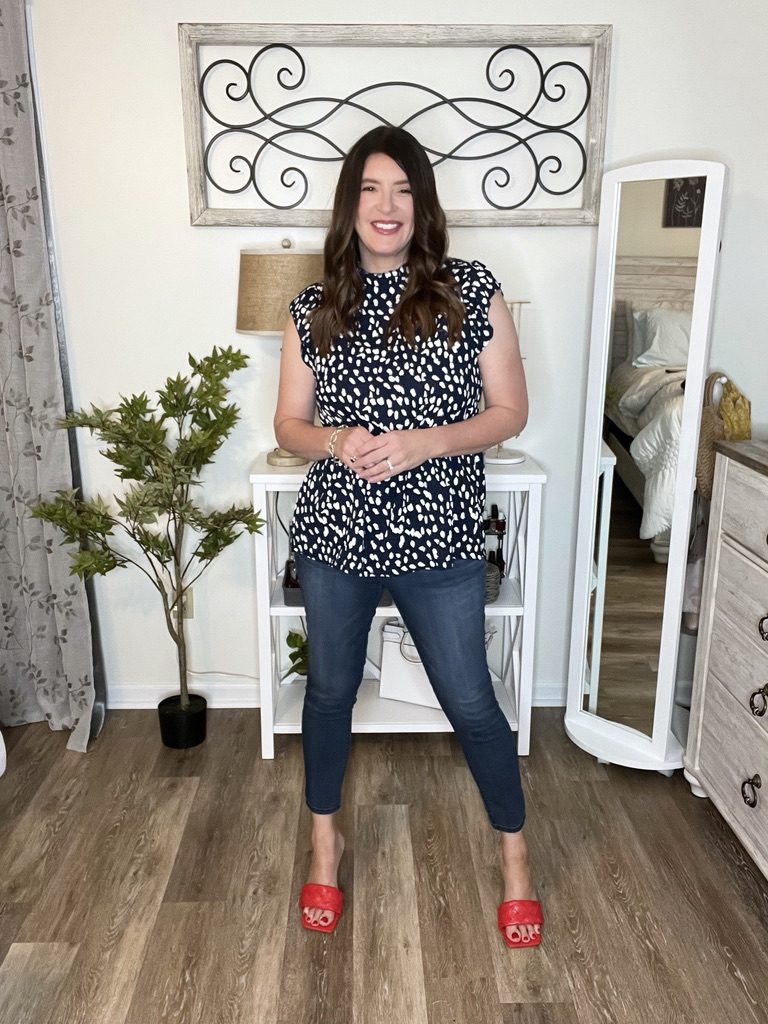 Long Sleeve Top + Blue Denim + Red Shoes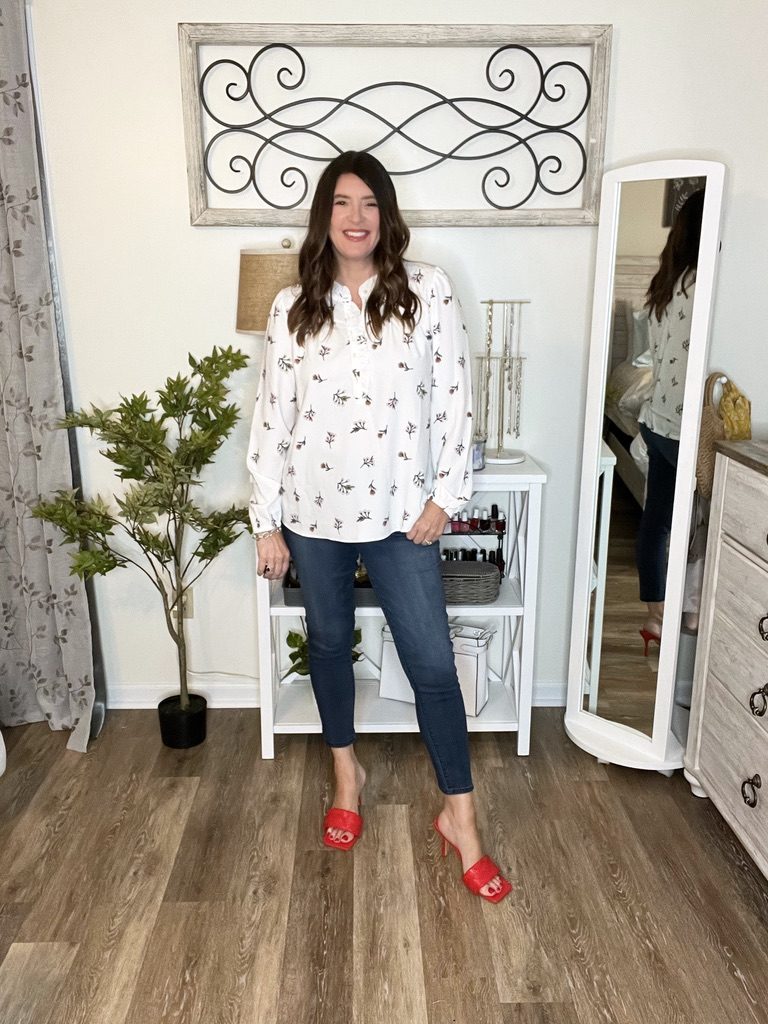 Here is another variation just to help you think through your closet. This top from Loft happens to be floral, but any long sleeve top that you like paired with some jeans could compliment red shoes. I've linked several pretty tops from Loft that are currently available and many of them are also on sale!
Polka Dots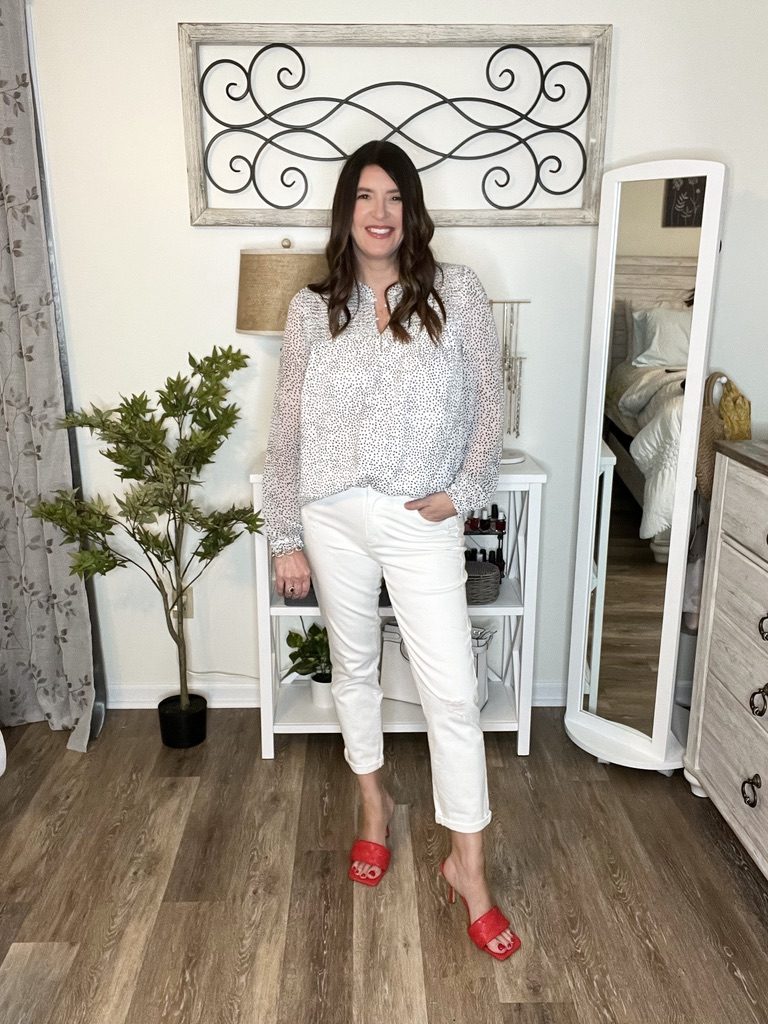 Polka dots also compliment red shoes. Here is another older top from Loft that has a subtle polka dot pattern paired with white denim and the red shoes.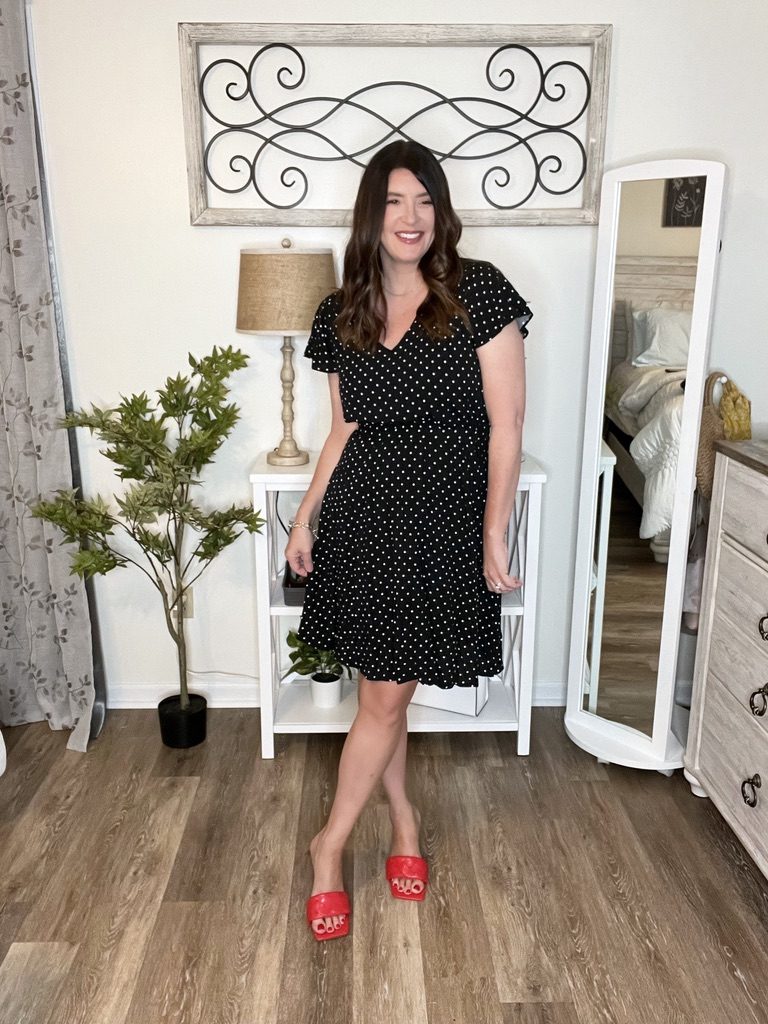 I've had this black polka dot dress from Old Navy for at least two years. This outfit combination is flirty and feminine and the pop of red just takes it up a notch. I've linked some polka dot options for you to browse.
General Style Tips:
Just a couple of things to keep in mind whenever you are wearing a statement piece, such as red shoes.
Avoid being to matchy by adding a red bag, large red earrings, or other red accessories in addition to red shoes
Let the shoes, or whatever statement piece it is, be the center of attention and keep the rest of your look rather simple
If you do mix reds, make sure they are the same shade of red
If you wear a statement shoe, all eyes will be on your feet so make sure you take care of them. I good pedicure (at home, or salon) is a must
More Red Shoes To Shop: