Move over skinny jeans, straight leg jeans are taking over the spotlight! About a year ago, the trend really shifted from the skinny jean to the straight leg jean. Skinny jeans have reigned supreme for several years, and it was time for something new. Straight leg jeans come in many various styles, and the silhouette takes some getting used to after wearing skinny jeans almost exclusively for so many years. I found them pretty easy to style last spring and summer, but styling them for cold weather is a little more tricky. In particular, they can be tricky with booties which are a wardrobe staple in fall and winter. With that in mind, I decided to tackle this dilemma and share some style tips on how to wear straight leg jeans with ankle boots.
What Are Straight Leg Jeans?
Let's start by pointing out the characteristics of this style. As I mentioned, they come in a variety of styles, but they all have one thing in common…the cut and leg opening. The width of the hem is straight from the hip to the ankle. They do not fit as snug in the leg as a skinny jean and have a more relaxed fit.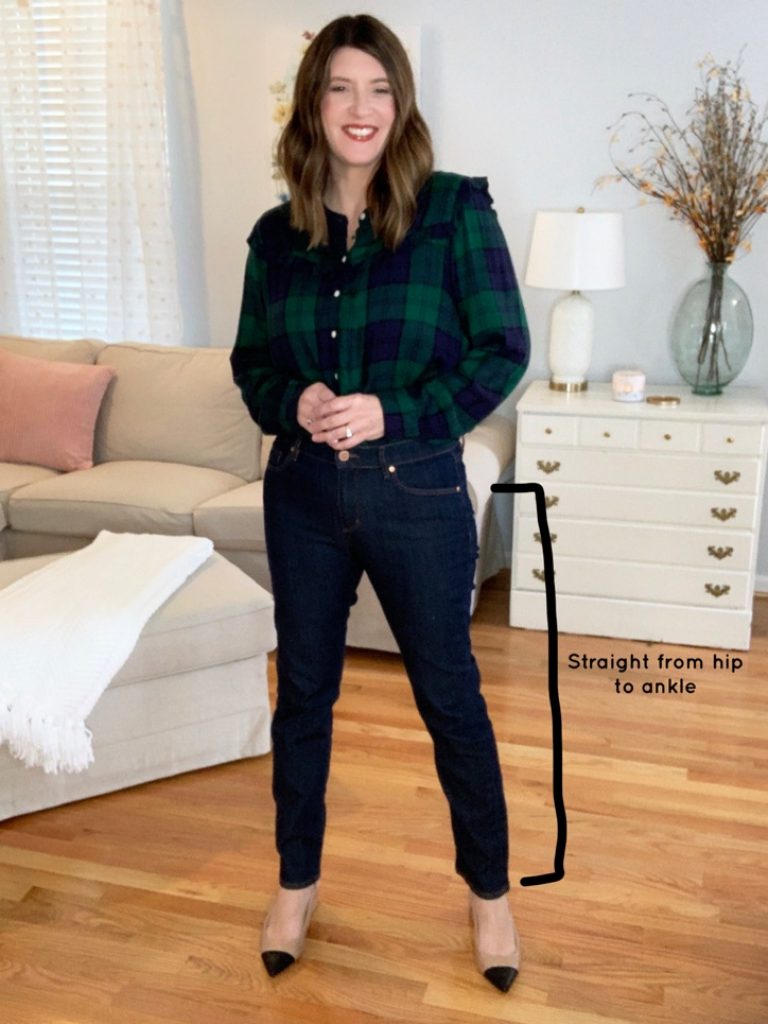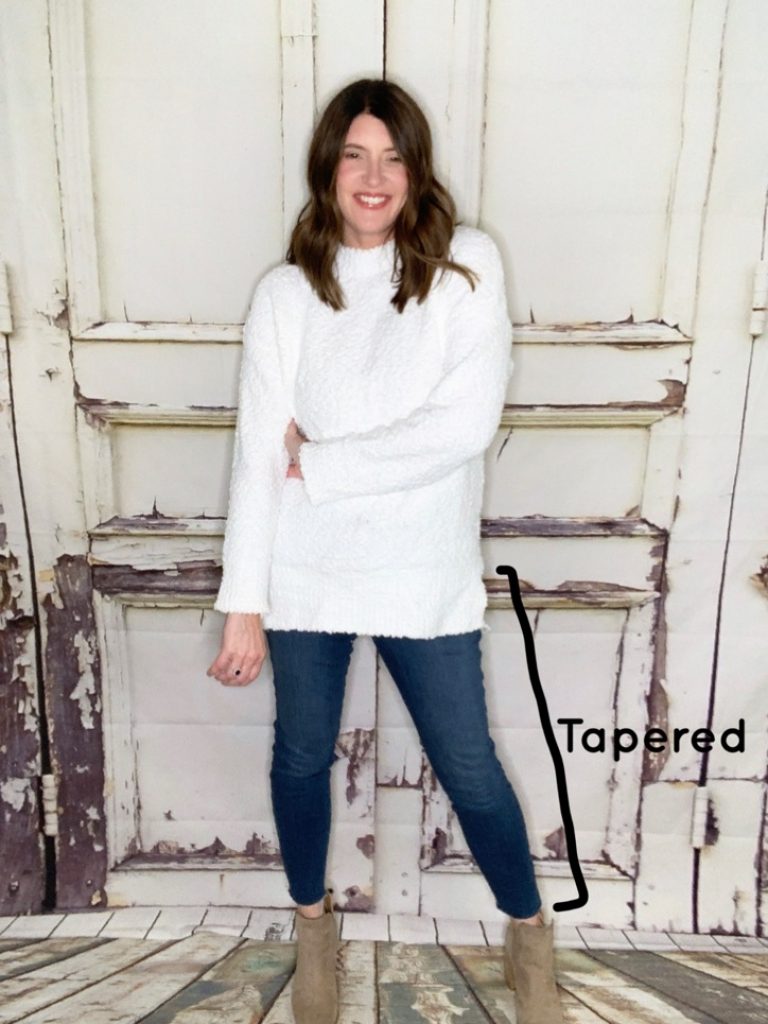 As far as length, straight leg jeans come in cropped, or full length. This is where your shoe choice becomes important.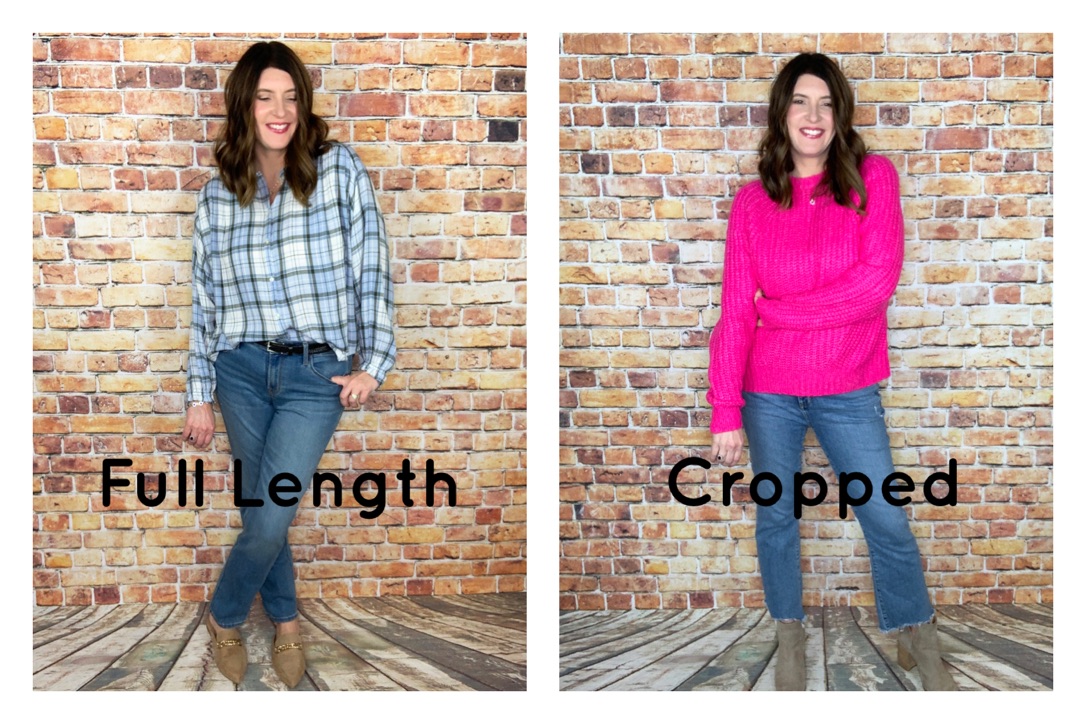 Full length jeans look better with flats, heels, or sneakers. Cropped straight leg jeans are your best option for boots.
Here is an example of straight leg jeans with flats.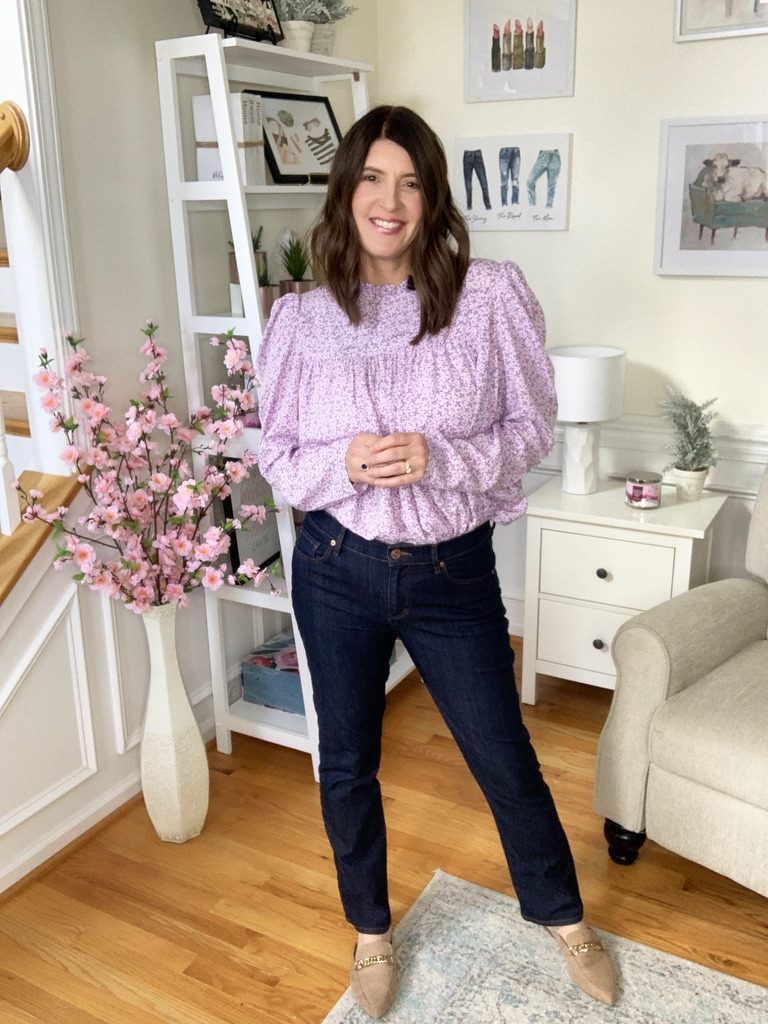 Four Ways To Style Straight Leg Jeans
There are basically three options for wearing this style . I will show you an example of each style combination as well as an example of what not to do.
1. Cropped Jeans + Ankle Boots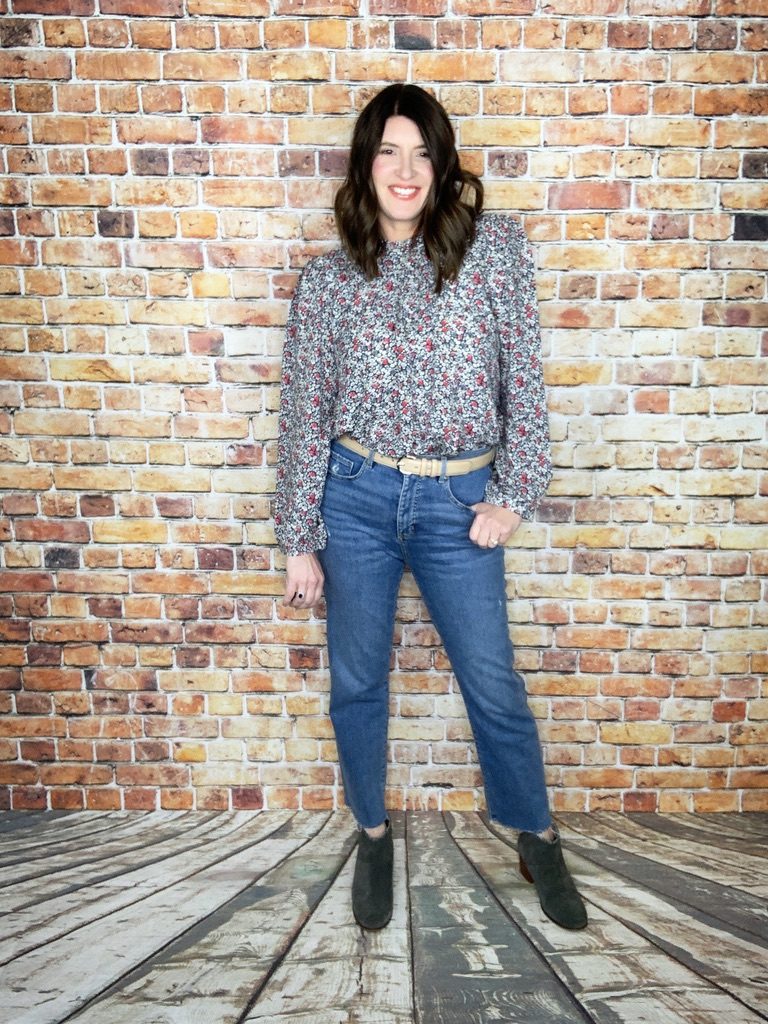 The first option is to wear a cropped style. In this example I am wearing a raw hem style. The important thing to keep in mind is that you want the top of your jean to just barely touch the top of your boot.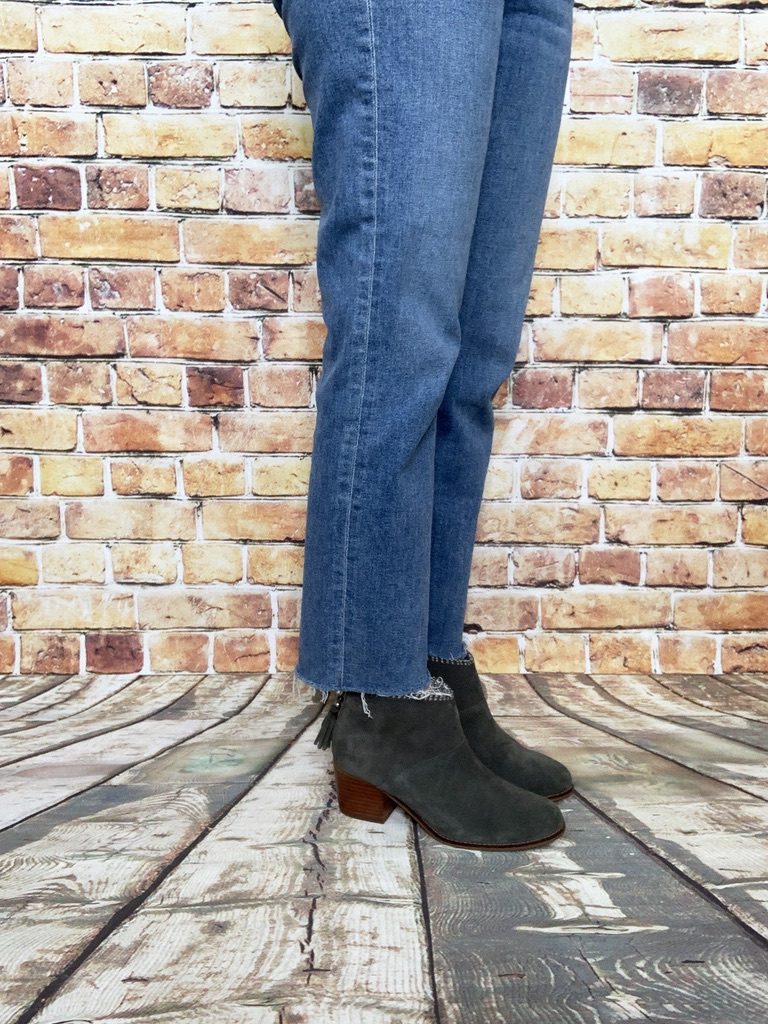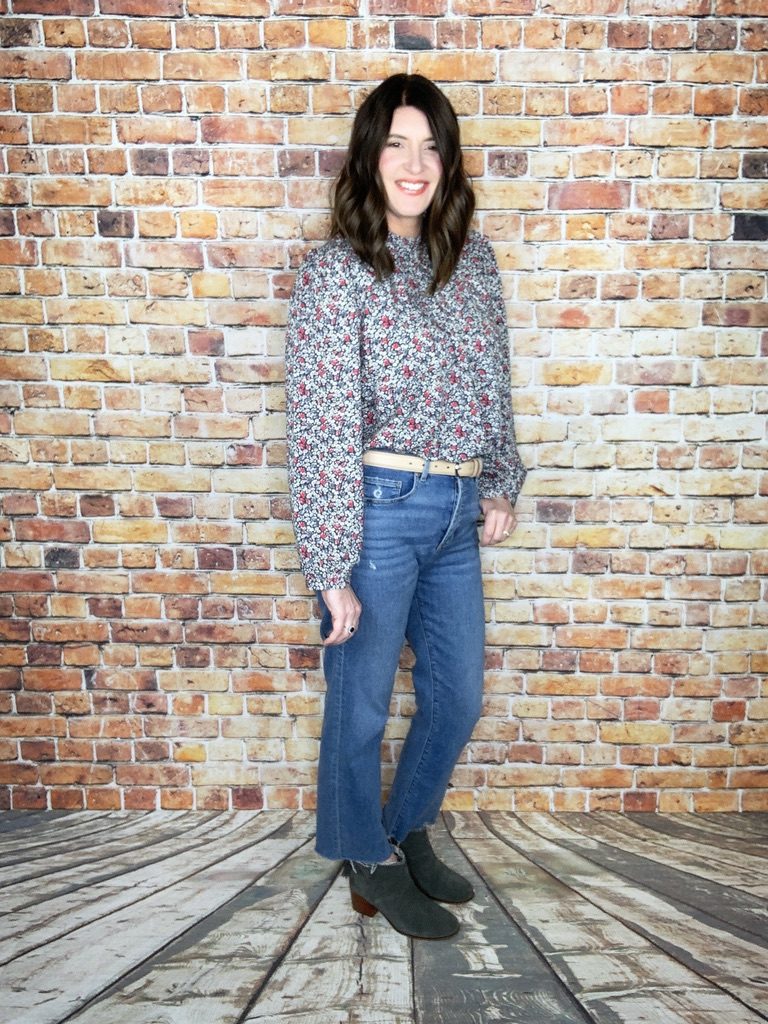 Your jeans should not cover the top of the boot or scrunch down around the boot.
Outfit details: Here I am wearing a floral blouse from Loft. This particular one is sold out, but they have several similar styles that are deeply reduced right now. I will link some similar options. My jeans are also from Loft and I will link them if they are still available. My boots are several years old, but they are just typical grey ankle boots.
2. Black Jeans + Ankle Boots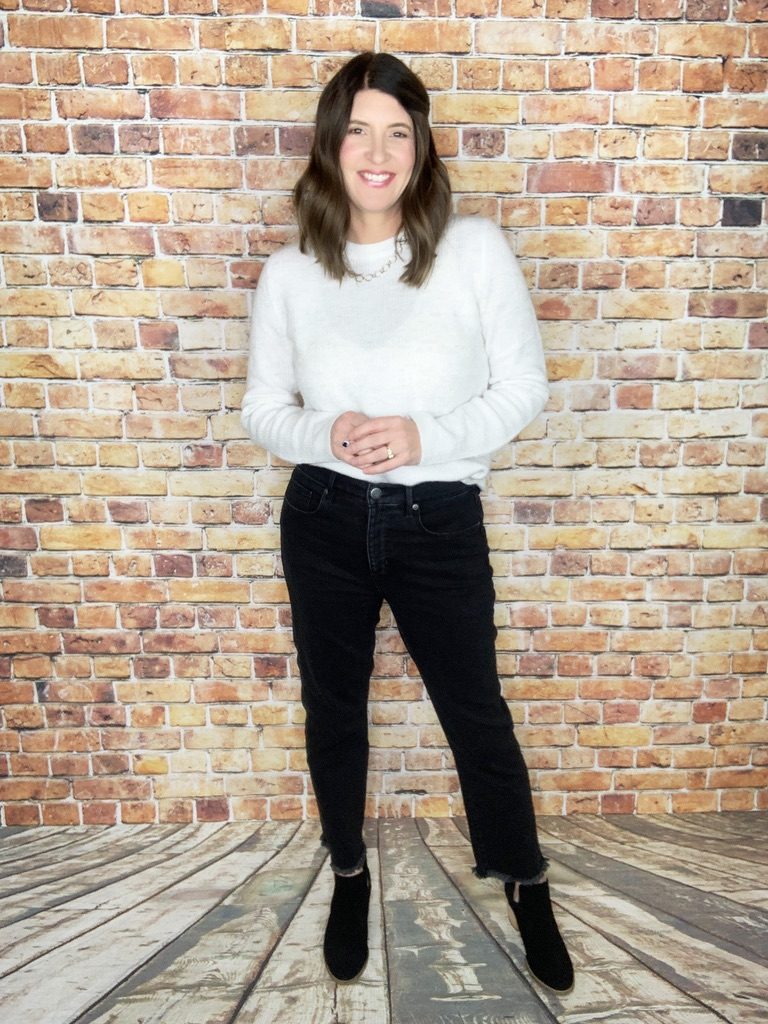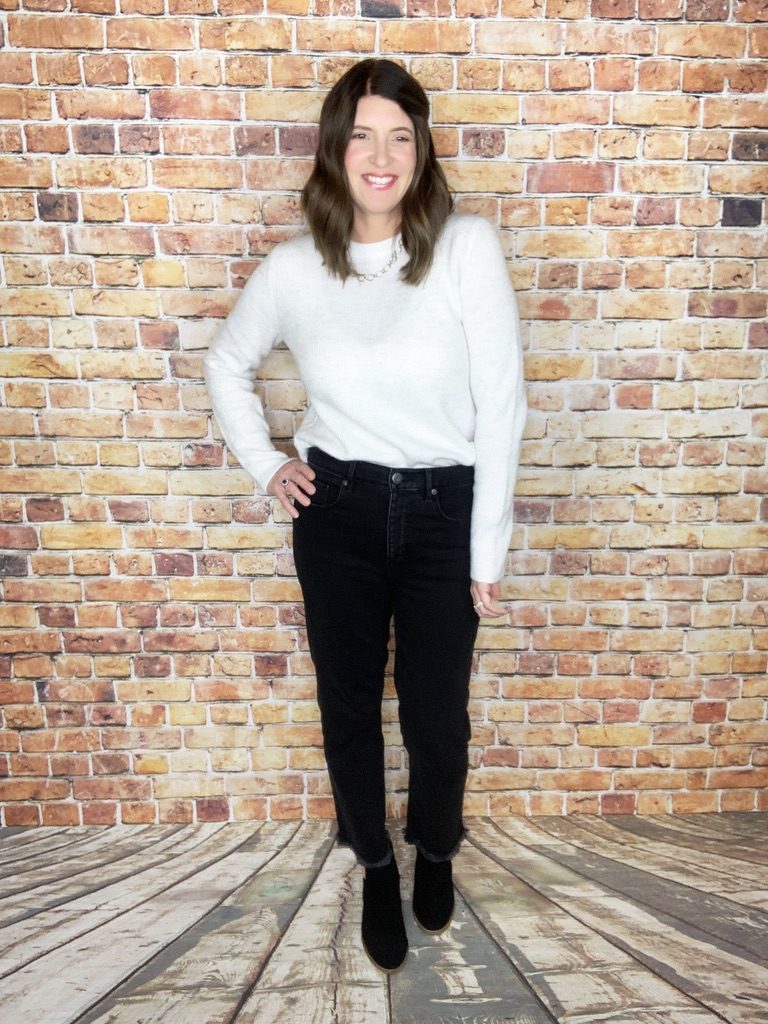 Colored jeans are also a nice option for the straight leg trend. Here I have a pair of cropped black jeans with a simple white sweater and black ankle boots. I linked the most recent version of the jeans from Loft and the sweater from Old Navy is not available in white, but there are other colors to choose from.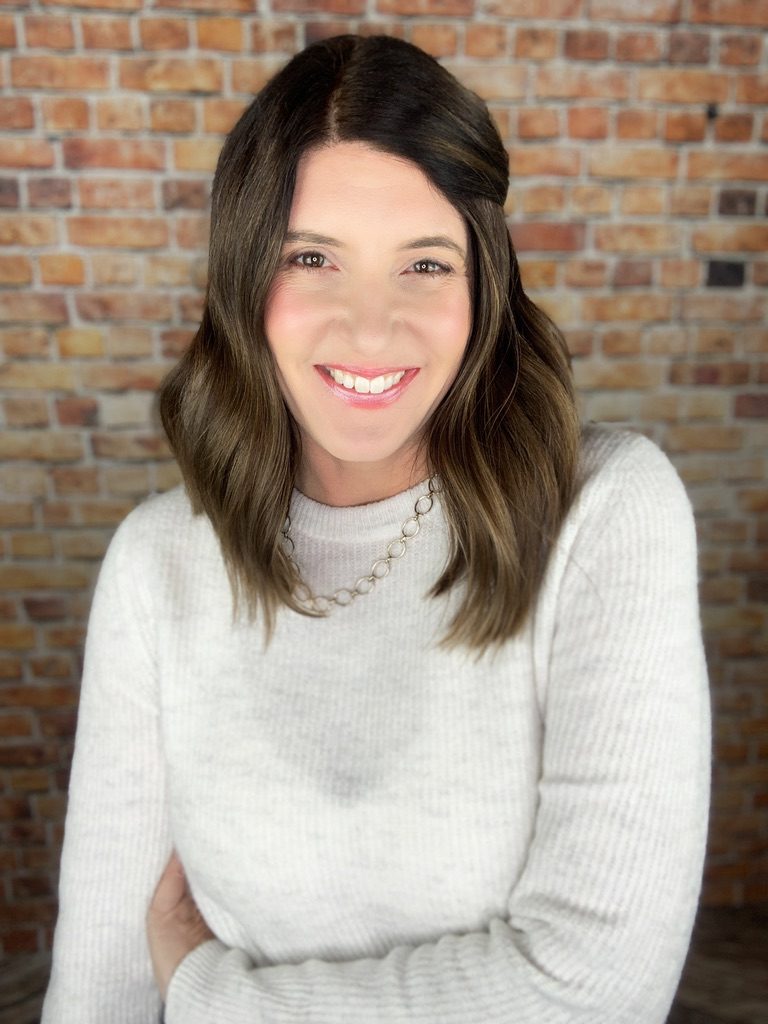 3. Full Length Jeans + Sock Booties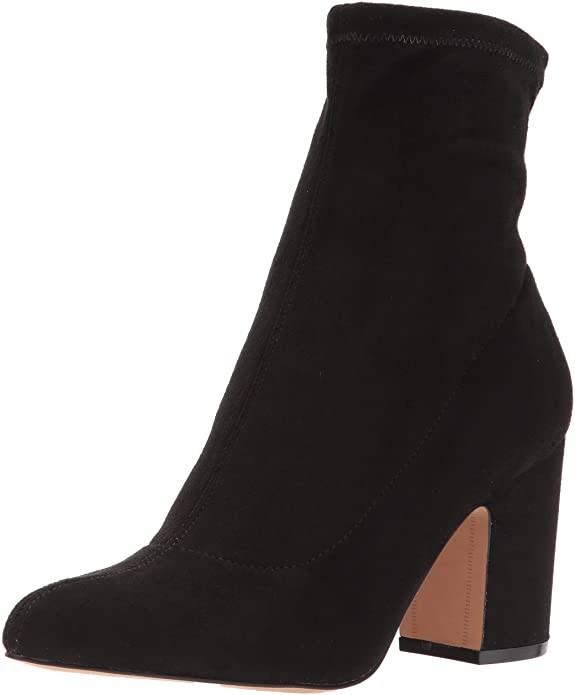 If you want to wear ankle boots with full length straight leg jeans, a sock bootie or an ankle boot with a hight shaft will look best. This way the jean flows seamlessly over the boot, and you don't need to cuff your jeans.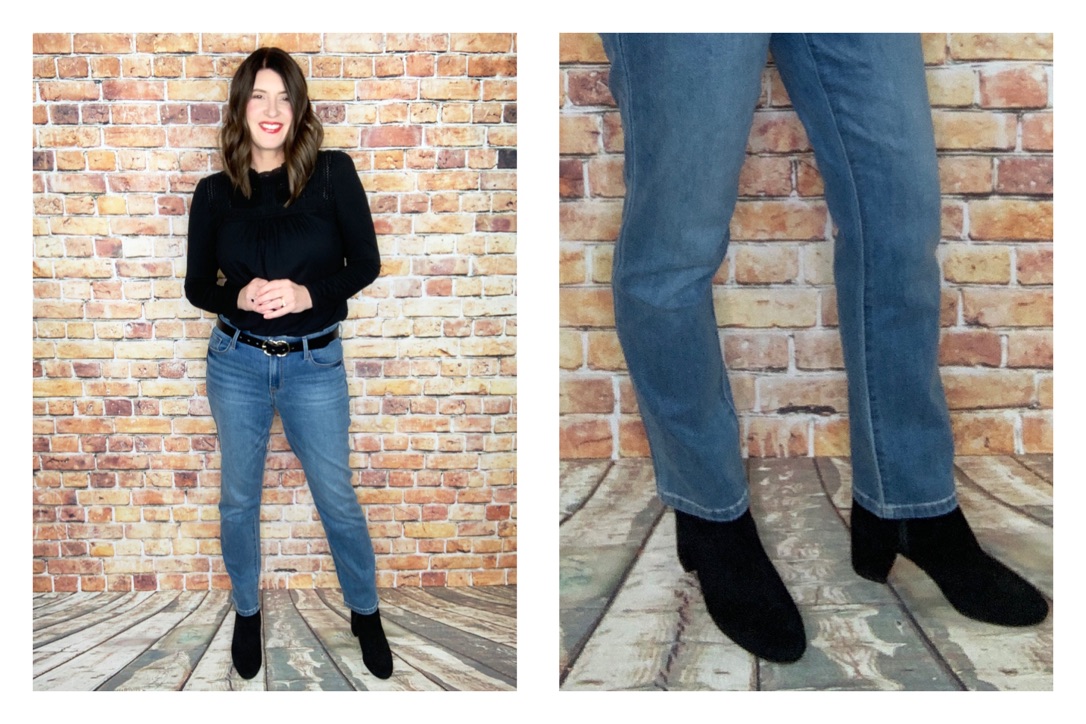 In contrast, the photo below is the wrong way to wear straight leg jeans with ankle boots.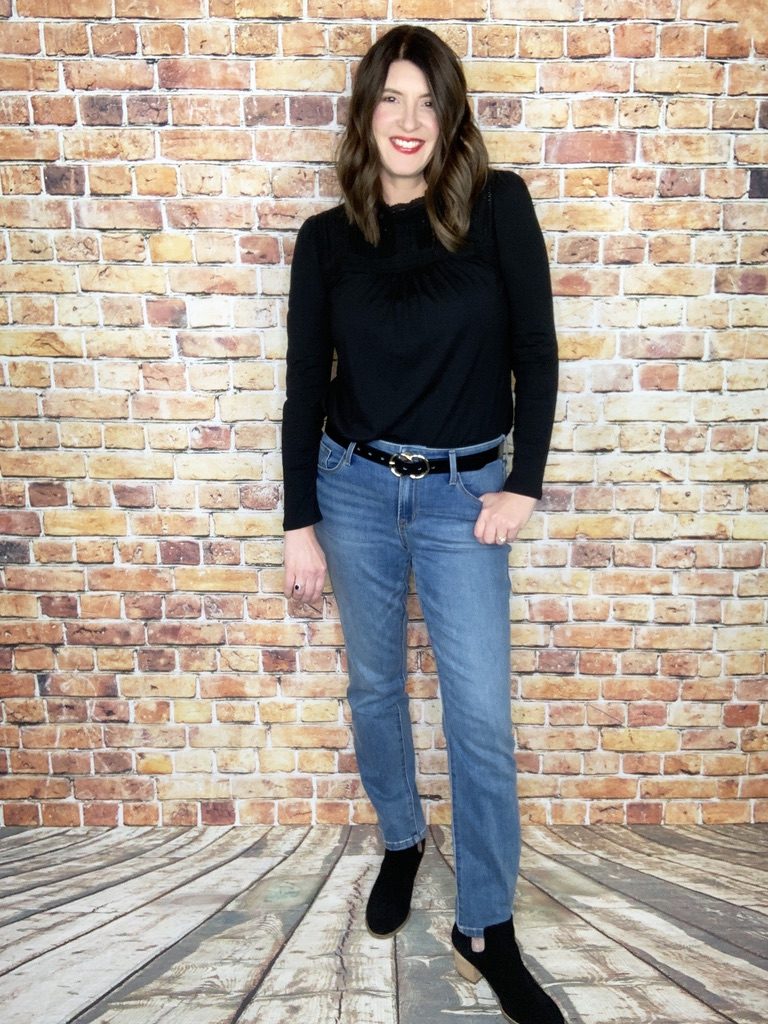 Notice the way the jeans are too long for the boot. They tuck awkwardly into top of the boot and they don't flow over the boot like the first example with the taller shaft boot.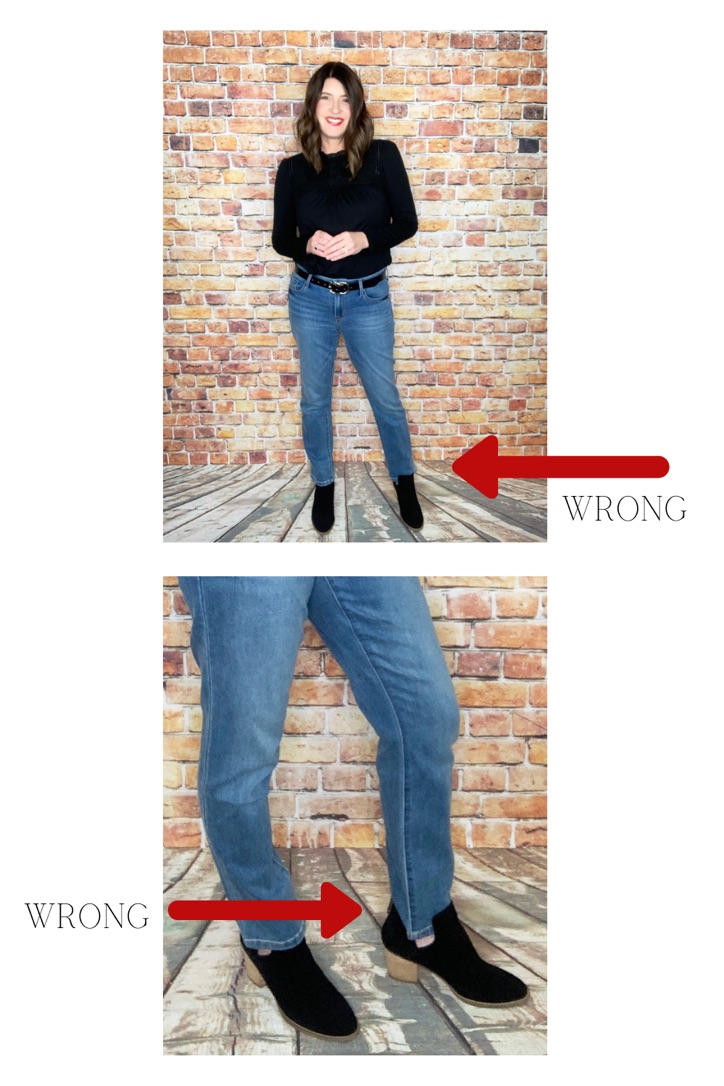 Outfit Details: My black knit top is a recent purchase from the Loft clearance sale. Currently it is only available in a size xs and the olive is available in xs, and s. I am wearing a medium, but I wish I had sized up to a large. This fits a bit snug in my shoulders. If you are small, this is a great top and is on sale for $9!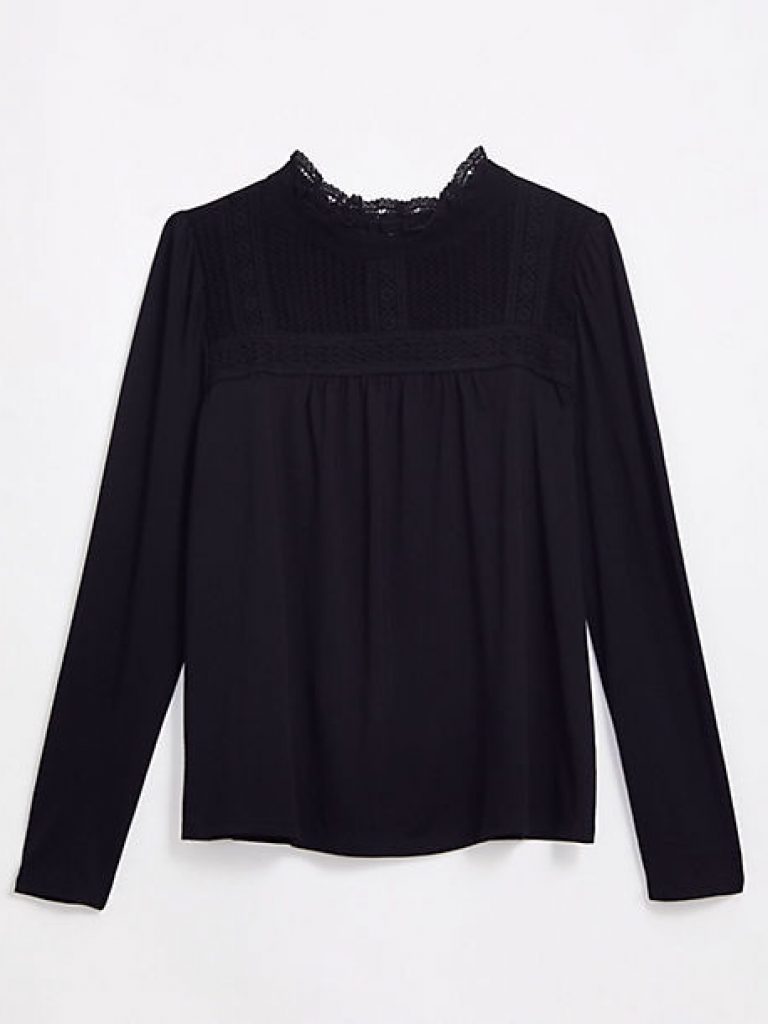 My jeans are the Mid-Rise Power Slim Straight Jeans from Old Navy in a size 8.
4. Cuffed Jeans + Ankle Boots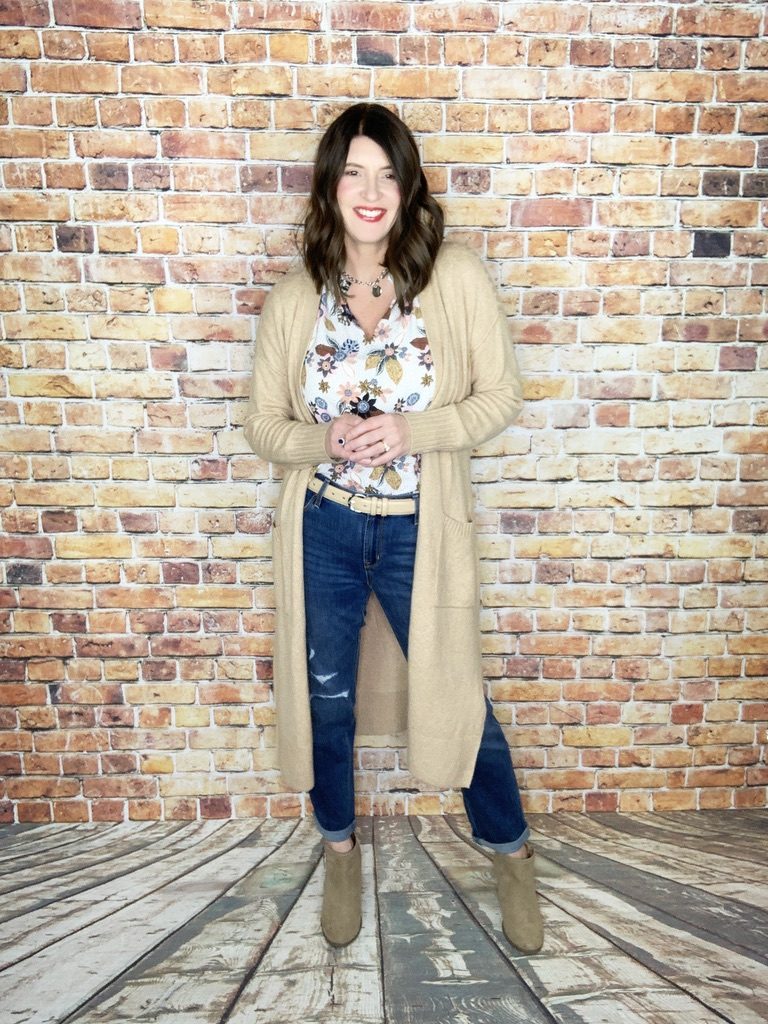 Another option is to cuff your straight leg jeans to the proper height. Using the same rule of thumb, cuff your jeans until they barely skim the top of your boots. They should not crease over the boot or show too much of your ankle/leg.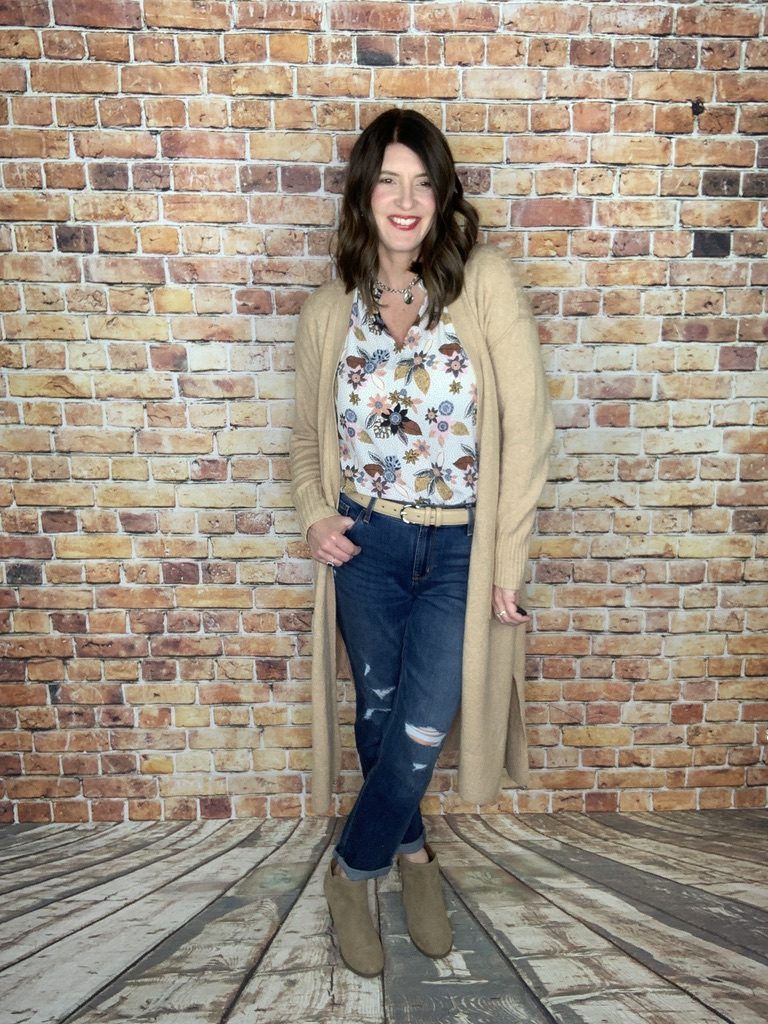 This outfit centers around some distressed jeans in a darker wash. These jeans are from Old Navy. I paired them with a floral top from Loft (no longer available) and a camel cardigan. My wedge booties are from Walmart and they are still stocked.
I think it's safe to say that this trend is here to stay for a while. As I always advise, never feel pressured to wear a trend that you don't like or that doesn't flatter your figure.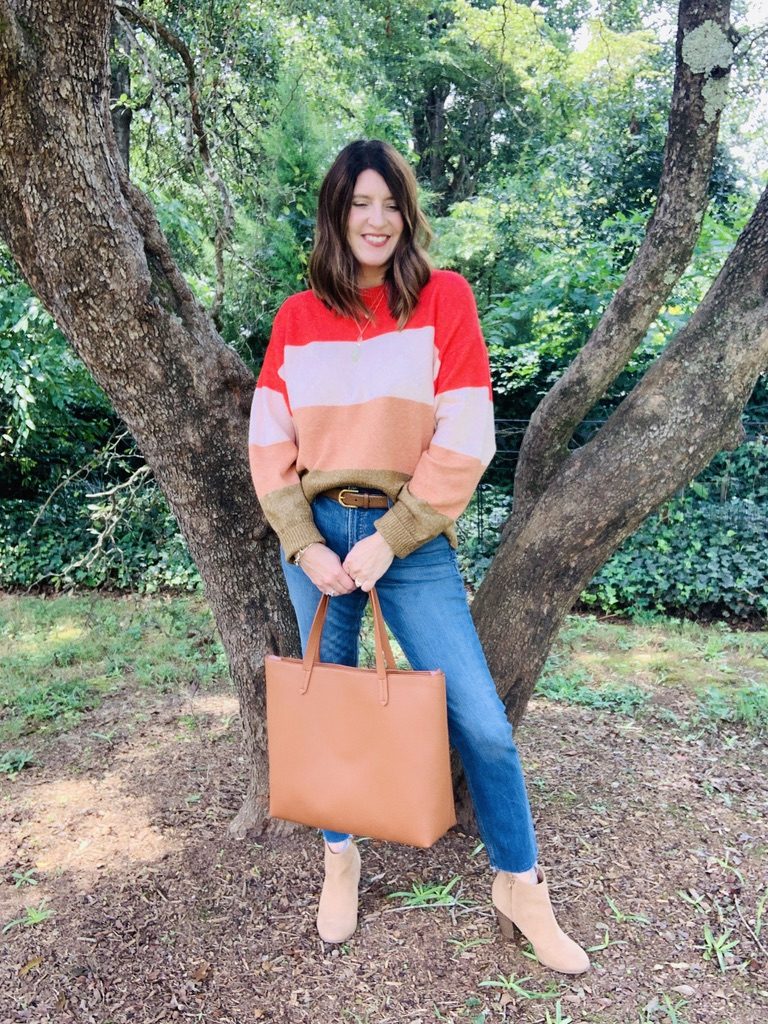 I hope this helps to guide you with how to style your straight leg jeans for winter. I think they are easier to wear with spring and summer shoes, but they can also look chic with ankle boots.
For more outfit ideas, you might enjoy this post.