I know I've been promising a new home tour for a while now, and many of you have asked about it. Today I finally get to share our new home with you and the progress we have made getting settled. For those of you who are new, let me bring you up to date.
My husband and I sold our home in South Carolina in August of 2021. We renovated an apartment that we own which is located over our business. We planned to live there short term until we decided on where we wanted to live, knowing that Georgia was our destination.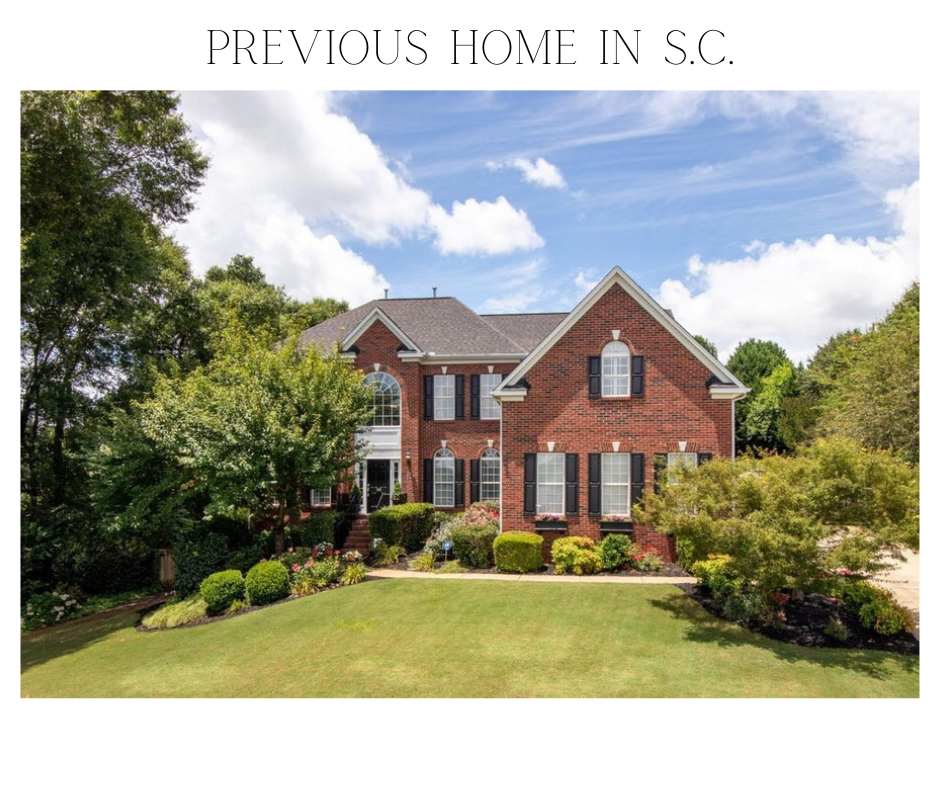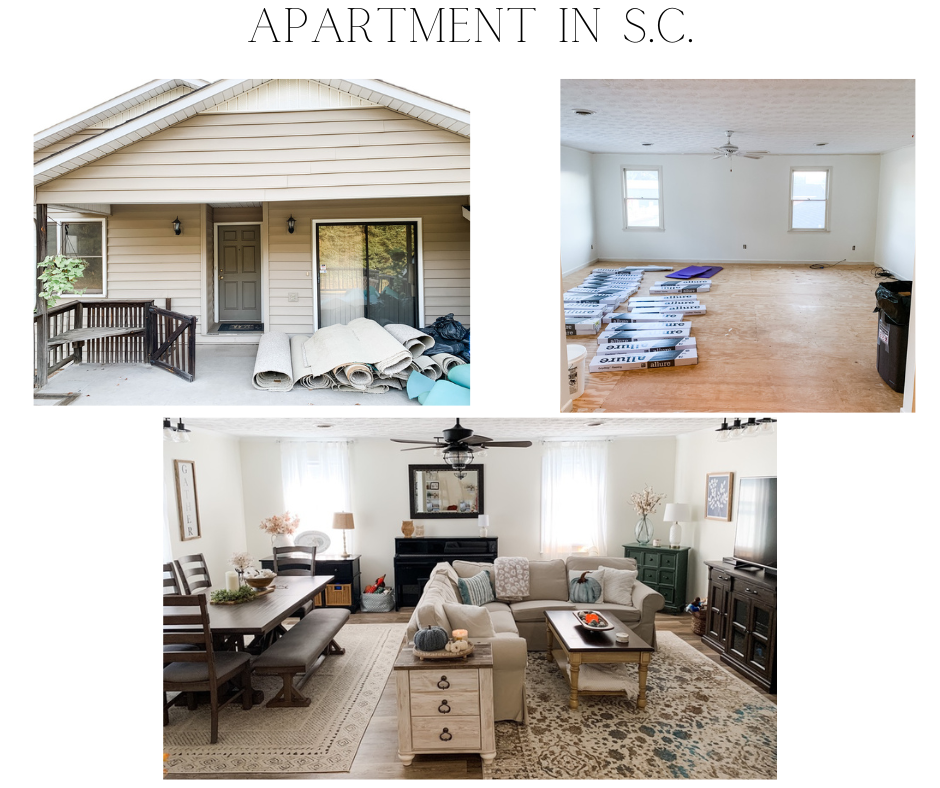 Why Georgia? Well, the main reason is family. Both mine and my husband's family are in Georgia and we lived here before moving to South Carolina in 2006. It feels like home and we knew we wanted to be here as my husband nears retirement.
Where Is Our New Home?
We live in Canton Georgia which is about 40 miles north of metro Atlanta. No, we don't enjoy Atlanta traffic, but up here in Canton is really no different than living in any other suburban area. We rarely have to deal with Atlanta traffic unless we are traveling.
The Beginning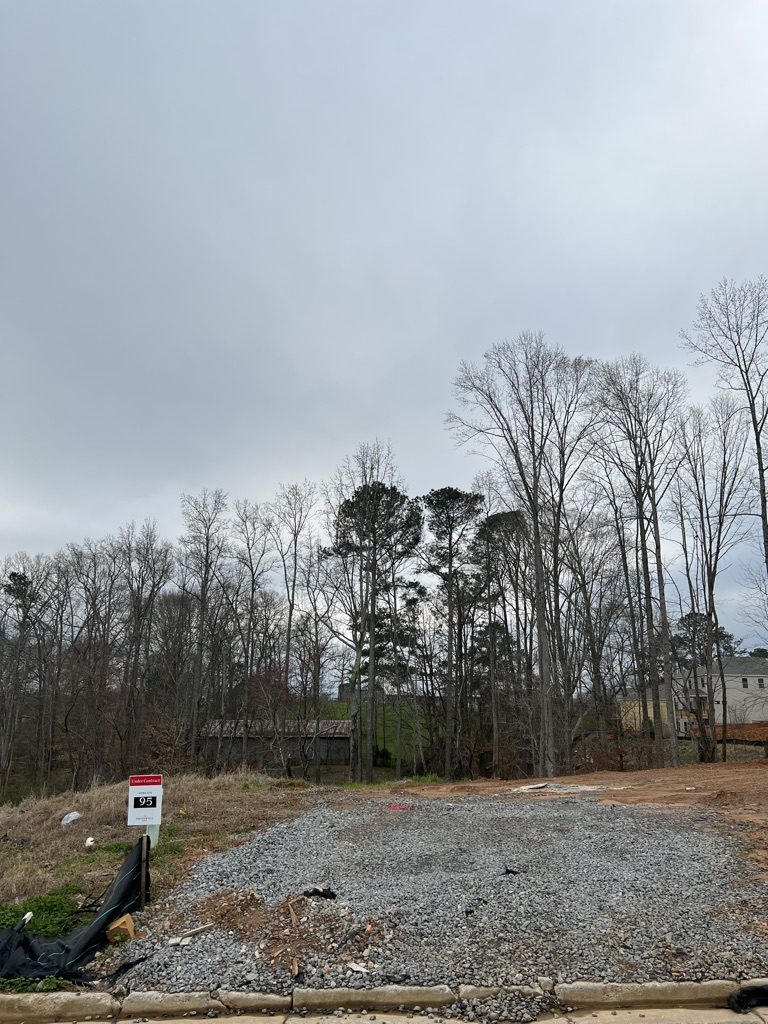 In February of 2022 we signed a contract to build a house on this lot in the same neighborhood as my parents. We fell in love with the atmosphere of this community and knew this would be the perfect location.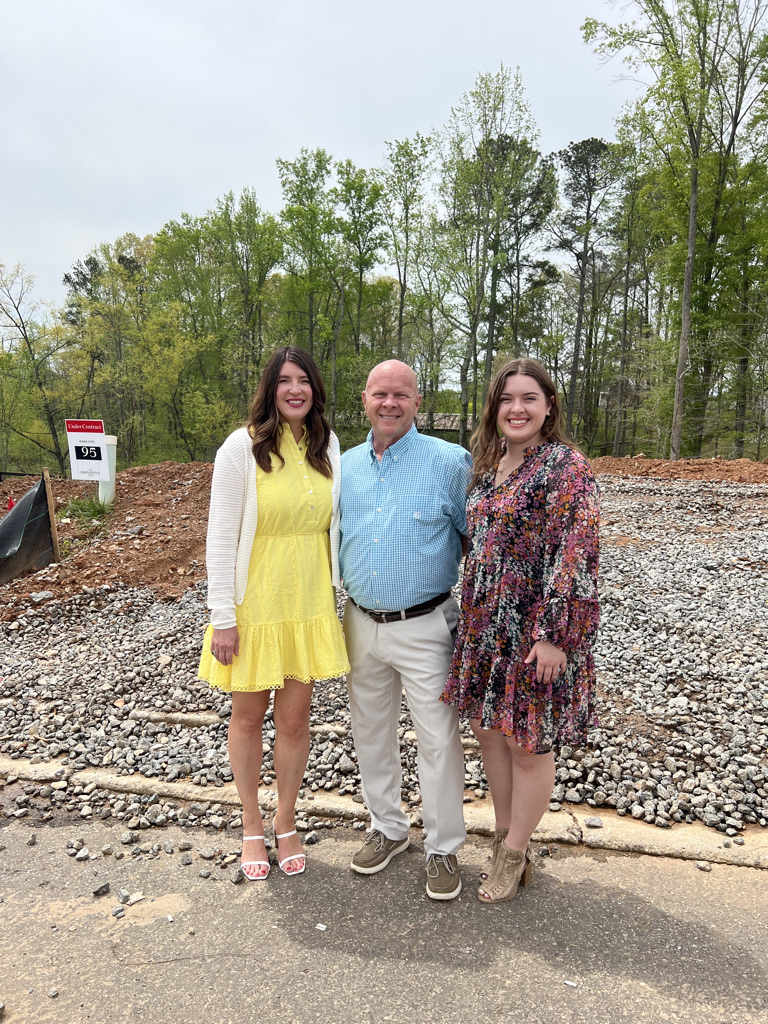 These photos were taken on Easter 2022 and we were full of anticipation!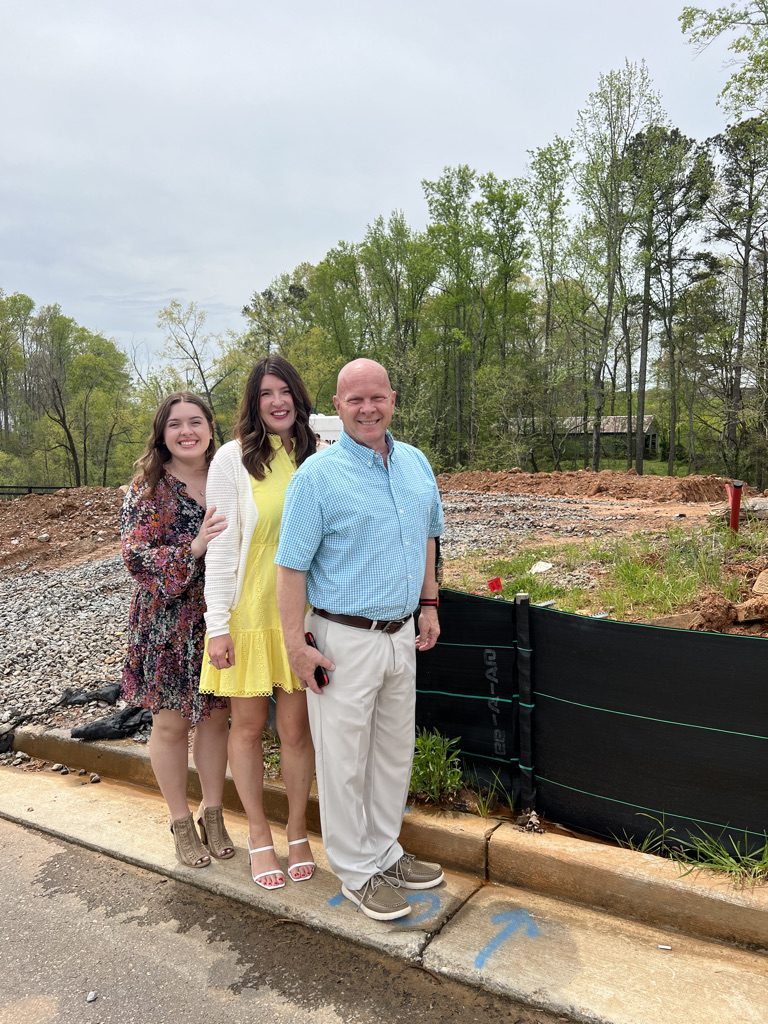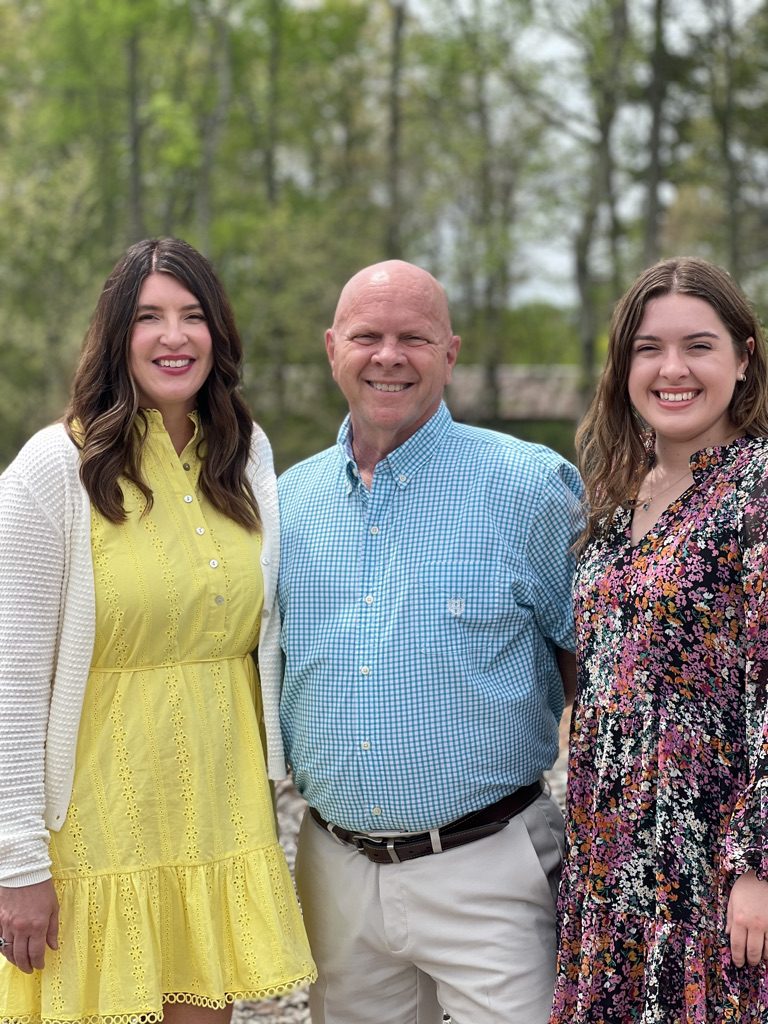 Slow Process!
Building a new home with supply chain issues was a constant exercise in patience. Apartment living was stressful, but we were blessed not to have a particular deadline we had to meet. We were told in February that closing would be November or December, but we never really expected that. We were hopeful but realistic.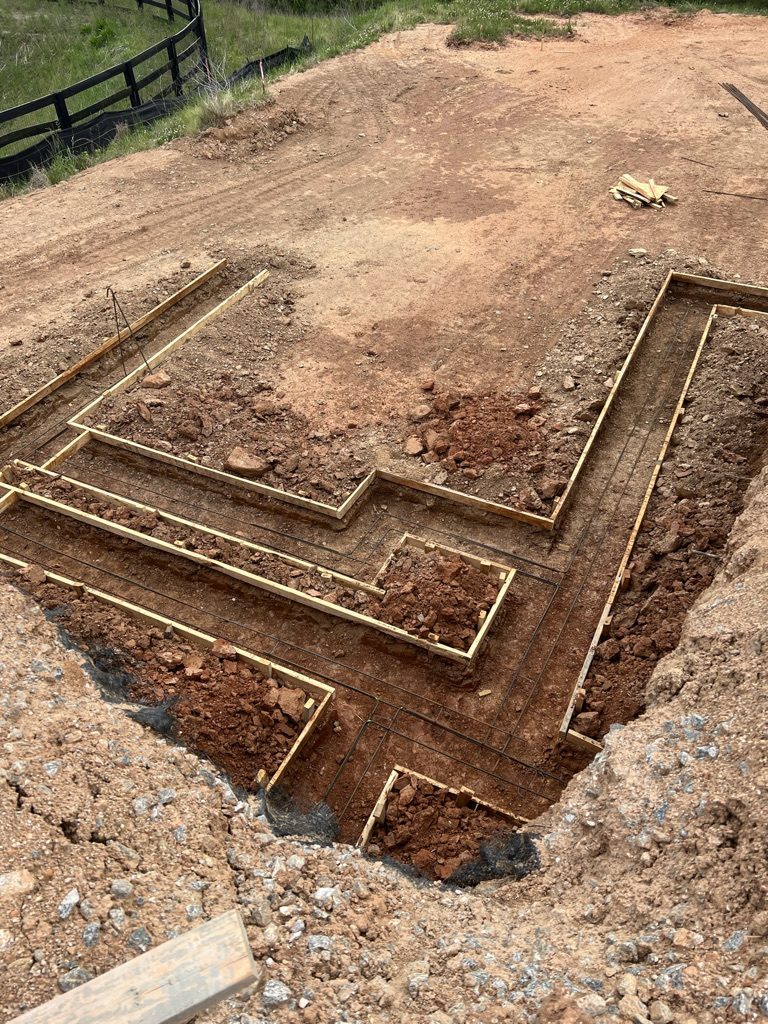 Construction did not really begin until late April. This photo was taken 4/29/22, two months after we signed the contract.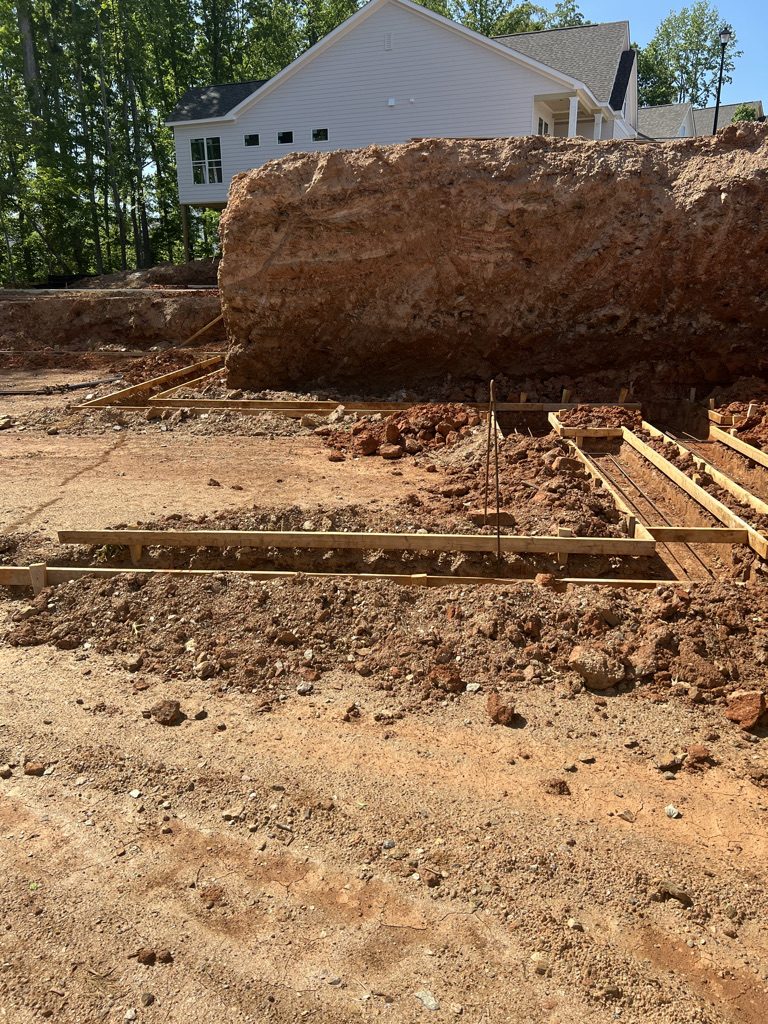 Here we are on 5/10/22 and not much has changed. (Photo above)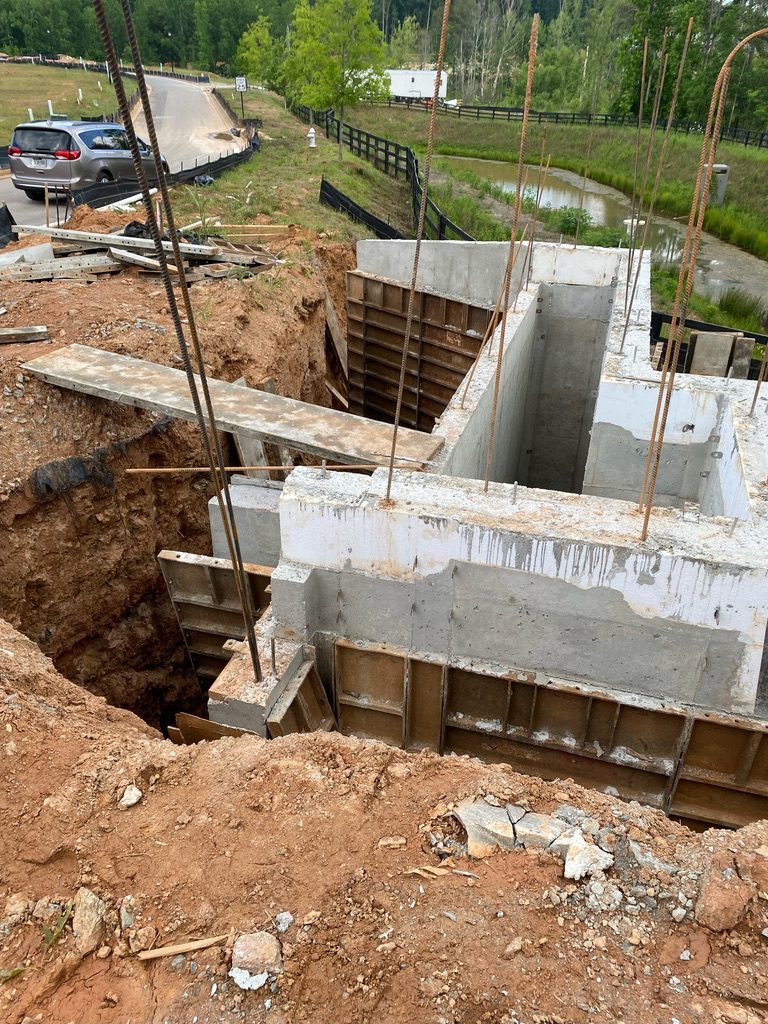 We waited weeks for concrete to be available. Here we are on 5/29 with the beginning of the basement.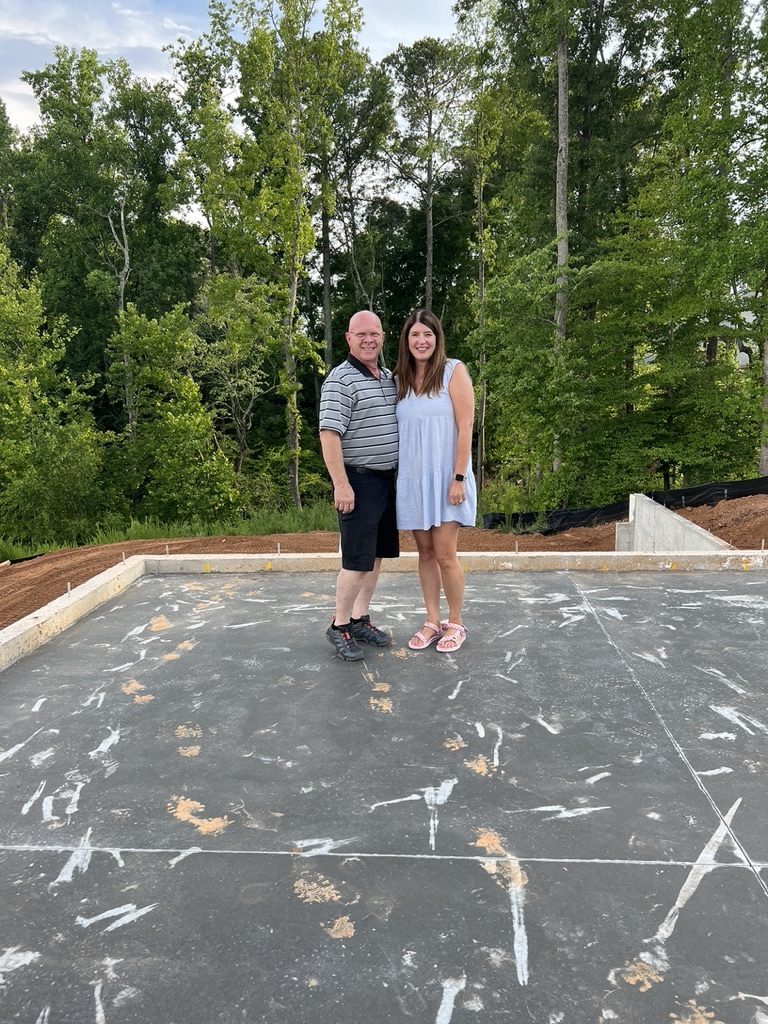 June 30th, the foundation was complete and ready for framing.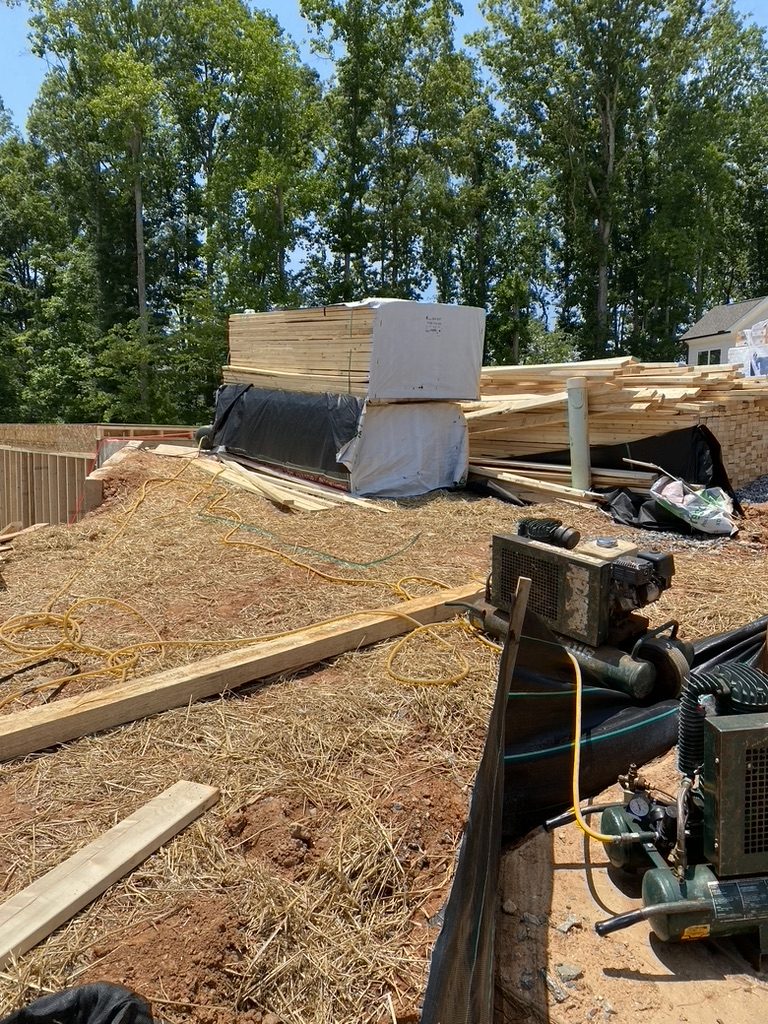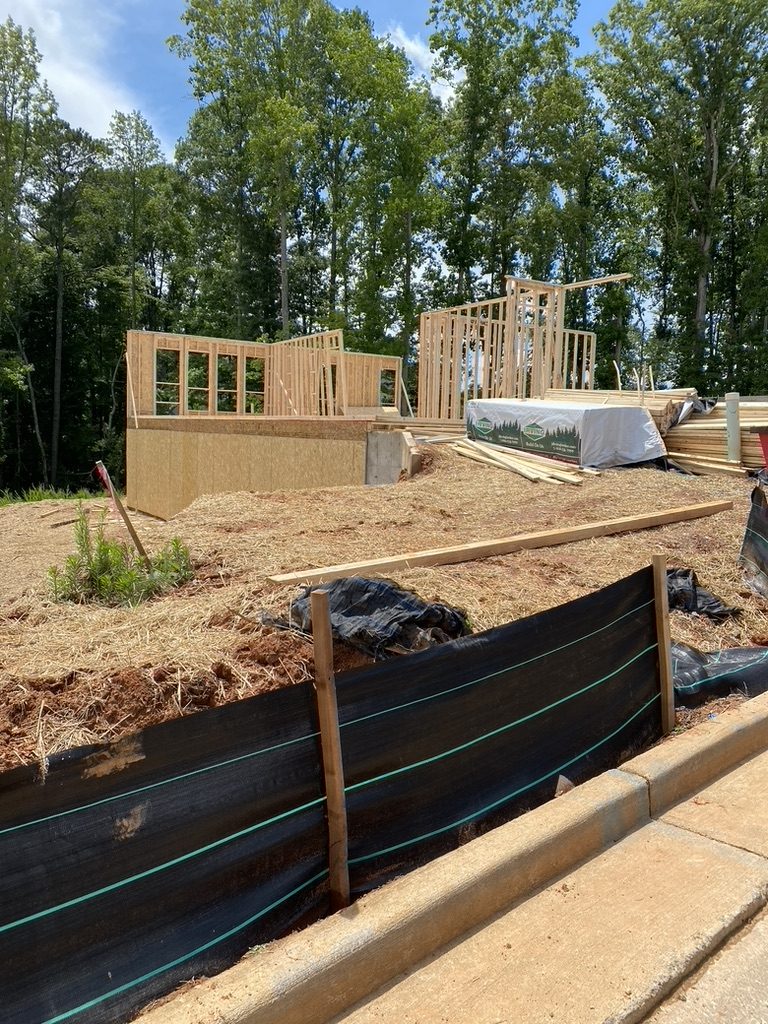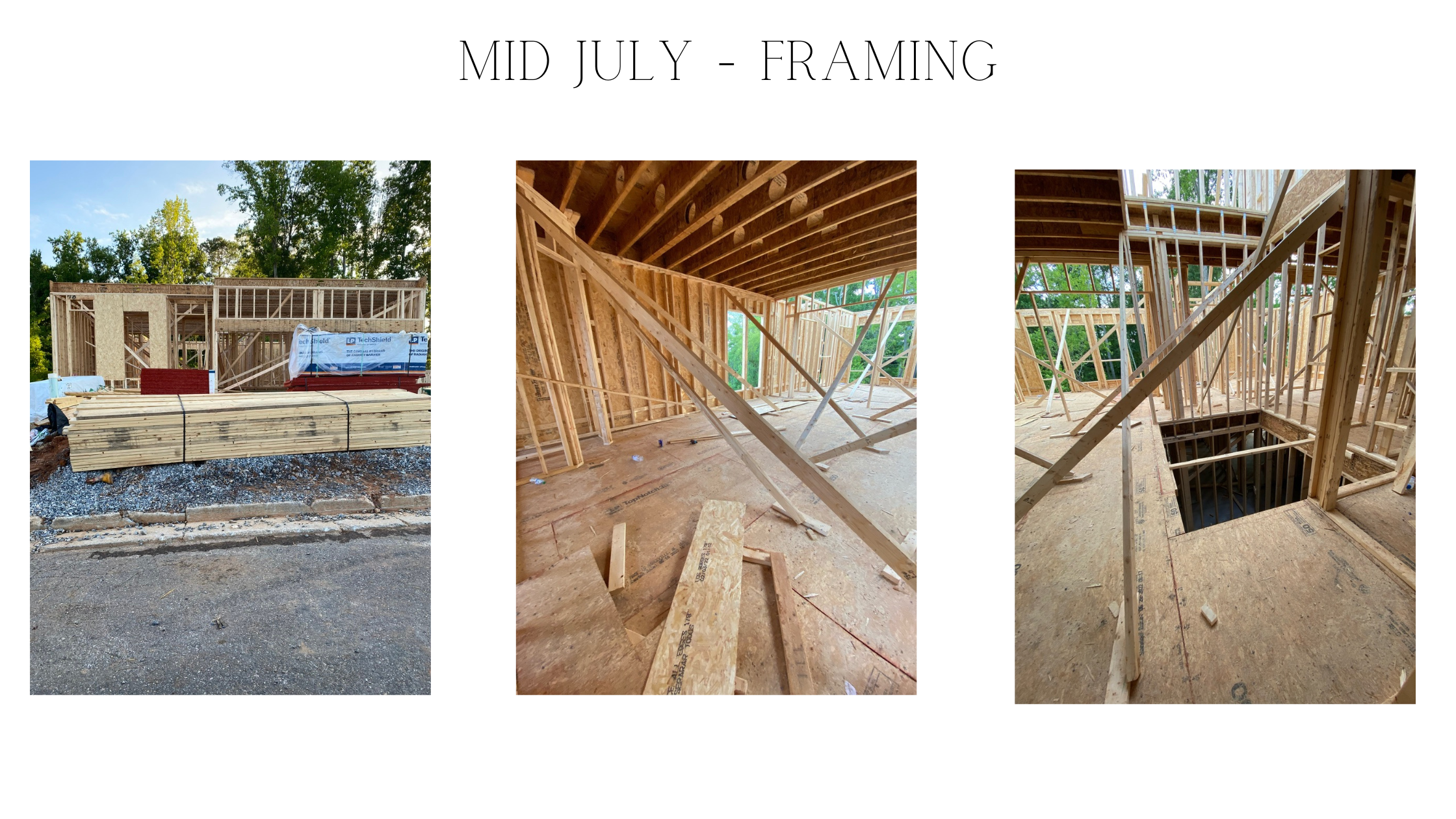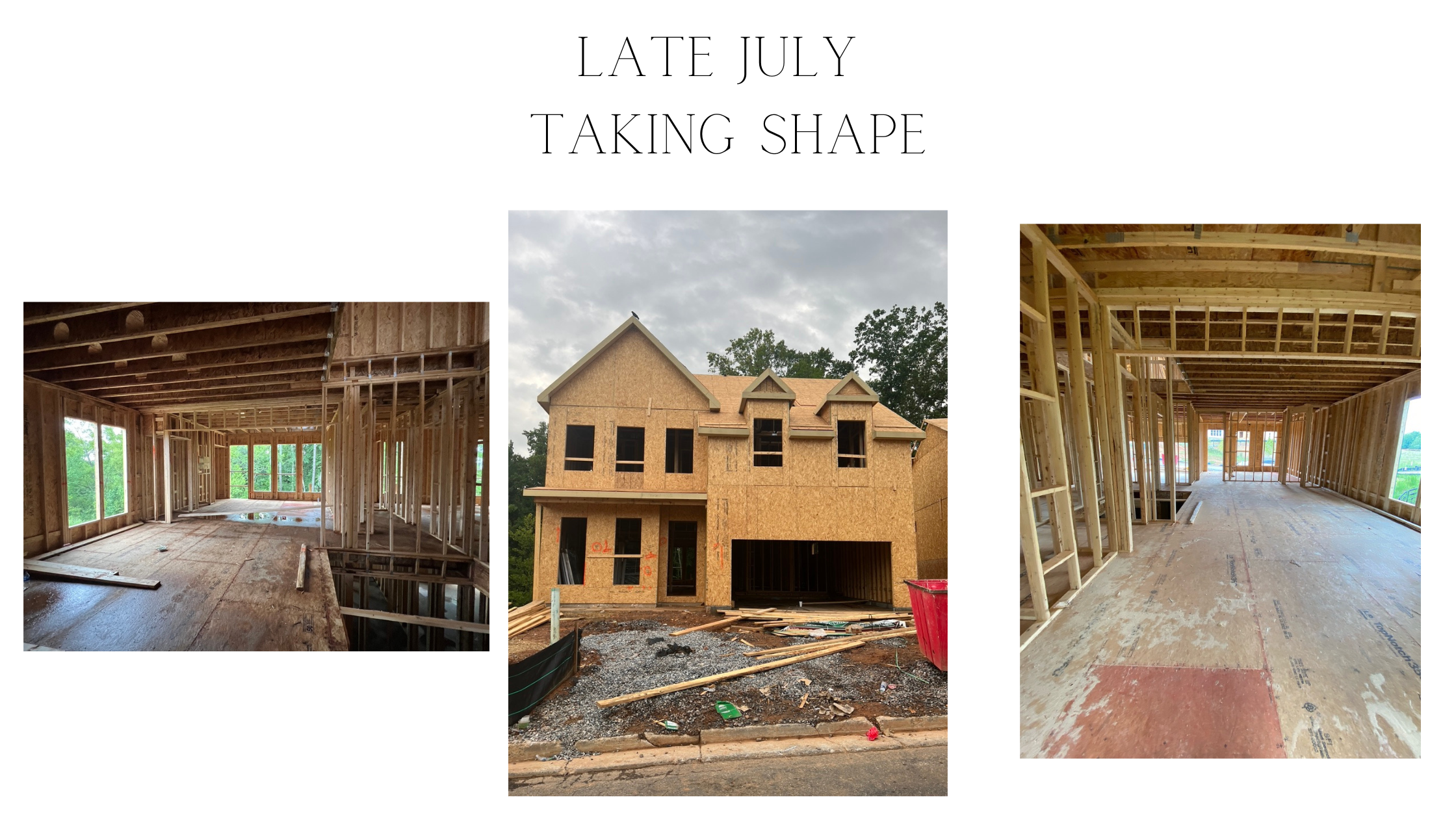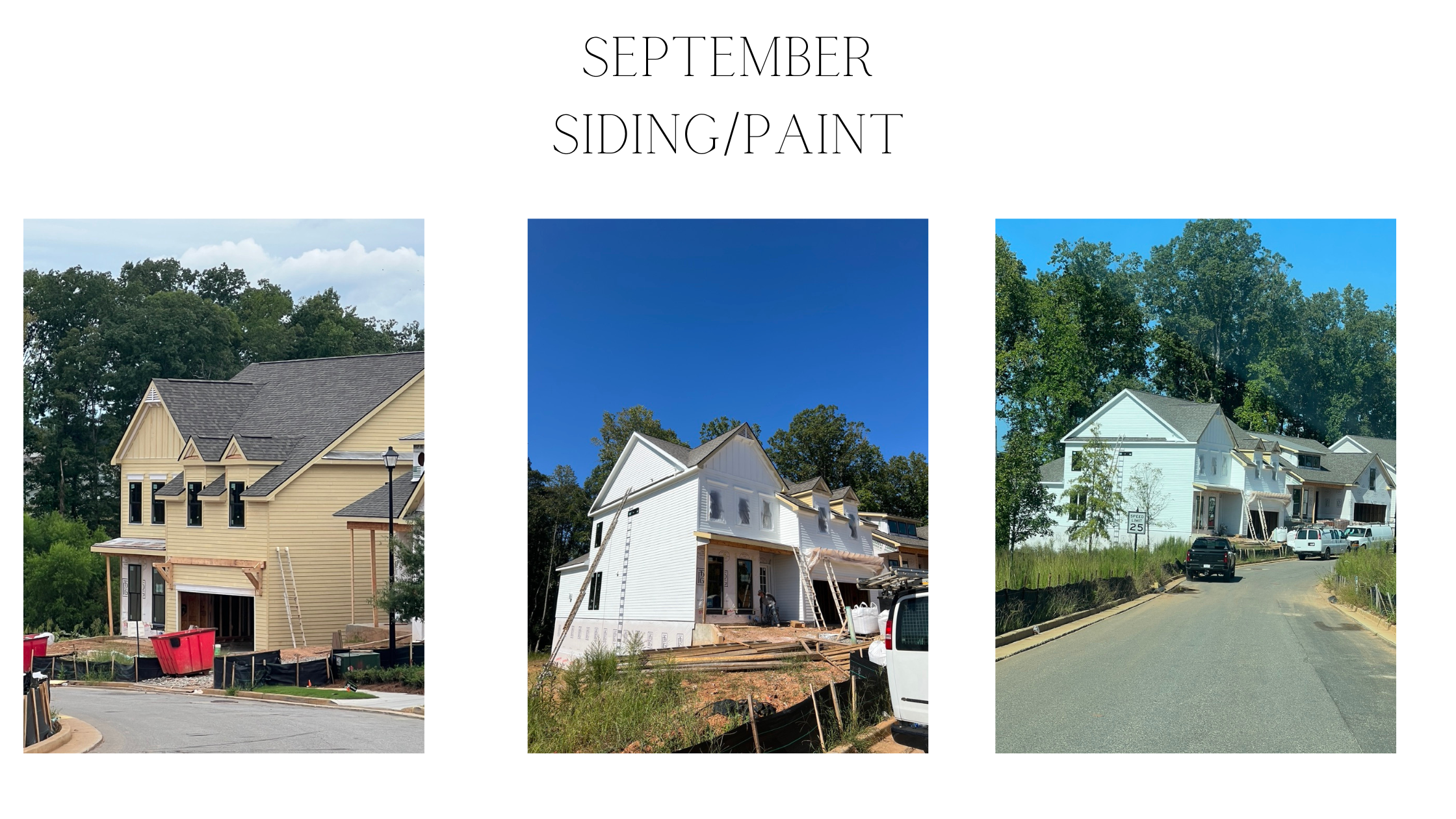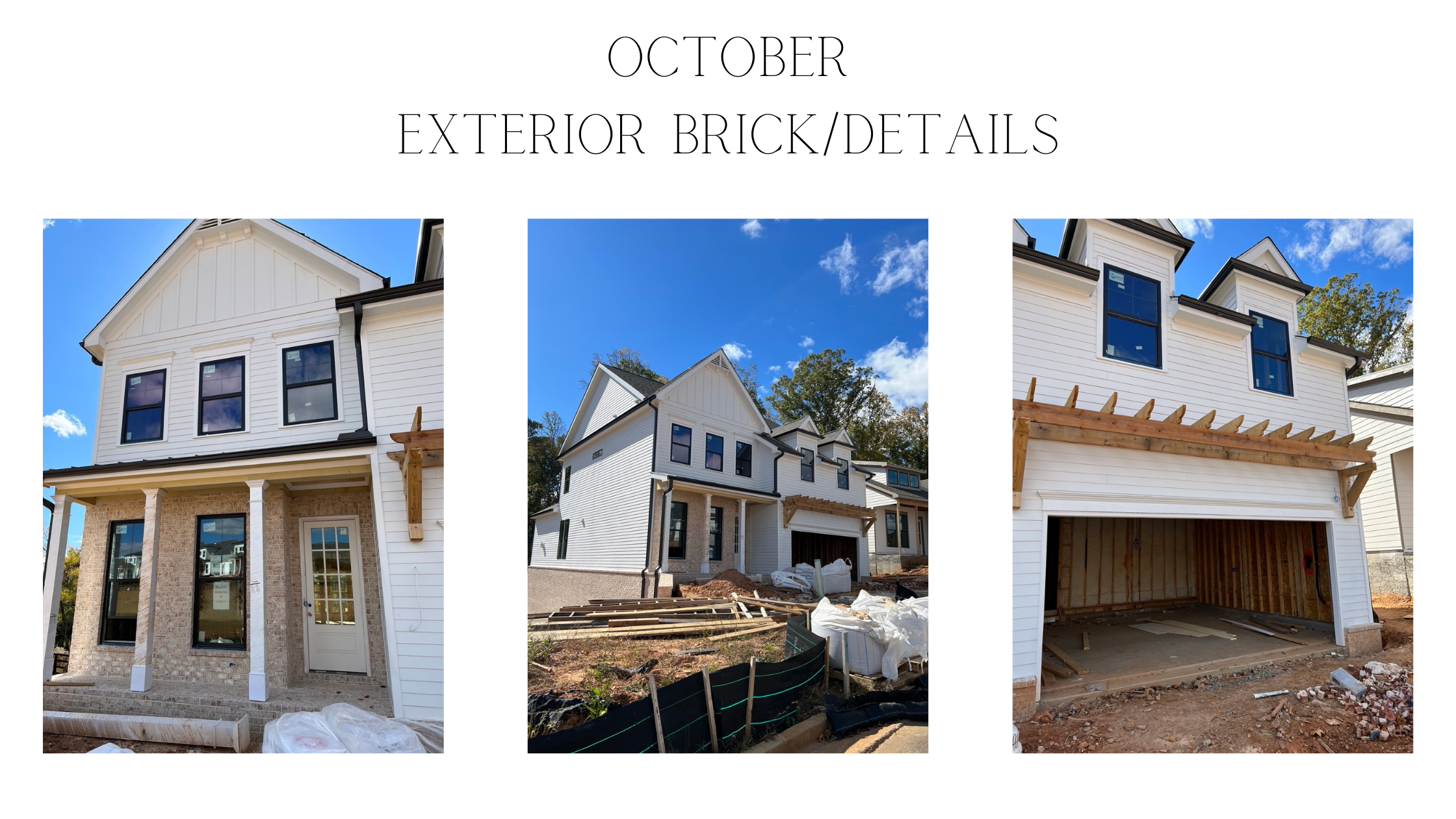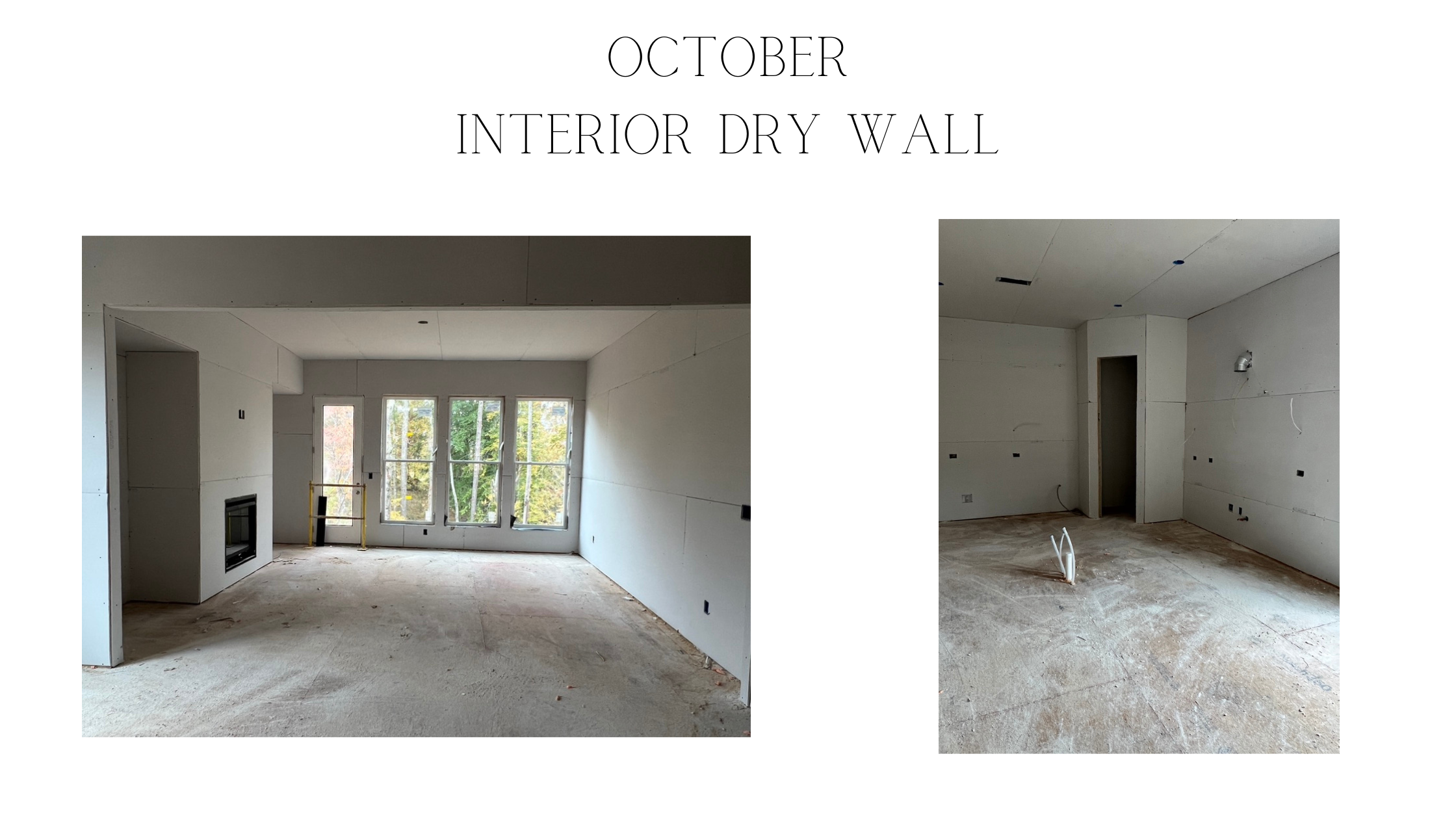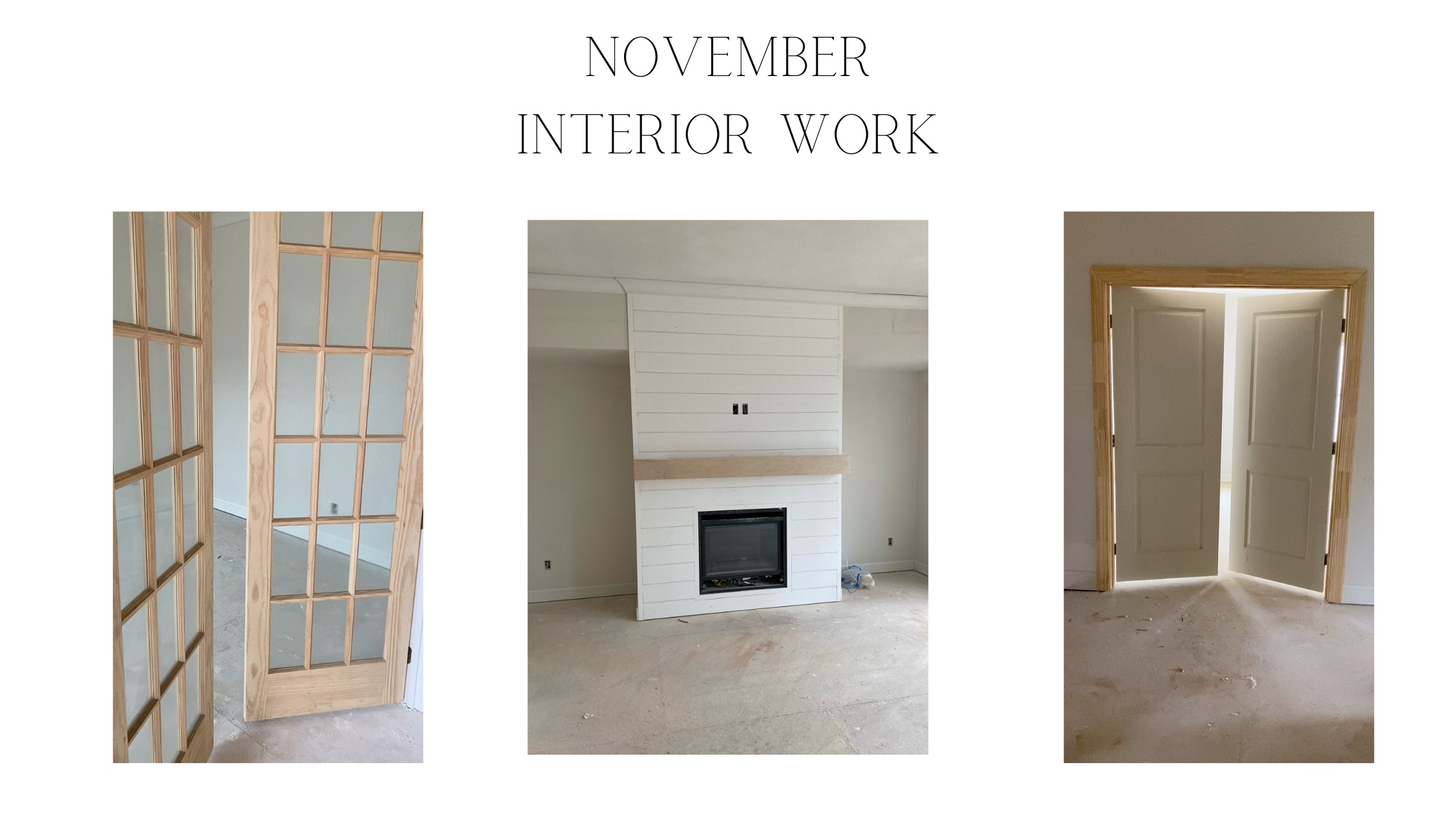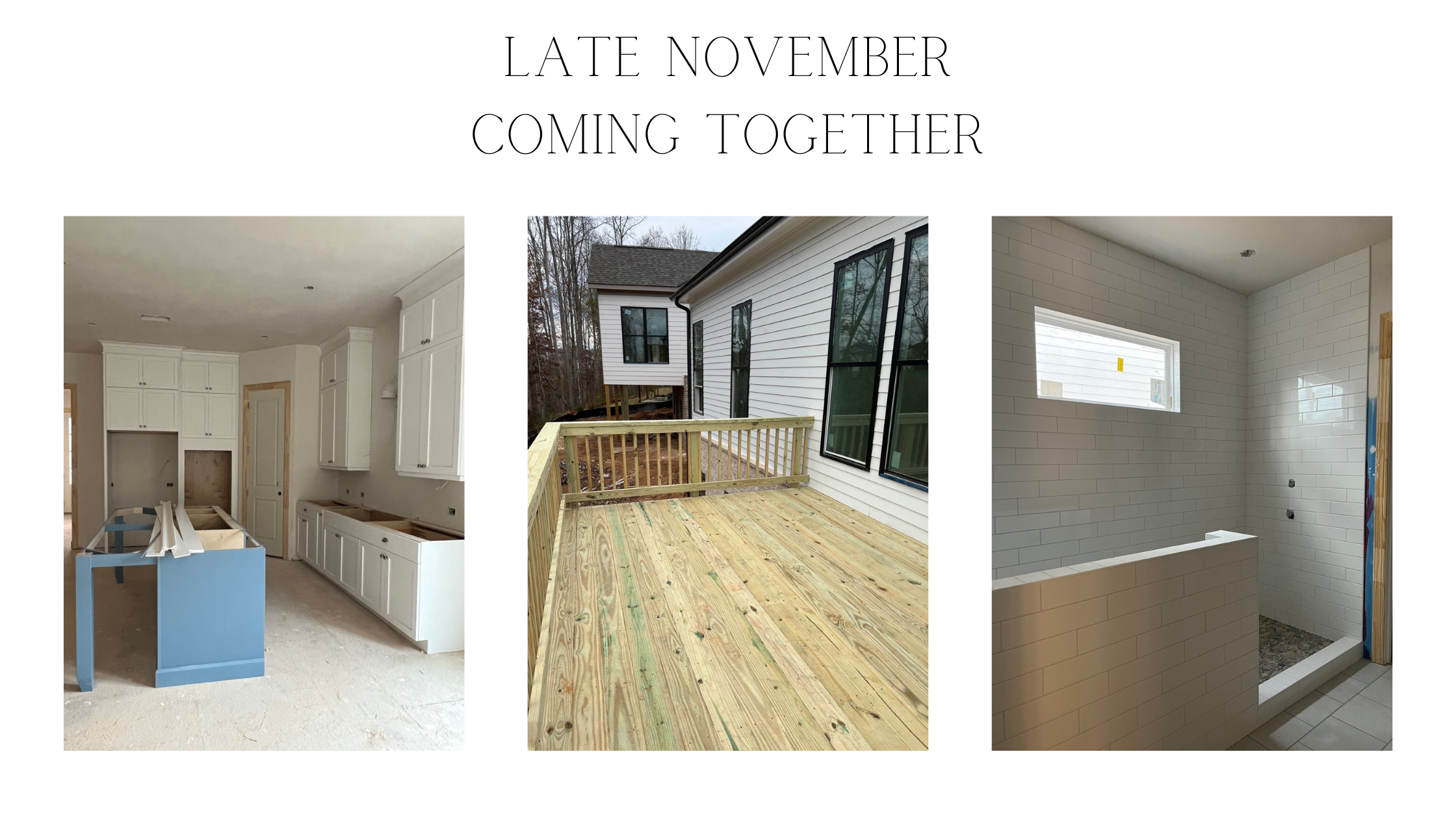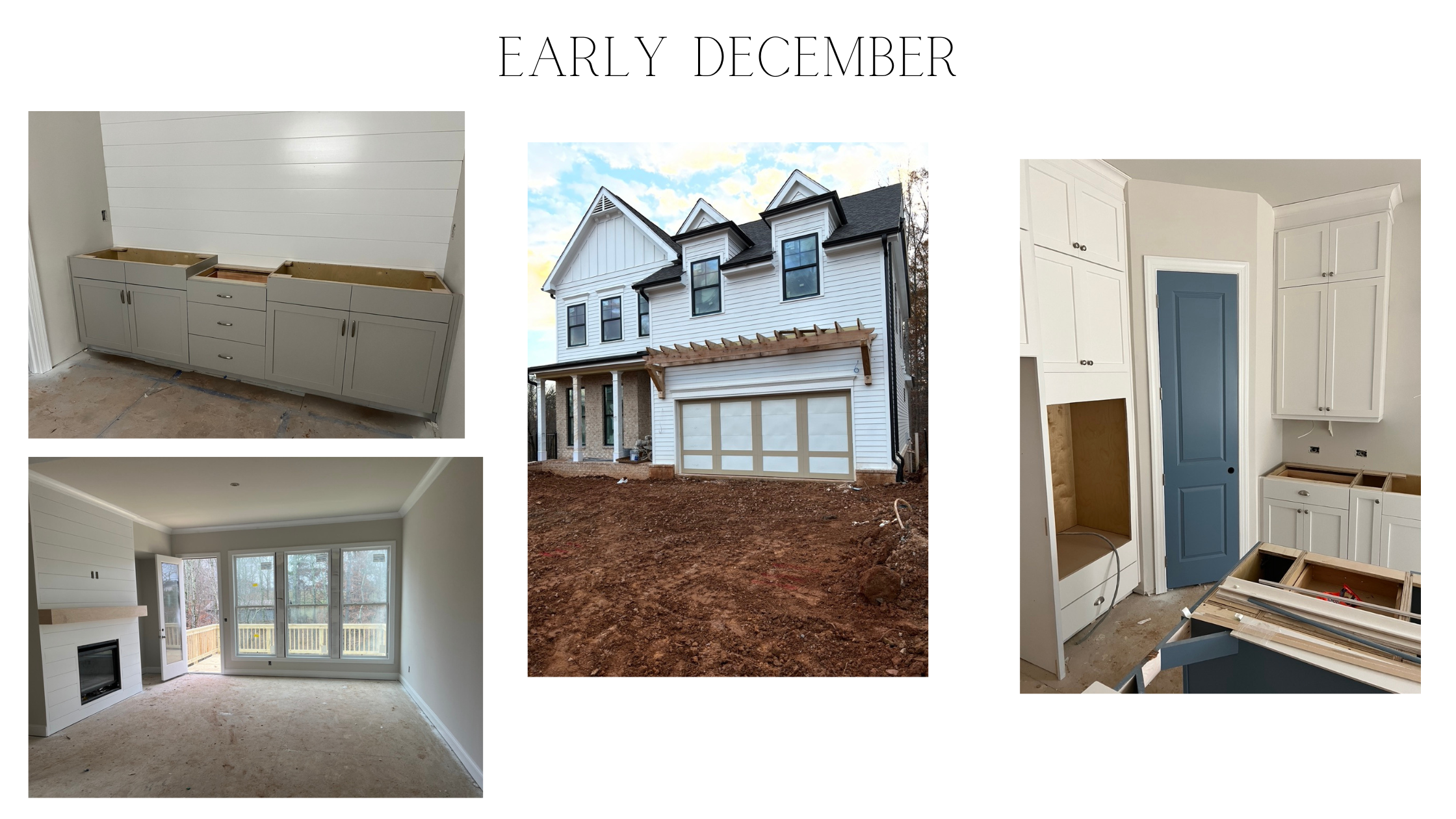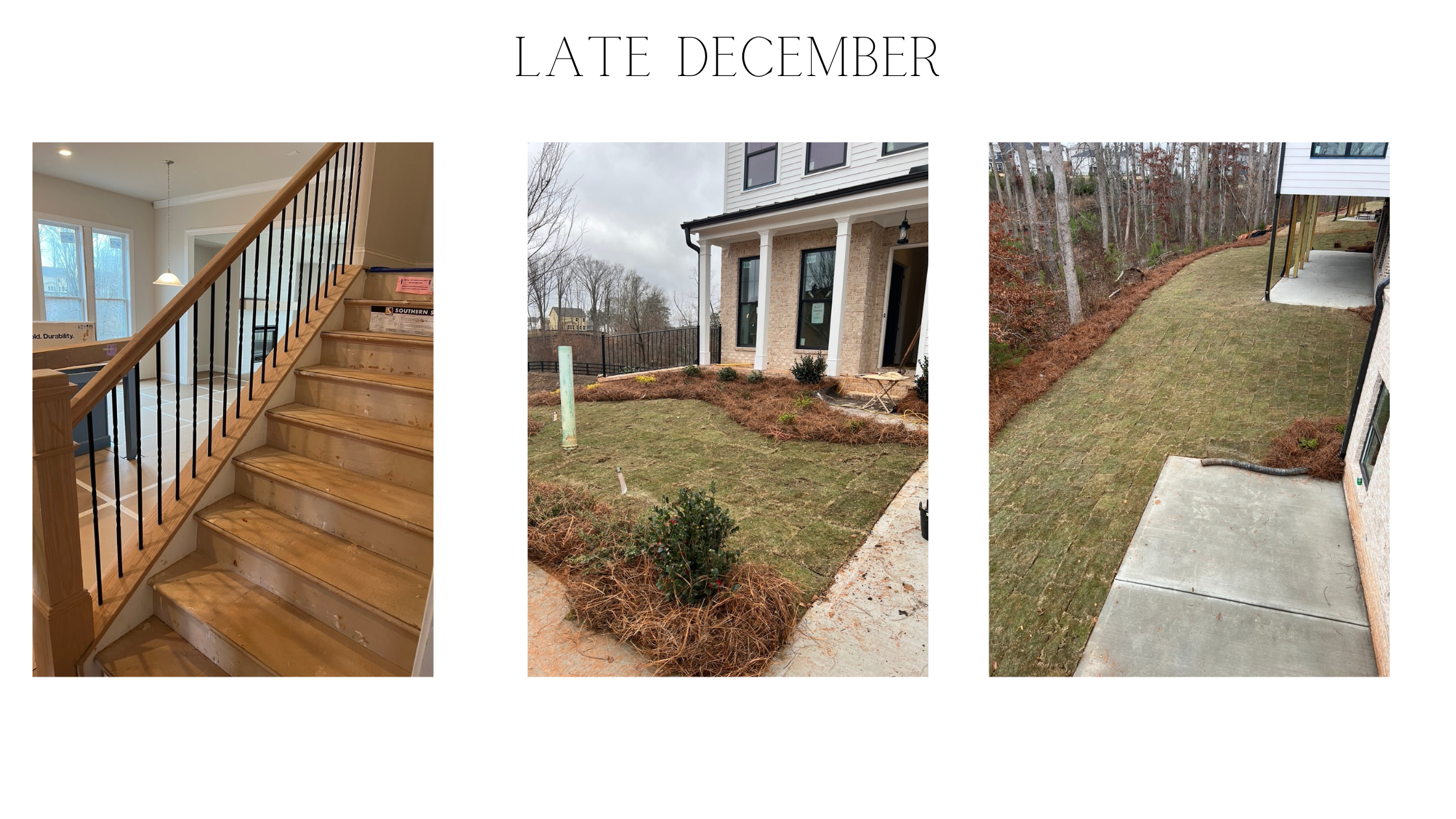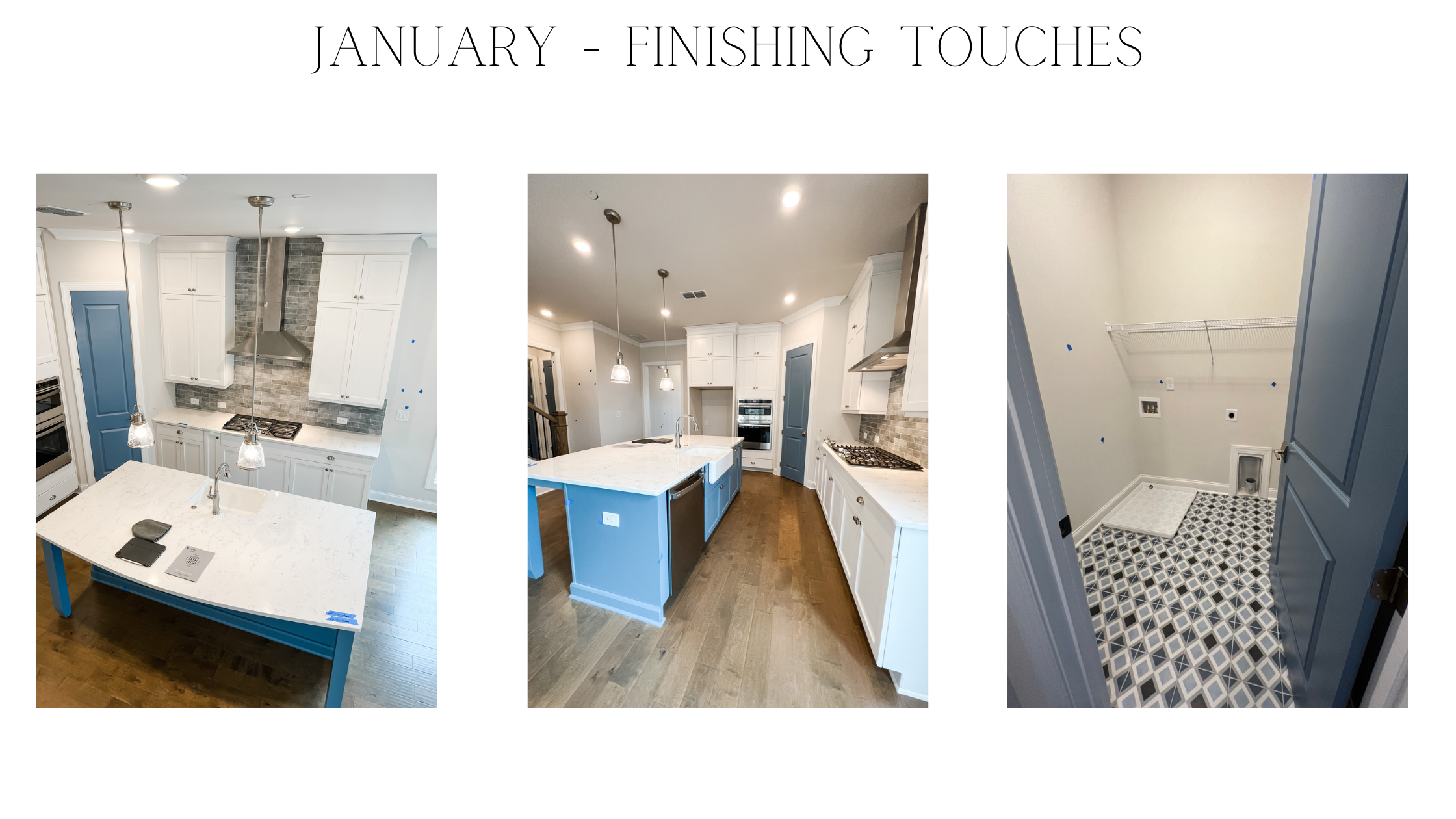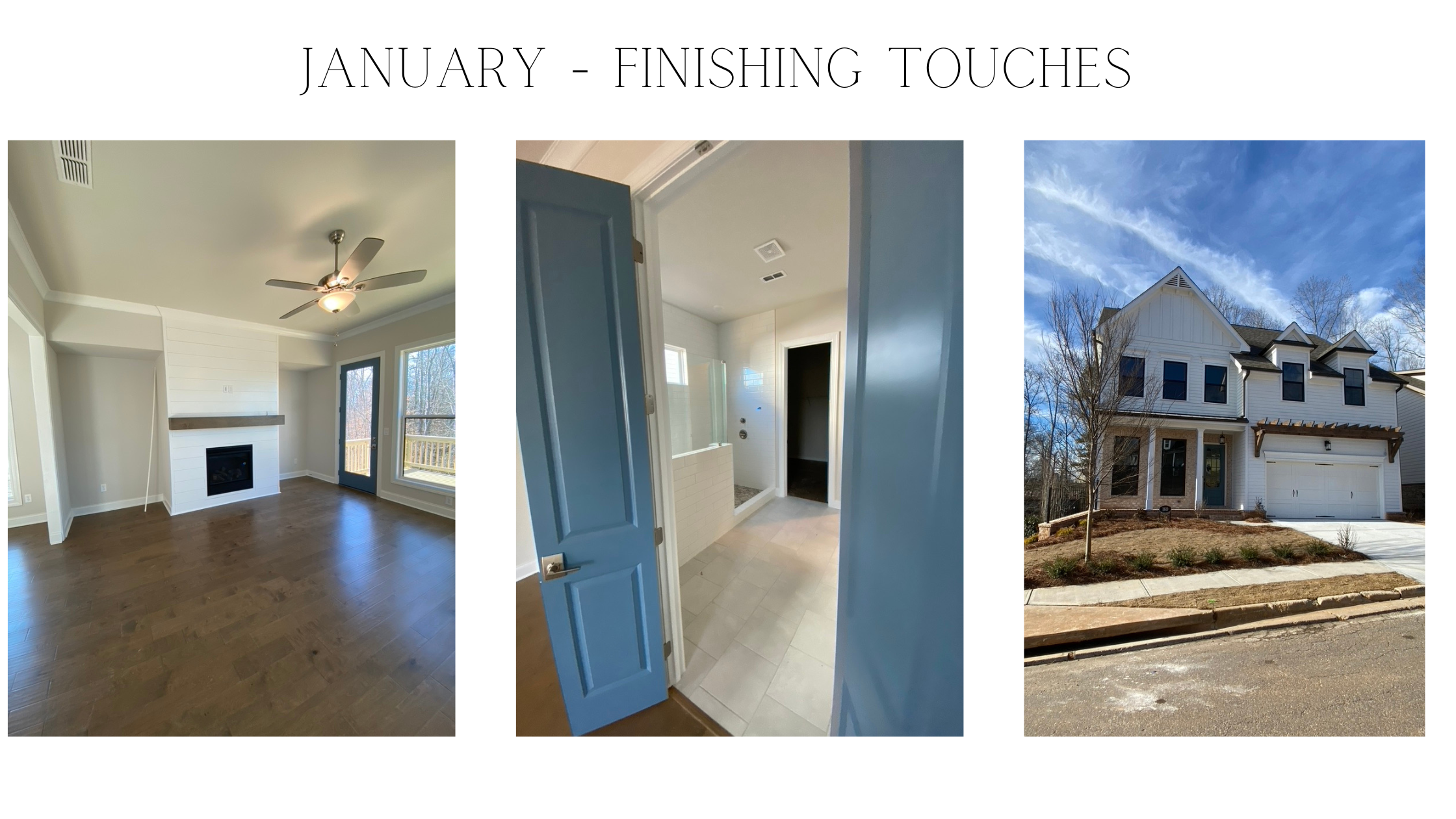 We closed on January 30th and moved in on January 31st!
Furnishing & Decor
As with all new builds there is the "base price" and then if you want walls, floors, and fixtures those are an "upgrade". Of course I'm being sarcastic, but you know what I'm talking about. We spent the majority of our budget on hardwood floors throughout, and upgrading the kitchen and bathrooms.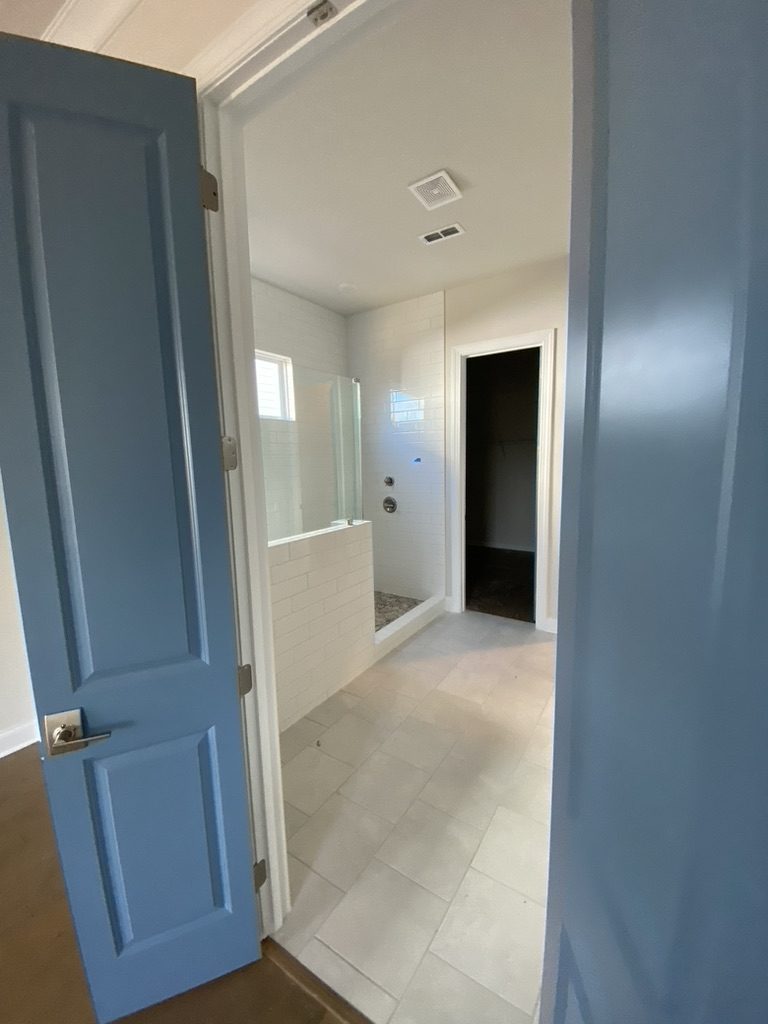 We also paid extra to have all the first floor interior doors painted a custom color. If you are wondering, the interior door color is Sherwin Williams #9148 Smokey Azurite. I'm so glad we did it! Also we added some shiplap to the fireplace and in the master bath. Our interior wall color is Sherwin Williams City Loft #7631.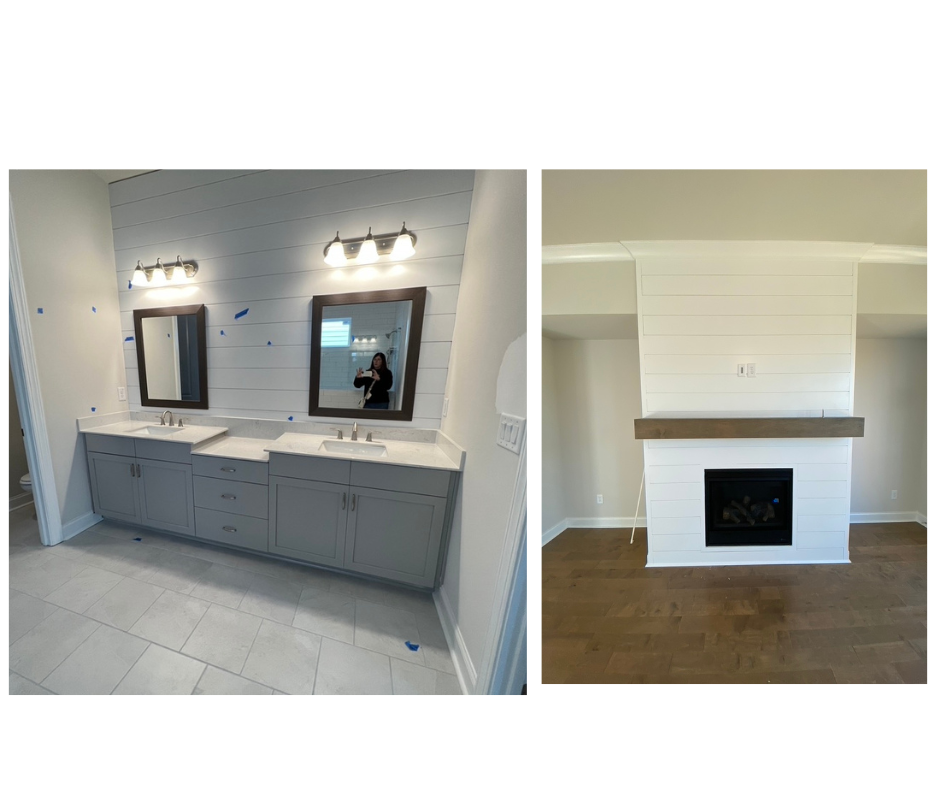 We sold or donated most of our furniture back in 2021, so we did purchase all new furniture for the family room as well as several other pieces throughout the main living space.
Foyer & Music Room
Let's start this tour as you walk in the front door. The color is Sherwin Williams #7617 Mediterranean. It was one of the first design items I decided on. You will notice that blue is my favorite color as we go through the house.
The Welcoming Committee
I can't think of a better way to say hello then with Daisy and Sophie! They are always there to greet all of our guests with much enthusiasm.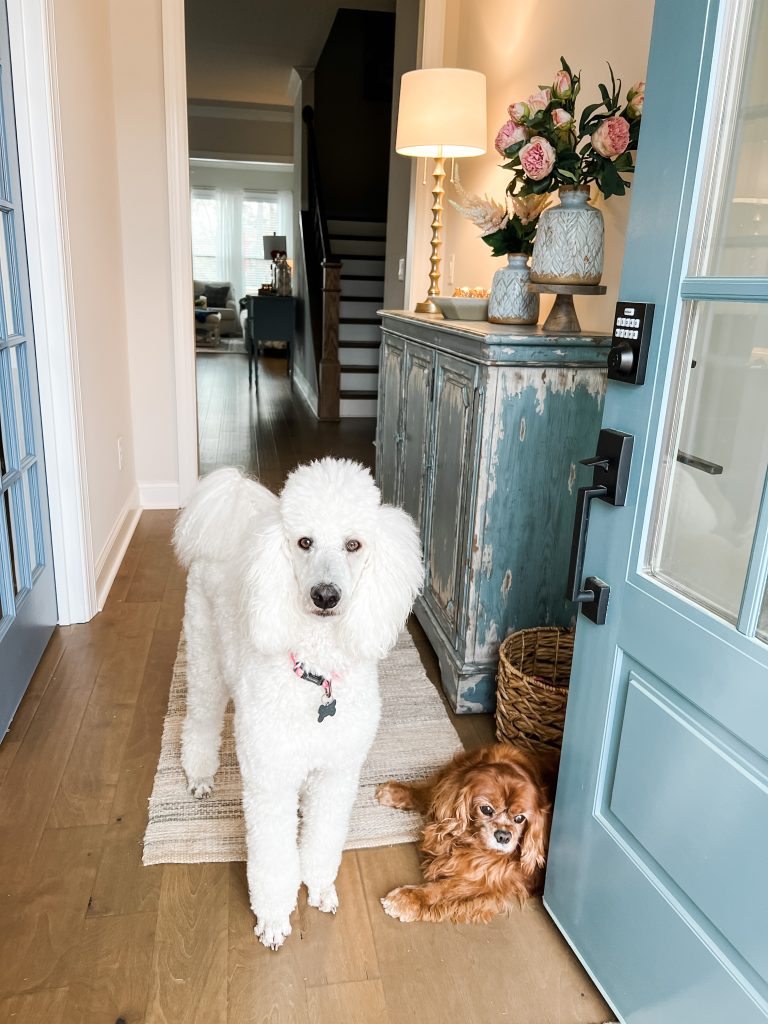 I knew I wanted the perfect piece for this foyer, and I couldn't be happier with this rustic looking foyer table. It fits the space perfectly and has lots of storage. The foyer rug is from Target.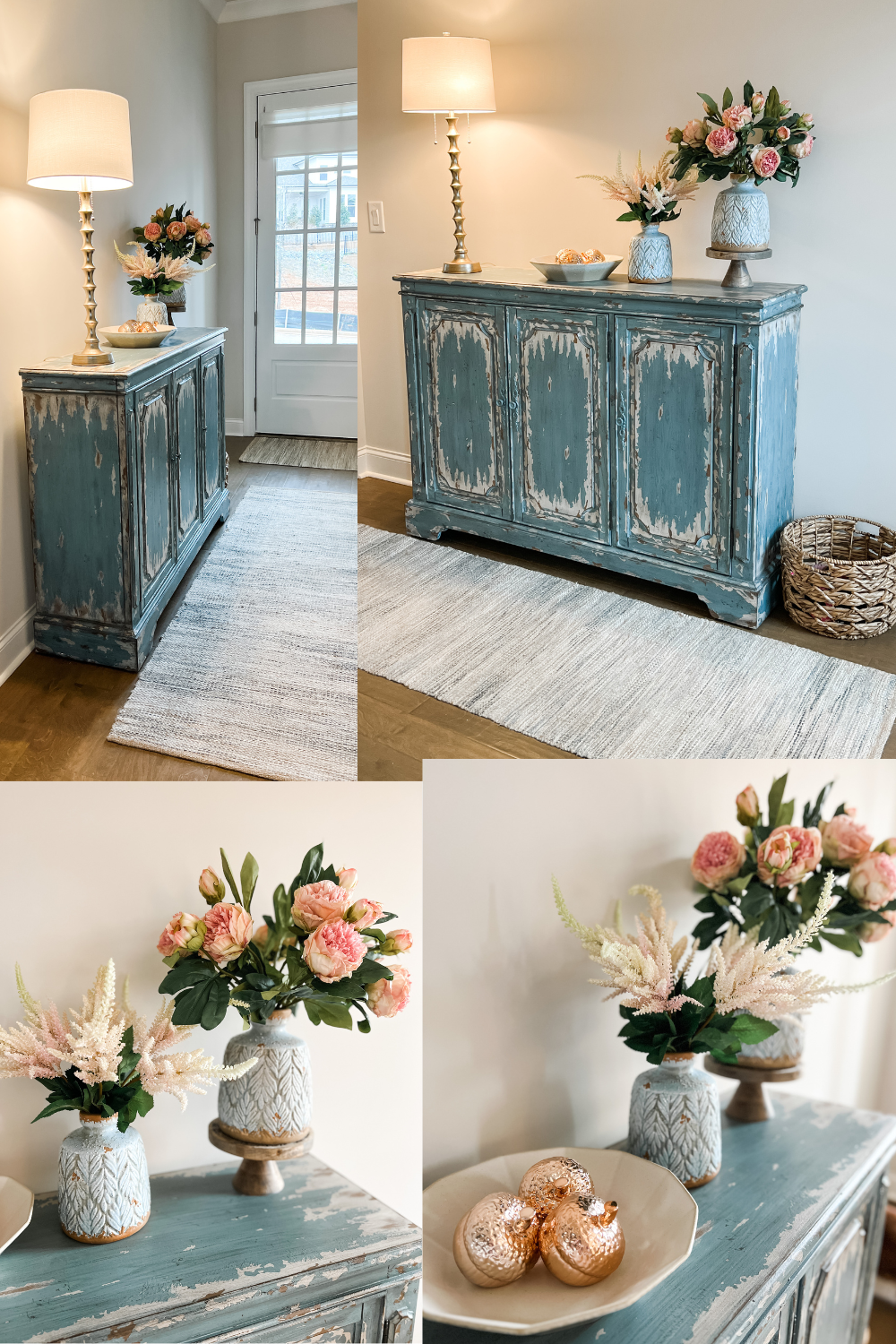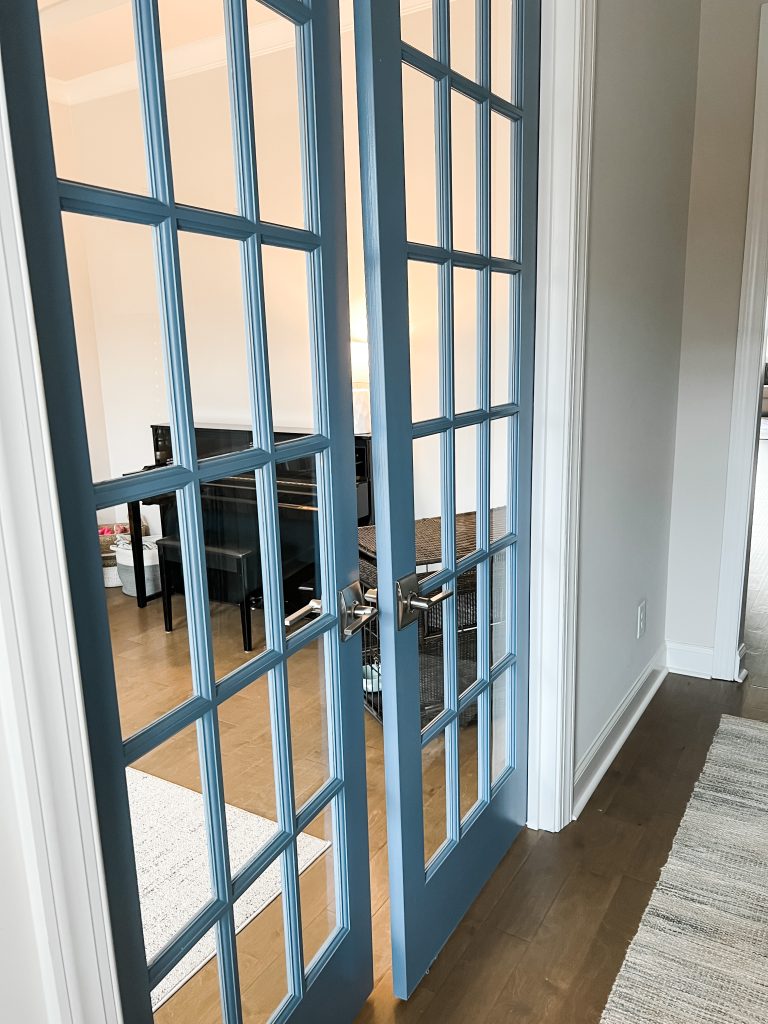 Immediately to the left is what I'm calling the music room. This was designed originally as a formal dining room, but we don't need a formal dining space and this seemed like the perfect room for my piano. This room is still a work in progress. I'm on the hunt for a new rug and a round ottoman.
My blue and white chairs are from Wayfair. They are not the most comfortable chairs, so I would not recommend them for a family room. I enjoy sitting here in the mornings and having my coffee. We decided on shutters for the front windows, and they will be installed in a few days.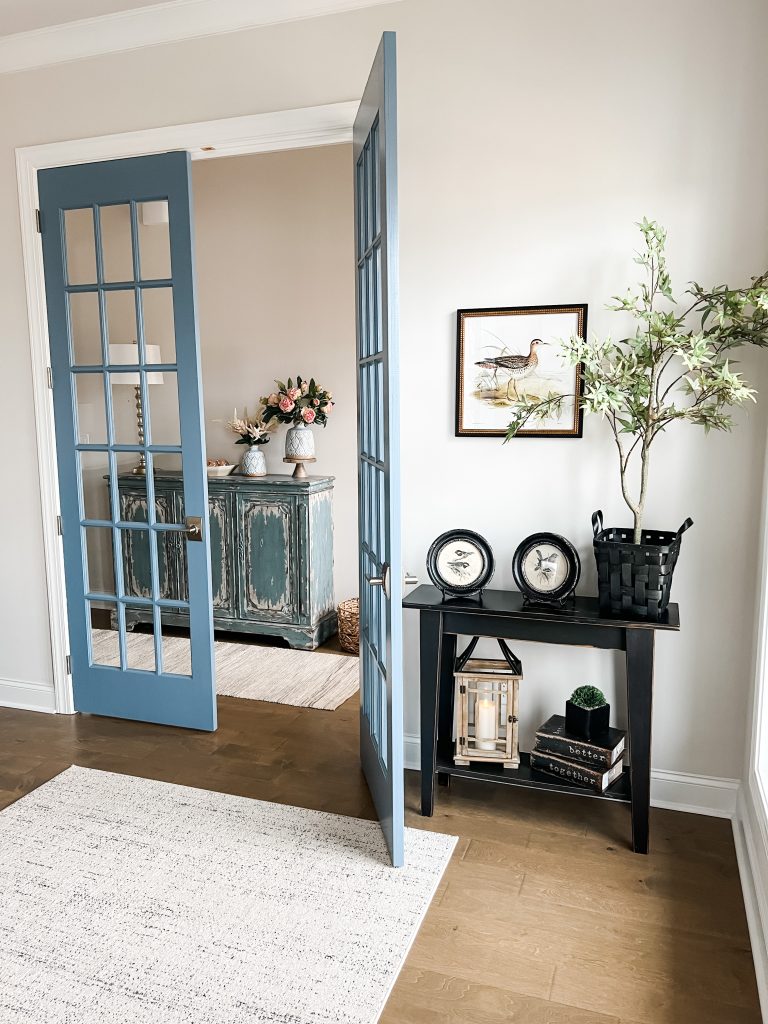 I have purchased a few new accessories for this corner of the room. The black table is old, but my mom gave me the bird prints and helped me pull this look together. The other accessories came from Hobby Lobby.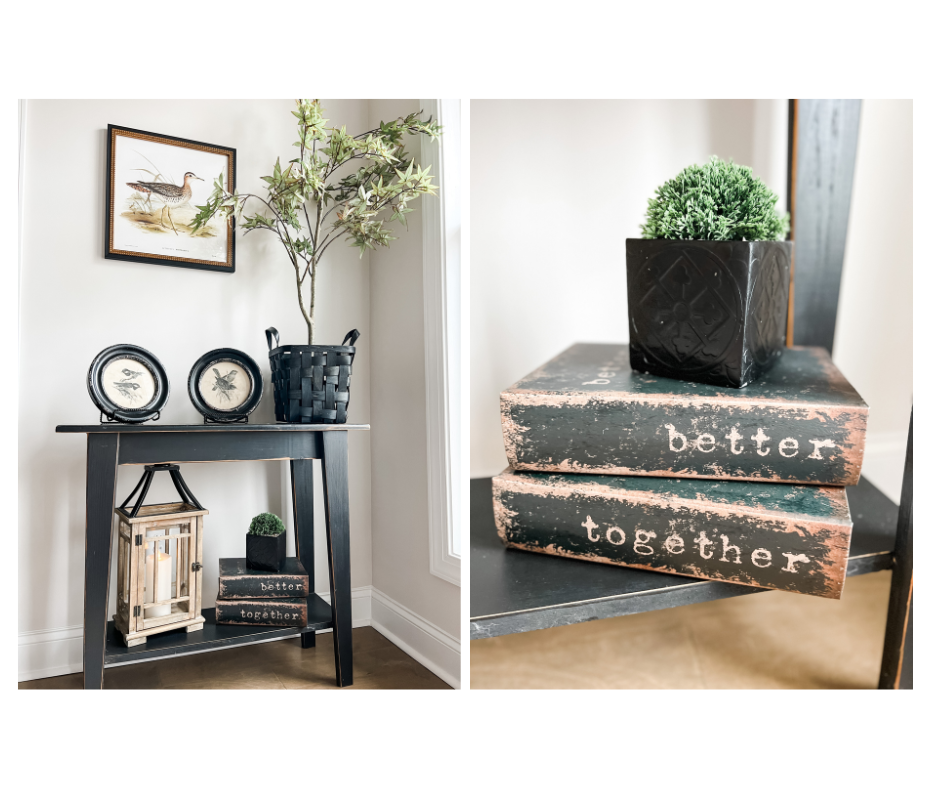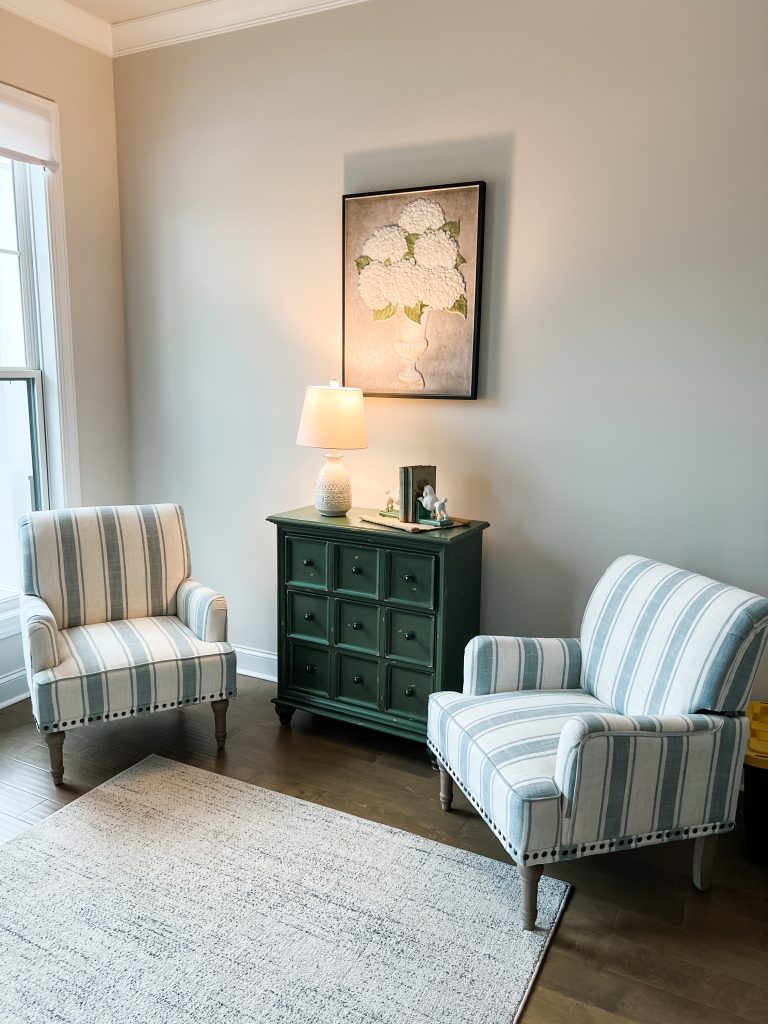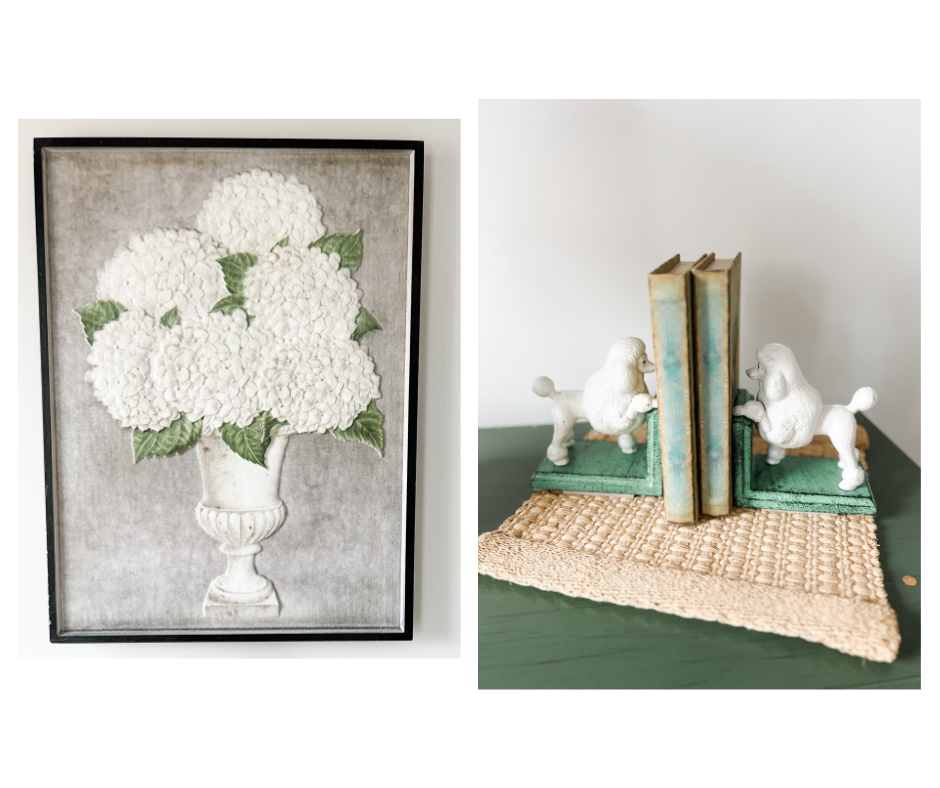 The hydrangea art was a gift from my husband. Hydrangeas are my favorite flower so I was thrilled to get this. The poodle bookends are a bit eclectic but they are so me! I found them at an antique mall and they immediately went into my cart. The photo below says it all.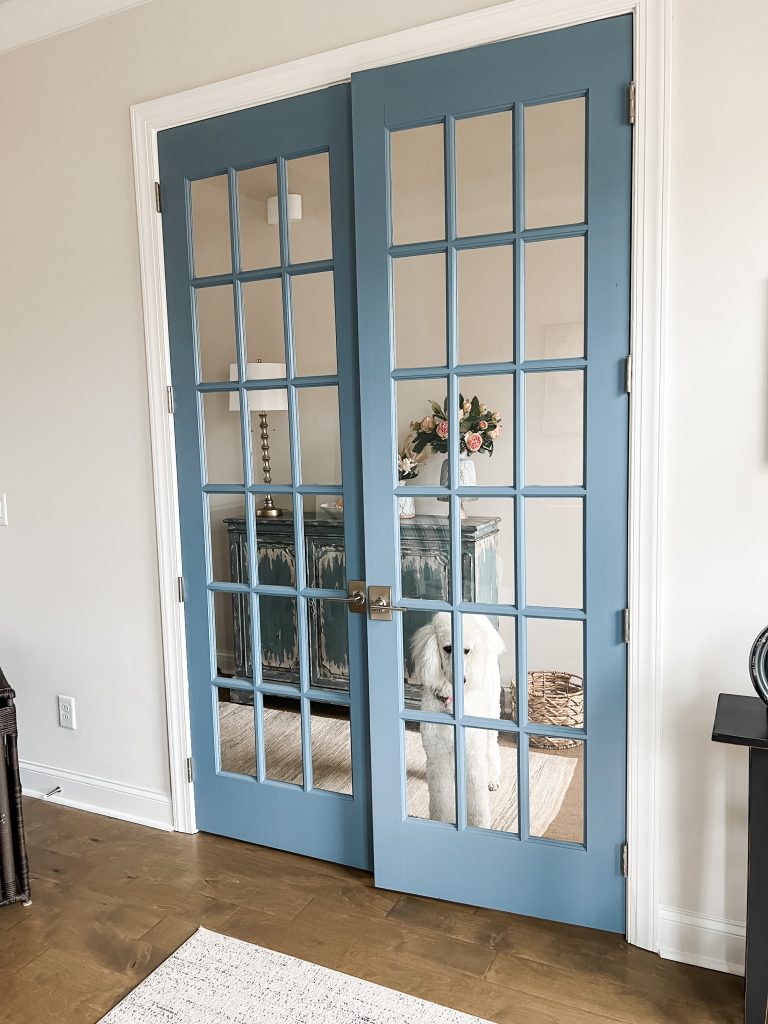 Kitchen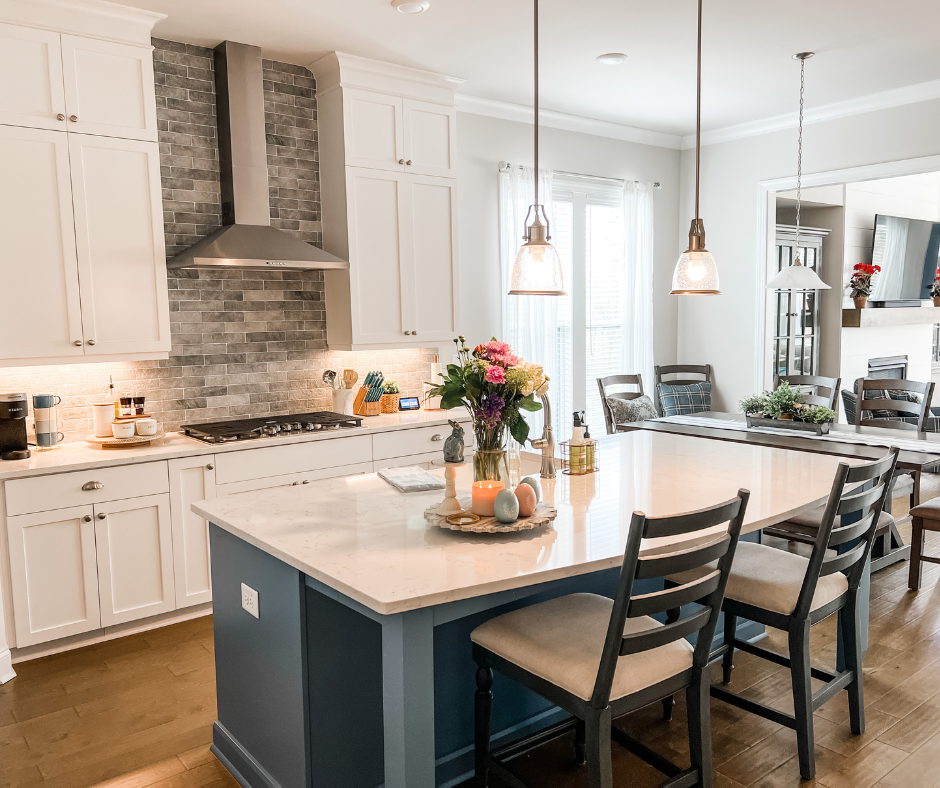 As you move through the foyer, you enter the main living space with an open kitchen and family room. The kitchen is probably my favorite room in this house. It turned out even better than I imagined!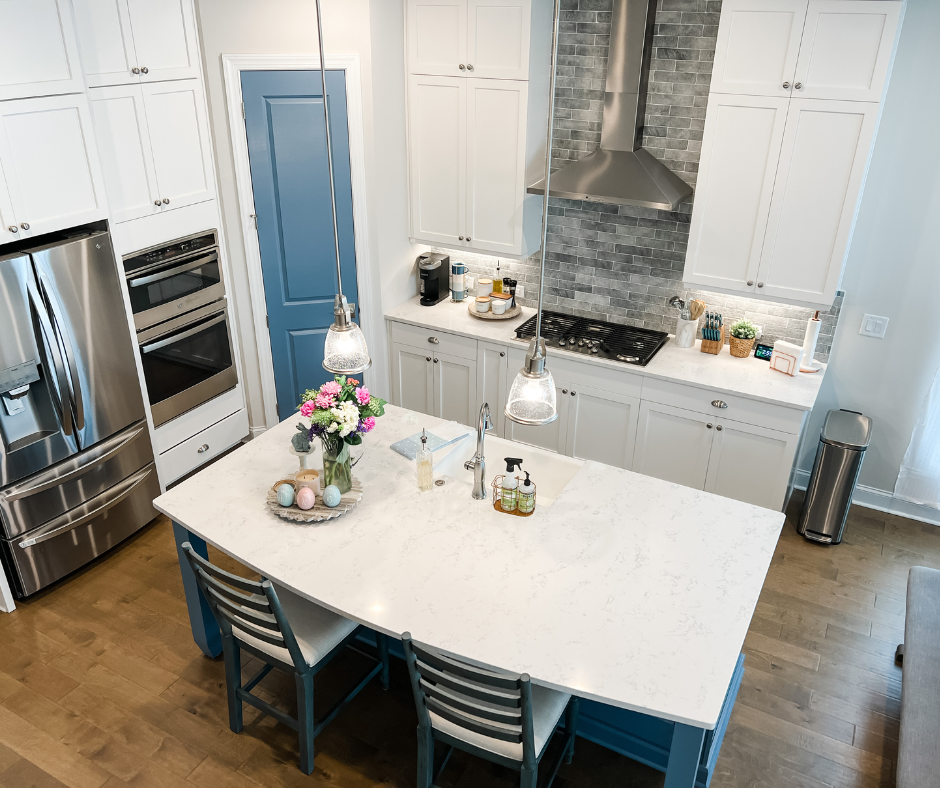 The giant island is really the focal point. I upgraded to a farmhouse style sink and Quartz countertops.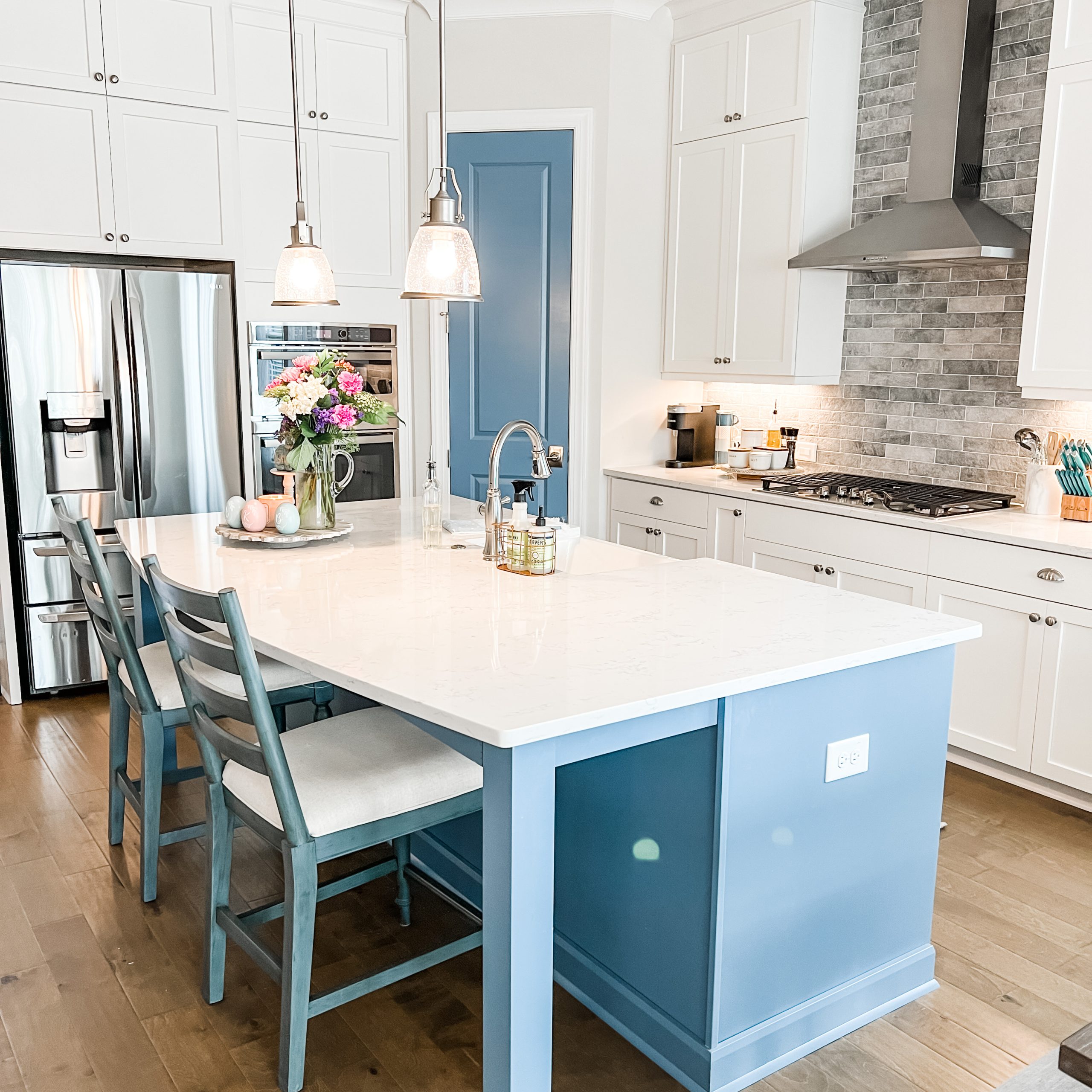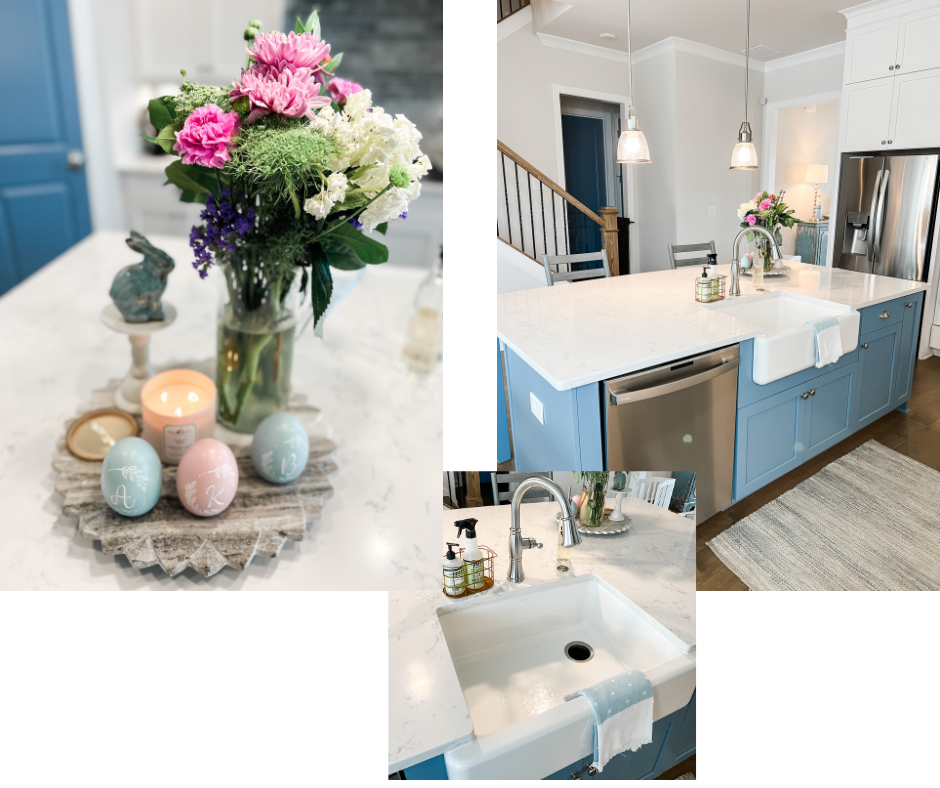 White cabinets go all the way to the top for maximum storage. The grey stone backsplash was my husbands suggestion, and he nailed it! I did not have a backsplash is my last kitchen and I have wanted one for many years. This is not a huge kitchen, but it has a nice flow and is easy to work in.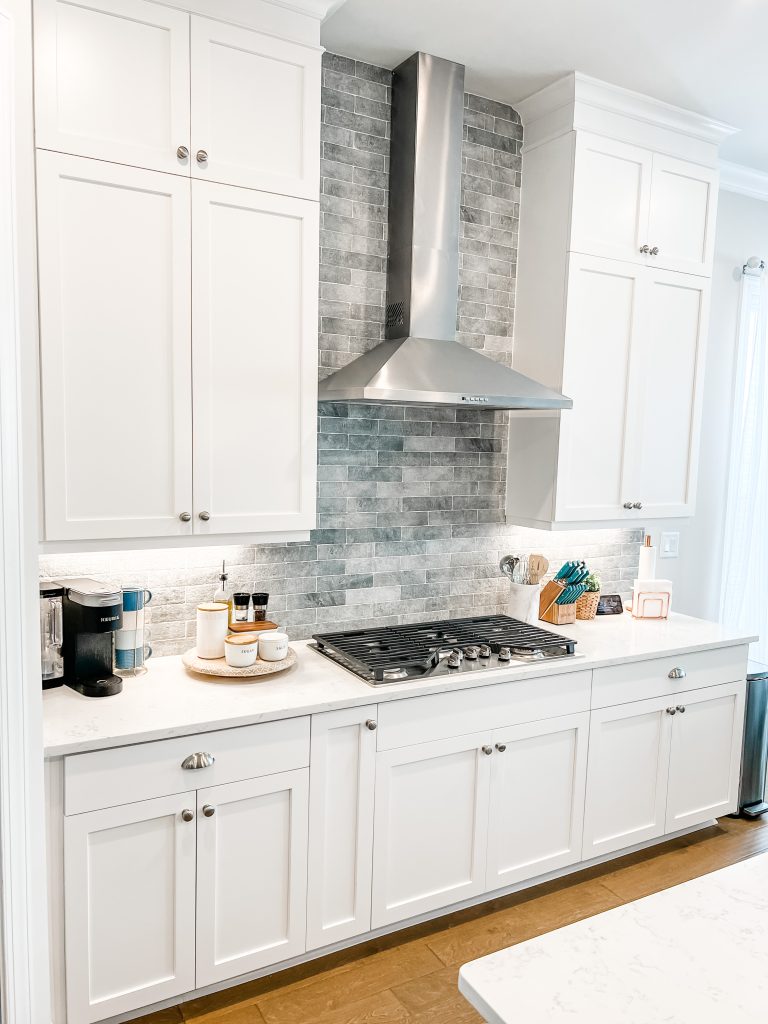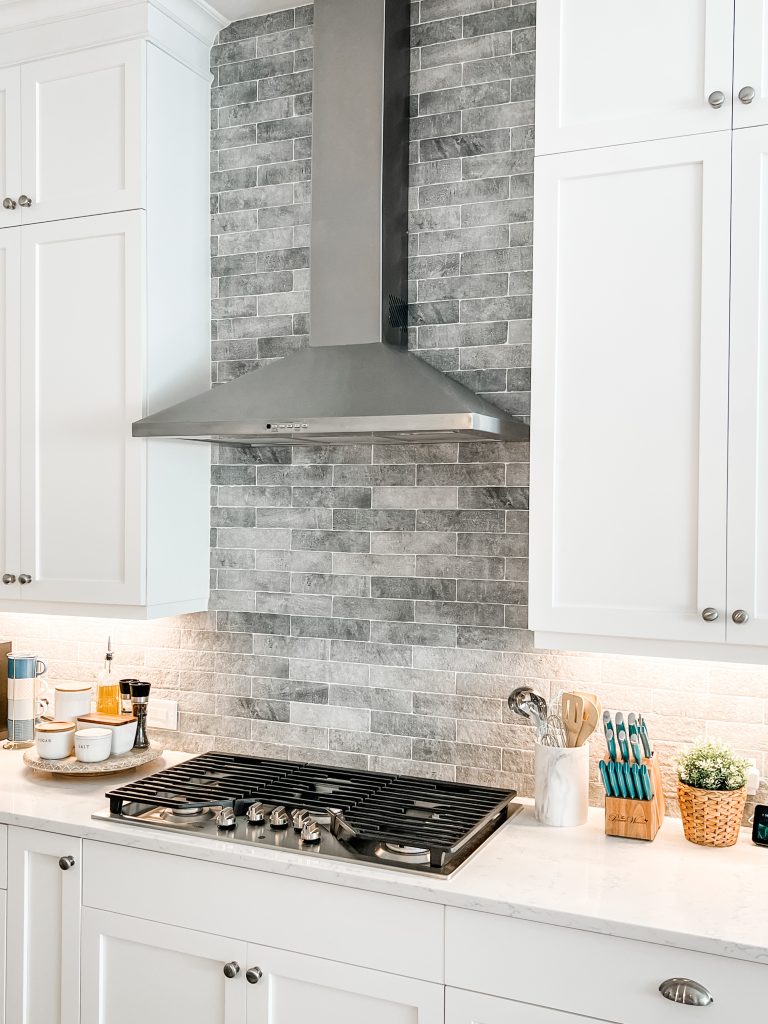 The dining area is the perfect space for my farmhouse table. This is one of the few pieces we did move from our previous home.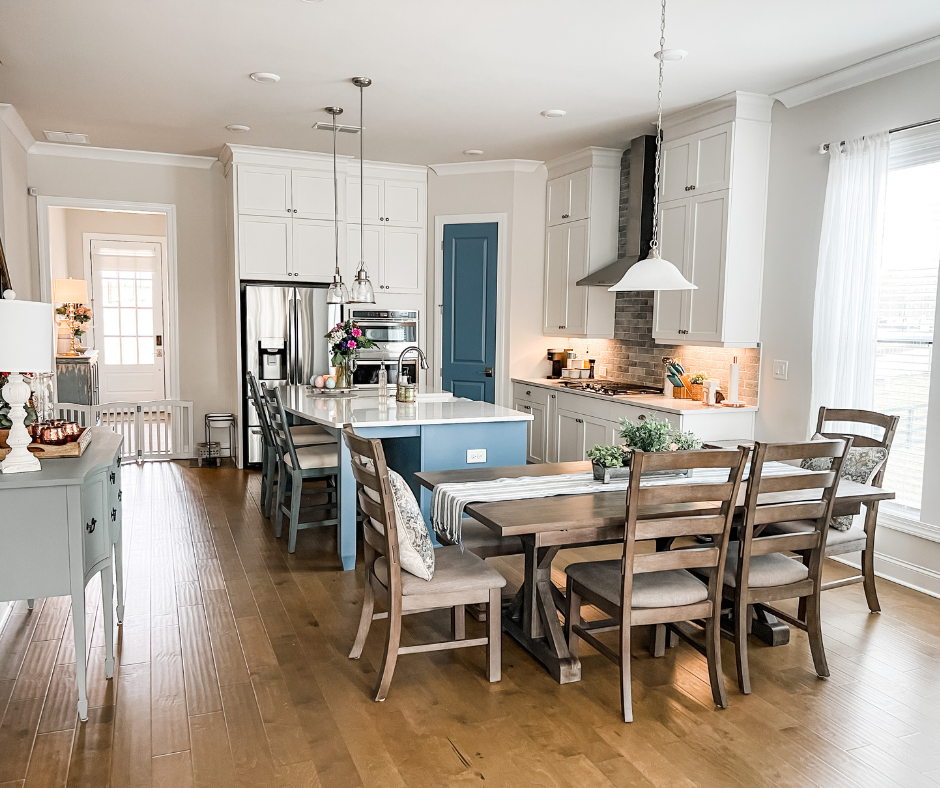 We have started a tradition of Sunday dinner with my family and having them all around this table makes me happy. I did purchase some new dinnerware and it's the pattern Joanne by Pfaltzgraff.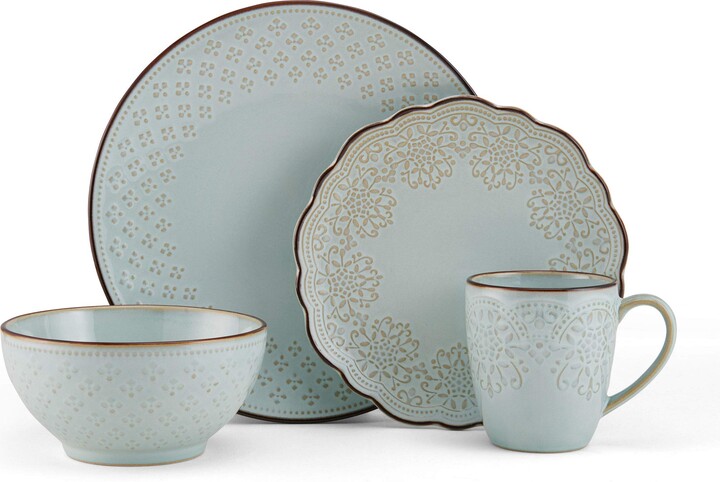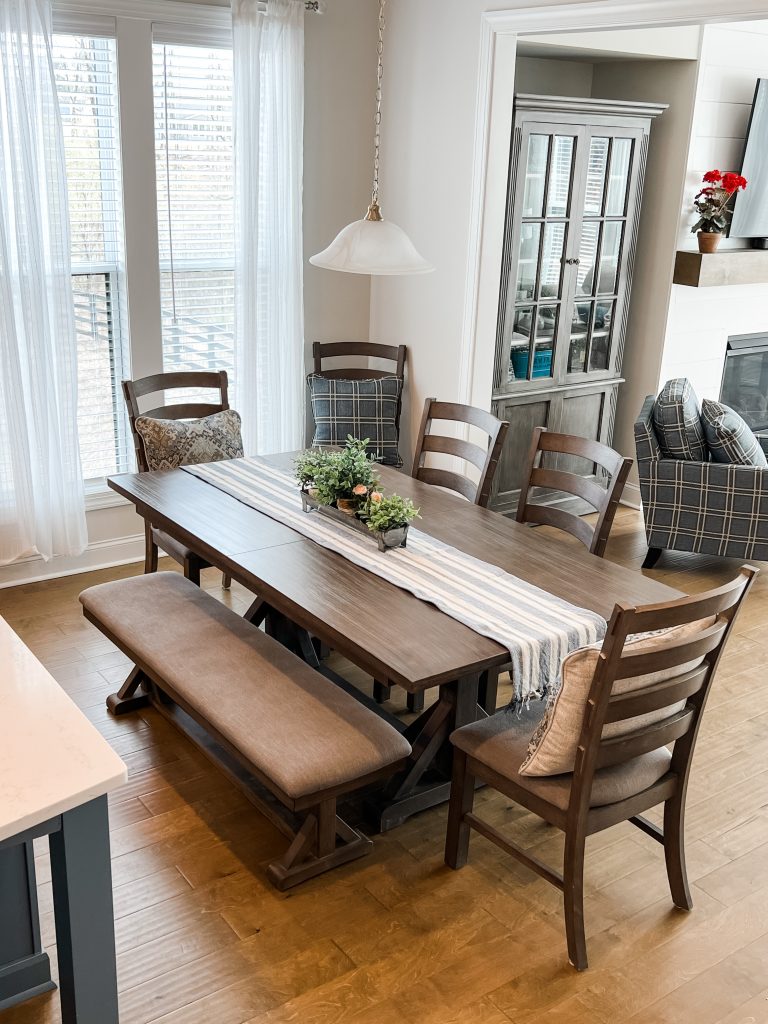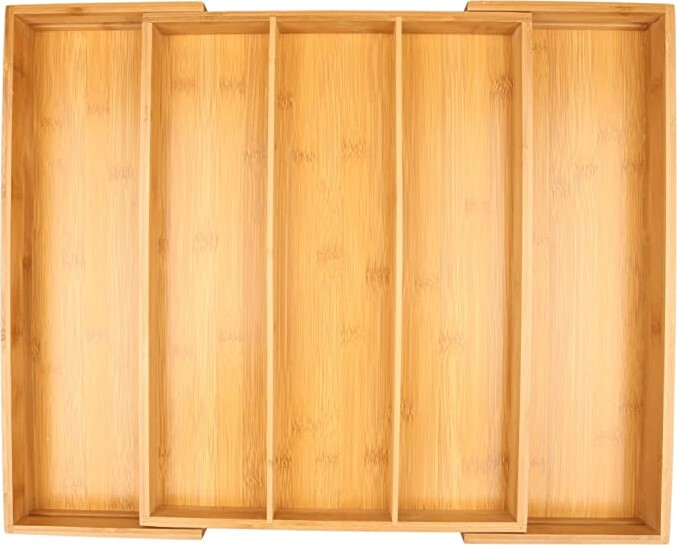 I'm also really enjoying this expandable drawer organizer. I probably need to do a separate post on all the Amazon home finds. Let me know in the comments if you are interested in that.
Family Room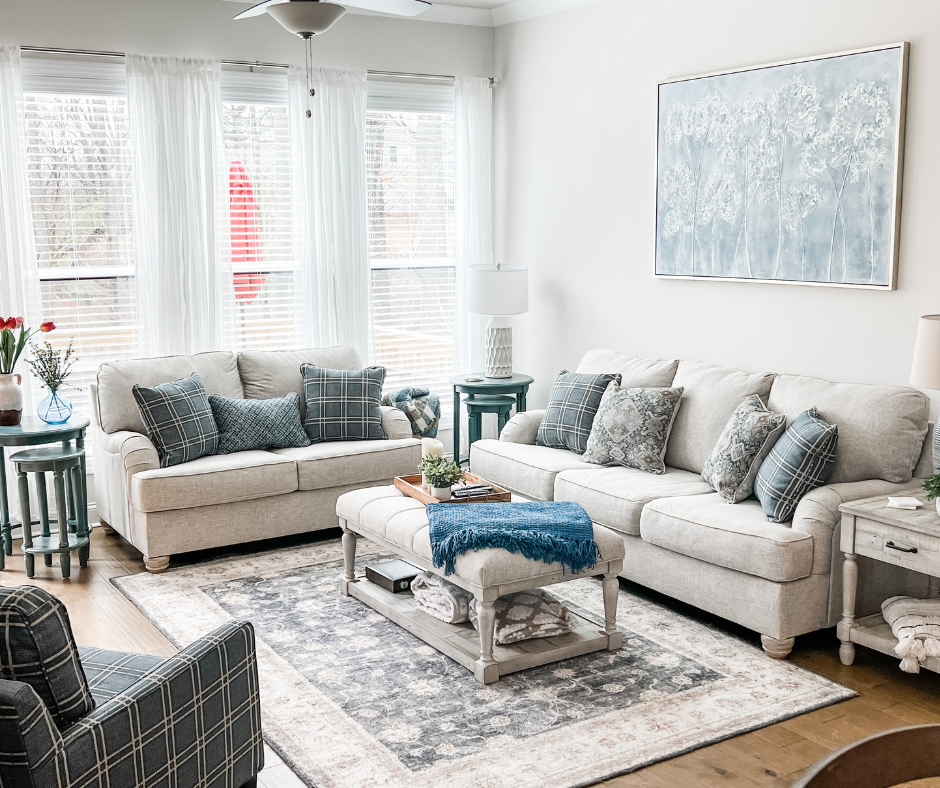 This is the place where everyone gathers and I wanted this room to have lots of comfortable seating. I also wanted to keep it bright with all the wonderful natural light that comes in, so I chose sheer window treatments. Blinds were necessary for the summer heat, but still let in lots of light.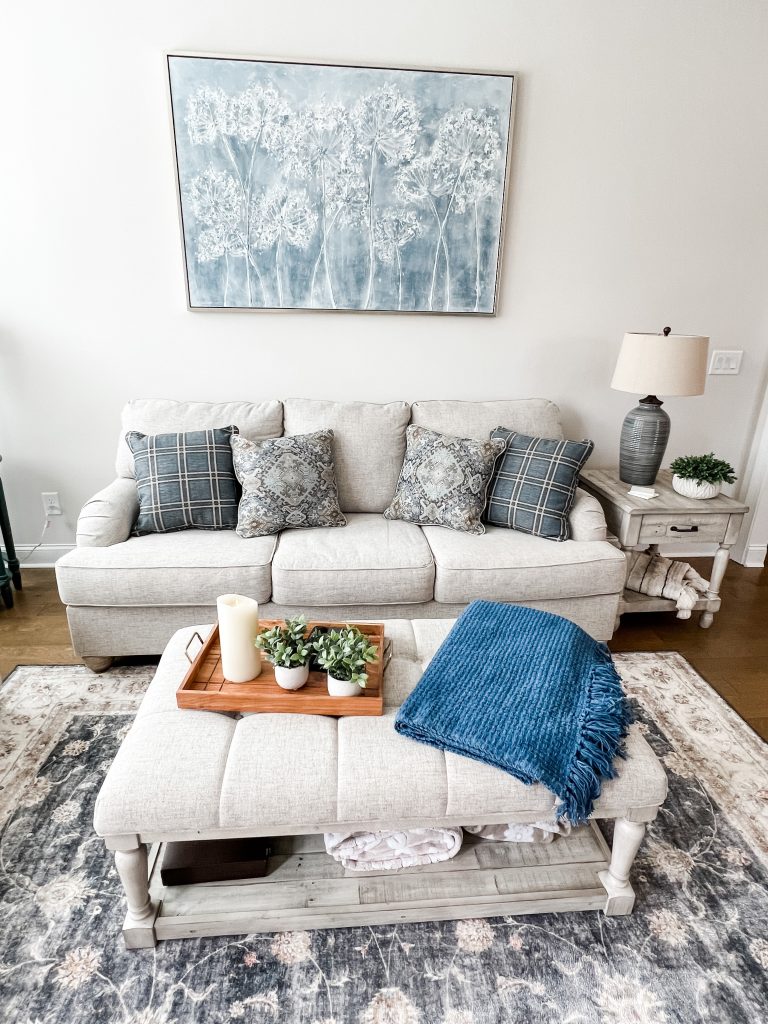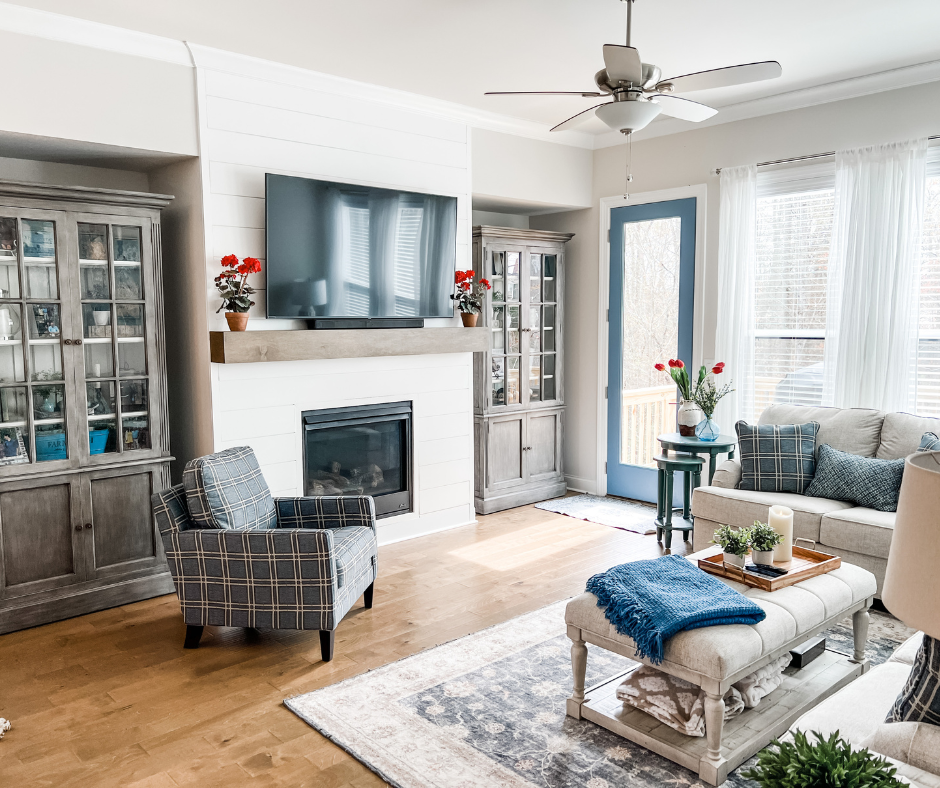 All the furniture in this room is new and I couldn't be happier with it. We shop at a local furniture store in Woodstock, Ga so if you live in the area message me and I will give you the address.
The recessed areas on both sides of the fireplace created sort of a dilemma. Our builder did not offer built in bookcases as an option, so we decided to go with a piece of furniture instead.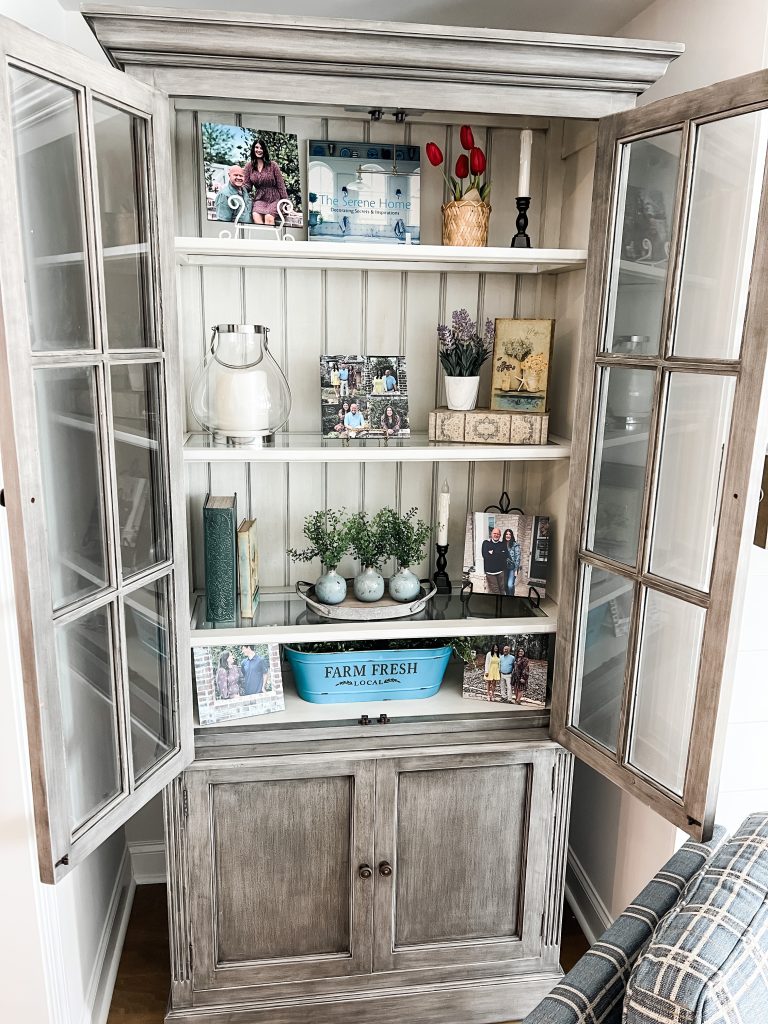 We found these bookcases and they fit nicely. I enjoyed shopping for accessories and they also offer some storage on the bottom.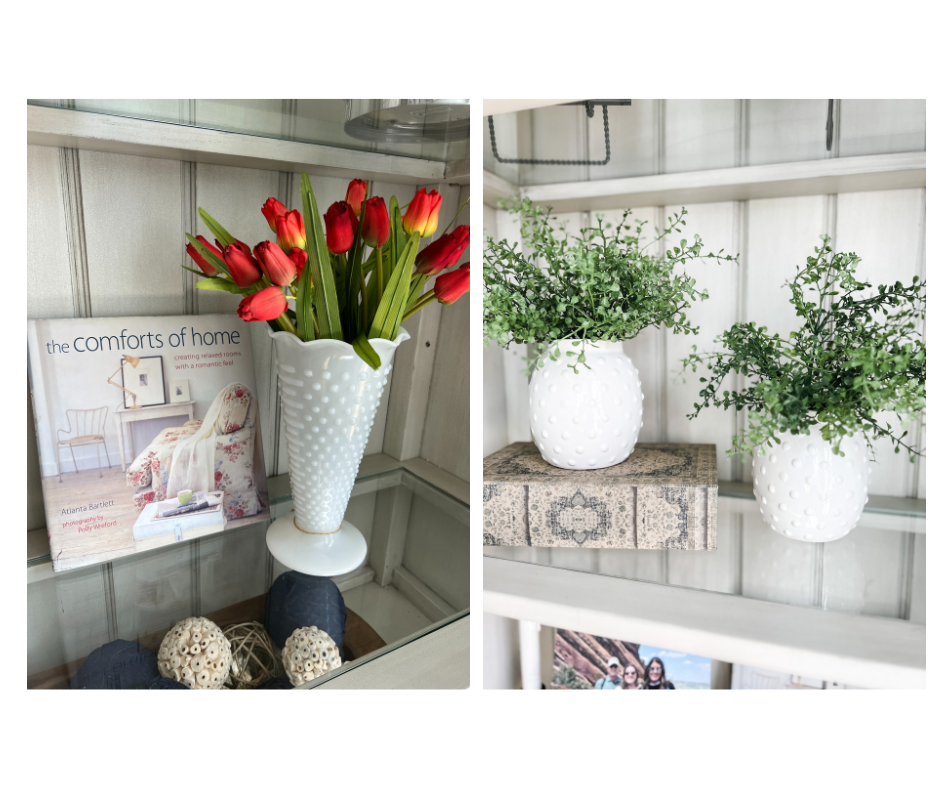 There were no family photos in our new home, so I went on Snapfish.com and ordered these 12×12 tiles. They are very affordable and were ready in about 7-10 days.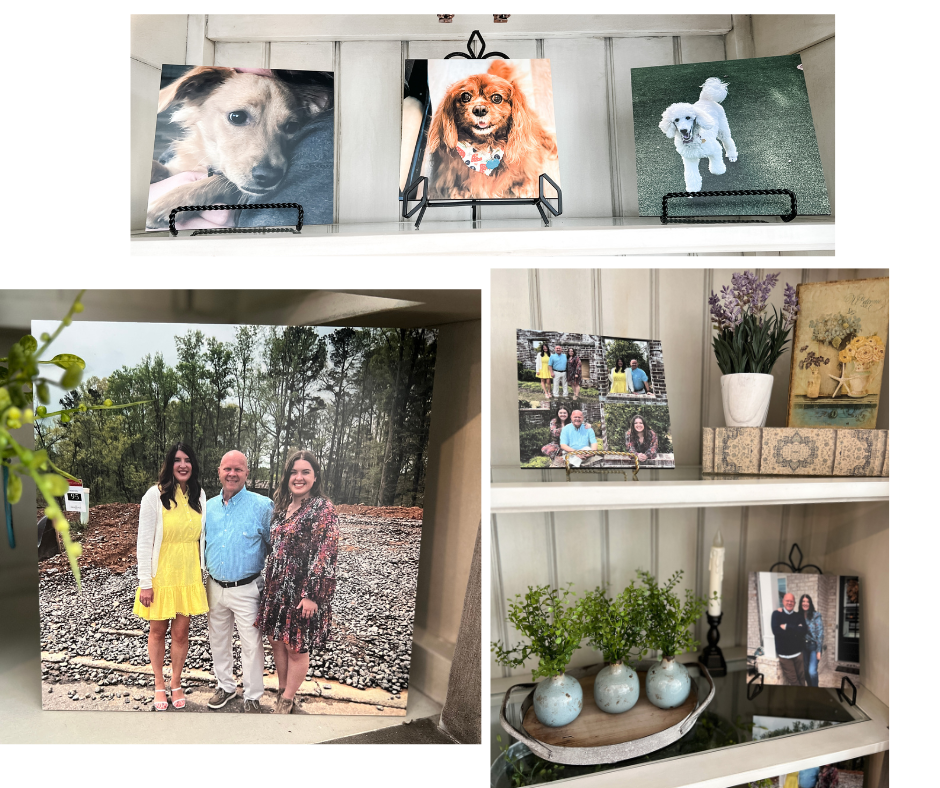 Deck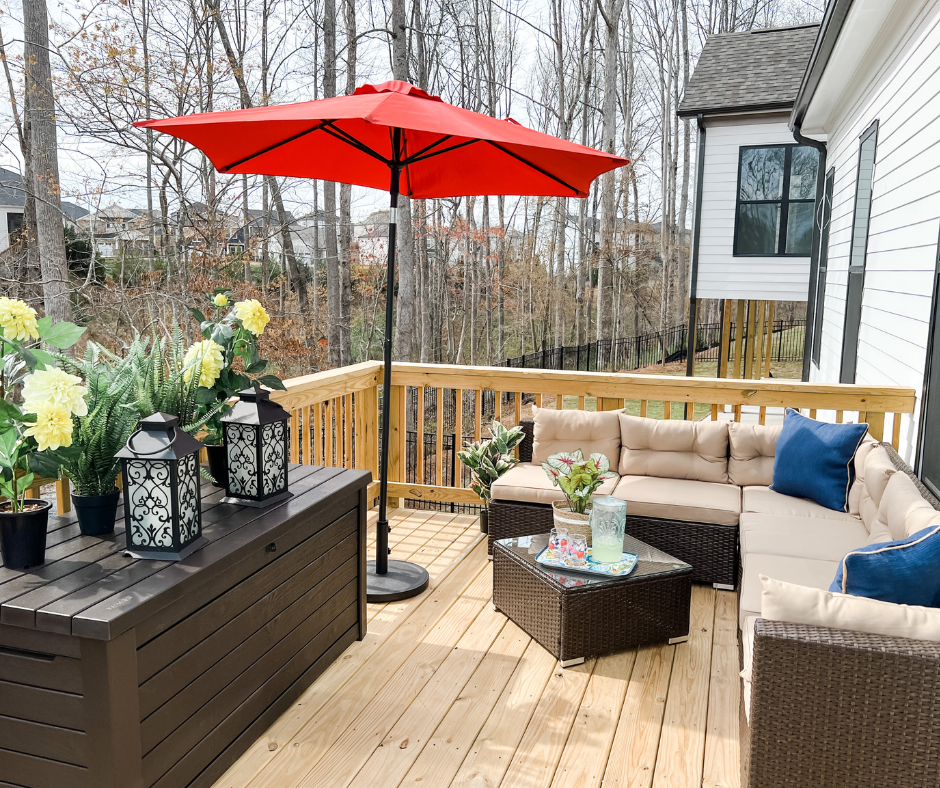 When you live in the south, outdoor space is very important. We buy houses with porches and patios! The back deck is other favorite space of mine…mainly because of the view. One of the main reasons we picked this lot was because there were no houses directly behind us.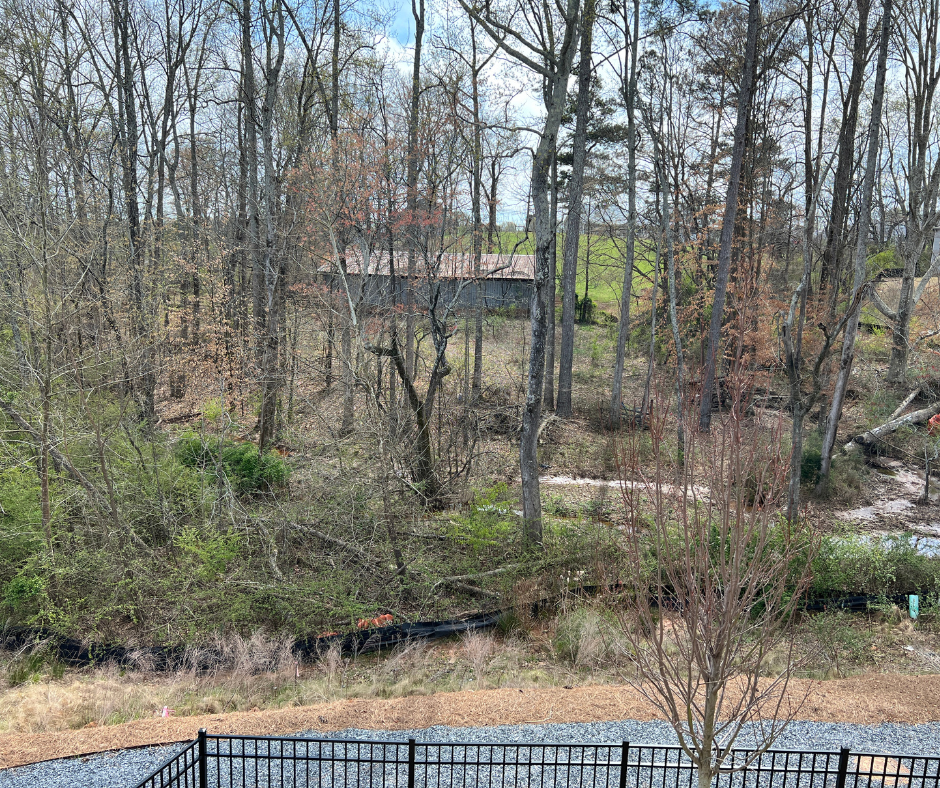 I love looking at the barn and the woods. I see deer every now and then as well as lots of other birds including Hawks and Blue Heron. The nature trail runs right next to our property, so I love having easy access to that as well!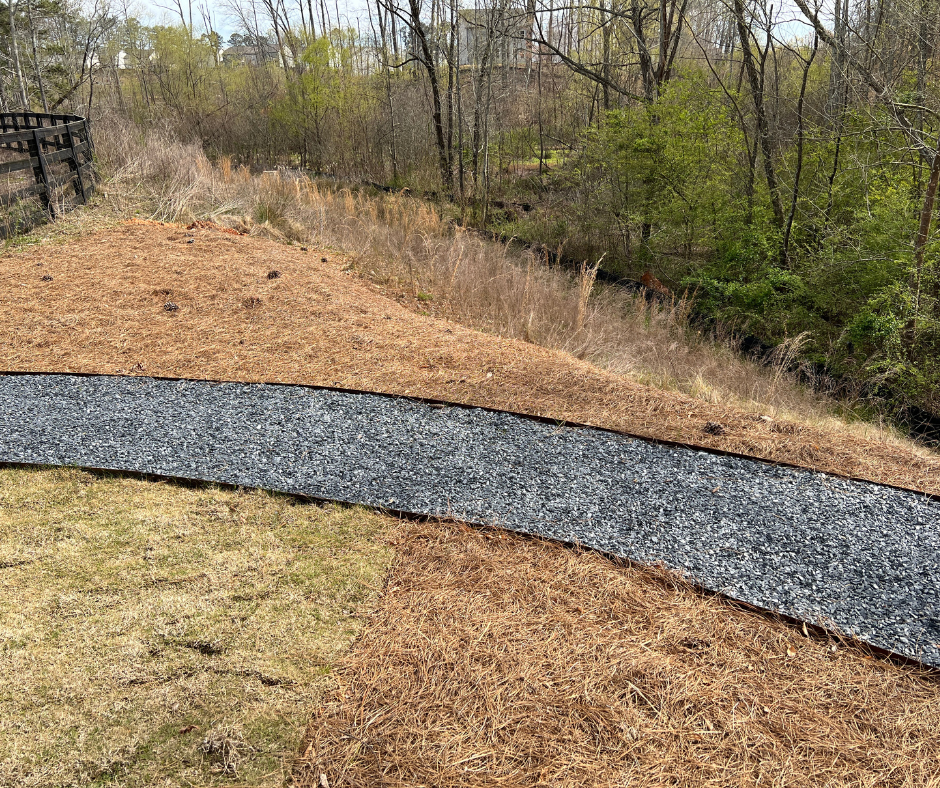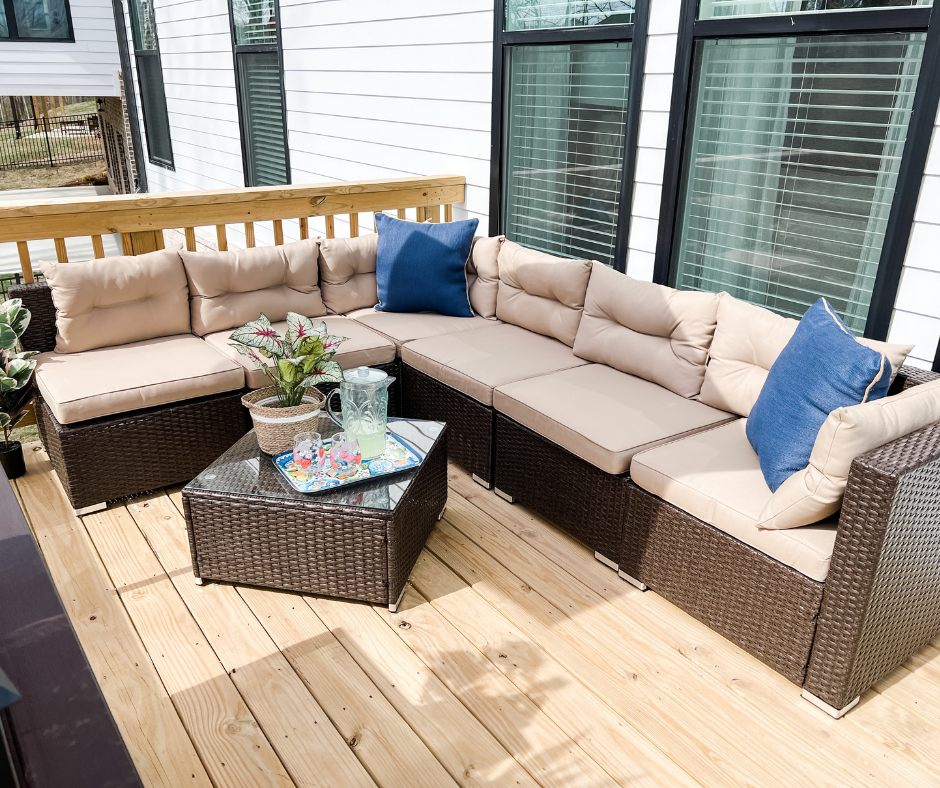 Our deck furniture is also new. We ordered it online months before we moved, so I can't remember where it came from.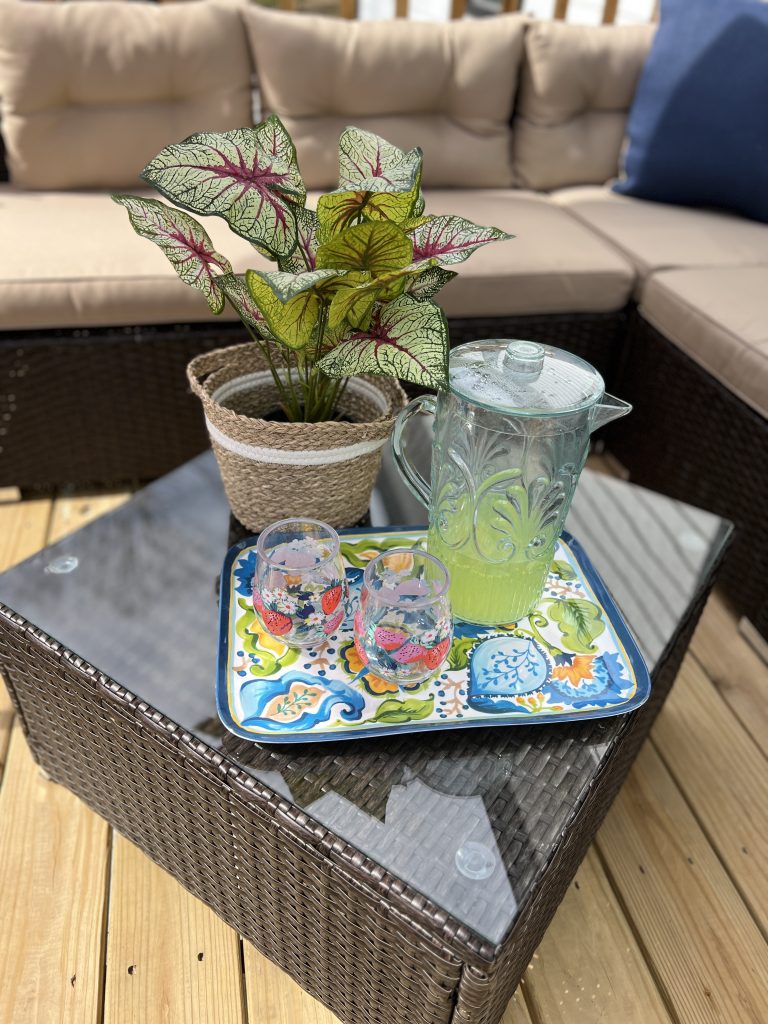 You will find me out here working, napping, loving on Daisy, or sipping on coffee or lemonade as long as the weather permits! Once the oppressive heat gets here, I won't be able to enjoy the deck as much so I take advantage of every outdoor opportunity.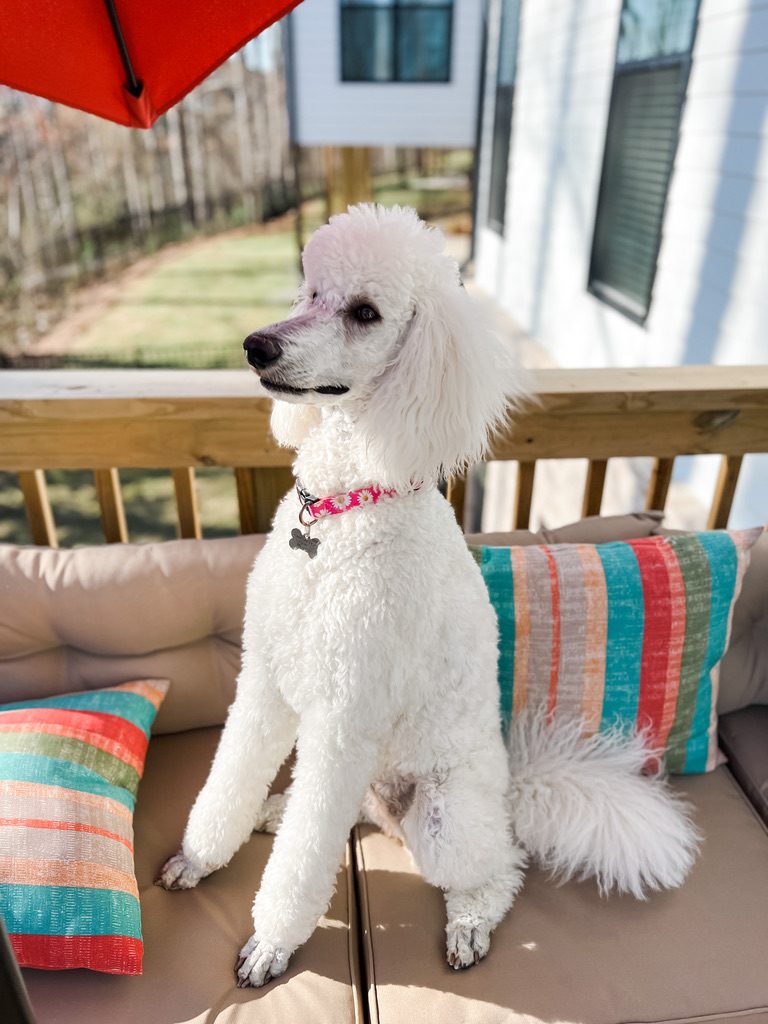 We did have a concrete patio poured underneath the deck, so I have plans to make this a nice area as well. We have some string lights and some more patio furniture in storage that will be nice for this space.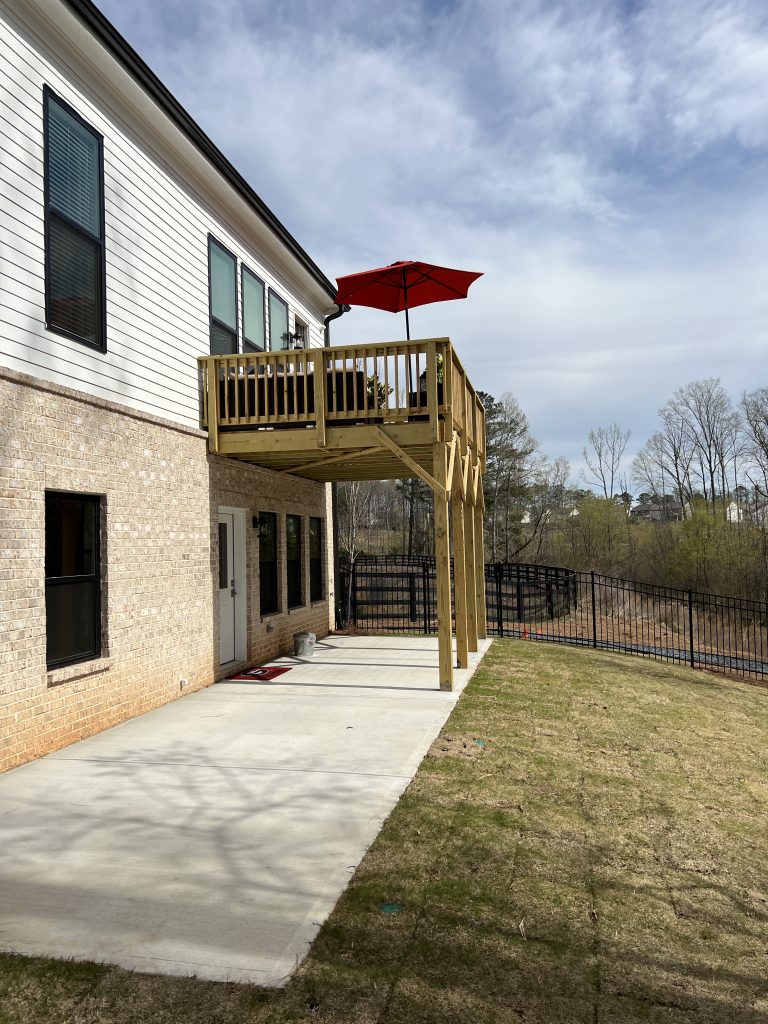 Daisy loves to run zoomies in her fenced in backyard.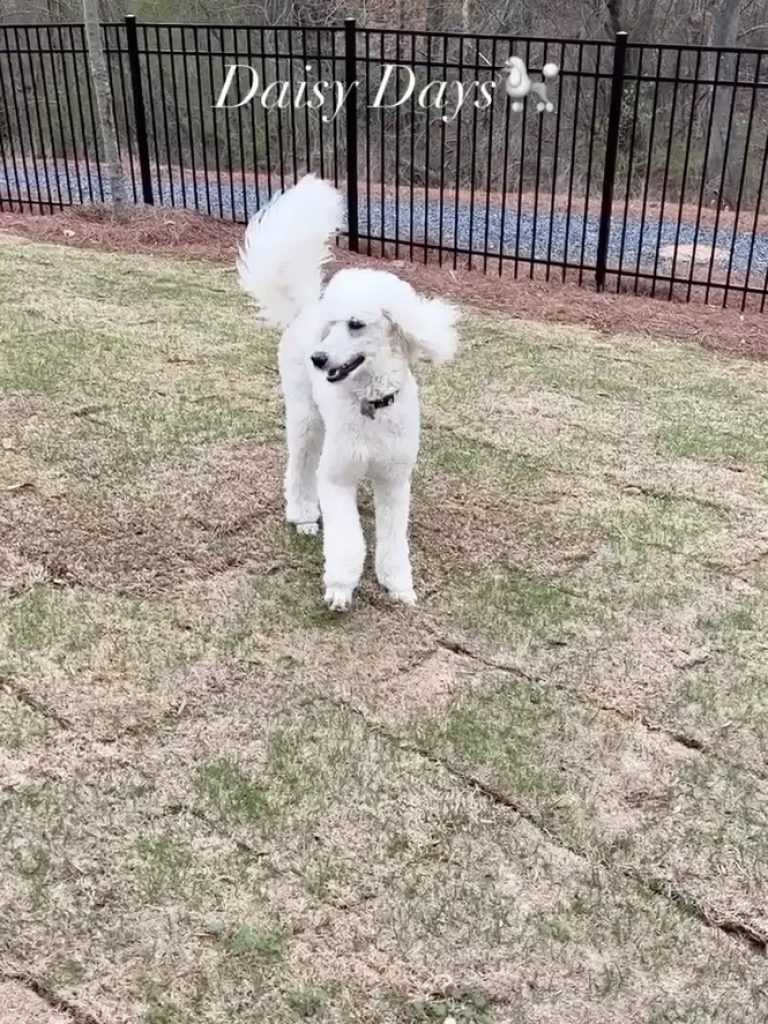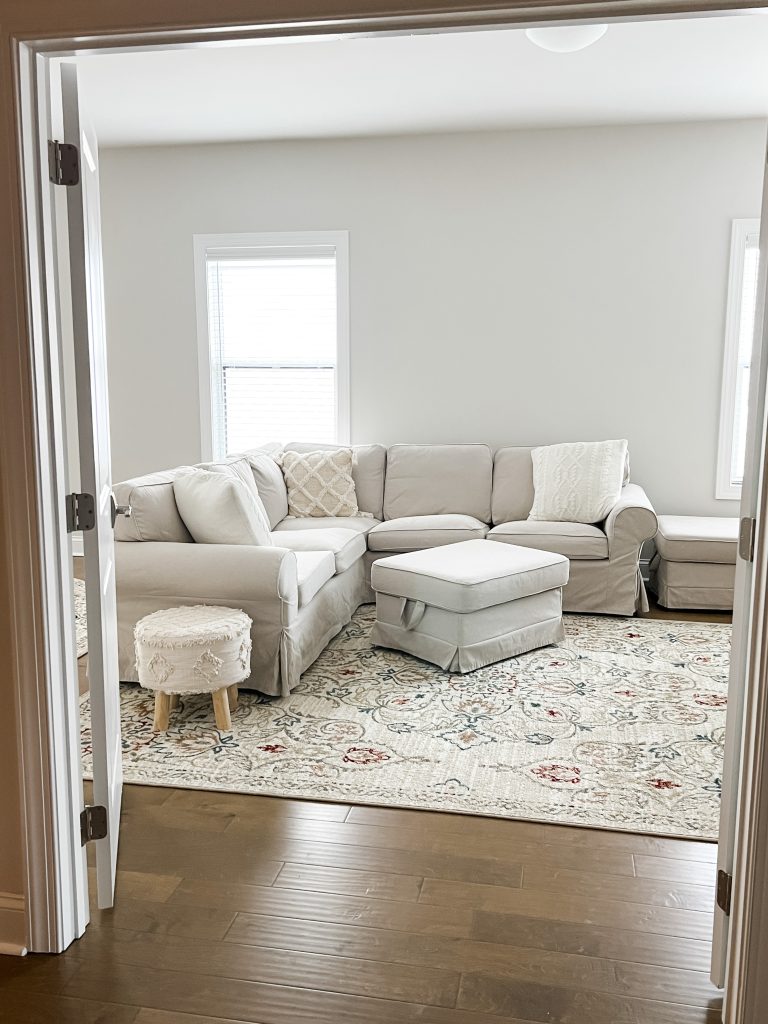 Upstairs we have 3 additional bedrooms, 2 bathrooms, and this media room. The master bedroom is on the main level. The media room is a work in progress. So far, we have a sectional that we brought from our previous home and my husband's giant flat screen television. We have already enjoyed watching movies up here!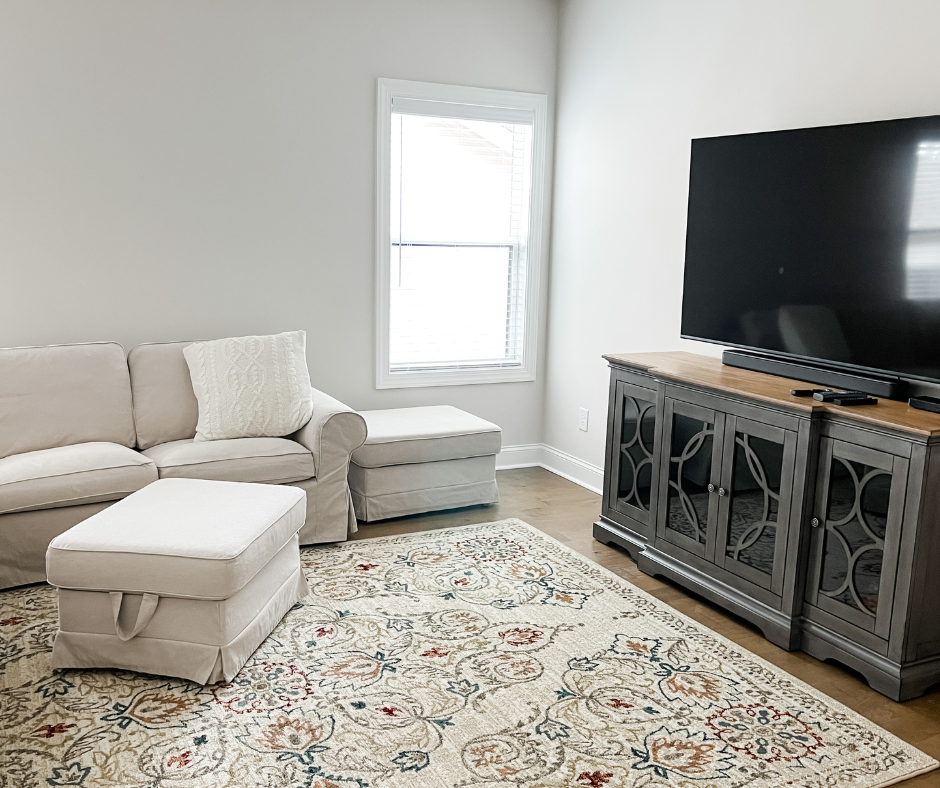 The media room is a long a narrow space, so the back portion will eventually be my husbands home office space.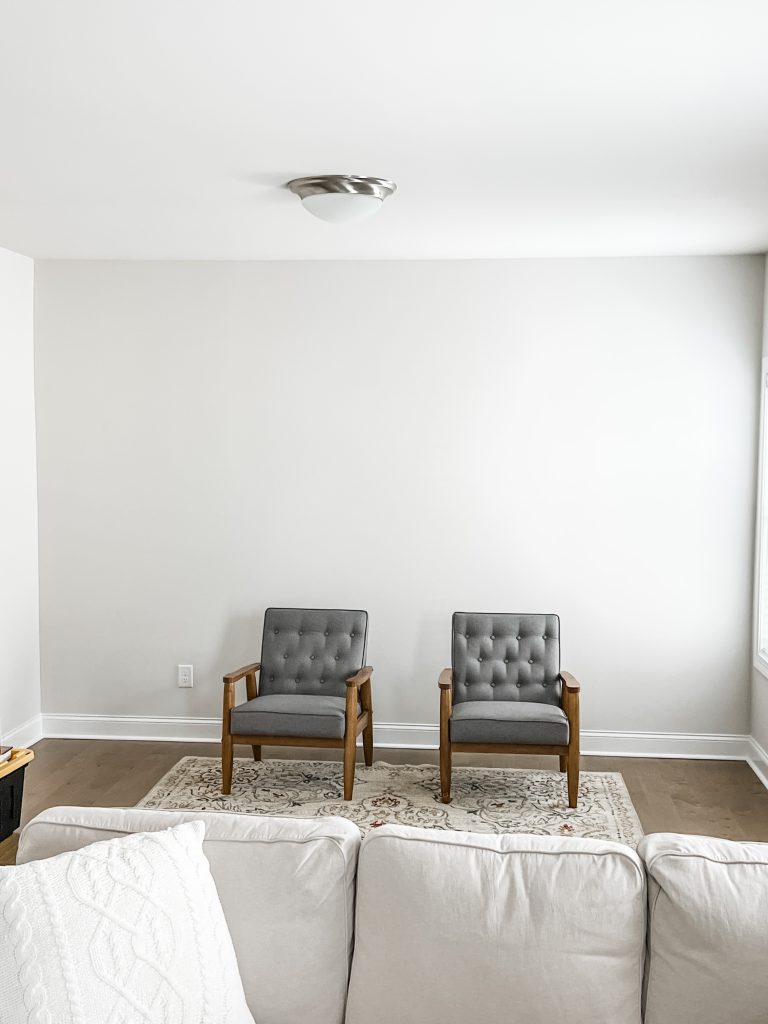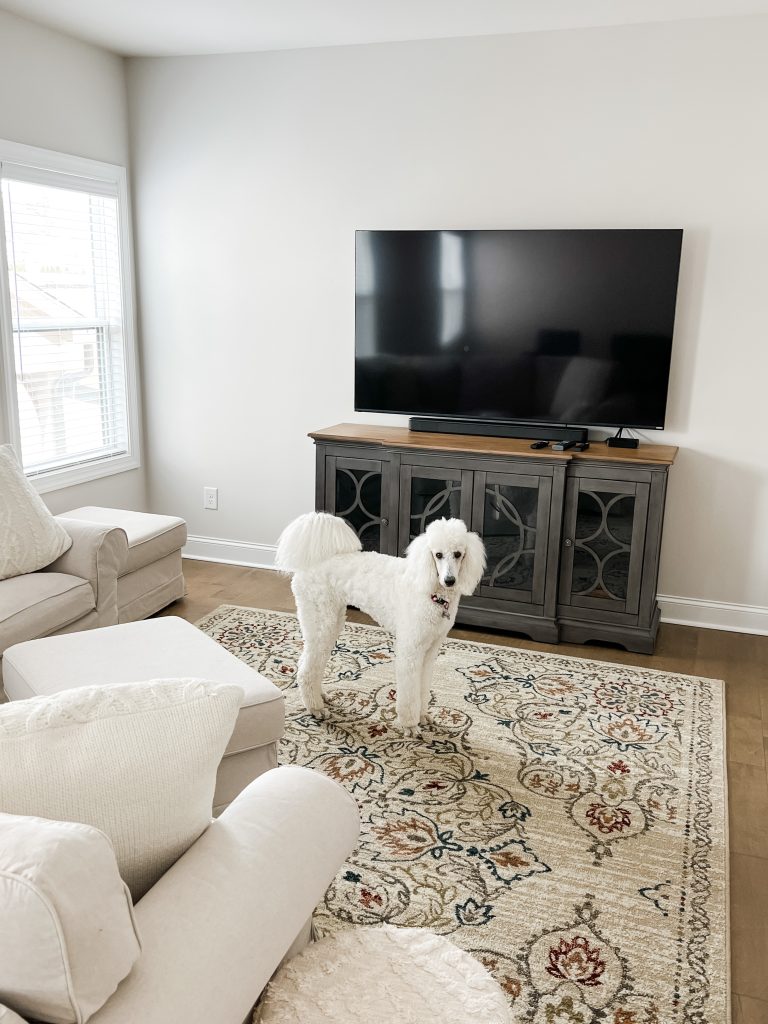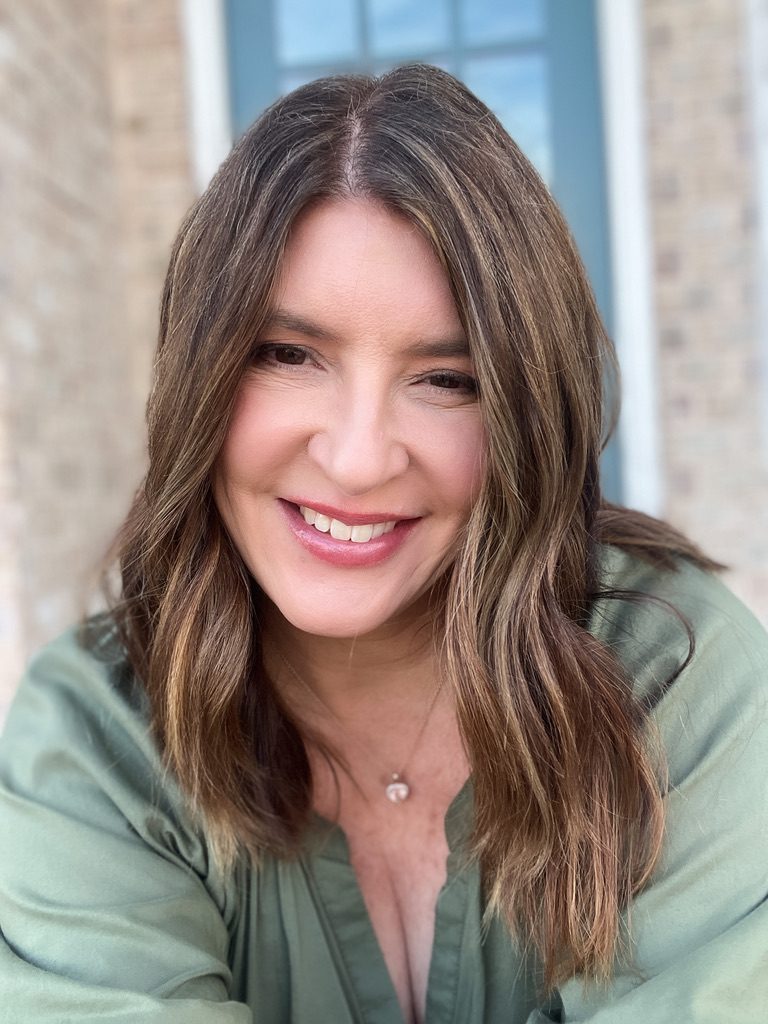 I'm going to wrap up this new home tour here since it is already so long. I will share more areas of our home as we get things the way we want them and update you along the way! I feel so blessed to finally be in our new home. Thanks for taking the tour with me.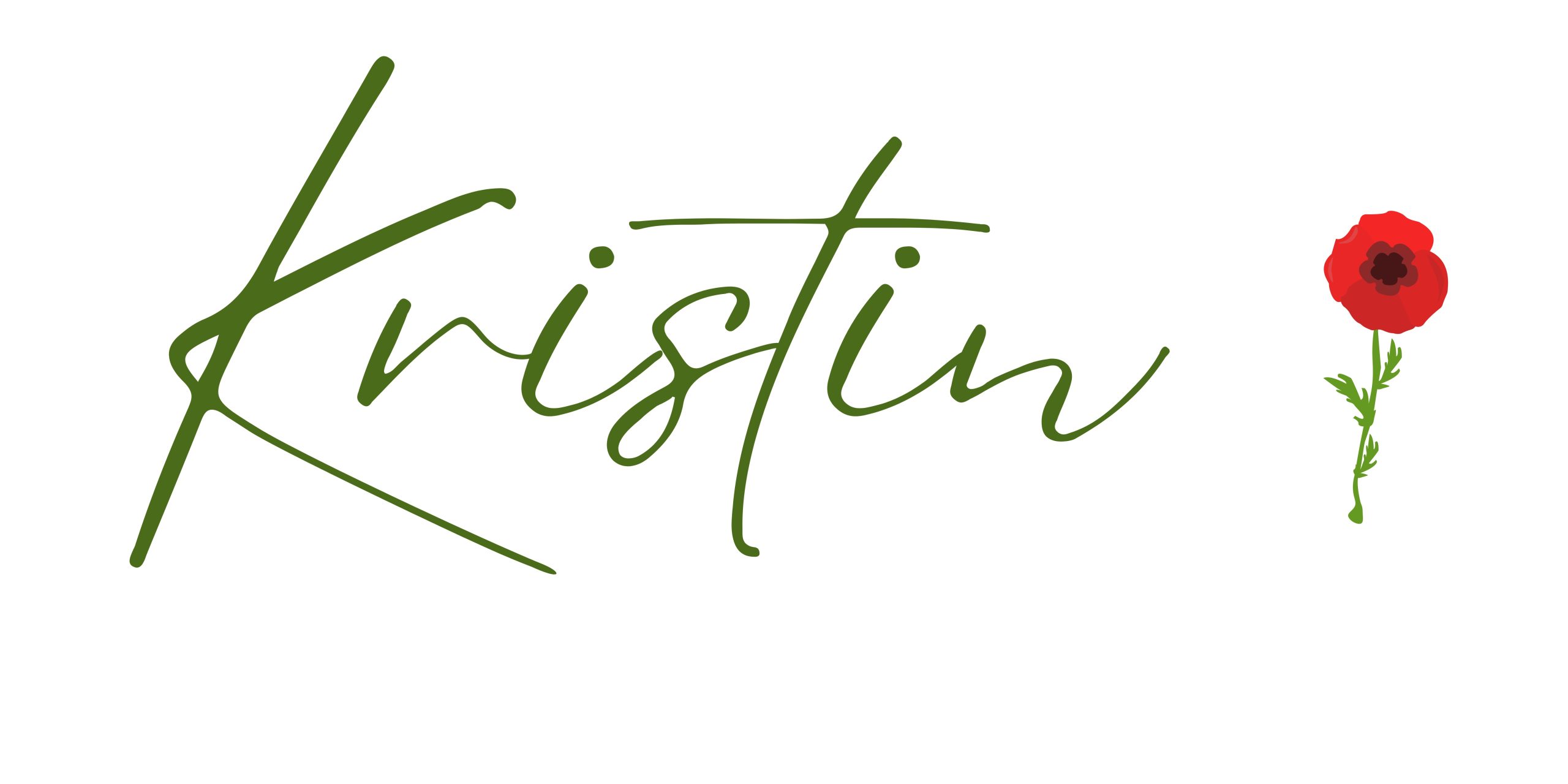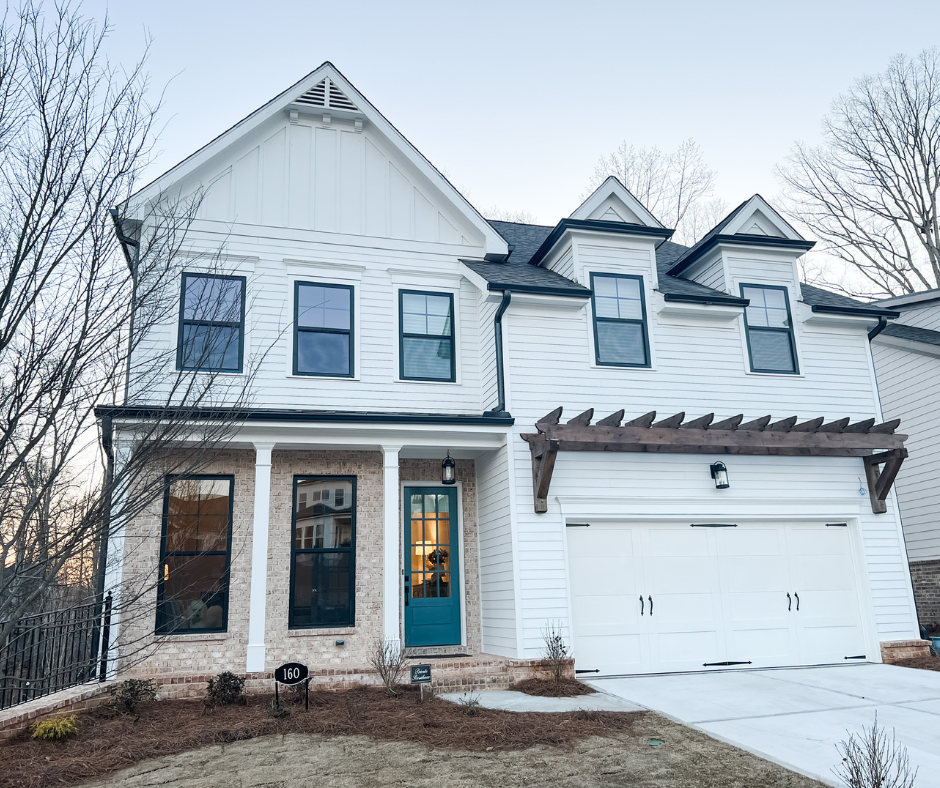 For More Home Decor Ideas Check Out These Posts: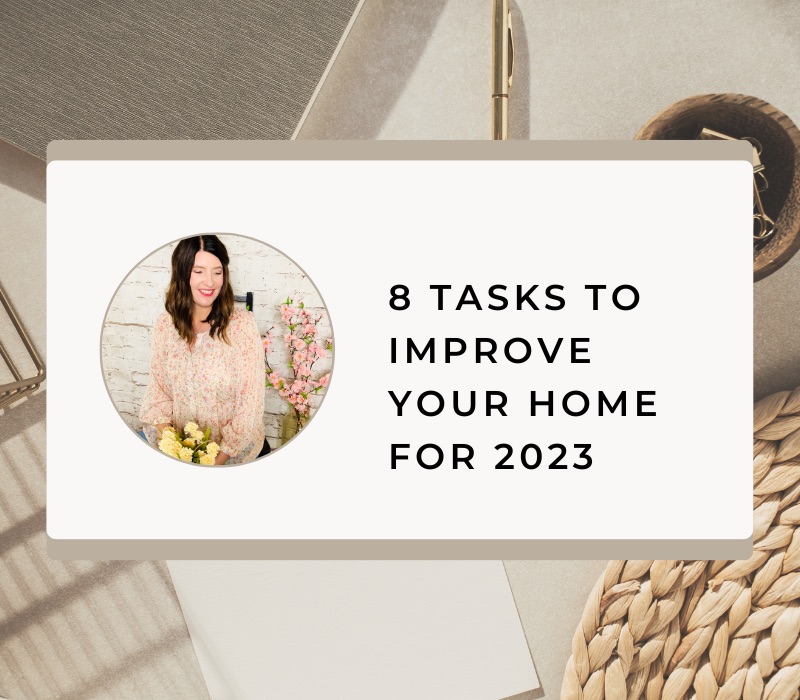 8 Tasks To Improve Your Home In 2023